The first of the Florida Keys, Key Largo is an epic travel destination perfect for various travelers. Whether you want to spend days sipping on tropical beverages or partaking in adventurous fun, the island's got it all.
If you aren't too sure what to go for, this guide will dive into all the best things to do in Key Largo (and nearby) to help you plan your getaway!
Are you planning your trip to Key Largo last minute?
Be sure to book yourself a hotel well ahead of time Key Largo is a popular travel destination!
🛌 Top recommendations for Key Largo lodging:
🇺🇸 Top tours and experiences in Key Largo (and the Keys):
🚗 Looking for the best way to get around the Florida Keys? Click here to check rental car rates for Florida!
As the self-proclaimed "Diving Capital of the World", Key Largo takes advantage of its aquatic splendor. It has a wealth of underwater riches that draw in hordes of visitors, including its famous various coral reefs.
There's also plenty of fun above the waters too, with museums, parks, parasailing, and cruises eagerly waiting for you.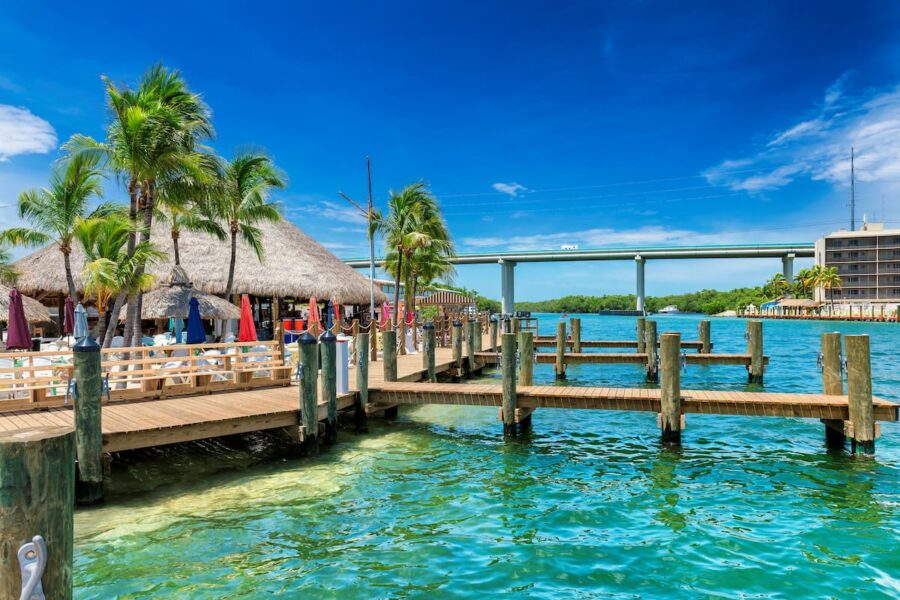 In between your escapades, make sure to visit the restaurants on the island which have some mouthwatering food on their menus.
Did we miss any worthwhile Key Largo attractions or landmarks? Let us know your tips for what to do in Key Largo in the comments. Thanks!
Best Tours in Key Largo
There are plenty of exciting tours and experiences in Key Largo and we have highlighted a few of the top-rated ones below!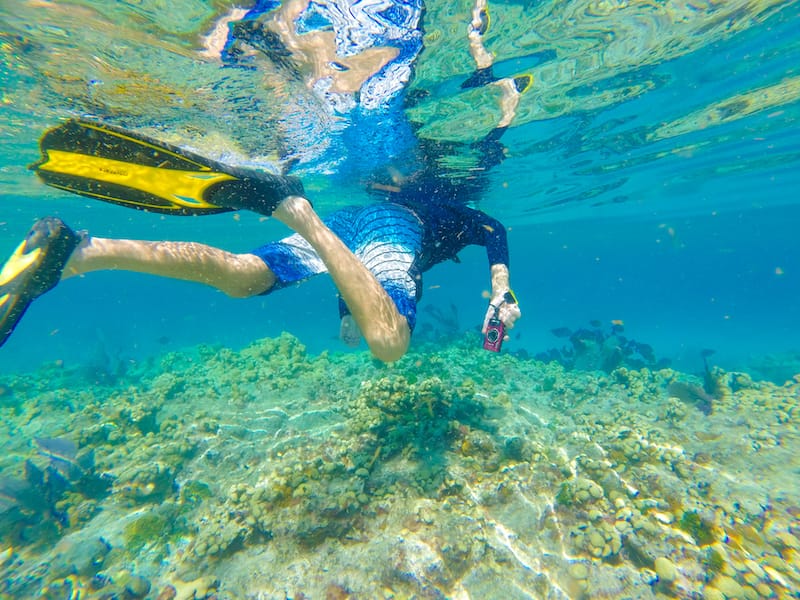 Best Things to Do in Key Largo FL
Without wasting any more time, let's show you why we included the island as a great stop on a Miami to Key West road trip with a list of what to do in Key Largo.
Check Out John Pennekamp Coral Reef State Park
Dating back to 1963, John Pennekamp Coral Reef State Park is the USA's first underwater park.
It was established to protect the country's only coral reef — and what a magnificent job they've done. The park on its own is enough to warrant Key Largo as the diving destination it's known as.
Visitors can see the park's various marine life underwater as part of a glass-bottom boat tour, while scuba diving, or on a private snorkeling tour. You can also marvel at the mangrove swamps and seagrass beds atop the clear water while kayaking, canoeing, or aboard a boat.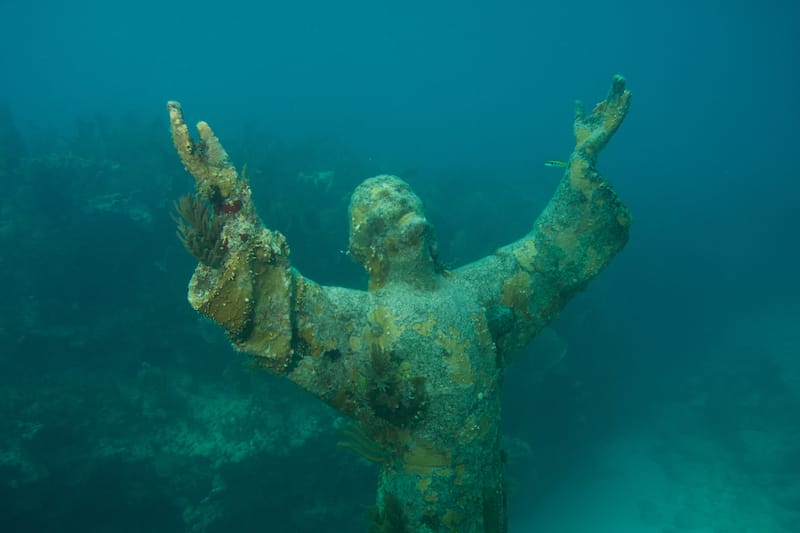 Offshore, you can navigate a maze of trails dotted with tropical vegetation and various flora. Stop at any time, sit down, and indulge in a picnic surrounded by lush greenery.
If you're afraid you may get lost, you can book a ranger-guided nature walk inside the park. The ranger will be more than happy to teach you about the park's natural surroundings.
Alternatively, you can choose to stick around at the Visitor Center, which is more than just an informational facility.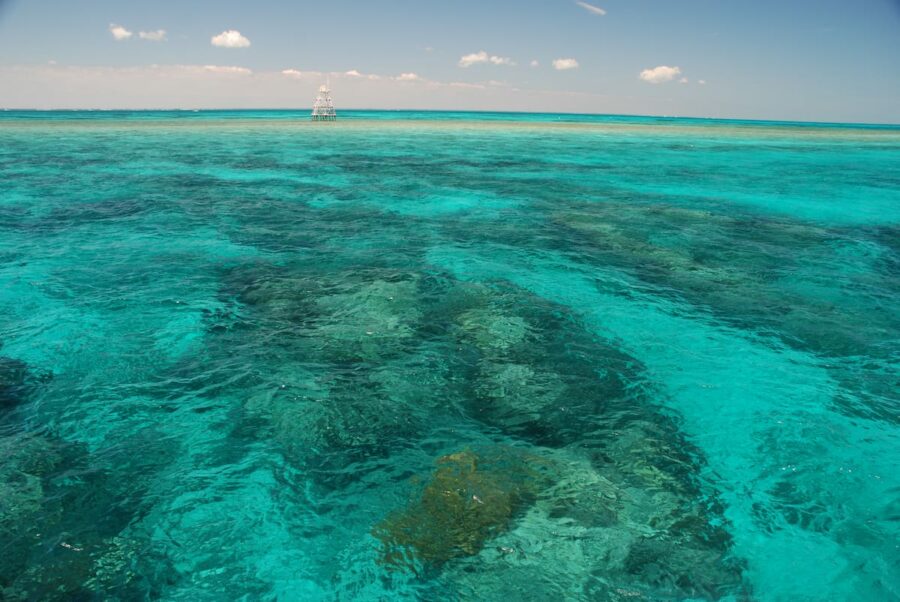 The center features several saltwater aquariums populated by corals, fish, and other marine life. There are also a few nature films you can catch in the theater.
Work on Your Paddling Skills
Another one of the popular water activities in Key Largo is paddleboarding. Thanks to the lush mangrove spots on the Florida Keys island, the waters here are generally calm.
This makes them the perfect place for paddling past the natural splendor found here for both experienced and novice paddlers.
You can enjoy paddleboarding on either the gulfs or the oceans. Pick up a paddleboard, get out on the waters, and paddle while standing or sitting. Paddle across the John Pennekamp Coral Reef State Park or beach hop on your board.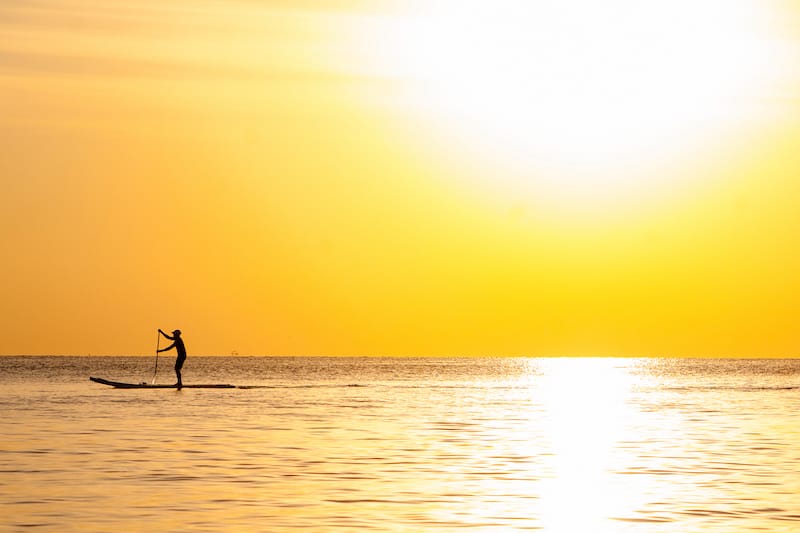 Don't have a paddleboard? Don't worry about that; there are several rental places around the island ready to help you out. Some resorts may even offer you a paddleboard free of charge.
Tip: Ensure your car has the proper paddle board-carrying equipment if you'll be using one paddleboard across various areas.
Take a Day Trip to Everglades National Park
Don't fret if marine life isn't a major interest, as Key Largo isn't all aquatic fun. The gorgeous Florida island is not too far from one of the most diverse ecosystems in the world – Everglade National Park!
Everglades National Park is one of the most visited national parks in the US. Located just under an hour away from the island, it's easily one of the best things to do near Key Largo (and my personal favorite day trip).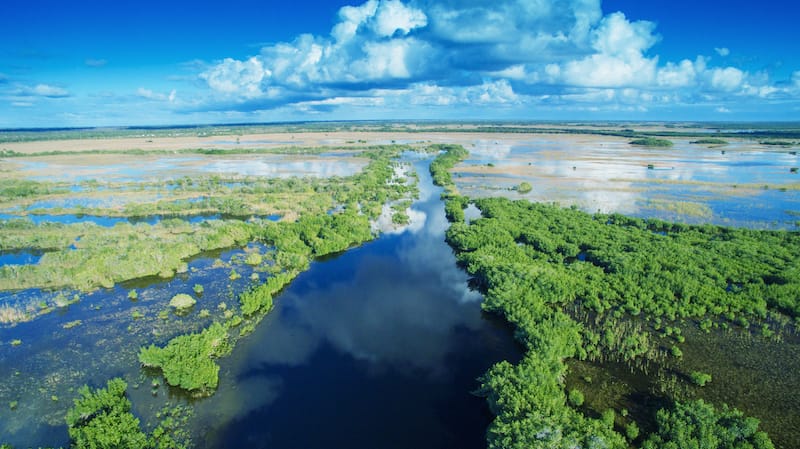 The park's excellent ecosystem boasts expansive wetlands, mangroves, and forests inhabited by various wildlife.
This natural diversity has seen it named as a UNESCO World Heritage Site and an International Biosphere Reserve. As the largest designated subtropical wilderness reserve on the continent, you're in for a great time of exploring here.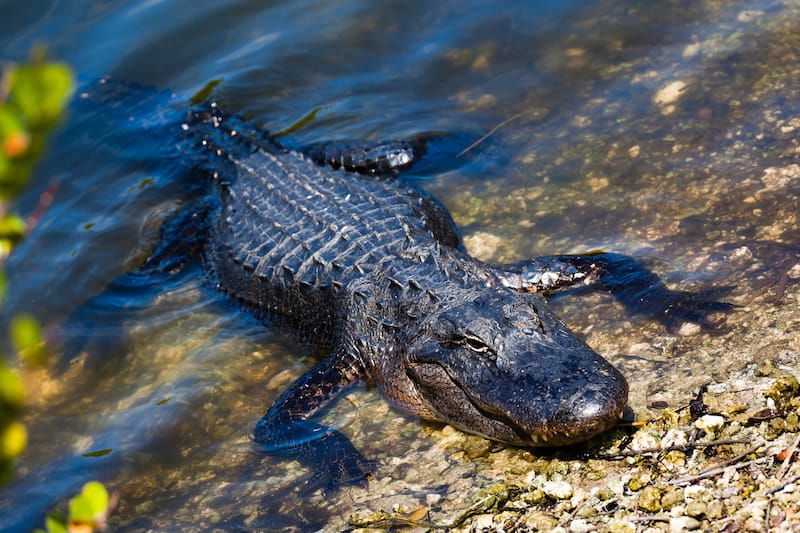 Everglades National Park is home to animals like panthers and crocodiles — all rare and endangered species you may not see elsewhere.
The waterways are a place to see manatees and dozens of fish. Look up, and you're very likely to spot a bird soaring in the sky, so avid bird watchers bring along your binoculars.
You can get a glimpse of the wildlife along with the grasslands, swamps, and wetlands atop a kayak or motorboat on the waterways. Alternatively, you can hike along the trails with a guide who'll be sharing tons of information about the park.
There are also tram tours that take you to Shark Valley, where 360° panoramic views of the landscape await.
Dive to the USS Spiegel Grove Wreck
If you decide on vacationing to Key Largo for its diving reputation, you're in for a thrill. One of the best, if not the best, diving spots here is by the Spiegel Grove wreck.
This former landing ship belonged to the US Navy before ownership transferred to Florida in the late 1990s. The state then intentionally sunk it to create an artificial reef. The state wanted to provide diving enthusiasts an enormous coral reef to explore and get lost in.
To give you an idea of how large the wrecked ship is, it's about the size of two football fields, and it's eight stories tall. Exploring the wreckage requires you to dive at least 65 feet below the surface.
We recommend bringing along an underwater camera so you can capture some cool snaps. Pose next to the rusting rooms, the rubble, and the US flag found on deck.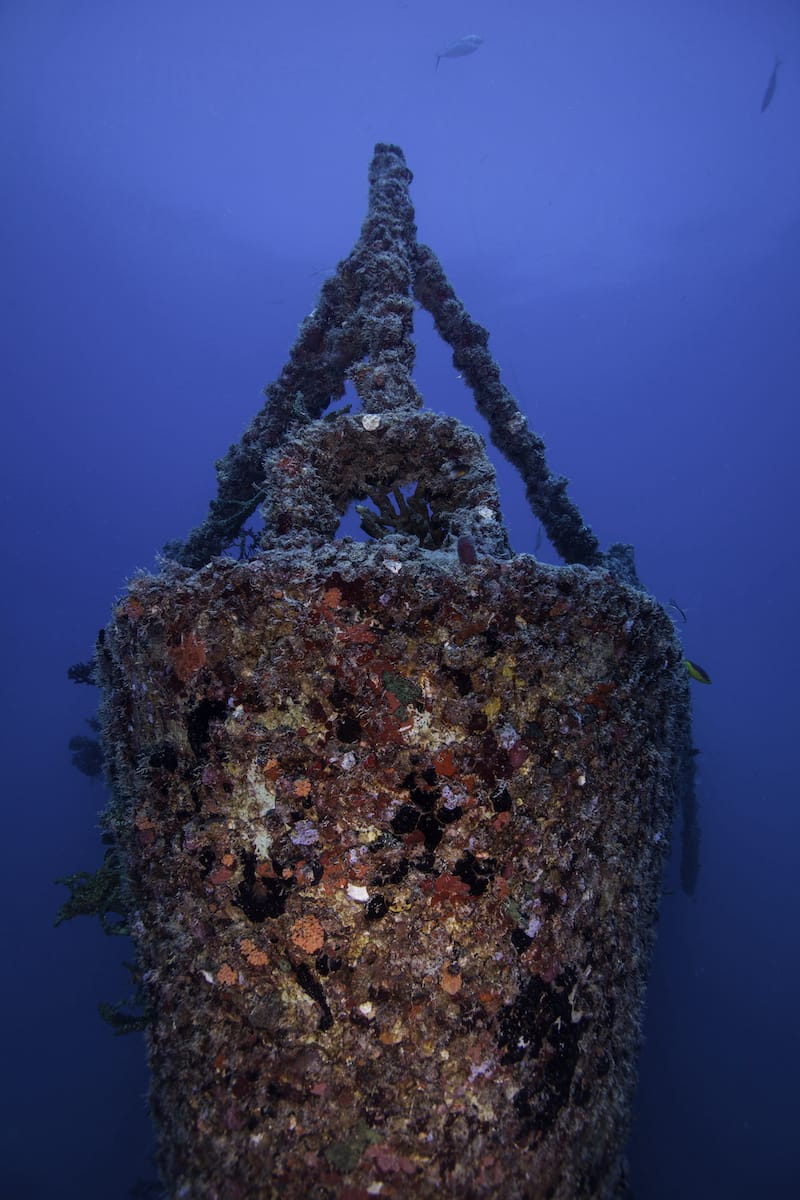 While navigating the wreckage and its coat of corals, you'll come across schools of fish like minnows and barracudas.
Due to its overwhelming size, you'll need to dive several times. Combined with the occasional strong currents, novice divers should only dive with a teacher or guide.
Given this diving spot's popularity, we recommend you book well ahead of time to avoid disappointment. There are various diving operators scattered around the island, with "Bluewater Divers" and "Horizon Divers" among some of the most popular.
Explore the Jules Undersea Lodge
Spending a night at Jules Undersea Lodge, the US' only underwater hotel, is among the most jaw-dropping stuff to do in Key Largo. This unusual accommodation option sits at the bottom of the Emerald Lagoon, nearly 20 feet below the surface.
This Key Largo underwater hotel was also used as a research facility before it was repurposed into a lodging option.
The hotel is perfect for anyone who wants to enjoy some time below the surface while staying dry. You will, however, have to scuba dive your way to the hotel from the land above.
Here, you'll have the opportunity to view shoals of fish passing while biting into a delicious meal courtesy of the room service.
Jules Undersea Lodge isn't just a lodging place as it's also a unique tourist attraction that's often visited as part of day trips. Arrive here and explore the hotel from A to Z before returning to the surface to continue your adventures.
Note: The hotel is closed for non-stays on Mondays.
Hop Aboard the African Queen Canal Cruise
One of the best Key Largo activities above the water is to jump on this simple cruise. The African Queen, built in 1912, became famous for its inclusion in an eponymous film released in 1951.
After a restoration in 2011, it's now used as a sightseeing steamboat that shows travelers the beauty of Key Largo.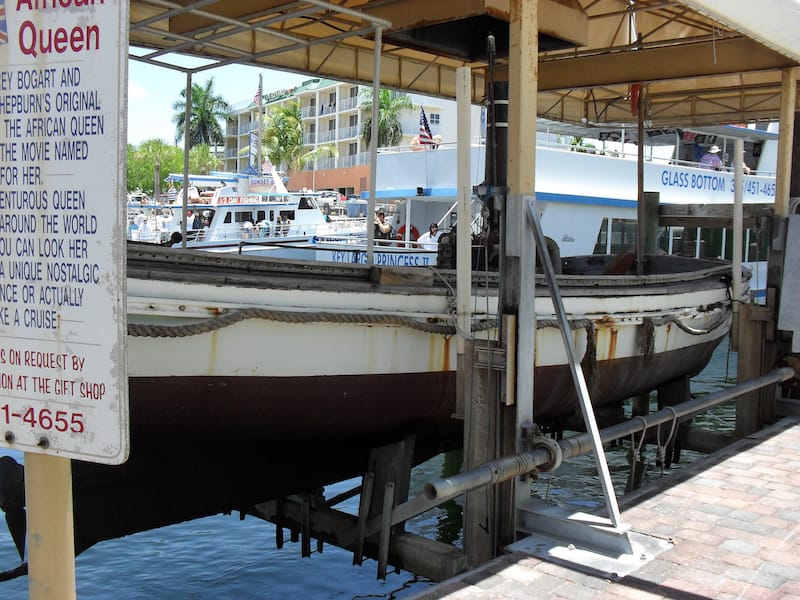 The cruise takes you on a round sightseeing trip from the Marina Del Mar to the Atlantic Ocean. You spend approximately one hour and thirty minutes traveling through the Port Largo Canals and taking in Key Largo's sights.
While on the cruise, the captain will be sure to drop some anecdotes on the history of the boat. Learn of its first use in East Africa as a means of transportation for cargo, missionaries, and more.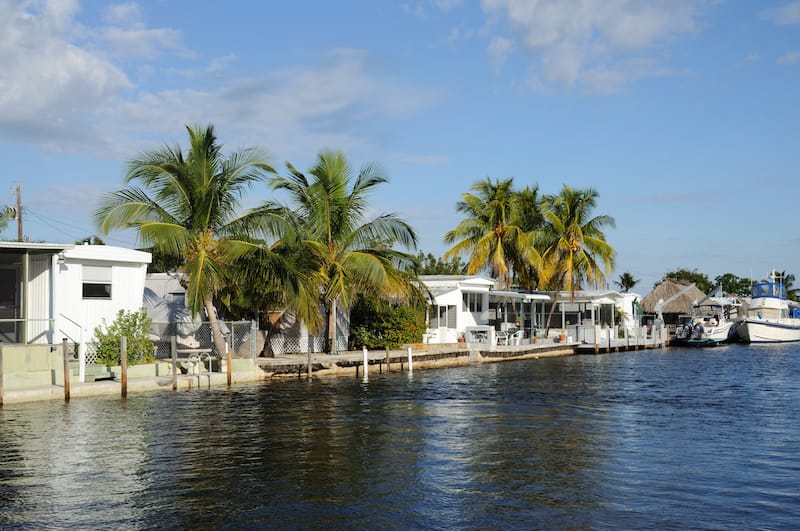 You'll also get some information on its starring Hollywood role through the movie trivia that the captain has.
During your trip, get ready to pose like a model as there are several photo ops during the ride.
Lay Back and Relax at Harry Harris Park & Beach
Wherever you're traveling, it's never a bad idea to head to the beach. That also applies here, with the beach among the best Key Largo attractions.
Harry Harris Park is a small beach boasting warm waters, soft white sand, and palm trees, along with several amenities. This includes picnic areas, basketball courts, barbecue grills, and playgrounds for kids.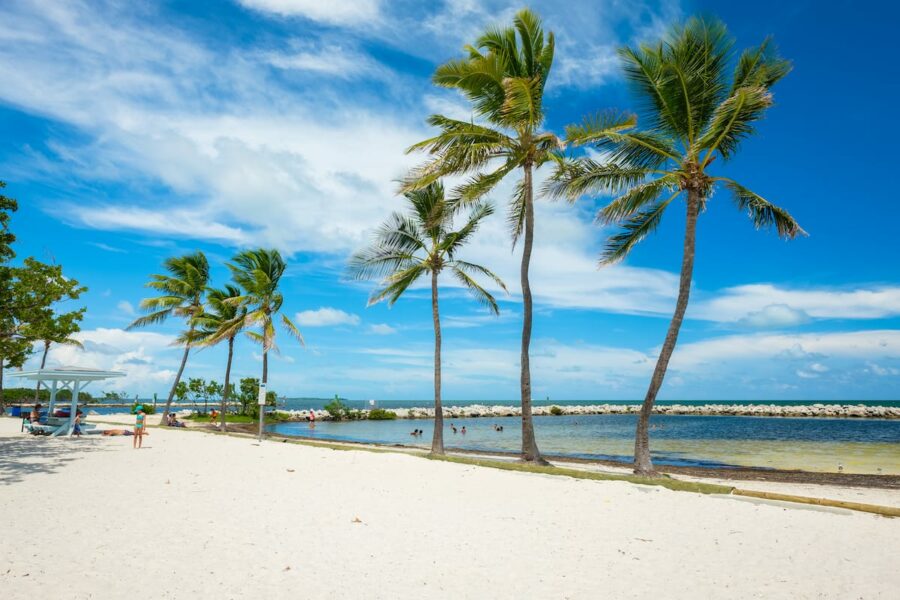 The Key Largo beach is perfect for just laying down a towel or camp chair and sunbathing with the sound of crashing waves in the background. Some scenic views are on offer, so arrive in time to catch a beautiful sunset or sunrise.
If you're after fun in the water, don't be dismayed. You can opt just to dive in and go swimming or snorkeling if you'd rather be active while at the park. For kids, there's a tidal pool provided to ensure they can safely have fun.
Visit the Florida Keys Wild Bird Rehabilitation Center
If you're a bird-lover, a visit to the Florida Keys Wild Bird Rehabilitation Center is one of the top things to do in Key Largo. This center is located south of the island and was founded by Laura Quinn.
The staff here rescues birds that are injured or abused, rehabilitates them, and then releases them into the wild if possible.
An animal hospital and the Laura Quinn Wild Bird Sanctuary are the two facilities found here. However, visitors don't get access to the hospital.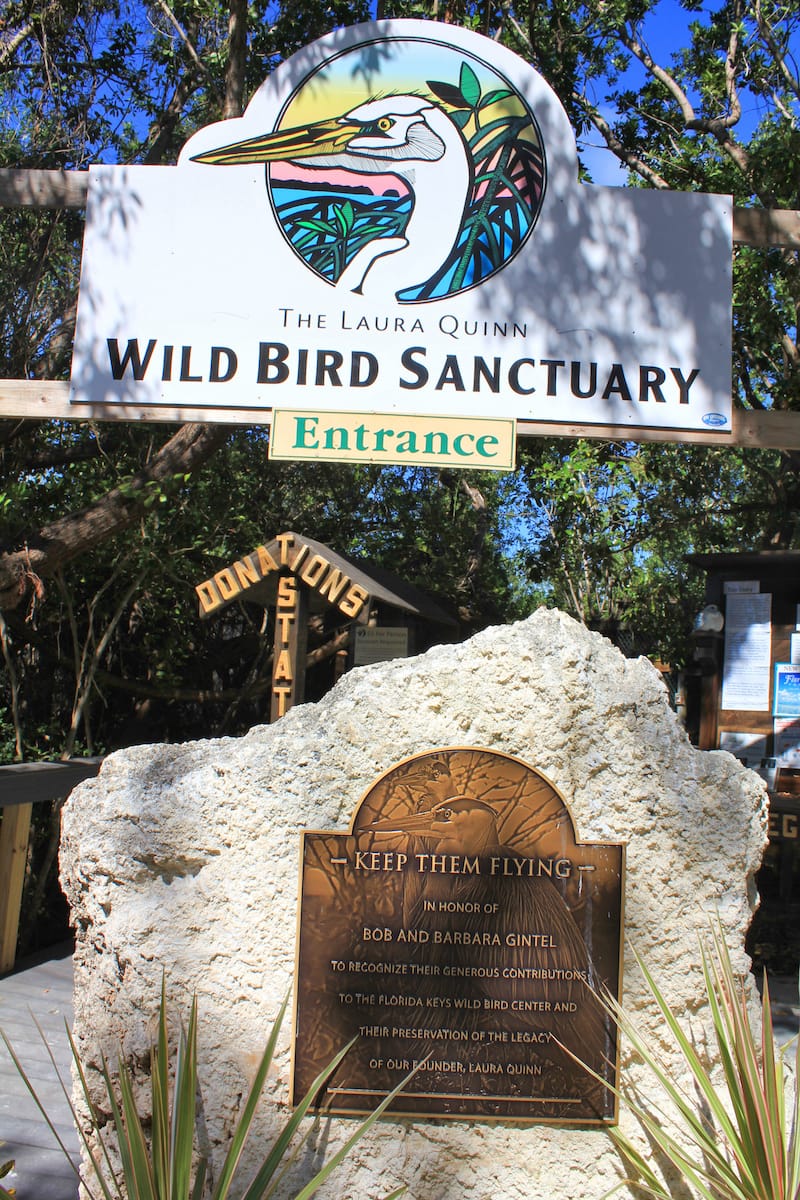 At the sanctuary, you can see nearly a hundred birds with herons, owls, and cormorants among the bird species here. These birds live in natural enclosures that mimic their natural habitats as they couldn't be released back into the wild.
A visit here is more than just a birdwatching outing as it features many interactive and educational activities.
You'll learn about the bird's behavior, its injuries, and its life in the wild. Live feeding of the pelicans is something else you can enjoy during your visit.
While entry to the sanctuary is free, donations are always welcome to help the team continue its incredible work.
Reel a Fish in on a Fishing Charter
Apart from diving, Key Largo is famous for the fishing opportunities on the island. Surrounded by water with thousands of fish, a trip would be wasted without trying to catch a big one.
While you can pull out a rod just about anywhere on the island, we recommend going on a fishing charter for the best experience.
Regardless of your experience, you can book a private or shared charter to take you to the best fishing spots. For the inexperienced, you'll have the opportunity to reel one in with the help of an expert crew.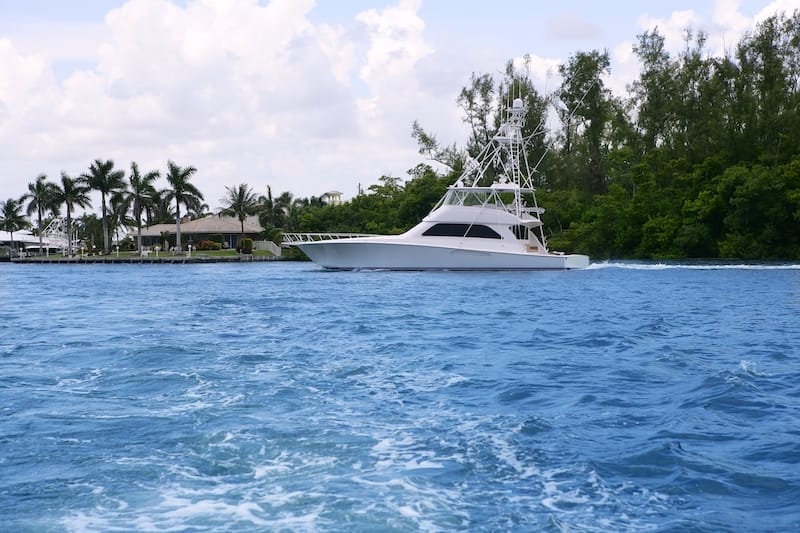 These charters can be hired for a few hours or the entire day, the choice is all yours. Before you even arrive at the fishing hotspots, you enjoy a scenic ride atop the ocean with some charters providing complimentary beverages.
Once at the fishing hotspots, you can expect to reel in fish like marlins, tunas, snappers, sailfish, and more.
Get Educated at the History of Diving Museum
Okay, the History of Diving Museum is actually in Islamorada (about 17 miles away in another Florida town in the Keys), but its magnificence warrants a little cheating.
A visit here is often considered one of the best things to do in Key Largo, Florida, thanks to its proximity to the island.
While geared towards divers, just about anyone can have fun here. This is thanks in large part to how interactive the entire experience is.
The exhibitions take you on a trip back in time to the early beginnings of human exploration of the ocean. You learn who the industry's early pioneers were, how the breathing equipment has changed, and the technology used in the past.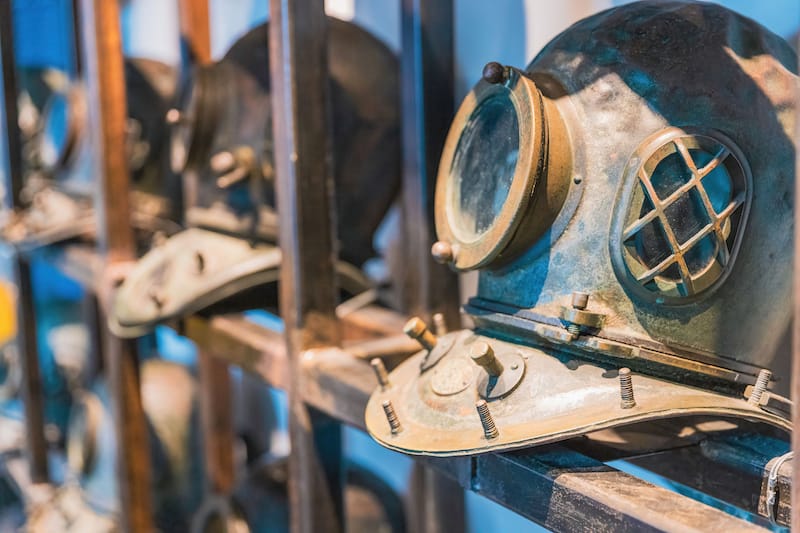 Also included in the educational content here is how scuba diving became so popular.
There are many shipwrecks to see here, including the treasures retrieved from some of them. In addition to the permanent exhibits on display, the museum does host some temporary exhibitions.
The most popular interactive exhibit here is a test that allows you to see how long you're able to hold your breath underwater. Trust us, you'll discover why the pioneers came up with the idea of breath apparatuses.
Enjoy a Gastronomic Extravaganza
A holiday vacation is never complete without indulging in a region's signature dishes and drinks. After working an appetite while scuba diving, snorkeling, or boat-riding, you can dive into Key Largo's best eateries.
These are scattered all around, with diners in downtown Key Largo, the north, the south, and more.
While many restaurants here specialize in seafood (duh), there are still places to grab Thai, Italian, Mexican, and more.
Stop at Key Largo Conch House, which is open daily except for Thursdays, to enjoy fresh seafood in a location hidden among the trees.
Grab a seat and choose between the key lime macadamia pancakes or the conch house tacos. The restaurant has a veggie curry for anyone on a plant-based diet.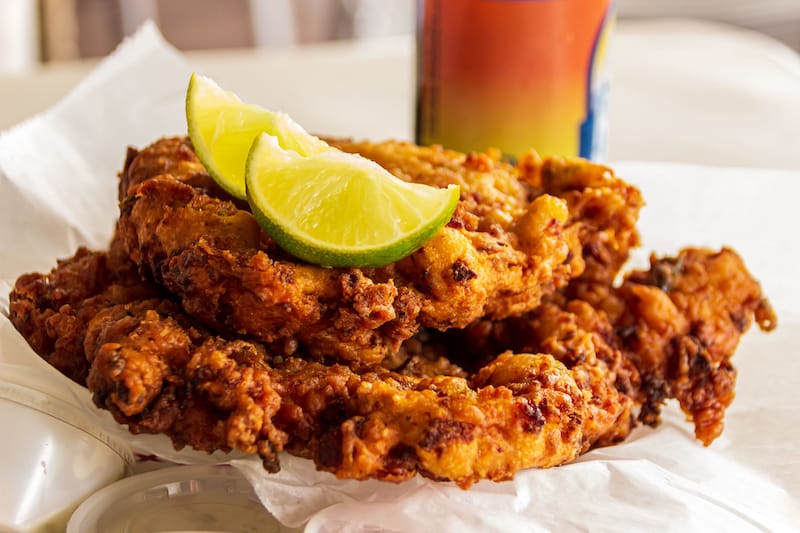 For Mexican delicacies on the go, visit Tacos Jalisco between Monday and Saturday. The food truck is most famous for its fresh tacos, although burritos and quesadillas are also available.
To end the day, we recommend going to the ocean-facing Sundowners, which is one of the best Key Largo places to visit. You may come for the seafood, but you're sure to stay for the view and entertainment.
Enjoy your meal with a drink in hand while watching the sun disappear behind the ocean to the sound of incredible music.
Admire Local Art at the Gallery of Kona Kai
If you're an art buff, a visit to the Gallery of Kona Kai is a must-do in Key Largo. It's a great way to see the work of local artists. There are also some art pieces from foreign artists dating back decades.
The owners have been collecting art since the 1980s, and they officially opened the gallery in 1996. This gallery is located at the Kona Kai Resort, meaning you can't miss it if you choose to lodge here.
You can also get a taste of the island's artistic brilliance at the Key Largo Art Gallery and Our Place in Paradise. The Key Largo Art Gallery is closed on Mondays, while Our Place in Paradise is closed on Sundays.
Watch Dolphins Ethically at Dolphins Plus Bayside
Dolphins Plus Bayside awaits on a five-acre lagoon to the north of the island. Whether traveling as friends, a family, or a couple, a visit here is one of the most fun things to do in Key Largo.
This interactive activity lets you see dolphins and manatees in their natural surroundings. The fun begins with a boat ride above the water to the animals' location.
On the way, you learn what to expect when interacting with dolphins and also get taught some fun facts about them.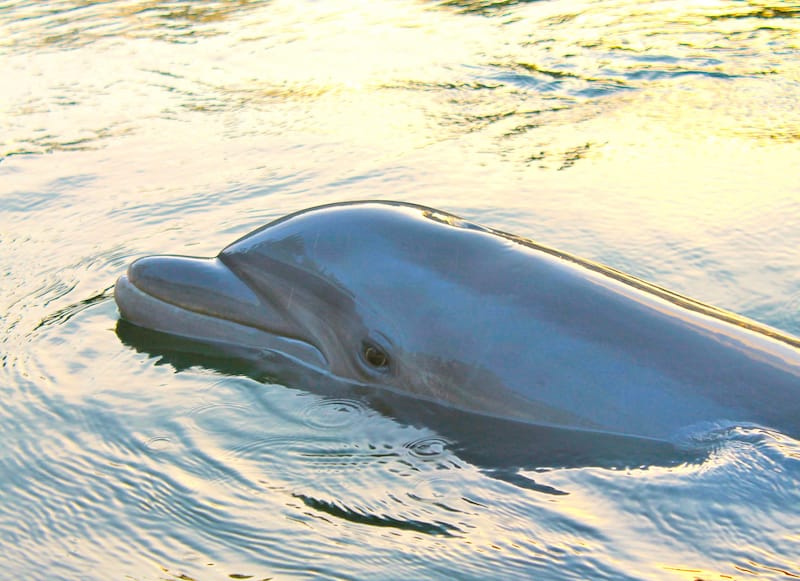 Once they've been found, you can enjoy a spectacle of dolphins jumping in and out of the water. Unless luck is not on your side, you are likely to get a few snaps with these surreal sea creatures.
You can opt for a guided "natural swim" dolphin encounter at the end of the boat ride. Shallow water encounters and structured dolphin swims are also available.
If you aren't ready to share the water with the dolphins, you can enjoy kissing or petting from a dockside platform.
Marvel at the Underwater Riches at Other Locations
Apart from the famous reefs above, there are still plenty of places to go in Key Largo for underwater enthusiasts.
The best way to explore all that's below Key Largo's surface is through snorkeling or scuba diving with marine life.
You can snorkel from right about anywhere here — if there's a body of water around, it's a snorkeling opportunity you can't pass up.
Dive into the water at Mosquito Bank, White Banks, and Canon Patch Reef to come across different sea and coral species. If you don't have the appropriate equipment, you can easily rent them out from various shops on the island.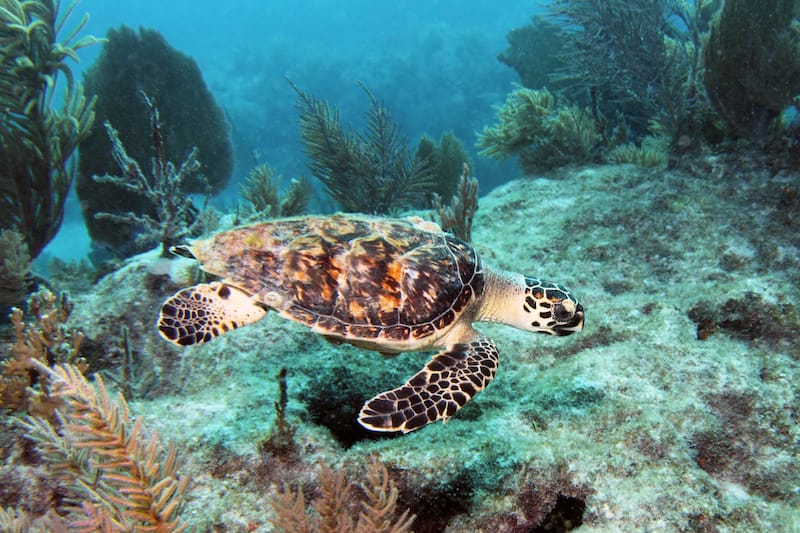 One of the best places to snorkel is Molasses Reef, a part of the Florida Keys National Marine Sanctuary. In addition to the natural splendor, you can come across an anchor and winch from an old schooner.
Also in the sanctuary is a fascinating statue called 'Christ of the Deep,' one of three identical statues scattered globally. It features Christ looking to the sky with his arms raised. It's been in Key Largo since 1965 and sits 25 feet below the surface.
For a comprehensive snorkeling experience led by an experienced instructor, we recommend joining a snorkeling tour.
Go Parasailing in Key Largo
When it comes to things to do, Key Largo also allows you to take to the skies. Parasailing above the island is something different from all the activities above. It's perfect for you if you enjoy thrilling activities under the supervision of experts.
While parasailing, you can enjoy a bird's eye view of Key Largo and see the island differently. Depending on where you start, you can enjoy views of the John Pennekamp State Park, the Atlantic Ocean, and more.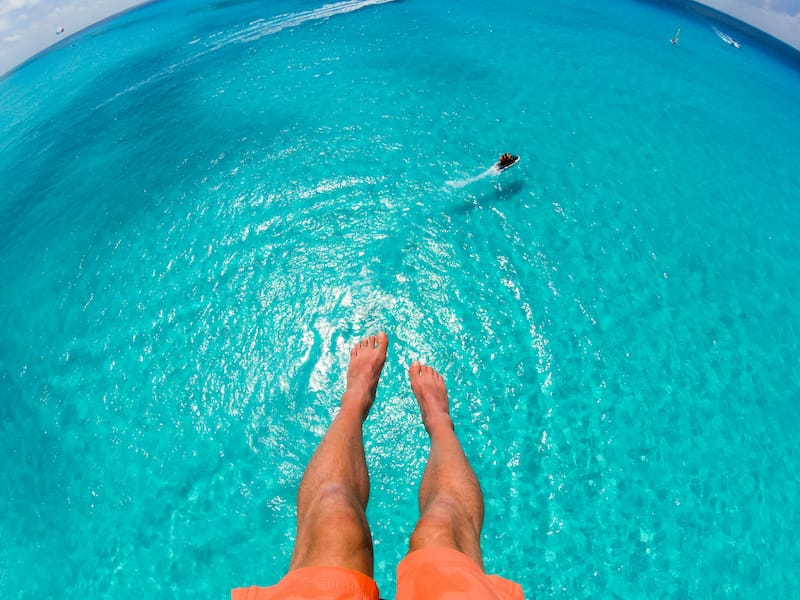 The most trusted group for this activity has been "Key Largo Parasail," with two decades of experience. You can take to the skies in a maximum of a three-person group, with at least one of the flyers required to be 14 years or older.
If you aren't brave enough to go that high, you can come along on the boat ride as an observer.
Alternatively, you can see Key Largo from the skies via a scenic 50-minute plane tour.
Where to Stay in Key Largo
To be honest, there are so many amazing places to stay in Miami that I always stay there. But, I did have a wedding in Key Largo one time that I used an excuse to crash on the island!
You'll find plenty of epic places to stay in Key Largo and here are a few of our top picks:
As is evident, Key Largo is one of the best travel destinations in the world and definitely in the United States. It has a ton of natural beauty for you and other travelers to enjoy, either under or above the water.
We hope that this guide has helped shape your itinerary for things to do and what to see in Key Largo.
If you've been to the island or have a suggestion we may have missed for the best things to do in Key Largo FL, feel free to let us know in the comment section below!
More Florida Keys Travel Guides
Pin this Key Largo Attractions Guide