Are you looking for the perfect relaxing morning activity in Abisko? This post details how to enjoy winter hiking in Abisko National Park as a beginner… and more!
Are you planning your trip to Abisko last minute?
If youʻre booking your trip to Abisko last minute, we have you covered. Below are some of the top tours, hotels, and more!
🇸🇪 Top Experiences and Tours in Abisko:
🛌 Top Places to Stay in Abisko:
🚗 Looking to travel around Sweden independently? Click here to check Sweden rental car rates!
In this guide, I will discuss what to know before an Abisko hiking trip in winter, what to bring with you, and how to book the best tour to do so.
Please note that this guide is written for beginner hikers and not those looking to do multi-day treks throughout Arctic Sweden!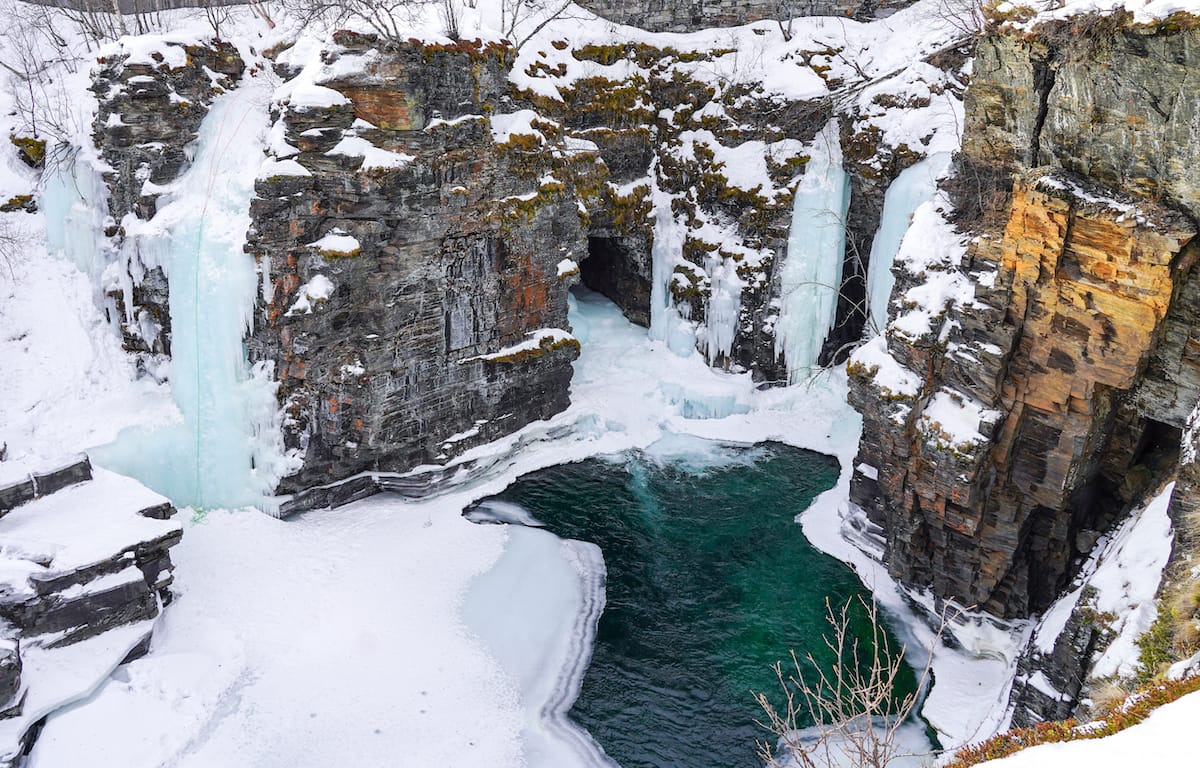 If you have any questions about taking a winter hiking tour in Abisko National Park, let us know in the comments!
Why I Booked a Winter Hiking in Abisko Tour
I love the Arctic and there is something about the air and nature that brings me an inner peace that I can't seem to find elsewhere in the world.
Knowing that I was going to spend nearly every night in Sweden hunting the aurora, I wanted to take a more chilled-out tour one morning.
BOOK HERE: Winter hiking tour in Abisko
That is when I discovered the Morning Winter Hike in Abisko National Park Tour, offered by Lights over Lapland.
The tour ticked off all my boxes- a leisurely pace, beautiful views, and the chance to see some of northern Sweden's most famous fauna.
How to Book the Morning Winter Hike in Abisko National Park Tour
I booked my tour through Manawa, a company that we partner with and that has an amazing portfolio of adventure (and soft-adventure!) tours.
They have a wide array of tours in Arctic Sweden and take the pressure of booking a tour and dealing directly with the company off of your back.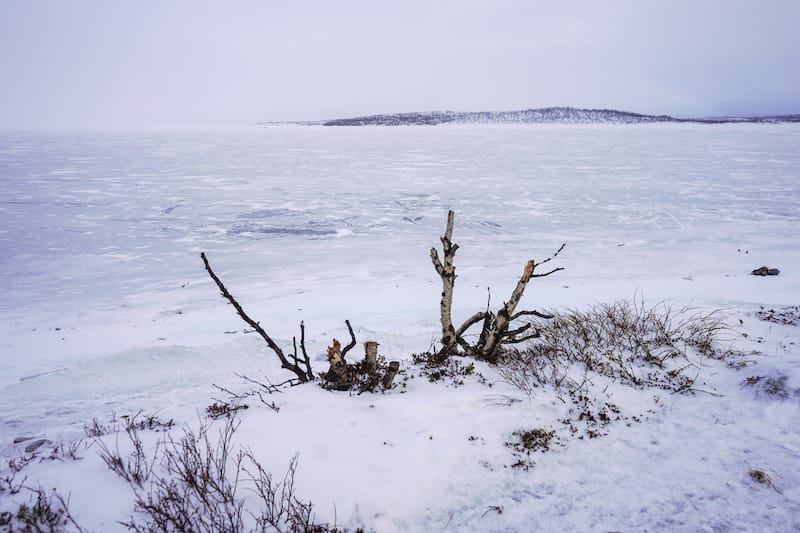 As the name of this tour suggests, it is only available from December until the end of March.
The booking process is simple. Choose the date you wish to go on and fill in the required information. You will need to provide your pick-up location in Abisko during the booking process.
Once you have paid, you will eventually receive two emails, the booking request and then once the order is confirmed an email confirming all the details including pick-up time and location.
Meeting Point for the Abisko Hiking Tour
The tour offers to pick you up from locations within Abisko itself, and from there you will be taken to STF Abisko Turiststation where the tour will start.
If you are staying at STF Abisko Turiststation, simply meet your tour guide there.
The tour is run by Lights over Lapland and their guides are easily recognizable with the logo emblazoned across their black jackets.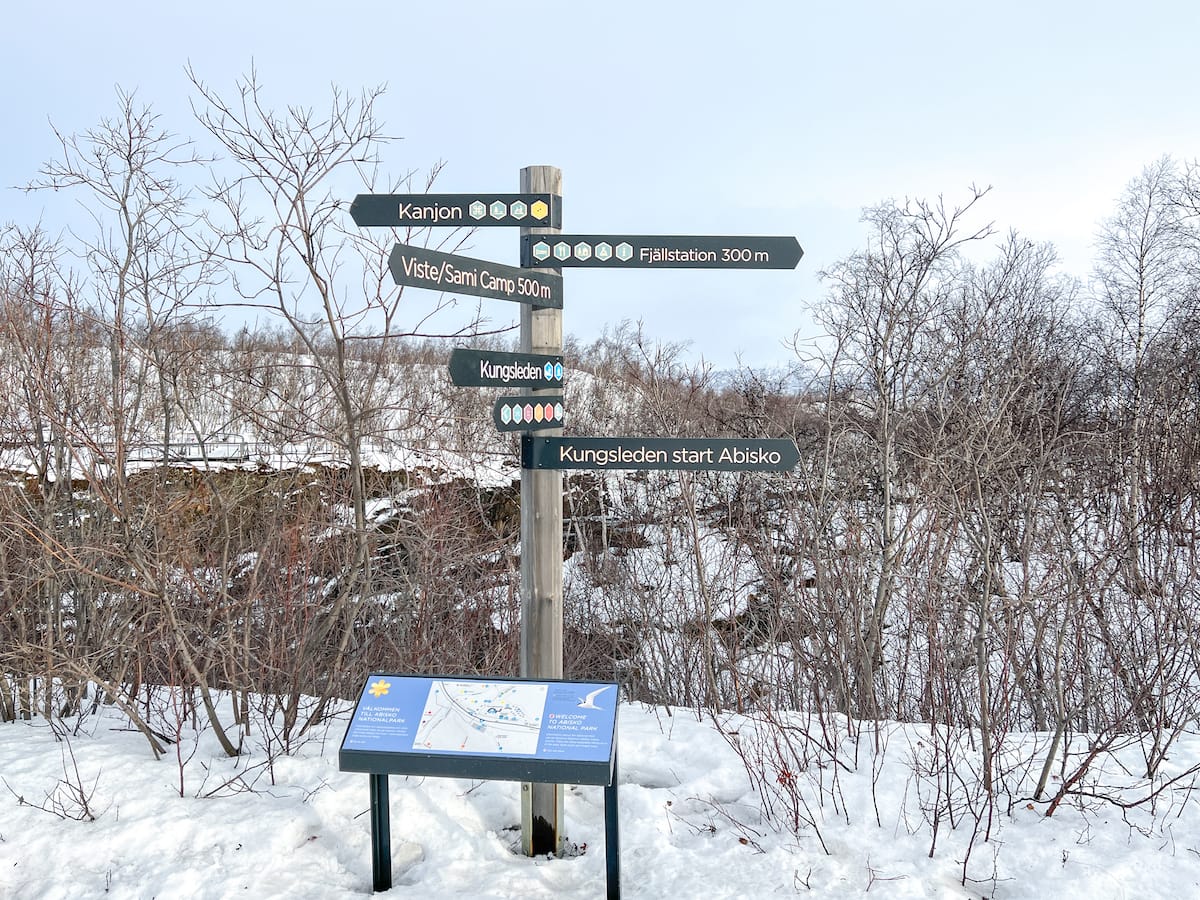 Your order confirmation should state the information about the time and place you will be met by the tour guide.
If there are any issues, you should reach out directly to the tour company with the details provided in the booking confirmation.
Highlights (& My Experience) from the Hike
Duration: 2 hours (arrive at least 10 minutes early)
Meeting Point: your hotel in Abisko (tell them before!) or STF Abisko Turstation
Language: English
CLICK HERE TO BOOK!
Once everyone on your tour has been gathered, you will start on the morning hike, quickly immersing yourself in the national park that sits right on the doorstep of the STF Turiststation.
BOOK HERE: Winter hiking tour in Abisko
As you start making your way through the park, your guide will stop at some of the most interesting points and explain a little about them… from natural facts to the history of the Sami people.
Here are a few of my highlights from the hike:
The Start of Kungsleden
In Abisko, you will find the start (or end depending on how you wish to look at it) of the Kungsleden hiking trail, one of Sweden's most famous and longest hiking routes stretching over 440 km (270 miles) to the southern town of Hemevan.
On the morning winter hike, you will start by visiting the starting point of the trail, where you can see all the incredible sites and peaks routed out along the walls of this partially covered walkway.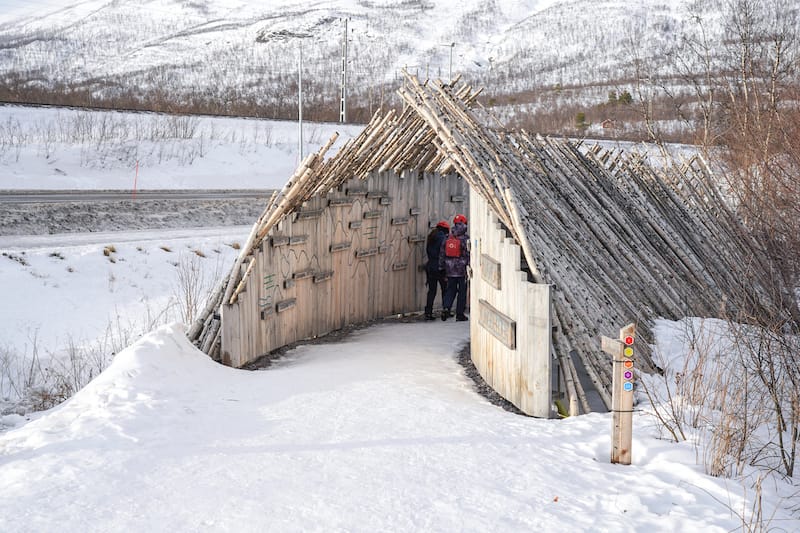 While the trail itself travels through four of Sweden's national parks and historical Sami lands, the morning hike quickly deviates off of the trail heading towards the river gorge and then onto the lake.
Ancient Birch Forests
Birch forests are symbols of happiness for me, mainly as I feel they always coincide with visiting a place with clean air and impressive nature.
Most of the birch forests of Scandinavia tend to be dominating, with towering trees.
The permafrost, winds, and harsh conditions have meant that the birch trees in Abisko National Park are thin, shorter trees that are built to survive these harsh conditions.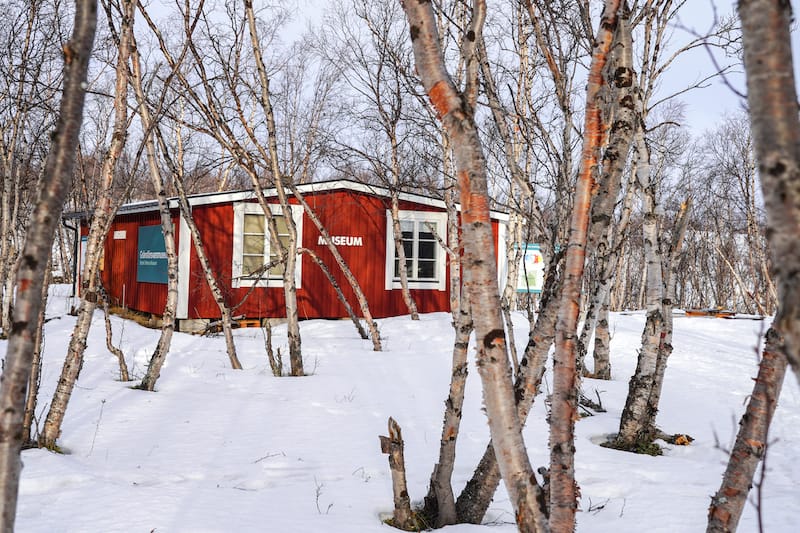 While the trees may not look like much, their small stature has led them to be able to survive for 500-600 years, providing a moose doesn't snack on them as a sapling.
On pretty much all of the trees in Abisko, you will see black moss growing, which our guide Miguel informed us is a sign of the purity of the air, and the same trees by the road and rail line will not have this moss on them.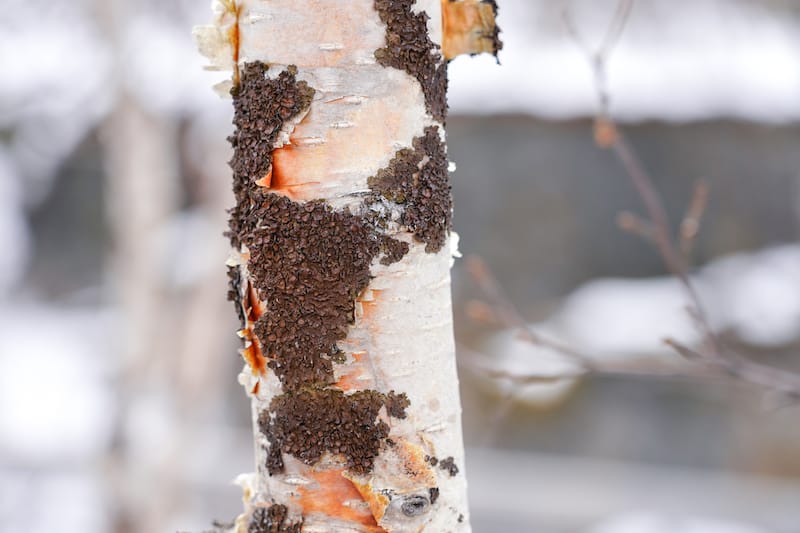 It's important to note that nothing can be removed from the trees and it's prohibited to even take a fallen leaf out of the national park, as these all play a role in the delicate balance of the Arctic ecosystem.
Frozen Waterfalls
One of the most impressive sites along the walk is the frozen-in-time cascades of water that drop down into the gorge. And, one of the best things to do in Abisko in winter is to climb them!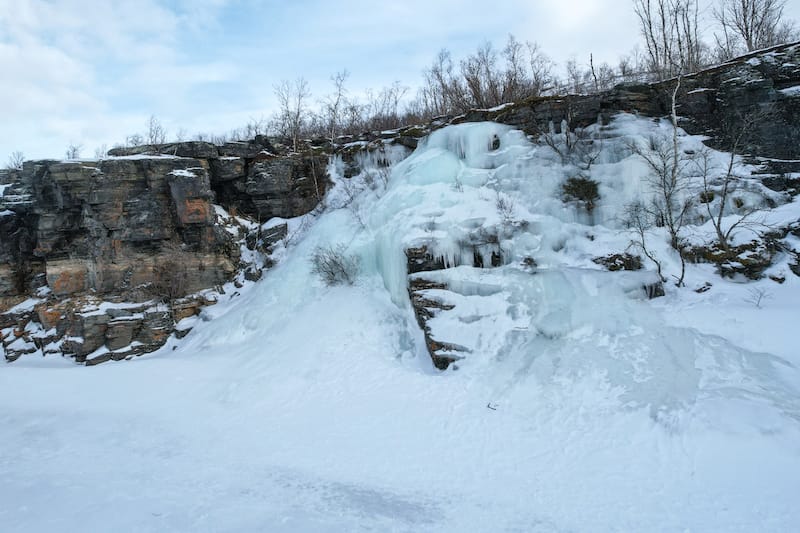 While we were on our tour, the ice was being prepped for ice climbing, a daring adventure I will try the next time I am in Abisko!
The gorge itself is impressive, with water running down it that moves fast enough to not be able to completely freeze over!
BOOK HERE: Winter hiking tour in Abisko
While it's possible to walk on frozen lakes, frozen rivers are a no-go as fast-moving water doesn't freeze well and if you fall in you will be quickly dragged under the ice that is there.
Despite its danger, the water is some of the purest in the world, and further upstream it is used for Abisko's drinking water!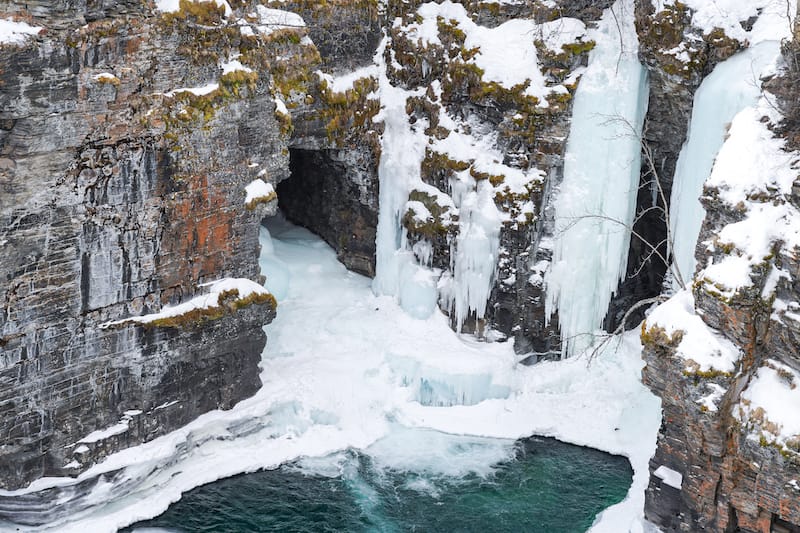 The river's flow was altered about 100 years ago to move the river, so the railway could be built, and you will notice the water appears to come out of a cave!
This was actually carved out of the rock by hand as any machinery available at the time was only made available to build the actual railway.
Torneträsk Lake
The main goal of the morning hike is to reach the vast Torneträsk Lake, which freezes over during the winter.
This icy scape is impressive and once you reach it, you will take a walk along the surface before starting the hike back toward the STF Turiststation.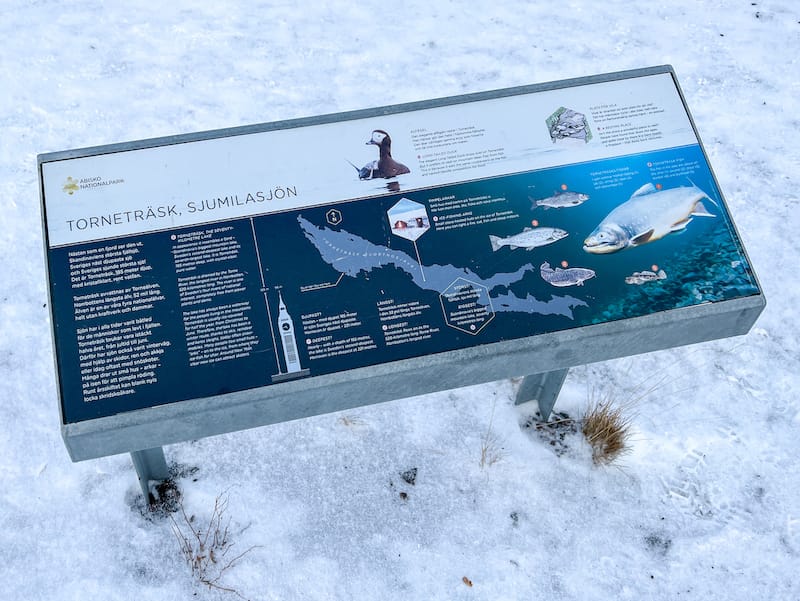 Unfortunately, the day I decided to hike a storm decided to rage with gusts of up to 100 km/h (62mph). Our guide made the decision that it was too risky to make our way to the lake where we would be hit with the full force of the wind.
Fortunately, during the previous day, I had walked down to the lake to take some photographs when there was barely a breeze, so I wasn't too upset, although I am still yet to actually walk on the lake!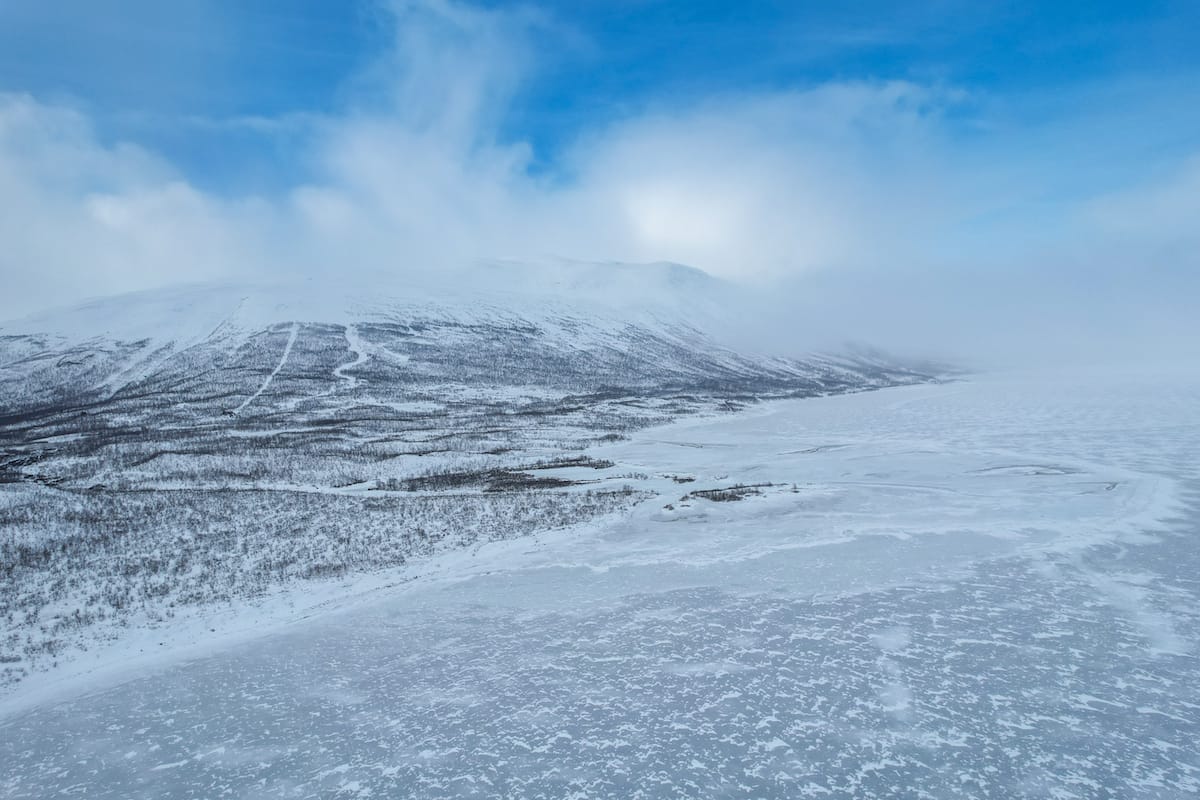 For now, I will just declare that Torneträsk and I have some unfinished business.
Wildlife Galore
I travel for wildlife and wildlife loves to hide from me. On this tour, there is a chance you will get to see some of the beautiful animals that fight to survive in the Arctic.
If you are lucky, you may see reindeer, Arctic foxes, hares, otters, or even a moose.
Given that wildlife generally has an aversion to letting me see it, I assumed I wouldn't see anything.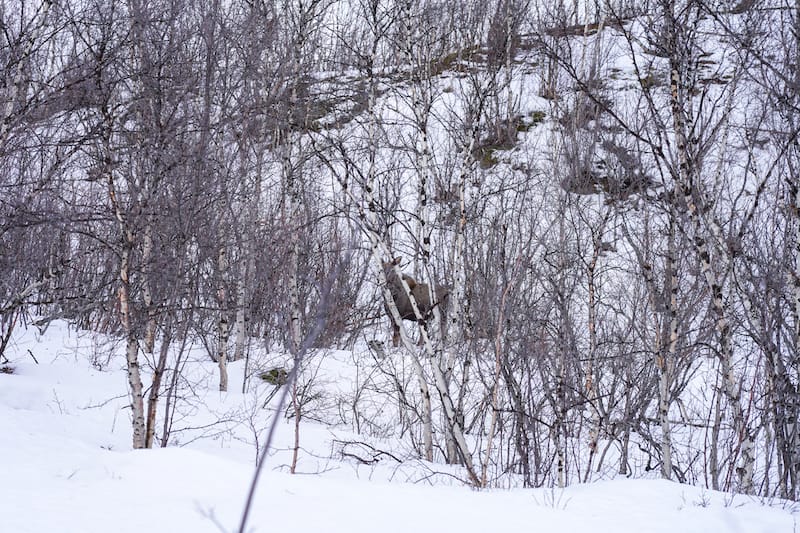 As we made our way back to the end point of the hike we took a short break and just happened to see a moose making its way down from where we had just been 30 minutes before.
There was, to our surprise, a second moose just below this one, and they were likely a mother and near the full-grown calf.
Our guide gave us some time to get a little closer to the moose to grab some pictures, although within a respectable distance as moose at this time of year can be very aggressive or spooked forcing them to expend valuable energy.
Mountain Vistas
Throughout the hike, you will have the opportunity to look out over some incredible vistas. My favorite on the walk were the mountains to the south, where an ancient glacier carved out a U-shaped valley.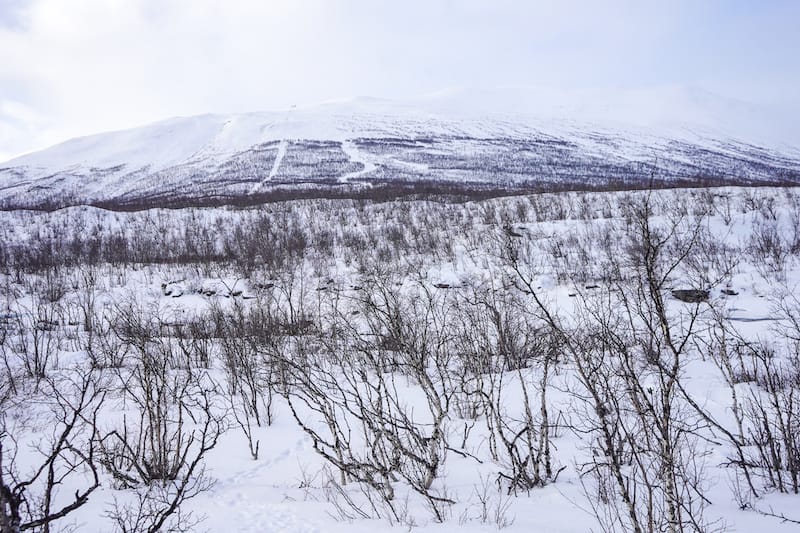 The mountains play an important role in Sami history, as they marked the south where the reindeer could be found during the winter.
Sami women, however, were never allowed to make this journey as it was said that gods would take the women who made their way up the hills.
Sami Tunnel
Close to the start of the hike, we stopped at a little tunnel that went under the road and formed part of the Kungsleden hike.
The inside of the tunnel was painted to depict the Sami culture and speakers built in the tunnel played traditional Sami Joik songs, a type of song where the singers make tonal sounds but do not form words, often passed down generations.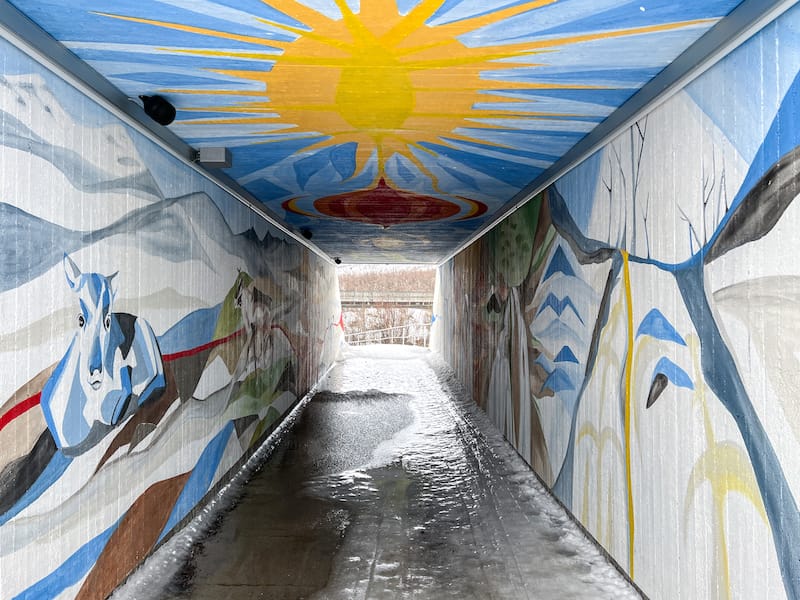 I found this tunnel a great reminder that these lands truly belong to the Sami people who cared for them for millennia.
View Over the Lake and River Mouth
Before you set off down to the lake, you will reach a viewpoint where you can see the mouth of the river and out over the lake.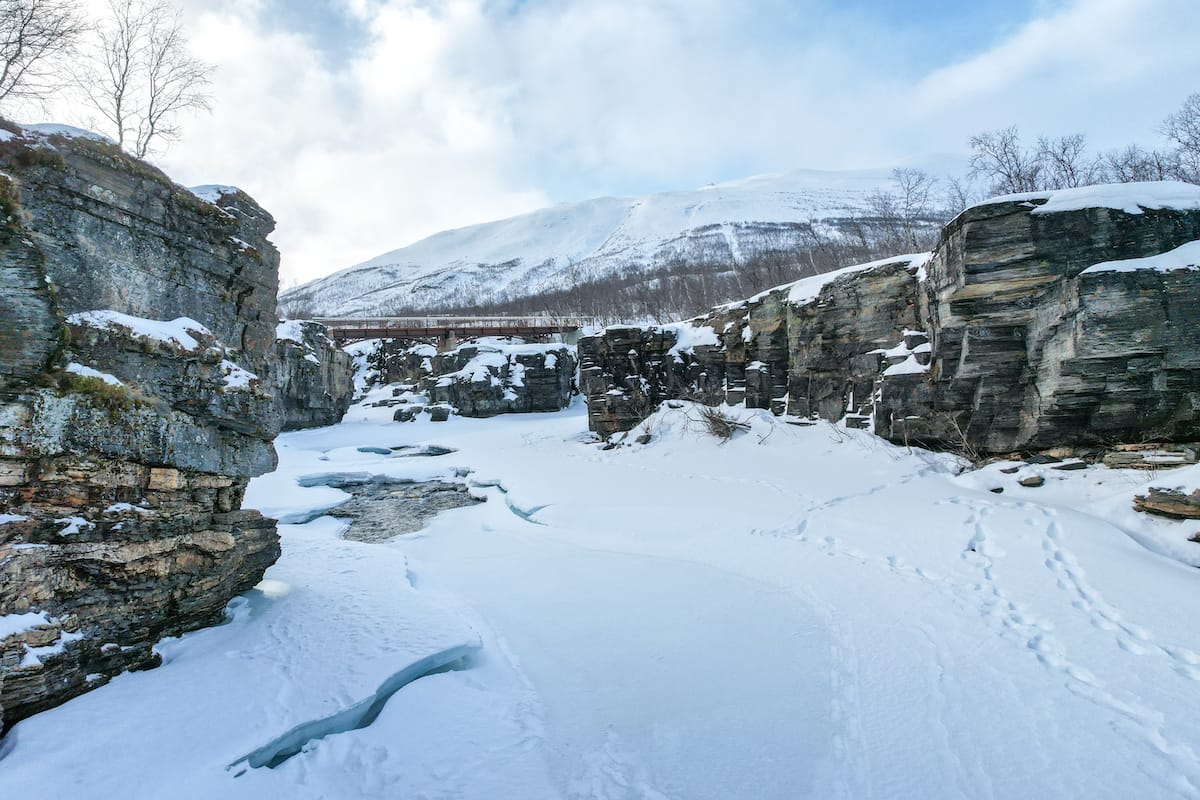 This is also a great place for those hoping to spot a moose as they often can be found in the forest below next to the mouth of the river.
Although, if a moose is not moving, you will most likely not be able to see it because, despite its size, they blend into the forest very well.
BOOK HERE: Winter hiking tour in Abisko
There is also a small little hut here, where you can sit and take in the views over the frozen expanse or shelter from the punishing winds.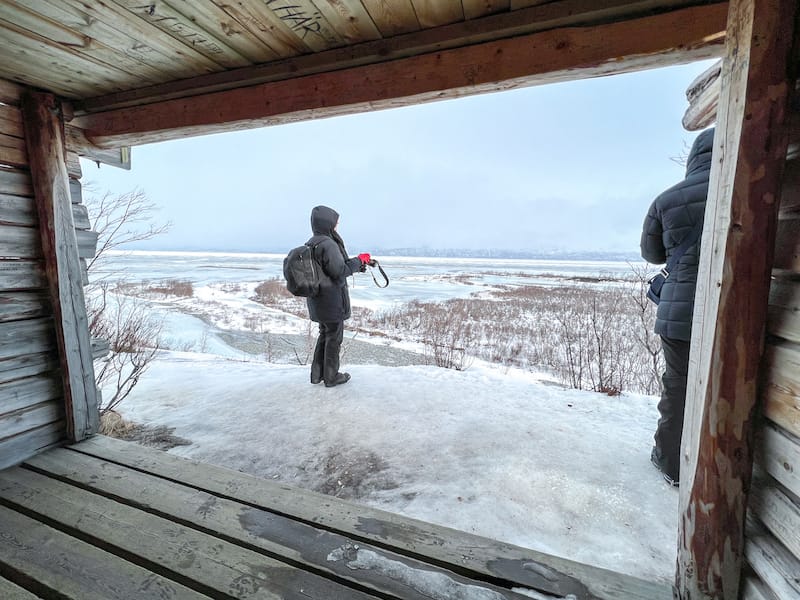 Who Can't Take this Abisko National Park Hiking Tour
While this tour is fairly easy with some gradual inclines, I definitely don't recommend it for those with mobility issues.
Most of the tour is based along well-trodden paths, but the snow can shift and some of the routes were not as sturdy.
It was not uncommon for people to step a few inches to the left or right of where the guide walked and find themselves knee-deep in snow.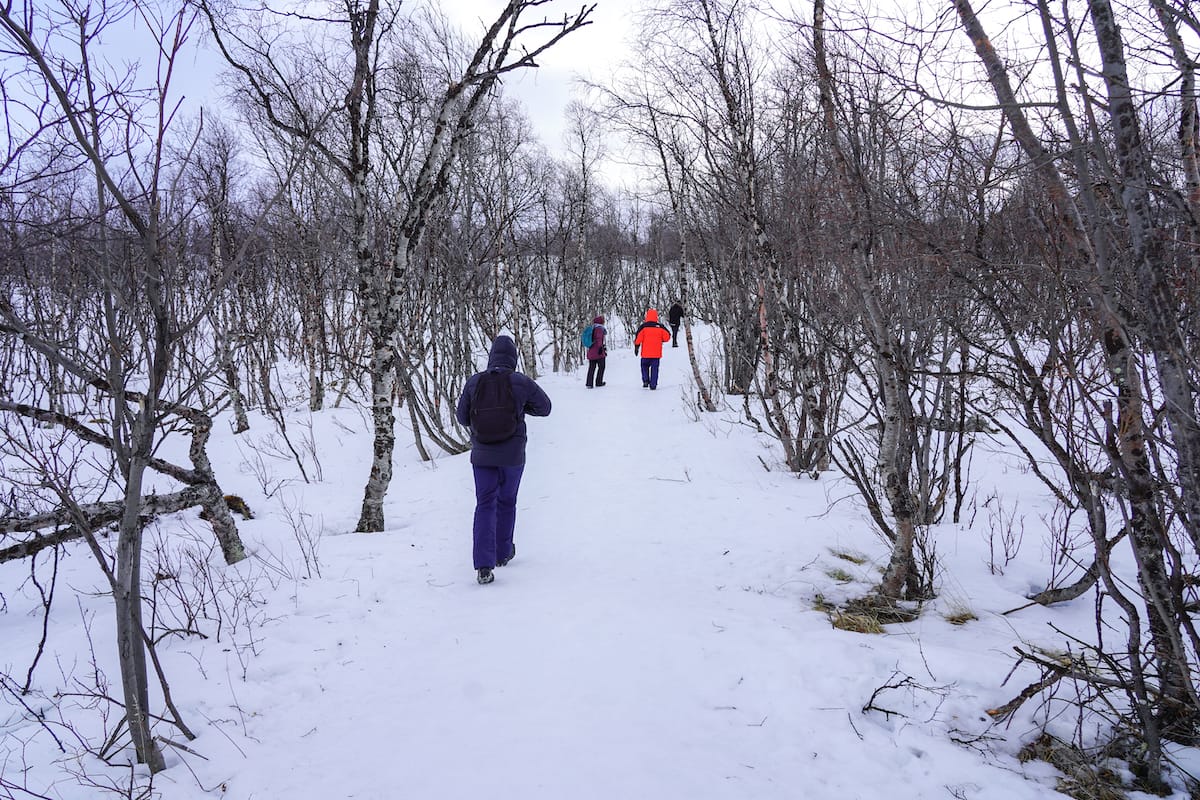 The ground in places can also be very icy, especially if the wind has whipped the top layer of snow off, so being comfortable walking in icy conditions is a must, although the tour operator does provide some ice cleats.
Otherwise, the tour is of a chilled-out place and does not require any previous hiking experience, nor will it make you sweat or feel out of breath.
What to Bring on Your Hike
Most importantly, dress appropriately for the weather! This tour does not provide any outdoor clothing gear, so you will need to dress to maintain warmth and comfort while you are out there!
I am thankful that I bought my own ice cleats with me as they really made me feel comfortable on the ice and the ones provided by the tour company were of a more basic level.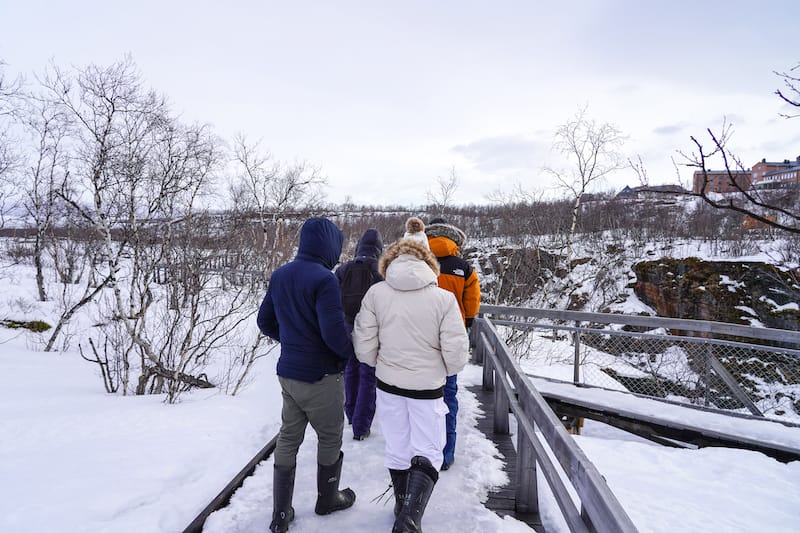 Providing you fill up on a big breakfast, I do not think bringing food is completely necessary and will end up just being an extra thing to carry on the hike.
For water, there are plenty of spots in the STF Turiststation where you can fill up your reusable water jugs. Plastic bottles of water are not common and the shop within the station refuses to sell bottled water.
Bring a camera! There is plenty of time to take photographs during this tour and the slow pace means you never feel rushed while taking them!
Did you have any questions before booking an Abisko hiking trip? Click here if you're interested in snowshoeing in Abisko instead!
Let us know your questions about hiking in Abisko National Park in winter in the comments.
More Sweden Travel Guides
Pin this Abisko Hike in Winter Guide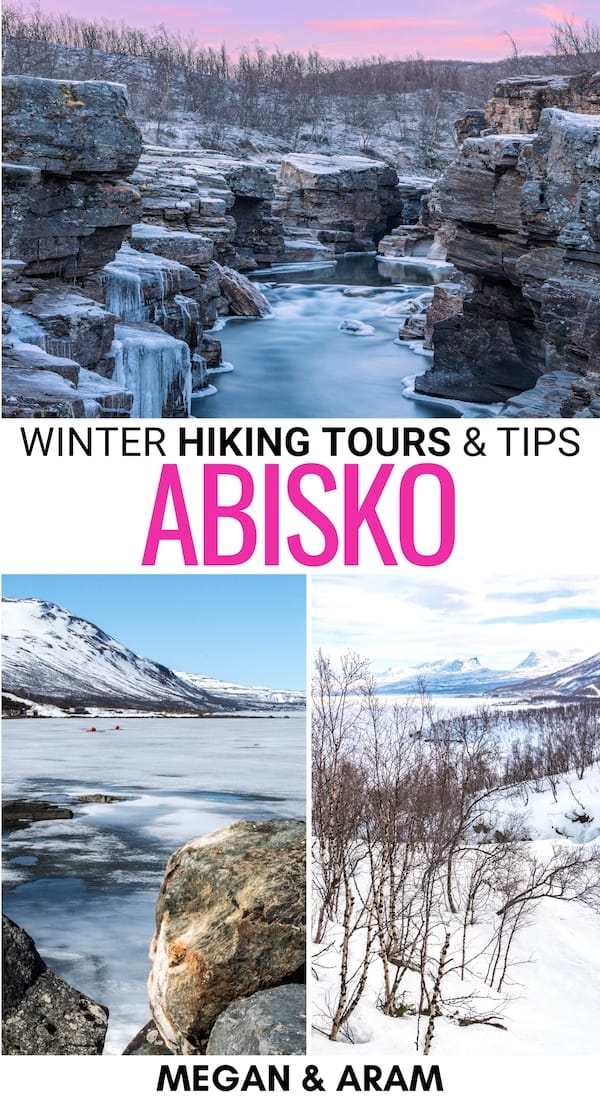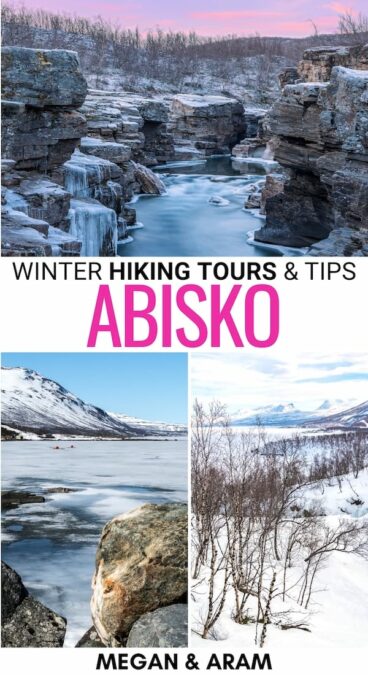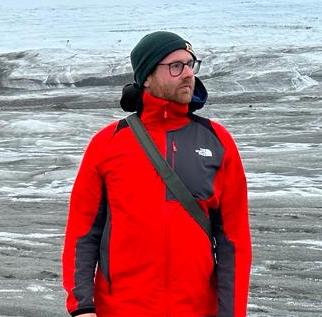 I am a Brit who spends his time between Rovaniemi, Finland, and Germany. My number one passion in life is the Arctic and everything to do with it! You can often see me traveling around with Megan (my long-time partner) and my mission is to promote sustainable travel to the Arctic year-round so that we can all enjoy and protect this incredible area of the world. On this blog, you will find a few of my tour reviews that I do when Megan is unable to cover the tour herself on our travels.