Are you looking for the best things to do in Abisko in winter? Keep reading – we have plenty of options to help you plan your trip!
Are you planning your trip to Abisko last minute?
If youʻre booking your trip to Abisko last minute, we have you covered. Below are some of the top tours, hotels, and more!
🇸🇪 Top Experiences and Tours in Abisko:
Dog-sledding in Abisko (one of the most popular tours)
🛌 Top Places to Stay in Abisko:
🚗 Looking to travel around Sweden independently? Click here to check Sweden rental car rates!
This guide covers what to do in Abisko during the winter season. You'll find the top Abisko tours, hiking trails, and even some unforgettable day trips.
Winter in Abisko is cold and known for its northern lights – but there is so much more! Keep reading to find out more!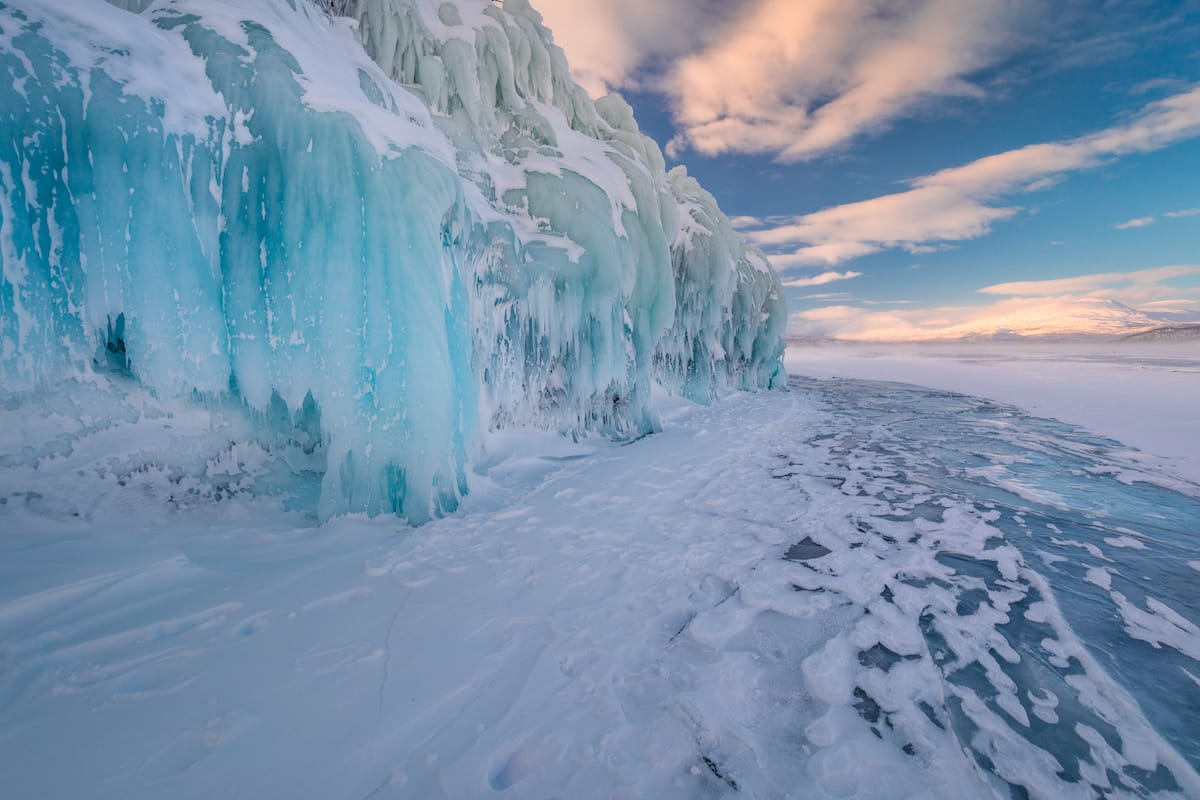 Let us know if you have any questions about visiting Abisko in winter in the comments. Thanks!
Winter in Abisko – FAQ
When is Winter in Abisko?
Winter in Abisko is quite a lengthy season (but made shorter by climate change these days).
You can expect a fair amount of snow from December through late April. But, the season kind of 'ends' at the end of March here in regard to winter tourism.
Abisko Winter Temperatures
You can see the average winter temperatures in Abisko below:
Abisko in November: highs of -2C (38F); lows of -8C (28F)
Abisko in December: highs of -4C (25F); lows of -12C (11F)
Abisko in January: highs of -6C (20F); lows of -15C (5F)
Abisko in February: highs of -6C (21F); lows of -15C (6F)
Abisko in March: highs of -3C (27F); lows of -11C (12F)
How Much Snow Does Abisko Get?
The wettest month of the year in Abisko is usually October and the autumn season.
Spring tends to be super dry comparatively speaking.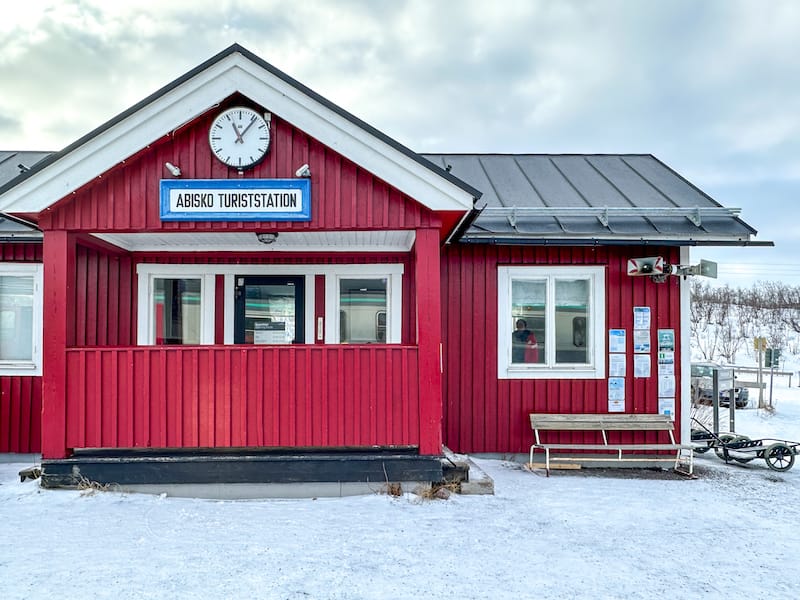 Annually, the average snowfall accumulation is 3856mm (151.81 inches) in Abisko.
There are approximately 220 snowfall days each year.
How Many Days Do You Need in Abisko during Winter?
To be honest, I think 4 days may be the perfect number of days to stay in Abisko if you are looking for an extended weekend trip.
If you have a week and a car, even better! I would recommend doubling up a few of your tours with evening northern lights tours if you're here for 4 days, however.
And, always prepare for the worst when traveling to the Arctic. The weather can be your friend… or most definitely your foe!
Can You See the Northern Lights in Abisko?
Abisko has a reputation for being the best place to see the northern lights in the world, to be honest. So, there is a good chance you will see them if you stick around a bit.
I will say that autumn tends to be rainier and cloudier than spring… and I almost always recommend seeing the northern lights in the shoulder season. So, take that as you will.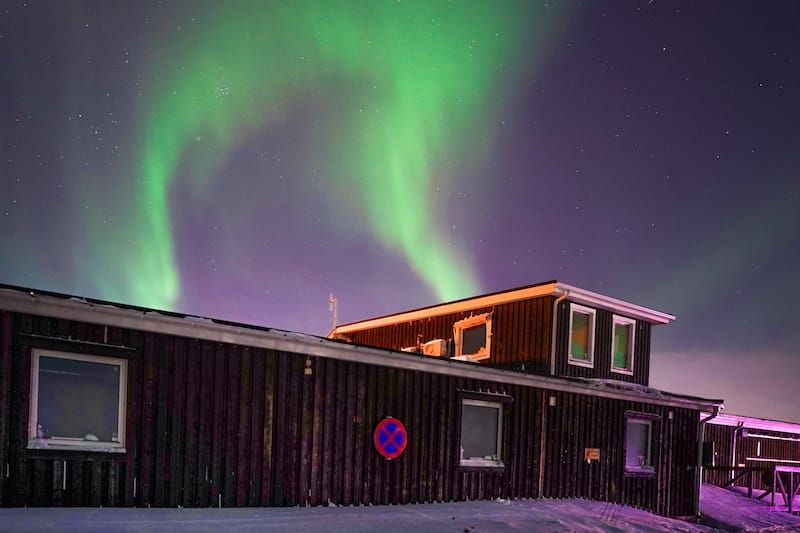 Abisko has a special microclimate due to the mountains that give it clearer skies than a lot of the rest of Scandinavia, which makes it an epic place to see the aurora!
Best Things to Do in Abisko in Winter
1. Go Dog-Sledding in Abisko
If you're searching for one of the top things to do in Abisko in winter, look no further than dog-sledding! This 2-hour adventure is available until the end of April (snow permitting) and is great for travelers ages 5 and older.
On this Abisko excursion, you will meet your guide, learn all about husky sledding, and then hit the wilderness with your team of dogs.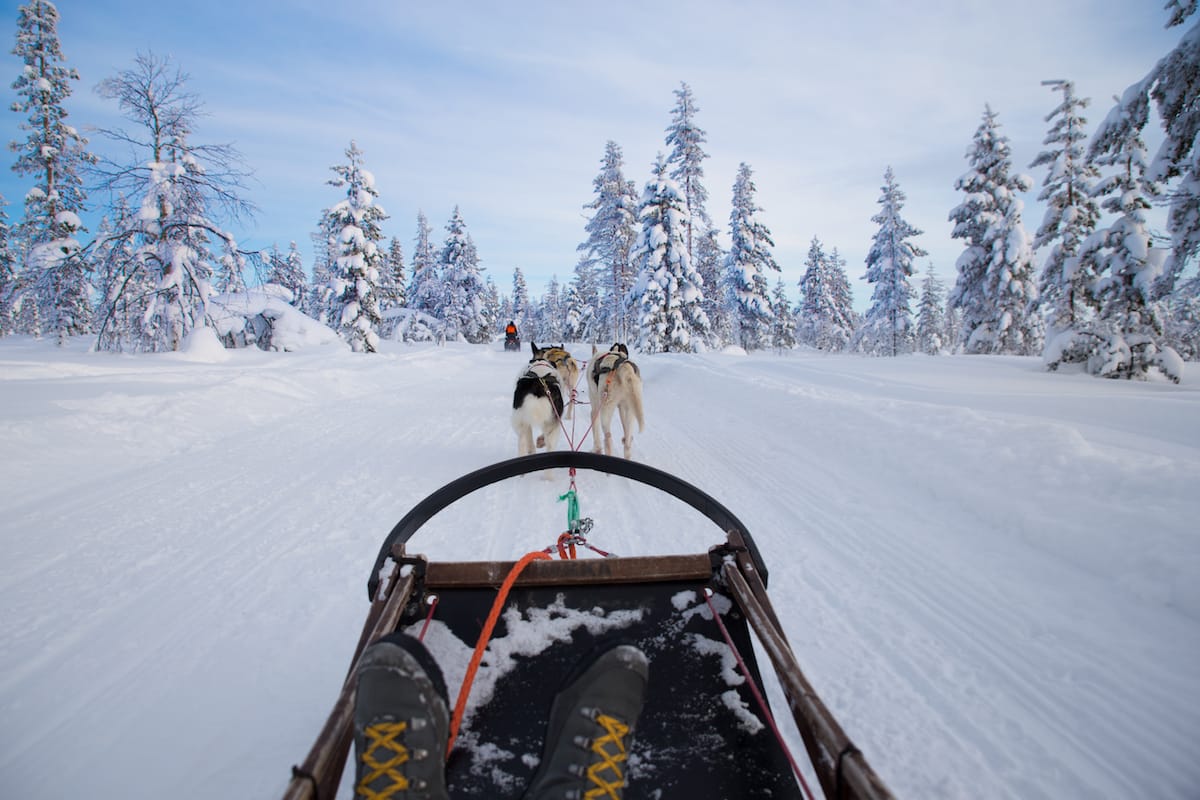 You'll have a chance to take pics along the way (bring your GoPro!) and will get to meet the dogs and walk them home after warming up with a hot drink.
Boots, mittens, and a snowsuit is included in the price, but still, dress warmly!
>> Click to check dog-sledding rates and availability
2. Enjoy an Aurora Snowshoeing Tour
Snowshoeing is one of my favorite things to do in winter but I had a torn ACL on this trip, so Ed had to head out snowshoeing without me!
He took this tour which guides guests on a 3-hour adventure through the backcountry of Abisko on snowshoes. You'll have a certified guide who will take you to snowy valleys, birch forests, and epic panoramas.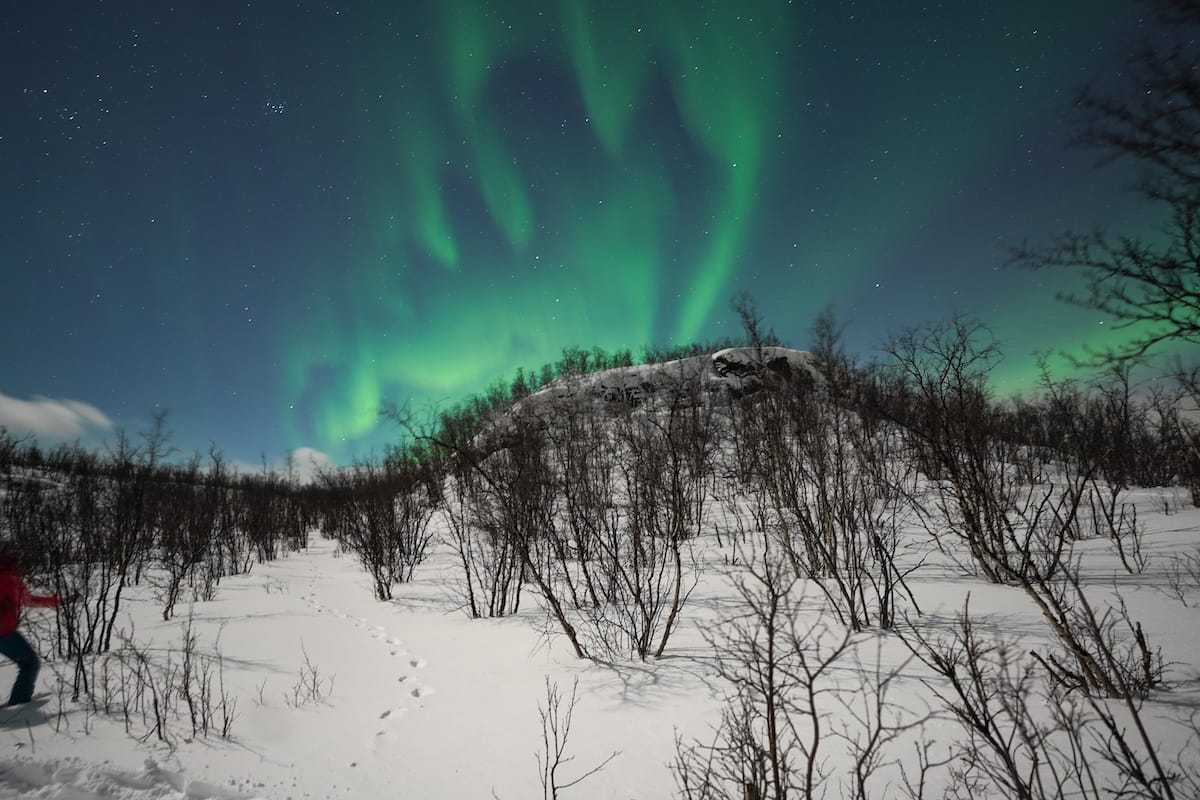 This is a night tour where you will have a chance to witness the aurora, and it starts at around 8pm.
Snowshoes are provided, as are warm drinks. There is a maximum of 8 people that can go on the tour, so it will be a small and intimate evening.
>> Click here to check tour rates and availability
3. Embark on a Morning Hike in Abisko National Park
If you're a beginner hiker and want to learn more about the nature of Abisko National Park and Swedish Lapland, this tour is a fantastic starting point!
The 2-hour tour will guide you through a Sami Tunnel, into the birch forest, past the start of Kungsleden (one of the longest trails in the Nordics), above frozen waterfalls, and to the gorgeous (and frozen!) Torneträsk Lake.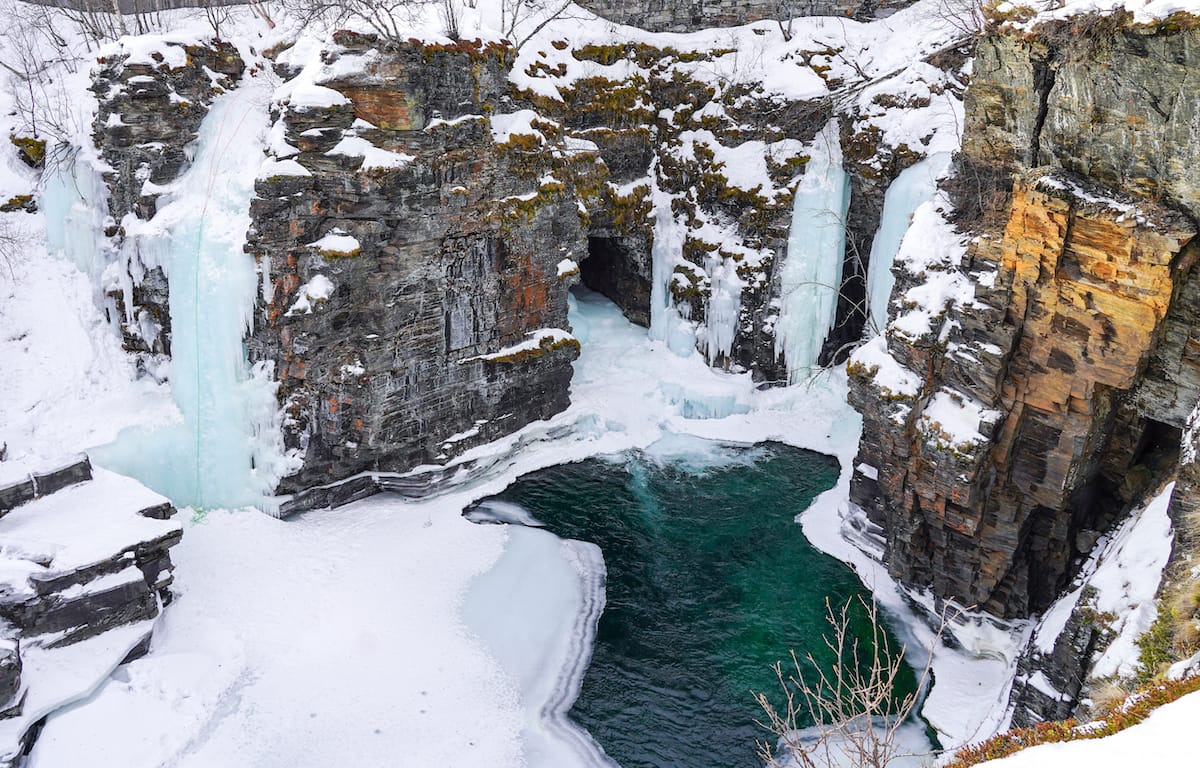 Your guide will explain some history of the terrain and you may even get a chance to see some wildlife along the way! Ed, my partner, saw more than one moose on the tour!
While this hike may not satisfy the needs of hard-core, multi-day trekkers, it is fantastic for the rest of us!
>> Check hiking tour rates and availability
4. Take an Abisko Snowmobile Tour
One of the most popular things to do in Abisko is to head out on a snowmobile adventure!
You will find plenty of options for snowmobiling tours in Abisko, but these two offered by Abisko Tours (part of Abisko Guesthouse & Activities – a place I stayed on my trip!) offer snowmobiling experiences worth signing up for.
The first is a daytime snowmobile trip. The 2-hour Abisko excursion will guide you through the endless Arctic scenery where you can enjoy the snow from a unique perspective.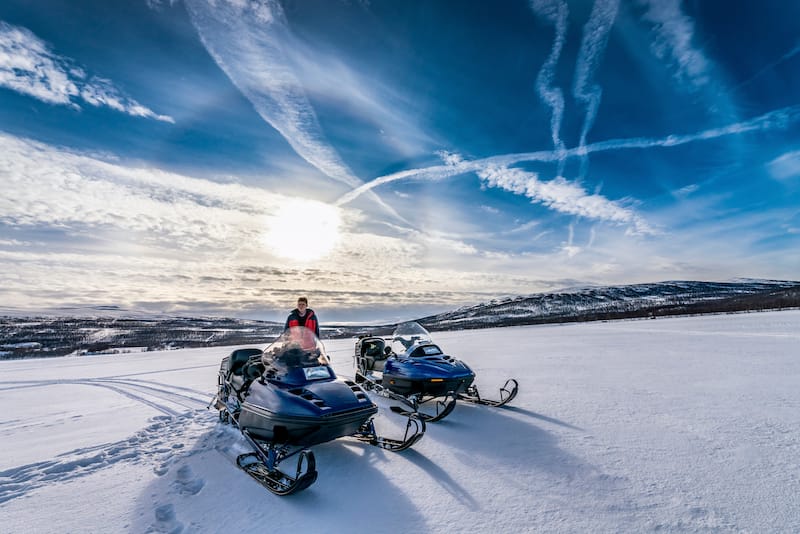 You'll enjoy warm beverages and the tour company will give you warm clothing for the trip. You can book one snowmobile for one person or two people.
A driver's license is required by Swedish law to be the snowmobile driver.
>> Click here for daytime snowmobile tour rates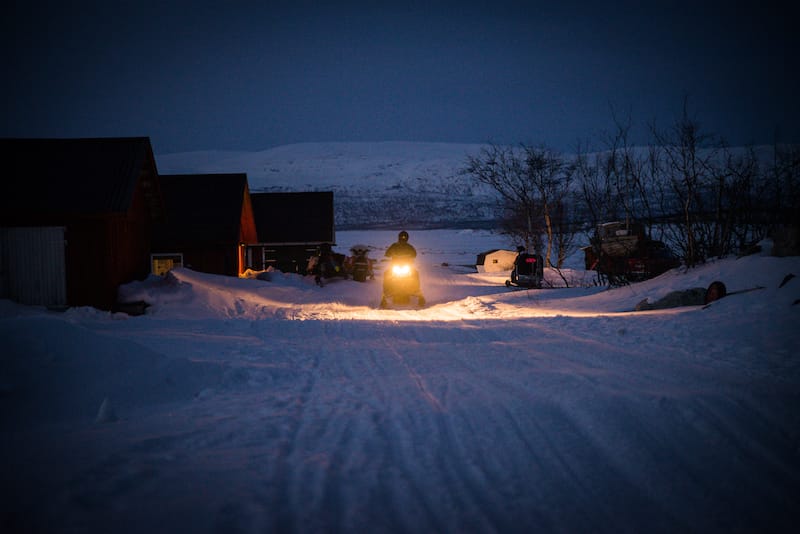 The second option is a northern lights snowmobile tour from Abisko. This trip starts in the evening hours and does exactly what it states – it takes you along to places where you have the best chance to see the northern lights!
The trip is 3 hours long and you will get a warm drink and snacks during the trip. As stated above, you will need a driver's license if you're the one driving.
>> Click here for aurora snowmobile tour rates
4. Try Ice Climbing in Abisko
Adventurers will love this ice climbing opportunity on the famous waterfalls that this region is known for!
The tour is made for beginners and you will be provided crampons, a helmet, and a harness to climb your way up the frozen waterfall (called 'icefall'). Before the climbing, you will get a safety briefing.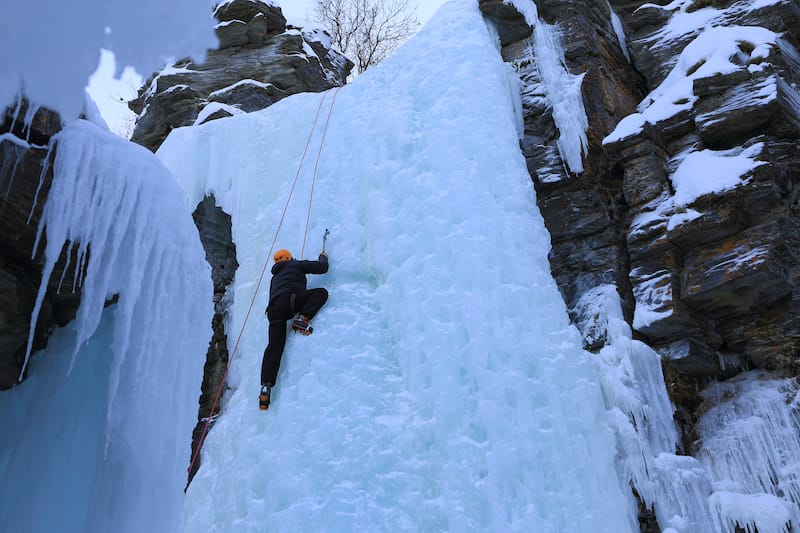 The icefall is 10 meters (32 feet) high and this tour can be a bit intense… so only for those who know what to expect and that has the body that can handle it.
This tour, run by Abisko Adventure, picks up from the local hotels and lasts for 3 hours.
>> Click here for ice climbing rates and availability
6. Go on the Longest Northern Lights Tour in Abisko
There are many northern lights tours in Abisko and nearby Kiruna and this one is most definitely one of the best.
It is called 'the longest northern lights tour' and that is simply because they will drive quite far to give you the best chance to see the aurora.
This tour also includes a delicious dinner in Abisko, winter overalls, and a guide who focuses on photography and how to find the lights!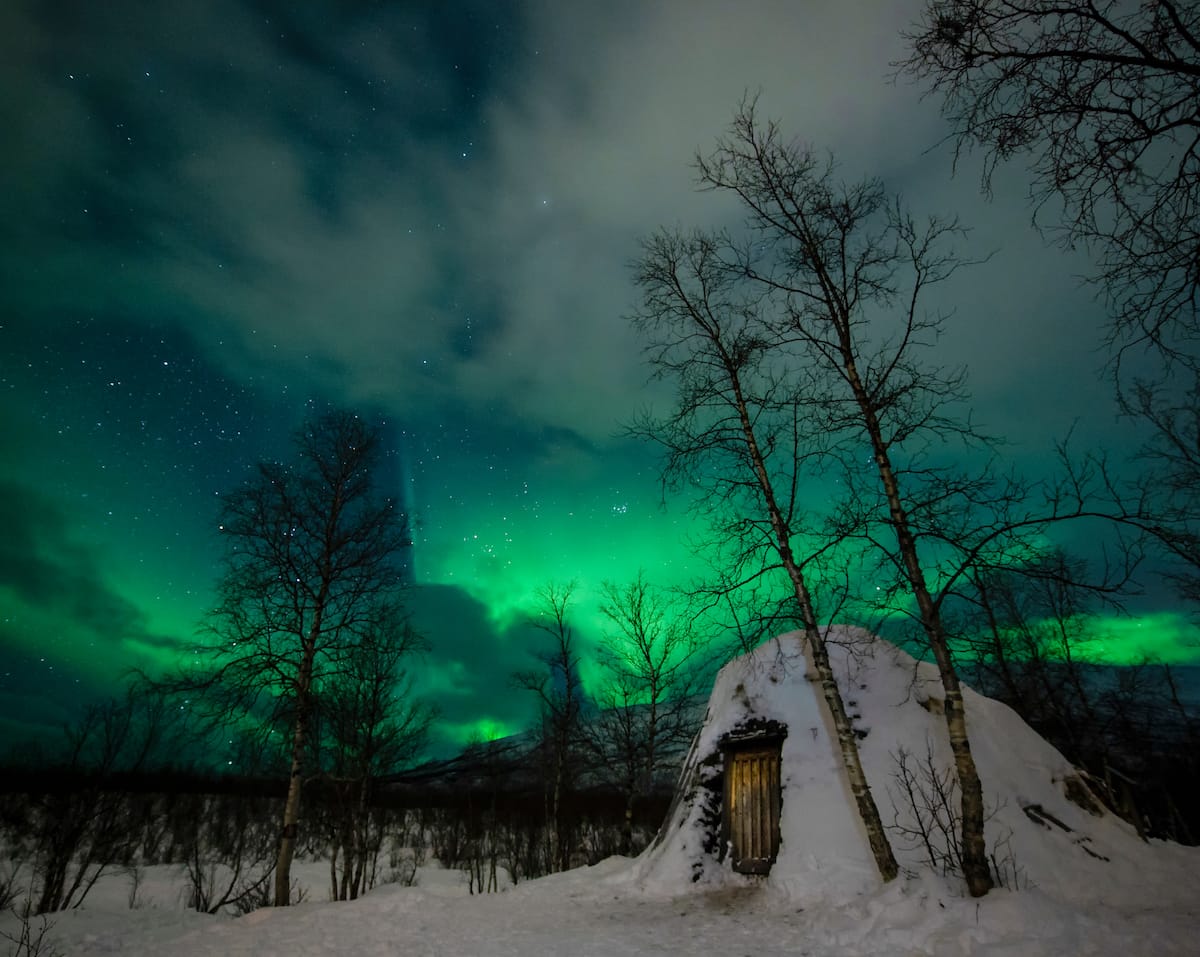 This tour lasts for 6 hours and pickup is a bit early. It is a small group tour and is not wheelchair accessible. They will pick you up from your Abisko lodging and the guide will speak English.
Please note that bad weather and cloudy skies limit the chance of seeing the aurora and there is nothing your guide can do about this!
If is canceled due to weather, they will offer a full refund or a different date to take the tour.
>> Click here for aurora tour rates and availability
7. Take a Half Day Trip to the Ice Hotel
A super popular thing to do during winter in Abisko is to take a day trip to the famous Icehotel in Jukkasjärvi!
This is easily the world's most famous Icehotel and it can be visited and enjoyed even if you're not a guest staying overnight.
However, it can be a bit of a trek to get to from Abisko… so it is best to book a tour.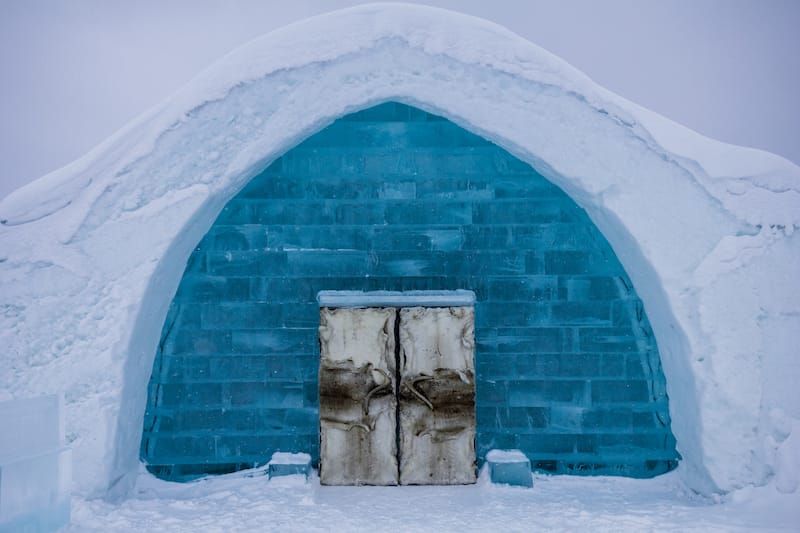 The Icehotel has been around since 1989 and it contains different sculptures, exhibitions, and more each year. These days (and since 2016), the hotel is a year-round place you can visit and one of the best day trips from Abisko and Kiruna!
On this tour, you will have transportation covered but lunch is not included.
The duration is 2 hours at the hotel itself and your drive there will pass many cool sights such as LKAB's Visitor Center, Rautus (a Sami village), Rensjon (another Sami village), and Lake Torneträsk.
>> Check here for ice hotel day trip rates
8. Fill Up on Candy at Godisfabriken
Okay… this is a grocery store. I never thought I'd put a grocery store on a guide but here we are.
After staying for a few days at STF Abisko Turstation where there is no grocery store, this place felt like heaven to me.
Nevertheless, Godisfabriken is a grocery store and a candy store. Swedes (and Scandinavians as a whole) do candy better than anywhere else in the world and you can fill up a bag of deliciousness and take it home with you for a rather affordable price.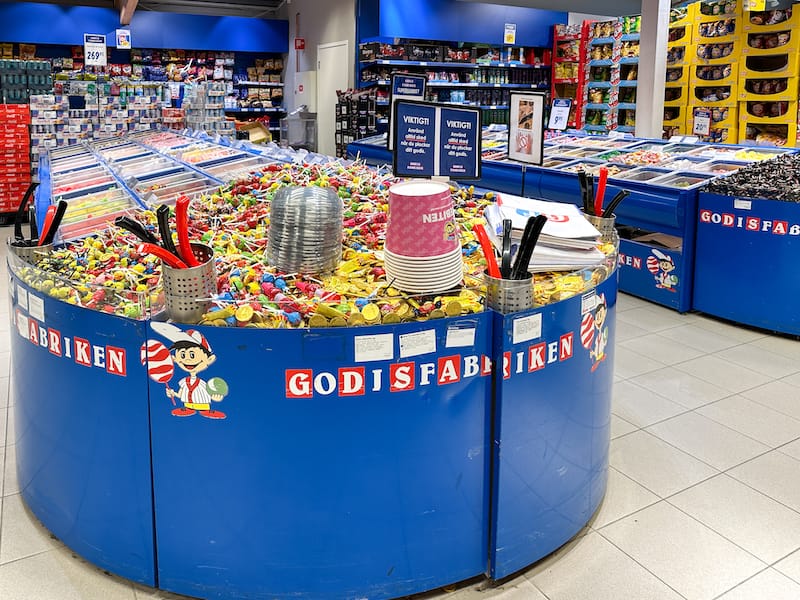 There is sour candy, licorice, chocolate, and everything in between. I was delighted to see so much Norwegian chocolate (I guess the border is right around the corner!) so I stocked up and will be taking a lot of it home with me to Germany.
Anyway, yes, this grocery store is a hit and I felt it deserved a spot on this guide.
9. Take Advantage of Beautiful Abisko National Park
Abisko National Park is the main reason people flock in the thousands to this part of Sweden every year!
The best place to start your trip is at Naturum Abisko Museum and the Visitor's Center (located at STF Abisko Turstation).
Located in the Abiskodalen Valley, this remarkably beautiful area is home to wildflower alpine meadows, cross-country ski trails, hiking trails, frozen waterfalls, and the largest alpine lake in Scandinavia.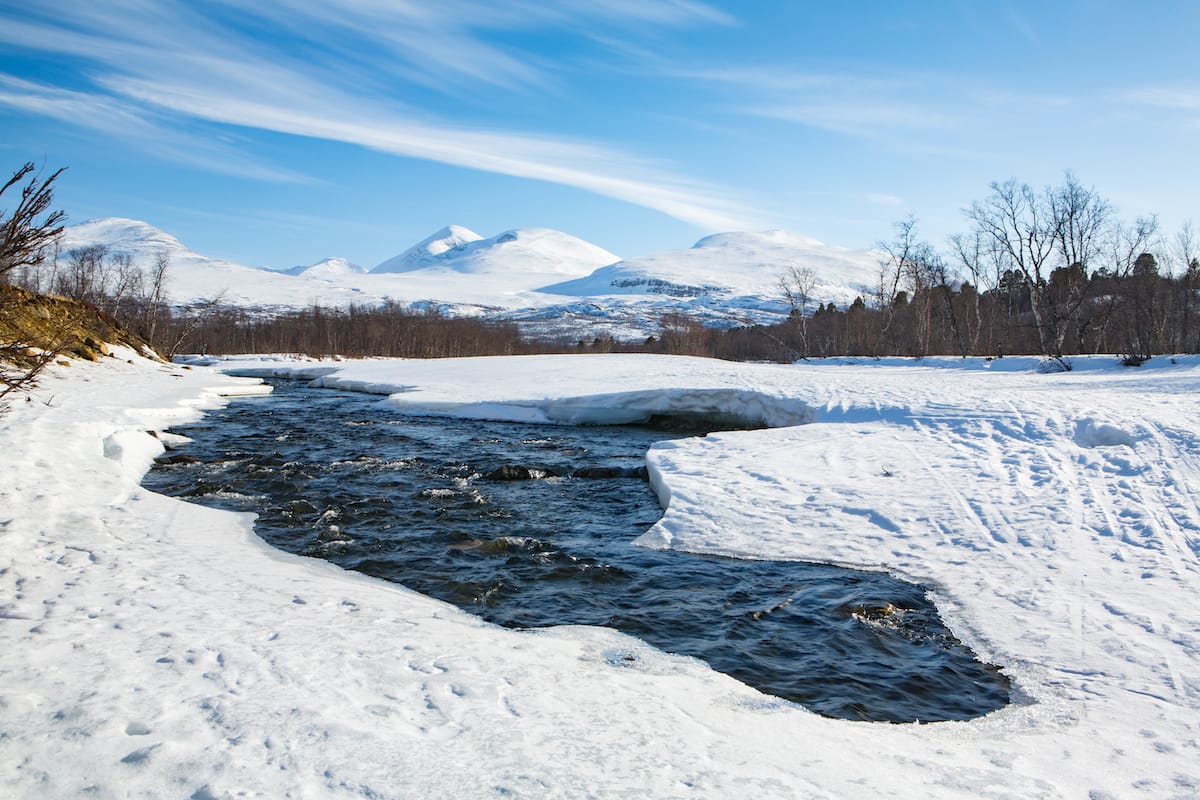 In the winter, the park is dark and home to one of the world's best northern lights displays (seriously – there is a special microclimate here that gifts visitors with clearer skies!) and in the summer, it is home to the midnight sun.
You can reach the park easily by train or bus and it is within reach of Kiruna, Sweden and Narvik, Norway.
The best time to visit depends on what your desires are within the park!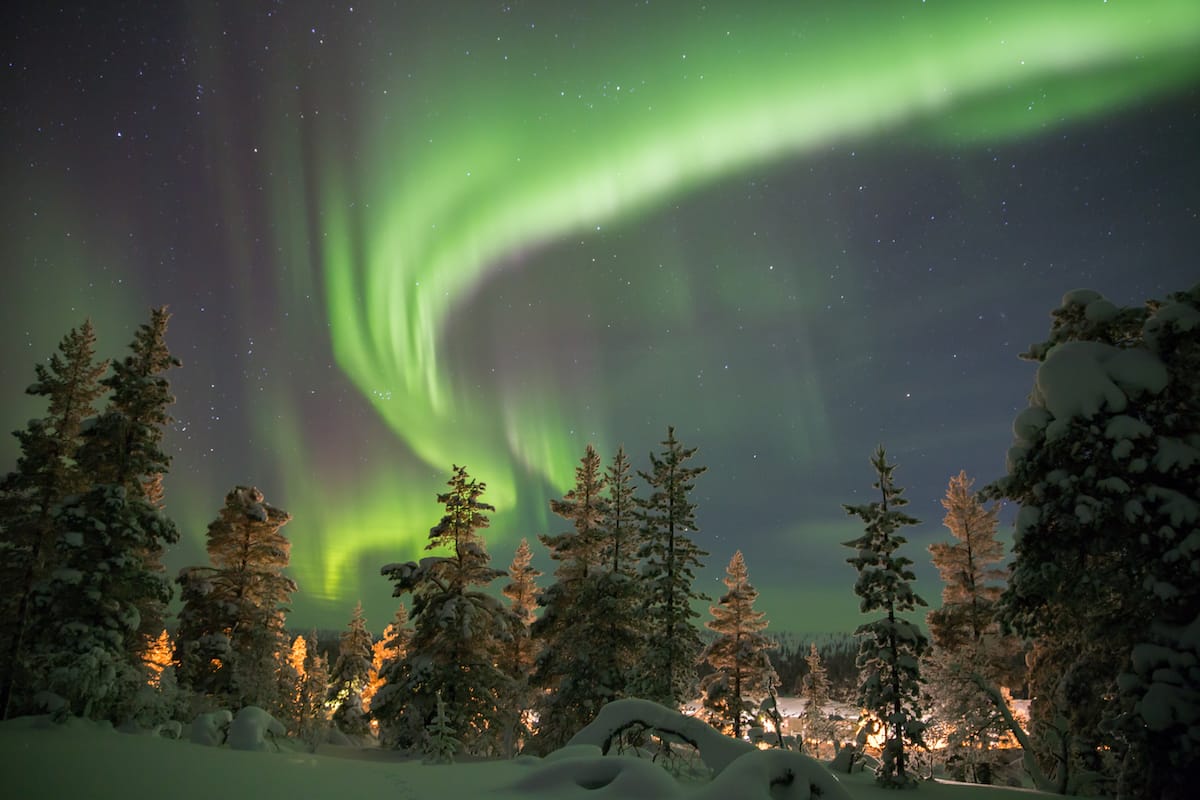 In autumn, you will see a gorgeous display of colors (and no mosquitoes!). In winter, you can ski, see the northern lights, snowmobile, and enjoy many other winter activities.
Summer offers long days, beautiful greenery and wildflowers, and a totally different landscape than Abisko in winter!
10. Head Out on a Moose Spotting Adventure
Moose run the wild in these parts and the best way to observe them is to sign up for this moose-spotting tour!
On this 5-hour tour, you will drive to places where moose frequent and observe them calmly from a distance, but close enough that you can see them!
You'll learn about the animal of the north and their habitat while admiring the scenery throughout the trip.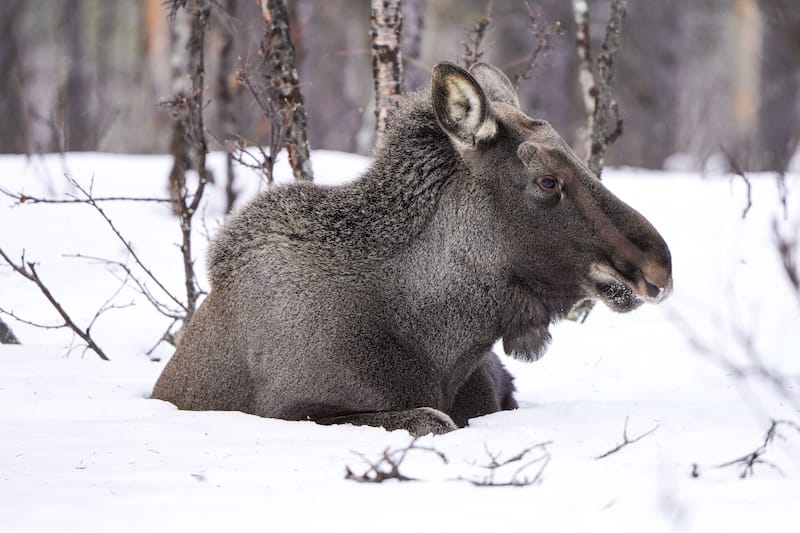 The tour is a small group tour and you will need to wear warm clothes (although they will have some additional clothing if you don't have one).
The drive is about 1.5 hours from Abisko and you have a chance to see other wildlife along the way (like hares and more).
This is a great, chilled-out tour to take if you're looking for a break from the adventurous activities in Abisko.
>> Click here for moose tour rates and availability
11. Ice Fishing for Arctic Char in Abisko
I have been ice fishing a few times, but I didn't have a chance to go during this trip to Northern Sweden, unfortunately.
However, I will definitely be joining this tour next time I am around!
This 2-hour ice fishing excursion picks you up at hotels (you must inform them in advance of where you're staying in Abisko!) and guides you out to Lake Torneträsk where you'll get a chance to learn how to ice fish and catch one of the most desirable fish in the north – the Arctic char!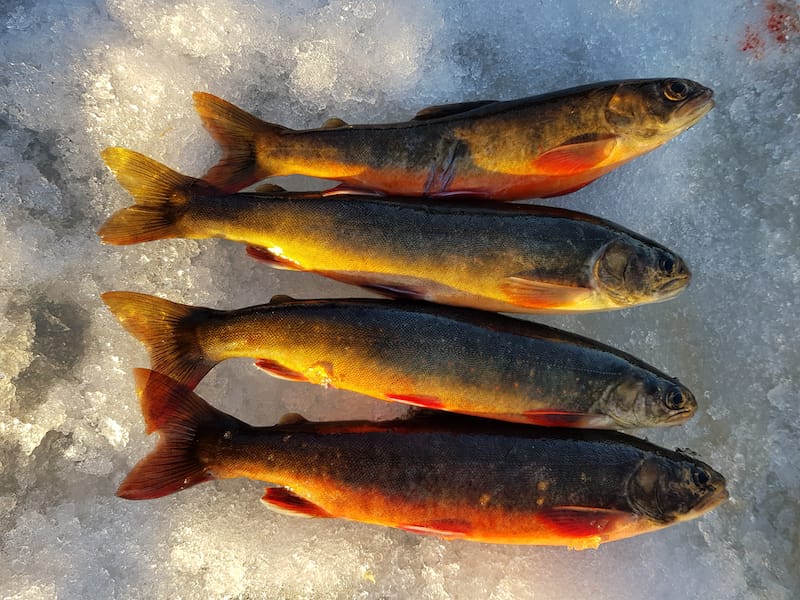 You'll learn how to drill ice, bait Arctic char, and see what you wind up catching.
At the end of the trip, you will head to a cozy hut where you will get a chance to fry your catch over a warm fire. Hot drinks will also be distributed to help you thaw out.
At the beginning of the season, you may not end up on Lake Torneträsk but a smaller lake that should already be frozen over instead. Warm overalls are included on the tour.
>> Click here for tour rates and availability
12. Hike Down to Lake Torneträsk
A lot of the tours around Abisko involve Lake Torneträsk, a lake that is Sweden's sixth largest and spans over 330 square kilometers (or 130 square miles).
The lake is usually covered in ice from December all the way until June. From the lake, you can see the most iconic feature of Abisko National Park – Lapporten.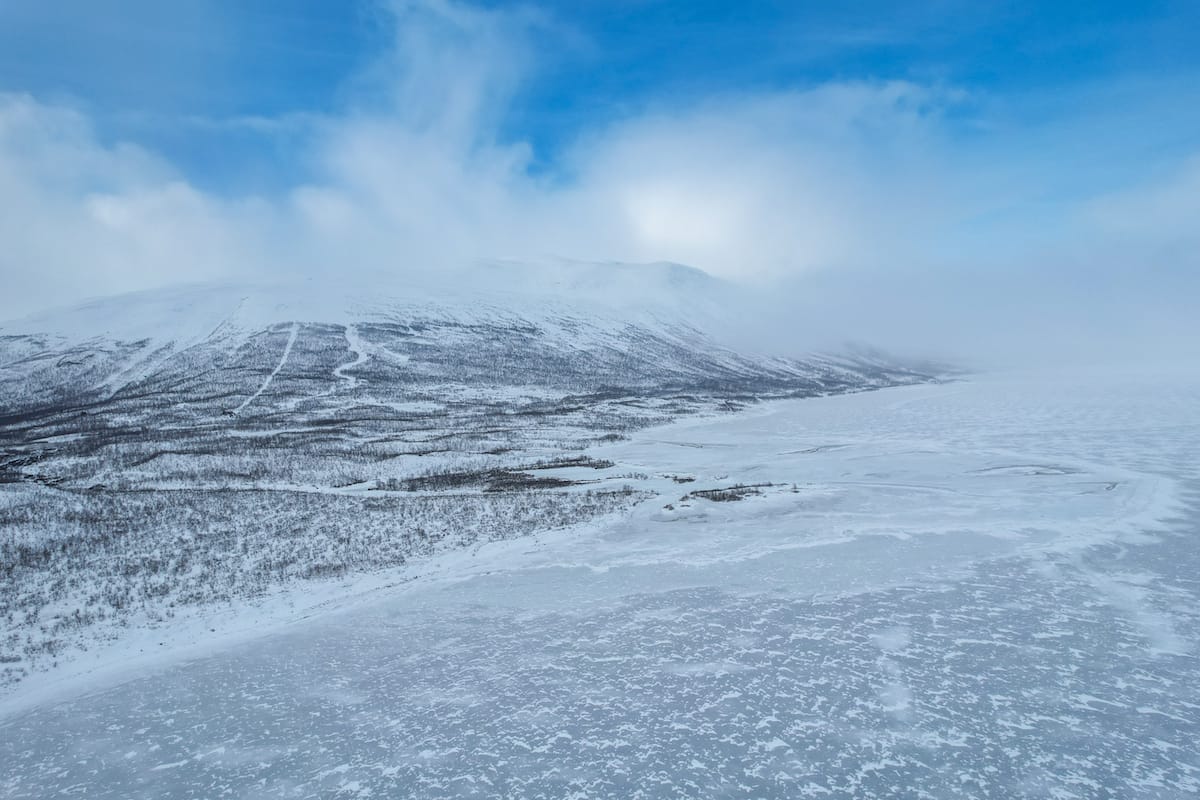 To reach Lake Torneträsk, you can take a 1.4km trail from the Abisko Visitor's Center down to the body of water.
There is a wheelchair-accessible fireplace with a few benches on the shore and you can enjoy the views while relaxing.
13. Take an Aurora Tour around Abisko National Park
On my first night in Abisko, I headed out on this tour with Lights over Lapland to see what the Northern Swedish town is most famous for – its aurora.
Fortunately, the night I went out, the KP index was on fire and the lights were actually seen as far south as Germany.
However, a weird storm system was rolling in, leaving some strange clouds in our way. But, we found it and it was magnificent, even with hues of red in it!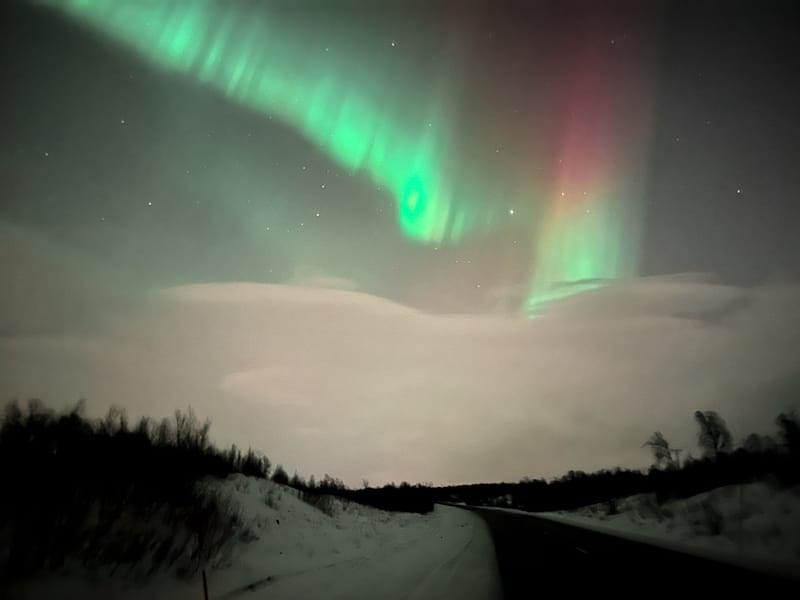 This tour has a max of around 18 people and you will be in a comfortable van for the journey, which is about 3.5 hours long.
The tour picked us all up at our hotels in Abisko (just let them know before where you'll be joining from) and took us to spots where we could see the lights.
If time permits, they will also make a fire somewhere along the way. A hot drink of lingonberry juice was served and a small piece of Swedish chocolate was also handed out.
The only cons of this tour were that we kind of hung around one place for too long. The lights had left for a bit shortly after arriving yet we stayed at that spot for quite some time.
It was a Sami Camp right near the city and light pollution was prevalent in most directions which sucked since the KP index was so high and the lights were visible in all directions.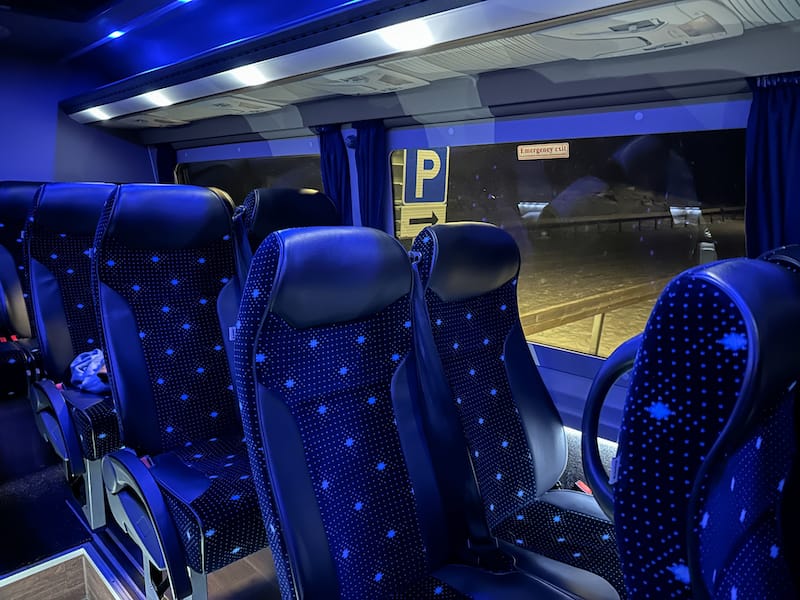 Another thing I think that was a con is that the tour guide we went with didn't have a decent camera to take photos of guests.
I have seen the northern lights several times and been on several tours and this was the first time I saw a guide not try to take pictures of people with a nice camera for a souvenir.
There were emails collected to send out ones taken on a phone, however. I just think that was a bit disappointing.
The people running the tour were super nice, but it seemed as though they wanted to adhere to that 3.5-hour duration to the second.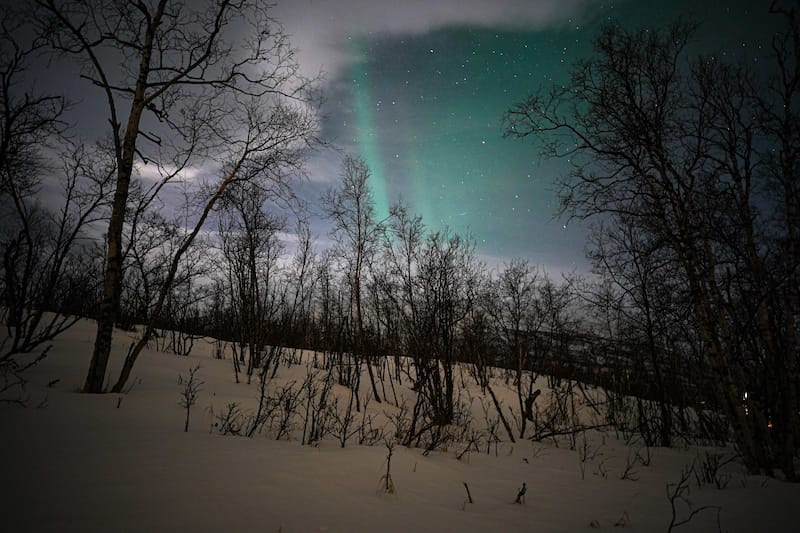 We stayed at one place for hours and then went to a lake in the middle of nowhere that was epic and there were moments when we heard we had a certain number of minutes until heading back.
It just felt kind of rushed like mass tours I have been on in other parts of the world.
Nevertheless, the van was nice (so was the driver!) and the guides were friendly. I just feel bad if someone was traveling from across the world to see the lights and this was their only tour.
>> Click here to check tour rates and availability
14. Go Hiking in Abisko National Park
Hiking is easily one of the best things to do in Abisko and you can head down many of the trails year-round. If you're a novice – do not hike alone.
Inside Abisko National Park, you will find 27 trails to hike, camp, and go birdwatching.
Those looking for easy trails should consider Njakajaure Nature Trail (and Marmorbrottet Quarry), Abiskojokk River – Abisko Ostra Loop, and Nissunjakka's Suspension Bridge.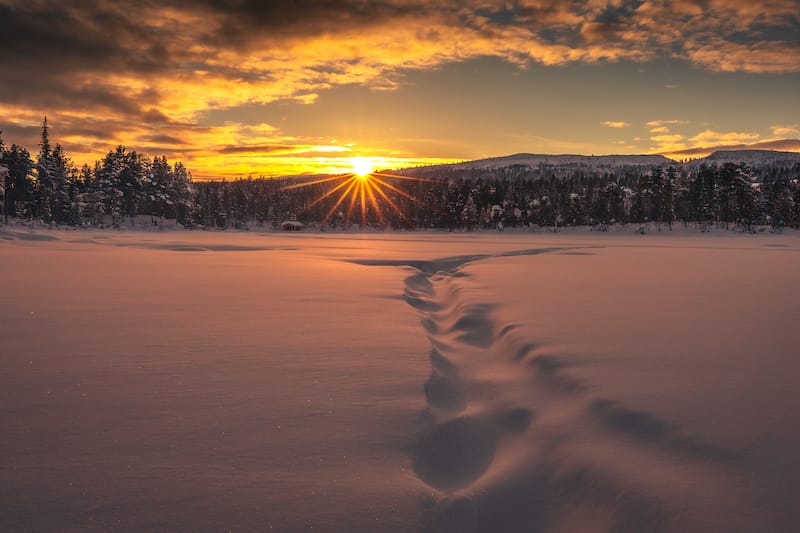 Some moderate-level trails are Ridonjira Nature Trail, Abisko – Karsavagge, and Abisko – Bjorkliden via Nuolja.
And some of the more challenging hikes in Abisko National Park are the King's Trail – Vakkotavare, Fjallraven Classic, and the Nuolja Summit Hike.
If you're a beginner and want an easy trek where you will learn more about the birch forests, Abisko National Park nature, and lake, you can sign up for this tour right here.
Inside Abisko National Park, there is one wheelchair-accessible trail that goes from the main entrance of the park to the canyon. Click here to find out more information.
15. Visit the Aurora Sky Station
One of the coolest things to do in Abisko in winter is to visit the Aurora Sky Station!
This is often cited to be the best place in the world to see the aurora. While the Sky Station is open year-round, it is best visited in winter when you can see the northern lights dancing above you.
At the Aurora Sky Station in Abisko, you will need to prebook your trip. You can do so via their website.
They offer a few packages. The first is a chairlift ticket (along with warm gear!) that takes you 900m above sea level to the station.
From here, you will get to enjoy the outdoor terrace and lookout tower. There are also presentations throughout the evening. The opening times are 2100-0100.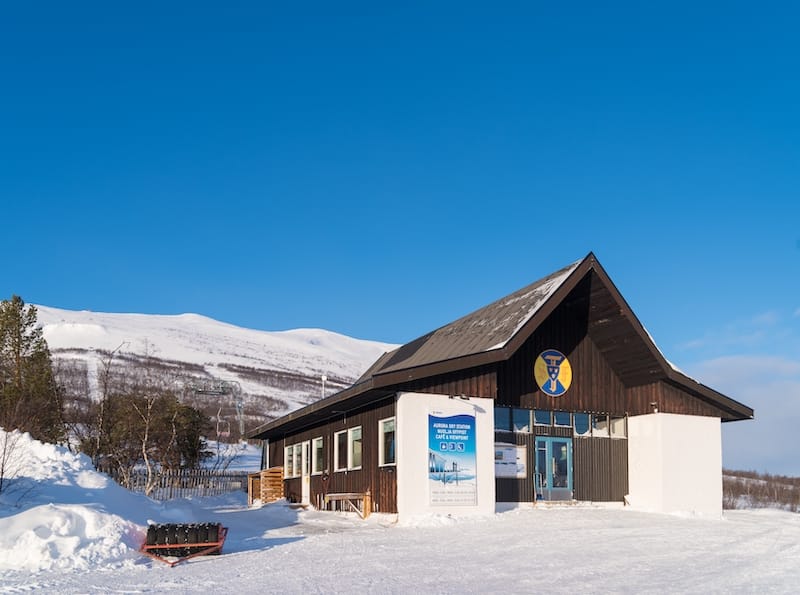 Alternatively, you can make an entire evening of the place! There is a dinner at the Sky Station and you can enjoy food with local flavors and ingredients before observing the northern lights from above.
If you have dietary restrictions, you will have to let them know at the time of booking.
One thing that is good to know is that the Sky Station will close if the weather is bad. It was closed for part of my trip to Abisko.
Click here to book an experience at the Aurora Sky Station.
16. Go on a Norway Photography Tour from Abisko
If you have plenty of days in Abisko and want to embark on a different kind of tour – sign up for this photo tour that takes you to the world-famous fjords and mountains of Norway.
The tour lasts for 5 hours and you'll cross the Norwegian border at Riksgransen before visiting Grovfjord and Gratangen Fjord.
It's no secret that Norway is my favorite place on the planet (if you have been a long-time reader of this blog) and this tour can give you a small taste of what the neighboring country has to offer.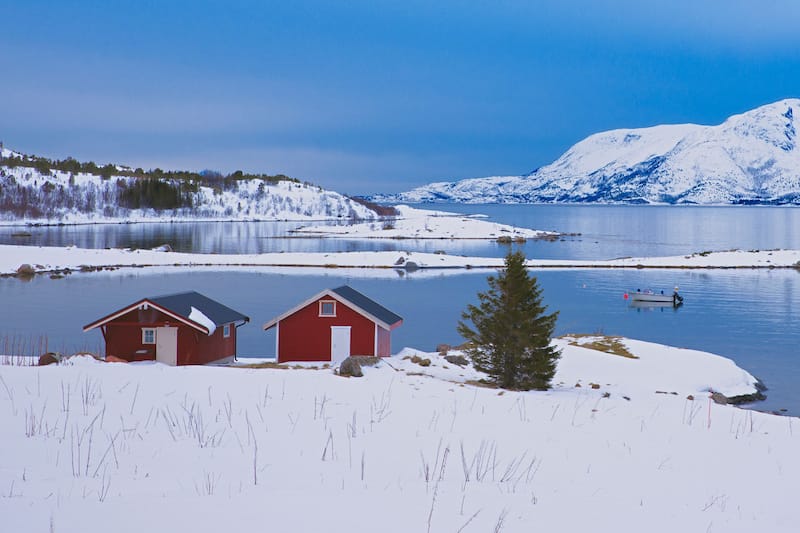 Since you're at the sea, you will have a chance to see eagles, orcas, dolphins, and more! Lunch in Bjerkvik is included.
This tour is a photo tour so you will be making stops at the most beautiful places and the expert guide will help you set up for the perfect shot! They also have cameras you can use if you don't have your own.
Do bring your own SD camera card, however!
>> Click here for Norway photo tour rates
Where to Stay in Abisko
To be honest, there are not many options for places to stay in Abisko. In fact, there are pretty much four options. They are:
I stayed at Abisko Guesthouse & Activities for one night and enjoyed it a lot. I also stayed at STF Abisko Turstation and wasn't super fond of it – but it is a great base for the national park.
Did we miss out on any of the best things to do in Abisko in winter?
Let us know your favorite activities during winter in Abisko in the comments. Thanks!
More Sweden Travel Guides
Pin this Winter in Abisko Guide