Are you looking for an adrenaline-raising and fun snowmobiling experience? This post will tell you the best Kiruna snowmobiling tour where you can do just that!
Are you planning your trip to Kiruna last minute?
If youʻre booking your trip to Kiruna last minute, we have you covered. Below are some of the top tours, hotels, and more!
🇸🇪 Top Experiences and Tours in Kiruna:
🛌 Top Hotels in Kiruna:
🚗 Looking to travel around Sweden independently? Click here to check Sweden rental car rates!
In this guide, I will detail what you need to know before snowmobiling in Kiruna, what to bring with you, and how to book the perfect tour.
This tour requires no experience driving a snowmobile and is perfect for those wanting to try it for the first time or travelers looking for a different way to experience the incredible Arctic around Kiruna.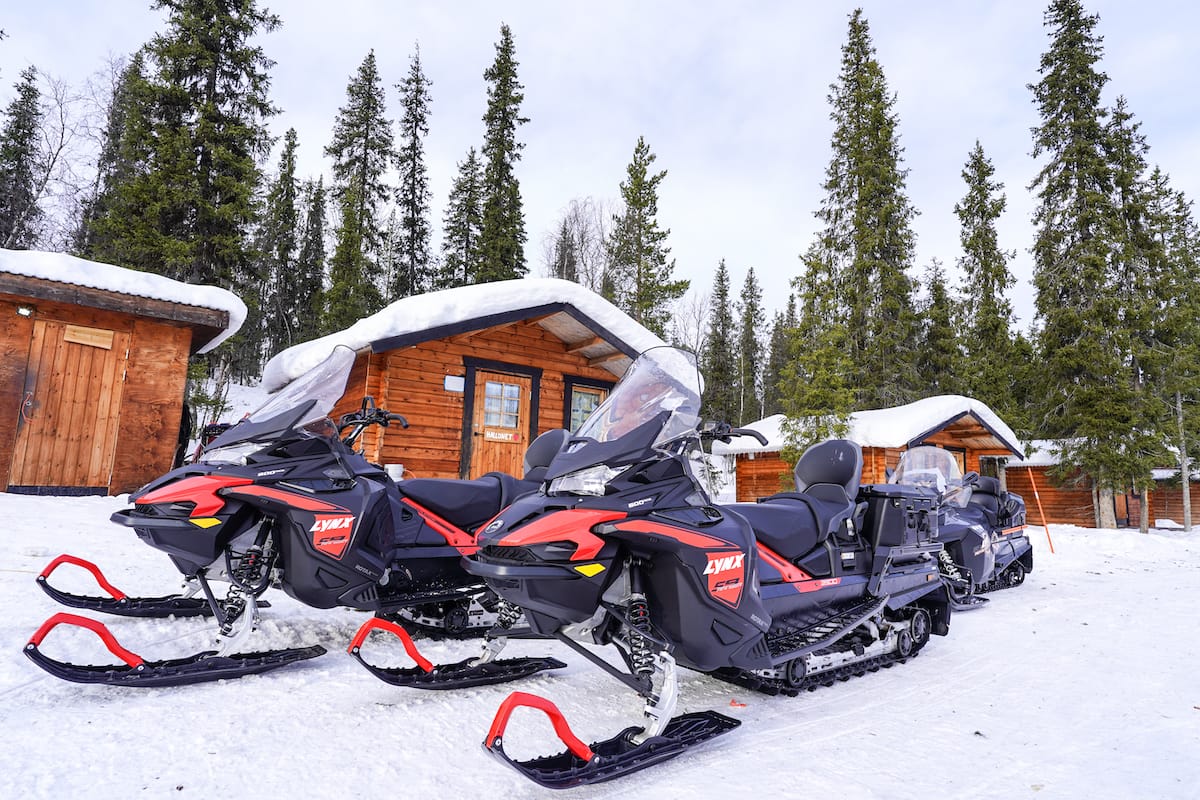 If you have any questions about taking a Kiruna snowmobile tour with coffee and a sandwich near Kiruna, let us know in the comments!
Why I Booked a Kiruna Snowmobiling Tour
Snowmobiling is always something I have wanted to do, because, in all honesty, it looks epic. As I have only recently gotten my driver's license, this trip provided me with my first opportunity to fulfill this desire and I grabbed it with both hands.
I opted for a daytime tour as I wanted to feel confident driving a snowmobile in the daytime before opting for a northern lights snowmobile tour in the future.
BOOK HERE: Snowmobiling tour in Kiruna
Doing the tour during the day also gave me the chance to take in the stunning scenery located just outside of Kiruna.
I found this tour to be the perfect option for those who have never snowmobiled before or those looking for a chilled-out adventure where you can take in the scenery.
How to Book a Tour To Go Snowmobiling in Kiruna
Duration: 3 hours
Pick-up: Offered to some hotels
Language: English, Swedish
➡️ CLICK HERE TO BOOK
Booking a snowmobile tour in Kiruna was incredibly easy when booking through Manawa, one of my favorite partners.
This specific tour runs from November to April, provided there is enough snow on the tracks.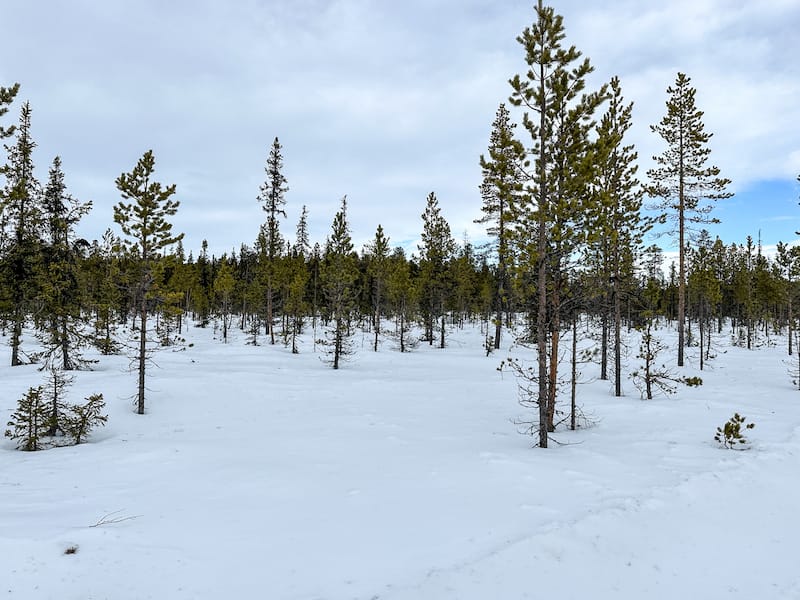 First of all, you will need to choose between a 10am or 2pm start time. I opted for the 10am option as it was the most convenient for me as I had a northern lights tour starting in the evening.
Once you have selected a time, you will need to select which kind of participation you wish to do. You can choose to ride a snowmobile alone or share one with another adult and each has its own cost.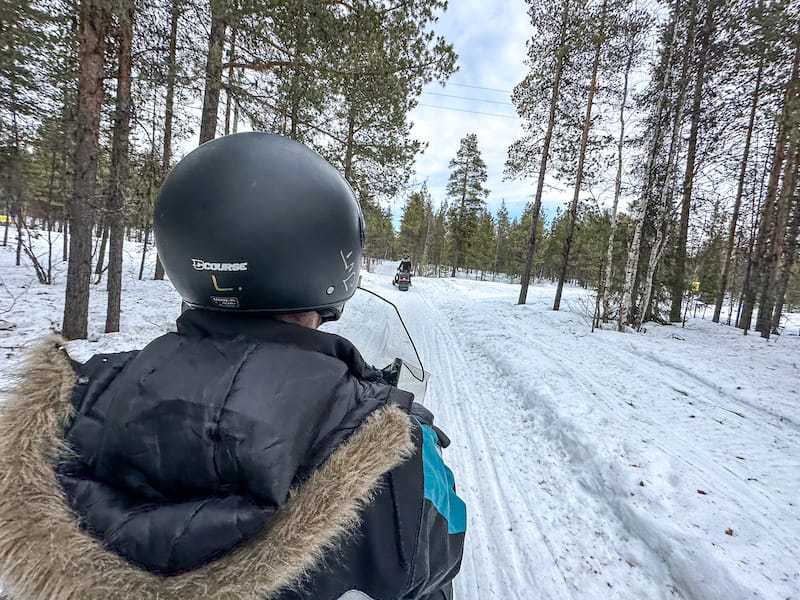 You can only drive the snowmobile if you hold a valid driving license, so it is best to keep that in mind as you will only be able to share a snowmobile with another adult.
After completing all relevant information, you will need to select a pick-up location from within Kiruna and the surrounding area. After you have completed the payment for the tour, you will be sent two emails.
The second will be the confirmation of the tour and pick-up location and time.
Where to Meet on the Day of the Kiruna Snowmobile Tour
The tour offers pick-up locations from hotels in Kiruna and surrounding areas.
However, if your accommodation is outside of their pick-up location, you can meet them at Timmerstigen 8, Kiruna.
You will receive confirmation of pick-up location and time from the provider after booking, this will also be your drop-off location unless you inform them otherwise.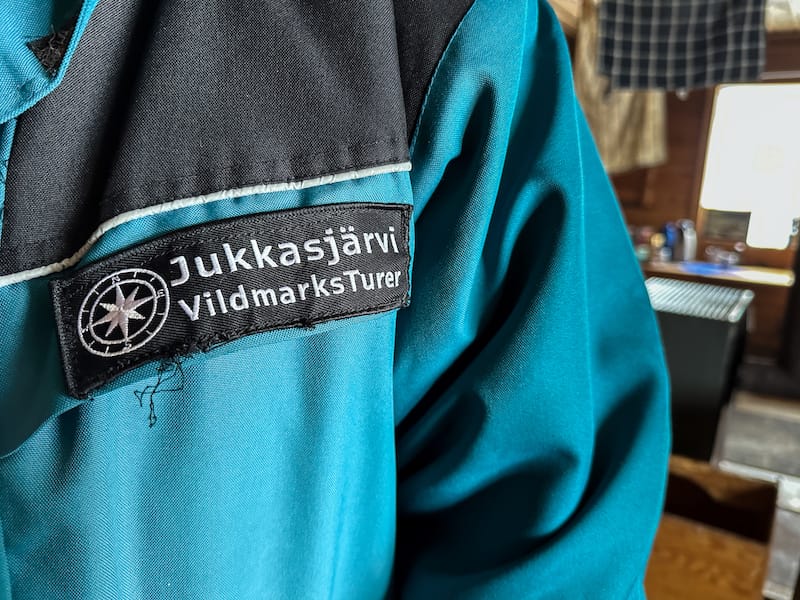 It is important to be waiting on time as delays will impact the amount of time you get to enjoy the experience.
Once you (and everyone else) have been picked up, you will head out of Kiruna to the starting point of the tour. Upon arrival, you will be decked out in warm snowsuits, boots, gloves, and a helmet.
My Experiences and Highlights from the Snowmobile Experience
After you have changed into your snow gear, you will be given a short introduction about how to drive the snowmobile. It will also include the rules while out in the wild and some basic hand signals.
Paying attention to all of this as it is fairly important to have a successful tour! After the briefing, you will hop on your snowmobile and start the tour.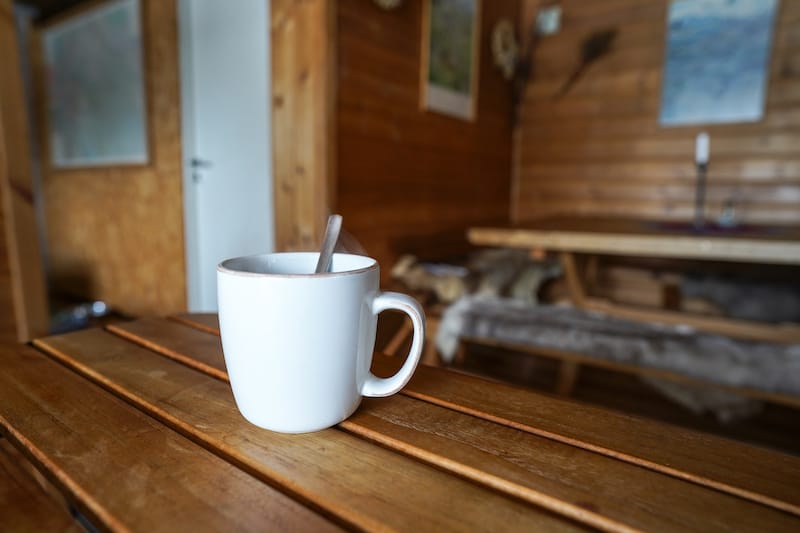 Speeds on the tour are limited to around 35 km/h in the more open areas and slower when exiting the starting base and going through forests.
Here are a few of my highlights:
Crossing the Frozen Lake
I obsessed over frozen lakes on this trip and the chance to be on them. I rued the chances I missed walking on them in Abisko and was extremely happy to find out this route would take us across a frozen lake.
There is something about crossing a frozen lake that feels a little James Bond-like, even though there is really very little to no danger involved!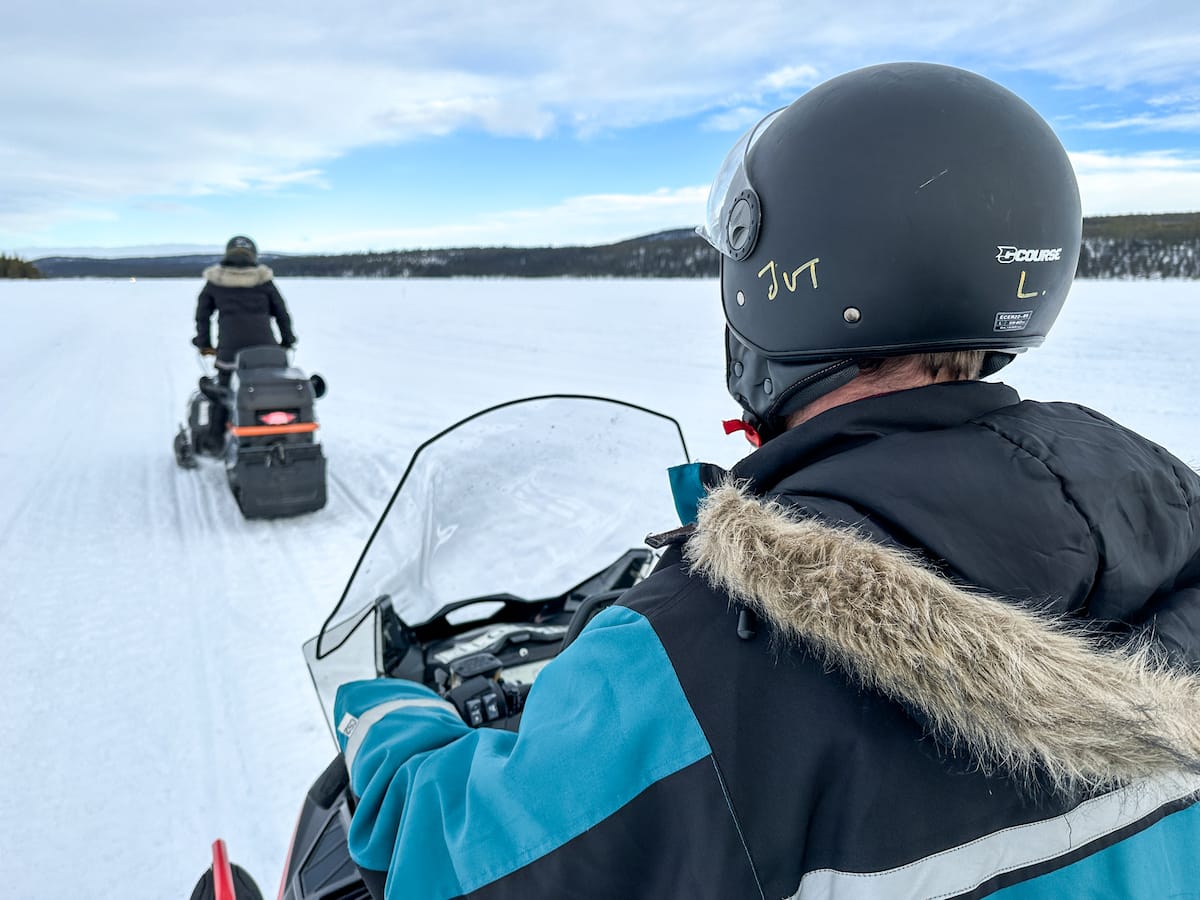 Sadly, while we were doing the tour, you could really see the impact of climate change and the unusually warm February the Swedish Arctic had experienced as there were large icy parts barren of the 50cm of snow that should be covering the lake.
As you cross the lake, the guide will have you stop for a short photo opportunity and take some pictures of you on the snowmobile.
Husky Traffic Jams
The routes you travel on the snowmobile are often shared or intersected by the husky sledding trails and you will be required to give way to these furry trail users.
When he explained this to us in the briefing, for some reason I didn't quite believe it but it turned out to be one of my favorite things about the tour.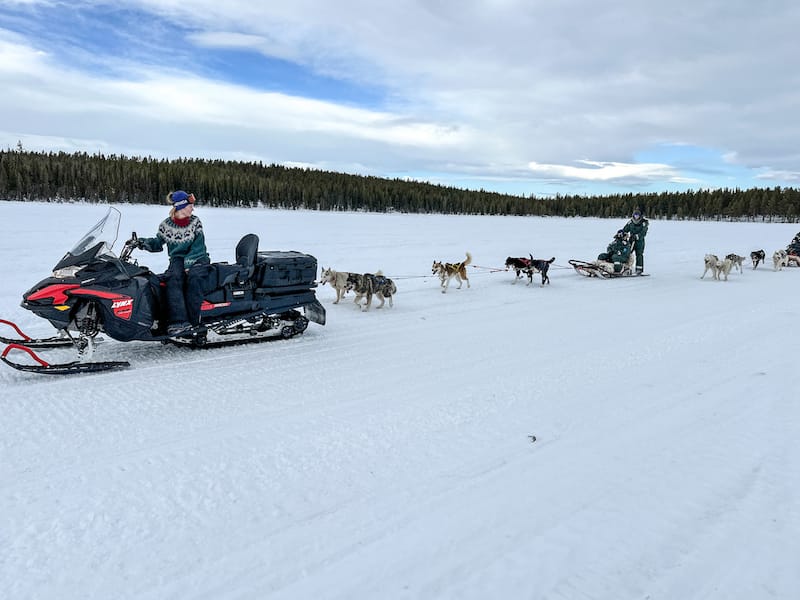 When you see a team of dogs, you are required to pull over to the side, turn your engine off and let them pass. This was a great opportunity to take some cool pictures of the dogs running along the trail.
While we were waiting one of the two dogs teams managed to get themselves a little bit tangled together and caused a small traffic jam as they were sorted out into their seperate teams.
Meandering through the Forest
Once you exit the flats of the frozen lake where you can ride at slightly faster speeds, you will enter the more challenging environment of the forest.
Here, you will face more bumps and turns as you meander between the birch and pine trees.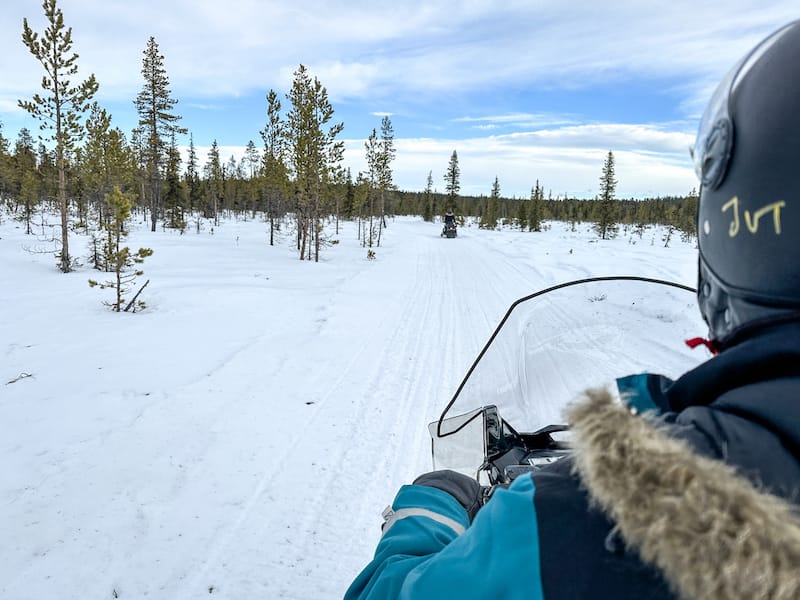 I found this the most daunting part at the start as I tried to get used to turning the snowmobile.
Also, my mittens were not the best choice as when I hit bumps, I would accidently press the accelerator.
BOOK HERE: Kiruna snowmobiling tour
I have to be honest, snowmobiling isn't the most peaceful way to experience a forest, but the more challenging terrain made it fun and it felt more of an adventure.
Cabin In The Woods
During the middle of the tour, you will stop for a break at a little cabin in the woods where you will meet another person from the tour company who will have prepared a small snack and some hot drinks for you.
The cabin is truly charming and its remote location makes it feel like a true Nordic experience.
The other big draw to the cabin was the two retired huskies that were hanging out in there.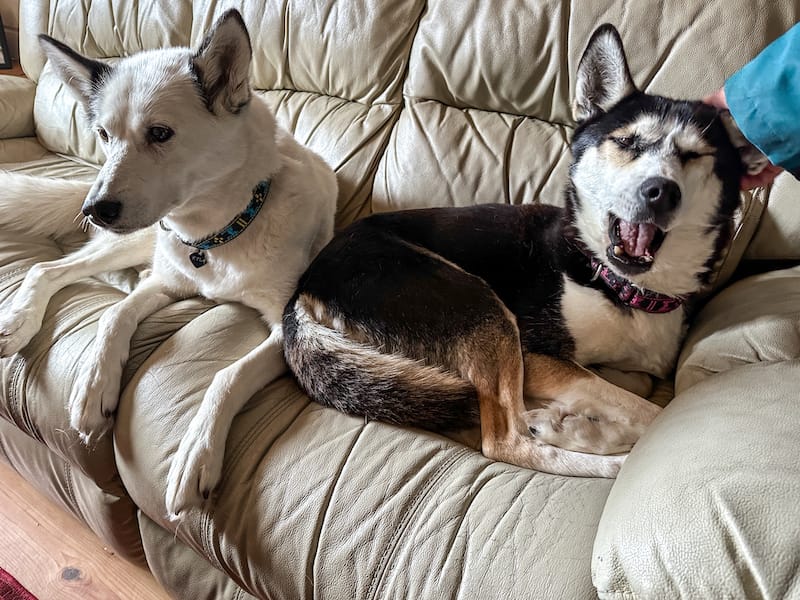 They were enjoying their 'senior years' having spent years running some of the same trails you just sped through. The dogs were incredibly friendly and loved a bit of attention.
The cabin is also the place you get a chance to talk and learn a little about life in more remote areas of Northern Europe. It was a place to kick back and socialize while enjoying the warmth of the cabin.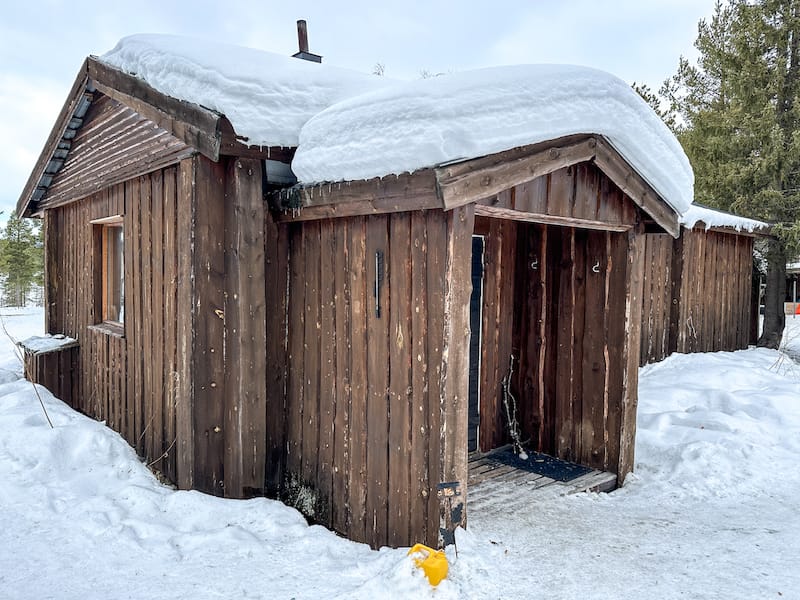 After a little bit of time inside, you will then head back outside to the snowmobile and get ready for your return.
Who Can't Take this Snowmobiling Tour in Kiruna
To be able to take this tour, you will need to be able to get on and off a snowmobile, so this may not be a suitable tour for everyone.
To drive a snowmobile, you will need to hold a valid driving license and have it on you at all times in case of an accident.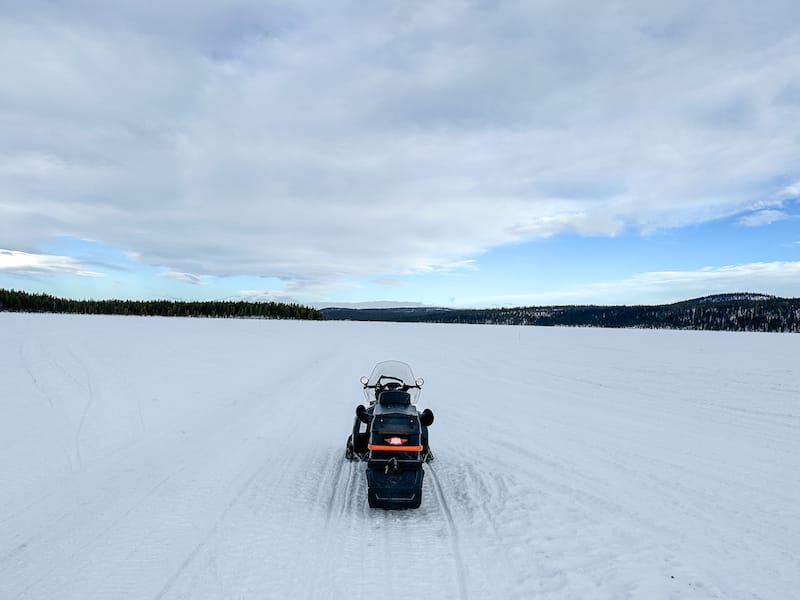 If you do not have a driver's license, you will need to ride along with a person who does.
Children can take this tour, although obviously, they will not be able to take control of a snowmobile itself!
BOOK HERE: Kiruna snowmobile adventure
At no point during the tour is there any walking, but around the cabin in the woods, the compacted snow can be a little slippery.
What to Bring on Your Tour
Bring your driver's license! If you are planning to drive your own snowmobile, this is the most important thing you will need to have with you.
You will be provided with a warm snowsuit, heavy-duty boots, gloves, and a helmet when you start the tour.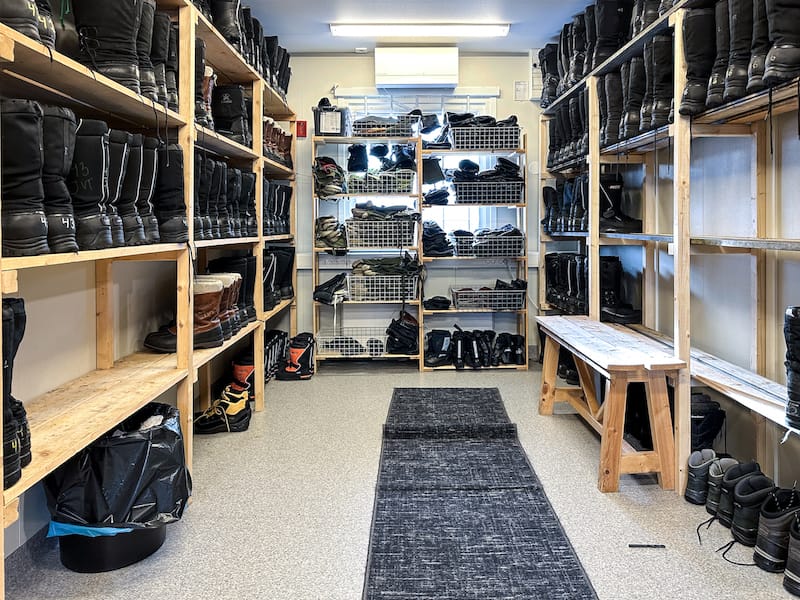 I recommend also wearing warm clothes to go under the suit as it provides some warmth and protection, but I was relatively warm throughout (in a comfortable way).
If you are a passenger, it is possible to take pictures along the way and make some footage, so bring your smartphone or an action camera with you!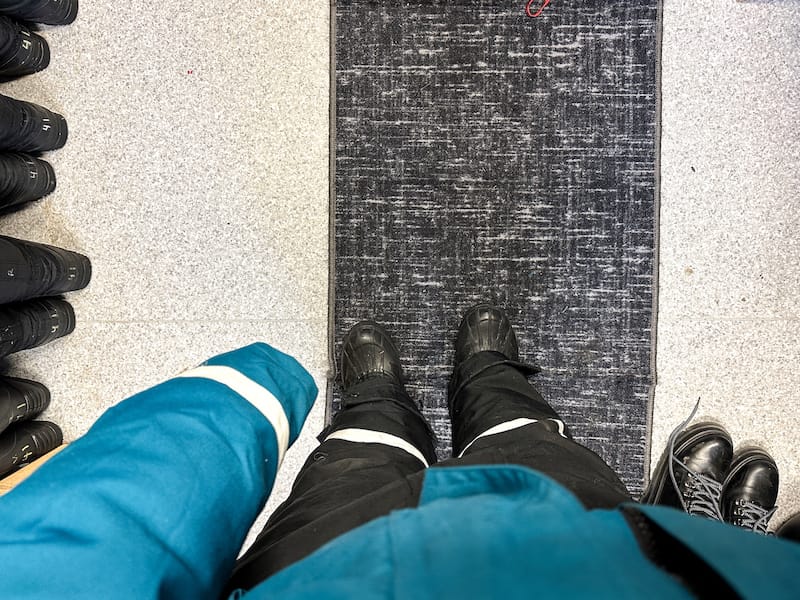 However, I bought my GoPro with me, but as the driver, I never used it and only took photos when we stopped to let the husky teams pass. The area you go through is partially covered by restricted airspace, so I would not bother bringing a drone with you.
There is no need to bring food and drink on this tour as everything is provided for you at the cabin.
Do you have any questions before booking a Kiruna snowmobiling tour?
Let us know your questions about this snowmobiling tour in Kiruna in the comments.
More Sweden Travel Guides
Pin this Kiruna Snowmobiling Guide