Are you looking for the best things to do in Kiruna in winter? This guide has you covered! Stick around to find out the top attractions and activities during winter in Kiruna!
Are you planning your trip to Kiruna last minute?
If youʻre booking your trip to Kiruna last minute, we have you covered. Below are some of the top tours, hotels, and more!
🇸🇪 Top Experiences and Tours in Kiruna:
🛌 Top Hotels in Kiruna:
🚗 Looking to travel around Sweden independently? Click here to check Sweden rental car rates!
This guide dives into the best winter tours in Kiruna, along with some things that are worth doing during the winter months! A winter trip to Kiruna is a great idea – pending you plan it out and maximize your time!
If I left out any of the top things to do in Kiruna in winter, please let us know in the comments! Thanks!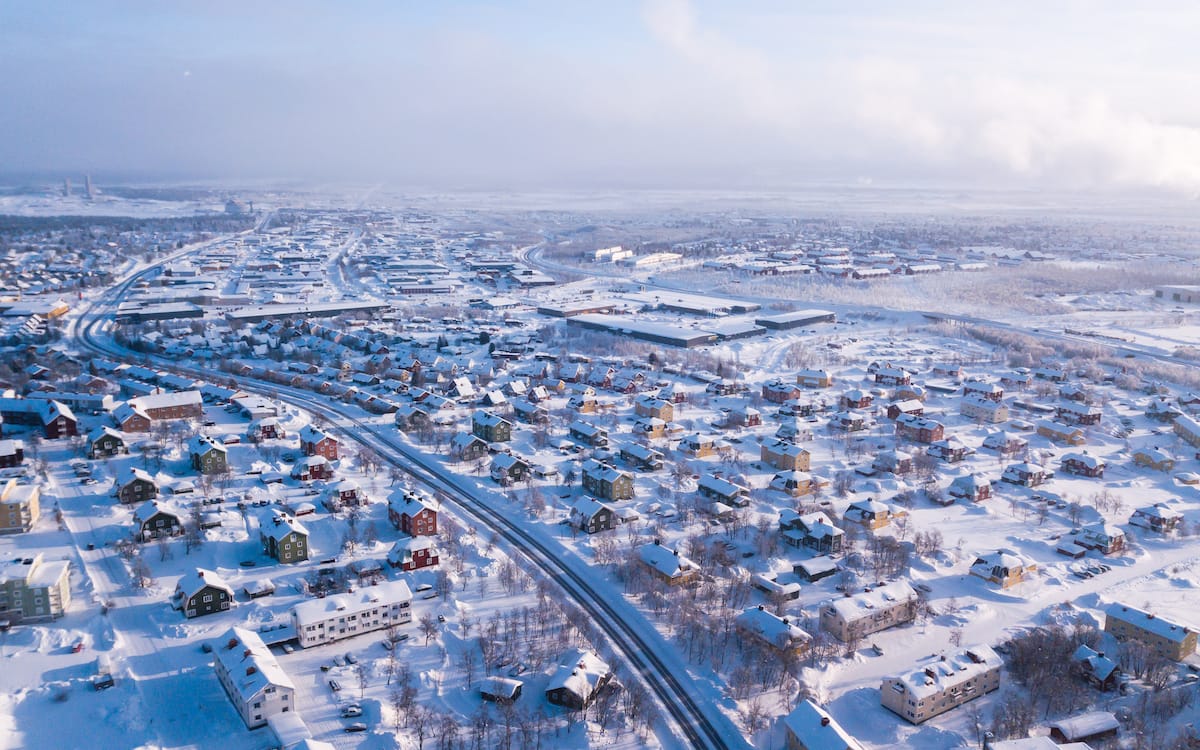 Disclaimer: I have opted to leave out the LKAB mine on this guide. While it is a very popular thing to do (and I even paid to do it), it was a really uncomfortable experience with a guide who was belligerent (to a degree) and answered all questions with a greenwashing response that discounted the Indigenous population.
If this mine interests you, I am sure you will enjoy the tour, but I found it really uncomfortable and a lot of us on the tour were laughing (and baffled) at the experience.
Winter in Kiruna – FAQ
When is Winter in Kiruna?
Winter in Kiruna is quite a lengthy season (but made shorter by climate change these days).
You can expect a fair amount of snow from December through late April. But, the season kind of 'ends' at the end of March there in regard to winter tourism.
Kiruna Winter Temperatures
You can see the average winter temperatures in Kiruna below:
Kiruna in November: highs of -5C (24F); lows of -12C (10F)
Kiruna in December: highs of -7C (19F); lows of -16C (4F)
Kiruna in January: highs of -9C (16F); lows of -18C (0F)
Kiruna in February: highs of -8C (18F); lows of -17C (1F)
Kiruna in March: highs of -4C (25F); lows of -13C (8F)
How Much Snow Does Kiruna Get?
The wettest month of the year in Kiruna is usually October and the autumn season. Spring tends to be super dry comparatively speaking.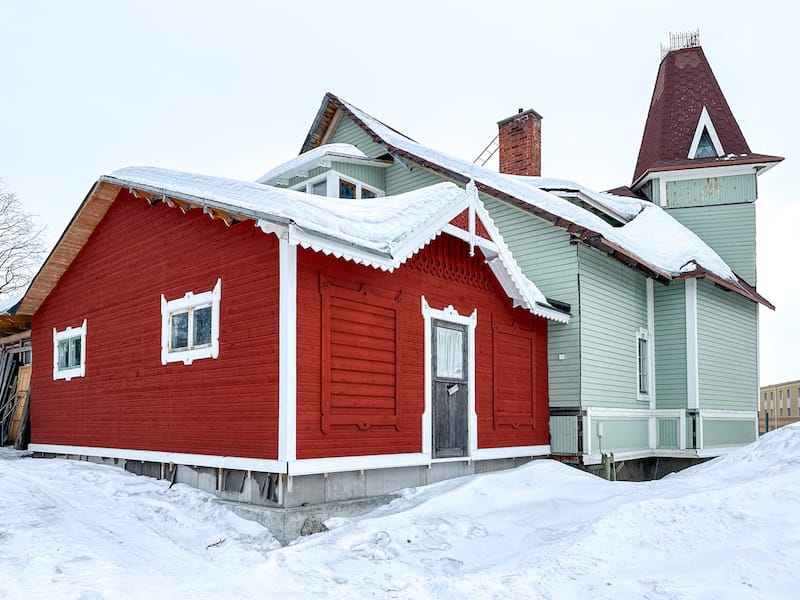 Annually, the average snowfall accumulation is 1187mm (46.73 inches) in Kiruna.
There are approximately 134 snowfall days each year.
Best Things to Do in Kiruna in Winter
1. Go Snowmobiling in Kiruna
Perhaps one of the most popular things to do in Kiruna is to go snowmobiling!
I booked my tour through Manawa (my favorite tour partner for adventure activities!) with Jukkasjärvi Vildmarks Turer. The trip is conducted in English and lasts for 3 hours… and the best part is that it is for everyone. Including beginners!
The trip started by picking us up at our hotel in Kiruna (if you're staying at an Airbnb, you can meet at Timmerstigen 8 in town).
You will be transported to the complex where the snowmobiles are and you will receive a safety briefing and lesson on how to operate a snowmobile.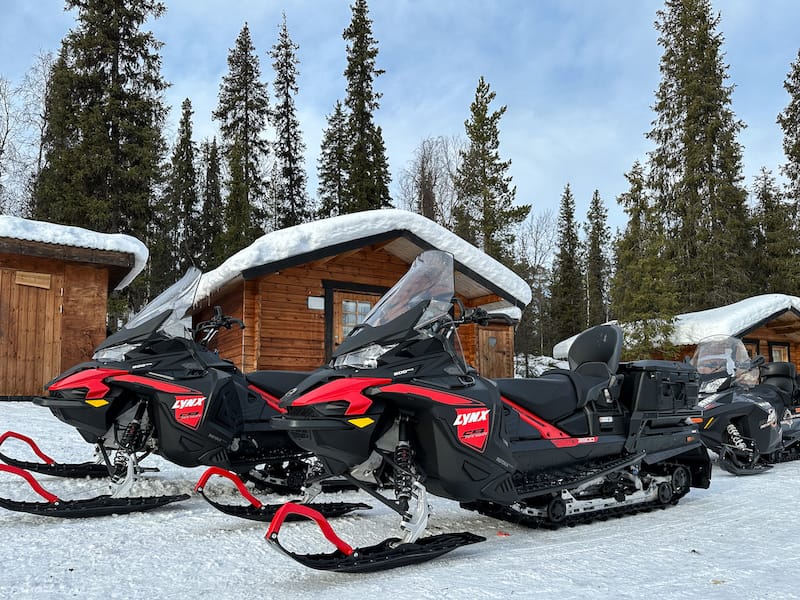 You'll explore the area surrounding the Torne River before heading out on Lake Väkkäräjärvi and stopping at a cabin for coffee and snacks.
On the trip, you can have your own snowmobile or share one with another (specify all of this at the time of booking). But, please note, you MUST have a valid driver's license to be the driver!
This was one of my favorite activities in Kiruna and a must for those eager to explore the Arctic landscapes a little differently!
>> Click here for snowmobile rates and availability
2. Go on the 'Longest Northern Lights Tour' in Kiruna
There are many northern lights tours (ones that solely focus on the northern lights – not activities including them!) out there and, quite frankly, many of them suck. This one, however, is superb!
On this tour that calls itself 'the longest northern lights tour in Kiruna', you will be picked up in the city and taken out to Abisko, which is deemed to be the northern lights capital of the world due to a microclimate there that offers frequent clear skies.
The group will have a maximum of 12 people and you will have a heated bus, campfire, and drinks throughout the journey.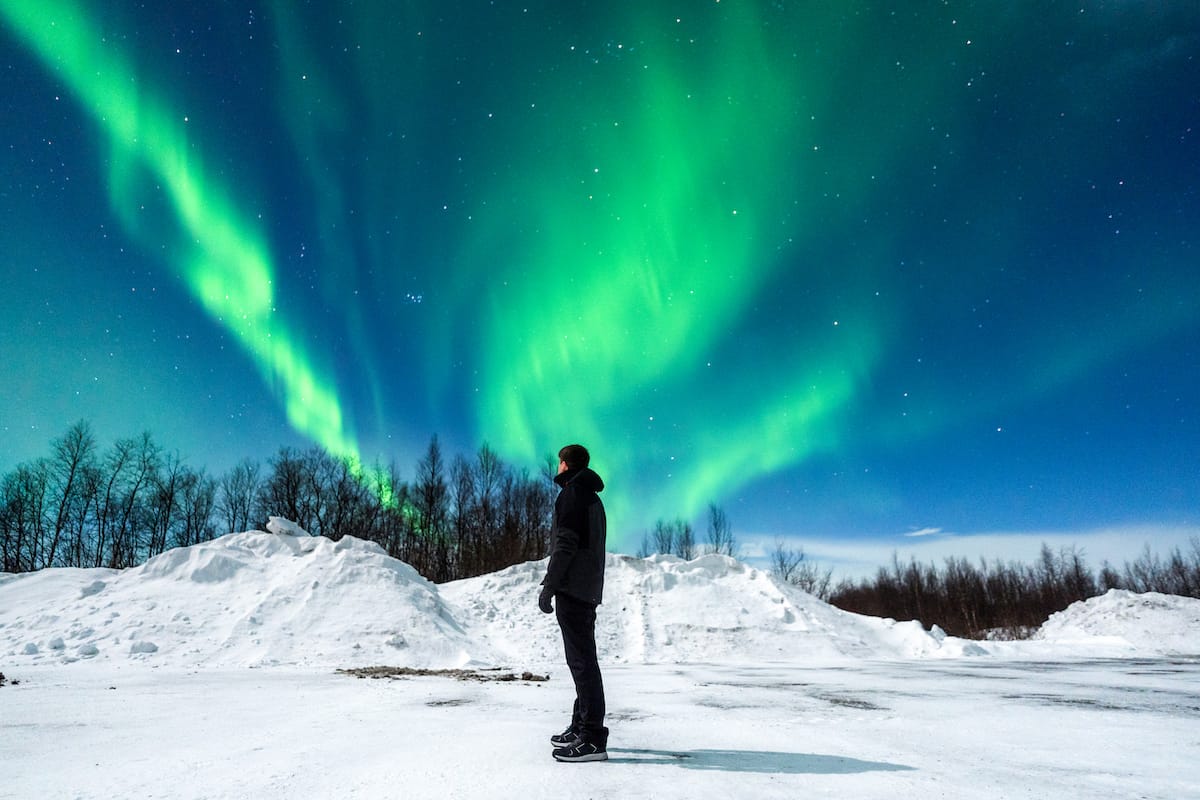 Once picked up, you will head to the Abisko Mountain Lodge for a delicious dinner before going to the wilderness to find the elusive aurora!
We stayed out for some time to find it, but luckily for us, it was so insanely good! We didn't even have to drive around.
The reason I think this tour is so good is that the guides will take professional photos and share them all with you after.
I had other tours for the northern lights on this trip and they would take an iPhone photo if requested, but nothing more. The guides on this trip had professional cameras and genuinely knew what they were doing.
This is the best northern lights tour in Kiruna!
>> Check northern lights tour rates and availability here
3. Visit the Famous Ice Hotel in Jukkasjärvi
A visit to the Ice Hotel in nearby Jukkasjärvi is an unforgettable experience that offers a perfect blend of adventure, relaxation, and unique cultural experiences!
Each winter, this world-famous hotel is rebuilt entirely out of ice and snow, making it a truly awe-inspiring sight to behold. But, the good thing is that you can visit year-round as there are some rooms that are still made of ice even in the summer months.
But, I highly suggest visiting in winter so you can see it at its best!
At the hotel, each room is crafted by a team of expert ice sculptors, and no two rooms are exactly alike.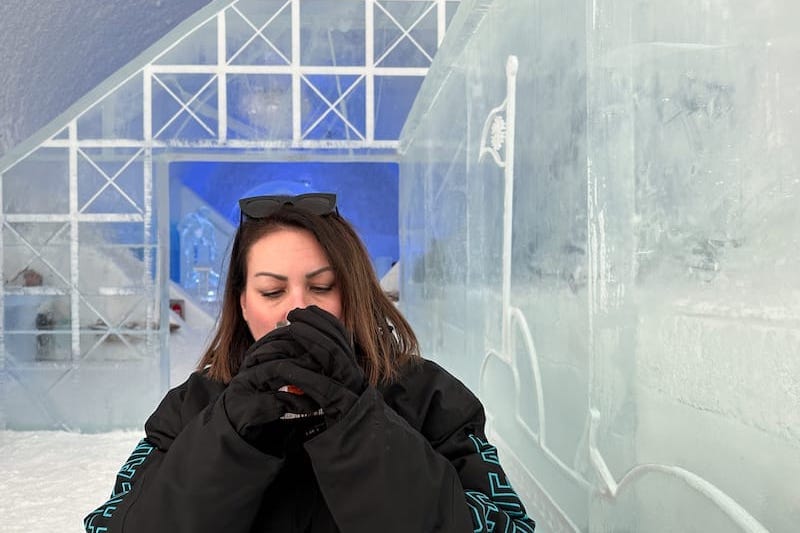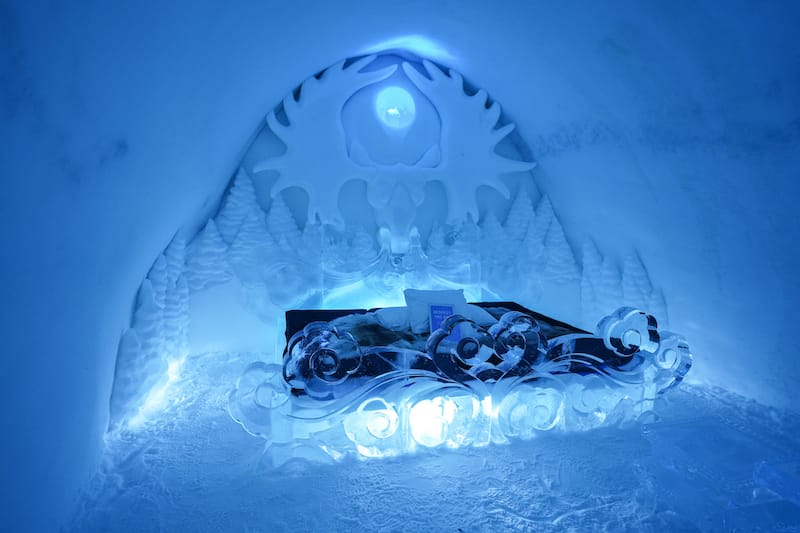 The temperature inside the rooms hovers around -5°C, but you will be provided with thermal boots, warm bedding, and a hot drink before bedtime to ensure a comfortable night's sleep.
If you have a car, you can easily get there, but I definitely suggest taking this trip there with Kiruna Private Guides!
I went with them (booked through Manawa) and they will take you to a street food place in Kiruna beforehand (such an amazing lunch!) that they own before checking out a few sites before getting to the Ice Hotel.
After time at the Ice Hotel (we had plenty of time!), we went to see a few more places in Jukkasjärvi before heading back. It was money well spent! I highly recommend this all-day tour!
>> Click here to see Ice Hotel trip rates and availability
4. Head Out Dogsledding in Kiruna (+ See the Northern Lights!)
Kiruna Dogsled is a fantastic place just outside of Kiruna where you can head out on an adventure with a team of trained huskies.
Located in Oinakka, you will be picked up at your hotel (or place of preference is agreed upon prior) and taken into the wilderness of Northern Sweden.
Once there, you will get changed into warm clothing (provided by Kiruna Dogsled) and briefed about your upcoming trip. Once everyone is ready, you will head out with a trained guide and a team of guides through the wilderness to a camp.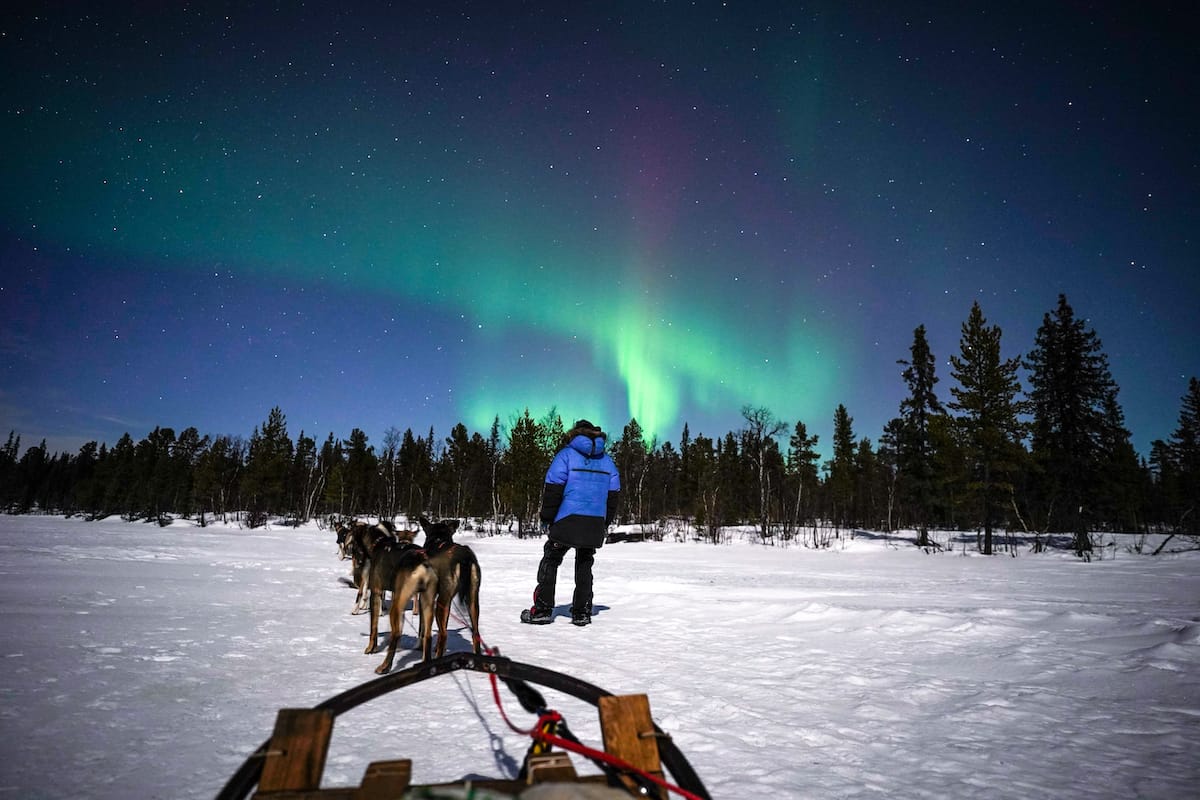 There are two options available for booking on this tour – an evening northern lights trip or a daytime adventure. I actually did both! They were both awesome!
Here are the two options for the dog sledding tour (I booked both through Manawa):
Once you're at the camp, you will enjoy a traditional Swedish fika by a fire where you can chat and learn more about Sami culture from the guides. If you're there at night, you can head out to photograph the northern lights (if present) which was super cool!
>> Click here to check northern lights dogsledding rates
5. Take a Northern Lights Snowshoeing Tour
When in Kiruna, I took a northern lights snowshoeing tour with Outdoor North 67° booked through Manawa. I highly recommend the experience to those looking to experience an activity while seeing the beautiful aurora in the sky!
This activity is pretty chill and will take place over the span of 2-2.5 hours. You can be a beginner and still sign up for this!
On my trip, I had a super enthusiastic guide who loved the Arctic and once we snowshoed our way into the Swedish forest, he built snow couches for us to chill on by a fire with a hot drink while he told us stories.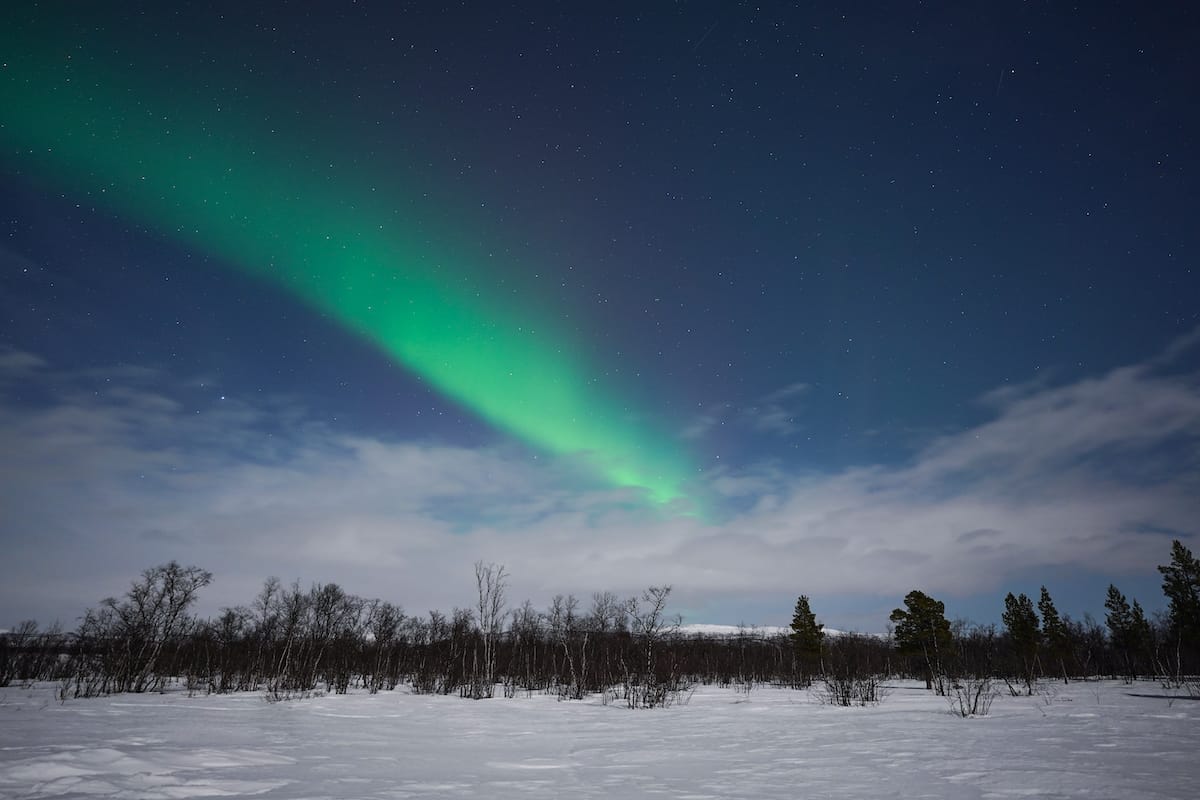 It was so cool and unique from other tours I had taken on this trip!
There are a few snowshoeing options on this trip… I had merely signed up for the northern lights snowshoe. But, if that doesn't fit your schedule, you can do the mountain snowshoe or the forest snowshoe hike instead.
>> Click here to check Kiruna snowshoeing rates and availability
6. Spend the Night at the Husky Lodge in Kiruna
On my first night in Kiruna, I opted to stay at the Husky Lodge just slightly outside of the city.
The Husky Lodge Hostel (felt more like a guesthouse) is 4km from the city center of Kiruna and is a fantastic place to stay if you want unique accommodation on your trip!
You will be surrounded by dog kennels and have a cozy place to call home for the nights spent there.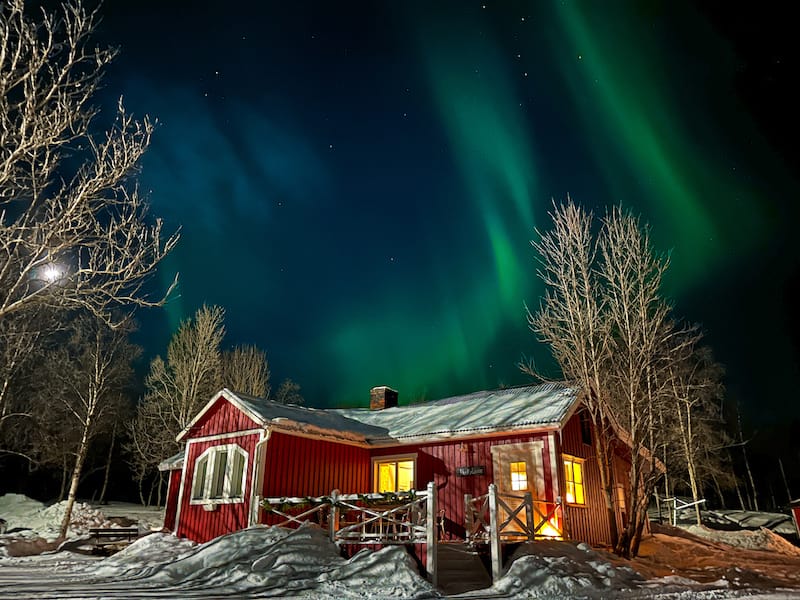 When I was at the lodge, the northern lights came out so we were able to walk on a short path out of the hotel grounds to an open space where we could photograph them. It was such a surreal experience for the first night in the north of Sweden!
In the mornings, you will have a chance to help feed the huskies and get to know them. You can also sign up for a husky safari when there if you didn't pre-book one prior.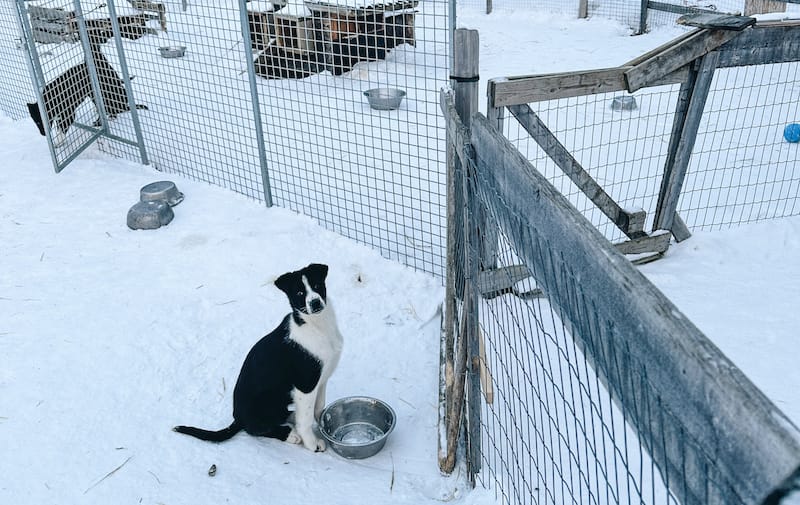 In the main guesthouse, you will find a shared kitchen and bathrooms and there are separate accommodation options on-site that will offer a more private experience.
No matter what you choose, you will have a one-of-a-kind experience in Kiruna!
>> Click here to check Husky Lodge rates and availability
7. Visit the Beautiful Jukkasjärvi Church
Located in the remote town of Kiruna, Jukkasjärvi Church is a unique destination that combines history, culture, and stunning natural beauty.
Built in 1607, it is the oldest wooden church in Lapland and has been beautifully preserved over the centuries.
The church is painted in red and white, and it does look like a scene from your favorite fairy tale, especially when surrounded by deep snow.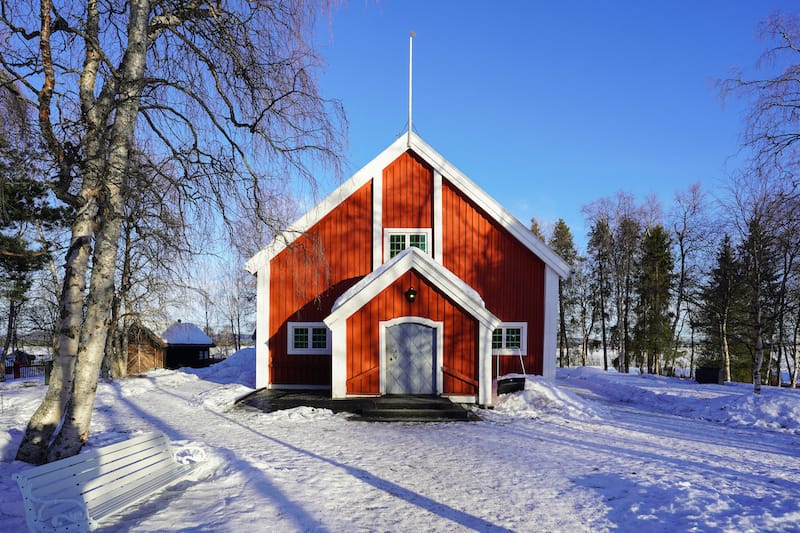 The interior is more spectacular, with colorful wall paintings, the altarpiece, the triptych, and the organ, with rich decorations and three sounds: drums, reindeer hooves, and birdsong.
Jukkasjärvi Church is still an active place of worship. It is a unique opportunity to experience the solemnity and beauty of a traditional church service.
8. See the Gorgeous Torne River
The Torne River is one of the largest free-flowing rivers in Europe, forming a natural border between Sweden and Finland.
It is a popular destination for tourists looking to experience the beauty of the Scandinavian wilderness.
One of the most popular activities is rafting. The river's rapids offer an exciting challenge for experienced rafters, while the calmer parts of the river provide a relaxing journey through the wilderness.
During summer, the sun never sets in this part of Sweden, and the Torne River is the perfect place to experience the magical midnight sun while fishing for trout and salmon.
9. Have Dinner at Camp Ripan
Kiruna is not brimming with great food options (for now – I hope that changes in the future!) but Camp Ripan is a must for those looking for a delicious dinner (or lunch) experience!
Camp Ripan is actually a hotel (I stayed there most of my trip aside from a night at the Husky Lodge) and they have an on-site restaurant that offers some super delicious, locally-sourced food.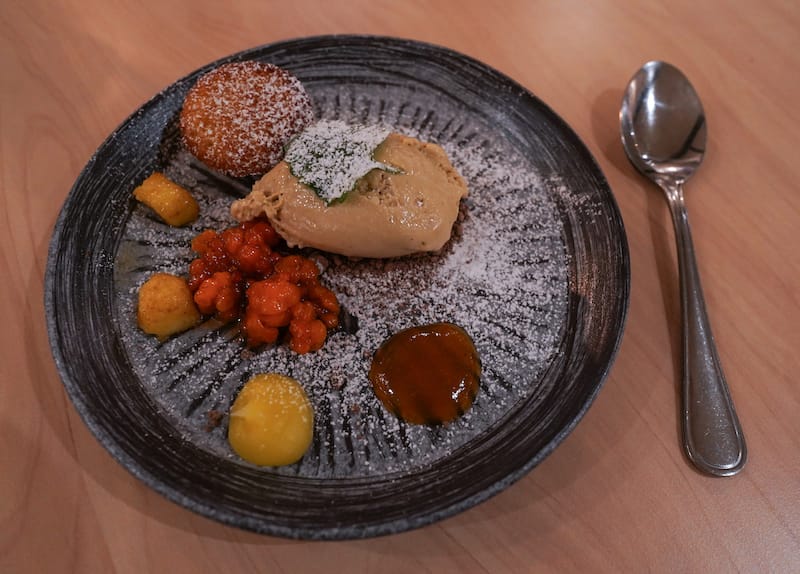 They offer everything from a 3-course menu to a la carte dishes. I ate there multiple times during my stay in Kiruna and had a delicious meal every time!
At lunch, they have hearty soups and other options if you're looking for something to fuel you for the rest of the day.
10. Rejuvenate Yourself in a Swedish Sauna
Swedish saunas, also known as "bastu", are an integral part of Swedish culture. Kiruna is no exception; the town invites visitors to experience this traditional form of relaxation and rejuvenation in nature.
Traditionally, saunas in Sweden are enjoyed naked, which is why public saunas are divided by gender.
Don't forget to bring a towel to wrap yourself in and enjoy a cold beer or wine in-between entering the sauna. After the sauna, dip into a cold pool to recover, and then treat yourself to a Swedish massage.
As you plan your itinerary in Kiruna, make sure you also plan a visit to the Solar Egg, a modern egg-shaped sauna in Luossabacken, and Camp Alta Sauna with an ice hole taking you to the lake.
11. Savor Local Tastes at Stejk Street Food
I am not sure I have ever seen a place with as high of ratings on Google as Stejk Street Food in Kiruna. So, naturally, I had to see what all the hype was about!
I actually ate here as part of my tour to the ice hotel as the guide with Kiruna Private Guides is the owner of the place alongside his wife.
WOW. This place was outstanding. Stejk Street Food is actually a food truck parked outside of a gas station. They have a koti (teepee) where you can take your food and sit inside by the fire.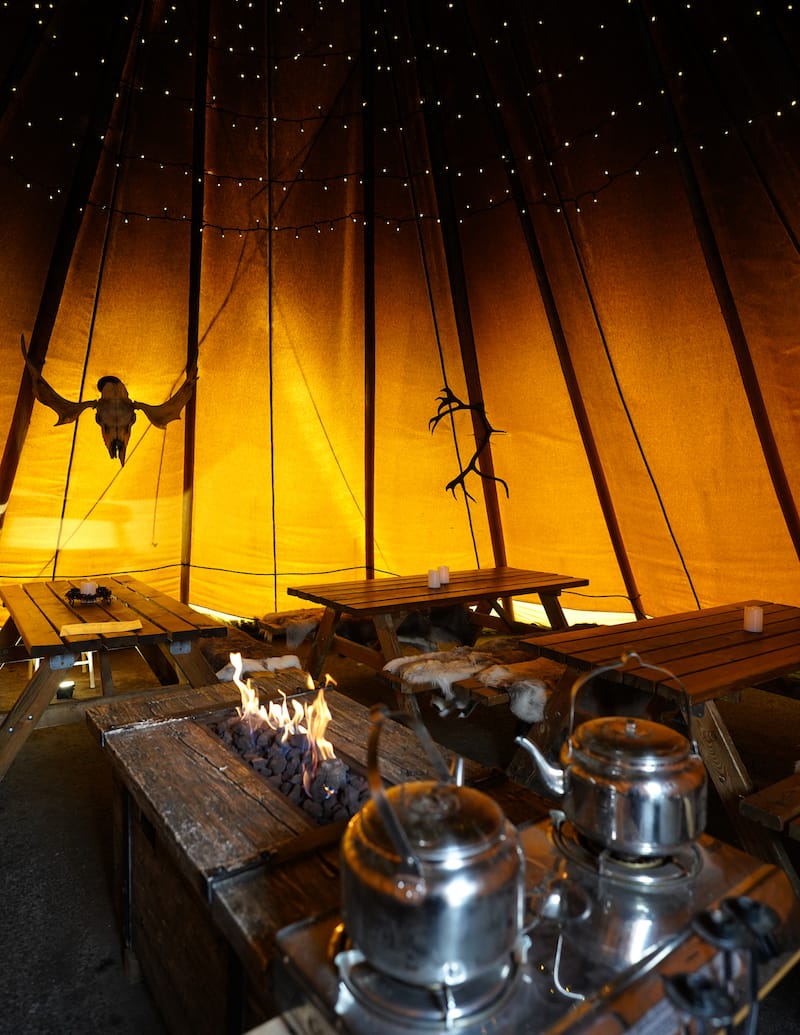 The menu is chill and unpretentious – with local reindeer as a specialty. Everything I ate was simply out of this world.
You have to check this place out when in Kiruna – it was my favorite food experience in the city!
12. See Local Art at Konstmuseet i Norr and Town Hall
Spend an hour or two in Kiruna diving into the world of contemporary art and cultural history at Konstmuseet i Norr.
Occupying the new building of the town hall, the Norbotten Country Art Museum presents a valuable collection of art exhibits that address societal issues.
The museum regularly organizes public programs and creative activities within the same concept and with the same goal.
And a few words about the new town hall, Kristallen built as a tribute to Kiruna's history. The building has the shape of iron minerals (Kiruna sits atop the world's largest iron ore mine).
The social space of the building presents public exhibition halls, meeting rooms, workshops, and the museum.
13. Check Out the Kiruna Church
Kiruna Church is an architectural gem of Sweden, built in the early 20th century, and is an excellent example of the Gothic Revival style.
Dramatically contrasting against the background of functional blocks of miners, this wooden church immediately captures attention with its flamboyant architecture.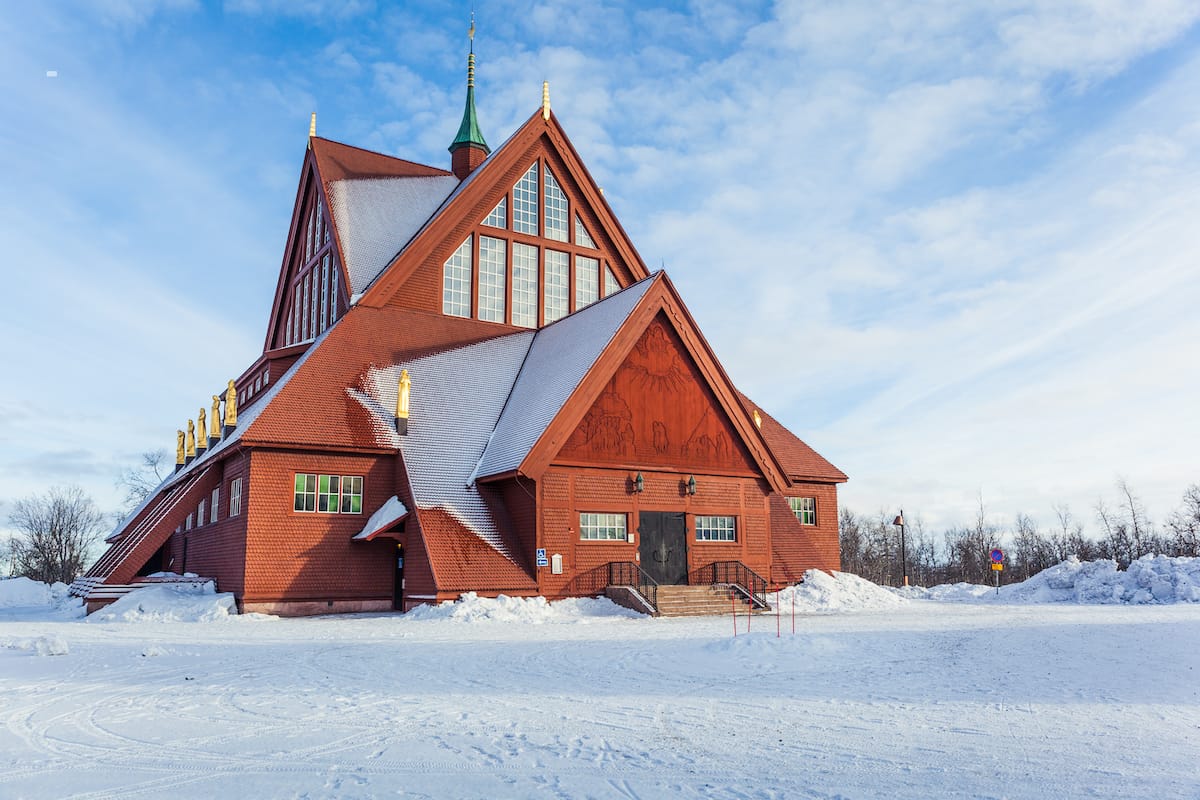 The church is built in the traditional shape of kåta with a broad base and sloping rooflines that look like a pyramid.
Inside, the church is large enough to host 800 worshippers that visit on weekends and at weddings.
In the future, the church will be carefully dismantled and rebuilt a couple of kilometers to the east of Kiruna, but, for now, it is standing in its original location, surrounded by trees.
14. Take a Winter Hike to Silverfallet Waterfall
Silverfallet Waterfall's awe-inspiring beauty draws travelers from far and wide, captivating them with its remarkable natural grandeur.
This stunning waterfall cascades down from a height of 30 meters, creating a spectacular sight that is a must-visit for anyone visiting the region.
An hour's drive from Kiruna, the waterfall is located in the small village of Bjorkliden, often visited for hiking, skiing, and snowboarding.
To reach Silverfallet Waterfall, you need to take a short hike from the village to a hidden canyon in the birch forest, following a narrow path.
There is also a bridge overlooking the waterfall decorated with love padlocks, so bring one with you to leave the symbol of your love in Sweden.
15. Learn about the Sami at Nutti Sámi Siida
Nutti Sámi Siida is one such place to immerse yourself in the rich culture and heritage of the indigenous Sámi people of Northern Sweden, including their customs, food, and way of life.
One of the most popular activities at Nutti Sámi Siida is reindeer sledding. The activity involves riding on a sled pulled by a reindeer, a traditional mode of transportation used by the Sámi people for centuries.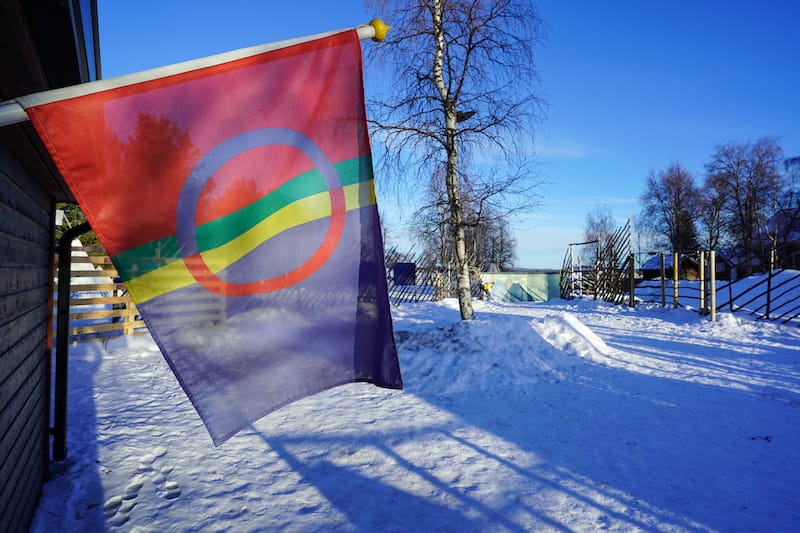 You will be provided with warm clothing and boots to keep you comfortable during the ride. While this is not a preferred activity by me, personally, I do understand why children enjoy it.
For other activities, you can take part in lasso throwing, traditional Sámi cooking, and long evening talks around the fire.
16. Attend the Annual Kiruna Snow Festival
The annual Kiruna Snow Festival is the most popular among locals and guests that offers visitors a chance to explore the wonders of winter in a truly magical setting.
One of the highlights of the festival is the world-class snow sculpture competition. Teams from all over the world come to Kiruna to showcase their talents and create stunning sculptures out of the snow.
These sculptures are truly works of art, and you can stroll through the snow park to admire the creations.
In addition to the snow sculptures, there are plenty of other activities and events to enjoy at the festival.
You can watch the snow blower world championship, dog sledding, figure skating, try your hand at ice fishing, participate in traditional dances, and enjoy live music.
17. Take a Walk Along the Midnight Sun Trail
The Midnight Sun Trail is a stunning hiking route that winds through the breathtaking landscapes of Kiruna.
The trail stretches for over 4.3 kilometers and takes visitors on a journey from Camp Ripan to Luossavaara.
The trail is well marked with wooden signs with a symbolic sun and a "Midnattssolstigen" prescription. Along the way, hikers will be treated to incredible views of the surrounding tundra, rolling hills, and expansive forests.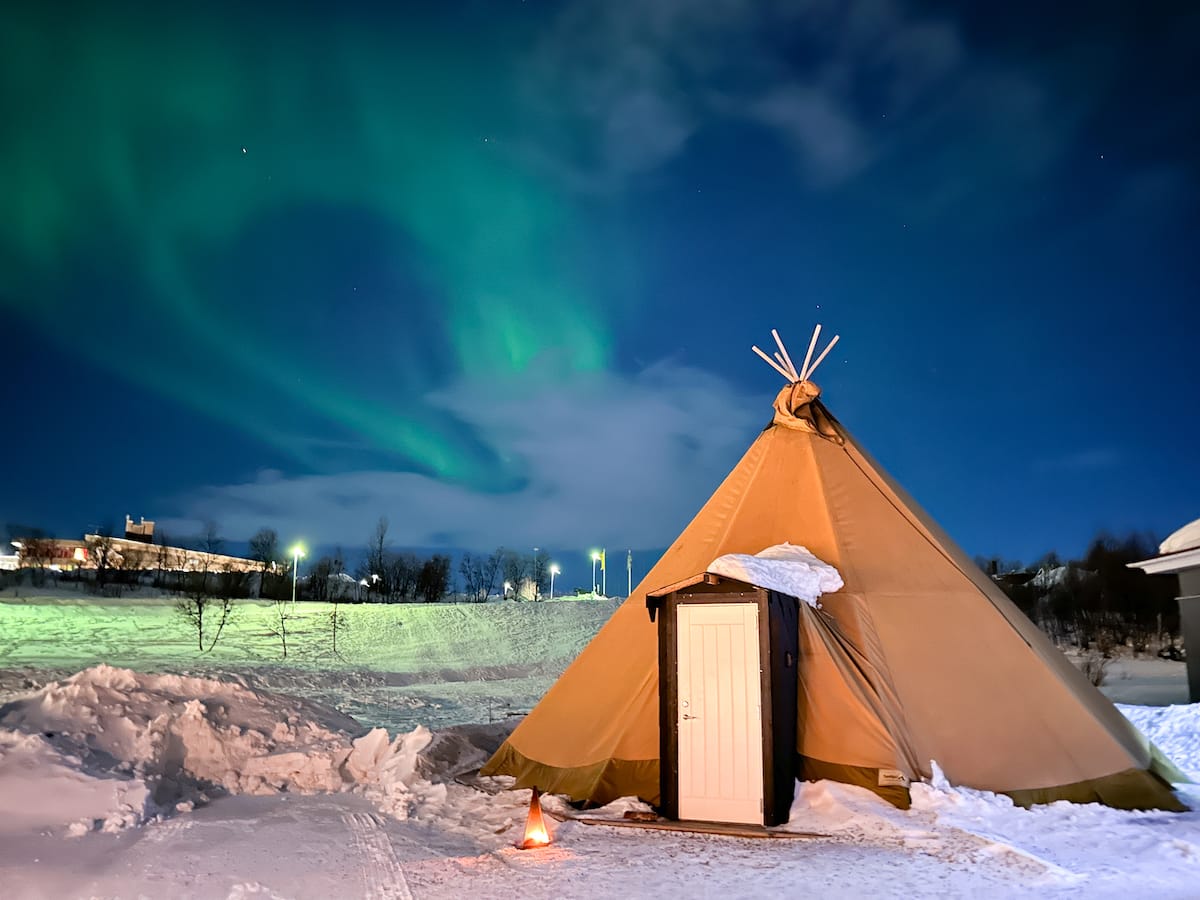 But perhaps the most incredible aspect of the Midnight Sun Trail is the chance to witness the incredible natural phenomenon of the midnight sun.
During the summer months, the sun never fully sets in this part of the world, and you can experience this unique event firsthand.
18. Enjoy a Meal at Ann's
If you have missed your favorite Neapolitan pizzas, smash burgers, ribs, sushi, and Thai food, Ann's restaurant is the best to choose from.
The most exciting thing about the restaurant is the lunch menu, which changes every day.
On weekends, the restaurant offers a special weekend buffet with sushi, pork fillet with potato gratin, pepper and béarnaise sauces, a salmon side, and more.
19. Go on a Day Trip to Abisko National Park
Abisko National Park presents 77 square kilometers of unique, rugged terrain, stunning vistas, and diverse flora and fauna.
Throughout the park, you will find permafrost, frozen terrain, that contrasts with alpine meadows during spring and summer.
There are over 27 marked hiking trails to explore the stunning landscape, including lakes, waterfalls (many frozen in winter!), and majestic mountains.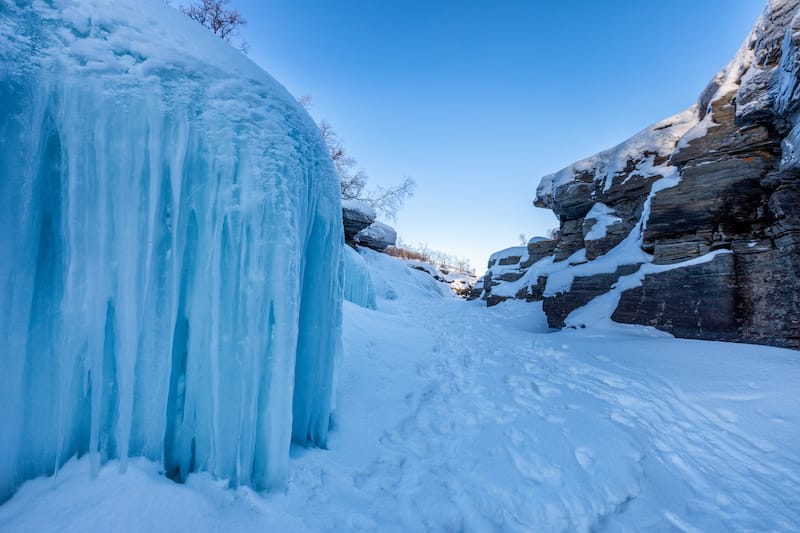 One popular route is the Kungsleden trail, a 105-kilometer trek that runs through the park and beyond.
Whether you decide to visit the park during summer or winter, you will witness two natural phenomena – the Midnight Sun or the Aurora Borealis.
For a full Abisko experience, visit the Aurora Sky Station on Mount Nuolja, where you will have a unique opportunity to witness the Northern Lights and enjoy a delicious dinner at the station's restaurant.
20. Spend Time at the Jokkmokk Winter Market
The Jokkmokk Winter Market is held every winter since 1606 in the town of Jokkmokk near Kiruna.
It is a unique and unforgettable experience and a celebration of Sami culture where you will experience traditional food, crafts, and entertainment.
The market takes place during the first weekend of February, and the town of Jokkmokk comes alive with the sounds of traditional music, the smells of freshly cooked food, and the sight of colorful Sami clothing.
Oh, the food! You will taste the region's produce, reindeer meat, soft cake, gahkku, and more. Held in February, it may get really cold, so make sure you are well prepared to spend a couple of hours in the open air.
Where to Stay in Kiruna
I have stayed at both the Husky Lodge and Camp Ripan during my trip to Kiruna – and I highly recommend both places!
The Husky Lodge is a unique experience but a bit outside of the city center. Camp Ripan was centralized and tours pick up from there without a problem (they also have a delicious restaurant).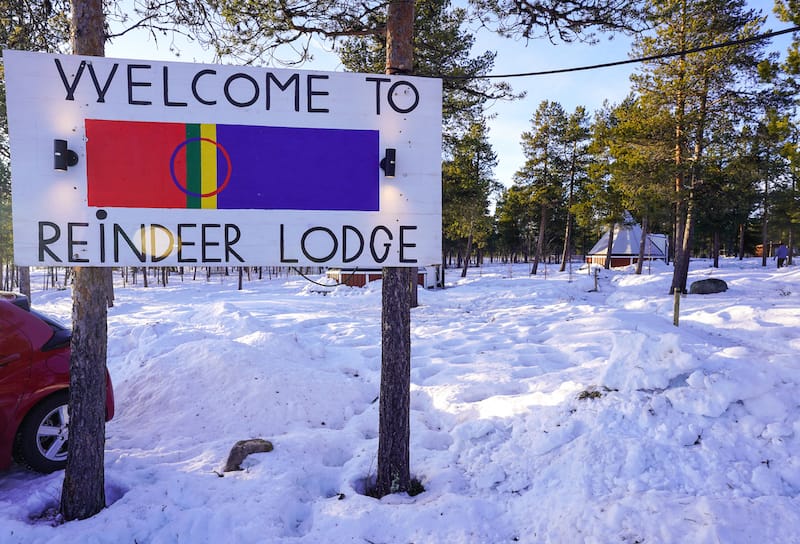 Did we miss any of the best things to do in Kiruna in winter in this guide? Let us know in the comments!
More Sweden Travel Guides
Pin this Winter in Kiruna Guide