Are you looking for an entertaining and different way to see the northern lights? This post details how to experience the aurora while snowshoeing in Kiruna, Sweden!
Are you planning your trip to Kiruna last minute?
If youʻre booking your trip to Kiruna last minute, we have you covered. Below are some of the top tours, hotels, and more!
🇸🇪 Top Experiences and Tours in Kiruna:
Northern lights snowshoeing in Kiruna (reviewed below!)
Snowmobiling in Kiruna (top-pick & includes coffee/lunch)
🛌 Top Hotels in Kiruna:
🚗 Looking to travel around Sweden independently? Click here to check Sweden rental car rates!
In this guide, I will detail everything you need to know about taking an easy and adventurous snowshoeing excursion from Kiruna.
From the highlights of the 2-hour northern lights Kiruna snowshoe tour to what you should bring for a night under the Arctic sky… we do our best to cover it all!
This Kiruna northern lights snowshoe tour is an entry-level snowshoeing excursion and no previous experience is needed since it is of a slow pace and perfect for the absolute novice.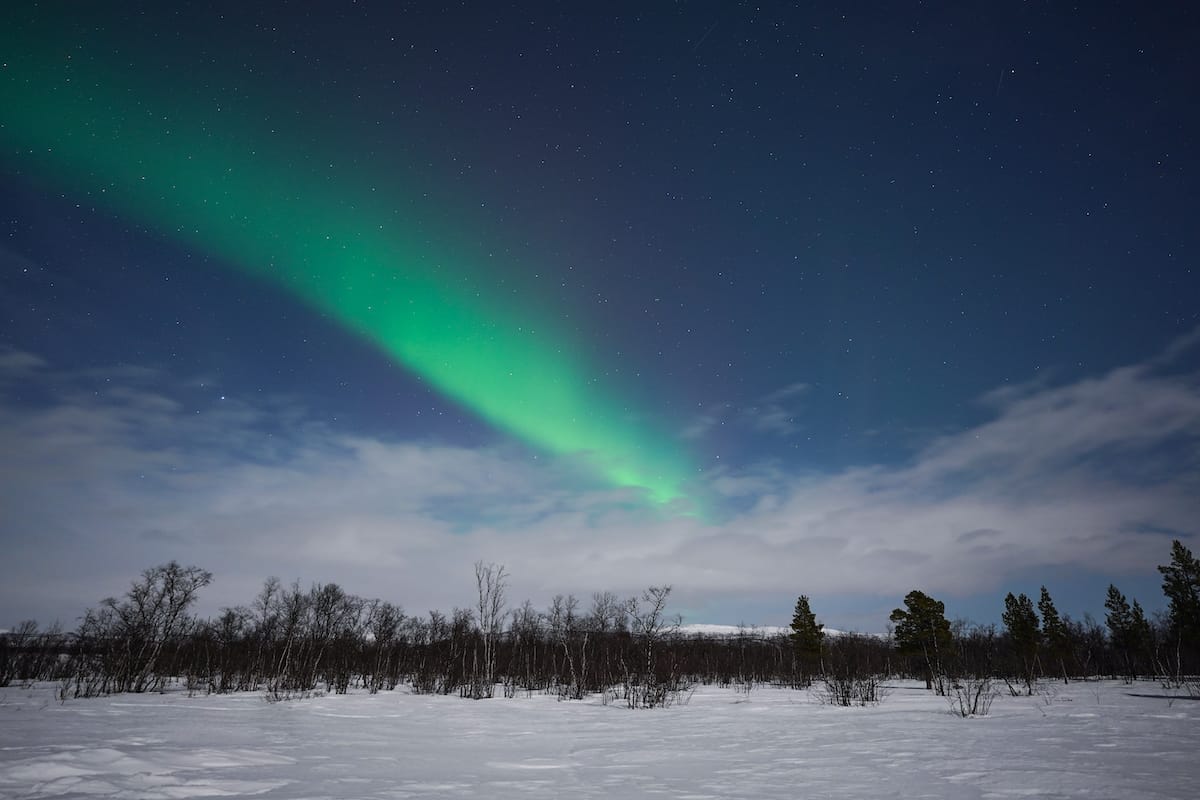 As with any northern lights tour, there is absolutely no guarantee that you will see the aurora on the night you take the tour.
If you have any questions about taking an aurora snowshoeing tour in Kiruna, let us know in the comments!
Why I Booked an Aurora Snowshoeing Tour from Kiruna
I've become a bit of a snowshoeing addict since taking a snowshoeing tour in Abisko and jumped at the chance to do it again when in Kiruna.
I chose this easy and adventurous snowshoeing excursion from Kiruna since the company offers three different kinds of snowshoeing tours.
This tour also felt more of a personal experience as there are only 8 spots available to keep the group small.
BOOK HERE: Small group snowshoeing adventure
I opted to take their aurora snowshoeing tour as it fits best with my hectic Itinerary and was for those who are complete beginners.
While the aurora can not be guaranteed, the tour is a fun experience, nevertheless. I also found that this was definitely a more budget-conscious option for possibly seeing the northern lights in Kiruna.
How to Book This Kiruna Snowshoeing Tour
Duration: 2.5 hours
Pick-up: offered (or you can meet at tourist center)
Language: English, Swedish
CLICK HERE TO BOOK
I booked the tour through the amazing company Manawa, which is one of our preferred partners. The booking process is super easy and can be done entirely through their site.
Simply select the type of snowshoeing tour you would like to do:
Once you have selected the tour, fill in your details and choose your pick-up location (if your location is not listed, select the tourist center in the city center.
Once you have paid for the tour, you will get an email saying your tour is awaiting confirmation.
The tour provider will then confirm the tour and pick-up location and time.
If your hotel was not an option you can reach out directly to the provider and ask if it's possible to be picked up from your hotel in Kiruna.
Where to Meet on the Night of the Kiruna Snowshoeing Tour
The tour has three main pick-up locations throughout Kiruna – Camp Ripan, the Tourist Center, and Hotel Scandic. I was scheduled to be picked up from the tourist center in the middle of town.
I found this a little bit confusing as the address given routes you to a side entrance of a building in an alleyway which just did not feel like the correct place.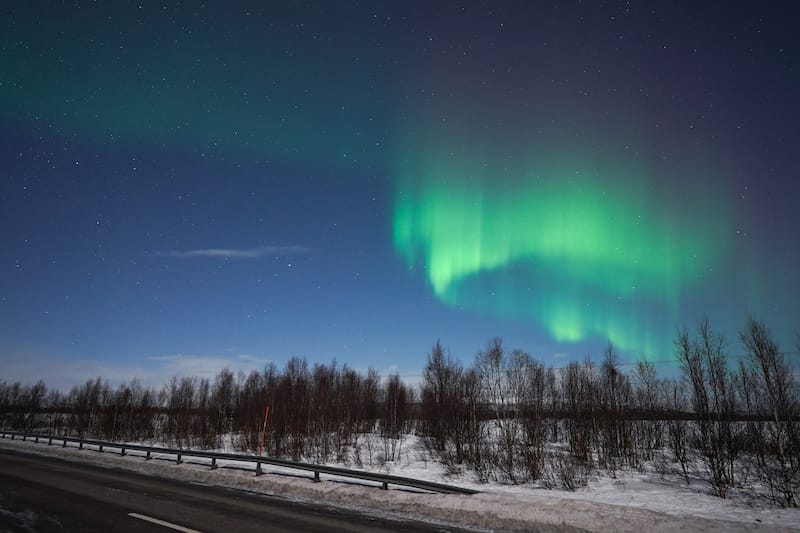 Instead, you actually need to walk to the front of the building where there is a large car park and you will see the entrance to the tourist center there. The guide will then meet you in front of this building.
On my tour, one of the other participants was picked up and dropped off at the Best Western hotel, so if your hotel is not one listed in the options above I recommend reaching out to the tour guide once your tour is confirmed and seeing if they will pick you up from your actual hotel.
Once everyone has been picked up, you will head out of the city to the snowshoeing location.
Highlights from the Northern Lights Snowshoe Walk
As I opted for the northern lights tour, I will talk a little about my experiences on that version of the tour with my pros and cons for that option.
Here are a few of my highlights:
The Guide
Our guide for the tour was one of the most engaging I have ever had! His passion for the Arctic and the northern lights really shone through and for me, he made the trip.
From the second he picked us up until the very last minute, he was talkative and welcoming.
While we drove through Kiruna he explained a few things about the city and how it is changing due to the mine.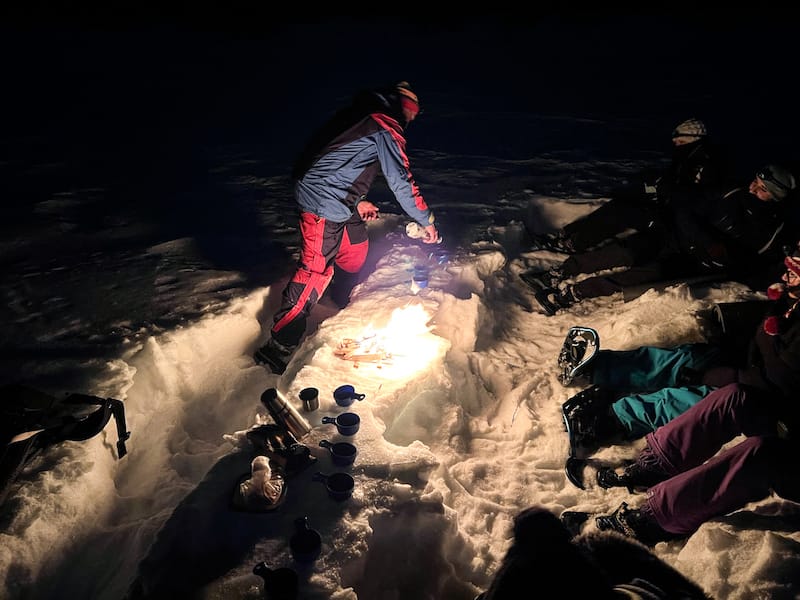 Then once we were out in the wilds, he told us stories from his childhood and kept us entertained on a chilly night.
He also makes one of the most epic hot lingonberry juices in Kiruna that will keep you warm at night!
The Arctic Camp
Once you reach the spot to hopefully see the northern lights, the guide will set up a little camp with a small fire where you can sit and relax.
I found this to be a unique experience and a lovely way to immerse yourself in the crisp Arctic night.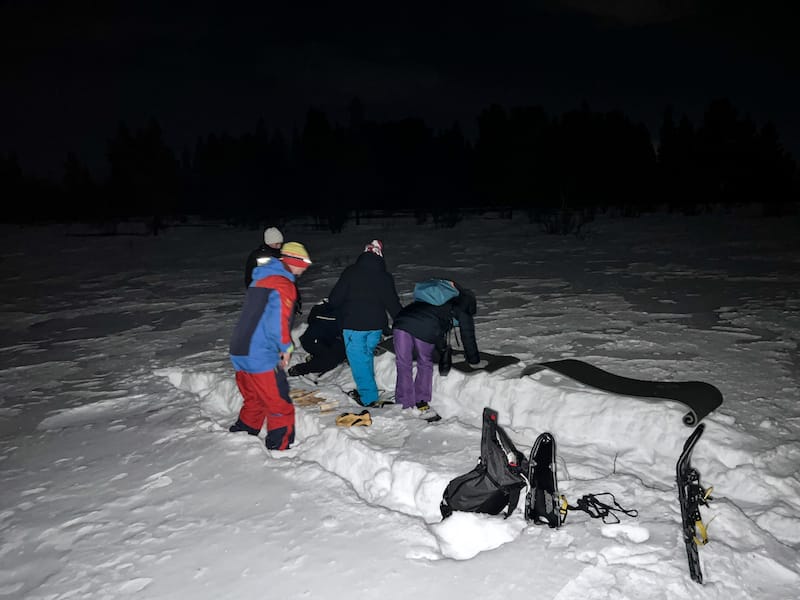 The small fire provided a beautiful ambiance and made the setting perfect.
The guide also put down insulated mats so sitting on the snow sofa was not a cold experience!
Northern Lights
If you are lucky, you will get the chance to see one of the natural world's most magical displays, the northern lights.
The tour will take you to a large open field, where you have an uninterrupted view of the sky and minimal light pollution, perfect for seeing the northern lights. However, as with all tours they can not be guaranteed.
We were fortunate enough to see the lights twice, once on the way to the location, where the guide pulled to the side of the roadway and we had 10-15 minutes to enjoy the spectacle.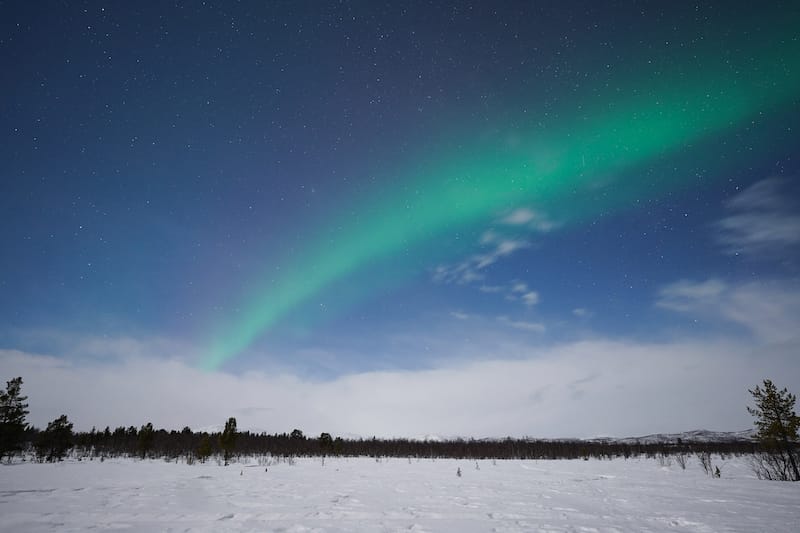 When we arrived at the viewing spot, there was minimal activity but still enough to really enjoy.
The guide spent time explaining the science behind the lights and which elements create the different colors and his own personal connection with the aurora.
You will need to bring your own photography equipment on this tour to really fully enjoy the magic of the aurora.
BOOK HERE: Kiruna aurora snowshoeing tour
Thankfully, most newer smartphone models have a night mode where you are able to capture the lights. It's best to bring a tripod with you for either your smartphone or camera.
For those looking to take pictures of the northern lights with a camera, there are many great Youtube videos that will help guide you to getting the right settings for your camera.
I advise trying to see if there is model-specific information out there as what works for my Sony Alpha 7 III may not work for your Canon DSLR.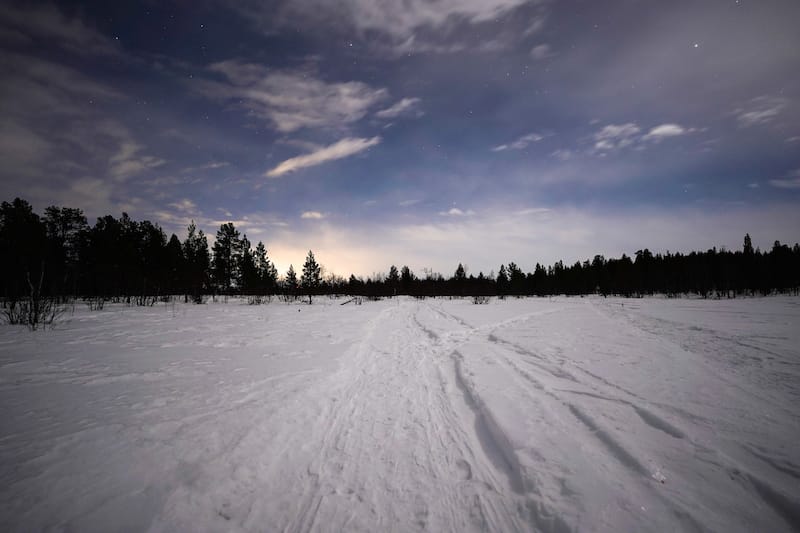 The downside of this tour is as you only go to a set place around Kiruna, if the weather is not going to play nice or the lights fail to make an appearance you will most likely not see them.
But if this is not your only chance to see the aurora or you have seen them before this is a great tour.
It Was Surprisingly Easy
The actual walking part of this tour is relatively short, you will walk through a forest for 10-15 minutes until you reach a field and from there you will set up a base.
This was perfect for those who have never done snowshoeing or maybe are not confident about their own fitness levels.
No one on my tour struggled to do the walk or felt any apprehension about the route despite it being their first time.
I found it to be the perfect introduction to snowshoeing.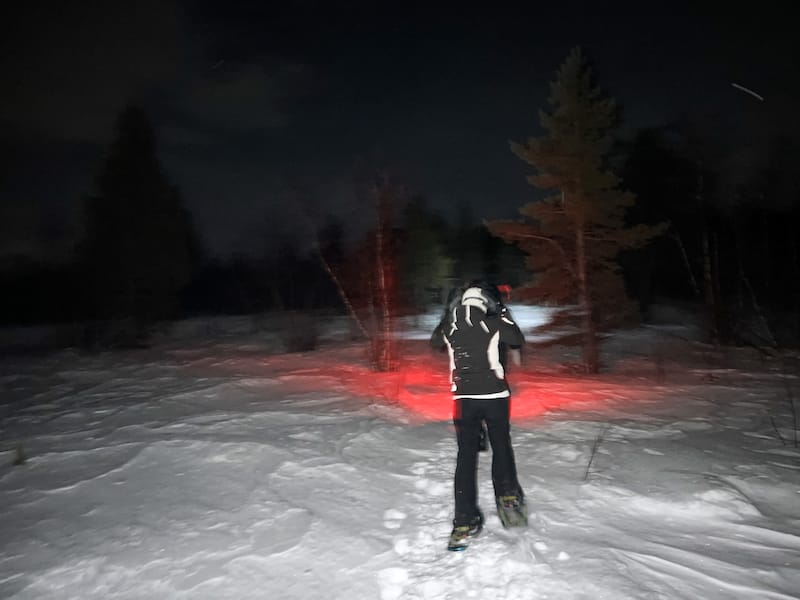 However, if you are looking for more of a challenge or a deeper dive into snowshoeing I recommend taking one of the other versions of the tour on offer.
The Mountain Snowshoe hike is perfect for those looking for more of an athletic challenge. You will go up a mountain until you are above the treeline and from there you will have stunning views out over the Swedish Arctic.
For a longer but more chilled-out snowshoe tour, I recommend the Forest Snowshoe tour, where you will enjoy a leisurely pace through the birch forests that dominate northern Sweden.
One thing to note is neither of these longer options includes the Northern Lights.
Who Can't Take this Aurora Snowshoeing Tour
While this tour is really easy, it is still not suitable for those with mobility issues.
I found the most challenging part of the tour getting the snowshoes on my boots, as I was wearing very chunky snow boots.
The actual walking was pretty easy with only a few patches of deep snow.
BOOK HERE: Kiruna northern lights snowshoe trip
Although if you did stray from the more firmer path you would find yourself sinking very quickly.
I would also not recommend the snowshoeing aurora tour for anyone who is looking to spend the majority of time snowshoeing, as this tour is largely about spending time looking for the aurora.
Instead, I would book one of the other longer options that Outdoor North 67° offers on Manawa.
What to Bring on Your Tour
The most important thing is to dress correctly for the tour. You will need to wear layers and tall snow boots.
Standing waiting for the northern lights to appear can get very chilly so it's best to have thermal wool layers on.
The tour provider will not provide any snow suits or boots for this tour.
💥 PRO TIP: If your snowboots are not tall, ask your lodging if they have rental options (or even ones you can borrow). I borrowed some from a guesthouse for my tour.
The tour provides snowshoes and headlamps for the tour, so you do not need to bring your own.
A camera and tripod for taking photos are a must! While your smartphones will take great pictures of the northern lights today, hand-holding a 3-second exposure is near impossible so I recommend purchasing a tripod for your phone if you don't have a camera.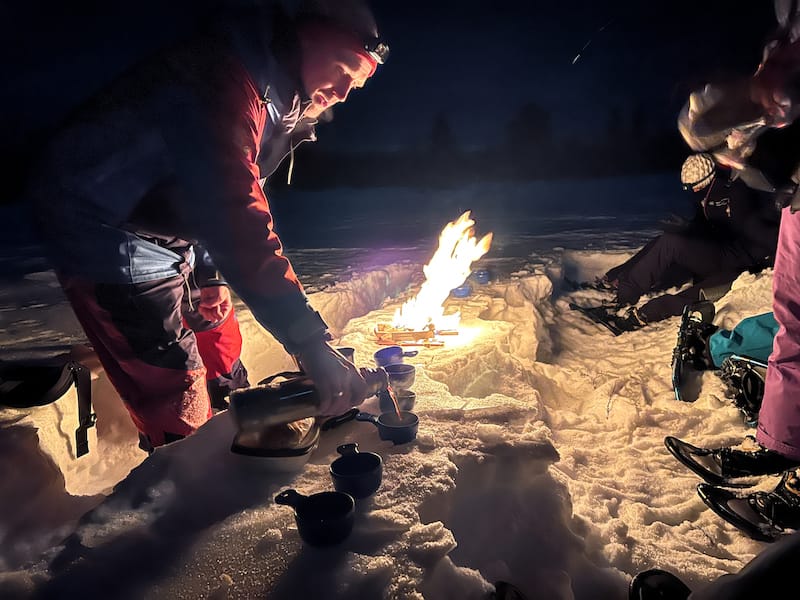 I would not bother bringing food and drink unless absolutely necessary, the tour is short and the level of exertion is minimal.
The guide provides homemade hot lingonberry juice and cinnamon buns for the tour.
Did you have any questions before booking a Kiruna snowshoeing tour? Let us know your questions about this northern lights snowshoeing excursion in the comments.
More Sweden Travel Guides
Pin this Kiruna Snowshoeing Guide