This guide will give you the details about how to get from Kiruna Airport to the city center.
Are you planning your trip to Kiruna last minute?
If youʻre booking your trip to Kiruna last minute, we have you covered. Below are some of the top tours, hotels, and more!
🇸🇪 Top Experiences and Tours in Kiruna:
Snowmobiling in Kiruna (top-pick & includes coffee/lunch)
🛌 Top Hotels in Kiruna:
🚗 Looking to travel around Sweden independently? Click here to check Sweden rental car rates!
It will also show you how to get from Kiruna Airport to the Ice Hotel if that happens to be where you're staying for the trip!
I am listing merely three viable options, excluding airport transfers that your accommodation might offer!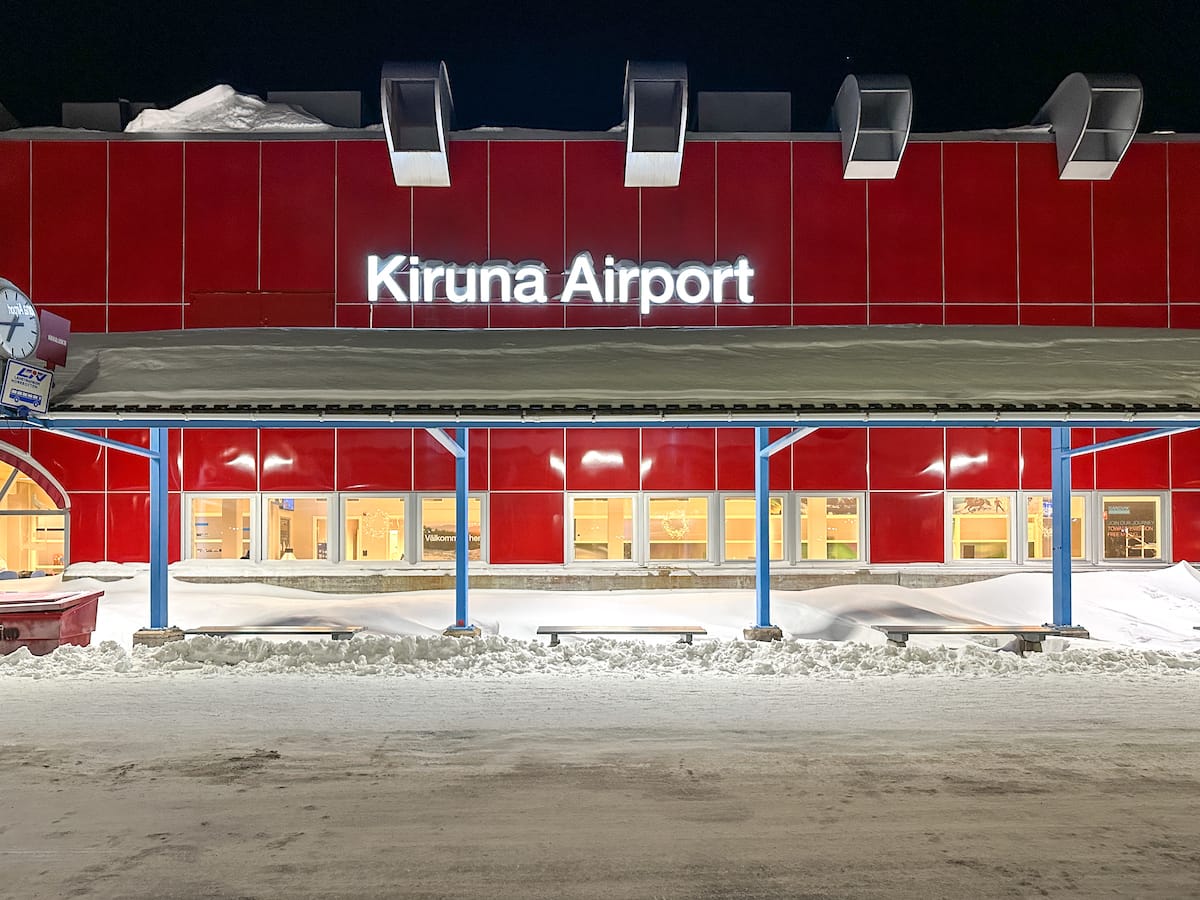 If you have any questions about getting to the city from Kiruna Airport, please let me know in the comments!
Kiruna Airport Transfers – Summary
Here are the airport transfer options we cover in this guide:
• Airport shuttle bus (public transportation)
• Taxi options
• Renting a car
• Booking a private transfer
• Getting from Kiruna Airport to the Ice Hotel in Jukkasjärvi
If you know of other alternative options for getting to Kiruna city from the Airport, please leave us a comment below with the details!
A quick note is that it is best to check with your lodging to see if they offer a free shuttle or shuttle options before booking one of the ones on here! It will save you so much energy!
About Kiruna Airport
The airport in Kiruna is listed as 'KRN' and it actually is situated around 10km outside of the city center.
Kiruna Airport serves just under 300,000 passengers annually and also is one of the main airports that people fly into for getting to Abisko (alongside Narvik Airport in Norway).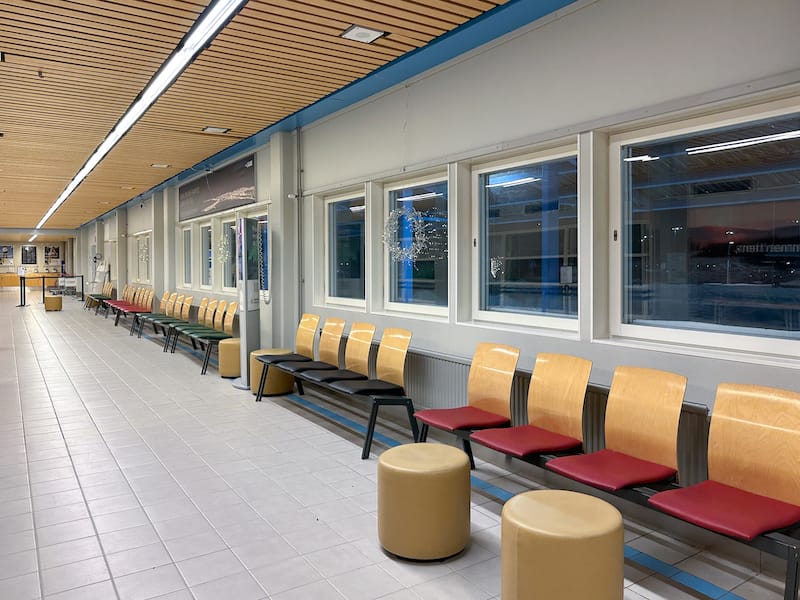 Like many Arctic airports, it is small and only offers a handful of flights… some seasonal. You can fly to Kiruna direct from Copenhagen, Stockholm, and Dusseldorf.
When you land, there is one baggage claim, a rental car desk, and not much else! There is not even an ATM inside (but don't worry – Swedes are known for being cashless).
Kiruna Airport to City Options
We will list the four options for getting from Kiruna Airport to Kiruna city below.
The following options exist – public transportation (airport shuttle), taxi, private transfer, and getting a rental car.
We will discuss how to get from the Airport to the Ice Hotel further down in this post.
Public Transportation from Kiruna Airport (Kiruna Airport Shuttle)
Kiruna Airport is connected to the city by a small network of buses from Horvalls Buss. However, the bus is also referred to as Kiruna Flygbuss (Kiruna Airport Bus).
These modern buses run on a schedule and are often changed depending on the flight schedule coming in from Stockholm-Arlanda Airport. You do not need to book this bus in advance! You can simply hop on and pay with a card onboard.
The schedules are posted one month prior, so you will need to check Horvalls' website to get the latest timetable. The buses do run year-round and you can only purchase one-way tickets at the time of purchase!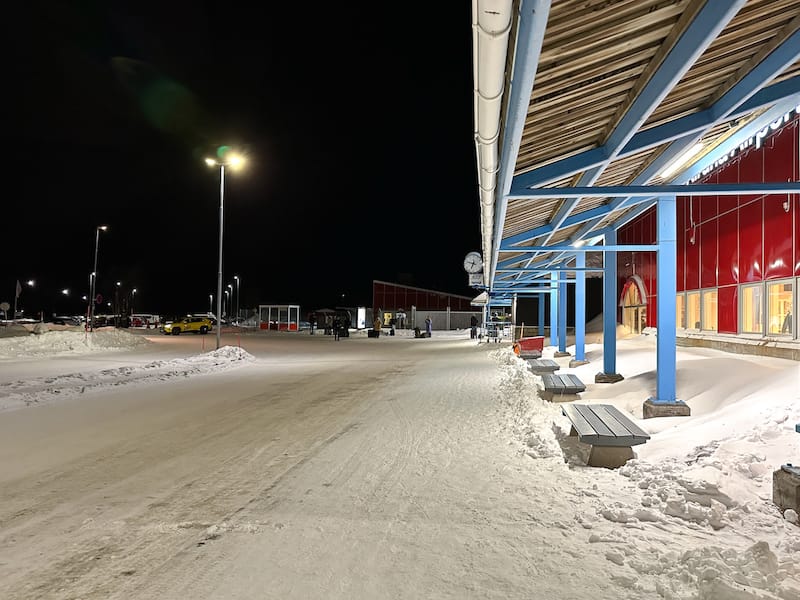 Adult tickets are 110 SEK, children 7-17 are 55 SEK, and kids under 6 ride for free.
The buses make a few stops along the way so make sure you ask your accommodation which stop you will be getting off at so you don't end up out of reach.
The travel time between Kiruna Airport and the city center is 20-25 minutes.
If Kiruna is not your final stop, you can take this bus to the bus station (Hjalmar Lundbohmsvägen) and change to another bus that can take you to the railway station, Abisko, Gällivare, Haparanda, Jukkasjärvi, Karesuando, Kurravaara, Luleå, Nikkaluokta, Pajala, Riksgränsen, Svappavaara, Vittangi, etc. This is where you can also grab a city bus!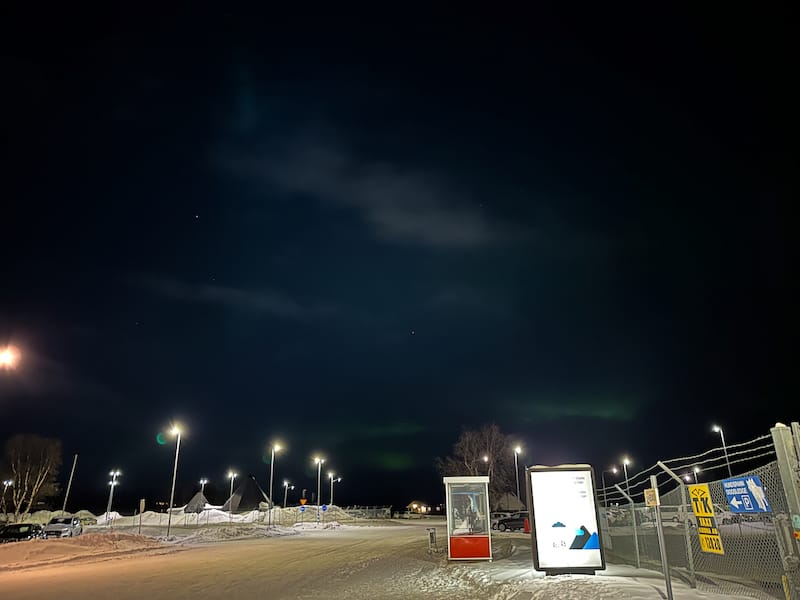 Please note that if you flight is delayed, the bus does not change its schedule. I assume this is what happened with me as it was definitely not an option on my delayed flight in from Dusseldorf!
But, if a route has a permanent change in the schedule, the bus company will make adjustments to the schedule.
Kiruna Airport Taxi Options
If you're not wanting to take the Kiruna Airport shuttle from Kiruna Airport to the city, there are (limited) taxi options that are also available. However, you will need to arrange this in advance or book upon arrival.
I highly, highly suggest pre-booking this. I didn't and screwed things up. Fortunately, a taxi driver agreed to come back and get me after he dropped off another traveler (as I could not get ahold of anyone by phone).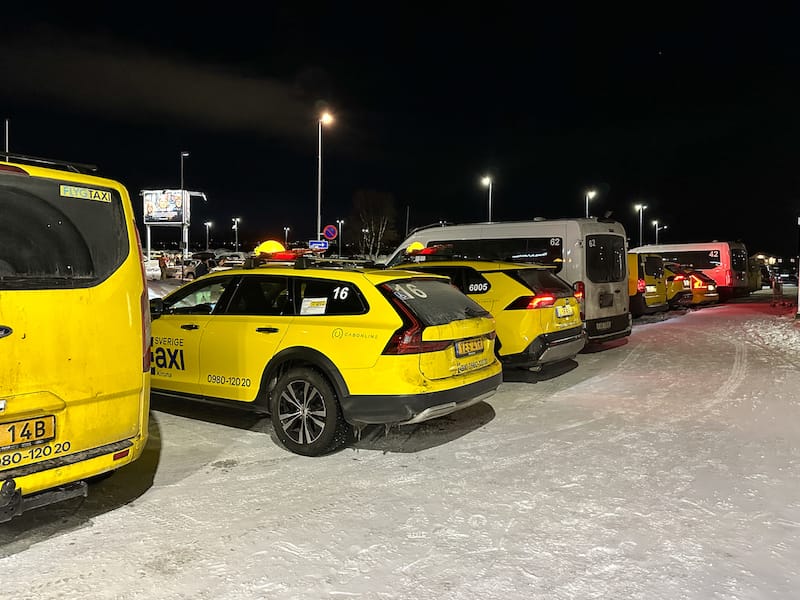 Swedes and those living in Sweden usually speak exceptional English, so don't be scared to get in touch!
• Taxi Kiruna: +46 (0)980-120 20; Website (download their app to book a taxi easily!)
• Flygtaxi: +46 (0)8-120 920 00; Website
I used Taxi Kiruna throughout my entire trip as once I had my initial screw-up (they were the company that came back to the airport and got me!), I found their app super easy to use!
Prices are steep but I find that is common anywhere in the Nordics. I paid 450 SEK from the airport to the Husky Lodge (a little bit outside of Kiruna) and 212 SEK from the Husky Lodge to the Kiruna Train Station.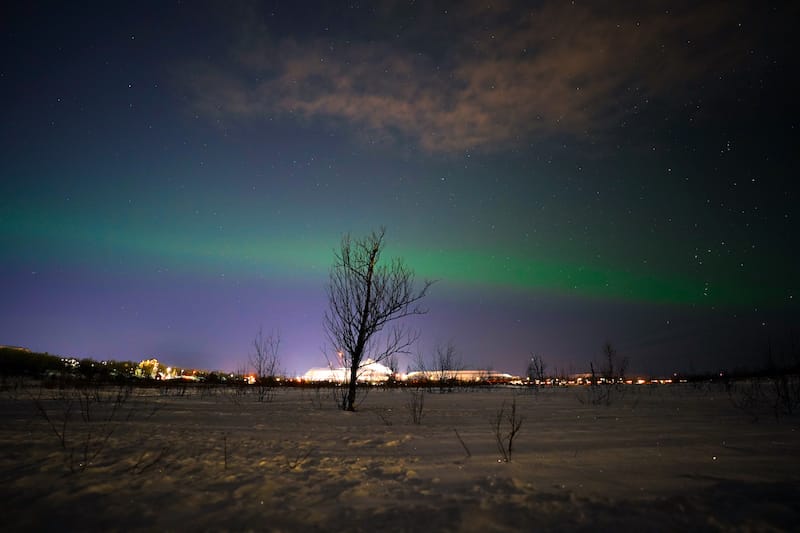 The taxi prices are fixed depending on your distance and they accept cards.
Kiruna Airport Transfer
If you're looking for a private Kiruna transfer for your group, there are limited options if you do not go through your accommodation.
We recommend this private transfer that will take you directly from the Kiruna Airport directly to your hotel or place of accommodation within Kiruna.
This transfer service has large vehicles available in case you're bringing a lot of luggage or winter sports equipment with you!
>> Click here to see rates for a private Kiruna transfer service
Renting a Car at Kiruna Airport
If you're completely comfortable driving in snow (if arriving in winter), then a rental car might be the preferred option for your Lapland adventure!
At Kiruna Airport, there are limited rental car options. You will find Sixt, Hertz, Europcar, and the other usual suspects.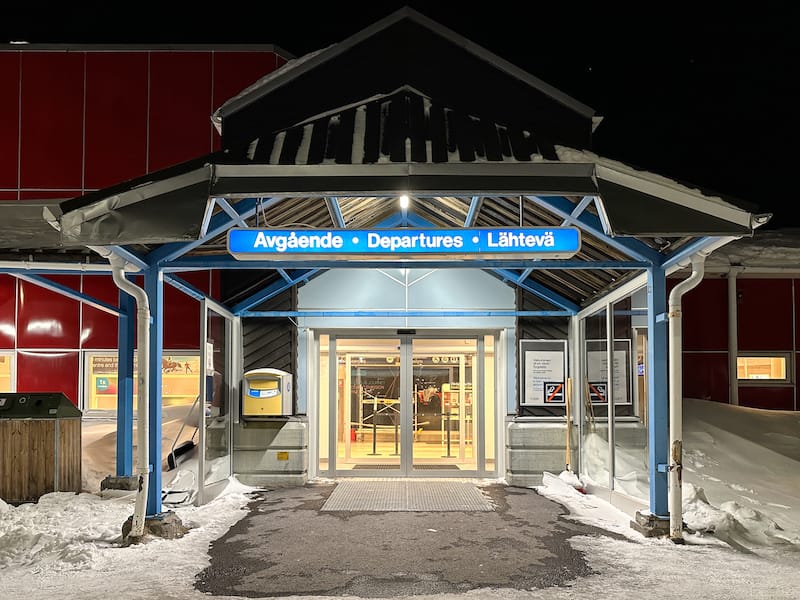 I always recommend booking cars with Discover Cars as that is who I have used in the past when traveling in Scandinavia and the Nordics.
>> Click here to check rental car rates in Kiruna
Getting from Kiruna Airport to the Icehotel (Jukkasjärvi)
First and foremost, you can book a transfer with the Icehotel directly, so we highly recommend doing this! The Kiruna Airport is merely 15-20 minutes from the Icehotel.
If you're looking to reach the Icehotel with public transportation, you can take the 501 bus from the center (you will need to get to the center of Kiruna first!).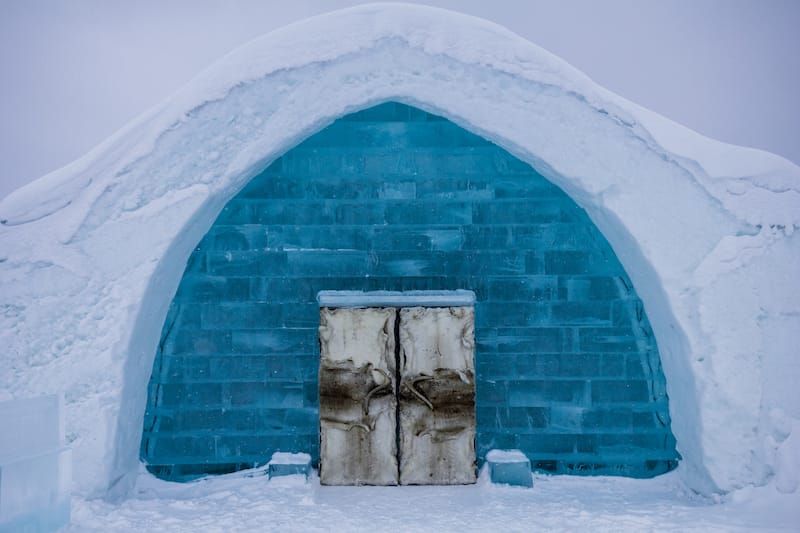 It leaves from Kiruna OK-parken to Jukkasjärvi Icehotel every 4 hours and takes 27 minutes (which includes stops and transfers).
You can find out more about reaching the Icehotel on their official website.
Getting from Kiruna City to the Airport
Returning to the airport from Kiruna city is pretty seamless and you will just need to follow this guide… in reverse!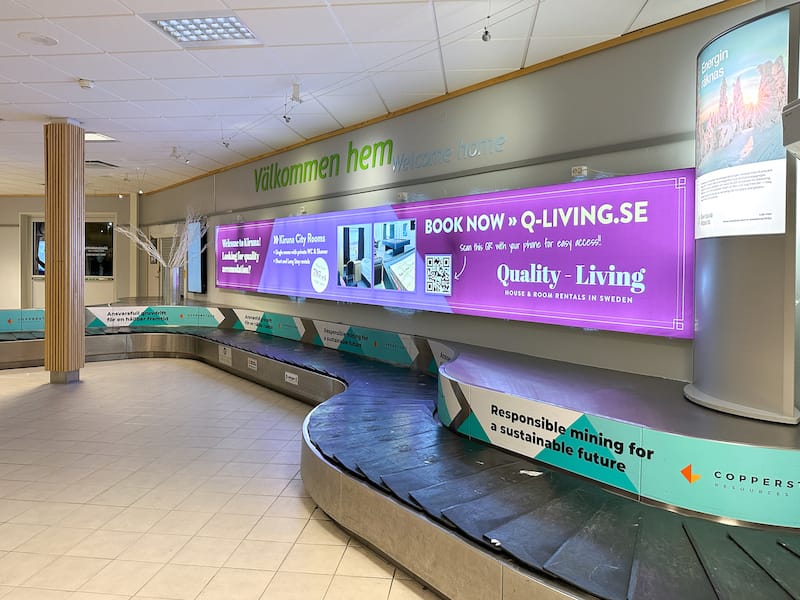 To check out current bus timetables, be sure to follow the instructions we detailed above as they are ever-changing!
Do you have any questions about getting from the Kiruna Airport to the city? Let us know in the comments!
More Sweden Travel Guides
Pin this Kiruna Airport Transfer Guide