Are you looking for the best northern lights tour from Kiruna? This post will provide everything you need to know about the Kiruna northern lights (and the best tour to see them!).
Are you planning your trip to Kiruna last minute?
If youʻre booking your trip to Kiruna last minute, we have you covered. Below are some of the top tours, hotels, and more!
🇸🇪 Top Experiences and Tours in Kiruna:
🛌 Top Hotels in Kiruna:
🚗 Looking to travel around Sweden independently? Click here to check Sweden rental car rates!
In this guide, I will explain what you need to know before hunting for the aurora from Kiruna, what to bring with you, and how to book the perfect tour.
This tour provides you with the best opportunity to see the northern lights during your stay in Kiruna. And, it is long – making sure not a moment is wasted in finding the aurora! You also have a delicious dinner before the adventure!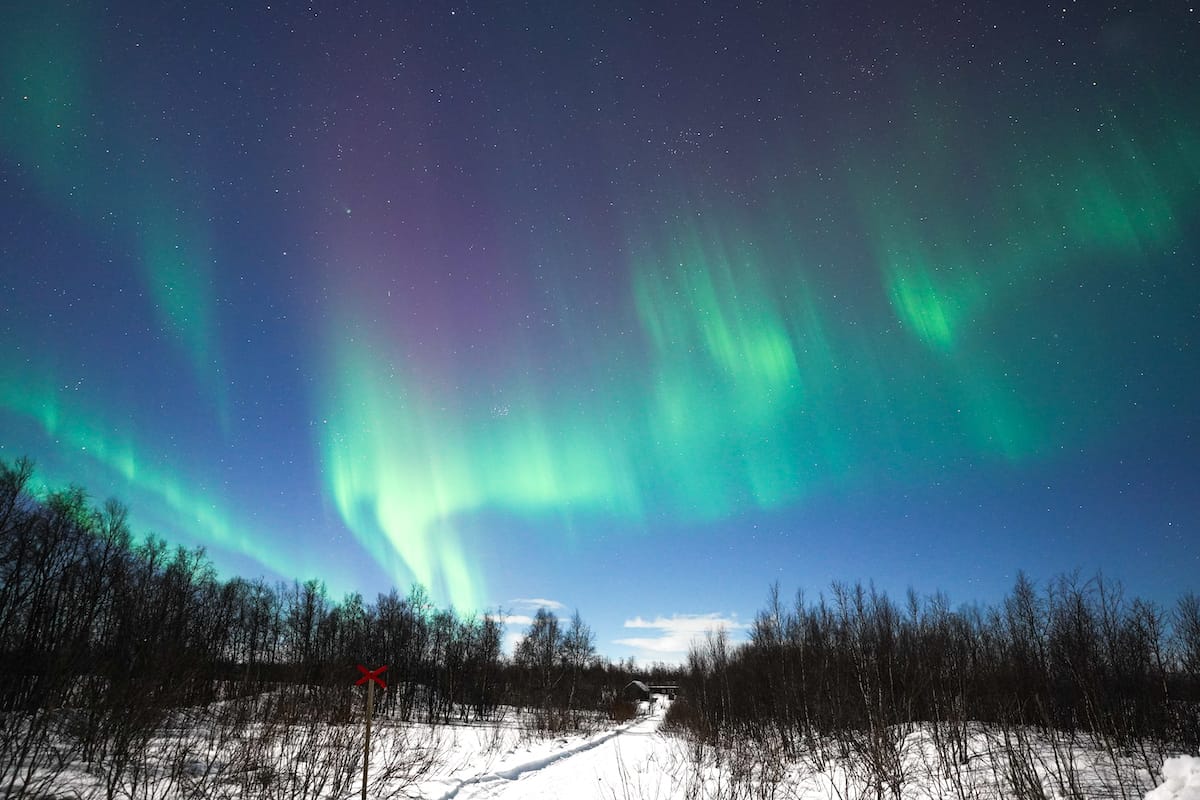 If you have any questions about taking the 'Longest Northern Lights Tour in Kiruna with Dinner', let us know in the comments!
Why I Booked this Kiruna Northern Lights Tour
Since I first saw the northern lights, it is fair to say I have had an addiction to seeing them time and time again.
The magic never ceases to amaze me.
While I was booked in to do a couple of snowshoe tours under the aurora tours, seeing the lights is not guaranteed, and I felt like I wanted to experience a true northern lights tour in Kiruna.
BOOK HERE: Northern lights tour in Kiruna
While I know what to look for when spotting the northern lights, sometimes you can't predict the weather and I really wanted to take a tour where they would drive to find clear skies no matter where the trip would take us.
No tour can guarantee 100% seeing the lights but there are tours out there that will give you the best chance possible and that is why I chose to do this long Kiruna northern lights tour during my trip.
The guides will follow the weather maps and drive you to where the skies will be clear, be it in Sweden, Norway, or Finland.
How to Book the Best Northern Lights Tour in Kiruna
Duration: 6-7 hours
Pick-up: Offered
Language: English
➡️ CLICK HERE TO BOOK
Booking the Longest Northern Lights Tour in Kiruna with Dinner is easy when done via Viator.com, one of my preferred partners.
The best thing about booking via Viator is that the booking process is very easy!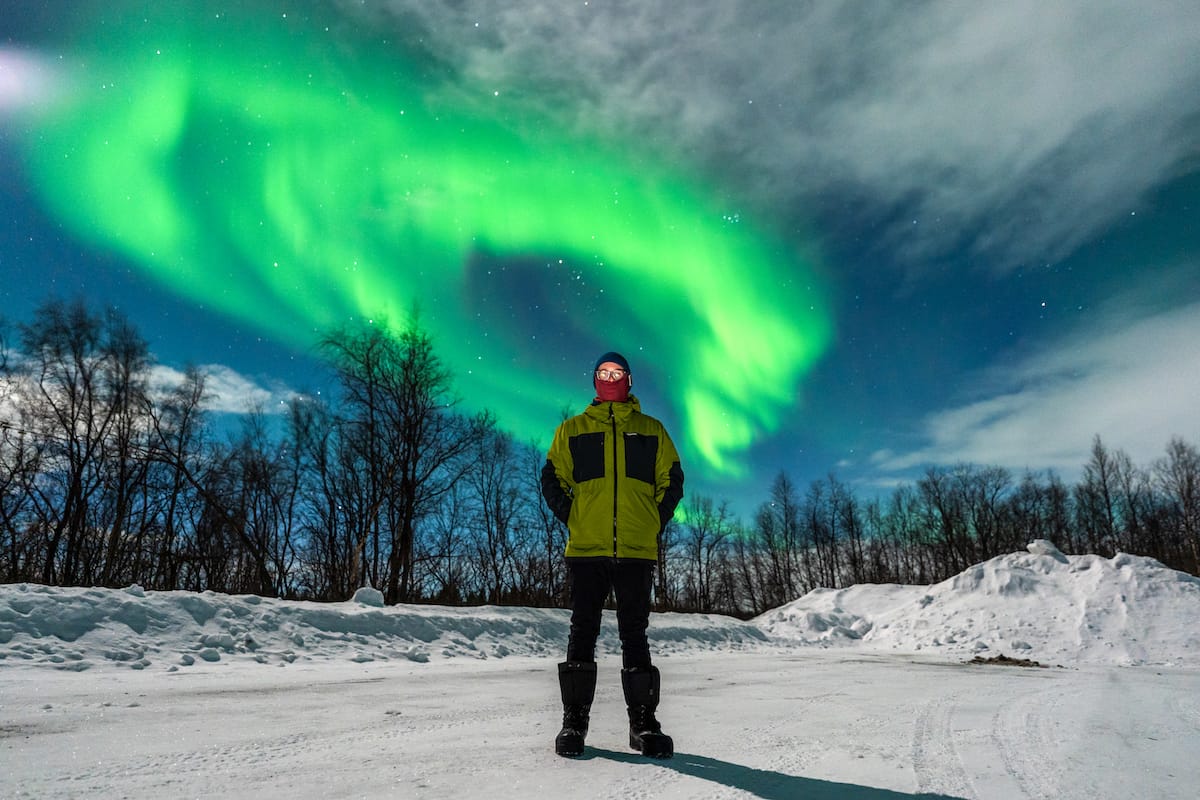 Simply choose the date you wish to go on the tour, select your pick-up location, and then fill in your details and pay. You will then receive a confirmation of your booking via email.
Closer to the time of your tour you will receive an email and a WhatsApp (if you have it) from the tour operator confirming the pick-up time and asking if you want a meat-based dish or vegetarian dinner.
Where to Meet on the Night of the Tour
The tour provider Lights of Vikings offers pick-up locations within the city of Kiruna. If you are staying out at the Ice Hotel, Reindeer Lodge, or hotels outside of the city you will need to make your way into the city for pick-up.
Pick-up for this tour is very early, so I recommend not organizing an afternoon tour that day. Once all the pick-ups are complete in Kiruna you will head to Abisko for dinner.
Once at the restaurant, you will join forces with those who started their tour in Abisko and hunt for the lights together. Although you will remain with your car and guide for all the journeys.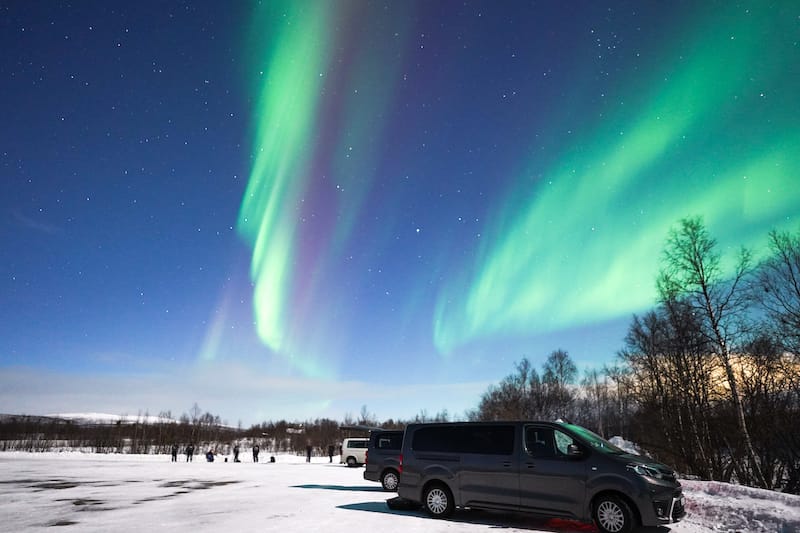 Due to the long distances and tight timeframe of this tour, you need to be on time for the tour.
If you are not waiting for the tour they will attempt to call you. If there is no answer you will be left behind!
On my tour four people did not turn up at the meeting point nor were they reachable by phone, and were there for left behind. This is why I strongly recommend not organizing another tour in the afternoon before this tour.
What to Know Before Taking a Kiruna Aurora Tour
The Northern Lights are a natural phenomenon and while there is a lot of science behind it, it is almost impossible to predict where they will be or how strong they will be.
Many people get disheartened by looking at cloud coverage and the KP index thinking they will not see anything and cancel their tour.
However, while cloud coverage is the most important fact, tours like this will search for openings and will drive to make sure you find clear enough skies.
The one curse of clear skies is a full moon, especially if there is snow on the ground as it will make the night sky so bright you may struggle to see the aurora.
The KP index, while useful, does not necessarily indicate how strong the lights will be. While a higher KP index suggests a stronger display, these lights could be so far south that they are also hard to see.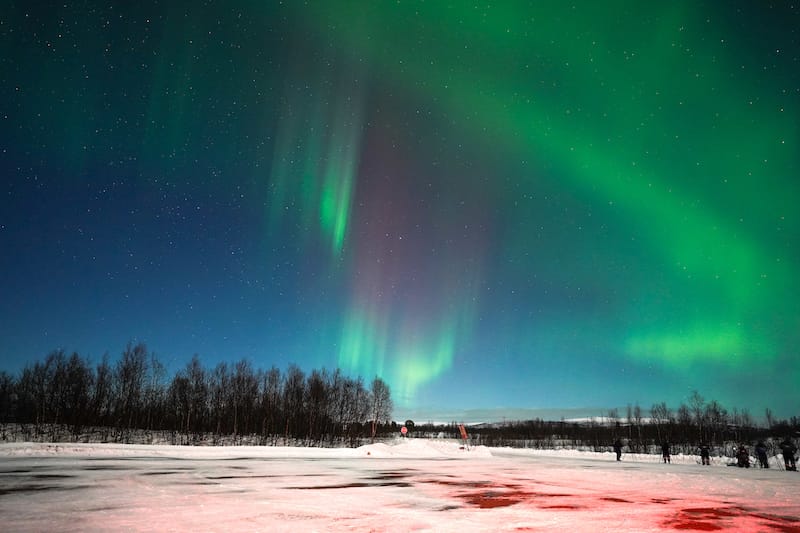 While a KP index of 1 may seem weak it's just more likely the lights will be lower on the horizon to the north. It is almost impossible to predict the KP index accurately and it will change throughout the night.
The main thing to note is the lights may not appear as you think, weaker less charged auroras will appear in the sky like a strange near transparent gray to light mint green cloud.
Once they become more charged they may explode with color. I have experienced people on a tour I was on, very disappointed because the lights were not bright green like you see in pictures.
To see this you need a camera or phone with night mode photography to bring out the colors.
My Experiences and Highlights from The Longest Northern Lights Tour
Once you have been picked up in Kiruna you will head to Abisko in the north where you will have dinner and then start your tour.
Abisko makes a great starting point as there is often a clear sky just above it, meaning you can hunt for the lights in the stunning national park. You will also join forces with the other members of your tour here.
Here are a few of my highlights:
The Guides
The Lights of Vikings guides are some of the best I have had while searching for the northern lights.
My guide Dimitry had an incredible knowledge of the workings of the northern lights and searching out where the clear skies are most likely to be found that night.
Along the way, he explained all about the science of the aurora and how to search for them.
Once you have found the lights the guides bring lots of energy to the experience especially when the aurora are not particularly strong.
Once in a good location with strong lights, they will start photographing them, one camera will be used for the lights and the other guide will photograph tour participants under them.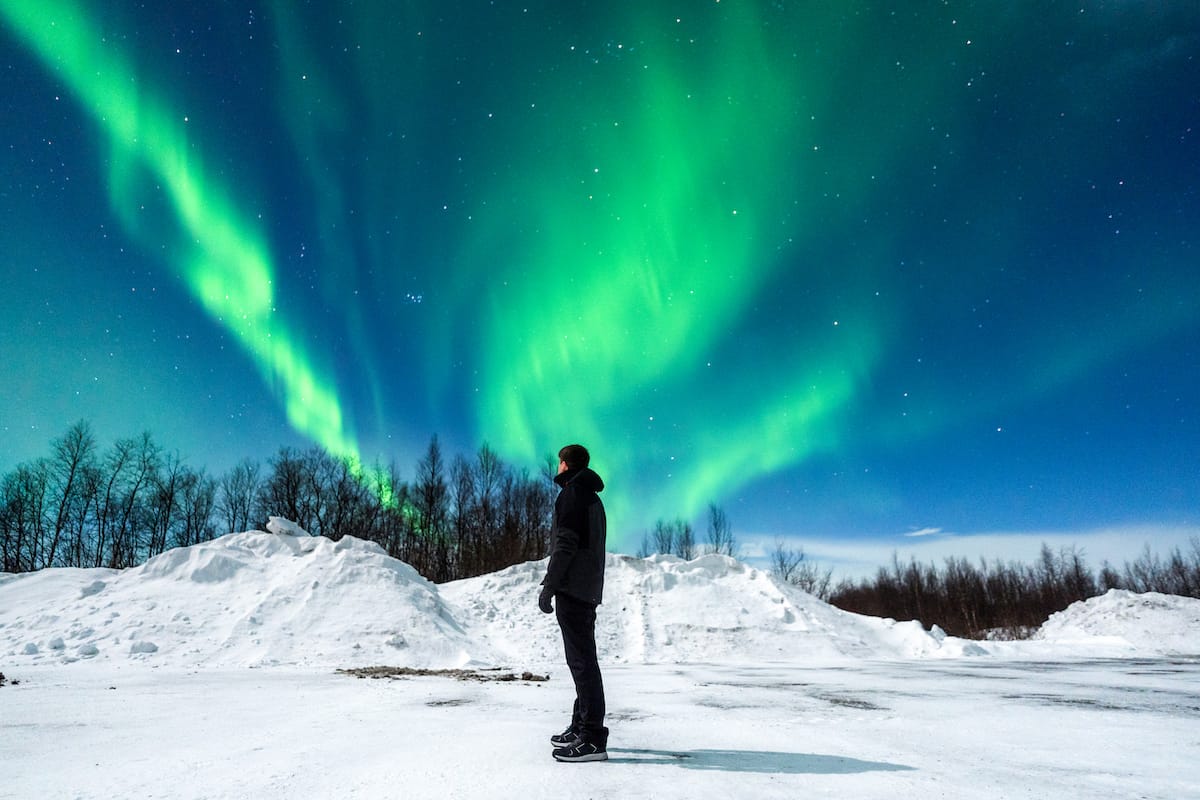 They will make sure everyone has a number of pictures of themselves, and you can ask to have as many taken of you as you wish. A few days after the tour you will receive the pictures in a Dropbox link via WhatsApp or email.
During the tour, the guides will also light a fire and lay down reindeer skins so you can keep warm.
When it gets too cold and late they will also put the heating on in one of the vans. They also have snowsuits and hot lingonberry juice with snacks in the van.
Mountain Lodge Abisko
The tour will start with a meal at Abisko's famous restaurant in the Mountain Lodge Hotel. A few days before the tour you will need to confirm if you want the meat or vegetarian option.
The two dishes on offer are based on traditional ingredients and the non-vegetarian option generally consists of moose or reindeer meat.
This meal was hands down the most incredible dinner I had during my stay in Arctic Sweden.
I opted for the meat option that evening, which was a slow-roasted moose dish served with potato terrine, red wine sauce, smoked almonds, and black garlic mayonnaise.
I still dream of this meal and wish I could eat it over and over again. Only water is included in the cost of the tour but you can opt to purchase an additional drink.
I bought a locally brewed alcohol-free IPA called How to Not Drink and Drive, which was also one of the best I have ever had.
The Aurora
Naturally, the highlight of this tour was the aurora itself. During my trip, I was fortunate enough to see the Northern Lights every day apart from one when there was a huge wind storm and snow blowing off the mountains blocked the sky.
On this day, predictions had been that the aurora would be weaker after days of huge activity when they could be seen as far south as Germany and southern England.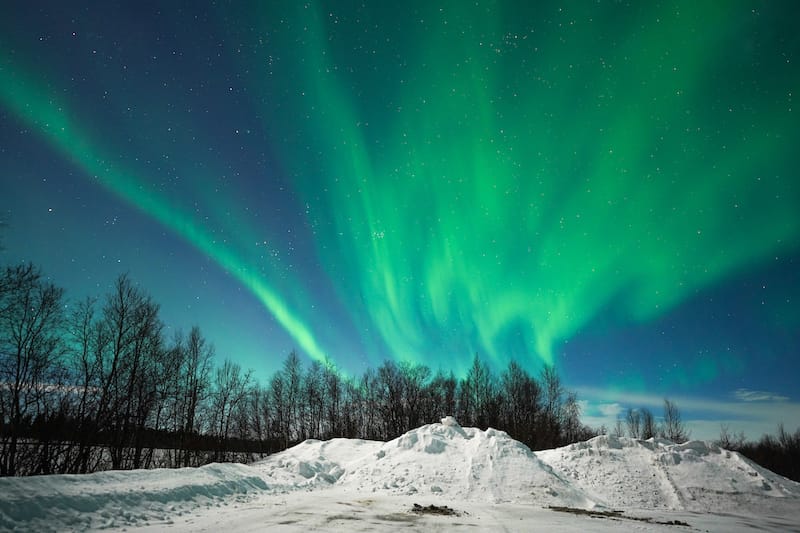 Little did I know it would end up being one of the most incredible nights of my life. The night started with a weak aurora, which never seemed to have a climatic peak.
We stopped just outside Abisko to watch them but a storm blew up so much snow we lost all visibility and made the decision to head back towards the clearer sky close to Kiruna.
Once again we found more aurora and made the decision to stop again even though it was relatively weak. The aurora died off and remained on the horizon to the south. It was debated if we should move to a new location or not.
Thankfully we decided to stay and build a fire as what came next was even a shock to the guide.
BOOK HERE: Kiruna aurora snowshoeing tour
The aurora started to appear above and gain strength quickly becoming some of the strongest of the weak reds and purples were visible to the naked eye.
It was so bright that even my camera was struggling to process the beauty of the display. We were stuck in that spot and for the next three hours the night sky filled with more and more activity.
As the group got colder and the clocks ticked towards midnight the tour came to an end with activity still going strong. Truly an amazing night, and reaffirmed my belief to never trust the predictions.
Who Can't Take this Kiruna Northern Lights Tour
This tour is not suitable for wheelchair users or people who are unable to get in and out of a van. It might be that you will also need to walk a little bit to get away from light pollution.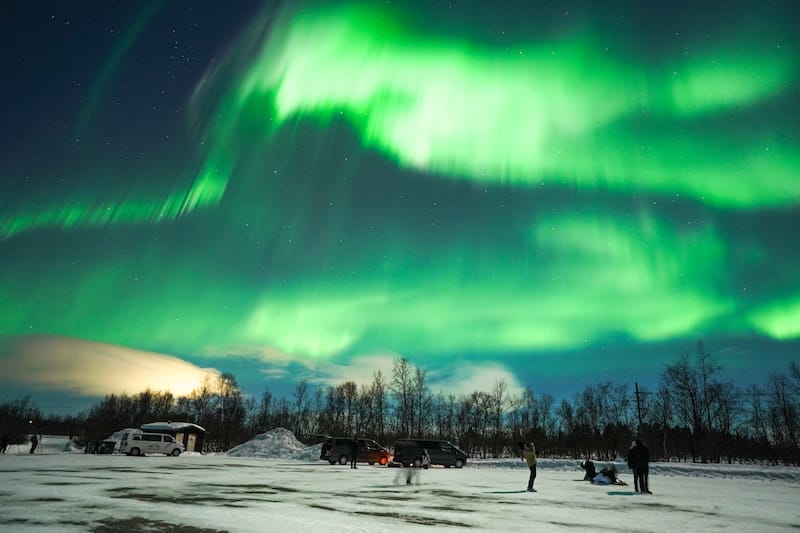 I also do not recommend bringing children on this tour as it goes on late into the night and involves spending a lot of time outside in frigid temperatures.
Due to the need to go to remote areas in the Arctic, it is also not suitable for anyone with serious medical issues and unadvisable for pregnant women as you may not be close to a hospital.
BOOK HERE: Kiruna northern lights tour
On my tour, we were lucky and largely stuck to places where it was easy to walk and did not need to stray far from the vans.
What to Bring on Your Tour
Dress Appropriately! This tour involves spending a lot of time outdoors at night in the Arctic, temperatures can seriously drop off and you need to ensure you are kept warm.
The tour providers do offer snowsuits that offer an extra layer of warmth but you should still wear thermal base layers and warm mid and outer layers.
I also recommend wearing very warm gloves that allow you to operate a camera easily.
You will also want to bring something to photograph the Northern Lights with. I took my Sony Alpha 7 III and an iPhone 13 Pro Max. For both a regular camera and smartphone you will want a sturdy tripod so you can do long exposures.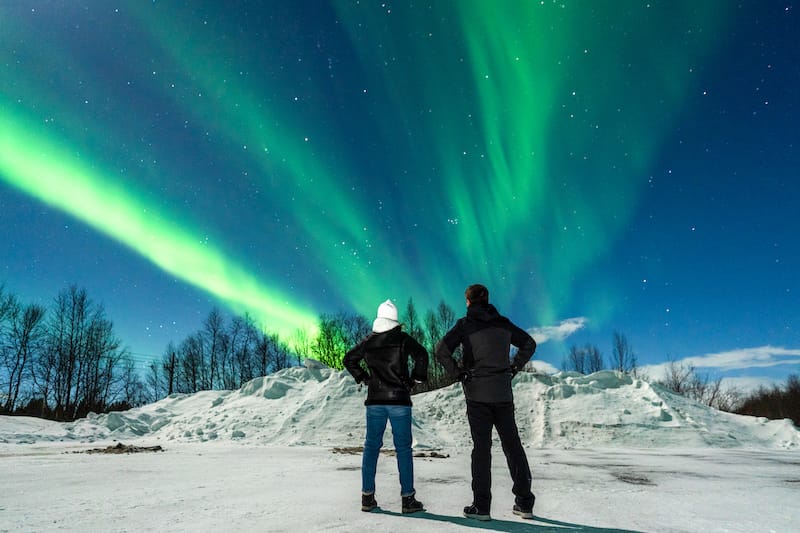 The guides will also take pictures of you which will be provided a few days after the tour. The guides will also help set your camera up for taking long exposures at night if you have never done it before.
Smartphone photographers should make sure their flash is turned off when trying to picture the aurora.
Flashlights or headlamps are not needed on this tour, as you will want as much darkness as possible to ensure the best photo outcome.
Did you have any questions before booking a Kiruna northern lights tour?
Let us know your questions about this northern lights tour in Kiruna in the comments.
More Sweden Travel Guides
Pin this Kiruna Northern Lights Guide