Are you looking to see the northern lights in an exciting way in Abisko? This guide details the best Abisko snowshoeing tour to do just that!
Are you planning your trip to Abisko last minute?
If youʻre booking your trip to Abisko last minute, we have you covered. Below are some of the top tours, hotels, and more!
🇸🇪 Top Experiences and Tours in Abisko:
Snowshoeing tour of Abisko (the tour I loved and reviewed below)
Dog-sledding in Abisko (one of the most popular tours)
🛌 Top Places to Stay in Abisko:
🚗 Looking to travel around Sweden independently? Click here to check Sweden rental car rates!
In this guide, I will talk about what you need to know before snowshoeing in Abisko, what to bring with you, and how to book the perfect tour.
This tour is an entry-level into snowshoeing and no prior experience is needed since it is of a slow pace and a more relaxed nature.
If you have any questions about taking an aurora snowshoeing tour in Abisko, let us know in the comments!
Why I Booked an Aurora Snowshoeing Tour from Abisko
I have had a complicated past with snowshoeing, ever since doing it in Northern Norway and hating it, and decided this was the year to give it a second try!
I opted for the 3-hour Aurora Snowshoeing Excursion from Abisko and Björkliden, as I wanted to enjoy the serenity of the Nordic night in a forest and for the chance to see the aurora dancing above.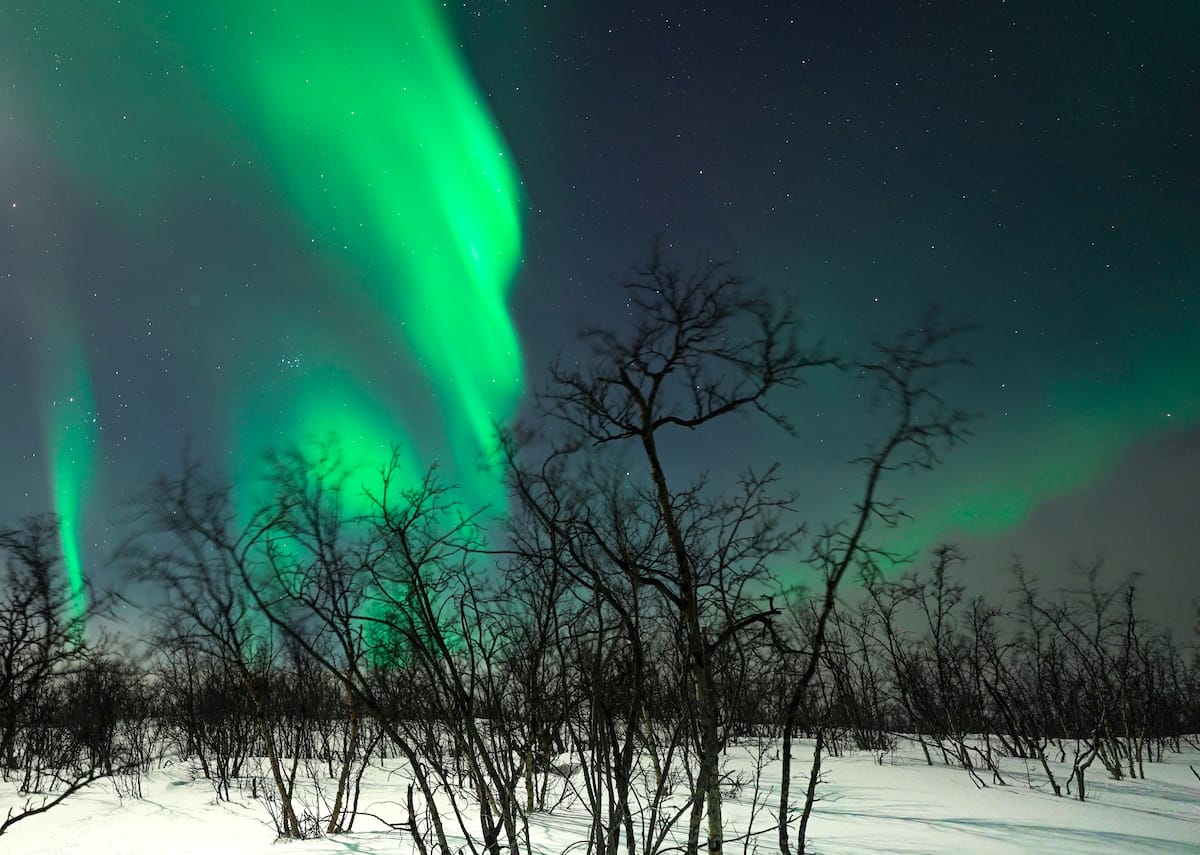 While the tour can't guarantee seeing the Aurora Borealis, Abisko is renowned for being one of the best places in the world for seeing the northern lights due to its unique microclimate.
As this was only my second time snowshoeing, I wanted to select a tour that wasn't going to be too challenging.
Thankfully the 3-hour Aurora Snowshoeing Excursion is done at a leisurely pace and with plenty of stops so even novices will enjoy this experience.
How to Book this Abisko Snowshoeing Tour (Under the Aurora)
Duration: 3 hours
Pick-up: Abisko and Björkliden accommodation
Language: English, Swedish
CLICK HERE TO BOOK!
I booked my tour through the company Manawa, one of my favorite partners who offer a great range of activities that channel your inner adventurer (or soft adventurer).
One of the things I love about Manawa is the simplicity of the booking process. During the booking process, you can also add multiple tours to your basket from different companies in the region to book your entire trip all in one place!
The tour is available from December until the end of March when the snow in the Arctic is at its best.
BOOK HERE: Abisko snowshoeing northern lights tour
Once you have added the tour to your basket, you will need to fill in your details, inform them of a pickup location, and then pay for your tours.
After you have completed this, you will be sent the first email that your tour is awaiting confirmation.
Once the tour provider has approved your request, you will get a booking confirmation with your pickup location and time confirmed.
Where to Meet for this Snowshoeing Tour in Abisko
The tour offers various pickup locations throughout Abisko and Björkliden or you can meet them directly at the Abisko Mountain Lodge where the tour will start from.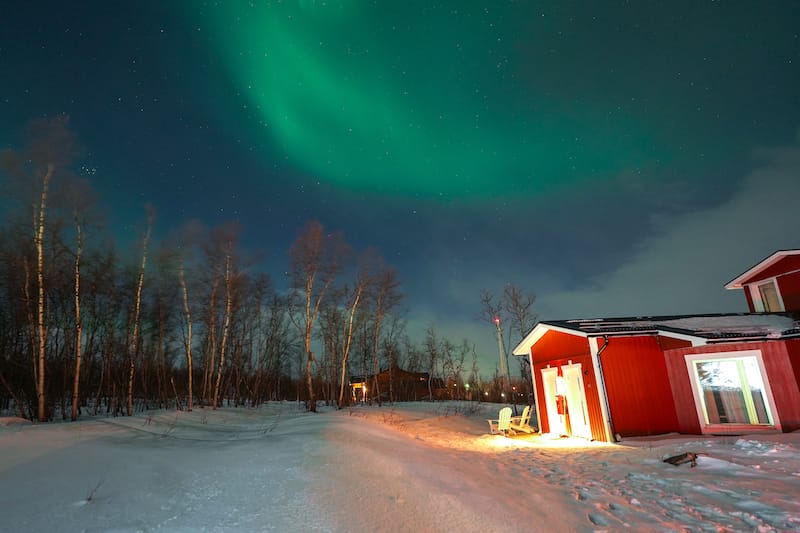 At your designated pickup location and time, look out for your guide who will be wearing an orange Abisko Adventures jacket.
I opted to meet the tour at the Abisko Mountain Lodge, as my accommodation was only a short walk away and it allowed me to photograph along the way and experience the Abisko Mountain Lodge and their impressive, highly-rated restaurant.
Once all the members of the tour had gathered up, Aril, the guide fitted us for snowshoes and we set off on our tour.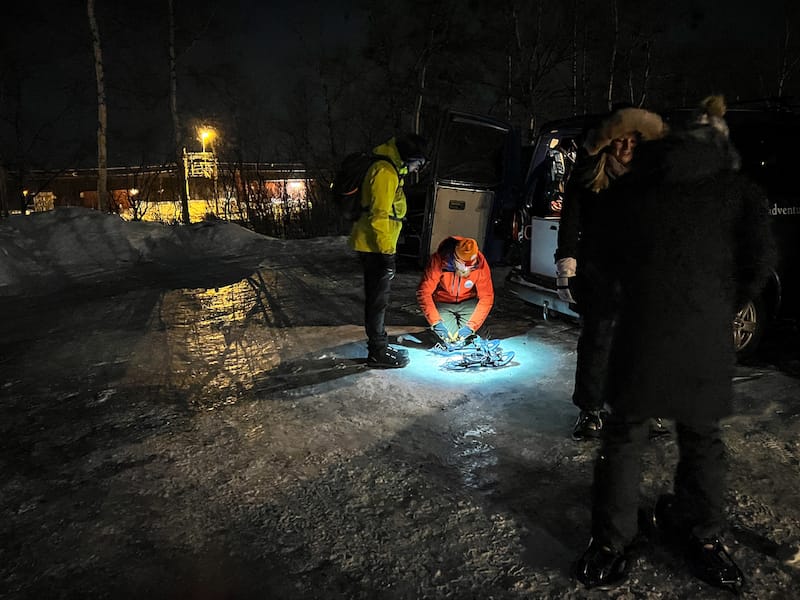 For those who are less confident, you can also ask to use snow poles for this trip!
Highlights from My Abisko Snowshoe Hike
The tour sets off from the Abisko Mountain Lodge and within minutes, you will find yourselves away from civilization and out in the beautiful forests surrounding Abisko.
Every tour is slightly different, so I can't promise what you will see along the way but will detail some of my favorite spots along the way.
BOOK HERE: Abisko aurora snowshoeing tour
Throughout the journey, you will make stops and Aril will explain everything from the science behind the aurora to ancient Sami beliefs.
Here are a few of the highlights I experienced:
The Birch Forest
One of the main draws for me on this tour was getting to spend time walking through birch forests, something I will never tire of.
Much of the hike is through forested areas which provide a little shelter from the elements, and the spindly deformed-looking trees make for excellent pictures.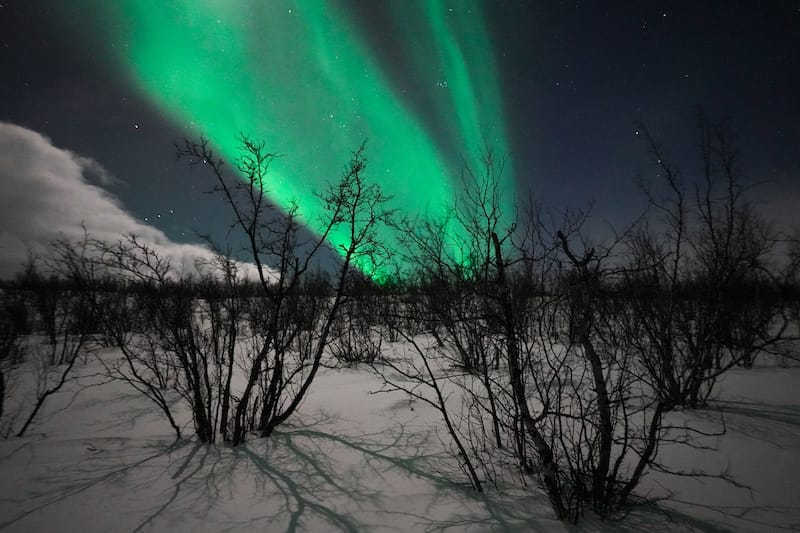 While the birch forests of Abisko National Park can be called ancient, these forests, although containing the same birch, are not nearly as old as the original forest that was destroyed to build the railway.
The forest also provides a certain amount of protection from the elements, which was useful for me as I did this tour on the tail end of a huge Arctic storm that had ripped through the area and the wind was still quite powerful.
This protection from the elements means this tour is rarely ever canceled.
Old World War II Fortification
As we worked our way through the forest, our guide stopped us at an unassuming pile of rocks and quizzed us on what it could be.
We all failed the test and discovered that it was the remnants of an old World War II defense fortification to protect northern Sweden from occupied Norway.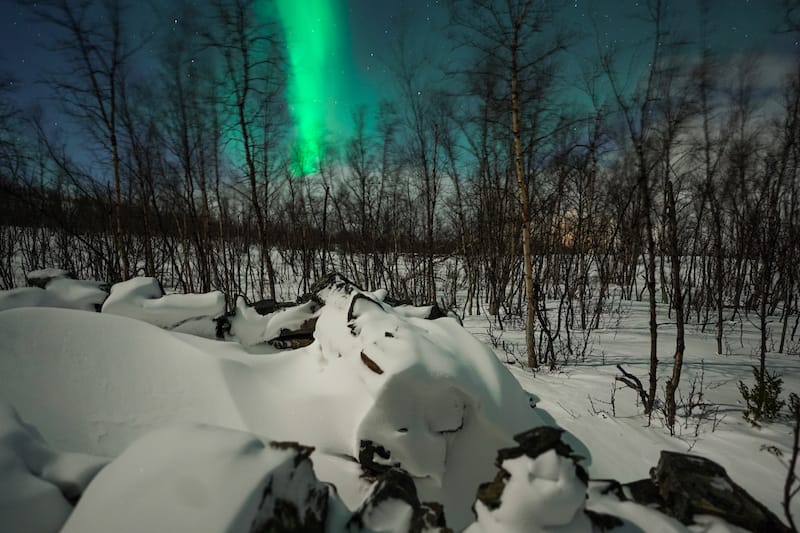 Thankfully though, this is the only remnant of the second world war you will find along the way, as invading forces struggled to take hold of this challenging environment and the local Sami populations did everything to stop the war from encroaching too much onto their historical lands.
Northern Lights
Abisko is known as one of the best places in the world to see the northern lights, and if you stay here for four days, it is said there is a 98% chance that you will get to see the incredible natural phenomena.
This is due to the fact that the sky above Abisko is generally clear, due to a unique microclimate that creates a clear patch just above the city more or less at all times.
On the night of my tour, the northern lights were particularly strong and we experienced a breathtaking aurora for pretty much the entire tour, with frequent stops to take photos and really enjoy the sights to behold.
BOOK HERE: Abisko northern lights snowshoe trip
The best thing about this tour is that because it is hardly ever canceled, you will head out in weather that other tours may cancel in, and it will increase your chance of seeing the northern lights massively.
Two girls on my tour had booked last minute as their aurora chase had been canceled due to the wind. Luckily, on average, this tour will experience some form of activity about 60% of the time.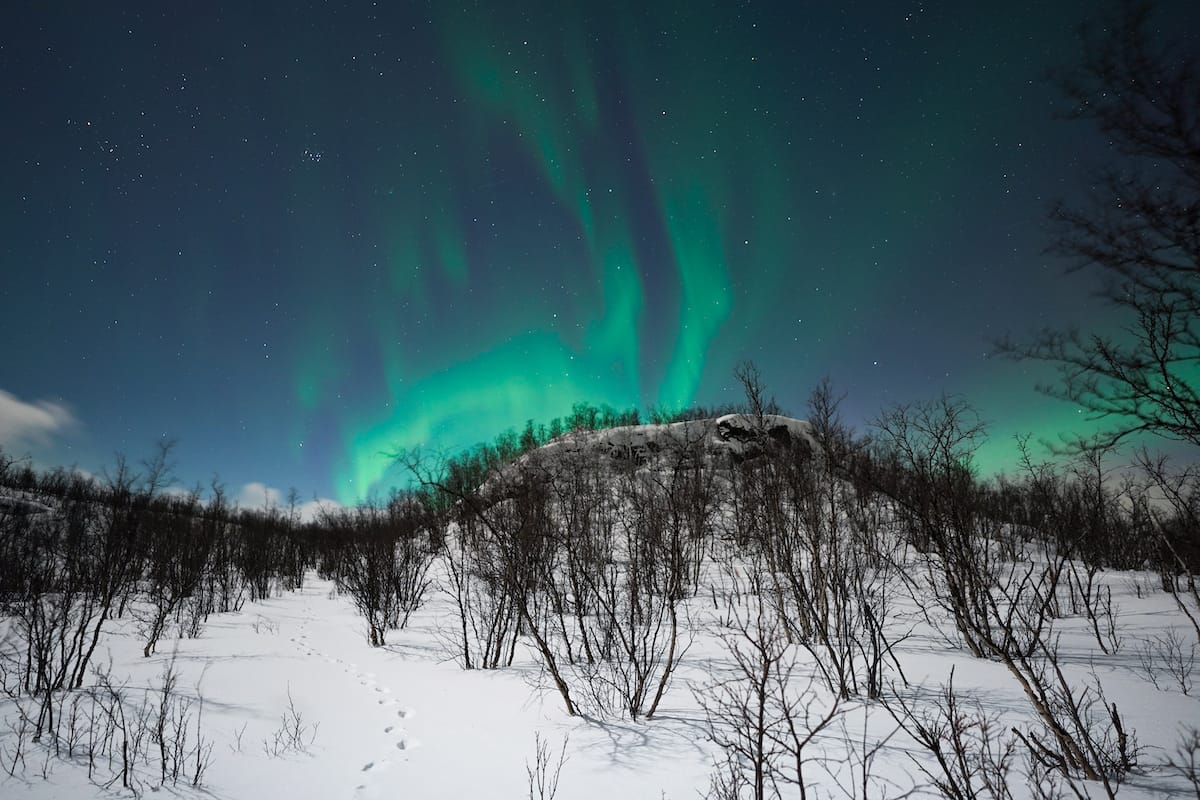 Along the way, the guide will also stop and tell you the science behind these mystical lights, along with some of the Sami beliefs around them which differ from country to country.
Views Over Abisko
The pinnacle of the trip is walking up to the top of a hill that overlooks the city, and also provides incredible views out over Abisko and Lake Torneträsk.
When our guide informed us we were going to be heading to the top of the hill, everyone was a little concerned as from the front of the hill it looks steep and slightly foreboding.
Fortunately, the route takes you to the back of the hill where there is a gradual incline, and you can reach it without breaking much of a sweat.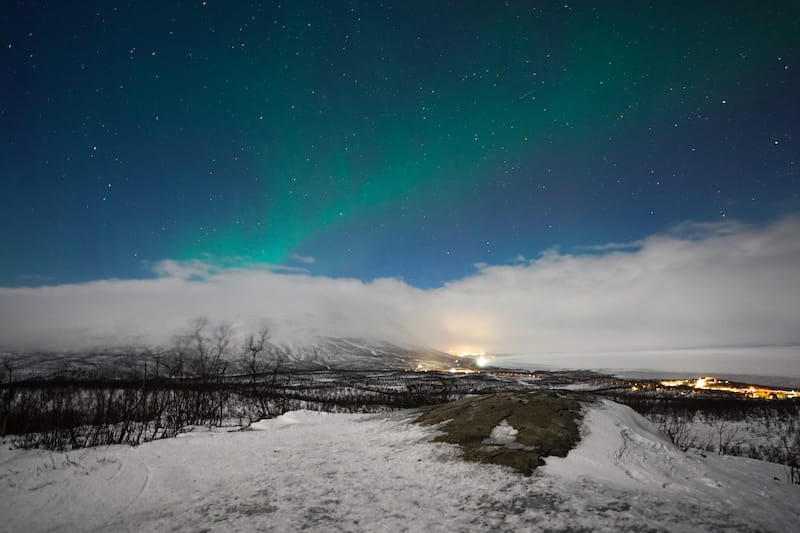 Unfortunately, we were unable to spend much time at the top of the hill on the day we did the tour due to the strength of the wind.
But on less windy days, you can stop there for longer and sit on a bench taking in the views over Abisko.
Hot Lingonberry Juice
One of my guilty pleasures when taking tours in the Nordics is that you always get offered a hot berry juice along the way.
There is nothing better than taking a break and sipping some hot juice while surrounded by snow.
The tours in Sweden tend to offer hot lingonberry juice that really warms the soul.
As we stopped to drink and warm up a little, Aril told us some information about lingonberries and the berries that grow in the Arctic, along with his own attempts at growing fruits and vegetables in this unforgiving climate.
Abisko Airport
At the very start of the tour, you will cross the Abisko Airport and this will provide one of the first opportunities to photograph the northern lights, as you have a clear view of much of the sky from here.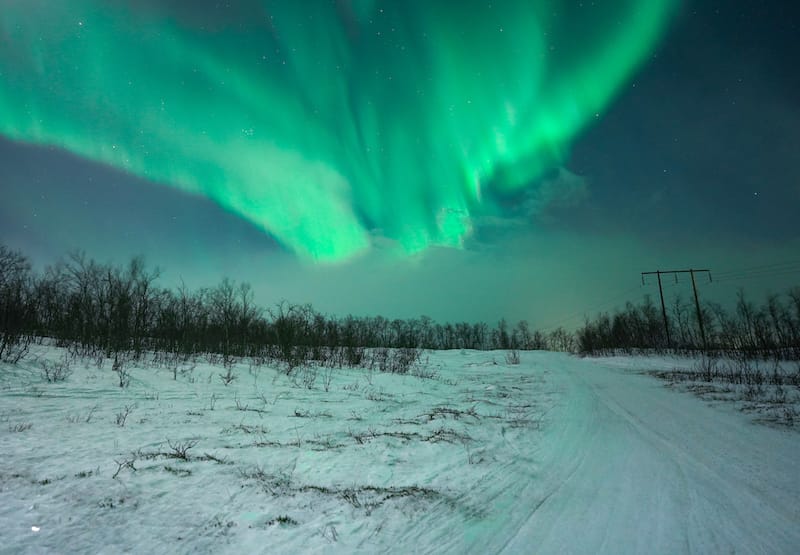 Due to the wind, I was not able to stop here as we were on the verge of being blown away… but on a less windy day, this is a great little space to photograph the lights.
Frozen Swamp
Swamps in the Arctic normally fill me with a sense of dread as they are the breeding ground for mosquitoes.
Thankfully during winter in Abisko, they are frozen solid and the mosquitoes are trapped until the spring thaw.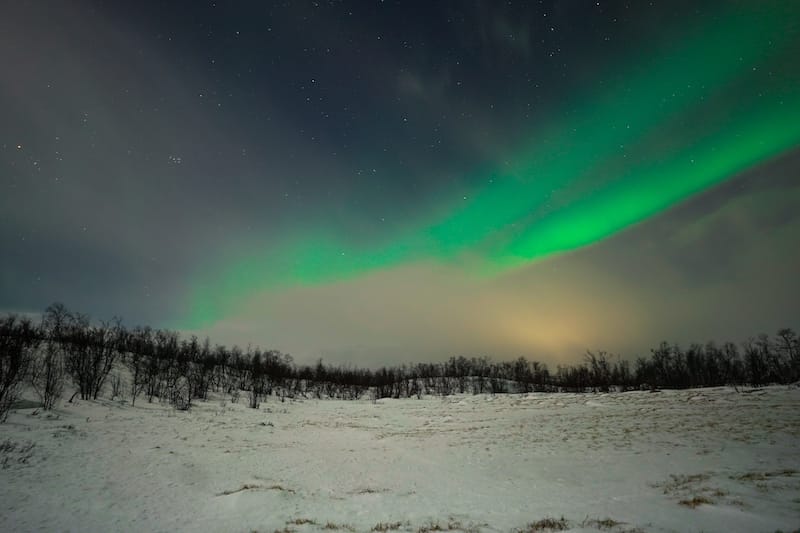 I found the experience of walking across a frozen body of water relatively unique since it was something I had never done until this point.
This was also another of my favorite photo opportunities, as there were no trees that were going to dominate the foreground of your pictures, but instead from the picture in the distance perfectly.
Who Can't Take this Aurora Snowshoeing Tour
This tour is not suitable for anyone with mobility issues as it requires a lot of walking, which is no different than usual hiking in Abisko.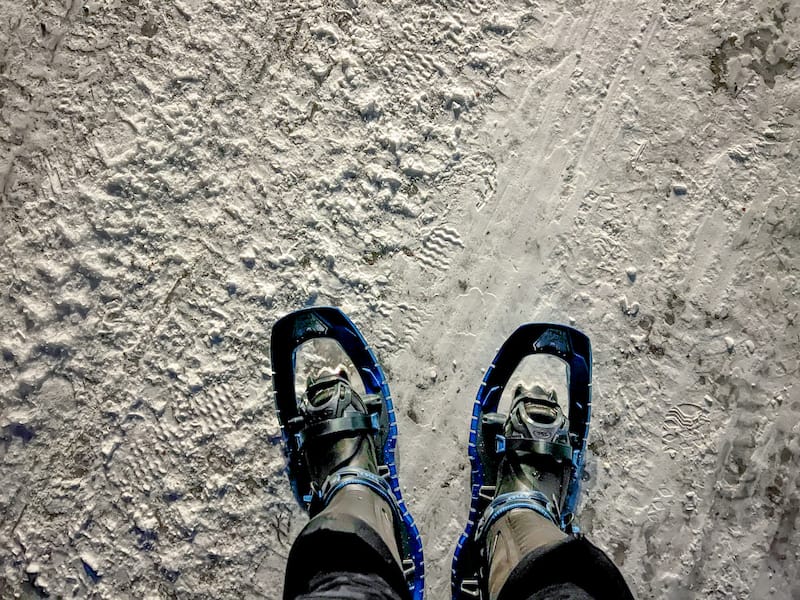 For others who may not be very active, it might seem a very daunting task but it's actually very easy and quick to learn snowshoeing in Abisko.
Thanks to this tour, I have gone from someone who did not like the idea of snowshoeing to an addict and I cannot wait for my next opportunity to get out there and do it again.
BOOK HERE: Aurora snowshoeing tour in Abisko
While there are inclines and deep snow along the way, I did not find this tour too strenuous and never really found myself out of breath.
The snowshoes also have a grip so when you walk along icy areas you will not find yourself slipping at any point.
What to Bring on Your Tour
First of all, wear the right clothing! This tour takes place at night and in all kinds of weather, so make sure you wear layers! It is far easier to cool yourself down on the walk than try to get warm.
Wear tall snow boots. As you will trudging through relatively deep snow, I highly recommend bringing tall snow boots to ensure that no snow works its way down to your feet. There is nothing worse than having cold and wet socks!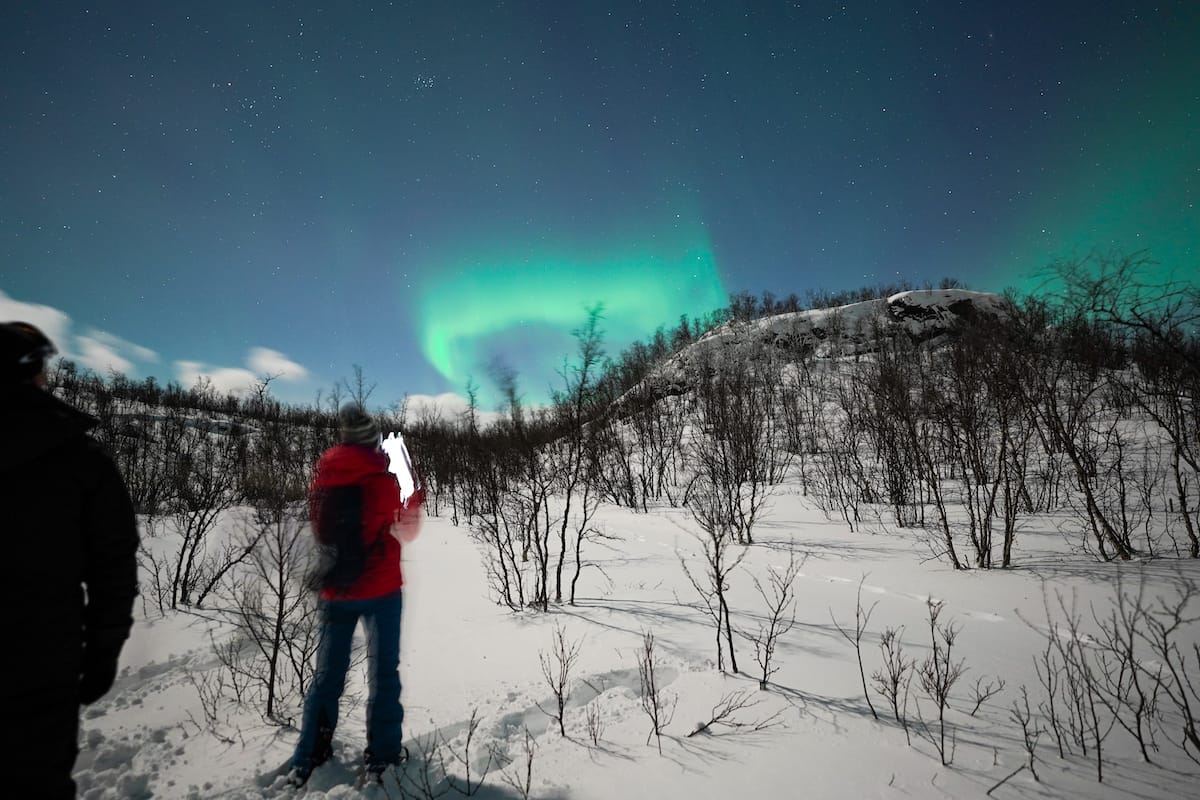 Bring a camera and a tripod. There is a relatively high chance you will see the northern lights on this tour, although strength will vary.
I recommend bringing a camera with you (and a lightweight tripod) so you can do long exposures.
💥 PRO TIP: If your snowboots are not tall, ask your lodging if they have rental options (or even ones you can borrow). Abisko Guesthouse & Activties had the ones I borrowed.
I personally also found that I did not need any food or drink along the way, although everyone is different and may enjoy a snack along the way.
The guide provides a hot drink at the halfway point of the tour.
Do you have any questions before booking an Abisko snowshoeing tour?
Let us know if you have any about taking an Abisko northern lights snowshoeing tour in the comments!
More Sweden Travel Guides
Pin this Abisko Snowshoeing Guide