Arizona is filled with natural beauty, unique cities, and colorful towns – all making for the perfect weekend trips from Phoenix. Hikes, relaxation, scenic drives, and city life are all options within a few hours' drive of the Arizona capital!
Whether you're staying in hotels or you rented an RV and have decided to van life it for the weekend, these are some of the best weekend getaways from Phoenix, Arizona.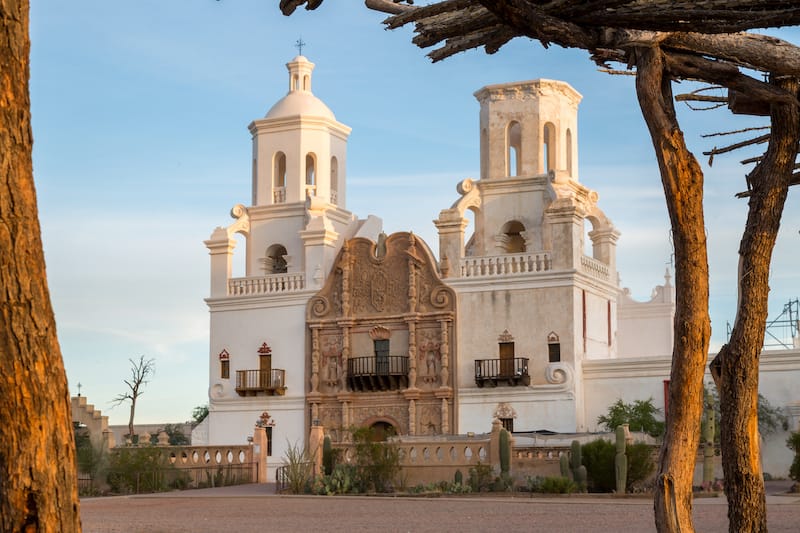 Best Weekend Trips from Phoenix
Grand Canyon National Park
The Grand Canyon is one of the 7 wonders of the world and for a good reason. The Colorado River flows 277 miles through the mile-deep canyon that reaches up to 18 miles wide. The vistas looking out at this incredible wonder are almost too much to take in!
Grand Canyon National Park is located about 3 and a half hours north of Phoenix and with incredible sites, hiking options, and nearby camping and hotel accommodations it's one of the most enjoyed getaways from Phoenix.
As such a large national park, it's important to know what part you plan to explore when you take a road trip here. Most people visit the South Rim because of its closer proximity to larger cities, including Phoenix.
The South Rim is also more commercial with hotels, dining, and a shuttle that runs in the park.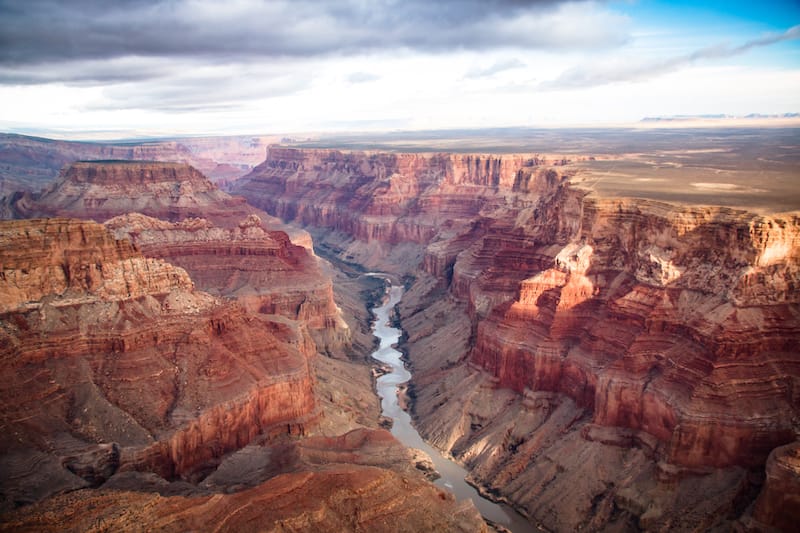 The North Rim is more remote and sits at a higher elevation which creates cooler temperatures. The lack of amenities along the North Rim draws visitors who want a quieter experience. The two rims are about a 4 hours drive apart so plan ahead where you want to go.
Both rims of the Grand Canyon have plenty of hiking options. You can stroll along a paved path at the rim or hike part of the way or all the way down into the canyon.
If hiking isn't your thing there are commercial outfitters that offer whitewater rafting trips down the Colorado River. Other visitors enjoy a scenic walk along the rim followed by a bus ride back to the parking lot. There are plenty of ways for all visitors to enjoy this park.
Weather is important when visiting! It gets very hot in the summer with temperatures reaching over 100 degrees F and heat exhaustion is a serious concern.
The best time to visit this famous USA destination is in spring and fall for the most comfortable weather. Winter also brings impressive sites when the park is covered in snow but road conditions are not great.
Saguaro National Park
Gigantic saguaro cacti, beautiful desert sunsets, and rugged mountains are a few of the wonders that make up Saguaro National Park. The saguaro cacti are the largest in the US growing over 40 feet tall and living over 150 years.
They're the most iconic cacti that you'd think of when you imagine the wild west of Arizona.
The park is about 2 hours south of Phoenix making it a great weekend getaway destination and a common stop when visiting Tucson, less than 15 miles away.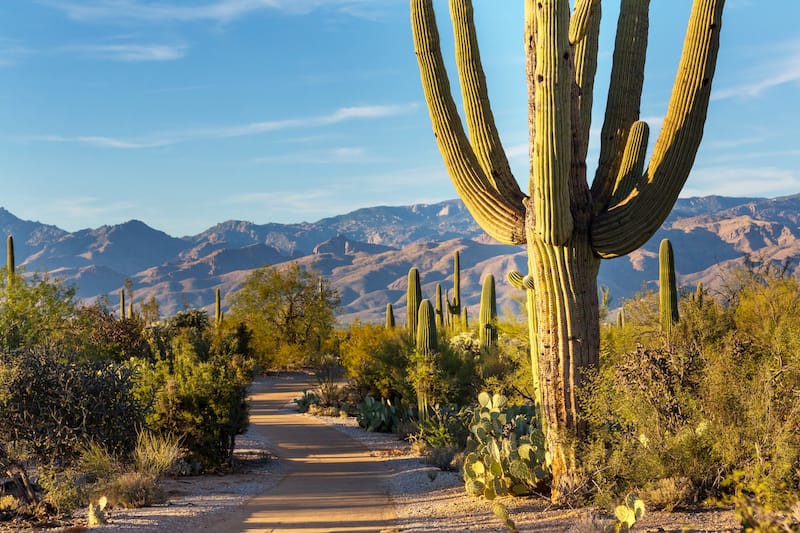 There is an east and west side of the park. The east side is larger and more mountainous with many hiking and some camping locations for backpackers.
The west is smaller but has impressive views of the foothills, cacti, and a scenic unpaved road called the Bajada Loop which is worth the drive.
Sedona
Red rock spires and walls, some covered by green coniferous trees, set the beautiful desert landscape for the small city of Sedona.
The town is famously known as a healing and spiritual place. Whether you are spiritual or not, the natural wonders of this environment are enjoyed by all.
Sedona is one of the most popular weekend getaways from Phoenix, offering something for all visitors. It's about 2 hours from Phoenix and is home to a cute downtown with restaurants, shops, and cafes.
There are plenty of places to stay in the surrounding town, ranging from quaint Airbnbs to common hotels.
Start your day by grabbing breakfast at Wildflower or Mesa Grill Sedona. With so many great restaurant options you can't go wrong with a good breakfast here.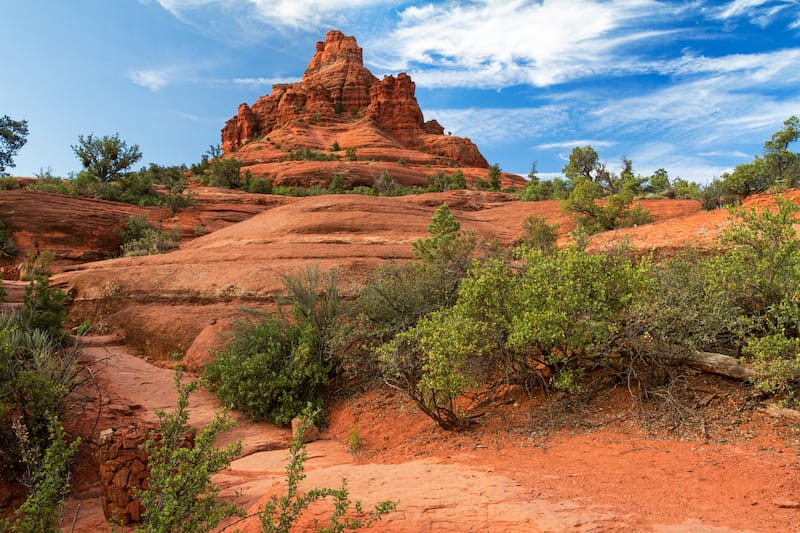 Then book an off-road jeep tour to explore the backcountry. End your day hiking up to Cathedral Rock. At sunset, this spot offers incredible views of the forest, town, and impressive red rock spires.
While on a weekend trip in Sedona, take a day trip to Oak Creek Canyon. It's a short drive north of Sedona in Coconino National Forest (and is one of the best day trips from there).
The Canyon Drive is a can't-miss spot, known for its impressive views. Enjoy the sites and snap a photo at Oak Creek Canyon Vista.
If you have a car with high clearance, you can continue pretty far on some of the unpaved roads back there. Sedona is a great stop-off on a road trip to Arizona from other nearby states.
One amazing thing is that it is great to visit Sedona in winter or in the shoulder season. The city is pretty much accessible year-round and you will find plenty to do!
Monument Valley
Monument Valley Navajo Tribal Park is about 5 hours north of Phoenix and makes for a great long weekend trip or you can turn it into a multi-day road trip with a stop in Sedona on your way.
Monument Valley is famous for its red sandstone mesas, buttes, and spires that tower over the desert. Photographers can't go wrong when visiting here and it is one of the most iconic destinations in Arizona.
For the perfect photo, visit during sunrise or sunset. While visiting make sure you drive the 17-mile dirt road. This scenic drive takes you near the towers and at the visitor center, you can get a fact book to learn about the significance of each one.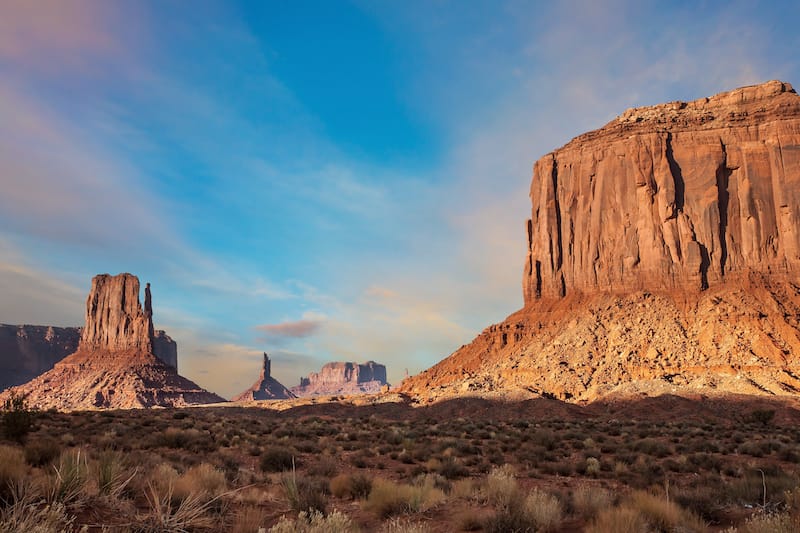 As this park is on Navajo land it's important to respect their culture and rules. Because they are sharing their land with the public please follow all regulations and enjoy a chat with the locals!
Permits for hiking, backpacking, commercial photography, and commercial filming are required.
As such a beautiful natural wonder with native history, incredible sandstone rock formations, and the remote location of Arizona, this is another one of the most popular road trips from Phoenix.
Page
Page is a small town right on the Utah and Arizona border and is most well known for all the outdoor places to visit located near town. From town, you can see Lake Powell, part of Glen Canyon National Recreation Area.
Grab a quick breakfast in town then head to Horseshoe Bend to see where the Colorado River meanders 270 degrees. It's a great photo spot but get here early to avoid the crowds.
Then head to Antelope Canyon to wander through some of the most famous slot canyons in the country. You will surely be impressed but reserve a spot early as these tours fill quickly.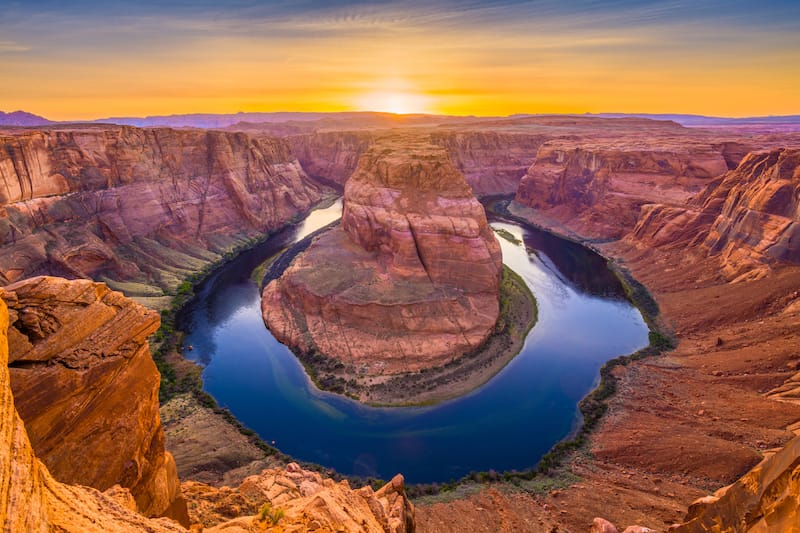 Then head over to Lake Powell. Rent a boat or kayak or head to a beach to relax and chill on the orangish pink sand. If you rent a boat, camping is popular around many parts of the lakeshore.
The drive from Phoenix to Page is just over 4 hours. With a variety of outdoor sites and activities to explore this is one of the most enjoyed weekend trips from Phoenix.
Prescott
Prescott is located in central Arizona about two hours from Phoenix. The downtown is known for its live music venues, bars, and historic Whiskey Row featuring saloons from the Gold Rush era that were rebuilt after a fire destroyed them in 1900.
In addition to Whiskey Row, the Courthouse Plaza Historic District has over 500 historic buildings to enjoy and explore.
While visiting, check out Watson Lake located near Prescott. It's one of two large reservoirs in town with the surrounding land preserved for recreation.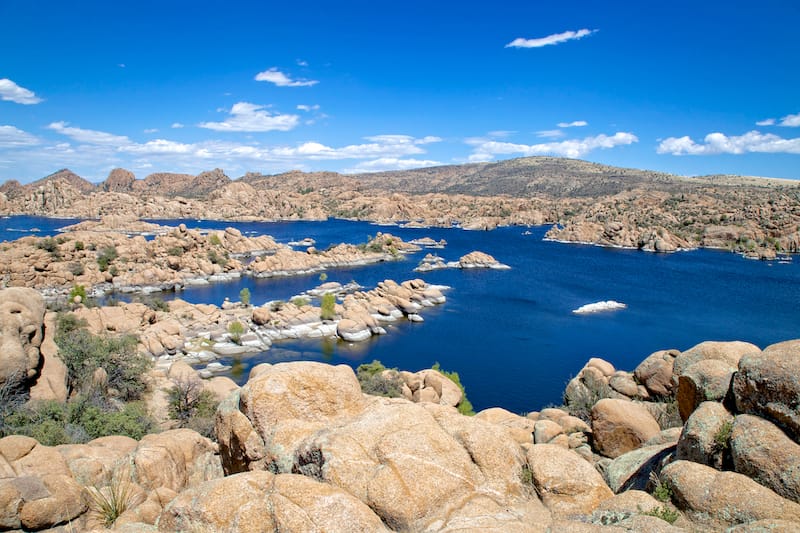 There are plenty of amenities including fishing access, kayak rentals, boat launches, picnic areas, hiking trails, playgrounds, grills, bathrooms, and overnight camping. Unfortunately, no swimming is allowed.
Just outside of Prescott is the 1.25 million-acre Prescott National Forest. Here you can hang out near a lake, go for a hike, spend your weekend camping, or drive the scenic road through the mountains with desert views in the distance.
With so many things to do in this central Arizona location, Prescott is a great weekend getaway from Phoenix.
Flagstaff
Flagstaff is another one of the best weekend trips from Phoenix. There are plenty of outdoor activities in the area. Spend your day hiking at Walnut Canyon National Monument or Sunset Crater to see an extinct volcano.
Because Flagstaff is located near many of Arizona's beautiful wonders, many commercial tours pick guests up here.
Trips to northern Arizona locations like the Grand Canyon, Monument Valley, Horseshoe Bend, and Lake Powell are just a few commonly operated trips out of Flagstaff.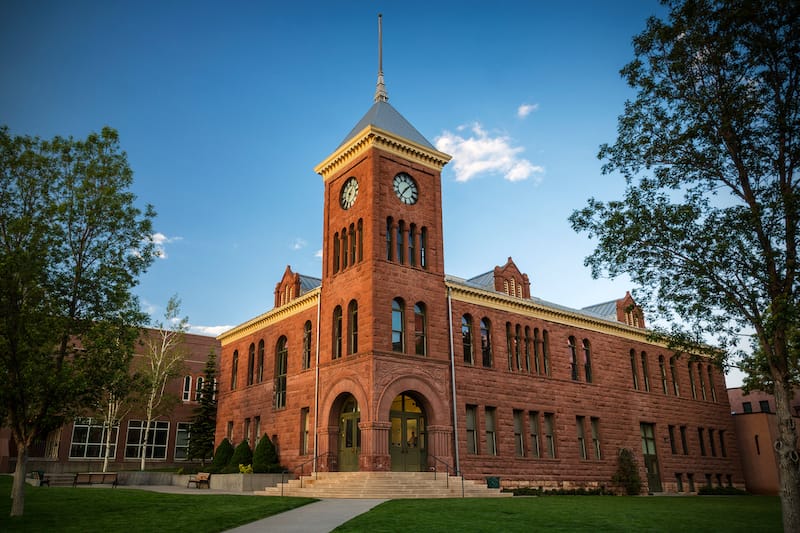 If you're traveling with kids, check out Slide Rock State Park. It's a huge natural waterslide flowing through the red rocks near Sedona, just south of Flagstaff. As a popular spot, make reservations for this park ahead of time.
The historic downtown in Flagstaff is known for its restaurants, both serving great breakfast and dinner meals. There are also plenty of lodging accommodations in the city.
Tucson
With a dramatic backdrop of the Sonoran Desert filled with saguaro cacti and known as the sunniest city in the US, Tucson is another one of the great weekend getaways from Phoenix.
The city is located near Saguaro making for a good day trip opportunity and Tucson itself is full of life.
Tucson is just under 2 hours southeast of Phoenix so start your weekend trip with breakfast in Phoenix and make it to Tucson by mid-day and check out the historic San Xavier del Bac Mission church.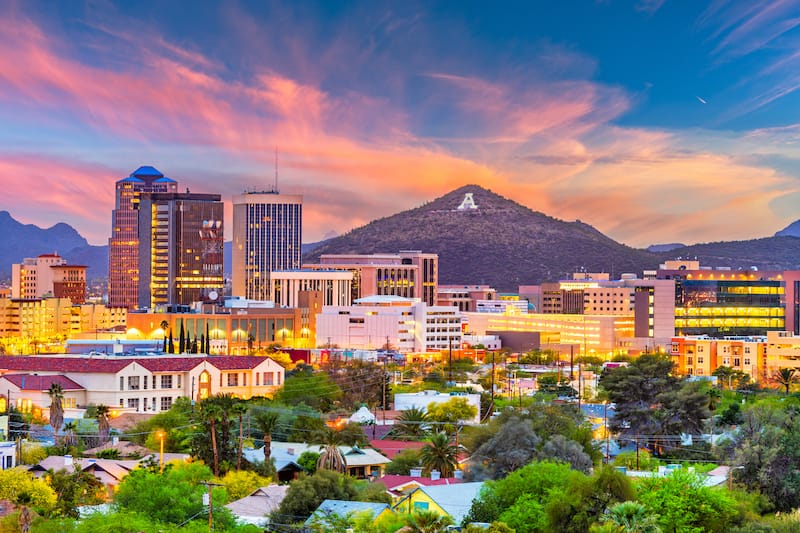 Then head to Saguaro National Park, one of the most undiscovered national parks in the US, for the evening when temperatures are cooler and the golden hour lighting makes for the perfect photo opportunity of the Saguaro cacti.
Spend another day exploring downtown. The Arizona-Sonora Desert Museum and Pima Air & Space Museum are both worth a visit. And with the close distance to Phoenix, you can make it home by Sunday night.
Click here to check out our weekend itinerary for Tucson!
Yuma
Only three hours from Phoenix, this small town packs many interesting activities for an exciting weekend.
Historically, Yuma was a vibrant pioneer town in an important location– a safe place to cross the Colorado River. You too can enjoy the close proximity of the Colorado River by taking a relaxing river floating tour in the summer.
Another way to beat the heat is at Waylon's Water Park, which is sure to be a hit if you're traveling with kids.
Make sure to check out the historical buildings of Yuma, such as the Yuma Territorial Prison and Castle Dome Mines Museum and ghost town, with more than 50 old buildings.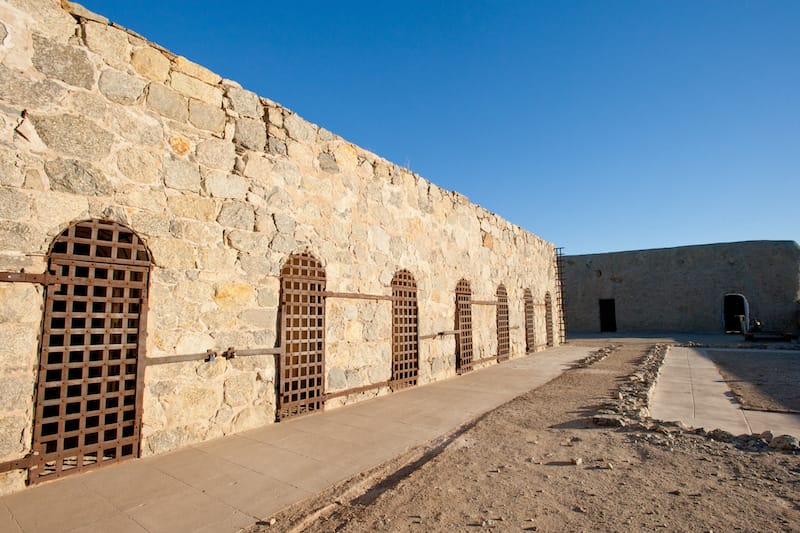 You'll get to peek into the past by seeing how people lived in the 1800s, with real artifacts from that era.
If the weather is nice, head outdoors to the Imperial National Wildlife Refuge, where you can enjoy the beauty of the Sonoran desert while hiking, biking, fishing, or camping.
For an otherworldly experience, you can drive just 20 miles west of Yuma to the impressive Imperial Sand Dunes National Recreation Area. Have fun sand sledding, dirt biking, or dune buggying in this vast expanse of sand dunes.
Fun fact: did you know there have even been movies filmed here, such as Star Wars: Return of the Jedi?
Las Vegas
If you're looking for a crazy weekend filled with lights, crowds, and casinos, head on over to Las Vegas about 5 hours northwest of Phoenix.
It's the only spot in the middle of the desert where you can have some of the best entertainment, gambling, drinking, and any kind of cuisine you could want.
Start your day with a famous breakfast buffet. Each casino resort takes pride in serving the best, largest breakfast. And what's a better way to treat a killer hangover than a big hearty breakfast?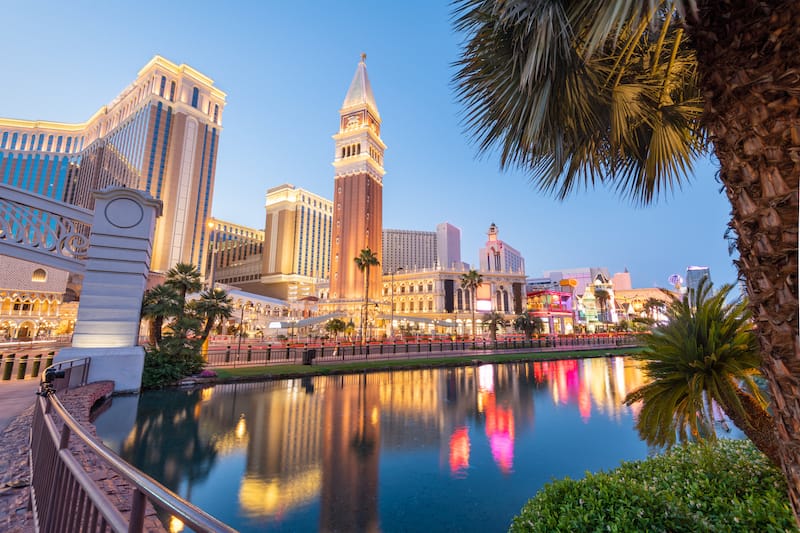 With plenty of places to stay, you will have no issue when choosing your lodging. Spend your weekend dining by the Eiffel Tower in Paris, visit the Great Pyramids of Giza, or spend your weekend floating the canals of Venice.
Vegas is never short of lodging options and all the unique city spots make for great photo opportunities. You can also take some of the amazing Las Vegas day trips as the city is a wonderful base!
With so many weekend getaways from Phoenix to choose from, this is a wild, unique trip option among the rest and many guests love this crazy place known as Sin City.
Lake Mead National Recreation Area
Located just outside of Vegas is Lake Mead National Recreation Area, the largest national recreation area in the US. It's home to valleys, mountains, lakes, and canyons, including a couple of famous landmarks- Lake Mead and the Hoover Dam.
Lake Mead is filled by the Colorado River and flows into the famous concrete arch-gravity dam, the Hoover Dam. This Dam was constructed from 1931 to 1936 and is one of the most visited sites near Las Vegas and throughout Arizona.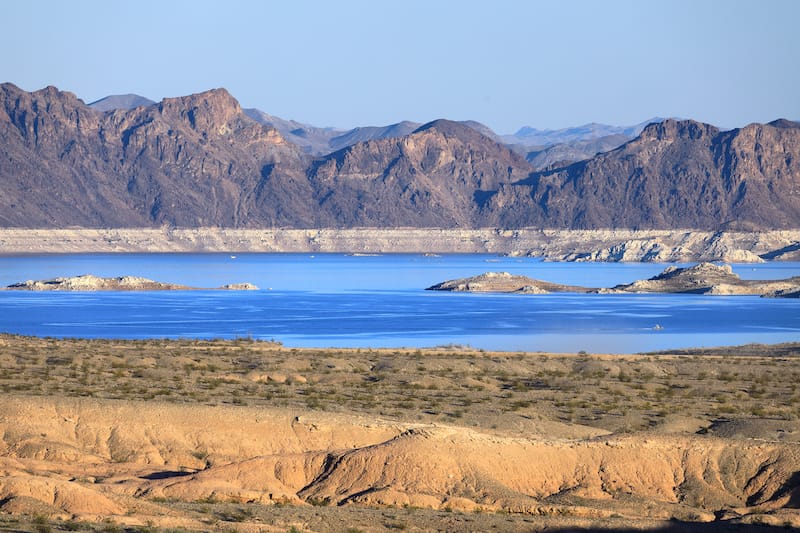 Explore the history of the dam, relax on a beach, and find the perfect photo spot for these iconic locations in southern Nevada.
It's about 4 hours from Phoenix, and with a variety of things to do and close proximity to Vegas this recreation area is one of the most impressive weekend getaways from Phoenix.
Lake Havasu City
Lake Havasu City is about a 3-hour drive north of Phoenix. Located on Lake Havasu It's probably the best place to sit on a sandy beach in Arizona. This city is located right along the historic Route 66 so you'll see plenty of old-time souvenirs in any shops you visit.
The most famous landmark here is the original London Bridge, originally built in the 1830s but moved here in 1968. It's open for both pedestrian and car traffic and is a can't-miss landmark.
Conveniently, it's located right near the beach where you can spend your day relaxing.
Finish your day in town at one of the 140 restaurants and bars. If you're visiting all weekend, spend your next day at Havasu National Wildlife Refuge for a chance to see a variety of birds and other mammal wildlife.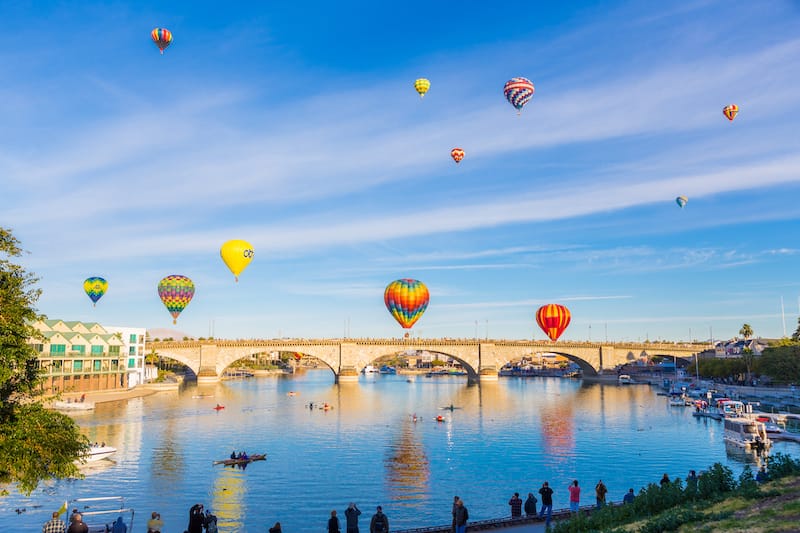 With so many weekend getaways from Phoenix to choose from, there is something for any type of traveler. National parks, cities, small towns, and lakes are all great weekend trip options.
With the famous Route 66 passing through the state one can enjoy history. The Grand Canyon, Saguaro cacti, and the Sonoran Desert offer sites of varying landscapes throughout the state.
With plenty of lodging options whether you enjoy hotels or camping, there is a way for everyone to enjoy a road trip from Phoenix!
More Arizona Travel Resources
Pin this Weekend Getaways from Phoenix Guide