Are you planning a trip to Prescott or are simply curious about the city? These are the best things to do in Prescott, Arizona for first-time visitors.
Are you planning your trip to Prescott last minute?
If youʻre booking your trip to Prescott last minute, we have you covered. Below are some of the top hotels and more!
🛌 Top Hotels in Prescott:
🚗 Looking to travel around Arizona independently? Click here to check Arizona rental car rates!
Prescott is a unique city in Arizona, sitting at an elevation of 5,300 feet.
This means that the city clearly has four distinct and different seasons with plenty of opportunities for hiking, exploring the history of the Natives of the region, and enjoying the historic downtown scene.
The city was also the historical capital of the Arizona Territory, meaning that there are several sites worth seeing that explain the history of the state. It is a very important city in the United States and worth visiting!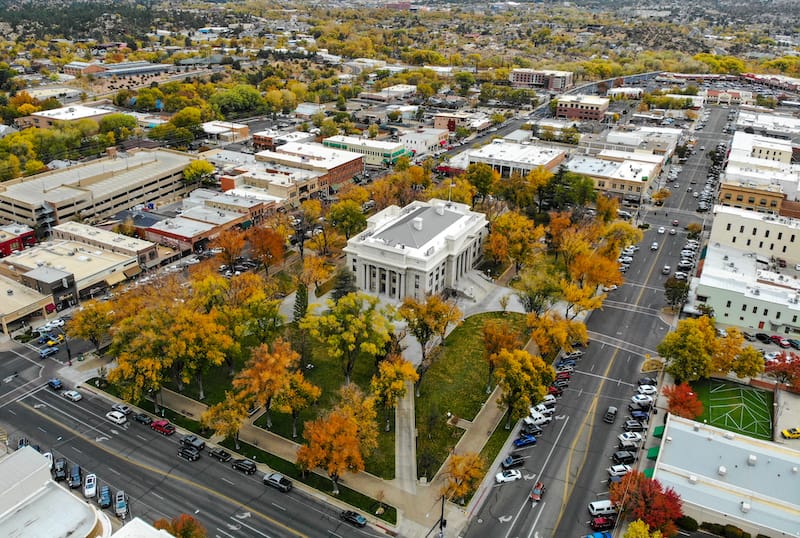 While there are many interesting things to do in Prescott, it is known for its museums as well as art galleries, antique shops, and outdoor activities.
This makes it one of the best places to visit in Arizona for those looking for activities and a bit of sightseeing in a city environment.
So, if you're looking for what to do in Prescott, we hope that you enjoy this guide and let us know your favorite Prescott attractions at the end!
Click here if you're looking for accommodation and want to see our Airbnb Prescott travel guide!
Best Things to Do in Prescott
1. Historic District & Courthouse Plaza
The Courthouse Plaza Historic District is a 17-acre area that is home to 26 buildings. There are over 500 buildings on the National Registry of Historic Places in Prescott.
Courthouse Square is bounded by Gurley, Montezuma Street (Whiskey Row), Goodwin, and Cortez. You can visit the Chamber of Commerce Visitor's Center for maps and information about the area.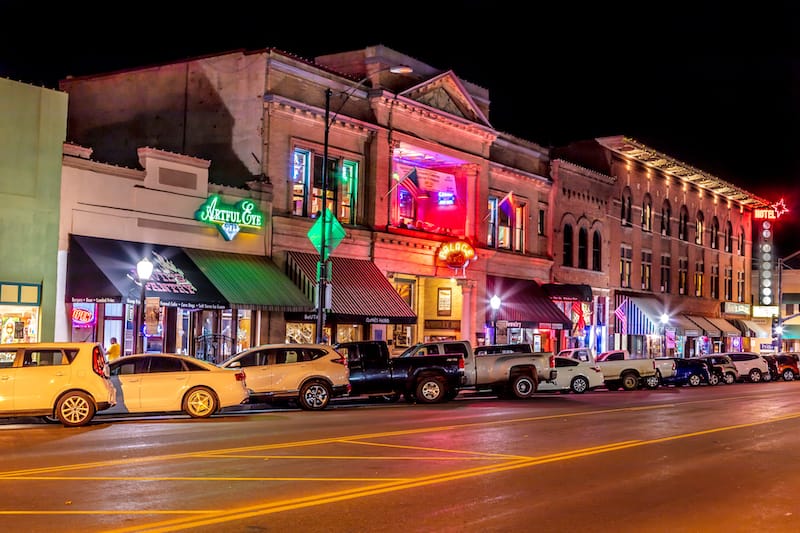 Courthouse Plaza is home to several community fairs and events, especially on the weekends. The plaza is also a great place to enjoy the shade from the trees with your family, friends, and dogs.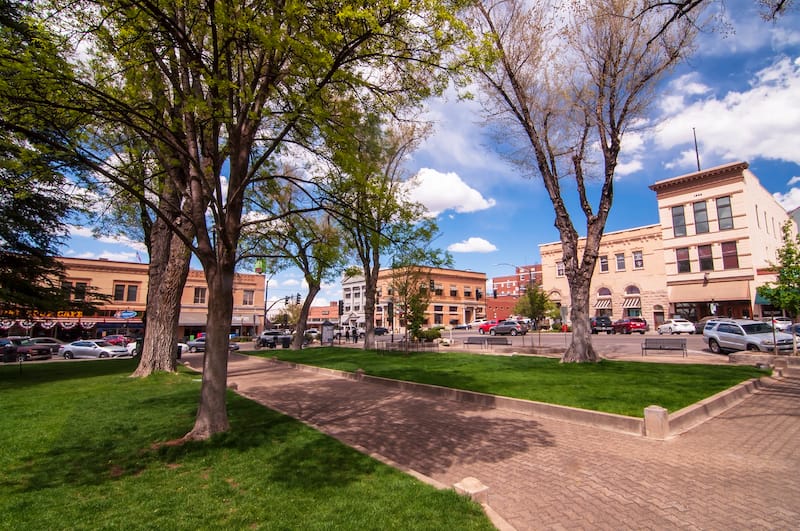 If you are visiting Prescott in December, be sure to check out the famous Christmas lights at the Courthouse! Other places to check out near the Courthouse Plaza are Sharlot Hall and the Elks Opera Hall.
2. Watson and Willow Lakes
Watson and Willow Lakes are the two lakes in the area known for their massive granite boulders and bedrock formations. The orange granite hills make quite the backdrop to the stark blue water.
Both lakes are surrounded by trails for hikers, bikers, and horseback riders. There are also fishing, boating, and swimming areas.
If you're looking to escape the hot Arizona summers, these lakes have cool water year-round and will offer the perfect respite from the blistering heat.
You will find additional information about both lakes in Prescott below:
Watson Lake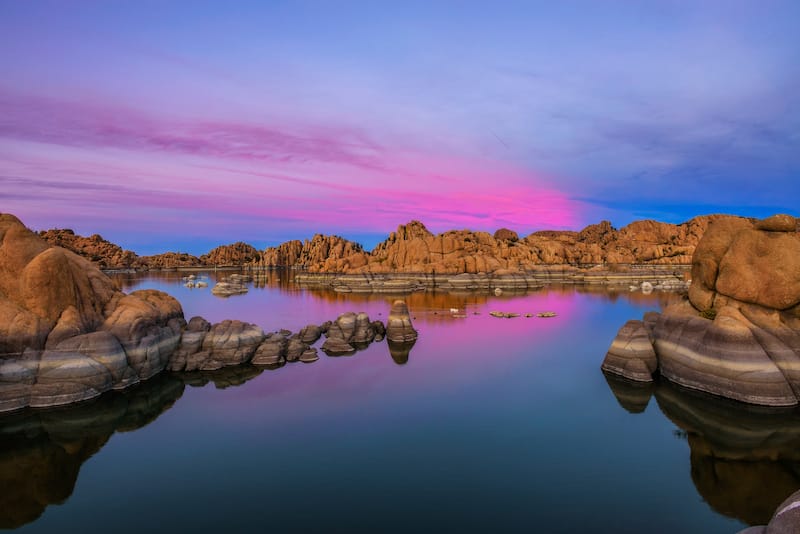 Address: 3101 N State Route E 89, Prescott
Hours of Use: Memorial Day to Labor Day (6 AM to 10 PM) and Labor Day to Memorial Day (7 AM to Sunset)
Parking: $3 daily parking fee
Boating – gas-powered and electric-powered motors are permitted, max speed of 5 mph

Canoeing and kayaking – rentals available 7 days a week

Fishing – children 10 and older must have a fishing license

Hiking – Peavine Trail

Bird watching – Watson Woods Riparian Preserve

Rock Climbing

Picnicking

Swimming is not permitted
Watson Lake Park is a great place for a scenic view of the lake and surrounding area. There are a high lookout point and the start of the hiking trail that surrounds the lake that you will find within the park.
Willow Lake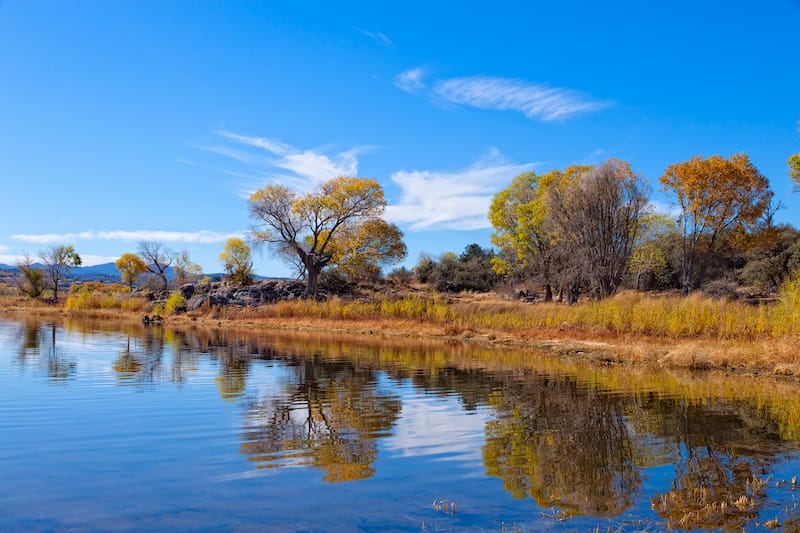 Hours of Use: Memorial Day to Labor Day (6 AM to 10 PM) and Labor Day to Memorial Day (7 AM to Sunset)
Parking: $4 daily parking fee
Boating – no gasoline motors allowed

Picnic Ramadas

Bird watching

Kayaking and canoeing – rentals available

Hiking – trail surrounding the lake
3. Hike Thumb Butte
Thumb Butte is Prescott's iconic natural landmark. The main Trail #33 is just west of Whiskey Row. If you haven't done too much hiking, don't worry. Thumb Butte is a great choice for novice hikers and people unfamiliar with the area!
The trail will take you up toward a rock formation that looks like a thumb piercing out into the sky.
From the top, there are beautiful views of the surrounding mountain ranges, including the San Francisco Peaks. These peaks are home to the tallest mountain in Arizona, Humphreys Peak.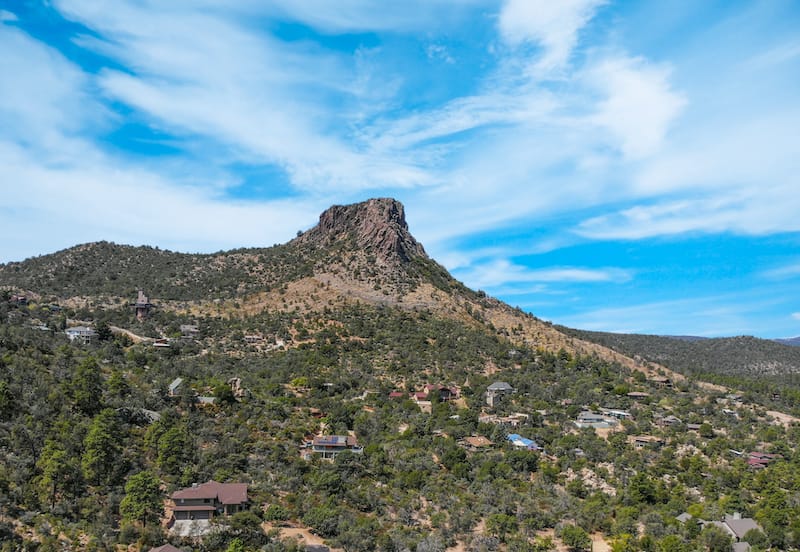 At the top, there is also a memorial to the 19 firefighters of the Granite Mountain Hotshots who lost their lives in the Yarnell fire that occurred in 2013.
The most popular part of the trail is at the park's south end. Trail #33 is a 2.1-mile loop around the granite formation.
It is of moderate difficulty with 688 feet of elevation gain. It should take you about an hour to complete the hike. It is best to hike in a counter-clockwise direction on the trail.
4. The Smoki Museum
Address: 147 N Arizona Avenue Prescott, Arizona
Admission: $10 (Adults), $8 (55+ and Veterans) $6 (Students), Free (12 and Under)
The Smoki Museum is a great place to explore the history of the Native Americans who lived in Arizona. There are all sorts of displays showing their pottery, jewelry, petroglyphs, carvings, and more.
There are volunteers on-site to answer any questions you may have. If you're looking for a souvenir to take home, be sure to visit the Smoki Museum Trading Post. They have beautiful Native American jewelry for sale.
5. Hike the Constellation Trail System
The Constellation Trail is on the northeastern side of Willow Lake so you can easily combine the hike with a trip to the lake. The trails are lined with the large granite formations you will find at Willow Lake as well as beautiful views.
Parking for the Constellation Trail is at the Phippen Museum. The lower parking area is designed for hikers and mountain bikers. It is considered a trail system because there is not just a quick 'in and out'.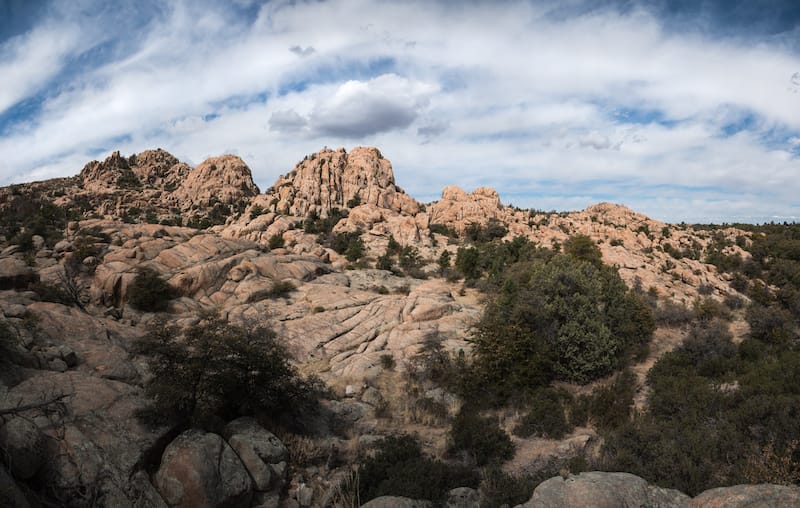 Trails cross paths and loop in and around each other. Each trail leading off the Constellation Trail is quick and easy and should not take too much time to complete.
The best time to hike the Constellation Trail is during the fall and spring. During the winter, you may find some snowy spots on the trail so if you're visiting during this time, pack some warmer clothes.
6. Go Antique Shopping
Downtown Prescott and the surrounding cities like Jerome are the perfect places to look for antiques. As you peruse through the aisles of the shops or markets, you will find bins full of treasures.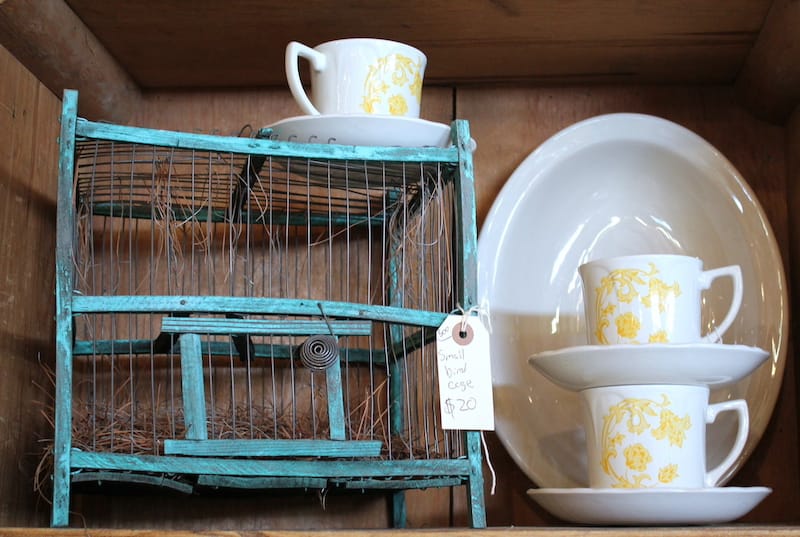 Most of the antique shops are on Cortez Street. Prices on antiques range from less than a dollar to hundreds of dollars for furniture or jewelry. Below are some of the best places in (and near) Prescott to find antiques:
Déjà vu Antique Mall – 134 N Cortez Street Jerome, AZ
Copper Mountain Antiques – 880 D Hampshire Dr Jerome, AZ
Cortez Street Emporium – 115 N Cortez St Prescott, AZ
Prescott Downtown Antiques – 131 N Cortez St Prescott, AZ
Apple Shed Antiques – 8200 E Valley Road Prescott Valley, AZ
Granite Creek Antiques and Bayberry's Antique Dolls – 218 N Granite St Prescott, AZ
7. Take a Day Trip to Sedona
Sedona, Arizona is about an hour and a half from Prescott. Sedona. The renowned city is famous for its red rock formations as well as spiritual wellness.
A day trip to Sedona is well worth your time and one of the best things to do in Prescott if you are looking to visit somewhere close by. There are delicious places to eat as well as endless hiking trails and wonderful spas.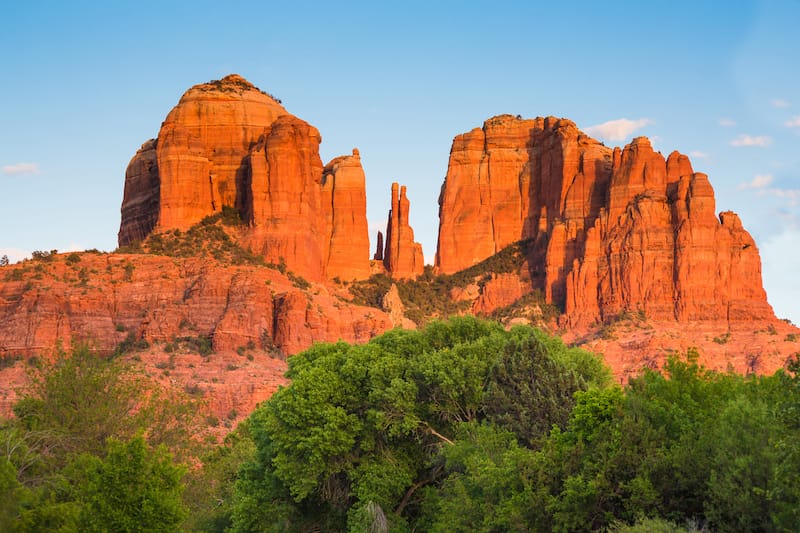 Below are some quick references to the best hikes in Sedona as well as the best spa and wellness activities.
Popular Sedona Hikes
Devil's Bridge
Bell Rock Loop
Soldier's Pass
Sedona Wellness Activities and Spas
Vortex Yoga Hiking in Sedona – Tours
Sedona Transformation Spa
Inner Journeys
Uptown Massage
Sedona's New Day Spa
Gateway Cottage Wellness Center
You can find plenty of other cool Sedona landmarks and attractions in this guide! If you have a bit longer in the city, be sure to check out our day trips from Sedona guide!
8. Whiskey Row
Whiskey Row got its start over 100 years ago when it was the place where the miners ate their meals, drank their liquor, voted, and found entertainment.
Today, you will find some of these accommodations along with art galleries and gift shops in a place called Whiskey Row.
The Palace Restaurant and Saloon on Whiskey Row is a great place to stop in for a meal. It is the oldest frontier saloon in Arizona, dating back to 1877. Make sure to take the time to walk to the back room to see the huge paintings on the walls.
Below are some other delicious restaurants near Whiskey Row:
Bill's Pizza – 107 S Cortez Street
Superstition Meadery – 120 W Gurley Street
Bistro St. Michael – 100 S Montezuma St, Prescott, AZ 86303,
Shannon's Gourmet Cheesecakes – 208 W Gurley Street
Papa's Italian Restaurant – 129 1/2 N Cortez Street
9. Sharlot Hall Museum
Address: 415 W Gurley Street
Sharlot Hall Museum will take you down history lane back to the time when Prescott served as the capital of the Arizona Territory in the 1860s.
There are a bunch of different exhibit buildings as well as historic structures outlining what life was like throughout this time.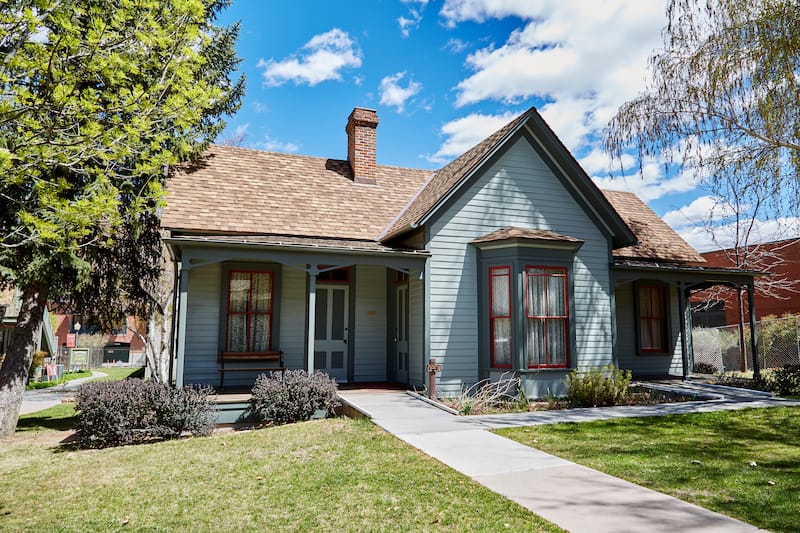 There are tours available, so check the schedule before visiting. You can walk through the first governor's mansion – a log cabin that was built on the site in 1864.
Back then, it was a mansion compared to the nearby tents. You can also see the bones of dinosaurs who use to live in this area, which makes this one of the best things to do in Prescott for kids.
10. Mortimer Farms
Just outside of Prescott, you will find Mortimer Farms. This farm is open to the public and is filled with u-pick fields, festivals, and events.
Be sure to check their calendar for upcoming events. The Pumpkin Fest & Corn Maze is what the farm is most famous for, however.
They also have a farm park. There are rides, games, and activities that the entire family will enjoy.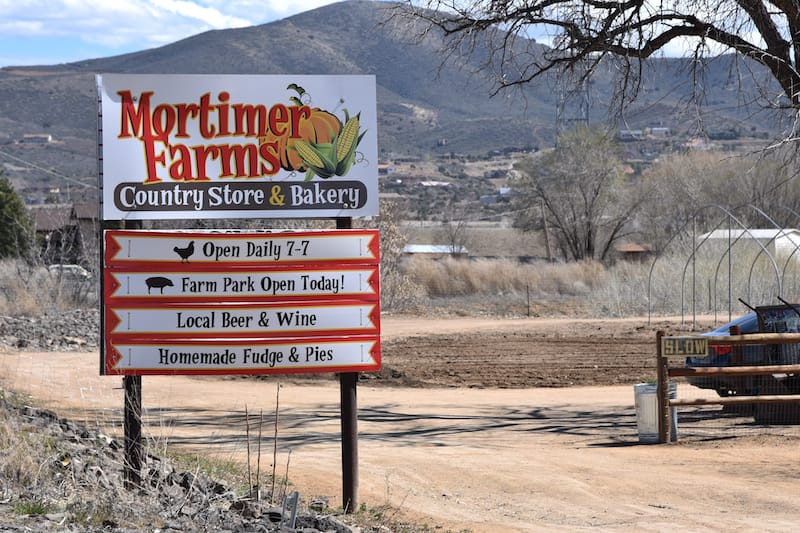 Visiting this attraction in Prescott is nice because the admission is actually an all-day pass and there is no need to buy extra tokens for the games and rides. They have a zipline, ropes course races, and other activities.
Mortimer Farms is a fun pitstop to make if you are driving between Phoenix and Prescott.
11. Wolf Creek Falls
If you're looking for a family hike near Prescott, the hike to Wolf Creek Falls is perfect. It is just under a mile, round trip. It is a great place for hiking and swimming at the base of the falls.
Wolf Creek Falls are at their most powerful in spring. By summer, they have usually dried up. If you're visiting in the winter, the waterfalls are still a cool sight in the local area and you may even get lucky enough to see them frozen!
Be sure to climb to the top of the falls for a great view of the nearby forests. Access to the trail is off Forest Road 384 just past Upper and Lower Wolf Creek campgrounds.
12. Lynx Lake Recreation Area
If you're looking to escape the heat of the lower Arizona elevations, Lynx Lake is a beautiful place for picnicking, kayaking, and camping.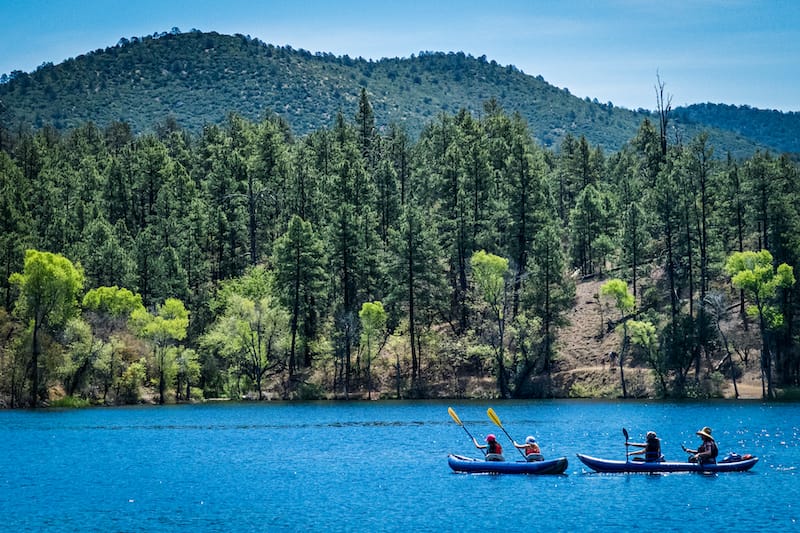 There is a walking trail lined with lush pine trees that surround it and a day-use area that you can use for a small fee. It is one of the most relaxing places if you're traveling through Arizona with kids.
13. Phippen Museum
Any trip to Arizona needs to include some exposure to American Southwest art. The Phippen Museum is named after George Phippen, a sculptor and painter that is an icon in the local area.
Address: 4701 Highway 89 North, Prescott, Arizona 86301
Hours: Tues – Sat: 10 AM to 4 PM, Sundays 1 PM to 4 PM
Admissions: $12 (Adults), $10 (Seniors, Military, Veterans), Students (with ID) – $6.00 and Free (12 and Under)
A particularly fun exhibit to see there is the Arizona Rancher and Cowboy Hall of Fame gallery.
There are also several metal art pieces outside the museum on the grounds, so be sure to check those out on your way into the museum.
Visiting Prescott with Kids
If you are vising Prescott with kids, or you're a kid at heart, be sure to check these places worth visiting there:
Treat Center on Courthouse Square – They have free samples of their flavored popcorn as well as scorpion-filled lollipops. They also have different candies and ice creams.
Highlands Center for Natural History – If you visit the Highlands Center, your kids can enjoy demonstration gardens, interactive learning exhibits, a play area, and guided walks. You can also tour the James Family Discovery Gardens.
Freedom Station Family Fun Center – There are miniature golf courses, arcade games, laser tag, and a climbing wall… all with a Wild-West theme.
Where to Stay in Prescott
There are a variety of amazing places to stay in Prescott. We recommend camping (if that is your scene) or renting an Airbnb or hotel in the city. Here are our top picks for hotels in Prescott:
Hotels in Prescott
Here are some of the top-rated hotels in Prescott to consider for your trip to the Arizona city.
⇒ Hassayampa Inn (3-star, historic city-center hotel)
⇒ Hotel St. Michael (mid-range city-center hotel)
⇒ Sheldon Street Lodge (2-star near city center)
⇒ Hotel Vendome (historic accommodate near Whiskey Row)
Should You Visit Prescott, Arizona?
Yes, it is definitely a great place to visit for those taking a trip to Arizona! It is not only a great stop on a road trip from California to Arizona, but it is also a place that offers a change from Phoenix and can be a bit cheaper (while still a base for Sedona)!
There are many things to do in Prescott that will occupy your time and stay there. Thanks so much to Candice Steele at CS Ginger for sharing her thoughts about the beautiful city of Prescott!
Additional Arizona Travel Resources
Pin this Prescott Travel Guide!