If you're heading away to Prescott for a long weekend getaway, this Airbnb Prescott guide will help you find the right accommodation for your budget!
These Prescott Airbnbs will allow you to enjoy your trip to the Arizona destination regardless of your budget and with an option to stay in the city.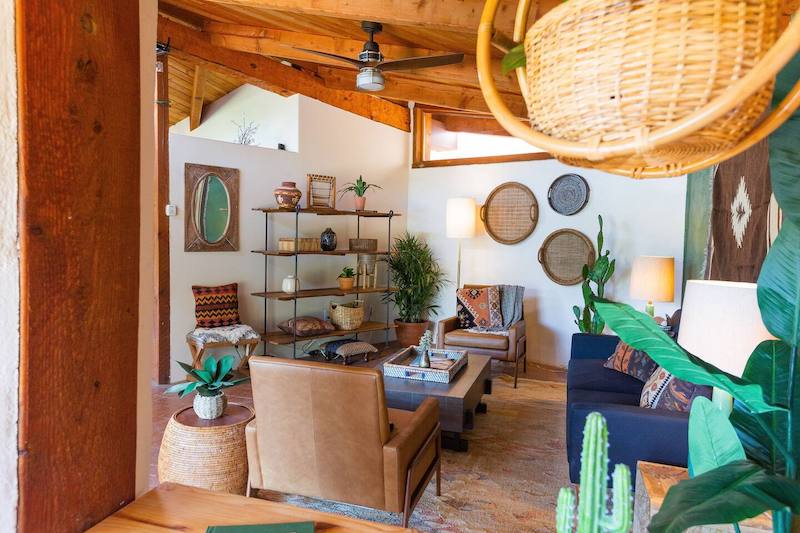 Hotels are expensive and sometimes are far from the action! Our chosen Airbnbs in Prescott even gives you access to the historic neighborhoods!
We have carefully selected the top-rated Airbnbs along with ones that are suitable for lower budgets or those looking to stay specifically in the city center and close to all the things to do in Prescott.
Prescott is famous for many reasons. It has a lot of exciting nature surrounding it and it is one of the best places in Arizona for kayaking.
If you have been to Prescott, let us know where you stayed and how it was in the comments!
Best Airbnbs in Prescott AZ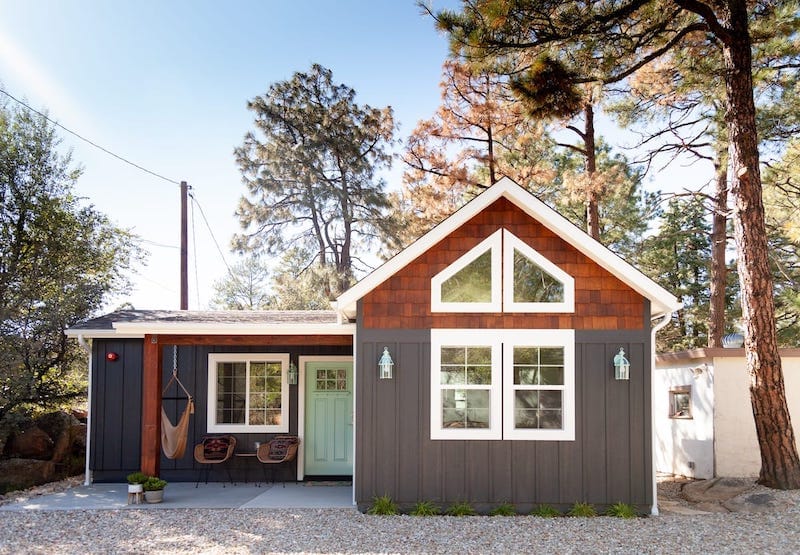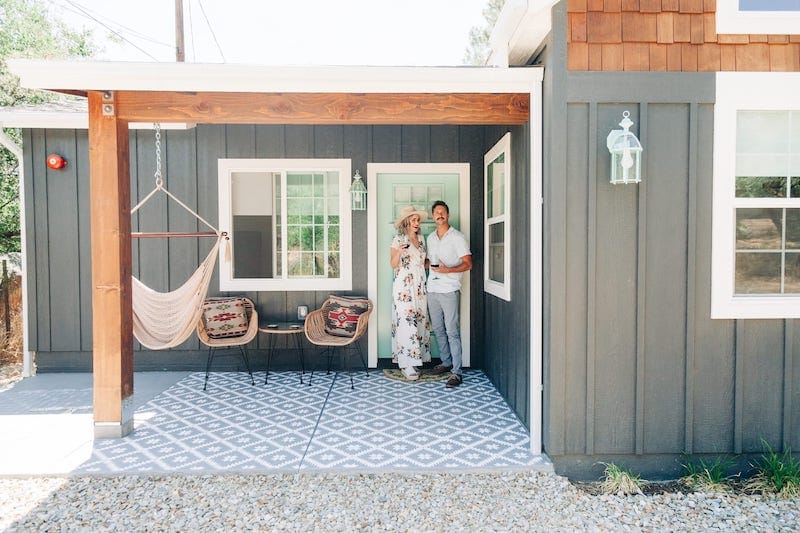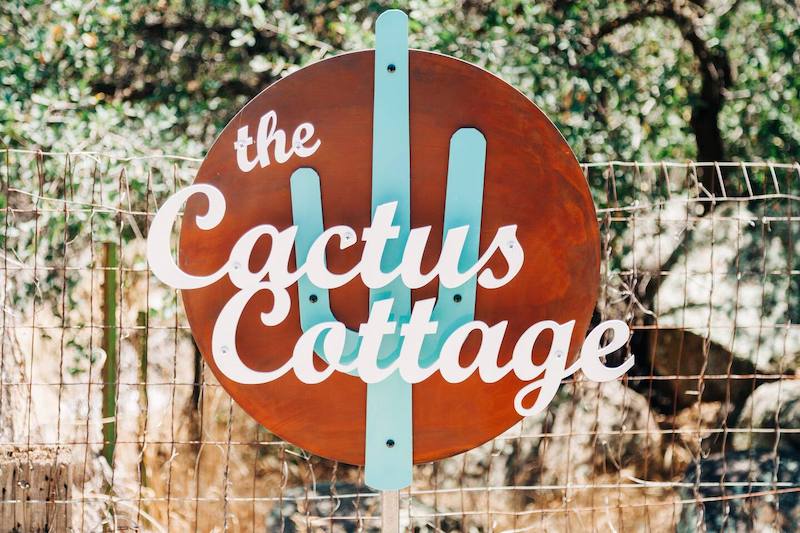 This newly-built, studio-style cottage is located in one of Prescott's oldest neighborhoods in a quiet area and is easily the most Instagrammable Airbnb in Prescott.
It can accommodate up to 3 people and provides 1 queen and 1 single-sized bed as needed. A bathroom with a bathtub, a well-equipped kitchen, free parking, and many more amenities are offered to make your stay a memorable one. The outside patio and hammock will complement your cozy staycation (or vacation!).
Courthouse Square and downtown Prescott are within a short walking distance.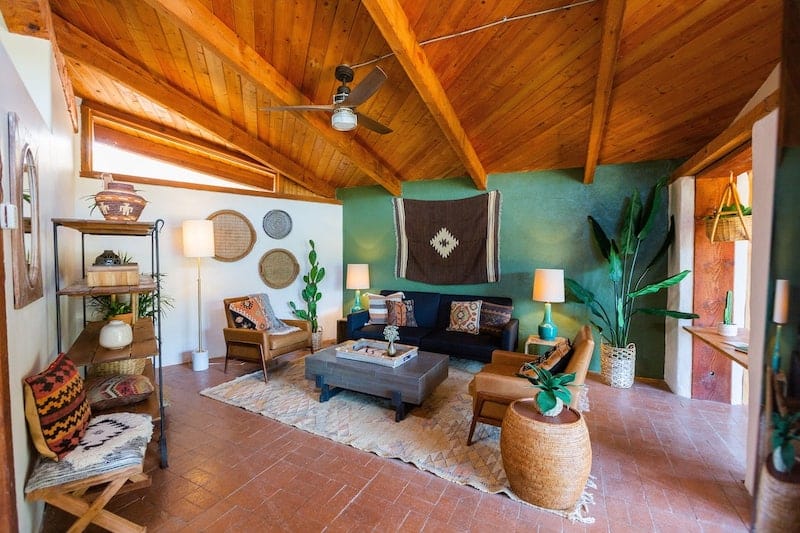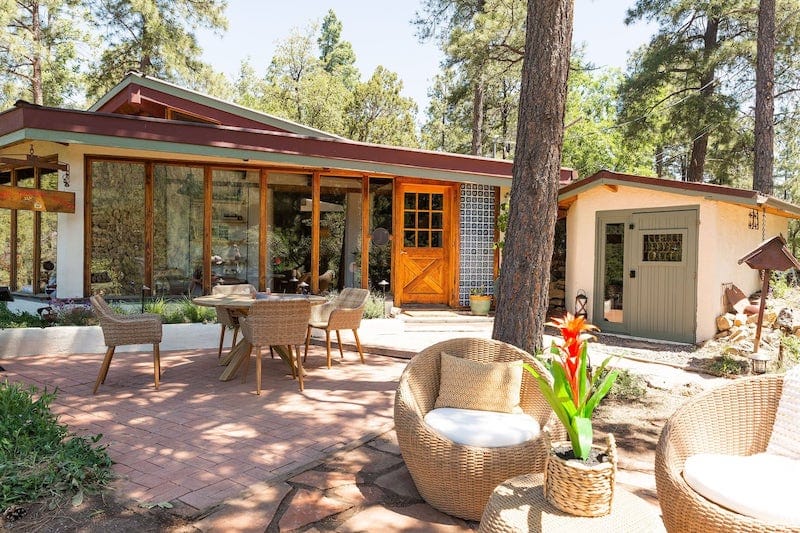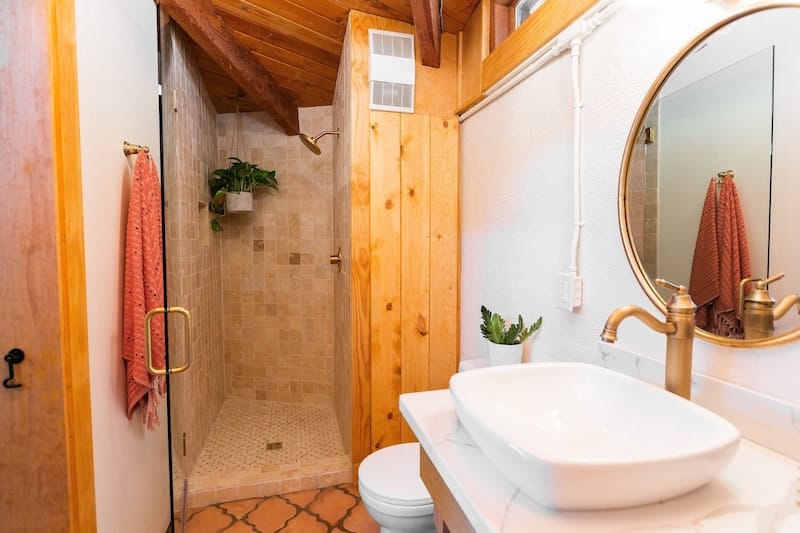 If you want to have an exceptional voyage into nature, then this rustic style cottage in the middle of a forest is the best option for your trip to the Arizona destination.
The wooden style cottage is suitable for up to 4 guests and has 1 bedroom and 1 bathroom. Having a homemade barbeque on a gas grill will make your evenings memorable, and an alfresco dining area will give you a chance to admire the sunset while enjoying your dinner.
Free parking, a fully-stocked kitchen, heating, TV, and wifi are all perfectly set up to make your stay a satisfactory one. A 15-minute walk is all it takes to get into the action of Prescott as you're staying in the heart of it all!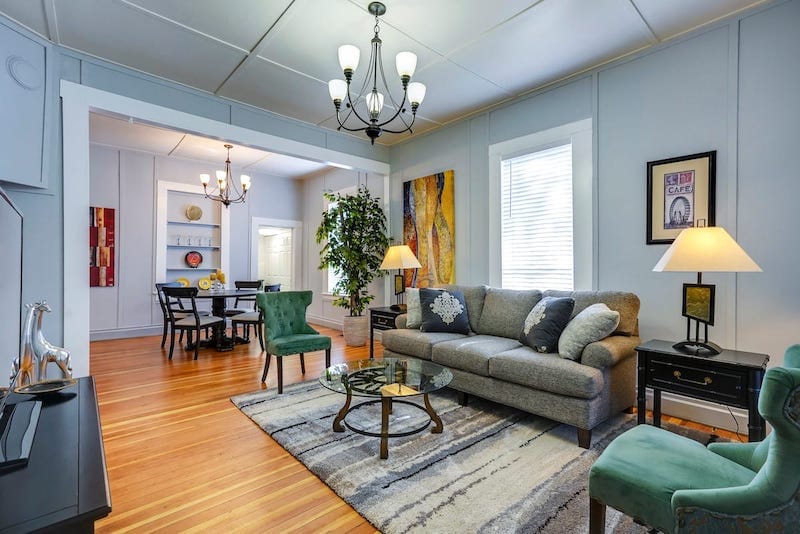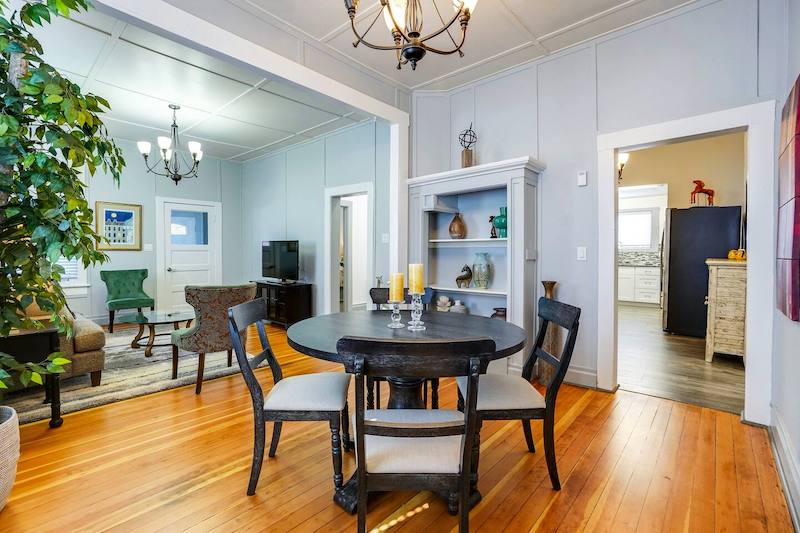 Do you love the balance between historic and contemporary design? If yes, then this unique guesthouse located in Prescott may be one of your best options to consider. Being very close to the action downtown, you can find your way to different dining places, galleries, and hiking trails in a comparably short time.
Its spacious interior with a subtle hint of minimalism can accommodate up to 4 guests with its 2 bedrooms and 2 bathrooms. Both bedrooms offer queen-sized beds.
The guesthouse offers public street parking in front of the house and even a sunroom for sun lovers. Distinct furnishings, a sunny backyard, and a deck with a grill will guarantee a stay to remember.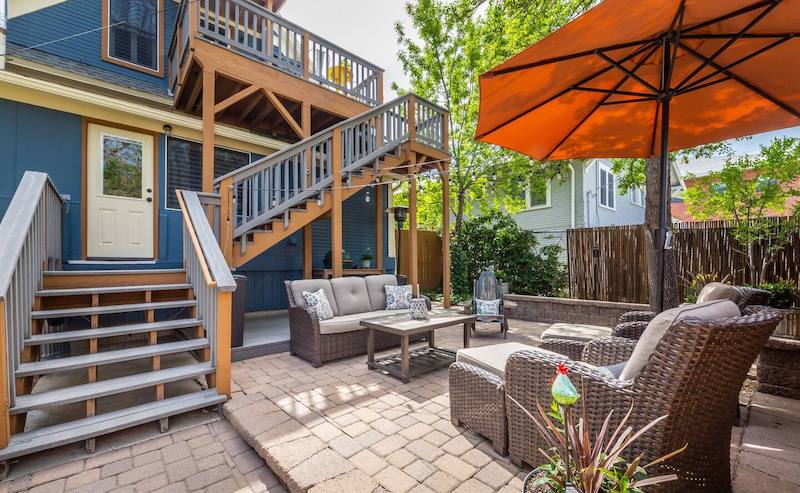 Are you looking for a suitable Airbnb in Prescott with coziness and style? This charming studio guest suite offers a sophisticated interior for your Prescott getaway.
Its 1 bedroom and 1 bathroom is suitable for 2 guests and offers a fully-stocked kitchen, free wifi, private entrance, and free parking. An indoor fireplace and antique rocking chair with a cup of tea and a good book will complete the vibe of its historic atmosphere.
Its private balcony is the best place to admire the wonders of sunset, while the backyard patio guarantees cozy evening gatherings. You can find Starbucks, Sprouts Market, dry cleaning, and even a nail salon two blocks away.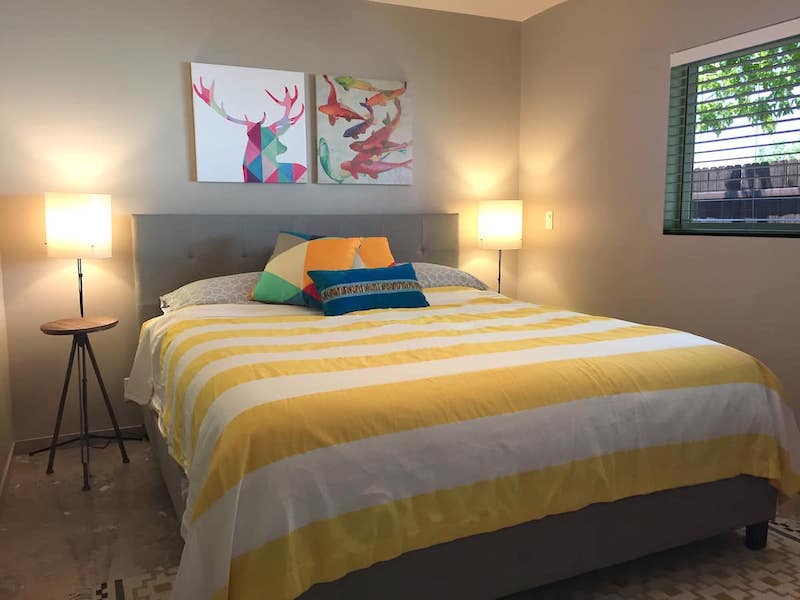 If you are looking for Airbnbs in Prescott city and the downtown area, then this modern bungalow is a fantastic find. It is one block from the historic city square.
It has been renovated and now offers a modern-designed kitchen and an outdoor space with a fire pit to sit around and dine with friends and family. The bungalow can host up to 4 guests, has 1 bedroom with a king-sized bed, and 1 bathroom. It also offers a one-car garage.
A short walk will get you to Whiskey Row, restaurants, markets, museums, and many other entertaining places to make your trip as adventurous and exciting as possible.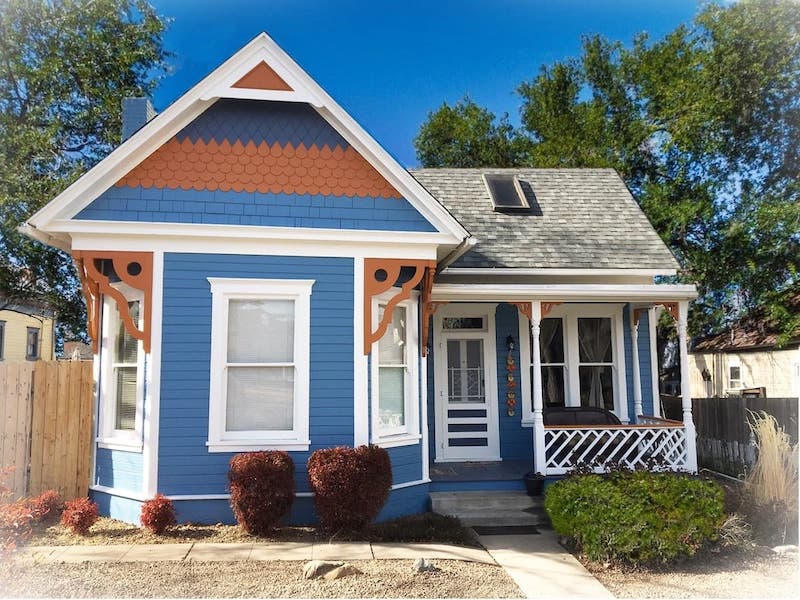 This is another cottage to consider in the heart of a Prescott for those traveling with friends or family. Its peaceful environment will make you relax and it will be the perfect getaway from hectic city life.
The Victorian-style cottage accommodates up to 4 guests in its 2 bedrooms and 1 bathroom. One of the bedrooms has a king-sized bed, while the other has a double bed. It offers you the best comforts, including a fully-equipped kitchen, laundry room, private yard, and merely a 5-minute walk to the historical courthouse, Whiskey Row, and much more.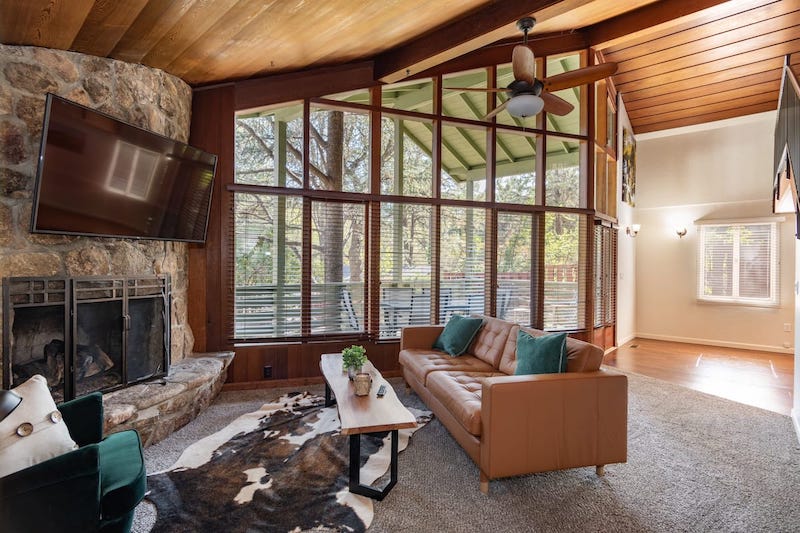 Suitable for up to 7 guests, this spacious cabin should be one of the top places to stay in Prescott if you are looking for a fantastic getaway place with friends.
It offers 2 bedrooms- the first with a king-sized bed and the other one with 2 doubles and 1 single bed. It also has 2.5 baths. The downtown cabin provides a well-equipped kitchen, free street parking, and outdoor space with a large dining table to enjoy your meals with a view.
The cozy sofa and fireplace will complement the most entertaining of evenings. Just a few minutes' walks will get you to downtown Prescott. Perfect location for hiking, eating, and having an adventurous stay!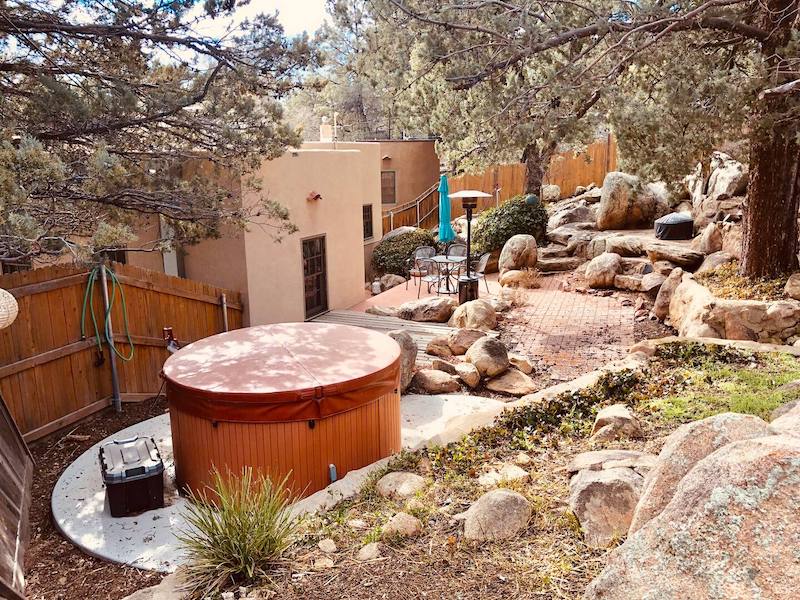 This is another roomy cottage with a design focused on beautiful wooden elements is located in the neighborhood of historic Park Avenue. It is listed on the National Register of Historic Homes.
Mile High is a fully furnished cottage with all the amenities one will need for a cozy stay. It is suitable for up to 6 guests and has 2 bedrooms with queen-sized beds and 1 bathroom.
In case you need an extra bed for your friends or someone accompanying you on your trip to Prescott, there is a queen-size sofa bed in the living room. Outside, you will find a fenced-in, peaceful yard where a hot tub, comfy hammock, and sitting area accompanied by the rocky surroundings will create a uniquely relaxing experience.
An 8-minute walk transports you to all the entertaining places this amazing city has to offer, such as art galleries, restaurants, bars, and famous Whiskey Row.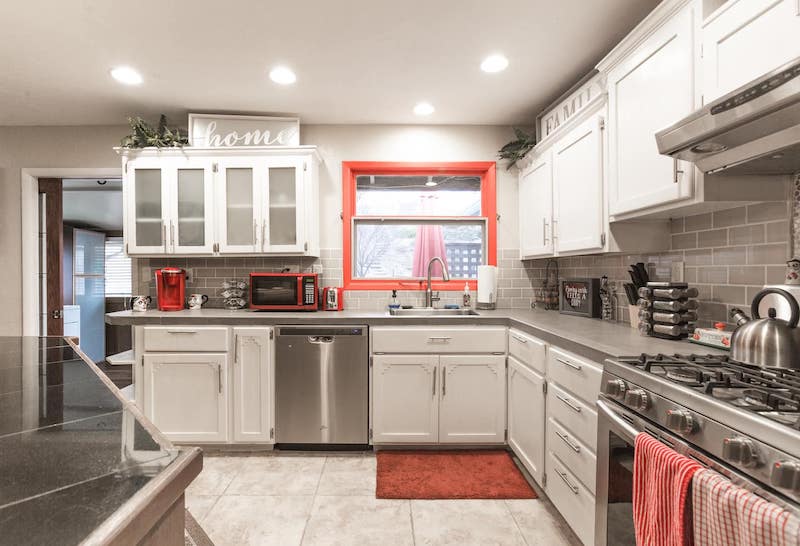 This spacious and renovated house will inspire you with its unique character to have daily gatherings in it (you may not even want to leave the property!). It can host up to 6 guests in its 2 bedrooms and 2 bathrooms.
Besides the queen and king-sized beds in the bedrooms, you will also have access to a queen-sized sofa bed in a living room for your guests. The grill and the cozy outdoor dining table offers the perfect place to relax in the evenings.
The Prescott Airbnb's kitchen provides a complete set of kitchenware and appliances; the house offers free wifi, a covered carport, a large dresser, and many more conveniences for its guests.
In the evenings, you can chill with friends and watch your favorite TV shows, since you will have access to Netflix, or you can spend your day exploring the downtown, which is only 5 blocks away.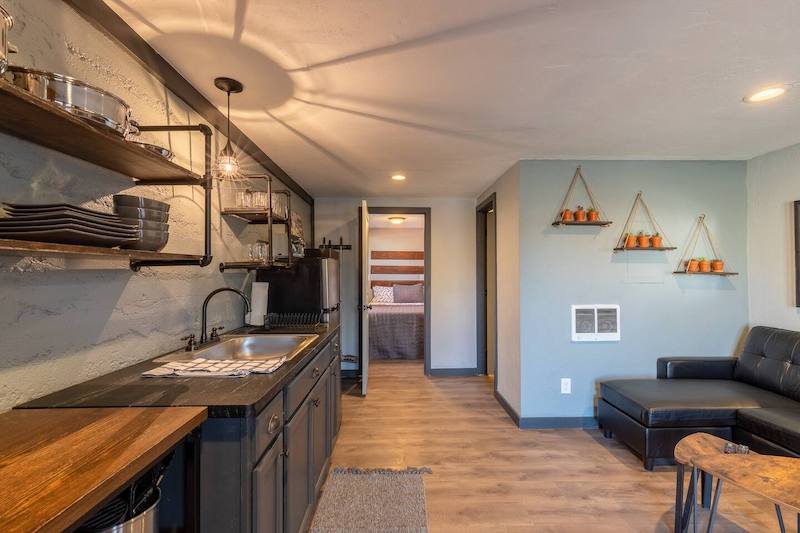 If you prefer to spend your day with loved ones in a compact, but at the same time modern and charming home, then this detached cottage is the best choice for you.
It can fit up to 3 guests in its 1 bedroom where you can find one queen and one single-sized bed, plus a comfy couch if needed. A bathroom with a tub, furnished kitchen, parking space, and free wifi are all in place to ensure the most comfortable stay possible. The side yard allows you to stay in during the evenings and have a BBQ with friends on the property.
A 10-minute walk separates you from the town's center, local lakes, Whiskey Row, and Prescott's breathtaking nature.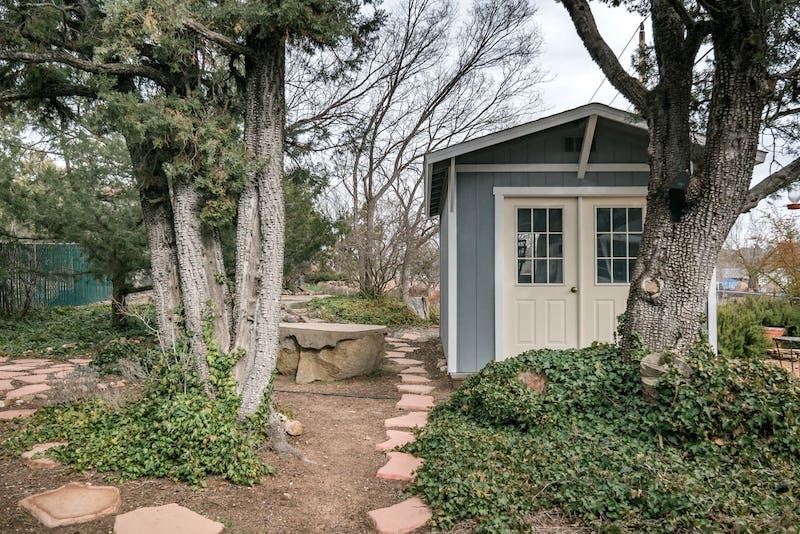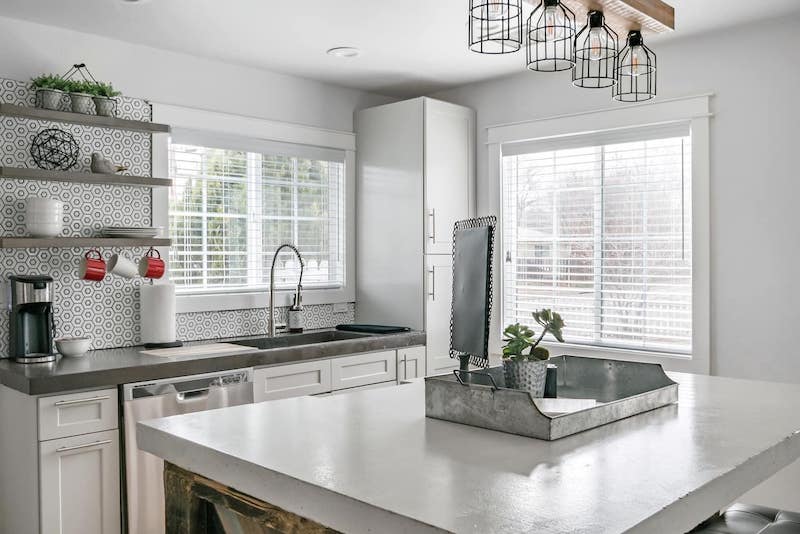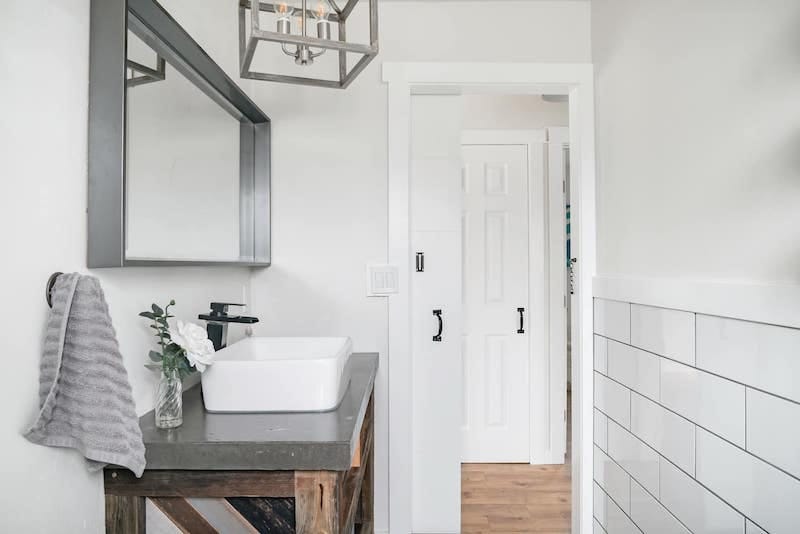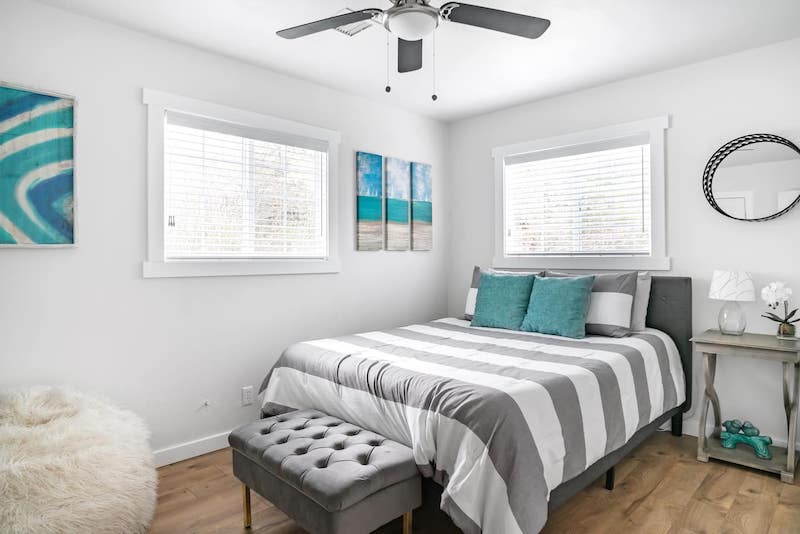 Looking for a spacious, modern home with a touch of minimalistic elements? If so, then this cottage has you covered!
There are queen-sized beds in 2 bedrooms, a single bathroom with a tub, an enormous kitchen, and a laundry room are all set to accommodate up to 5 people.
Relaxing on the patio at the Prescott Airbnb will be a great way to end the day! Some of the amenities are free WIFI, a fireplace, TV, free parking, and much more.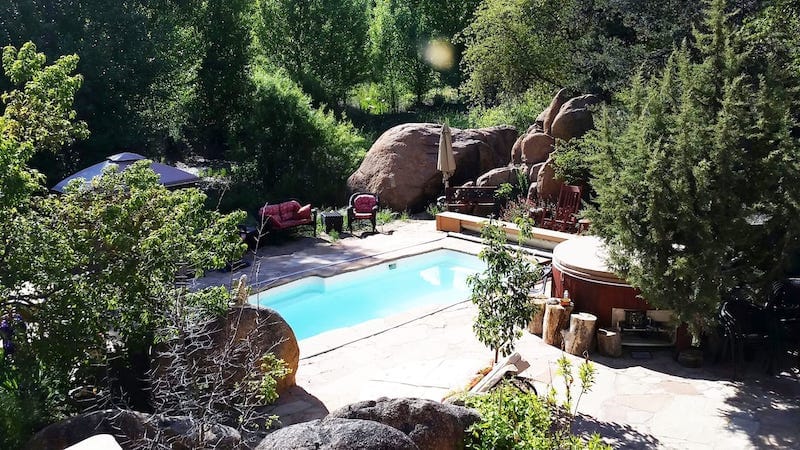 Located in the heart of the gorgeous Granite Dells, CaveCastle, with its 2-story, cave-like interior, will make you never want to leave the city of Prescott!
The panoramic view from the window to the stunning rocky landscapes, spacious baths, kitchen, patios, decks, swimming pool, spa, etc will guarantee an unforgettable trip. This gorgeous Airbnb rental in Prescott is intended for 3 people, and it offers 2 bedrooms and 1.5 bathrooms.
It is a short bike ride to Prescott's finest hiking and cycling trails, including the famous Peavine Trail system, which leads to Prescott Valley through breathtaking scenery, passing surreal Watson Lake along the way.
We hope that you found this Airbnb Prescott guide helpful in finding the right accommodation. Prescott is a historic place in the United States and worth visiting, even if for just a quick overnight trip!
Additional Arizona Travel Resources
Pin this Airbnb Prescott Guide