Shooting deserts and sand-hills seems to be something unreal for photography and video enthusiasts.
However, you never know when you will find yourself in the real desert; there are many deserted places around the world. And if you want to make beautiful and stunning shots, then sand-hills will provide you with lots of creative opportunities.
But how to take pictures and videos in the desert? What are the pitfalls and nuances of such shots? And what should you be ready to deal with?
Something About the Desert and Sand-Hills
When we talk about the desert, most of us imagine a hot climate, endless sands, and the absence of any vegetation.
Indeed, the desert landscape is characterized by extremely depleted vegetation, yellow sands, bright sun, and significant jumps in temperature during the day. It would seem that there is nothing interesting to shoot.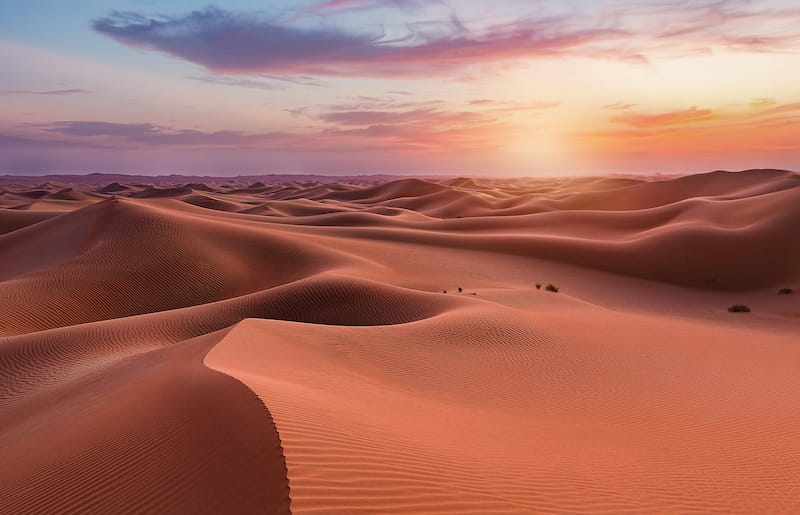 In fact, different deserts differ greatly from each other. In some deserted areas, you will not see anything except for sand, whereas the surface of other sand-hills may consist of rocky soils.
The deserts are not all the same as they seem at first glance, and there is always something to see and capture. Of course, the subject of major interest for photographers is the huge layers of sand stretching for many miles. It can be of different shades and consistencies.
The most common sand in deserts is the yellow one consisting of quartz. But there is also black volcanic sand and white sand, which will definitely make your shots bright and catchy.
You can also shoot sand dunes, which are located not only in hot climate zones but almost anywhere. There are about three dozen types of sand dunes with distinctive features.
Regardless of the type, they form stunning minimalist landscapes that are definitely worth capturing on camera.
Despite the fact that sand dunes are far from being the real desert, photographs and videos of sand dunes give the viewer a complete feeling that this is a real desert.
Tips for Taking Pictures and Videos in the Desert
When shooting in a desert, you should follow some expert tips and recommendations. Otherwise, you will hardly produce quality content and can even put your health or equipment safety at risk.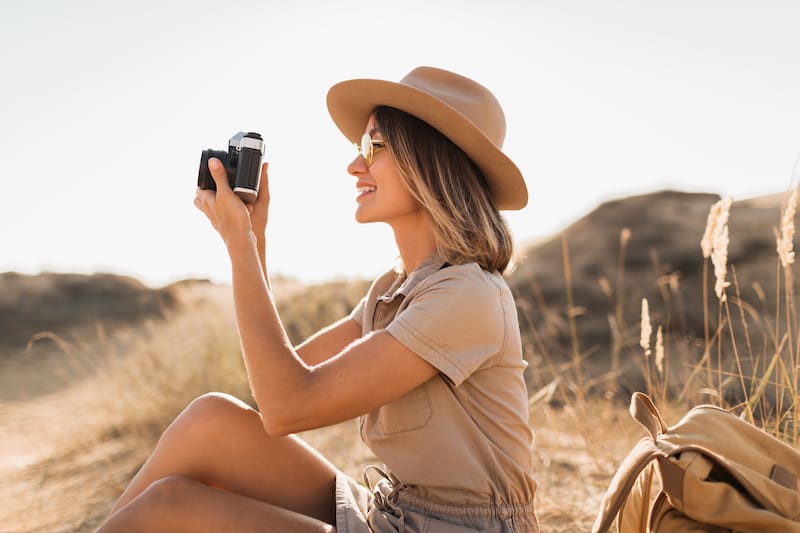 #1 – Take Care of Your Water Supply
Extreme heat is one of the many challenges that you will be faced with. In such conditions, heat stroke or dehydration is not a rare thing and can be caused by constant sun exposure and low humidity.
Therefore, it is critically important that you have an adequate supply of water.
#2 – Prepare Your Vehicle for the Travel
If you are going on a trip in the desert by car, then take care of the water in the radiator and make sure that an air conditioner in the cabin is working properly.
#3 – Choose the Right Outfit
It is worth walking in the desert in light but at the same time sufficiently dense clothing that can protect the skin from the merciless rays of the sun. The desert is not a beach; everything is serious here.
Besides the risk of receiving burns, you can lose a lot of water through evaporation. In the desert, you have to navigate hot sand, which is much more difficult than walking on a flat, hard surface. You will need comfortable, practical shoes.
#4 – Use a GPS Navigator
There is a risk of getting lost in the desert because only sands surround you. Therefore, you should go to the desert with an experienced guide or have a compass/ GPS navigator at hand if you decide to take desert photos.
#5 – Take Care of a Photographic/ Video Equipment
For shooting in a deserted area, you should use a DSLR or an advanced compact camera in a reliable, protected case. It will protect your camera from sand and help you avoid unpleasant situations when something goes out of order.
Use a protective filter and change lenses during shooting as rarely as possible so that sand doesn't get into the camera compartments.
#6 – Choose the Right Camera and Optics
You can use a wide variety of optics depending on what you plan to photograph in the desert. It is advisable to have a good wide-angle 14-24 mm lens for shooting desert landscapes and a telephoto lens.
The latter will help you to shoot subjects that are in a hard-to-reach place.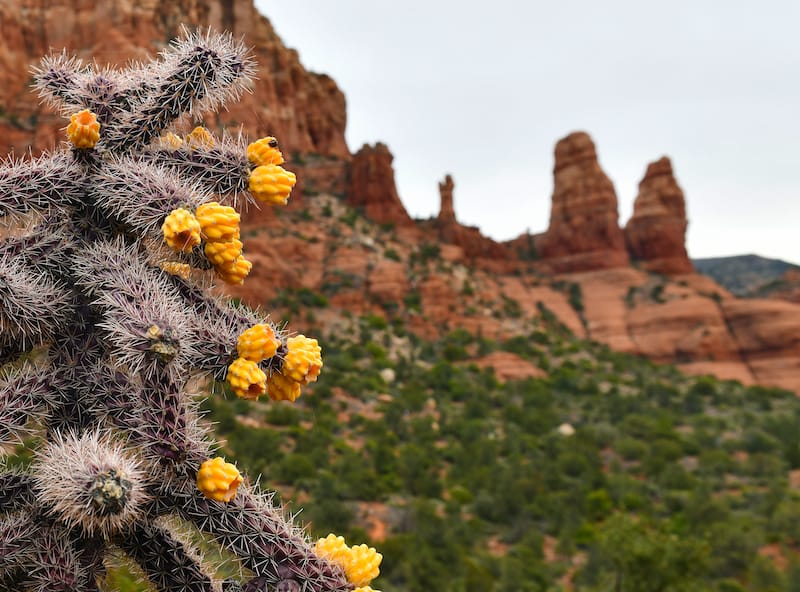 What's Important When Shooting in the Desert?
Start shooting in the desert by looking closely at the place, taking a look at the surrounding landscapes, try to notice interesting details. You do not need to immediately lead to the first dune or sand-hill that comes across to take a shot. Take your time to plan your creative route and shooting agenda.
In the desert, you will be dealing with very bright, contrasting natural light, which reflects off the nearby rocks and the sand itself.
Of course, hard light prevents you from getting high-quality, beautiful shots, even when using special filters. In this regard, it is recommended to take a picture and video in a desert before the solstice.
The best time to shoot is early in the morning when oblique rays of the sun allow you to favorably emphasize both the texture of the sand and the beauty of the surrounding landscapes.
Some less experienced video enthusiasts look for an object in the desert like a rock or a lonely growing bush and take a picture next to it. However, such banal plots are unlikely to be of interest to the viewer.
Just like mountain photography, shooting in the desert provides you with an opportunity to "play" in the frame with something that is difficult to touch with your hands or express in words – mood, texture, proportionality, abstraction.
Perhaps the most common theme in the desert is the emphasis on the texture of the sand. In addition to sand, you can photograph bizarre and unusual landscapes in the desert. It is better to use a tripod and long-focus optics here to combine the distant and close shots.
Use a wide-angle lens to capture as much of the frame as possible or use the zoom to bring different objects closer together at a certain distance from each other.
In case you want to fix your video clip, make some color adjustments, or apply some filters, you can easily do so by using dedicated free video editing software.
For example, Movavi will help you create a full-fledged video from short clips in a couple of clicks.
You can also use Movavi or some other programs, such as DaVinci Resolve 17 or Wevideo, to change the video image, add animation effects, or cut off unnecessary video fragments. Clipify is also an amazing tool to use that will help do the same (at a low cost) and it offers other editing features.
As a rule, the tools are used at the initial stage of the content production process. And you can be guided by a photo editing tutorial in case you have no idea of how to perfect the shots that you have made.
Final Verdict!
Not all photography and video enthusiasts can immediately appreciate the beauty of the desert. You can sometimes drive a car through the desert for many miles without being able to find anything interesting to shoot.
However, any professional photographer who has had a chance to shoot the desert will tell you that the creative possibilities for shooting in this area are just endless.
You just need to learn to notice small details, carefully examine the surrounding desert landscapes in search of beautiful, stunning shots. And, of course, you should know how to protect yourself and the camera from the destructive effects of heat and sand.