During the cold, dreary months, how many times do you dream about the warm sunshine? This is a weekend in Tucson itinerary – encouraging you to take that desert escape!
Are you planning your trip to Tucson last minute?
If youʻre booking your trip to Tucson last minute, we have you covered. Below are some of the top tours, hotels, and more!
🌵 Top Experiences and Tours in Tucson:
🛌 Top Hotels in Tucson:
🚗 Visiting Arizona independently? Be sure to book your rental car ahead of time to ensure availability!
Known for having 350 days of sun each year, Tucson is every summer lover's paradise and you will find many things to do in Tucson during any season, regardless of the sweltering, summer heat!
In Tucson, you can check out the city's art, Southwestern heritage, and the Sonoran Desert. Don't forget to visit some of the restaurants to try out the delicious cuisine (it has some of the nation's best)!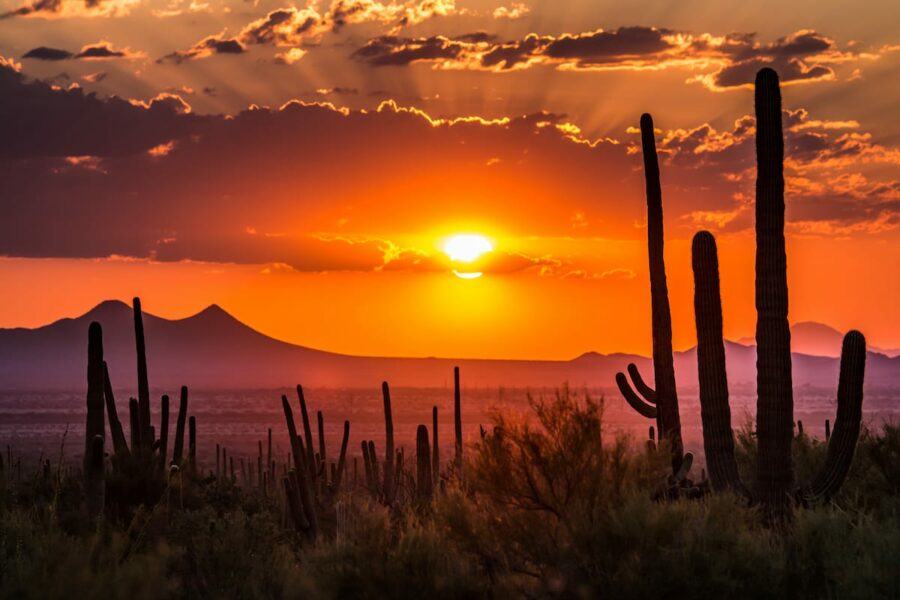 Here are some of the best places that you should visit for a great weekend in Tucson, Arizona.
How to Use this Tucson Itinerary (+ Map!)
This Tucson itinerary has been constructed to maximize your time in the Arizona city! It has been broken down into two days with an optimal way to see the main highlights of the city in those two days.
At the end of the itinerary, we also give a few additional options in case you have 3 days in Tucson (or more)! These activities and things to do are perfect for a long weekend getaway there!
It is also recommended to rent a car in Tucson. It really makes seeing some of these sights (like Saguaro National Park) much easier and you can do it at your leisure.
We have put all activities and things to do in Tucson on a map to help you plan your trip with ease.
To add this map to your Google Maps account, click the 'Star' icon next to the map name. You can then view it on your cell phone or computer by heading to your Google Maps account, click the menu and add it to 'Your Places'.
Best Time to Visit Tucson
The months from September to October and April to May are the best time of the year to visit Tucson.
Along with good weather conditions, these seasons also still have good room rates at hotels. Keep in mind that the summer months usually have good discounts as well.
Tucson is situated at a higher altitude than Phoenix, and so has a bit of a cooler climate, but it's still a desert. Expect mainly dry, hot summers and mild winters.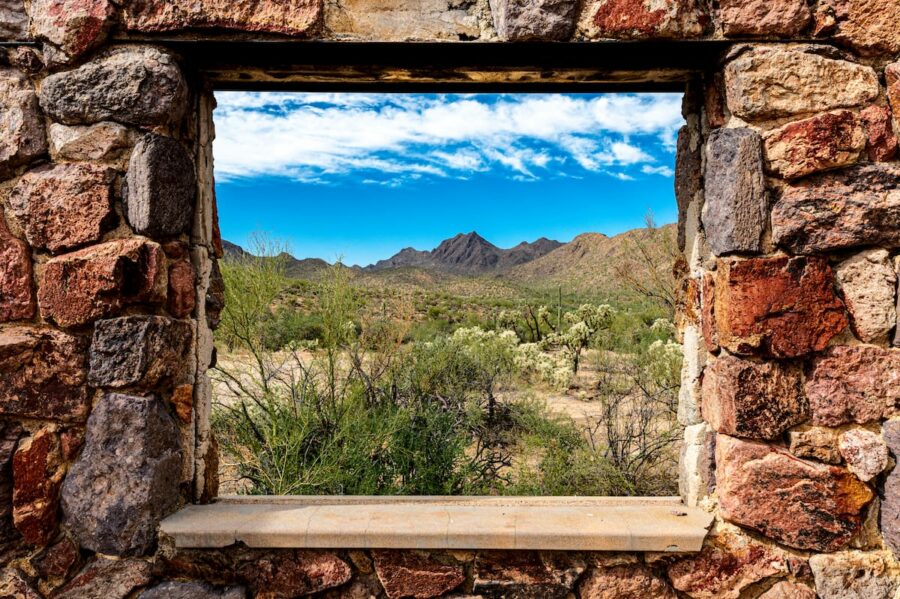 The typical temperature range here is from 42°F to 102°F and only seldom goes below 33°F or above 107°F.
How to Get to Tucson
Tucson has an international airport (TUS) that conducts more than 50 flights per day from many major US cities. If you're not considering traveling via plane, note that there are at least two other options – train/bus service and car.
Sunset Limited is the southernmost train route of Amtrak, which runs three days a week and goes through New Orleans, San Antonio, Tucson, Phoenix, and Los Angeles.
You can also arrange your travel via a bus service (Greyhound).
Lastly, if you head to Tucson via car, the major highways are the east-west I-10 or the north-south I-19, running across the state of Arizona.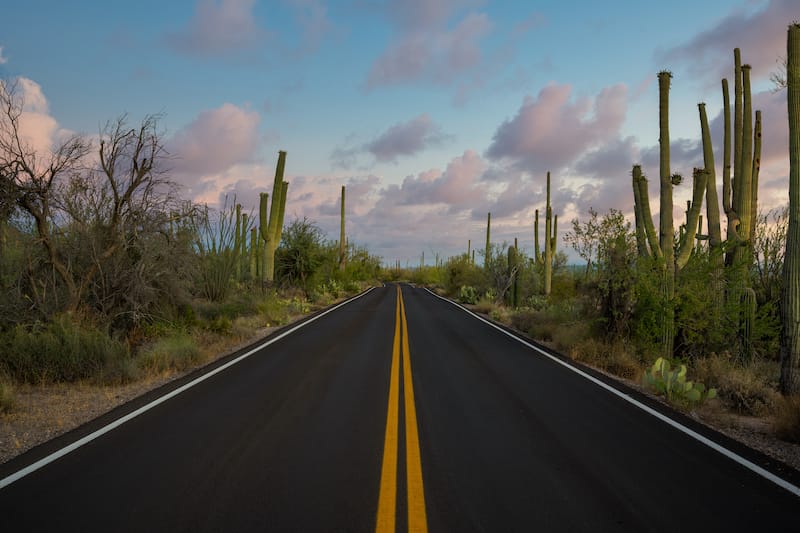 How to Get Around in Tucson
The public transportation system in Tucson and the surrounding areas is made up of the Sun Tran bus system, including Sun Express, Sun Link, Sun Van, Sun On Demand, and Sun Shuttle.
The Sun Tran bus system in Tucson has over 40 routes, including 13 express services, running across the city and its surroundings.
The official website provides details on schedules and maps.
Where to Stay in Tucson
If you are looking for accommodation for your Tucson trip, the following hotels are our top recommendations for your trip!
Tucson Itinerary Overview
Day 1 Overview
Visit the Arizona-Sonora Desert Museum
Stroll around Barrio Viejo
Check out Tucson's murals
Eat dinner at the El Charro Cafe
Head to Kitt Peak National Observatory
Day 2 Overview
Go for a hike at Saguaro National Park
Take a half-day tour of Mt. Lemmon
Visit the San Xavier del Bac Mission
Check out the Prima Air and Space Museum
Grab a beer at the 1912 Brewing Company
Do a mezcal tasting
Day 1 in Tucson
1. Arizona-Sonora Desert Museum
The Arizona-Sonora Desert Museum is a very unique and interesting museum that was established in 1952. It is actually one of the most visited places in southern Arizona.
It hosts about two miles of walking paths and a stunning desert landscape where museum exhibits and experiences take place.
Here you'll see the Sonoran Desert-specific gardens, visit the Earth Sciences Center featuring the region's geology, explore the mineral collections, and see exhibitions about ancient Arizona.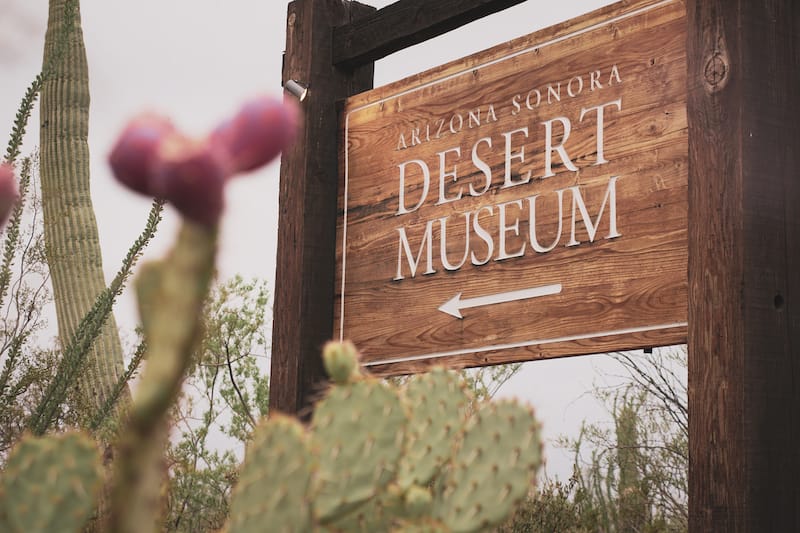 A good way to explore is by taking the Desert Loop Trail, which provides an opportunity to see some of the region's wildlife in its natural habitat.
The museum is open every day of the week from 8:30 am to 5 pm. The general admission rate is around $30, but there are discounts and other offers available.
Address: 2021 N Kinney Rd, Tucson, AZ 85743
2. Barrio Viejo
Any history enthusiast visiting Tucson should devote some time to checking out Barrio Viejo – the city's old neighborhood.
It features 19th-century homes and buildings and holds quite a notable heritage.
This location was home to a culturally varied group of working-class people from almost all continents of the world.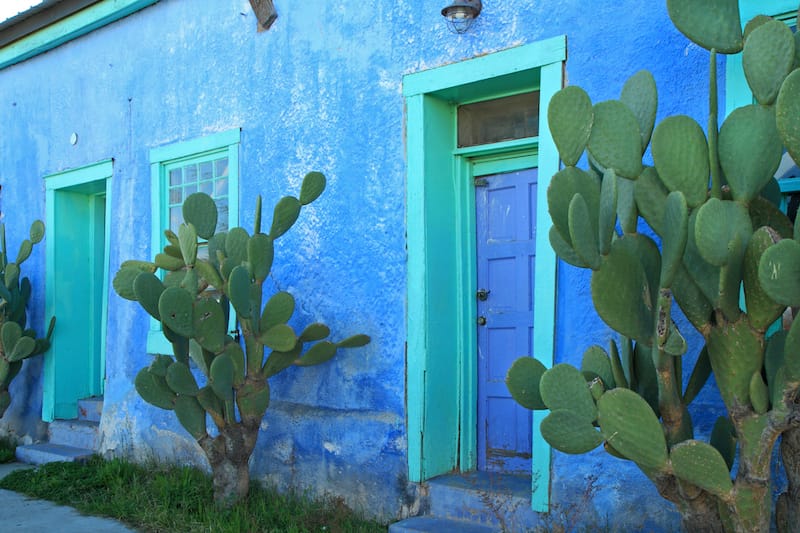 At the time, the Southern Pacific Railroad was being constructed, and it employed a large number of people. As a result, Tucson was transformed from a dusty town to a prospering Southwestern city.
When visiting this historic area, be ready to take a lot of pictures of the stunning architectural structures that tell the story of old Tucson.
3. Tucson Murals
​
Tucson is rich in murals. You're very likely to spot many just strolling through the city.
One that instantly grabs your attention is illustrated on a wall of Tucson Dental Studio, done by ​​muralist and tattoo artist Jonny Bubonik. It features vivid colors and depicts very Tucson-specific graphics.
Another notable one is How Sweet It Was, where artist YuYu Shiratori conveys the idea of being open to the changes that the future has for us while being attentive to the environment and people around us.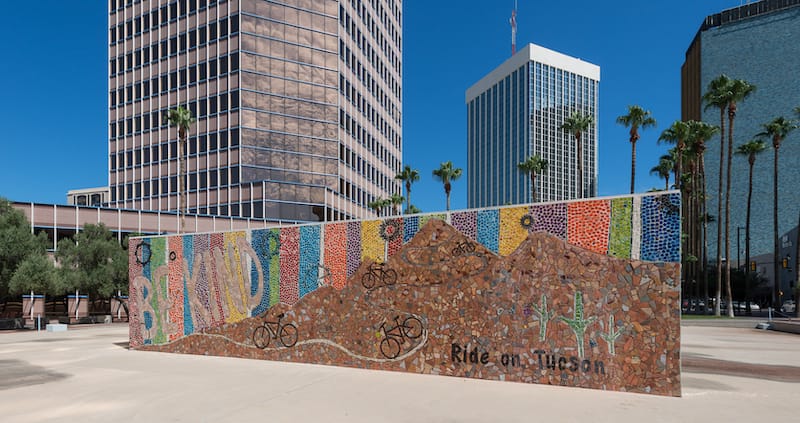 Also, one that has an immense wow factor is the Himmel Park mural – created by Joe Pagac, in honor of the Himmel Park Library.
The murals of Tucson really are interesting pieces of art, so make sure to check out at least a couple during your time in Tucson!
4. Carne Seca in El Charro Café
El Charro Café is the nation's oldest Mexican restaurant that has been operated by the same family since 1922.
From enchiladas to tamales to mini chimis, El Charro Café serves a wide range of Northern Mexican and Tucson-style Mexican dishes.
Many guests highly rate their quality, delicious food, and one proof of it is the cafe's feature in Nation's Restaurant News, which named it one of America's 50 most iconic restaurants.
Something not to miss here is the carne seca platter, which is their specialty and a true Tucson classic.
Address: 311 N Court Ave, Tucson, AZ 85701
5. Kitt Peak National Observatory
Kitt Peak National Observatory is a great location to visit for curious minds.
You can take a daytime tour of the facilities or visit after dark to see the stars.
The observatory's mission is to raise awareness among the public about basic astronomy, its current research areas, and other scientific processes.
The place prides itself on holding the most diverse collection of research telescopes and offers daytime, nighttime, and overnight tour options.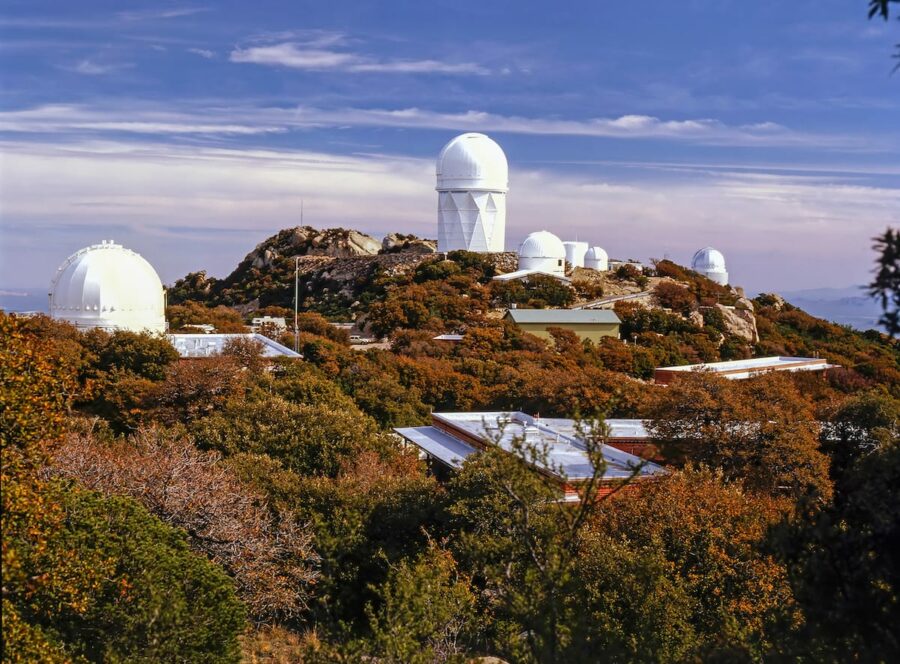 For daytime, you can take either a self-guided tour, where you can see the inside of the observatory, or take a guided tour, where you can check out one of the telescopes of Kitt Peak.
In addition to everything astronomy-related, they also have a gift shop with beautiful gifts as well as panoramic views of the surrounding mountains.
The observatory is temporarily closed to the public due to the effects of the Contreras Fire on the site, but be sure to check the website closer to your trip to see when the observatory opens.
Day 2 in Tucson
6. Saguaro National Park
The saguaro cactus is a famous symbol of the American Southwest. This area, in addition to being home to the nation's largest cacti, also has a variety of distinct plants that are unique to a tiny portion of the US.
This national park promises unique views of the fascinating nature of Arizona, making it a worthwhile visit over the weekend.
Well-known hiking trails here are Freeman Homestead Trail, Loma Verde Loop, and Wild Dog Trail – all featuring desert landscapes with majestic plants.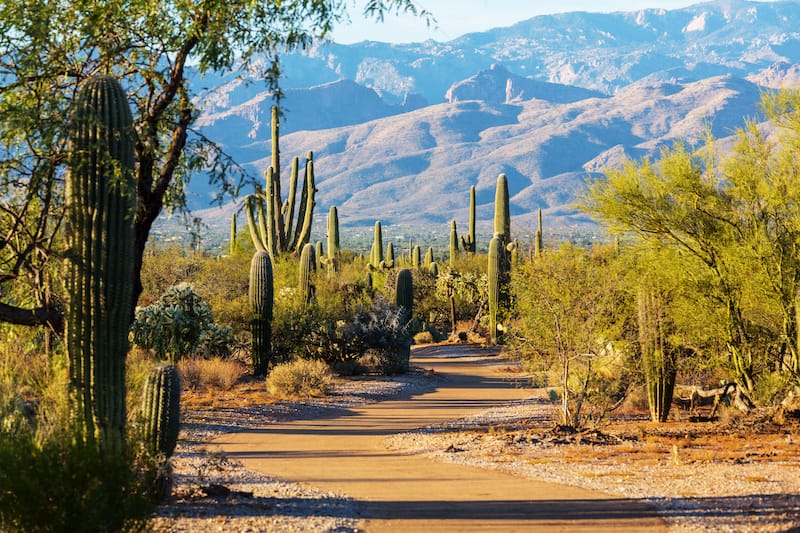 If you're really looking for a unique adventure, consider going deep into the rugged wilderness by backcountry hiking or camping.
Saguaro National Park is also a perfect sunset location, especially Tanque Verde Ridge trail (east side) or Gates Pass (west side). Keep your camera handy to capture the beauty all around!
7. Mt. Lemmon Half Day Rock Climbing or Canyoneering
You can definitely say your weekend trip to Arizona was epic if you take a half-day to explore Mt. Lemmon by rock climbing or canyoneering.
A tour is a great option because they provide all the necessary equipment and guidance.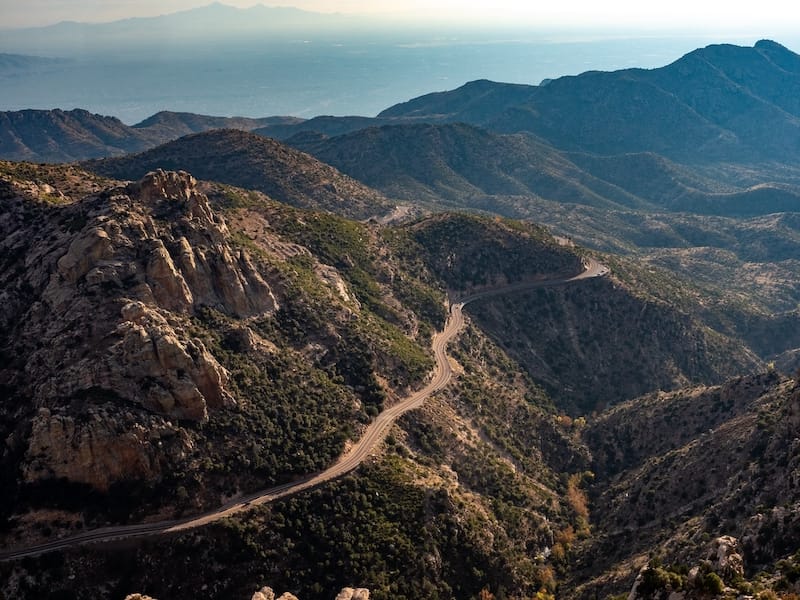 This tour, which takes around 4-5 hours, is accompanied by quality guides and top-of-the-line climbing gear. The tour is suitable for any skill level and includes climbing a rock wall or rappelling down a waterfall in the highlands west of Tucson.
Visitors say this tour is definitely worth spending half a day of your weekend in Tucson!
>> Click here for tour rates and availability
8. San Xavier del Bac Mission
San Xavier del Bac Mission, a Spanish Catholic mission, is the oldest European building in Arizona.
It was founded with the goal to serve the local community and has done so to this day.
An extraordinary example of Spanish colonial architecture, the mission hosts around 200,000 visitors each year and is a well-known pilgrimage site.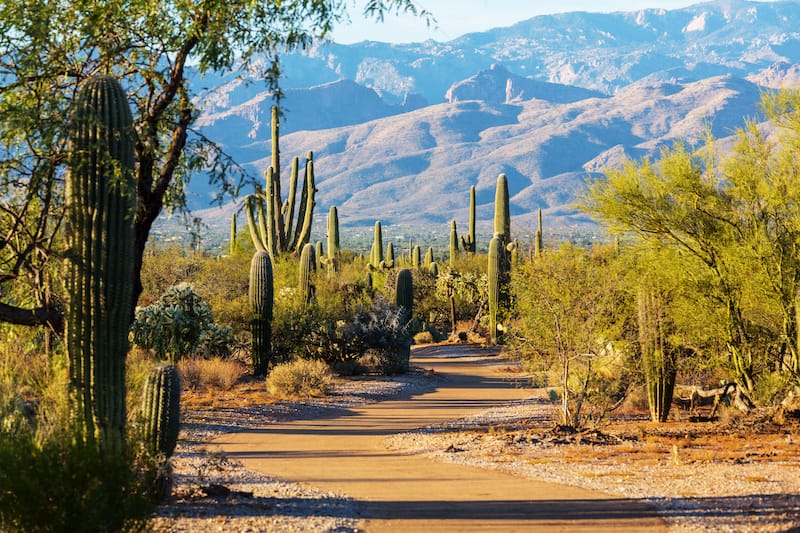 Everyone is welcome to attend Mass here, but holding special events such as weddings and baptisms are reserved for the local community only.
Address: 1950 W San Xavier Rd, Tucson, AZ 85746
9. Pima Air and Space Museum
This museum is one of the largest non-government-funded aviation and space museums in the world.
It was founded in 1976, but is still growing its collection to this day and features around 400 historic aircrafts and six indoor exhibit hangars, three of which are dedicated to WWII only.
While here, make sure you visit the Arizona Aviation Hall of Fame – housed in the Dorothy Finley Space Gallery.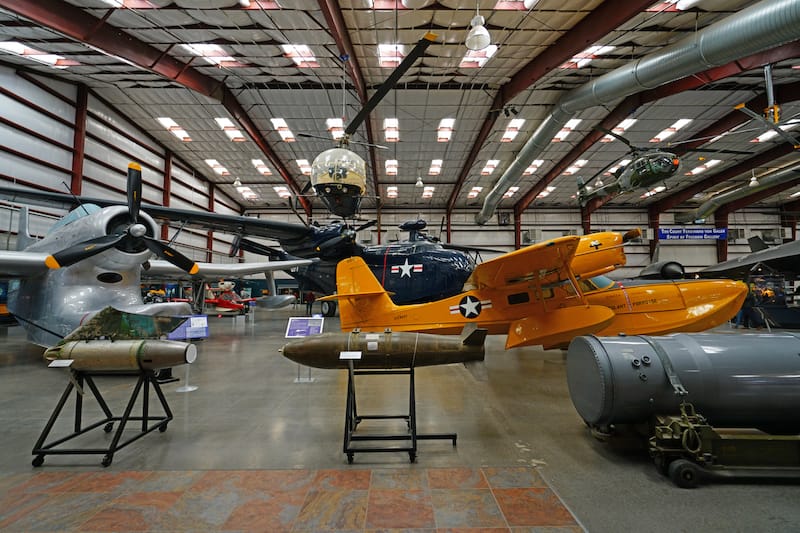 It presents museum visitors with a one-of-a-kind opportunity to learn about notable Arizona aviators.
The one-day ticket price to the museum for adults is $19.50. It welcomes guests seven days a week and is open year-round.
Address: 6000 E Valencia Rd, Tucson, AZ 85756
10. 1912 Brewing Company
The 1912 Brewing Company was founded almost 20 years ago and has been a success ever since.
Their offerings are local beers and wines, which can be enjoyed in their conveniently located taproom and copper bar.
There are 20 beers on tap, wine on tap, cider, mead, and snacks like chips & salsa, popcorn, and locally-made tamales. Here you can sit and play chess or checkers while drinking with friends or relatives.
They also regularly organize events and collaborations, so make sure to check out their calendar when you're there.
Address: 2045 N, Forbes Blvd Ste 105, Tucson, AZ 85745
11. Mezcal Tasting
While in Tucson, you should definitely try a few varieties of mezcal, a distilled alcoholic beverage made from maguey.
If you don't know mezcal, you might recognize tequila, which is a type of mezcal. While in Tucson, you can check out a few different places for a mezcal tasting.
One of those places, ​​El Crisol, is a mezcal bar featuring around 133 labels and hosts a mezcal tasting each Thursday at 7 pm.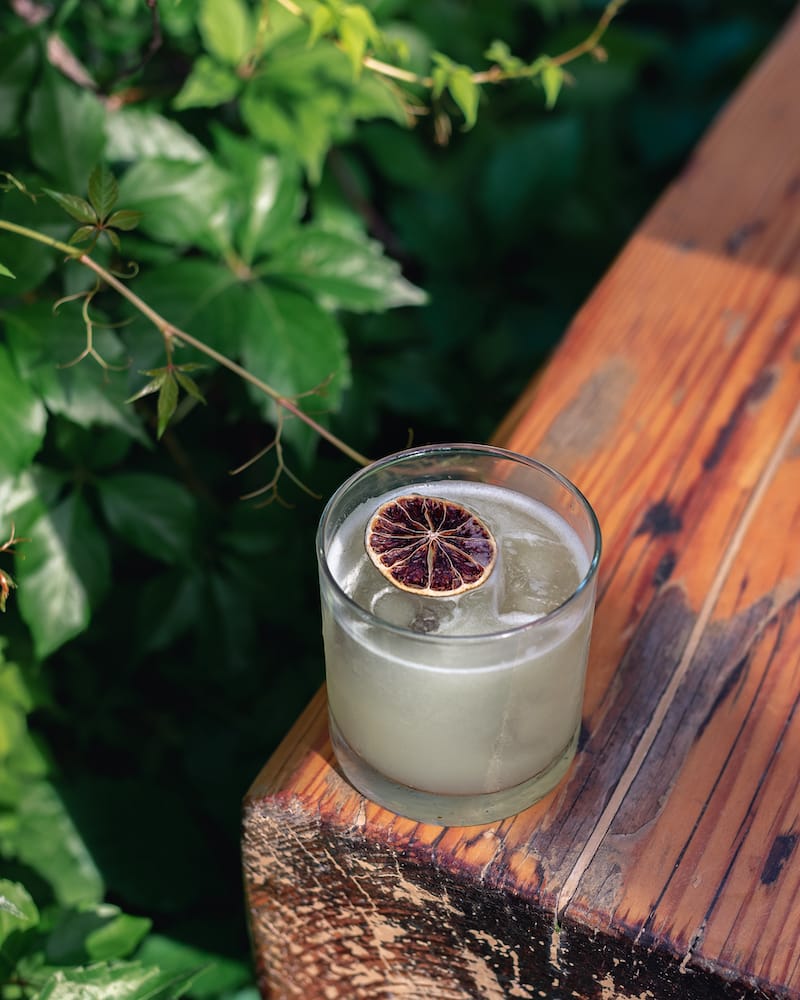 Another great place to try is Penca, which is a restaurant and a bar with everything Mexican, also including over 30 mezcals.
Last but not definitely not least, you can try Agustin Kitchen. It has 9 mezcals, bacanora, sotols, and overall a huge Mexican spirit.
More Than 2 Days in Tucson?
If you have 3 days in Tucson (or more), these are some additional things to do and activities we recommend!
12. Exploring the Sonoran Desert
A great way to experience and learn more about the beautiful Sonoran Desert is to take a guided tour.
On this tour, you'll go through Gates Pass and get acquainted with the rich culture of the area with the help of the Arizona-Sonora Desert Museum.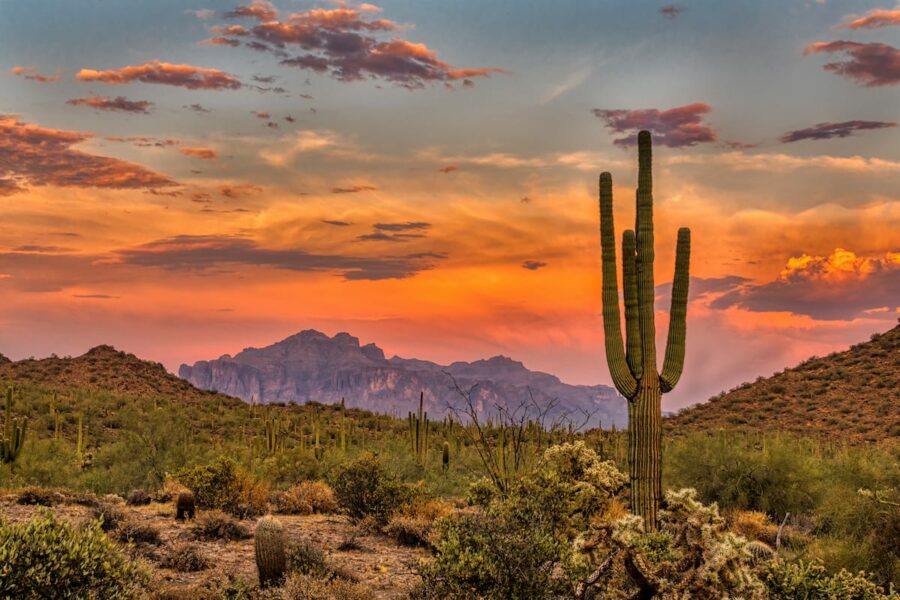 Moreover, you'll make a stop at a beautiful spot inside Saguaro National Park and at Tohono Chul Park, where you can enjoy a unique lunch prepared with plants of the desert.
>> Click here for tour rates and availability
13. Taco Bike Tour
Here in Tucson, cycling enthusiasts can find a really fun type of tour– the taco tour!
This tour takes you not only through the city streets by bike but also to several delicious eateries. You'll try out the best 6 tacos in the area full of authentic local flavor.
The great thing about this tour is that even though you eat a lot, you also ride a lot, so it's a perfect balance of great eating and exercise.
Apart from tacos, you can also taste a Sonoran hotdog, which is a Tucson must-try.
Note that this tour offers both afternoon and evening time slots to make it more accessible for visitors.
>> Click here for tour rates and availability
14. Tucson Botanical Garden
With a mission to connect people to not only nature but also art, science, history, and culture, this botanical garden is a tranquil hideaway in the heart of Tucson.
October to April have moderate temperatures, making it a great time to visit this location.
The flora and fauna here are very rich – you'll see hummingbirds, quail, cardinals, butterflies, olive trees, dwarf citrus trees, cacti, and much more.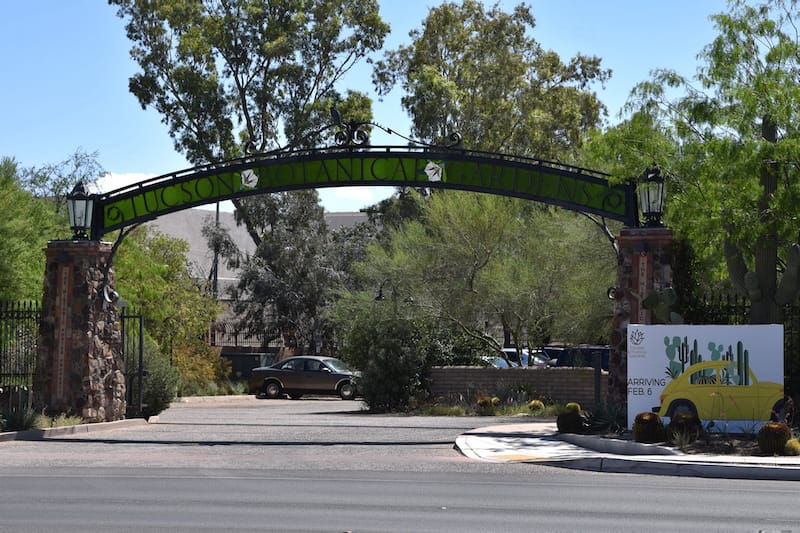 There are also on-site dining spots like Edna's Eatery, where you can rest and have a delicious meal.
In addition, the garden offers several certificate programs and classes on the topics like gardening, wellness, art, nature, and ecology. The adult ticket price for daily admission to Tucson Botanical Garden is $15.
Address: 2150 N Alvernon Way, Tucson, AZ 85712
15. Stay in the Lodge On The Desert
Located only about 10 minutes away from the University of Arizona, the Lodge On The Desert is an amazing accommodation option for a weekend in Tucson.
The design of the hotel closely resembles a desert and it has a quite unique feel.
Apart from the comfortable and well-equipped rooms, the place offers a highly-rated restaurant, where guests can enjoy breakfast, lunch, and dinner daily.
Main property facilities include an outdoor fireplace, a sun terrace, business facilities, and a fitness center.
The highlights of the lodge are its beautiful swimming pool and hot tub, which operate year-round and are the ultimate relaxation spot of the hotel.
Address: 306 N Alvernon Way, Tucson, AZ 85711
>> Click here to check rates and availability
Did we miss any places that are a must for a Tucson itinerary? Let us know how to spend the perfect weekend in Tucson in the comments. Thanks!
More Arizona and Tucson Travel Guides
Pin this Weekend in Tucson Travel Guide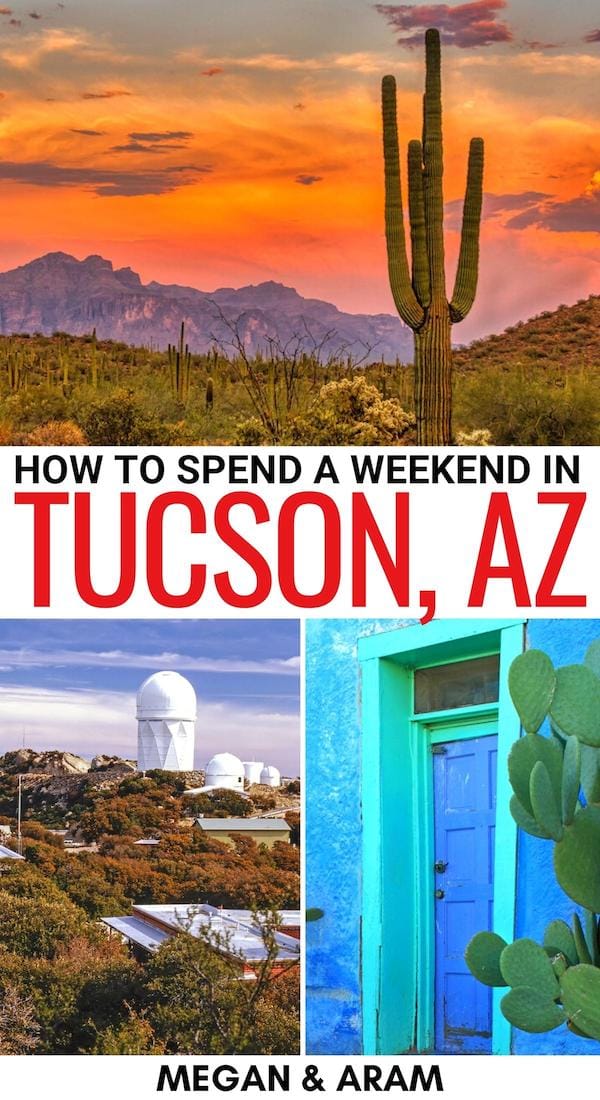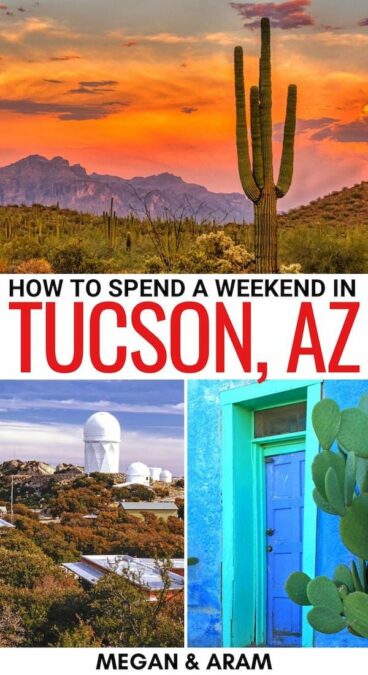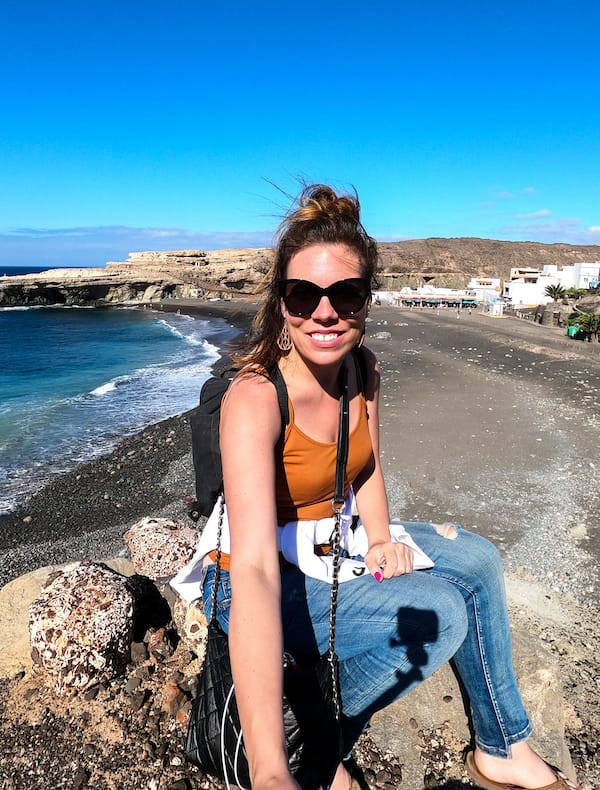 Megan is a travel blogger and writer with a background in digital marketing. Originally from Richmond, VA, she now splits her time between Frankfurt, Germany and Arctic Finland after also living in Norway, Armenia, and Kazakhstan. She has a passion for winter travel, as well as the Nordic countries, but you can also find her eating her way through Italy, perusing perfume stores in Paris, or taking road trips through the USA. Megan has written for or been featured by National Geographic, Forbes, Lonely Planet, the New York Times, and more. She co-authored Fodor's Travel 'Essential Norway' and has visited 45 US states and 100+ countries.