Ostuni, Italy is one of the most picturesque places in Puglia! This is a guide to things to do in Ostuni that includes food, sightseeing, and much more.
If you're looking for what to do in Ostuni, one of the best Italy hidden gems, this is the travel guide for you!
Puglia is a region of Italy that is full of insanely beautiful towns and cities. As you travel down the coast, each town seems to be more charming than the last.
One of the most amazing places to visit in Puglia is the hilltop city of Ostuni, often referred to as The White City.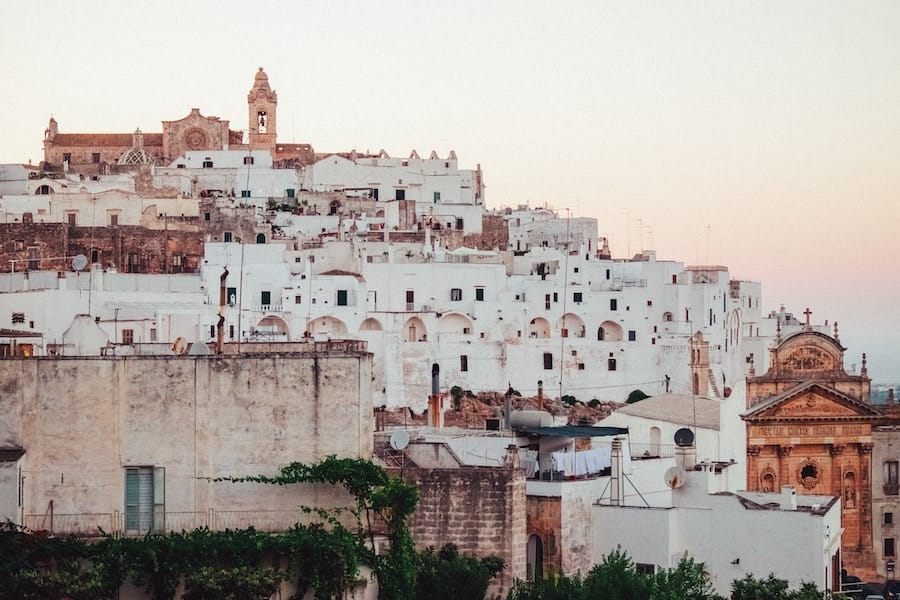 Ostuni has long been popular with tourists who are drawn to the city's aesthetically pleasing whitewashed buildings that rise high above olive groves.
I went there when I was in Puglia and I was amazed at how such a place exists and it still is relatively undiscovered compared to other places in Italy.
There are many things to do in Ostuni and I really believe that the city warrants more tourism than it currently receives.
Best Ostuni Tours (to Maximize Your Time!)
If you're looking for something more organized when in Ostuni and the surrounding area, here are some awesome Ostuni tours you should check out.
These tours will help you maximize your time, which is especially important if you only have a short amount of time in the city! We listed a variety so that you can pick which one is most suitable for you (and many include multiple places!):
Olive oil tasting in Ostuni (top-rated tour!)

Best Things to Do in Ostuni, Italy
1. Walk the City Walls of Ostuni
The city of Ostuni is split into two parts- the more modern, lower part of the city and the old town that is perched on top of the hill.
Surrounding the old part of Ostuni are amazing city walls that were built and rebuilt throughout the city's history as wars and natural disasters caused damage to the walls.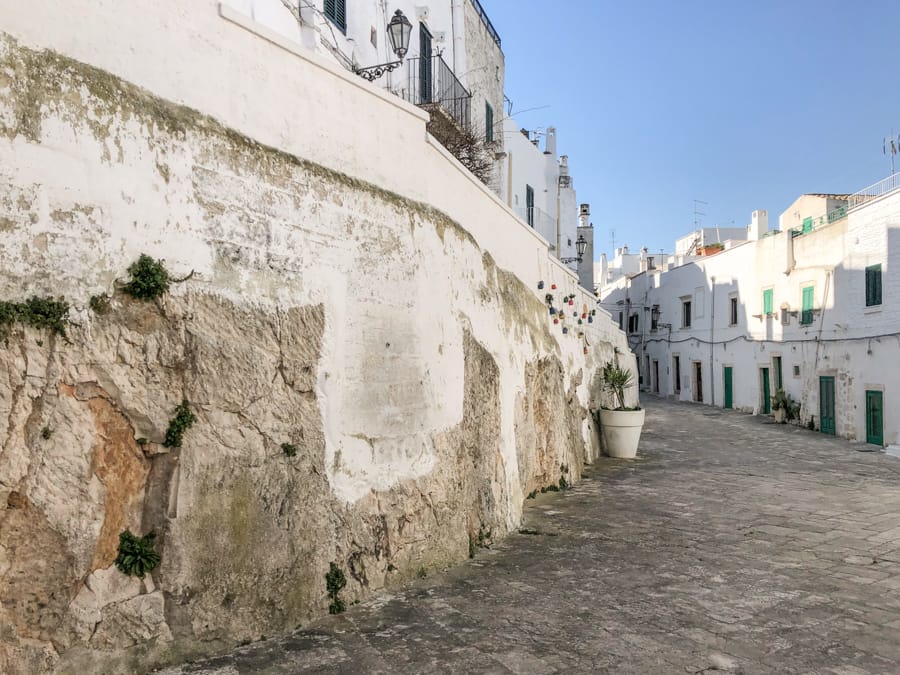 Originally, there were four gates to enter the city, however, these days only two still exist, Porta Nova and Porta San Demetrio.
The best way to find these gates is to spend time walking along the walls and admiring the views out over the ancient olive groves.
2. Drink Ostuni White Wine
The region around Ostuni is famed for producing incredible white and rose/red wines.
The wines from this region are so special to that area that in the 1970s, the wines gained a protected status meaning that only those produced in a small region can be referred to as Ostuni wines.
The protected status applies to two different wines produced in the area. Try the Ostuni Blanco (a white wine) and Ostuni Ottavianello (a Rose style wine).
They both have to be produced under strict rules and using certain amounts of different grape varieties from the area.
In the old town, you will find the delightful wine bar Vinicolo, where you can try these spectacular Ostuni wines.
3. Try Ostuni Olive Oil
As you look out over the countryside from the old town, you will see miles upon miles of ancient olive groves.
Puglia is responsible for 40% of Italy's total olive oil production (as if I didn't need another reason to move there) producing some of the finest extra virgin olive oil that money can buy.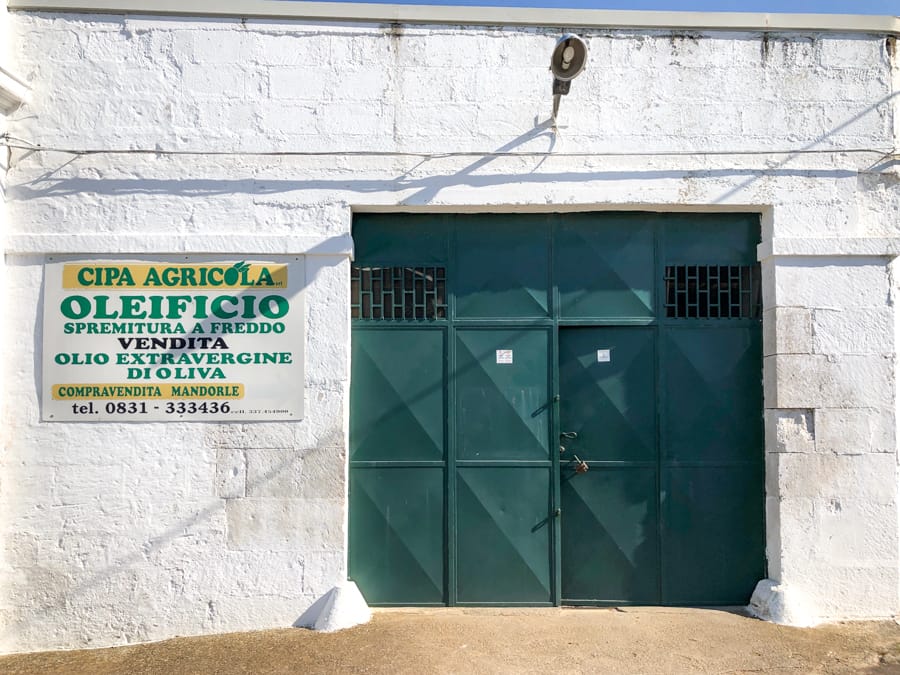 A lot of that production is done in the area around Ostuni, where the hills and flatlands have different soil types allowing for variations of the olive oil.
As you wander through Ostuni's maze of little streets, you will find plenty of places selling olive oil or local craftsmen using wood to create amazing tools such as cooking utensils.

When I was in Ostuni, I actually walked from the town on the hill to the train station and this took me through olive groves and past many olive oil factories.
Strangely, that walk remains one of my most vivid memories from my time in Puglia and it reminded me of why I love Italy so much.
If you want to learn more about olive oil production in Ostuni, try taking this tour which gives insight into its history, production, and special Apulian taste.
4. Visit the Ostuni Cathedral
In the center of Ostuni, you will find the gorgeous Ostuni Cathedral. The current cathedral was built in the 15th century after a large earthquake in the region damaged the previous cathedral.
The cathedral is relatively unique for the region as it is built in a more Gothic style, whereas most others in the region are more Romanesque.
The outside of the church is adorned with a large stone rose window at the front and it is incredibly intrinsically detailed.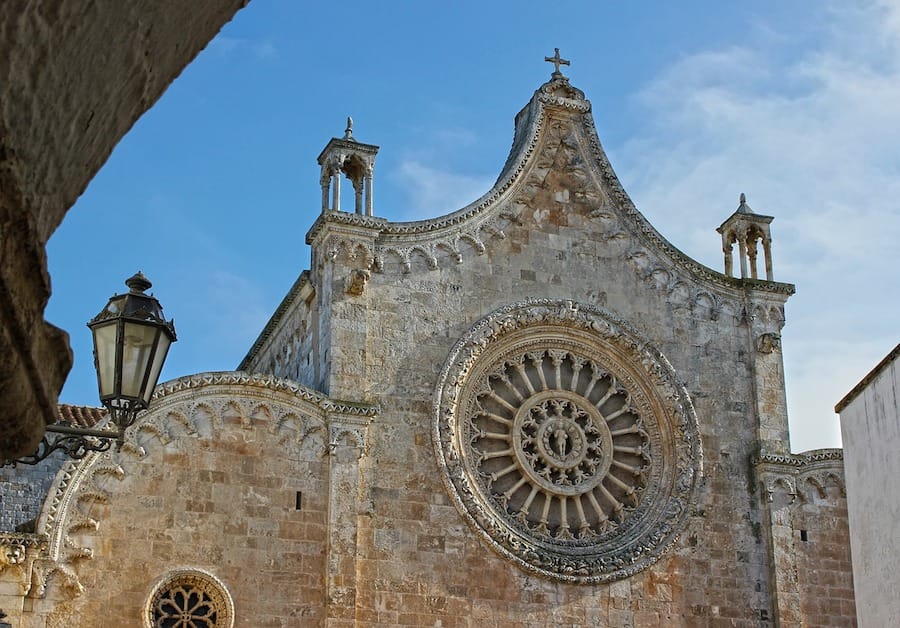 The interior of the cathedral is even more impressive with frescos and large artworks covering the walls and ceilings.
The archives of the cathedral hold impressive collections of parchments… some of which are from the 12th century.
5. Watch the Sunset in Ostuni
To really appreciate the beauty of the White City, I full-heartedly recommend heading a little out of the city and watching the sunset over this beautiful place.
The best spot to see the jaw-dropping city doused in the golden light of sunset is from Corso Vittorio Emanuelle II.
Head up the street away from the old town until you can find a decent viewpoint. From there, wait for the sun to set on the hill as the whitewashed houses turn pink and golden when they become doused with light.
I also recommend checking the views from there during the day as the city is pretty good at being beautiful no matter what time it is.
I have also heard that if you head towards the coast and look at the sunset from far away over the city it is also breathtaking, however, I have not personally done this.
6. See the Palaces of Ostuni
Throughout the old town of Ostuni, you will find several grand palaces, each with its own unique style and history.
In the same Piazza as the Ostuni Cathedral, you will find the Palazzo Vescovile and Palazzo del Seminario.
The two palaces are connected with an ornate arched loggia that has been beautifully decorated. Inside the Palazzo Vescovile, you will find the remains of a 12th-century Norman Castle that was destroyed in 1559.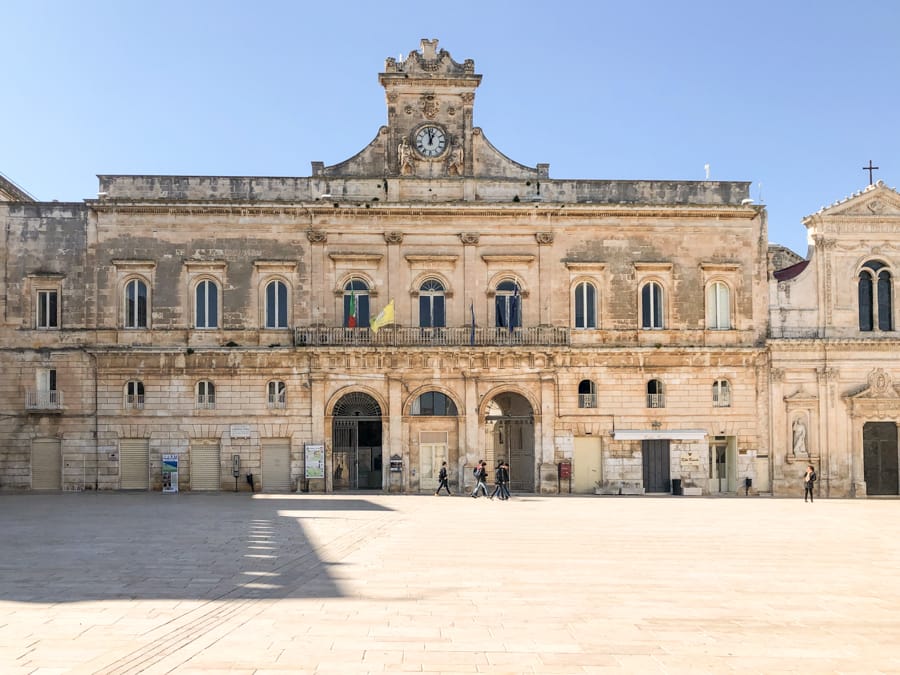 The other main palace in the city is Palazzo Municipale, located in the Piazza della Libertà.
Originally starting off life as a 12-century convent, the building underwent several extensions and redesigns over the years, including having an entirely new facade built.
The palace now acts as Ostuni's town hall but is still a beautifully imposing building that retains a historical significance that should be admired.
7. Go to Piazza della Libertà
There is nothing more quintessentially Italian that enjoying a delightful piazza. The Piazza della Libertà is one of the most beautiful piazzas in the country.
The center of the piazza is dominated by a 20m high 18th-century column with a statue of Saint Oronzo sitting on top of it.
In the middle, you will also find ancient ruins fenced off, reminding you just how old this city is.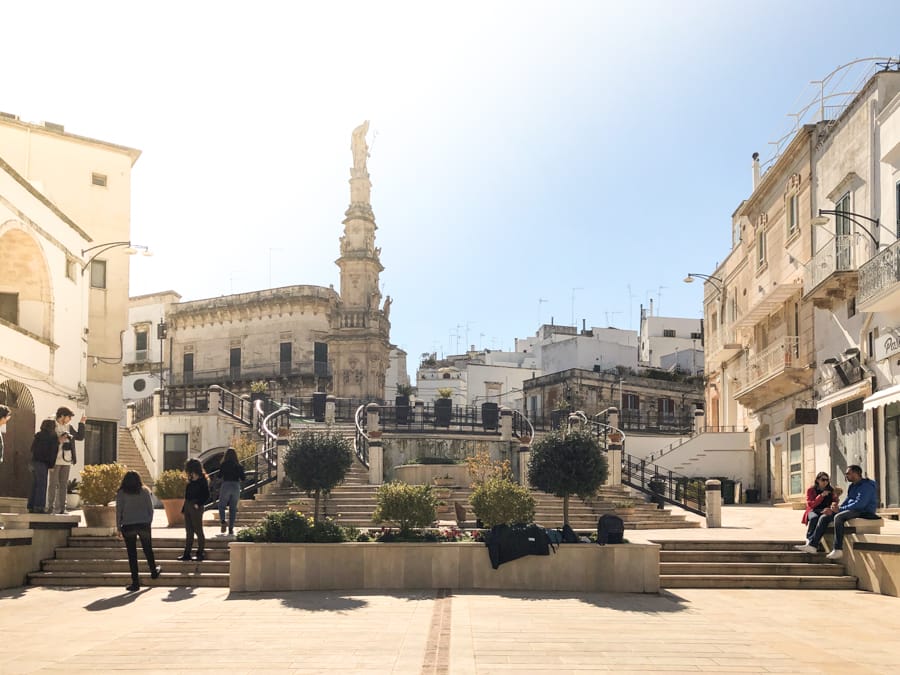 On one side of the square is the Palace Municipale, with the rest of the square filled with beautiful cafes and bars where you can enjoy a drink and breath in the history of this stunning town.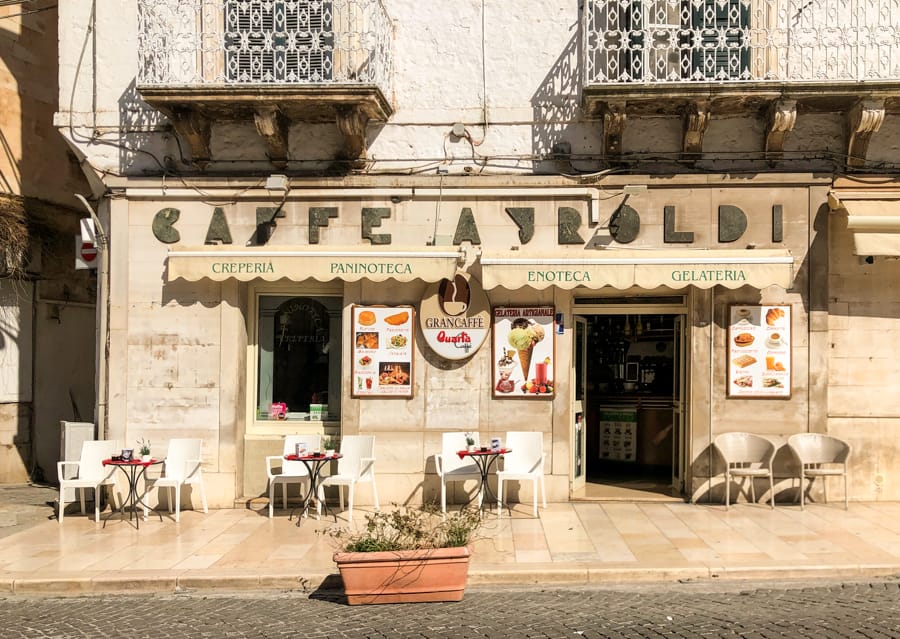 In the evenings, the square really comes alive with locals coming out to enjoy the warm Italian evening with a glass of wine and any entertainment that might be happening that day.
8. Stroll around the Ostuni Old Town
Sitting on top of a hill, Ostuni's old town is a labyrinth of winding streets going between the whitewashed buildings.
It's super easy to get lost as you meander around the old town but that's part of the magic.
Narrow streets, that you would struggle to drive a moped through, open up into beautiful piazzas with ornate monuments and ancient buildings.
In the small alleyways, you will find awesome little vendors selling all kinds of homemade wares and little trinkets that make the perfect souvenirs.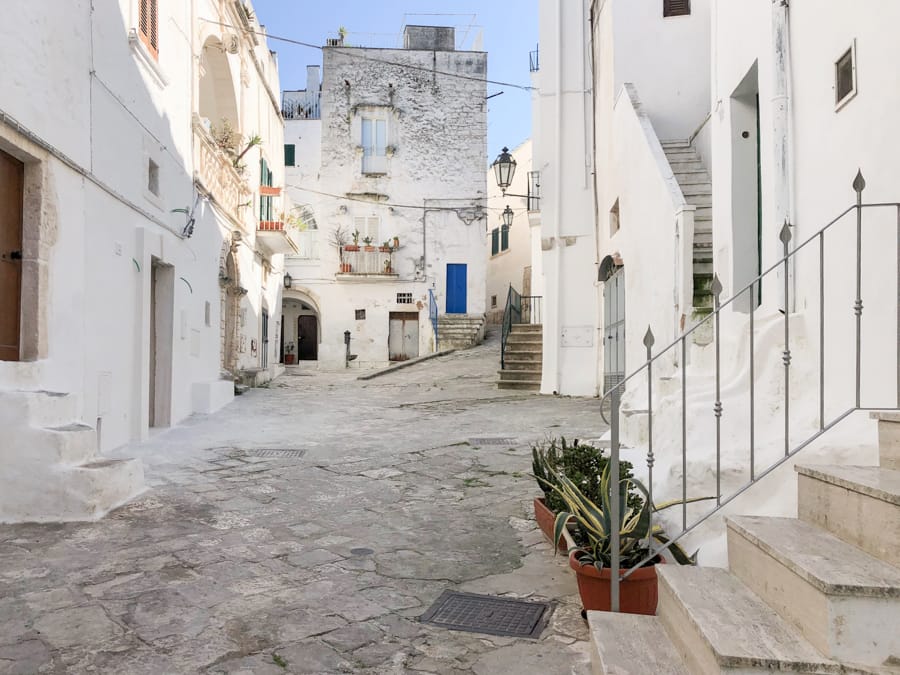 In the cute little squares, you can find coffee shops and gelato places where you can grab a drink and a bite to eat and watch the world go by peacefully.
As evening set in over the old town head for a glass of Ostuni's famous wine and enjoy the charming nightlife of the city.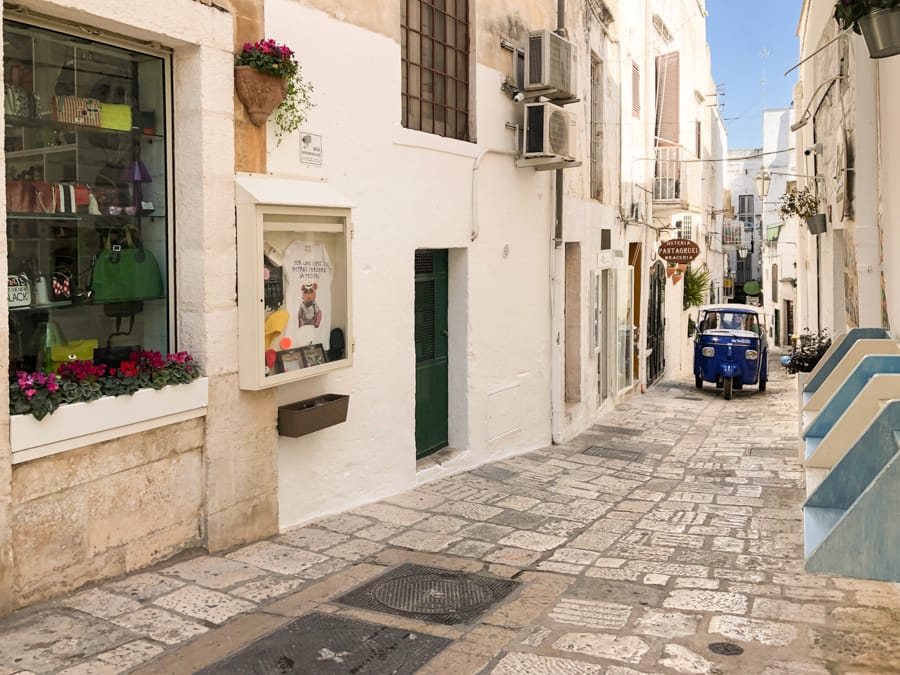 If you want to learn more about the city, you can take a brilliant walking tour of the city where an expert guide will take you through the city and to an amazing gelato, then I recommend taking this tour.
9. Stop at the Ostuni Market
Every Saturday, Ostuni hosts a wonderful market selling the freshest produce. The market only takes place until 1pm on Saturdays and is located in the new part of the city.
It is a great place to get a feel of the real way of life in this city and get away from the more touristy part of town.
Part of the market is dedicated to selling knock-off clothing and tat but the best part is the food area where you can purchase affordable and fresh produce, tasty cheeses, and meat.
If you are renting an apartment in Ostuni, I recommend heading to the market on Saturday to stock up on the ingredients to make an enjoyable meal.
10. Learn To Cook the Apulian Way
In my opinion, one of the best things to do when you visit a new place is to take a cooking class.
Italian food has its roots so deeply in home-style cooking, that there is nothing better than having a true Italian chef teach you local recipes.
During a four and a half hours cooking course, you will learn to make several traditional Apulian dishes that will wow your friends when you get back from your trip.
You will need to pick between two menus to learn to cook and all ingredients are available at the school.

The excursion includes hotel pick up and lunch at the cooking school, at the end of the course you will be provided a certificate so you can prove to any doubters that you are an awesome Apulian chef.
>> Click here for cooking class rates and availability
Ostuni FAQ (and Practical Info)
Ostuni History
Just a few fun Italy facts about Ostuni so you can understand the area and city a bit better.
The area around Ostuni has been settled since the Stone Age with the first large settlement built by the Messapians.
After the destruction of the town by Hannibal, the Greeks rebuilt the city and gave it the name Ostuni.
After the Roman Empire came and went, the city came under Norman control and they built the fortified hilltop city.

In later years, Ostuni became a refuge for artists and creative people and, as a result during this time, the city flourished and enjoyed a more stable history than many other towns and cities in Puglia.
Even though the town flourished for much of its history, it was not spared being devastated by the plague.
Infected houses were whitewashed with chalky paint and it consequently became apparent that the calcium in the paint had antibacterial properties and those living close to the whitewashed houses were not contracting the plague, hence why the houses are now all painted white.
Ostuni Today
Modern-day Ostuni attracts tourists as people flock to the city to see the stunning, whitewashed buildings and get lost in its old town.
The town is popular throughout the year thanks to the temperate climate, however, during the summer months, the population swells to over 100,000 due to the sheer volume of expats who own property in the vicinity.
Set a few miles inland from the coast, I highly recommend that you make Ostuni part of your Puglia itinerary.
There is plenty to keep you busy in the city and I have put together this handy guide to the best things to see in Ostuni.

How to Get to Ostuni
Ostuni is 52 miles southeast of Bari and is incredibly easy to reach. There are two main methods for reaching Ostuni:
Drive to Ostuni by Car
If you have rented a car for your Puglia trip, then reaching Ostuni from Bari couldn't be easier.
The one hour and 10-minute drive from Bari will start as you make your way onto the SS16 and follow it in the direction of Brindisi/Lecce.
Take the exit towards Pilone and then follow the SP19 to Ostuni. I advise using a Sat Nav or Google Maps to navigate your way there as these directions are very rough.
>> Click here to rent a car in Italy
Take the Train to Ostuni
The other way to reach Ostuni from Bari is by train.
There are regular trains that depart from Bari to Ostuni that take between 40-55 minutes and cost as little as €5.70 (if you take the intercity train it costs 11 Euros and takes about 55 minutes).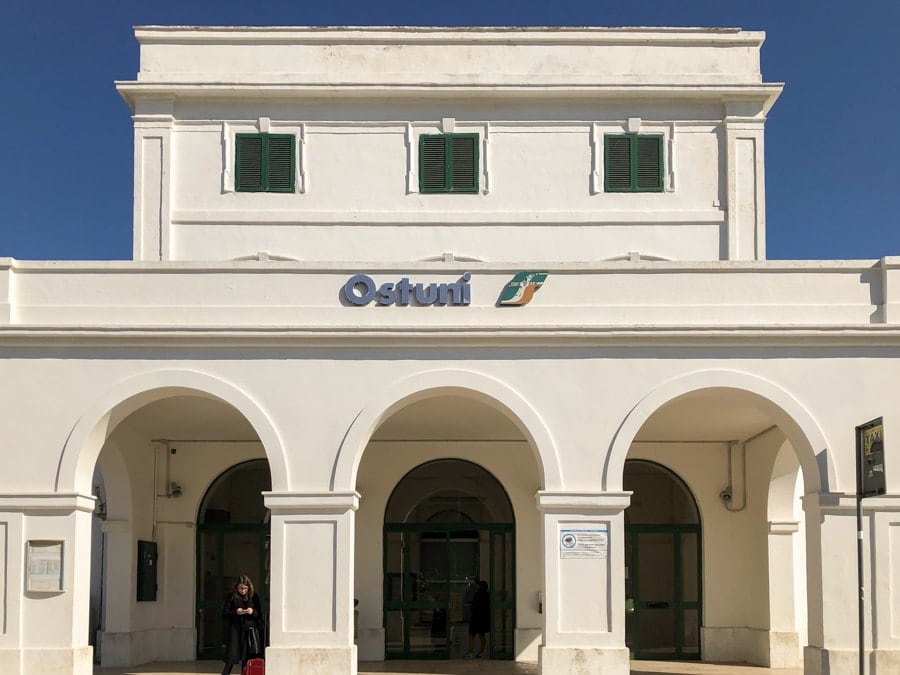 Between 10am-12:30pm there are no trains between Bari and Ostuni, I am not sure why but I got caught out by this curiosity during my trip to the area.
For more information about this journey, check my guide, how to get to Ostuni from Bari.
What to Bring to Ostuni
There are many great things to bring along with you to Puglia and Ostuni. These are a few of our top recommendations… from power adapters to helpful resources.
Italy power adapter: Italy uses a different power adapter. They use this three-prong plug that is much smaller than the average European plug.
If you have tiny plugs that are European, they may fit… but I have learned that most electronics don't fit in Italy plugs and it's a pain in the butt if you don't prepare and bring an adapter ahead of time!
>> Click here to purchase an Italy power adapter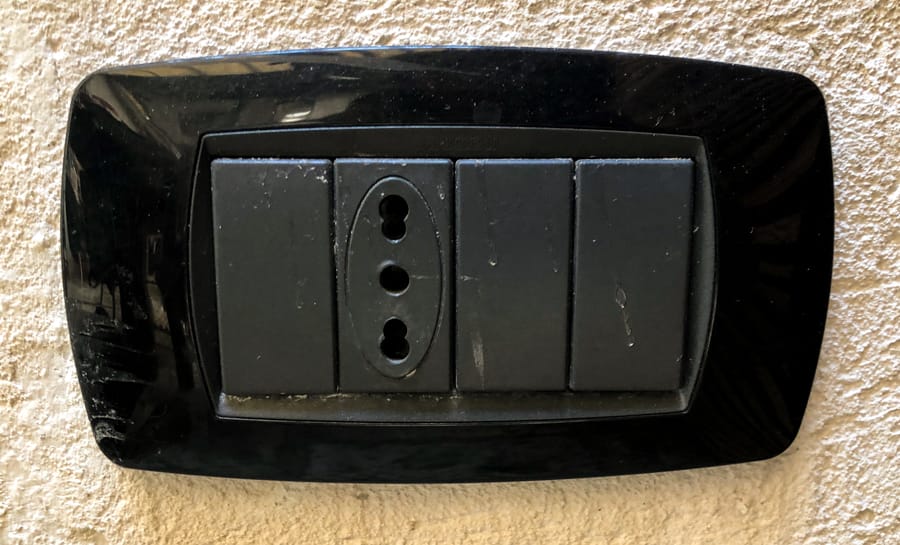 Power strip: One of my top tips for travelers is to bring a power strip with you… especially if you're traveling somewhere with different plugs.
Then, you only need to purchase one adapter and you can plug all of your electronics into the power strip with ease.
>> Click here to purchase a power strip for Italy
Fodor's Essential Italy guidebook: Our favorite guidebook recommendation for Italy is Fodor's Essential Italy.
The book is not catered toward any certain age group and they really give a lot of useful information and details for every place the book talks about.
>> Click here to purchase Fodor's Essential Italy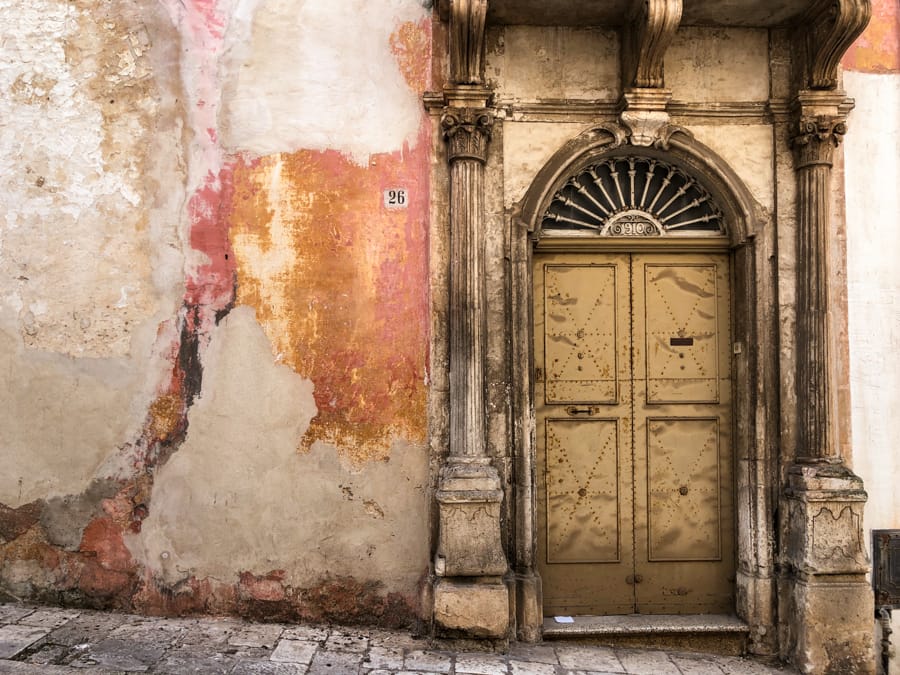 Italy Phrasebook: One day I'm going to learn Italian so that I finally know a beautiful language. Until then, I will continue traveling to Italy and using a phrasebook to impress the locals. You should do the same!
>> Click here to purchase an Italian phrasebook
Where to Stay in Ostuni
There are quite a few places to stay in Ostuni. These are our recommendations for all budgets that are hitting up the gorgeous Italian city:
La Sommità Relais & Chateaux (Luxury)
If you're into luxury accommodation and Michelin-star food, look no further than one of Ostuni's top places to stay, La Sommità Relais & Chateaux.
Located in the old town of Ostuni, this five-star accommodation is unbeatable and many rooms even offer views over the gorgeous Italian countryside.
>> Click here to check rates and availability
Hotel La Terra (Mid-range)
Located in a building dating back to the 13th century, Hotel La Terra offers a great stay for a fraction of the price of other places.
Included in your stay are a continental breakfast and a friendly atmosphere with comfortable rooms.
>> Click here to check rates and availability
White Stone Flats & Studios (Budget)
Located in Ostuni's old town are the White Stone Flats & Studios, apartment-like accommodation in the White City.
Each flat has a sofa and TV and all come at an affordable price for travelers going to Ostuni.
This is definitely a great value!
>> Click here to check rates and availability
If you're looking for things to do in Ostuni, this guide should be a great starting point!
While it definitely doesn't capture what to do in Ostuni in its entirety, you will definitely find some hidden gems on your own when there.
More Puglia Travel Guides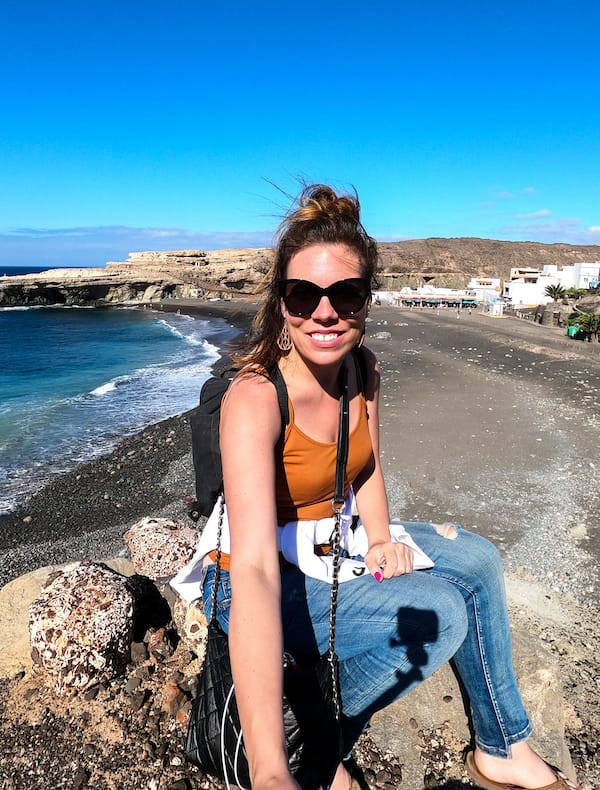 Megan is a travel blogger and writer with a background in digital marketing. Originally from Richmond, VA, she now splits her time between Frankfurt, Germany and Arctic Finland after also living in Norway, Armenia, and Kazakhstan. She has a passion for winter travel, as well as the Nordic countries, but you can also find her eating her way through Italy, perusing perfume stores in Paris, or taking road trips through the USA. Megan has written for or been featured by National Geographic, Forbes, Lonely Planet, the New York Times, and more. She co-authored Fodor's Travel 'Essential Norway' and has visited 45 US states and 100+ countries.