This site uses affiliate links, meaning that if you make a purchase through our links, we may earn an affiliate commission.


If you're looking for where to stay in Puglia, we highly recommend finding one of the many wonderful hotels in Polignano a Mare. This is our Polignano a Mare accommodation guide highlighting options for all budgets.
Click here if you're merely seeking things to do in Polignano a Mare instead or if you're looking for what to do if you only have one day in Polignano a Mare.
Below are our favorite hotels and guesthouses in Polignano a Mare:
AIRBNB: Another great way to get fantastic accommodation in Polignano a Mare is to crash at an Airbnb! There are many great Airbnbs in Polignano a Mare and they are sometimes a much better option on your trip than a hotel.
Haven't signed up for Airbnb just yet? It's never too late to create an account! You can save $41 by using my referral code.
POLIGNANO A MARE QUICK REFERENCE
Hotels in Polignano a Mare: Best Polignano a Mare Accommodation
Puglia's stunning coastline is a hotbed for adorable Italian towns that ooze history and charm.
The whole region of Puglia is easy to explore by both car and public transport, with great infrastructure and cheap train fares throughout the region.
One of the most amazing towns in the region is Polignano a Mare, a small gem southeast of Puglia's capital, Bari.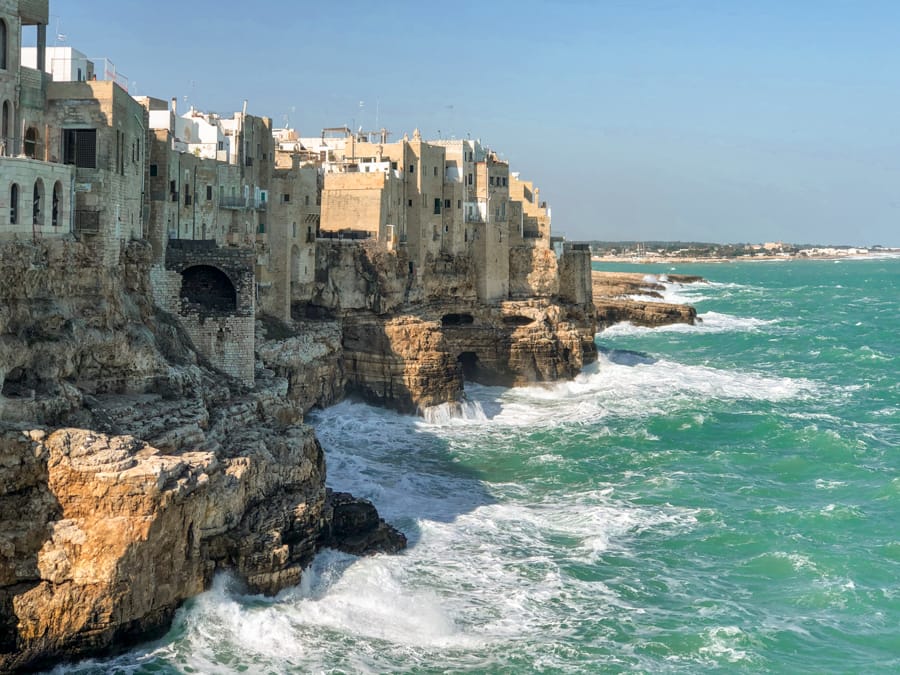 If you travel 25 miles southeast of Bari, you will reach the coastal town of Polignano a Mare. It has a long and rich history that dates back to the Stone Age.
During the Roman Era is when the town really exploded with the new trading route between Rome and Brindisi bring vast amounts of wealth to the city.
These days, modern Polignano a Mare is a tourist hotspot with people flocking to see the stunning, whitewashed old town sit dramatically above the depths of the Adriatic sea.
As the waves crash below gorgeous Polignano a Mare, the alleyways and streets contain a treasure trove of history and culture.
Keep an eye out for poetry painted on the stairways and walls. Discover the old Roman road that made this town so wealthy in the past as the bridge across the gorge still stands to this day.
Polignano is perfect for a day trip, but also a great place to base yourself or stay for a couple of nights.
Polignano a Mare is fairly small, but there are still plenty of places to stay- from luxury hotels in Polignano a Mare to charming bed and breakfasts with views over the sea.
To help you find the perfect Polignano a Mare accommodation for your budget, I have put together this guide of accommodation options for all budgets.
This is a guide to the best accommodation options for people looking for where to stay in Polignano a Mare, Italy.

Do You Need Travel Insurance for Italy?
We recommend booking your travel insurance before you set off for Italy. While the country is safe, it is better to be secure and have a backup plan.
We use SafetyWing for our travel insurance needs and suggest you do the same if you're seeking widespread coverage at an affordable cost. Their plans are easy to purchase and the support is absolutely sensational.
>> Click here to get an Italy travel insurance quote
What to Pack for Polignano a Mare
There are many worthwhile things to bring with you to Italy but the following are essentials that we think you should bring. ESPECIALLY the plug adapter!
Italy uses different plugs for whatever reason and your average European plug WILL NOT FIT into them. I have learned my lesson one too many times.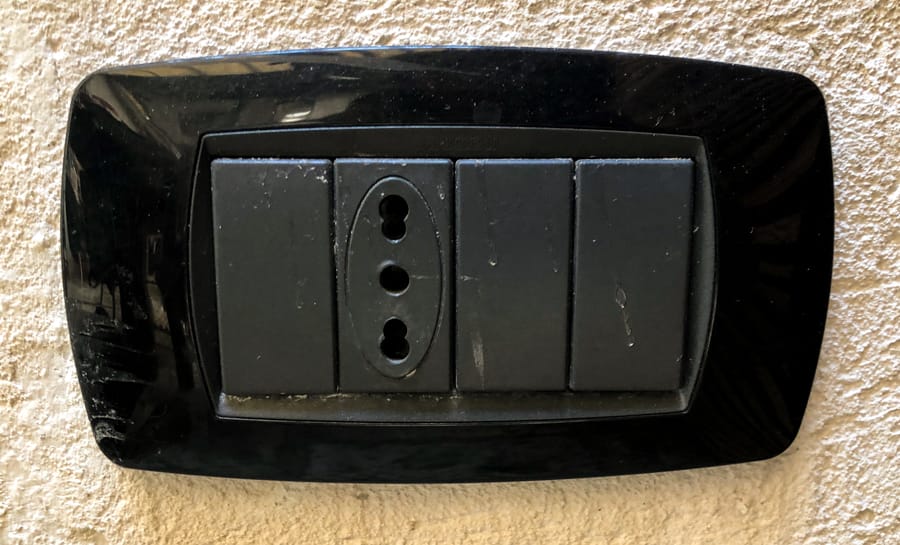 Here are some items we suggest toting along for your trip:
Power strip so that you only need one power adapter for Italy
Italian phrasebook so you can speak what I deem to be the sexiest language on the planet
Additional Puglia Reading
If you're looking to invest in a couple of additional books and resources prior to your trip, here are some great Puglia reads that can help you get excited (or cultured) before you jet off to Polignano a Mare and beyond:
Polignano a Mare Tours
There are a few wonderful Polignano a Mare tours that you may be interested in taking part in for easy travel and additional insight into the seaside beauty.
Here are our top recommendations:
Luxury Hotels in Polignano a Mare
Hotel Grotta Palazzese
The Hotel Grotta Palazzese is one of the most luxurious hotels in Polignano a Mare. Located on the edge of the cliff tops of the old town, the hotel has amazing views out over the sea. The 5* hotel has spacious bedrooms that overlook the sea.
The decor of the rooms has a chilled out ocean vibe with fantastic, blue marble floors bringing in the feeling of the sea below. The ensuite bathrooms are large and clean and include pretty much anything you could want in a bathroom.
Hotel Grotta Palazzese is home to one of the most renowned restaurants in the city that is located in the cave below the hotel. The fine-dining Polignano a Mare restaurant serves up elevated Italian cuisine utilizing the abundant fresh seafood that is available in Puglia.
The restaurant's setting provides a friendly vibe and ambiance as you look out of the cave and over the sea.
In the mornings, you can also enjoy delicious breakfast in this romantic setting, although not all room rates include breakfast. There is also an on-site bar where you can enjoy a nightcap or two after a hard day of exploring.
The location of the hotel is pretty much perfect as it is centrally located within the old town with some of the best views of the cliffs and old town.
Close to the hotel is the main beach in Polignano a Mare, Cala Porto, which is located below the hotel where you can see people cliff diving.
Hotel Grotta Palazzese offers a 24-hour reception and for an additional charge, you can book an airport transfer.
>> Click here to see rates and availability | Click here to see reviews on TripAdvisor <<

Suite 10 Home Design & Spa
In the newer part of Polignano a Mare, you will find the modern and sophisticated Suite 10 Home Design & Spa hotel.
This wonderful hotel in Polignano a Mare has giant suites that are full of creature comforts from flat-screen TVs and iPads to mini-fridges. The suites come with two rooms, with the bedroom separated from the rest of the suite and containing a large and very comfortable bed.
The rest of the suite is built for comfort with a sofa and many suites also come with a dining table.
They also come with a spacious outdoor area in the form of a personal patio, balcony, or terrace where you can sit and enjoy views over the city and coast along with epic sunsets and sunrises.
On-site, you will find a great little coffee shop where you will enjoy a daily breakfast that is included in the room rate. During the rest of the day, you can purchase hot beverages and snacks.
In the evenings, there is a bar where you can enjoy a relaxing drink to recharge your batteries. The hotel also has brilliant spa facilities where treatments can be booked for an additional charge.
Room service is also available, with the option to have groceries delivered to your suite.
The hotel is centrally located in Polignano a Mare, although in the newer part of town. However, the historical center is just a stone's throw away from the hotel.
There is no restaurant in the Polignano a Mare accommodation, so you will need to venture into the town for dinner. The main beach is situated a few hundred meters from the hotel.
>> Click here to see rates and availability | Click here to see reviews on TripAdvisor <<

Mid-Range Accommodation in Polignano a Mare
POSEA – Polignano Sea Suites
On the edge of the old town and close to the Roman bridge, you will find POSEA – Polignano Sea Suites, a modern and beautifully designed bed and breakfast in Polignano a Mare.
Definitely more to the higher-end of the mid-range price bracket, the B&B offers charming rooms with amazing views over the town or sea from the room's personal balconies. Along with a large bed, rooms come with TVs and private bathrooms.
The location of the Polignano a Mare hotel is ideal for diving into the old town as you can walk the alleyways and streets of this beautiful town and discover the poetry this city embraces (literally).
There is no restaurant at the B&B for dinner, so you will need to head out into the city to enjoy some fresh seafood or other delightful Italian dishes.
Within a short walk, you can reach the town's main beach. For those looking to get active, you can rent bicycles from the B&B, which makes for a brilliant way to explore the surrounding countryside.
There is also luggage storage available at the hotel. Airport transfers can be booked for an additional charge.
>> Click here to see rates and availability | Click here to see reviews on TripAdvisor <<

Dimora Pascali
Dimora Pascali is located close to the contemporary art gallery from which it has taken its name. The charming little hotel has wonderful rooms, each with their own individual style.
Each of the cozy rooms includes air conditioning and a flat-screen TV, as well as an ensuite bathroom. Rooms also include delightful balconies that provide epic views over the city and coast.
On-site, you will find a small coffee house and a restaurant that serves up both breakfast and dinner. Breakfast is included in most room rates at Dimora Pascali and in some of the higher rates, you will also have dinner included (comprised of local dishes).
Near the hotel is a private beach and wellness center where B&B guests receive discounted rates for beach use and spa treatments.
The B&B is a family run business, so there is no 24-hour front desk. Check-in is available until 10pm. Guests can rent bikes from the property to explore the surrounding areas and enjoy the Puglia countryside.
If you need an airport transfer, the Polignano a Mare B&B will be happy to organize it for you for an additional charge.
>> Click here to see rates and availability | Click here to see reviews on TripAdvisor <<

Santo Stefano Home & Breakfast
Santo Stefano is an awesome little B&B located in the historical center of Polignano a Mare. The interior of the B&B is rustic with exposed stone walls tying the rooms in with the aesthetics of the surrounding town.
Each room is simply decorated and includes various modern amenities such as TVs, fans, and fridges. Every room has its own personal balcony where you can enjoy stunning views over the town or the tranquil blue waters of the Adriatic.
Each room also has its own private bathroom.
Everything morning, a lovely breakfast is served in the rooftop dining area where you are greeted with panoramic views over the town and out to sea.
Centrally located, Santo Stefano Home and Breakfast is the perfect launchpad to explore the joys of the Jewel of Puglia. If you are looking to relax for the day, Cala Porta Beach is just around the corner from the hotel and can be reached in a couple of minutes.
In the evenings, there are plenty of places where you can enjoy delicious local dishes for dinner.
As the B&B is family-run with a limited staff, check-in finishes at 8pm (although for an additional charge it could be possible to check in later).
They will happily arrange various tours for you such as biking or walking and can even sort out cooking classes so you can return with the knowledge of how to cook local specialties.
>> Click here to see rates and availability | Click here to see reviews on TripAdvisor <<

Budget Guesthouses and B&Bs in Polignano a Mare
Polignano is a small town and while there is a decent amount of accommodation throughout the city, prices tend to be relatively high as pretty much all hotels in Polignano a Mare are centrally located.
However, I have managed to find a couple of places that are in a lower price bracket.
ZI' MARI' – Via Roma
In the center of the old town, you will find the lovely little guesthouse Zi' Mari'. The guesthouse is pretty simple and basic- you will get a room with the essentials and a nice bathroom with free toiletries to use.
It is important to note that the room is pretty small and cozy, but perfect for a few nights stay.
In the rate of the room, you will receive vouchers for a nearby coffee bar where you can get a light breakfast.
Otherwise, the central location of the room is perfect for exploring Polignano a Mare with all the main sights close by. The owners of the guesthouse are very friendly and attentive.
>> Click here to see rates and availability <<
Casa della Nonna
A darling little B&B in Polignano a Mare located on the southeastern edge of the old town.
The small bed and breakfast has a limited number of rooms which are all comfortable and cute with nice finishing touches, like exposed wood to soften the feel of the room. There are private bathrooms available for each room.
Breakfast at a local cafe is included in the price of the room at Casa della Nonna, although, as a warning, this is a pretty simple breakfast of a hot drink and pastry so don't expect something huge.
In the Polignano a Mare accommodation is a shared kitchen where you can cook up a little storm with some local produce. Outside, there is a shared garden area with a BBQ- a perfect place to chill out in the evenings after a long day of exploration.
The B&B offers bike rentals- an exciting way to explore the town and the unbelievable Puglia countryside. Take some time to cycle to the coast and find secluded and relaxing beaches.
>> Click here to see rates and availability | Click here to see reviews on TripAdvisor <<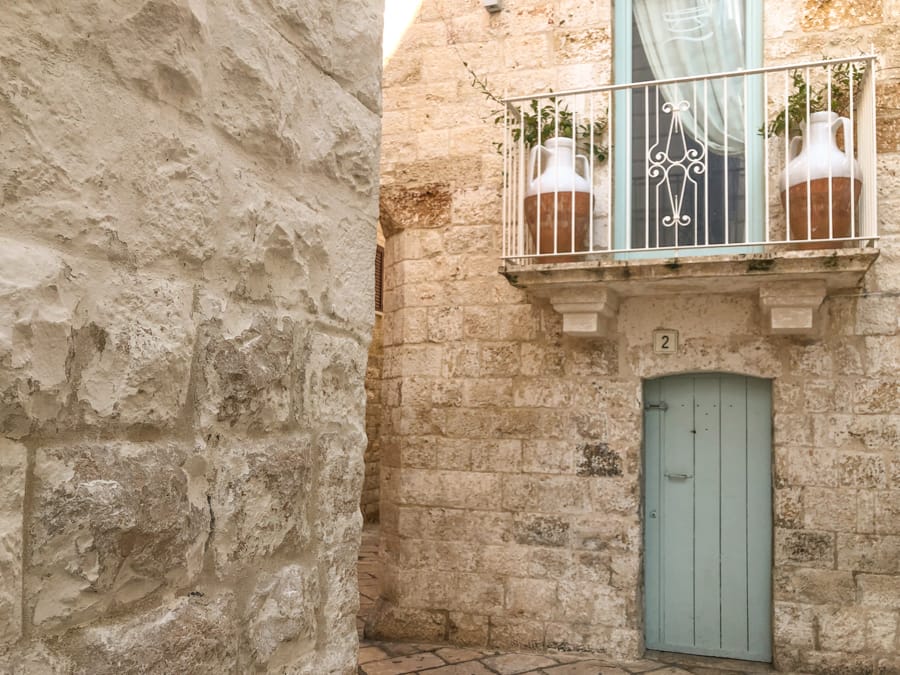 We hope you like our pick of Polignano a Mare hotel recommendations and can find a suiting place to stay within your budget when you visit the city.
Whether you go to Polignano a Mare from Bari or somewhere else, it is a worthwhile place to visit and there is plenty of Polignano a Mare accommodation to give you a taste of what overnighting there is like.
Heading somewhere else in Puglia after? Click here to check out our guide of things to do in Ostuni or the best places to travel in Monopoli.
If you're going to Matera, be sure to check out our guide to the easiest way to travel from Bari to Matera here. If you're staying in Ostuni, be sure to check out our recommended hotels in Ostuni.