There are many places to visit in Puglia that are worth your time but perhaps none are as striking as Polignano a Mare. This is a one day in Polignano a Mare itinerary for those visiting for the first time.
Are you planning your trip to Polignano a Mare last minute?
If youʻre booking your trip to Polignano a Mare last minute, we have you covered. Below are some of the top tours, hotels, and more!
🇮🇹 Top Experiences and Tours in Polignano a Mare:
🛌 Top Hotels in Polignano a Mare:
🚗 Looking for the best way to get around Puglia? Click here to check rental car rates for Italy!
It includes things to do in Polignano a Mare and where to eat… and more!
Did we miss anything on this itinerary for Polignano a Mare? Let us know in the comments.
One Day in Polignano a Mare Itinerary
Along Puglia's Adriatic coastline, you will find plenty of small and beautiful towns that are easily visited from the capital of the region, Bari.
Because the towns are so close, they can be reached very easily by train and road, with the region's transport infrastructure being incredibly efficient and well thought out.
One of the best towns to visit from Bari is Polignano a Mare.
The small coastal town sits dramatically sits on top of spectacular rugged cliffs that plunge into the sea.
The little whitewashed buildings teeter on top of the cliffs providing epic views over the surrounding area and sea.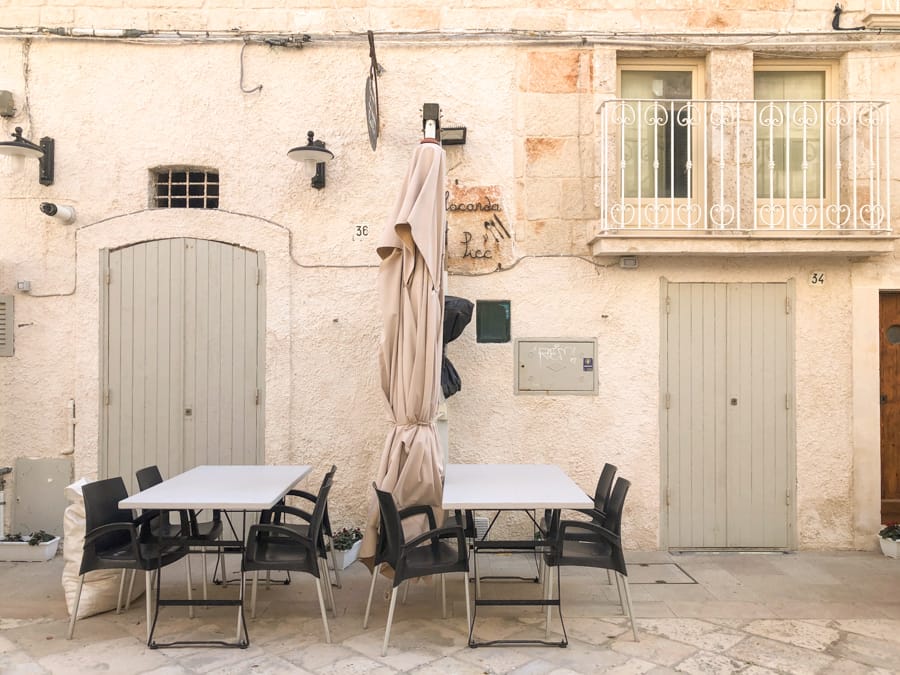 Located about 25 miles southeast of Bari, the town's history is believed to date back around 8,000 years, although some of its most prolific years were during the Roman Empire when the Via Triana was built through the center of Polignano a Mare, rapidly generating wealth for the citizens.
After the collapse of the Roman Empire, the town transitioned between various rulers which have left little bits of their culture on the town, most of which can still be seen today.
Although the vibrant town may be small in stature with its population of 18,000 people, it still manages to pack a punch when it comes to things to do in Polignano a Mare.
From watching cliff divers to hunting down poetry painted throughout the old town, you will not fail to be disappointed.
It's small size also makes the town manageable, meaning you can explore the most important sights easily within one day in Polignano a Mare.
That alone makes the town a brilliant choice for a day trip from Bari or one of the larger surrounding towns or a great place to stay a few nights while exploring the region.
I have put together the perfect one-day Itinerary for Polignano a Mare that will help you plan your trip and make the most of your time in this spectacular place.

What to See in Polignano a Mare in One Day
When I put this guide together, I have put the things in an order that makes sense.
The city is so walkable and small that it should not be a difficult task to see everything I put on here!
Start the Day Off with an Italian Breakfast
I'll be brutally honest, I am not the biggest fan of Italian breakfasts but I do love starting the day with a coffee.
Italian breakfasts tend to be of a sweet nature with various pastries, cakes, and packaged goods.
I always find this strange as I associate Italy with being a country that cares about food, but it just seems like with breakfast no one can be that bothered.
That being said, there are still plenty of places throughout the town where you can grab a coffee and pastry to start your day off.
I recommend trying out Bar Clipper for an authentic breakfast and an espresso, with a more local feel to it.
Bar Clipper also makes for a perfect starting point as it is located in the more modern part of Polignano a Mare. You can find it at Via Conversano 30 in Polignano a Mare.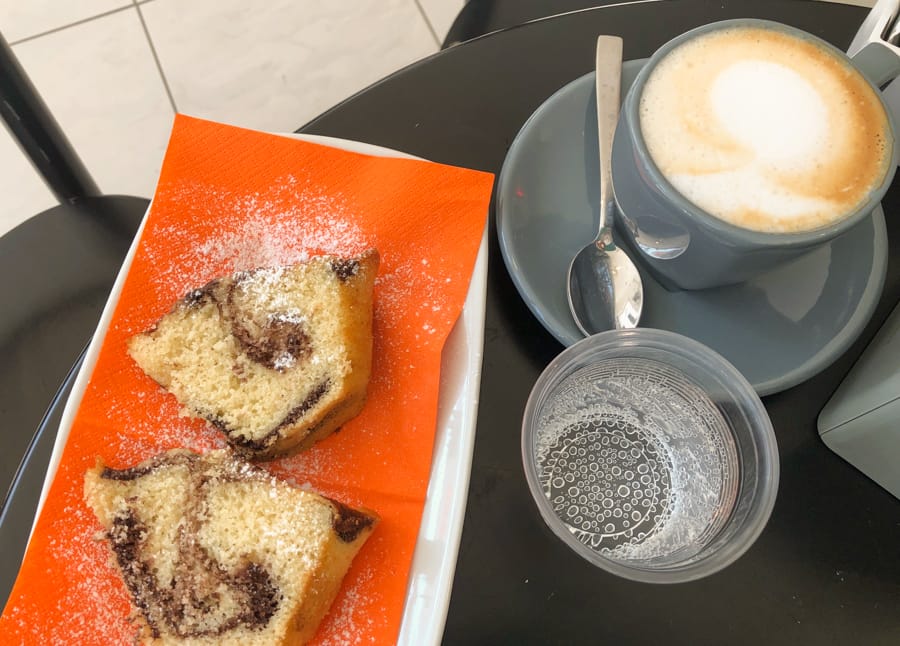 Another cafe I love that is closer to the train station is called Il Libro Possibile Cafè. It is a cafe and bookstore/library and I really loved the service and atmosphere inside.
They also served me a mean cappuccino which I was happy to devour. You can find Il Libro Possibile Cafè at Piazza Caduti di Via Fani in between the train station and the old town.
Visit the Domenico Modugno Statue and Viewpoint
Polignano a Mare is a small town and when someone from the town becomes famous, it becomes a huge deal.
One of the town's most famous inhabitants was Domenico Modugno, an incredible Italian singer who released the song Nel Blu Dipinto Di Blu (often referred to a Volare).
The song won two Grammys and was chosen to represent Italy at one of the first Eurovision song contests.
The statue is facing the town with its arms wide open to embrace the city.
Behind the statue, you will also find one of the best views out over the sea, the old town and the cliffs used for cliff diving.
The statue is also one of the main sights in the newer part of the town.
See the Roman Bridge and Porta Grande
As you head from the newer part of the town toward the sea, you will need to cross over the small gorge that leads to the main beach in Polignano a Mare.
Crossing the gorge is an ancient bridge dating back to the Roman Empire.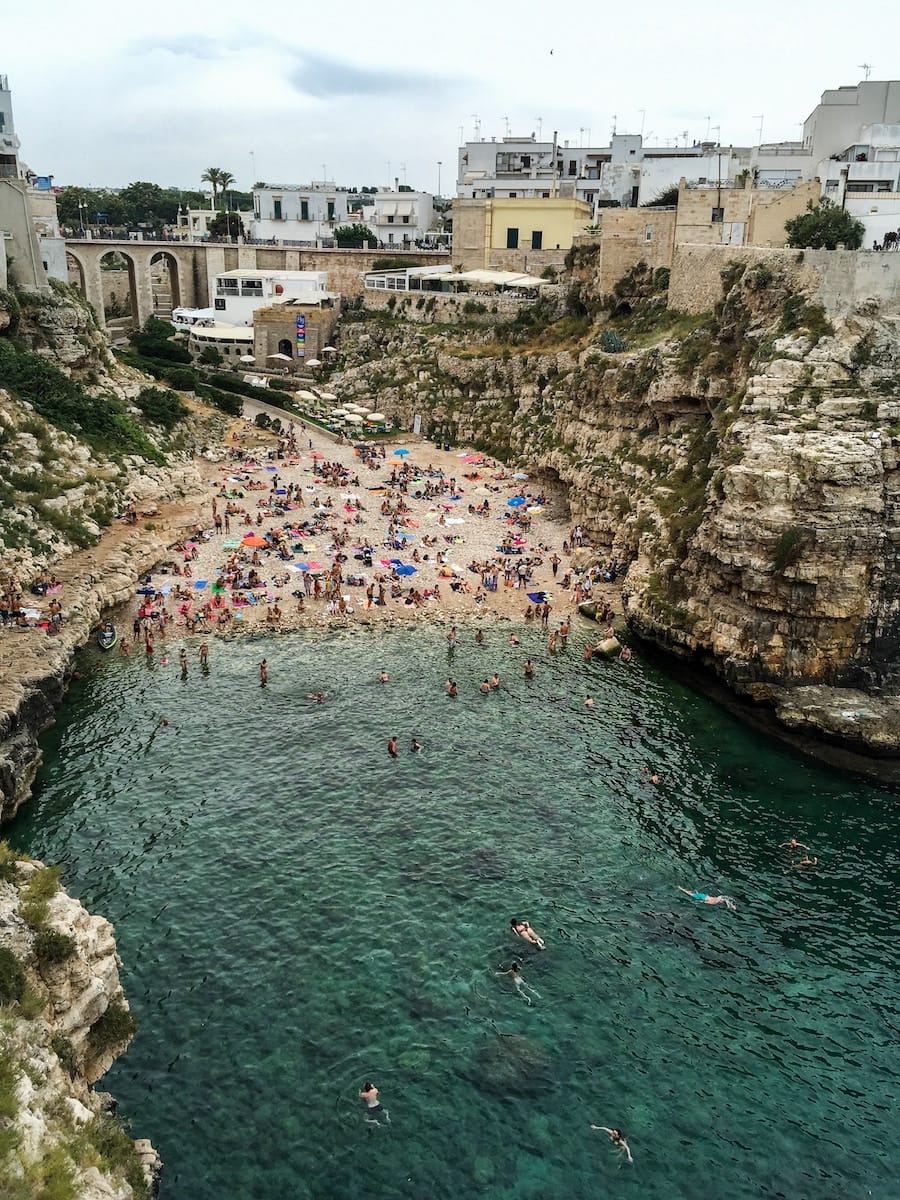 The Ponte Lama Monachile formed part of one of the most important roads of the empire, the Via Triana, which went from Rome to Brindisi.
The bridge that is in Polignano a Mare is still in a brilliant condition and is a fine example of the engineering abilities of the Roman Empire.
From the bridge, head into the old town via Porta Grande, the old gate to the town.
The gate used to be the only entrance into the old town and still bears the marks of the old drawbridge and defensive windows.
Although the gate isn't the most ornate structure in the city, you can still feel the history of the town as you walk into historic Polignano.
Go Poetry Hunting in the Old Town
Spend an hour or so exploring the old town of Polignano a Mare, where the little alleyways and narrow streets open up to beautiful piazzas with churches and cute little cafes and gelato shops.
As you walk through old Polignano a Mare, keep an eye out for lines of poetry painted on the walls and doorways.
The poetry was written around the city by an artist who calls himself "Guido Il Flâneur", an interesting man who moved to Polignano a Mare from Bari.
One of his more famous works is the poetry steps that are hidden away in the old town.
The poetry steps are probably one of the most Instagrammed spots in the city and although there is no exact address for them, pretty much any local will be able to tell you where they are.

Eat Lunch in Polignano a Mare with the Locals
Stop for lunch in one of the many restaurants in Polignano a Mare that are dotted around the old town.
You can grab incredible fresh fish dishes or classic Italian meals such as pizza.
One of the most popular places in town is Pescaria.
Specializing in seafood, the Polignano a Mare restaurant offers up some of the best lunchtime dishes in the town with its unique menu.
I advise getting one of their amazing fish sandwiches which are to die for, so much so that at lunchtime, people will queue for over half an hour to get their hands on one.
They also serve a range of other dishes such as delicious salads and fried fish dishes.
However, the restaurant doesn't just serve fish as there is also a range of dishes that are suitable for vegans and vegetarians as well as other food preferences.
It can get very busy at lunch, so I suggest getting there as close to opening time as possible.
You can find Pescaria Restaurant at Piazza Aldo Moro 6/8 in Polignano a Mare.
Take in the Stunning Coastal Viewpoints
Polignano is the town of stunning viewpoints.
As it is perched high on the clifftops, there are plenty of vantage points where you can look out over the Adriatic and along the coastline, with the whitewashed houses lining the cliff tops.
Terrazza Santa Stefano is probably one of the most spectacular, with views over the city and into the gorge where the Cala Porto Beach is located.
The postcard-like views have produced the images that have enticed so many people to come and visit this gorgeous town.
There are plenty of other viewpoints along the coast that are equally as beautiful and worth checking out as well as you work your way along the coast.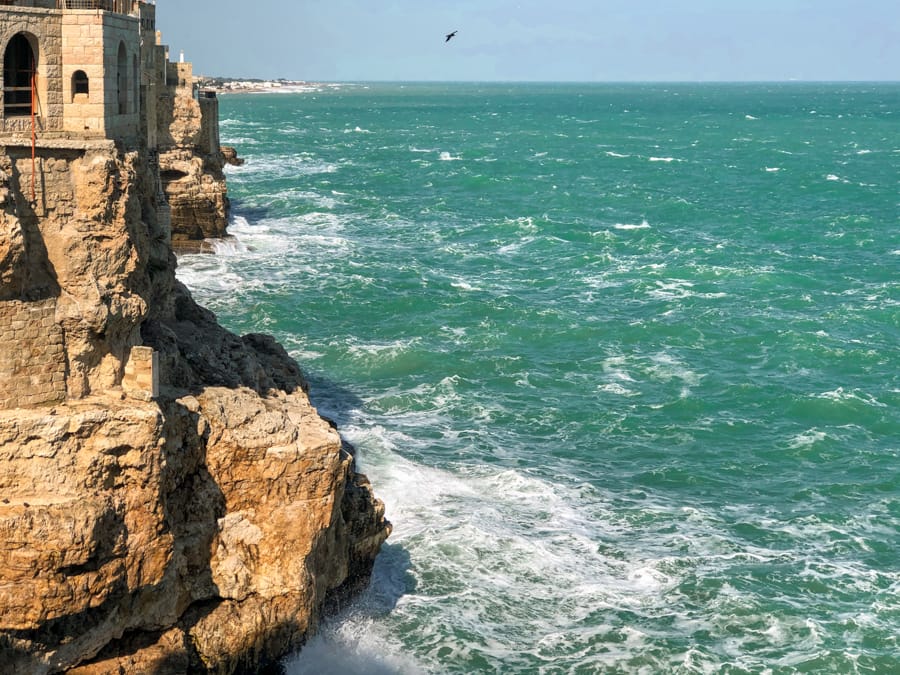 Enjoy an Afternoon of Art in Polignano a Mare
On the southeastern edge of the old town is the awesome Museum of Contemporary Art Pino Pascali.
Built into an old slaughterhouse sitting on a cliff edge, this beautiful art gallery is dedicated to a famous artist, Pino Pascali, who came from the town and was buried in a local cemetery after a tragically premature death.
Spend some time in the afternoon to escape the midday sun checking out this amazing gallery.
Along with a large display of Pascali's works of art, the gallery has collections from a host of other famous Italian contemporary artists.
Exhibitions sporadically change which keeps the gallery fresh and interesting even if you have visited it before.
Along with the great exhibitions, outside of the museum, there are fantastic views out to sea.
You can find the museum at Via Parco del Lauro 119 in Polignano a Mare.
In addition to the museums, there is also a small street art scene in Polignano a Mare that is worth strolling around for.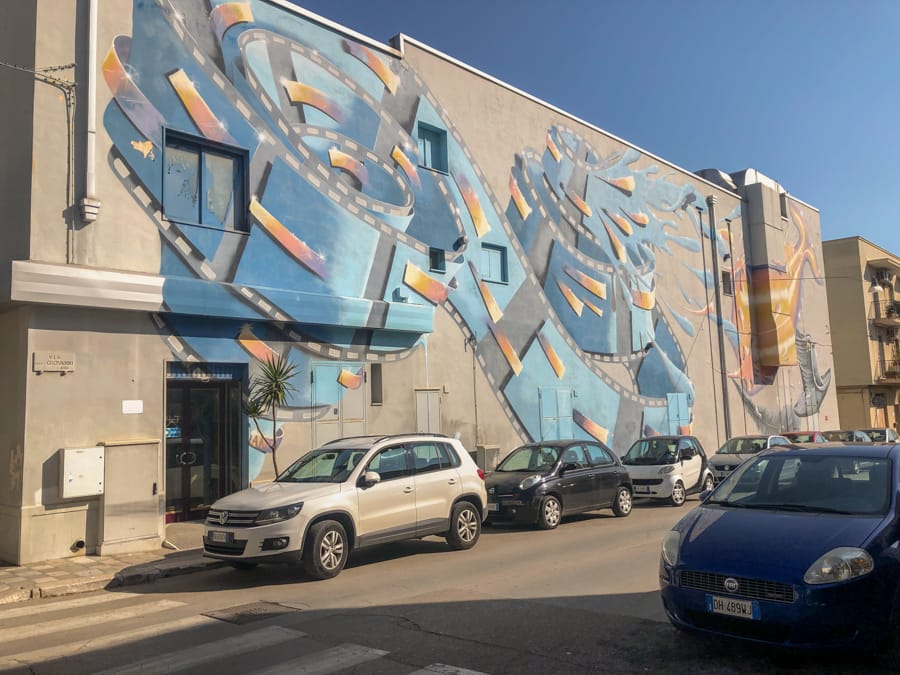 Drink the Special Coffee in Polignano a Mare
Italy is a coffee-mad country and its fair to say they are generally keen traditionalists when it comes to this hot beverage.
However, in Polignano a Mare, the locals have been enjoying a boozy take on the national drink for years.
Simply called "Special Coffee", the drink is a mix of coffee, cream, sugar, lemon zest, and amaretto.
The drink was kept a secret for a long time from tourists, however, they eventually got wind of this interesting take on coffee and started flocking to try it.
Head to Il Super Mago del Gelo Mario Campanella to try the drink at its origin. The delightful little cafe has kept its local feel and is a great place to break up the day with a drink and afternoon snack.
You can find Il Super Mago del Gelo Mario Campanella at Piazza Giuseppe Garibaldi 22 in Polignano a Mare.
Chill at One of the Beaches in Polignano a Mare
Spend the last few hours of the afternoon chilling out at Polignano A Mare's most beautiful beach. Cala Porto is located at the bottom of the gorge that carves its way through the town.
The small, rocky beach is surprisingly spacious and a great place to spend a little time to chill out in the afternoon.
The picturesque Puglia beach is sheltered by large cliffs with sea caves carved into them and natural ledges used for diving into the sea.
There is also a beach bar at the back of the beach where you can enjoy a glass of Puglia's tasty wine or a chilled beer as you watch people play in the sea or dive from the cliffs.
The beach is also sometimes referred to as Lama Monachile Beach, which dates back to its Roman name when it was the breeding ground for Mediterranean monk seals.

Have a Sunset Dinner at Grotta Palazzese
Finish your amazing day in Polignano a Mare at the town's most impressive and scenic restaurant.
Grotta Palazzese is a high-end restaurant located in a sea cave that overlooks the sea.
Part of a 5* hotel complex, the restaurant serves up fresh seafood normally seen in rustic Italian dishes in a more sophisticated and fine dining style.
The setting of the restaurant is incredibly charming and romantic, with beautiful views over the sea and ambient lighting throughout the cave.
One of the best times to enjoy dinner at Grotta Palazzese is during sunset/dusk as the evening sky changes color over the Adriatic, allowing for an amazing natural show.
It is advisable to book a spot in the restaurant in advance to avoid any disappointment.
You can locate the restaurant at Via Narciso 59 in Polignano a Mare.
Where to Stay in Polignano a Mare
There are quite a few options of places to stay in Polignano a Mare but there are not a copious amount of budget options, to be honest. However, here are our top recommendations for Polignano a Mare hotels:
Hotel Grotta Palazzese (Luxury): This was the hotel discussed above that is actually built into a cave. What?!
Yes, really. It is top-quality and a bit pricy compared to other places so if you don't have the chance to stay there, at least stop by and visit the restaurant. You won't regret it!
>> Click here to check rates and availability
POSEA – Polignano Sea Suites (Mid-range): If you're seeking mid-range accommodation but with a luxurious feels for the price, look no further than POSEA – Polignano Sea Suites, a beachside hotel in the town.
This Polignano a Mare accommodation has so much to offer for great value and there are terraces, comfortable rooms, and much, much more.
>> Click here to check rates and availability
Casa della Nonna (Budget): This is questionably a budget place to stay in Polignano a Mare. It is definitely on the higher end of the budget and has all the best amenities available to travelers.
There is free wifi, luggage storage, and clean and comfortable accommodation.
>> Click here to check rates and availability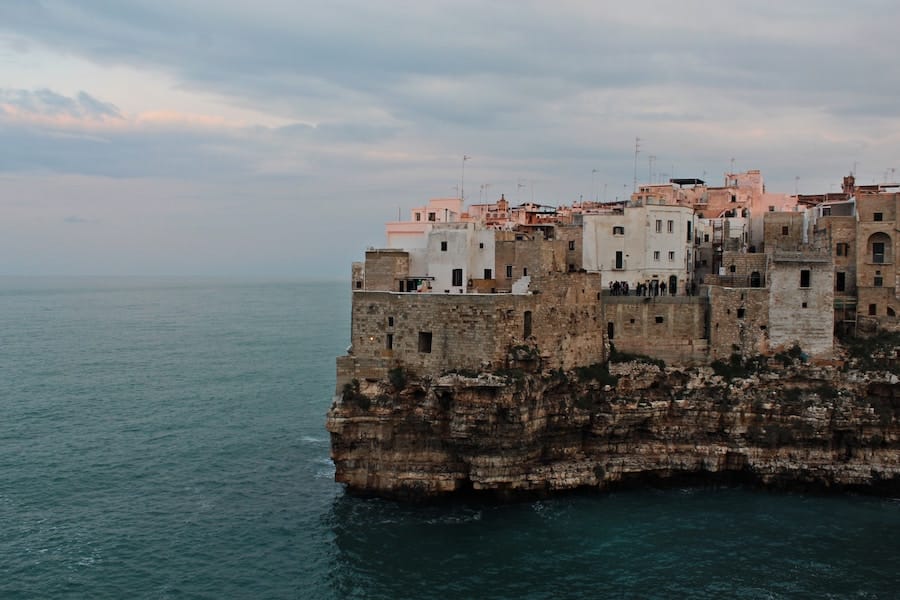 We hope that this guide helps you plan your trip to Polignano a Mare.
This Polignano a Mare itinerary was pretty much used by me when I was there with a few exceptions and I think it will give you a great taste of the town if you only have one day in Polignano a Mare (although I think you should stay longer!)
If you're looking for things to do in Monopoli, a city that is nearby, click the link to find out what to do there.
You can also search our guide of things to do in Ostuni as well as hotels in Ostuni if you're heading there on your Puglia trip, too.
You Might Also Like: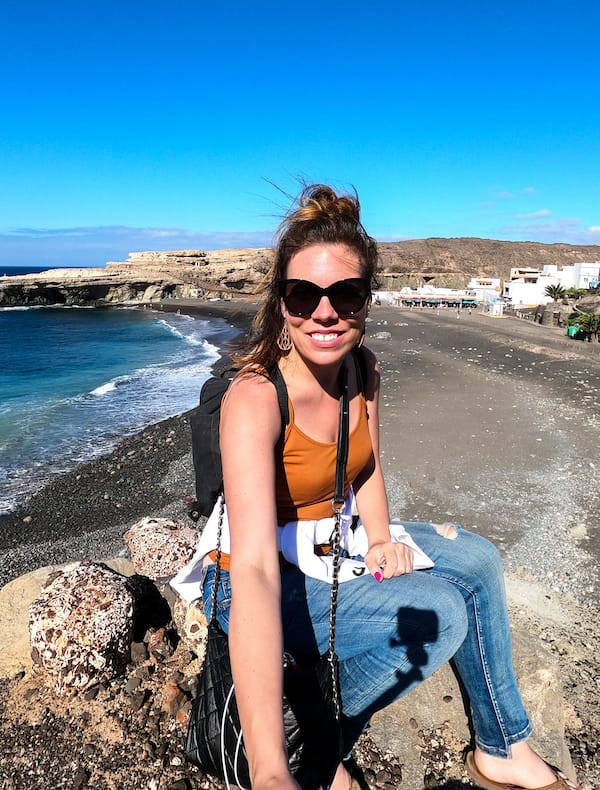 Megan is a travel blogger and writer with a background in digital marketing. Originally from Richmond, VA, she now splits her time between Frankfurt, Germany and Arctic Finland after also living in Norway, Armenia, and Kazakhstan. She has a passion for winter travel, as well as the Nordic countries, but you can also find her eating her way through Italy, perusing perfume stores in Paris, or taking road trips through the USA. Megan has written for or been featured by National Geographic, Forbes, Lonely Planet, the New York Times, and more. She co-authored Fodor's Travel 'Essential Norway' and has visited 45 US states and 100+ countries.