Are you soon spending one day in Ostuni and are not sure how to plan your Ostuni itinerary? Keep reading!
This guide covers everything from where to eat to where to stay in Ostuni! Let us know if you have any questions!
One Day in Ostuni Itinerary for First-Time Visitors
Puglia fails to be ugly in any shape or form.
From its rugged coast to its fertile and stunning inland areas, the whole region exudes a magnetic charm that is hard to find in other places in Europe.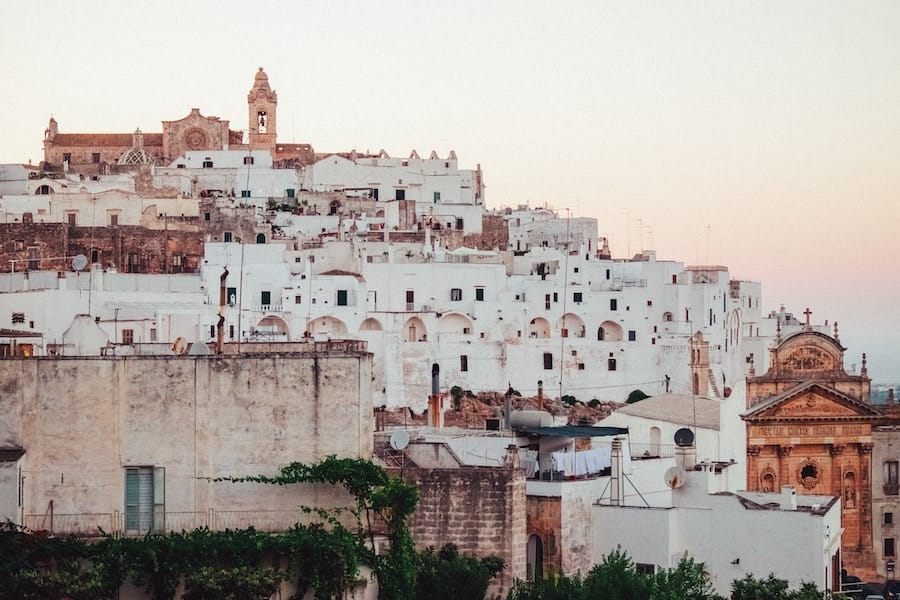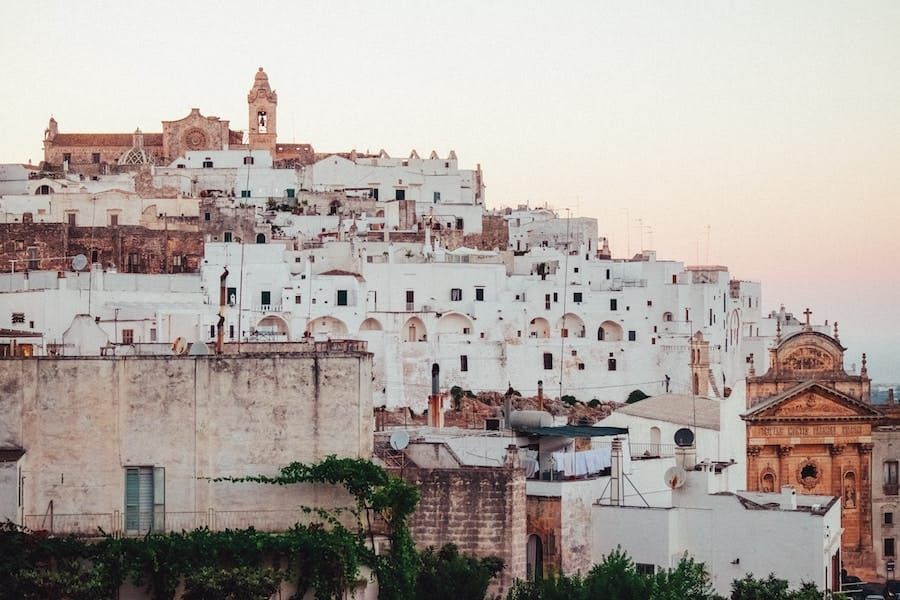 Many people stick to the coastal places in Puglia and visit the well-traveled towns of Polignano a Mare and Monopoli, however, the interior should not be overlooked.
One of my favorite places in the region is Ostuni. Located just under 6 miles away from the coast, it manages to feel like a different world.
Made up of two different parts: the modern city and the old town that is perched on a hill overlooking the new town.
Ostuni was one of the first large settlements in the area, although, the original town was destroyed, the Greeks rebuilt the town and named it Ostuni.
The town's rulers changed throughout history as invaders came and went, although it never really suffered any true devastation from war and much of any damage to the town through history was due to natural disasters.
Ostuni became a safe haven for artists and creatives except when the plague struck the town and no one was completely safe.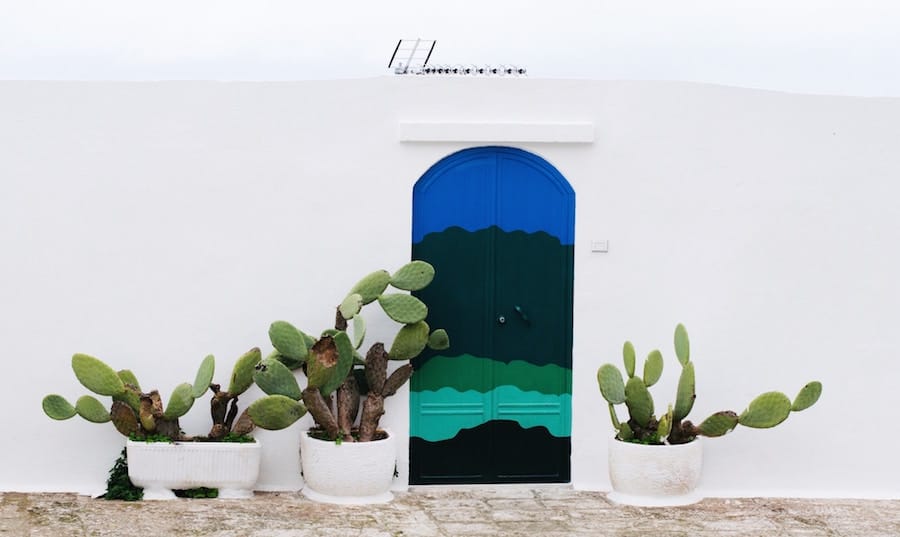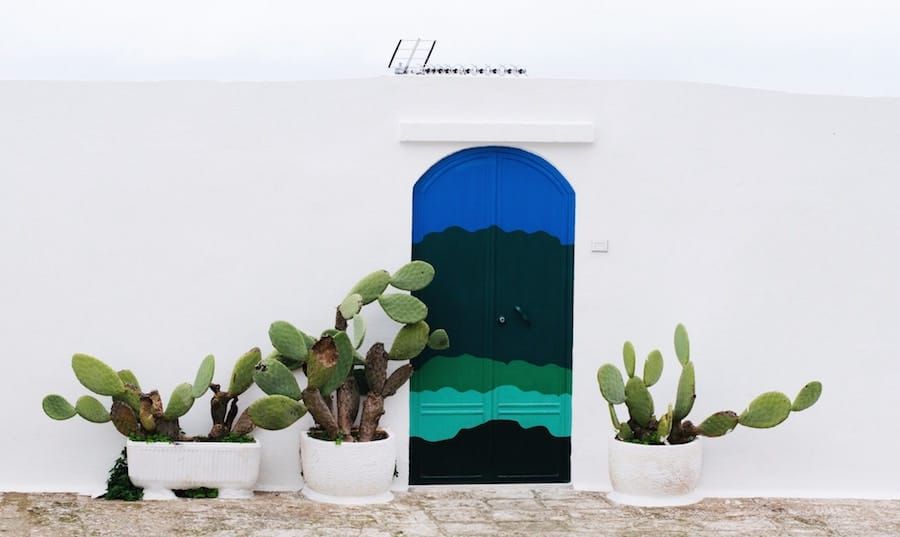 Today, there are many things to do in Ostuni and the city is vibrant, fun, and popular amongst those looking for a summer house in the sun, with the population of the city swelling to over 100,000 people as people return for the summer months.
Ostuni's beauty is that it can easily be explored within a day, especially if you are short on time or trying to fit as much into your trip as possible.
To help you plan your time in Ostuni, I have put together the ultimate one day Ostuni itinerary. It will take you through the can't-miss sights in Ostuni.
Below is my Ostuni one day guide. If you have any suggestions to add or other recommendations, please leave me a comment with them!
This is the perfect addition to any 10 day Italy itinerary if you end up in Puglia or the south!
Best Ostuni Tours
I visited Ostuni on a crazy whirlwind trip and I really regret not having time to take a tour during my visit.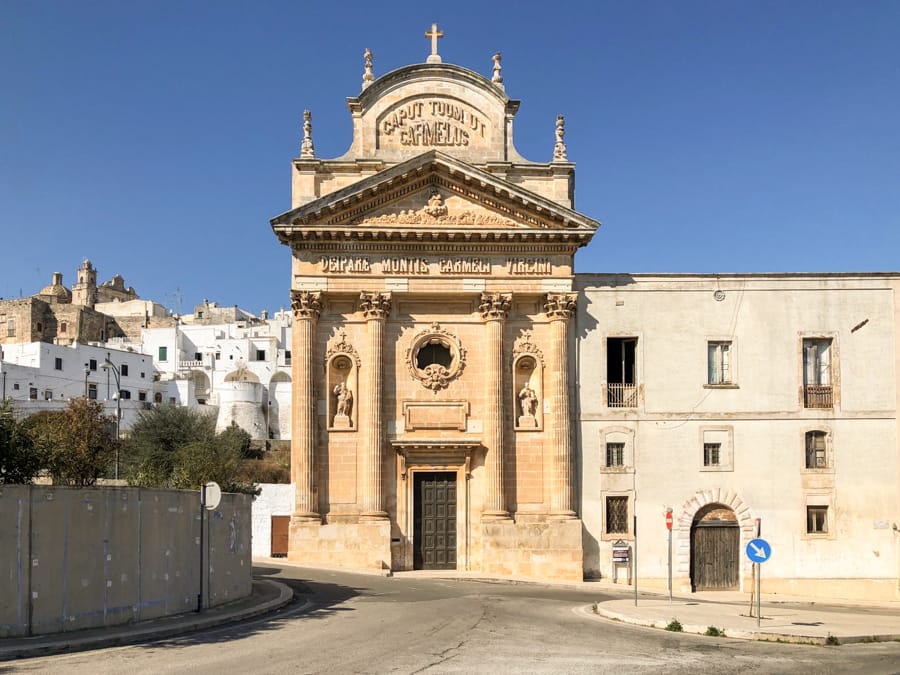 There are loads of different tours that you can take that will give you a great insight into this fun and vibrant city. In my experience, tours really help to discover the hidden stuff that most visitors never discover.
It also makes things 100 times easier when someone else is doing all the planning for you!
Here are my top picks for tours of Ostuni:
Ostuni One Day Itinerary
Start Your Day Off With Breakfast
Breakfast in Italy isn't the greatest, in my opinion. I am not a fan of sweet things and they always seem to be super sweet and in a package (it's okay, Italy, everything else you eat makes up for it).
However, I do enjoy starting the morning off with a good coffee and that is one thing the Italians do perfectly.
Depending on where you are staying or arriving from, enjoy breakfast and coffee in the old town or the newer part of Ostuni.
There is a wide range of places in both parts of the city, so I will shy away from recommending just one.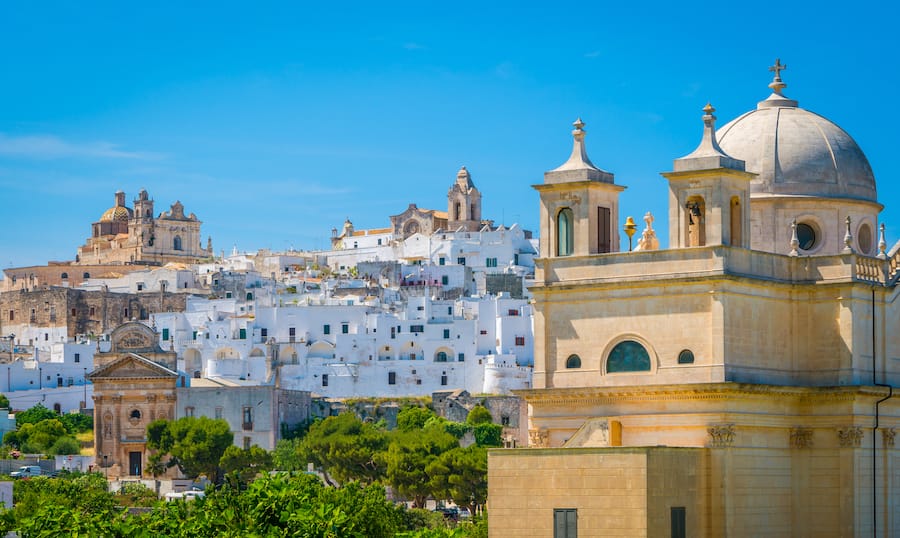 Walk the Ostuni City Walls
Before losing yourself in the winding streets of Ostuni, take time to walk around the Ostuni city walls and discover the former defensive wall that was intended to keep the city safe.
Keep a lookout for the two remaining gates to the city, Porta Nova and Porta San Demetrio.
There had previously been four gates, but two were lost to history.
From the walls, you can see across the beautiful olive groves that surround the city and produce its famous olive oil.
Spend The Rest Of The Morning Lost In The Old Town
After exploring the edges of the white city, venture into the interior of its gorgeous historical center.
The beautiful white city got its color and name from the whitewashed houses, a tradition that dates back to the plague when infected houses would be painted white.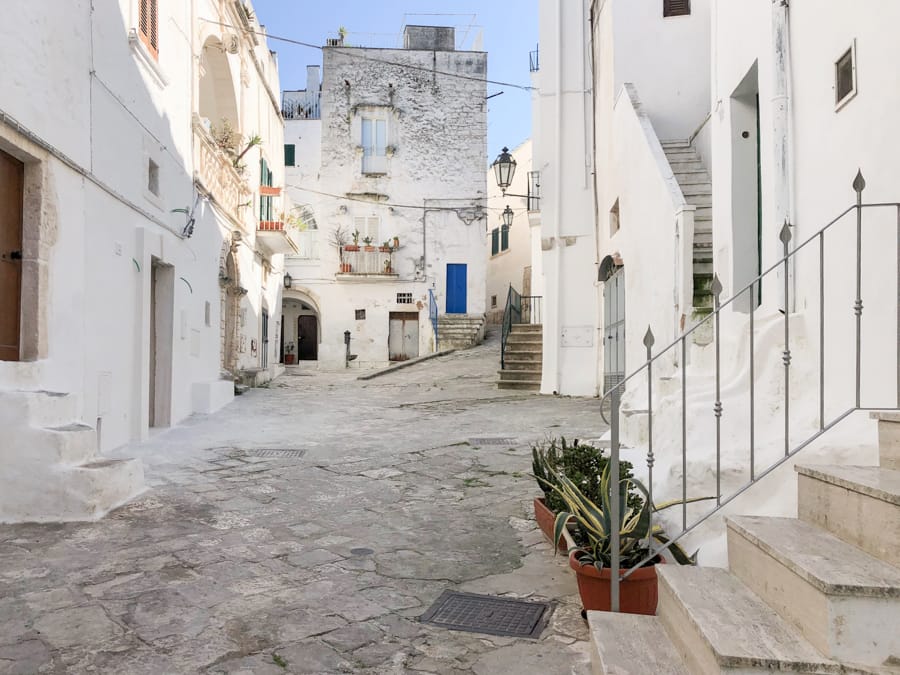 This white paint, in turn, actually helped stop the plague as the chalk in the paint had antibacterial properties.
Get lost in the streets and alleyways that meander their way through the city, occasionally opening up to grand piazzas and historical buildings.
As you explore, stop in the magical little boutiques that are dotted along the narrow streets, selling traditional handmade wares that often utilize the natural resources in the area, like olive wood.
Enjoy A Relaxed, Italian Lunch
It's easy to overeat in Italy, and I, for one, almost always challenge myself to eat as much delicious food as I possibly can.
I recommend taking the time to enjoy lunch and filling up on delicious Italian sandwiches, cold cuts, and various kinds of cheese.
A great place to enjoy an affordable lunch is Coffee & More, a delightful and casual place that sells a range of amazing sandwiches or platters of cured meats and cheeses that can be washed down with a beautiful glass of red wine.
I enjoy getting a platter of cold meats and cheeses for lunch in Italy as it allows you to try a great range of things that are on the menu and feels a bit more like an occasion rather than a simple sandwich.
You can find Coffee & More at Via Gaetano Tanzarella Vitale 36 in Ostuni.

Visit the Square Of Cathedrals & Palaces
After lunch, make your way to the center of the city and admire the beautiful, Gothic cathedral that dominates the town.
Gothic cathedrals tend to be a slightly unusual sight in Italy as many of the cathedrals follow a more Romanesque architectural style, but this one is an exception.
The interior of the church is absolutely awe-inspiring, with incredible frescoes adorning the ceilings and ornate fixtures throughout.
Across from the church, you will see the Arco Scoppa, an archway that connects the two palaces, Palazzo Vescovile and Palazzo del Seminario.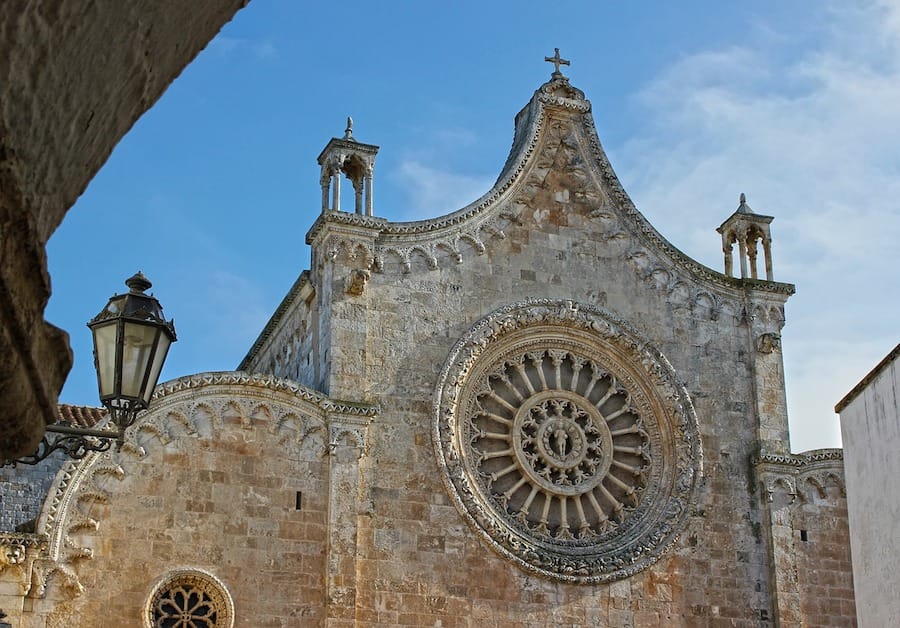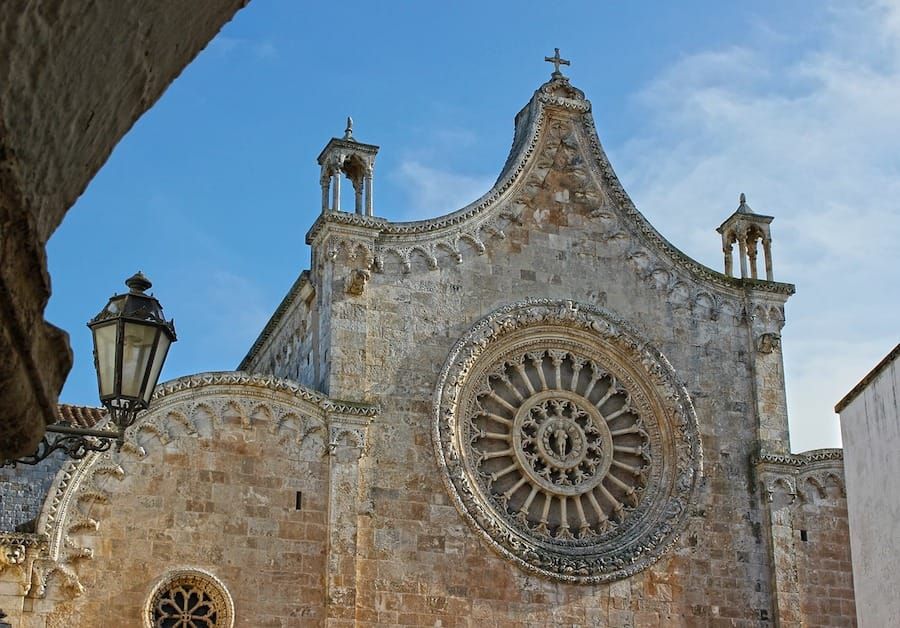 Strangely, inside of Palazzo Vescovile, you will find the remains of a Norman castle that was destroyed in the 16th century.
Have a Glass of Ostuni Wine
Take a break to enjoy the delights of Ostuni's famous D.O.C wine.
In the region around Ostuni, you will find lovely vineyards that have been producing delicious wines for millennia, although the area's wines only received their protected status in the 1970s.
The region produces two wines that have been specially protected under European law: the Ostuni Blanco and Ostuni Ottavianello (a rose).
In the old town, you will find plenty of places where you can enjoy a glass of Ostuni wine while watching the world walk past.
Chill Out in Piazza della Libertà
After enjoying a glass or two of local wine, head to the fantastic Piazza Della Libertà, a beautiful square that is overlooked by a giant 20m monument of Saint Oronzo who is believed to have halted the plague killing everyone in Ostuni.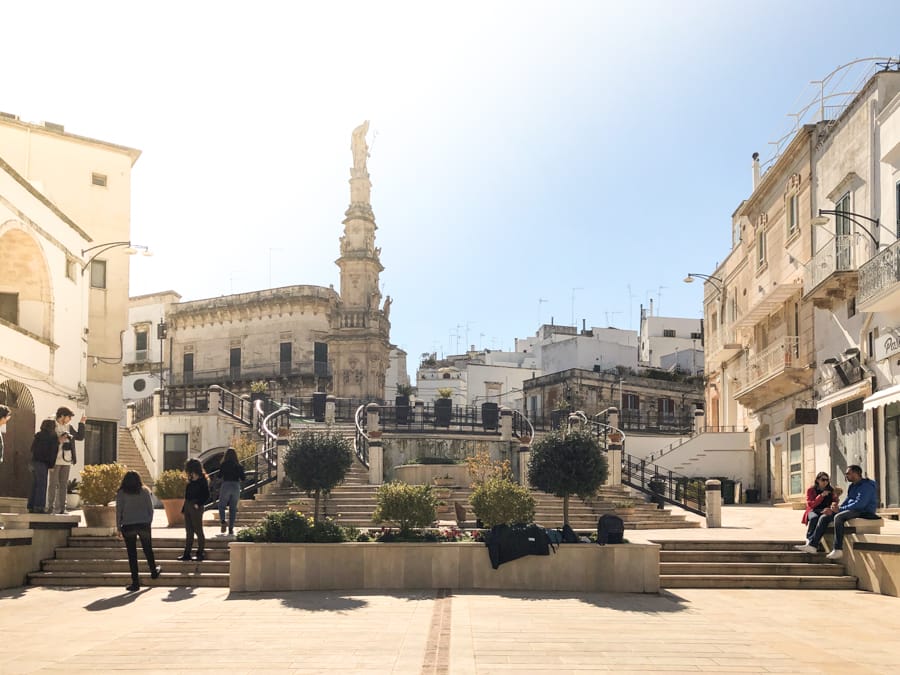 In the middle of the square, you will find the ancient ruins of the old city walls.
Within the square, you will also find the impressive Palazzo Municipale, a former convent that over time, has been extended and formed an impressive palace.
Along the edges, you will also find many little cafes where you can grab an espresso to perk you up for the rest of the day and the remainder of this Ostuni itinerary.
Watch a Magical Sunset
When the sun starts to set over Ostuni, the white city starts to show another side of its stunning beauty.
Leave the old town for sunset and head to one of the many vantage points where you can look at the city perched on the hill as the sun comes down.
I recommend walking along Corso Vottorio Emanuelle II.
As you walk away from the old town, there are plenty of viewpoints where you can stand and watch the setting sun change the white buildings to hues of pink and orange.
Alternatively, the Relais Sant'Eligio hotel has stellar views of the old town from its rooftop terrace where you can enjoy a cocktail as the sun comes down.
End the Day with Dinner at 'Dish'
Even though Ostuni is not directly on the coast, it is only a few miles inland and every day, fresh fish is delivered to the city from the coastal towns.
This means that the restaurants in the town are able to utilize both the fruits of the sea and the surrounding lands to create dang-near-perfect Ostuni dishes.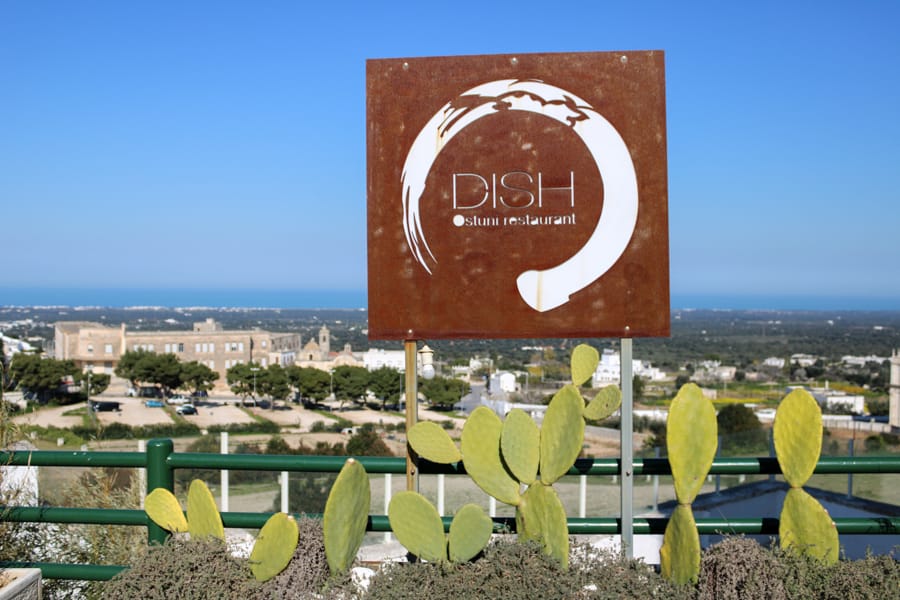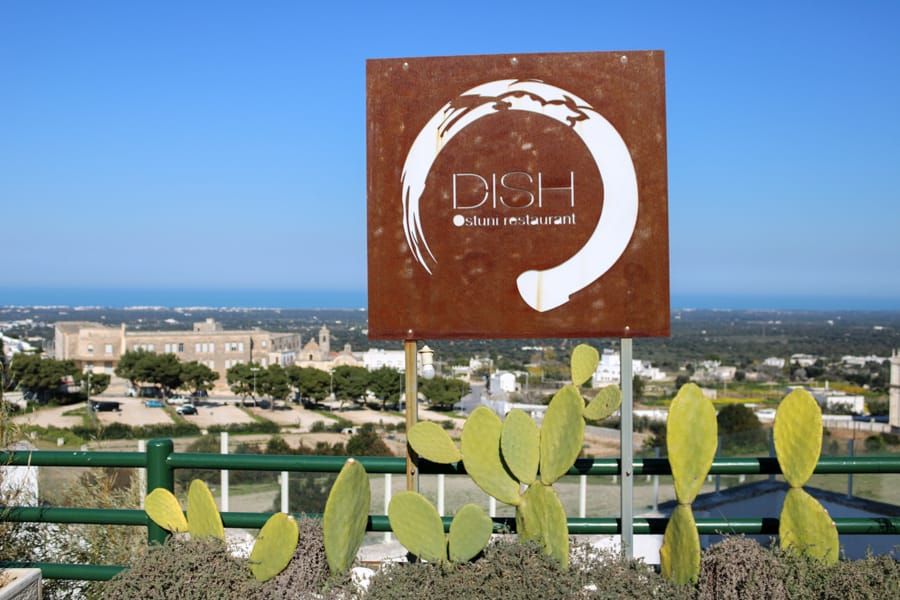 One of the best restaurants to enjoy dinner at is Dish, a modern and contemporary restaurant, serving up some of the most beautiful plates of food in the city.
Dish has a current design and aesthetic to it that contrasts perfectly with the old town that sits opposite the restaurant.
With its open-plan kitchen, you can watch the chefs work their magic as you wait for your food to be served.
Knowledgeable waiters will help pair your food with the correct wines and you will be greeted with a glass of Prosecco when you arrive.
This is a brilliant way to end a fantastic day in Ostuni.
You can find Dish at Corso Vittorio Emanuele II 37 in Ostuni.
Where to Stay in Ostuni
Thankfully, there are many places to stay in Ostuni.
These are my recommendations for excellent accommodation options that will suit all budgets and travel styles.

LA SOMMITÀ RELAIS & CHATEAUX (LUXURY)
La Sommita Relais & Chateaux is an amazing luxury hotel that not only provides five-star comforts when it comes to a night's sleep but also five-star food with its own Michelin starred restaurant on-site.
Located in the old town of Ostuni, the hotel offers breathtaking views over the city and Puglian countryside.
>> CLICK HERE TO CHECK RATES AND AVAILABILITY
HOTEL LA TERRA (MID-RANGE)
Hotel La Terra allows you to live and breathe Ostuni history as it was built into a 13th-century building.
For the comfort and beauty of the hotel, the price is outstandingly good.
The affordable room rate also includes a continental breakfast and a great night's sleep.
>> CLICK HERE TO CHECK RATES AND AVAILABILITY
WHITE STONE FLATS & STUDIOS (BUDGET)
White Stone Flats & Studios is a great option for those looking to travel on a budget.
Situated in the heart of the city, each flat includes a sofa, TV, and a place to cook, meaning you can save money on both accommodation and food! It is definitely great value for its money.
>> CLICK HERE TO CHECK RATES AND AVAILABILITY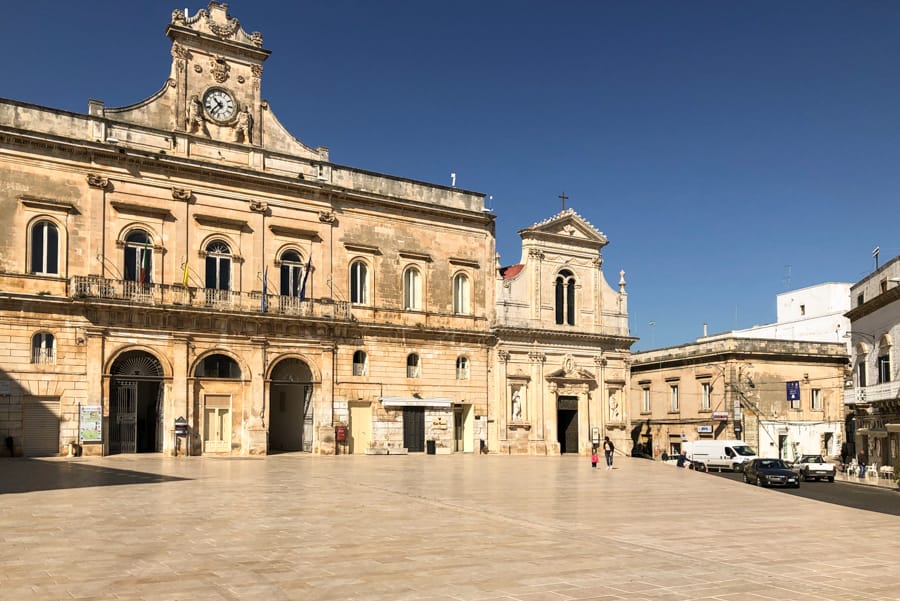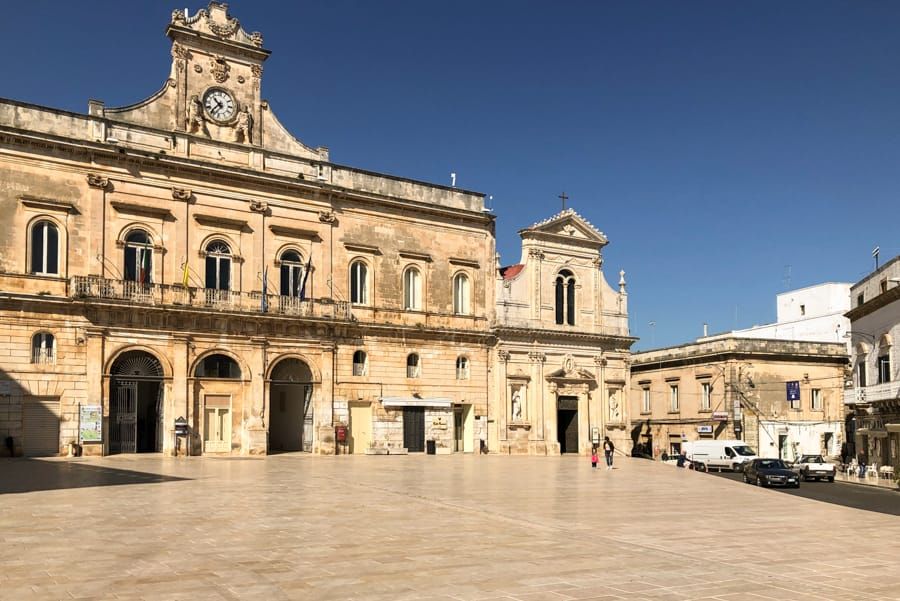 Our one-day in Ostuni itinerary will help you begin planning your trip to this wonderful Italian city.
It can be a bit challenging to get from Bari to Ostuni, so please read our guide or book one of the aforementioned tours. Have a great trip!
More Puglia Travel Guides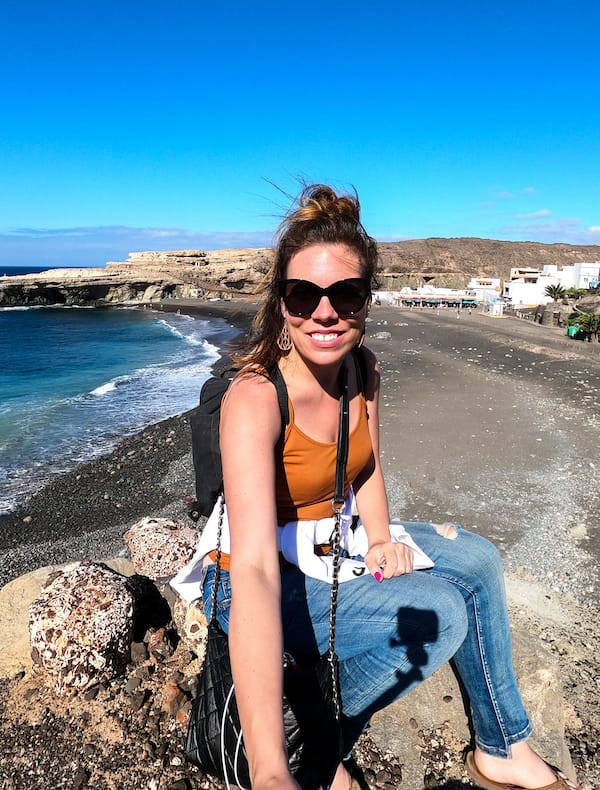 Megan is a travel blogger and writer with a background in digital marketing. Originally from Richmond, VA, she now splits her time between Frankfurt, Germany and Arctic Finland after also living in Norway, Armenia, and Kazakhstan. She has a passion for winter travel, as well as the Nordic countries, but you can also find her eating her way through Italy, perusing perfume stores in Paris, or taking road trips through the USA. Megan has written for or been featured by National Geographic, Forbes, Lonely Planet, the New York Times, and more. She co-authored Fodor's Travel 'Essential Norway' and has visited 45 US states and 100+ countries.