Getting from Bari to Polignano a Mare is actually a fairly easy process if you want to go by train. This guide explains how to make this journey!
Are you planning your trip to Polignano a Mare last minute?
If youʻre booking your trip to Polignano a Mare last minute, we have you covered. Below are some of the top tours, hotels, and more!
🇮🇹 Top Experiences and Tours in Polignano a Mare:
🛌 Top Hotels in Polignano a Mare:
🚗 Looking for the best way to get around Puglia? Click here to check rental car rates for Italy!
This is a step-by-step to getting to the beautiful views of Polignano a Mare from Bari Central Station by train.
Click here if you're looking for Polignano a Mare accommodation or for things to do in Polignano a Mare instead!
We also have a day in Polignano a Mare itinerary that may be useful for you!
How to Get From Bari to Polignano a Mare Cheaply by Train
I have long wanted to come to the Puglia region of Italy but I avoided it for a few reasons.
The first being that I wanted to see it all and feared I would never have the time and energy to do it.
Secondly, I wasn't totally sure how to get around the region and from city to city.
As it turns out, it is easier getting to some places, like Polignano a Mare, than it is to get to others with public transport.
This is a guide to what you need to know to take the train from Bari to Polignano a Mare.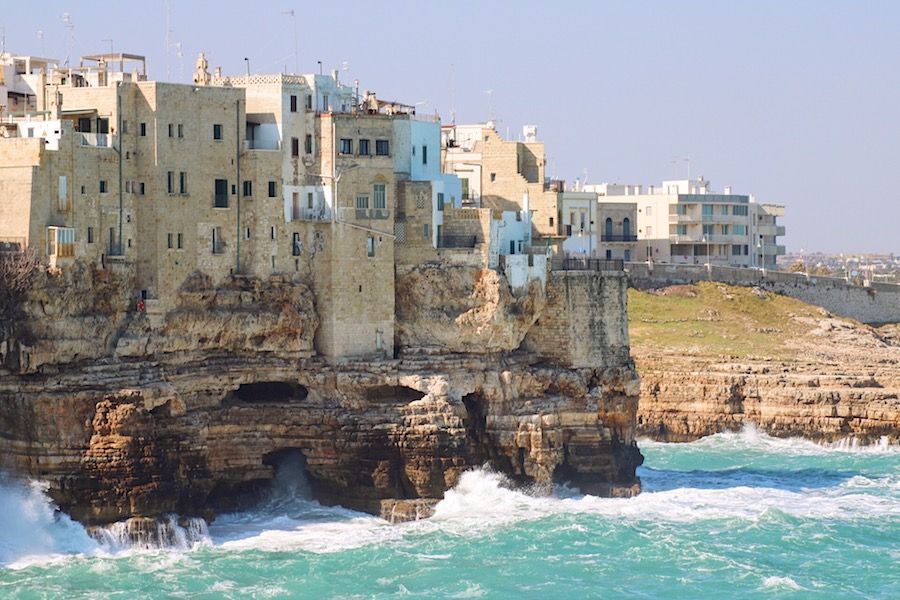 Bari Central Station
I assume you're in the city of Bari and can easily access the Bari Central Station.
The Bari Station is a very important railway station in southern Italy and the Puglia region.
The annual ridership is around 14 million and the station is actually in impeccable condition, in my opinion.
It is also small enough to feel manageable, but large enough that you can store luggage there and grab a coffee to-go.
The Bari Central Station is also handicap accessible.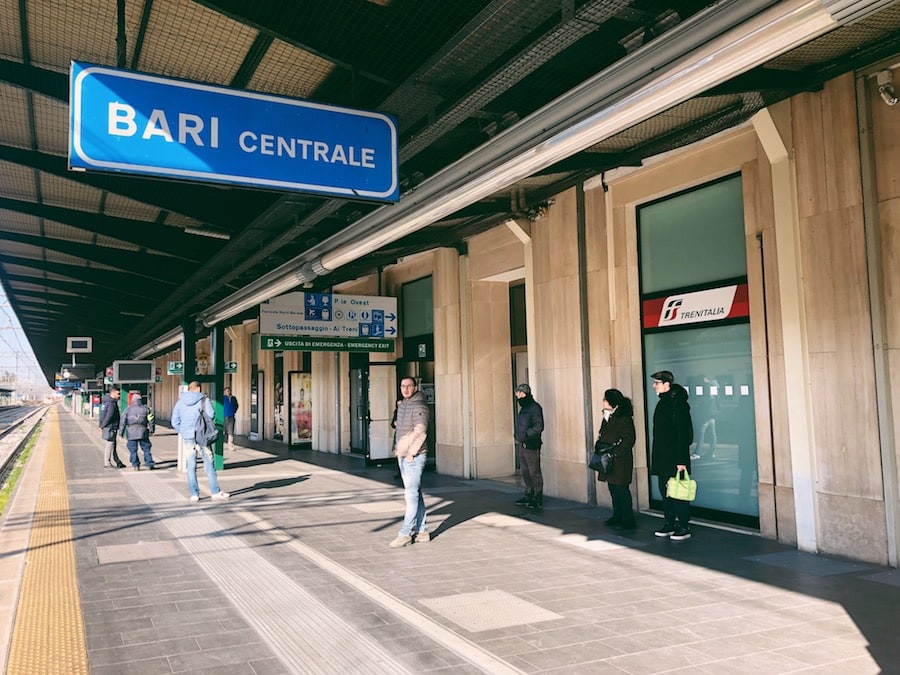 Is there Luggage Storage at Bari Central Station?
Yes, there is luggage storage at Bari Central Station. Fees differ based on your time frame, but it is extremely affordable and a great option if you need to utilize it.
The luggage storage is located at platform 1.
It will be located on the left side down the platform a bit.
The cost is 6,00 € for the first 5 hours and 0.90 €/hour from the 6th to the 12th hour and 0.40 €/hour from the 13th hour.
The sign there says it is open from 8 am until 8 pm, but the lady at information told me it actually stays open until 10 pm.
Do check when you're there to find out the closing time.
Is There Food at the Bari Train Station?
There is a café and small eatery called the "C House Bakery Café" at the Bari Central Station that also sells items to go.
They will have everything from freshly made espresso to bottles of water to sandwiches. It is a great option for travelers.
There are a few other cafes and restaurants and bars on the premises as well as a Spar grocery store (located at platform 1).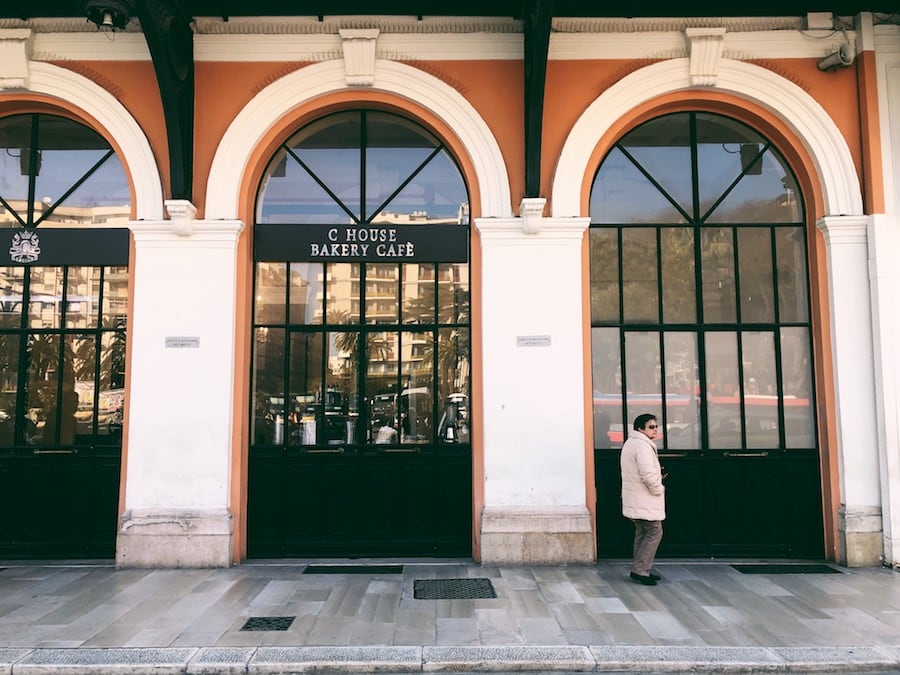 Buying a Ticket to Polignano a Mare
You can either purchase your ticket at the ticket counter through an actual person (they spoke English) or at the machine where I purchased it. Here are what both areas look like: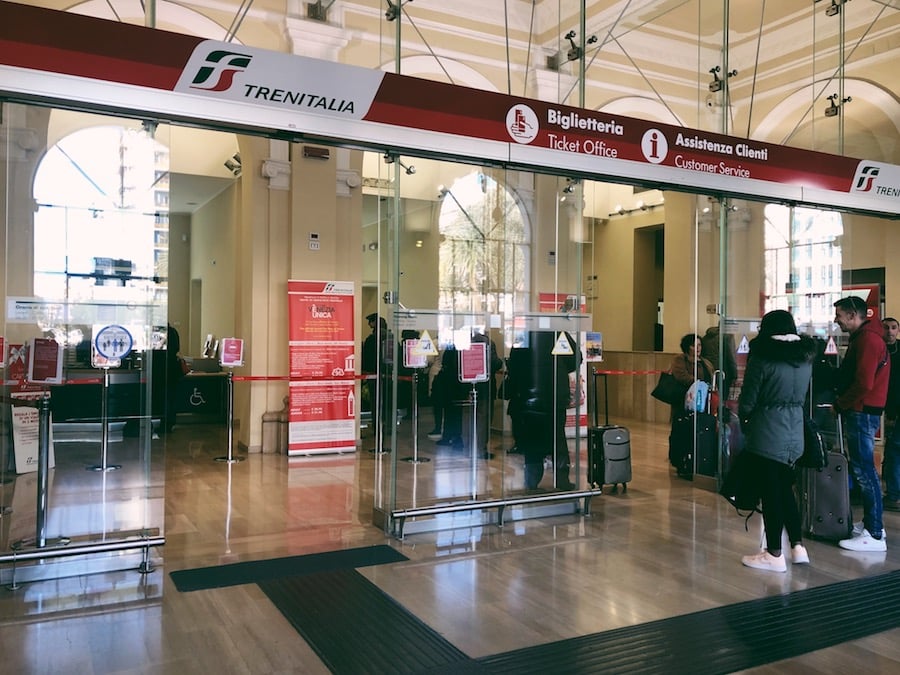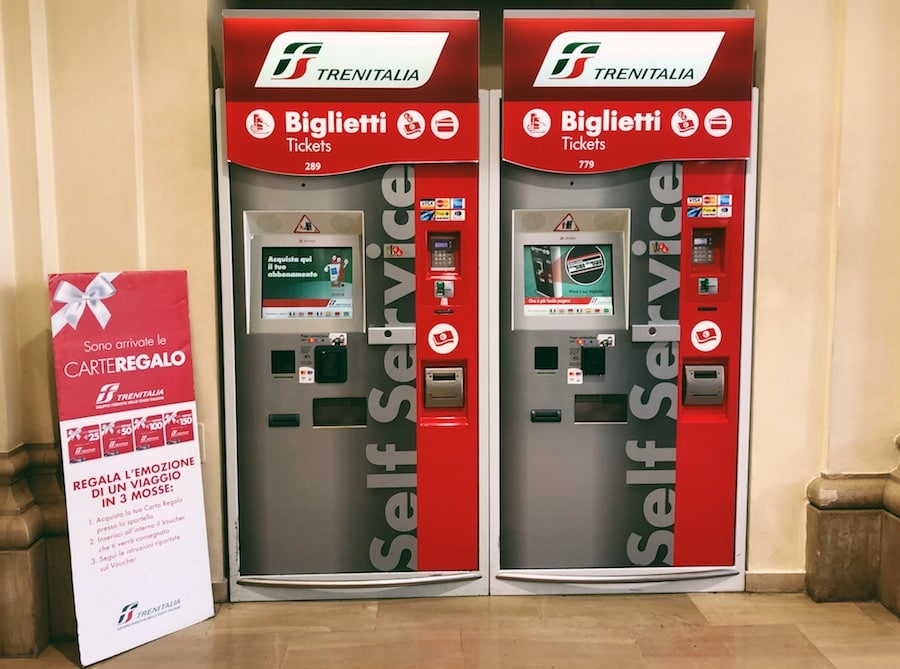 The Italian train ticket machine systems generally work really well and have a variety of language options, including English.
When you are on the machine, you will need to do the following:
Select where you're going (Polignano a Mare). Be sure to select the correct destination as there will be a few places that pop up with 'Polignano' in the name.
View the time options- the prices can vary depending on the time of the day you're traveling. But not by significant amounts. In my case, I was traveling from 9 am on.
Then you will select the exact time and train you will depart on. I left on the 9:29 am train. The train goes in the direction of Fasano. This option also gives prices.
Pay for it. Sometimes the machines accept cards, sometimes they don't. I paid for my journey in cash.
Wait for your printout and change and you're done.
Validate your ticket before getting on the train.
How Much is a Ticket to Polignano a Mare from Bari?
The ticket prices can vary depending on the time of the day you're traveling but they are generally very affordable.
I paid €2.80 for my one-way ticket from Bari to Polignano a Mare.
This is a second-class fare and I didn't see any options to upgrade (the train was really nice, so no need to pay for something more expensive).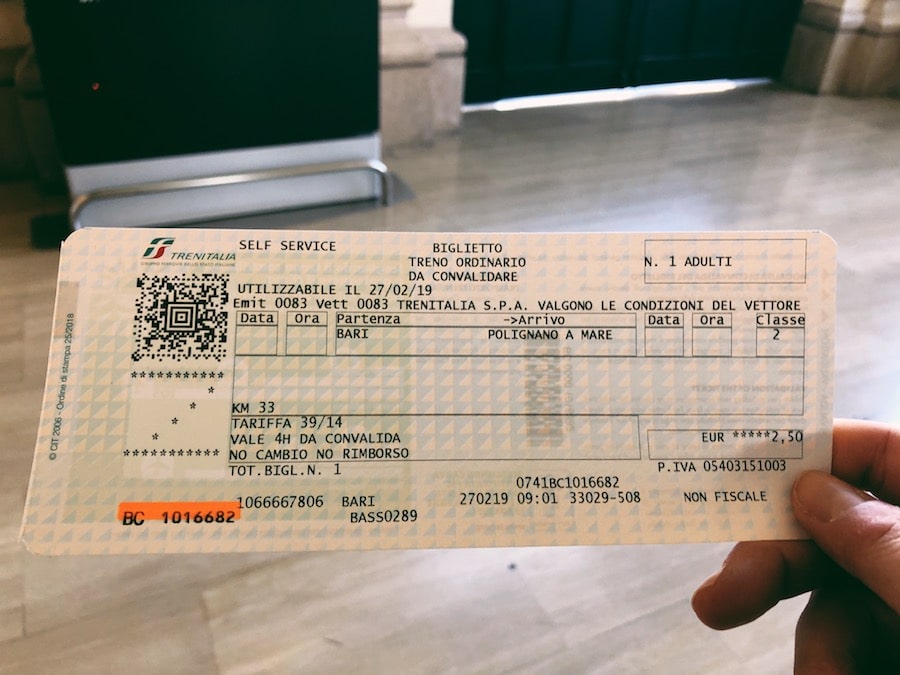 How to Take the Train to Polignano a Mare
To be honest, the hardest part about taking this train journey was finding the actual platform.
The train from Bari to Polignano a Mare was leaving from Platform 1 in the direction of Fasano and guess what? I couldn't find it.
So… don't go underground where all the other platforms are like I did. Platform 1 is actually on the right-hand side of the train station before you reach the café.
Don't exit the station- there are doors that will lead you to it.
Click here if you're looking for tips on how to get from Bari to Monopoli by train (Polignano a Mare is a stop on the way!) Click here if you're seeking what to do in Monopoli.
Make sure you validate, or stamp your ticket. In order to do so, find one of these machines on the platform itself or inside the train station.

The Train Journey to Polignano a Mare
The actual train ride itself was about 30 minutes long. Completely chilled out.
A conductor asked to check tickets, but aside from that, it was seamless and the half-hour passed quickly.
If you want to catch some amazing views of the sea (you actually hug it for a bit of the train ride!), sit on the left side by the window.
You will get some killer views of it!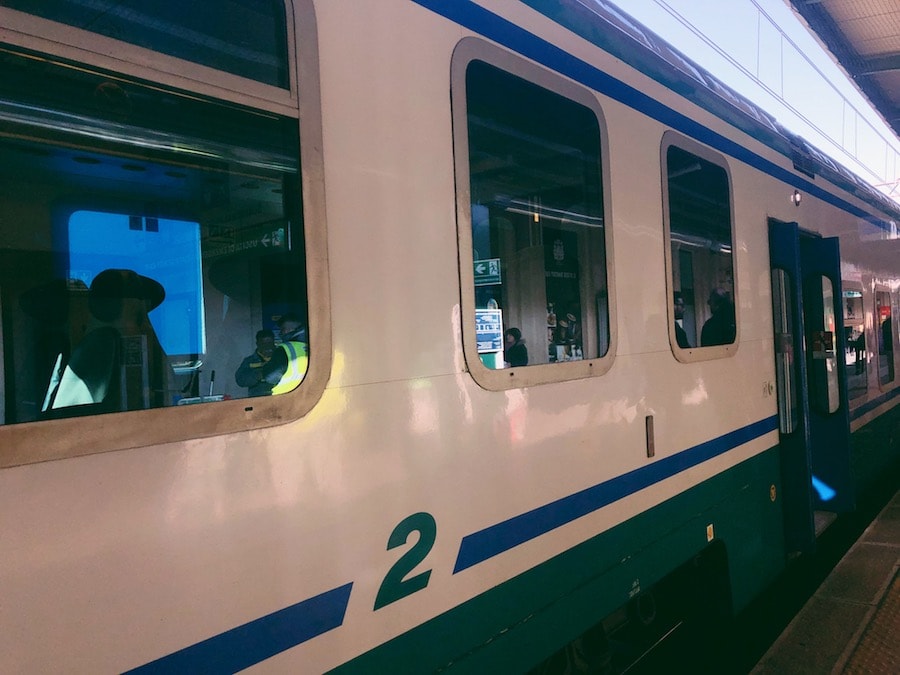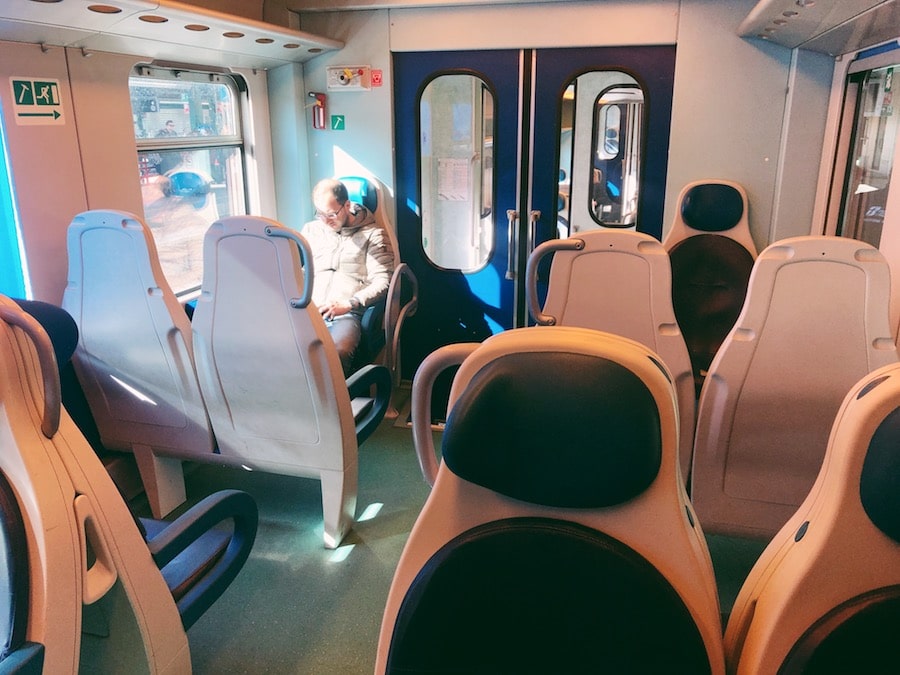 Polignano a Mare Station
The Polignano a Mare railway station is small and has nothing to it. The station sits on the Ancona to Lecce line that runs along the Adriatic coast.
Trenitalia operates all trains coming through there.
Is there Luggage Storage at Polignano a Mare Station?
Nope. There is nothing there. The train station is tiny and doesn't even have a café.
I had to haul my bag around Polignano a Mare all day and it was not an easy feat.
I tried to find a hotel that could hold my bag, but it was a sleepy day and nothing was open since it is the off-season.
Is there Food at Polignano a Mare Station?
No, there is nothing there. Literally. Nothing.
But, if you walk out of the train station and start heading into the Old Town, you will see this café almost immediately on the left side and it looked really cool and had quite a few patrons.
This may be a good option if you want a quick coffee or drink before your train.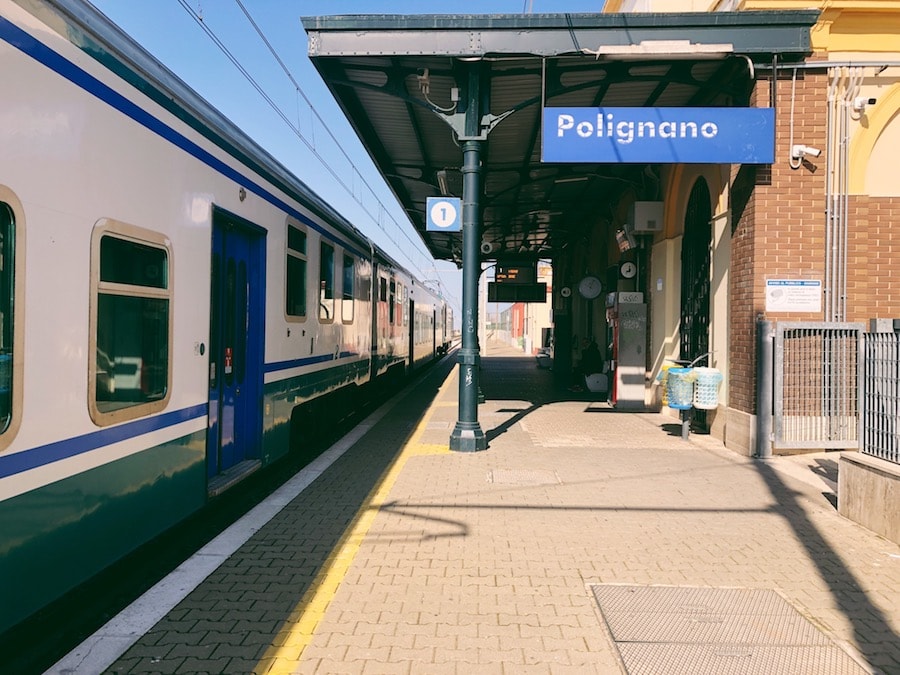 Getting Back to Bari from Polignano a Mare
Getting back is pretty much the same routine but the opposite.
The only difference is that the Polignano a Mare train station is small and you will need to use the actual machines to purchase a ticket.
The platform that will lead you back to Bari is accessible via the underground passage (or 'subway' as it is referred to).
Make sure you validate, or stamp, your ticket before getting onto the train.
Final Thoughts on my Trip from Bari to Polignano a Mare
The process of taking the train from Bari to Polignano a Mare was extremely easy if you follow the steps above.
Bari Station was extremely easy to navigate and is very small, but practical.
I hope you have a chance to take this ride as it means you're visiting Puglia in the first place!
You Might Also Like: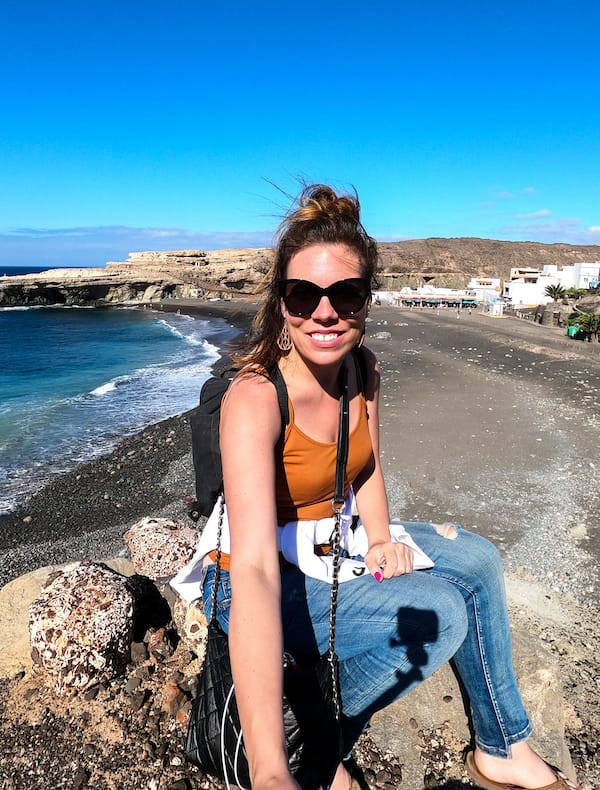 Megan is a travel blogger and writer with a background in digital marketing. Originally from Richmond, VA, she now splits her time between Frankfurt, Germany and Arctic Finland after also living in Norway, Armenia, and Kazakhstan. She has a passion for winter travel, as well as the Nordic countries, but you can also find her eating her way through Italy, perusing perfume stores in Paris, or taking road trips through the USA. Megan has written for or been featured by National Geographic, Forbes, Lonely Planet, the New York Times, and more. She co-authored Fodor's Travel 'Essential Norway' and has visited 45 US states and 100+ countries.