I recently went on a tour of North Lanzarote that I booked before I arrived here on the island.
This is my review of the North Lanzarote tour plus tips on what to expect if you take the same or a similar tour.
Are you planning your trip to Lanzarote last minute?
If youʻre booking your trip to Lanzarote last minute, we have you covered. Below are some of the top tours, hotels, and more!
🌊 Top Activities and Tours in Lanzarote:
🛌 Top Hotels in Arrecife:
Arrecife Gran Hotel & Spa (luxury)
Hostal San Ginas (budget)
🚗 Looking for the best way to get around Lanzarote? Click here to check rental car rates for the Canary Islands!
Review, Tips, and What to Expect on a North Lanzarote Tour
My trip to Lanzarote has been a mixture of independent travel with a few tours thrown in so I could give people options when booking their trip.
This island is traditionally known for its packaged holidays but times are changing and people are starting to have a different outlook when traveling.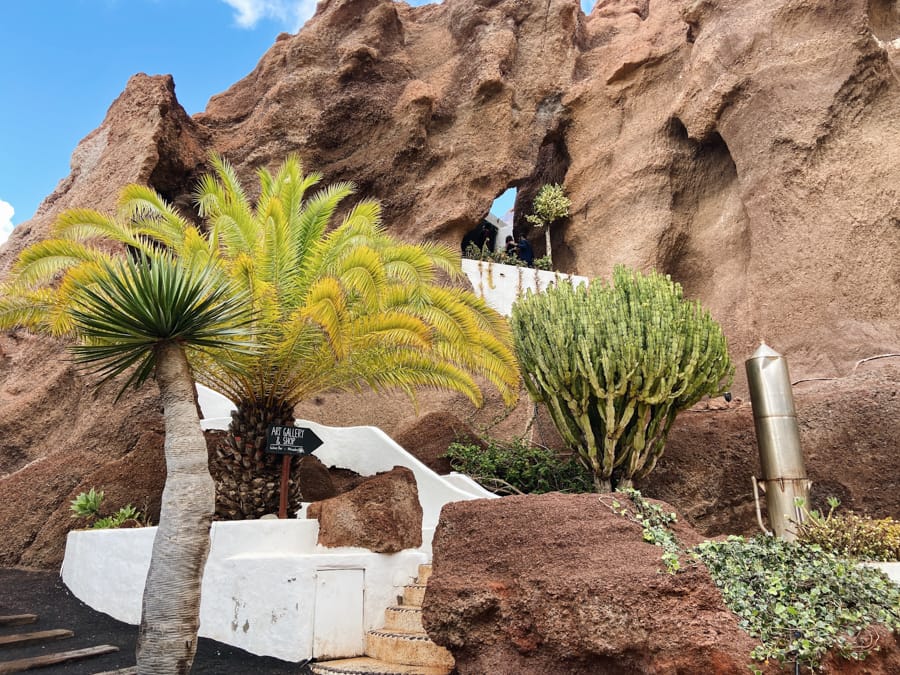 This led me to figure out how to travel Lanzarote by tours and excursions as well as completely independently. To aid my mission here, I decided to book a tour of North Lanzarote.
While it didn't completely fulfill my expectations, it does not mean that this tour isn't a viable and good option for those traveling to Lanzarote.
I will review and share my tips for a North Lanzarote tour below.
I will also give you details of what to expect and the information to decide whether or not this particular tour is for you… and if it is not, I will share a tour that might be a good alternative.
If you're not keen on booking a tour of North Lanzarote and want to see that part of the island by rental car (public buses aren't an easy option at the moment, unfortunately), I will be sharing a North Lanzarote itinerary soon to help you plan your trip.
Have you taken a tour of Lanzarote's north? Please feel free to share your thoughts in the comments if so.

The North Lanzarote Tour Details
The tour I booked of North Lanzarote is this particular one. It runs about 46 Euros per person even though it states it is around 38 Euros per person.
This can vary depending on group size and the time of the year. Lunch was not included (you had to pay 8 Euros) and the entrance fee for the Cesar Manrique Foundation was also not included but had a discounted price of 8 Euros.
Low Cost Tours Lanzarote was the name of the tour provider I went with.
They have a variety of tours throughout the island and they run on different days of the week.
The tour I took had a large coach (bus) that transported us around from place to place. The tour was in Spanish, English, and German (the awesome guide was stellar in all three!)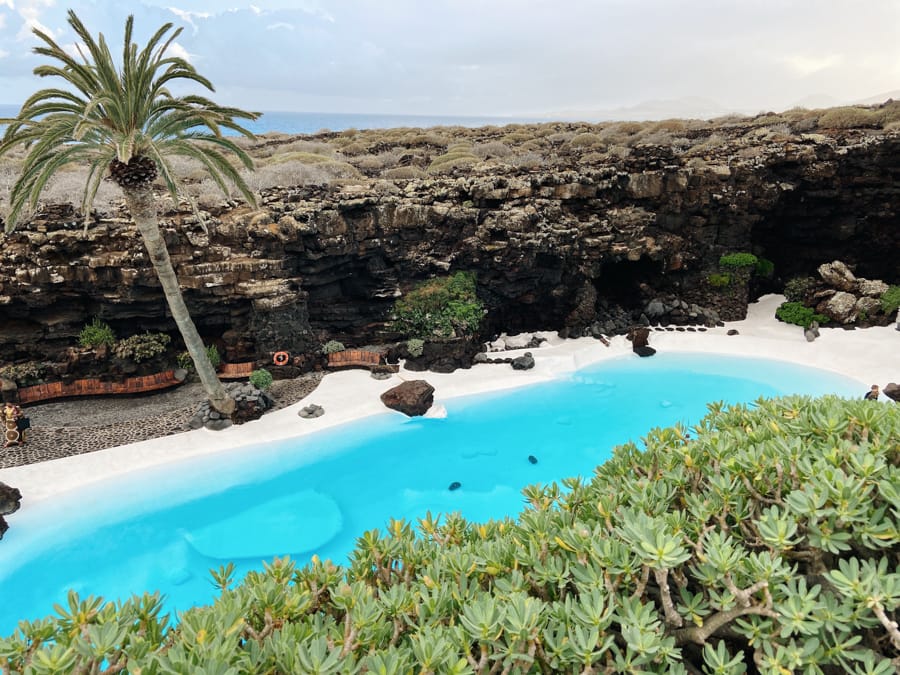 Depending on where you are staying, it will offer hotel pickup, or you can meet somewhere close by.
I was staying in Arrecife when I took the tour and they picked us up on a bus right beside a cafe called Nona's which was located right across from the tallest building in town, Grand Arrecife Hotel and Spa.
We were picked up at 0915 and returned to Arrecife at about 1815.
One thing to note if you're staying in Arrecife is that they will put you on one bus to transport you to Puerto del Carmen, a resort city, where you will switch to another bus with other passengers.
The itinerary included an Aloe Vera plantation, a drive through Haría, LagOmar, Jameos del Agua, Monumento al Campesino, and Fundacion Cesar Manrique.
There was also a quick stop at Ermita de las Nieves viewpoint, the highest viewpoint on Lanzarote that is able to be visited. Lunch was at Bar Restaurante Los Cascajos in Haria.
Before I dive into the stops, I feel I need to lay out expectations for the tour and who this tour is for.
Is this North Lanzarote Tour For You?
So, is this tour of the north of Lanzarote for you? I think it really depends on what you're looking to get out of the tour and what you came to Lanzarote to do and see.
In my opinion, this tour was not for me. It was a fantastic tour and had one of the best tour guides I have ever had. On the other hand, I felt out of my element.
I was under the impression we would see at least one town like Haría and/or Teguise. We saw neither, but we did have a rushed lunch in Haría.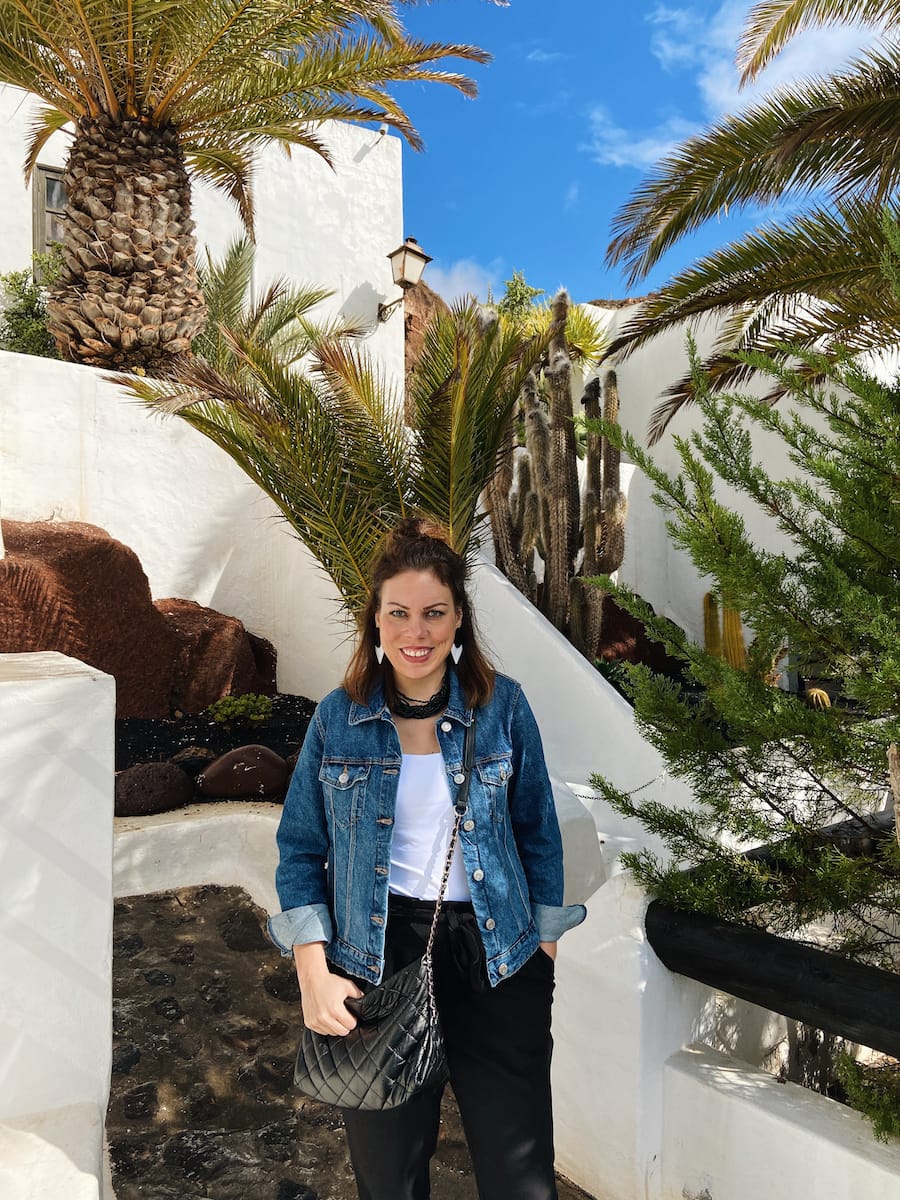 The other stops were a bit lackluster for me to a degree. I will explain this in detail throughout the text. However, this does NOT mean this will bore you.
I simply am not a huge museum person and would have loved to learn more about the culture without feeling like I was being pushed into places to shop.
This tour is a good option for you IF:
You like museums.

You don't mind being rushed a bit.

You don't mind a lot of time being spent on a bus.

You like Cesar Manrique and learning about his work.

You are keen to spend money on souvenirs and things to bring home.
This tour is NOT a good option for you IF:
You are desiring to see a lot of nature.

You want to be outside and moving around a lot.

You don't like larger tour groups.

You want to spend more time at LagOmar.

You want flexibility at places and more freedom.

You have mobility issues.
Everyone travels differently and likes different things and that is okay. This tour was excellent if you fit the first category.
If you're falling more in the second, I recommend a different tour (skip until the end where I make my suggestions) or renting a car yourself and seeing things at your own pace and leisure.
>> Click here to see more about this tour
Travelers with Mobility Issues
If you have mobility issues, I wouldn't recommend this tour, unfortunately. I did ask the guide if people with mobility issues and impairments could join and she said, with ample notice, yes.
They have a bus with a ramp that could accommodate as long as the person is traveling with a companion or someone that can assist.
However, I disagree. This tour was not friendly for those with mobility issues. Seeing LagOmar would not have been feasible.
And seeing Jameos del Agua was also not feasible for someone with mobility issues. Those two stops were easily the highlights of the tour. If you are looking to visit the museum and the cafes in other places, you won't find issues, however.
If you have mobility issues, I would pass on this tour.

What to Bring on Your Lanzarote Tour
There are not too many things you need to bring on a tour of North Lanzarote but based on my experience, here are a few things to consider bringing:
Cash:

This tour will take you into every souvenir shop and cafe it passes so if you want to shop and bring things home, bring some money with you. I would definitely bring cash. This specific tour actually had you purchase your lunch with cash and card was not accepted.

Rain jacket or umbrella:

Lanzarote gets 20 days of rain annually and guess what… they found me! If you're heading to Lanzarote in December as I did, bring an umbrella or rain jacket to be safe.

Water:

While we stopped at cafes and places that had food pretty much everywhere we went, I just wasn't keen on buying water at these places. The water on Lanzarote won't kill you, but it is not great to drink as it is actually seawater that goes through desalinization. It could give you an upset stomach if you're not used to it.

Small snacks:

If you're someone who likes to snack frequently, bring something to munch on. You're so rushed from place to place that sitting down and enjoying a cake or something is not always feasible.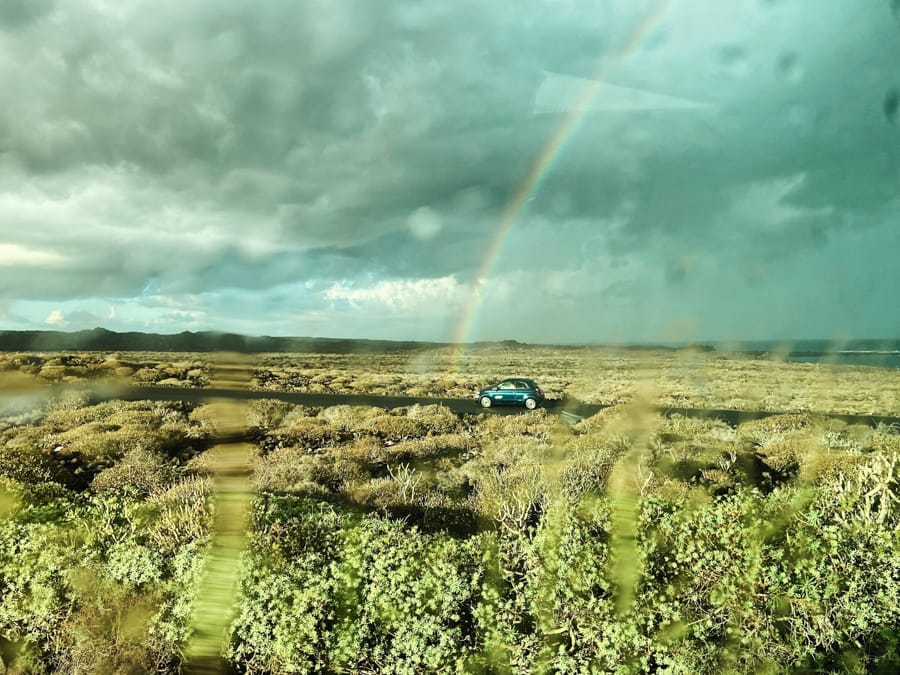 Stops on a Tour of Lanzarote North
The following section summarizes the tour's stops and what I thought about each, including details for those with mobility issues if you should choose to do this tour (I wouldn't necessarily recommend it and you can see why above).
Pickup in Arrecife
We were picked up in Arrecife at 0915.
You can also schedule a pickup at various points on the island (you can see the itinerary and pickup details here).
If you choose to stay in Arrecife, the tour will pick you up across the street from the Arrecife Grand Hotel and Spa (the tallest building in the city) along the waterfront.
Monumento al Campesino
Our first stop was Monumento al Campesino.
The statue was created from water tanks from old fishing boats by a famed architect and sculptor (and Lanzarote native!) Cesar Manrique. The statue was cool.
What this stop was mainly for is the shops around it.
You had a bodega selling wine, a cafe, lots of souvenir shops, a produce market, and more.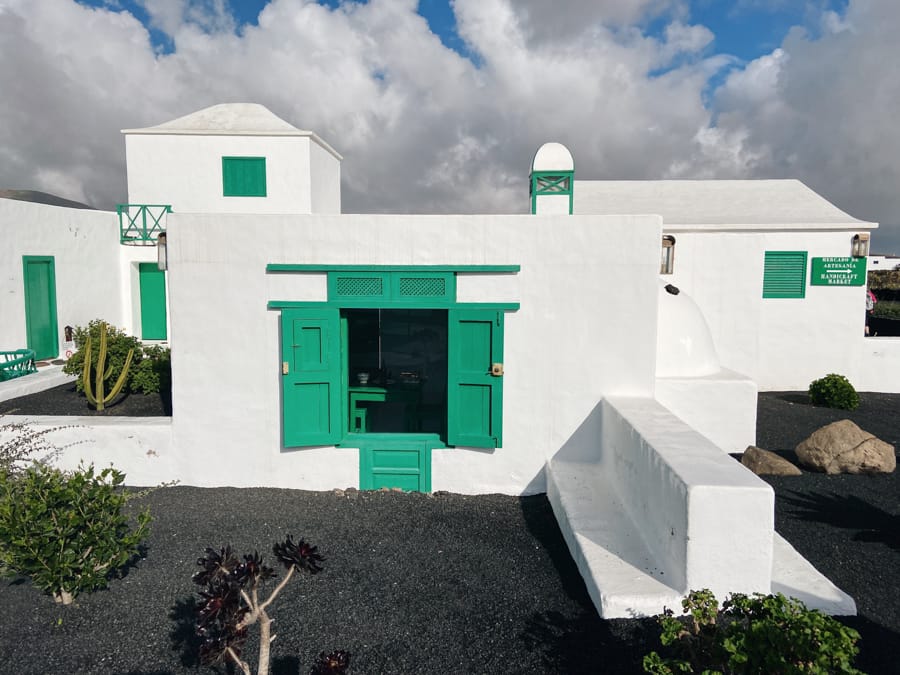 If you have mobility issues, you will not be able to get up to the statue itself but you can see it below.
You also can not enter the restaurant from below where the gardens are. But, everything else is accessible.
LagOmar Museum
The next stop on the tour is Museo LagOmar, the former home of Omar Sharif (uncle of Javier Bardem, actually).
This oasis in Nazaret is an opulent home built into lava tubes and rocks.
It is absolutely stunning and an Instagram opportunity if that is your thing. Just beware, it gets packed with tourists.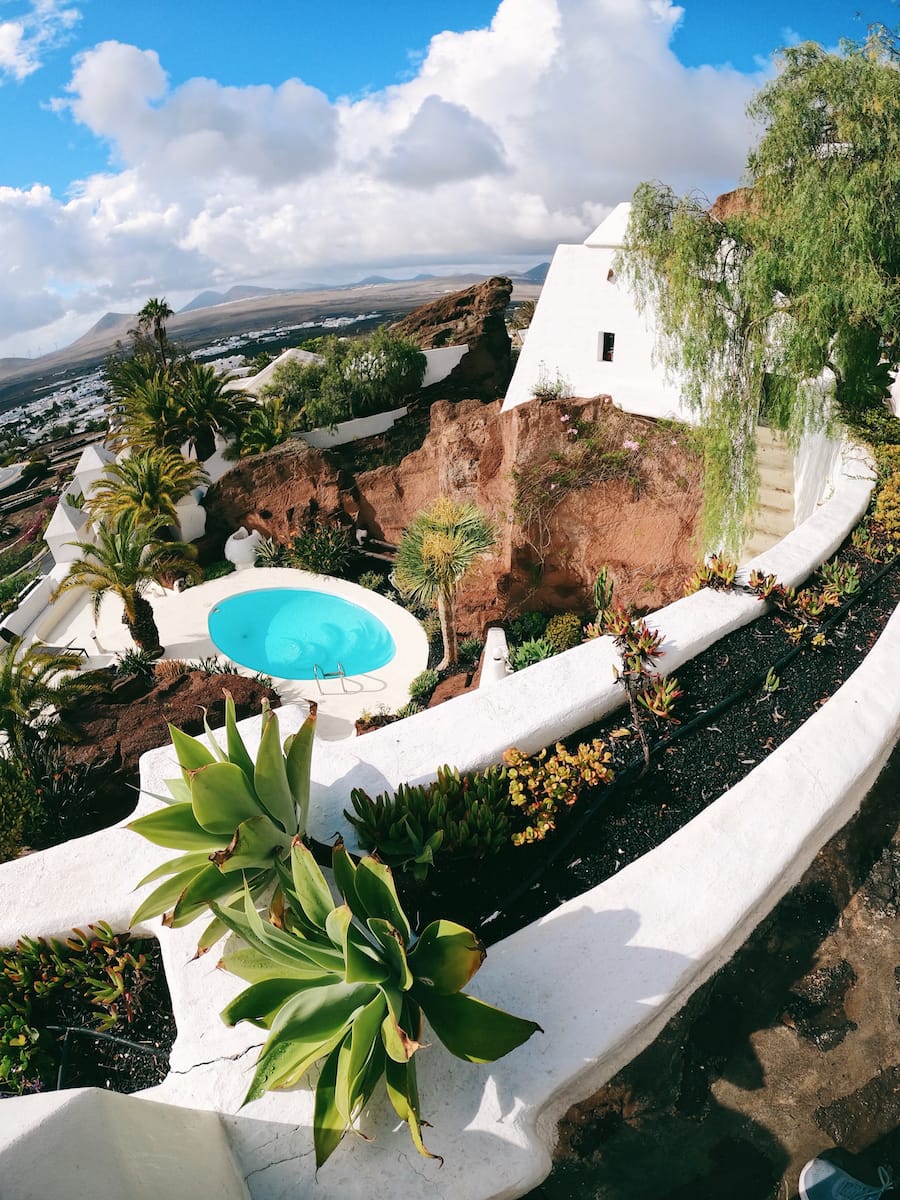 LagOmar was lost in a poker game a while back and now is a museum.
It is one of the most interesting places to visit in Lanzarote and I definitely found this to be my highlight of the day even if our stop there was not long.
If it is wet for any reason or you visit in winter, be sure to wear good shoes as it can be a bit slippery in places.
LagOmar is not accessible to visitors with mobility issues. You can stay in the cafe, however, if you choose to still partake in the tour.
Fundacion Cesar Manrique (Museum)
After LagOmar, we hit up another museum. I was really tired by then and opted to not go inside which is a shame.
We were told it was a contemporary art museum but it turns out it was part of Cesar Manrique's foundation.
We had to pay our own entrance fee of 8 Euros and didn't have that much time there, so that is mainly why I opted to not partake.

Ermita de las Nieves Viewpoint
Finally- NATURE! We made a quick stop at Ermita de las Nieves viewpoint, the highest accessible one on Lanzarote. The other viewpoint that is slightly higher is currently inaccessible to tourists.
We literally were allowed to get out of the bus for five minutes to take a few photos and scramble back on. Most on the tour didn't even get off of the bus but I did.
It was extremely windy, however, and a bit dangerous. But, it granted us with killer views and a fantastic glimpse of the island from above.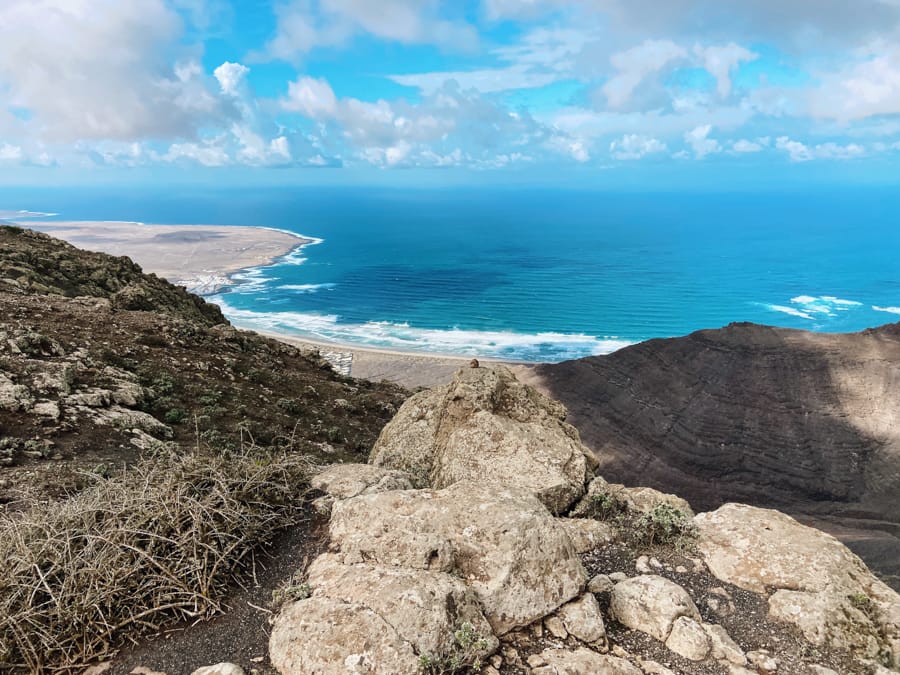 Lunch at Bar Restaurante Los Cascajos
Next on the list was lunch (at around 2pm). We stopped at a roadside eatery called Bar Restaurante Los Cascajos and it was surprisingly good as I had had pretty mediocre food up until this point on Lanzarote.
The place was rammed with other tour groups, however, so it wasn't the most relaxing dining experience.
Lunch was NOT included and we had to pay 8 Euros (usually is 10 Euros at this place but we got a discount). This included an all-you-can-eat buffet. The food was decent for sure.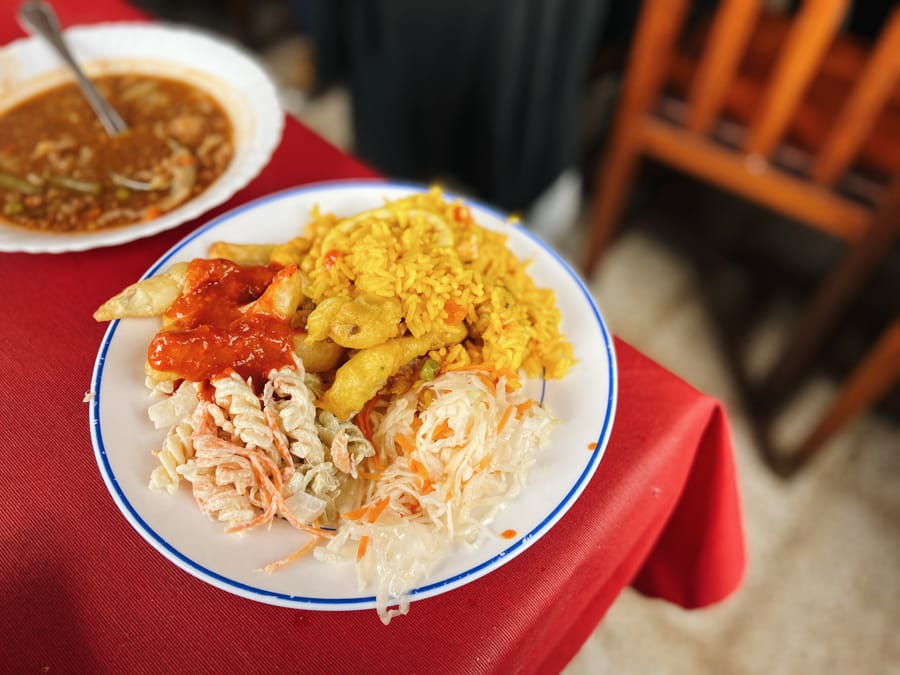 There are vegetarian options on the buffet but it is mostly in the form of salad stuff. There is also a toilet at this stop as well as souvenir-buying options. We had 50 minutes to scarf down food and meet back at the bus.
Aloe Vera Plantation (Lanzaloe)
The next stop was one of my favorites but I am not sure how many others actually enjoyed it. I really like Aloe Vera to eat, drink, and use and I always have a bottle of natural stuff with me.
So, I was keen to purchase some before even arriving.
Our stop at Lanzaloe included a demonstration, the opportunity to eat some of the Aloe Vera fillets, and then, of course, the chance to buy a bunch of stuff.
This whole stop just seemed geared at us spending money and the tour company gets a commission. They ended up with a pretty penny from me, to be honest.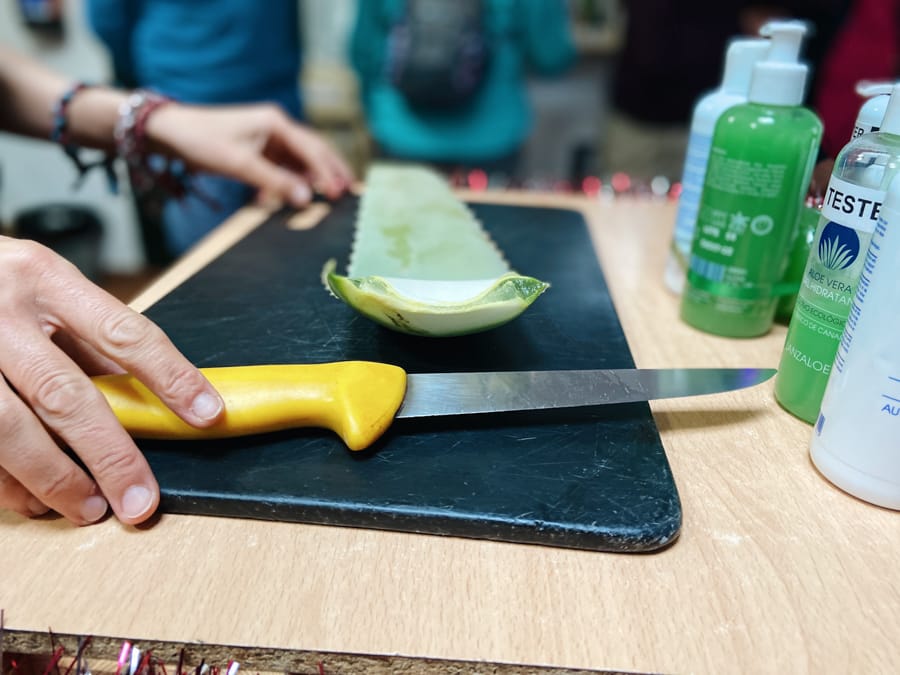 The products available at this stop ARE cheaper than purchasing them in the city or at other shops, just FYI. So, if you have a goal of purchasing some Aloe Vera in Lanzarote, do it while at this stop.
Jameos del Agua
Our final stop on the North Lanzarote tour was Jameos del Agua, a cultural center, museum, and much more on Lanzarote.
This is a gorgeous place designed by Cesar Manrique that uses lava tubes and volcanic tunnels as its base and it is now a restaurant, cultural center, conference hall, and much more.
You get to walk down into the tunnels and see a very special type of crab that lives in the water pool there. Then you exit through the gift shop just like everything else on this tour.
There was also a beautiful concert hall there, as well.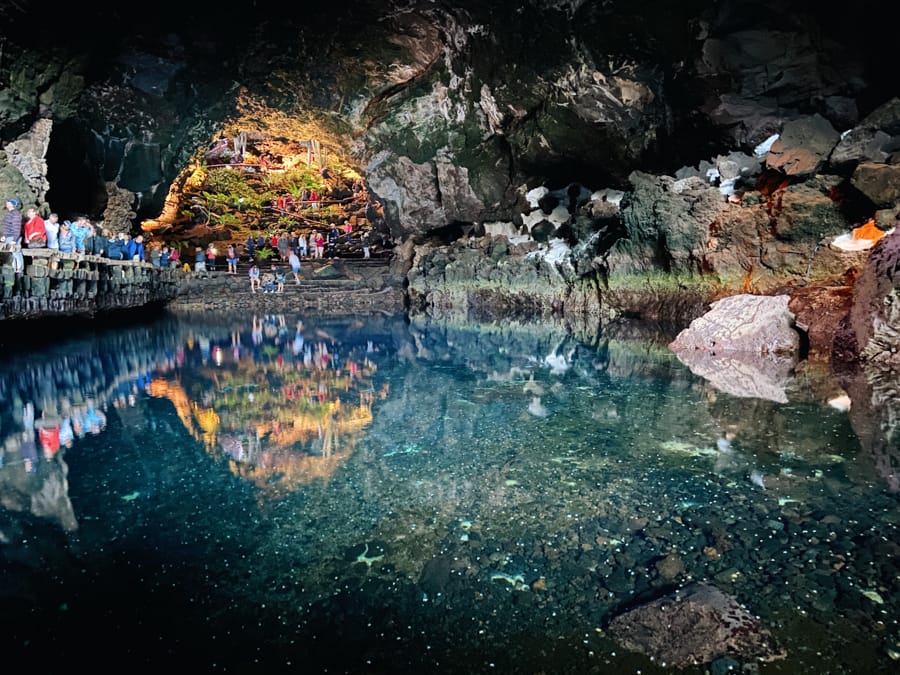 This is not a stop for those with mobility issues, unfortunately. You can see some stuff there, but you will be unable to make the trek from one side of the tunnel to the other and that was probably the coolest part about visiting.
Return to Arrecife
We arrived back in Arrecife at about 1815 at the same place we were picked up.

My Conclusion About this Tour
It wasn't for me. BUT… that does not mean it was a bad tour at all. The tour guide was absolutely incredible and the organization was there.
It just wasn't the type of tour for me. It contained too many museums and too many places that just seemed geared to make me spend money. It is not a tour for those looking to see Lanzarote's nature and scenery.
If these are the things you want to see on a tour, this is definitely a fantastic tour to book! You get to learn a bit about architecture and Cesar Manrique which is a huge plus.
>> Click here to book this North Lanzarote Tour
Alternative Tour Recommendations
If this tour isn't your jam and you don't have a rental car or driving option to see things in a DIY manner, here are some other tours I recommend that might be better suiting:
⇒ Cesar Manrique North Island Tour: This tour actually takes you around North Lanzarote and focuses on Cesar Manrique architecture and sculptures.
It is a very specific tour that will delight those looking to learn more about this talented and beloved man (who has sadly passed, unfortunately).
You will inevitably hear his name a lot so I definitely suggest getting familiar with his work and contributions to Lanzarote. This tour runs year-round but only on Saturdays, I believe. Click here for tour rates, itinerary, and availability.
⇒ Lanzarote: The North Face – Northern Valleys: This tour focuses more on villages and towns and learning more about the endemic plants and their usage today as well as food.
This is a great option for those wanting to actually get out of a bus and see the places that people call home. Click here for tour rates, itinerary, and availability.
⇒ Lanzarote: Northern Delights Tour: This tour goes to some of the things that are the biggest North Lanzarote highlights.
You will get to go to La Graciosa (I wrote about this from Orzola here). You will also get to see Mirador del Rio which is one of Lanzarote's highlights. There are many more things you'll get to see, such as LagOmar and this has a fantastic itinerary. Click here for tour rates, itinerary, and availability.
⇒ Lanzarote: Half–Day 4WD Northern Safari: This tour focuses more on nature and viewpoints and it is totally up my alley. The weather wasn't cooperative when I was visiting Lanzarote so this would have even been an option for me.
But, if you're seeking nature, viewpoints, and some off-the-path experiences, check out this tour. Click here for tour rates, itinerary, and availability.
⇒ North Lanzarote Photo Tour with Expert Guide: If you're seeking to shoot the best places on the north of Lanzarote, this tour is definitely for you.
You'll stop at beautiful spots along the coast as well as some of the more known gorgeous spots. Bring a tripod and filters with you if you head on this tour. Click here for tour rates, itinerary, and availability.

Renting a Car in Lanzarote
If you decided to opt to rent a car and do this tour a bit more 'DIY' style, I definitely agree with your decision!
It will give you the opportunity to make frequent stops at gorgeous places and take the photos you want without being pressed for time. The roads in Lanzarote are fantastic, by the way.
>> Click here to check rental car options for Lanzarote
If you're heading on a tour of North Lanzarote, be sure to do your research beforehand. This tour was great for the right person, but not necessarily for me individually.
Please feel free to email me if you have any questions or drop a comment below! Thanks!
More Lanzarote Travel Guides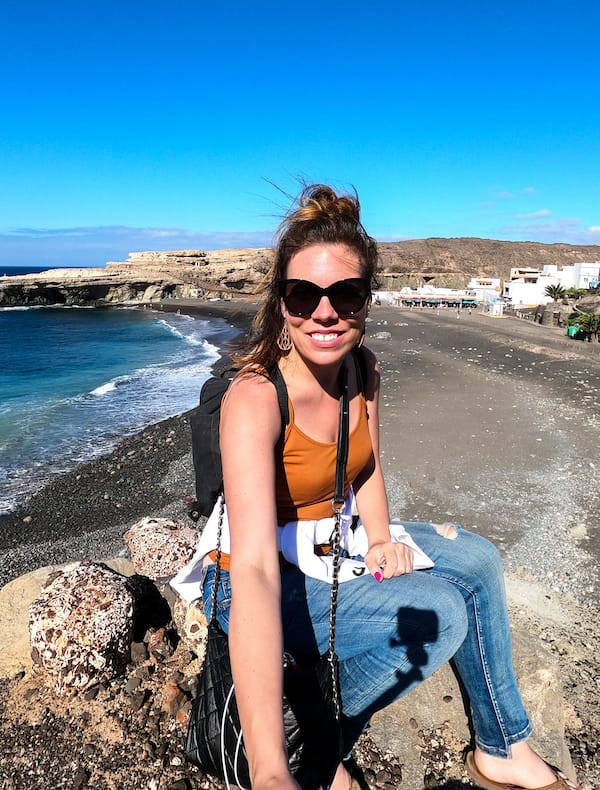 Megan is a travel blogger and writer with a background in digital marketing. Originally from Richmond, VA, she now splits her time between Frankfurt, Germany and Arctic Finland after also living in Norway, Armenia, and Kazakhstan. She has a passion for winter travel, as well as the Nordic countries, but you can also find her eating her way through Italy, perusing perfume stores in Paris, or taking road trips through the USA. Megan has written for or been featured by National Geographic, Forbes, Lonely Planet, the New York Times, and more. She co-authored Fodor's Travel 'Essential Norway' and has visited 45 US states and 100+ countries.