Are you looking for the best things to do in Playa Blanca for an upcoming Lanzarote trip? Keep reading – we've got you covered!
This guide will dive into a little bit about Playa Blanca, what to do in the town, and where to stay.
We also have a large section at the end detailing how to get there and how to get around Playa Blanca when you're visiting!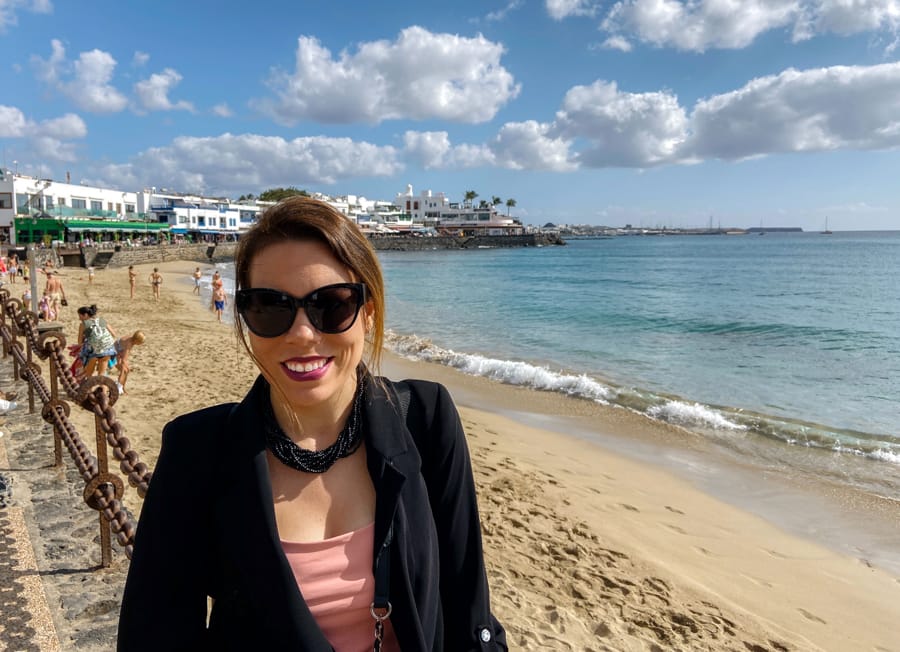 Did we miss any of the best things to do in Playa Blanca?
Let us know your favorite Playa Blanca attractions and activities in the comments. Thanks!
Best Things to Do in Playa Blanca
1. Go Kayaking and Snorkeling in Playa Blanca
Explore the Canary Islands on the water with this fantastic kayaking tour. You'll get a chance to kayak, swim, and snorkel on this three-hour excursion from Playa Blanca!
At the meeting point, your guide will give you a safety briefing and any necessary instructions before launching out into the brilliant blue waters.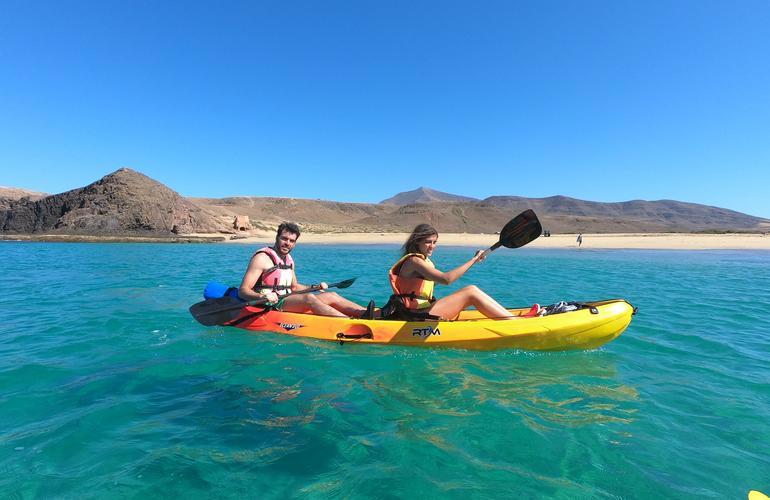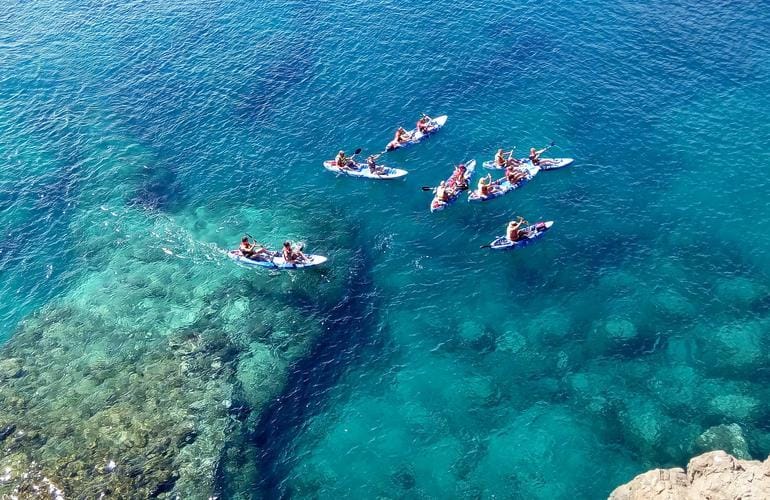 You'll paddle past the cliffs of the Los Ajaches Natural Monument, caves, and beautiful beaches. Stopping at Papagayo Beach, you'll have time to rest, picnic, and snorkel before heading back.
Your guide will also share fascinating information about the geological, biological, and anthropological history of the Canary Islands. All necessary equipment and picnic supplies are provided on this tour.
Participants must be older than 5 years old and be able to swim.
>> Click here to check tour rates and availability
2. Rent a Jetski in Playa Blanca
If you love thrills, you will love feeling the wind in your hair as you zoom around on a jet ski! This jet ski rental allows you to drive it yourself in a specially designated jet ski area, with no boating permit needed.
Your supervising instructor will give you clear instructions so you feel comfortable before you are able to head out on your own.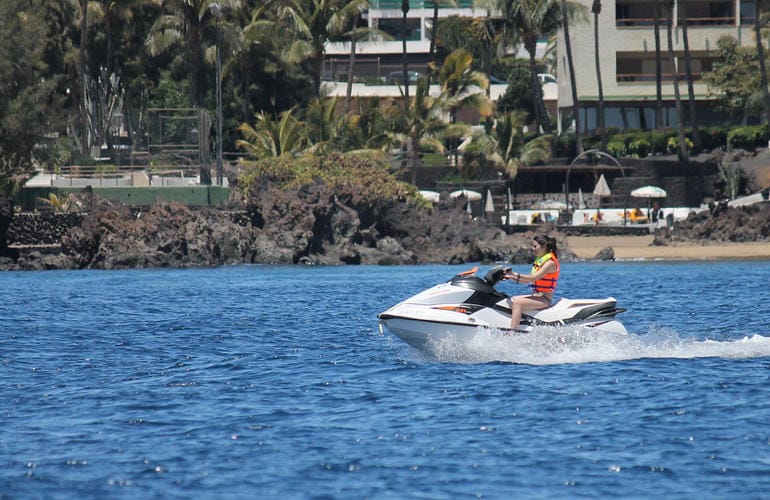 There is also an option of taking a jet ski excursion, where your guide will lead you out of the designated area on a tour up the Lanzarote coast to the gorgeous beach of Papagayo.
Both the jet ski rentals and excursions take place/begin in Playa Blanca.
>> Click here to check jet ski rates in Playa Blanca
3. Relax At Papagayo Beach
One of Lanzarote's highlights is Papagayo, a beautiful set of three beaches nestled in their own coves.
Each of the golden beaches is protected by cliffs that protrude out into the sea resulting. This protection allows the beaches to be calm and swimmable.
To be honest, I didn't see too many beaches that were like this on Lanzarote until I reached Playa Blanca. Sure, I had heard about beaches in Tenerife, but nothing on this island.
Yet, this area is so jaw-dropping that it has been declared a nature reserve and to enter, you will need to pay a small fee.
Getting to the beaches can be somewhat difficult but if you have rented your own car, you can drive to the beaches (however it is important to clarify if this is allowed with YOUR rental car as there are some stories out there that rental companies fine you if you take their cars to Papagayo).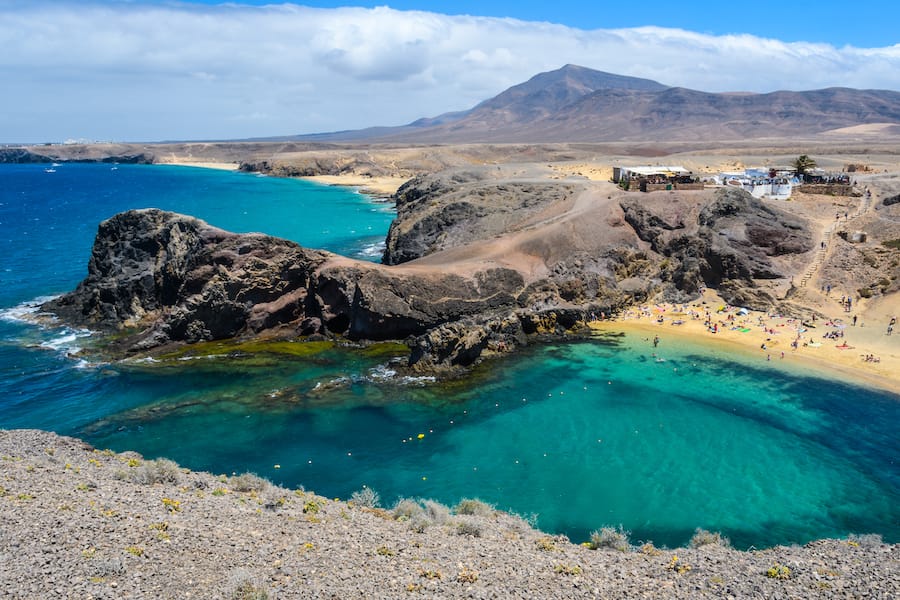 The other practical way to get to the beaches is by boat, with water taxis available from Marina Rubicon or the Old Harbor departing four times a day to Papagayo.
You can also take a dedicated tour to Papagayo Beaches, where you can enjoy time on a luxury boat and swim in the waters of one of the beautiful beaches.
Alternatively, you can walk to the beaches with the walk taking just over an hour, along the way you will encounter some of Lanzarote's most desirable nature.
>> Click here to check tour rates and availability
4. Wander Through the Street Market at Marina Rubicon
On Wednesdays and Saturdays between 9am-2pm, there is a wonderful local market at Marina Rubicon, specializing in locally-produced and crafted products.
As you peruse the vast array of stalls that have been set up in harborside, you will be able to find fantastic little products from wines to fun trinkets.
It is one of the best places to get local souvenirs and support local craftspeople.
Surrounding the market are plenty of small bars and restaurants where you can enjoy a bite to eat or a quick drink to escape the sun that beats down on the idyllic marina.
5. Go Parasailing in Playa Blanca
See the azure water from a new perspective: gliding above it! With this thrilling parasailing activity, you can fly over the sea at a height of either 50m or 100m.
Choose from either sailing at Puerto del Carmen or Playa Blanca.
Whichever spot you pick, you will be rewarded with spectacular views of the sea and the unique volcanic landscape of the island.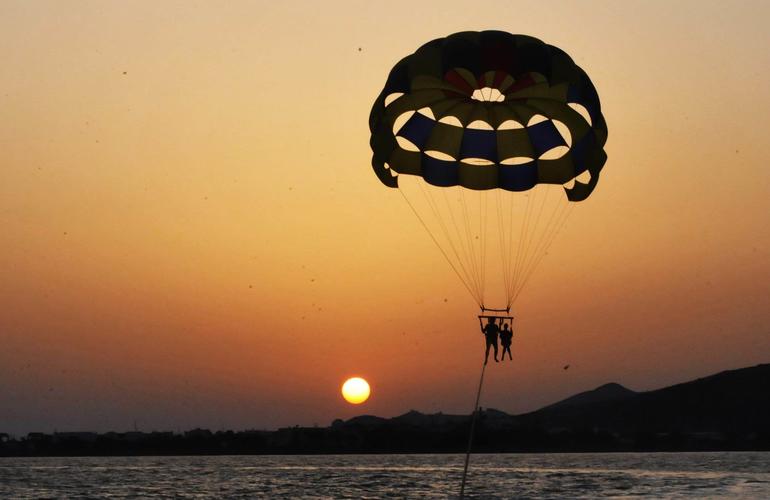 You can choose a flight to fit singles, doubles, or triples, so you can bring along your friends to share in this exhilarating experience.
There is also an option to just ride on the boat if anyone in your party does not want to participate in the parasailing part.
>> Click here to check parasailing rates and availability
6. Take a Day Trip to Fuerteventura
As you look out over the sea, on the horizon you will see the volcanoes of Fuerteventura rise out of the ocean. With just under 10 miles between the two islands, Fuerteventura and the town of Corralejo makes the perfect day trip from Playa Blanca.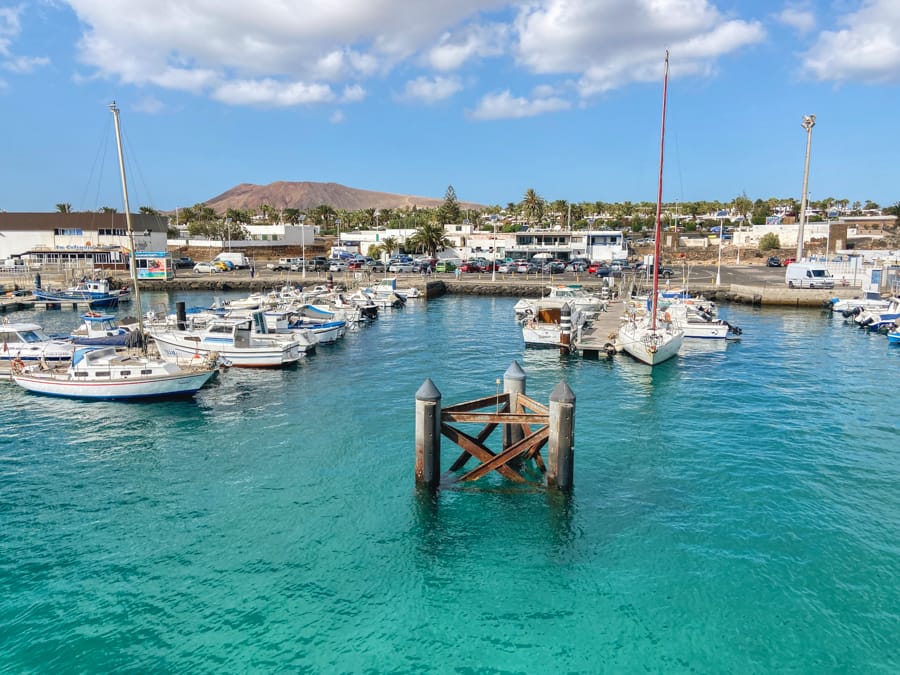 Corralejo is a cool, hippie-like town that has a completely different vibe to Playa Blanca and Lanzarote as a whole.
With surf shops lining the main shopping street, you quickly realize just how important surfing is to the area, with the northern beaches on Fuerteventura being some of the best surfing spots in the Canary Islands.
Along with the surf shops, there is an abundance of nice restaurants and hip bars, and each has its own unique vibe.
If you are wanting to do a little more than just explore Corralejo, you can take an organized tour where you will visit both the town and the surrounding nature.
To book your ferry to Fuerteventura from Playa Blanca, click here.
7. Explore Isla de Lobos
Just off of Fuerteventura's northern coast and 14km south of Playa Blanca is the rugged island of Isla de Lobos, a nature reserve crammed full of epic landscapes.
There are limits to how many people can visit the island, with a daily limit of 400 people split into two four-hour sessions of 200 people one in the morning and one in the afternoon.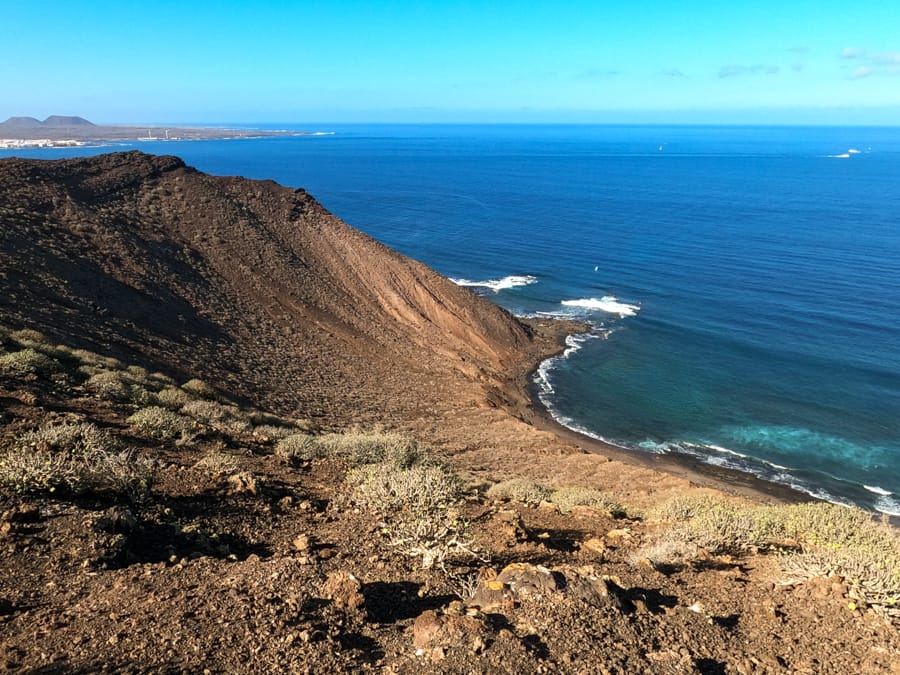 The island is home to over 100 different types of plant species and rare sea birds that use the cliffs that edge the island to nest during the breeding seasons.
The waters around the island are also home to a vast array of marine life such as barracudas and hammerhead sharks.
Isla de Lobos has plenty of hiking trails that wind their way through the island and in the north, you will find a 19th-century lighthouse, as well as a large volcano where you can hike to the top for the best views of the island.
If you are not wanting to hike, the island is also home to some fantastic beaches where you can spend your four hours relaxing on a secluded beach.
Lobos Island is one of the best excursions from Corralejo and anywhere from Lanzarote both!
Getting to Isla de Lobos from Playa Blanca
From Playa Blanca, there are two ways you can reach the island: either planning a trip on your own or taking an organized tour.
If you plan to go independently, you will need to book a ferry crossing to Fuerteventura and from there you will need to take the 10-minute boat ride to Isla de Lobos, which will also need to be booked in advance choosing either the morning or afternoon session.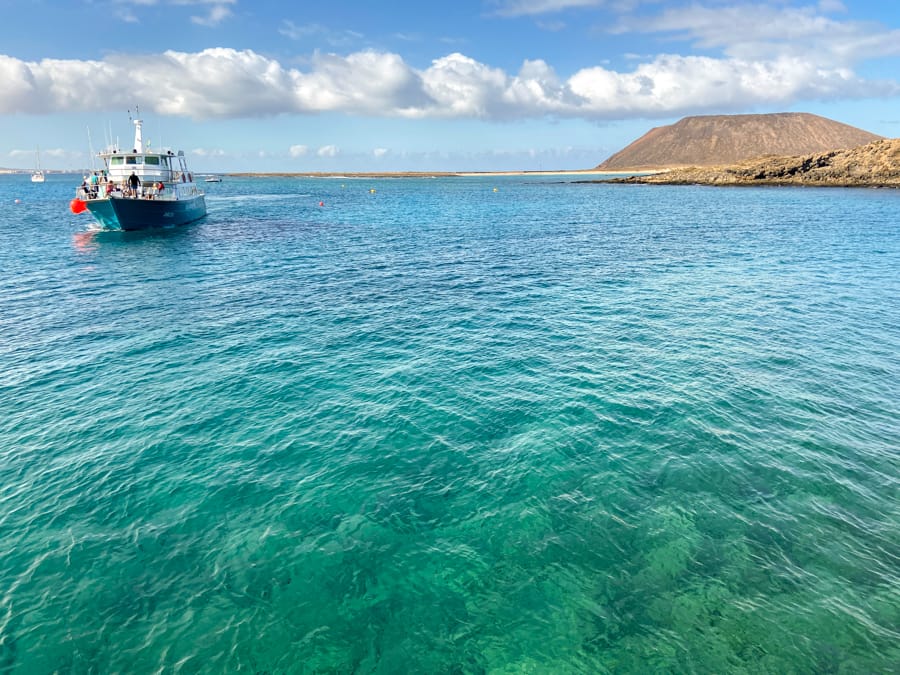 Three days prior to your trip, you will need to register to enter Isla de Lobos with the government. Ferries to and from both islands are pretty common, so I recommend waiting to book boat tickets until you have confirmed your access to the island.
Alternatively, you can take an organized tour that couples dolphin spotting and two hours on the island in one trip. This is a great way to explore the island in a more hassle-free way.
>> Click here to check tour rates and availability
8. Walk to Pechiguera Lighthouse
To the west of Playa Blanca is one of the island's tallest lighthouses, standing at 50m tall.
Pechiguera Lighthouse was originally built in 1866 and was only 10m tall, however, it remained in use for over 100 hundred years until it was replaced by the current lighthouse.
The cool thing about this lighthouse is that you can see the new and the old one side by side as they kept the old one in its place. It has since been deemed a place of cultural heritage by the government.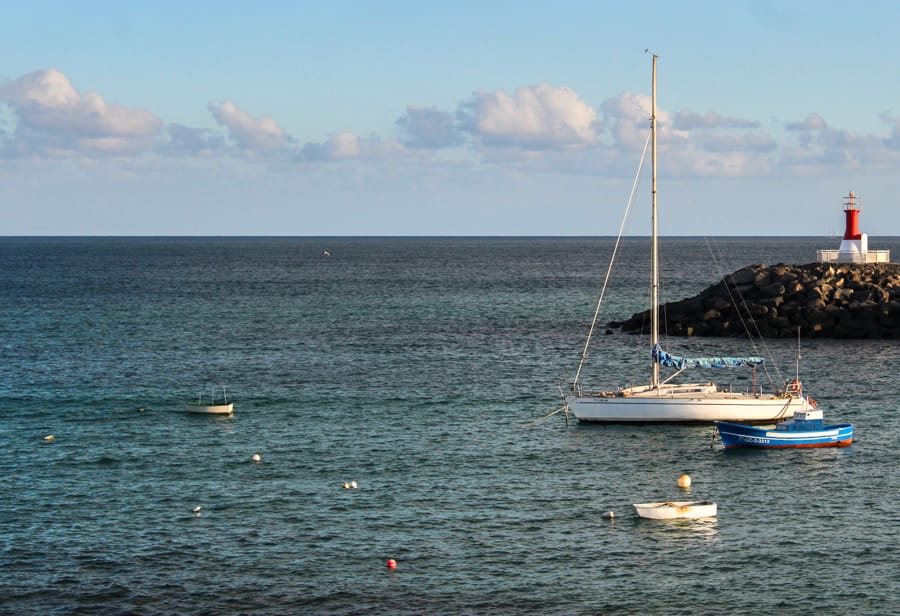 Reaching the lighthouse is a nice walk that takes you along the semi-rugged southern Lanzarote coast.
A mostly-paved walkway stretches all the way along the coast from Playa Blanca to the lighthouse, with the walk lasting around 1 hour and 15 minutes.
It is also possible to bike the promenade and complete the journey quicker than on foot, although you may find that the walkway is busy with people walking.
This is one of the best things to do in Lanzarote if you're wanting to get out of the center and away from the businesses.
9. Dive the Underwater Museum
This is your chance to visit one of the most unique museums in the world: an underwater museum accessible by scuba diving!
This full-day diving activity first walks you through equipment orientation, safety procedures, and actual diving instructions before you head out to the bay next to the Rubicon Dive Center, where you'll get into the water.
Once you feel comfortable your instructor will guide you in a short dive in the bay.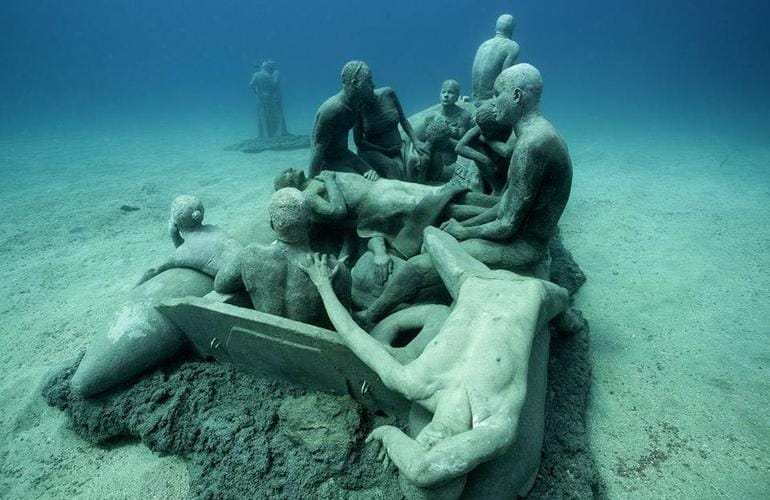 You'll then take a lunch break and afterward head to the underwater museum for an exciting afternoon dive.
At the end of the excursion, you will receive an SSI Basic Diver certification, which is valid for 6 months.
This excursion is a fun way to learn a new skill, see the incredible museum exhibits, and explore the fascinating world under the surface.
>> Click here to check diving rates and availability
10. Visit Castillo de las Coloradas
To the east of Playa Blanca, just past Marina Rubicon, there is a small defensive fortification that sits on top of a peninsula that juts out and offers fantastic views over the sea and along the cliffs.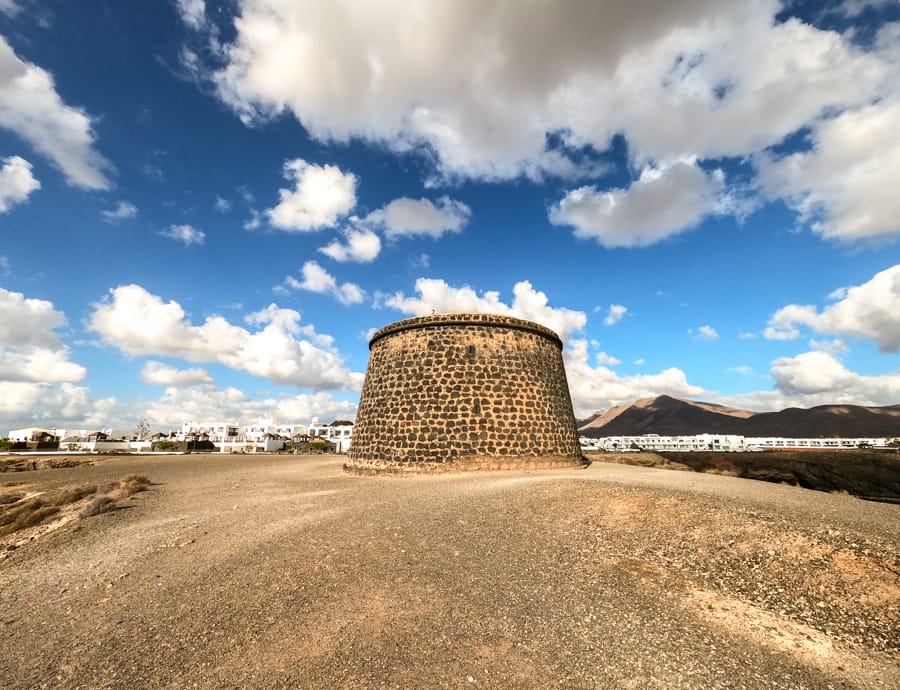 Easily walkable from the center of Playa Blanca, the castle is interesting but there is not too much there… at first glance.
However, the magic lies behind the castle where you can walk out onto a rock formation and look at the fantastic cliffs that have formed over time with different layers of rock, each a different color.
Below the castle, the waves come rushing in breaking against the rocks, making an almighty noise. Looking out east, you can see the fantastic Papagayo Beaches that stretch along the coast with their individual coves.
The fort was built in the 18th century to defend the coast from the incessant, barbaric pirate attacks from North Africa.
11. Stroll the Playa Blanca Beachfront
Playa Blanca stretches along the southern coast of Lanzarote for pretty much 5 and a half miles.
Along this coastline is a pedestrian walkway that connects all of the beaches, bars, and coastal resort hotels- only breaking where the port intersects.
This promenade is perfect for strolling or riding a bike along as you occasionally stop for ice cream or a drink in one of the many establishments that line the walkway.
As the pathway is free from car traffic, moving from beach to beach is quick and makes it easy to find a beach with some space as they start to fill up during the day.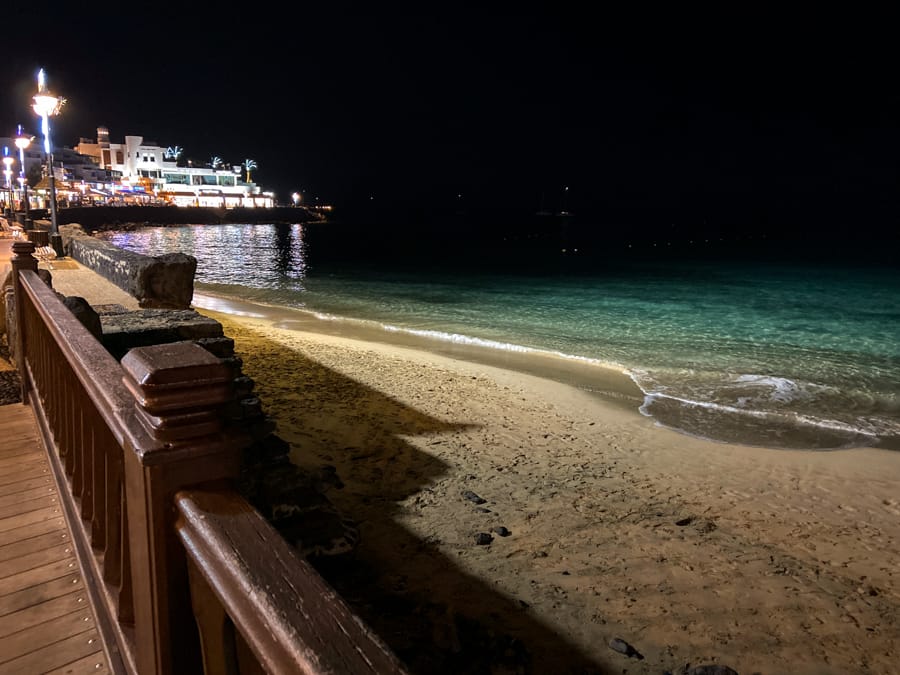 Alternatively, the walkway provides a direct route to the lighthouse and castle on either end, two of Playa Blanca's most famous sites.
The path is bikeable but in the main parts of the town, you might find that the route is more congested with foot traffic and bars that sprawl out onto the walkway.
12. Watch the Sunset from Mirador en Playa Flamingo
Since Playa Blanca is located on the southern tip of Lanzarote, you have the opportunity to see fantastic sunrises to the east and sunsets to the west.
Sunsets on the island happen to be fairly spectacular as the sun lowers into the Atlantic Ocean.
Unlike northern Europe, the sunset time stays fairly standard throughout the year, with there being an under-4-hour difference between the lengths of the shortest and longest days of the year.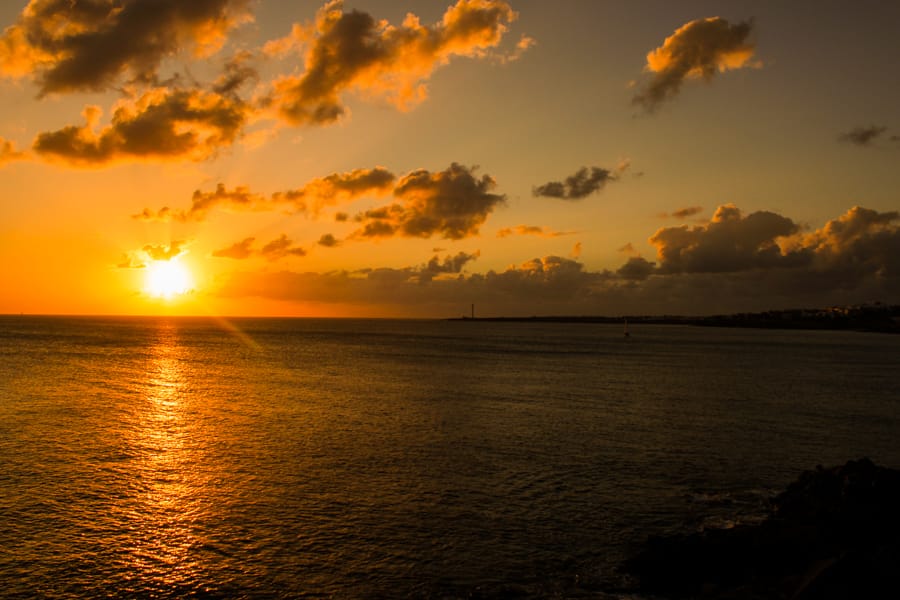 To the west of central Playa Blanca and past the port is Playa Flamingo, a lovely sheltered beach with high cliffs to one side.
At the top of these cliffs, you will find Mirador en Playa Flamingo, a vantage point to watch the sunset.
High above the sea, you will be able to watch sailing boats gently glide past the setting sun as the sea reflects a warm orange glow from the sun as the heat of the day starts to dwindle.
The area is peaceful and there are plenty of spots to sit down and watch the magic unfold. At the base of the cliffs, you may find people fishing off the rocks, creating beautiful silhouettes against the orange sky.
Additionally, there is a small fortification in the area and some railings where people have placed love locks during their trips.
13. Eat Dinner at La Chalanita
There are plenty of places to eat along the seafront in Playa Blanca, but few meet the standards set by La Chalanita.
The fantastic restaurant has epic views out over the sea and is located on the first floor and away from the crowds below. They specialize in traditional Spanish food that is served in large portions with a lot of flair.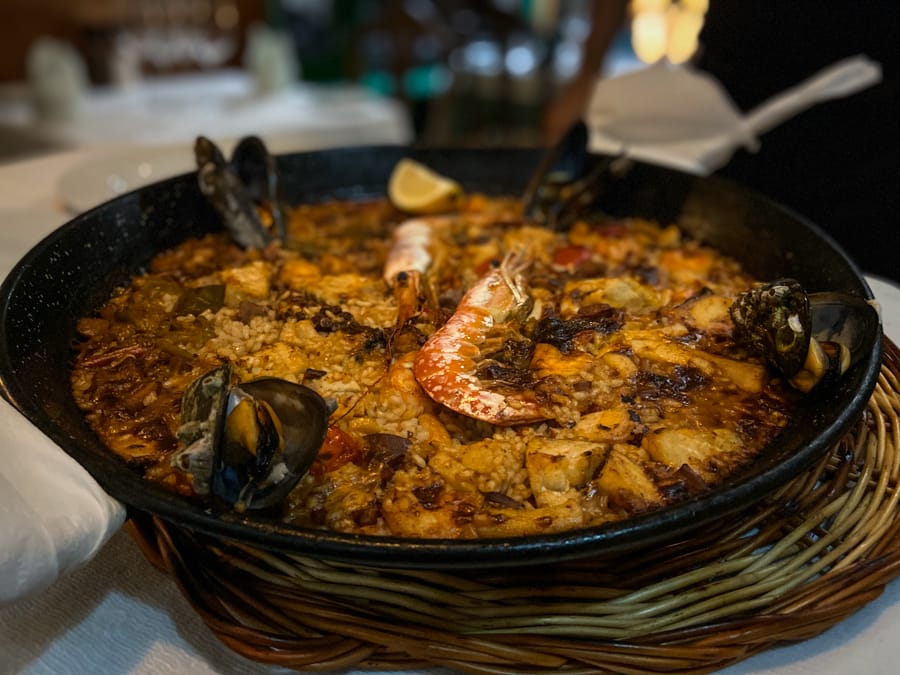 The whole menu looked delicious, but I opted for the paella (which you need a minimum of two people for) as I had a craving for rice.
I went a little off the menu with my order and asked for the dish with fish and shellfish only and not a mixture of meat and fish.
It was absolutely delicious and worth the wait for the paella. This is definitely one of the best restaurants in Playa Blanca if you're craving Spanish food.
14. Have Lunch or a Drink at Puerto Blanca
There are plenty of seaside bars and restaurants that line the beachfront in Playa Blanca, all offering up pretty much the same menu and drinks.
However, the thing that sets Puerto Blanca out from the rest was the lovely decor, friendly staff, and free wifi.
I'll be honest, the food wasn't anything to write home about, but the menu is a crowd-pleaser and will satisfy large groups as the menu is extensive.
At the front of the restaurant is an outdoor seating area where you can sit and watch the waves crash against the seafront and people watch as tourists stroll along the promenade.
I recommend heading there during lunchtime where you can grab a table fairly easily and set up for the day and enjoy a few cocktails in the year-round sunshine.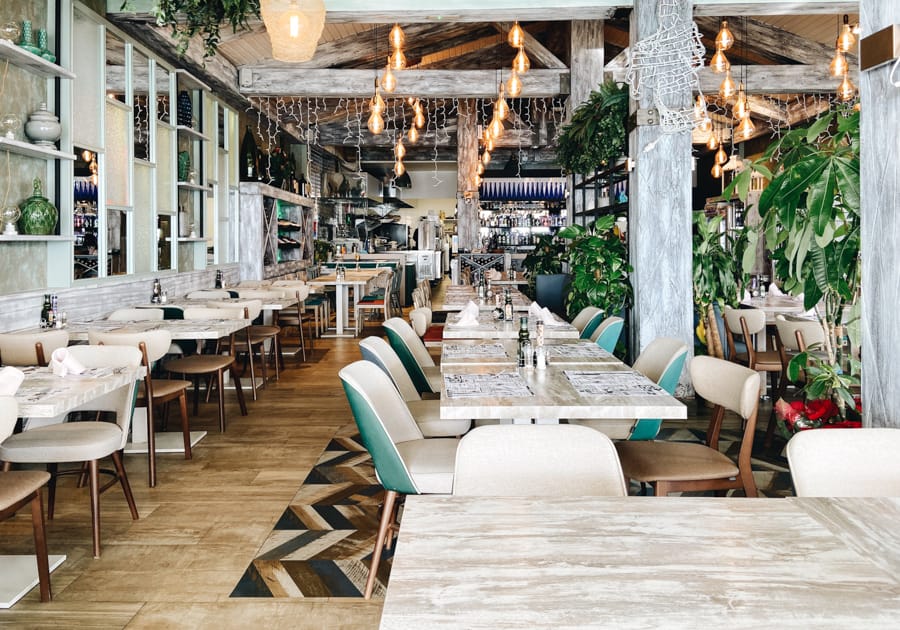 15. Hike to the Top of Montana Roja
Rising up on the western edge of Playa Blanca is Montana Roja. The majestic volcano provides amazing views over the resort and the surrounding nature.
The hike to the top takes around 40 minutes for those of relatively good fitness (i.e. not me).
If you are not in the best of shape or not so confident, it is best to take it slow as the incline is quite steep and during the summer months, there is little shade because of the lack of trees on the island.
Be sure to take plenty of water and wear appropriate clothing.
From the top, you can walk around the crater and enjoy uninhibited views of the southern tip of the island.
One of the best times to hike to the top of the volcano is just before sunrise when the air is cool and you can witness the sun rise out of the ocean.
Getting to Playa Blanca
Playa Blanca is located on the far southern tip of the island and is about 24 miles south of the island's capital and airport in Arrecife.
You will need to reach Playa Blanca by road traveling down one of the island's superb highways (seriously… the roads on Lanzarote are immaculate).
Depending on your plans, renting a car in the Lanzarote is a great way to get around the islands, which can easily be navigated as there are just a couple of centralized highways that go from north to south.
The drive from Arrecife to Playa Blanca is beautiful as you pass through the volcanoes and some of the country's rawest landscapes.
The benefit of driving in Lanzarote is that you can stop off along the way and take in the scenery which the other options do not allow you to do.
The drive will take around 36 minutes without any stops, and the island tends not to suffer from traffic jams since there are not that many people living there.
Once you arrive in Playa Blanca, you will need to navigate yourself around the streets of the resort which shouldn't be too difficult.

Airport Transfer to Playa Blanca
If you are not planning to drive a car on Lanzarote, the best hassle-free way to get to Playa Blanca is to order an airport transfer service.
Your assigned driver will track your flight to ensure all is fine and there are no delays, timing their arrival perfectly so you do not need to panic if your flight has been delayed for hours.
Once you exit the baggage claim, they should be waiting for you, holding a sign with your name on it. They will then take you to the agreed location stated when booking the transfer.
There are numerous ways to book a transfer, and some of them are better than others.
I recommend booking this airport transfer service. The price will be around €72 euros to Playa Blanca but is well worth it for peace of mind.
Taxi to Playa Blanca
From the airport, you can also take a taxi which is slightly cheaper than a private transfer, costing about €45.
There are often no taxis available at the airport or ones that will be willing to take you all the way to the south of the island as they cannot be guaranteed to be able to secure a return fare back to the Arrecife area.
There are two taxi ranks- one outside the arrival halls of each terminal. It is imperative that you take a taxi from there as other services offered may be illegitimate taxis and you at risk of being scammed.

Bus to Playa Blanca
If you are traveling to Lanzarote on a strict budget, the cheapest way to reach Playa Blanca is via the public bus network.
Bus line number 61 runs from the airport, stopping outside of both terminals one and two, departing hourly on the weekdays with a slightly reduced service on weekends and public holidays.
The journey takes around 1 hour and 15 minutes and costs just over €3. There are also several bus routes that depart from Arrecife bus station, which is the transfer hub for the island.
Almost all buses on Lanzarote connect with or go through Arrecife.
Ferry to Playa Blanca from Fuerteventura
If you are planning to visit Playa Blanca from Fuerteventura, you will need to take a boat from Fuerteventura's northern coast. Regular ferries depart from Corralejo to Playa Blanca and the journey takes merely 30 minutes.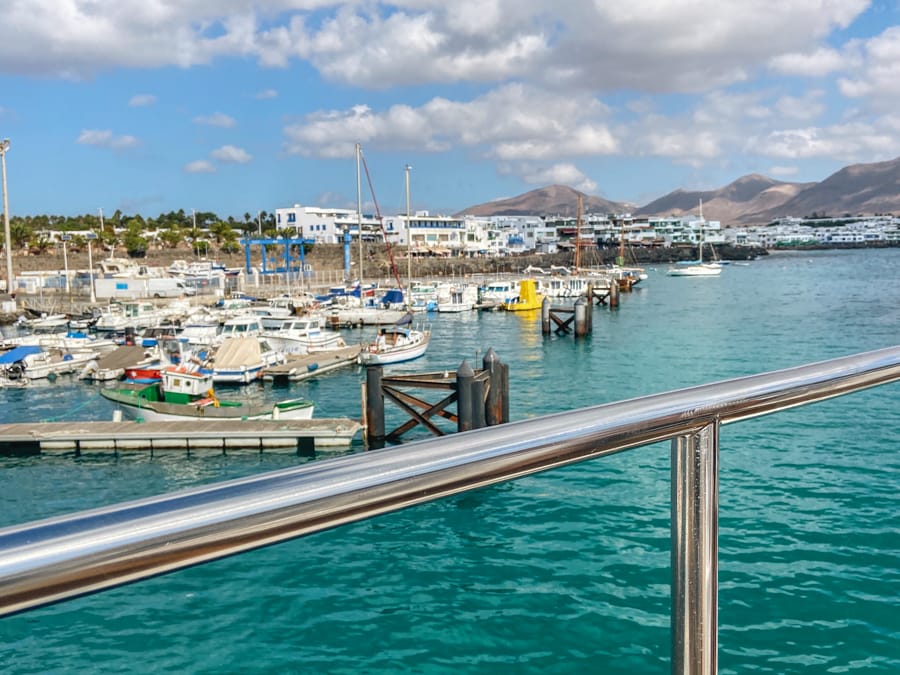 Both ports are located in the heart of their respective towns and can be easily reached. You will need to book tickets in advance to secure a cheaper deal as those bought just before traveling will be more expensive.
The boat ride is very bumpy; I did the journey during calm weather and you could really feel the boat rocking from side to side.
If you are planning to take this journey and are prone to seasickness, I can't recommend purchasing some seasickness bands enough.
There are no direct flights between the islands given how close they are, so you will have to go via boat. If you have a car with you, there are car ferries available in addition to the passenger-only boats.
>> Click here for ferry availability and prices
Getting around Playa Blanca
Playa Blanca is a very walkable city and there are sidewalks pretty much everywhere, along with some pedestrian zones such as the seafront.
Alternatively, there are heaps of places offering bikes for rent which is another great way to get around the resort, especially if you are staying close to the outskirts.
Playa Blanca was also the first town on Lanzarote to have its own dedicated bus service that does a loop of the town on a regular basis.
Bus number 30 does a general loop of the resort, stopping at all the main spots and costs around €1.30 for a ticket regardless of how far you are taking it.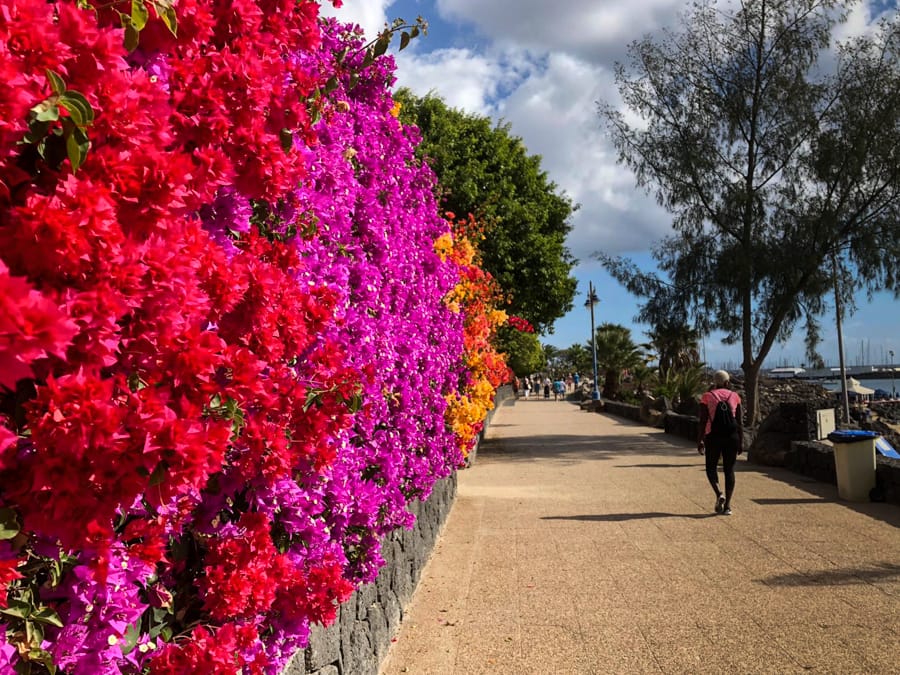 Where to Stay in Playa Blanca
Since Playa Blanca was built as a resort town, there are plenty of places to stay centrally within the town with most hotels boasting over 3 stars.
Princesa Yaiza Suite Hotel Resort (Luxury)
Located centrally between the main part of Playa Blanca and Marina Rubicon is the beautiful five-star hotel Princesa Yaiza.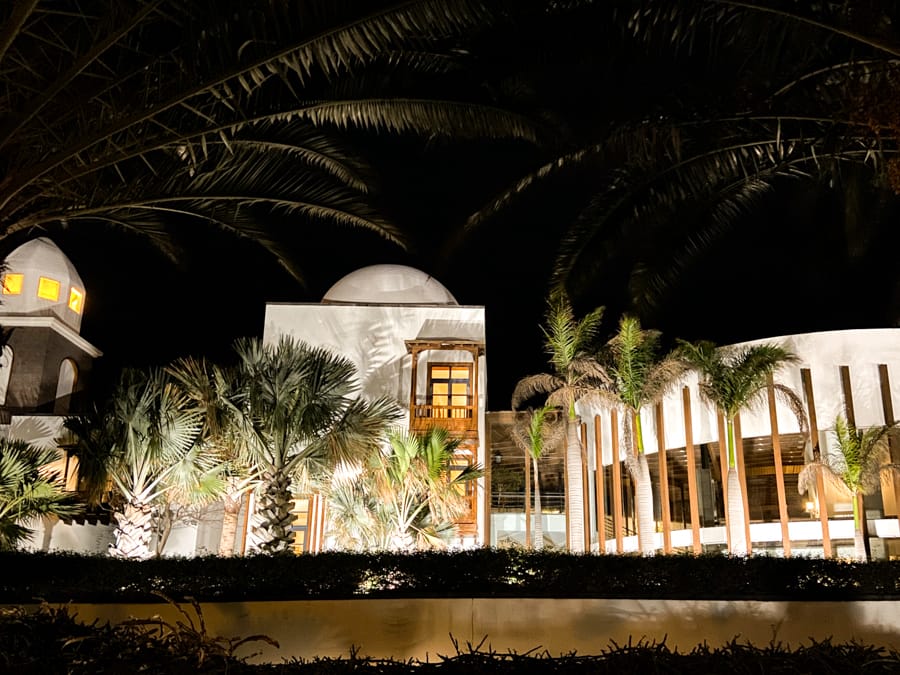 Each room in the resort comes with a comfortable bed, a kitchenette, and an outdoor space with epic views over the coast, gardens, or the resort's swimming pools. There is also a wellness center and multiple restaurants on-site.
>> Check rates and availability here for Princesa Yaiza Suite Hotel Resort
Playa Blanca Marcastell (Mid-range)
Playa Blanca Marcastell is a wonderful apartment on the edge of Playa Blanca. Fitting up to four people, the unit is fully equipped with a fully functional kitchen, spacious bathroom, and comfortable living and bedroom spaces.
The apartment is perfect for those who don't want to eat out every night but still want to be close to all of the action.
There is also a small terrace where you can sit and enjoy the warm evening with a glass of Lanzarote's famous wine.
>> Check rates and availability here for Playa Blanca Marcastell

Boutique Hotel H10 White Suites (Adults Only)
If you are looking for a more adult-themed holiday and want to avoid pools crammed with families, then I highly recommend checking out the Boutique Hotel H10 White Studios, an awesome adults-only hotel.
Each room includes a large bed, a clean bathroom, and an outdoor space. There are also several bars, pools, and a restaurant that can be enjoyed by guests.
>> Check rates and availability here for Boutique Hotel H10 White Suites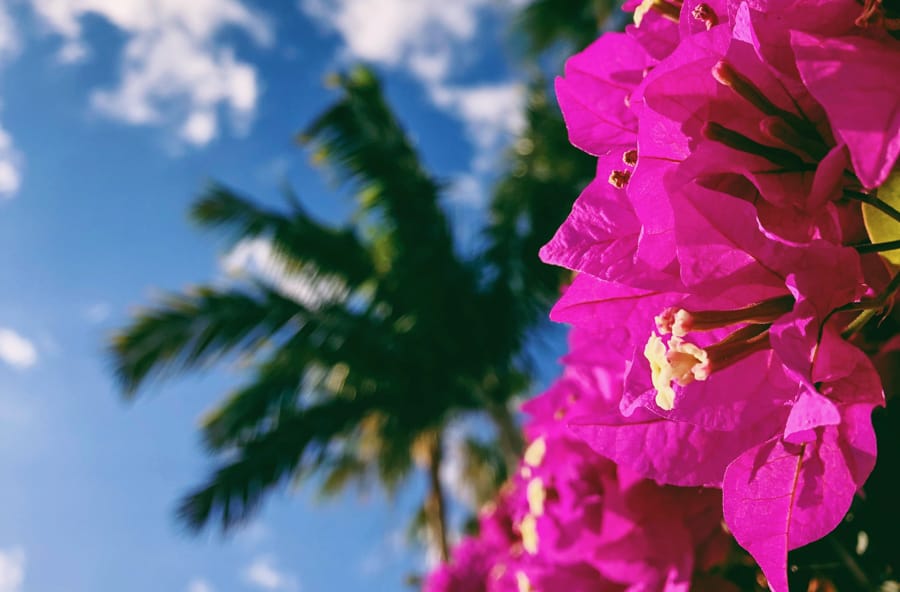 This guide to things to do in Playa Blanca will help you plan your itinerary for the city. If you have additional questions about what to do in Playa Blanca, please send us a message or leave a comment.
More Lanzarote Travel Guides
Pin this Playa Blanca Things to Do Guide