Are you looking for the best way to spend 7 days in Tenerife? This Tenerife itinerary has you covered – keep reading!
Are you planning your trip to Tenerife last minute?
If youʻre booking your trip to Tenerife last minute, we have you covered. Below are some of the top tours, hotels, and more!
🌊 Top Experiences and Tours in Tenerife:
🛌 Top Hotels in Tenerife:
🚗 Visiting Tenerife independently? Be sure to book your rental car ahead of time to ensure availability!
On this 7-day Tenerife itinerary, we break down each day of your trip with the best things to do on the island!
From visiting some of the best beaches in Tenerife to embarking on some adventurous hikes and tours, we hope we can help you plan your trip!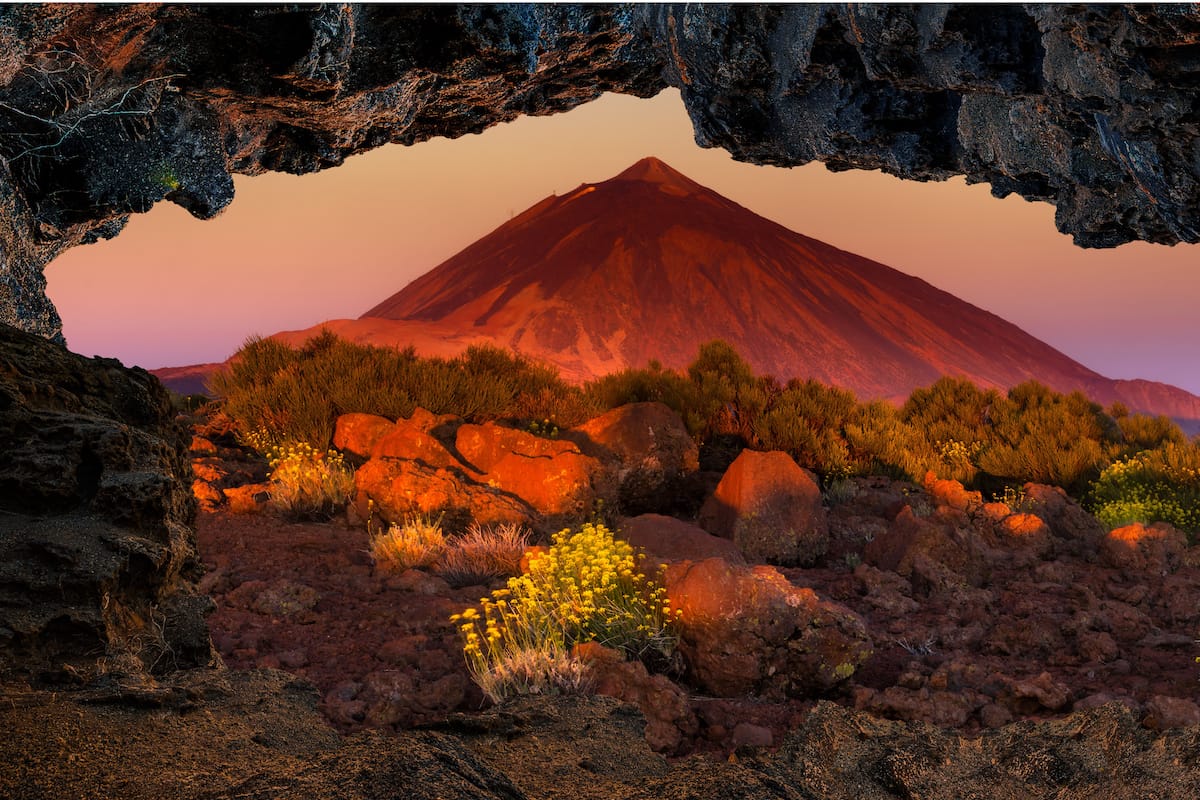 Did we miss any of the essential things to do in Tenerife in this guide? Let us know how you'd like to spend a week in Tenerife in the comments!
How to Use this Tenerife Itinerary (+ Map!)
This itinerary for Tenerife is broken up day by day with details for each day of your trip!
Since this is merely a suggested itinerary, feel free to include whatever else your heart desires along the way! We leave enough time on each day that you can tailor the itinerary the way you'd like!
If you have more than 7 days in Tenerife, we will include some additional things to do at the end of the guide.
To add this map to your Google Maps account, click the 'Star' icon next to the map name. You can then view it on your cell phone or computer by heading to your Google Maps account, click the menu and add it to 'Your Places'.
How to Get Around Tenerife
You've only got a few options when it comes to traveling around Tenerife; public transport, guided tours, renting a car, and taxis.
Hiring a rental through Discover Cars offers you the most flexibility, as you can plan out your trip easily. You'll also find that you won't need to hire a car every day, depending on what your itinerary looks like.
Regarding public transport, you've got the TITSA buses which serve the most popular destinations. You also have the tram as an option!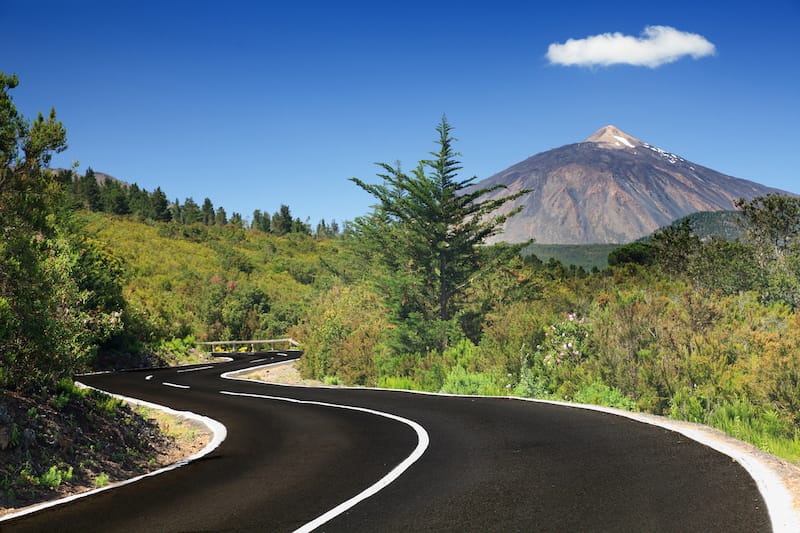 Tenerife has two tram lines, Line 1 and Line 2, which connect the cities of Santa Cruz and La Laguna. Check the Metrotenerife website for more information.
Many people choose to explore Tenerife via a tour as you'll have a knowledgeable guide with you at all times.
Tenerife Road Trip Overview
Day 1: Montaña Roja & Los Cristianos
Day 2: Masca Valley and Village
Day 3: Teide National Park
Day 4: Rambla De Castro in Puerto de la Cruz
Day 5: San Cristóbal de La Laguna
Day 6: Anaga Rural Park
Day 7: Santa Cruz de Tenerife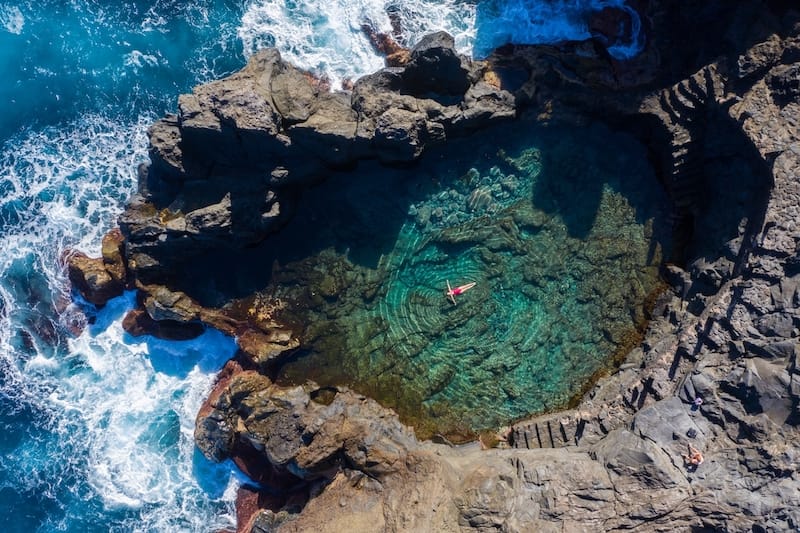 Day 1: Montaña Roja & Los Cristianos
Kick-start your 7-day itinerary with a morning hike up the beautiful Montaña Roja which translates to 'Red Mountain'.
Perched on Tenerife's southern coastline, this striking 171-meter (561 ft) high mountain is actually a heap of volcanic ash and debris.
The mountain sits within a Nature Reserve and there are a number of routes that you can take through the reserve in order to reach the summit.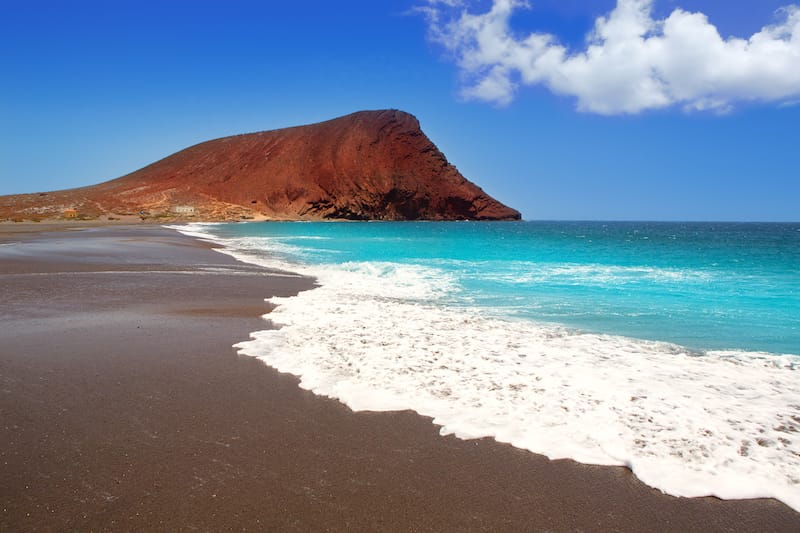 The most straightforward route, there and back from the car park, covers 2.5 miles (4km) and takes between 1 and a half to 2 hours to complete.
The views from the top overlook the nearby Tejita beach and El Médano town.
On a clear day, you will be gifted with an incredible panorama over Tenerife all the way to Mount Teide. Be careful though, it can get quite windy at the top!
After your rewarding hike, it's a 20-minute drive to the relaxing coastal town of Los Cristianos.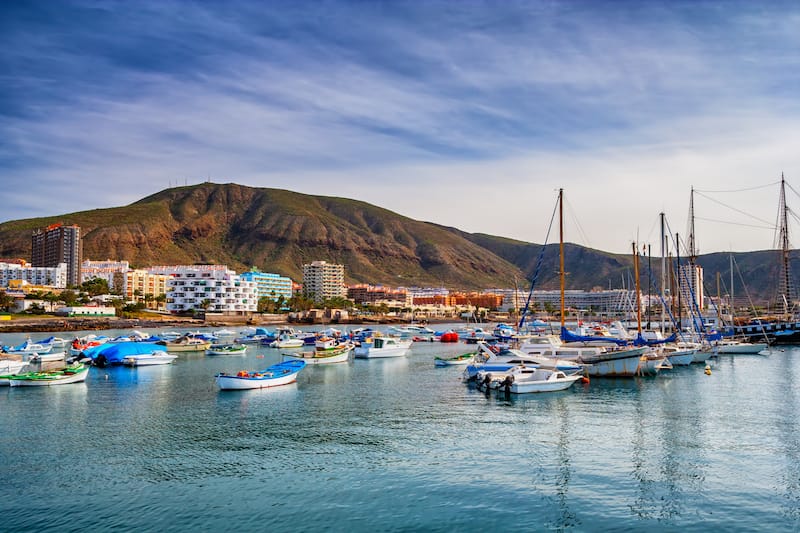 Here you can stroll through the quaint streets, eat some delicious tapas at one of the many beach-front restaurants and lie out on the picturesque swathe of Tenerife beach.
In the evening there are countless delicious eateries in the region for you to enjoy.
For a more budget-friendly meal, I highly recommend Pizzería la Tartaruga in the small town of El Médano.
Or if you want a more unique dining experience then Tasca Tierras del Sur, a 20-minute drive from El Médano serves impeccable Spanish cuisine in a beautiful setting.
Day 2: Masca Valley and Village
Today you will leave the laid-back south coast of Tenerife and venture north up the island's west coastline.
Your destination is the Masca Valley, a jaw-dropping valley housing a charming village that is surrounded by jagged cliff faces. It's one of Tenerife's most naturally beautiful sights.
The drive from El Médano to the Masca Valley takes exactly 1 hour and mostly follows the island's main highway, the TF-1.
The drive is an adventure in itself, yielding stunning views of the ocean all the way to the neighboring island of La Gomera on a clear day.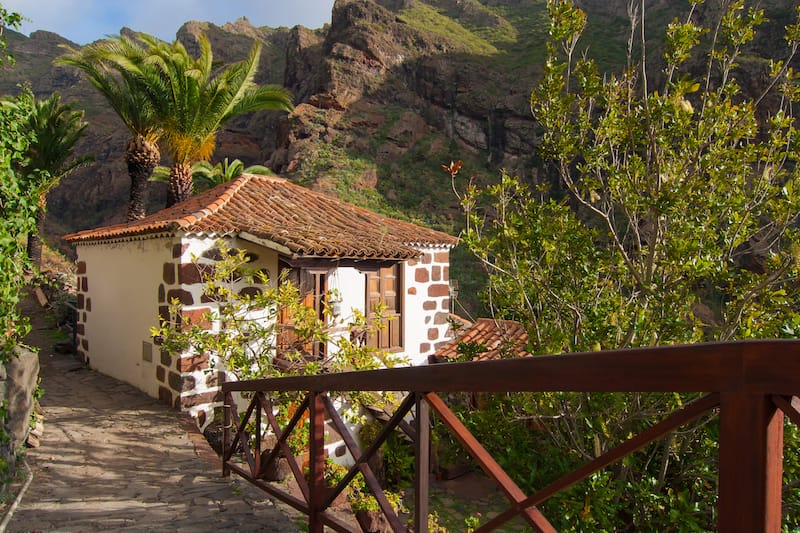 As you journey further north, you will notice the landscape transform from a barren wasteland to a green oasis – forest-coated hills standing proudly around you.
Eventually, you will deviate from the highway, navigating down narrow roads with tight hairpin bends as you descend into the famous Masca Valley.
On your way to the village, you will pass a number of viewing points where you can stop and admire the inspiring scenery.
Once in the village, there are a handful of cafes and restaurants for you to enjoy, a visitor center, and a beautiful stone church.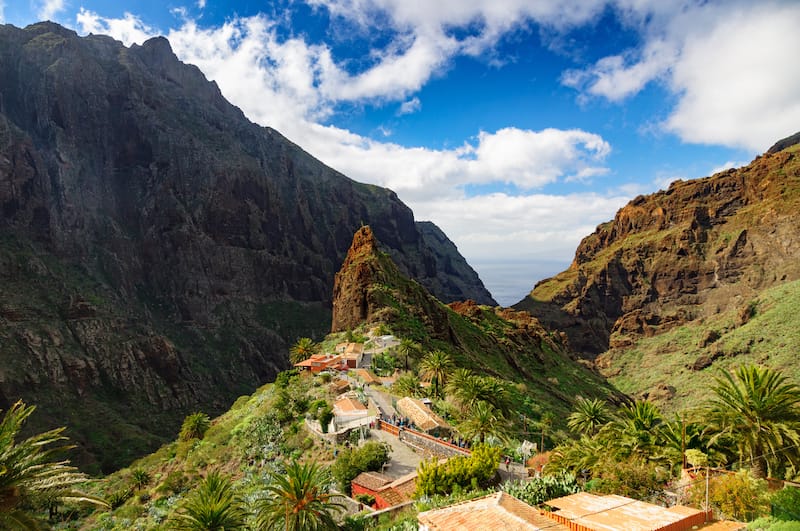 There are plenty of areas to park but it can get pretty busy so arriving early in the day is recommended.
For those who love adventure, there are a number of hiking routes that can be taken, including a picturesque yet moderately challenging ravine trek called 'Barranco de Masca' to a secluded beach.
This hike covers 5.3 miles (8.5km) and takes roughly 7 hours to complete. This hike has to be booked in advance and comes with an experienced guide.
You must wear hiking boots or you may be denied access to the trek. At the end of the gorge is a black-sand beach called Masca Beach.
Day 3: Teide National Park
One of the highlights of my countless trips to Tenerife has got to be admiring Mount Teide, the third-highest volcano in the world, which stands at 3,715 meters (12,188 ft) in height.
To reach Teide from the west coast it's typically around an hour's drive but, as with the drive yesterday, the journey is all part of the adventure.
The road twists and turns through dense swathes of pine forests until you reach the main caldera rim, evidence of a much larger volcano that once dominated the landscape.
This is Teide National Park.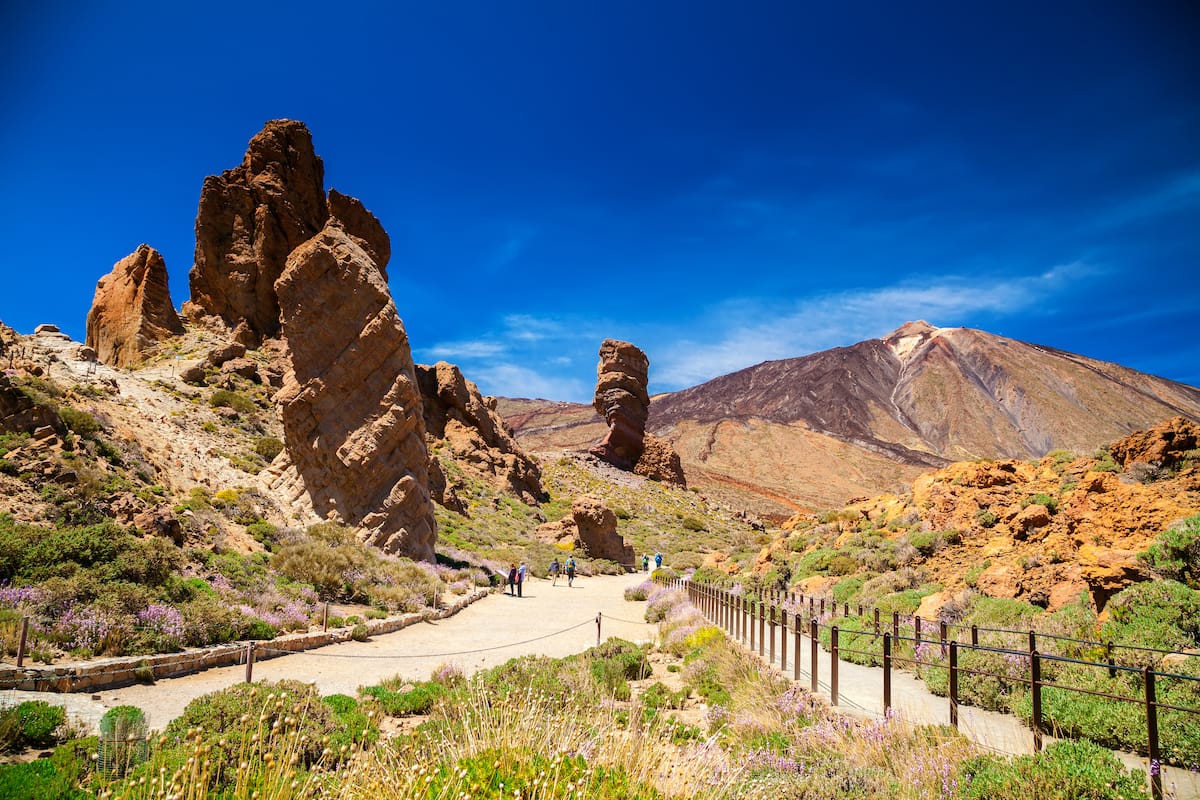 The landscape inside the park makes you feel as though you have stepped foot on another planet. It's so barren and windswept with impressive rock formations dotted throughout. And standing center stage is Mount Teide herself.
A group of incredible rocks in a plethora of unique shapes known as 'Roques de García' are well worth a visit.
The rocks are clearly signposted and although are impressive to marvel at on their own, they provide the perfect foreground to a breathtaking photograph of Mount Teide.
There's a very scenic hiking trail that starts beside Roques de García known as 'Sendero Roques de García'. It's a moderate hike that can get slightly steep in parts, spanning over 2 miles (3.5 km), and takes just over an hour to complete.
But the highlight of Teide National Park for most travelers has to be Mount Teide. There are two ways to reach the volcano's summit, via cable car or hiking.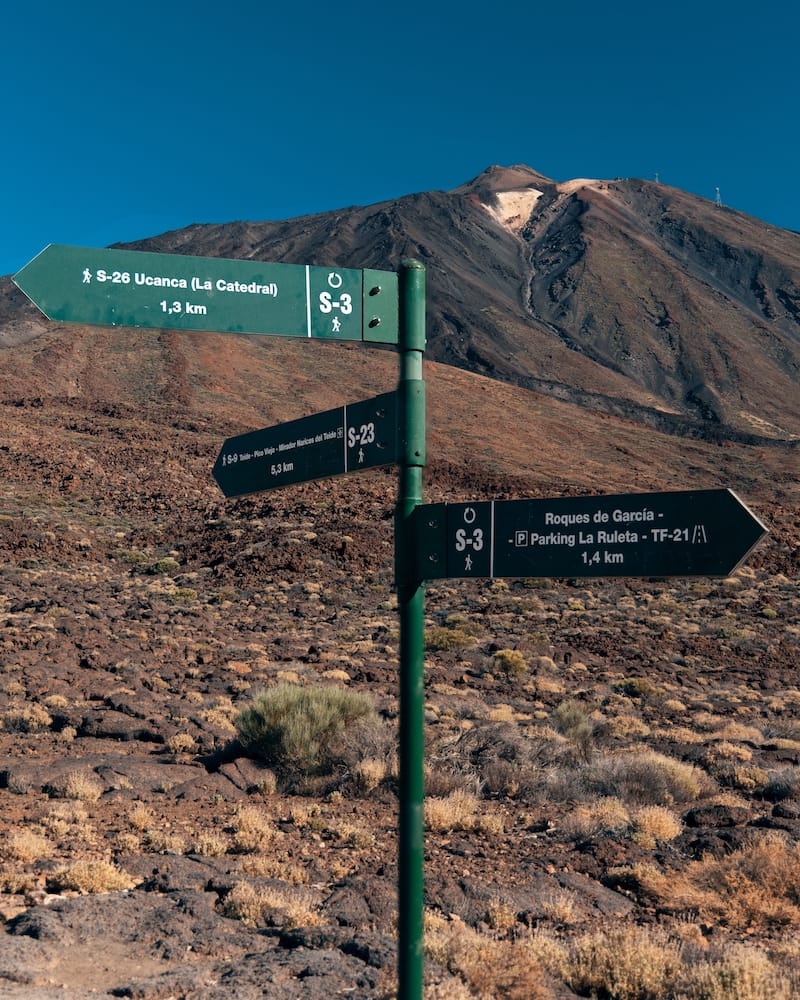 A guide isn't strictly necessary for the cable car but if you'd like to be in the presence of a knowledgeable guide with skip-the-line tickets, this tour has fantastic reviews.
The cable car takes you most of the way up Teide but you will still have to embark on a short hike to the summit.
Hiking Mount Teide from bottom to top involves tackling a steep 9 km trail and typically takes between 7 and 9 hours. It's a very challenging but rewarding hike, taking you through a unique landscape with incredible views.
After your day exploring the breathtaking park, exit the park on the TF-21 which takes you to Tenerife's northern coastline. Spend the night in one of the coastline's charming towns.
Day 4: Rambla De Castro in Puerto de la Cruz
In the coastal town of Puerto de la Cruz, you will find many scenic hikes just waiting to be explored. One of the most beautiful trails that you can take is called 'Rambla de Castro' which takes you along a picturesque stretch of coastline.
The hike starts in a district called Los Realejos, just a stone's throw away from the ocean. From the road, the walk is clearly signposted and there's a small car park at the start of the trail.
The hiking trail is incredibly scenic, giving you beautiful views of the Atlantic Ocean and jagged coastline. You'll be able to marvel at hidden black-sand beaches, all while being surrounded by lazy palm trees.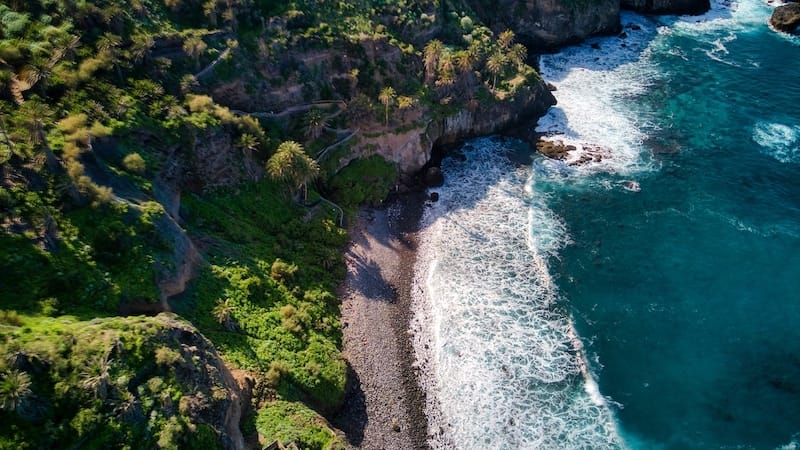 To make the most of your walk, stop off at one of the quaint beaches such as Castro Beach, a pebble beach that houses two waterfalls at certain times of the year.
This is the perfect place to lie out and catch some rays. The water here can be quite rough so although refreshing to dip your toes in, I wouldn't recommend swimming.
The trail is 2 km long each way and you can end your journey with a bite to eat at Restaurante Cafetería Mirador San Pedro, a restaurant at the start of the trail.
Day 5: San Cristóbal de La Laguna
Today you will have a short break from hiking and natural beauty to explore one of the most scenic cities on the island: San Cristóbal de La Laguna.
The city is a 30-minute drive from Puerto de la Cruz and sits to the northeast of the island, next to Tenerife's capital city.
In the heart of San Cristóbal de La Laguna is a charming 16th-century old town made up of colorful old buildings and a beautiful neoclassical cathedral which you can visit for just a couple of euros per person.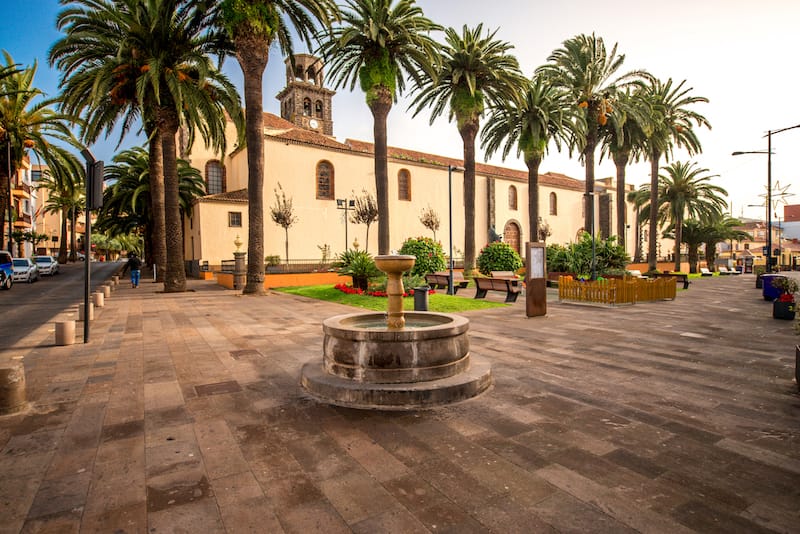 The old town is the perfect place to simply wander around, admiring the architecture whilst enjoying a bite to eat in one of the many cafes and restaurants which line the narrow streets.
If you love cheese and wine then this guided tour combines a visit to San Cristóbal de La Laguna with wine and cheese tasting at Tenerife's famous house of wine.
The tour lasts all day and includes lunch.
Day 6: Anaga Rural Park
Today you will be visiting the Anaga Rural Park, one of the most naturally beautiful areas of Tenerife that is pretty much guaranteed to take your breath away.
The park consists of a combination of towering peaks dressed in forests, a rugged coastline, and scenic beaches.
There's so much to see here so you'll definitely want to allocate at least a full day to explore.
From San Cristóbal de La Laguna (I'd recommend basing yourself in this area the night before) it's a 20-minute drive to the first stop in the Anaga Rural Park called 'Cruz del Carmen'.
A number of scenic hiking trails start here. There's also a restaurant and visitor center.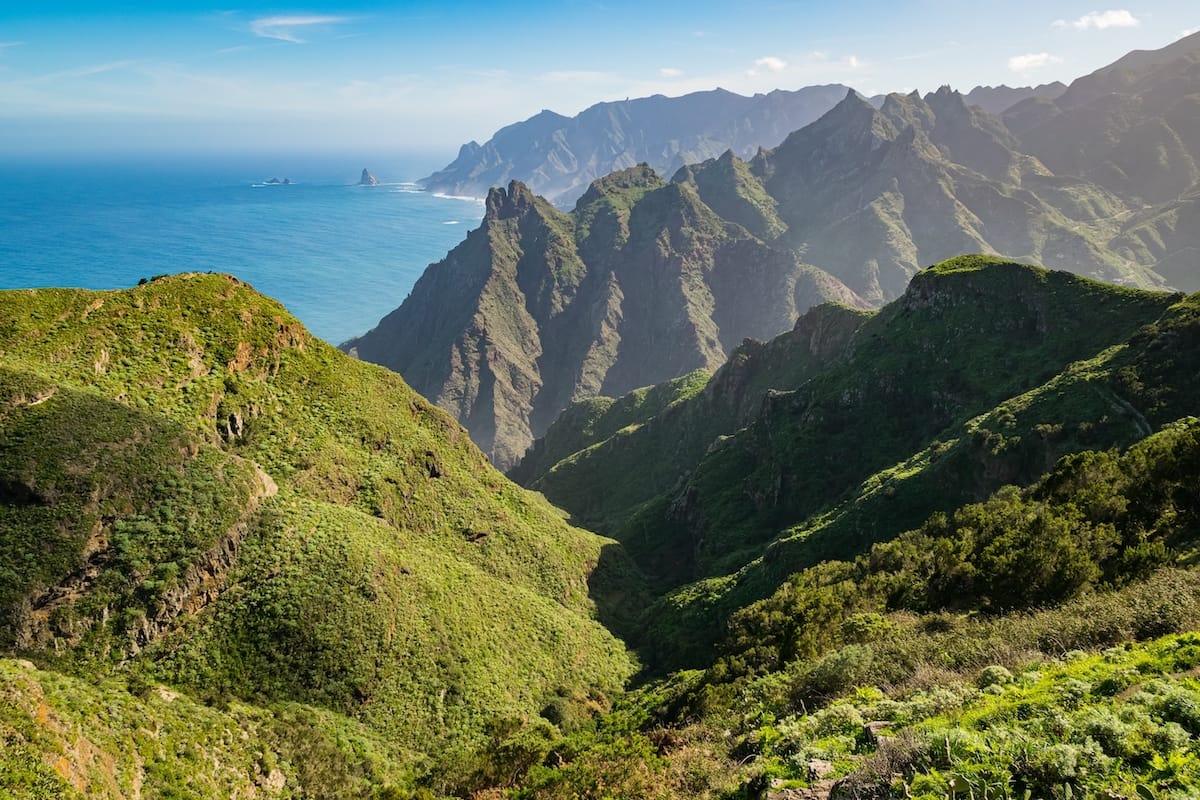 On the drive between San Cristóbal de La Laguna and Cruz del Carmen, you will pass a fantastic viewpoint which is well worth stopping at called 'Mirador De Jardina' which overlooks La Laguna.
On a clear day, you will be gifted with magnificent views of Mount Teide.
Hairpin bends will take you through dense areas of woodland as you gradually ascend into the park. There is a large car park at Cruz del Carmen but it can get busy so arriving in the morning is advisable.
There is a range of hikes available here, tailoring to walkers of all abilities.
There's even a walk for wheelchairs and pushchairs so that everyone can experience a stroll through Tenerife's beautiful and mysterious cloud forests, a type of forest that is incredibly rare to find.
The most popular trail is called 'El Sendero de Los Sentidos' and is 0.8 miles (1.4 km) in length and is a circular hike through the forest.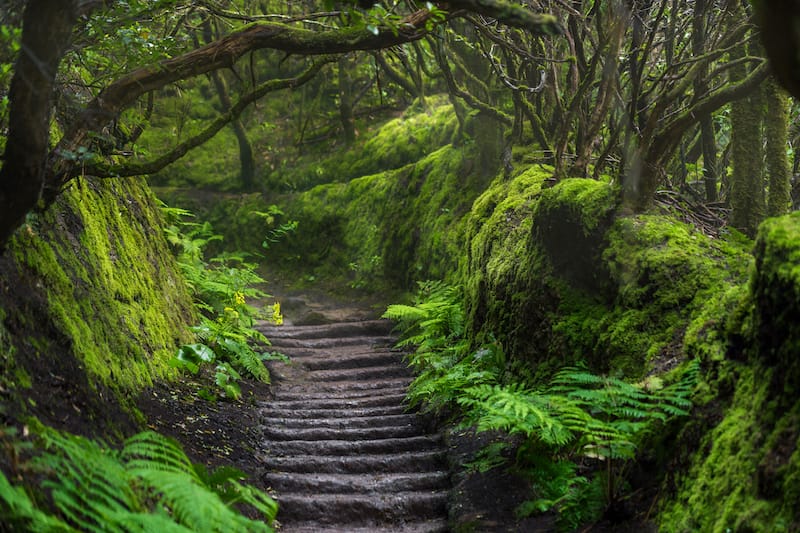 Once your walk is complete, continue your drive through the park to the coastal town of Taganana. The drive is very scenic and you will pass numerous viewpoints at which you can stop and admire breathtaking vistas over northern Tenerife.
The coastline in front of Taganana is home to a beautiful selection of black-sand beaches.
You really can't go wrong with a visit to any of these beaches as each one is surrounded by incredible scenery, but my personal favorite has to be 'Playa del Roque de las Bodegas'. This is, in my opinion, the most beautiful beach in Tenerife.
A little further up the coastline, in a village called Benijo, is a restaurant called El Frontón which serves delicious fresh fish. It's the best-rated restaurant in the area.
If you'd prefer to join a guided tour of Anaga, this 8-hour tour has very good reviews.
Day 7: Santa Cruz de Tenerife
For your final day in Tenerife, visiting Tenerife's capital city really is a must! Santa Cruz de Tenerife is a charming city housing a range of restaurants that all boast exceptional reviews and is just a stone's throw away from the island's only white-sand beach, Las Teresitas Beach.
Santa Cruz de Tenerife is only 22 minutes from San Cristóbal de La Laguna and sits directly below the Anaga Rural Park.
One of the best things to do in Santa Cruz is to visit 'Mercado Ntra. Señora de África', a lively indoor market that sells a plethora of items from fresh fruits to hand-made souvenirs.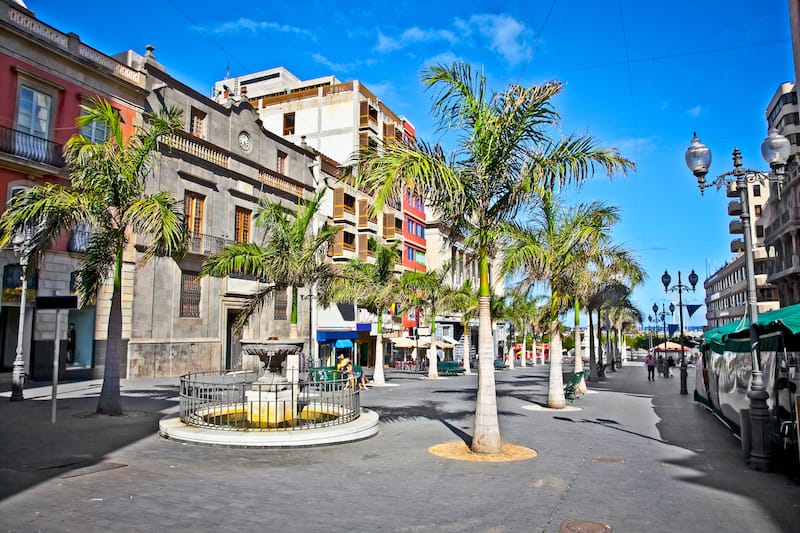 After a visit to the market, Calle del Castillo is a wonderful street to wander down and do a bout of shopping.
Once you have soaked up the vibrant ambiance of the city, head to Las Teresitas Beach where you can thoroughly unwind on the beach and take a soothing dip in the ocean.
The beach is a mere 15 minutes north of the capital city.
A south-facing beach, the waters here are far calmer than they are on the north coast and so are perfect for a swim.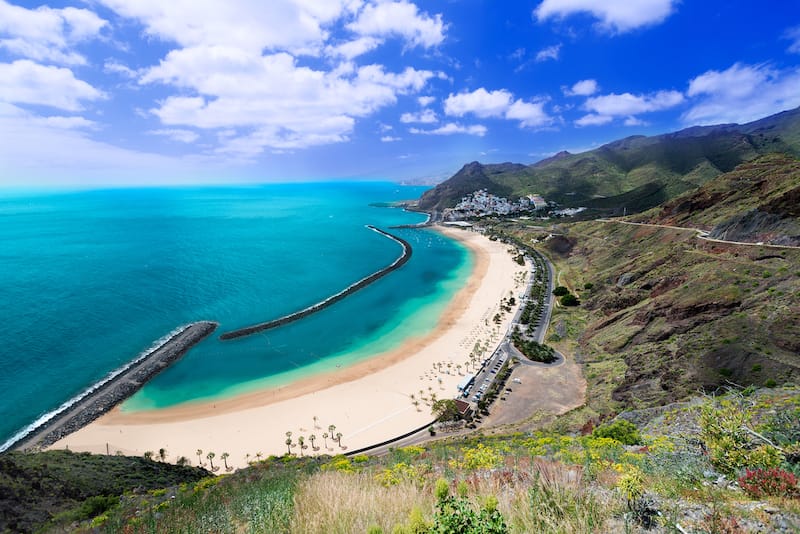 Las Teresitas Beach is one of the most popular beaches on the island so don't expect to have the place to yourself. However, the stretch of sand is so vast that it's unlikely to feel overcrowded.
Surrounded by a protective breakwater, this beach is actually artificial and the white sand was imported.
I can think of no better way to end a 7-day Tenerife itinerary than by laying out on the beach, relaxing before a flight back home!
More than 7 Days in Tenerife?
If you have more than 7 days on Tenerife, here are some activities and experiences we recommend!
Take a Quad Tour of Teide National Park
On this final excursion, you'll have the chance to visit all the attractions in Teide National Park, including Mount Teide, the highest peak in Spain.
This guided quad bike adventure allows you to select between single or double-rider options.
Covering 90 kilometers of the national park, the journey takes you from Playa Las Americas to Las Cañadas del Teide.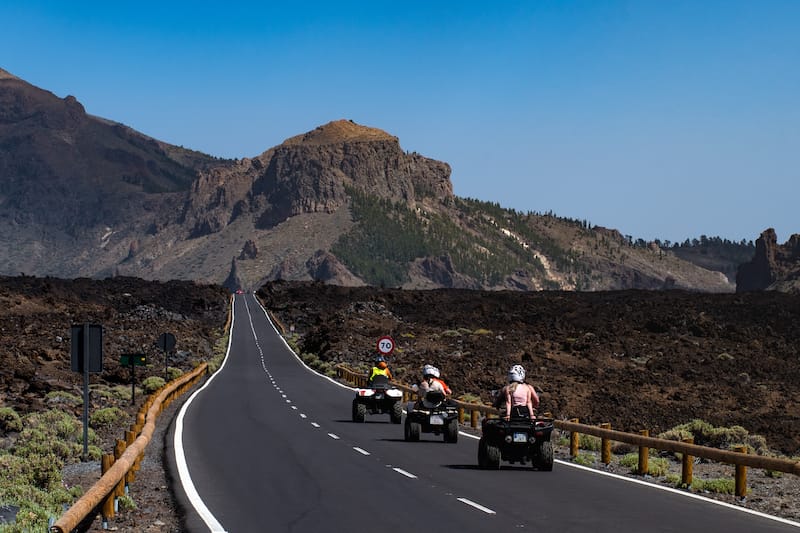 Throughout this experience, admire breathtaking views from a height of 2,400 feet, as well as forests, volcanoes, and more.
The tour also passes through the towns of Vilaflor, Arona, and La Escalona, along with Boca del Touche, where you'll have time to explore and unwind.
Don't forget to bring warm clothing, suitable footwear, and your driver's license for this adventure.
>> Click here to check tour rates and availability
Embark on a Wine Trip to Tacoronte
This guided tour of the Bodegas Monje winery is certainly not one that you should miss!
Here, you will have the chance to learn more about winemaking in Spain, as well as try out authentic wine and cheese, such as peppery goat cheese from Fuerteventura and goat and sheep milk cheese from Gran Canaria.
Overall, you will taste four wines and four cheeses.
The tour will also teach you about the history of the Monje family and the vineyards. You can choose to have the tour in Spanish or English.
It lasts approximately 2 hours.
>> Click here to check wine tour rates and availability
Go Kayaking (and Snorkeling) with Turtles in Tenerife
You should definitely consider this eco-friendly tour to explore Tenerife's marine life and snorkel with the turtles.
With this tour, you will be provided with kayaks and snorkeling equipment to head to the waters, where you'll be completely surrounded by 5 species of dolphins.
Keep in mind that it's not completely guaranteed that you'll kayak next to dolphins, but the chances are pretty high- 95%!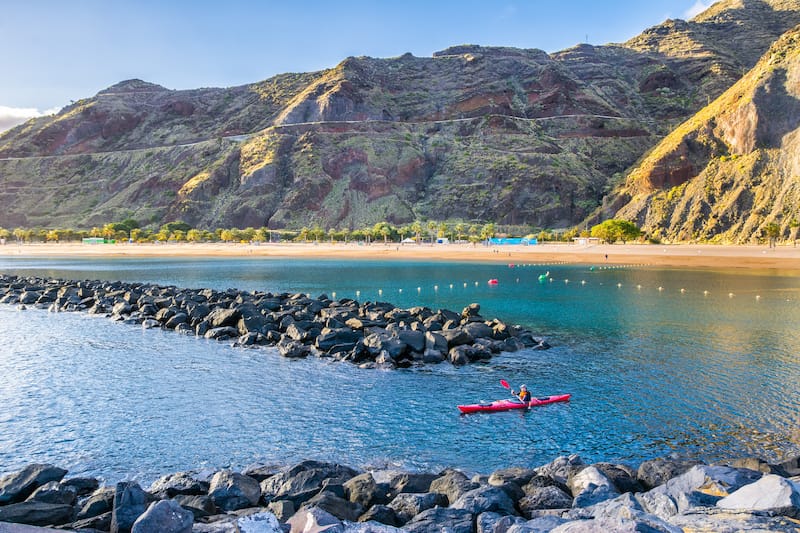 You can also choose to see bull rays in a bay that you can only access via kayak.
Curious turtles will also likely come close to you to check out the kayak.
If you want, it's also possible to take a break for swimming, where you'll have the chance to go snorkeling with the turtles as well.
>> Click here to check kayaking tour rates and availability
Where to Stay in Tenerife
If you're looking for some of the top accommodation options on Tenerife, these are some of our top picks!
Did we miss any incredible places on this Tenerife itinerary? Let us know how you would spend 7 days in Tenerife in the comments!
More Canary Islands and Tenerife Travel Guides
Pin this Tenerife 7 Day Itinerary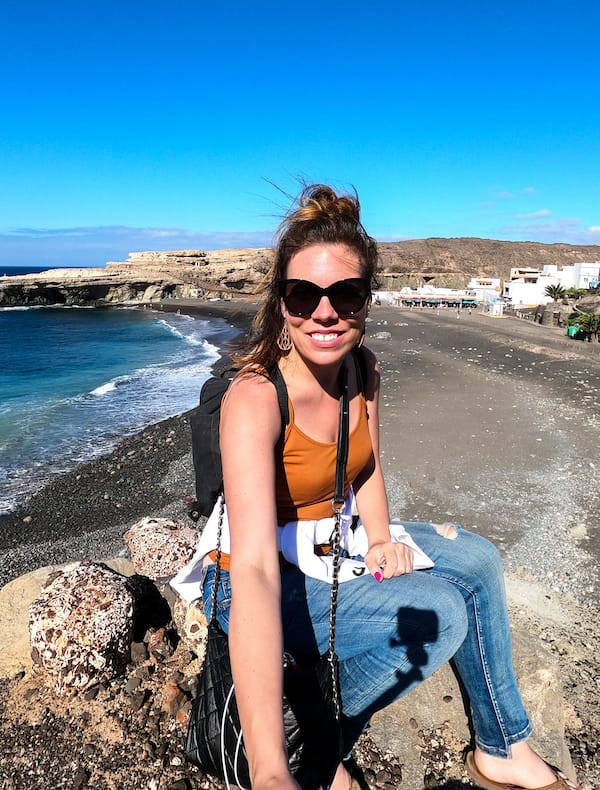 Megan is a travel blogger and writer with a background in digital marketing. Originally from Richmond, VA, she now splits her time between Frankfurt, Germany and Arctic Finland after also living in Norway, Armenia, and Kazakhstan. She has a passion for winter travel, as well as the Nordic countries, but you can also find her eating her way through Italy, perusing perfume stores in Paris, or taking road trips through the USA. Megan has written for or been featured by National Geographic, Forbes, Lonely Planet, the New York Times, and more. She co-authored Fodor's Travel 'Essential Norway' and has visited 45 US states and 100+ countries.