Easily one of the most misunderstood and neglected cities I have ever been to, Puerto del Rosario gets its fair share of tourism… from cruises.
There is far more to this port city that makes it worth more than a mere step off of a cruise ship. This is a guide to wonderful things to do in Puerto del Rosario, Fuerteventura.
Are you planning your trip to Fuerteventura last minute?
If youʻre booking your trip to Fuerteventura last minute, we have you covered. Below are some of the top tours, hotels, and more!
🌊 Top Activities Tours in Fuerteventura:
🛌 Top Hotels in Fuerteventura:
Hotel el Mirador de Fuerteventura (Luxury)
JM Puerto Rosario (mid-range)
🚗 Looking for the best way to get around Fuerteventura? Click here to check rental car rates for Fuerteventura!
Best Things to Do in Puerto del Rosario
Fuerteventura stole my heart instantly, however, Puerto Del Rosario as a city left me intrigued and wanting to know more.
Puerto Del Rosario is Fuerteventura's overlooked capital city that has seemingly been written off by locals and avoided at large by all tourists apart from the cruise ship passengers who visit for a few hours daily.
However, as I wandered around the streets, I couldn't help but feel that this city deserves more respect and tourism.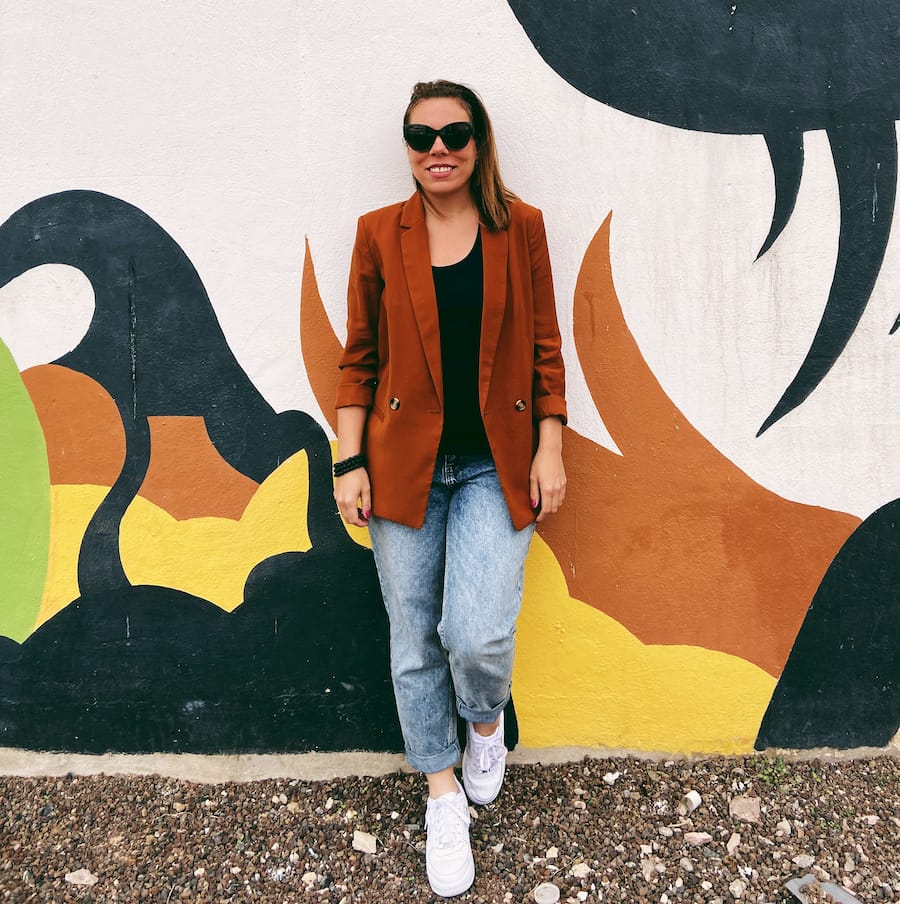 About Puerto del Rosario
Starting off as a small fishing village, Puerto del Rosario was of little importance and remained relatively unknown.
Thanks to its central location on the island, the town's port grew in importance and became the main trading station on Fuerteventura.
As the town grew and the threat of pirates ransacking the island started to diminish, it was decided to move the capital from Antigua to Puerto del Rosario in 1860.
Interestingly, when the town became the capital of Fuerteventura, it was actually called Puerto de Cabras which translates as Port of The Goats since goats were one of the most important commodities on the island.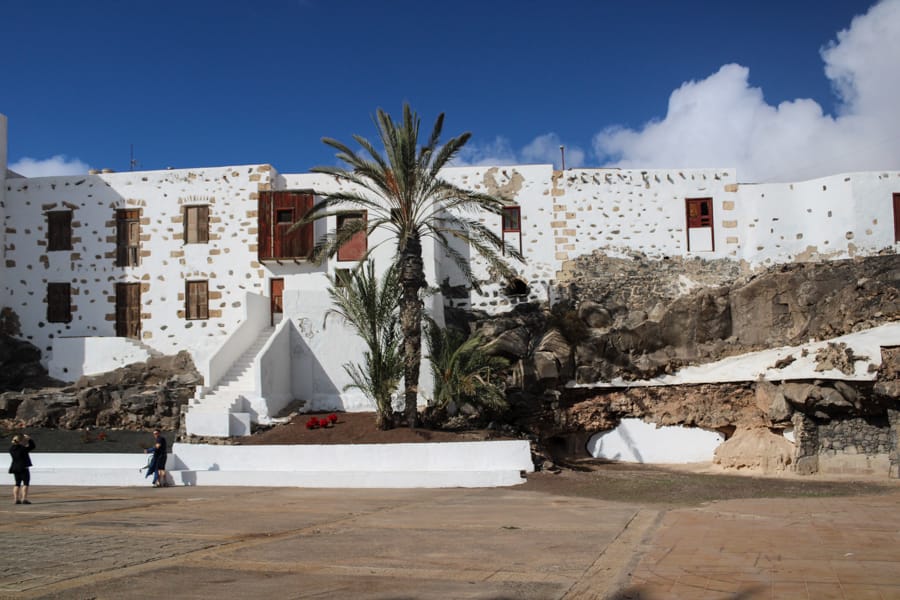 The name of the town was eventually changed in the 1950s to Puerto del Rosario because they believed it sounded nicer. I personally think they should have kept it referencing goats.
As commerce in Puerto del Rosario started to grow, people from around the island started to move from the rural villages to the town for work.
However, over the years, the population has grown but the city has not really developed tourism, with most people arriving at the town's airport and venturing either north or south to the resort towns.
Why I Traveled to Puerto del Rosario
I'll be honest, when I planned the trip I hadn't really done much research on the island and assumed that since the city was the capital, it would be a great launchpad for taking tours to explore the rest of the island.
I quickly noticed that throughout my time on Fuerteventura, if I mentioned to locals that I was spending any amount of time in Puerto del Rosario, they would instantly question why and then suggest spending time elsewhere.
Being a fan of underdogs, I embraced the opportunity to stay in Puerto del Rosario and decided to make the most of my time there.

My Experience There
I arrived in the city late at night after having taken an amazing panoramic tour of Fuerteventura from Corralejo.
I noticed that Puerto del Rosario was quiet, apart from a small bar in the mall that was buzzing with locals. There were shockingly very few tourists around.
In other towns and resorts throughout the island, it's commonplace to have people outside of restaurants and bars trying to usher you in, but in Puerto del Rosario, there was none of this.
In some ways, it was a breath of fresh air, but something in the back of my mind made me question why this was.
The following day, I set off into the city to see what it was about and what there was to see and do. As I walked into town, I noticed that it was slightly more run down and rough around the edges, but overtly cool in its own way.
As I got closer to the port, I saw two large cruise ships docked and large crowds of tourists coursing through the streets.
The cruise passengers seemed to be on a mission to tick off seeing some sights before chilling at the city's beach before heading back to the ships and leaving the town quiet and desolate once again.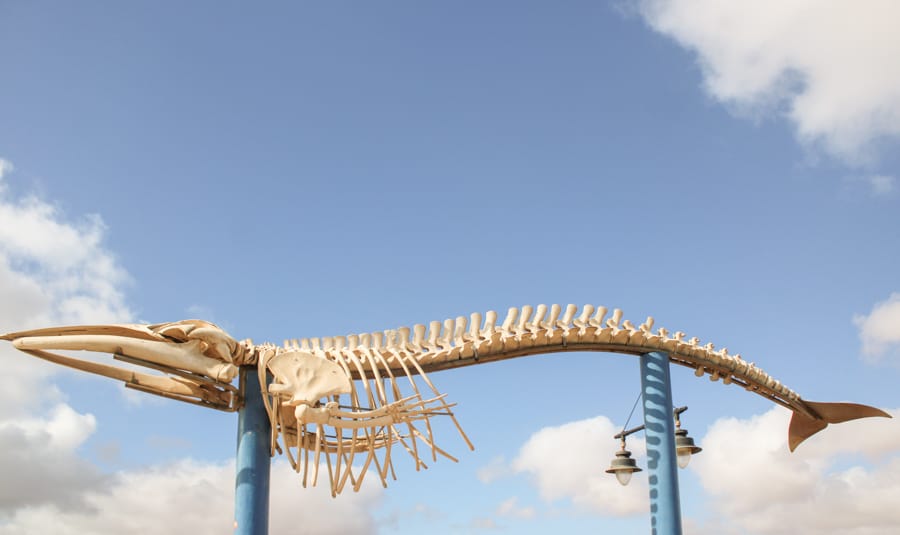 As I explored, I kept finding new little discoveries around each and every corner, some more exciting than others, but all making Puerto del Rosario a worthwhile place to spend a night or two when visiting Fuerteventura.
Cruise Ship Tourism
Before going forward, I want to address something I feel needs to be mentioned when it comes to tourism to Puerto del Rosario. And I'm sure this post won't hit at the right audience, anyway… but I'll quickly say it.
Cruises needed to do more to encourage their guests to add to the local economy. I understand that people want to take cruises and I have no issue with that aside from I think it is a major polluter and leaves a substantial footprint.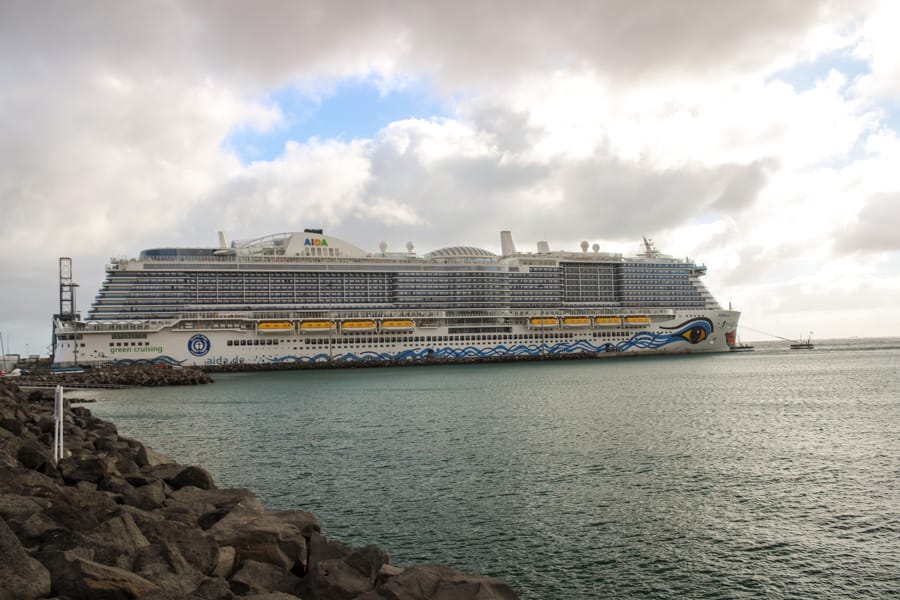 But, what I witnessed during my short stay is that the passengers descended onto the city quickly, checking off the free sights (and maybe getting ice cream) before heading back to chill on the beach or to the ship to eat.
It felt despite a huge influx of people, the locals were not benefiting from it since little money was being spent in local establishments apart from those along the seafront.
I beg those who are visiting on a cruise to venture a bit further into the city and enjoy the rest of the town and spend money in small businesses to support the local economy.
What to Do in Puerto del Rosario
In this guide, I have highlighted some of the best things to do in Puerto del Rosario and they can be enjoyed by all types of travelers. If you feel I have missed anything on my list, please feel free to leave a comment below.
1. Check Out Street Art in Puerto del Rosario
On the surface, Puerto del Rosario may not seem as beautiful as some of the other towns dotted around Fuerteventura. But, if you scratch just below the surface, you will find a cool and artistic city.
Throughout the city, on the many large blank whitewashed walls, you will find fantastic murals and artworks depicting various things from Spanish culture to superheroes.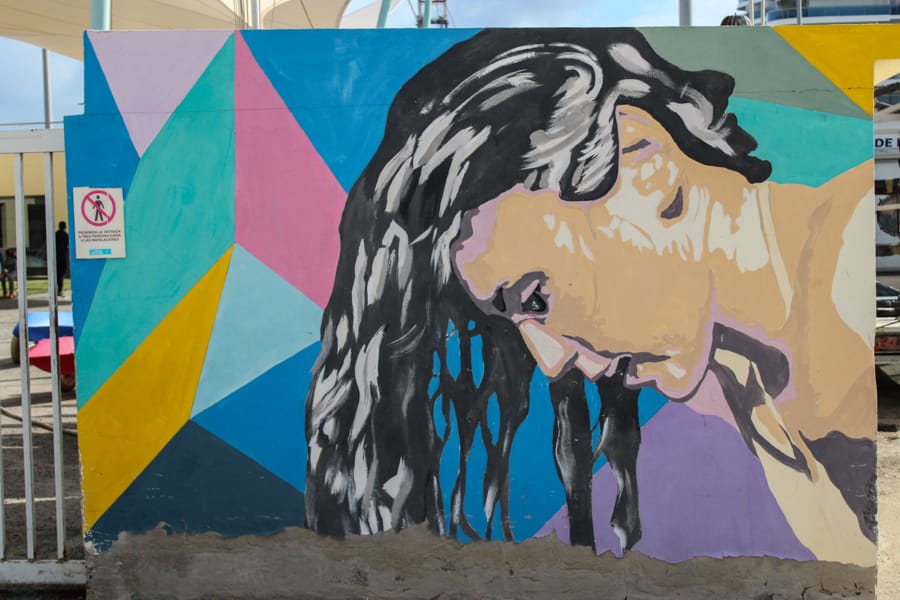 In an attempt to clean up the city and make it more appealing to the eye, the town government spent money on whitewashing the buildings and having local artists create vibrant street art to brighten up the place.
Starting around 2011, artworks have been popping up around Puerto del Rosario in various spots, with apparently 400 murals planned in total.
I am not entirely sure how many have been completed so far, but it made for a great time hunting them down while exploring Puerto del Rosario at the same time.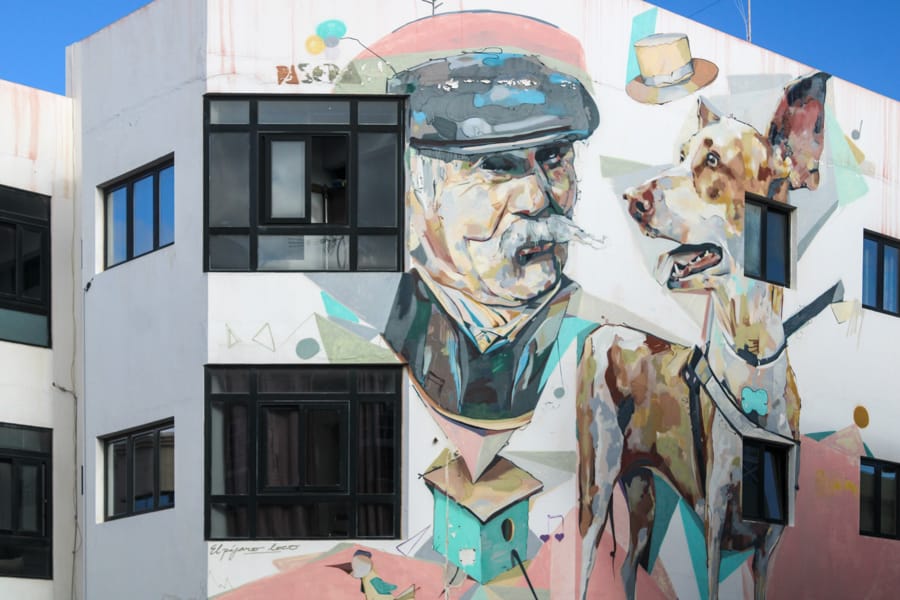 I have heard that at the tourist information center, you can find a map of all the locations so you can find them easily.
I missed a few of the more famous ones, such as the superheroes mural, but I thoroughly enjoyed the Puerto del Rosario street art I did manage to find.
2. Visit Our Lady of the Rosary Church
In the center of the city set a little back from the seafront, you will find the beautiful Our Lady of the Rosary Church.
A small catholic church that was built in the 19th century and is still in use today, the facade of the church is somewhat simplistic in its beauty as it was built out of black lava stone with whitewashed walls.
The interior retains the overall minimalistic feel, but it also includes an impressive altar and several small statues of Jesus that adorn the walls.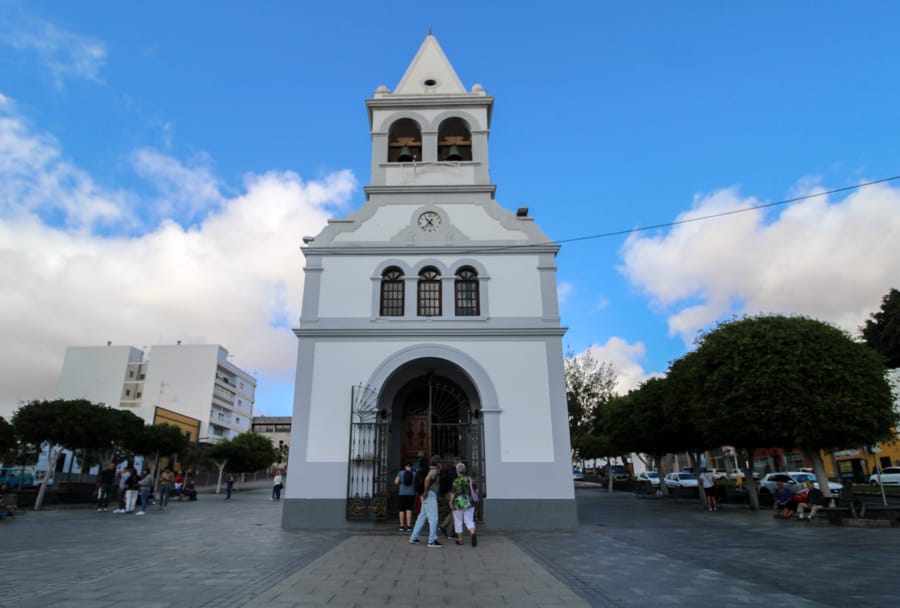 Listen out for the bells chiming when you're there. The two bells were specially imported from Marseille to sit in the church's bell tower.
Outside of the church, you can also enjoy the charming square where a small vendor smells snacks and hot drinks and you can watch locals go about their daily business.
You can find Our Lady of the Rosary Church at Calle Secundino Alonso 20 in Puerto del Rosario.
3. Find the Statues of Puerto Del Rosario
If the abundant street art in Puerto del Rosario wasn't enough, the Fuerteventura capital has been turned into one giant sculpture park with about 150 statues erected throughout the city.
The statues have been designed by both local and international artists who have created them in various sessions where they were supplied with common materials to create their works of art.
During these sessions, the public was able to view the artist at work.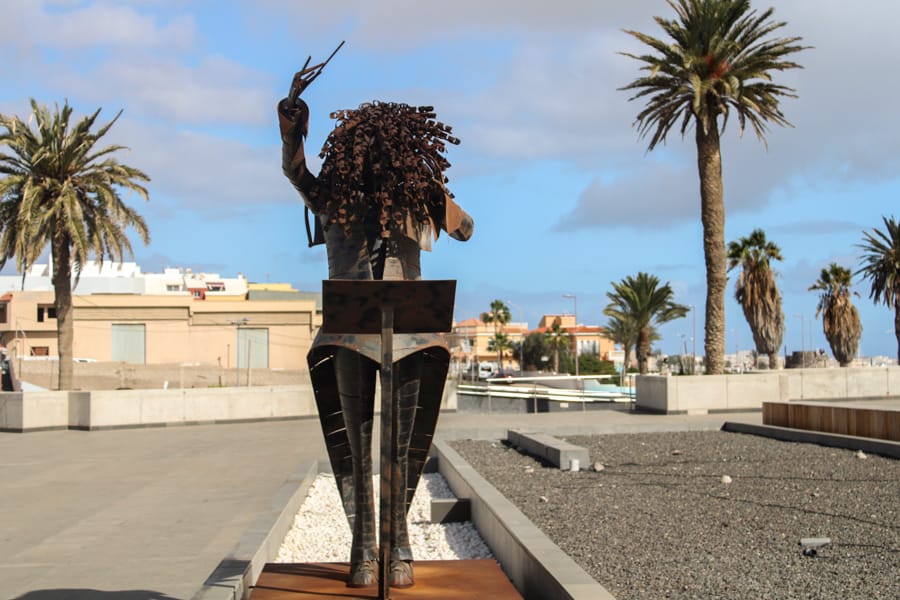 Once the statues have been sculpted, they are placed throughout the city. Curiously, most of them have absolutely no information available, and even the name of the statue and artist has been forgotten by time.
At tourist information, there is a map available that lists about 26 of the statues. The rest, however, will need to be hunted down on your own.
I have no idea how many I found, but there is a good concentration along the harbor front.
4. Dine at Restaurante La Jaira
Restaurante La Jaira is one of the most outstanding places to eat in the city, serving up delicious local dishes that are to die for.
The decor of the restaurant is minimalistic and provides a cozy ambiance that amplifies the dining experience.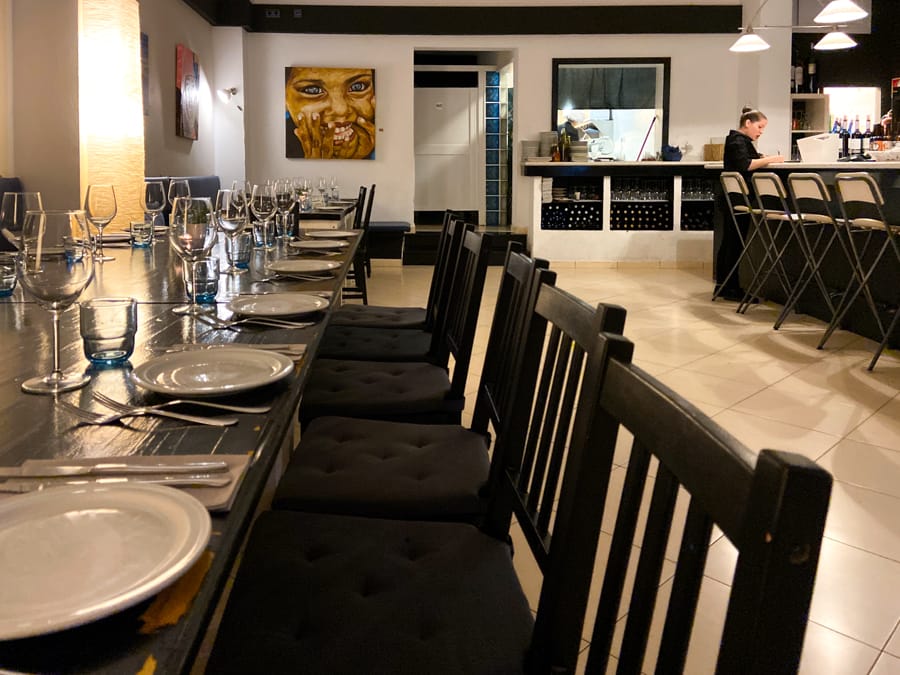 La Jaira is open for both lunch and dinner, with regular dishes and tapas available along with a great selection of drinks. The tapas is a great way to try a range of dishes. However, it's important not to over order as the tapas dishes are relatively large.
I highly recommend trying their goat dish, a popular meat on the island given its abundance for the dairy business.
The restaurant is busy for both lunch and dinner service and getting in without a booking is almost genuinely impossible, but it's well worth the effort of booking a table.
You can find Restaurante La Jaira at Calle la Cruz 26 in Puerto del Rosario.
5. Relax at the Beach
In the center of the city, there is a chilled-out beach with calm, clear waters that are perfect for swimming.
Sheltered from the rougher seas that plague the coastline around Puerto del Rosario, Playa Chica is a great beach where you can relax or take a swim after a hard morning of exploration.
Along the beachfront, there are plenty of little restaurants and cafes where you can enjoy lunch or a drink away from the crowds on the beach. To the left of the beach, you will find the skeleton of a beaked whale at the end of a walkway.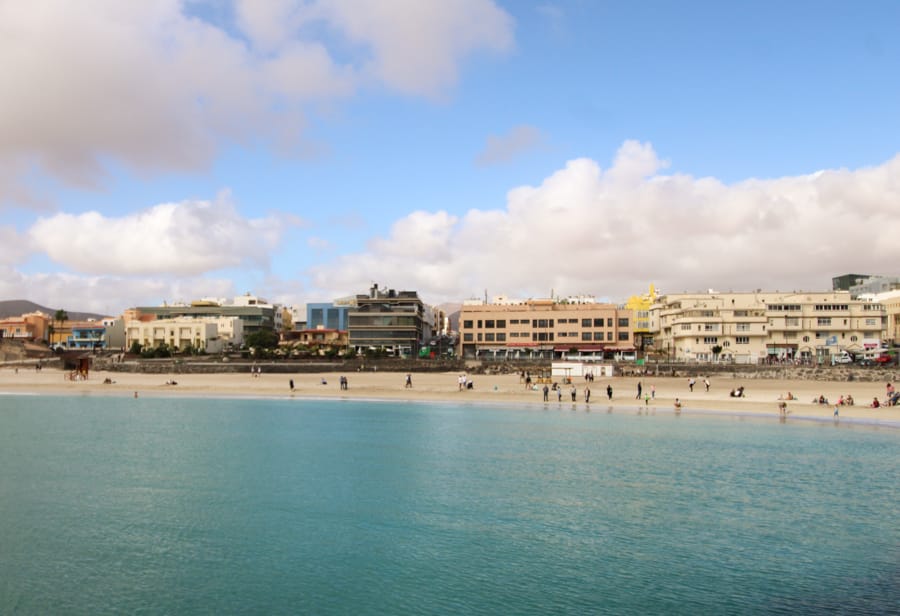 The skeleton is one of four displayed on the island aimed at highlighting the perils animals in the sea are facing. The story of the whale skeletons is rather sad as they belong to whales that became stranded and died after military training exercises.
Alternatively, you can head to the south of Puerto del Rosario to Playa Blanca where you will find another beautiful, yet wilder beach where the waves come crashing in.
6. Walk the Coastal Path (Promenade)
To the south of the city, there is a beautiful coastal path where you can take in the fresh sea air and escape the crowds of the port.
The trail winds its way along the rugged edge of the island until you reach Playa Blanca, the wilder of the two beaches. Along the way, you will find some of Puerto del Rosario's famous statues in addition to a few other sights.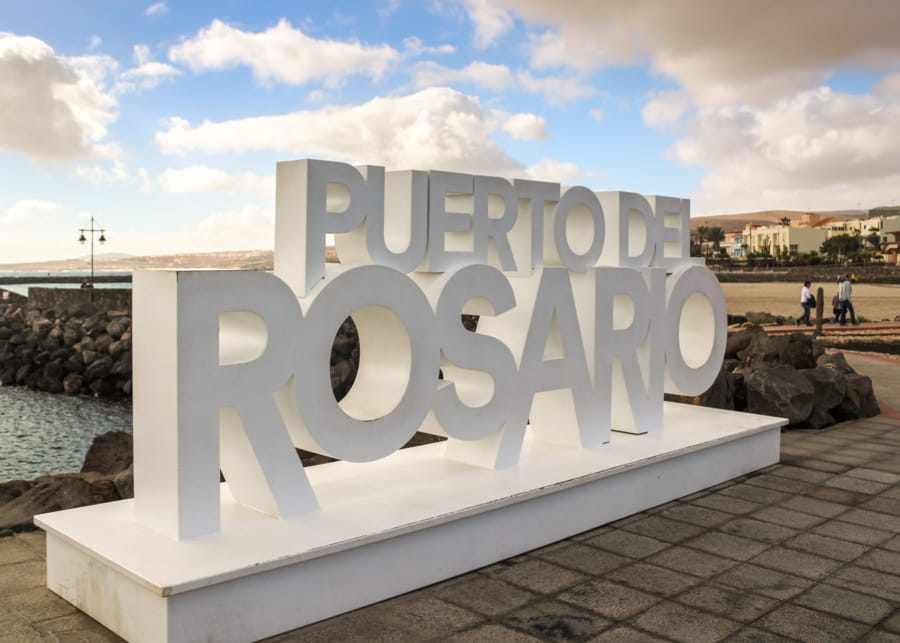 At the end of the path around Playa Blanca, there are cafes and restaurants where you can chill out before heading back, although the walk is neither strenuous nor too long.
Along the route, take time to sit on one of the benches or the wall and watch the waves crash. Or better yet, head there for morning sunrise!
7. Eat Arepas at Arepas Llaneras Venezolanas
Puerto del Rosario is a city that you need to explore to find some of the best-hidden gems.
Simply looking at maps to find out the best places to eat often won't help as some of the places just will not show up on maps at first glance. Arepas Llaneras Venezolanas is one of those places.
The tiny restaurant ended up being one of my food highlights from the whole trip. With only space for a few tables, Arepas Llaneras Venezolanas serves up a range of amazing arepas, alongside some other side dishes, such as nachos.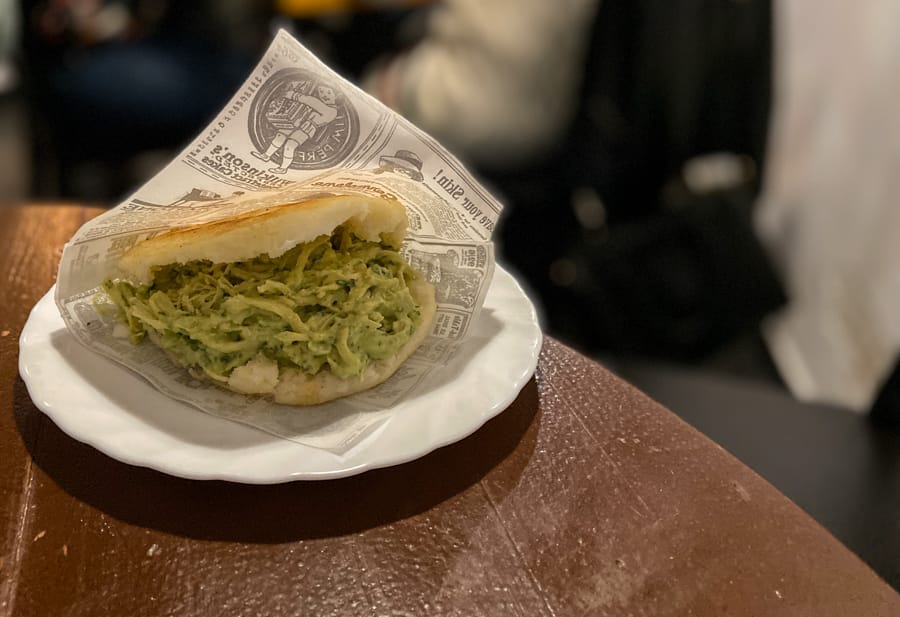 The amazing food came with friendly service and all for an affordable price point. Arepas Llaneras Venezolanas is closed between lunch and dinner services as is standard with many restaurants on Fuerteventura.
You can find Arepas Llaneras Venezolanas at Calle la Cruz 19 in Puerto del Rosario.
8. Look Out for Barbary Ground Squirrels (Fuerteventura's Chipmunks)
Throughout the island, you will find Barbary Ground Squirrels, which were introduced to the island from North Africa in the 1960s. The squirrels are often mistaken for their North American cousin, the chipmunk.
You can find the squirrels pretty much anywhere on the island, however, I found the best place to see them was along the waterfront to the south of Puerto del Rosario just past the Palacio de Formación y Congresos de Fuerteventura.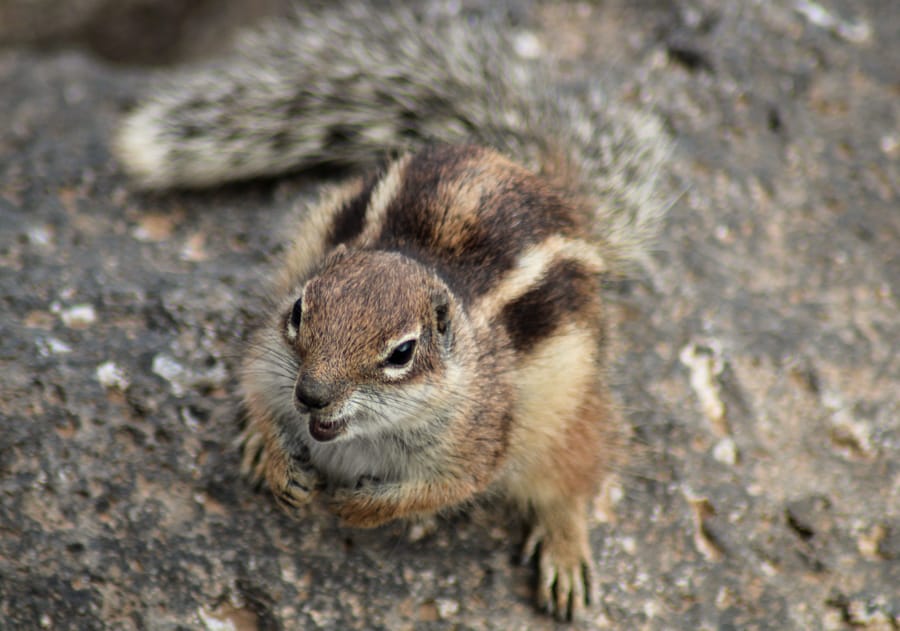 If you look over the wall towards the sea, you will find plenty of them running around and playing together.
If you are lucky enough, and they are distracted by scraps of food that linger around, they may pose long enough for you to take a picture.
People often throw food for the squirrels, but in many cases feeding them is discouraged as they are classed as a pest and you could end up in some trouble since signs strictly forbid feeding them. Anyway, they are cute.
9. Eat Lunch at Tasca el Perenquèn
There are plenty of places to eat lunch around the port but my personal favorite was Tasca el Perenquèn. The charming restaurant serves an amazing range of small plates and sandwiches for a very affordable price.
Tasca el Perenquèn is located on a street that sits above the port and offers fantastic views out to sea from its sheltered balcony.
Open only during the day on weekdays, you can order an amazing range of dishes from traditional Spanish meals, such as Spanish omelets, to tasty sandwiches.
I ordered three dishes- a Serrano ham and goat cheese baguette, fried prawn dumplings, and a Spanish omelet. The dishes all cost between €1.50-€4 which was much cheaper than many of the other spots around the town.
They also serve a great range of local craft beers that have been brewed on the islands, such as the Fuerteventura APA, a delicious fruity Pale Ale brewed in collaboration with a Laja Craft Brewery outside of Corralejo and Jaira in Gran Canaria.
You can find Tasca el Perenquèn at Calle Garcia Escamez 5 in Puerto del Rosario.
10. Check Out the Lime Kilns
Along the coastal edges of the island are lime kilns that were at one point the backbone of Fuerteventura's economy.
Limestone was used on Fuerteventura to paint houses on the islands white since whitewashing houses give off antibacterial properties that have even been known to stop the most aggressive forms of bacteria like the bubonic plague.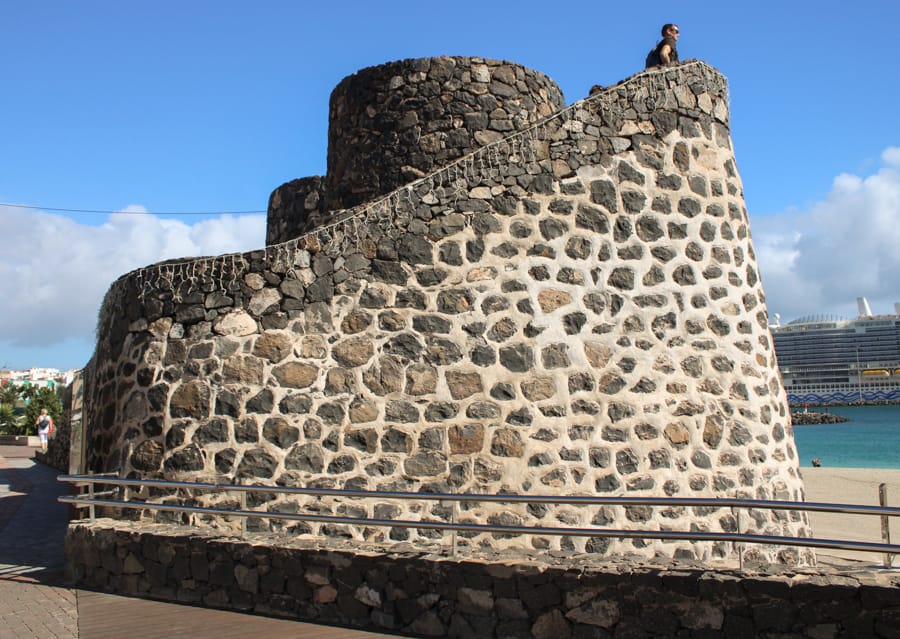 The other use for the lime was in construction and water purification. The process was risky since the limestone had to be heated to 1000°C (1890°F) and the lime created was a relatively unstable compound that was prone to exploding.
There are plenty of examples of lime kilns throughout the island, but as you walk along the coast from Puerto del Rosario, you will find some really well-preserved kilns.
The lime kilns were used up until the 1970s when concrete replaced lime as the core building material on the islands.
Of the many kilns dotted around the islands, these are some of the most intact on Fuerteventura because they are some of the newest examples of lime kilns.

11. Spend Time at the Miguel de Unamuno House Museum
One of Fuerteventura's most famous residents is Miguel de Unamuno, a Spanish novelist and philosopher who spent 6 months living on the island after being exiled from mainland Spain.
Despite only living on the island for a short period of time, Fuerteventura made a significant impact on his works and writings with the writer often citing the insane beauty of the island.
The house has now been turned into a museum dedicated to his interesting life as one of Spain's rebellious intellects.
The museum is located in the center of Puerto del Rosario and is free to enter. Although small, it is a great place to learn a little about the island's history and Miguel de Unamuno.
Fun fact: Miguel de Unamuno is often credited with being one of the island's first nudists. I got to meet some of the new nudists down in Morro Jable. More to come on that soon.
You can find the Miguel de Unamuno Museum at C/ Virgen del Rosario 11 in Puerto del Rosario.
12. Eat Pizza at Ciao Mare
One of the best places to eat in Puerto Del Rosario is Ciao Mare, a tasty restaurant that serves up fresh, authentic Italian-style pizzas. Their pizza menu is relatively extensive with a wide range of options and toppings available.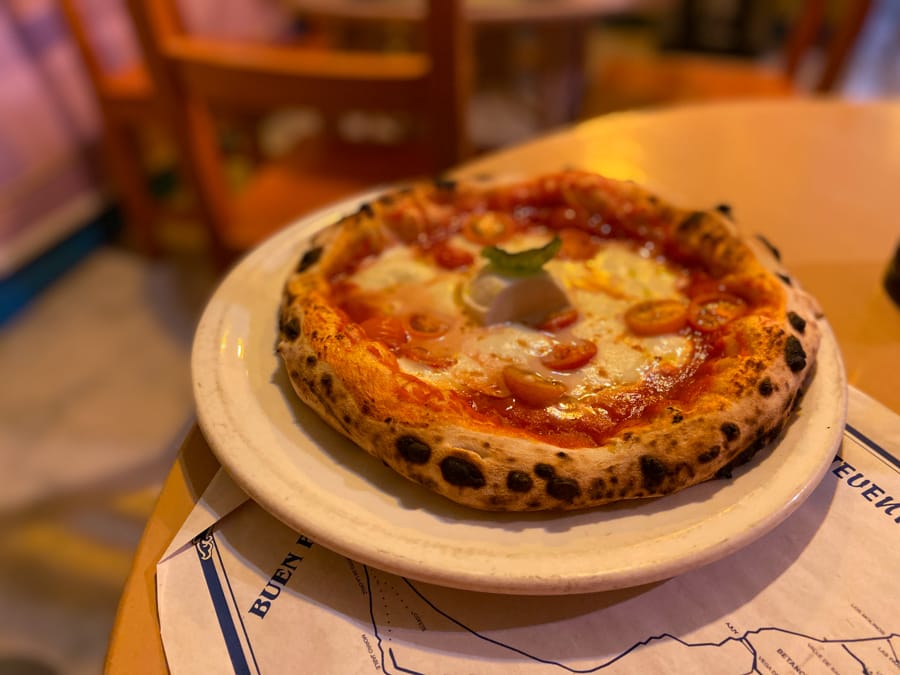 Along with the fresh toppings and delicious pizza sauces, the restaurant is famous for its dough, with the recipe perfected for over 20 years.
The pizza comes in several different styles, such as a thin base or Neopolitan, my favorite.
The restaurant sells a range of beverages, from Italian wines to local beers. I highly recommend reserving a table since the restaurant fills up pretty quickly with locals looking to enjoy Puerto del Rosario's best pizza.
Due to its popularity, the service can be a little slow with table and takeaway orders flooding in. You can find Ciao Mare at Calle García Escámez 17 in Puerto del Rosario.
Where to Stay in Puerto del Rosario
Despite being the capital of the island, Puerto del Rosario has limited options when it comes to accommodation. However, there are a few options in and around the city for all budgets.

Hotel el Mirador de Fuerteventura (Luxury)
A beautiful four-star hotel located three kilometers away from the city center next to the beautiful Playa Blanca, Hotel el Mirador de Fuerteventura has rooms that are spacious and comfortable with gorgeous views out over the ocean.
Being slightly away from the city center means that the area is quiet and away from the port where cruise ship passengers flood the city each. This is a little slice of luxury in Puerto del Rosario.
>> Click here to check rates and availability
JM Puerto Rosario (Mid-range)
Located next to the port, the hotel is a perfect launch pad to explore the city. The large rooms come complete with all the amenities that you need for a wonderful stay and breakfast is available each morning for a small charge or in some cases within the room rate.
>> Click here to check rates and availability
Apartamento Céntrico Puerto Del Rosario (Budget)
There are plenty of apartments available throughout the city that are perfect for budget travelers as they are affordable and offer the ability to cook for yourself.
The Apartamento Céntrico Puerto Del Rosario is situated just a short walk away from the city center and port with a large supermarket close by.
The apartment offers a fully working kitchen, a comfy living room, and a sizable bedroom. This is where I stayed and I really loved my time there!
>> Click here to check rates and availability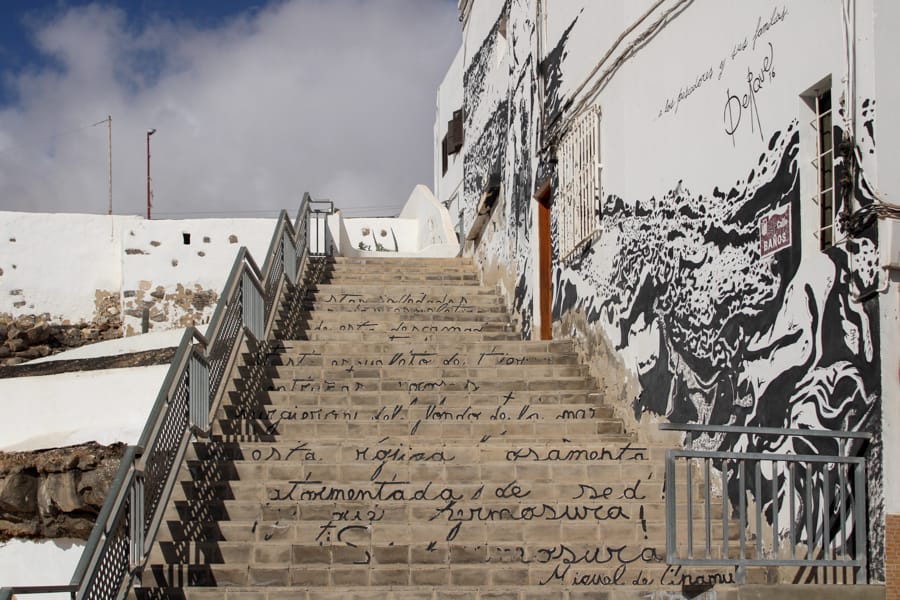 Alternatively, you can head to Puerto del Rosario as a mere day tour from Corralejo if you're not keen to stay overnight.
If you're looking for things to do in Puerto del Rosario, this guide should give you the encouragement to stay there for a bit on your trip to Fuerteventura.
I know many people overlook the area, but if you're keen to do day trips around the island, it is a pretty centrally-located spot, especially if you have your own car!
Please let me know if you have questions or comments on what to do in Puerto del Rosario. Would love your opinion if you have spent time there!
More Fuerteventura Travel Guides