One of my favorite places I have visited this year was undoubtedly La Graciosa, the newest island in the Canary Islands. This is a guide to why you should visit La Graciosa and what to do there.
Are you planning your trip to Lanzarote last minute?
If youʻre booking your trip to Lanzarote last minute, we have you covered. Below are some of the top tours, hotels, and more!
🌊 Top Activities and Tours in Lanzarote:
🛌 Top Hotels in Lanzarote & La Graciosa:
I stayed at Casa Salinas Playa in Orzola and it was rad! It is also affordable and located by the water.
La Graciosa Camelia Beach Vistas Mar (an option on La Graciosa)
🚗 Looking for the best way to get around Lanzarote? Click here to check rental car rates for the Canary Islands!
If you know of other things to do in La Graciosa, please drop them in the comments for other readers and travelers! Thanks!
About La Graciosa
The Canary Islands are made up of 8 volcanic islands, each with its own characteristics, and are mostly sunny year-round.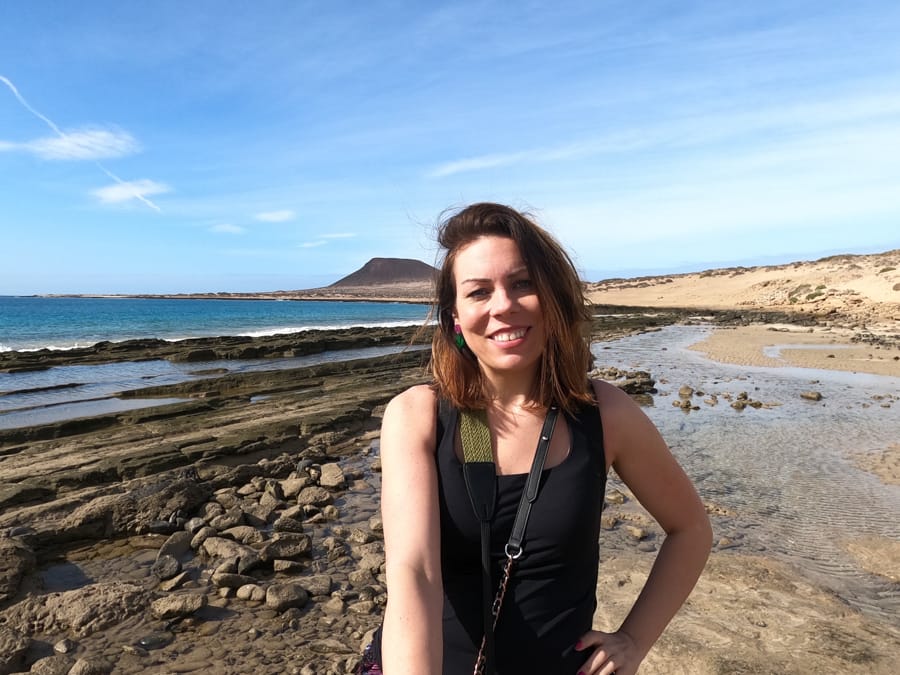 The newest island in the Canary Islands is called La Graciosa. Once considered just an island off of Lanzarote, it now is the eighth island that makes up the Canaries and has been since it was declared one in 2018.
La Graciosa has a population of little over 700 people and only one settlement that is inhabited year-round.
The small island is only 5 miles long and is barren of trees and pretty much any vegetation apart from hardy shrubs that have sprouted out of the arid landscape.
For a long time, fishing was the primary industry on the island as it sits on the edge of the chain of islands and has direct access to the vast Atlantic Ocean.
However, in recent years, tourists have started to come to the island to enjoy its empty beaches and untouched beauty.
La Graciosa is perfect for those who are looking for some adventure or those who are just wanting to spend some time relaxing away from the crowds.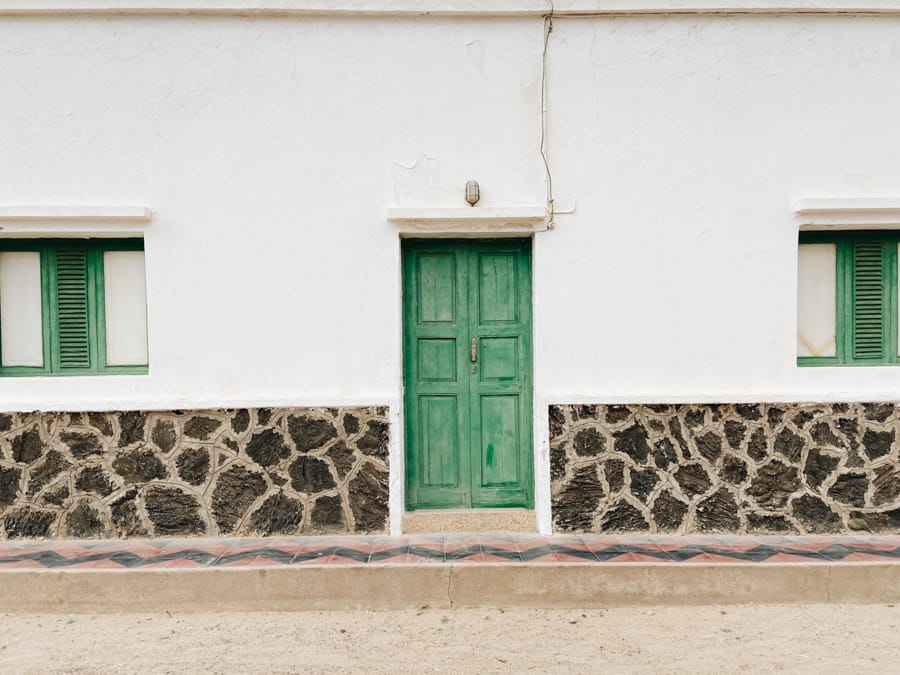 Despite its small stature, Caleta de Sabo (the only town on the island) has pretty much everything you could need, from bars and restaurants to a small supermarket.
It also has a copious amount of dogs living there with their owners. Sorry, this is important information…
My Time in La Graciosa
I've always dreamt about traveling to the Canary Islands and I finally booked a trip after another island trip was suddenly canceled. While planning my trip I knew I wanted to spend time really getting to know Lanzarote and all it had to offer.
As I spent time looking at maps, the island of La Graciosa piqued my interest and after a quick Google search, I settled on the fact that this was going to be the first stop of my Canary Islands adventure.
I wasn't fully sure what to expect when I arrived but I knew it would be small and quiet and that I would maybe spend a few hours walking and then head back to Lanzarote.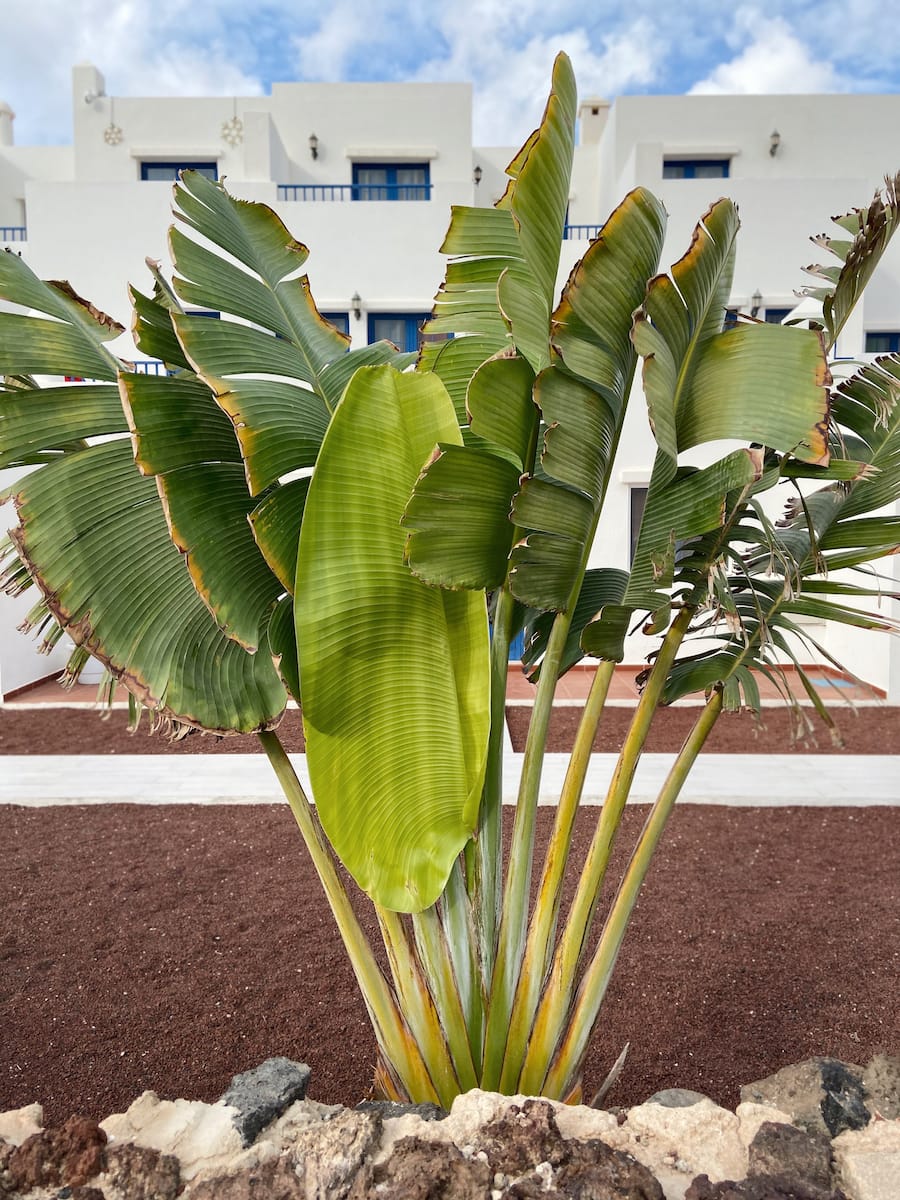 However, the second I arrived I was completely enamored with the island and after a tasty breakfast, I went about exploring some of what this sandy land had to offer.
As I walked along the coastline, I was truly surprised by how few people there were on this island and it really felt like a kind of unknown paradise.
After exploring some of the beaches, I headed back to the main town and enjoyed some delicious lunch, and took a look at what else there was to do on the island, a paradise for those seeking adventure and those just wanting to chill out.
This guide will take you through some of the best things to do in La Graciosa for day-trippers and those wanting to spend a little more time on the island.

How to Get to La Graciosa
La Graciosa is a small island with limited space and the only way to reach the island is via boat. The boats tend to depart from the small town of Orzola on the northern tip of Lanzarote.
Orzola is a small town and is connected to Arrecife with a solitary bus line. The number 9 bus departs from Arrecife every three hours and takes around an hour to reach Orzola, costing about 4 Euros per person for a single ticket.
Alternatively, you can hire a car and drive yourself to Orzola. The journey takes just over half an hour and along the way, you will be able to stop at some of the most stunning scenic viewpoints on the island.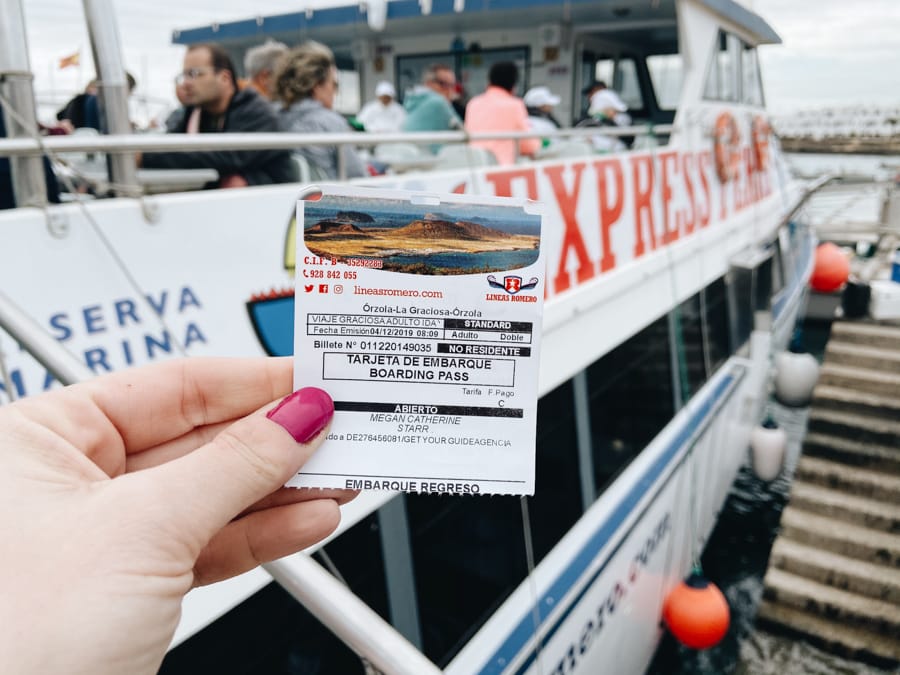 Once you reach Orzola, you will have to park the car for the day/duration of your visit to La Graciosa as people are not allowed to bring cars on the island aside from a few old 4x4s that are used for Jeep safaris around the island.
If you are planning to head to Orzola directly from the airport as I did, you can purchase an airport transfer to the town which will cost you around 60€ but will take the stress out of the trip.
Taxis are a little cheaper but will depend on traffic and availability when it comes to cost.
Staying longer in Orzola? Check out our things to do in Orzola guide where you can get an idea of all this small town has to offer.

Ferry to La Graciosa from Orzola
Once you reach Orzola, you will need to go to the port and purchase tickets on one of the two Express Ferries available.
I booked my tickets in advance with Lineas Romero. Booking in advance meant I was guaranteed to get on a ferry of my choosing on a certain day for both the outbound and return journey.
The tickets cost 26 Euros return which could be used at any point on the selected day and the price is the same as buying on the day from either ferry line but it really gave me peace of mind that we would definitely be getting there that day.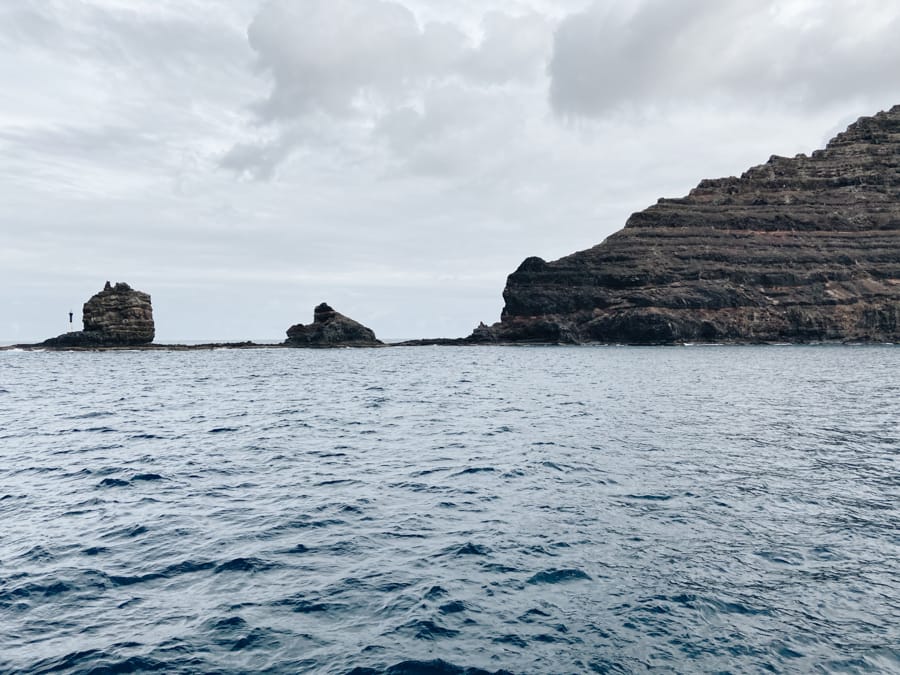 The ferry schedule changes a bit for each season, so you will need to check the timings of when you plan to go.
The ferry also offers free Wi-Fi but I couldn't get it working, nor is there really any time to make use of it as the scenery is pretty spectacular.
>> Click here to reserve and purchase your ferry tickets to La Graciosa
The ferry ride takes around 20-25 minutes and the boats are fairly basic and largely open to the elements, so if it looks like a rainstorm might blow over, try and get there early so you can grab a seat on the lower deck which is mostly covered.
The journey from Orzola to La Graciosa was extremely rough the day I took it, with huge rolling waves really rocking the boat.
If you are prone to seasickness I recommend buying seasickness bands to help combat the waves. I struggled a lot on this boat, to be honest. And I don't really get seasick often. Click here to shop for seabands.
You will arrive in the main harbor of Caleta de Sabo. From there you will need to walk or hire a bike to get around the island.
Tour of La Graciosa
Alternatively, you can take a tour to La Graciosa where you will be picked up from all the major resort towns on Lanzarote, from Playa Blanca to Costa Teguise.
After being picked up, you will head to the express ferry in Orzola which will transport you to La Graciosa.
Once you make port, you will board a luxury catamaran and travel around the island in style sipping Champagne along the way.
During the cruise, you will stop off at various points and get the chance to swim and enjoy the beautiful waters of the marine reserve that surrounds the island.
After the cruise, you will have some free time to enjoy the main town and all the great things to do in La Graciosa before heading back to Lanzarote and your hotel. The tour includes lunch onboard the catamaran.
>> Click here for tour rates, availability, and itinerary details
Best Things to Do on La Graciosa
1. Have Breakfast at Bar Cafeteria el Saladero
I arrived on La Graciosa just before 9 o'clock after taking the 8.30am ferry. After the bumpy ride, I wanted nothing more than to sit down for a little bit and get some food in me to settle myself a little.
I exited the harbor to the left and started to walk a little down the harbor front and was instantly attracted to Bar Cafeteria El Saladero, mainly due to the fact that there were dogs running about outside the cafe.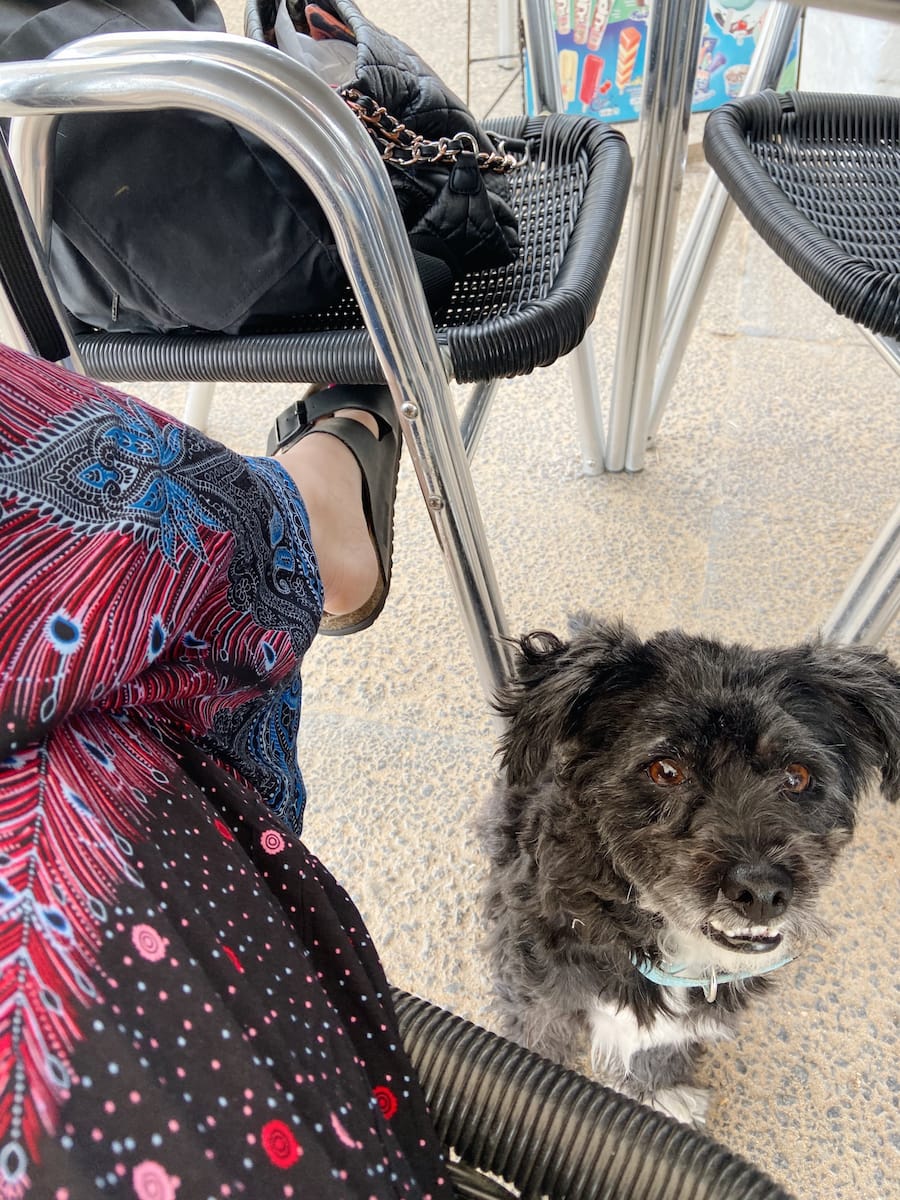 After taking a seat, I ordered a coffee and a freshly squeezed orange juice and a range of toasts. The menu is small but there is a good range of little snacks available.
Once the food arrived, I was quickly greeted by one of the local pups who tried his best to get some of the food.
After enjoying a pleasant breakfast, I paid and headed out to explore the island. I obviously ended up back there later that day to check out the new crop of dogs that came for an early dinner.
2. Relax at Playa La Francesca
If you head southwest out of Caleta de Sabo along the seafront, you will quickly find yourself in the wilds of La Graciosa, with windswept, arid land and mesmerizing beaches.
There are plenty of beaches around the island that have barely any tourists and some of the most fantastic waters you can imagine.
Playa La Francesca is a gorgeous beach covered in golden sands that give way to patches of volcanic rock.
The walk to the beach is relatively long but well worth it as you will be able to enjoy the unspoiled nature away from the crowds that fill the beaches of many of the Canary's other islands.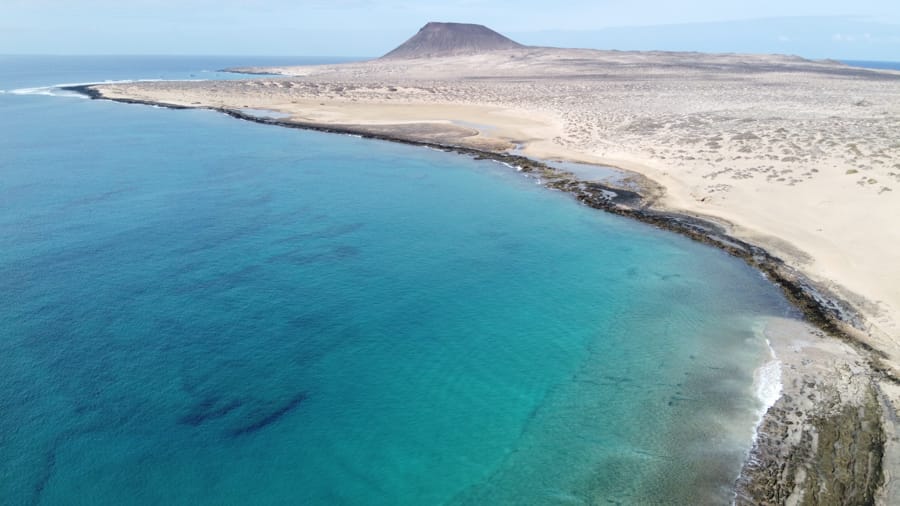 The La Graciosa beach is secluded and there are literally no amenities in the area, so you will need to bring food and drink with you along with anything else you may need.
This is one of the top things to do in La Graciosa for nature lovers.
3. Dive into the Marine Nature Reserve
The waters around the islands are some of the most beautiful I have seen and have been protected as a dedicated marine reserve.
The depth of the water switches between shallow and deep and is able to host a plethora of marine life.
The diving in La Graciosa is said to be some of the best in the world and is accessible for both beginners and more experienced divers.
The diving spots change each day depending on the weather and conditions, although where you dive isn't too important as pretty much every spot is unbelievably stunning.
Inexperienced Divers
For inexperienced divers, after a short theory lesson, you will be taken to one of the beaches around the island where you will get to enjoy the beauty of the waters from underneath and get to grips with breathing underwater.
This life-changing experience will have you craving more and looking into getting your diving qualifications.
>> Click here for rates and availability for diving in La Graciosa
Experienced Divers
For experienced divers who are in possession of an open water diving certificate, the waters around La Graciosa really open up for you.
The adventure dive experience takes you to some of the most pristine waters in the Canary Islands, where you will encounter small sharks, shoals of mackerel, lobsters, and plenty of other marine life.
There are also the remains of historical anchors that have been lying on the seabed for centuries. The dive will be chosen depending on the conditions of that day.
>> Click here for rates and availability for experienced divers
4. Make Friends with the Local Dogs
La Graciosa is an island ruled by dogs, thankfully. As you walk around the main town, you will find cool little dogs chilling with their owners in a cafe or enjoying a walk along the beachfront.
These little guys are all pretty friendly and willing to put on a little show for you, sweetly asking for food or seemingly pretending to sleep when you mention the word.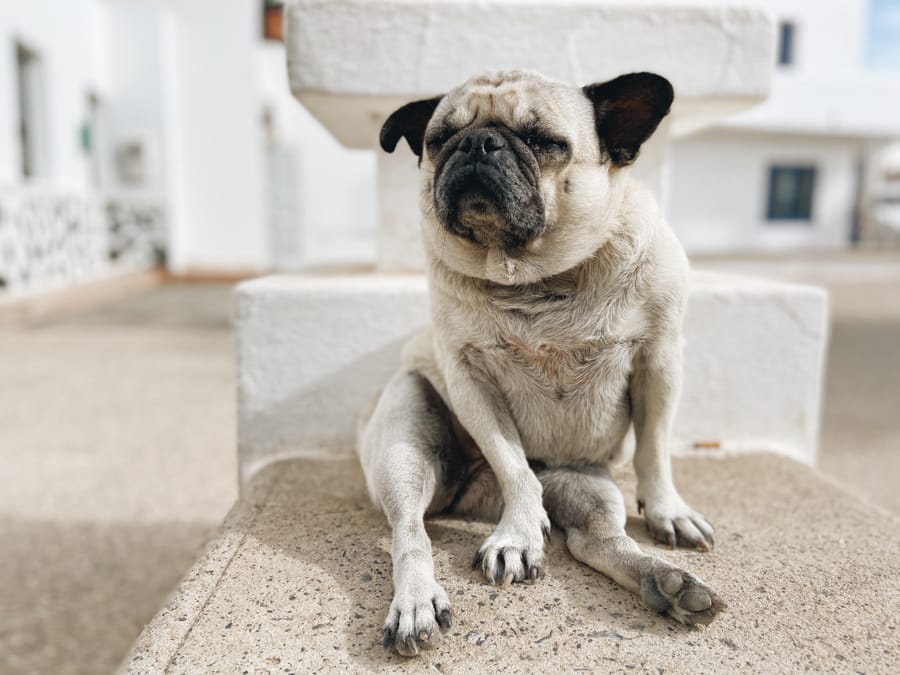 The dogs all seemed to have owners and are well looked after and enjoy their little life on their sunny island.
Luckily, there are not really any cars apart from the occasional jeep safari, so they are safe to wander the streets and play with their little pals.
5. Enjoy Lunch at Tasquita El Caleton
On the beachfront, in the southwestern part of Caleto de Sabo, is the excellent Tasquita El Caleton… a rustic restaurant serving up some of the best food on the island.
Serving a range of freshly caught seafood along with other regional dishes, you'll be delighted to have a nice lunch there.
I recommend that you ask the staff for their recommendation rather than ordering directly from the menu as the array of fish changes regularly depending on the season and what the fisherman could catch that day.
The seating is mostly outside in the sand, however, there are some places inside the building if the wind happens to be kicking up a storm that day.
The restaurant is open pretty much all day. It is closed on Tuesdays.
6. Explore the Island by Bike or on Foot
There are few cars on the island and no ATVs, so exploring the island is best done on foot or by bike. The island is only 5 miles long and has 19 miles of coastline that is ripe for exploration.
In the town center, you will find a few places that rent mountain bikes out for a decent price.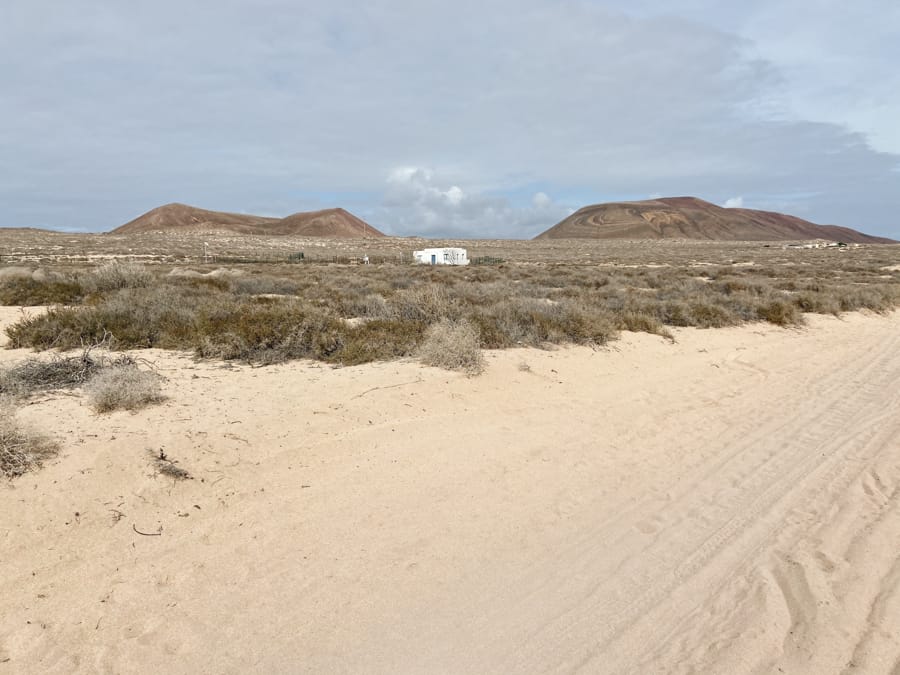 La Graciosa is full of long dusty trails that circumnavigate the island and take you through the arid plains to the feet of the volcanoes that created them.
They are all relatively flat, so they can be cycled by those not so used to cycling or in the best physical condition.
Alternatively, don a decent pair of hiking boots and take them to the island on foot. You can use the same trails or walk along the beaches and enjoy the relative solitude this island is able to offer.
It is imperative that you bring any supplies you need with you, including plenty of water, as there are no shops outside of the main town and no natural sources of fresh water on the island.

7. Visit the World's Smallest Museum
This island is supposedly home to the world's smallest museum, Museo Chinijo. Made up of three rooms, the museum looks at the nature and history of La Graciosa and the Chinijo Archipelago.
You will learn all about the whales and dolphins that live in the waters around the island along with aloe vera and salt.
The museum doesn't take long to visit given its size but it is very informative and is a must for those looking to learn more about the island's history.
The museum is free to enter and has a small gift shop where you can pick up small items and some aloe vera products that are made in Lanzarote.
8. Lose Yourself in the Sandy Streets of Caleta del Sabo
The small streets of Caleta del Sabo are a maze of sandy alleyways and whitewashed houses that harmoniously contrast against the golden sand.
While there is not too much actually to see or do the streets are cute and there are a few nice little squares with cafes where people congregate and pups hang out with their owners.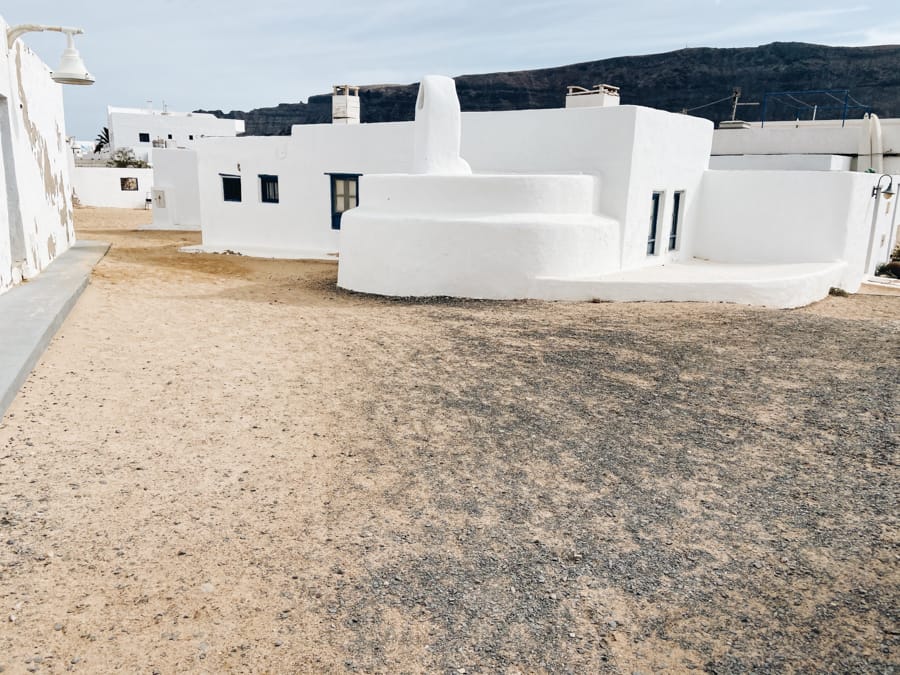 It is also possible to find little hidden food gems and enjoy a town that is basically void of any vehicles.
9. Take a Jeep Safari on La Grandiosa
As you head northeast from the harbor, you will see an area of the town with a barrier across the road.
On the other side of the barrier, you will see old 4×4 cars and their drivers sitting by the cars. These are the only cars allowed on the island and they offer tours of La Graciosa.
The tours will take you to highlights of the island and some of the more picturesque beaches.
Basic safari tours last about 75 minutes (it doesn't take long to drive around the island) and costs about 50 Euros. The safari is a great way to see the island quickly and also provides a little thrill as you bounce along the paths.
10. Eat Dinner at Restaurante Girasol
In the heart of the town on the beachfront is Restaurante Girasol, a wonderful traditional restaurant that serves great food and has a lovely atmosphere.
It's a perfect spot for dinner serving up a range of fresh seafood with the catch of the day being presented to you on a plate before deciding.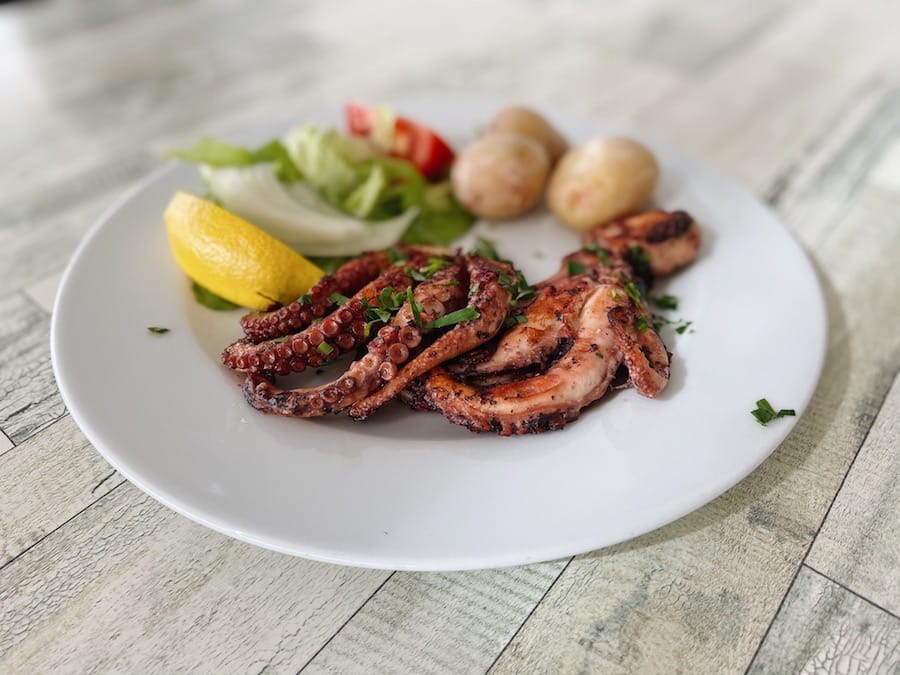 I opted to have the grilled octopus and the traditional wrinkled potatoes as their accompanying sauces.
The food was affordable and tasty and was served by very accommodating staff who were happy to help and make sure everything was good, more than I can say for some of the places I ate on Lanzarote.
11. Finish the Day Off with a Drink at El Everil
On the small beach just off the center of the town is the cool little bar and restaurant El Everil. Here you can enjoy a nice drink while sitting on the beach.
The bar has a cool aesthetic and vibe making it the perfect place to enjoy a drink as the sunset.
You can also get a range of dishes here if you are still looking for something to eat.

Things To Pack for La Graciosa
There are a few things I recommend bringing with you to La Graciosa that I would have liked to have when there. I also recommend a snorkel set for the trip if you plan on getting in the water around the island.
Water socks: the sand can be a little sharp from the broken shells and flora.
Also under the water, there are plenty of rocks that can be relatively sharp so best to keep your feet protected and able to grip the slippery rocks on the edge of the water. I recommend bringing water socks to help out. Click here to shop for affordable water socks for your trip.
Snorkeling set: explore the underwater world from one of the island's many beaches. The waters are a beautiful marine reserve and can be easily explored with a snorkel… and it is one of the best places to go snorkeling in the Canary Islands!
Seasickness band: the waters were very rough and I started to feel very queasy. I wish I had brought seabands but it didn't cross my mind for this trip (which I realized has three ferries on it!) Click here to get seabands before your Canary Islands trip.
Where To Stay on La Graciosa
The town is small and although most people just take a day trip to the island, there are a few places you can stay in the main town year-round.
There are no large resorts on the island and accommodation options tend to be relatively basic. There is also a large beachside campsite that provides an amazing cheap alternative and keeps you feeling close to the wilderness of this island.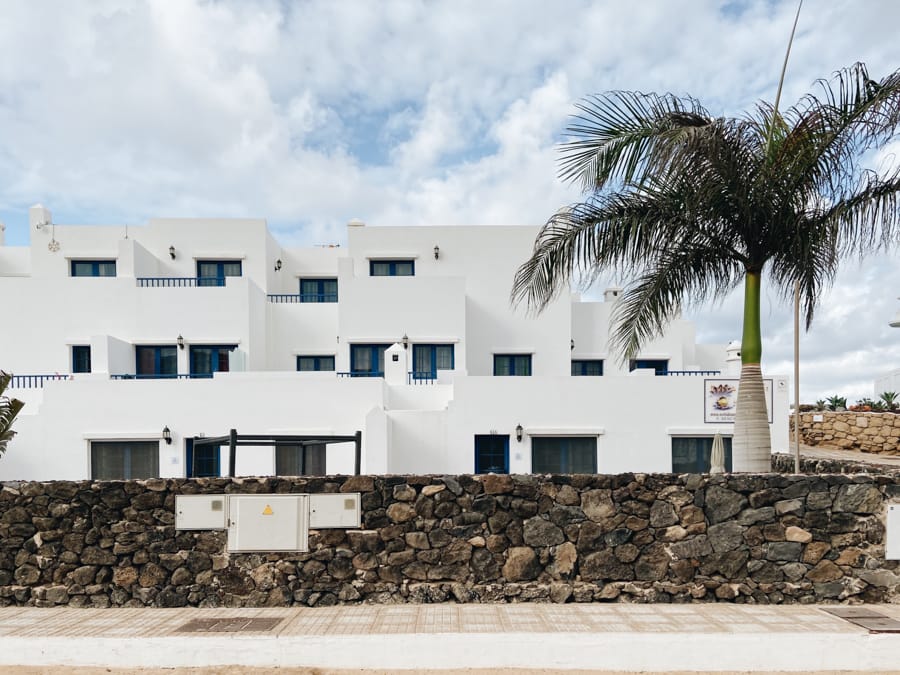 Nearly all of the hotels can only be booked for a minimum of two nights as the area is trying to promote people learning more about the island and spending a good amount of time there.
This, in my opinion, is a brilliant option because I could easily chill out on the island for a few days and really recharge.
I recommend booking La Graciosa Camelia Beach Vistas Mar. They are gorgeous apartments that overlook the beach in the center of Caleta de Sabo.
The rooms include a double bed, wonderful views, and a kitchenette where you can cook up some delicious fresh seafood.
>> Click here to check rates and availability for La Graciosa Camelia Beach Vistas Mar
I hope you have a chance to get to this island and experience the many things to do in La Graciosa. It truly was one of my favorite things on my trip to the Canary Islands.
Please leave comments on what to do in La Graciosa if you have alternative suggestions. Thanks!
More Lanzarote Travel Guides