Orzola is the northernmost town on Lanzarote and is the gateway to the gorgeous and rugged island of La Graciosa. This is a guide to things to do in Orzola, Lanzarote.
Are you planning your trip to Lanzarote last minute?
If youʻre booking your trip to Lanzarote last minute, we have you covered. Below are some of the top tours, hotels, and more!
🌊 Top Activities and Tours in Lanzarote:
🛌 Top Hotels in Orzola:
I stayed at Casa Salinas Playa in Orzola and it was rad! It is also affordable and located by the water.
🚗 Looking for the best way to get around Lanzarote? Click here to check rental car rates for the Canary Islands!
It is not really a touristy place but I hope that you give the town a chance if you're heading to the north- I really enjoyed myself there!
Best Things to Do in Orzola, Lanzarote
The only thing I really knew about Orzola prior to visiting was that it was the place that the ferries to La Graciosa depart from.
Located at the northern tip of Lanzarote, Orzola is a quiet town dotted with white buildings and narrow alleyways taking shield from the harsh winds on this part of the island.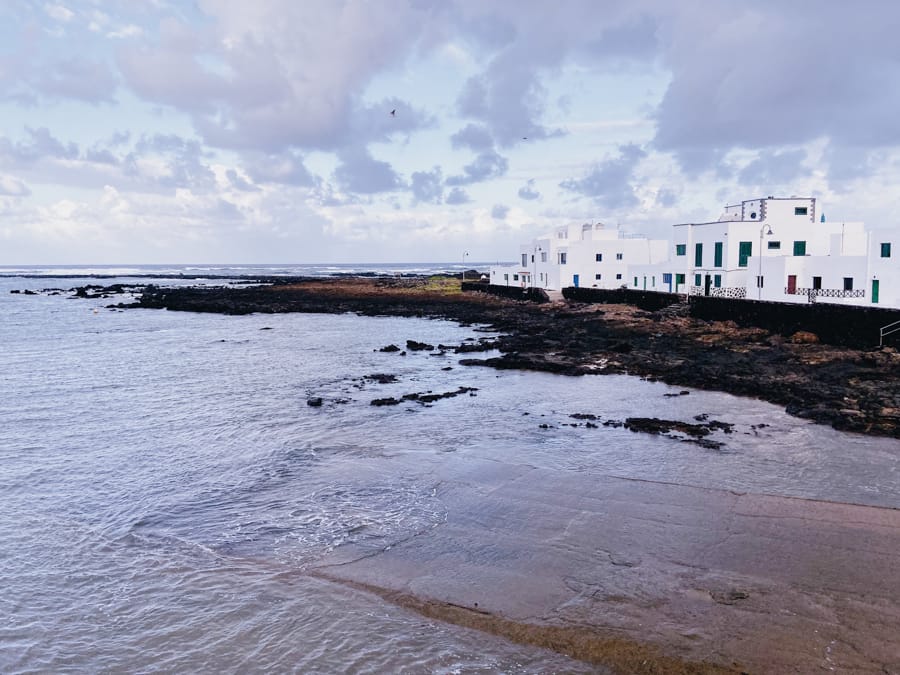 Upon arrival, I found a grocery store, a few restaurants, and honestly… not much else. However, I quickly learned that the town was home to one of the best vantage points in Lanzarote, Mirador del Rio.
That gorgeous viewpoint paired with some local eateries, a peaceful harbor, and chilled-out walks along the coast make this more than just a ferry port to La Graciosa.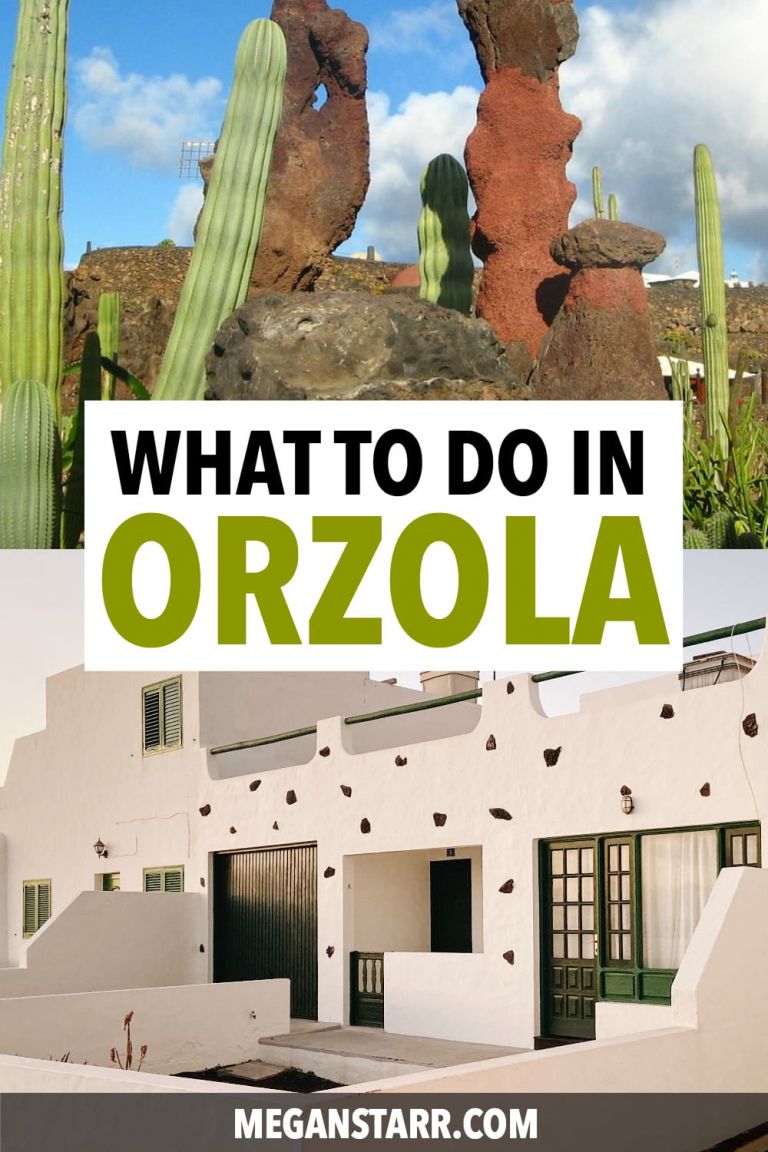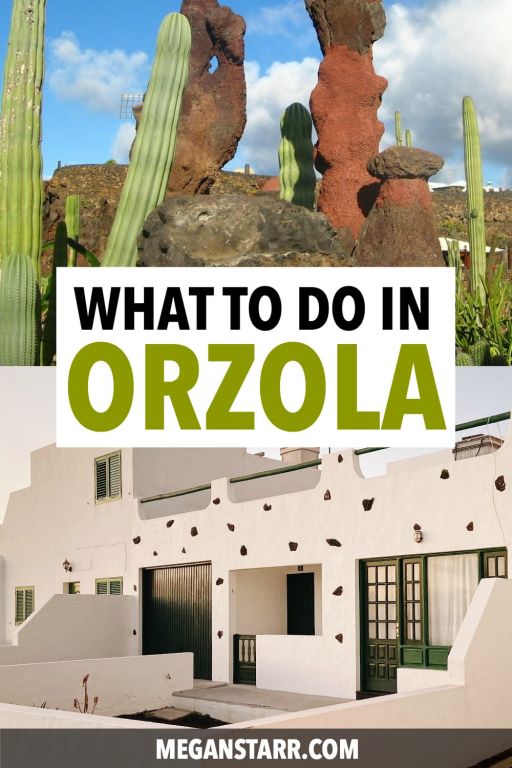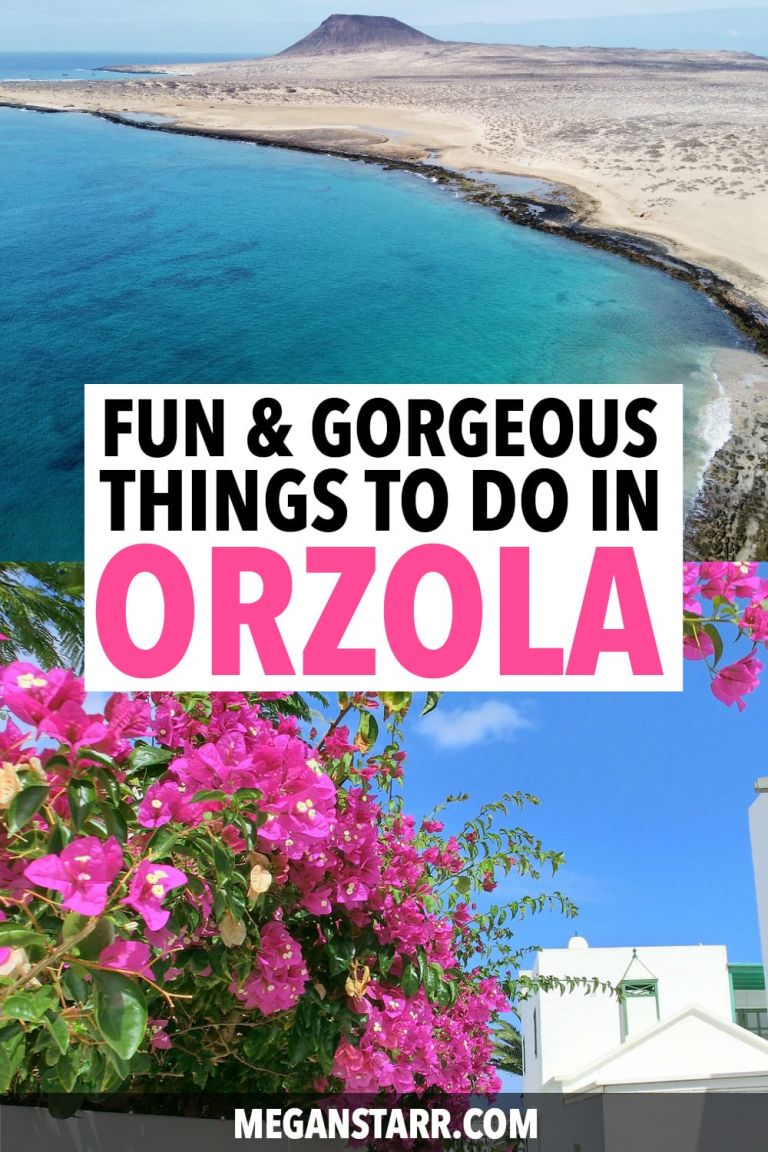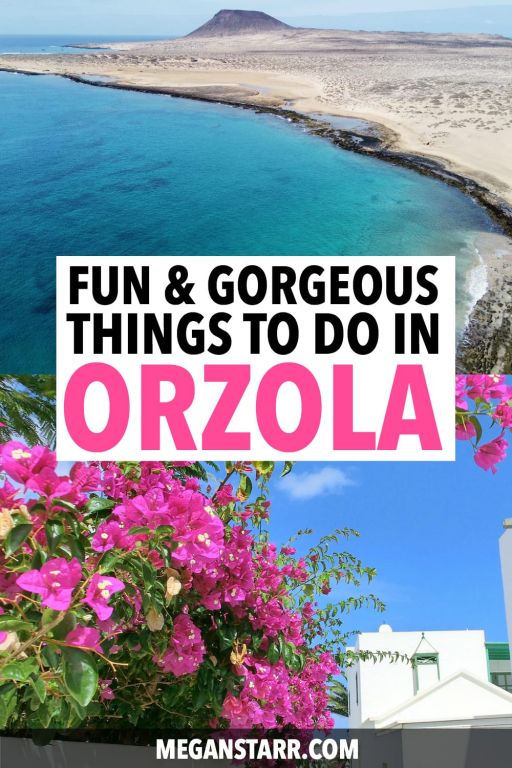 You probably added Orzola to your Lanzarote itinerary as a gateway to La Graciosa and that is fine. But, definitely take the time to explore the small town a bit and see what it has to offer! It may just surprise you!
This is a guide to things to do in Orzola. If you know what to do in Orzola and have some suggestions, please drop them in the comments.
Otherwise, this is just a quick Orzola travel guide with a few things to keep you occupied and some tasty places to dine at in one of the best white villages in Spain!

How to Get to Orzola
Getting to Orzola is the next obstacle you need to overcome. There are a few options for finding your way to North Lanzarote.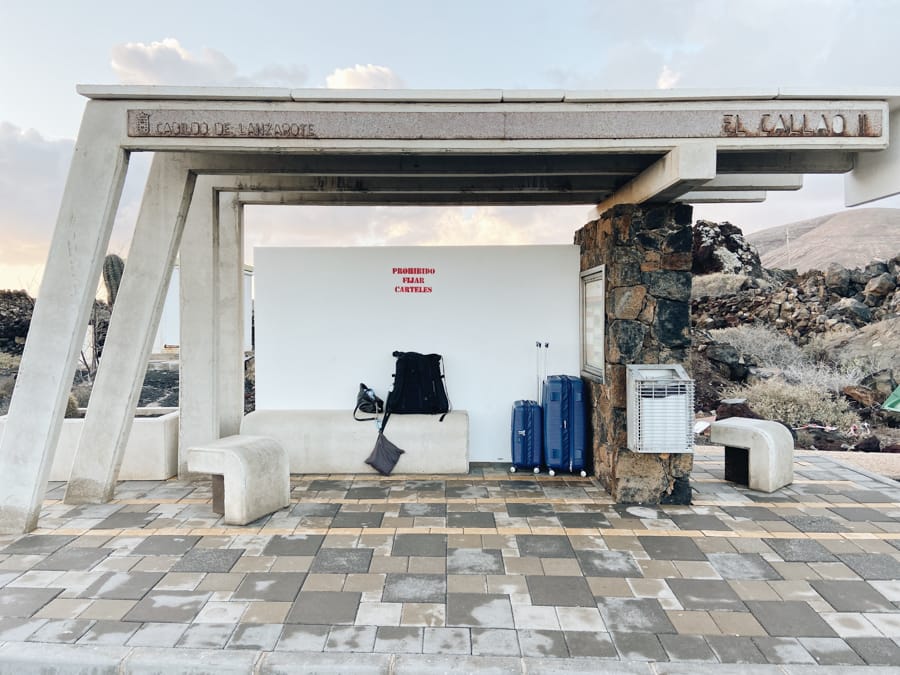 Here are a few quick tips on how to do so:
Rent a Car and Drive to Orzola
The best option is to rent a car and make your way to Orzola independently. I recommend this as there are so many cool and beautiful towns and scenic spots you can stop at along the way.
In addition, the roads to Orzola are in spectacular condition and are some of the best I've seen anywhere in Europe. The drive is about 30 minutes with no stops.
>> Click here to check Lanzarote rental car prices
Take the Bus to Orzola from Arrecife
You can take the bus from Arrecife to Orzola and arrive at a cheap price and with seamless transport. The trip takes about 1 hour and the buses depart every three hours from Arrecife to Orzola.
The bus to Orzola leaves Arrecife at Estacion de Guaguas and arrives at El Callao (Orzola). The ticket costs just under 4 Euros each way.

Private Transfer to Orzola from the Airport
Alternatively, you can book a private transfer from the airport or another place on the island to Orzola. I used a Booking.com transfer service and quite frankly, it sucked.
The driver said one word, never offered to assist with luggage after a long flight, and walked far ahead to the vehicle nearly leaving us behind. It was weird.
Thankfully, there are other recommended transfer services available and they will pick you up at the airport and take you wherever you need to go on Lanzarote. Noted.
I will definitely use them next time instead of the horrible service I had booked. The prices start at 24 Euros and up.
>> Click here to check rates and details for a Lanzarote private transfer service
What to Do in Orzola, Lanzarote
I assume you have made your way to Orzola in an effort to take the ferry to La Graciosa. I am adding that as a thing to do in Orzola in the event that you did no research and didn't realize it existed (all 5% of you reading this).
But, the rest of this guide is a reflection of what there is to do on the main island of Lanzarote in and around Orzola.
If you have any suggestions for places to visit in Lanzarote, please leave a comment for future visitors. Thanks!
1. Visit La Graciosa from Orzola
The main reason most people go to Orzola is to take the ferry to La Graciosa. The ferries only leave from Orzola, with the exception of a luxury ferry from Arrecife.
La Graciosa is the newest of the Canary Islands and was just 'declared' one of the islands that make up the Canaries last year, in fact. Today, it is one of the top things to do in Lanzarote!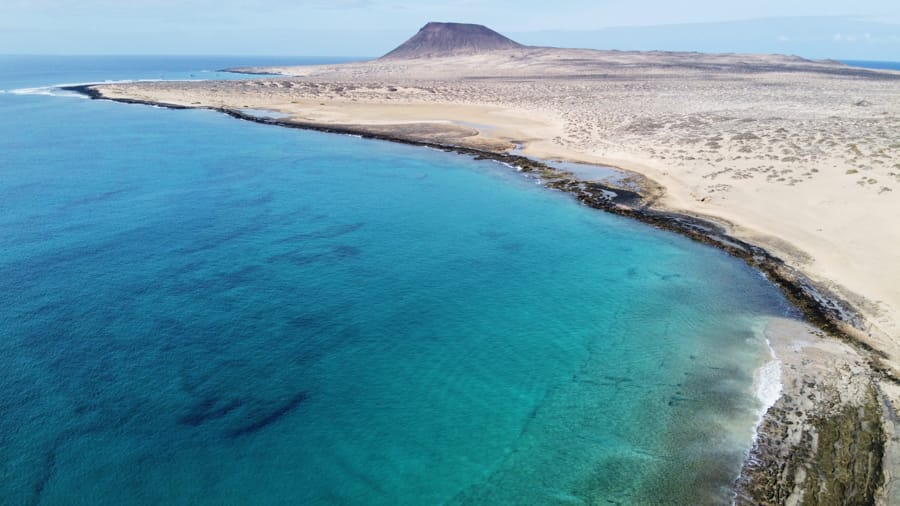 My main reason for wanting to go to La Graciosa was that it was barren and reminded me of a cross of Morocco and… something else.
Granted, the Canary Islands sit off the coast of Morocco so the landscapes are not a shock, but there is just something about an island with no natural water sources brimming with harsh landscapes and beautiful seas.
La Graciosa was indescribably beautiful. I am so glad I went there and it made the trip to Orzola worth it and then some. So, if you are heading to Orzola and didn't plan to visit La Graciosa, throw an extra day in there and DO IT! You won't regret it.
There are ferries departing every hour and a half or so from Orzola to La Graciosa. You can purchase ferry tickets from the kiosk at the harbor (there are two companies located there).
However, I suggest booking them ahead of time as I did. You can book La Graciosa ferry tickets here so that you don't get bumped off if it is too busy!
If you're keen to book a tour to La Graciosa instead of just buying the tickets yourself and determining your own schedule, you can opt for one of the following tours:

2. Eat at La Nasa Restaurante El Norte
My favorite place to eat in Orzola was La Nasa Restaurante El Norte, a beautiful place located right by the sea in the center of the town.
The Orzola restaurant stays open until only about 8pm so make sure you get there with adequate time to enjoy your meal.
They have a menu that will satisfy all tastes and travelers, however. I was really craving something a bit heavier after a lot of small plates for lunch and opted for paella.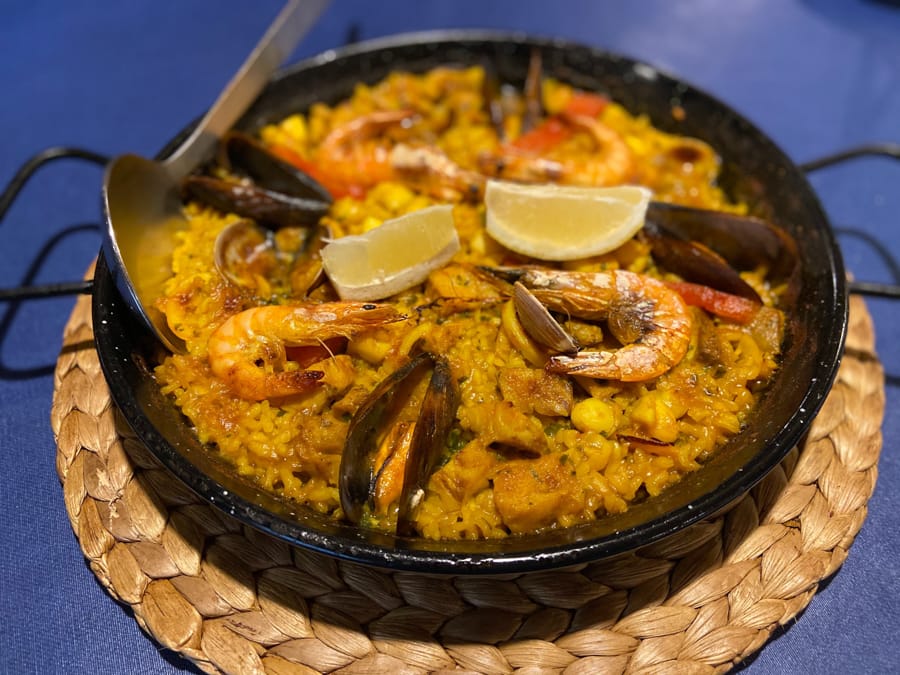 The paella hit the spot and the customer service was on-point. If you're looking for somewhere to have a nice dinner in Orzola, this is a great place to choose!
3. Go to Mirador del Rio
One of the most famous places to visit around Orzola is Mirador del Rio. Unfortunately, it is mainly accessible only by car or by a tour like this one, but if you have the chance to visit, it will blow your mind!
The views are INSANE, and you will get to check out La Graciosa from far away.
Mirador del Rio is an area and vantage point located 400 meters high and it is a place where nature and architecture intersect in the most beautiful of ways.
César Manrique, a famous architect, artist, and sculptor from Arrecife, Lanzarote put his touch on this place and made it world-famous as it is today.
Heading to Mirador del Rio is one of the best things to do in Orzola or anywhere in Lanzarote for that matter. You will be able to see views of Lanzarote that are inconceivable and that will blow your mind.
Getting to Mirador del Rio can be quite a challenge without your own car, so I do recommend joining this tour of Lanzarote's north in order to see it.
The tour hits up some awesome other places like La Graciosa (mentioned above) but beware- it leaves from Costa Teguise and Puerto del Carmen ONLY.
4. Wander the Orzola Harbor and Streets
One of the best things to do in Orzola is to just wander around. The town is small and there is not much to it, but the stunning whitewashed houses nestled along the coast will make you feel like you've landed in another world.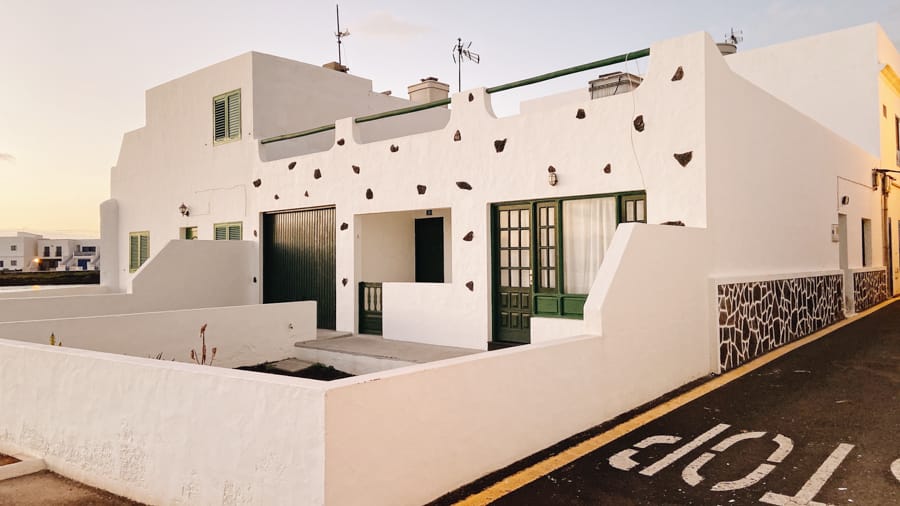 Visit the town center and grab an ice cream at the local cafes and restaurants and just peruse the scenic area leisurely… it is really a relaxing place!
5. Go to the Beach in Orzola
There are a few beaches in and around Orzola.
While they are not particularly easy to reach without a private car, you can actually walk to Caleton Blanco but I do NOT recommend doing this if you have children with you as you will walk along the main road where there is a narrow should for much of the way.
The walk takes 30-45 minutes each way and you will get to see one of the lovely, sandy beaches that Orzola has to offer. Be prepared, however… if the wind is not on your side, it can be a crazy adventure!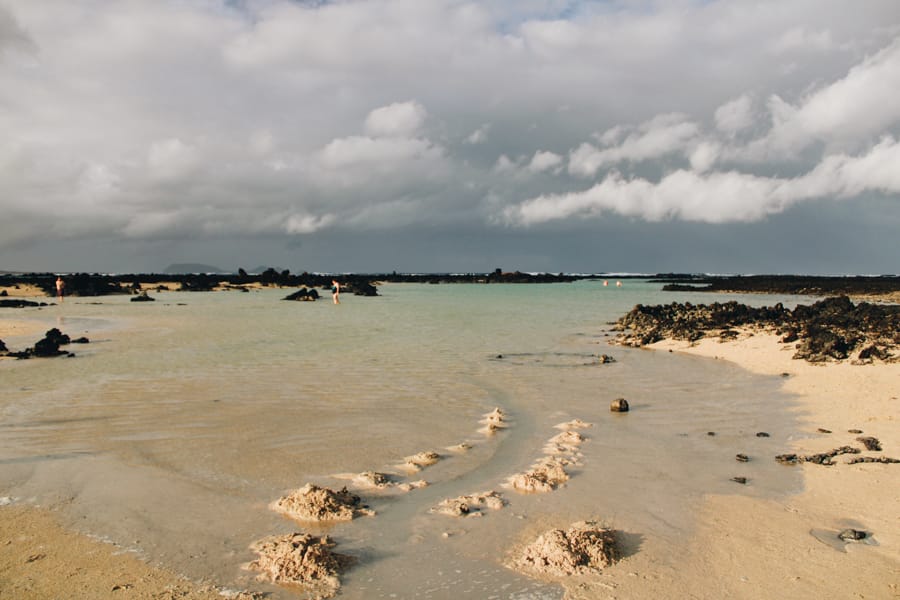 6. Try Local Lanzarote Food at Restaurante Mirador El Roque
One essential thing to do in Orzola is to indulge in local, Lanzarote (and Canary Islands) food.
Restaurante Mirador el Roque offered a few very local dishes such as the wrinkly Canary potatoes that you'll find on menus everywhere, mojos sauce (get both red and green… absolutely delicious!), and Canary potage (a stew of chickpeas and more).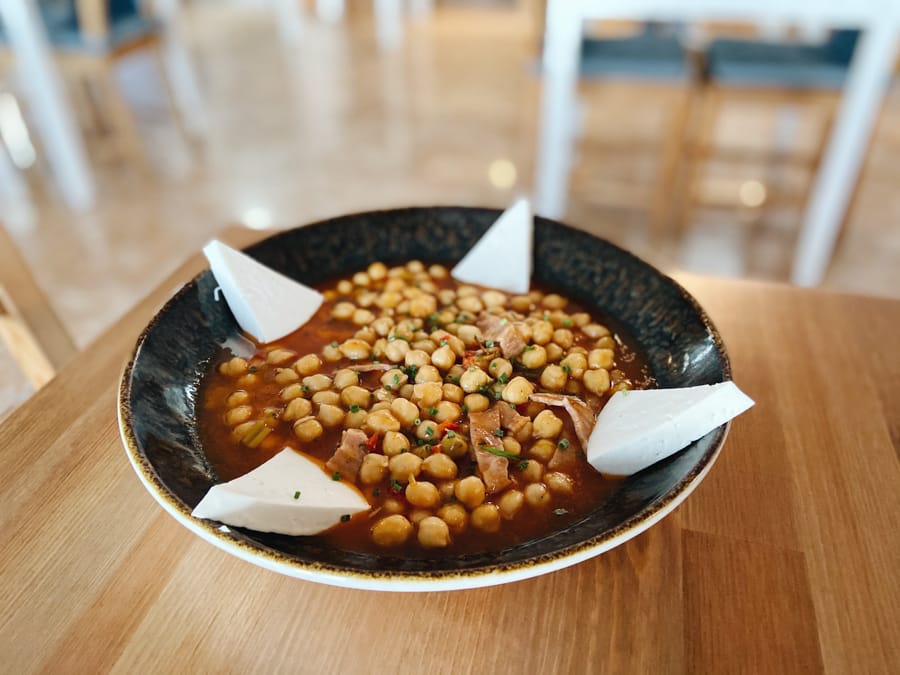 In addition to the potage and potatoes, we also ordered comber fish as it was fresh that day and I was craving seafood after being in landlocked Armenia for so long.
At Mirador el Roque, you will be greeted with exceptional customer service, fresh fish (fresh catch every day!) We were even given a ceramic mug as a souvenir to take home with us which was pretty cool.
Mirador also has a really relaxing terrace overlooking the harbor and sea so definitely add the restaurant in Orzola to your itinerary.

Tips for Orzola, Lanzarote
These are just some random things I think you should know before you travel to Orzola.
Places in Orzola shut early… sometimes earlier than they are supposed to. If the business is slow, don't be surprised if very little is open around town.
Unfortunately, due to Thomas Cook collapsing, about half a million people had to cancel their winter holidays in Lanzarote. And that was just the Brits. Places need your tourism now and then they will stay open a little longer.
Orzola is windy. In fact, the power was knocked out due to the wind on my last day there. Be prepared!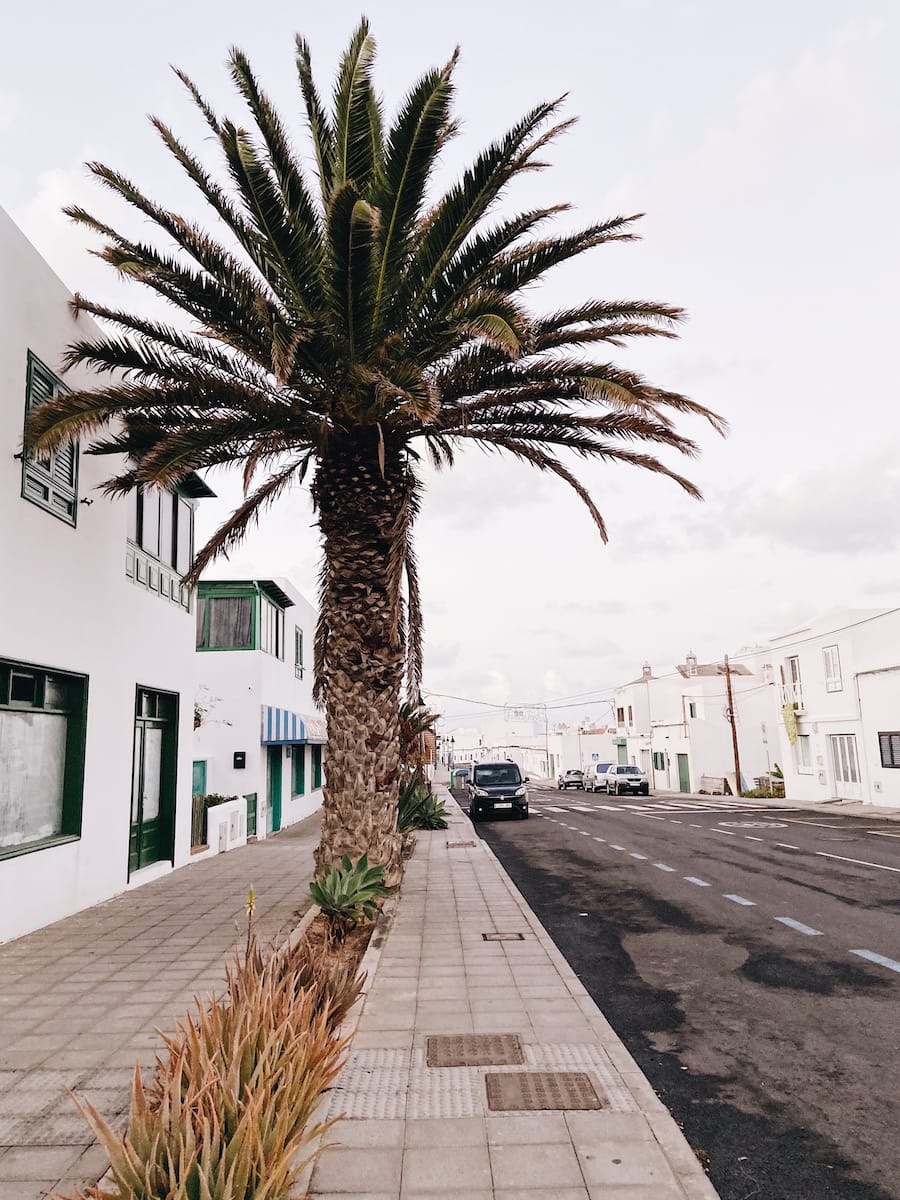 There is a supermarket in Orzola that is open most of the day (like 8am-9pm or so). I also realized that the supermarket is kind of the town hangout.
There is also a small, black pup running around the market and outside of it. He will tell you not to come in by means of a loud bark. Just ignore him. He kind of runs the show around there but is too cute to do any real damage.
Orzola has a fish market. If you have your own kitchen, definitely take a night to grab some fresh seafood and make yourself a nice dinner.
The restaurants in Orzola are pretty pricy, to be honest (but still support the local businesses if cooking isn't your thing).
I was prewarned by a local that the workers at the fish market were rude. Then I remembered I lived in Frankfurt, Germany and laughed.

Worthwhile Lanzarote Tours
There are several tours available on Lanzarote and I mentioned a couple in this guide (mainly pertaining to La Graciosa).
Here are some suggested tours you can book to really capitalize on the beauty of the island, including a private airport transfer to get you sorted after landing:
Where to Stay in Orzola, Lanzarote
One of the biggest issues with Orzola is that is it is near impossible to find accommodation if you're only in the town for one night.
Most places require a two-night minimum stay. The place I stayed at, however, offered one-night stays even though I did stay two nights.
The name of the guest house I stayed at in Orzola was Casa Salinas Playa. The price was around 36 Euros per night, which I found completely reasonable and of good value for the amenities.
The only thing I didn't love is that I had a shared bathroom with other guests but there were only a few others staying and they were quiet and clean.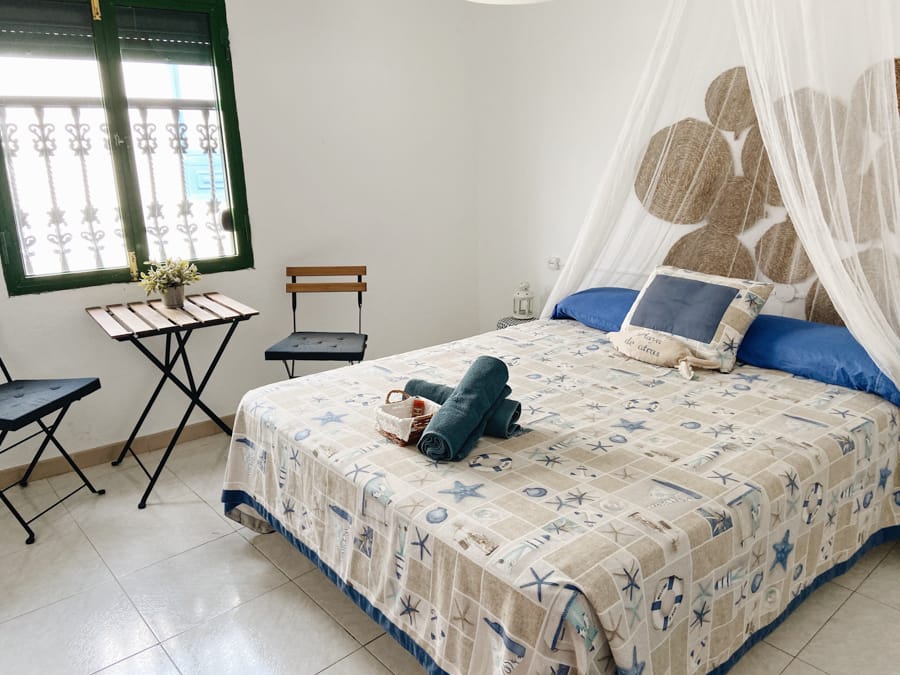 The rooms were of good size and the bed was comfortable. There is a large kitchen where you can cook and there were two terraces in the main common area.
I definitely recommend staying at Casa Salinas Playa if you're looking for where to stay in Orzola.
>> Click here for rates and availability for Casa Salinas Playa
As mentioned above many times, if you find yourself in Orzola and are not sure of things to do in Orzola to keep you occupied, this guide should help a bit.
Orzola is small and merely a gateway to La Graciosa, but don't count it out! It really is a pleasant place to stay for a night or two.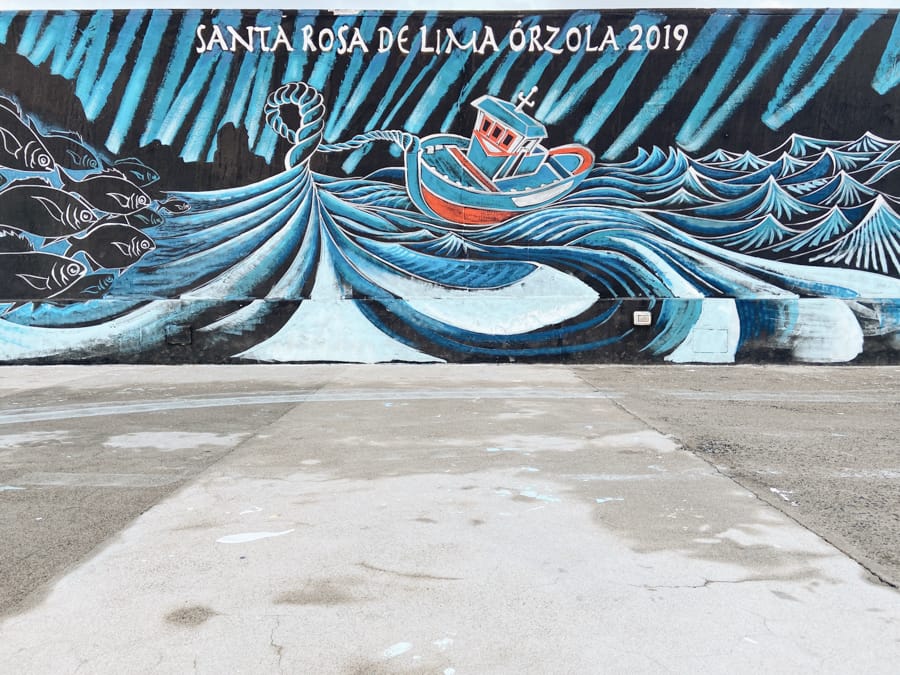 Please let me know if you have any questions if you're traveling to Orzola. I would be happy to answer the best I can!
More Lanzarote Travel Guides