There was something about Corralejo. Its beautiful streets, clear ocean, and perfectly situated location left it the best place to base yourself in Fuerteventura. This is a guide to the best Corralejo excursions out there right now.
These are the best tours in Corralejo. We have hand-picked our favorites, including many adventure tours or active tours. Below is a short guide to the excursions and activities we cover in this post:
Fuerteventura Panoramic Tour

(my top pick and a tour I LOVED!)

Round-Trip Ferry to Isla de Lobos Tickets (another must-do Corralejo day tour!)
Best Excursions From Corralejo
When I booked my trip to travel from Southern Lanzarote to Northern Fuerteventura, I didn't fully know what to expect.
I made a rough plan of where to stay with limited research and planned to see the majority of the Islands using various excursions.
Sadly, I should have planned a lot more time in Corralejo, the resort town in Northern Fuerteventura, where some of the best excursions in the islands depart from.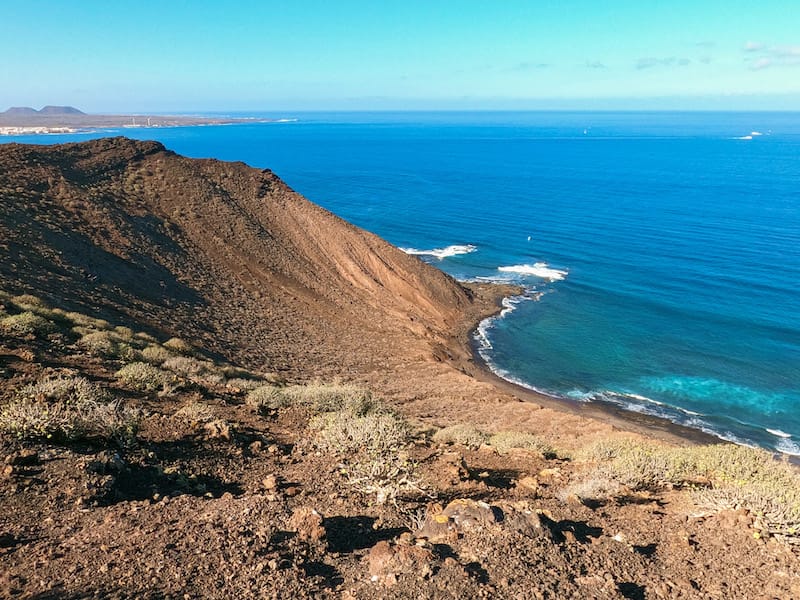 Corralejo ended up being the highlight of my Canary Islands trip. The chilled-out surfer town was on my wavelength. The resort town has a wonderful Californian feel, with wide sun-baked streets that are lined with cool surf shops and places to eat.
There is so much to do around the town with epic surfing beaches along the coast and huge dunes formed by sand blowing across the Atlantic from the Sahara as the desert looks to expand its reach.
When I planned my trip, I decided to stop in Corralejo so I could visit Isla de Lobos and then head south to Fuerteventura where I would then take tours of the island.
However, after booking the trip I realized that pretty much all-day tours depart from Corralejo and I had to alter my trip slightly so I could attend the tours and, thankfully, spend some more time in Corralejo.
I had spent years shunning tours until recently when I discovered how much easier they make things.
Before reaching Fuerteventura, I took two tours on Lanzarote that, in all honesty, left a sour taste in my mouth as they were huge group tours that seemingly were more focused on taking you to various gift shops.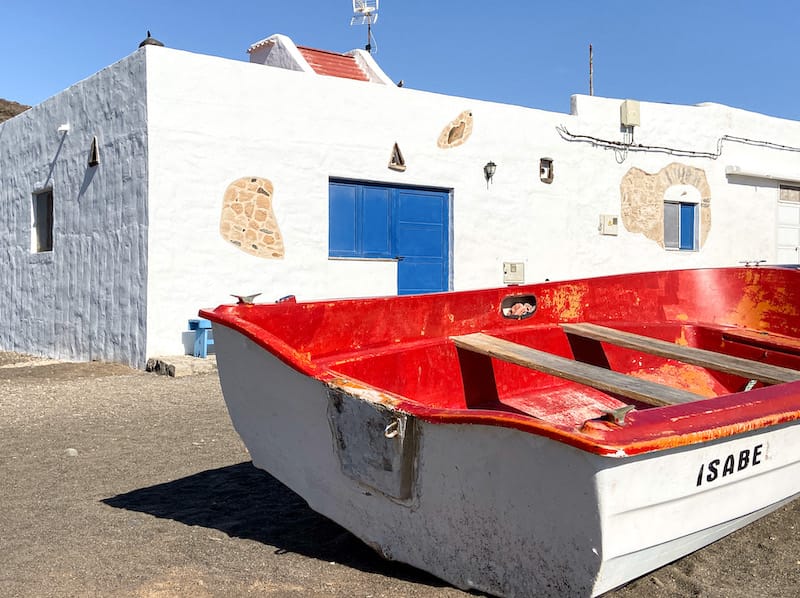 Thankfully, Fuerteventura restored my faith in tours and an amazing tour of the island from Corralejo was probably one of my highlights of the whole trip.
There are plenty of tours and excursions from Corralejo that make it hard to decide which one you should go on.
To help you make this decision, I have put together this guide that will take you through some different options for tours and Corralejo excursions that will be sure to wow you as you take in the beauty of the island.
Another great thing to note is that many of these tours are easy to get to the meeting point (or have pickup) from several Airbnbs in Corralejo!
Best Corralejo Tours & Activities
Fuerteventura: Panoramic Tour (8 hours)
Duration: 8 hours
Activities: Sightseeing
Languages: English, Spanish, French, Italian
⇒ Book it Here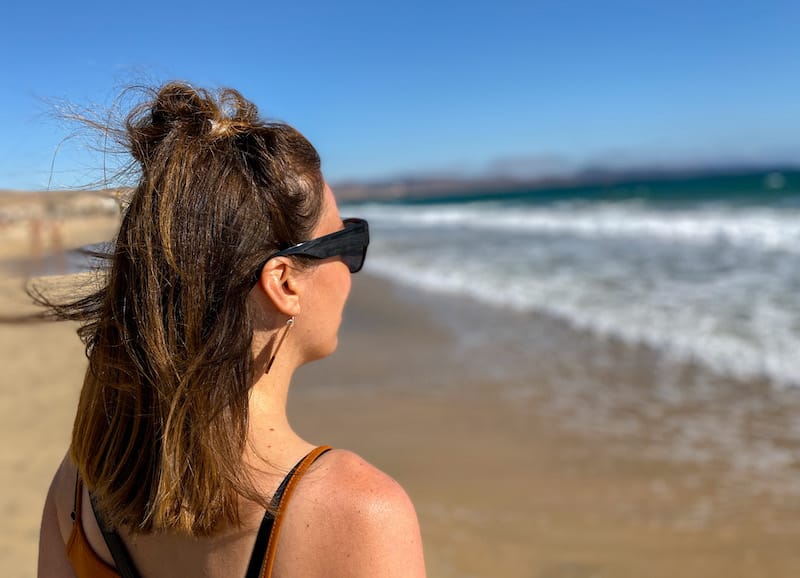 The Panoramic Tour of Fuerteventura is one of the best tours I have ever been on. You will be picked up from your hotel in Corralejo by the tour guide before setting off on an epic trip around pretty much all of the Fuerteventura.
You will visit the epic Corralejo sand dunes before heading down the eastern coast of the island, driving through Puerto del Rosario and seeing the incredible murals and statues dotted around the city before making the long drive to the south of the island where you will check out the fantastic beaches and views of Costa Calma.
You will then cruise along the western coast of Fuerteventura stopping at Ajuy, where you will eat lunch in one of the local restaurants before exploring the cliffs caves to the north of the town.
As you make your way through the rugged and mountainous landscape, you will stop at spectacular panoramic viewpoints where you can take in the raw beauty of the island.
You'll continue through the island, checking out a few other towns and traditional windmills as you head back to the Corralejo.
This tour was further enhanced by the amazing tour guide who made the experience far more enjoyable with his wit and in-depth knowledge of the island.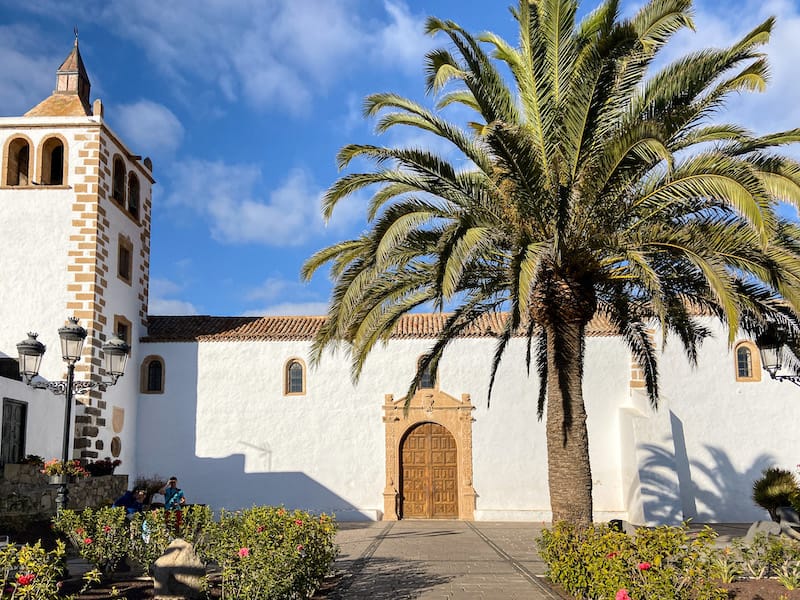 The routes and places visited on the tour can change depending on the day, although you will hit up all the main sites.
The tour lasted for around 8 hours, although if longer is needed then it will continue until all the main sites have been seen. Lunch is not included in the price of the tour but there are plenty of options when you stop for all budgets.
Fuerteventura: Trekking Tour Through the North of the Island (6 hours)
Duration: 6 hours
Activities: Hiking (Easy level)
Languages: English, Spanish, French, Italian
⇒ Book it Here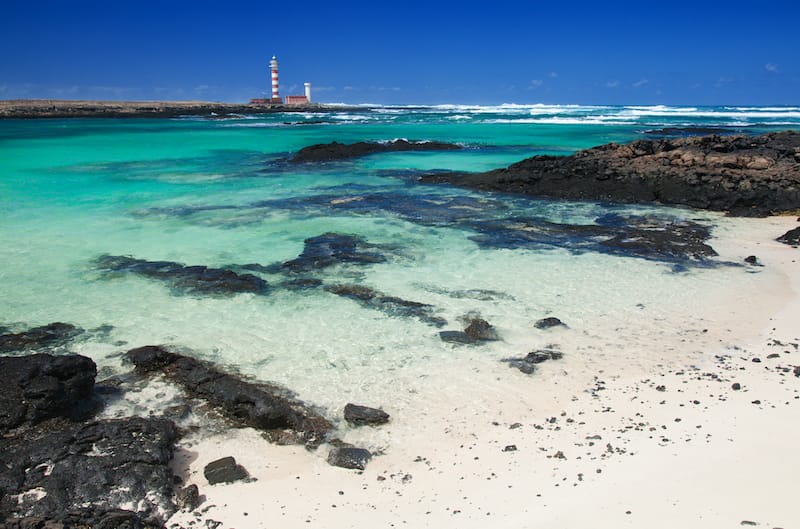 Explore the beauty of northern Fuerteventura on this amazing trekking tour. After being picked up, you will head to Lajares where you will hike up to the summit of Calderon Hondo. At the top of the volcano, you will be greeted with stellar views of the northern shore and out to Lanzarote and its cities like Playa Blanca.
You will then drive on to El Cotillo where you will have a rest and take the opportunity to eat in one of the many great restaurants in the cute fishing village.
From the village, you will explore the coastline which is home to beautiful lagoons and stunning geographical features created by the violent power of the Atlantic Ocean.
To the north of El Cotillo is the El Toston Lighthouse, a functioning lighthouse that is surrounded by the incredible natural beauty that will not fail to take your breath away.
The tour lasts around 6 hours and includes pick-up from your Corralejo hotel.
Group sizes are limited to 8 people, which makes for an intimate tour with your qualified tour guide who is an expert on the geology of the island. Lunch is not included in the price of the Corralejo tour.
Corralejo: Round-Trip Ferry to Isla de Lobos Tickets (4 hours)
Duration: 4 hours
Activities: Ticket for boat trip
Languages: English, Spanish, French, Italian
⇒ Book it Here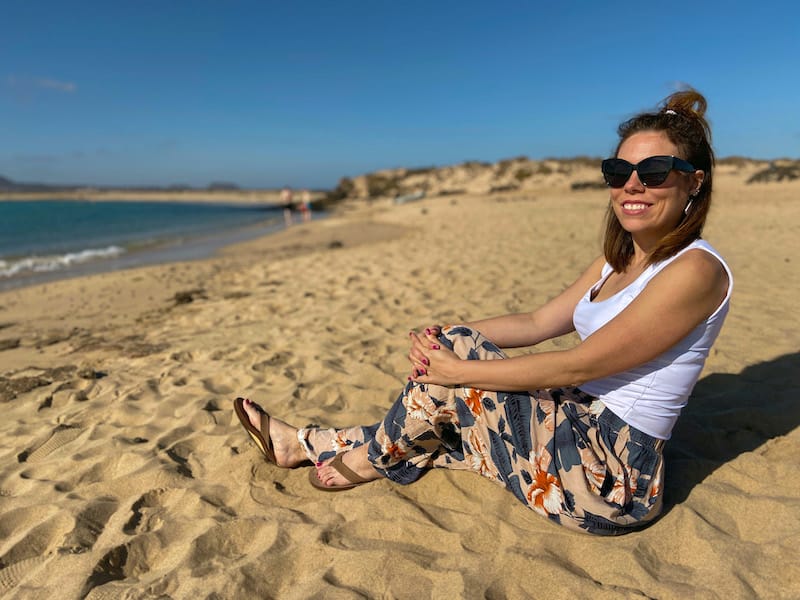 Just off the coast of Corralejo is Isla de Lobos, a small island that is a designated nature reserve.
The island is strictly protected with only 400 people allowed to visit the island each day, split into two shifts of 200 people (update: from January 2020- the system is not currently working so you can just go with these boat tickets- will update if it changes back).
On the island, you will be free to explore with plenty of incredible hikes available. There are also beautiful beaches and pristine waters for snorkeling there.
I chose to hike my way to the top of Montaña La Caldera. From the top, you are greeted with fantastic views across the island and out to sea.
The hike to the top isn't too strenuous, although I would definitely take plenty of water with you as there is no shelter from the heat.
I found that during the four hours on Lobos Island, it is best to choose one thing to focus on visiting or you will find it a little stressful unless you bring bikes with you.
For those wanting to bike, the island is relatively flat and with good tires, you will be able to travel around easily.
There is a small settlement on the south of the island with a fantastic little seafood restaurant where you can get some tasty fried fresh fish. If you are in a group, I advise booking a table ahead of time.
Fuerteventura: Island Flavors Full-day Tour with Lunch (8 hours)
Duration: 8 hours
Activities: Sightseeing, Culinary
Languages: English, Spanish, French, Italian, Czech, Dutch, Polish, German
⇒ Book it Here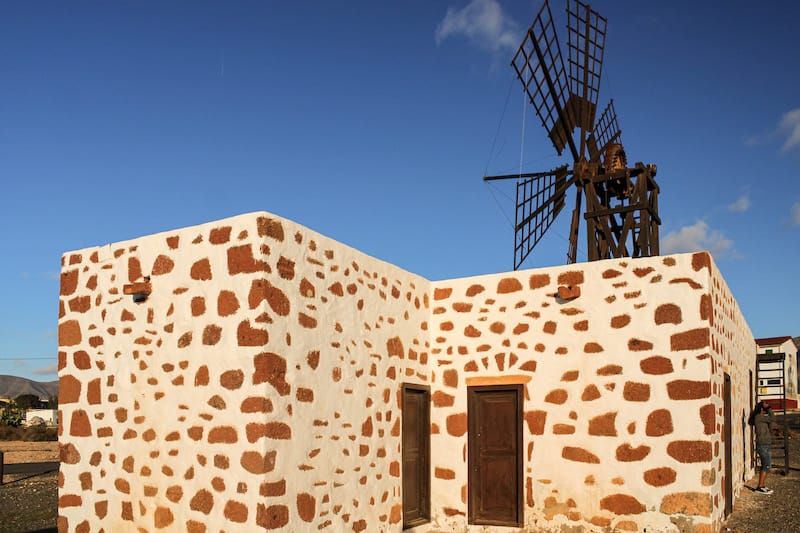 Learn all about the delicious ingredients produced on Fuerteventura on this awesome day tour.
You will be picked up from your hotel before heading to an Aloe Vera plantation where you will learn all about the production of one of the island's main exports.
You will further continue on through the island learning all about the food and flavors with visits to olive oil farms and goat farms to try the local cheeses. It will feel complete with a delicious tapas lunch.
In addition to the tasty food, you will take in the stunning scenery of the islands and visit amazing sites such as the lighthouse which is the closest point of the islands to Africa.
Your tour guide will teach you all about life on the islands and how the locals farmed the land and made a life for themselves on the arid, volcanic island. The tour lasts for around 8 hours and includes all tastings, entrances, and lunch.
Quad/buggy Excursions in Corralejo, La Oliva (3 hours)
Duration: 3 hours
Activities: Sport (Beginner fitness level)
Languages: English, Italian, German
⇒ Book it Here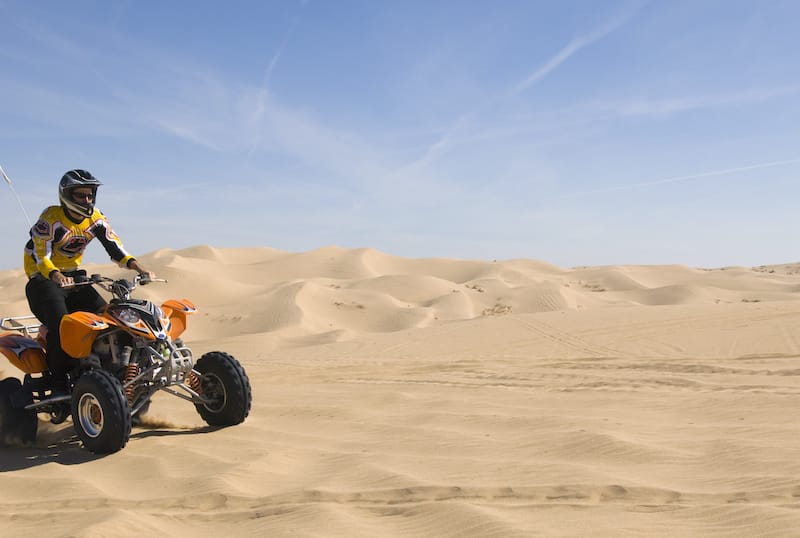 Enjoy an unforgettable excursion racing through the wilds of Northern Fuerteventura on this quad bike or dune buggy excursion.
You will start the tour heading through the volcanic belt, stopping at various panoramic viewpoints as you cruise through the dramatic terrain.
As you work your way across the island, you will stop off at a traditional restaurant in Parque Hollande where you can grab a snack and refreshments before starting the journey back to Corralejo.
On the way back to Corralejo, you will travel through one of the highlights of Northern Fuerteventura– Natural Parc of Corralejo Sand Dunes.
The incredible sand dunes have been formed by wind blowing the sand from the Sahara across the ocean.
As you cruise through the dunes, you will be able to enjoy the fresh sea breeze and stop to walk on the newest part of the Sahara desert.
To drive either vehicle, you will need to be over 18 and hold a valid driver's license. The excursion lasts for around three hours and does not include any drinks or food.
Snorkeling + Yoga Experience on Lobos Island (4.5 hours)
Duration: 4.5 hours
Activities: Sport (Beginner fitness level)
Languages: English, Italian, French, Spanish
⇒ Book it Here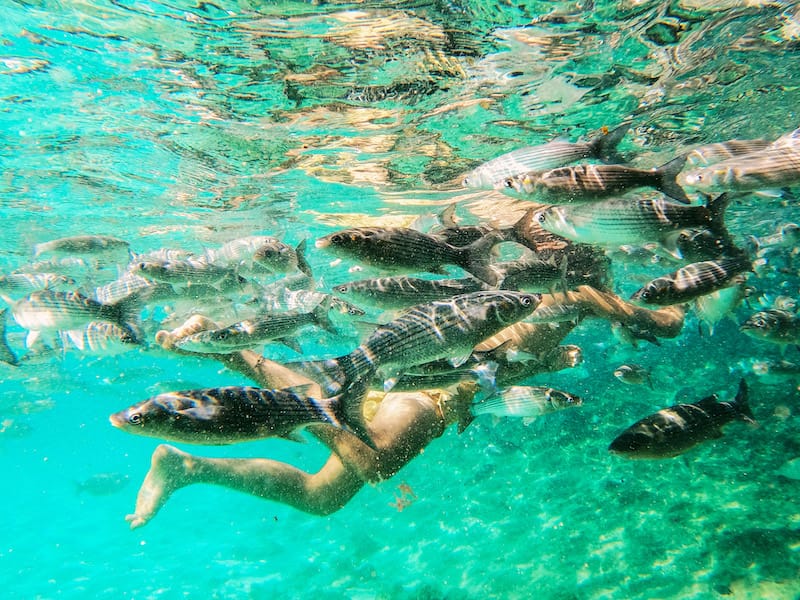 There are many fast-paced excursions in Corralejo, but sometimes there is nothing better than spending a few hours relaxing on a secluded island.
On this trip, you will head out to Isla de Lobos where you will visit a quiet beach and enjoy a relaxing 90-minute yoga lesson.
During the session, you will be able to rest your mind away from the hustle of the main island as an expert yogi takes you through all the moves.
You will then start to make your way to Corralejo, with a stop to snorkel and see the peaceful underwater world that exists between Isla de Lobos and Fuerteventura.
The trip lasts for around four hours and includes transport between the islands on a glass-bottom boat, registration for entering the island, and a light lunch. The excursion only runs on Wednesdays and Saturdays.
Jeep Safaris in Fuerteventura (All day Corralejo Excursion)
Duration: all day
Activities: Sport (Beginner fitness level)
Languages: English, German, French
⇒ Book it Here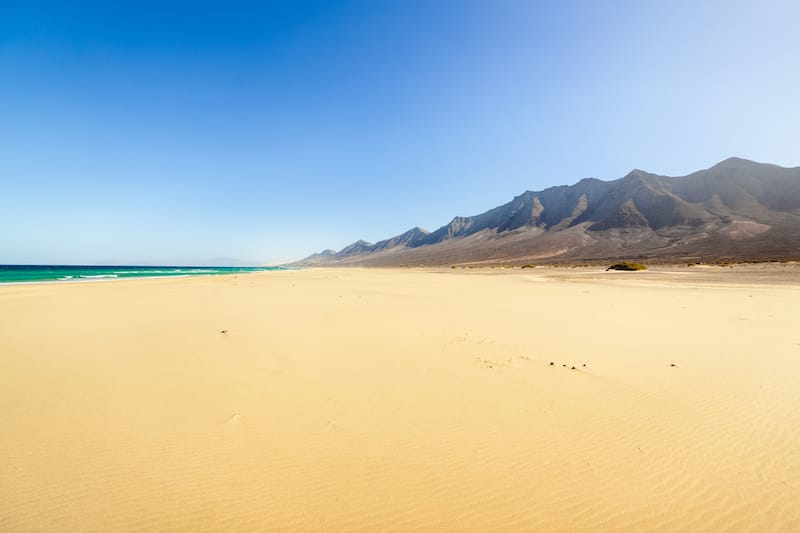 One of the best ways to explore the stunning island of Fuerteventura is by Jeep as they allow you to reach places that other vehicles are unable to reach.
Take a Jeep safari from Corralejo to Cofete Beach. Cofete Beach is known to be one of the most beautiful beaches in the world, stretching along the western coast of Jandia National park.
You will cruise south from Corralejo leaving the main road to travel down the dirt paths that lead to Cofete.
You will stop off at a stunning viewpoint to view the wild beach where the waters are too dangerous to swim in. Y
ou will then visit a villa built by the Germans in the 1940s that is believed to the site of covert operations during World War 2.
You'll also visit a small, sheltered cove where, if weather permits, you will be allowed to swim before heading to a traditional village for a delicious lunch.
Your final stop will be the dramatic and ancient lighthouse of Punta Jandia. The tour lasts all day and lunch is included in the price.
Where to Stay in Corralejo
My hotel in Corralejo was perhaps one of my favorite things about the city and my entire stay in Fuerteventura! I chose to stay at an Adults-Only hotel when I was there as I wasn't keen on staying at a family resort in the particular city and it was a breath of fresh air… no offense to those traveling as a family!
I stayed at Hotel Vacanzy- Urban Boutique Adults-Only hotel when in Corralejo. The hotel had insanely awesome rooms, quiet corridors and public spaces, and a beautiful rooftop terrace equipped with hot tubs, lounge chairs, and a bar. I was in heaven. I highly, highly recommend staying at Hotel Vacanzy's Urban Boutique if you're in Corralejo and without children.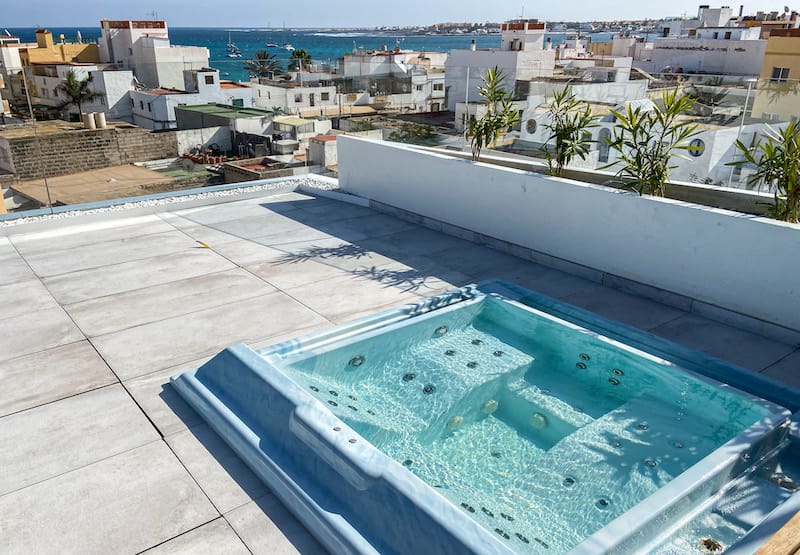 The following hotels are also highly rated places to stay in Corralejo: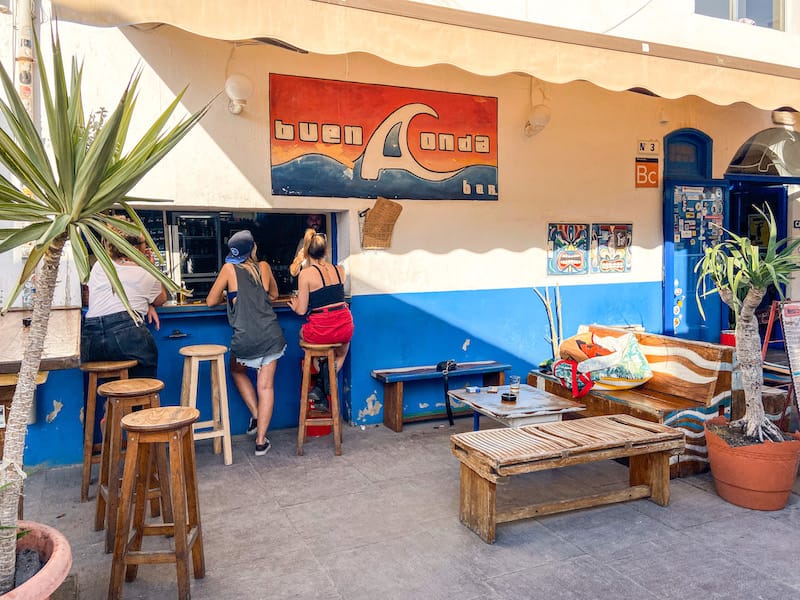 These are the best Corralejo excursions for travelers heading to Fuerteventura and basing themselves in the northern city. If you have any questions, please reach out! Thanks!
More Fuerteventura Travel Guides
PIN IT FOR LATER!