Are you planning on spending one week in Estonia? This Estonia itinerary will help you plan your trip to the northernmost Baltic state.
You'll spend time exploring Tallinn, but you will also get to discover lesser-known regions and towns. Head to Saaremaa, Estonia's biggest island, and relax on the beach in Pärnu. You'll also get to visit Tartu, a cute university city.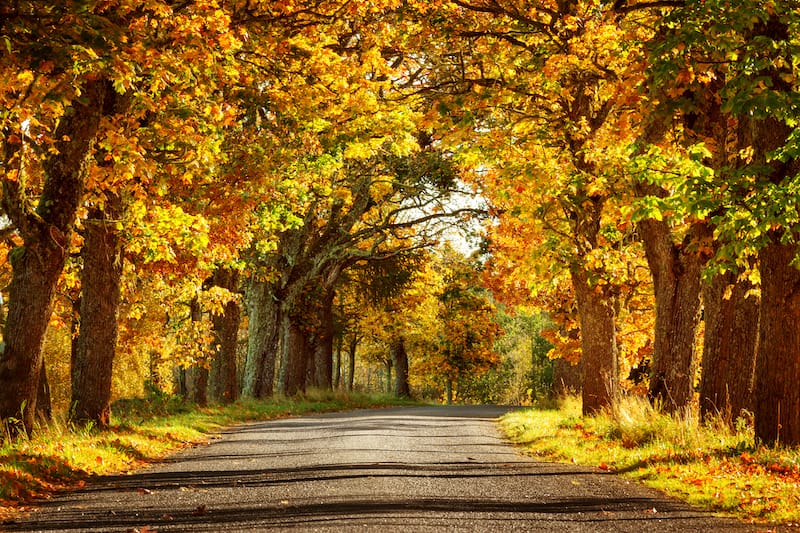 What to Know Before Visiting Estonia
Estonia is one of the least populated countries in Europe, and you won't find many big cities here. In fact, besides Tallinn and Tartu, you will mostly visit small towns and villages.
As most travelers don't have Estonia on their radar yet, you'll leave the crowds behind once you get out of Tallinn. Traveling around the country, you'll mostly meet local travelers and will only run into few international tourists.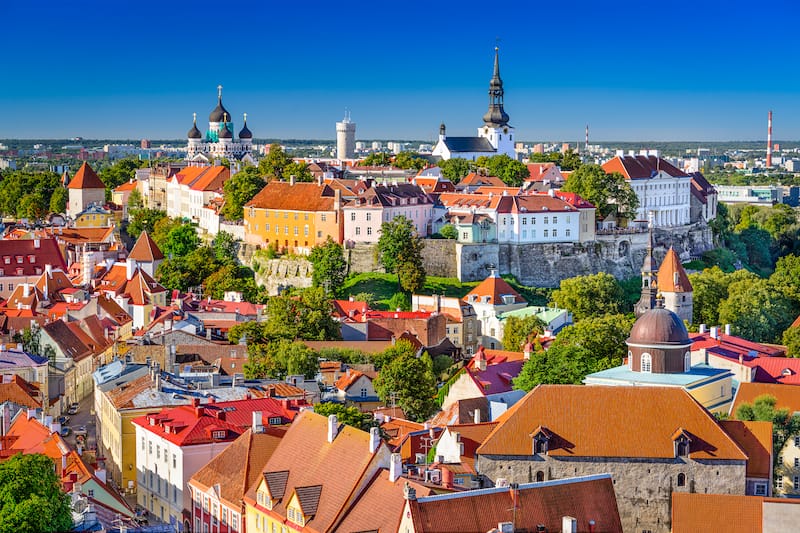 This is especially true if you're visiting Estonia in the low season or Tallinn in winter, where it can sometimes feel as if you're the only traveler around.
Fortunately, most Estonians speak English very well, so you won't have to worry about making yourself understood. Locals will be happy to help you if you need any help or even just a recommendation for a great place to try traditional Estonian food.
Getting around Estonia
Getting around Estonia is easy. You have the choice between renting a car and taking public transport.
Renting a car gives you slightly more flexibility, as you can stop at sights along the way. It's also more convenient for getting around Saaremaa, Estonia's biggest island, where public buses only infrequently travel to the main sites.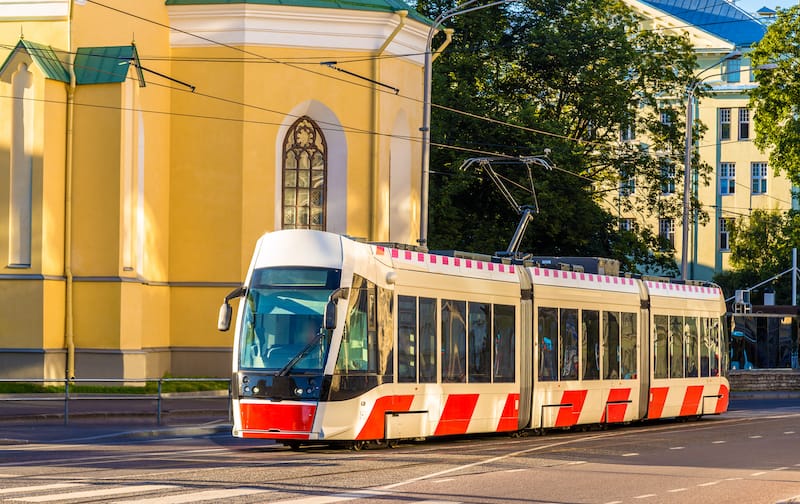 On the other hand, public transport is comfortable and regularly connects all stops on this itinerary. You don't have to worry about where to park your car (which can be an issue in Tallinn), and buses are much cheaper than renting a vehicle.
This One Week in Estonia Itinerary
Below, you'll find the perfect itinerary for one week in Estonia. You will discover Estonia's highlights, including Tallinn and Tartu, and get off the beaten path on Saaremaa and in Pärnu.
We have included the best things to do at each stop, plus essential advice and travel tips.
Here is a short summary of how you're going to spend your week:
Days 1-2: Tallinn
Days 3-4: Kuressaare on Saaremaa
Day 5: Pärnu
Day 6: Tartu
Day 7: Tartu – Tallinn
Days 1-2: Tallinn
Day 1
Start your Estonian adventure in Tallinn, the best-preserved medieval city in Northern Europe.
Standing on Town Hall Square, you can see the city hall, which dates back to the 15th century. If you're visiting in summer, climb up the narrow stairs to the top of the tower. From up there, you have a fantastic view of the Old Town of Tallinn.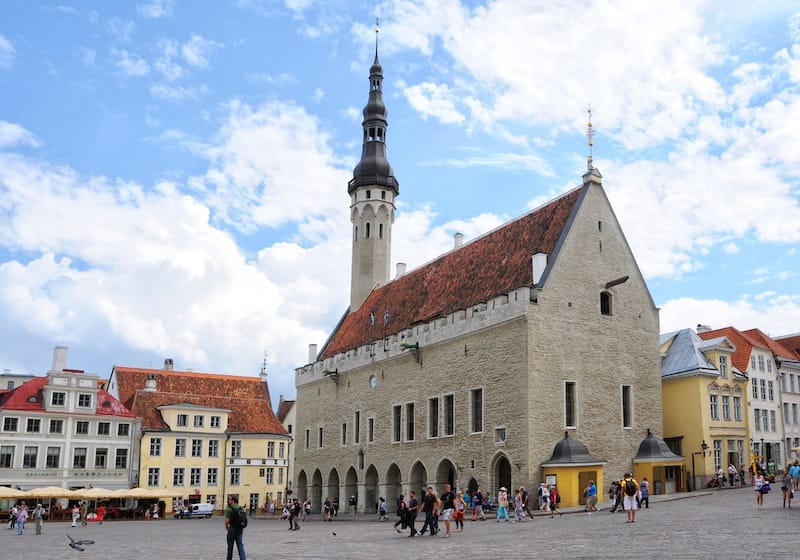 If the tower is closed, don't worry. You'll visit another viewpoint today.
Close to the town hall, at the other end of Town Hall Square, you can find the oldest European pharmacy in continuous use. Head to the Town Council Pharmacy to see a small exhibition of historical tools, as well as lots of bottles and vials with herbs and ingredients from back in the day.
If you want to, you can also try claret. The pharmacy has been producing this wine since 1467, but the oldest records mentioning the business even go back to 1422. Back then, the pharmacy already had its third owner, so it likely opened its doors many years earlier.
After walking around Town Hall Square, head up to Toompea Hill. This gives you the chance to wander through some of the charming streets that make up the Old Town of Tallinn and admire the old houses and cobblestone alleys.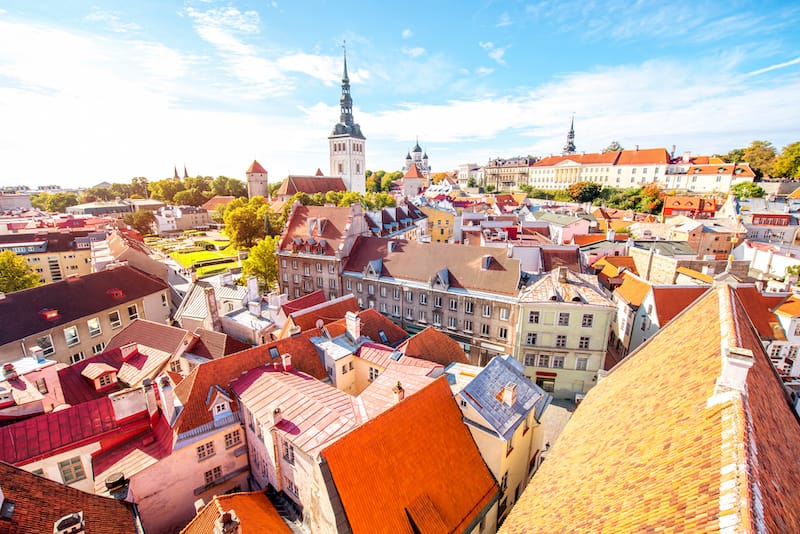 On top of Toompea Hill, you can find multiple places worth visiting. Start by heading over to the viewing platforms, from where you can enjoy the view of Tallinn's red roofs.
The Kohtuotsa viewing platform gives you a fantastic view of the city, but it's usually very crowded. Therefore, make sure also to check out the Patkuli lookout. On clear days, you can even see the Baltic Sea from up here.
On top of Toompea Hill, you will notice a beautiful orthodox cathedral. This is Alexander Nevsky Cathedral, and it's just as beautiful from the inside as from the outside. Spend a moment inside to admire the decorations before continuing to explore the hill.
Your last stop on Toompea Hill is Kiek in de Kök. You can find this stretch of city wall right behind the ruins of Toompea Castle. Your visit starts in the Maiden Tower, from where you once again have a fantastic view of Tallinn. If you're hungry, you can sit down for a snack in the cafe up here.
Next, head to the largest tower in this part of the wall. Here, you can discover an exhibition about Tallinn and the city wall in particular. The tower is much taller than you will expect, and it takes a while to climb up through all six floors.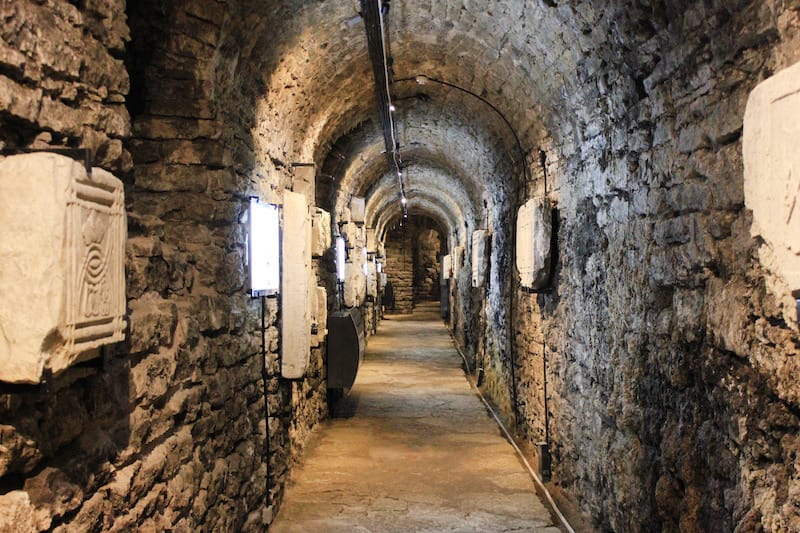 If you still have energy left, go to the bottom of the tower and head down into the Bastion Passages. These underground tunnels date back to the 17th and 18th centuries and served many different functions over the centuries.
Be careful when walking, as the stairs are wet and slippery, and consider renting an audio guide, as you won't find many signs down in the tunnels.
After visiting the Old Town and Toompea Hill, finish your day by trying traditional Estonian food. You can find many restaurants in Tallinn where you can try Estonian dishes such as boar, mulgipuder (a porridge made from mashed potatoes and barley), or herring.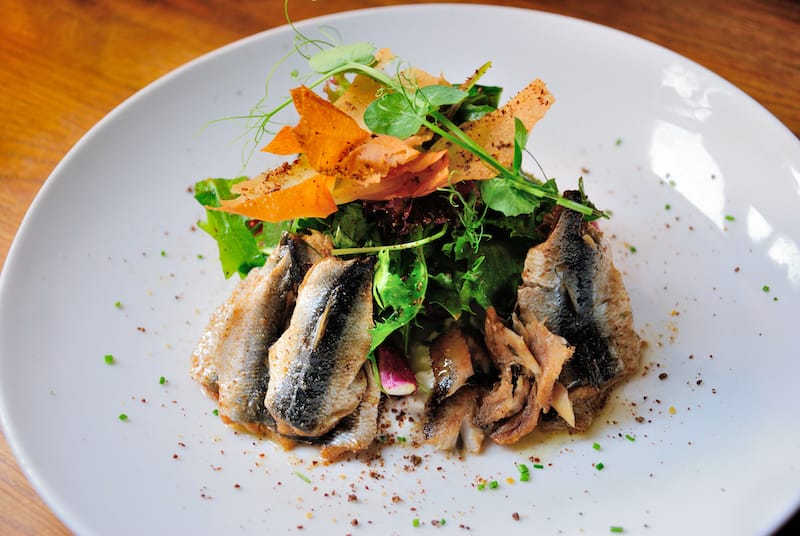 If you're on a budget, head to the III Draakon in the Town Hall, where you can sip on a bowl of elk soup.
Vanaema Juures, which translates to "Grandma's place", is also a fantastic restaurant famous for its simple but delicious Estonian food. You can finish off your day off at one of the best craft beer bars in Tallinn.
Day 2
Today, it's time to visit some of Tallinn's museums and explore more of the Old Town.
You can find many museums in Estonia's capital, and a great one to visit today is the Great Guild Hall. The building dates back to 1410 and once served as the headquarters of the Great Guild, an association of merchants.
Eventually, it turned into a wine cellar, and today, the Guild Hall houses the Estonian History Museum. Here, you can learn about the history of Estonia and Tallinn. Make sure to get an audio guide so you can listen to the story behind the objects you're looking at!
From the Great Guild Hall, head towards the City Wall at Hellemann Tower. You already climbed Kiek in de Kök yesterday, up on Toompea Hill, but the wall at the other end of the city offers very different views. Plus, you can climb into the watchtowers, where you'll see old photos of Tallinn.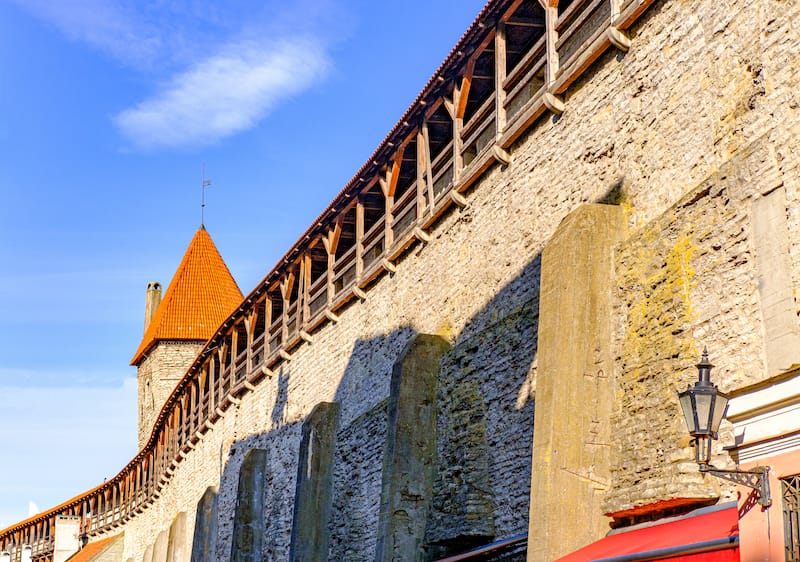 Close to Hellemann Tower, you can find two more sights worth checking out. The first one is Viru Gate, the most famous city gate. It's a very photogenic spot where you should briefly stop to enjoy the view.
The second one is St Catherine's Passage. This narrow alleyway is one of the most scenic streets in Tallinn. Plus, you can discover lots of artists' workrooms here, so this is an excellent place to buy souvenirs.
After having explored the Old Town, take a break at Maiasmokk Cafe. The oldest cafe in Tallinn serves cakes and pastries and is a great place to try Estonian baked goods.
If you're lucky, you can try Vastlakukkel. These cream-filled buns are typically eaten at the beginning of Lent, but you might find them at other times of the year. Otherwise, try the Pirukad, savory pastries typically filled with meat, cheese, or mushrooms.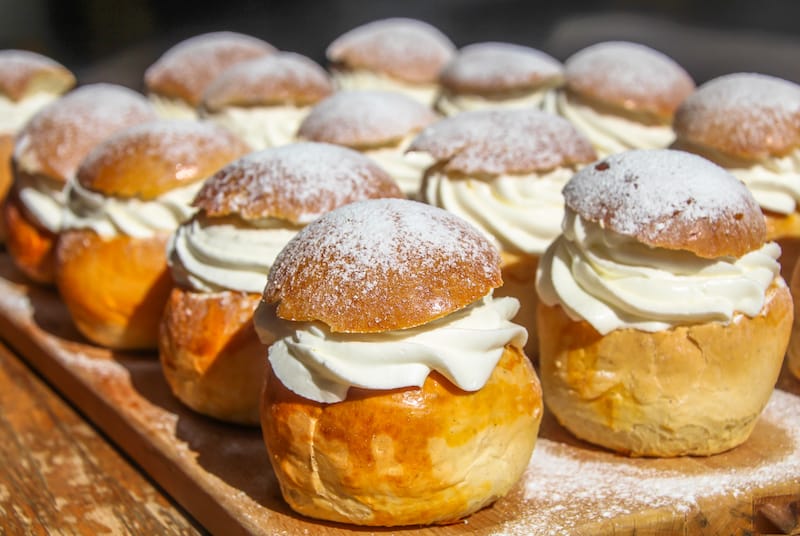 You have enough time to visit one more museum in the afternoon, so choose one that you find interesting. Otherwise, you can check out some of Tallinn's hip cafes.
The KGB Museum in the Hotel Viru is perfect if you want to learn more about Estonia's Soviet past. It requires advance reservations but allows you to visit the secret KGB espionage room from where agents spied on visitors from all over the world.
As an alternative, consider visiting the NUKU Museum of Puppet Arts, an interactive museum where you can build your own stage and act out your play.
Or head to Kadriorg Palace. You need to take a tram to see this beautiful palace, but it's well worth seeing the vibrant baroque exterior and visiting the Estonian Art Museum.
Days 3-4: Kuressaare
Day 3
Today, head to Saaremaa, Estonia's biggest island.
Estonia doesn't seem like an island nation, but you can find more than 2,000 islands in this small country. While most of them are uninhabited, island life has influenced Estonian culture for centuries, and staying on an island is one of the must-do's during your 7 days in Estonia.
Base yourself in Kuressaare, Saaremaa's biggest town, and then head out to explore. It takes around four hours to get from Tallinn to Kuressaare, so you will have enough time in the afternoon to visit the Kuressaare Episcopal Castle.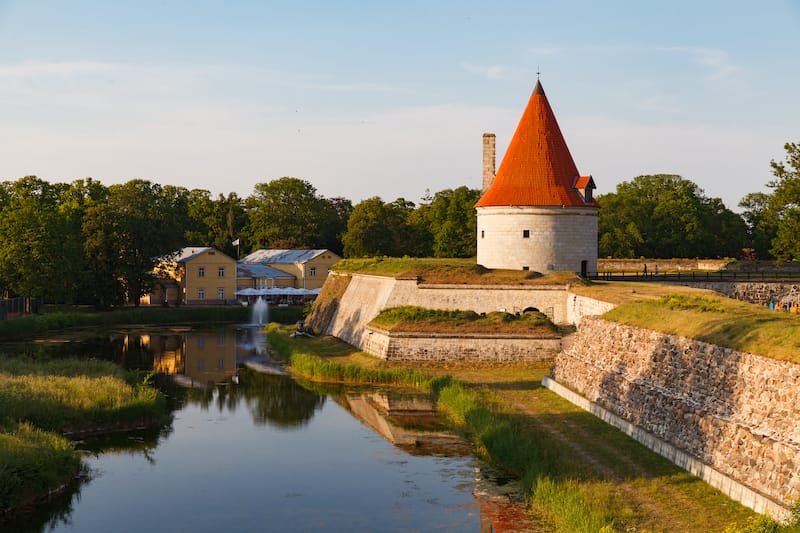 The castle was built in the 14th century, and you can find many exhibitions inside. Follow the arrows, so you don't get lost as you explore the different floors and towers. The museum tells not just the history of the castle but also of Saaremaa and its inhabitants.
During your visit, you have the chance of climbing the towers. Make sure to go up and enjoy the view. From up here, you can see the sea and the castle gardens below you, and if you look carefully, you can even recognize the star-shaped moat that surrounds the fortifications.
Day 4
Today, you have the opportunity to explore more of Kuressaare. Start by taking a walk around the city center and admiring the wooden buildings in the historic center.
Then, plan the rest of your day according to the weather and your preferences. In summer, if the weather is nice, you can head to the beach and spend the rest of the day there.
During any other season, or if it's not quite warm enough for the beach, you can still do lots of things to enjoy your day. The first option is to take your car or catch a bus to Kaali.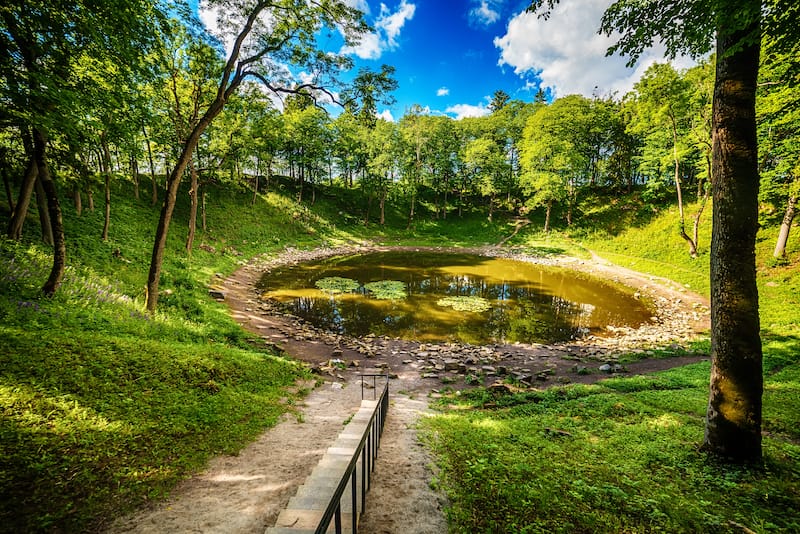 Around 3,500 years ago, a meteor hit the island of Saaremaa. Today, you can find nine craters in and around Kaali created by that meteor. The impact back then was strong enough that all forest burned down in a radius of up to six kilometers, and some scientists believe that the meteor still features in Estonian and Finnish mythology today.
Besides the beach and Kaali, your other option is to spend the rest of the day relaxing in a spa.
Kuressaare is famous for its spas, and Estonians come here to relax and enjoy being pampered. Estonia has a strong sauna culture, so this is an excellent opportunity to try it yourself.
Day 5: Pärnu
Today, catch a bus or take the ferry back to the mainland and drive south until you reach Pärnu. This seaside town, which is the fourth-biggest city in Estonia, is said to feature the most beautiful beach in the country.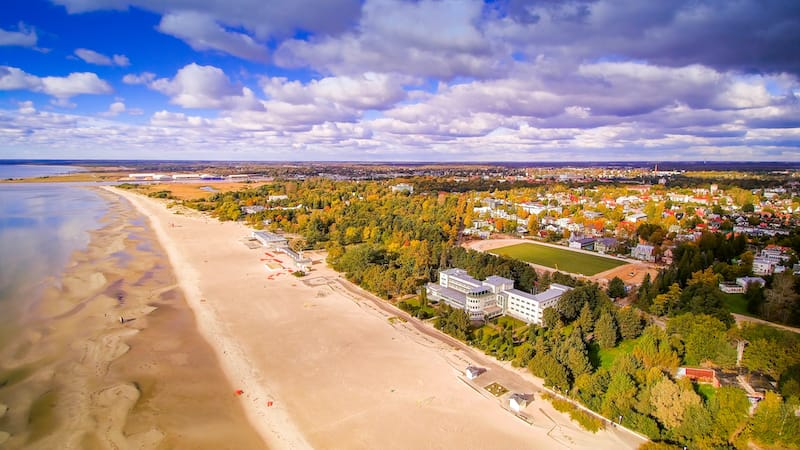 While Pärnu is the nicest in summer, you can also enjoy the town year-round. The beach is excellent for relaxing in the sun when it's warm enough and invites you to go for a long walk in winter.
Make sure to also stroll through the city center to admire the wooden houses and colorful doors. Keep your eyes open along the way, as you can spot lots of street art throughout Pärnu.
Don't miss the Red Tower, the only remnant of the fortress that once stood here. It used to have four floors and a six-meter deep prison cell, but today, only three stories remain.
If you get tired or thirsty, stop in one of the many cafes. Pärnu is the perfect city if you want to take it slow, relax and enjoy the atmosphere.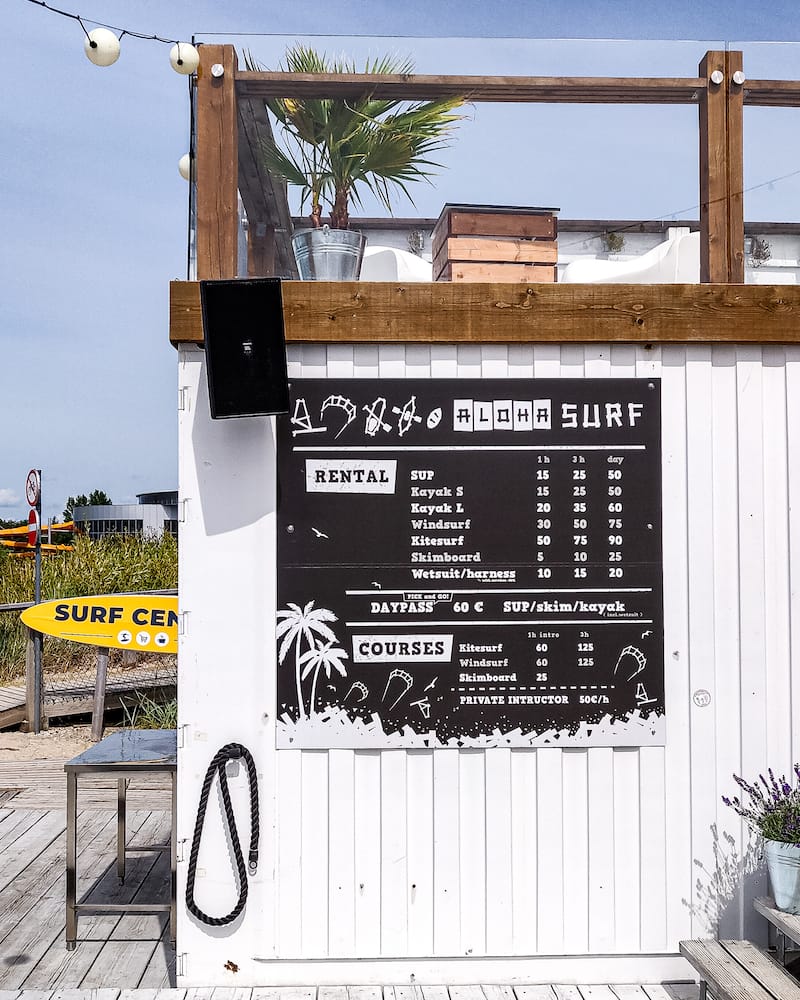 To learn more about local history, head to the Pärnu Museum. The exhibition takes you from the Ice Age to modern times. One of the highlights is the small cinema where you can watch short films from different time periods depicting life in Pärnu.
Day 6: Tartu
This morning, make your way to Tartu. Getting here takes less than three hours, so you have plenty of time to explore the city.
Tartu is famous for its university, and one of the best things to do here is to visit the University museums.
Start on top of Toome Hill, with the University of Tartu Museum. It spreads out across multiple floors, but the best floors are the third and fourth floors. Here, you can see the treasures of the university as well as the former library.
The library is stuffed with old books, globes, and statues, and while walking around, you can learn lots of facts about Tartu University.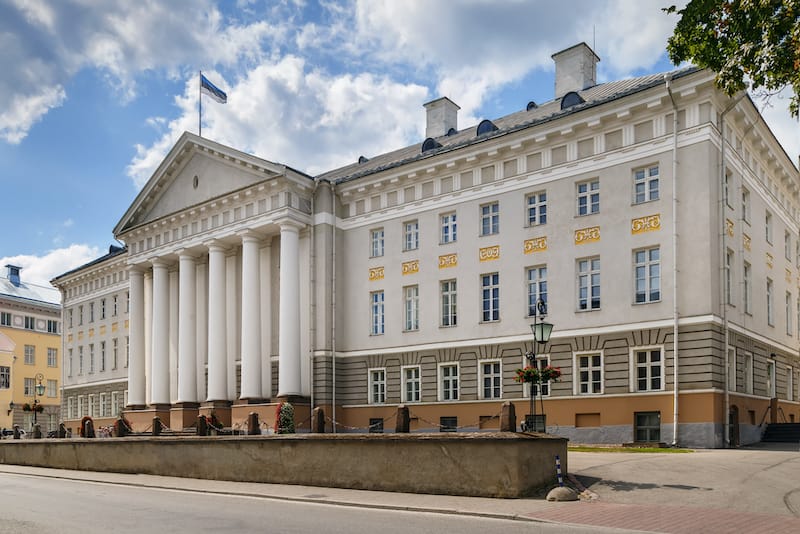 Next to the University of Tartu Museum, you can find Tartu Cathedral. The building dates back to the 13th century, but it got severely damaged only 300 years later and was never rebuilt. Today, you have the chance of walking through the ruins and admiring the sheer size of the columns that are still standing.
In summer, you can also climb to the top of the tower (or at least as high as the ruins are accessible) to see Tartu from above.
Next, head to the Old Observatory, which you can also find on Toome Hill. Along the way, you have a fantastic view of the Old Town, so take a moment to enjoy it before entering the observatory.
In the 19th century, astronomer Friedrich Georg Wilhelm von Struve made a chain of survey triangulations that ran from Hammerfest in Northern Norway down to the Black Sea.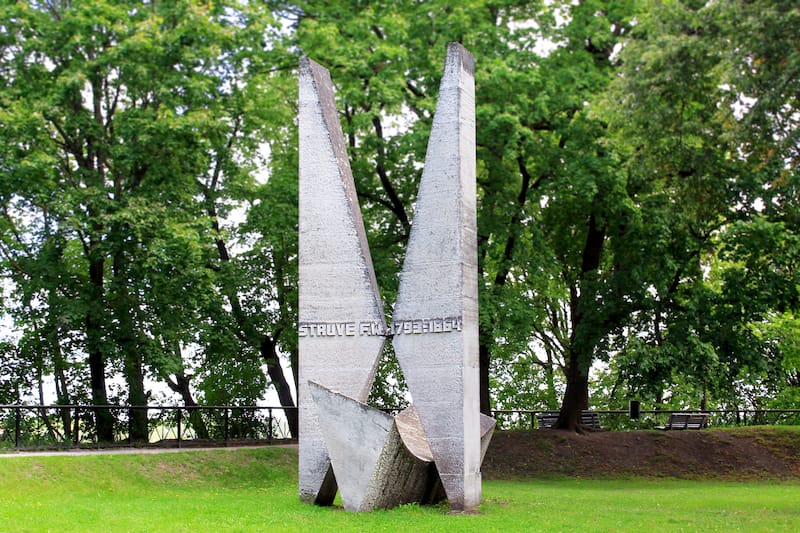 These triangulations allowed him to measure the length of a meridian and determine the exact size and shape of Earth.
While he traveled a long way for his measurements, he carried out most of his calculations in his observatory in Tartu. The observatory is now a UNESCO World Heritage Site, and you can visit to learn more about von Struve, his work, and astronomy in general.
If you haven't made it to the top of Tartu Cathedral, you can also climb to the top of the observatory and enjoy the view from here.
Day 7: Tartu – Tallinn
Start your day by exploring the Old Town of Tartu before continuing your Estonia road trip back to Tallinn.
Town Hall Square is one of the most beautiful places in Tartu, and it's surrounded by many historic buildings. In front of the Town Hall, you can find the Kissing Students fountain. Legend says that it's a mandatory stop for newlyweds, as it brings good luck to visit.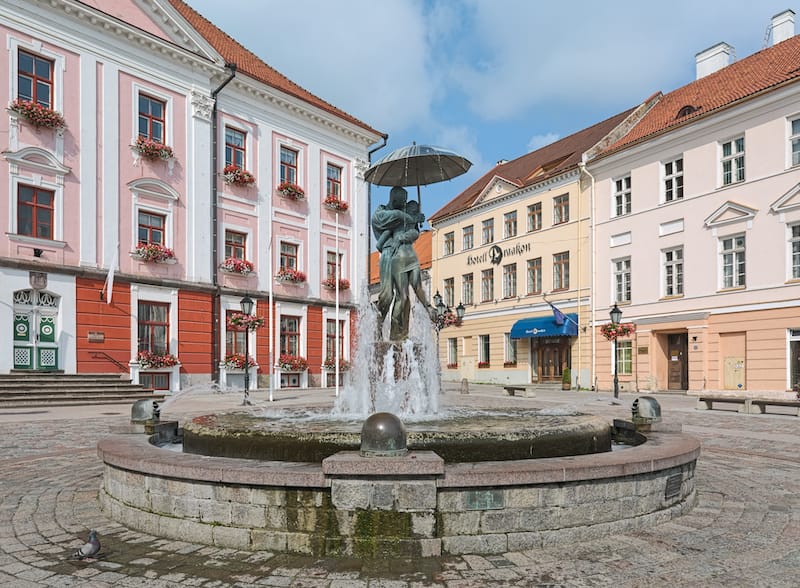 Make sure also to check out the opposite end of the square. You'll see a yellow frame here, similar to the National Geographic one. If you come back to Estonia, you can discover more of them in Southern Estonia, and they're part of a campaign to inspire people to visit this region.
The yellow frame is one of the best spots for taking photographs in the city. Once you're done here, move on to the University of Tartu Art Museum.
The Art Museum is filled with plaster replications of Roman statues. The coolest part, though, is the guided tour that takes you up to the holding cells.
Only one of the original holding cells remains, but it gives you a good idea of university life back in the 19th century. Back then, universities were free to create their own laws, and they also had the power to incarcerate students who broke them.
Punishable offenses included using swear words, not returning library words, unpaid debt, or even dueling. For each violation, the student would have to spend between a day and three weeks in a holding cell.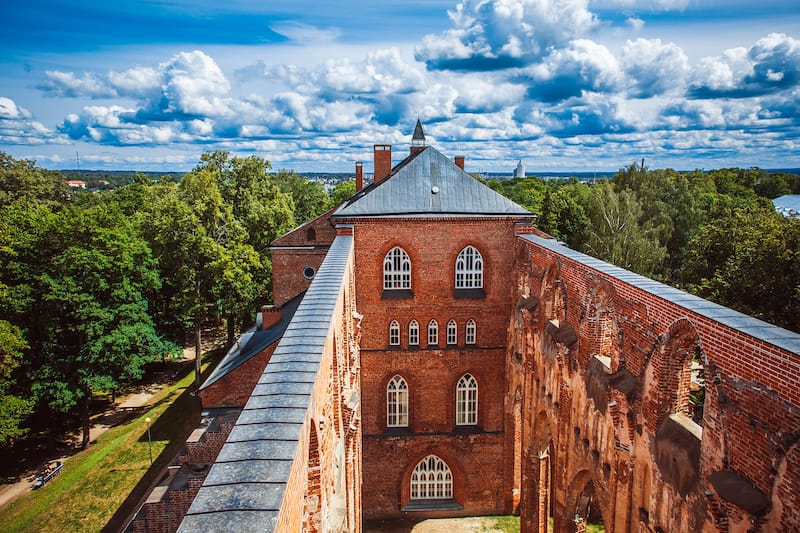 Over the centuries, getting incarcerated in one of these cells became a matter of honor for most students. They would spend their time drawing graffiti on the walls, so visiting the holding cell and seeing those drawings is a unique experience you shouldn't miss.
After exploring the University of Tartu Art Museum, spend some more time strolling through the Old Town and discovering cobblestone streets, historic houses, and cute cafes.
St John's Church, with its red bricks, is worth a visit. Entry is free, but you need to pay a small fee if you want to take pictures or climb to the top of the tower.
Today, in the afternoon, head back to Tallinn. It only takes around two and a half hours to make it back to Estonia's capital, so you will arrive right in time for your last dinner.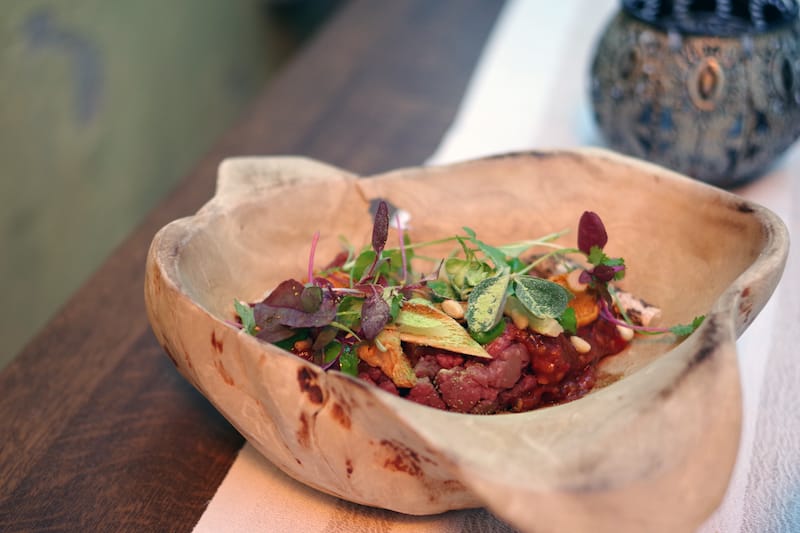 If you haven't yet, make sure to try some traditional Estonian food in one of Tallinn's many restaurants.
More Than 7 Days in Estonia?
If you have more than a week in Estonia, definitely consider taking the ferry to Helsinki from Tallinn. It is only a two-hour ferry ride and you will get to see one of my favorite countries in Europe, Finland!
You can plan your Helsinki itinerary according to how many days you have there and you will fall in love with the Finnish capital city just like I have managed to do! Helsinki is even great during winter!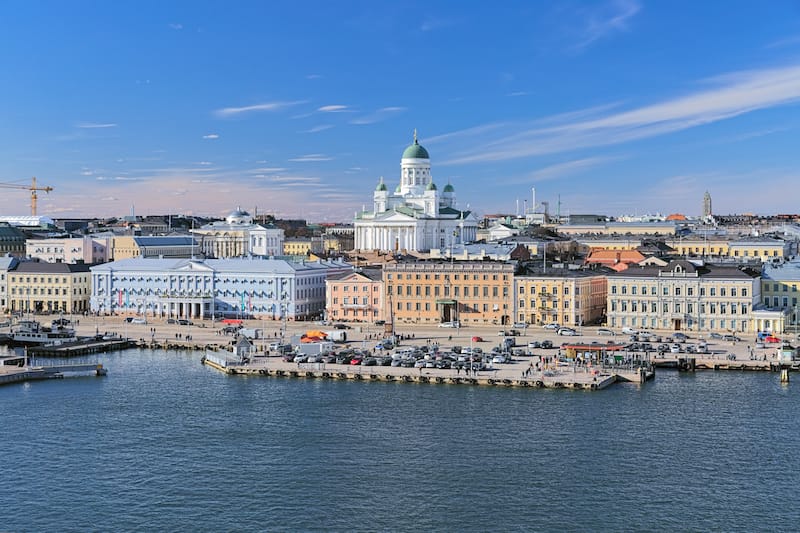 If you're looking to stay in the Baltics, you can explore the many things to do in Riga, Latvia, and beyond. There are also many cool day trips from Riga that will keep you occupied when there.
If you carry on south, you will find some amazing places to visit in Lithuania to keep you satisfied there, too!
What did we miss on this Estonia itinerary? Let us know in the comments!
Pin this Itinerary for Estonia