There are so many great reasons to visit Lahti, a green and natural destination about two hours north of Helsinki.
This is a list of things to do in Lahti and amazing reasons to visit one of my new favorite green getaways in Finnish Lakeland.
Are you planning your trip to Lahti last minute?
If youʻre booking your trip to Lahti last minute, we have you covered. Below are some of the top tours, hotels, and more!
Top Experiences and Tours in Lahti:
Hiking around forest and lake (popular tour!)
Top Hotels in Lahti:
Solo Sokos Hotel Lahden Seurahuone (in center!)
If you have any other reasons to head there, please mention them in the comments section!
10 Reasons to Visit Lahti, Finnish Lakeland's Green Getaway
I had heard of Lahti. I wasn't sure what was going on there, but I took pride in knowing that I had at least heard of the city, a Finnish destination a couple of hours north of the capital, Helsinki.
Interestingly enough, Lahti is Finland's eighth-largest city and has around 160,000 residents- a number that shocks me when I considered how little I previously knew about it.
Recently, Lahti invited Allison (a blogger and friend of mine) and me to come and visit Lahti and see what the region and city have to offer.
I was completely blown away by the region's natural beauty and all that Finnish Lakeland had to offer. Here are reasons to visit Lahti and fall in love with the region just as I did.
Things to do in Lahti
See Lake Päijänne's Raw Beauty
One of the most mesmerizing places we headed to on our journey around the Lahti region was Lake Päijänne.
This lake is the second-largest in Finland and it more or less connects Lahti to Jyväskylä via another lake and a canal.
We took to the lake by boat and it was a jaw-dropping journey and a solid introduction to Finnish Lakeland that has me yearning to go back.
I found it particularly fascinating that Lake Päijänne was a drinking source that you could actually just drink the water straight out of. T
hat is one of the things that makes Lahti special; the region is known for containing some of the best, if not the very best, water in Finland.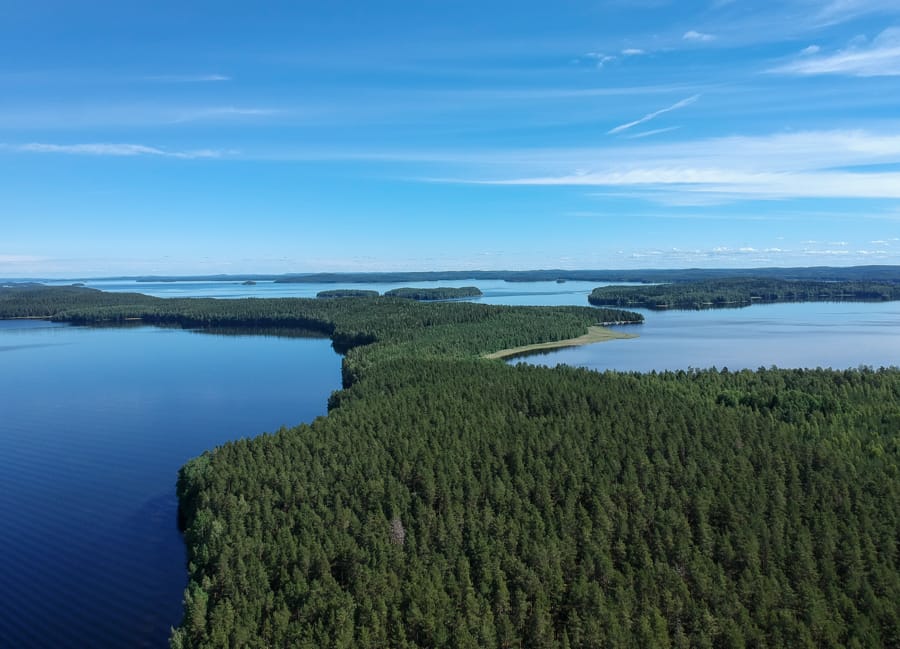 Lake Päijänne is also home to two national parks- Päijänne National Park and Leivonmäki National Park. I think the national parks in Finland are one of the many things that make the country so special.
The natural settings they encompass are often so pure and untouched that you may feel as though you have the place to yourself or that you were the first person to discover it. Try feeling that way at the Grand Canyon.
It must be noted that there are NOT seals in this lake (Lake Saimaa has them).
Before you get too disappointed, there are a lot of ducks with hairstyles instead… so it was pretty much a win in my book.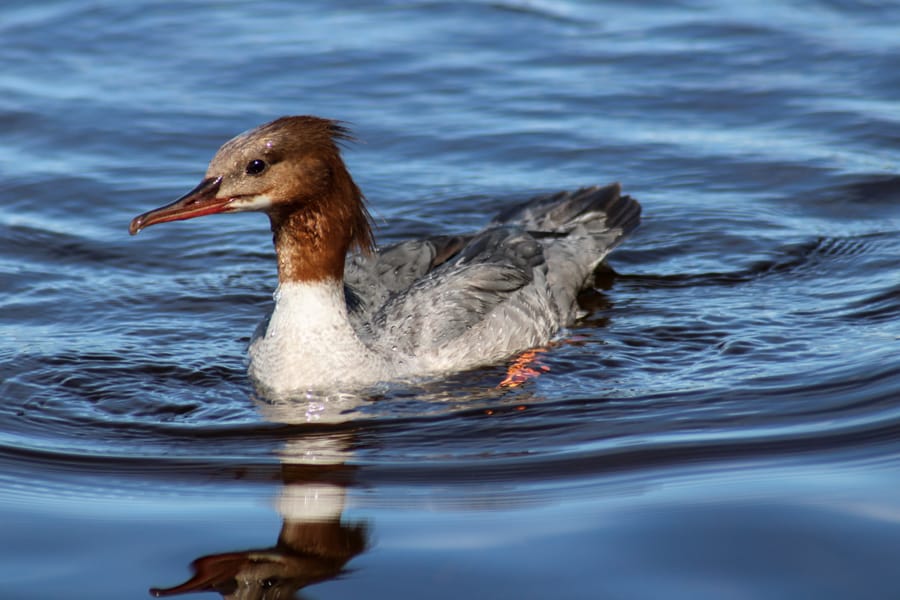 If you're looking for a tour of the lake, I definitely recommend staying at Lehmonkärki which is located on the lake and is the most beautiful natural resort I have ever had the pleasure of staying at.
Located in Asikkala, it is the perfect escape for a weekend (or pretty much forever). Read the next section for more!
Lehmonkärki Resort in Asikkala
I recommend you go to Lehmonkärki Resort and never leave.
I ended up having to leave and I am kicking myself for it every single day since. Allison and I had the chance to stay two nights at Lehmonkärki, located right on Lake Päijänne, and it was everything we could do to not lock ourselves inside of our lakeside home and stay there forever.
I don't think future guests would have liked that, however.
Lehmonkärki Resort is a playground for nature lovers. We stayed at Villa Tuuletar, a cottage that sleeps up to eight people and has several bathrooms and washing areas.
The kitchen is enormous and the grounds around it are pretty secluded and private. You have your own rowboat, infrared sauna, and jacuzzi at the house. Once we checked in, we jumped right inside that jacuzzi. What a place!
But perhaps the best thing about Lehmonkärki Resort is that they will arrange activities and excursions for you. Finnish Lakeland is not the easiest place to get around if you don't know what you're doing or any tour companies to arrange this sort of thing.
Lehmonkärki will hook you up and give you a chance to explore the region and lakes well and it will make your time visiting Lahti completely memorable for years to come.
I will be dedicating a whole post to this place in the near future because it deserves a lot of attention and has so much going on for travelers and nature lovers.
Want to know more or book a cottage for a night at Lehmonkärki? Click here to find out more.

Coffee in Lahti is Getting GOOD
Lahti's coffee scene is getting GOOD and it's all thanks to Kahiwa Coffee Roasters.
This wasn't my first time trying Kahiwa… in fact, I toted around a bag of Kahiwa beans last year for a few weeks while traveling through the Baltics.
I had picked up the beans a month prior while in Helsinki from a friend and I was really pleased with their taste and smoothness once brewed (I used an Aeropress).
So, I was extremely stoked to visit the actual roastery behind these brilliant beans when I went to visit Lahti on this trip.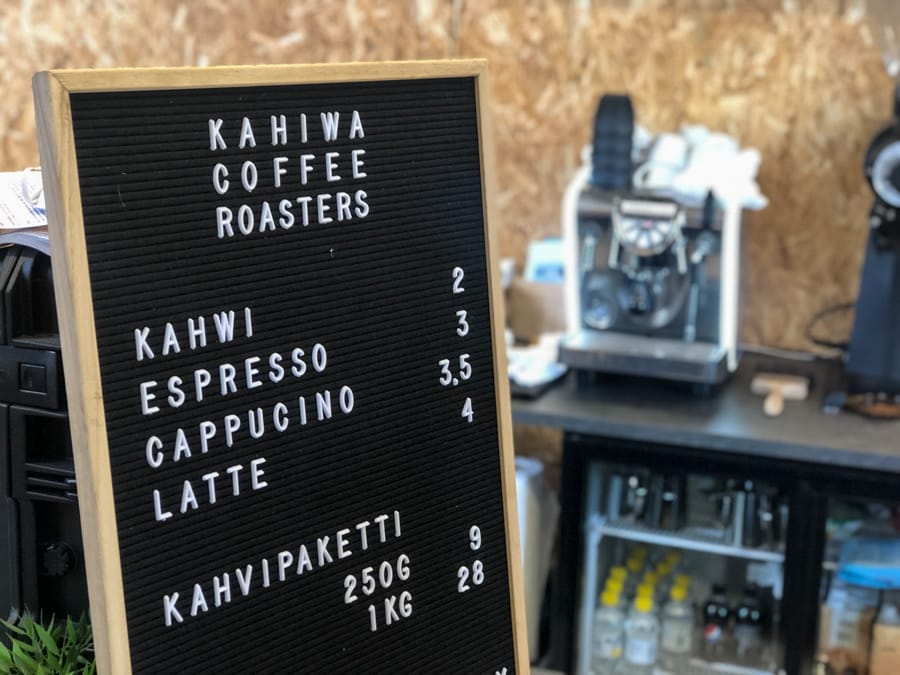 What really impressed me most about Kahiwa was the roastery's story.
While every company and brand has a story, Kahiwa's really began and ignited when realizing that coffee farmers in Kenya weren't really benefitting financially from the beans they were cultivating and selling.
As so many coffee farmers know, there is a lack of transparency between the crop and end-user and so many middlemen in the process that everything becomes grey and foggy.
This is often the story with many specialty coffee shops and roasteries these days, unfortunately.
But, people like Joonas, the found of Kahiwa, keep that in mind and take strides to change the industry and way we consume coffee. Their mission, beans, and finished products are all fine examples of this.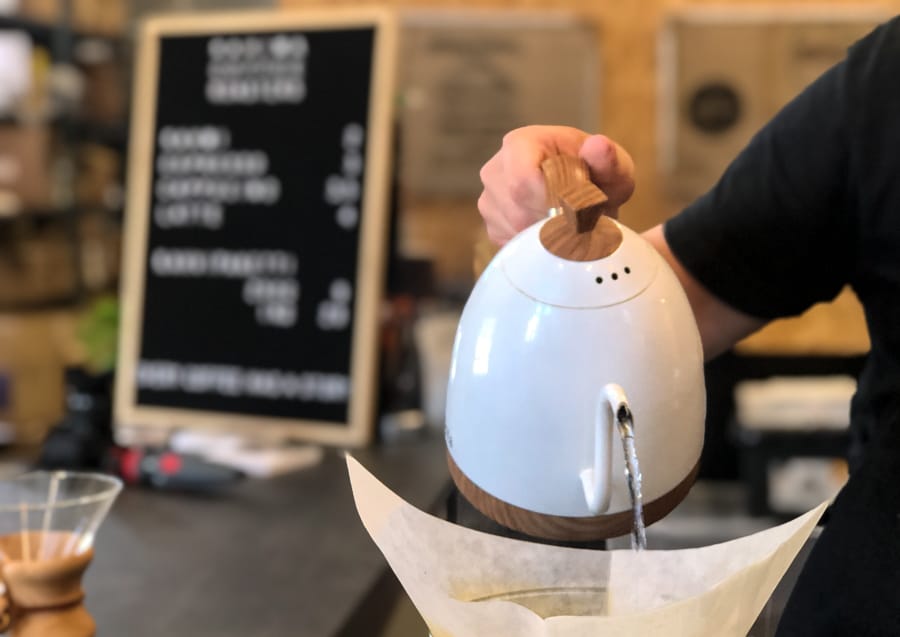 You can stop by Kahiwa's Roastery at Telakkakatu 4 and pick up a bag of tasty beans to take home (they also offer coffee in-house… grab a Chemex and learn more about the process and hear their amazing story!)
Lanu Sculpture Park
One of my favorite things located pretty much in the heart of Lahti was the Lanu Sculpture Park.
The sculptures were created with reinforced concrete by artist and professor, Olavi Lanu, and are located in the forest in Kariniemi Park (close to Lahti Harbor).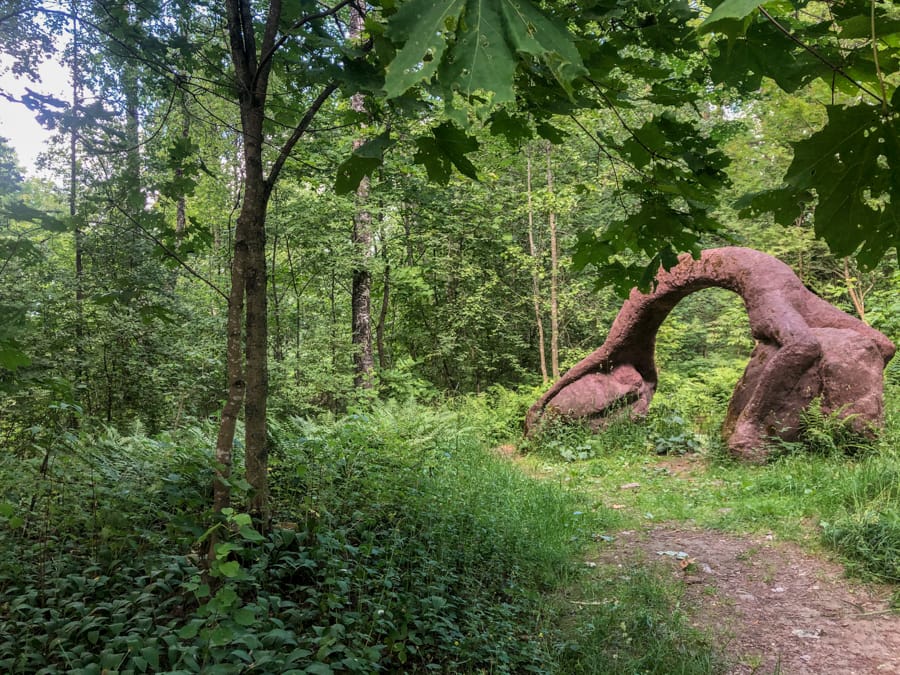 I found the sculptures particularly interesting because they were partially overgrown and guzzled up by nature. In most parts of the world, this would be maintained… but not in Lahti.
Lanu asked for this to not be trimmed and to allow the process to be natural. I pretty much think this idea sums up the mentality of the Finns and their connection with nature and the lush forests that surround them.
Berry Wine and Berries at Pihamaa Estate
Back in the day, I wrote a whole post about Norwegian berries. Don't search for it on here- it is atrocious. But, I like Nordic berries.
They put places like Spain, Italy, and California to shame in terms of taste. The only thing better than a Nordic berry? A Nordic berry wine. And you can most certainly enjoy a glass at Pihamaa Estate in Kalkkinen.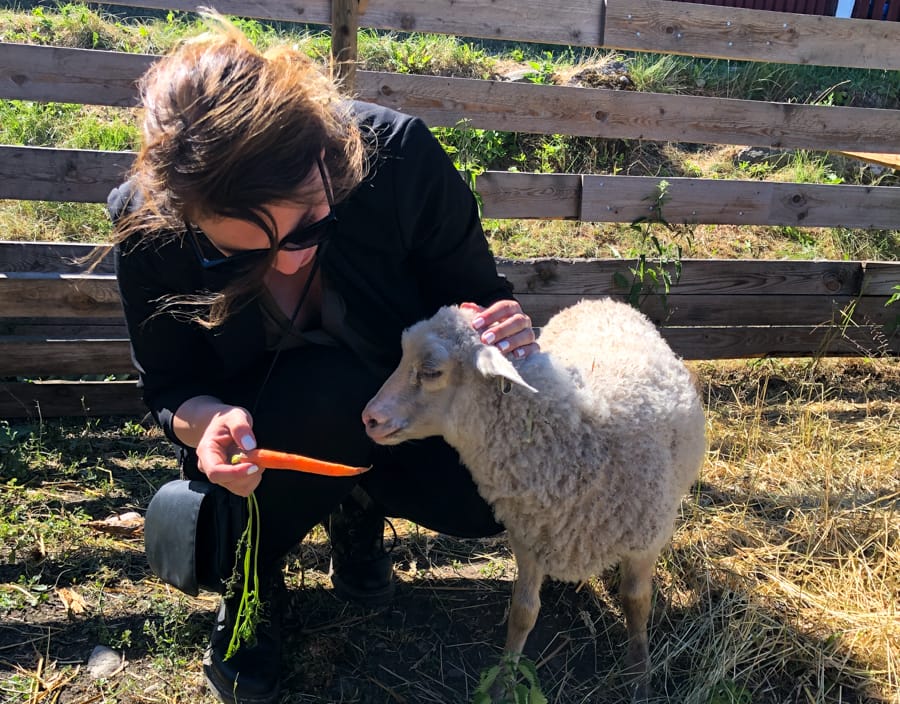 We visited Pihamaa Estate on our last day in the Lahti region and we were greeted with one of the best sights in the entire world- LAMBS.
They have a few farm animals on the premises and we got to say hello and feed Musti, Pilkku, and Lumi. I think they were quite fond of me and my carrot greens.
Another favorite thing about Pihamaa Estate was that they have their own strawberry farm there. We were able to pick some and they were MINDBLOWING.
I had just been in Norway where the berries weren't quite ripe and ready and I was sad leaving the country missing out on yet, another berry season.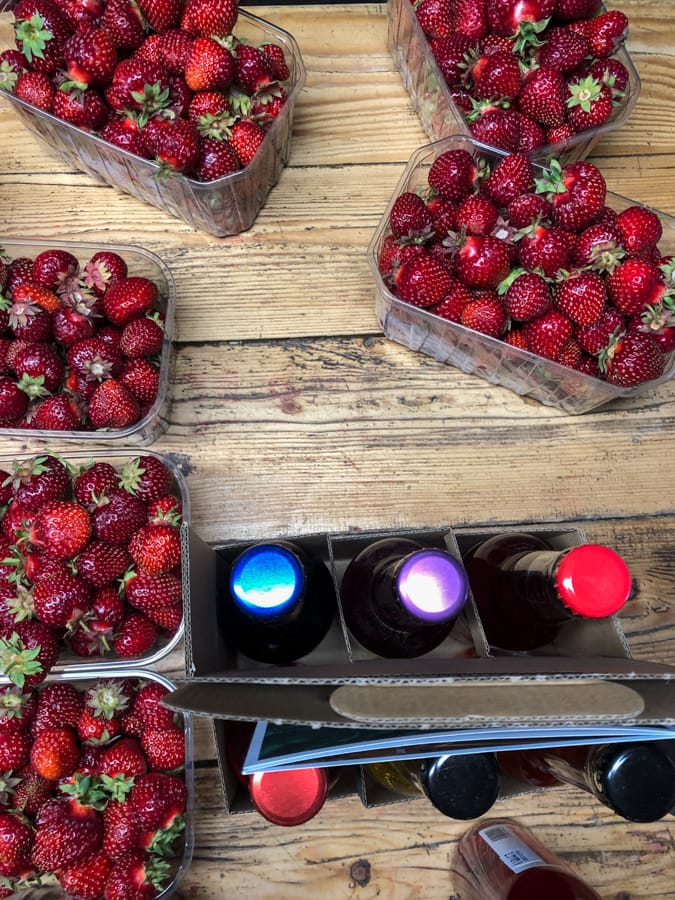 Finland to the rescue!
The berries were so juicy and sweet and Pihamaa used them in several desserts, wines, ciders, and beers… and I am eternally grateful for this.
This is a must-visit place when you travel to Lahti, especially if you wind up there during strawberry season!
Winter Sports Galore
If you're a winter sports enthusiast, you have to visit Lahti and take advantage of the many offerings for winter sports and activities the region has to offer.
To be honest, I didn't know much about Lahti before going aside from its fame in the winter sports realm.
In Lahti, you have a sports center that includes ski jumps, a ski stadium, ice stadium, a museum dedicated to skiing, and multiple areas for trade shows and events.
The city is truly built around being active and connecting with nature and the natural elements surrounding you. I really want to venture back to Lahti to enjoy this side of the region!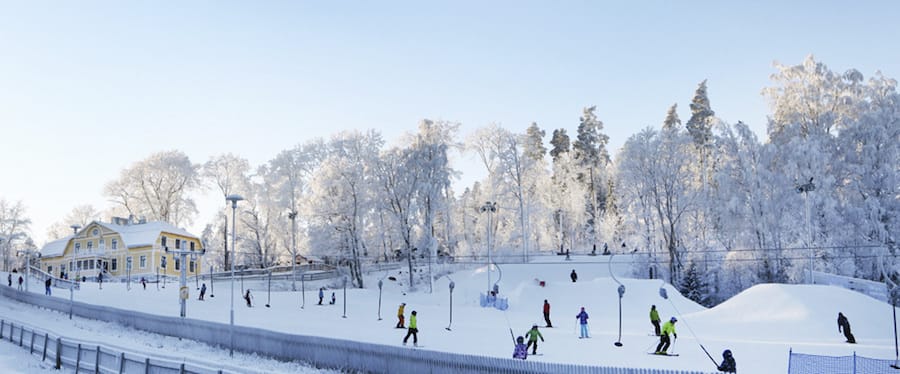 If you're looking for some winter activities and excursions in Lahti, you should definitely give snowshoeing a go. It is one of my favorite activities and Finland (I did it in Nuuksio National Park outside of Espoo) provides the perfect setting (and forests!) to do just that!
Slow Down in Vääksy (and Walk the Vääksy Canal)
One of my favorite stops in the Lahti region was definitely Vääksy.
We headed out to Vääksy to check the craft brewery Kanavan Panimo and spent a bit of time after our brewery tour and tasting walking the canal and enjoying some refreshing ice cream.
The Lakeland village is small and has only about 8,300 residents living there. What was so interesting is that the village felt so lively and pretty quaint at the same time.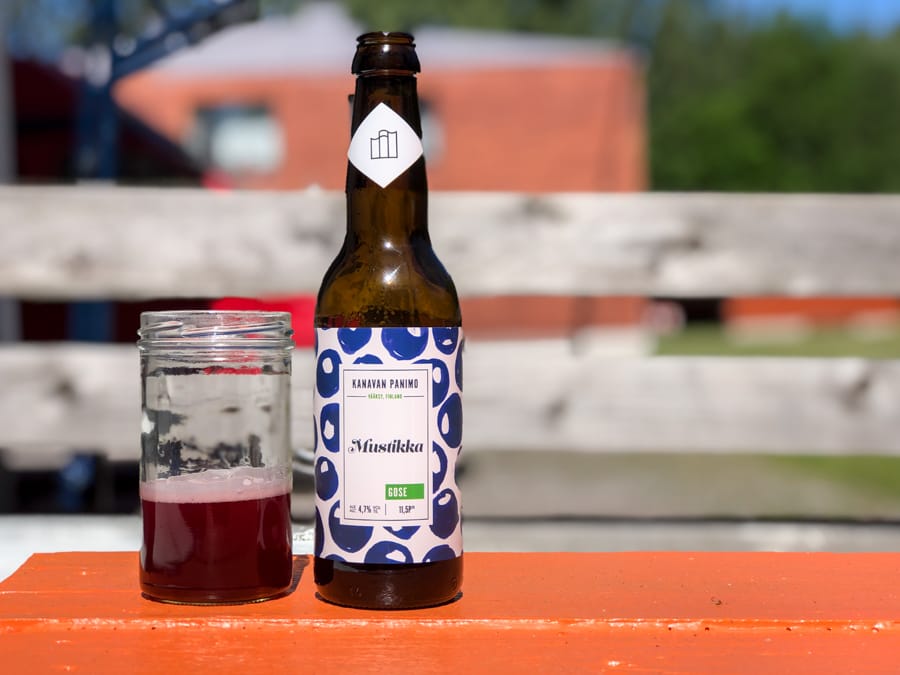 Vääksy is located on an isthmus between Päijänne and Vesijärvi lakes in the region around Lahti. The businesses seemed so supportive of one another and everyone seemed genuinely really happy.
There were flowers dotting the village and plenty of dogs running around. Any place with a lot of dogs gets my vote and is another reason that you should visit Lahti and the village of Vääksy.

The Architecture of Sibelius Hall
When we first arrived in Lahti, we immediately went to the famous concert and cultural center, Sibelius Hall.
The hall was named for Jean Sibelius and has graced the Lahti Harbor since 2000 when it was opened after being designed by Kimmo Lintula and Hannu Tikka.
The structure is made of wood with a minimalistic and Nordic design. The seating capacity is 1,250.
What I found most interesting about Sibelius Hall was that the acoustics are out of this world and top-notch and they can host various types of concerts inside and the acoustics will work for all types of performances and concerts.
Sibelius Hall is home to the Lahti Symphony Orchestra.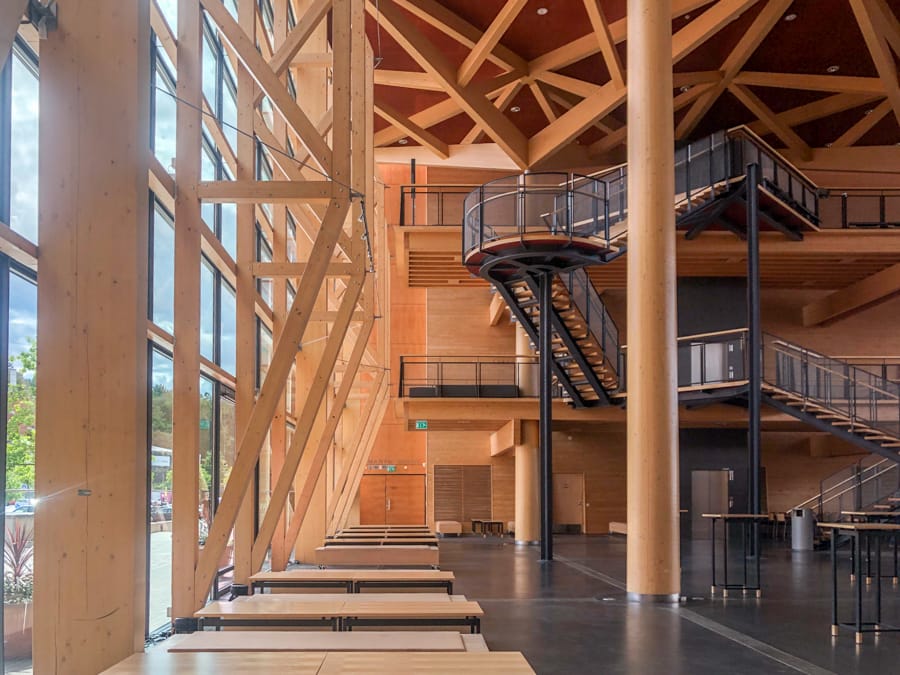 Sibelius Hall is the largest public wooden building built in the country in the last century and it is definitely something to visit or check out (from the inside, if feasible) when visiting Lahti.
You can find Sibelius Concert Hall at Ankkurikatu 7 by the Lahti Harbor.

Lahti Harbor vs. City Center
Taking a stroll along the harbor in Lahti is a must-do when visiting the Finnish Lakeland city. What is so remarkable about the harborside is just how different it is compared to the city center of Lahti.
But, in order to really get that feel and see the city in its entirety, do both!
Around the harborside, you will find a lot of wonderful cafes and restaurants, including Restaurant Casseli, a lovely eatery with delicious food and killer views of the lake.
Not only do you have several cafes dotting the perimeter of the lake, but you also have a lot of the most-known sights of Lahti nearby.
You are a stone's throw away from Lanu Sculpture Park and Sibelius Hall is right on the lake.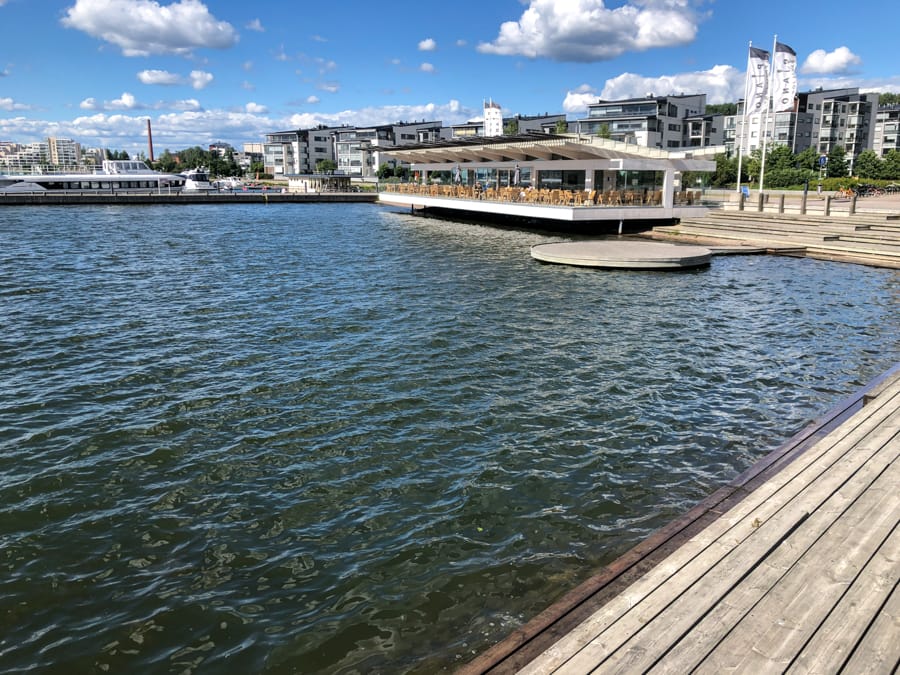 Once in Lahti's city center, you will find a totally different vibe to the city. There are large squares, a lot of buildings, and quite a few restaurants and bars.
Be sure not to miss Teerenpeli– a brewery, distillery, and restaurant all rolled into one. You can even take a tour of the distillery and learn about whiskey making (which was fascinating to me as I knew nothing about the process!)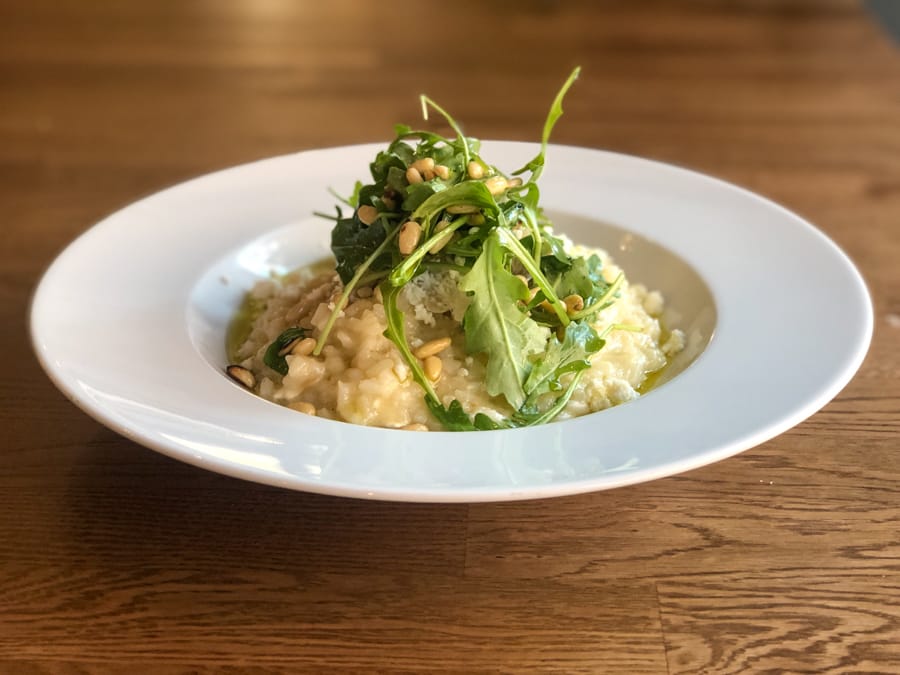 I think it is essential to visit both the city center and the harbor as it showcases the many things to do in Lahti and will leave you with a good impression of the Finnish city.
There are many reasons to travel to Lahti and these are just a few that will get you started and familiar with the city and region.
I was really shocked at how well this part of Finlands Lake Region catered to tourism in both the winter and the summer, making it completely suitable and a good travel destination for all types of travelers.
Where to Stay in Lahti (and Nearby)
We stayed at the amazing Lehmonkarki Resort near Lahti and I highly, highly, highly, highly recommend it! It was such a fantastic experience and one of my favorite places I've ever stayed on my travels.
Here are some great options for places to stay in Lahti for all budgets: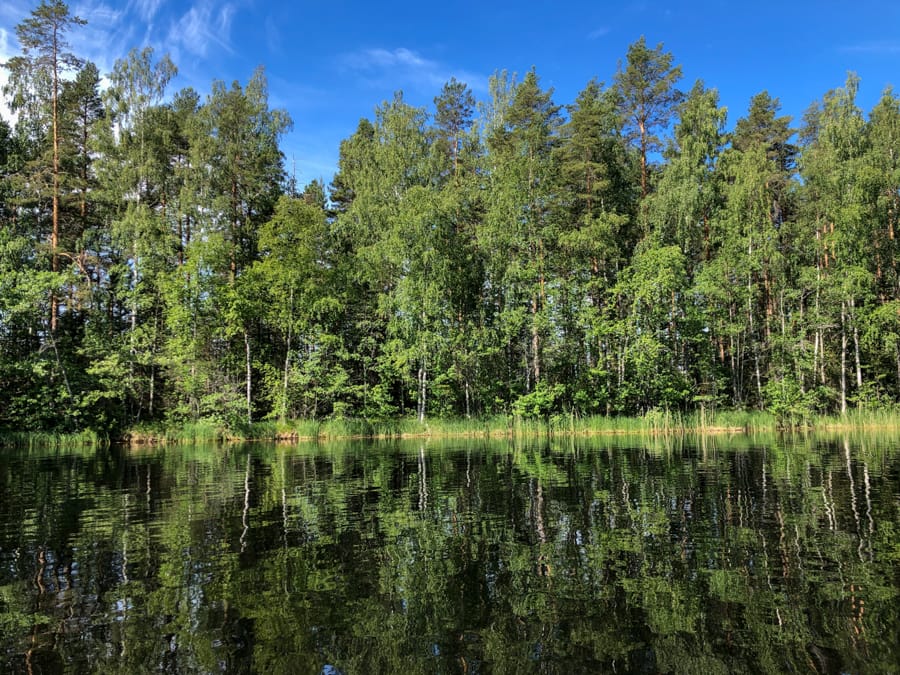 I am definitely going to be planning a trip there in the future so please leave me additional recommendations in the comments if you have any!
More Finland Travel Tips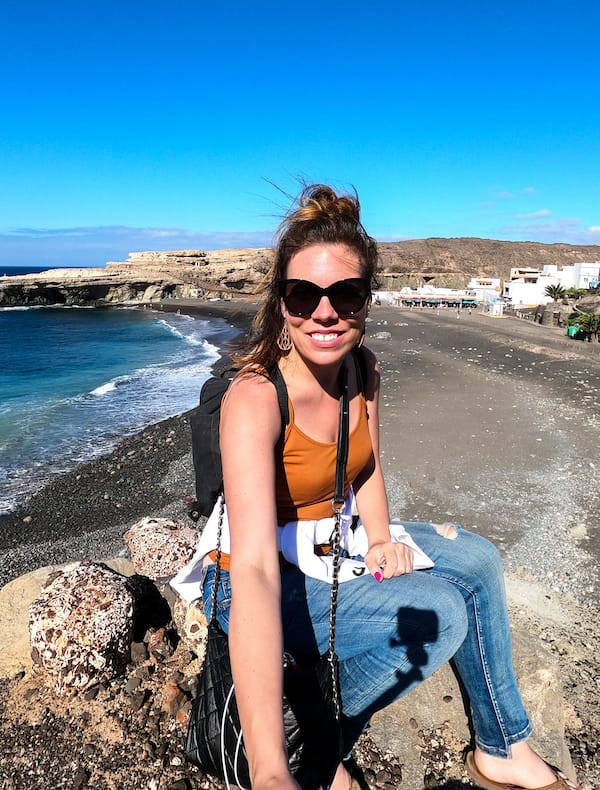 Megan is a travel blogger and writer with a background in digital marketing. Originally from Richmond, VA, she now splits her time between Frankfurt, Germany and Arctic Finland after also living in Norway, Armenia, and Kazakhstan. She has a passion for winter travel, as well as the Nordic countries, but you can also find her eating her way through Italy, perusing perfume stores in Paris, or taking road trips through the USA. Megan has written for or been featured by National Geographic, Forbes, Lonely Planet, the New York Times, and more. She co-authored Fodor's Travel 'Essential Norway' and has visited 45 US states and 100+ countries.