Norway is a country where everyone flocks to the same places and regions and kind of forgets about the rest of the country.
Stabbursdalen National Park in the far north of Norway is one of these forgotten places.
But, it absolutely shouldn't be!
This post showcases 6 really awesome reasons to visit Stabbursdalen National Park, or Rávttošvuopmi in Sami, the perfect overnight or day trip from Honningsvåg.
Reasons to Visit Stabbursdalen National Park
Sometimes, I will randomly check out maps of places I'm heading to and see what exists in the local area. Usually, I already have a pretty good idea.
The interesting thing is that I don't really know in Norway because as soon as I think I know an area, I discover something else that catches my eye. Such was the case with Stabbursdalen National Park.
I remember looking for an additional trip around the Nordkapp area and I started gazing at a map. I emailed Visit Northern Norway and asked about doing a day trip to Kirkenes.
That ended up with a huge laugh and me being informed that Kirkenes was like 600 kilometers from Honningsvåg. Why does Norway look so much smaller on a map than it actually is?!
I started to think about Karasjok, a village known for its Sami roots right on the border of Finland. Again, I looked it up and it just seemed slightly too far.
Then I thought about Lakselv, a village known for a river with salmon (laks=salmon; elv=river). It was still slightly too far.
Then I started researching Stabbursdalen National Park, a large nature area west of Lakselv and known for being the northernmost pine forest in the world.
Sorted. Stabbursdalen it was.

About Stabbursdalen National Park
Stabbursdalen National Park is a large green area near Lakselv, Norway in the far north (around 2 hours or so from Honningsvåg) that covers 747 square kilometers, or 288 square miles.
The park is located in Porsanger Municipality in Finnmark County and Stabbursdalen surrounds the river with the same name, Stabburselva.
The park is home to many landscapes and things that are typical of this part of Finnmark, Norway.
You will find barren scenery that suddenly transforms into pine forests, some mountain birch, open plateaus, and narrow ravines. Norway established Stabbursdalen National Park on February 6, 1970.
Our Trip to Stabbursdalen
We left Honningsvåg in the early afternoon (midnight sun messed with our sleeping schedule) with a final destination of Lakselv.
In order to make it to Lakselv, we had to drive pretty much through all of Stabbursdalen, so that was set to be our highlight.
What we didn't account for is that we were going to want to stop every five minutes to take photos along the way.
That's Norway for you.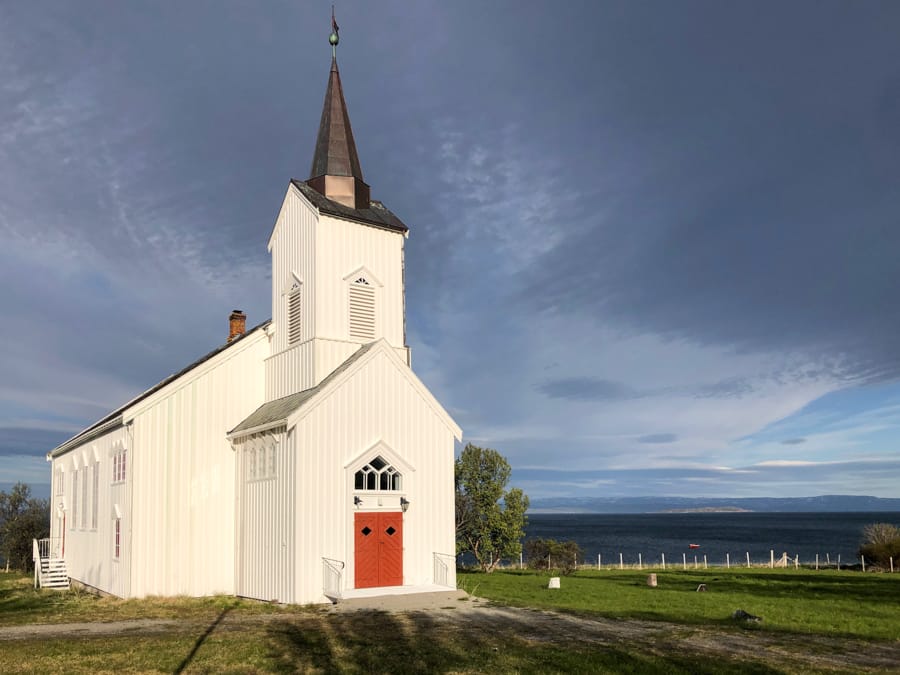 The drive was really only around two hours from Honningsvåg and through Olderfjord, a small village that sits at the crossroads of where the road to Nordkapp meets the road that will take people to Alta or Hammerfest.
Most of the drive is pretty epic and it hugs the Porsangerfjord, a super large fjord that is part of the Barents Sea.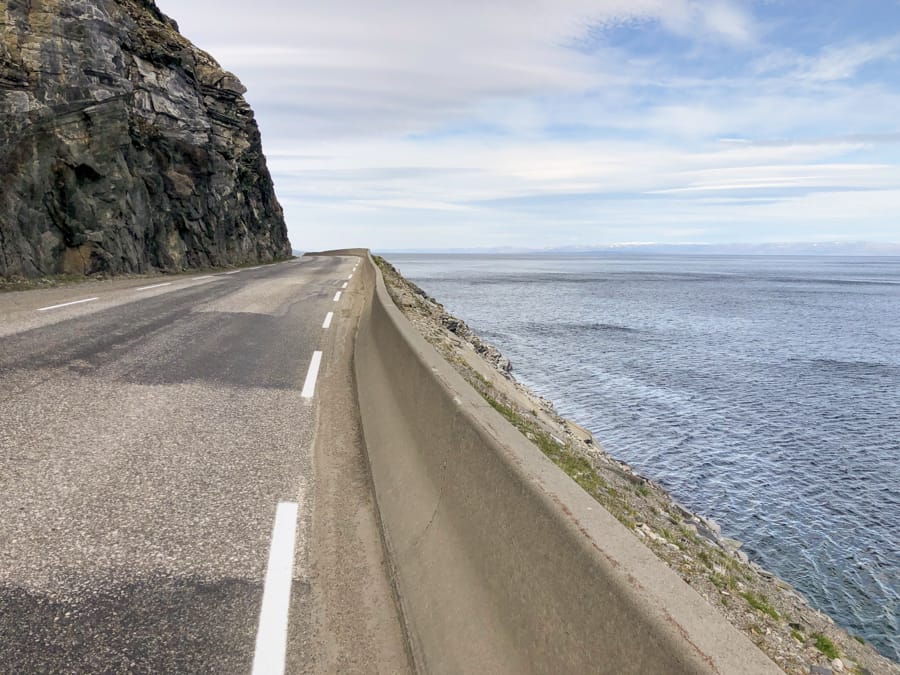 Once we approached the National Park, we stopped by a camping and cabin reception center to see if they had matches as Aram was really keen on building a fire in the park somewhere and us making an Armenian coffee on it.
We also stopped at Stabbursdalen National Park's welcome center which is a great place to enter and peruse before continuing into the park.
At the National Park's Welcome Center (Stabbursnes Naturhus & Museum), you can learn about the park extensively with interactive videos and displays. There is also a museum inside (we didn't pay to enter that, however).
READ ALSO: Best tips for hiking in Jotunheimen National Park
The young woman working was friendly and extremely informative. We also learned that we shouldn't make a fire except on top of the grills in a picnic area near the parking lot.
We spent around two hours inside of Stabbursdalen. It was not enough time to trek to the waterfall, which is one of the main sites there, but we got to enjoy the pine forest after being on Magerøya where trees are non-existent.
We also got our first experience inside of a real Arctic forest… and the mosquitoes that come with it. That was brutal for me. They were monsters.
Aram went to make coffee while I droned until we realized we actually had no water source available at this picnic area and neither of us was keen to walk back down to the lake.
We called it a day and wrapped up stuff and left. While it was an uneventful day, it was epic in its own right because we were in one of the most mysterious places in the world.
We highly recommend those visiting Honningsvåg to rent a car and drive down to Stabbursdalen National Park.
Reasons to Visit Stabbursdalen
There are many reasons to visit Stabbursdalen in Northern Norway. These are some generic reasons we think you should rent a car in Norway and make the journey there, if even for just a day!
World's Northernmost Pine Forest
We already mentioned this a few times but what makes this so much more special than meets the eye is that it comes up out of nowhere. Seriously.
You will see no trees and then suddenly, a massive forest of pine just erects out of the ground suddenly and unexpectedly (well, unexpectedly unless you did research as I had done).
Seeing this pine forest in such a northern part of Norway really offered us insight into how varying the scenery of the Arctic truly is. It was remarkable. And some of the trees are even up to 500 years old!
Waterfall, River, and a Glacial Canyon
Stabbursdalen is known for its raw nature that pretty much stays untouched due to lack of visitors and people that do visit having great respect for the nature surrounding them.
The park has a waterfall (Stabbursfossen), a glacial canyon, and a river that runs through it. The Stabburselva River is known for its abundance of salmon (Atlantic and Brown Salmon) and river trout.
You're able to fish there, but you will need to follow the rules (only three fish per person, etc).
READ ALSO: Best places to visit in Norway during winter
The river runs through a very narrow, glacial canyon and it can be steep on certain sides of the water.
The highest point in Stabbursdalen is Čohkarášša and it is over 1100 meters high. In order to reach the waterfall, you will need to hike a little bit.
This could take a lot longer than expected, so it is probably best to do this trip as an overnighter or by camping in or around the park.
Remoteness and feelings of anonymity
Not many people are exploring Stabbursdalen. Outside of the odd camper or two that decided to have a picnic in the park, you are going to feel as though you have this space to yourself.
It is a great place to just soak up nature and take the Arctic in. There are also some shelter areas inside of the park, Bastingammen, and Ivarstua, in the event that you need something or don't want to be alone in the wilderness.

Wildlife at Stabbursdalen
There is actually a large abundance of wildlife that calls Stabbursdalen National Park home.
While you're probably not going to see some of them, it is still cool knowing you're walking on the same territory as some of these animals.
Eurasian lynx, wolverines, elk, and reindeer all call this part of Norway home.
While you're likely not going to get to check out a lynx or wolverine, you stand a pretty good chance of seeing reindeer and other small animals in the park.
There are also a lot of birds that live in Stabbursdalen. And, if you get very, very lucky, you may get bitten by a swarm of mosquitoes like I did. Keep your fingers crossed for that one. Arctic mosquitoes are ruthless.
Most of the wildlife can be found near the Stabburselva river in quieter coves and areas. Another interesting fact is that Stabbursdalen has the most registered bird species of anywhere in Norway. Pretty cool, huh?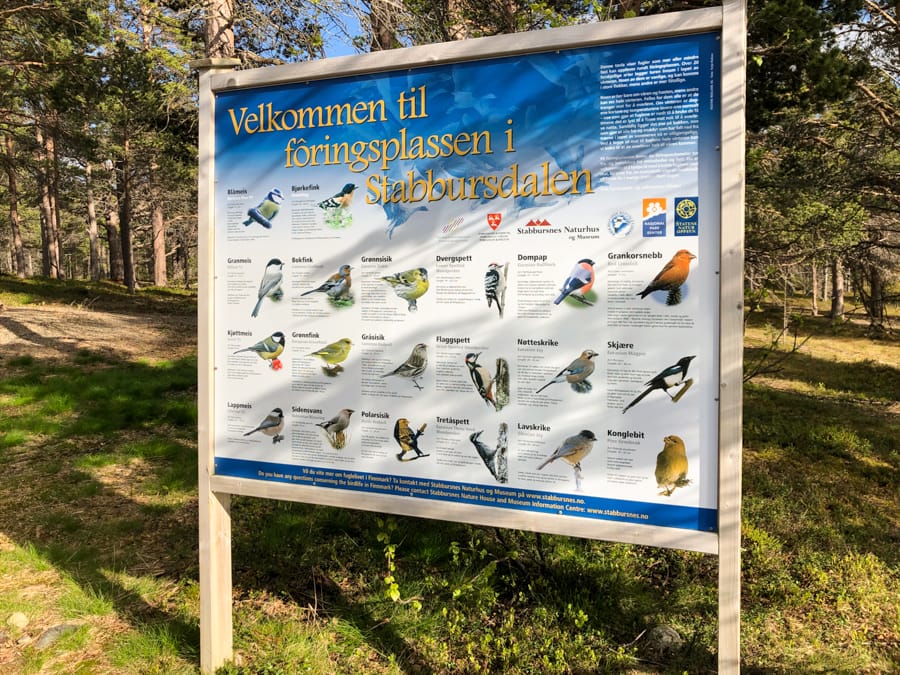 Stabbursdalen National Park is Free
Yep, this park is completely free and awesome. If you want to go into the museum or buy permits, you will need to pay at the Welcome Center.
But, to just hike and enjoy the nature won't cost you anything and in Norway, that is a breath of fresh (Arctic) air.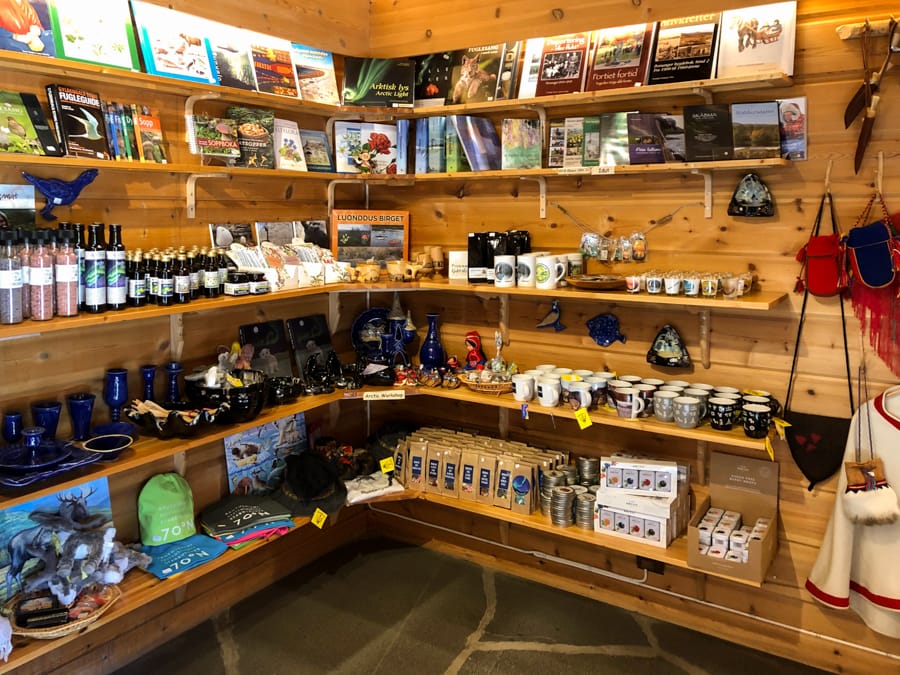 The Drive to Stabbursdalen
The drive to Stabbursdalen National Park is an adventure in itself. As noted above, you will hug the Porsangerfjord the entire way down from Magerøya to the national park and it is stunning.
You will see some of the most magical views and you will feel so grateful to have gotten a chance to explore this pure part of the world. There are photo opportunities around every turn and it truly is spectacular.
If you're not into national parks (um… who are you?), go anyway because the drive makes it worthwhile.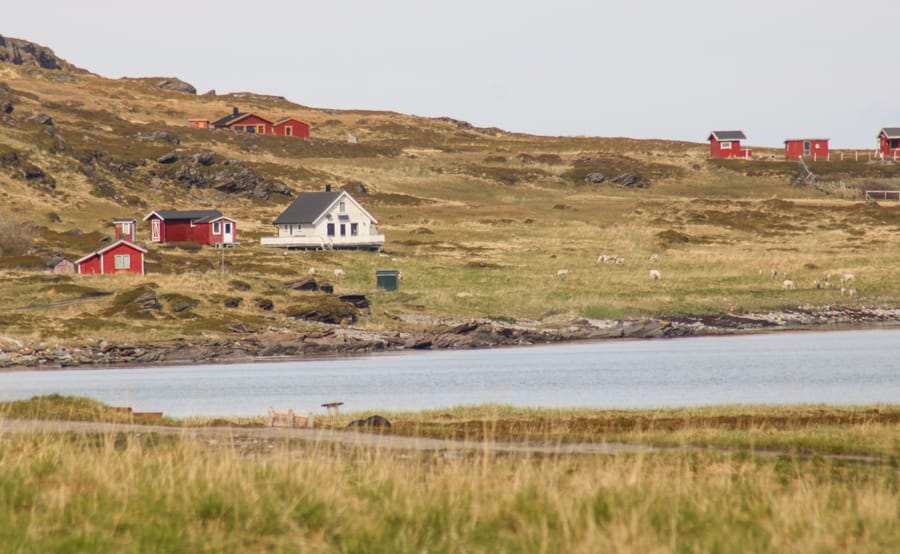 More Information About Stabbursdalen
Camping at Stabbursdalen National Park
Norway allows wild camping, so technically, you can set up a tent just about anywhere. But, if you're looking for all the amenities and an actually legit camping place, there are two located relatively close to Stabbursdalen:
Stabbursdalen Resort: I note this resort below as they also have cabins, but they do allow camping there and you will see fishermen from all around the world staying on-site. Click here for more.
Olderfjord Hotel and Russenes Camping AS: Located slightly further away than the aforementioned site, this one is located close to the fjord and you get views of mountains, the plateau, and sea all at the same time. Their website is currently not working, but you can call them to ask for additional information at +47 78 46 37 11.
Fishing at Stabbursdalen
If you plan on fishing at Stabbursdalen (or hunting), you will need to purchase a permit at the Stabbursnes Naturhus and Museum at the Welcome Center. This is a must.
The rivers are teeming with salmon, trout, and char… but to keep numbers in check, you will need to fish and hunt ethically. You can also find out what the permit entails at pick up. Find out more here.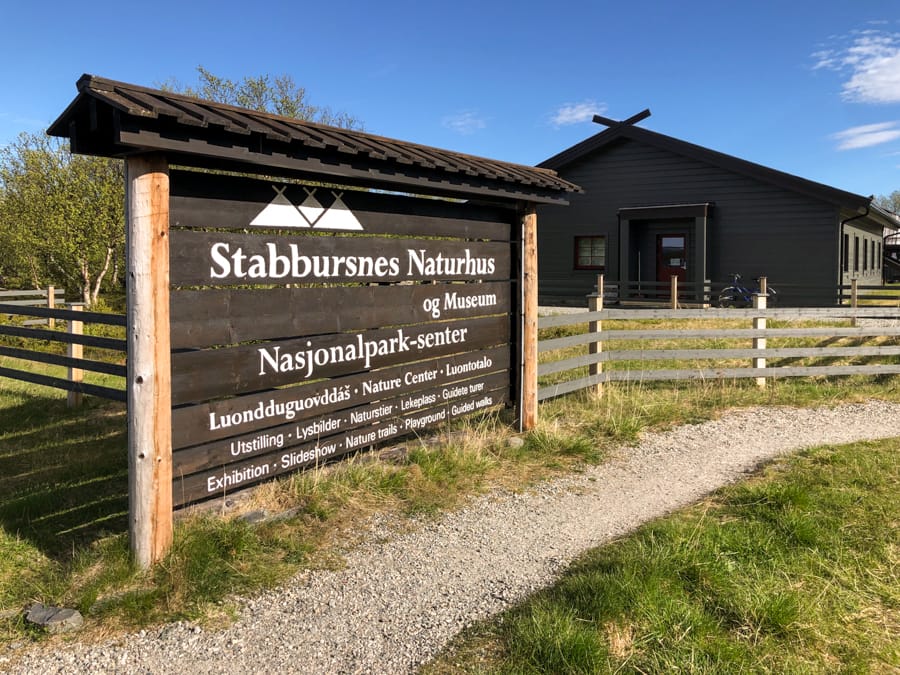 Where to Stay at Stabbursdalen
If you decided not to camp at Stabbursdalen, there are still a few places you can check out staying at instead. The most well-known is Stabbursdalen Resort.
It is actually located at the tip-top of the park near Indre Billefjord and it offers 30 cabins and attracts anglers from all over the world.
We stopped here briefly to get matches at the shop/welcome center. The staff was so friendly and gave me matches for free and chatted with me for a couple of minutes.
If you're looking to stay there, you can find out more information here.

What to Bring to Stabbursdalen
I think what to bring to Stabbursdalen depends on what you're doing there, where you're coming from, the length of stay, and which seasons you're going there during.
There are a few things I recommend if you're heading there in summer:
Mosquito Repellent: Arctic mosquitoes speak a totally different language and the evil suckers are ruthless. Sure, they don't carry any diseases, but they hurt my feelings. And my legs. Click here to shop mosquito repellent.
Klean Kanteen: There are water sources in Stabbursdalen but it is best to bring your own water jug with you. I recommend a Klean Kanteen as it isn't plastic and I've been traveling with one for years. Click here to shop.
Good hiking boots: I swear by my Keen Targhees and I recommend wearing a pair like them at Stabbursdalen. The ground is rocky upon entrance and the forest is deep and lush. Depending on the weather, you want something that will protect your feet as well as aid them while hiking. Click here to shop my Keen Targhees.
How to Get to Stabbursdalen National Park from Honningsvåg
Getting to Stabbursdalen National Park couldn't be easier. From Honningsvåg, you will need to go south in the direction of Olderfjord and later, Lakselv. This will take you on the E69 south.
The road is pretty good but there are some tunnels along the way that you will need to be alert for. There are also plenty of spots to park your car and take photos… just be cautious of where you do it.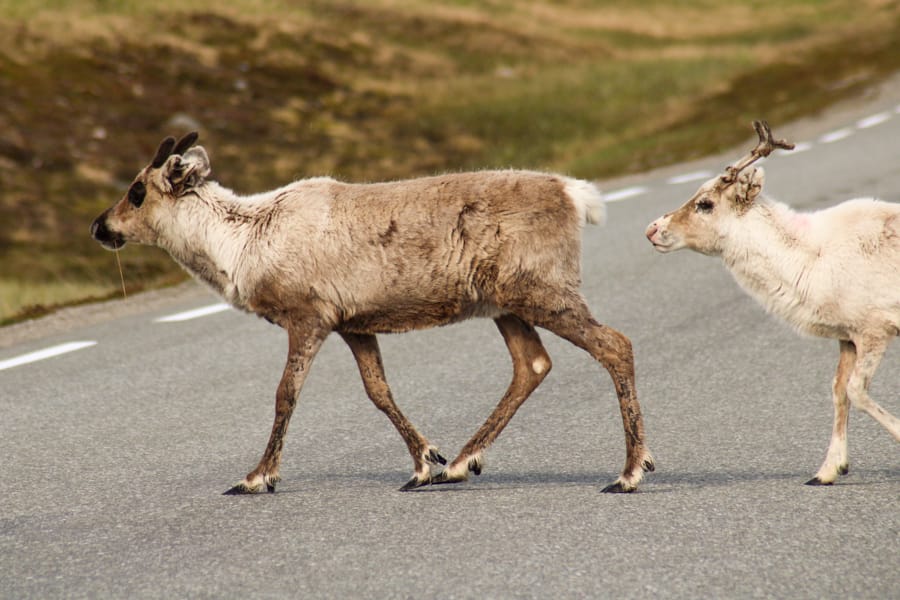 If you're looking for food, Olderfjord has a great cafe area where the bus connections are. It is more like truck stop food, but pretty decent and it is a good place to stretch your legs and chill out.
Coming to Stabbursdalen National Park from Lakselv? That is probably the best airport to fly into to get to Stabbursdalen, but there is not much else around Lakselv.
If you fly into Lakselv, you're pretty much already at the park.
READ ALSO: Best places to visit in Norway during October
Renting a Car in Honningsvåg
Getting to Stabbursdalen is definitely possible by hitchhiking or public transportation but to make it easier for yourself, I would rent a car if you have the funds to do so.
We had a rental car that was picked up from Honningsvåg and it gave us the freedom to cruise around the Arctic without the stress of transportation (or lack thereof).
You can check out Honningsvåg car rental options here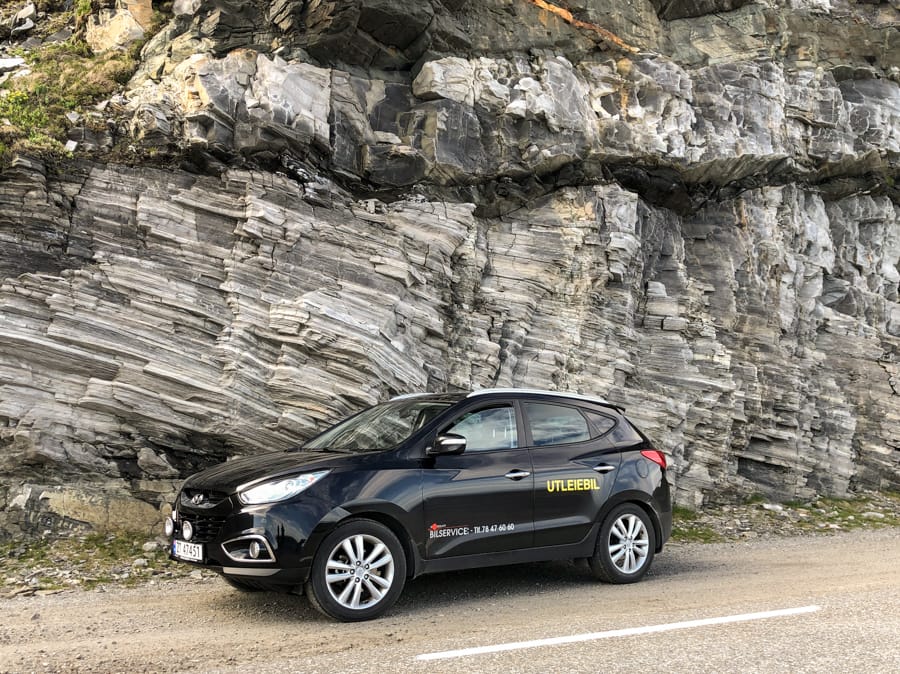 Where to Stay in Honningsvåg
There are quite a few great places to stay in Honningsvåg if you're making the journey south to Stabbursdalen as we did.
We stayed at both Scandic Bryggen and Nordkapp Vandrerhjem when in Honningsvåg.
Scandic Bryggen is located right on the Honningsvåg harbor and offers rooms that overlook the Barents Sea. They have a delicious, included breakfast and there is even a restaurant inside that you can have dinner at.
The staff was super friendly and the location was unbeatable. Click here to see rates and availability for Scandic Bryggen.
Nordkapp Vandrerhjem is a hostel and hotel that is located a bit on the outskirts from the Honningsvåg city center.
We stayed there our last night and it was a pretty great little place with good value for your money. The rooms are basic and they have everything from dorms to private doubles and then some.
The bathrooms are shared but the kitchen is well stocked. Click here to see rates and availability for Nordkapp Vandrerhjem.

Do You Need Travel Insurance for Norway?
I highly recommend traveling to Norway with travel insurance. You never know what kind of crisis you may stumble upon (I'm clumsy so I mean this with all sincerity).
I have used World Nomads in various countries around the world and given that Norway is so expensive as it is, I would definitely recommend them there as you really don't want to pay healthcare costs out of pocket if you run into trouble there.
In addition, hiking and being inside of a national park always leaves you open to exposure to the elements and wildlife and it is better safe than sorry.
Click here to check travel insurance rates for Norway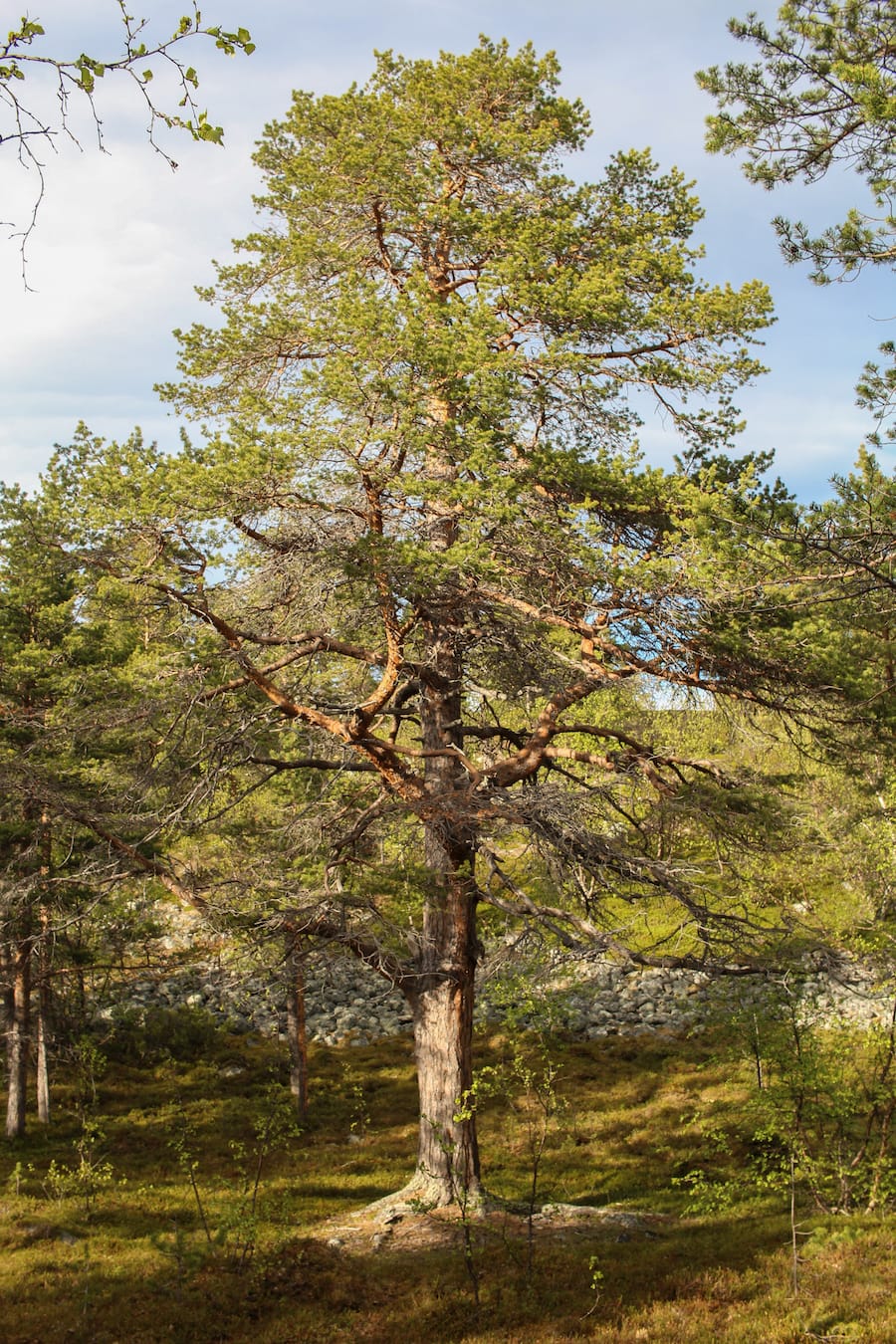 In conclusion, we definitely recommend a day trip to Stabbursdalen, or even better, an overnight or longer trip there.
We loved getting to check out one of Norway's national parks, especially one so far up into the Arctic. If you have any questions or comments, please leave them below. We would love to hear from you.
More Northern Norway Travel Guides