Are you planning a trip to go hiking in Jotunheimen National Park in Norway? This guide gives you all the tips (from a Norwegian!) and things to consider before you go!
Jotunheim National Park Hiking Guide
The magic of wild nature, mighty mountain ranges, remote lakes, and raging weather has been a part of Norwegian history and folklore for as long as can remember.
And Jotunheimen National Park is no exception. Jotunheimen National Park is one of the most beautiful places to go hiking in Norway. It is also home to some of the most popular hikes in the country and among them, the jaw-dropping Besseggen hike.
Jotunheimen is also where you find the majority of Norway's 2000+ meters peaks and all those over 2300 meters including the top of Norway, Galdhøpiggen (2469 masl).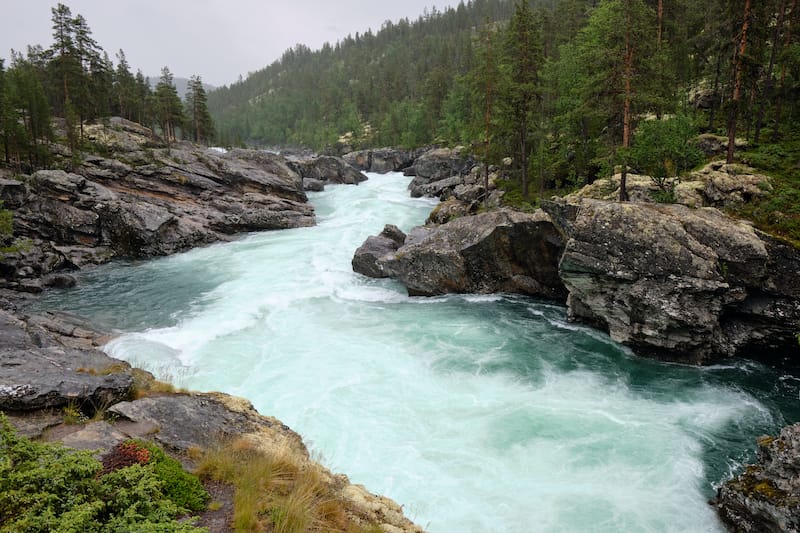 There might not be extremely high peaks in the country like you find other places. However, with a much lower tree line than you see further south in Europe and rough ridges and challenging peaks, going hiking in Jotunheimen is a must for adventurous travelers!
This guide will detail everything you need to know before hiking in Jotunheimen National Park – from where to stay, how to get there, and the best trails in Jotunheimen.
If you have questions- please reach out! And special thanks to Norwegian blogger, Linn at Brainy Backpackers, for this post on her home country!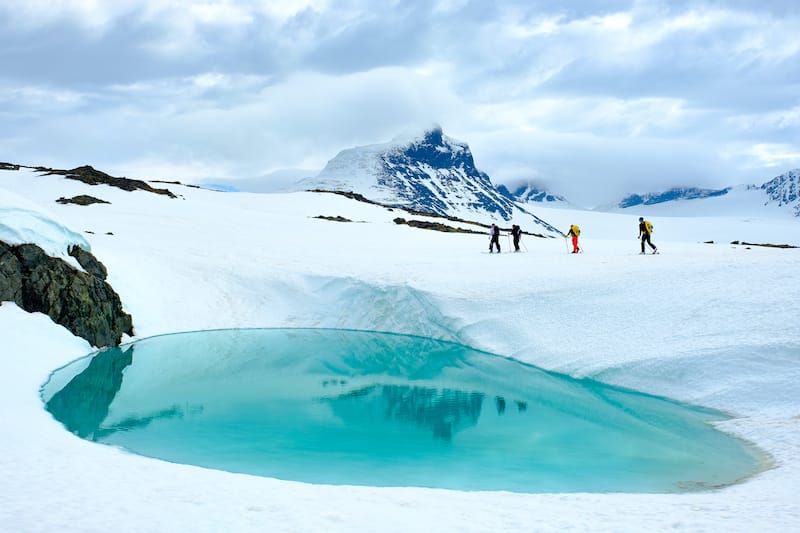 What to Bring Hiking in Jotunheimen National Park
It is important that you dress properly and prepare for challenging hikes when exploring Jotunheimen National Park. Bring a sustainable backpack so you can bring extra layers of clothes (or put the layers you take off when needed), but also to bring rain and windproof clothing, which are essential for the park.
A neck gaiter is extremely valuable too as you can use it to cover both ears and neck if it gets windy. The weather in Norway is so unpredictable that you can experience five seasons in one day. Yeah, there might just be a fifth season in Norwegian nature!
You also need to bring enough water and food (or snacks) for the day. Depending on the hike and the amount of time you will be out in nature, you'll probably burn a lot of energy, so make sure you have nuts, fruit, and other energy-filled snacks to keep you going.
For the longer hikes in Jotunheimen, a camelback is valuable to have on your back. Not only for commodity as you won't have to take out your drinking bottle all the time but also because it sits on the back of your backpack and helps balance the weight in your pack.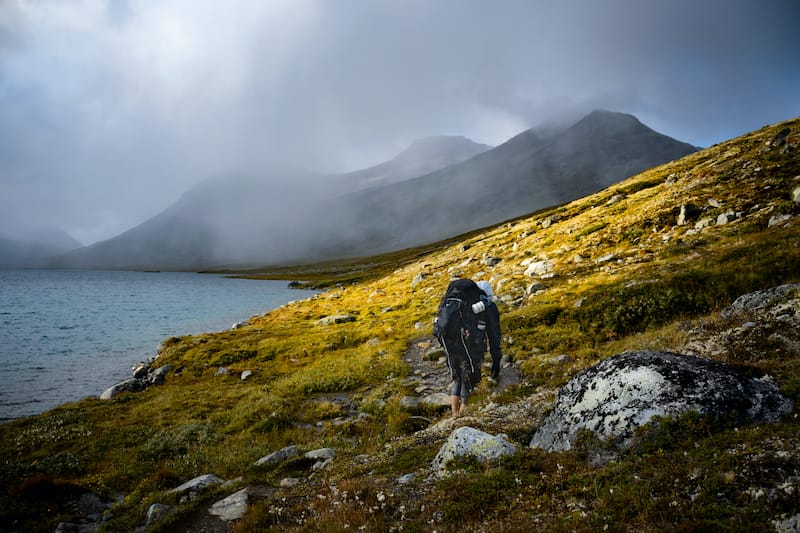 Finally, most of these hikes require good and durable hiking boots. Make sure you have used your hiking boots a few times before you head out on a major hiking trip so you avoid blisters.
That could be enough to not only ruin your day out but also potentially make you incapable of finishing the Jotunheimen hike. To be on the safe side, no matter how well worn-in your boots are, bring some gel plasters for blisters. They do wonders!
Where to Stay in Jotunheimen NP
There are great places to stay in Jotunheimen National Park. Wild camping in Norway is fantastic as long as you follow a no trace camping policy.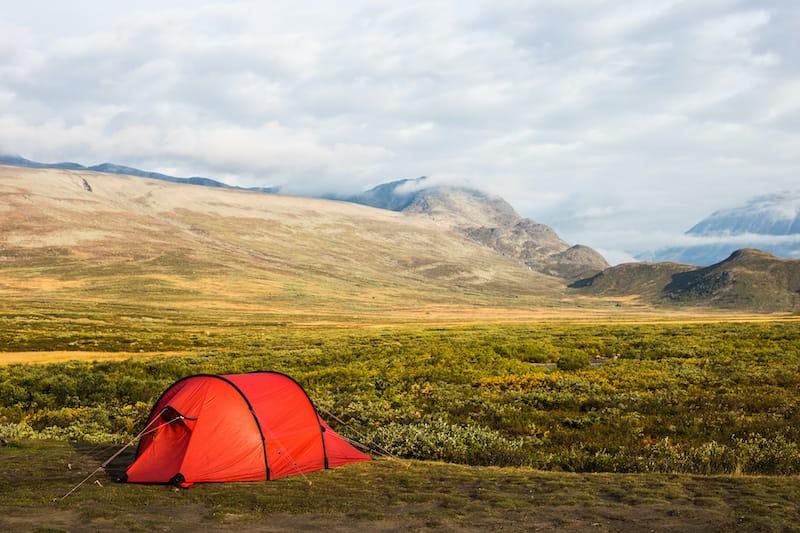 I recommend you pack eco-friendly camping gear for your camping trip to make sure you have a positive impact. However, there are also campgrounds and hotels to stay in. Here are a couple of alternatives:
Bessheim Fjellstue og Hytter
This is the best place to stay if you're hiking Besseggen Ridge or Knutshøe, but there are numerous other trails around too. This cute hotel shows a traditional Norwegian cottage style interior, offers a great breakfast, and has a super friendly staff.
>> Click here to check rates and availability at Bessheim Fjellstue og Hytter
Fossheim Hotel Lom
This is a great place to stay when hiking Galdhøpiggen or Glittertind. The hotel has a great breakfast and lovely staff. The small town of Lom is a nice place to stay a couple of nights and explore the Norwegian culture through The Norwegian Mountain Museum and Lom Folk Museum.
>> Click here to check rates and availability at Fossheim Hotel Lom
When is the Best Time to Hike in Jotunheimen
As the Norwegian mountain code states, there is no shame in turning around. And that is a rule you will want to take with you when hiking in Jotunheimen National Park.
Hiking season is short, and the weather is constantly changing, sometimes by the minute. But if you go between mid-June and September, you are less likely to encounter snow and are more likely to get a sunny day.
READ ALSO: Travel guide for Stabbursdalen National Park in Finnmark
Yet, since you are in Norway, you never know! So make sure you check the weather forecast the day before you go hiking and listen to the local's recommendations at all times.
Map of Jotunheimen Hikes
To add this map to your Google Maps account, click the 'Star' icon next to the map name. You can then view it on your cell phone or computer by heading to your Google Maps account, click the menu and add it to 'Your Places'.
Where to Go Hiking in Jotunheimen National Park
There are endless hiking opportunities and trails in Jotunheimen National Park, but here are a few hikes you should not miss out on. Most of these can be quite challenging unless you are used to hiking, so don't underestimate your day out. But, they are all truly spectacular!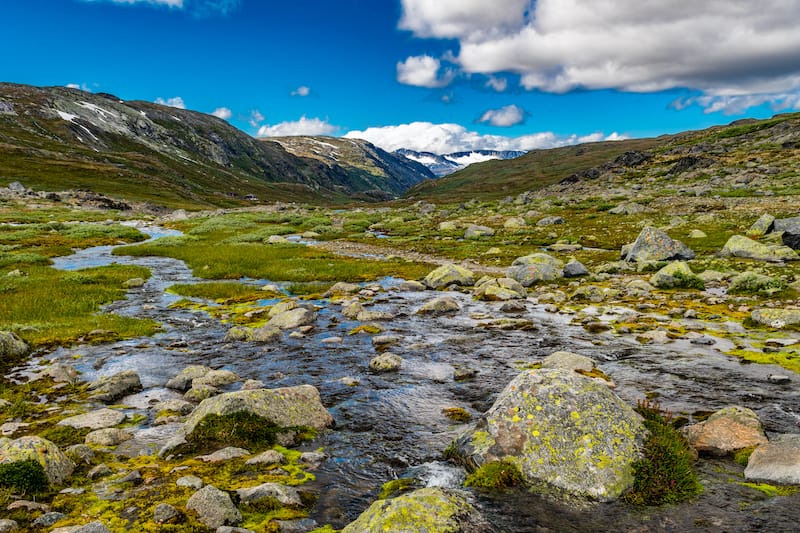 Besseggen Ridge
Besseggen Ridge can be done from either Gjendesheim and down the ridge to Memurubu or the more popular route with a ferry from Gjendesheim to Memurubu and hiking up the ridge back to Gjendesheim.
The latter is not only the most popular route, but it is also the direction you will want to go if you suffer a bit of vertigo.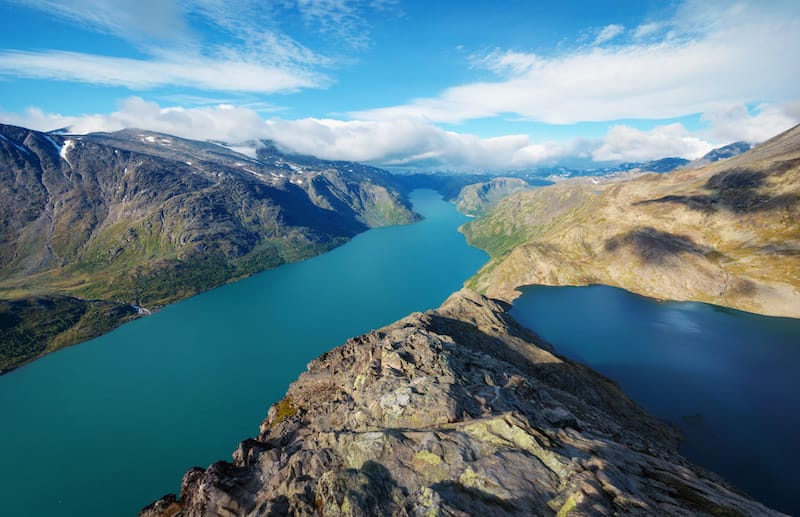 With 300 meters down on one side and 700 meters straight down on the other, the narrowest part can feel very steep and scary if you have to climb the close to vertical climb down. However, that is where the views are. And the views are mesmerizing!
The views of the narrow ridge, Bessvatnet Lake on one side and Gjende Lake on the other make for a fairy tale view (the Norwegian fairy tales where the good trolls are the main characters).
Besseggen is a challenging hike and can take somewhere between 8 and 9 hours to complete one-way.
READ ALSO: Packing guide for visiting Norway in winter
How to get there: There are buses going from Oslo and Bergen to Gjendesheim, but if you want the freedom to come and leave as you like as well as getting to other hiking routes in the area, I recommend driving. There is parking at the ferry stop in Gjendesheim where you can leave the car during your hike.
Pro tip! Book your ferry ticket in advance so you don't miss out. This is one of the most popular hiking routes in Norway and about 60,000 people do the hike each season, so to avoid queueing up the ridge (it sort of takes the charm away), try to make it on a weekday early or late in the season.
Knutshøe
Knutshøe is also known as Besseggen's wild little brother. The hike along the ridge gives amazing views over Besseggen and other mountains nearby.
This is not a hike for those with vertigo! You need to climb up and down ropes to complete the whole hike and it is not safe when it is or has been raining.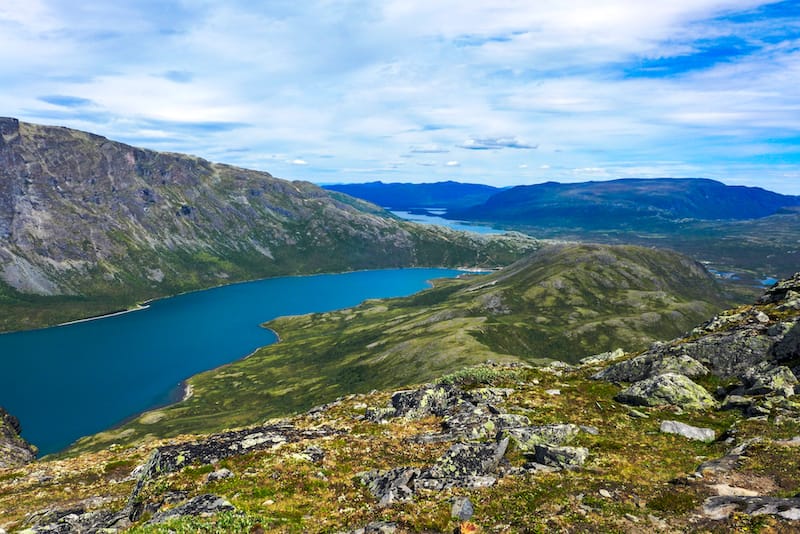 However, this is a magnificent adventure, and although it is not as famous as Besseggen and does not generate as many crowds, it a much better experience, in my opinion.
Climb up the ridge and walk back down along the bottom of the ridge back again if you want a different terrain. Knutshøe is a good 12.1 kilometers loop that easily takes 5-6 hours to hike.
If you find it hard or you prefer to walk on flat terrain, it is beautiful to walk along the bottom of the ridge back and forth. There, you will walk alongside a lake with a little sandy beach between the mountains.
READ ALSO: Complete guide to camping in Norway
At the end, you can walk a bit up towards the ridge for views before you turn around.
How to get there: You can get a bus from Oslo and get off at Vargebakken bus stop or take the bus from Bergen to Gjendesheim. It is more convenient to get a car, especially if you plan on doing a few different hikes in the area and combining it with Besseggen Ridge. There are parking spaces by the road where the trail starts.
Galdhøpiggen
Galdhøpiggen is Norway's highest mountain at 2469 meters. It offers 360-degree views over the surrounding peaks in Jotunheimen National Park, many of them over 2000 meters high.
There are three trails you can take to Galdhøpiggen, so be aware that one of these requires a guide and equipment as it crosses one of the famous glaciers in Norway.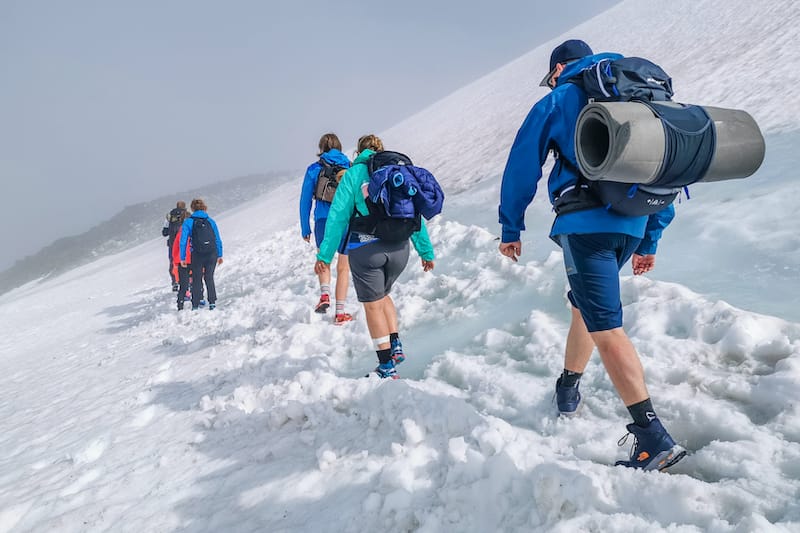 The easiest route from Spiterstulen is often walked by Norwegian children as young as 6-7 years old. But this does not mean it is a walk in the park.
It requires motivation as it is a relatively long hike of 7-9 hours, crossing three 2000-meter peaks on the way. But it is hard to imagine any better achievement than climbing the highest peak in Norway!
Make sure you bring enough food and snacks to keep up your energy levels.
READ ALSO: Gorgeous places to visit in Norway in autumn
How to get there: There are daily buses from Lom to Spiterstulen, but it is also fairly easy to get to by car. However, there is a toll on the road with an automatic payment of 100 NOK that covers parking (it auto-scans your plates on your car).
If you have a foreign car, you can register for an automatic charge on your credit card or you will get an invoice (only Scandinavian cars) for the 100 NOK + invoice fee. If you have a rental car, make sure you check how they do it with auto tolls, as there are many of them across Norway.
Glittertind
Glittertind is also a well-known hiking route in Jotunheimen and the second highest mountain in Norway with its 2457 meters above sea level.
Back in the 1800s, it was higher than Galdhøpiggen, but the fact that it is a glacier means that it is sinking (melting) every year.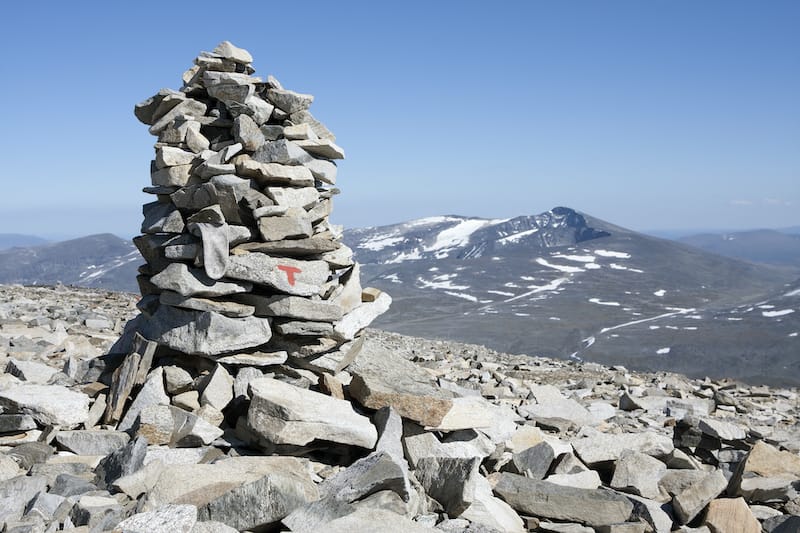 Glittertind is a demanding hike that can be completed in 6-9 hours depending on the route. You can start from Spiterstulen and walk the western trail a total of 1300 meters to the top or you opt for the slightly easier route on the east flank, which has an elevation of 1100 meters. The latter starts from Glitterheim Hut where you can also spend the night.
Glittertind is a permanently snowcapped peak and weather conditions are known to change vigorously throughout the day.
The path is evenly steep the whole way and once you've made it to the higher parts, it becomes rockier. Be aware that before you reach the actual summit, you will climb a false summit, so don't get disappointed.
At the top, you have to be careful, because the glacier can be overhanging the edge.
READ ALSO: Best places to visit in Norway during winter
How to get there: It is highly recommended to go by car when hiking Glittertind. You can drive all the way to Veodalen. There is a fee when entering the park, so make sure you have cash. The parking in Veodalen is free.
From there, it takes 1.5 hours to walk to Glitterheim or you can rent a bike to cut the time in half. However, you can get a train and bus from Otta to Randsverk and then a taxi to Veodalen. To do the hike from Spiterstulen, see how to get there in the aforementioned description for Galdhøpiggen.
Vettisfossen Waterfall
Not as demanding as the Jotunheimen hikes listed above, the Vettisfossen Waterfall hike is an astounding 5.5-hour hiking route that takes you to Norway's highest protected waterfall, and one of the highest waterfalls in Norway. With a free-fall of 275 meters, there are no words to describe its beauty.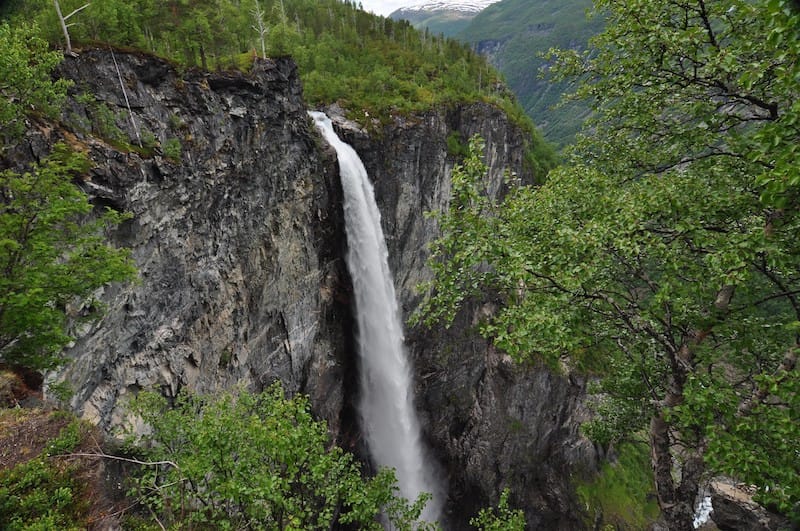 From the trailhead at the Hjelle parking lot, you need to follow the path until you arrive at a farm called Vetti Farm, where it is possible to stay the night. At the farm, there is a steep path continuing the last part to Vettifossen Waterfall.
How to get there: Drive to the Hjelle parking lot and start the trail from there. You can take a local bus from Øvre Årdal to the parking lot too.
Should You Go Hiking in Jotunheimen?
There is no doubt that there are a lot of great hiking trails in Jotunheimen National Park and the ones listed above are just a handful of the many adventurous trails you can find there.
Jotunheimen is a popular national park among Norwegians and many of the hikes there have special status among local outdoor lovers.
By exploring Jotunheimen's many hiking trails (especially the ones listed above), you will earn a respect among the Norwegians you meet or other people living in Norway, for sure!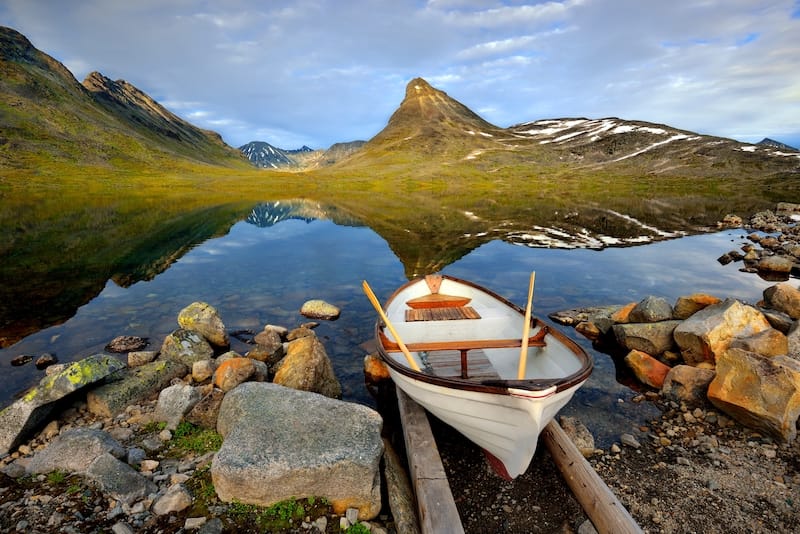 While Norway is a country that mainly has nature to show off to travelers, Jotunheimen is top of the game when it comes to beautiful scenery and demanding challenges.
I hope that this guide to hiking in Jotunheimen National Park in Norway helps you plan your trip there and answers your questions about the best hikes in Jotunheimen, where to stay, and more!
AUTHOR BIO: Linn Haglund is an avid traveler which also has experienced a lot of the negatives of tourism first-hand. As a result, she founded Brainy Backpackers, a travel blog where she helps travelers explore this amazing planet in a responsible way with respect for people, nature, and wildlife.
Find Linn elsewhere! Facebook | Instagram | Twitter | Pinterest
Pin this Jotunheimen Hiking Guide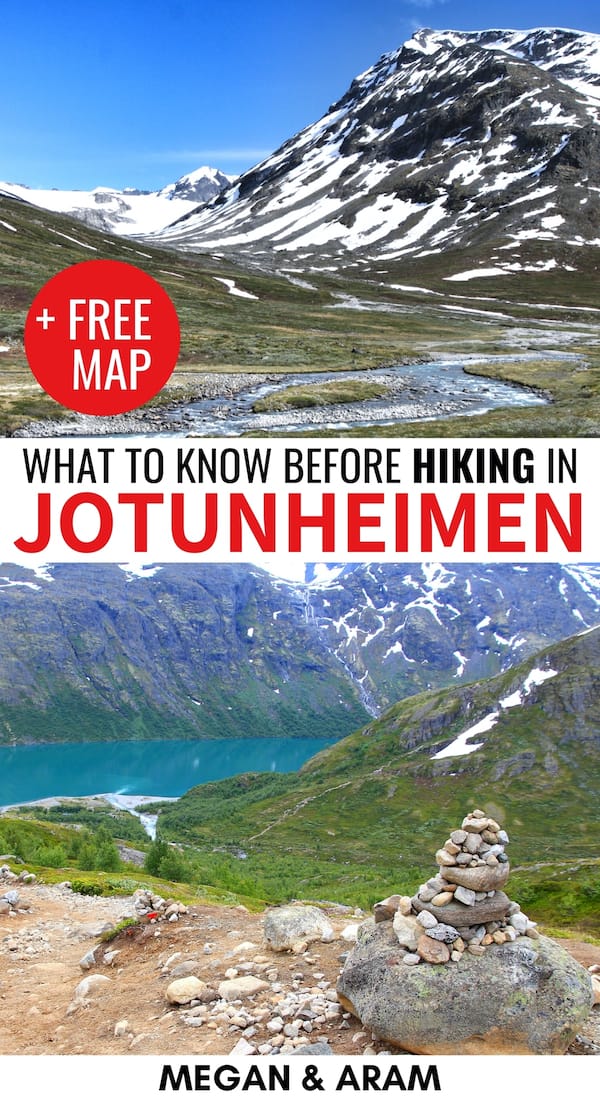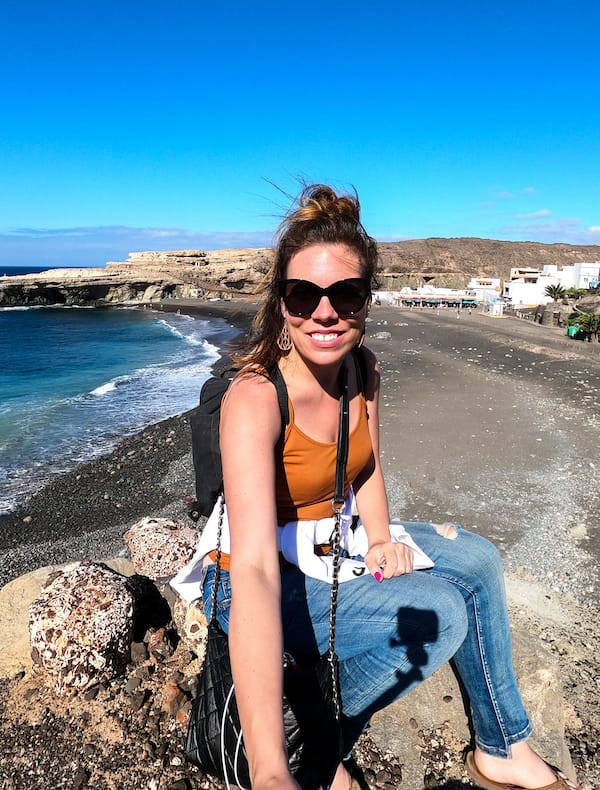 Megan is a travel blogger and writer with a background in digital marketing. Originally from Richmond, VA, she now splits her time between Frankfurt, Germany and Arctic Finland after also living in Norway, Armenia, and Kazakhstan. She has a passion for winter travel, as well as the Nordic countries, but you can also find her eating her way through Italy, perusing perfume stores in Paris, or taking road trips through the USA. Megan has written for or been featured by National Geographic, Forbes, Lonely Planet, the New York Times, and more. She co-authored Fodor's Travel 'Essential Norway' and has visited 45 US states and 100+ countries.