Are you planning a trip to Northern Norway and looking for the best things to do in Kirkenes? This guide is here to help!
Are you planning your trip to Kirkenes last minute?
If youʻre booking your trip to Kirkenes last minute, we have you covered. Below are some of the top tours, hotels, and more!
🛌 Top Hotels in Kirkenes:
Scandic Hotel Kirkenes (I stayed here – it was affordable and pretty nice)
Thon Hotel (will stay here next time in city center – has epic sea views!)
🇳🇴 Top Experiences and Tours in Kirkenes:
Snowhotel Kirkenes tour (offered year-round!)
King Crab safari (a must-do in Kirkenes!)
🚗 Looking to travel around Norway independently? Click here to check Norway rental car rates!
Kirkenes is a fantastic destination that kind of feels like it is at the end of the world. But, it is really just at the end of the Hurtigruten line!
Nevertheless, you will find plenty to do in the Norwegian town and this guide will cover not only what to do in Kirkenes, but also some of the best day trips from there.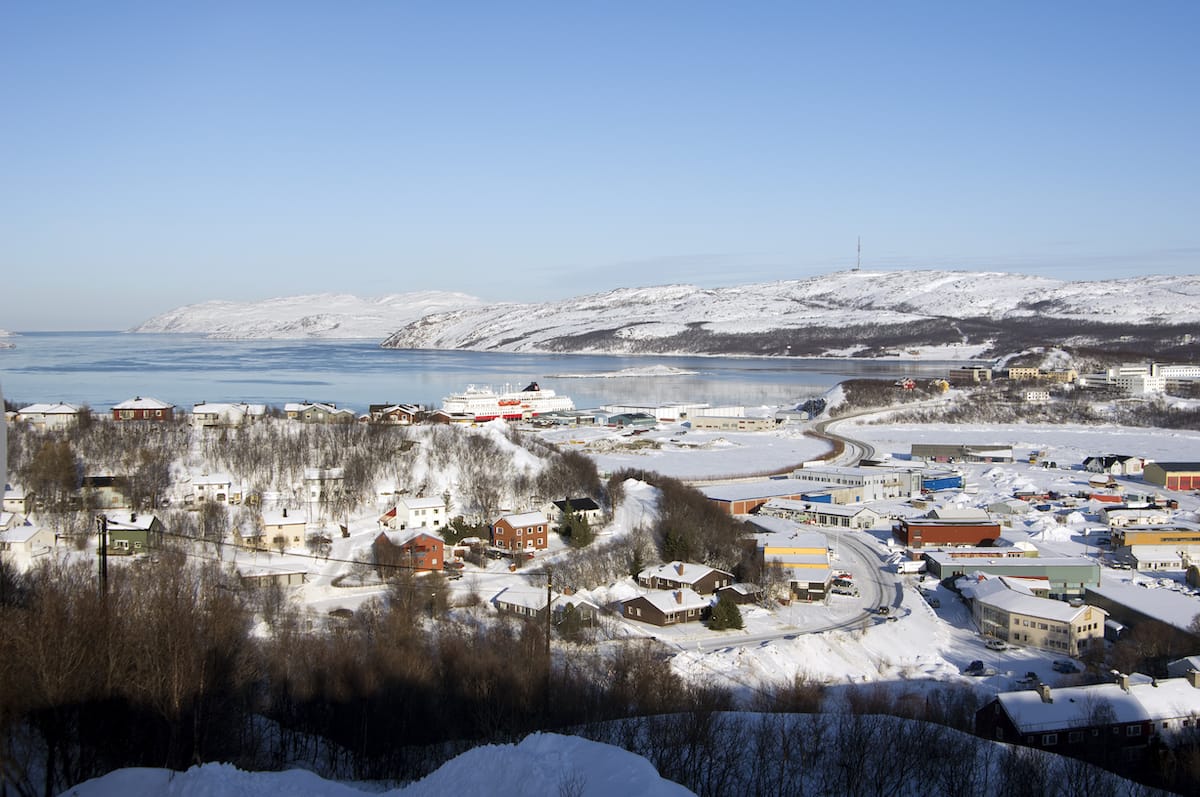 Did we miss any of the top Kirkenes attractions, tours, or landmarks? Let us know in the comments!
Best Things to Do in Kirkenes, Norway
1. Visit Snowhotel Kirkenes (a Famous Ice Hotel)
One of the top reasons to visit Kirkenes is to take a trip to the famous Norwegian ice hotel!
And the best thing about the ice hotel is that you can actually stay there all year round, making the experience quite unique regardless of what the temperature is outside.
At Snowhotel Kirkenes, you'll find the ice hotel (with several rooms, a bar, and a Santa's playhouse area), a dog-sledding complex, northern lights cabins (not made of ice!), a restaurant, and more.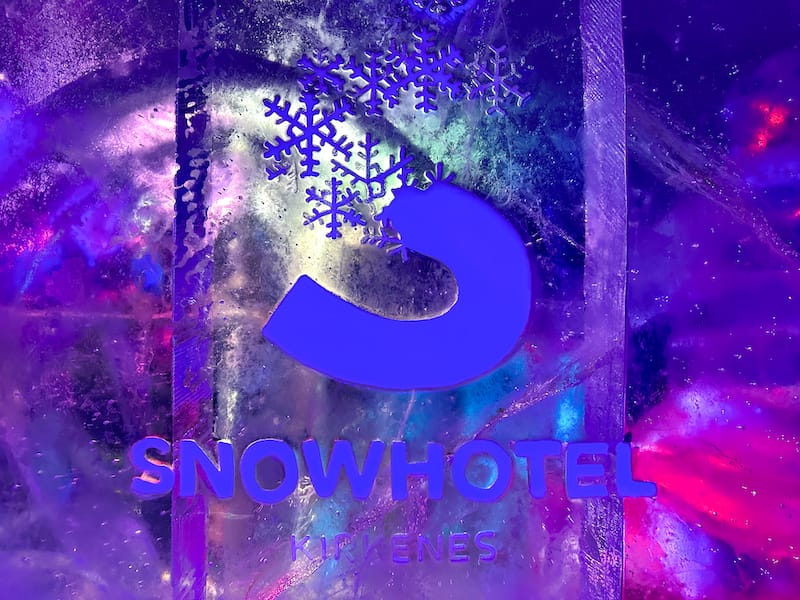 I visited in the summer and enjoyed dinner there before taking a tour of the facilities.
On the day I visited, they had a new menu at Gabba Grill where you could enjoy a variety of meats (along with a vegetarian option) in a BBQ-style setting.
However, this was only a summer thing and usually, you will have dinner at their on-site restaurant, Høyloftet.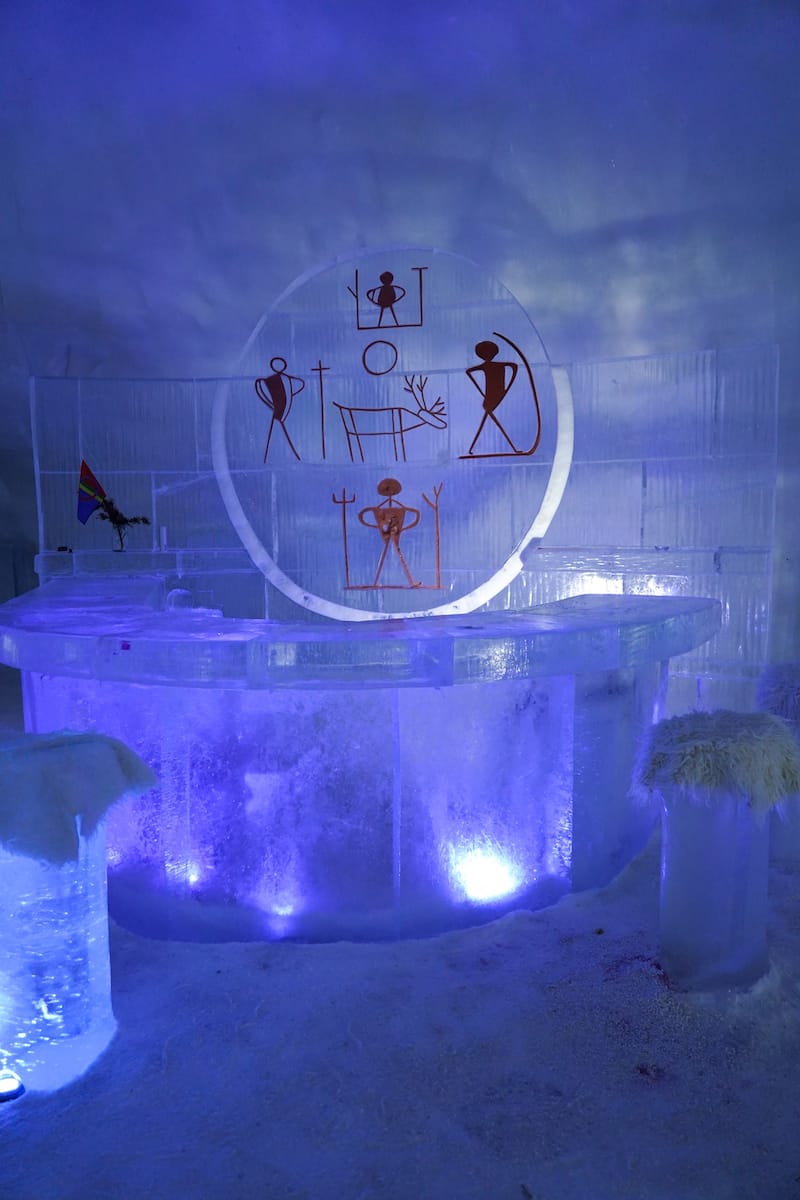 You have a couple of options for visiting the Snowhotel – you can take a tour of the place (you will need to drive yourself there), have dinner and a tour (you can book on their website), or you can stay overnight and enjoy the experience to the max!
I actually think next time I will stay overnight and enjoy the full experience as opposed to just taking a tour and having dinner like I did this trip.
>> Click here to check Snowhotel Kirkenes rates and availability
2. Stop by the Grenselandmuseet (and the Savio Museum)
One of the most important places to visit in Kirkenes is the Grenselandmuseet, or Borderland Museum.
This place will present to visitors the history of Kirkenes and how the politics and location became controversial over the years, including during WWII.
You will have a chance to learn about Sydvaranger A/S, a mining company that thrived in the area due to the extraction of iron ore.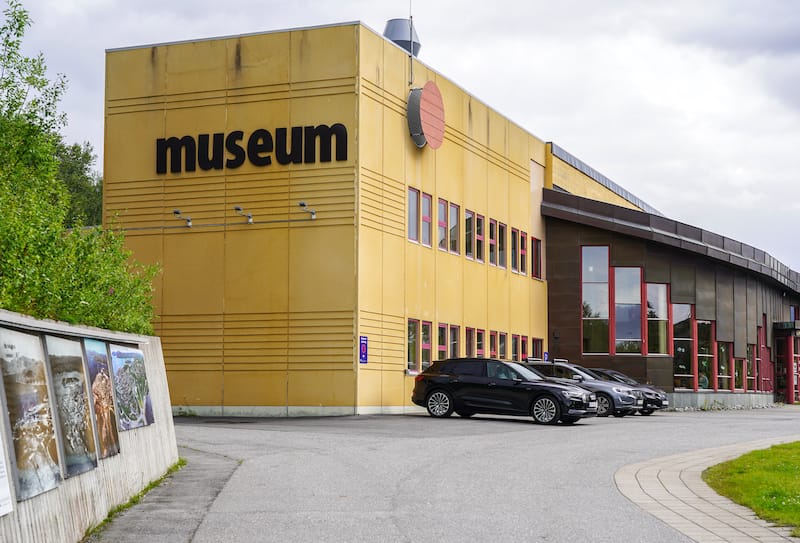 Outside of that, you will really get a chance to learn about Kirkenes' WWII history as being one of Europe's most bombed cities and more.
There is the Soviet fighter plane 'Ilyushin' there, and a room called the Espolin Room where you can find motifs and artwork from Finnmark.
The Grenselandmuseet is located with the Savio Museum, another place worth checking out in Kirkenes. It is dedicated to the artwork of John Savio, a Sami artist.
On-site, you will also find a cafe, a store, and a lot of books and literature on local history.
Address: Førstevannslia, 9900 Kirkenes
3. Have Dinner at Aurora Restobar
When you get to the north of Norway (and any Scandinavian or Nordic country), you won't have a plethora of food options that are great, in my opinion.
Outside of the larger cities like Tromsø and Rovaniemi, food options are sparse aside from the occasional Thai or sushi place.
So, when I got to Kirkenes, I sought out the top-rated places in town and Aurora Restobar popped up!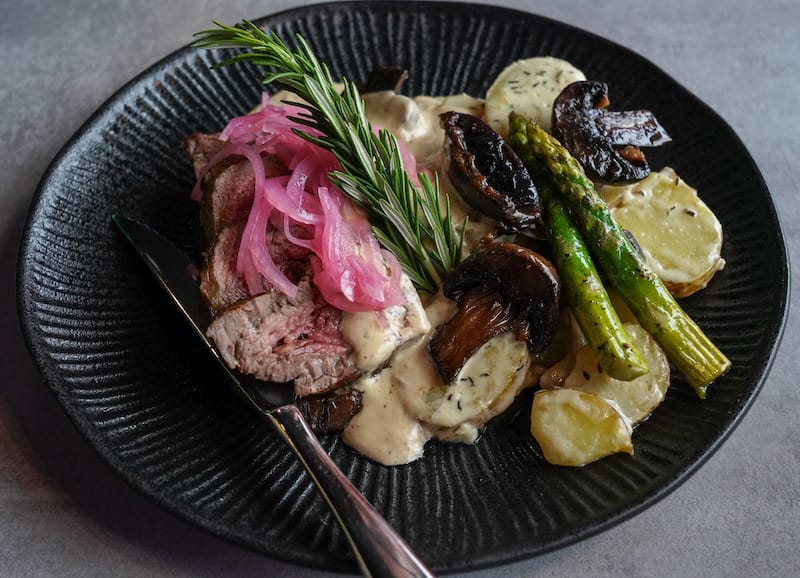 I went there and ordered their fish and chips while my partner ordered the beef fillet. Both were delicious. The beef came with an array of veggies while the fish and chips were served with home fries, pea puree, and salad.
The atmosphere was friendly and the restaurant stays open until 10pm which is a rare find up north.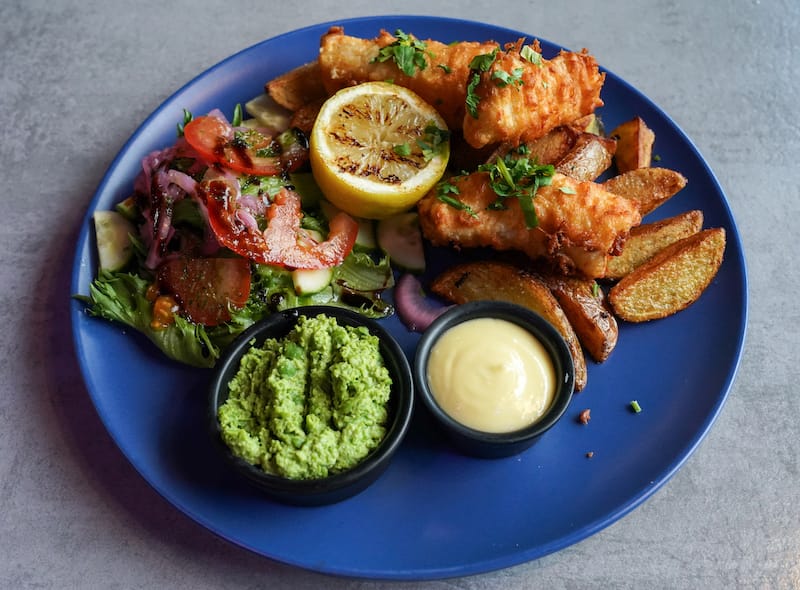 I will admit, it was pricey. The steak was around $45 and the fish and chips were around $25 or something. But, it was satisfying and money well spent.
You will find Aurora Restobar in the city center of Kirkenes. They are closed on Sundays and have shorter hours during the weekdays.
Address: Dr. Wessels Gate 7, 9900 Kirkenes
4. Go on a King Crab Safari in Kirkenes
One of the top things to do in Kirkenes is to go on a King Crab safari!
When I lived in Norway, I always associated this part of Norway with King Crabs, but I never actually knew that the crabs were brought by the Soviets to the Barents Sea in the 1960s.
Originally from Kamchatka, the first King Crab was discovered off the Norwegian coast (by a Norwegian) in 1974… and the rest is history.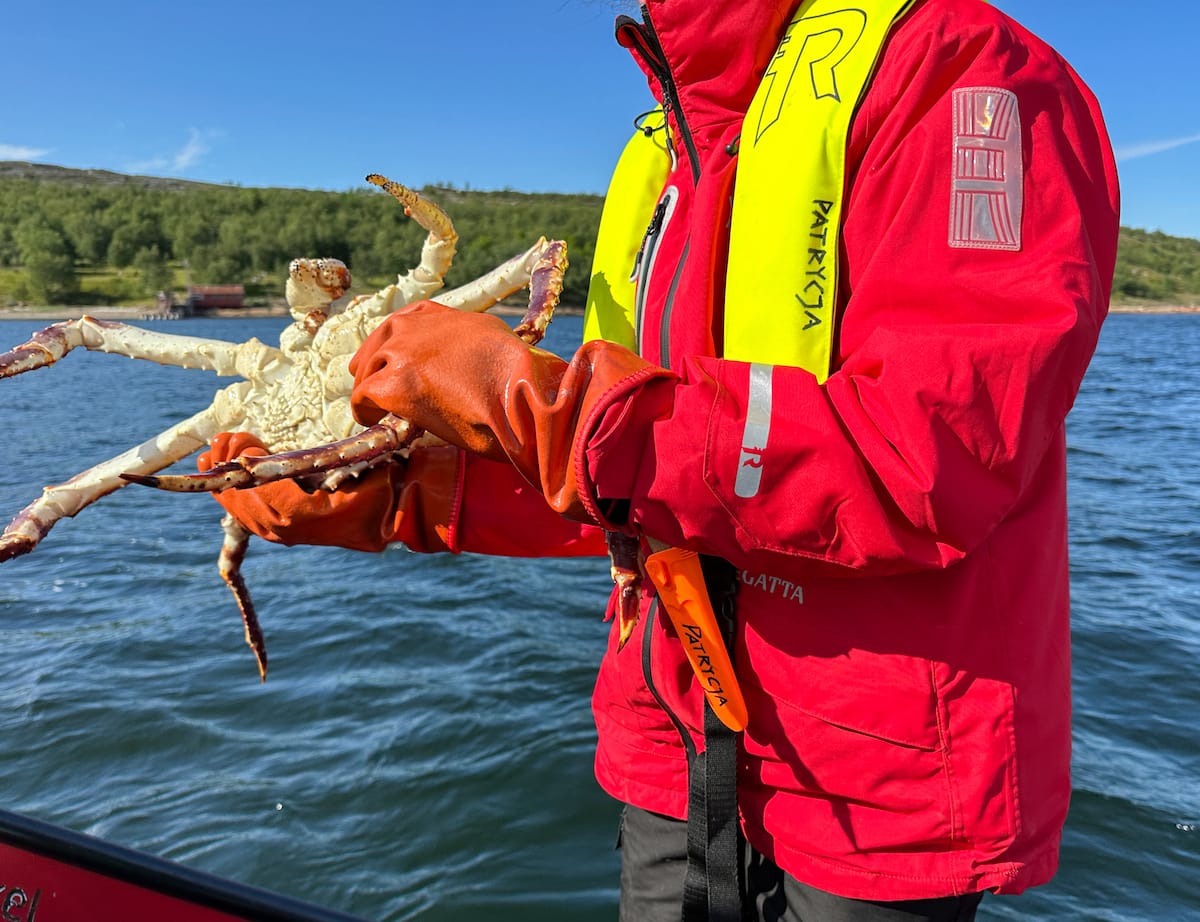 While this animal is an invasive species and created a change in the waters off of Northern Norway, the Norwegians made the best of it and created an industry around the (delicious) species.
Today, you won't find a lot of restaurants serving King Crab in Norway due to its price, but you can find it exported around the globe. And, with this King Crab safari, you can learn how it is caught, prepared, and more.
At the end of the adventure, you will get to enjoy the crab yourself. And, trust me, you don't just get a few pieces of crab meat – you WILL be filled up by the end of the trip and will get your money's worth!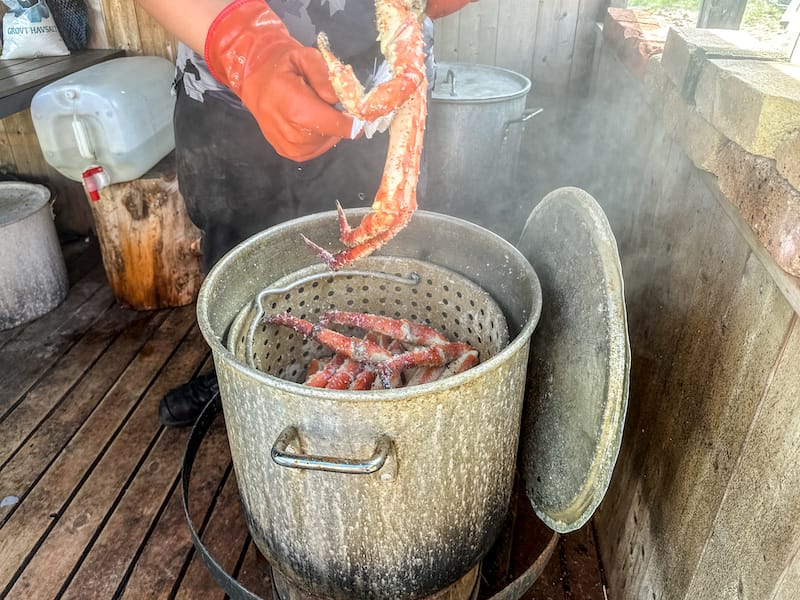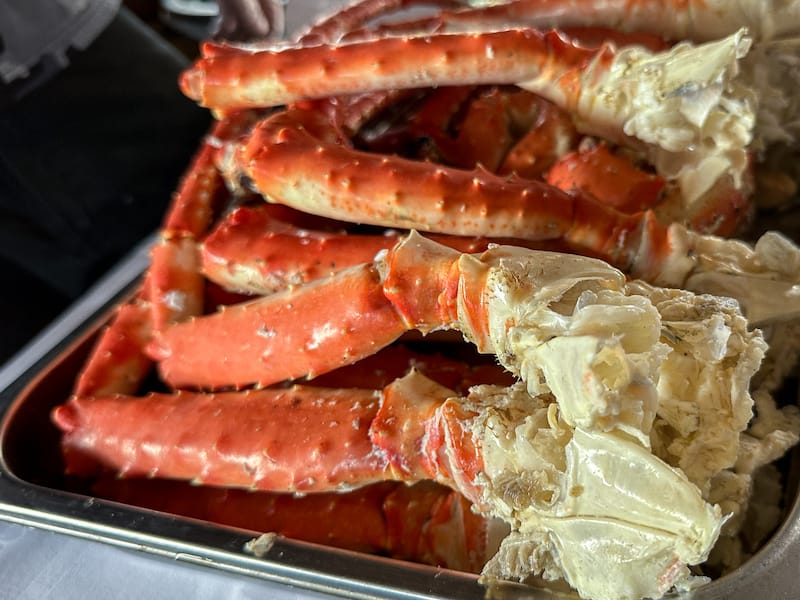 I booked my King Crab safari through the Snowhotel. The trip was somewhat costly, but I felt I got my money's worth and the tour was one of my favorite in all of Norway.
It is offered year-round and on a RIB boat. They will provide warm clothing for you… but when I went during summer, we had good weather and it was not cold at all. However, the day before, it rained and was freezing.
This tour is a must for those traveling to Kirkenes!
>> Click here to check King Crab safari rates and availability
5. See the Wild Pasvik Nature Reserve
This beautiful nature reserve spans both Norway and Russia and is located in the Pasvikdalen (Pasvik Valley).
Pasvik Nature Reserve was established in 1992 in Russia and 1993 in Russia and is known for its rich wildlife – including the highest concentration of brown bears in Norway! It is also home to many species of birds.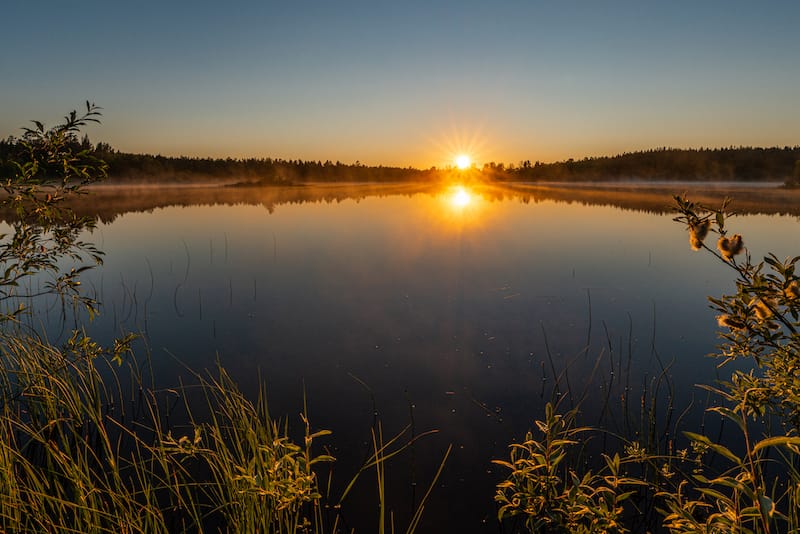 Inside Pasvik, you'll find Scots pine and birch in the northernmost parts of the reserve.
The Nature Reserve is a fantastic place to escape out into the wilderness in Arctic Norway!
6. Learn Local History at the Andersgrotta WWII Bomb Shelter
Not a lot of people know this, but Kirkenes was decimated during WWII.
It is where the Nazis and Soviets went at it and after Malta, it is said that Kirkenes was the most bombed city in all of Europe.
One place where you can see traces of this traumatic history is at Andersgrotta, a system of tunnels beneath Kirkenes that acted as a bomb shelter and bunker during the war.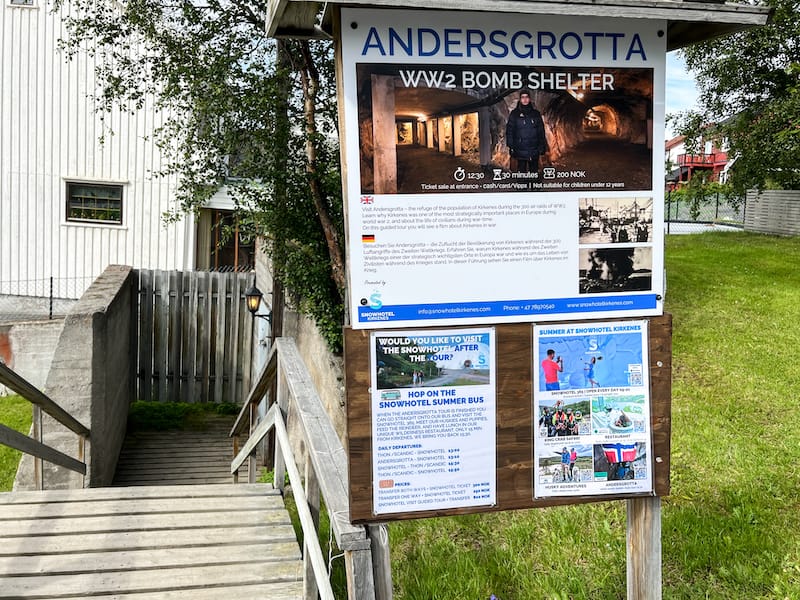 In order to visit this Kirkenes landmark, you can head directly there (it is open to the public every day at 1230 (tickets can be purchased at the entrance!) or by booking a guided tour via the Snowhotel.
Andersgrotta is located in the city center of Kirkenes and is easy to find even though you won't see several signs pointing to it.
7. Enjoy Thai Food at Bangkok Restaurant
The Arctic is teeming with Thai restaurants and you will find them aplenty from Southern Lapland in Finland all the way to Longyearbyen on Svalbard!
However, they are not always created equal depending on how much the place is willing to compromise traditional flavors for our 'sometimes' lackluster Western palates.
Or, how difficult it is to get ingredients in the north!
Nevertheless, Bangkok Restaurant in Kirkenes was tasty and ended up being one of my favorite meals during my week-long trip up here.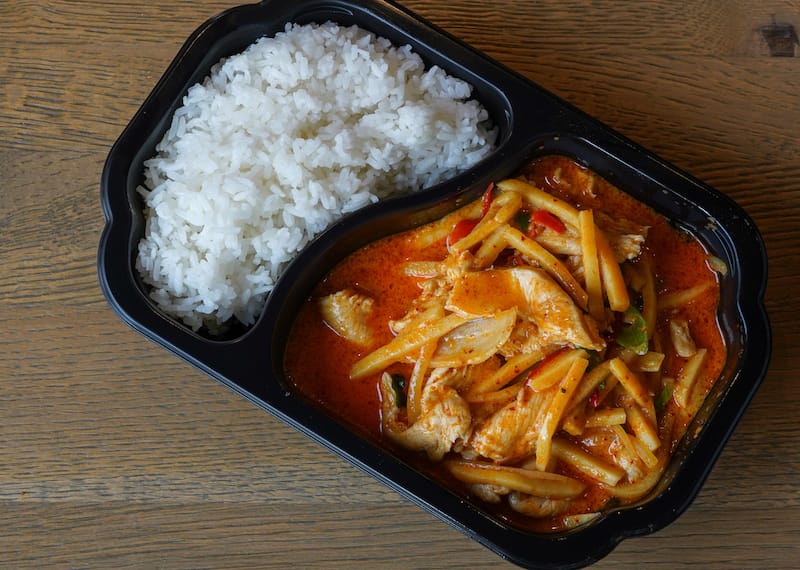 During the summer months (or at least when I went), they were operating with a smaller staff so they did not have full service inside, but they packed everything to-go and you could eat inside if you wanted.
I ordered a typical red curry and my partner ordered a beef dish. Both were extremely well prepared and to the spice level we requested. I even found a kaffir lime leaf in my curry which brought a smile to my face.
Their menu is extensive and pretty affordable compared to some of the other places we ate at on the trip. Bangkok Restaurant was rated the city's best in 2023 by Restaurant Guru and I definitely know why.
Address: Dr. Wessels Gate 9, 9900 Kirkenes
8. Visit Ä´vv Skolt Sámi Museum in Neiden
Not too far away from Kirkenes, you will find the Ä´vv Skolt Sámi Museum in Neiden (Njauddâm).
Opened in 2017, this cultural and historical complex gives the history of the Skolt Sámi from the end of the ice age all the way to the post-WWII era.
The Skolt Sámi are the Indigenous people that call Finland, Russia, and Norway border area home and you will have a chance to learn more about them, their way of life, and their language by visiting the museum.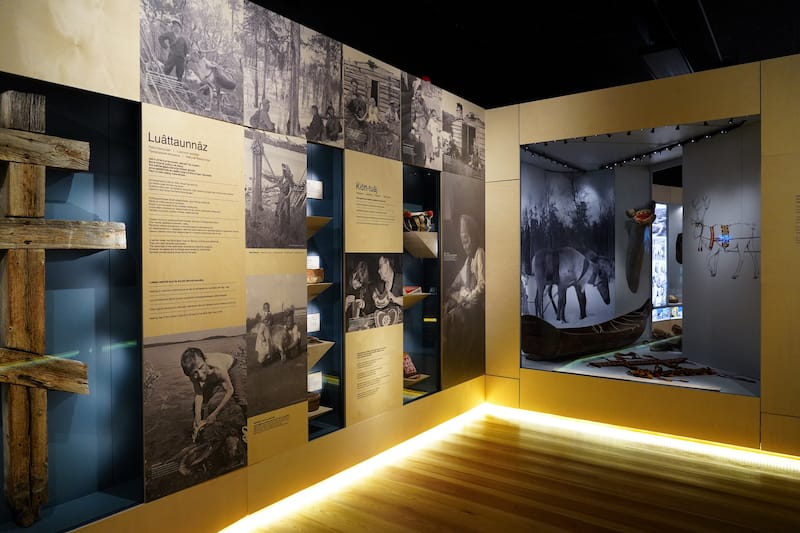 Tickets were 100 NOK per person and that included entrance to the entire complex and exhibitions, as well as tea and coffee at the end of your visit.
On their website, you will find a calendar with events taking place, as well as news, education, and more.
If you're wanting to learn about the Skolt Sámi and how the marginalized group has strived to retain their culture, traditions, and language, this museum is a must-visit.
Address: 9930 Neiden (you can see it from the E6)
9. Take a Day Trip to Bugøynes (Little Finland)
Norway is brimming with charming villages, and one of the most beautiful and remote is Bugøynes.
The fishing village sits around an hour and a half drive from Kirkenes and can easily be visited as a day trip (or even a half-day trip if you only want to spend an hour or two there).
Bugøynes is actually called Pikku-Suomi, or 'Little Finland'.
During the 19th century, it was populated by Finnish immigrants and you can see traces of that even here today. While only 200 people live in the community, I found it actually quite a thriving little place!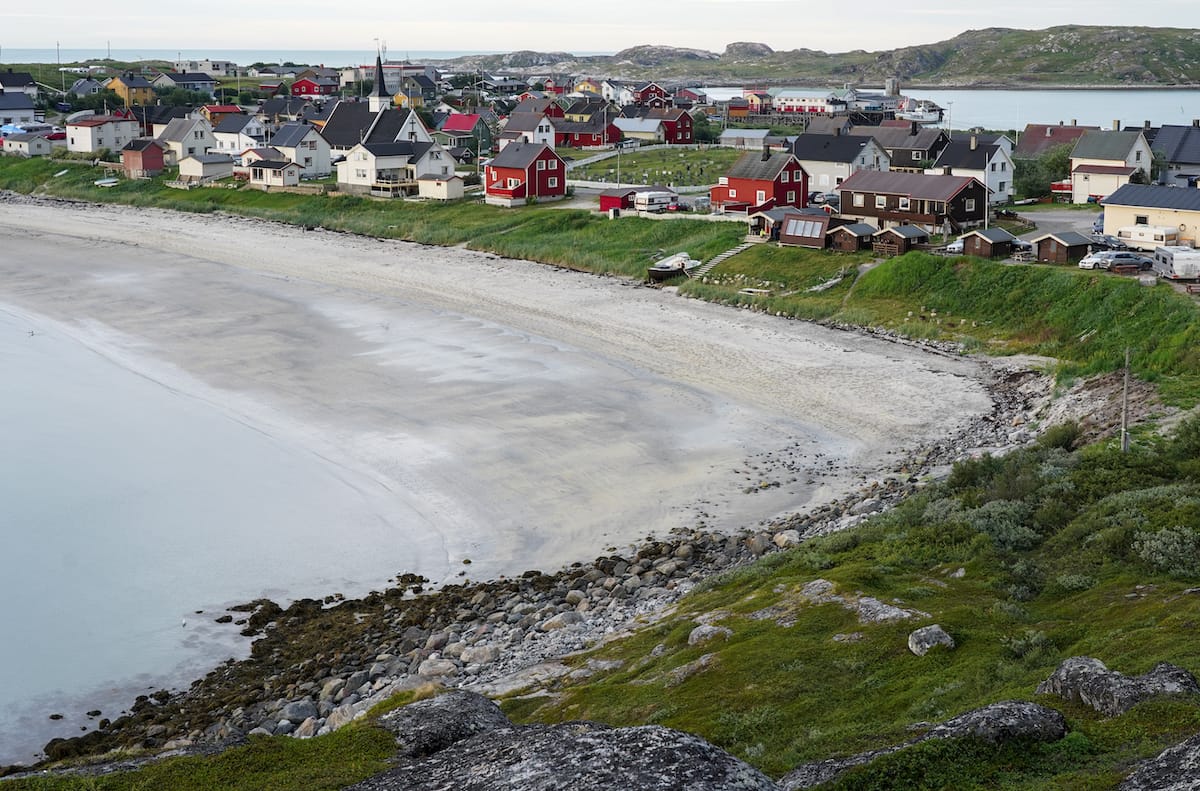 When we stopped by, their annual village festival was going on and there was loud music, a lot of people (including campervans), and tons of food catered by the local Bistro.
One of the main reasons to visit is that this village was one of the few places in the north of Norway that was never burned down by the Germans during WWII.
Today, Bugøynes has a cozy feel to it as it is saturated with wooden buildings surrounded by the Barents Sea on both sides.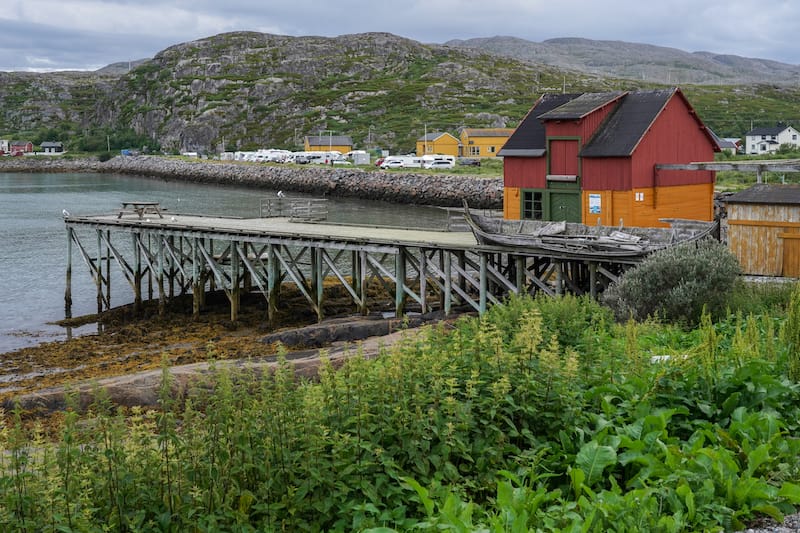 If you're looking to visit, there is a guesthouse in the center of town, a sauna (that takes you right down to the beach!), a bistro, a pub, and a beautiful chapel.
There is an area designated for campervans and they even have shower facilities on-site.
Be sure to stop by the Primafisk stand close to the area where you can walk to the campervan lot. The fiskekaker (fish cakes) were stellar!
10. Have a Focaccia Sandwich at Johnnys Lunch Bar
Johnnys Lunch Bar is a seemingly new place in Kirkenes and one that we didn't discover right away!
This small Italian-style eatery is located in what looks like an old gas station (that I think still operates around back!) and it serves freshly baked pastries and focaccia bread.
They also have gourmet products that you can take home with you (various types of pasta like bucatini and Italian sauces, etc).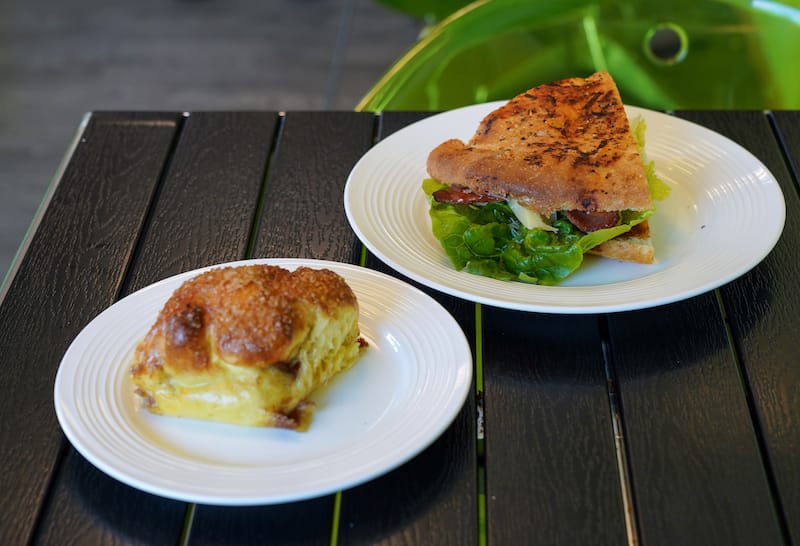 While I absolutely love bread in Norway, it was cool supporting a newer place with a different concept.
The focaccia sandwich (was a bacon one) and cinnamon bun were tasty and worth the short trek over there from the hotel.
Address: Kielland Torkildsens G7, 9900 Kirkenes
Where to Stay in Kirkenes
To be honest, you will not be spoiled for choice when it comes to accommodation in Kirkenes. And, places sell out quickly since there are so few places to stay!
When I was there, I stayed in the Scandic in the city center. The rooms were alright but I found the breakfast really good! And the staff was super friendly (and the lobby made for a good workspace).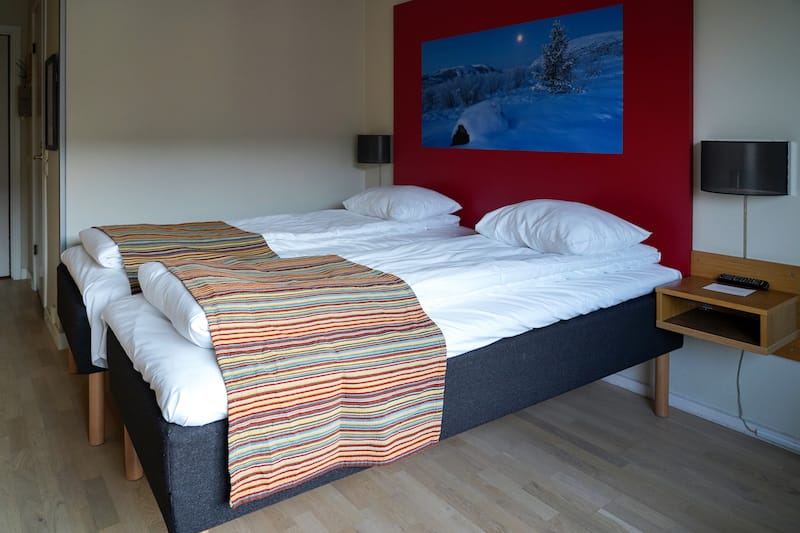 The Thon Hotel has a way better view, on the other hand. It sits right on the water.
I think I will stay there next time just to be closer to the sea, but the Scandic was just fine and I can recommend it to those coming to Kirkenes.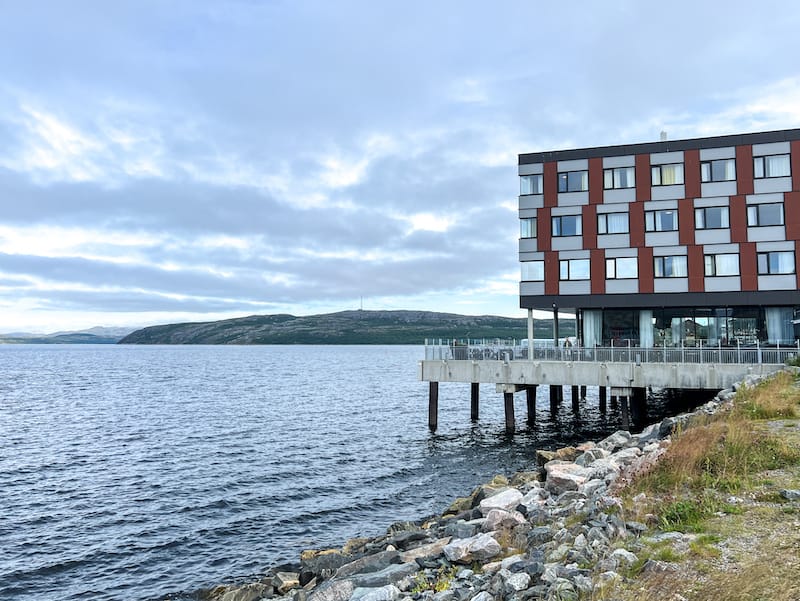 The other popular place to stay in Kirkenes is the Snow Hotel! Maybe I will actually stay there instead – but even if you don't book a room there, you can visit on an affordable tour.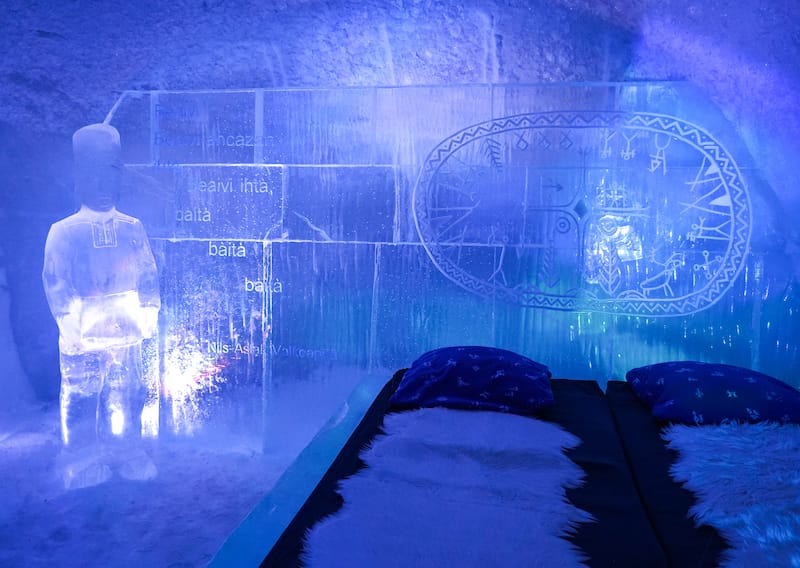 Snow Hotel Kirkenes (unique experience – recommended!)
Scandic Hotel Kirkenes (I stayed here – it was affordable and pretty nice)
Thon Hotel (will stay here next time – has epic sea views!)
Did we miss any of the best things to do in Kirkenes in this guide?
Let us know your favorite places to visit in Kirkenes in the comments!
More Northern Norway Travel Guides
Pin this Kirkenes Things to Do Guide