One of the best things about traveling to Finland is the varying seasons you will face depending on what time of the year you go. This is a Lapland packing list that includes 10 useful things to pack for Rovaniemi.
Are you planning your trip to Rovaniemi last minute?
If youʻre booking your trip to Rovaniemi last minute, we have you covered. Below are some of the top tours, hotels, and more!
Top Experiences and Tours in Rovaniemi:
Top Hotels in Rovaniemi:
I will have a full packing list for what to wear in Lapland coming soon but these 10 items are just going to give a quick overview of some items I think you should consider before traveling to Rovaniemi any time of the year.
Lapland Packing List: 10 Useful Things to Pack for Rovaniemi
Packing Tips for Lapland
Lapland is generally cold. No surprise there and if you booked a trip there, I assume you're looking for that winter wonderland (although Lapland in autumn is pretty freaking magnificent!)
You will find Lapland and its 'capital' of sorts in the northern part of Finland.
This is a guide for that area
Lappish winters are COLD. Think really negative temperatures and frozen hair. I spent winter in Ruka in early 2018 and I remember thinking my hair was going to break off.
The winters are dark and snowy (but the snow gives the illusion that it is light outside).
If you're in Lapland in summer, you will likely find it chilly, but tolerable and pleasant.
You will still want a jacket on you at all times. Mosquitoes can be ruthless and the days can be a bit rainy.
Autumn and spring are a mixture of all of this and can be pretty unpredictable.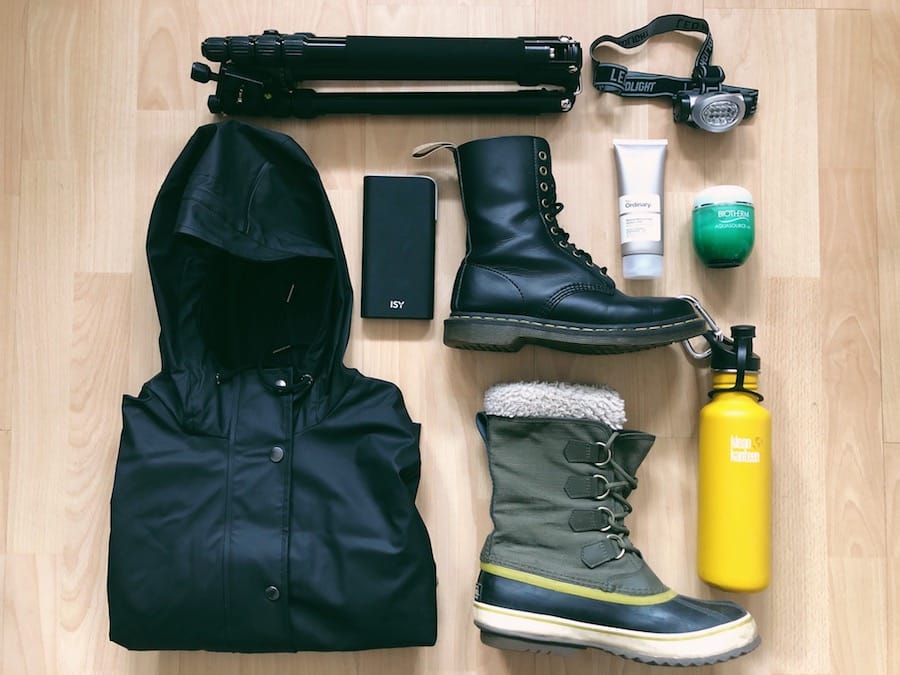 If you forget something, you will be able to find most anything in Rovaniemi.
There are a couple of shopping areas and a fair amount of grocery stores.
You will find the basics like Gina Tricot, H&M, Vero Moda, Bik Bok.
You will also find several sporting goods stores.
If you're keen to rent some gear for your trip, you can do so at Lapland Safaris.
Do check their website if Rovaniemi is not your final destination as they have offices in other parts of Lapland.
They have tents, trekking poles, clothing, shoes, sleeping bags, and much more!
As I noted before, this is not an exhaustive guide, just a few things I think you should consider taking with you… some obvious and some not so obvious.
I also list each item with my recommended season of when to consider bringing the item.
I will have a full packing list of what clothing to bring to Lapland soon.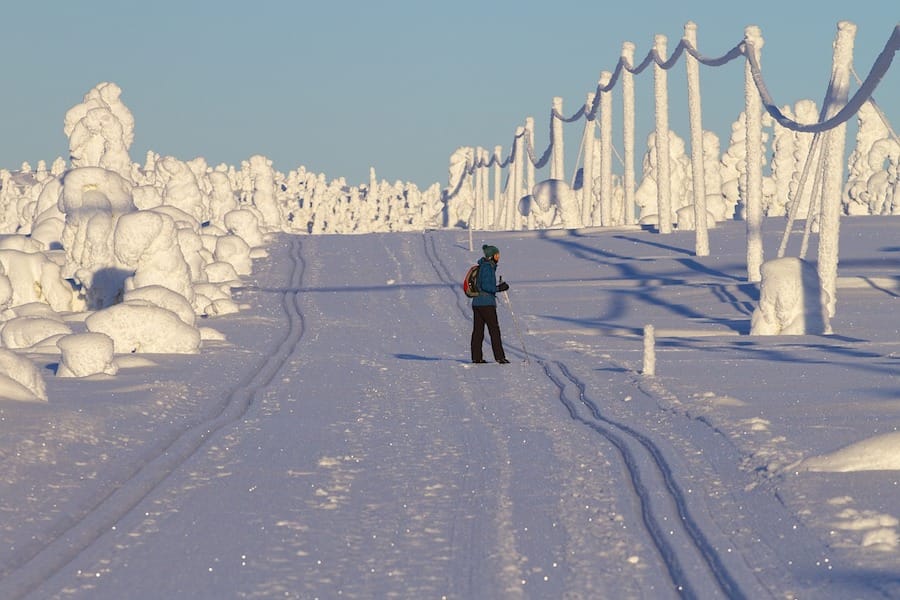 What to Pack for Lapland
Mobile Power Bank
Recommended season(s): Spring, Winter, Autumn
Bringing a mobile power bank with you to Lapland is essential if you're traveling outside of the summer season.
You may even want to bring it with you then as you could end up in remote places without a place to charge your phone and temperatures are pretty chilly at night.
The reason I suggest bringing a mobile power bank is that mobile phones suck at holding power during cold temperatures.
I always have a power bank with at least 25000mah with me at all times when I travel to places with cold temperatures and, especially, the Arctic.
You never know when you may stumble upon a reindeer or something worthy of a quick phone photo.
Below is the power bank I recommend to get the job done. It will likely last you throughout your entire trip if you're not using your phone nonstop.
Finland Guide Book
Recommended season(s): All year
It is sometimes a pain to have to haul around an additional item that you automatically think can be eliminated by reading blogs but how annoying is it to have to sit on a cell phone finding a blog or scouring the internet for answers every time you have a question?
This is the reason I still highly recommend guidebooks to those traveling on one-off trips (and not every other week, like me).
They may take up a small amount of space, but the value they add to your trip is priceless.
In Lapland, you also won't always have full service in every spot you travel to and having a guidebook at your disposal will still allow you to get the answers you need and point you in the right direction.
I love Lonely Planet Finland because it offers a bit of practical information mixed with personality and honest reviews.
This Finland guidebook is a great addition for your Lapland packing list and it will answer all of your questions when you're there.
Reusable Water Bottle
Recommended season(s): All year
I have been using my Klean Kanteen for more years than I can even count.
I have gone through a couple of them because I leave them in places accidentally, but I always instantly repurchase one when I do.
They are that crucial to the way I travel.
Plastic water bottles are an enormous problem on our planet and if you can invest in a nice water bottle like a Klean Kanteen, you can travel with it and not create more waste in the country you're traveling to.
The water in Finland is incredible and it is super drinkable (and even cold from the faucet!)
If you're looking for something a bit more stylish than a Klean Kanteen, I also recommend this designer water bottle from HAY (Danish company that did a collaboration with Sowdon) that I have and keep at my flat in Armenia.
You can check it out here if you're in the United States, or here if you're located in the United Kingdom. I also have this water bottle in 'teak wood' from Glacial, a Swedish brand.
The water is completely drinkable everywhere in Finland and it is delicious and cold.
I just arrived back from Finland and my first reaction to my tap water in Germany was that it was gross.
Trust me, take advantage of Finland's amazing water when you're there! I recommend bringing a Klean Kanteen with you for the journey.

Boots for the Season
Recommended season(s): All year (I listed options for all seasons below)
Boots are a standard for me when I travel because they allow my feet protection from the elements.
Fortunately, I can wear certain types year-round in Lapland.
During the winter and spring, I suggest a good pair of snow boots and during the summer and autumn, I recommend a normal pair of boots (that are large enough that you can fit thicker socks underneath during autumn).
If I am traveling during the summer or autumn to Rovaniemi or Lapland, I prefer to wear my black, vegan Dr. Martens.
They are insanely comfortable and go with pretty much everything I wear and can be dressed up or down (but you really have no reason to dress up in Lapland, let's be honest).
Are you a guy? If so, you will love these boots which are very similar to the ones that Aram wears regularly during the later part of the year.
If your trip to Lapland takes you there during winter or spring (especially early spring), you will absolutely need a pair of good snow boots.
I always recommend Sorels as I have been wearing them for years, even before moving to Norway, and they are comfortable, long-lasting, and pretty lightweight for snow boots.
These are the exact Sorels I currently own and recommend. Aram also wears Sorels but in black and you can see his pair here.
Moisturizer
Recommended season(s): All year, but especially winter
My skin took a bit hit in Lapland recently and especially when I went mid-winter a couple of years back. I have pretty good skin and the oiliness of my skin is pretty average.
However, it dried out both times almost instantly, which was kind of ironic given it was rained on in Helsinki for a week straight prior to going to Lapland.
I recommend you to take your favorite moisturizer with you when you pack for Lapland.
I have many heavy moisturizers but not all of them are perfect for traveling.
If you're looking for something lightweight and affordable, I recommend The Ordinary's Natural Moisturizing Factors + HA.
If you're not too picky with what you bring, I love Biotherm's Aquasource Gel (apply both in the morning and at night).
Headlamp
Recommended season(s): Autumn, Winter, Spring
It is super dark in all parts of Lapland during the colder parts of the year. It can throw a person off a bit even if the snow will help keep the sky a bit lighter than usual.
I strongly recommend bringing a headlamp with you on your travels.
There are a few uses for headlamps… the most obvious being that you can easily be seen with one on.
Don't worry if it looks goofy- everyone in the north owns one!
Reflectors can only offer so much light but headlamps can make you be seen during the otherwise dark days and nights.
Another wonderful use for a headlamp is that it helps with photographing the northern lights.
I used it when I was watching the northern lights in Tromso and Lofoten both and I also used on my latest trip to Rovaniemi to see them.
It is used to actually take photos of the northern lights with people or objects in them.
Many tour companies provide them to customers but given how useful and cheap they are, I highly recommend just bringing your own.
Tripod & Remote
Recommended season(s): Autumn, Winter, Spring
Guess what? You can't usually see the northern lights in all their glory with the naked eye.
Sure, you can tell there are northern lights going on, but they will just look like a white streak in the sky unless they are powerful.
As a result, you will need to plan to photograph them accordingly.
You will want a camera that you can set a long exposure on.
But, you will also need a durable tripod as well as a remote if you really want clean photos.
If you book a tour, the guides will help you with settings, no fear! You will definitely want to have your own equipment, on the other hand.
I always use a Manfrotto tripod when I travel. I have their tripods in a full-size style as well as a miniature one.
You will also want a remote to ensure the photos are clean and have no movement from pressing down on it.
Having a remote also helps because it will be super cold outside and you can just grab the remote and stick your hands in your pockets with it and not freeze.
Below are our suggestions for a tripod and remote.
Medicines You Need
If you take medication on a regular basis, you will definitely want to bring your meds along with you to Finland and triple-check that you do!
There is a pharmacy in Rovaniemi (I went there for flu medication, actually) and while they sell basics, it is not as stocked as the US or UK and you will find it challenging to get prescriptions filled without a strict doctor's note.
I was able to purchase zinc for flu-like symptoms that were hitting me, but I can't imagine I would have been able to get meds too much heavier than that.
Thermal Leggings and Shirt
Recommended season(s): Autumn, Winter, and Spring
One thing I learned after my time spent living in Norway was that thermals were essential.
I wanted to shun them at first because I hate the thought of extra clothes on my body since I am claustrophobic, but I quickly discovered how being cold sucked more. So, I caved.
I highly recommend bringing thermal pants (long johns) and a top with you to lay underneath your clothes… especially if you're from somewhere slightly warmer than Lapland … which is, um, everywhere except probably Canada.
And, if you're Canadian, you probably already know how essential thermals are.
I love these ones from Kari Traa, a Norwegian women's clothing brand that I absolutely fell in love with when I lived in Norway.
They are colorful and you can wear them without something over it if you get too hot and it is still Nordic in appearance and fun.
I always get compliments on my stuff from Kari Traa as people think it has a lot of personality.
If you are a guy and looking for a set of thermals, I can also recommend this one from Helly Hansen, another Norwegian brand that makes excellent long johns.
Winter Parka
Recommended season(s): Spring, Winter, Autumn
In early autumn or late spring, you definitely don't need a winter parka (use your best judgment based on your tolerance to the cold).
However, you can't survive the winter season and some of the months around it without a good, heavy parka.
I recommend the Helly Hansen Svalbard Parka… I have it in black (pictured maroon though as I wish I had purchased it in this color!)
When buying a parka for the Arctic, I always advise people to pick one that is not short.
This parka goes mid-way to my knees which is perfect for keeping some of my legs sheltered from the cold.
If you're looking for what to pack for Lapland for the early autumn, summer, or late spring, I recommend a great rain jacket!
I have two ones that I wear a lot- my black one from Samsøe & Samsøe (Denmark) and a teal one from Rains (Denmark).
The weather can be notoriously unpredictable and it is better safe than sorry!
I was recently there in autumn and it rained daily for a week straight. Not all day, however.
But, as soon as I left my flat and wandered about the city, the rain would inevitably find its way over the capital city.
Thankfully, I was always prepared because I had my raincoat with me.
You can find my favorite rain jacket brand here.
Nevertheless, if you don't own a winter parka- invest! Trust me, your body will thank you!
Bonus: Travel Insurance
One thing you should never travel without is travel insurance.
Trust us! You never know what may happen, even in a safe country like Finland, and it is better to be covered at all time.
We recommend using SafetyWing, a Norwegian company that specializes in worldwide coverage at affordable prices.
>> Click here to get a Finland travel insurance quote
This Lapland packing list is obviously not conclusive of everything you should pack but it does detail some of the more important things to pack for Rovaniemi and other places in Lapland.
If you have any comments or suggestions, please leave them for us to answer!
We will have more detailed, seasonal guides coming out soon for all of Finland, so please standby for that!
More Lapland Winter Guides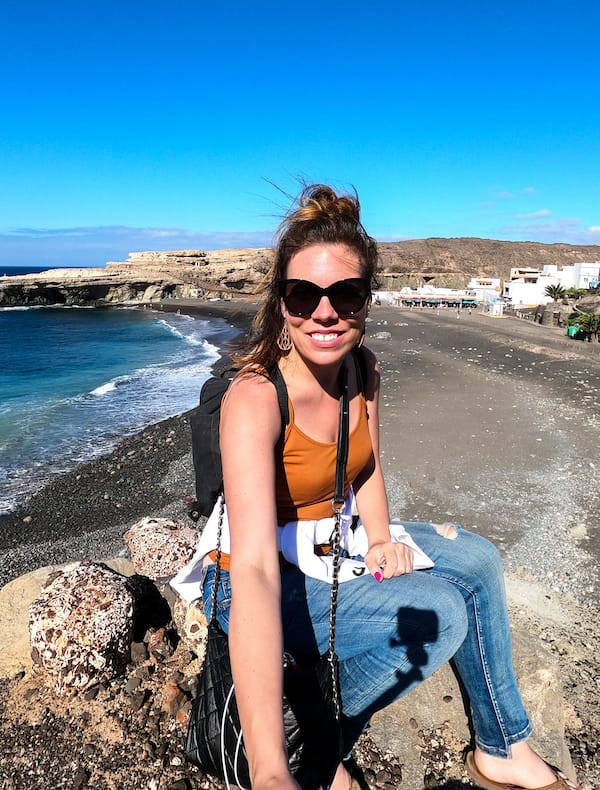 Megan is a travel blogger and writer with a background in digital marketing. Originally from Richmond, VA, she now splits her time between Frankfurt, Germany and Arctic Finland after also living in Norway, Armenia, and Kazakhstan. She has a passion for winter travel, as well as the Nordic countries, but you can also find her eating her way through Italy, perusing perfume stores in Paris, or taking road trips through the USA. Megan has written for or been featured by National Geographic, Forbes, Lonely Planet, the New York Times, and more. She co-authored Fodor's Travel 'Essential Norway' and has visited 45 US states and 100+ countries.