Are you planning your trip to Lapland and looking for the best Rovaniemi restaurants? This guide discloses my favorite places to eat in Rovaniemi (and what I typically order at each)!
Are you planning your trip to Rovaniemi last minute?
If youʻre booking your trip to Lapland last minute, we have you covered. Below are some of the top tours, hotels, and more!
🇫🇮 Top Activities and Tours in Rovaniemi:
🛌 Top Hotels and Lodging in Rovaniemi:
Arctic TreeHouse Hotel (famous place by Santa Claus Village)
Hostel Koti (a budget option w/ private rooms)
Apukka Resort (glass igloos in a remote location)
Arctic Light Hotel (top-rated in Rovaniemi)
🚗 Looking to travel around Lapland independently? Click here to check Finland rental car rates!
Okay, I must admit, there are not too many restaurants in Rovaniemi.
And this list covers a rather large portion of them… but I hope to keep this guide updated and add new, delicious places as they open.
I like to include a lot of traditional food in restaurant guides typically, but you will find only a few traditional Lappish restaurants in Rovaniemi.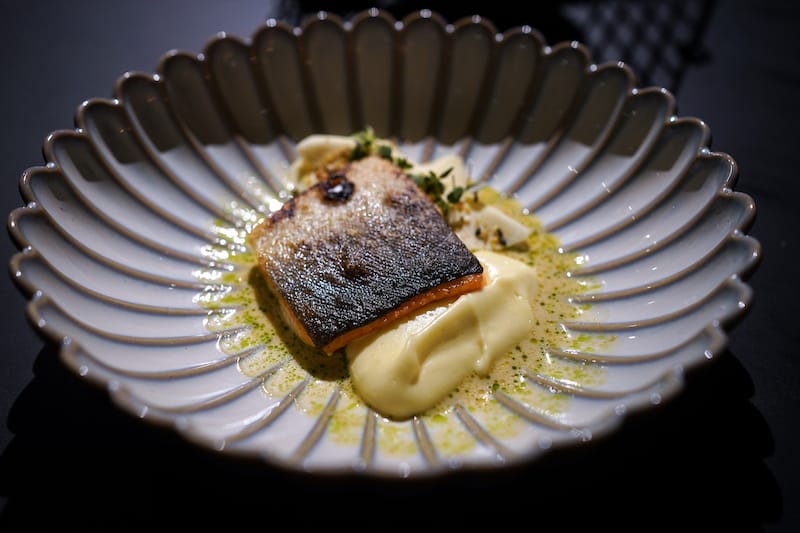 So, I am including a variety and am happy to answer any questions you have below!
At the bottom of this Rovaniemi food guide, I also list some of my favorite cafes and additional places that I think might be worth your time.
Let me know if there are any amazing places I left off this list. Thanks!
Eating Out in Rovaniemi Quick Tips
Reserving a Table at a Restaurant in Rovaniemi
Do you need to reserve a table in Rovaniemi? Well, it depends on when you're visiting and it depends on WHERE you're visiting.
If you're in Rovaniemi during the high season (winter), it is always a safe bet to book a space ahead of time.
However, if you're eating at one of the Asian restaurants on the guide, you can usually find space, but the more traditional restaurants tend to fill up quickly.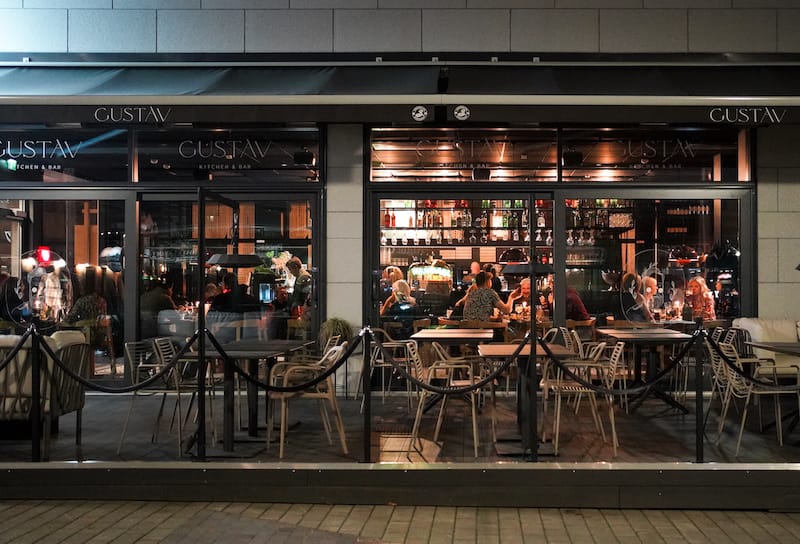 If you're booking at Gustav… book a table regardless of what time of the year you go there! It is always busy with travelers and locals (and for very good reason).
Booking a table is relatively easy – you can just go to their website or Facebook and they will usually have a system in place with options for time and date.
Since I am often traveling alone and don't like taking up an entire table by myself, I always let them know I am fine sitting at the bar if it is convenient for them. That is completely up to you!
Tipping and Paying
As an American, I feel rotten if I don't tip even if know the wait staff is paid well. So, I do it anyway.
But, sometimes it is not easy to do it in Finland as they have already put the amount in the machine or you pay before you get your meal. This is totally fine if that happens.
All restaurants take credit cards or even Apple Pay. If you are paying after your meal, just tell your waiter or waitress that you intend on leaving a tip and how much extra to add.
Is Water Free?
Yes! Almost always, at least. In Rovaniemi, you can get tap water for free, and more often than not, they will bring you a glass jug filled with the stuff.
Sparkling water is not free, however.
What's on the Menu in Rovaniemi?
In Finland, you will find a variety of ingredients but if you're looking at typical Northern Finnish food, some of the ingredients you will find in the dishes include:
Berries like: Lingonberries, Blueberries, Cloudberries, Currants (red and black)
Meats such as: reindeer, elk
Herbs like dill and thyme
Fish such as: Arctic Char, Salmon, Pike, Perch
Pickles
Mushrooms
Other root vegetables like carrots, rutabaga, parsnips, leek, beetroot, salsify, potatoes, etc.
Rye bread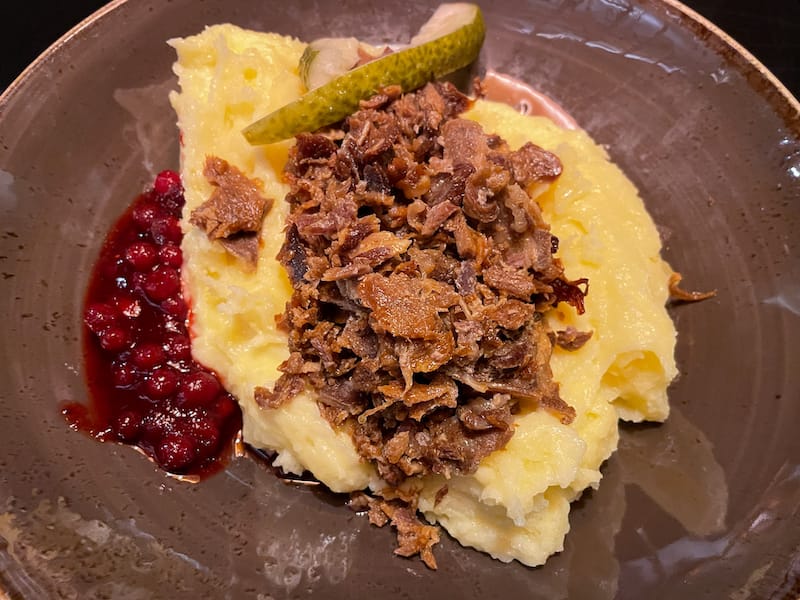 Best Restaurants in Rovaniemi
1. Cafe & Bar 21
If you're looking for the absolute perfect place to get lunch in Rovaniemi, look no further than Cafe & Bar 21.
I have easily eaten here 6 times throughout my trips (and it was even undergoing renovations when I was there in 2021, so I didn't get to enjoy it on that trip), and it really is one of my favorite spots in the city.
Their specialty is waffles. And these waffles are elevated and so flavorful! My first time there I got a reindeer sausage one but it has been taken off the menu.
Most recently, I opted for their spicy chicken one that had a Korean twist to it and it was absolutely incredible. I loved it so much that I got it multiple times and I also ate their salad with that same spicy chicken.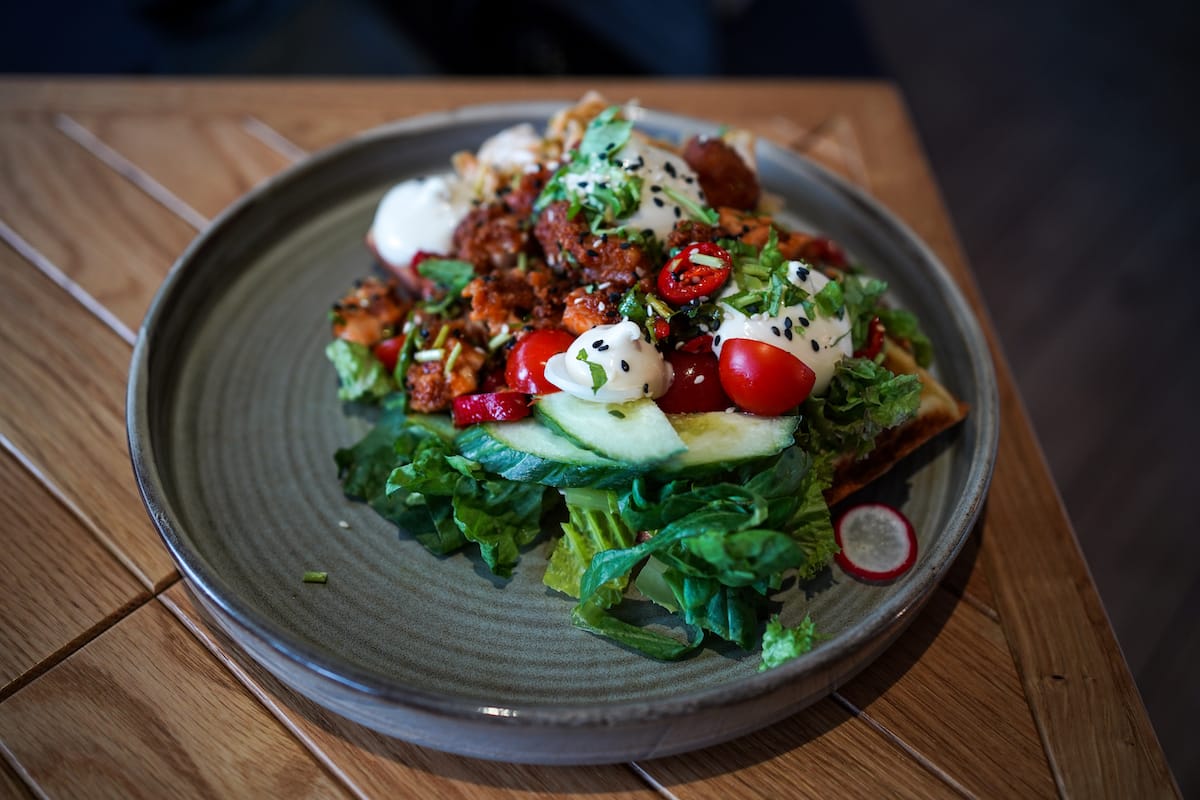 One thing I love about the place is that you get a free coffee with your purchase and you can help yourself to it. They also have delicious gelato (I had their Snickers-flavored one).
Cafe & Bar 21 is open Monday-Thursday from 1100-2000, Friday from 1100-2100, and Saturday from 1200-2100. They are closed on Sundays.
Do note that if you go there on a Saturday morning for their brunch, it will be packed!
Address: Rovakatu 21
Website: https://www.cafebar21.fi/
2. Ravintola Roka Street Bistro
I have had the pleasure of eating at ROKA Street Bistro multiple times and I have never had anything other than a fantastic experience.
Be warned – this place gets crowded and it is not large (fits around 25 people). Every time I have eaten there, I had a window seat as a result (which was totally fine as I have always eaten there alone).
I love this place because it has a variety of different dishes and something for everyone.
You can have everything from risotto (the salmon, ginger, and lemon one is delicious) to sandwiches which are fantastic for a lunch outing.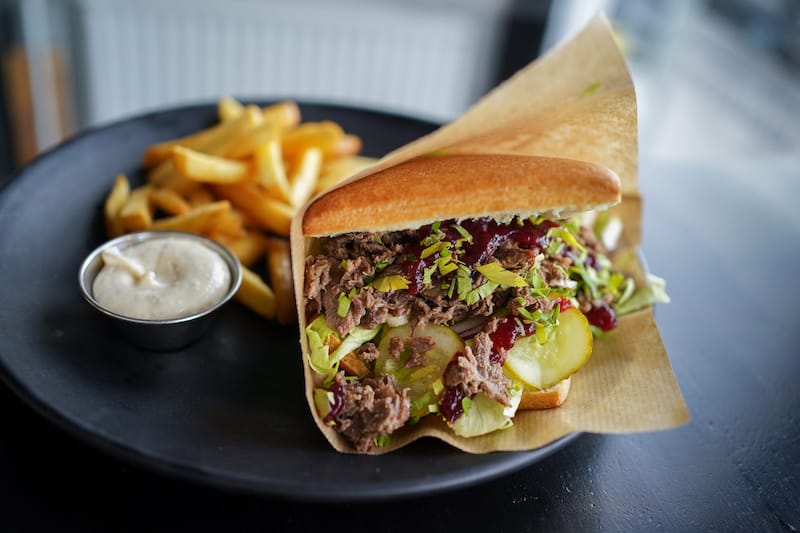 I had their reindeer sandwich last time I was there and it was extremely tasty!
Their lunch menu is available from 1100-1400 and the dishes they have to offer are accompanied by a house salad or french fries.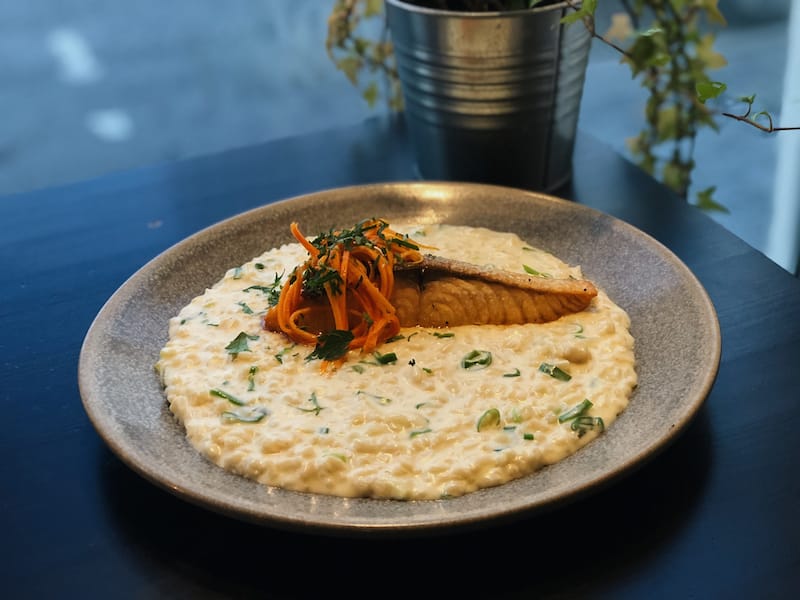 ROKA is open Monday-Thursday from 1100-2100, Friday from 1100-2200, Saturday from 1200-2200, and Sundays from 1400-2100.
They only take reservations on the same day of the booking and by calling them.
Address: Ainonkatu 3LH2
Website: https://ravintolaroka.fi/streetbistro/en
3. Thaibaan
A new place that opened recently in Rovaniemi is Thaibaan Restaurant. This place is located in the heart of the city and serves the tastiest Thai food in Rovaniemi!
Thaibaan is nicely decorated inside and I had fantastic customer service there. Their menu contained everything from Tom Kha Kai to a popular red curry.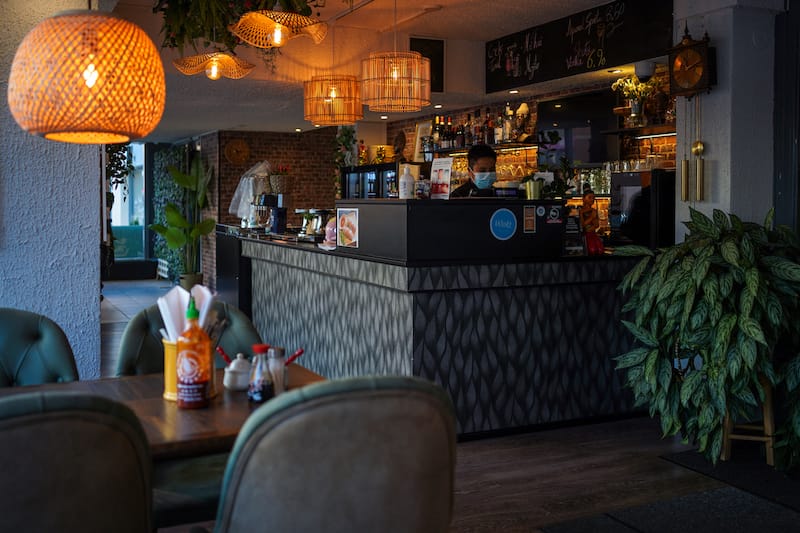 I ordered a red curry spicy and it came exactly as I had wished. And I was even shocked to see pea aubergines up in Rovaniemi, but low and behold, my curry had them. It was really delicious!
The Rovaniemi restaurant has a lunch menu served from 1100-1400 (many dishes are around €11.90).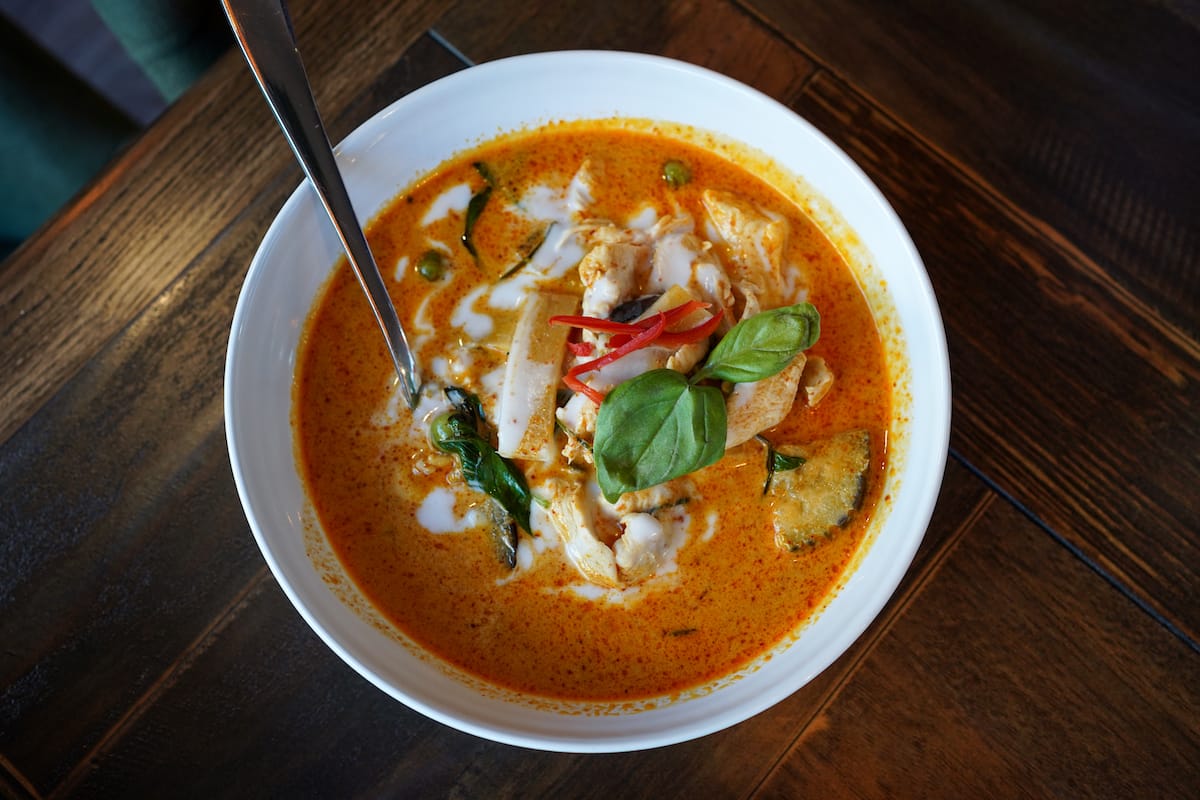 Their typical hours are Monday-Friday from 1100-2000 and Saturday from 1200-2000. They are closed on Sundays.
Address: Rovakatu 26
Facebook: https://www.facebook.com/thaibaan
4. Gustav Kitchen & Bar
It is very rare that I fall in love with a restaurant and immediately venture back there as soon as I land back in a place… but that is the case with Gustav Kitchen & Bar.
I even made reservations before landing in Rovaniemi on this last trip! Gustav Kitchen & Bar is a mix of fine dining and casual with some of the tastiest food I have ever had.
The place is absolutely comfortable and lacks that pretentious atmosphere you get at places that serve up the same quality of dishes!
You will need to book a place here, especially during the high season. But, you can do that easily on their website.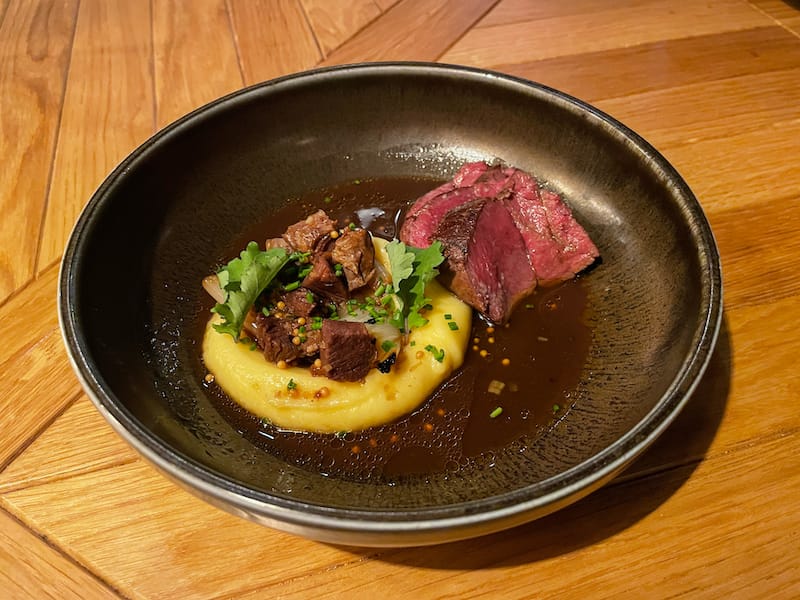 I am usually dining alone so I book and make a note I am by myself so they can put me at the bar or wherever is easy for them.
So, there is not a huge menu here (thank goodness) and many of the ingredients are super seasonal and local. The place is rather international in its offerings but it kind of has a nod toward Finland and Italy.
However, the sourdough bread and butter that is served before the food is out of this world. I have eaten a variety of things on the menu and on the latest trip I enjoyed sunchoke soup (Jerusalem artichoke) and Arctic char.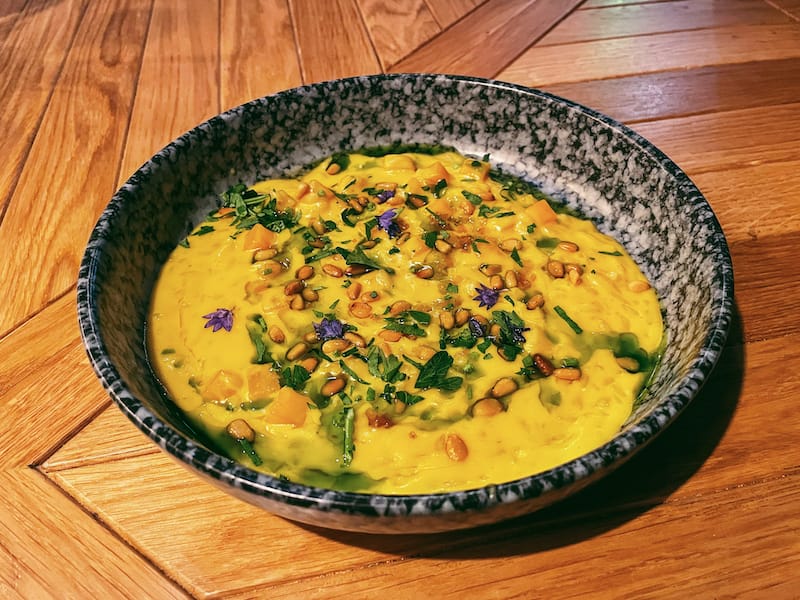 The dishes are small plates so it is best to order two! These photos are from my 2021 trip there as my latest ones didn't turn out so well!
Gustav is open Tuesday from 1100-2200, Wednesday-Thursday from 1100-2300, Friday from 1100-2400, and Saturday from 1400-2400. They are closed on Sundays and Mondays.
Address: Koskikatu 12
Website: https://www.gustavkitchenbar.fi/en
5. Santa's Salmon Place
Okay, this is a stretch and not really a place that locals will check out, but Santa's Salmon Place is located at Santa Claus Village and is GOOD.
It is located right outside of the complex and recently moved from one cozy teepee to another in late December 2023. They serve the smallest of menus but the salmon is so good!
I had some glogi, or mulled wine, alongside some fire-grilled salmon and bread.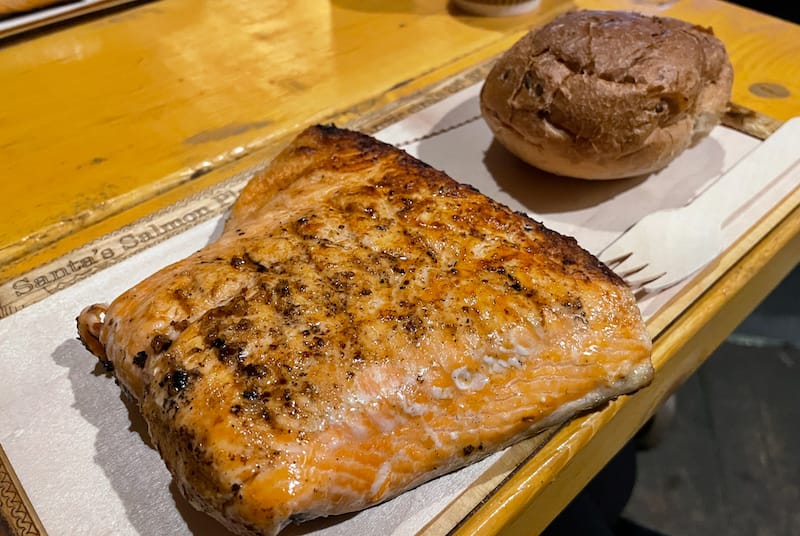 The inside of the kotu is tiny, so it does not fit many people, but if you happen to be around when the village is not so busy, do head there and grab some salmon!
Santa's Salmon Place has no set hours (it is by demand at Santa Claus Village) and does not take reservations.
Address: Santa Claus Village, Pukinpolku 3
Website: https://santas-salmon-place.com/
6. Yuca
Named Finland's best Mexican restaurant, this place is a gem in one of the most unassuming locations. Why I can't find good Mexican food in international Frankfurt but can find it in Arctic Finland is beyond me… but here we are.
Taqueria Yuca specializes in homemade tacos and other Mexican dishes. All is the creation of Fernando and Fernanda, a chef and bartender from Tulum.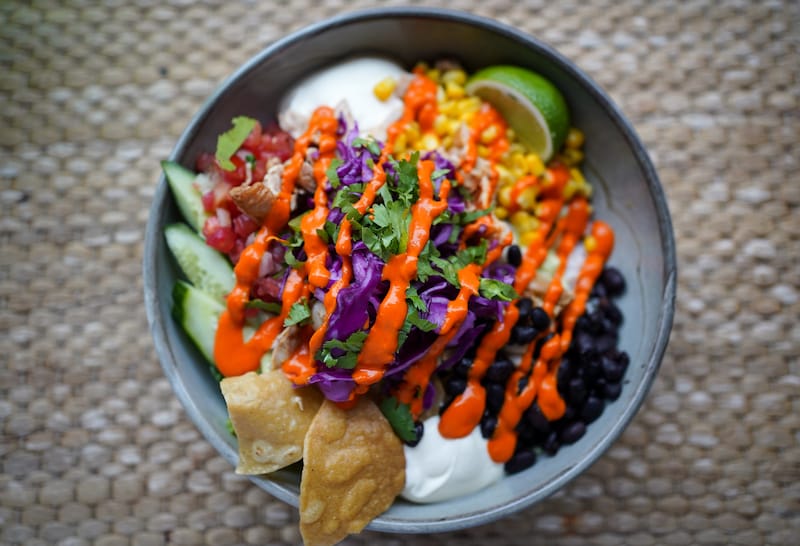 You'll find a variety of tacos on the menu in the evenings and one on a weekly, rotating menu during lunch hours. They also have burrito bowls for lunch.
And while I love their food, one thing I found myself heading there to eat was simply their delicious tortilla chips, guacamole, and pico de gallo.
I guess that is exactly what I miss from the US and it was so delicious at Yuca that I went there like 4 days in a row on my last trip just for that.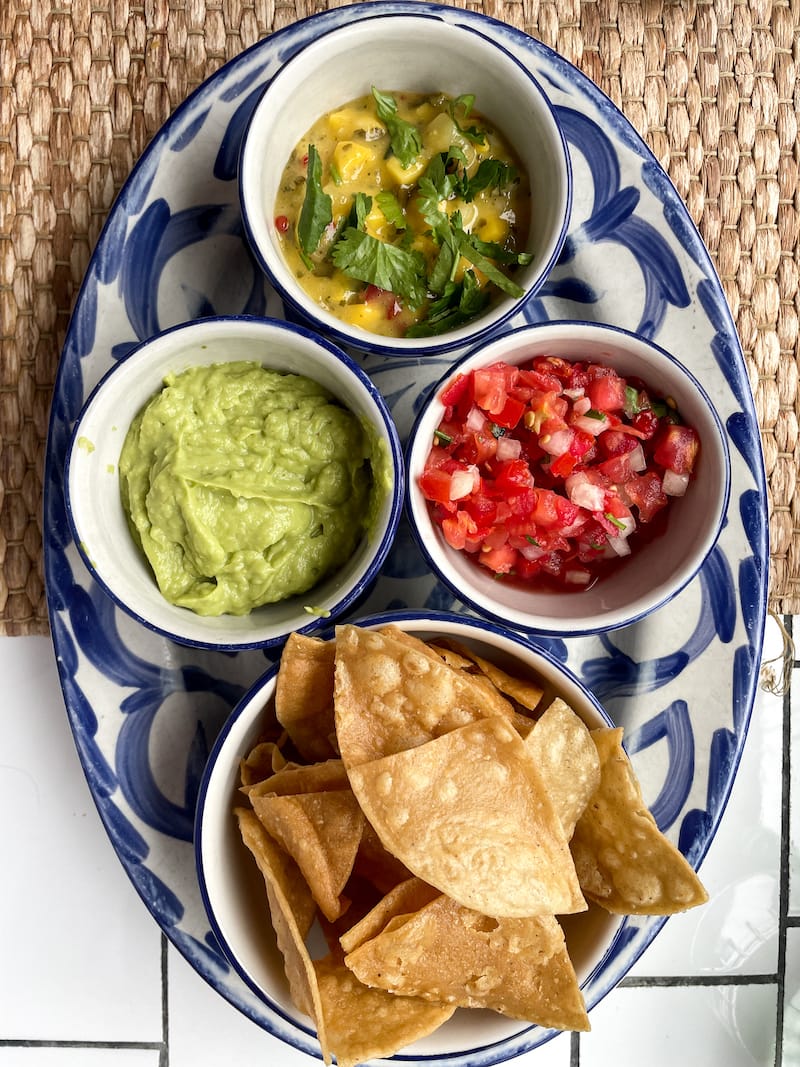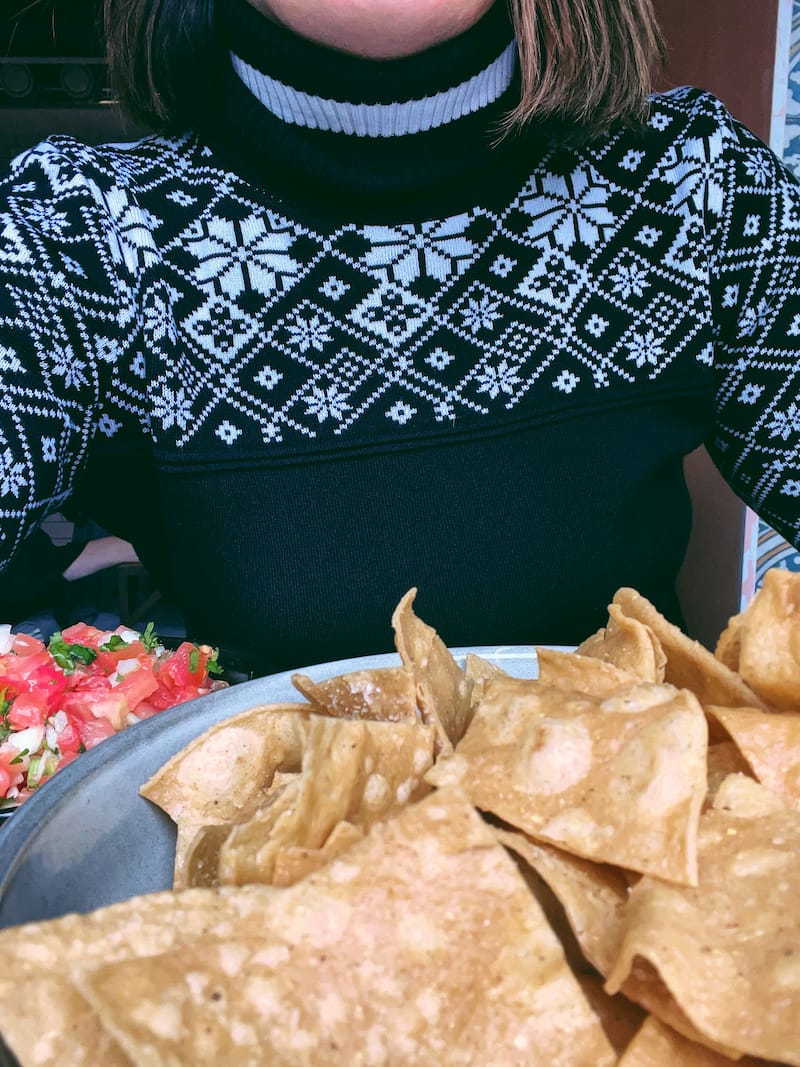 The staff was incredibly friendly and attentive and I can't recommend this place enough!
Yuca is open Monday-Thursday from 1100-2000, Friday from 1100-2100, and Saturday from 1400-2100. They are closed on Sundays.
Address: Rovakatu 21
Website: https://www.yuca.fi/restaurant
7. Restaurant Nili
Located in Rovaniemi city center, this Lappish restaurant offers a traditional setting and northern flavors for those visiting Rovaniemi.
Restaurant Nili takes pride in offering Arctic ingredients and I think it is a worthwhile place for travelers visiting the city.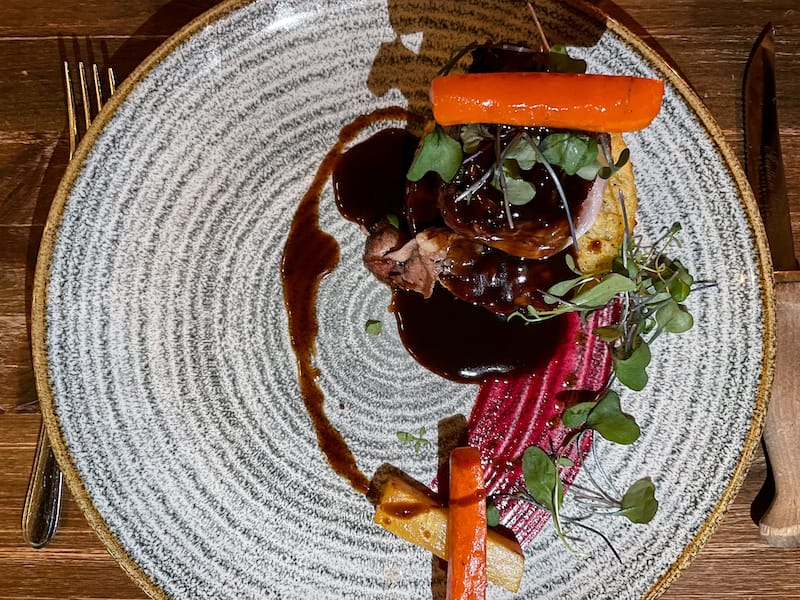 On my visits to the restaurant, I have enjoyed their 'birthday menu' which is a 3-4 course menu of your choice.
They offer everything from blueberry and gin-graved salmon to overnight braised elk entrecote with a dark currant sauce.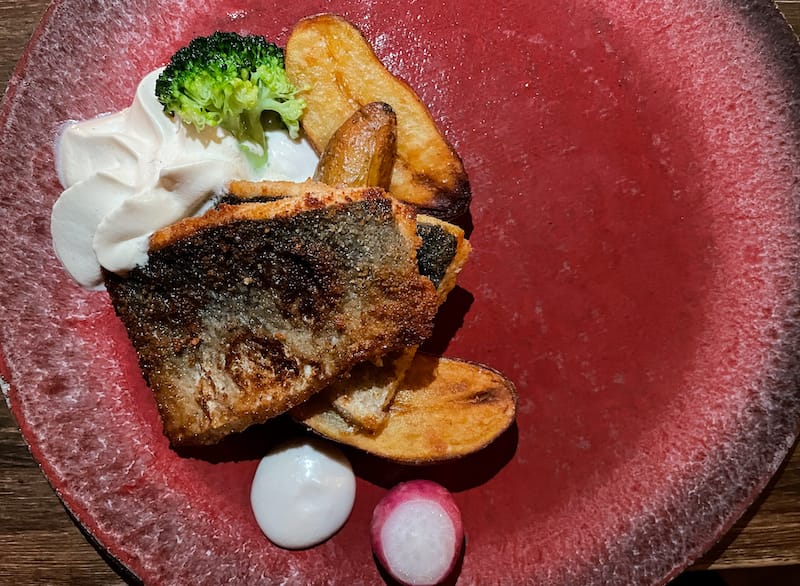 Nili is open Monday-Friday from 1700-2300 and Saturday from 1200-2300. They are closed on Sundays.
You will need to make a reservation (especially during the high season) and can do so on their website.
Address: Valtakatu 20
Website: https://www.nili.fi/en/home.html
8. Saigon Noodle Bar
One thing I love about Rovaniemi is that I can get pretty much any Asian flavors I am craving and I can easily find delicious Vietnamese food at Saigon Noodle Bar in the city center.
I was so gutted when they were closed this last trip (they were in Vietnam!) but I am hoping they will be open by the time I return in a few weeks.
Saigon Noodle Bar offers a lunch menu Tuesday-Friday from 1100-1400 and the set menu includes a starter + main dish + dessert.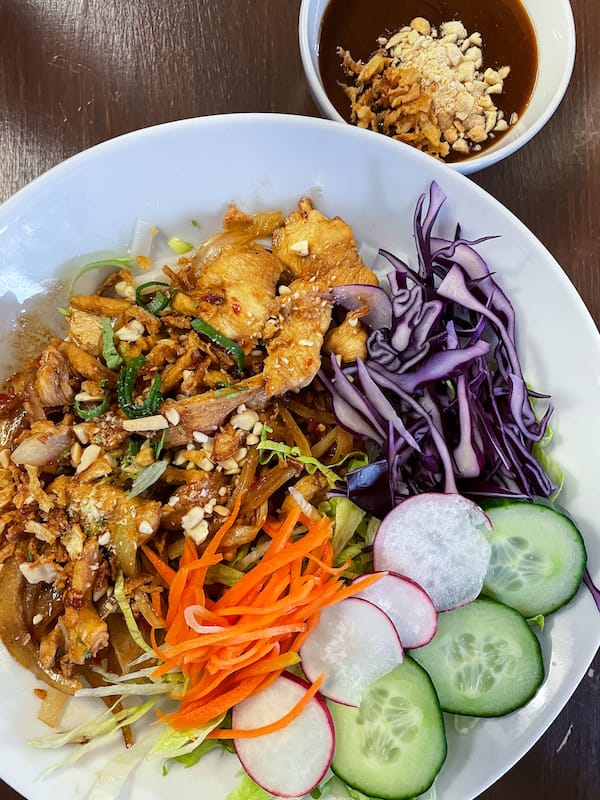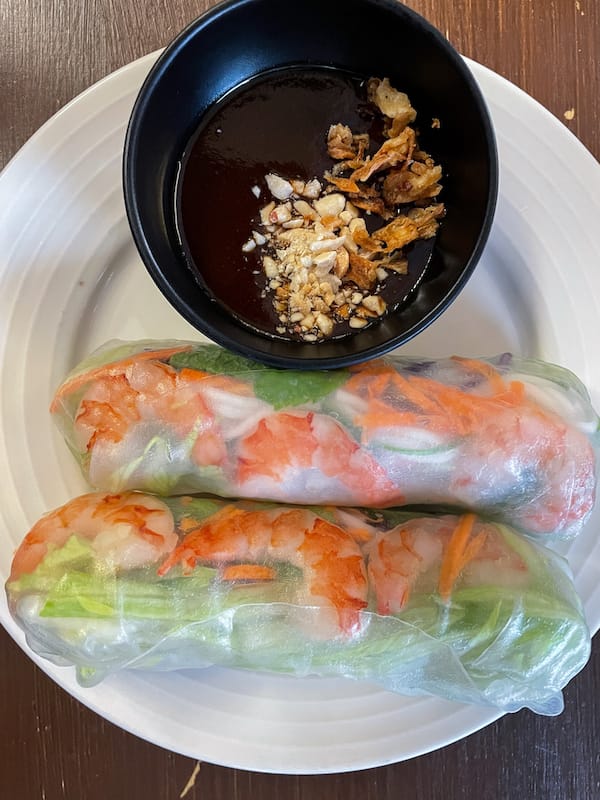 You will have an option between two mains and the starter and dessert are already predetermined. For €10.90, it is definitely a steal!
For dinner, they offer an array of different items from Bun Cha to Bahn Hoi and even a Pho to warm you up in the cold Arctic winters! This is easily one of the best restaurants in Rovaniemi!
They are open Tuesday-Friday from 1100-2000 and Saturday-Sunday from 1200-2000. They are closed on Mondays.
Address: Rovakatu 26
Website: https://saigonnoodlebar-rovaniemi.com/
9. Kauppayhtio
A place that really surprised me was Kauppayhtio, a pizza and burger place (although the burger part of the restaurant may be called something different – I can't tell!).
Open since 2006, I found that Kauppayhtio was brimming with locals and it was just a really cool atmosphere that felt off the 'tourist' track despite its city center location.
They have pizza baked in a wood-fired oven and delicious burgers on their menu. I enjoyed a reindeer burger that also had thyme, lingonberry mayo, pickled cucumbers, ruccola, red onion jam, and mushrooms on it.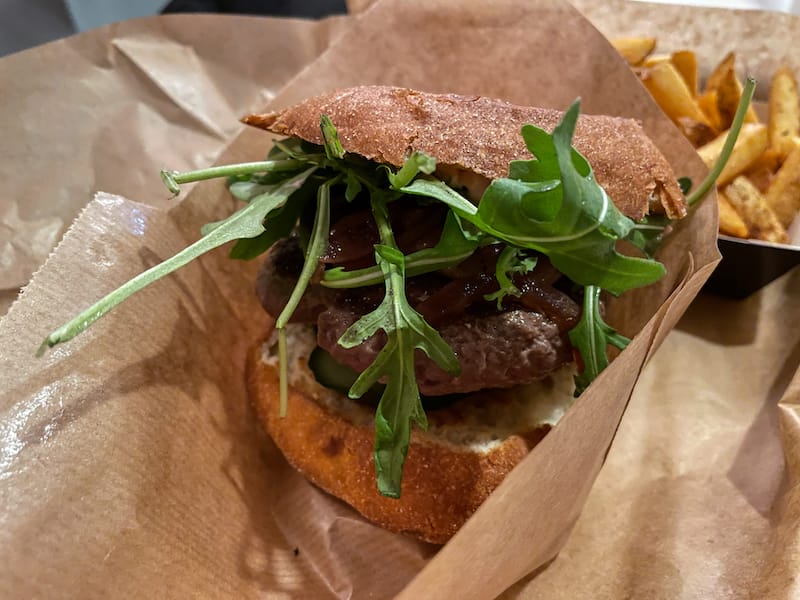 The cool thing is that they had options for several budgets (my burger was one of the more expensive items on the menu) and they also offer vegetarian options.
They are open Tuesday-Friday from 1100-2200, Saturday from 1300-2200, and Sunday from 1300-2100. They are closed on Mondays.
Address: Valtakatu 24
Website: https://www.kauppayhtio.fi/en
10. Hanki
I was so delighted to try this place on my last trip and I am absolutely heading back there next time. Hanki is a Korean restaurant not too far from the city center of Rovaniemi (an easy walk).
Hanki is really, really delicious! Their menu is not too extensive which is nice and they even feature some Lappish ingredients on it… like their Reindeer ribs!
I opted for their Korean handmade dumpling soup (which had egg in it which I loved) and bulgogi bibimbap.
I could have just ordered the bibimbap and would have been full, but I am glad I got to try more than one item.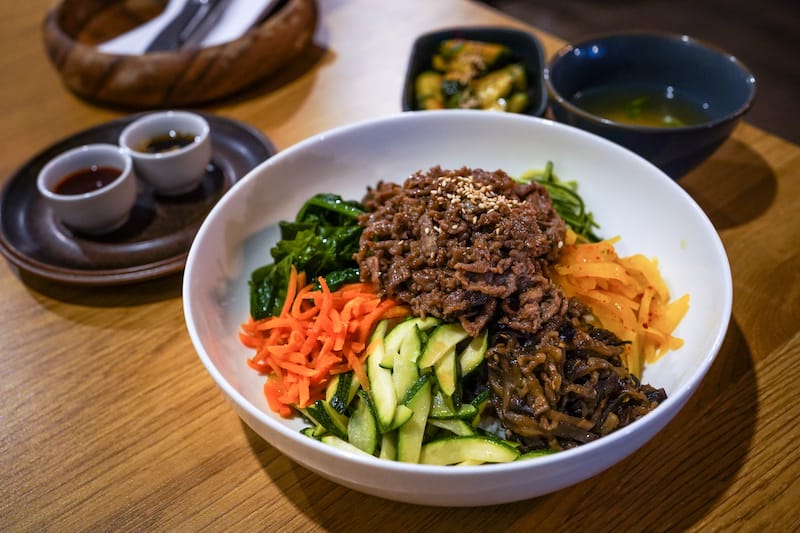 I will absolutely be back for more. The customer service was stellar, as well.
They are open Monday-Friday from 1100-2000 and Saturday from 1200-2000. Hanki is closed on Sundays.
Address: Korkalonkatu 2C
Facebook: https://www.facebook.com/tangoHanski/
11. Cafe Koti
This is the place to go for a delicious breakfast in Rovaniemi! I had the pleasure of staying at Hostel Koti years ago and was introduced to the place by default but I have managed to head back there for breakfast every trip since returning!
The breakfast is diverse with sandwiches and toppings to oatmeal with fresh berries… and more. They also offer lunch there.
One of my favorite things about Cafe Koti is how light it is! The interior is all white and it brings the natural light in (when it exists!) well and when it does… they find ways to make it cozy and inviting.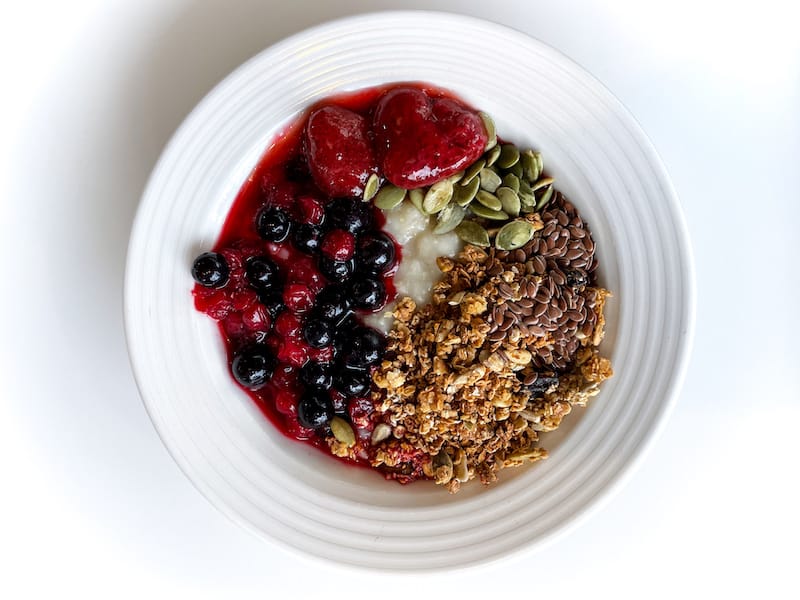 Cafe Koti is open Monday-Friday 0700-1700, Saturday from 0800-1500, and Sunday from 0800-1200.
You can see more about their breakfast menu options on their website.
Address: Valtakatu 21
Website: https://hostelcafekoti.fi/cafe
12. Rakas Restaurant & Bar
This restaurant is actually not located in the Rovaniemi city center, but rather over at the famous Arctic TreeHouse Hotel closer to Santa Claus Village.
Rakas Restaurant & Bar prides itself on using local ingredients with a modern twist and the food is simply delicious!
Petteri Luoto is an award-winning chef and has created an a la carte menu that will leave you wanting to return time and time again.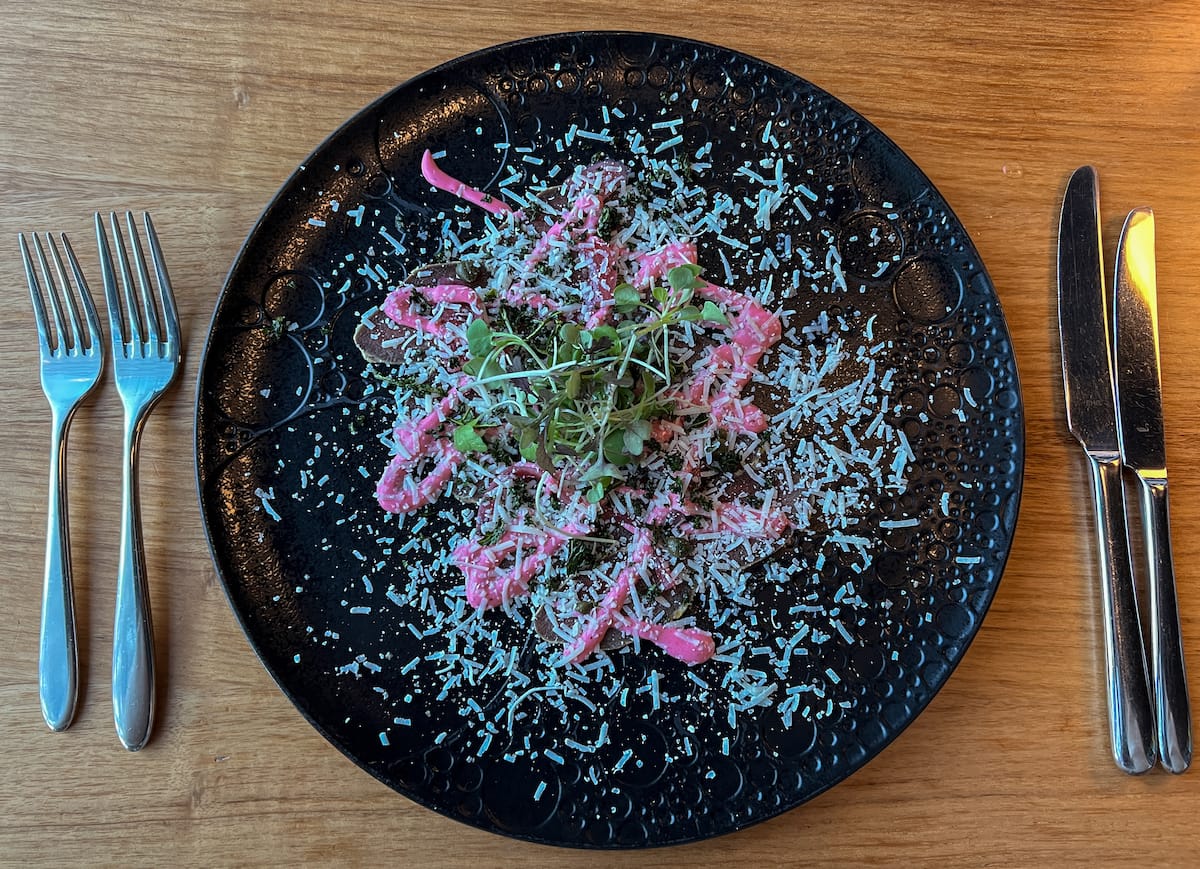 If you are visiting in summer, they offer summer BBQ nights and if you're visiting in winter, you will find a menu bursting with flavor from local game, Arctic fish, and more. They also offer burgers on the menu.
When I visited, I had smoked moose, a carpaccio, a reindeer filet, and a Finnish cheese board. I was there in February so this menu will, of course, vary.
Address: Tarvantie 3, 96910 Rovaniemi
Website: https://rakasrestaurant.com/
Do you have a recommendation for the best restaurant in Rovaniemi? Let us know your favorite Rovaniemi restaurants in the comments. Thanks!
More Rovaniemi Travel Guides
Pin this Rovaniemi Restaurants Guide