While Norway's capital gets a reputation as a lovely place to visit in summer, did you know that there are also many awesome things to do in Oslo in winter?
Are you planning your trip to Oslo last minute?
If youʻre booking your trip to Oslo last minute, we have you covered. Below are some of the top tours, hotels, and more!
🇳🇴 Top Experiences and Tours in Oslo:
🛌 Top Hotels in Oslo:
🚗 Looking to travel around Norway independently? Click here to check Norway rental car rates!
This is a guide to the many cozy, charming, and fun things to do in Oslo during the winter months. Did we miss anything? Let us know in the comments! Thanks!
Should You Visit Oslo in Winter?
It is no secret to frequent readers of this blog that I lived in Oslo for many years.
I actually had spent four years living in Norway when I first moved to Europe. And… three of those years were spent living in Oslo.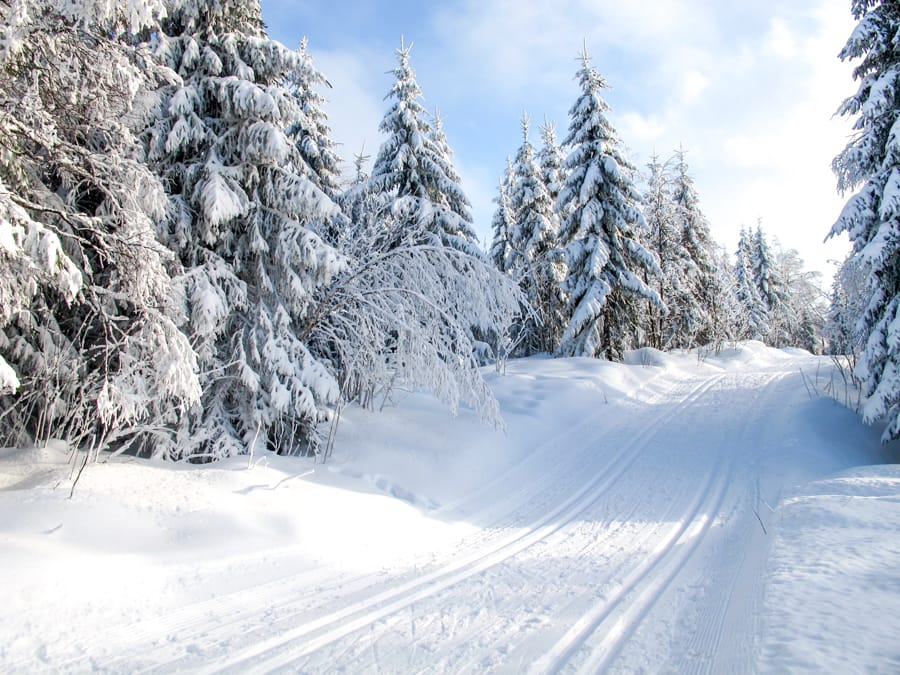 I have a lot of people message me and tell me they found cheap tickets to Oslo but during the winter months. And, then they proceed to ask me if it is worth visiting Oslo in winter. I always said yes… and here's why:
Oslo does winter better than any other city I've been to. I mean it. Want to go skiing or snowboard?
Oh, you can pretty much take a metro to do that. Want to sled down a mountain? Take the metro there. Love cozy cafes?
Well, Oslo is pretty much a mecca for cafes and they are all super relaxing in winter. Want heated sidewalks? Um… yes, Oslo has that too. I am not joking.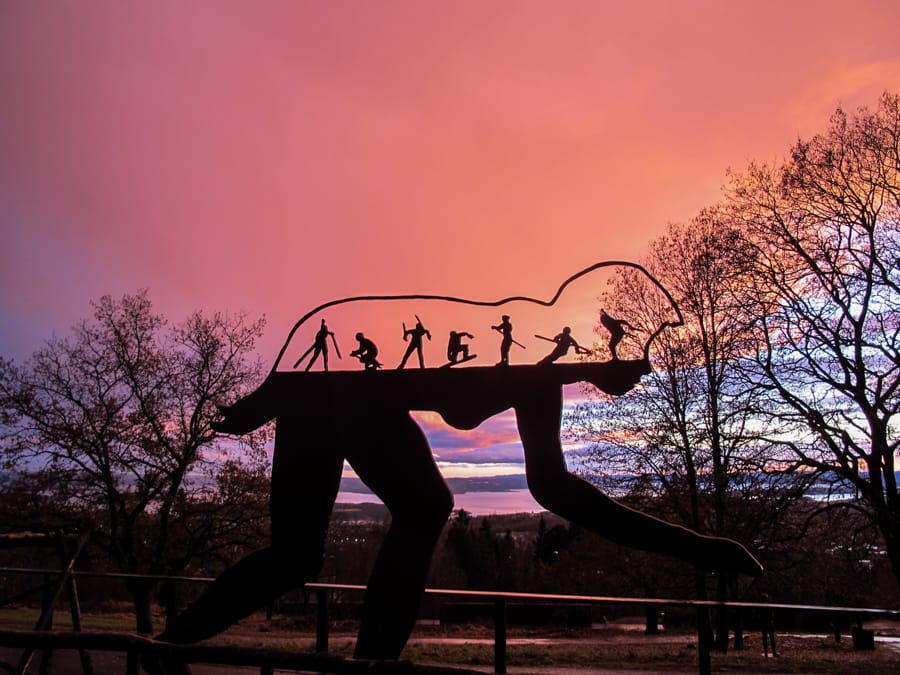 Norway's capital city is a fantastic place to visit in winter and this guide will detail several things that you can do there during winter.
It also includes a few weekend trips from Oslo that will help you escape the city for a bit if you wish!
While this is not conclusive because Oslo has way more than I could ever list in a blog post, it is a pretty good start and hopefully, it is enough encouragement for you to book that ticket to Norway.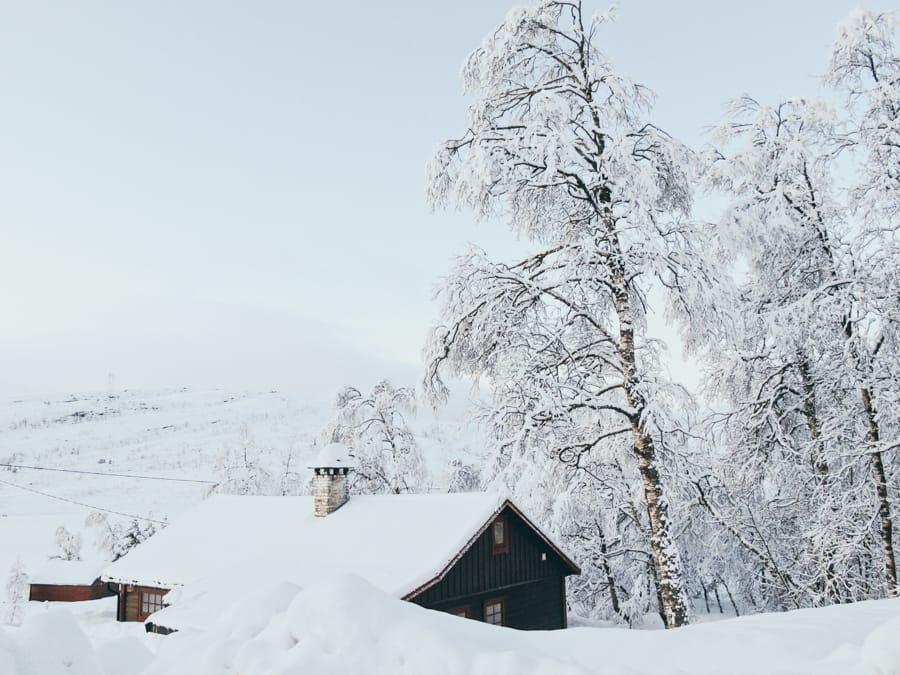 When is it Winter in Oslo?
By Norwegian definitions, winter in Oslo starts in December and ends at the end of February. But, let's be real here… winter can start in November and end in March.
Or… if it is like the winter from 2019-2020, it never properly came (thanks, climate change).
So, if you're in Oslo in December, January, or February… you've visited during 'winter'.
Oslo Winter Daylight Hours
In Oslo dark in winter? Um… yes. Unless you're coming from the Arctic. Winters in Oslo are definitely dark and cold.
The sun rises at about 10am or slightly earlier and the sunset is at like 3pm.
Take in mind that the winter solstice takes place around December 21.
So, that is the darkest day of the year and if you're in Oslo then, it will be much darker than the end of February, for example.
Oslo Winter Temperatures
How cold does it get in Oslo? The weather can vary from around -5C to -25C depending on the day. Definitely dress and pack accordingly. The weather in Oslo is more extreme and it is colder than in Bergen and the Lofoten Islands, for example.
Does it Snow in Oslo?
It should. But, it doesn't always. When I lived there, it almost always heavily snowed and the temperatures were very cold.
I was back this winter and there was no snow at the end of January. However, that is unusual and it was the warmest winter on record.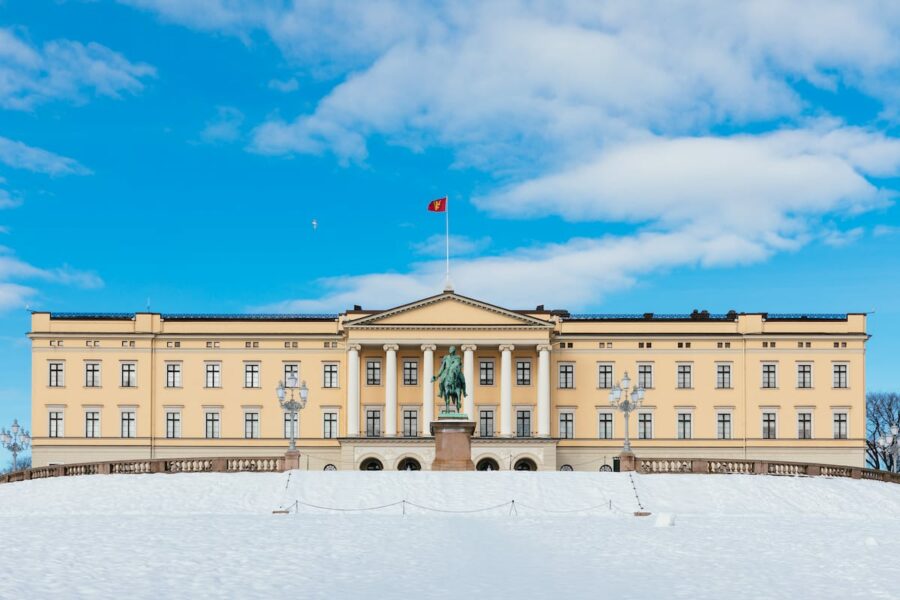 Please, plan for snow! It is worth doing a search for the best men's and women's down jackets before your trip as you are almost guaranteed to need it.
Also, be sure to pack snow boots or waterproof boots just in case!
Can You See the Northern Lights in Oslo?
NO. Please stop visiting Oslo to see the northern lights.
If there is a favorable aurora forecast, it might show Oslo as being able to see them, but take in mind that without a car and the ability to get away from light pollution, your chances of seeing them are basically zero.
Want to see the northern lights in Norway? Head to Tromso or the Lofoten Islands.
Best Winter Oslo Tours
If you want to see Oslo in a more organized fashion, don't worry because there are several Oslo tours available that will allow you to see the city in a comfortable and easy manner.
These affordable tour operators will provide great service and high-quality tours of Oslo. Here are some of our suggestions for the best winter Oslo tours, including a Christmas Spirit Tour and ski lessons:
Best Things to Do in Oslo in Winter
1. Go Cross-Country Skiing at Frognerseteren
Okay, so I have never cross-country skied. I feel like I let Norway down big time.
And funny enough, I would totally be down for a little XC skiing now that I've left Norway and it's not accessible or feasible for me to do so.
But, if you're into cross-country skiing, you can literally take a metro to a few places in the city and do it.
My favorite area (to walk my dog that had trails) is up at Frognerseteren.
You will take the t-bane (metro) all the way to the end which is the stop 'Frognerseteren' and the trails are actually right as you disembark from the t-bane.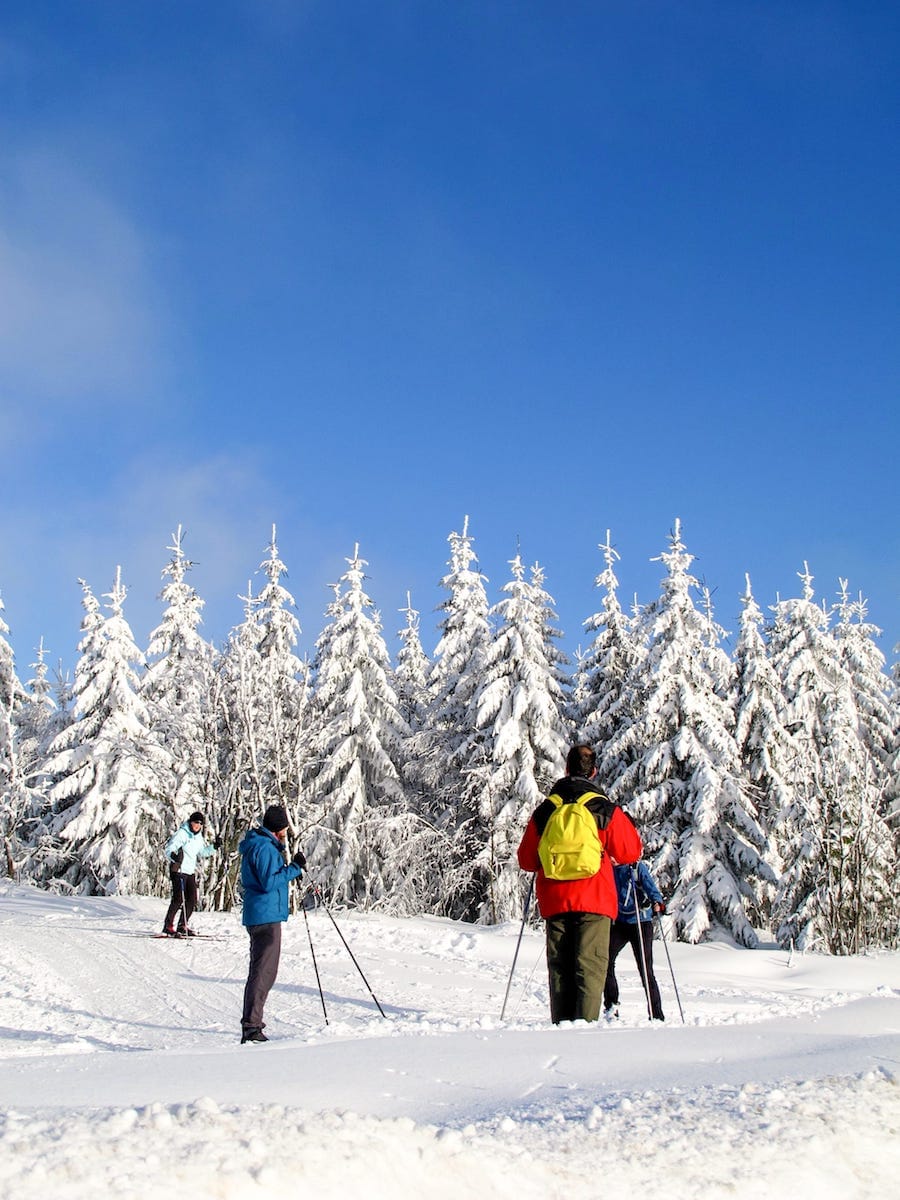 I used to walk my dog in this area during the winter as he really loved the snow.
You're fine to go and stroll through the woods and not ski, but do be careful and don't mess up the trails or step on the tracks and ensure that you stay out of people's way!
I used to go early on the weekdays and there was no one around. Be sure to dress warmly!
This ski trip packing list will show you exactly what you should pack for the trip!
2. Go Ice Skating at Frogner Stadion
In the Majorstuen area, you will find Frogner Stadion (right beside Frognerparken/Vigelandsparken).
This stadium is a popular spot year-round but is particularly special during the wintertime as artificial ice is laid down and it transforms into an ice skating rink.
Opened in 1901, the stadium has a statue of Sonja Henie in front of it which was something that excited me when I first saw it after moving to Oslo.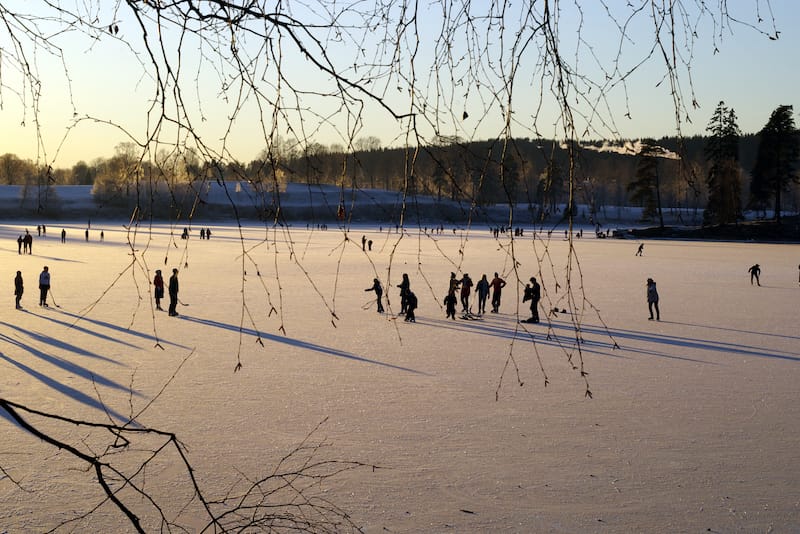 Sonja Henie has won more Olympic and World titles than any other female figure skater and if you know Olympic history, you will undoubtedly recognize her name.
Nevertheless, you can take to your own skates (or rent them) here at Frogner Stadion.
3. Visit the Oslo Winter Park at Tryvann
So, near the cross-country ski trails up at Frognerseteren is the Oslo Winter Park at Tryvann.
Yes, you can actually downhill ski and snowboard in Oslo from the metro. No offense to other Nordic capitals… but this kind of gives Oslo the edge, in my honest opinion.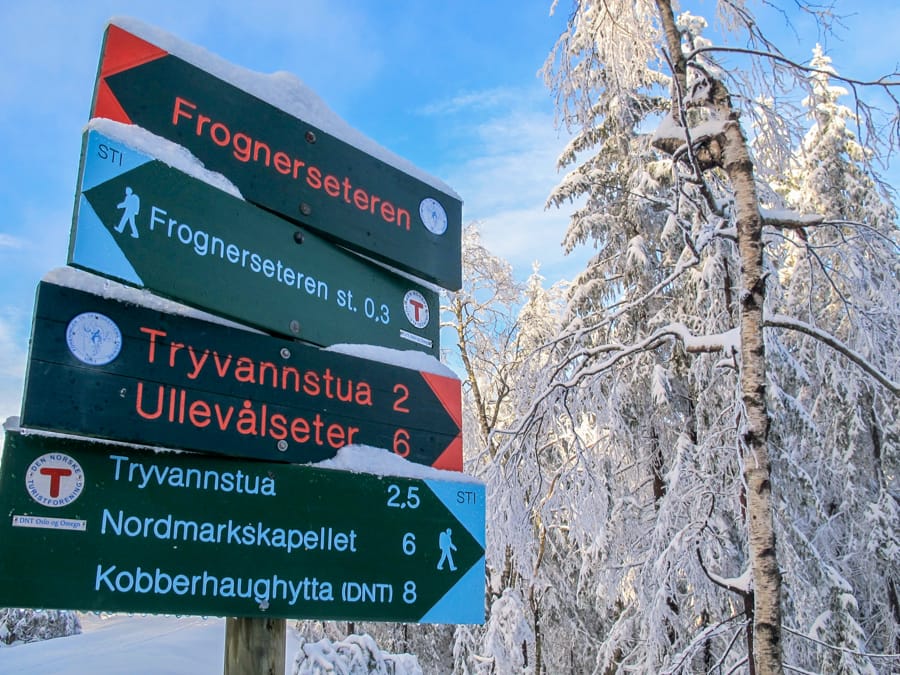 You can take the metro to the stop Frognerseteren and follow the signs to Tryvann. This will take you to an area that has 14 slopes and 7 lifts.
If you're into skiing and snowboarding but aren't an expert, this is a great and easy area to learn or practice in.
Just don't be embarrassed when you see Norwegian children leaving you in the dust. Click here for more information about Oslo Winter Park.
4. Float the Oslofjord on KOK Sauna
Tampere, Finland may be the world's sauna capital, but Oslo has it going on too. KOK Oslo is a floating sauna that can be seen cruising around the Oslo Fjord all year round.
There is more than one boat available and you can enjoy a sauna session on the water with other guests and also take the opportunity to jump in the frigid fjord.
You will find the boats docked at Langkaia across the way from the Oslo Opera House and a mere stone's throw away from the Oslo Central Station.
Click here to book that epic sauna experience with KOK Oslo.
5. Pay a Visit to Holmenkollen
One of the main tourist attractions in Oslo is Holmenkollen, an area of the city that is home to one of the world's most famous ski jumps.
The skiing history of this area dates back a century and there is a ski jump, ski museum, and much more up there.
You will find restaurants, hiking trails, and a lot to keep the solo traveler, or even families, occupied.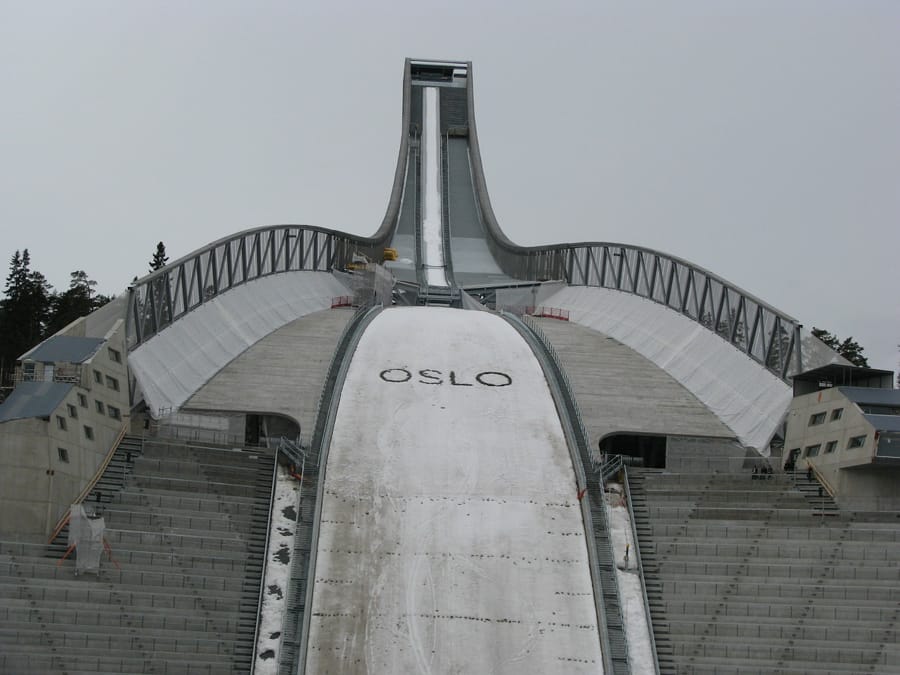 You can reach Holmenkollen on the t-bane (metro) in Oslo. Follow the line that ends at Frognerseteren in the same direction and get off at Holmenkollen. From Jernbanetorget station, it is about a 20-minute ride or so.
6. Check Out the Oslo Christmas Markets
The Christmas Markets in Oslo are not as grandiose as the ones here in Germany, but they give a really intimate and charming experience in their own right.
To be honest, I prefer this and will actually go to them whereas I avoid them like the plague here in Frankfurt.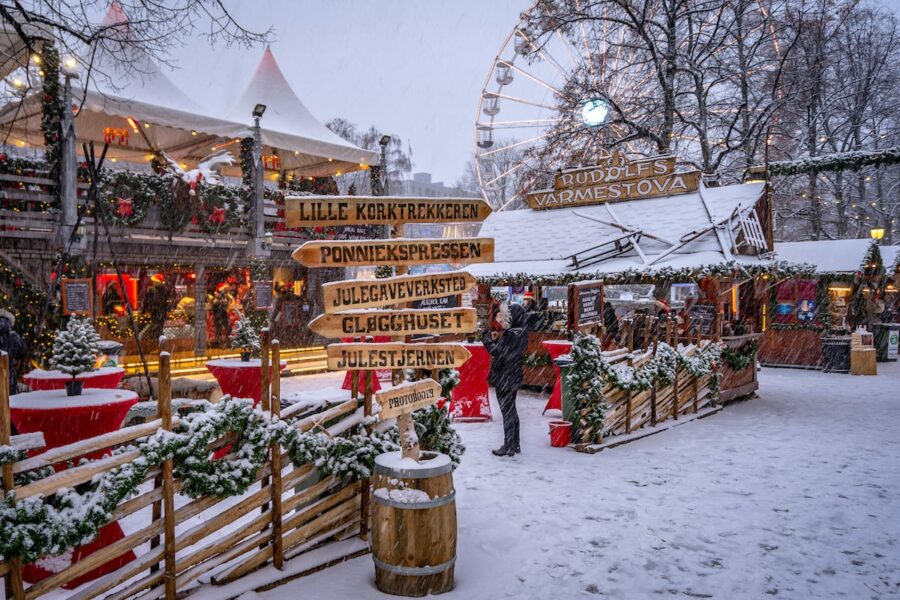 You will find stalls that have souvenirs, places selling elk burgers, and much, much more.
There are a few markets around town but the one you will likely stumble upon first is the one-off of Karl Johan's Gate, the main tourist drag in Oslo.
7. Eat Everything at Mathallen
When I see food halls, I automatically think of Scandinavia.
And no one does these types of places better than Scandinavians. Oslo has a few and one of the most famous is called Mathallen. Inside Mathallen, you will literally find everything.
And even stuff you didn't know existed. This is the place to trial Norwegian brown cheese, specialty coffee, fresh seafood, and more.
There is also a large bar downstairs called Smelteverket that claims to be Oslo's longest bar. I have been there on a few occasions and they had a really solid selection of craft beers.
There are also many burger joints and other fun places located in the vicinity of Mathallen.
I could easily spend hours hanging around and it is one of the best places to visit in Oslo in winter.
8. And Then Eat Everything at Oslo Street Food at Torgata Bad
Recently opened is Oslo's newest food experience and it can be found at Torgata Bad in the heart of Oslo. Aptly named Oslo Street Food, it truly is a brilliant place to spend your time in Oslo.
The food hall has indoor and outdoor seating, making it perfect for Oslo in winter or summer.
There are 16 stalls inside, showcasing food from all over the world.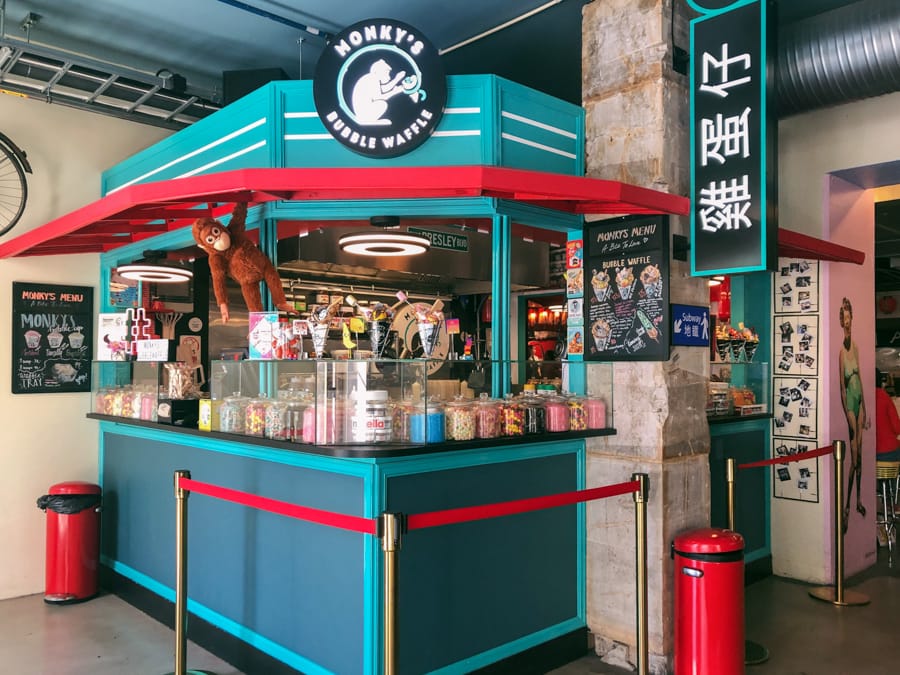 You can have Peruvian ceviche, Filipino adobo, Lebanese shwarma, and much more. What surprised me about Oslo Street Food was that it was quite affordable.
That always comes as a surprise to people that know how expensive Oslo can be.
They also serve beer and drinks on-site. This is a must-visit place in Oslo during the winter months … okay, and in summer, like when I went.
9. Head Out of Oslo to Lysaker Brygge
I used to live on the west side of Oslo and really close to an area called Lysaker. If you've taken trains in Oslo before, you will have seen the name.
In Lysaker, there is a harbor area that is super chilled out and was always one of my favorite places to relax and get away from the city.
There are some ateliers and restaurants at Lysaker Brygge, but I mostly just liked to sit along the wooden harbor and look out into the fjord.
My friend worked out there and one time she even saw the northern lights as she left the office (okay, this was a super rare event but it gives you an idea of how peaceful with less light pollution the area is than Oslo).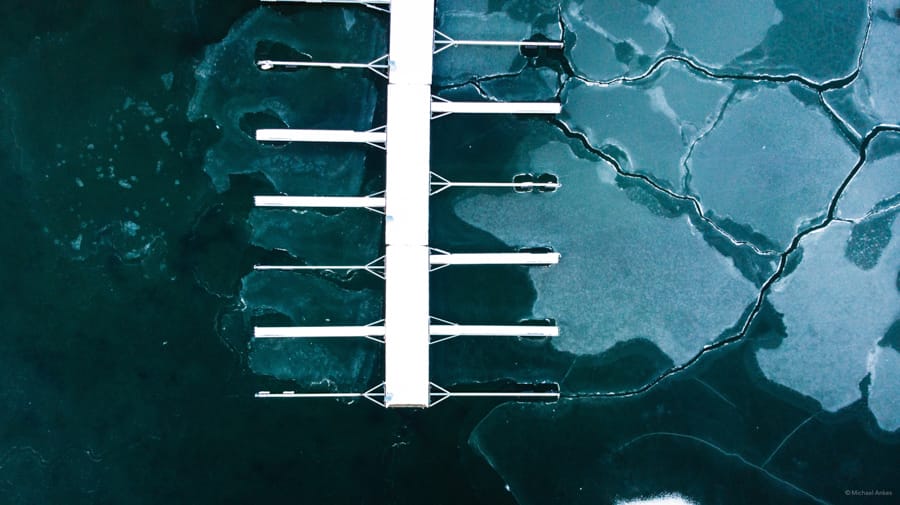 I highly recommend taking a train out to Lysaker if you want an escape.
There are also some cozy cafes near the harbor and there is an Espresso House at the Lysaker Stasjon if you can't wait to get some coffee in you.
10. Drink A Lot of Julebrus
I tried to find a way to slyly put something about julebrus in this guide and I hope it worked. Julebrus is Christmas soda. And it was the joy of my time living in Norway.
Julebrus starts showing up in Norwegian grocery stores in around November.
Or October. Or September. I swear it gets earlier by the year. Norwegian people may get mad at this… but it is like hearing Mariah Carey's "All I Want for Christmas" in September for me- I get stoked (I promise I'm not as basic as I just made myself sound).
Anyway, julebrus is a super sugary soda that tastes like heaven in a bottle.
But, not all julebruses are created equal. When I lived in Bergen, everyone was a huge fan of Lerum's. Something about the candy apple red color and the consistency wasn't for my liking. It just tasted fake.
Then I tried Hamar julebrus… and I knew instantly that I had found the one.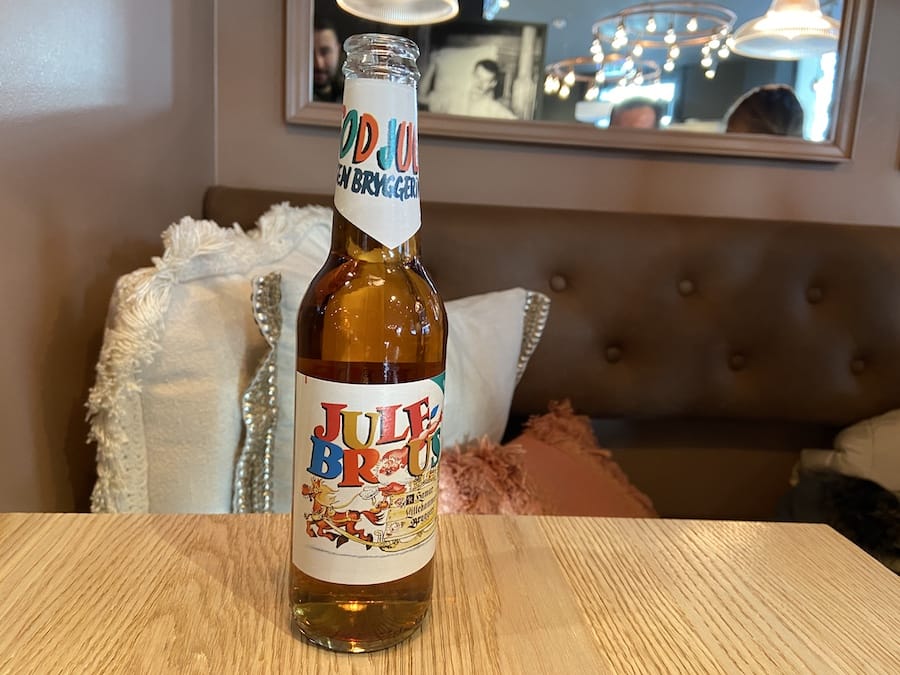 Aside from my making this sound like a love connection with julebrus and me, it really is something that is special and that foreigners must try when they visit Oslo or anywhere else in Norway.
If you're not in Norway during the winter, you can try Villa Brus, a vanilla-like soda that tastes similar to Hamar julebrus, in my opinion.
If soda isn't your thing, maybe cocktails are and this luxury guide to Oslo knows just the spot for a great cocktail and epic view of the city.
11. Eat Other 'Christmas' Products
Not only does Norway have julebrus, but they also have pretty much every other food and drink branded under 'jule' something making it associated with Christmas.
They only emerge during the holidays, so they come with this nostalgia of the holidays and it got me so excited seeing them on the shelves at grocery stores during the holiday season.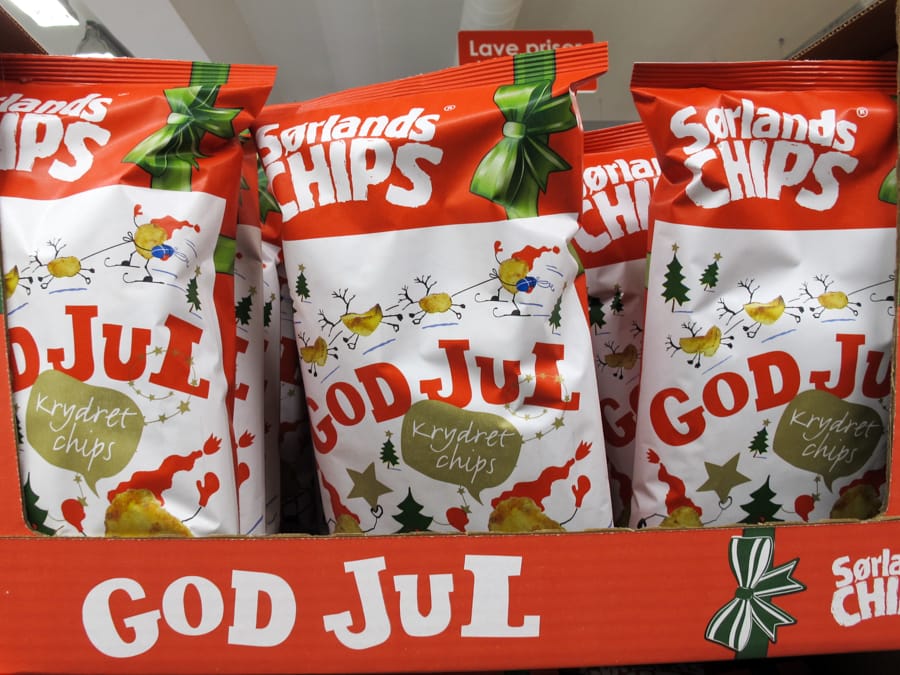 I guess juleøl (Christmas beer) is a lot better than the German flag-colored condoms I found at grocery stores here in Germany to mark the start of the World Cup.
12. Visit the Oslo Opera House
One of the most recognizable symbols of Oslo is the gorgeous, modern Oslo Operahuset (Opera House).
This architectural masterpiece was the first thing I went to see when I visited Oslo for the first time before moving there.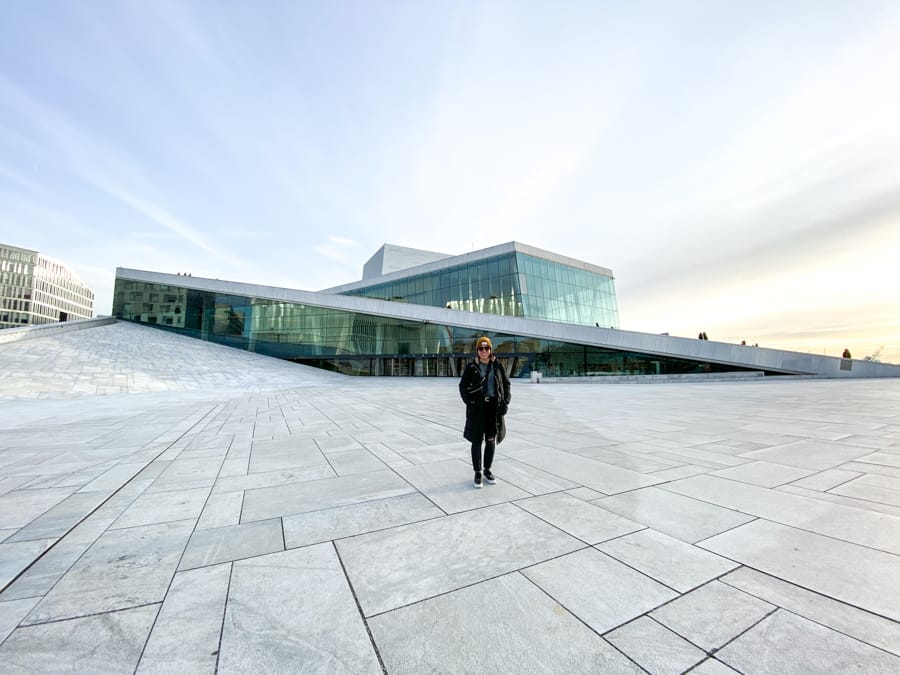 Built by architecture firm Snøhetta in 2007 and opened in 2008, the Oslo Opera House looks spectacular in winter because of the white stones that make up its structure.
While it is brilliant to photograph during an Oslo winter, it is also a great place to go inside and see an event, concert, or show. It will offer a great refuge from the cold!
13. Expand Your Knowledge at the Nobel Peace Center
Note: The Nobel Peace Center is closed for renovations until December 1, 2023.
Many people don't know this, but Oslo is the site where the Nobel Peace Prize is given out every December.
There is a really great museum and center associated with the Peace Prize that houses temporary and permanent exhibitions and it is a fun place to walk around and check things out.

They also have a nice gift shop where you can get some good books to take home with you.
You will find the Nobel Peace Center located in the Aker Brygge area right on the harbor.
Click here to see more about the Nobel Peace Center and what exhibitions and events it currently is hosting.
>> Entrance to the Nobel Peace Center is FREE with the Oslo Pass
14. Walk Around Aker Brygge and Tjulvholmen
Nestled right on the harbor are the areas of Aker Brygge and Tjulvholmen. They are both areas of Oslo brimming with modern architecture and a lot of cafes and restaurants.
Oslo can be very cold in the winter, but the pristine surroundings mean that you're just unable to ignore the nature of the city.
While you may not make it too far outside of the city, you can walk along the harbor here and enjoy the Oslofjord.
Aker Brygge and Tjolvholmen have many cool cafes and places to eat… and there is even the Astrup Fearnley Museum located down there which is a masterpiece, in my opinion.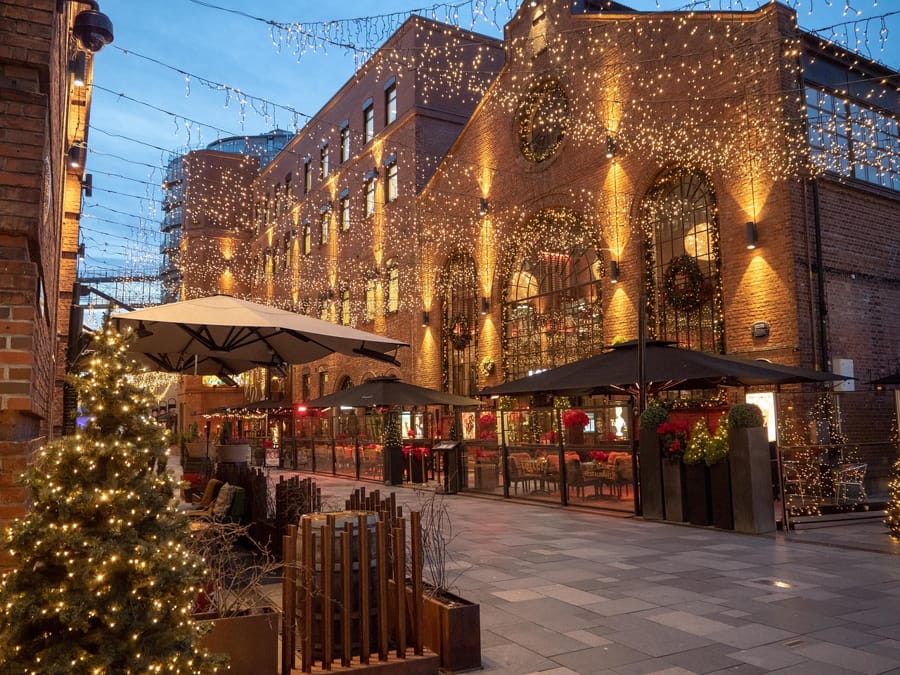 If you're heading to the islands or to Bygdøy, this is the area where the ferries will pick you up and drop you off.
This is also an area where you can see the fisherman coming by in the mornings with the latest catch.
15. Go to a Museum on Bygdøy
One must-visit place in Oslo in winter is the island (well… peninsula) of Bygdøy.
You can take a ferry from the aforementioned Aker Brygge area out there and it is included on your Oslo transportation card.
Bygdøy is home to several of the best museums in Oslo from Kon-Tiki to the Viking Ship Museum (closed until 2026) to the Fram Museum to the Norsk Folkemuseum and more.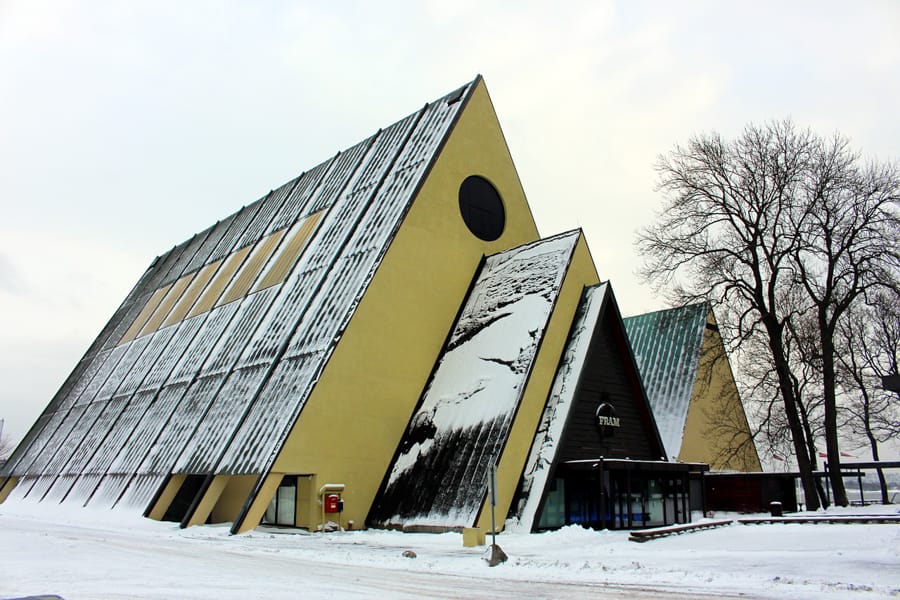 There is a ton to do out at Bygdøy and it is an essential place to visit in Oslo for those traveling there.
There is also a popular beach there called 'Huk'. You probably won't get much use out of it during the winter months, but who am I to assume?
16. Get Lost in Slottsparken
Slottsparken is a place made famous because of the palace that is on its ground and the palace is home to the king and queen of Norway.
During the summer months, you will often find crowds huddled around the grounds trying to obtain the perfect Instagram shot.
You will also see people chilling out on the well-maintained grass and having a picnic with friends.
So, should you go there in winter? YES. Slottsparken may not have picnic opportunities during the winter months but it has snow opportunities.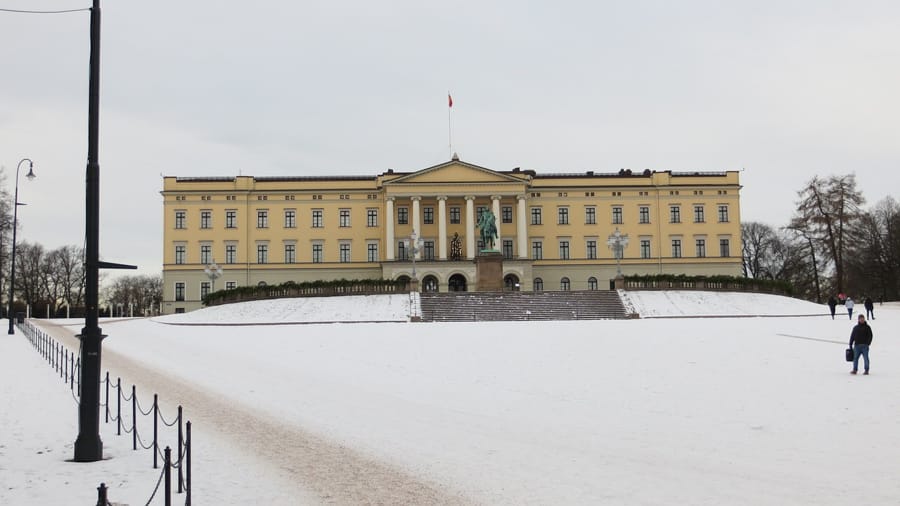 And walking through the park offers a peaceful respite from the rest of the city.
The snow stays white and doesn't turn dirty and grey and the park just offers such a relaxing setting for a stroll through.
Don't just go to take a quick photo of the palace in Oslo… head around the palace and experience the beauty of this gorgeous park. It is one of the most charming places in Oslo in winter.
17. Find a Cozy Oslo Cafe
One of the things I miss the most about living in Norway was that cafes were aplenty.
The coffee was good, the atmosphere was welcoming, and they were everywhere. I even worked in a cafe while I was waiting for my visa to get approved in Norway (which ended up being a lot longer than anticipated). I loved it.

There are cafes everywhere in Oslo. If you're looking for a cafe brimming with locals and not directly in the city center, head to Åpent Bakeri Torshov and grab a hot latte or cappuccino and tuck away from the wintry temperatures.
18. Experience Art and Music at SALT
To be honest, I don't even know how to explain what SALT is. Even after searching and reading that it is a 'nomadic art project', I still can't begin to describe it… and that adds even more to the allure of it.
Located across the harbor from the Opera House, you will see this tall structure that looks like where you traditionally see stockfish hanging when up in the Lofoten Islands.
This is SALT. There is music, interesting art projects, food, a sauna, and much more.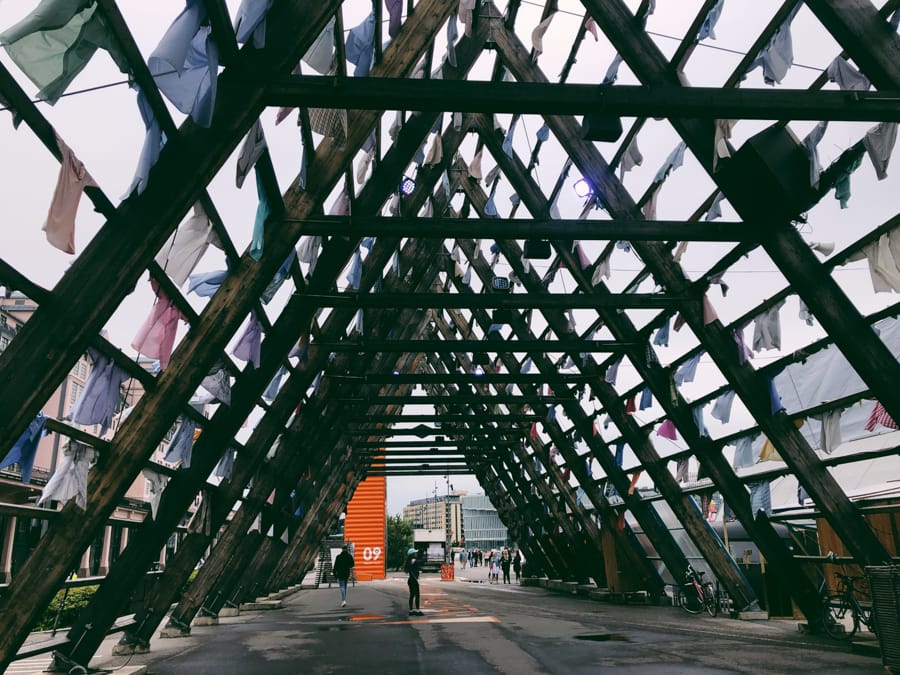 I actually hadn't heard about SALT prior to my last trip to Oslo and I stumbled upon it while walking Aram to the Opera House across the Harbor coming from Aker Brygge.
It was such a cool concept and a place that just seems inviting to everyone.
I highly recommend heading there and seeing what is happening. The Oslofjord views will never disappoint, either. You can find out more about SALT here.
19. Take in Views from Akershus Festning
Akershus Festning, or Akershus Fortress, is a medieval fortress in Oslo that sits right on the Oslofjord and looks out to sea. It is situated very close to Aker Brygge and the Oslo Courthouse.
I used to take my dog to Akershus during the cold Oslo winters and he loved it.

During the summers, there are concerts and festivities happening around the castle, but the winter will give you a comforting feeling of anonymity.
20. Drink Your Way Through Oslo's Craft Beer Scene
I can count on merely one hand what Norwegians do poorly (grow tomatoes is one of them… sorry Norwegians!).
They pretty much excel at most of what they do and they do it with humor and creativity like no other.
Well, craft beer is something they do exceptionally well. The pricing of the beer is something they do exceptionally bad, on the other hand.
Oslo has really come into its own as a craft beer capital and you can experience the best of Oslo beer at the Ølfestival in the Norwegian capital in November. Be on the lookout for the announcement of the festival's dates here.
21. Eat Traditional Norwegian Christmas Food
If you're around Norway during the holidays, you will find that many restaurants will serve traditional Norwegian Christmas food.
Some people love Norwegian Christmas food and some people hate it. I happen to be one of the ones that love it.
Give me pinnekjøtt (cured lamb ribs), tynnribbe (crispy pork belly), and lutefisk (some fish jelly that pretty much 99% of people despise), and I'm a happy camper.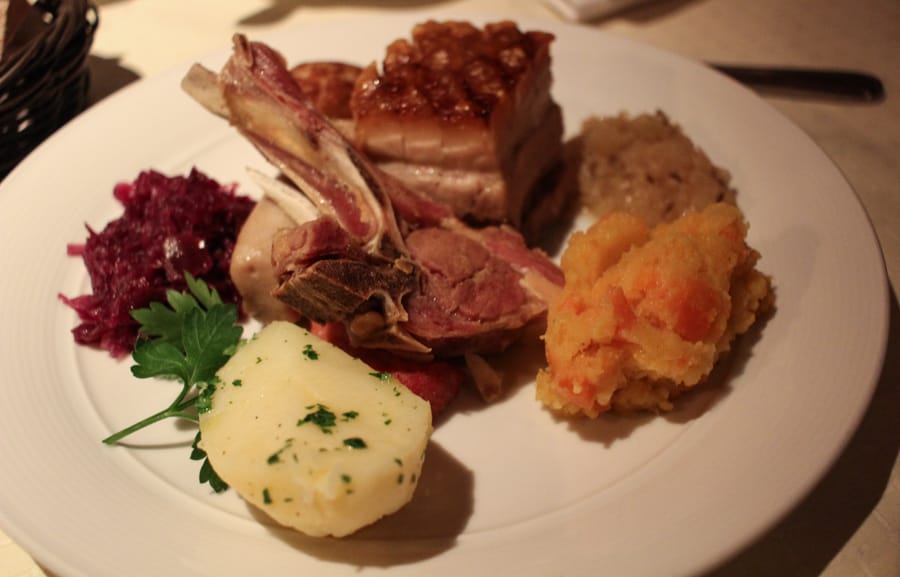 The best place to score a Norwegian Christmas dinner is at a julebord (Norwegian work holiday party) or at an actual Norwegian's home.
But, fortunately, you can get one at a few restaurants in Oslo in case no one acknowledges your cry of desperation for a julebord invite.
Do take note that many of these places are closed during the actual Christmas holidays, so your best bet for feasting on Norwegian Christmas food is well beforehand.
Nordic Choice Hotels offers a traditional Christmas dinner at any of their locations in Oslo.
But, my highest recommendation is getting a Christmas dinner at Lorry, one of Oslo's best establishments for traditional food.
Even the internationally acclaimed author Jo Nesbø has recommended Lorry before and his fictional character Harry Hole sometimes goes there to eat.
22. Walk Down Damstredet and Take Some Photos
If anyone was to ask me what street in Oslo is the most photogenic, I would shout out Damstredet every time.
And while it is beautiful and exudes Nordic charm, I find that many tourists don't actually go there.
Aram and I recently went there so I could show it to him. Okay… in summer. But, I promise it is also awesome in winter!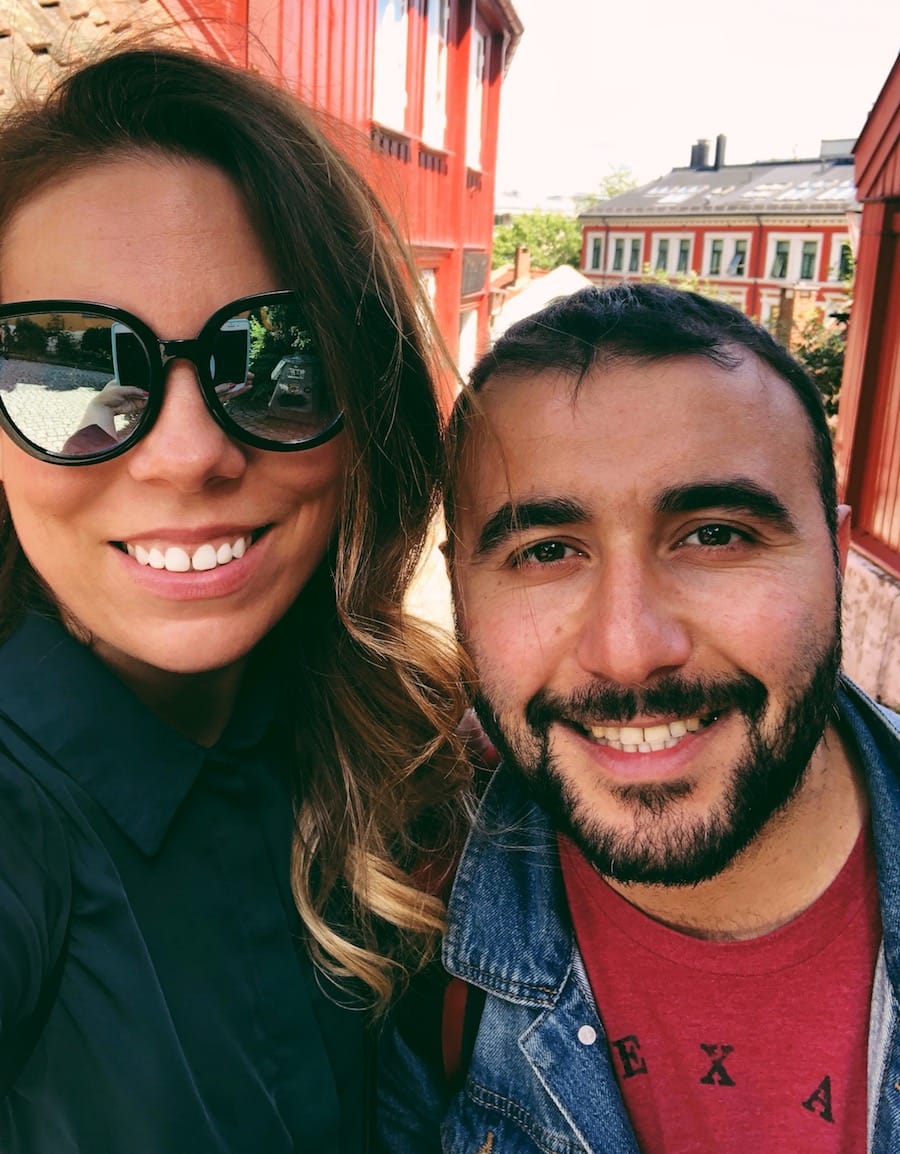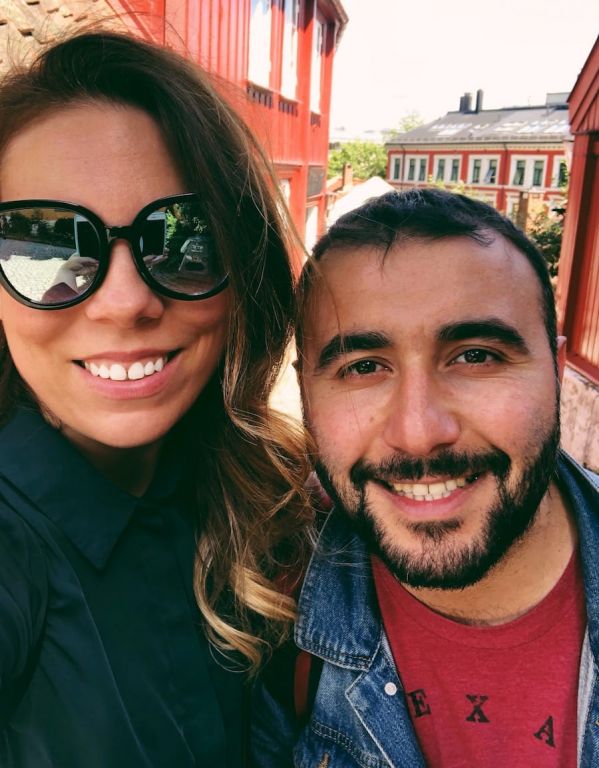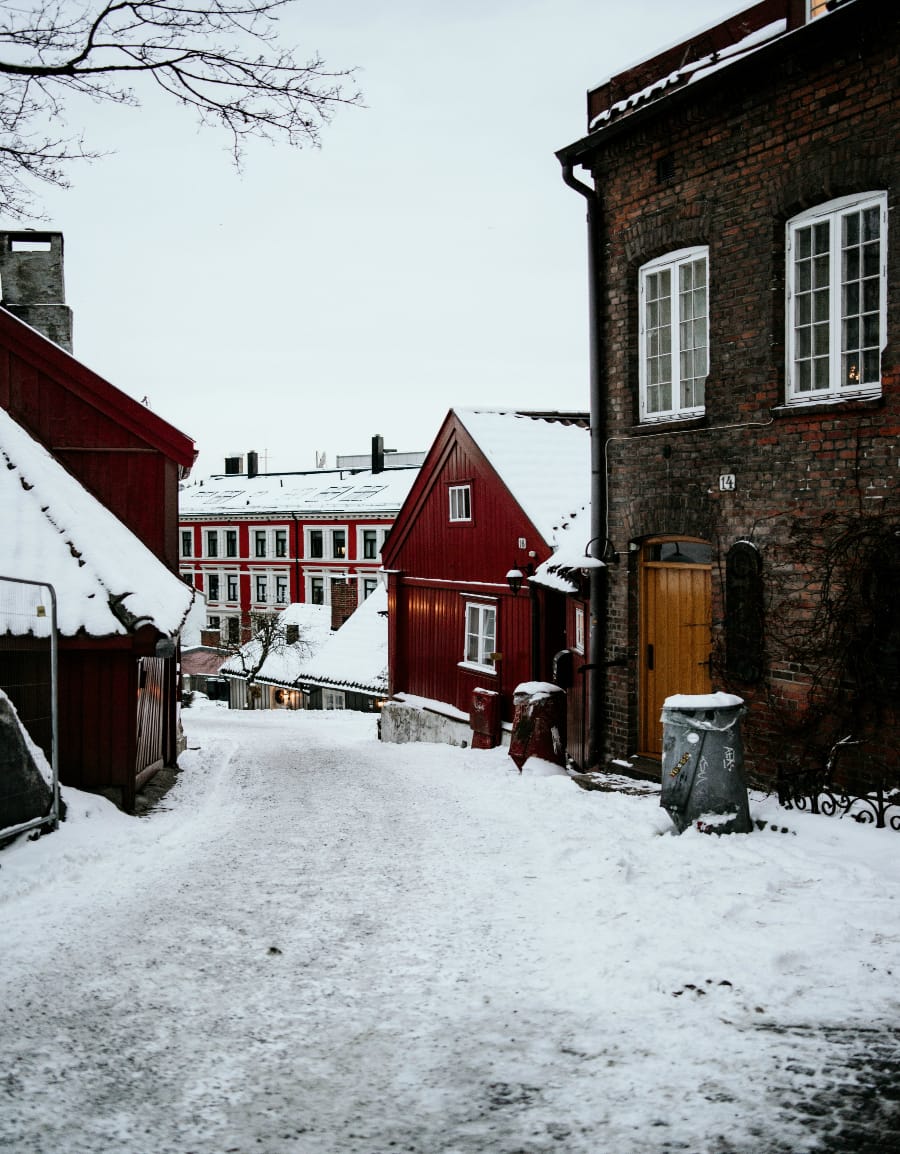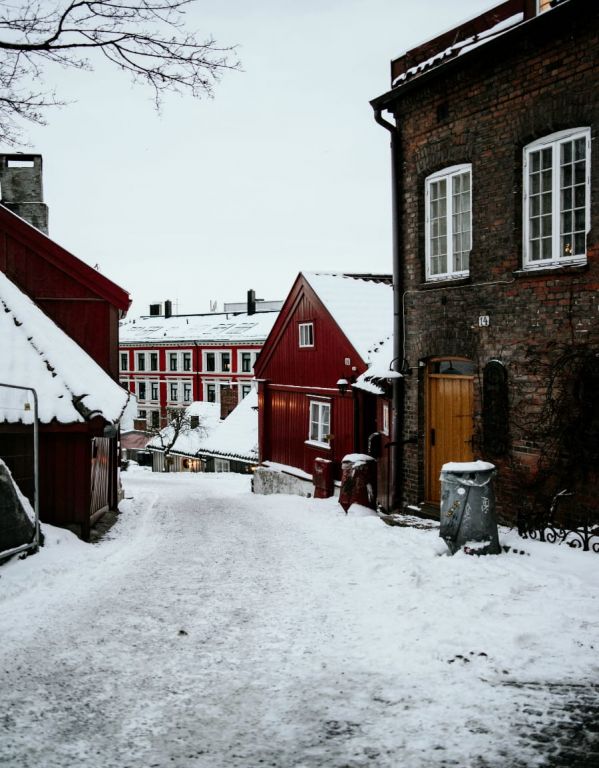 Damstredet is one of those streets that looks good in any season, including a dark, Oslo winter.
What makes this short and narrow street so appealing is that it is home to well-preserved wooden houses dating back to the 1700s and 1800s.
Only 160 meters long, this street can be found in Oslo between Akersveien and Fredensborgveien.
23. Go Sledding in Oslo
Sledding is, undoubtedly, one of the most popular activities in Oslo during the winter.
And don't think that this activity is just for kids- it's for everyone of all ages who wants to participate!
You can take your own sled, or you can rent a sled for 100-150 NOK per day.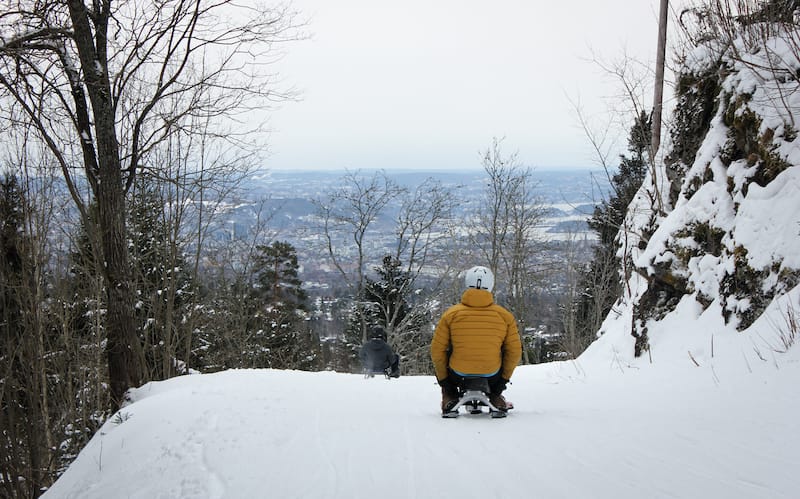 Many people enjoy the main sled run in Oslo, Korketrekkeren, where you are able to go riding for free. The sled run has an elevation of 255 meters and you can take a metro to get back to the top.
And when you're done, be sure to grab a bite at the Frognerseteren café and restaurant nearby, where you can have a bite of apple pie or Norwegian waffles to warm up.
24. Watch the Sunrise and Sunset
As mentioned earlier, the sunrise and sunset in Oslo during the winter months take place at many different times than what you're likely used to!
The sun will typically rise at around 9 AM in Oslo. This is perfect for those who don't want to wake up too early to catch the gorgeous sunrise.
The sun typically sets sometime around 3 PM in Oslo.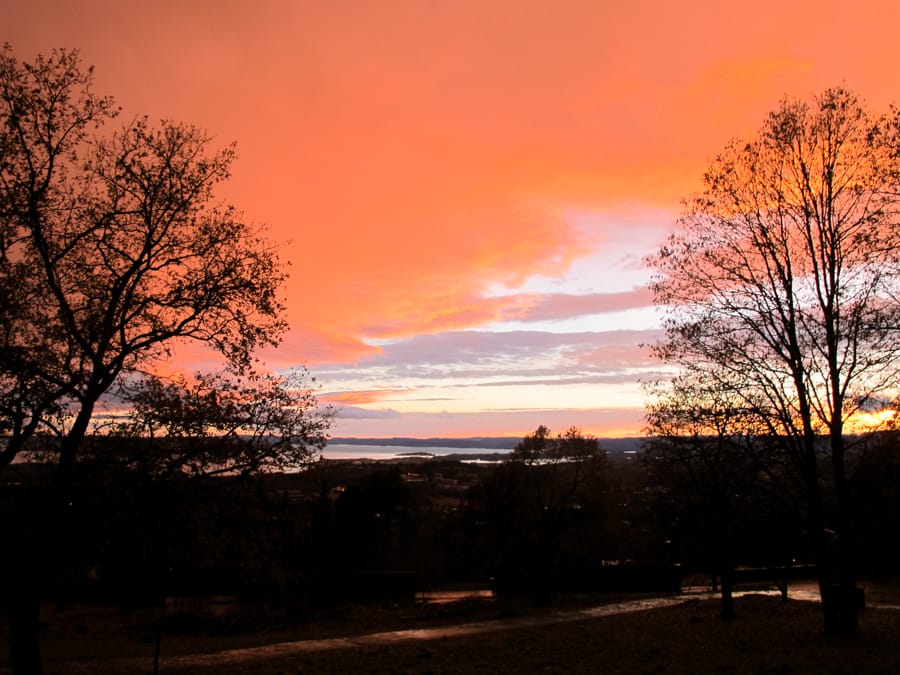 Many photographers especially like to take advantage of this unique phenomenon to capture the beautiful winter sky in Norway.
Some of the best places in Oslo to check out the sunrise and sunset include Ekeberg Park and Holmenkollen.
What to Pack for Winter in Oslo
We have written a whole guide to what to pack for Norway in winter, but here are some items we absolutely think are essential for your Oslo winter adventure:
If you're seeking a general packing list for Oslo, we have that too!
How to Get to Oslo
Oslo is super well-connected by flight from a variety of places in the world. It is also pretty manageable to get from Oslo Airport to the city center.
Unfortunately, Oslo's location is not as easy to reach if you are not flying there.
But, the ferries, buses, and trains do go there… it will just be an inconvenient (and probably more expensive) way to arrive in Oslo.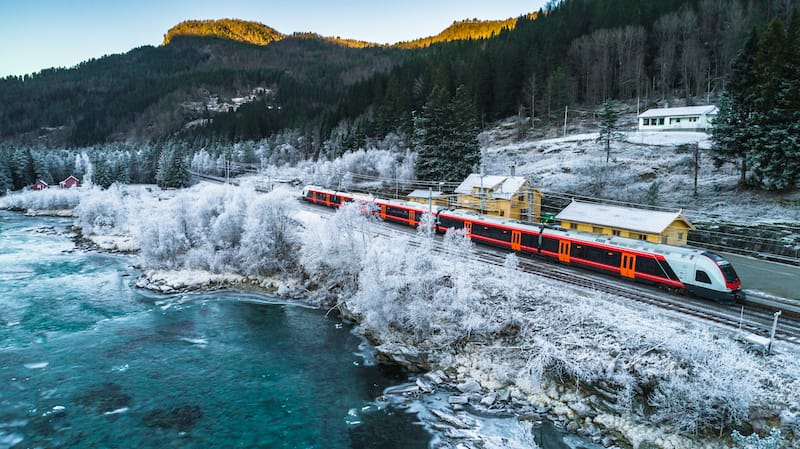 The likelihood of you ending up in Oslo in winter is because you 1) probably found a cheap flight there and said 'what the heck?!' or 2) you're en route to witness the northern lights in Tromso or somewhere up north and have a layover or will be spending time in Oslo before.
Whatever brings you to Oslo, it is easy to get there, easy to navigate around, and you will find plenty of winter activities to keep you more than occupied.
Things to Do in Oslo in Winter (On a Map!)
🗺️ HOW TO USE THIS MAP: You can use your fingers/mouse to zoom in and out. To get more info about a place, simply touch/click the icons. Want to save this map for later use? Click the '⭐' by the map title and it will add it to your Google Maps account (Saved > Maps or 'Your Places').
Where to Stay in Oslo
There are many options for where to stay in Oslo and many different sections of the city that you can stay in.
If you're there for just a weekend break, we recommend staying in the city center or in Grunerløkka or Frogner/Majorstuen.
These hotels are located in various parts of the city and will cover all budgets:
🛌 The Thief (Luxury): This is Oslo's premier luxury hotel. It is located on Tjulvholmen, really close to Aker Brygge which is nearby the ferries to Bygdøy and the islands, as well as the Nobel Peace Museum.
It is a short walk to Karl Johan's Gate. Click here for rates and availability.
🛌 Citybox Oslo (Mid-range): This hotel is located on Prinsen's Gate in the heart of Oslo near the main station.
It offers a comfortable stay and a great location. Click here for rates and availability.
🛌 Oslo Hostel Rønningen (Budget): This hostel is really nice and located a bit far from the city center in a place called Kjelsås.
You can easily reach Kjelsås by taking one of the trikks (trams) that head out that way… usually numbers 11, 12, and 13.
The prices are more affordable and this place is tops if you don't mind a 7km commute into the city. Click here for rates and availability.
Please let us know if you have any questions about what to do in Oslo in winter! We'd be happy to try to help!
Winter Weekend in Oslo – Final Thoughts
Should you book that winter weekend in Oslo (or longer!)? YES. We definitely think the city is worth it if you want to experience a proper winter.
The city is so natural and has so many things to do during the season that you will absolutely fall in love with Oslo in winter!
More Oslo Travel Guides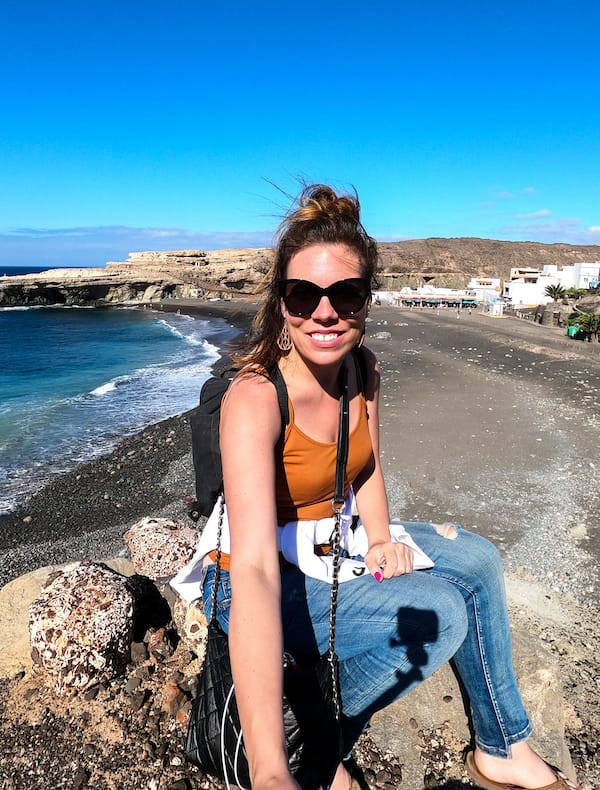 Megan is a travel blogger and writer with a background in digital marketing. Originally from Richmond, VA, she now splits her time between Frankfurt, Germany and Arctic Finland after also living in Norway, Armenia, and Kazakhstan. She has a passion for winter travel, as well as the Nordic countries, but you can also find her eating her way through Italy, perusing perfume stores in Paris, or taking road trips through the USA. Megan has written for or been featured by National Geographic, Forbes, Lonely Planet, the New York Times, and more. She co-authored Fodor's Travel 'Essential Norway' and has visited 45 US states and 100+ countries.