There are many worthwhile tours to take in Oslo to get a better idea and understanding of the Norwegian capital city. This is a recap of my time on an Oslo fjord tour as well as what to expect and how to book one yourself!
Are you planning your trip to Oslo last minute?
If youʻre booking your trip to Oslo last minute, we have you covered. Below are some of the top tours, hotels, and more!
🇳🇴 Top Experiences and Tours in Oslo:
🛌 Top Hotels in Oslo:
🚗 Looking to travel around Norway independently? Click here to check Norway rental car rates!
Did we miss anything you are curious about when taking and booking a fjord tour in Oslo? Let us know in the comments! Thanks!
Oslo Fjord Tour: Why You Should Take One
Oslo is a wonderful city with several sights, hidden corners, and insanely cool modern architecture. Every time I am in Oslo I discover something new, no matter what season I travel to Oslo in.
Visiting Oslo during the winter is much different than visiting during the summer but many of the sights stay the same- just with a different look and atmosphere.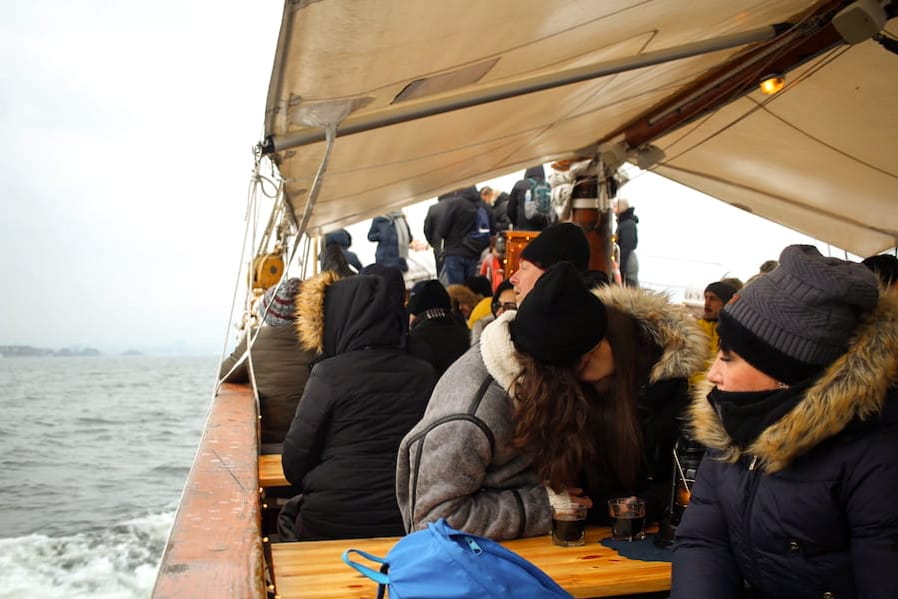 When you travel there, you will see a lot of interesting architecture, both modern and old, lush parks, and many world-famous museums. But, one of my favorite things about Oslo is the fjord that comes through the city.
About the Oslo Fjord
The Oslo Fjord (Oslofjorden) flows in from the Baltic Sea and runs right into the Oslo city center. During the winter, some parts of it will freeze but it still remains open largely for ships and cruises coming back and forth from places like Denmark.
One of the best places to hang out on the Oslo Fjord is around Aker Brygge and Tjulvholmen in Oslo. The new and popular Vippa Food Hall is located right on the fjord too, as is the Oslo Opera House.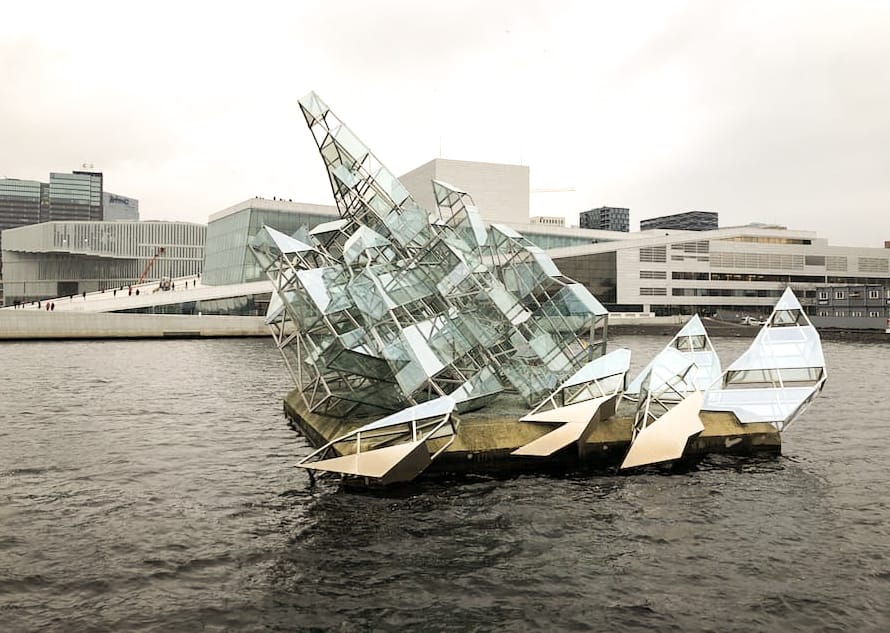 Size-wise, Oslofjorden is 100 kilometers long and contains several islands. Many of these islands are used by locals for different purposes and festivals.
Some of the popular places along the Oslo Fjord are Bygdøy (where many museums are located), Hovedøya, and Gressholmen.
This is my review of the Oslo fjord tour that I took. It is one of the most popular tours in Oslo and was a great way to get a good impression of the city.
Who Should Take an Oslo Sightseeing Cruise?
This cruise is ideal for those traveling to Oslo for a long weekend or looking for a short city break.
It gives a really good impression of the city and you get to see it quickly enough that you get to see some of the main sights and nature spots but also get to gain information about them in case you want to re-explore them later.
In my opinion, the best tour to book for this is the Oslo Fjord 2-hour Sightseeing Cruise. This cruise is the most popular tour in Oslo and it comes at a super affordable price, which is an anomaly in Norway!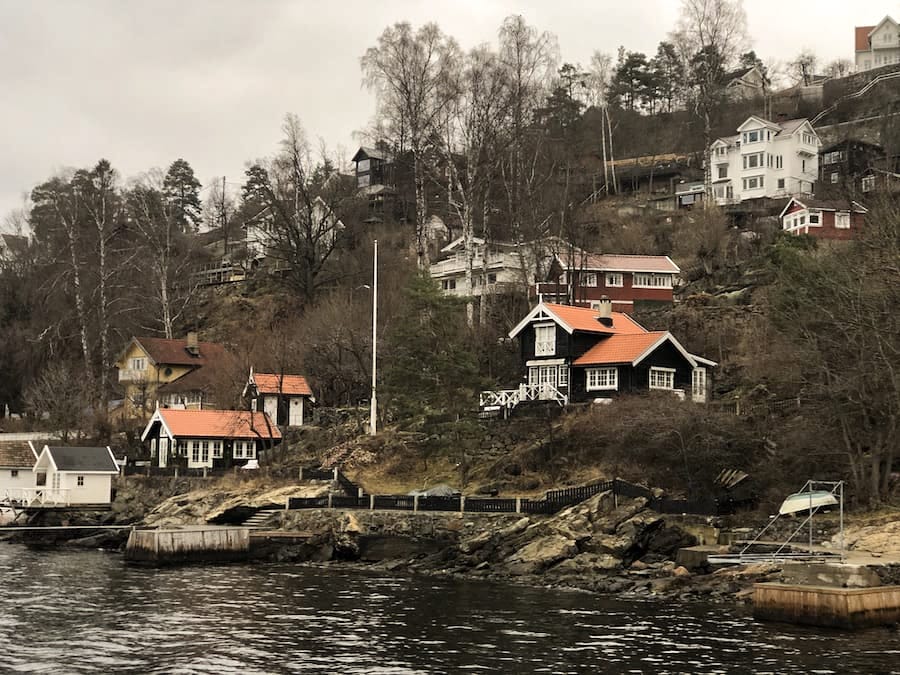 It also only takes two hours which gives you the rest of your day to chill out and explore beautiful Oslo.
How to Book the Oslo Fjord 2-hour Sightseeing Cruise
We recommend booking your Oslo fjord tour through GetYourGuide, a partner of ours who specializes in offering travelers high-quality tours around the world.
We love using them because they keep close contact with all tour partners and make sure they adhere to high standards.
Also with GetYourGuide, you can cancel your tour up to 24 hours before if something comes up. This is super helpful as you don't feel locked in if your plans change.
I have had to use this a few times before, unfortunately, and while it sucks to miss the tour, it is a relief to know that they acknowledge that plans change.
My Time on the Oslo Fjord 2-hour Sightseeing Cruise
At the beginning of 2020, I had the opportunity to visit Oslo and really spend more time getting to know the city. I had an Oslo city card in my possession and I was keen to take a few tours in order to get a better understanding of the city that Megan once called home.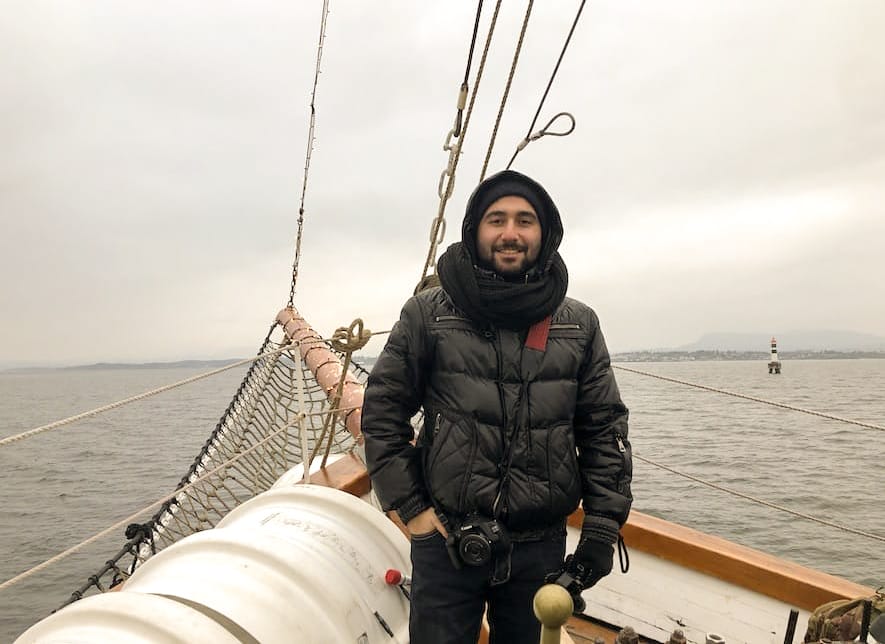 One of the tours I took was an Oslo fjord cruise. It zipped through the famous waters and by islands and museums and gave us a good impression of the city albeit from the water.
I really do recommend this tour if you're in Oslo on a weekend break or don't have a lot of time to explore the city deeply. I also recommend the Oslo Discovery Tour by HMK- I took this when there and it really gave me a good impression of many of Oslo's main sights.
Practical Information
The Oslo Fjord cruise is open year-round and departs from the Oslo City Hall Pier #3 in the city center near Aker Brygge.
It does NOT run daily- it runs on Saturdays, Sundays, and Mondays and lasts for two hours per trip.
The gorgeous Oslo boat tour gives you the unique opportunity to discover secret spots in Oslo's fjord and cruise by several islands with colorful houses on them.
You will feel like a Viking aboard the ship and it was really fun to take to the seas in Norway (it was my first time!)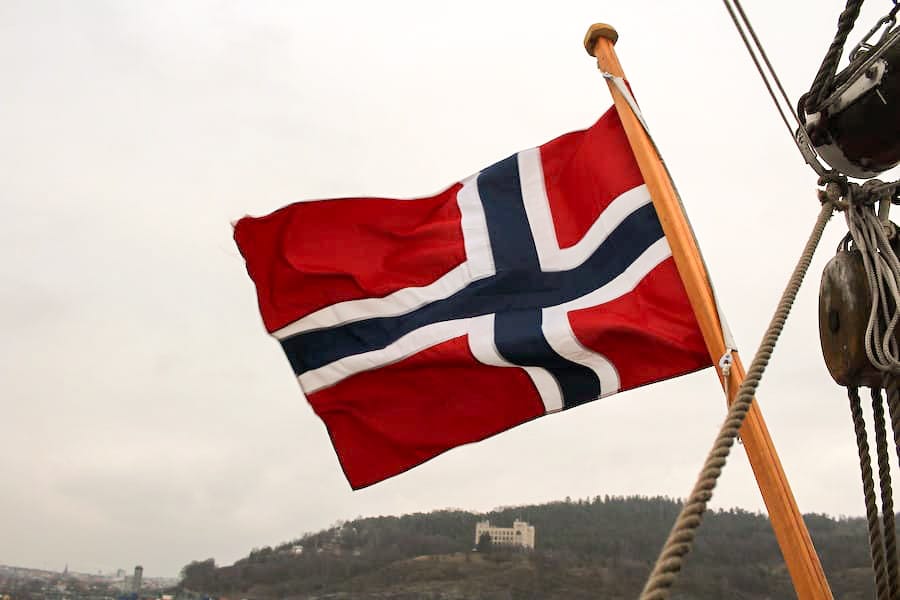 Oslo Fjord's scenery was really gorgeous during winter and I can imagine how stunning it is during the summer!
Oslo Boat Trip in Winter
I took this trip during winter in Norway.
To be fair, it was the mildest winter in Norway pretty much ever (2019-2020 winter), so the sights were not as they might be during other times and years.
But, the Oslo Fjord had a mystery to it that made it pretty magical in its own right as we sailed through the fog.
How to get to the Oslo City Hall Pier
After booking your ticket for the Oslo fjord boat trip, you will need to save the confirmation on your phone and then head down to the City Hall Pier #3 in Oslo right on the waterfront.
It is quite easy to find because it is by Aker Brygge where the Nobel Peace Center is located.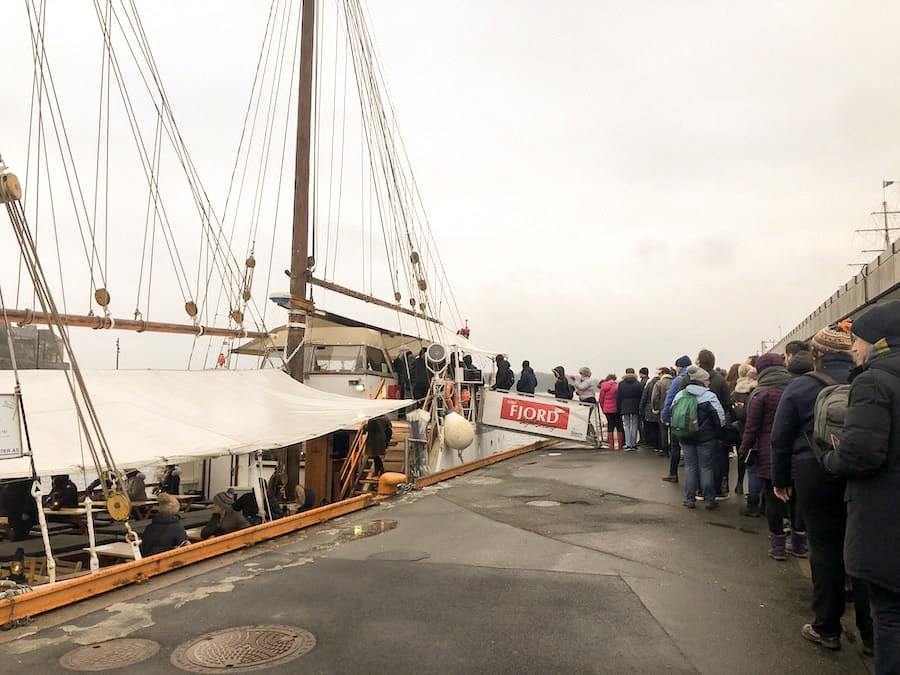 If you're arriving by T-bane (metro), take the train to the station Nationaltheatret and get out there and head toward the water. You will easily find it once down there!
Leaving the Tour Early
When you get to Bygdøy, you have a chance to disembark from the ship and stay on the island (well, peninsula).
You can visit all the museums there on your own. Many people on my tour did this, including me. This is a great chance to purchase an Oslo Pass and see the world-famous museums on Bygdøy.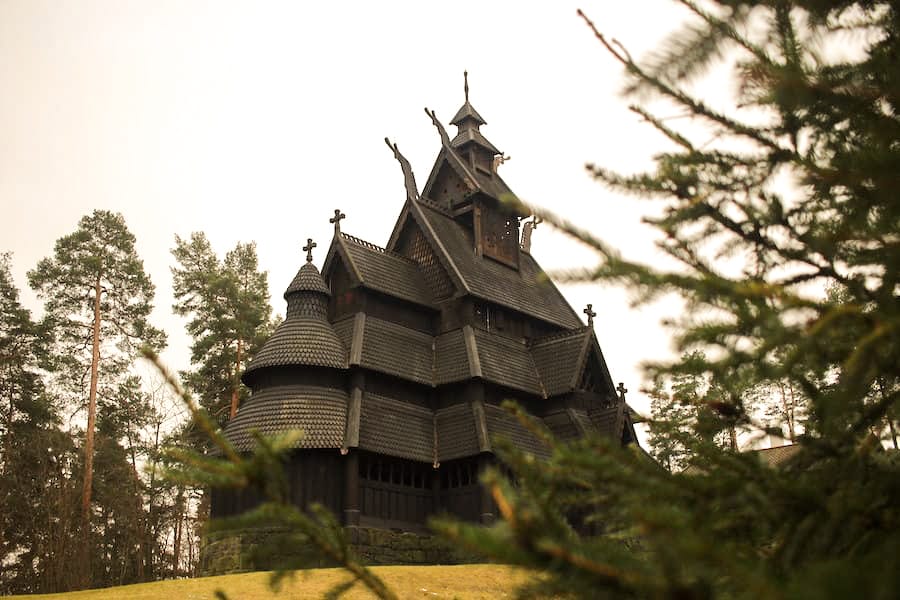 If you have an Oslo Pass for the day, you can use it and take a ferry or bus back to Oslo included in the pass.
What to Expect and Know Before Taking the Tour (FAQ)
The following things are things that I think you should know before taking this Oslo fjord cruise.
It is a Popular Tour!
Meaning… it will likely be fully booked and crowded on the boat. Be sure to book your tour early and realize that you will definitely not be on this boat alone, even in winter!
To be honest, because this tour is really popular and many people want to take it, there is not a lot of space on a boat but there is just enough freedom to walk on it and take photos.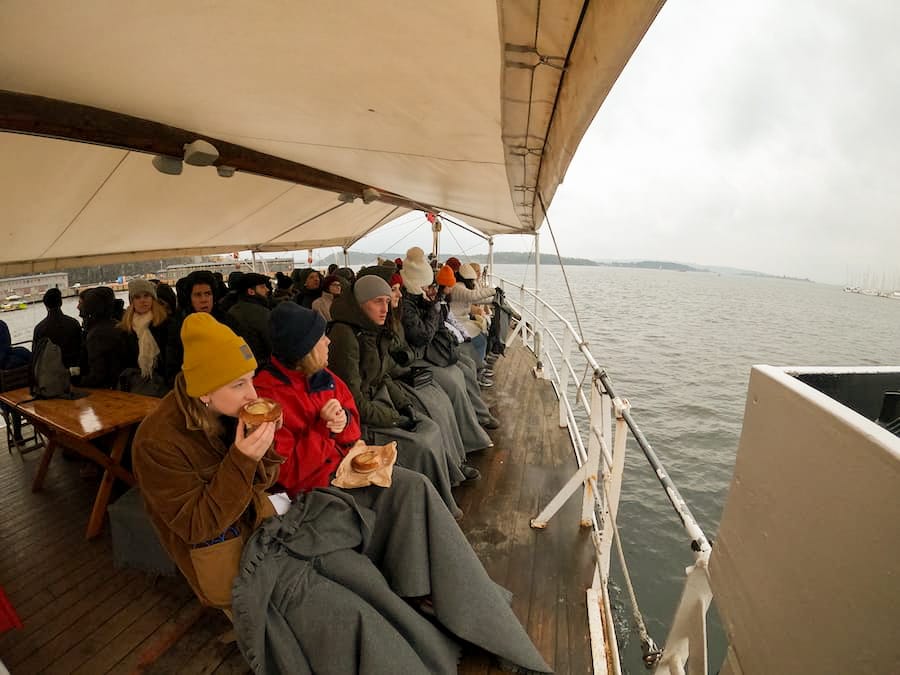 There are tables on the two-story boat, including a bar and a downstairs dining room.
Restaurant and Bar On-Board
There are a small bar and eatery on board. You can get refreshing drinks like water, beer, and Norwegian mulled wine which was delicious and warming during the winter months, especially if you encounter snow!
It is also possible to purchase small eats like snacks and sandwiches from the bar.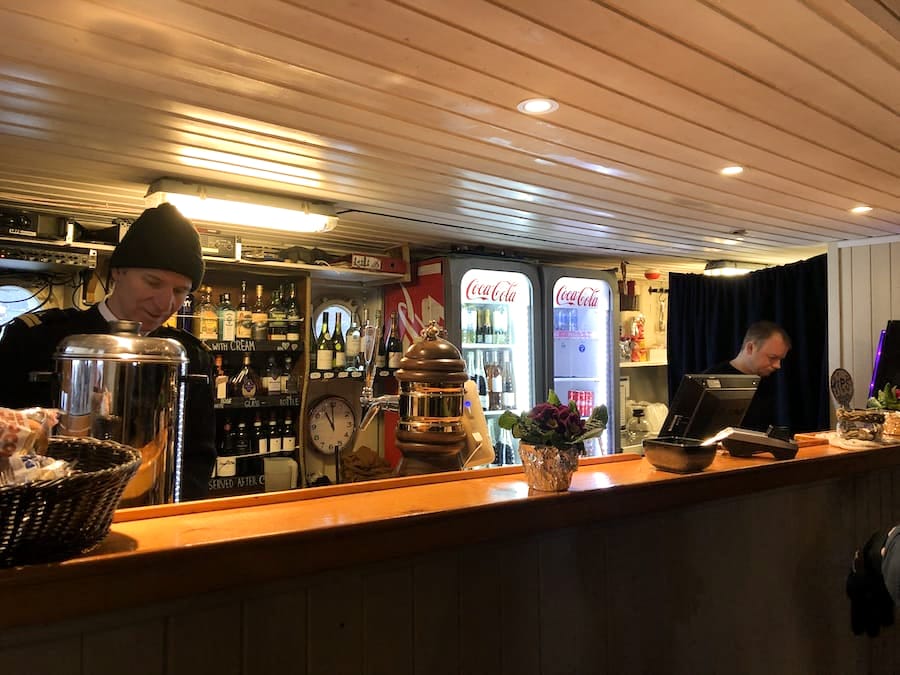 You Should Book Your Tour Online
Booking the trip online will save you time and assure that you get a spot on this popular Oslo tour! Yes, you can take your chances and go buy a ticket right at the boat, but you will have to wait in line and take the risk that the tour is not still available.
You will need to take your confirmation ticket and print it out or save online and then show it to the cashier window when you walk up to where the cruise departs from.
Departure Times
The cruise goes two times a day at 1030 and 1300. Remember, this is only on Saturdays, Sundays, and Mondays.
The Trip is Cold in Winter!
If you're taking this boat trip in winter- be prepared and dress warm! You can check out our Norway winter packing list if you want additional tips but definitely dress for the cold, even if you end up in Oslo during a mild winter as I did.
The staff will also give you a blanket to cover up with on the trip.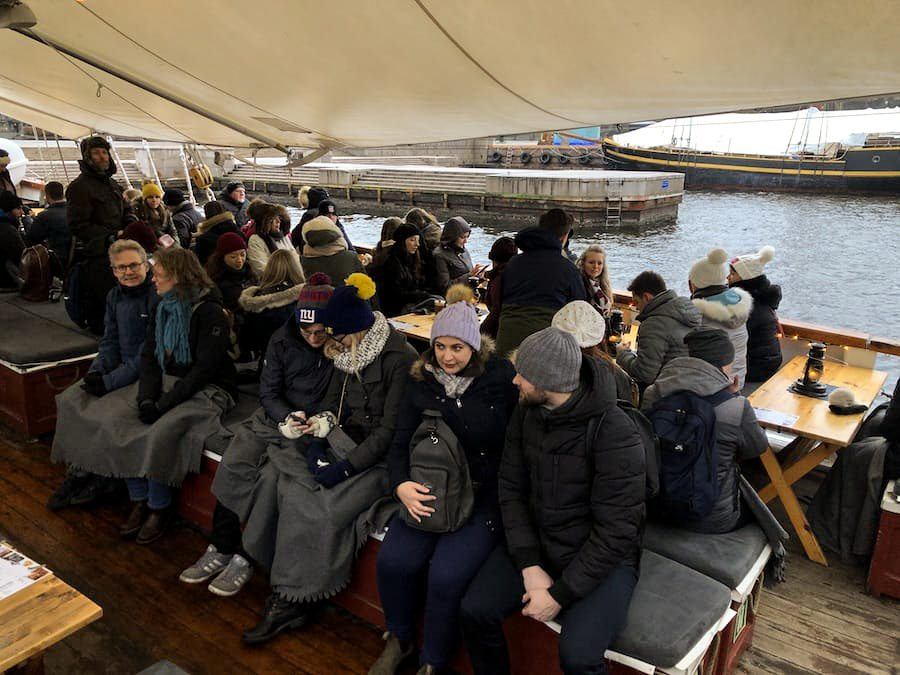 Can Someone with a Mobility Disability Take This Tour?
YES. This is a great tour for those with mobility disabilities or those in a wheelchair.
Unfortunately, you will be unable to go to the second floor of the boat but you are able to enjoy yourself on the first floor of the boat and the ports will all have ramps that will help you go to and from the cruiser.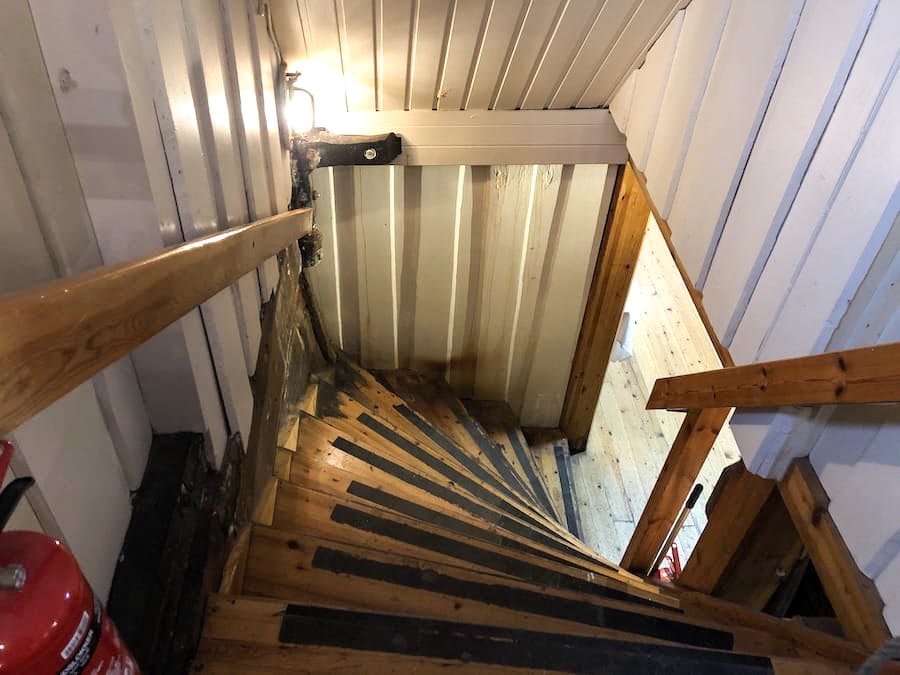 Who Shouldn't Take the Oslo Boat Tour?
If you get seasick or are claustrophobic, this tour may not be the best option for you. To be fair, the boat was pretty smooth and there was adequate space onboard, but just be aware that it could pose an issue.
Prone to getting seasick? Be sure to shop for some sea-bands before your trip to Norway. I find that they help tremendously on boat trips (Megan uses them a lot of times when she remembers).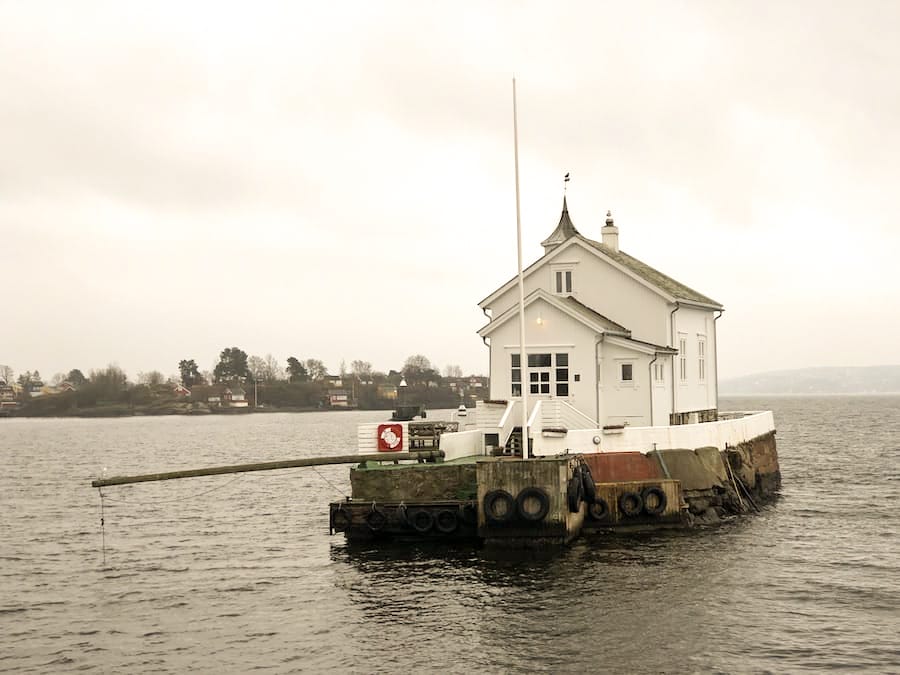 What Should You Bring on an Oslo Fjord Tour?
I would wear your normal gear for the season that you brought to Oslo and in the summer months, you will not be cold (unless you end up in Oslo on a rainy, crappy day).
But, here are some things to pack for your trip during winter:
If you want to see our top ten suggestions of what to pack for Oslo, you can click on our linked guide.
Final Thoughts on the Oslo Fjord Sightseeing Tour
I really enjoyed my time on the tour and thought it was a great tour for those visiting Oslo for the first time.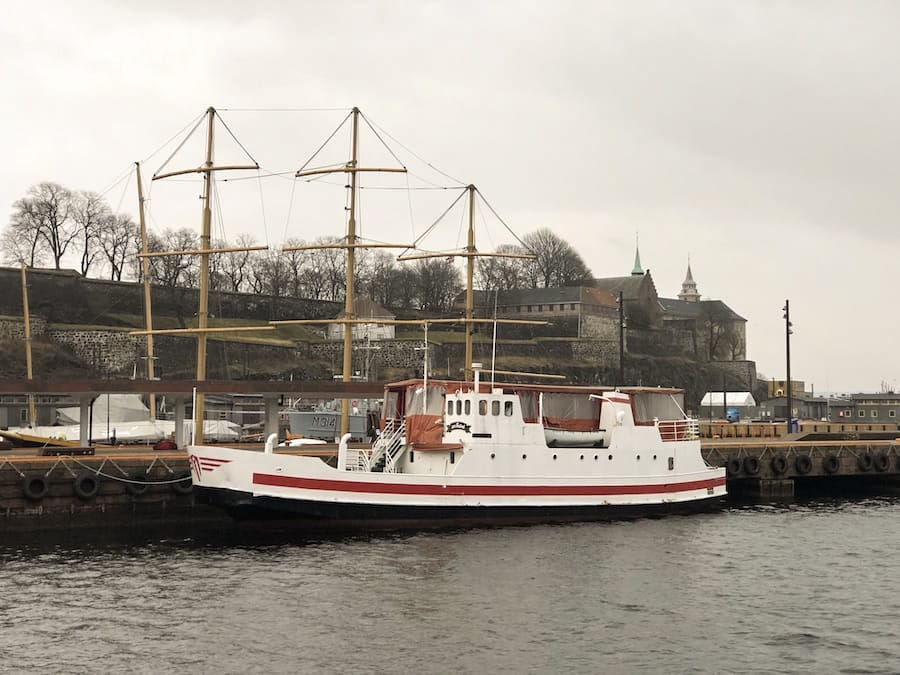 Not only will it show you some of the best scenery in the city, but it also gives you the chance to see it by boat- which is pretty cool and not something you can do in a lot of other cities!
Other Popular Oslo Tours
If you're going to Oslo for a few days and want to take an organized tour for part of your journey- the city offers some great ones in addition to the one I took and reviewed above. Trust me, I took multiple tours of the city!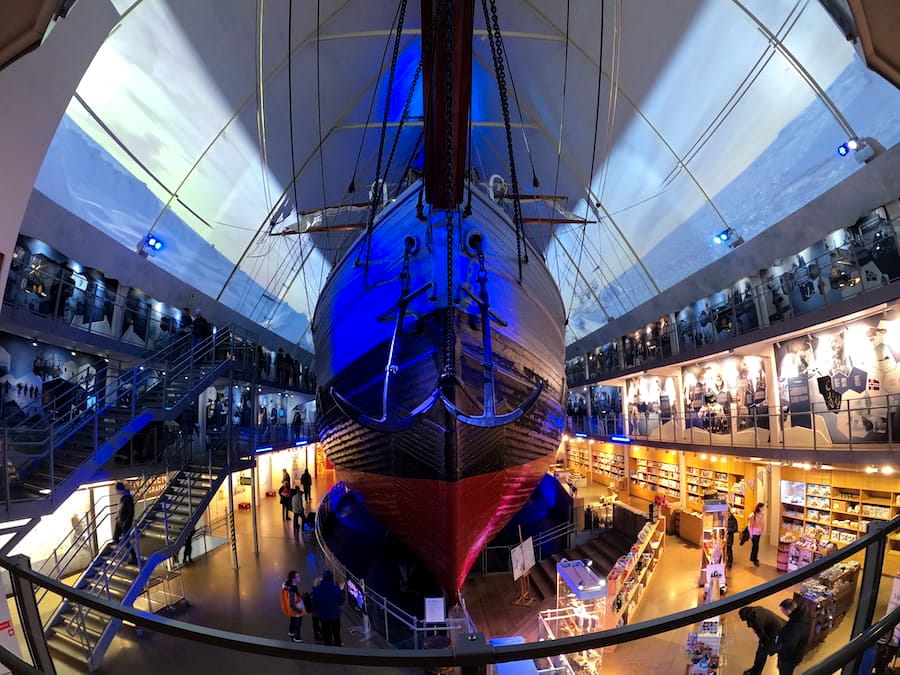 One useful thing to point out is that Oslo is pretty affordable if you book a tour. At least compared to many other cities. Here are our top recommendations for tours in Oslo:
Where to Stay in Oslo
Oslo is home to some fantastic hotels and many are suitable for whatever your budget happens to be. These are our top picks for hotels in Oslo and the price range they fit into.
We definitely think purchasing an Oslo Pass is a great option for your trip to Oslo, especially if you're interested in the cultural side of the city and its fantastic museums! If you have any questions, feel free to reach out!
More Oslo Travel Guides