The cheapest and best way to see Oslo's best sights and landmarks is with the Oslo Discovery Tour. This tour takes you to Holmenkollen, Vigeland's Park, Bygdøy Museums, and more.
Are you planning your trip to Oslo last minute?
If youʻre booking your trip to Oslo last minute, we have you covered. Below are some of the top tours, hotels, and more!
🇳🇴 Top Experiences and Tours in Oslo:
🛌 Top Hotels in Oslo:
🚗 Looking to travel around Norway independently? Click here to check Norway rental car rates!
This is my review, tips, and experience on the Oslo Discovery Tour with HMK. Let me know if you have any questions in the comments!
Oslo Discovery Tour: Cheapest Way to See Oslo's Best Sights
Oslo has several beautiful and important sights within the city limits and the best (and cheapest!) way to see them, in my opinion, is with the Oslo Discovery Tour by HMK.
The tour has gained popularity over the years because of its affordability and its quality. It gives guests the opportunity to see many of the capital's major sights, learn their history, and not have to worry about being transported between the landmarks.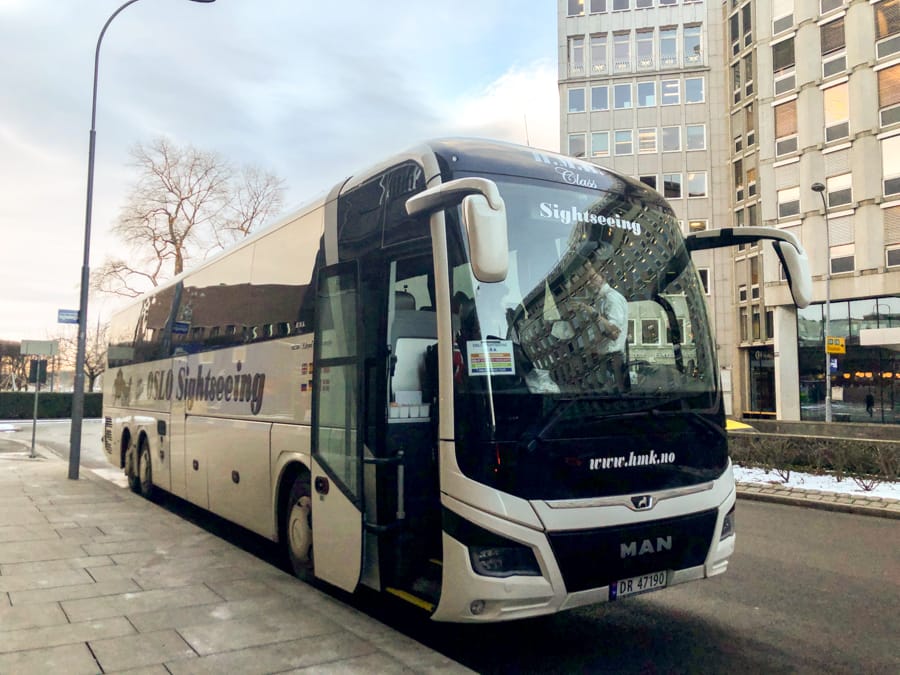 This guide will show you why I think the Oslo Discovery Tour is a worthwhile spend if you're on a city break in Oslo and what the benefits of taking the tour are.
It also gives some tips for the Oslo tour, including what to bring with you and what to expect if you book it.
Oslo Discovery Tour
I went into the tour unaware if the tour was going to be my cup of tea or not.
The groups are a bit larger than most tours I've been on but I quickly realized that the group size allowed the tour to be a cheaper price than one with small groups, so I was fine with it.
By the end of the tour, I realized that the tour was definitely my cup of tea and that it was conducted very professionally and was a great fit for everyone.
Here is my experience on the Oslo Discovery Tour.
My Experience Discovering Oslo
As mentioned before, the tour was actually different than I had pictured going into it. It has excellent reviews but I am always a skeptic before starting something as I don't know who the reviews are coming from.
I am a big fan of discovering places with interesting history but I don't always enjoy the process of locating and venturing into these types of sights.
I also am skeptical that tours will be conducted in a boring manner and my interest will be lost in the first hour.
The Oslo Discovery Tour started at 10am in the center of Oslo near the large Oslo Court House (Rådhuset) and near Aker Brygge.
There was a large bus waiting for us there. I showed my QR code and confirmation of my booking to the driver and tour leader.
Once they scanned it, I was given a sticker indicating that I was confirmed on the tour. Don't lose this sticker!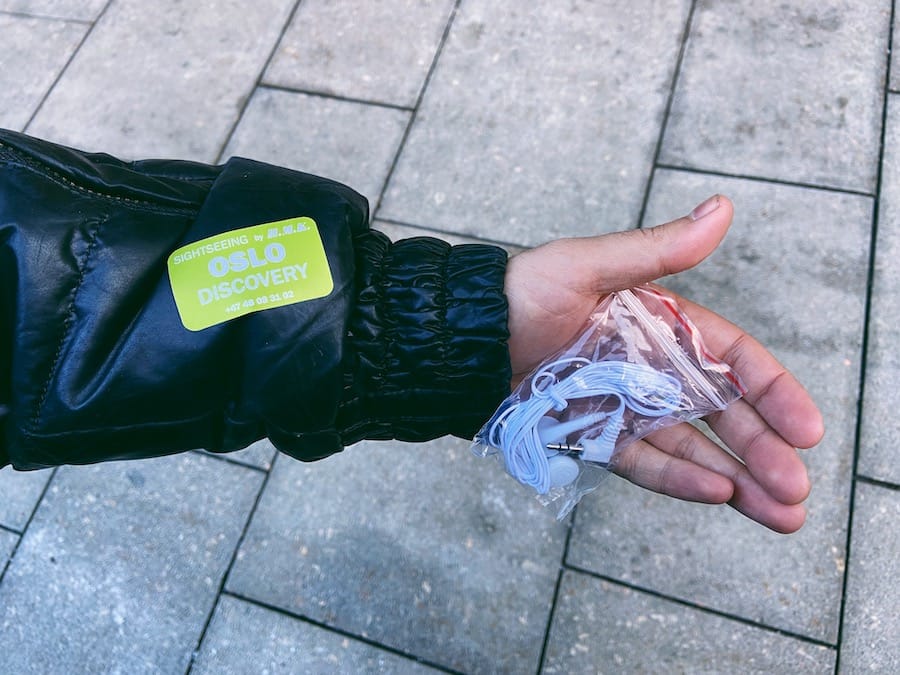 I was also given headphones by the driver and was told that there were several languages available in case my English or Norwegian wasn't up to par or if I felt comfortable with an alternative language.
They offered the tour in English, Norwegian, Danish, Italian, Russian, Spanish, French, German, and Chinese.
Do note that these languages (except Norwegian and English) will be pre-recorded on a channel that you'll listen to individually with headphones on.
The tour guide will assist you in finding the channel that suits you best!

After the guests are all buckled up for the tour, it will begin by passing some of the city's most historic and stunning landmarks.
The most striking thing about the buildings was that we drove past some of the old ones that were situated right by some of the new, modern ones. Oslo truly is a city of contrasts.
The best part about the tour was the guide herself. Helene was extremely knowledgeable and very enthusiastic to present her city. She was professional and eager to answer any questions the tourists had.
What to Expect on the Oslo Discovery Tour
Holmenkollen Ski Jump
Our first stop of the day was the large and imposing Holmenkollen Ski Jump, one of the most famous (if not the MOST famous) ski jump in the entire world.
It is located about ten minutes from the city center by tour bus or car and is also accessible by t-bane (metro).
Holmenkollen is not just a ski jump but is also a museum and cultural area about Norway's most famous sport. There are also many trails and green areas in the vicinity of the ski jump.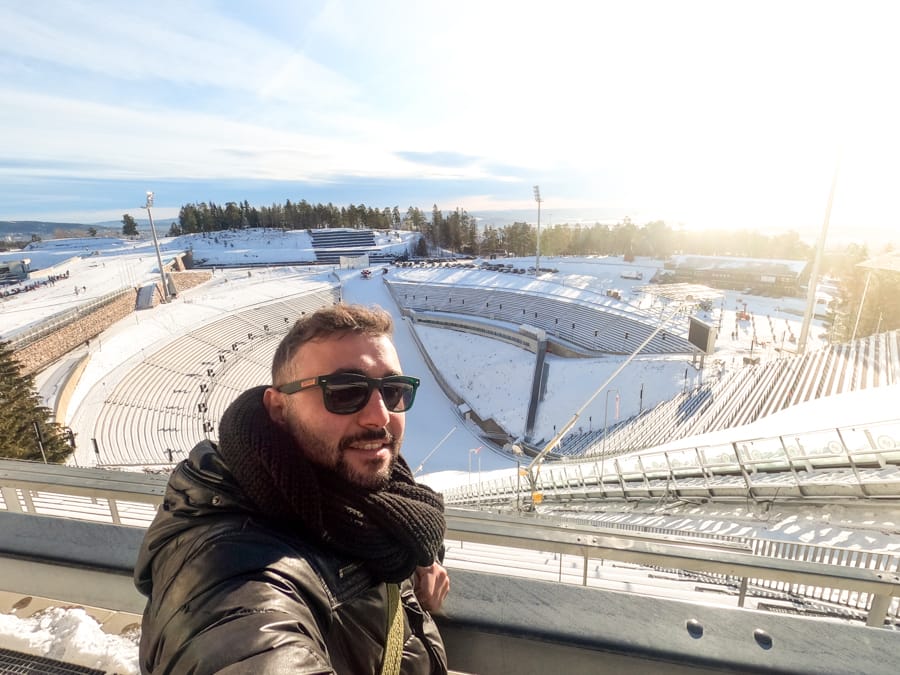 The Olympic ski jump in Oslo was extremely impressive, especially in winter, as it was covered in snow and many athletes were there to test out their skills and to train.
We had 25 minutes to discover the area and see the ski jump up close. It also gave us time to enjoy coffee inside the cafe and to purchase souvenirs from the shop at Holmenkollen.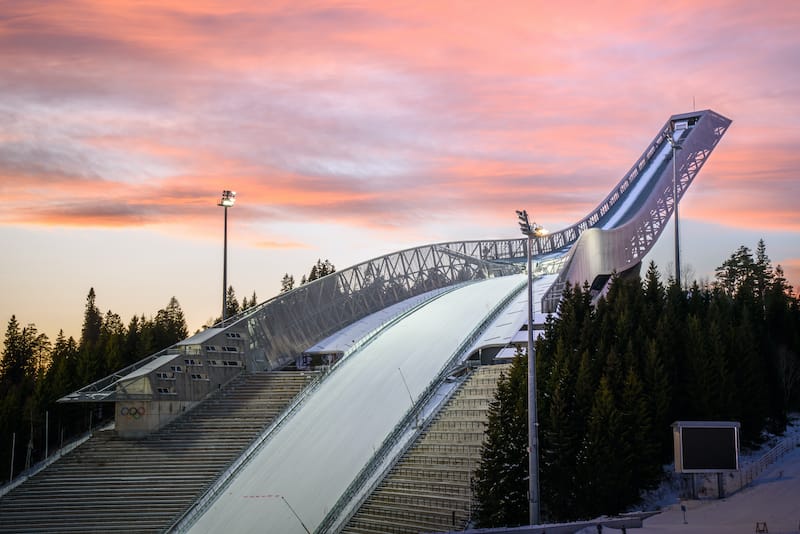 Good to know: You can not get into the museum with the tour and must purchase a separate ticket to access the Holmenkollen Ski Museum.
Since we only had 25 minutes up there, it would not have given us enough time to explore it anyway. If you want to visit the Ski Museum, it is FREE with the Oslo Pass.
Frogner Park (Vigelandsparken)
The next stop on the tour was Frognerparken (Vigelandsparken), one of the most obscure parks and breathtaking parks in the world.
Frognerparken is one of the iconic places in Oslo that you just have to visit, regardless of whether you're in Oslo in winter or summer. It is known for its sculptures but it is so much more than that.
The sculptures were all created by artist Gustav Vigeland and they represent life from its beginning until its end. It also showcases the ups and downs of life in a very interesting manner.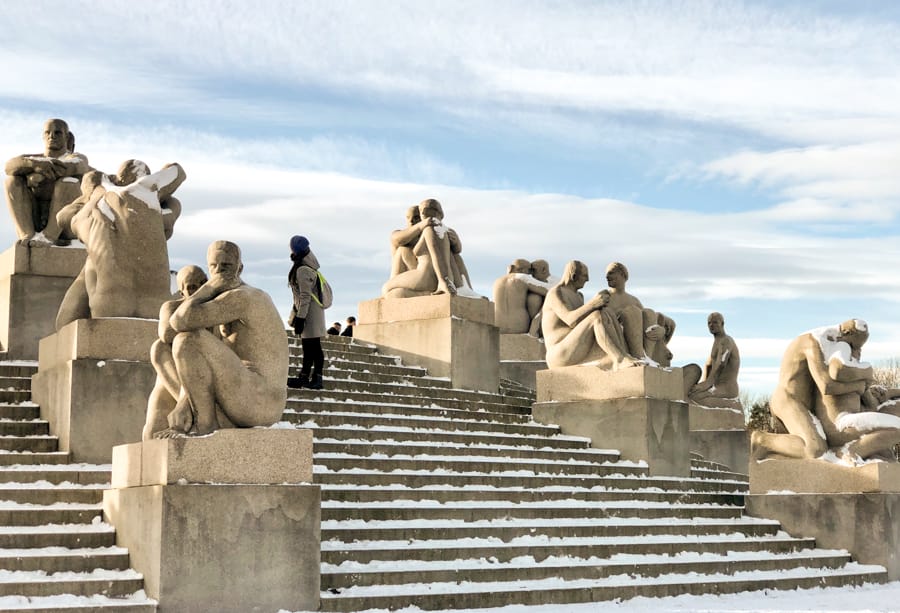 It took Vigeland more than 20 years to create the 212 sculptures inside of the park and they are made from monolith granite and bronze and it is one of the most impressive sights I have ever seen with my own eyes.
He was creating many of these masterpieces during WWII.
Insider Tip: There is a museum in Vigeland Park that is free to access with the Oslo Pass. It is very worthwhile and a great way to learn more about the history of the park.
Bygdøy Museums
The final stop on the five-hour tour is the Bygdøy Peninsula, a natural spot in Oslo that is known for being home to some of Oslo's most famous museums.
It was really interesting and cool to see so many educational museums located in a spot that was quiet and removed from the bustling city center. I loved it.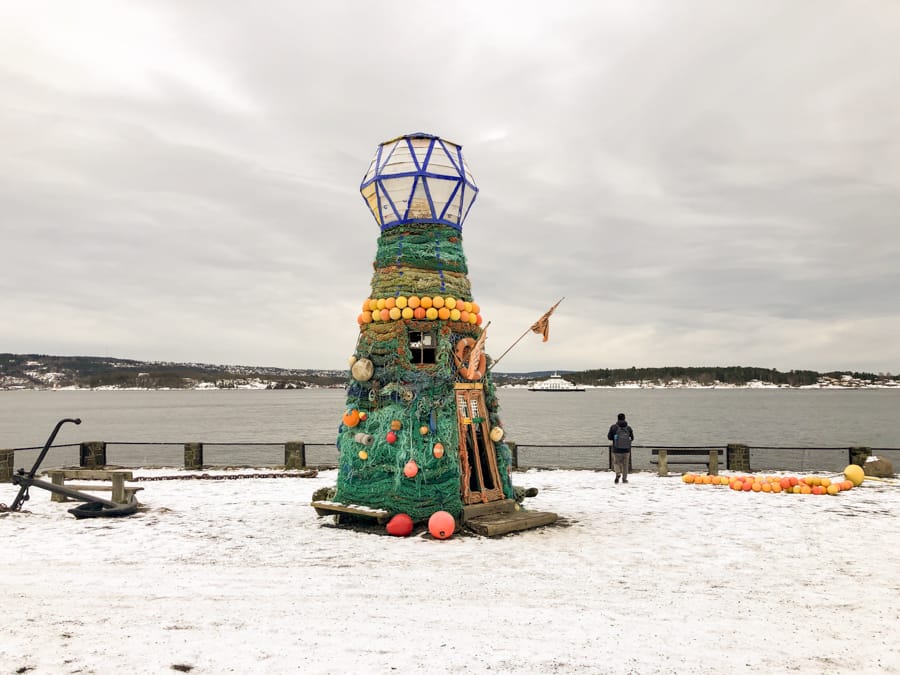 We drove to Bygdøy since we were on the Oslo tour, but you can reach the area by ferry from Aker Brygge. It is included in the price of your Oslo transportation pass.
On the way to Bygdøy Peninsula, we found out that one of the two museums that are usually visited on the tour, the Viking Museum, was closed that day for dusting and was switched out with another museum.
This is not common, but it did change our tour itinerary a bit. Turns out the switch was fine by me as I loved both museums I visited that day.
Fram Museum
It is so fascinating to learn about and imagine how life was 100 years ago for people traveling to the North Pole as opposed to getting there today with all of the technology we have in place.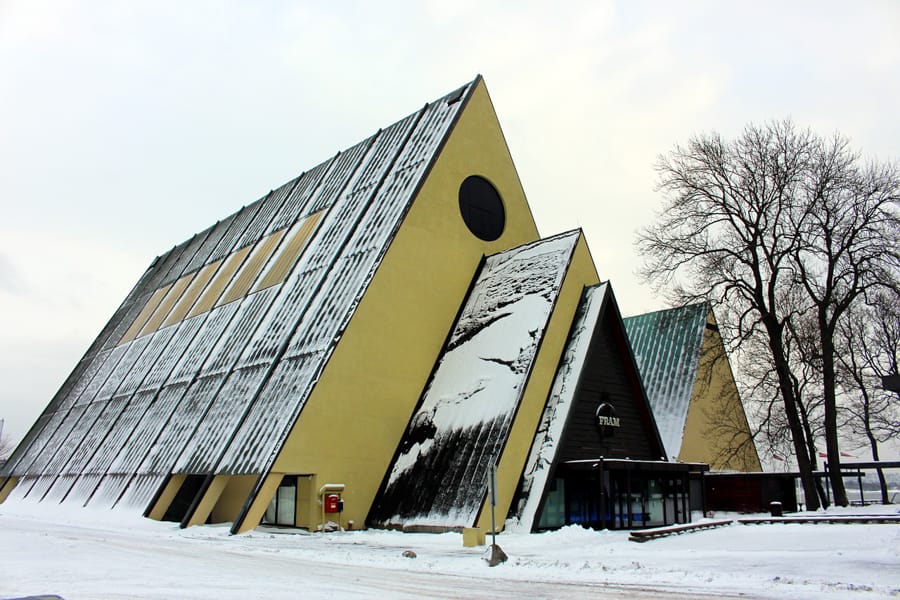 The Fram Museum is home to the legendary ship, Fram (means 'Future' in Norwegian), that was used in three very important expeditions more than 100 years ago. These expeditions were:
It blew my mind to see this ship up close and to see the details of a boat that took people around the world to discover new places through treacherous waters.
It was also shocking to see how people lived aboard it for three years.
Inside the Museum, you will also see many other exhibitions on the three floors and a sub-zero labyrinth. On the first floor, you will see a small cafe selling sandwiches, coffee, and tea.
This was such an exciting Oslo Museum to visit for me and I think this was one of my tour highlights.
Kon-tiki Museum
As mentioned before, the Viking Museum was unexpectedly replaced with the Kon-Tiki Museum. I really enjoyed the replacement, personally, and found the switch to be positive.
Thor Heyerdahl was one of the most famous explorers of the 20th century and he had a theory that the inhabitants of the Polynesian Islands originally came from Southern Africa with primitive boats.
In order to test out this journey, he built a raft, called Kon-tiki, and started the journey on April 28, 1947, from Peru.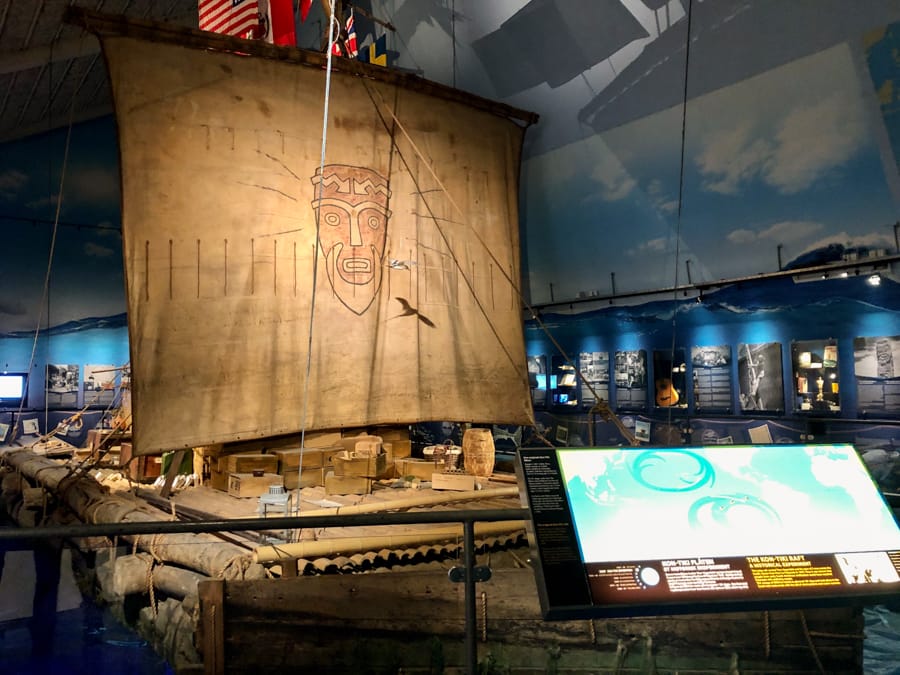 This ended up becoming one of the most legendary and adventurous expeditions in the 20th century and it is still talked about today.
One of the most fascinating things about the expedition was that the crew filmed a documentary doing it and it won an Oscar in 1951. You can view the actual Oscar inside this museum.

I was truly amazed at how much the museum depicts how traveling connects cultures and getting a glimpse into Thor Heyerdahl's life and expedition really brought this to the forefront. I loved this museum.
Who Should Take the Oslo Discovery Tour?
The tour is pretty much for everyone. Unfortunately, it is not an option for those with mobile disabilities as there is no wheelchair lift on the bus.
There was also a fair amount of walking to and from certain sights, so if you're not in a condition to walk a bit, this may not be the tour for you.
How to Book the Oslo Discovery Tour
To book the Oslo Discovery Tour, we recommend booking through GetYourGuide, a website that specializes in high-quality tours in cities around the globe.
We use them because they hand-select every partner they work with and really encourage user feedback on their experiences.
With GetYourGuide, you can also cancel up to 24 hours before the tour begins. This allows you to book things ahead of time and prepare, but also cancel if something unexpected comes up, or if you found a way to make it to all the sights ahead of the tour!
What to Pack for an Oslo Tour
Just like most places you'd go, you're going to want to evaluate the time of the year and climate before packing for your trip!
You can check out our guide of things to pack for Oslo here but here are some additional recommendations we have for taking a tour in Oslo (in winter because summer is pretty easy to pack for Oslo):
If you're keen to know more about packing for winter in Norway, you can check out our guide. In summer, we really stress bringing good walking shoes on this tour!
Oslo Discovery Tour Practical Information
This tour will begin at 10:30am, but do get there about 30 minutes early to ensure you don't get lost and that you get checked in on time. You will meet your bus and crew at Haakon VIIs gate 1.
The easiest way to reach this is by taking the T-bane to National Theater Station (or walking from your hotel).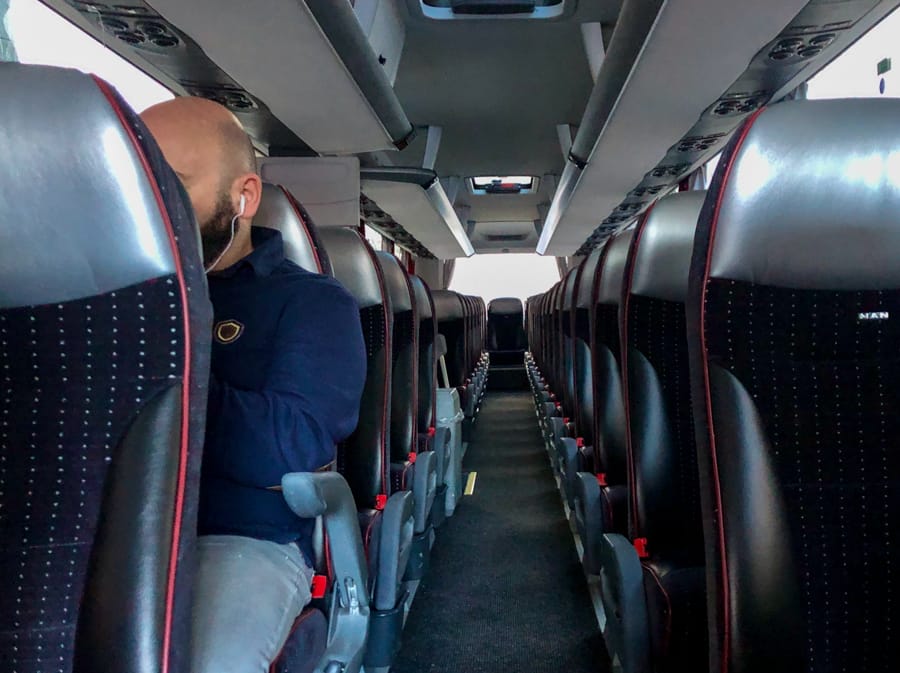 The tour is 5 hours long and you'll be dropped back off around the same area you were picked up at.
Oslo Discovery Tour is available daily except on the following dates: May 17, September 21, and December 24 and 25.
Tour FAQ
What language is the Oslo Discovery Tour in? It is in both English and Norwegian.
However, there are headphones and pre-record tapes in German, Chinese, Russian, Italian, Danish, Spanish, and French.
Is lunch included? No, there is no included food or drinks. You can bring your own or you can purchase it at gift shops and cafes along the way.
What if I have limited mobility? This is likely not the optimal tour, unfortunately. There is no wheelchair ramp for the bus and there is a little bit of walking throughout the tour.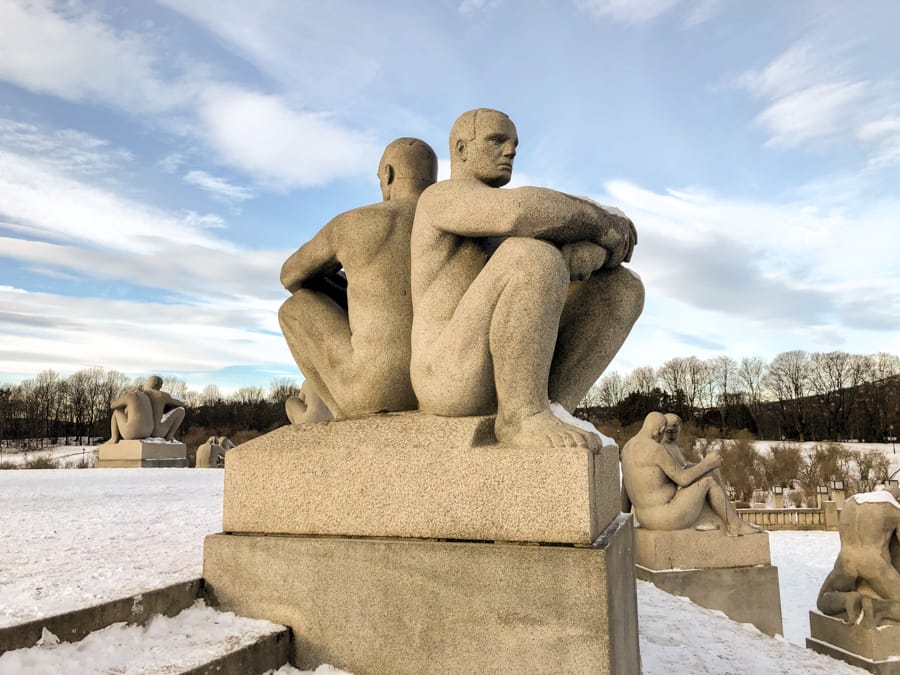 Does the tour offer hotel pickup? No, you will go to the meeting point at Haakon VII's Gate 1 (in front of the store 'Riktige Leker'). There is a bus that says 'HMK' on the outside.
Are museum entrance fees included? At the Bygdøy museums, YES. At Holmenkollen Ski Museum, no. But, you don't really have much time in Holmenkollen, so I wouldn't suggest popping inside the ski museum anyway.
Can you cancel the tour? Yes, if you book through GetYourGuide, you can cancel up to 24 hours before the tour's start time.
Final Thoughts About the Oslo Discovery Tour
I think the tour was well worth the time spent partaking in it. It was great value for its money and I learned a lot about the sights I visited because I had such a great guide along the way.
It is the ideal tour for someone coming for a long weekend in Oslo or someone who will a short amount of time in the city.
>> Click here to check rates and availability for the Oslo Discovery Tour

Other Oslo Tours to Consider
If you're going to Oslo for a few days and want to take an organized tour for part of your journey- the city offers some great ones in addition to the one I took and reviewed above. Trust me, I took multiple tours of the city!
One useful thing to point out is that Oslo is pretty affordable if you book a tour. At least compared to many other cities. Here are our top recommendations for tours in Oslo:
Where to Stay in Oslo
Oslo is home to some fantastic hotels and many are suitable for whatever your budget happens to be. These are our top picks for hotels in Oslo and the price range they fit into.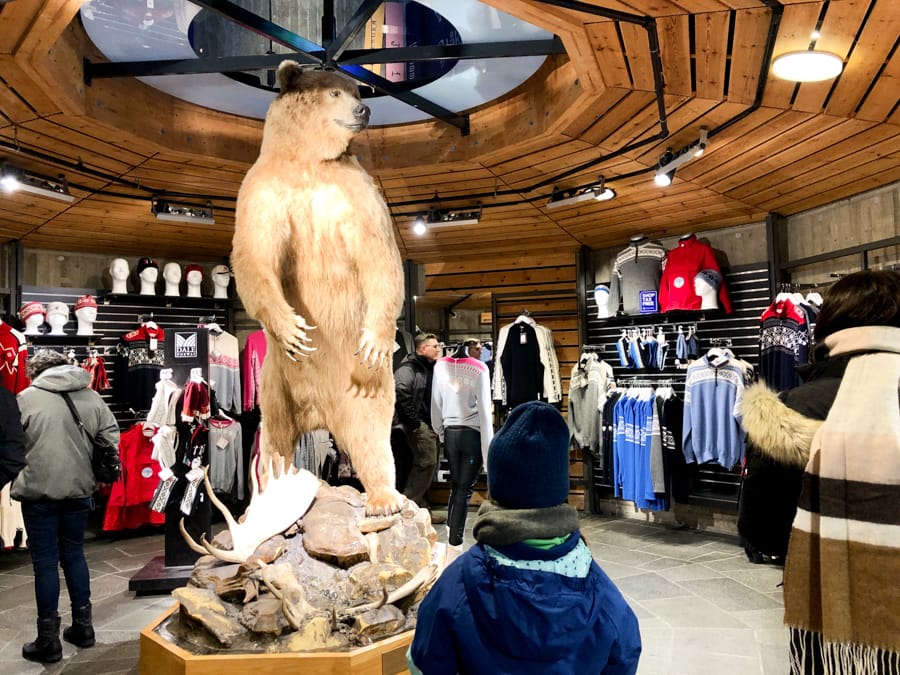 We definitely think purchasing an Oslo Pass is a great option for your trip to Oslo, especially if you're interested in the cultural side of the city and its fantastic museums! If you have any questions, feel free to reach out!
More Oslo Travel Guides