Tampere, Finland is one of those places I often yearned to go to but never made the jaunt up there and actually went.
I finally had a chance to check out the city and experience all the crazy things to do in Tampere just last month and I'm so glad to say that the city was a lot cooler than I could have imagined.
This is a guide to what to do in Tampere for travelers interested in craft beer, street art, and something a little different.
Best Things to Do in Tampere, Finland
I had long heard travelers and other travel bloggers rave about Tampere and how it had a unique edge to it in comparison to many other Finnish cities.
After I went to visit Lahti recently, our next stop was to head to Tampere. I was so happy to finally see Finland's third-largest city.
Tampere is nestled between the lakes of Pyhäjärvi and Näsijärvi in western Lakeland in Finland.
When I think of Tampere, I actually think of it being a university city as there are four institutions for higher education in the city and a lot of the nightlife and cultural events are centered around the students.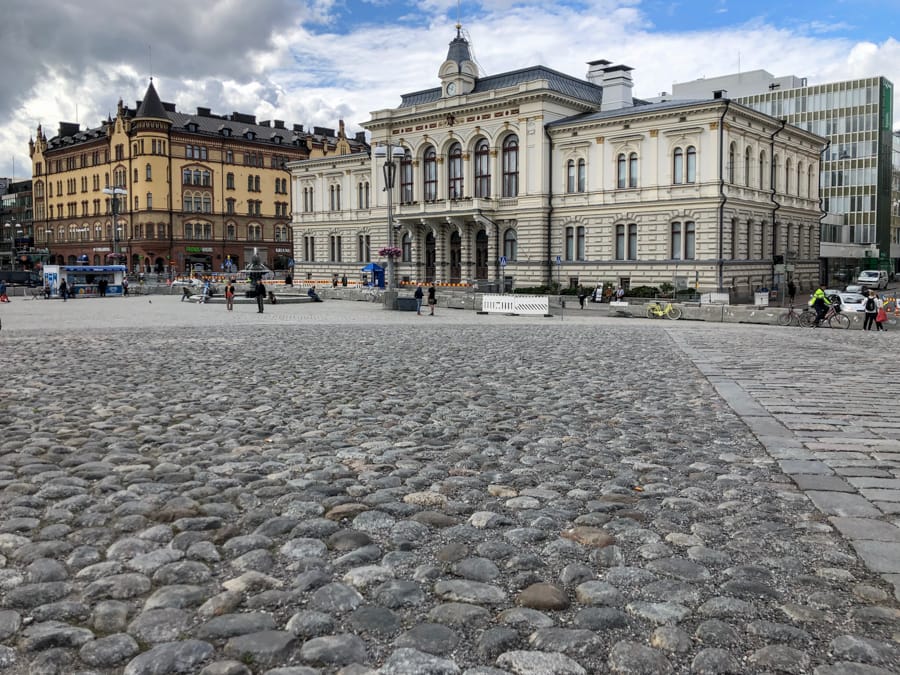 One of my favorite things about Tampere is that the city felt personal. It had an intimate vibe to it that made it feel very comfortable, yet large enough to enjoy the many things to do in Tampere that exist.
As someone who has lived in the Nordics (I used to live in Norway), I definitely have learned to tell the difference between places that are just good to visit and places that are great to live.
Tampere is both.
Another plus about Tampere is that it was voted the world's sauna capital. *And we all just booked a one-way ticket to Tampere, Finland… didn't we?*
This is my guide to places to visit in Tampere for those that don't just want to stroll around and admire churches and opera buildings all day.
Those things are great too but what energizes me is checking out street art and getting to know a city's craft beer and cafe scene.
I also love nature (although I don't think the feeling is mutual, to be honest), so this will include a little bit of that too so that you can see a different side of Tampere.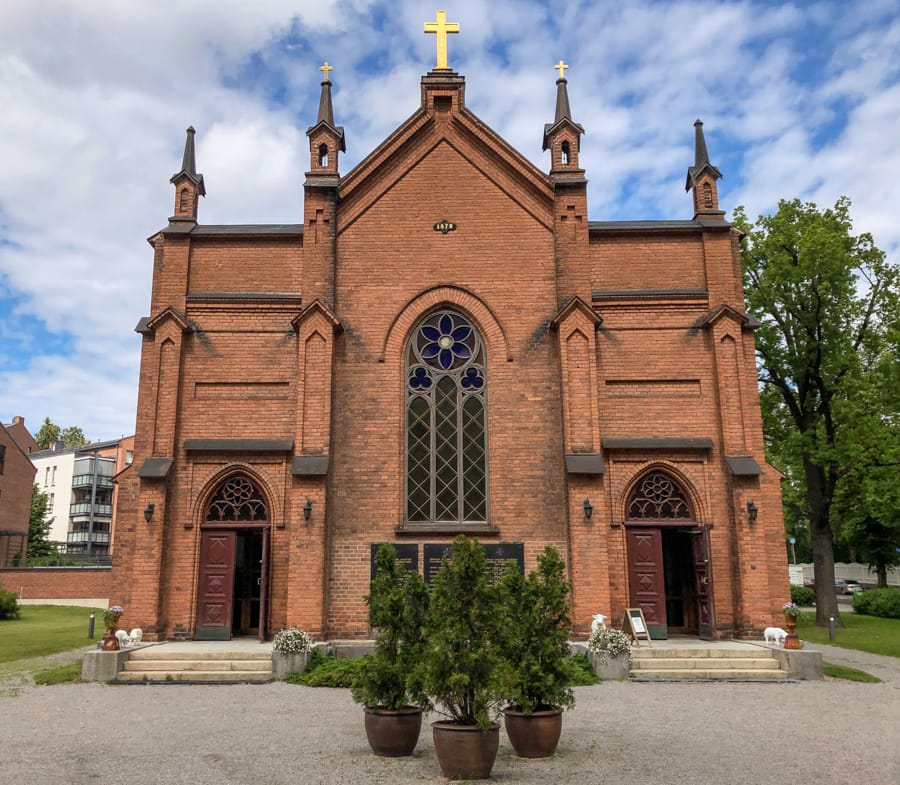 If there are any cool and quirky places I missed visiting in Tampere, please drop them in the comments section for me. Thanks!
Tampere Restaurants & Cafes
Visit the Pyynikki Observation Tower and Café and Try Munkki
Munkki are these addictive Finnish doughnuts that are slathered in sugar and cinnamon and are GOOD. I actually don't really like doughnuts very much at all, but these ones are a definite exception.
We enjoyed them at the tower while sipping on some coffee and it was such a nice break in the day.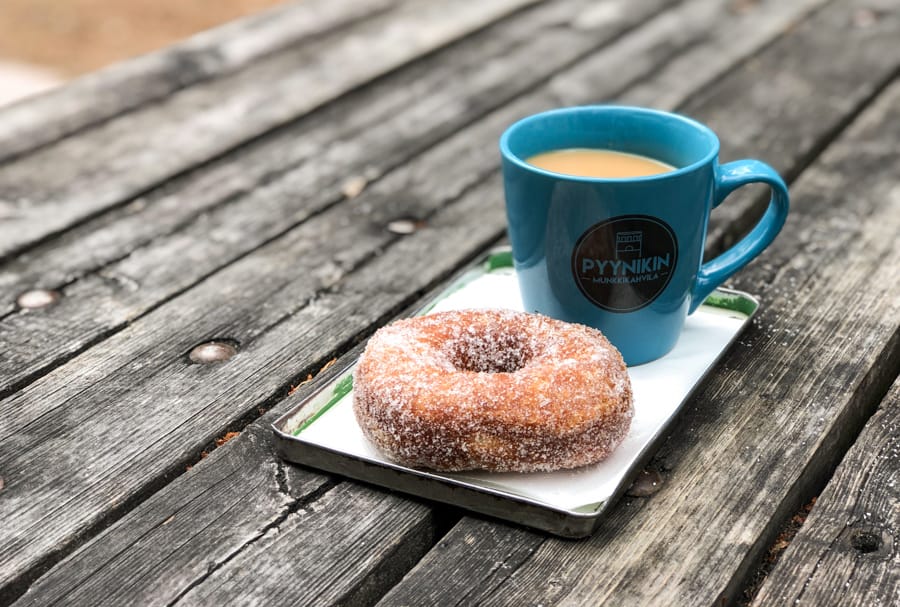 Besides just enjoying a Tampere delicacy with the munkki, you can also go up to the top of this tower, a 152 meters above sea level observation deck that gives stellar views over Tampere.
I'm not a huge fan of these types of towers lately as I am not fond of heights or having to cram into an elevator with a lot of people (or climb narrow staircases), but I definitely enjoyed the view from the bottom… with munkki, of course.
You can find the Pyynikki Observation Tower and Café at Näkötornintie 20 in Tampere.
Visiting the cafe and forest is free; it is 2 Euros to go to the top of the tower for adults.

Eat Everything at Sauna-Restaurant, Saunaravintola Kuuma
Okay, I admit, saunas are not my thing. Not that they are not relaxing and absolutely incredible, but because I am claustrophobic.
I can do personal saunas at home but when there is a chance I am inside with too many other people, a panic attack will ensue.
But, I can totally get down with sauna restaurants because… well, they have food.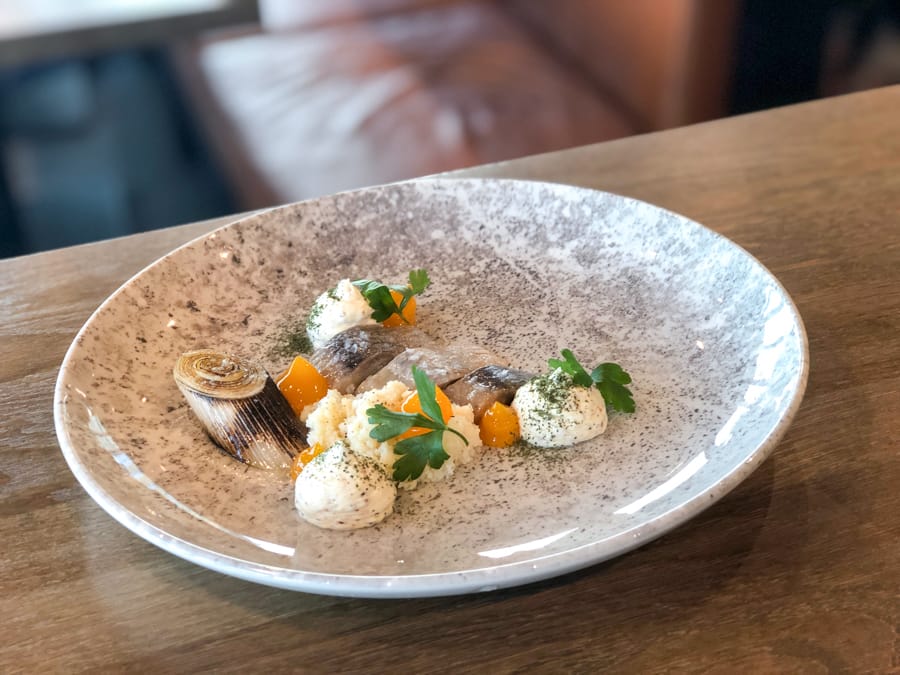 Saunaravintola Kuuma is a sauna restaurant in the center of Tampere that has sensational food, views, music, atmosphere, and most importantly, a sauna.
Allison and I had our last meal in Tampere there and we had everything from a lightly-fried cauliflower to a delicious beef steak. The food was next-level and so extremely refined.
Combining that with a sauna… I think we have one of the top things to do in Tampere, without a doubt.
You can find Saunaravintola Kuuma in the city center of Tampere at Laukontori 21.

Have a Set Lunch at Cafe Pispala
We were fortunate to enjoy a late lunch at Cafe Pispala in the neighborhood of the same name.
Located on the edge of Pispalanharju about 2.5 kilometers from the Tampere city center, Pispala has become a hip place to grab views over the city, go for a walk, and enjoy a quiet and delicious lunch.
There is no better place to do the latter than at Cafe Pispala.
The owner's mission is to serve food that was inspired by his trips to other parts of the world. We had a cold watermelon soup as a starter and Mexican-inspired fare for a main.
We were both equally as impressed with the quality of both and would have happily eaten anything on the cafe's menu.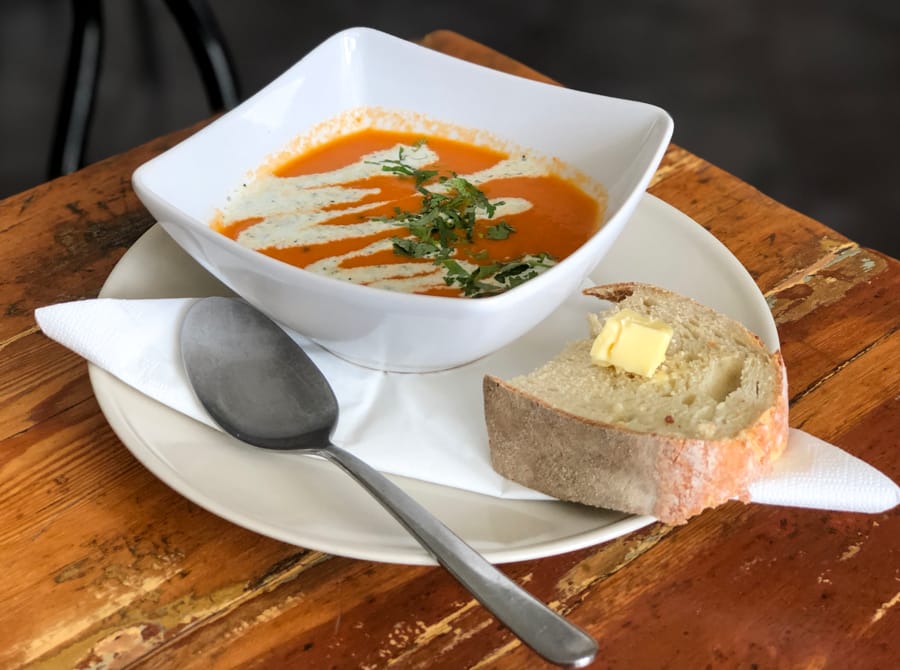 Cafe Pispala is cozy, colorful, and inviting and they have a lovely terrace outside welcoming customers during the warmer months.
We really enjoyed our time there and wish we had had a chance to spend even longer strolling around Pispala.
If you don't make it there, do stop by Kauppahalli Market and go to Ohana, a burger establishment also owned by the same owner. It gets raving reviews!
You can find Cafe Pispala at Pispankatu 30 in Tampere.
Zeytuun Cafe
There are not many places in Tampere I knew about before heading there, but I had actually heard of Zeytuun as a friend recommended the cafe to me.
He told me it was a great change-up from the food I would likely have in the city and that I would welcome something different
Fortunately, I had some great food plans while there and never needed that change-up, but I do regret that I never had a chance to go to Zeytuun Cafe.
They specialize in mezze-style Middle-eastern dishes and with a cool and hip atmosphere.
The place is colorful and has a lot of personality and I am listing it here because it came so highly recommended and I think that a lot of you would enjoy heading there. Let me know how it is!
You can find Zeytuun Cafe at Kuninkaankatu 17 in Tampere.
Satiate Your Senses at Kauppahalli Market
There are few things I love more when visiting a city than checking out its old market halls (and new ones!)
We had the chance to head to Kauppahalli Market when we visited Tampere and it pretty much turned me into a kid in a candy store.
The market hall had everything from small French eateries to craft beer bottle shops and more.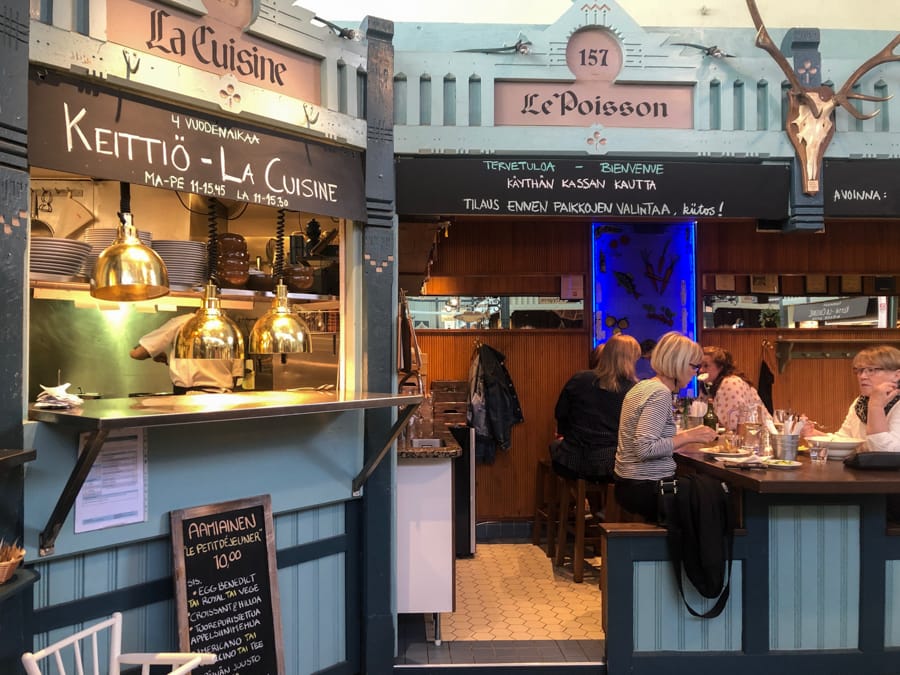 With 32 vendors on-site, the Kauppahalli Market is the largest indoor market in all of the Nordic countries. That, in itself, is all the more reason to visit Tampere and check it out.
You can find the Kauppahalli Market, sometimes referred to as the Tampere Market Hall (because 'Kauppahalli' actually just means market), at Hämeenkatu 19 in the city center. It is closed on Sundays.
Try Mustamakkara… or Chicken Wings
Tampere is known for a lot of things and mustamakkara and chicken wings are two of them. Mustamakkara is blood sausage.
While the thought of blood sausage makes me pretty squeamish, when I taste it, I quite like it. There are several places where travelers can indulge in it in Tampere- from food trucks to market halls.
This food truck, Tapola, comes highly rated as one of the best places in Tampere to try mustamakkara.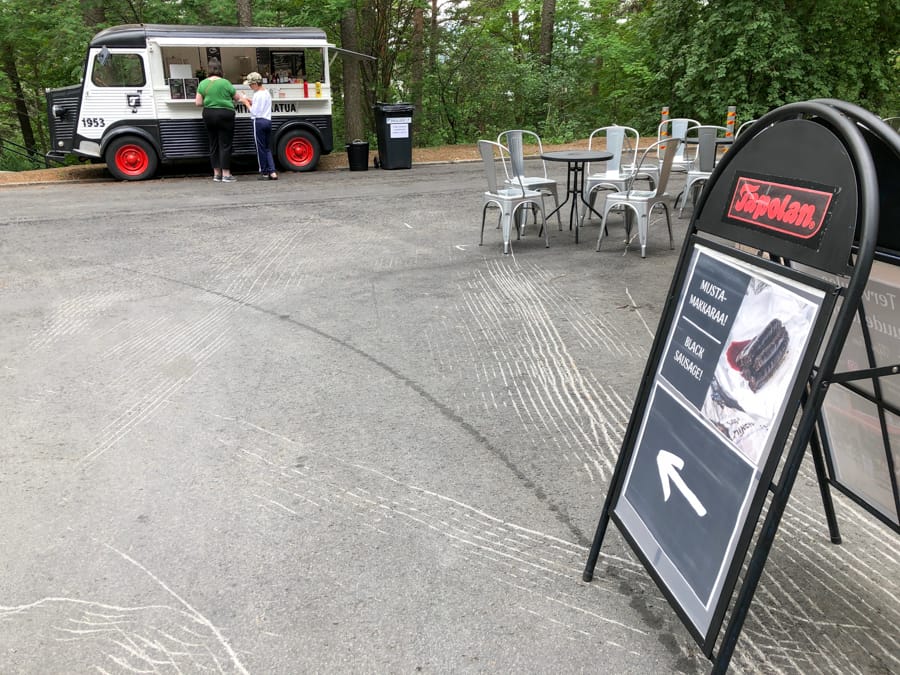 But, chicken wings?! I don't really understand how this is such a popular thing to eat in Tampere… but who am I to complain?
Tampere has somehow become associated with chicken wings over the years and two of the top places to eat them are at Hook and SiipiWeikot.
I didn't have a chance to try them when in the Finnish Lakeland city but it is certainly at the top of my list for my next visit to Tampere.

Night Life and Craft Beer in Tampere
I have to admit that Tampere had a pretty solid nightlife.
While we didn't get to experience in all its depths (probably a good thing, let's be honest), I love being able to recommend people to visit a city when I know there are things to do at all hours of the day.
Brewery Tour + Sauna at Pyynikin Brewing Company
Only in the world's sauna capital would you find a brewery that also offers sauna experiences. Such is the case with Pyynikin Brewing Company, the king of craft beer in Tampere.
We went to the brewery to tour and experience it interactively when we ended up in their sauna (it was not on, but was a great space for a chat about beer).
You can book experiences with them to have a brewery tour and a sauna after. And yes, the sauna will be on. I literally can not think of better things to do in Tampere. Not at all.
I recommend trying their Mosaic Lager and Cloudberry Saison. They have an array of other award-winning beers you can also enjoy when there.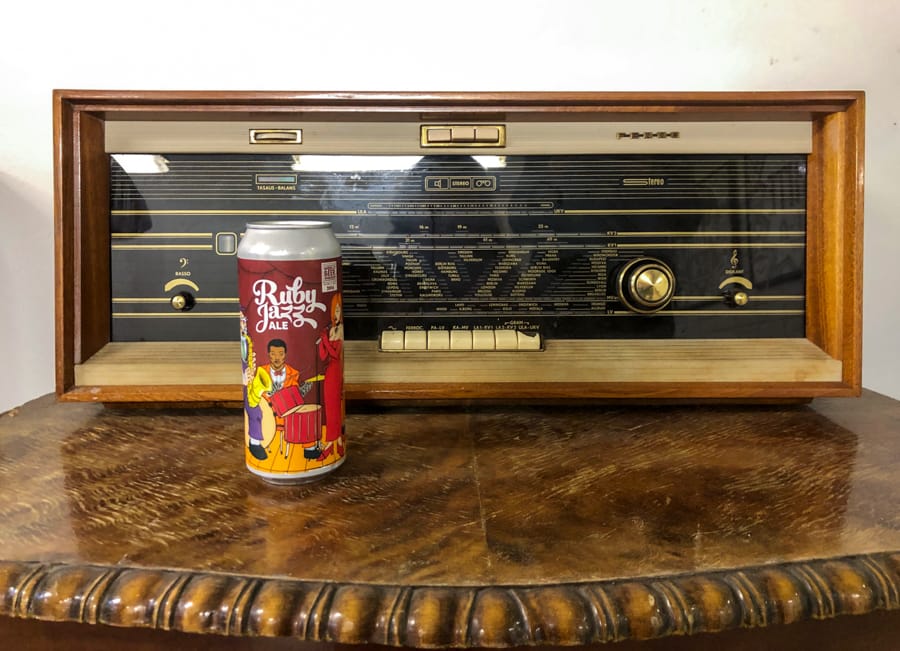 You can visit Pyynikin Brewing Company at Kolismaankatu 1. They also have a brewhouse in the city center that was recently rated the best restaurant in Tampere.
You can find it at Verkatehtaankatu 2 in the city center by the harbor. It has an amazing terrace.
Drink Beer and Sahti at Gastropub Tuulensuu
What started as a bar for Belgian beer lovers has now emerged into one of the best places to drink every style of beer in Tampere.
Located on the edge of the spacious Hämeenpuisto Park, Tuulensuu has even won awards in Finland for being the best place to drink a beer.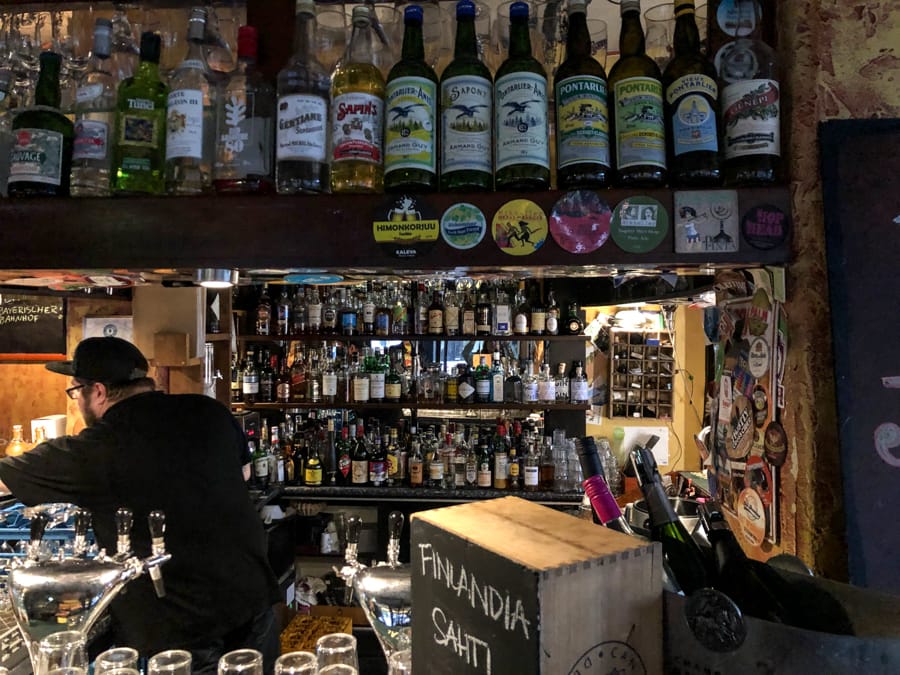 With a full-menu and wide beer selection, Tuulensuu is a must-visit in Tampere for beer lovers.
The interior is cozy and intimate and doesn't have the minimalistic appearance that many new bars are opening up with these days (I happen to like both styles).
It is a place that people of all legal drinking ages can chill out and relax. Be sure to also try sahti, a Finnish farmhouse ale typically flavored with juniper, when you're there.
You can find Tuulensuu at Hämeenpuisto 23 in the Tampere city center.
Tampere Museums
There are many museums in Tampere but these two are very exclusive to the city and if you are a normal reader of this blog, you will know that one of them excited me far more than the other.
Moomin Museum
Blame my Americanness, but I don't really know much about the Moomins. But, pretty much every European and Asian friend of mine do and apparently, I missed out.
This museum is dedicated to the Moomins, animated characters created by Tove Jansson in the early 20th century that have become a part of pop culture in Finland and throughout the world.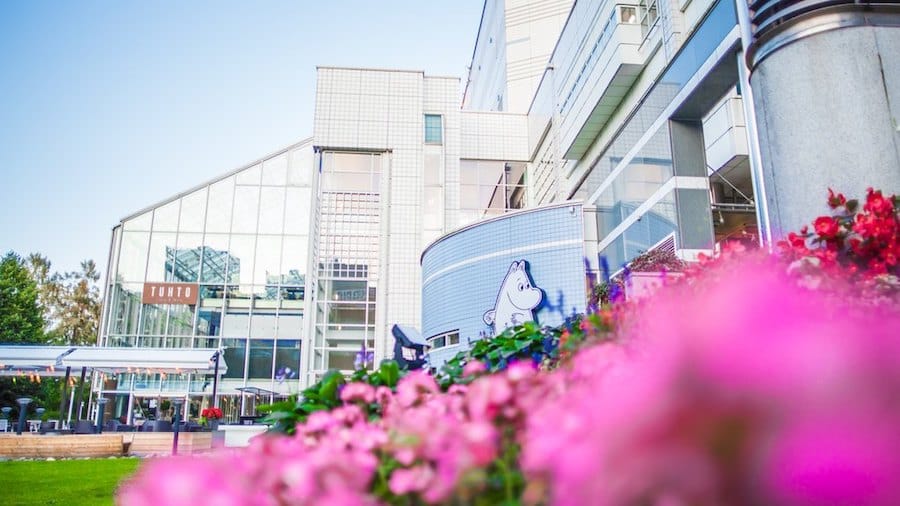 This is the world's only Moomin Museum and there are illustrations, interactive displays, and much more. If you're looking to do something truly Finnish, head there!
They have about 2,000 Moomin items on display.
You can find the Moomin Museum in Tampere at Yliopistonkatu 55.
Lenin Museum in Tampere
Did you know that one of the events that marked the start of the Soviet Union took place in good ol' Tampere, Finland? Well, it did and at the Lenin Museum, you can learn all about this.
The Museum hall was once the Tampere Workers' Hall, a hall that is associated with being the birthplace of the USSR.
It was in that hall in 1905 that Lenin and Stalin first met and they ended up allowing Finland to have independence while forming a new country, the Soviet Union.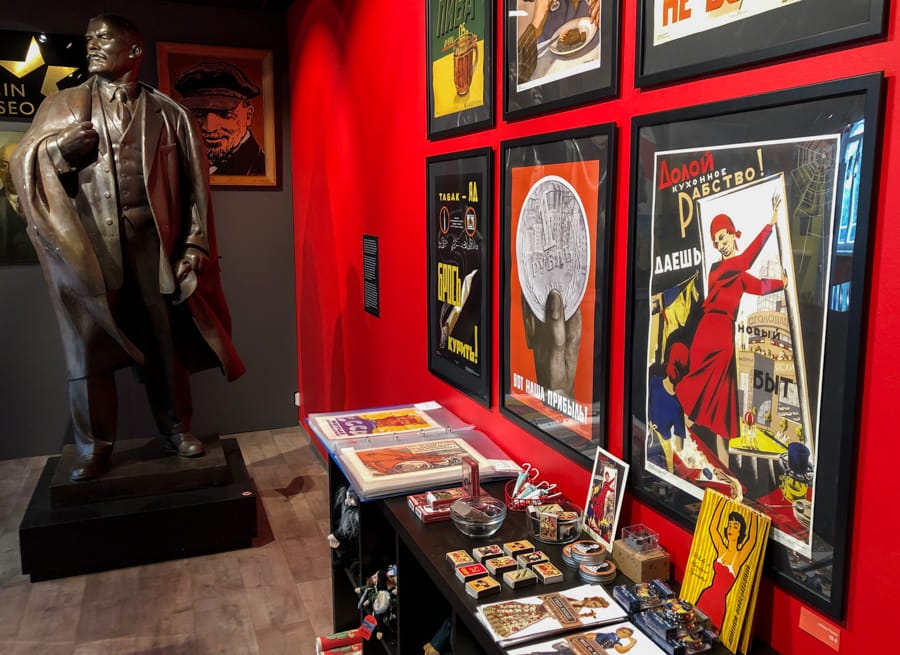 The Tampere Lenin Museum has so many interesting pieces of history from kitschy objects to literature to life-sized replicas of Lenin and the Georgian monster.
I really loved their selection of books available; I found a cosmonaut history book with photos that I am planning to order as I didn't have room to bring much home in my suitcase.
You can find the Lenin Museum at Hämeenpuisto 28 in Tampere.
What to do in Tampere for Nature Lovers
Tampere is surrounded by lakes and forests and nothing puts me in a happier place than a lake… and a forest (well, maybe both without mosquitoes).
The two activities below are great options for those traveling to Tampere and desiring a more natural experience.

Forest Immersion with Boreal Quest
One of the best things about Finland as a whole is the sheer number of trees and forests calling the country home.
I remember my first trip to Finland years ago and I was expecting to be disappointed because I was visiting from Norway and the scenery in Norway pretty much trumped everywhere else I went.
But Finland surprised me. The lush forests and nature astounded me and it was one of the first places in years that gave me that feeling.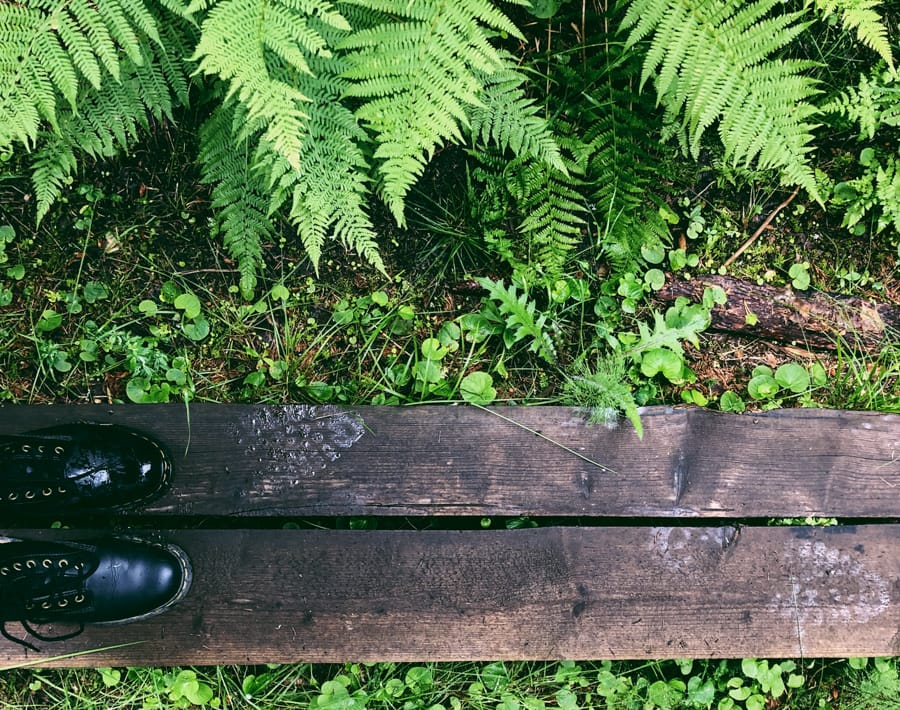 While I had spent a little time at Nuuksio National Park and enjoyed winter in Ruka, I hadn't really gotten a chance to explore the forests in Finland that deeply.
That all changed with a morning of forest immersion with Markus at Boreal Quest.
He took us to Pirkanmaa, a forested area around Tampere. There are dense forests and the national parks of Seitseminen and Helvetinjärvi are located nearby.
This was easily my favorite experience in Tampere.
We trekked out to a wilderness shelter in the middle of the forest overlooking a lake and we sat around, learned how to make a fire, chop wood without losing a finger, and we even ate game meat cooked out in the middle of the forest.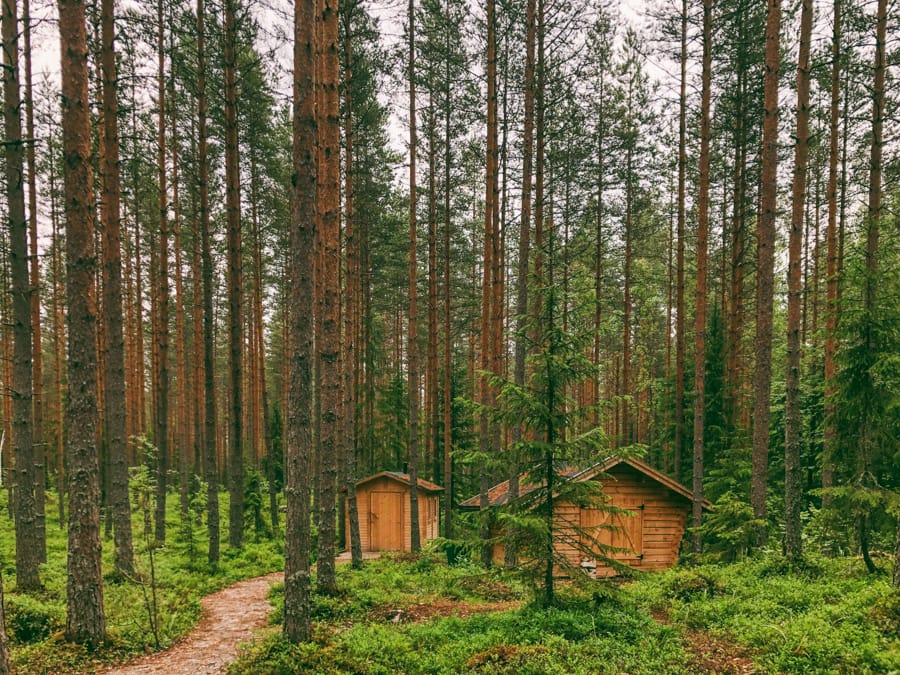 I highly recommend this experience if you're into nature or even just keen to learn more about Finnish forests and how to have some basic skills out in the wilderness.
Click here to learn more about the forest immersion experience with Boreal Quest.
Canoeing on Lake Näsijärvi with Hiking Travel
Of all experiences I was looking forward to in Tampere, this was the top one. I love canoeing and being out on the water and in a beautiful setting.
While most of my canoeing experiences have actually been 'cabrewing' ones (drinking and canoeing for you non-Americans), I still was down to be on the water and enjoy the stunning views around the forests and edge of the city center.
Mother Nature had other plans for us. We arrived at Hiking Travel's lakeside office and the wind was vehemently telling us to not pull a canoe out onto that lake.
We ignored and thought we could somehow manage this as novice canoers anyway.
We dragged the canoe to the lake and I sat in it and immediately got queasy and nauseous.
That was enough for us to put the canoe back and spend the time inside, away from the elements, and chatting.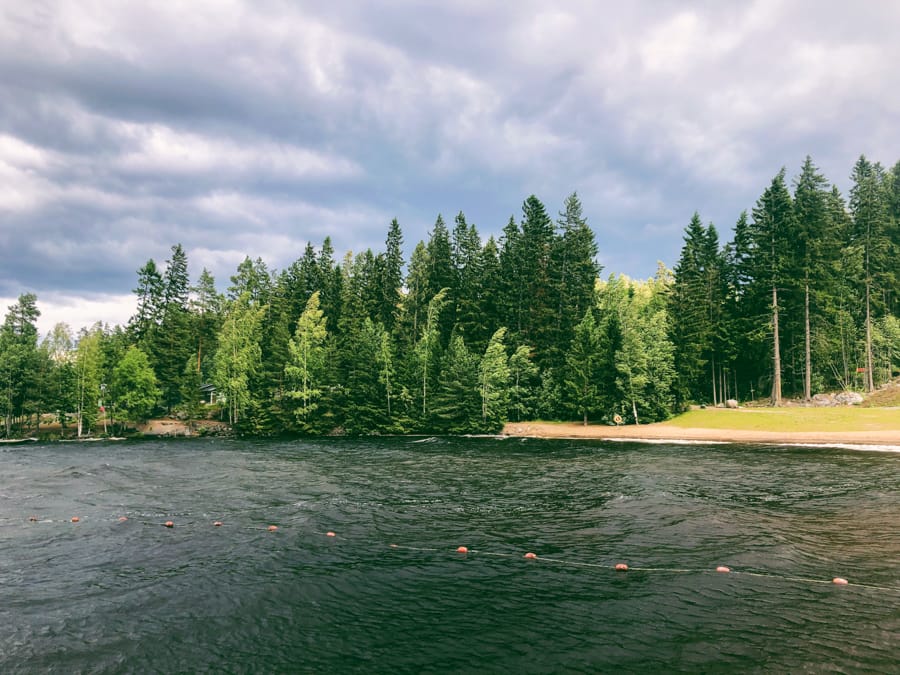 Hiking Travel is a wonderful, family-run company in Tampere that specializes in nature activities on the lake. They have everything from Nordic skating to kayaking to SUP to activities for children.
The company has been running successful tours since 1992 and has become an integral part of the active community of Tampere. Click here to check out what else Hiking Travel has to offer.
Other Things to Do in Tampere
Visit the Kodin Kakkonen Flea Market
I rarely go to flea markets when I travel these days because I am usually packed full and cannot bring back more goods from my travels.
But, several people do travel with the intent of shopping and this is a wonderful, centrally-located area to pick up some second-hand goods.
Finland is known for design and aesthetics, so even if you can't bring anything home, it is still worth it to peruse the stalls to see what is out there.
Kodin Kakkonen Flea Market is located near Hämeenpuisto park at Papinkatu 20 in Tampere.
Get Creative at Hiedanranta (Tampere Street Art Area)
I don't think I would have heard of Hiedanranta if it were not for Dream Hostel informing me that it exists in Tampere.
This area of old factories spans thousands of square meters and has become an area synonymous with creatives who frequent it and add to its colorful building art.
There are also events where underground musicians will come out and play while artists paint their newest masterpieces.
We didn't have time to venture out to Hiedanranta, unfortunately. It was on our list, but given that it is located outside of the city center a bit, we just simply didn't have enough time.
But, you can find some cool street art throughout the city, as well, if you look hard enough.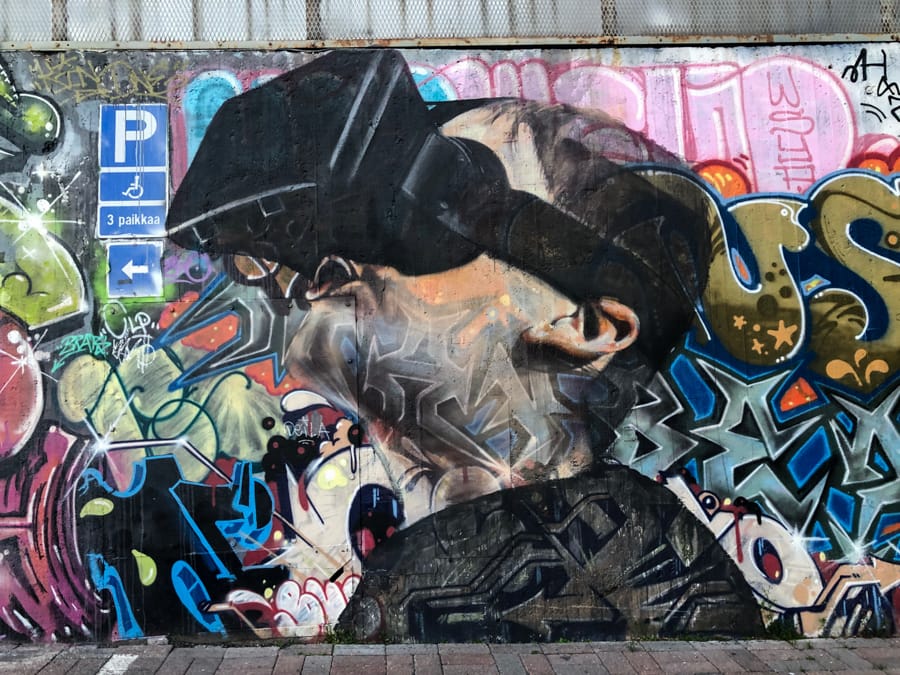 Hiedanranta Street Art Park can be found at Tehdaskartanonkatu in Tampere (not directly in the city center).
Visit a Finnish Sauna
So, you basically can't leave Tampere, the world's sauna capital, without going to a sauna.
There are so many public saunas to choose from, but three highly recommended (but not mentioned above) are Rauhaniemi Beach and Rajaportti, the oldest public sauna in Finland that is still in use.
Tampere has over 30 public saunas you can use. Click here to see the names and addresses of them.

Where to Stay in Tampere
There are several options for where to stay in Finland, but I highly recommend staying at the place that I stayed- Dream Hostel & Hotel.
Now, before you say you're not a hostel person… I'm not either. They have a hostel and a hotel inside. I stayed at the hotel and it was a comfortable experience in a practical, clean, and inviting room.
The bed was actually hard to get out of in the morning.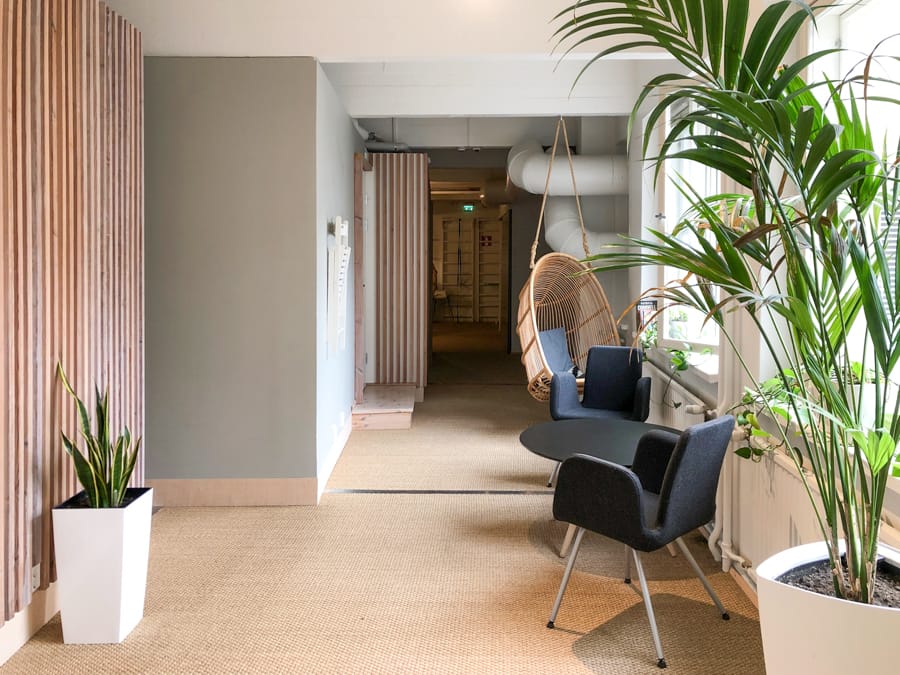 Dream Hostel & Hotel has a killer breakfast and spacious common areas. I can not suggest this place enough. I really loved my stay there and I won't hesitate to book to go back there when I am in Tampere next time.
If you're staying in the hostel side, they even have a room dedicated to Lenin (because of the Museum).
–> For current rates and availability click here

Other Places to Stay in Tampere
There are several options for places to stay in Tampere. Here are some affordable, mid-range, and luxury options for those traveling to Tampere.
How to Get to Tampere
There are quite a few ways to get to Tampere. You can fly, take a train or bus, or hire a private car. I
f you decide to fly to Tampere, I recommend checking out tickets with airBaltic as they have regular flights there from Riga and I fly airBaltic a lot and they are my favorite airline in the world.
Click here to check flights to Tampere with airBaltic.
If you're looking to take the train there, you can find tickets from Helsinki for around €8,90 one-way. Click here to check the schedules for the trains from Helsinki to Tampere.

Rent a Car in Finland
Another option for getting to Tampere from Helsinki or anywhere else in Finland is by renting a car.
It is fairly simple to rent a car in Finland and driving there is pretty easy in comparison to a lot of other countries (and yes, signs are often in English in case you can't read Finnish).
⇒ Click here to check Finland rental car rates
To sum it up, I think that Tampere was such a great and cool city break in Finland. While there are a lot of traditional things to do from churches and historical sights, I really found happiness and inspiration from the quirky things to do in Tampere.
If you have any awesome places in Tampere that I missed here and need to check out next time, please leave them in the comments section for me!
More Finland Travel Tips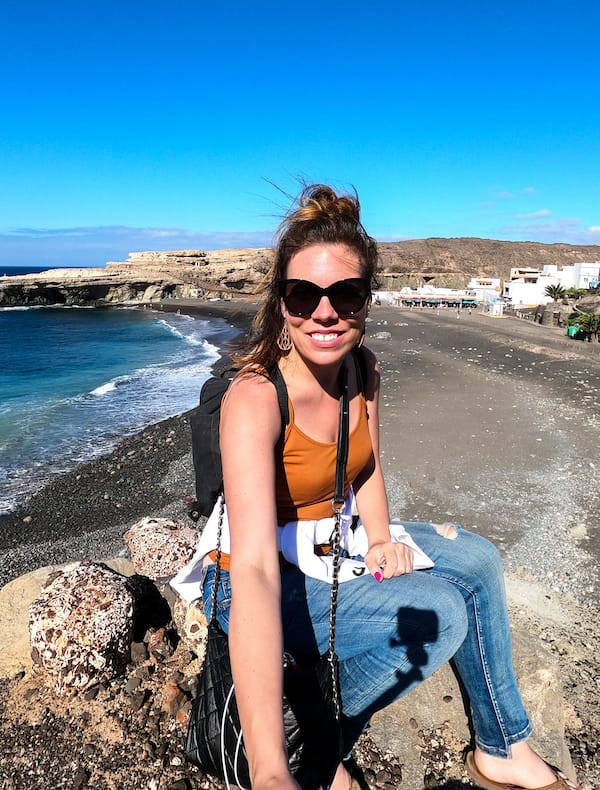 Megan is a travel blogger and writer with a background in digital marketing. Originally from Richmond, VA, she now splits her time between Frankfurt, Germany and Arctic Finland after also living in Norway, Armenia, and Kazakhstan. She has a passion for winter travel, as well as the Nordic countries, but you can also find her eating her way through Italy, perusing perfume stores in Paris, or taking road trips through the USA. Megan has written for or been featured by National Geographic, Forbes, Lonely Planet, the New York Times, and more. She co-authored Fodor's Travel 'Essential Norway' and has visited 45 US states and 100+ countries.