Stretched out across Nevada and California, Death Valley National Park is one of the hottest places on Earth. It is also the largest, hottest, and driest national park in the contiguous United States.
Bearing this in mind, Death Valley National Park isn't exactly a traveler's paradise, and forget visiting in the summer months. This is the perfect 2 days in Death Valley itinerary for first-time visitors to the park!
If you're really up for an adventure and some gorgeous, once-in-a-lifetime experiences, you should truly give Death Valley National Park a chance! It is one of the most popular US national parks for a reason!
In this article, we've compiled the best Death Valley National Park itinerary to check out the park in 2 days, which will provide you with an unforgettable experience despite the heat.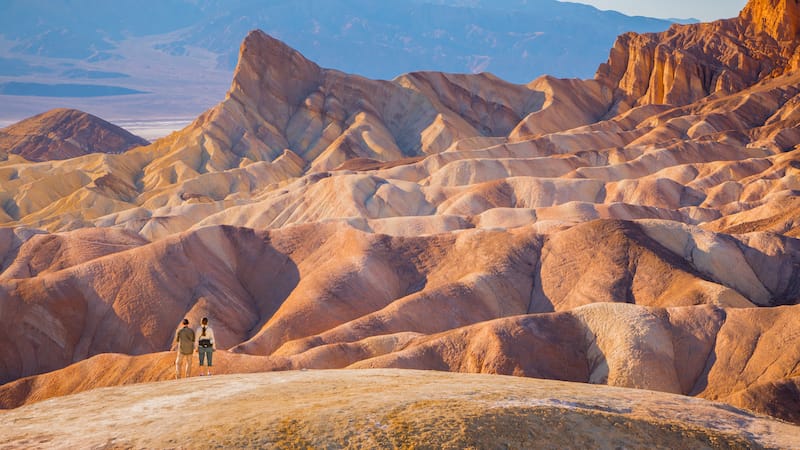 Have you spent a weekend in Death Valley before? Let us know how you spent or would spend 2 days in Death Valley National Park in the comments! Thanks!
Itinerary for Death Valley National Park – Overview
On this Death Valley suggested itinerary, we break it down into different sections that cover nearly the entirety of this park that spans across both Nevada and California.
We first offer practical information for your trip – like visitor center details, the best time to visit, etc. We then showcase the highlights of Death Valley National Park.
This is crucial because you really need to plan ahead in order to maximize your time and make the most of your time in the US park.
After listing the highlights and describing reasons to visit each – we give our suggested Death Valley 2 day itinerary. The best way to see Death Valley National Park is by breaking the part into two sections – north and south.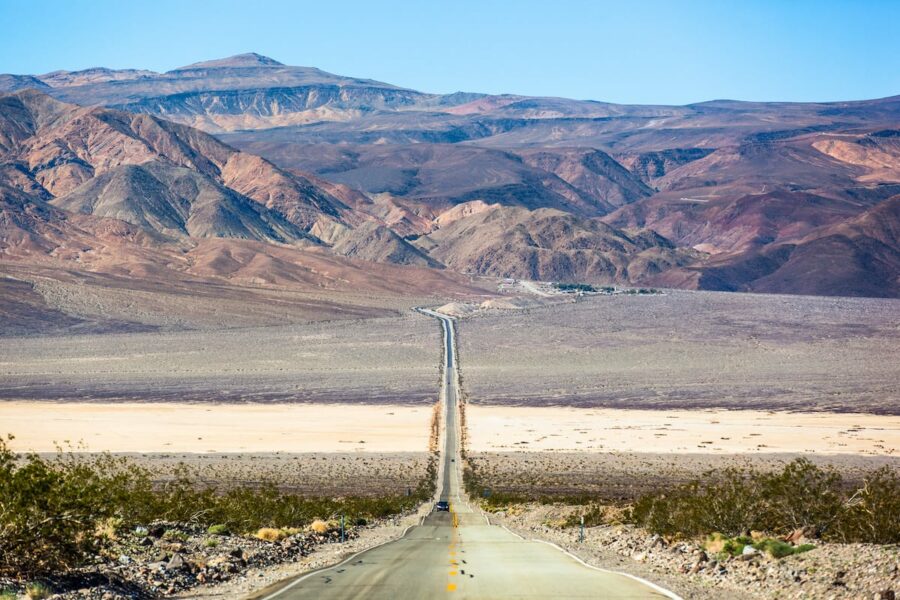 These days are interchangeable, naturally. But, we give our recommended two days in Death Valley at the end of the guide broken down with afternoon heat taken into consideration.
Death Valley National Park Practical Info
Best Time to Visit Death Valley
Every traveler should know that the temperature in Death Valley National Park is burning hot almost all year round, reaching up to 134 degrees Fahrenheit. Therefore, it is important to exercise caution accordingly.
However, the best time to visit Death Valley National Park is in the middle of May or the middle of October when the temperature is milder. But, we also love Death Valley in winter as it offers a different experience altogether.
How Many Days do you Need in Death Valley?
In order to avoid rushing and observe the famous places in Death Valley National Park, including Mesquite Flat Sand Dunes, Scotty's Castle, Stovepipe Wells, Ubehebe Crater, and Zabriskie Point, you will need a minimum of 2 days in Death Valley.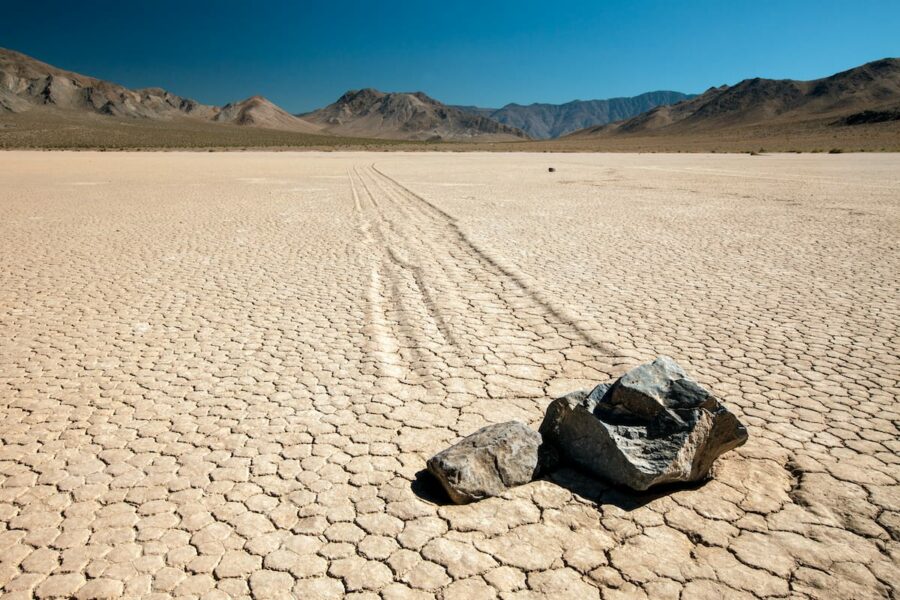 How to Get to Death Valley National Park
The closest big city, McCarran, is located approximately 2 hours away from Las Vegas. You can land at the McCarren International Airport and drive to Death Valley using the NV-160 E road.
It is recommended that you rent a car from Las Vegas or Barstow. It is also possible to have a rental car delivered to you from Pahrump, which is one hour away, in an emergency.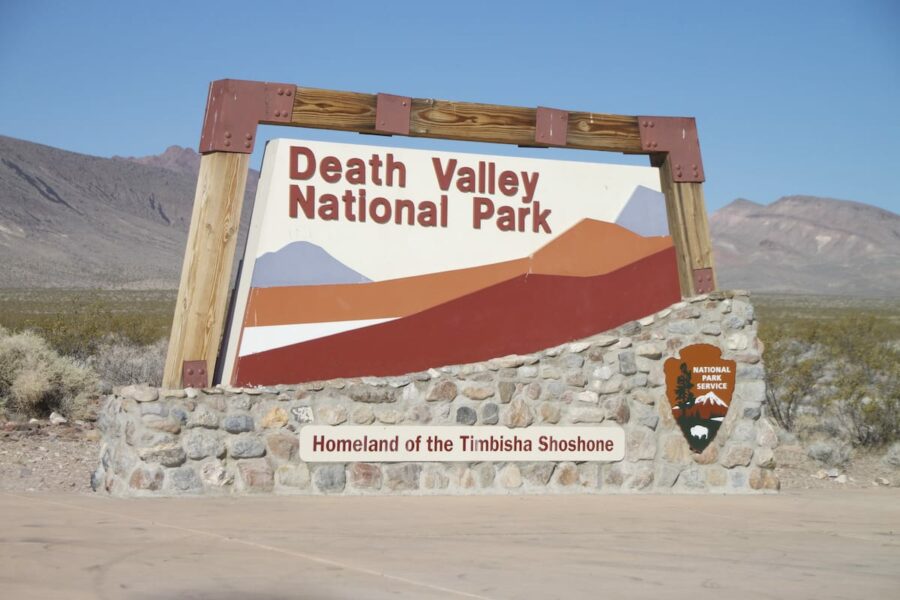 Death Valley from Las Vegas Tours
If you're looking for a tour to Death Valley from Las Vegas, here are a few options to consider:
Death Valley Visitor Centers
*Current as of January 2023: Please note that while the park has two visitor centers, Scotty's Castle is currently closed due to flood damage. Will update once it is reopened!
There are in total two visitor centers. The first one has located at Furnace Creek, and the second one is located at Scotty's Castle.
Furnace Creek working hours are 8 AM–5 PM all week, and Scotty's Castle working hours are 8:45 AM – 5:30 PM all week, both including weekends.
Death Valley Entrance Fee
The fees are different for entering Death Valley National Park, and it depends on what type of transportation you are using.
For individual travelers on foot or bicycle: $15 per person
For motorcycle travelers: $25 per motorcycle
For vehicles: $30 per vehicle
For annual Death Valley Pass: $55
However, we highly recommend getting yourself a National Park's pass! It is one of the sights included in the pass!
Gas Stations in Death Valley National Park
You will actually find gas inside of the park (woohoo) at a couple of places so be sure to fill up as you see them to avoid any mishaps later in the day!
The gas stations inside Death Valley National Park are:
Panamint Springs
Stovepipe Wells
Furnace Creek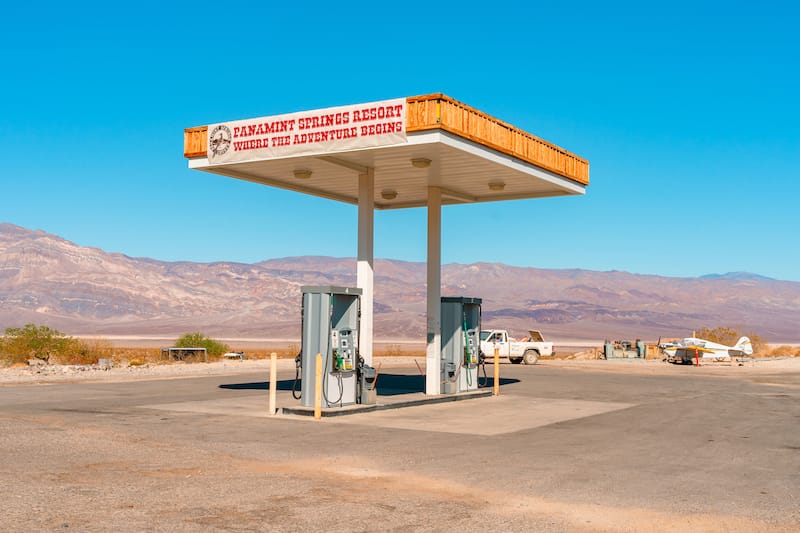 It is recommended to bring extra gas if you're not sure you will be able to find your way back. Please take into consideration that Death Valley is super remote and cell service is not always reliable.
Top Death Valley National Park Attractions
Golden Canyon/Golden Gulch Loop Trail
If you are keen to explore the otherworldly landscape of Golden Canyon and experience Death Valley National Park's rich mining past, then you must hike Golden Gulch Loop Trail.
This 4-mile scenic trail starts with a one-mile interpretative hike that will take you through the scenic Golden Canyon, surrounded by red mudstone and colorful mosaic conglomerates and past yellow-gold badlands, leading you to the towering red walls of the Red Cathedral.
Get ready to discover the secrets of the land's geological history while taking in the breathtaking vistas along your hike.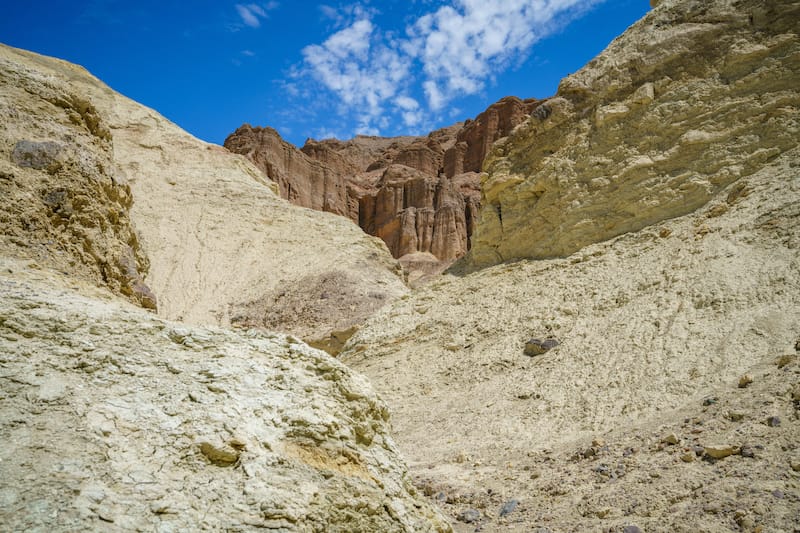 Another one-mile hike starts after leaving Golden Canyon which passes just beneath the stunning Manly Beacon. You can witness some of the best views of the loop from the single track beneath Manly Beacon.
The trail then descends into the gorgeous Gower Gulch and passes several Borax (white gold) paths not suitable for exploration due to being very unstable.
Just note that this part of the trail has no interpretive markers. The best time to go on a hike is in the morning when the temperature is not so hot, and you can witness the magic of the sunrise, bringing authentic and vibrant hues across the badlands.
Badwater Basin
Have you ever wondered what it's like to be 282 feet below sea level? Visit Badwater Basin while in Death Valley National Park to find out.
Being North America's lowest point, it will certainly make you appreciate its unique landscape packed with salt flats and a mesmerizing pool, which at first glance reminds you of a frozen and snowy lake in the middle of a sizzling desert.
A few hours is totally enough for you to witness the largest concentration of salt you have ever seen. The constant cycle of rain and evaporation makes walking on these 5 miles of salt flats a once-in-a-lifetime experience.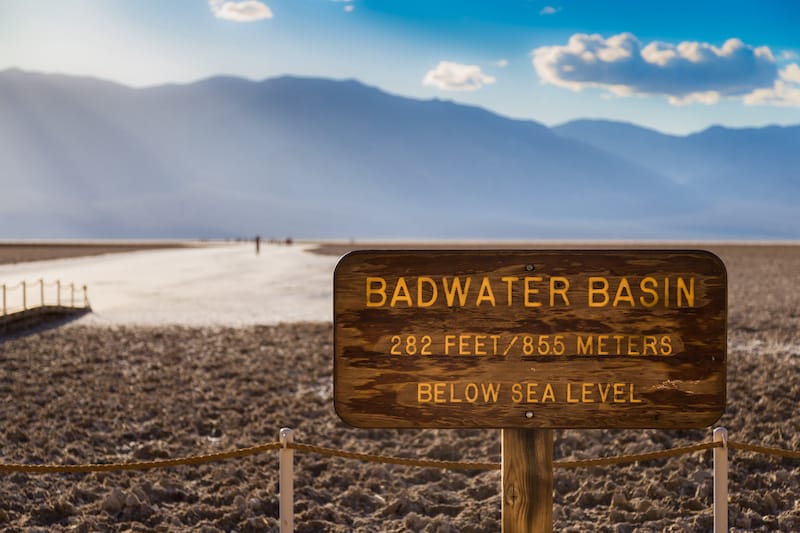 From the parking lot, head down to the boardwalk, where you can clearly see the pool and salt flats in the distance. According to legend, a mule refused to drink water from a pool near the boardwalk due to its salinity, which gave this place its name.
Many creatures cannot survive in this environment due to its high salinity levels, but you can still find some salt-tolerant plants on the rims.
Make sure to check out the small pool (which can disappear on hot summer days) before heading to explore the salt flats.
Artists Palette
If you have ever wanted to walk on colorful hills like those in your favorite childhood cartoons, then Artists Palette will make your wish come true.
Artists Palette is another must-visit unique destination in Death Valley National Park that will leave you in awe with its resplendent hills.
A 9-mile drive will take you through canyons and mountains, and after driving 5 miles, you will reach the stunning Artist Palette.
Get ready to witness the hills adorned in a rainbow of hues ranging from red and yellow to green and purple, which are a product of the oxidation process of metals, volcanic deposits, and many other elements found in the ground.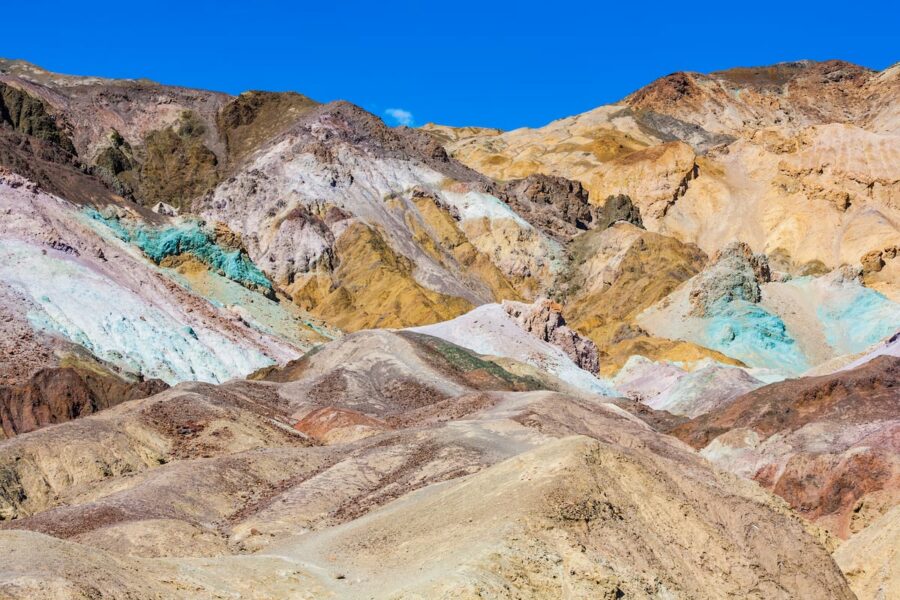 There, you will find a small parking lot that will allow you to get out of the car and just look over to the colorful hills or stroll down to where colors appear.
Getting up close and exploring vibrant hills on foot will guarantee a once-in-a-lifetime experience.
Even though each part of the day offers equally stunning vistas of Artists Palette, sunrise and sunset provide additional charm, enhancing the fascinating color palette of the hills.
Zabriskie Point
Often referred to as the most captivating site in Death Valley National Park, Zabriskie Point includes the most mesmerizing vistas in the terrain.
The area was named after Christian B. Zabriskie, a prominent figure during the Pacific Coast Borax Company's heyday.
A one-fourth-mile hike on the paved Badlands Loop Trail, starting from the parking lot and past yellow and brown striped badlands, will lead you to Zabriskie Point.
After getting to the hills, climb directly to the overlook point, where you can marvel at the badlands below, salt flats on the horizon, and the Panamint Mountains towering above.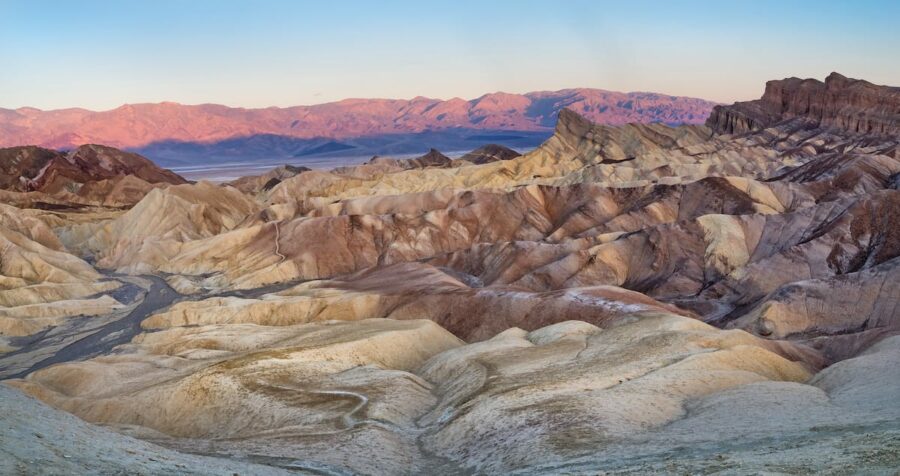 Another gorgeous feature that can be viewed from the lookout point is Manly Beacon. This 823-foot jutting high point will reward you with its breathtaking beauty during sunrise or sunset.
The charm of the site also inspired Italian director Michelangelo Antonioni to film an iconic classic movie here. Zabriskie Point is also a well-known spot for taking in the magnificent sunset and sunrise views and snapping the perfect shot with a colorful background.
Mosaic Canyon
Explore Death Valley National Park's geology at its finest in Mosaic Canyon, home to towering walls of mosaic conglomerates and smooth marbleized rocks.
The 4-mile round trip begins from the parking lot at the end of Mosaic Canyon Road, from where you need to head south into the wide wash called Lower Mosaic Canyon.
After 0.3 miles, you will see how the canyon narrows significantly, revealing some of the key geology features that make this hike an exquisite one.
During your hike, get ready to witness the polished marvel along with Mosaic Canyon Breccia, which is what Mosaic Canyon has been named after.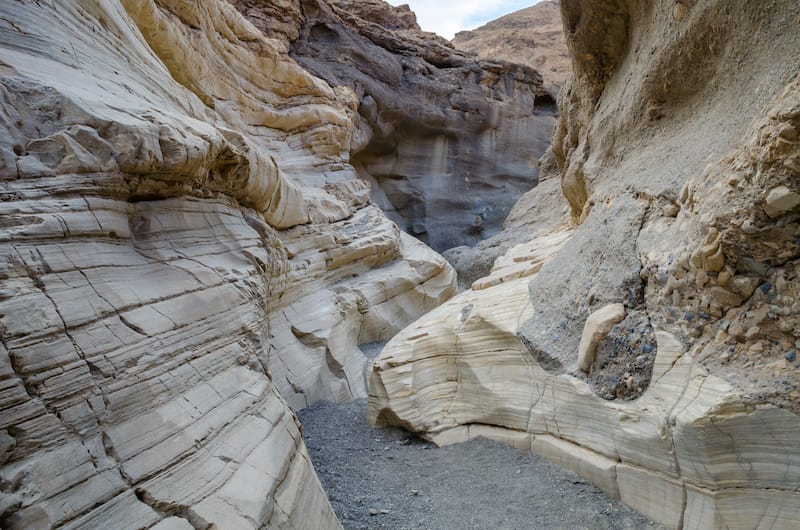 After about 1.3 miles into the canyon, you will encounter a huge impassable boulder that somewhat blocks the route and marks the end of your hike.
But this may not be the case for adventure lovers, who can crawl to the left side of the boulders to come out into a small alcove leading you further into the canyon.
Another 0.2 miles and you will again get to a dead-end with a 20-foot dry fall. If you have adequate climbing experience, you can climb to the top of the dry falls and farther up the canyon; otherwise, head back into the wash.
Mesquite Sand Dunes
Head to Mesquite Sand Dunes, one of the most serene places in the park, to witness 100-foot dune fields.
Mesquite Sand Dunes offers the perfect combination of sand, wind, and entrapping mountains for large dune fields. It has the most accessible dunes, but those are not the largest in the park.
The area was named after the mesquite trees that grow in abundance in this area. Just note that you won't find any marked trail here due to constantly shifting desert sands, and expect at least a two-mile hike among silky and rippled sand dunes.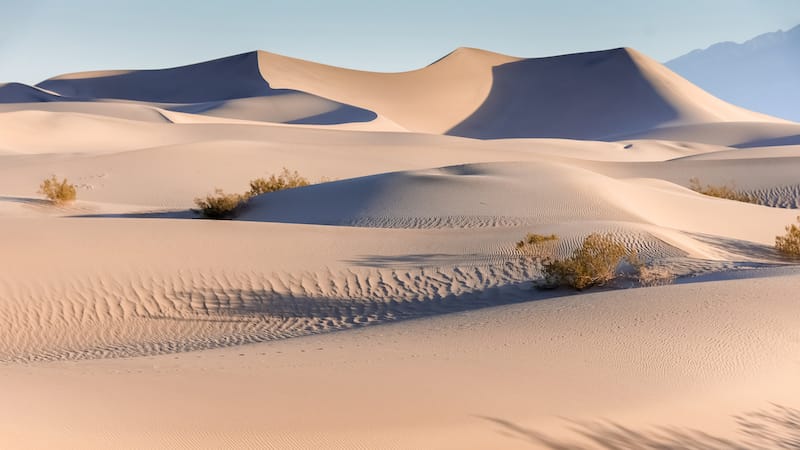 Moving sand can become pretty irritating when high winds are present, making your hike less enjoyable, so plan your visit accordingly.
The area is also home to many animals, such as nocturnal kangaroo rats and sidewinder rattlesnakes.
Make sure to visit the Mesquite Sand Dunes before sunrise or during sunset to witness quite a show and take the perfect picture of the dunes in dramatic shadows.
Thrill-seekers can visit the dunes during full-moon nights to admire Death Valley's famous dark night skies. Just keep an eye out for rattlesnakes!
Twenty Mule Team Canyon
Another magnificent landscape packed with a rich legacy awaits you a few miles east of Zabriskie Point.
A drive along a short 2.7-mile Twenty Mule Team Canyon Road will take you through a colorful landscape where you can witness eroded badlands on every turn.
On a sizzling hot day, it is best to explore the area by car, but on a cooler day, take a hike along the road to admire the variegated area, home to narrow ravines, old mine tunnels, patches of mineralized rocks, and richly colored badlands ranging from dark brown to black to the west and yellow and white to the east.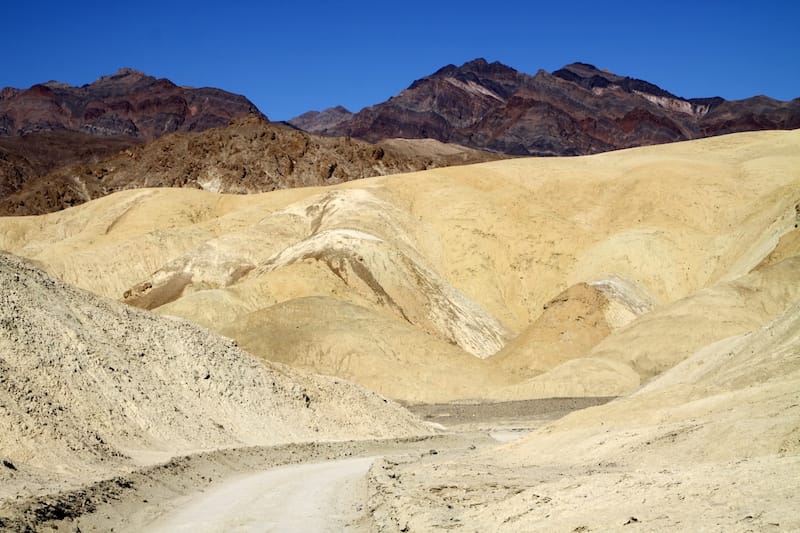 In the 20th century, Twenty Mule Team Canyon served as a prospected area for borax, which is why you will find numerous loading platforms, mine tailings, and tunnels there.
Don't expect to find any vegetation in the surrounding area due to the alkalinity of the soil. The first 1.7 miles of the hike features a wide wash that takes you on steep mudstone hills and rejoins the highway.
The best time to go hiking is from late fall to early spring, either in the early morning or late afternoon, to see the stunning show of the light creating hypnotic shadows.
Dante's View
The final spot on this list is the primary overlook of the area, which allows you to take in the breathtaking panoramic views of the stunning Death Valley.
Nestled on the ridge of the Black Mountains, Dante's View affords you unparalleled views of Death Valley's elevation extremes: the Panamint Range to the west, the swirling ghostly white salt flats of Badwater Basin below, and the park's highest peak, Telescope Peak, to the south.
Hike along the ridge to the north to Dante's View, 5,575 ft above Badwater Basin, to admire magical sunrises and sunsets you have never experienced before.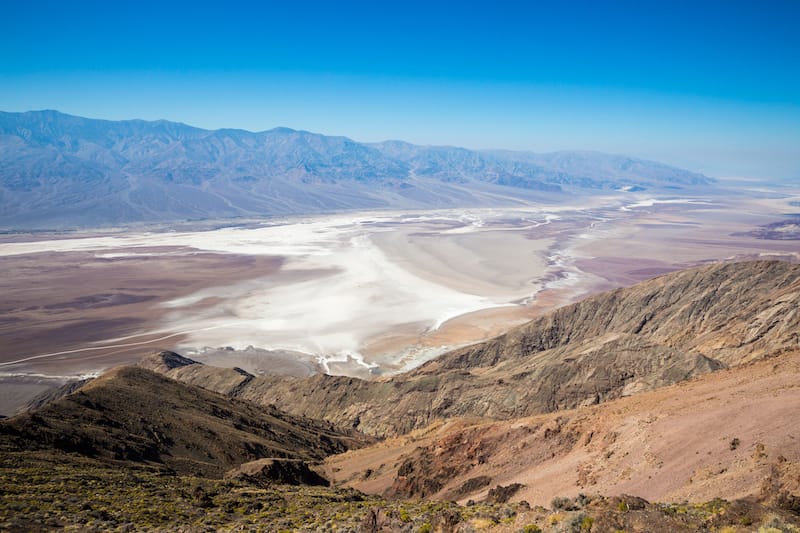 Adventure lovers can continue their hike along the ridge where an 8-mile loop trail will get you to Mt. Perry. Photographers will certainly love this spot for its postcard-perfect views of the whole valley.
Don't forget to take your telescope with you to view starry nights and witness the Milky Way during the full moon.
Suggested 2 Days in Death Valley Itinerary
Taking into consideration all of the places highlighted above, we have broken down the Death Valley landmarks into two different areas – north and south depending on their location in the park. Feel free to swap days depending on your desires!
This itinerary for Death Valley is written for those who will be driving throughout the park.
Day 1: Southern Points of Interest
Dawn: Zabriskie Point
Morning: Golden Canyon/Golden Gulch Loop Trail (best to do in the morning and can start from Zabriskie Point)
Mid Day: Twenty Mule Team Canyon (can be done by car)
Lunch: Furnace Creek Town (take a break from the heat, eat here, check out the golf course, etc)
Afternoon: Dante's View
Late Afternoon: Badwater Basin
Evening: Artists Palette (sunset brings out the colors!)
Day 2: Northern Points of Interest
Dawn: Mesquite Sand Dunes
Morning Hike: Mosaic Canyon
Lunch: Toll Road Restaurant
Early Afternoon: Salt Creek Interpretive Trail
Afternoon: Titus Canyon Drive
Late afternoon/Sunset: Ubehebe Crater
Places to Stay Near Death Valley
Undoubtedly, if you're a daredevil who wants a more authentic experience, it is possible to stay in the park overnight.
However, due to the extreme temperatures, not all accommodations are available year-round, and some are only open from October to April.
Some of the most popular hotels in Death Valley National Park include: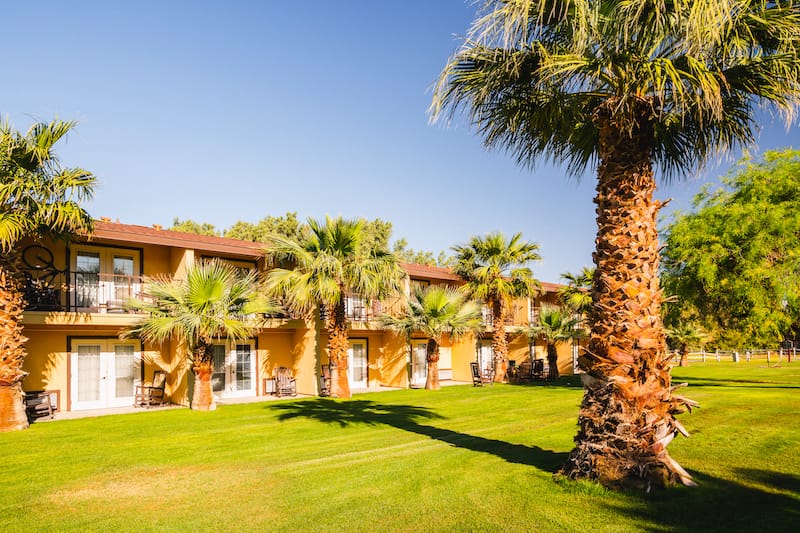 However, many visitors will also choose to stay in nearby Pahrump, only one hour from the Furnace Creek entrance.
Pahrump is also on the way to Las Vegas, so if you also want to take a trip to Vegas when you're done in Death Valley, this will make for a convenient and adventure-filled road trip.
Here are some of the most popular accommodation options in Pahrump:
What else do you recommend on a 2 days in Death Valley itinerary for first-timers? Let us know your weekend in Death Valley tips!
ABOUT THIS LAND
Death Valley National Park is on the unceded land of the Timbisha Shoshone people. We ask you to join us in acknowledging their communities, their elders both past and present, as well as future generations.
We also acknowledge that Death Valley NP was founded upon exclusions and erasures of many Indigenous peoples, including those on whose land these US National Parks are located.
⇒ Do your research before visiting National Parks and places in the US. Native Land and Whose Land are good starting points.
⇒ Hire Native guides when possible and encourage National Parks and government organizations to start hiring them.
⇒ Donations matter. Part of the proceeds from this blog is donated monthly to the Native Women's Wilderness.
More California National Parks Guides
Pin this Death Valley 2 Days Itinerary