The US National Parks are some of the best places to visit in the country and one of the best excuses for a nature-filled getaway from the stress of the cities. The majority of the parks do require an entrance fee, on the other hand.
This guide discusses the free national parks in the United States and ones that are perfect for those on a budget, or those looking to spend their money on accommodation and things to do in the local area instead of on an entrance ticket.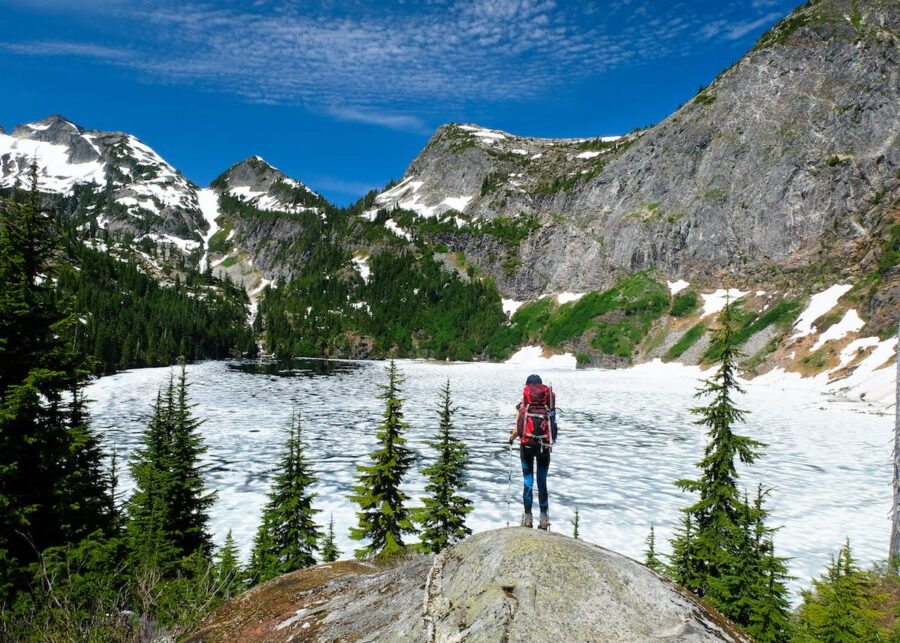 These national parks are free year-round, and not merely on certain days!
Aside from talking about some of the main highlights in these free US national parks, we have also listed some other fees you might accrue when visiting (usually camping fees, etc).
Let us know if there is anything we left off that future visitors should know about these free-to-enter national parks!
Please note that at the end of this guide, we do list the national park free days that you can visit without having to pay! The free days pertain to all US National Parks and designated sites.
Free National Parks in the US
North Cascades National Park
State: Washington
Official Website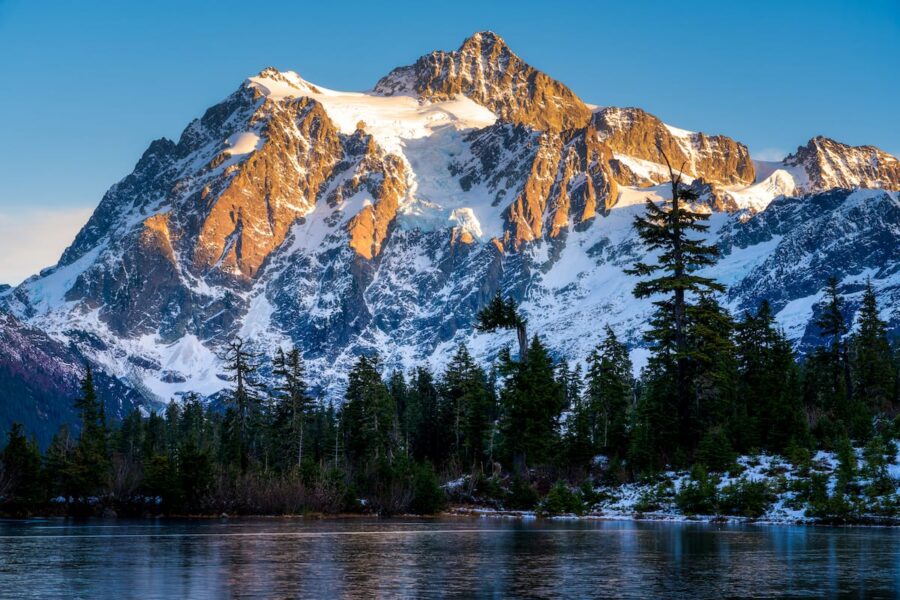 North Cascades National Park is a free-entry national park, full of alpine wilderness and picturesque forests.
From hikes ranging from an hour to a full day, you have all chances to find the trail of your dreams at the gorgeous North Cascades National Park!
The peak season for camping at the Washington National Park is from late May to September. During this time, all campsites along State Route 20 can be reserved.
You'll find several amazing attractions inside of North Cascades National Park but be sure to make a stop at Stehekin. For a long period of time, it has been a travel route, connecting Washington's interior wilderness with the harsh Cascade Mountains.
The fact that there are no roads in Stehekin makes it clear why many think of it as a place to escape from the hustle of big cities.
Other Fees at North Cascades National Park:
Free to $16 (varies by campground and season)

Northwest Forest Pass (required at USFS trailheads only) – $5 a day

Lake Chelan Dock Permit – $5 a day
Kenai Fjords National Park
State: Alaska
Official Website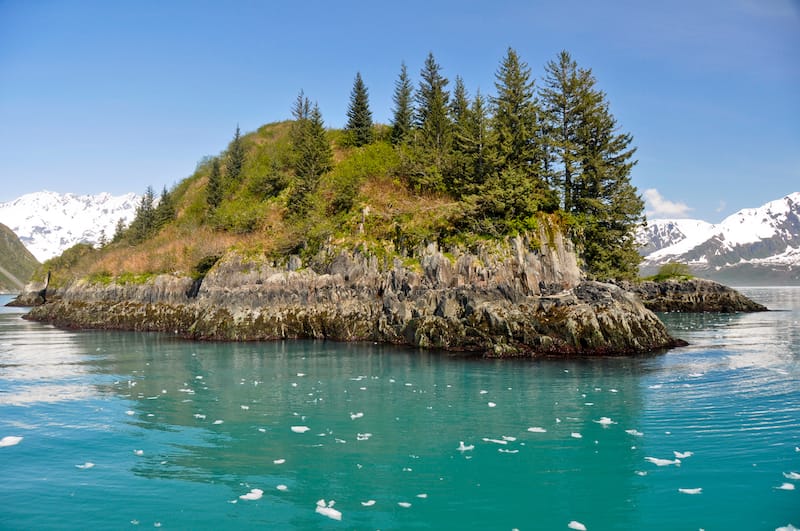 Kenai Fjords National Park is one of the most popular of Alaska's national parks. The range of activities that one can find here is truly amazing and the best part is that it is free!
From a variety of boat tours, kayaking, camping, fishing, biking, hiking, cross-country skiing, dog sledding, mountaineering, and more… you will find plenty to do at this national park located near the city of Seward.
The park and the surrounding areas are rich in marine wildlife. You can witness it by taking ​​a boat tour departing from Seward to local islands, towering mountains, and stunning fjords.
Be sure not to miss Exit Glacier during your trip to Kenai Fjords National Park!
Touring on vessels you may get views of orcas, sea otters, humpback whales, fin whales, Dall's porpoises, Steller sea lions, etc. So, fans of marine life will highly value this location!
Other Fees at Kenai Fjords National Park:
No camping fees

Public Use Cabins – $50-$75 per night
Kobuk Valley National Park
State: Alaska
Official Website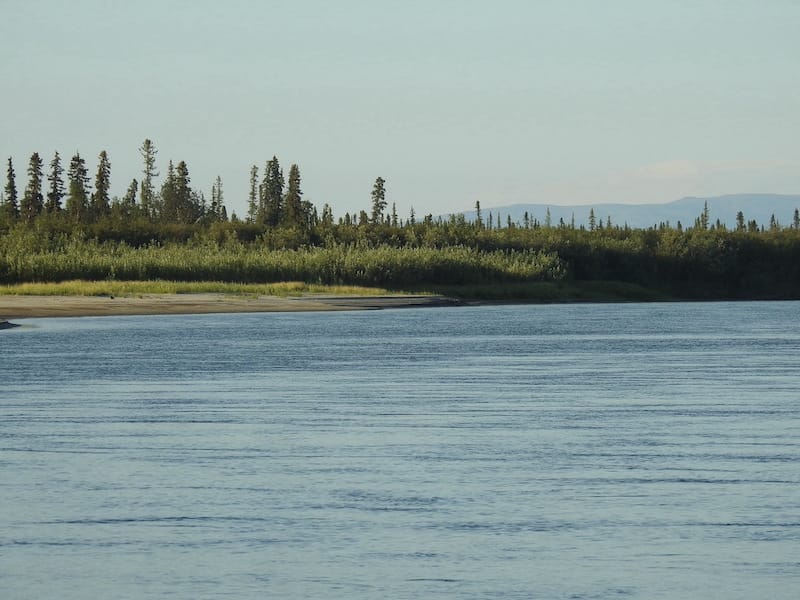 Another treasure of the state of Alaska, and one that is also free to enter, is Kobuk Valley National Park.
There are no established facilities in the area of the park, but recreational activities like boating, camping, hiking, backpacking, flightseeing, wildlife watching, and fishing are still possible during the summertime.
When it comes to winter, note that accessing this lesser-visited national park is far more challenging!
You can come via a plane, a snowmobile, or with a team of dogs by sled! The list of activities in Kobuk Valley in winter includes skiing, snowshoeing, dog sledding, or skijoring.
Permits are not required for individual travelers, but organized recreational groups do need one.
Other Fees at Kobuk Valley National Park:
None. Please note that you will need to organize transportation to and from the park, however (which may accrue a fee depending on how you choose to arrive).
Hot Springs National Park
State: Arkansas
Official Website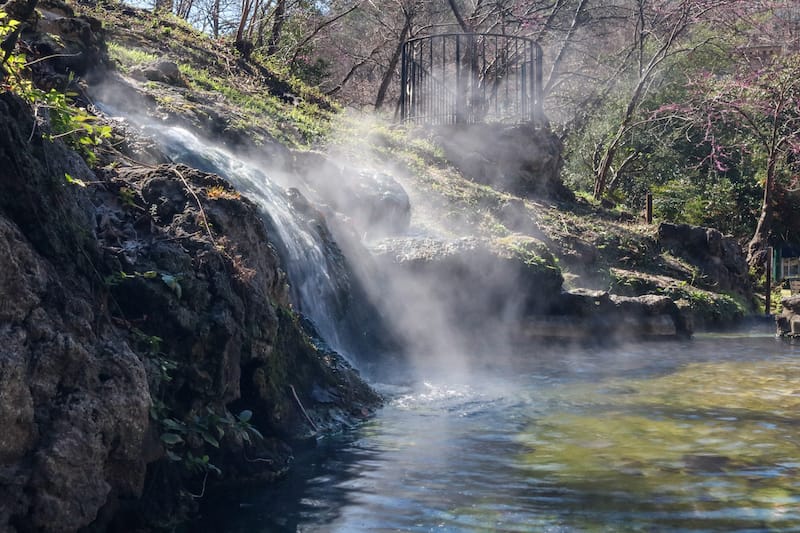 Hot Springs National Park is the nation's oldest one (and is older than Yellowstone when it comes to park status – but not national park status).
It features 47 thermal springs, more than 30 miles of hiking trails, mountain views, amazingly beautiful nature, and much more. It is also a free national park!
The thermal water there is actually sourced from 4,000-year-old spring water in its natural state. Visitors can either soak in the springs in the Buckstaff Bathhouse for example or drink water from fountains located in the area.
When it comes to hiking, it's worth mentioning that there are two separate areas of hiking trails: the Hot Springs and North Mountain Trails and the West Mountain Trails.
Both of these feature hikes are relatively short, while the Sunset Walk is a long trail that takes you through the park's most isolated parts.
Other Fees at Hot Springs National Park:
The historic museum and guided tours are free of charge

Camping – $30 per night
Redwood National Park
State: California
Official Website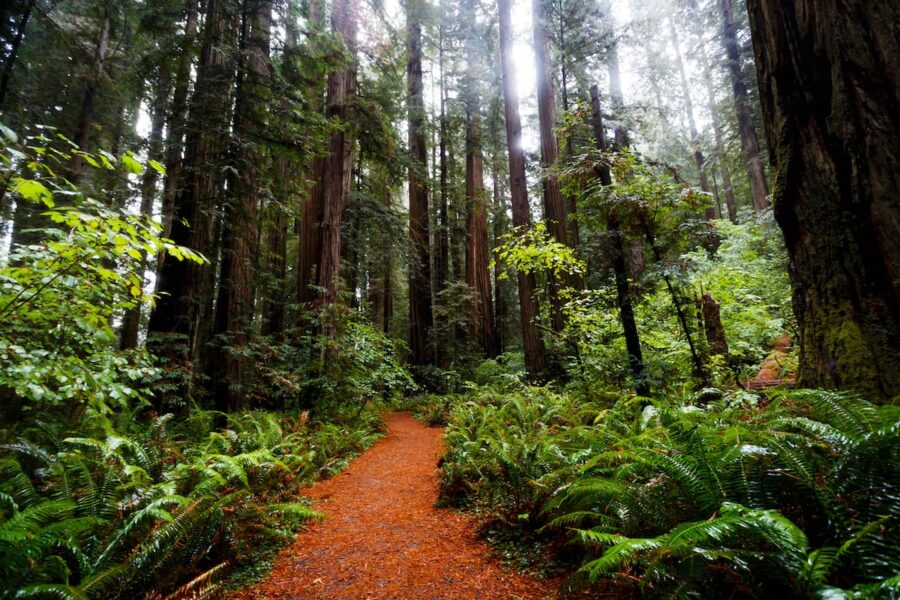 Redwood National Park is renowned for being the place where nearly half of the world's old-growth redwoods are located.
It includes a specimen that has a height of more than 370 feet (113 meters). And, you can see these beauties for free!
One of the best recreational activities inside the California national park is its scenic drives, such as Howland Hill Road, Enderts Beach Road, Requa Road, Davison Road, etc.
On these thoroughfares, you'll encounter towering old-growth redwoods, beautiful coastal views, and much more.
Activities like backcountry hiking and camping are also very famous inside the park. There is accommodation in the park, so visitors have the opportunity to either choose from 200 miles of trails or 7 designated backcountry campsites.
Other Fees at Redwood National Park:
Campgrounds – $35. Reservations must be made 48 hours in advance.

Backcountry – Free online permits are required for overnight use of all designated backcountry camps, with the only exception of Gold Bluffs Beach. It costs $5 per person, per night.
Wrangell-St. Elias National Park
State: Alaska
Official Website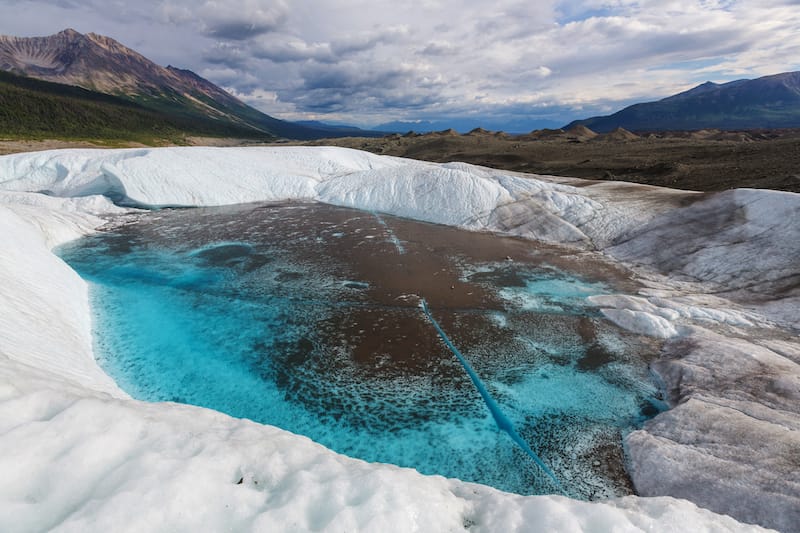 Wrangell-St. Elias National Park is known to have the greatest concentration of glaciers in North America and a few of the continent's largest volcanoes.
You can visit the US national park free of charge, but it is not the easiest one to visit (typical for many Alaska national parks).
You'll find plenty of things to do in Wrangell-St. Elias and day hiking is considered to be one of the best activities.
Copper Center Area's trails provide very scenic views of the majestic Wrangell Mountains. Kennecott, on the other hand, has the best trails for glacier viewing.
There are several more that are convenient to explore the alpine meadows in this area and also some that offer non-maintained trails for the rugged adventurer.
Another great thing to do at this park is mountaineering. The park and its mountains are home to 7 of the 20 highest peaks in North America, and, consequently, the peaks here (higher than 10,000 feet) are glaciated and challenging.
Other Fees at Wrangell-St. Elias National Park:
Entrance is free and federal land passes are not sold or issued

For mountaineering, note that all climbing expeditions that enter Kluane National Park and Reserve in Canada must have a permit.
Congaree National Park
State: South Carolina
Official Website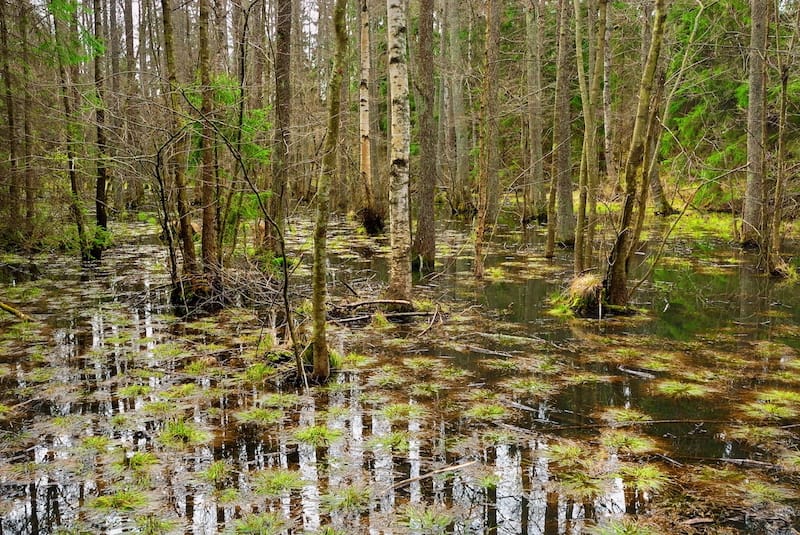 Congaree National Park is one of America's free national parks and it can be explored on foot or by its waterways.
Most visitors decide to explore the area either through the South Carolina national park's nearly 25 miles of hiking paths or 2.4 miles of boardwalk.
Weston Lake and other trails can be accessed via the boardwalk circle route. Hiking options in the park include short hikes on the Boardwalk Trail or longer backcountry ones.
You are free to choose based on your desire and abilities, of course. The pathway of almost all trails leads up to picturesque lakes, the Congaree River, or views of splendid, ancient trees, that are part of one of the tallest forests in the US.
Also, don't underestimate the thrill of canoeing and kayaking in Congaree.
Visitors have a solid chance to see animals like river otters, deer, turtles, wading birds, and even alligators. As this park is mostly swamp, be aware of snakes and mosquitoes!
Other Fees at Congaree National Park:
In addition to the entrance being free, the park also does not charge for camping or any ranger-led programs.
Channel Islands National Park
State: California
Official Website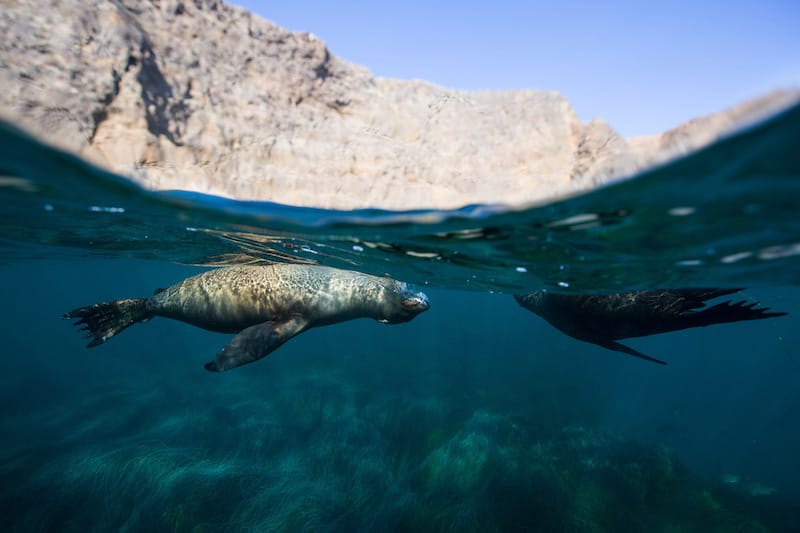 Channel Islands National Park consists of 5 islands and a mile of ocean. For those looking for a quiet type of vacation, visiting this underrated national park can be a solid choice.
Please note that there is no entrance fee, but you must pay for your way to get there (details below).
From hiking, camping, swimming, kayaking, birdwatching, and much more… there are so many cool things to do in Channel Islands National Park!
Hiking can be done both on well-maintained trails and rugged unmarked paths on lovely Santa Rosa. Anacapa Lighthouse is also a great hike in the Channel Islands.
On each of the islands, there is one campground and those are available for visitors year-round.
Water sports enthusiasts can get amped as the range of activities here includes diving, snorkeling, fishing, and surfing. The most suitable islands for these activities are Santa Barbara, Anacapa, and eastern Santa Cruz Island.
If you happen to be visiting Santa Rosa and San Miguel, note that because of windy conditions, these activities should not be attempted on these islands by beginners or those who are not well-skilled!
Other Fees at Channel Islands National Park
No entrance fee to the park but it does cost to get the ferry there (kind of negates the 'freeness' of the park, right?!) Click here for tickets via Island Packers.
Great Basin National Park
State: Nevada
Official Website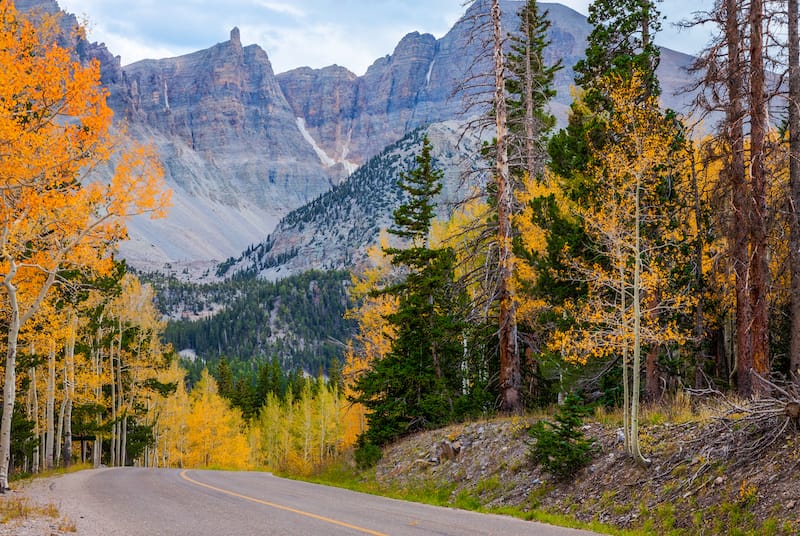 Great Basin National Park holds the title for the most epic and darkest night skies in the US. It's located near the Utah border, in east-central Nevada and it is, truthfully, one of the most underrated US national parks.
If you are visiting with a tight schedule, then you can go on a short hike along the Island Forest Trail. It's an easy-level trail, going through a high alpine conifer forest.
Alternatively, you can spend your time driving the Wheeler Peak Scenic Drive (12 miles) for some extraordinary mountain views. Be sure to also join a tour of Lehman Cave, one of the park's most notable sights!
If you have more than just a day in the park, the number of things to do increases significantly and it really shows why it is one of the best places to visit in the state.
You can check out more challenging trails like the Bristlecone Grove and Wheeler Peak, join a ranger or astronomy program, and enjoy some fishing at Baker Creek, etc.
Other Fees at Great Basin National Park:
Lehman Caves Tours – per-person fee charged ($12-$15 for adults)

Campground fees – $20 per site, per night

RV Sanitary Station – $10.00 fee
Lake Clark National Park and Preserve
State: Alaska
Official Website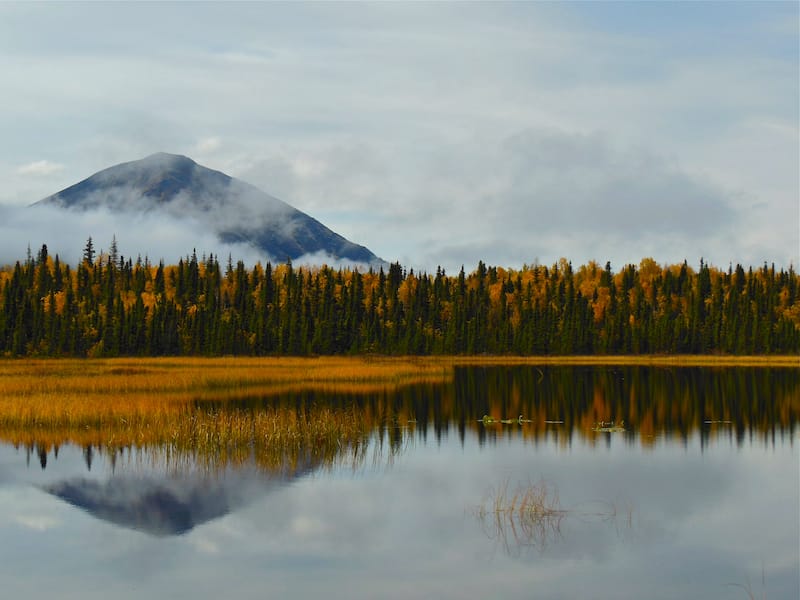 Lake Clark National Park and Preserve has a natural beauty that is truly hard to describe until you visit the place!
When there, you might find yourself stopping and just looking around in amazement to see the reflection of the park's craggy mountains in greenish-blue-colored lakes.
From organizing a backpacking trip on tundra slopes to visiting Dick Proenneke's historic cabin, there are many things you can do in Lake Clark National Park!
The park has an area of 4 million acres on the Alaska Peninsula in southwest Alaska, and it is one of the nation's most remote national parks. A definite must-see in the area is Lake Clark itself.
It's located in the central part of the park, is 50 miles long, and offers recreation in the form of fishing and kayaking.
Notably, Alaska brown bear viewing and fishing are world-class in the coastal meadows and streams, like Silver Salmon Creek, Chinita Bay, etc.
Other Fees at Lake Clark National Park:
No entrance fee and permits needed for any recreational activities

There are fees for staying at the park's public-use cabins
New River Gorge National Park
State: West Virginia
Official Website
America's newest national park is indeed FREE. Not only is it free to enter the park, but it is also free to go camping there, although it is only equipped for primitive camping.
The West Virginia national park spans over 73,808 acres and is located near Beckley, WV.
The gorge is carved out by the New River and is the longest and deepest gorge in the Appalachians and throughout the park, you will get to see exposed sandstone and shale alongside large boulders and other areas that are perfect for bouldering!
One of the most popular things to do in New River Gorge National Park is to go fishing! There is a lot of diversity in the waters there. Another popular thing to do is to go whitewater rafting.
The Lower Gorge of the New River is the premier spot and you will find rapids ranging from Class III to Class V there. You can find the licensed outfitters here.
As for rock climbing, you will find over 1,400 established climbs and it is one of the most famous places in the United States for rock climbing.
There are also around 50 miles of hiking trails in New River Gorge National Park that range from easy to difficult. Some of them are actually rail to trails and are perfect for biking!
Other Fees at New River Gorge National Park:
Camping is free
Activities like white water rafting and climbing are not free
Voyageurs National Park
State: Minnesota
Official Website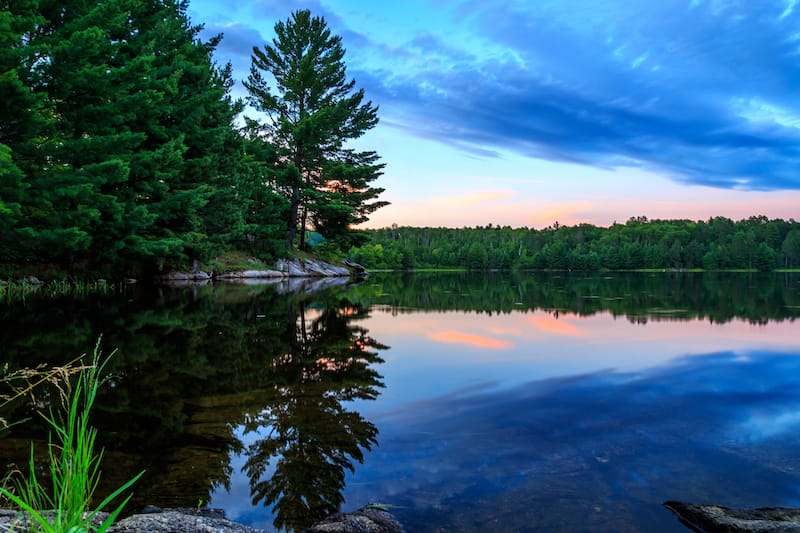 Voyageurs National Park's greatest feature is its excellent water resources. Even though it's not very famous as a national park, there is truly a lot to see and do here and it certainly warrants a visit, especially since it is free to go there!
The name voyageurs comes from French-Canadian fur dealers who were the earliest European travelers to traipse the area.
When it comes to activities, there is camping (over 270 campsites) and hiking trails like Blind Ash Bay, Echo Bay Trail, Rainy Lake Recreation, etc.
Those trails offer spectacular forest views, birdwatching opportunities, and an overall unforgettable experience.
Wintertime is great here too, escape if you need a weekend away from the Twin Cities! You'll just need to find out the trails that are open for skiing and snowshoeing and wait until the lake is frozen enough.
Choose your desired winter activity starting from snowmobiles, cross-country skis, riding on the ice road, and more. It is the perfect weekend getaway in Minnesota!
Other Fees at Voyageurs National Park:
A reservation fee when camping and nightly amenity fees

Houseboats – $10 per night
Cuyahoga Valley National Park
State: Ohio
Official Website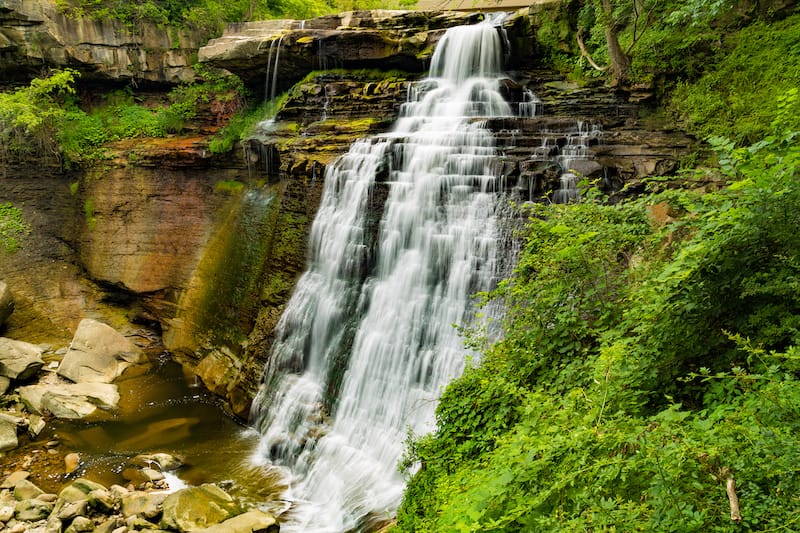 Cuyahoga Valley National Park is a popular free national park in the US. Located in northeast Ohio, it is all about forests, rolling hills, and vast farmlands.
The range of outside activities here is huge – from historic train rides, paddling, and hiking, to golfing and winter sports!
For hiking enthusiasts – those visiting with families can take to Haskell Run Trail. It's a 30-minute hike, promising sights of a few animals (salamanders, squirrels, songbirds, etc).
To attain memorable views, devote some time to Ledges Overlook. The park's best sunset colors are here!
Horseback riding is another favorite activity in the Ohio national park. Some of the best trails for enjoying nature on horseback are the Wetmore Trail, Tabletop Trail, Langes Run Trail, etc.
Other Fees at Cuyahoga Valley National Park:
Fees for concerts and some additional programs

Most hiking trails and attractions are free

Cuyahoga Valley Scenic Railroad – requires a ticket purchase
Great Smoky Mountains National Park
State: Tennessee, North Carolina
Official Website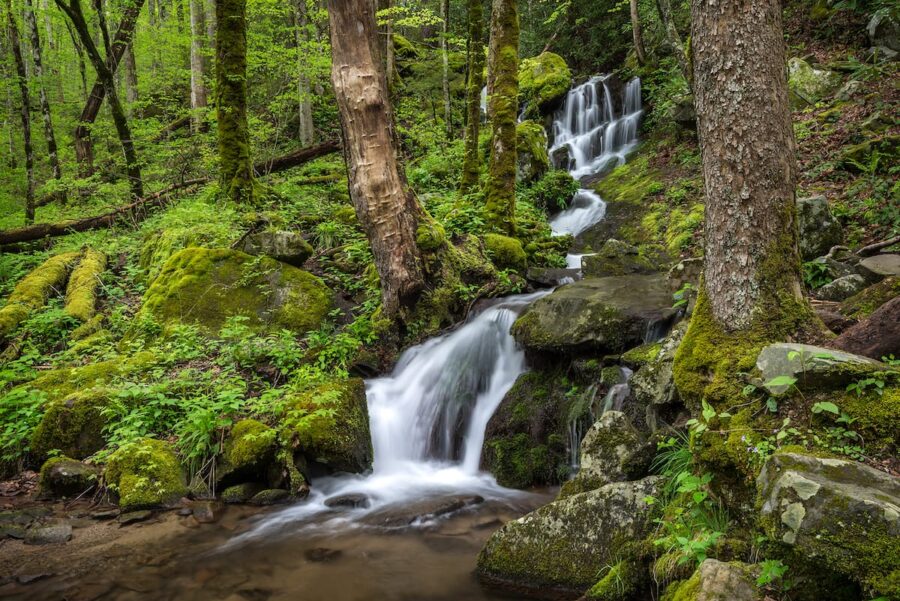 Great Smoky Mountains National Park is quite famous and its name is synonymous with eastern Tennessee and western North Carolina. It is also the most-visited national park in the US (by a long shot)!
One of the best ways to explore this national park is to get behind the wheel and drive! The Smokies offer about 384 miles of road to choose from and it is a great road trip destination (particularly in fall)!
Don't miss your chance to explore Cades Cove, Cataloochee, Oconaluftee, or the Roaring Fork Motor Nature Trail to see rustic-styled houses, churches, and other prominent buildings.
After all, the Great Smokies are known to have one of the best collections of log buildings in the eastern United States!
Hiking, camping, fishing, horseback riding, and other recreations are also all available within the park. There is a lot you can entertain yourself with, so doing research beforehand and planning is advised.
Other Fees at Great Smoky Mountains National Park:
Overnight camping – $14-23 per night

Pavilion rental at picnic areas – from $12.50 to $80

Parking Tag Required beginning March 1, 2023. There are 3 tag durations available for purchase for all vehicle sizes and types: Daily – $5, Weekly – $15, Annual – $40.
Biscayne National Park
State: Florida
Official Website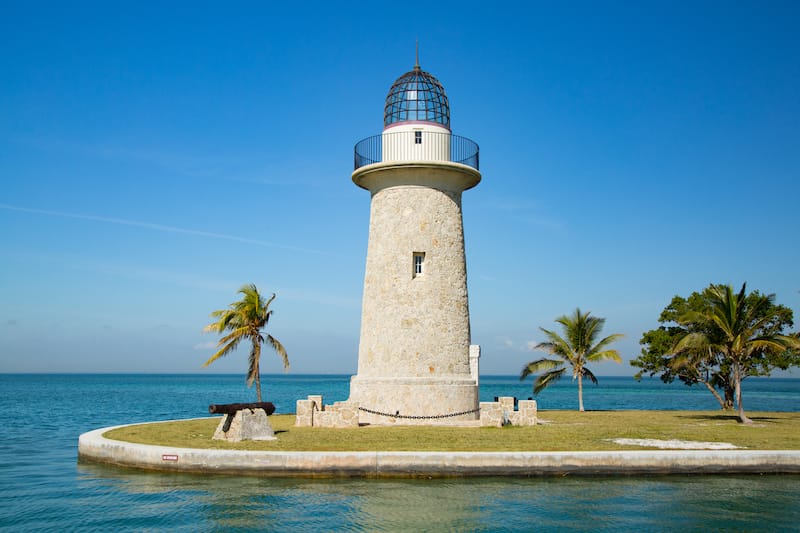 Many of the previous national parks were ones that were best explored on foot but Biscayne National Park in Florida is the complete opposite – it is all about the water and the Atlantic Ocean here!
One of the largest islands in the park is Elliot Key. It provides camping, picnicking, wildlife watching, and hiking trail opportunities. The recommended season for visiting is during the winter months when temperatures are mild and rain is less frequent.
Another popular place to visit is Boca Chita Key island. There, you will find an iconic and historic lighthouse, which instead of leading the ships, lured them toward the direction of the park.
If you're looking for additional outdoor activities, you can try fishing for spiny lobster, snapper, bonefish, etc. You can also learn about the history and marine life of the area through a guided tour, or get right in the water to snorkel and dive, to see everything first-hand!
This park is a great addition for an extra day before taking a road trip through the Florida Keys.
Other Fees at Biscayne National Park:
Overnight camping – $25 per night, at Elliott Key or Boca Chita Key
Gates of the Arctic National Park
State: Alaska
Official Website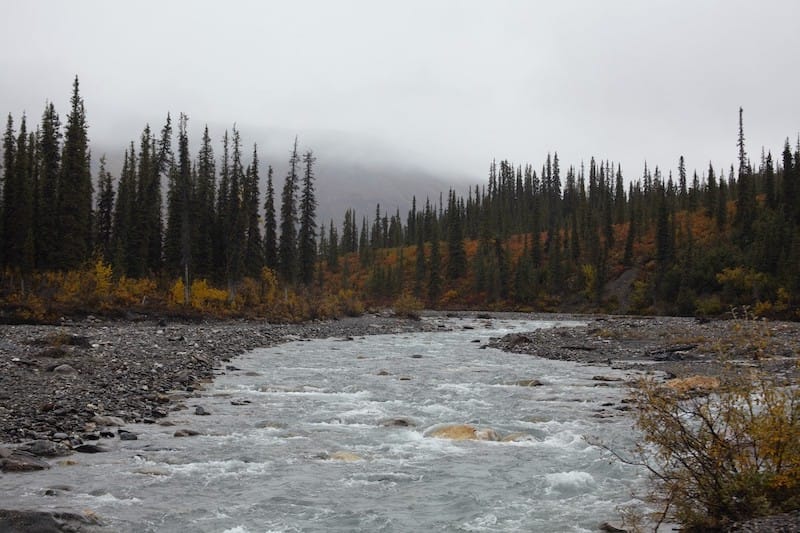 If you're a fan of untouched wilderness and seeing what a world looks like without people, Gates of the Arctic National Park is the top pick for you! Not only is it a free national park, but it is also America's least-visited one!
Do note that visitors won't find any established services at Gates of the Arctic. It's all about discovery and exploration. To enjoy a safe visit here, wilderness survival skills are imperative.
If you're not confident or skilled enough to embark on a trip to this northern Alaska national park, be sure to contact an outfitter, guide service, or a local air taxi.
There are several rivers to float along, six of which are designated as Wild Rivers. Camping areas surrounded by breathtakingly beautiful nature can be found around lakes and gravel bars, while backpackers have 8.4 million acres of spectacular wilderness to marvel at and discover!
Other Fees at Gates of the Arctic National Park:
No fees to enter, but visitors are requested to stop at one of the park's visitor centers to attend a backcountry orientation.
Not Visiting One of these National Parks?
If you are visiting a national park that is not on this list, you will be required to pay a fee if you're not visiting during National Park Week or on a free day (or are eligible for free access).
In that case, we highly recommend getting yourself a National Parks Pass!
This pass is only $79.99 and allows you into any of the 2,000+ Federally designated areas in the United States. Honestly, it is the best bang for your buck and makes visiting national parks a breeze!
>> Get your National Parks Pass here for only $79.99!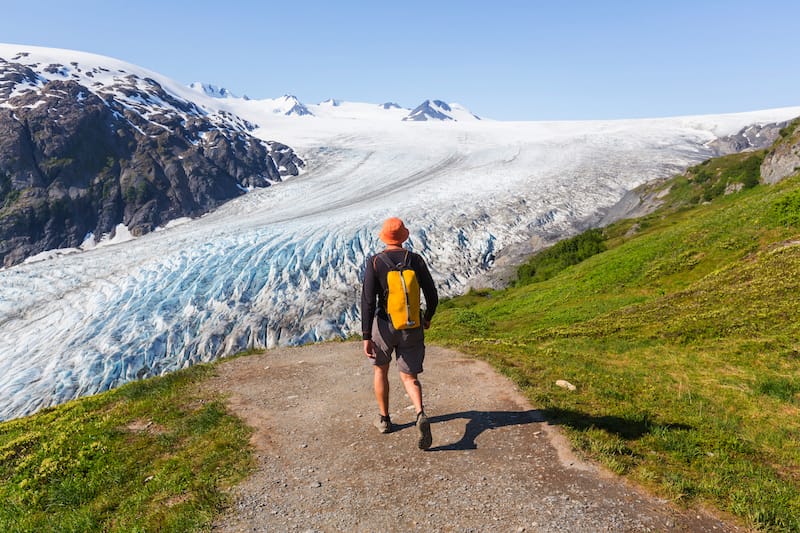 Free National Park Days in 2023
Throughout the year, there are days that are free for all national parks, not just the ones on this list! These are the already-designated free national park days for 2023.
January 16 – Martin Luther King, Jr. Day
April 22 – First day of National Park Week
August 4 – Anniversary of the Great American Outdoors Act
September 23 – National Public Lands Day
November 11 – Veterans Day
We will update this with 2024 dates as soon as they are released.
Free National Park Week
In addition to free national park days, there is also National Park Week, where every national park is free for the duration of the entire week!
In 2023, National Park Week runs from Saturday, April 15, 2023 to Sunday, April 23, 2023.
Are You Military or a Veteran?
If so, all US National Parks are free for you (and a heartfelt thank you for your service).
In early 2021, Secretary of the Interior David L. Bernhardt signed Secretary's Orders 3386 and 3387 passed a law that grants veterans free access to national parks, wildlife refuges, and other Federal lands managed by the Department of the Interior.
In order to get access, you need to present one of the following:
Department of Defense Identification Card
Veteran Health Identification Card (VHIC)
Veteran ID Card
Veteran's designation on a state-issued driver's license or identification card
Gold Star Families are also eligible for free access to national parks, wildlife refuges, and other Federal lands.
What is your favorite national park? Is it one of the free national parks in the United States? Let us know in the comments!
Additional National Parks Guides
Best National Parks by Month
Pin this Entrance Free National Parks Guide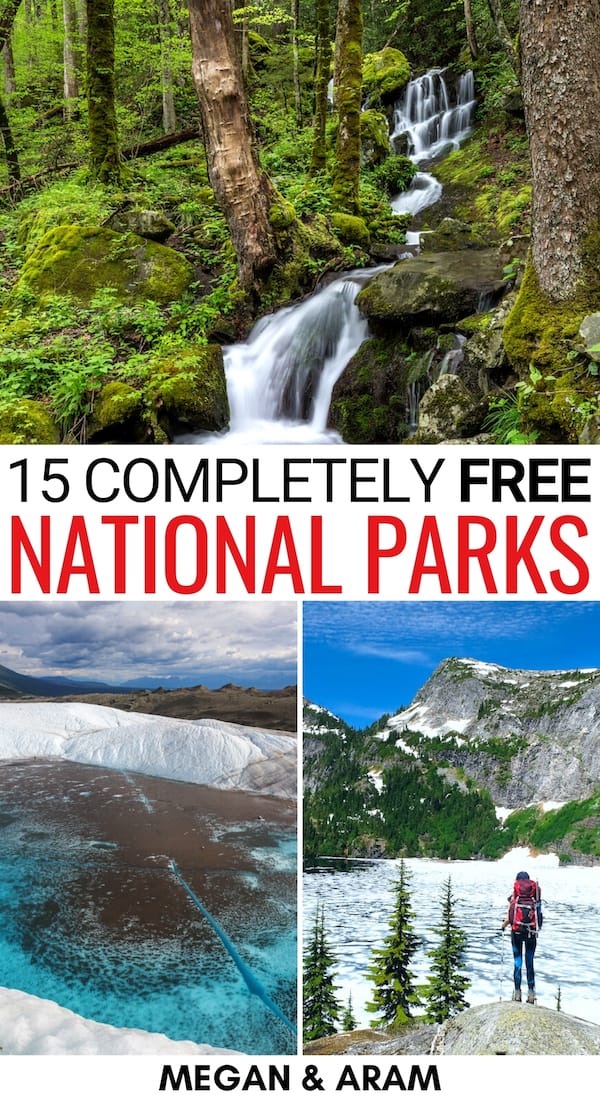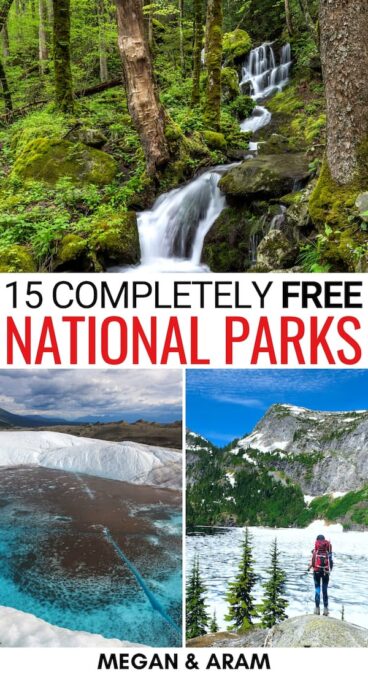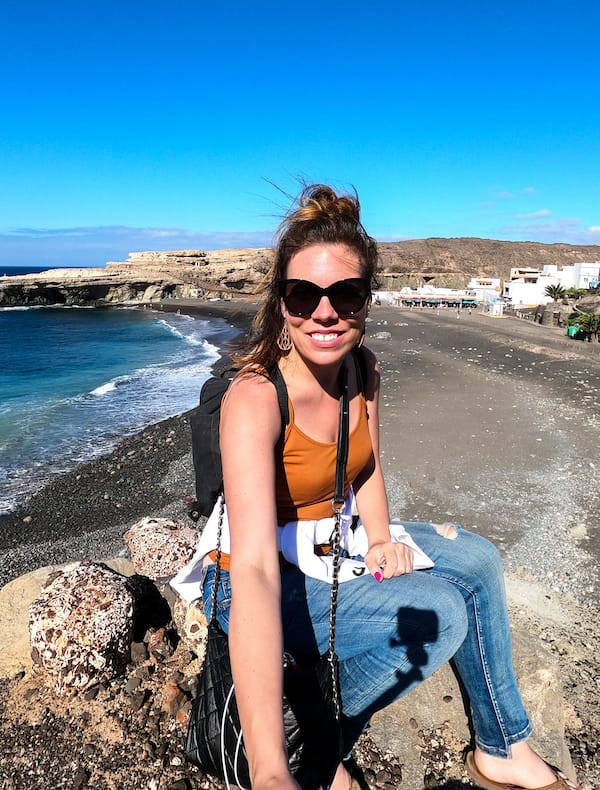 Megan is a travel blogger and writer with a background in digital marketing. Originally from Richmond, VA, she now splits her time between Frankfurt, Germany and Arctic Finland after also living in Norway, Armenia, and Kazakhstan. She has a passion for winter travel, as well as the Nordic countries, but you can also find her eating her way through Italy, perusing perfume stores in Paris, or taking road trips through the USA. Megan has written for or been featured by National Geographic, Forbes, Lonely Planet, the New York Times, and more. She co-authored Fodor's Travel 'Essential Norway' and has visited 45 US states and 100+ countries.