Visiting in summer is practically a 'no-go,' but should you visit Death Valley in winter?
This guide spills all the details and tells you exactly what to do during winter in Death Valley if you plan a trip there!
Death Valley, California. The thought of the place makes me shudder as a person who hates extreme heat. And, Death Valley is extreme heat (it is one of the hottest places on the planet!).
But… traveling to Death Valley in winter is a pretty epic experience and one that should definitely be on your California bucket list!
We break down a trip to Death Valley National Park in winter in this post. Should you visit? What is there to do in Death Valley in winter? Where to stay? And, of course, what to expect from a winter trip there.
If you have additional tips or recommendations, please drop them in the comments! Thanks!
Reasons to Visit Death Valley in Winter
First of all, it is one of the most optimal times to visit Death Valley, simply because summer is too hot. With summer temperatures in excess of 116F on average, it is unbearable, unpleasant, and can be dangerous for travelers.
In winter, the temperatures are extremely pleasant with an average high of 67F in January. There is still little rain (on average, you will see maybe 1 day of rain monthly throughout the winter), but when it does rain, it can be excessive and cause flash flooding.
But, we will talk about temperatures and weather in Death Valley below a bit that will help you figure out how many days you need (we recommend a minimum of 2 days in Death Valley).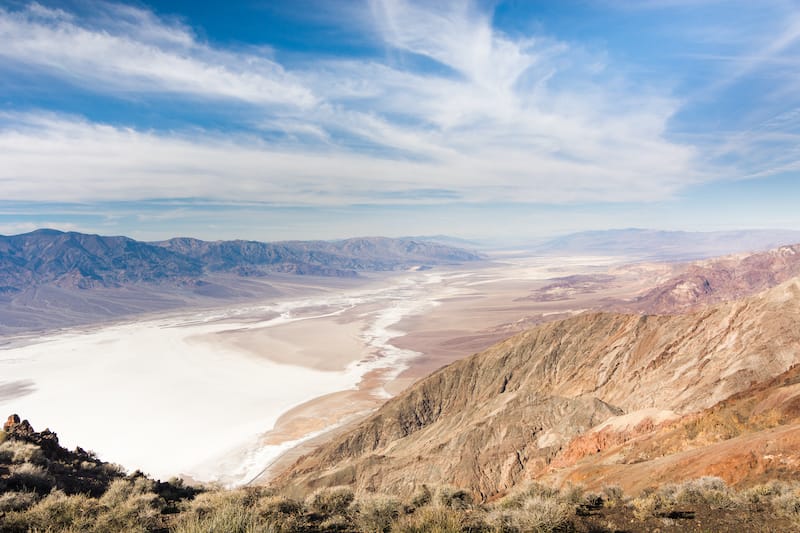 The reason you really should visit Death Valley in winter is that there are so many things to do and you can pretty much do them all then (except maybe see some desert wildflowers unless you're going there mid-February on).
READ ALSO: Best national parks to visit in December
It is the perfect season for photography as the skies become dramatic from Pacific storms and the low-angle light during the winter. You can also see Telescope Peak, the highest point in Death Valley, with snow on it.
In addition, the stargazing is out of this WORLD during winter. It is one of the best places on the planet for the activity and winter, while chilly at night, is the prime time to venture out after dark.
Death Valley is also a golfer's and hiker's paradise in winter.
Death Valley National Park is at its least crowded between Thanksgiving and before Christmas but it will be at its peak from Christmas to New Year's, on MLK Day weekend in January, and on Presidents' Day weekend in February.
When is it Winter in Death Valley?
Though the temperatures are fairly mild, December, January, and February are considered the winter months. By the end of February, wildflowers have usually already begun to bloom.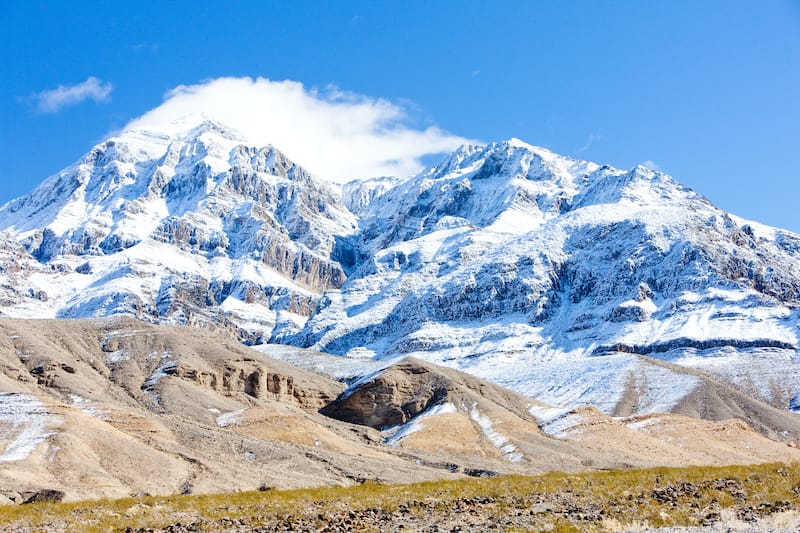 With such lovely weather, Death Valley is definitely one of the best places to visit in California during winter.
Death Valley Winter Weather – Temperatures
Just how cold is it in Death Valley in winter? Below are the average winter temperatures and the number of average rainy days per month.
**Please note that even though the number of rainy days isn't high, the amount of rain that can pass through can be significant.
| | | | |
| --- | --- | --- | --- |
| Month | Average high | Average Low | # Rainy days |
| December | 19C / 65F | 4C / 39F | 0 |
| January | 19C / 67F | 4C / 40F | 1 |
| February | 23C / 74F | 8C / 46F | 1 |
​
Death Valley National Park Weather in December
While the middle of December gets fewer crowds, the period from Christmas until New Year's is far more bustling at the national park. It is one of the best national parks to visit in December and the weather is a large reason why.
In December, you can expect comfortable temperatures (particularly at the beginning of the month) and a lot of activities. Do be warned that while it doesn't really rain, if it does, it can be excessive and cause flash flooding and chaos. Wear sunscreen!
Does it Snow in Death Valley NP?
No. However, it does snow on the peaks and in the mountains around Death Valley National Park, so you can observe it from the low-lying parts without an issue.
It has snowed in the park but the last time the park saw flurries was allegedly in the 1970s.
Things to Know Before Traveling to Death Valley During Winter
If you happen to be traveling to Death Valley during winter, the following things are essential to know before venturing to the park.
Facilities Open at DVNP in Winter
The following facility is open in Death Valley National Park in winter.
Furnace Creek Visitor Center: Open daily from 8am until 5pm.
READ ALSO: Best national parks to visit in January
At Furnace Creek Visitor Center, you can watch a film about the park.
There is a fully-staffed info desk there and you can find out everything you need to know about this remote and barren park.
Death Valley Crowds in Winter
As noted above, Death Valley's high season is what would be many other parks' off-seasons. However, if you're visiting Death Valley in December during the middle of the month, expect very few crowds as it is the least crowded time during winter.
You will see a spike in visitors during the period from Christmas until New Year's, as well as a spike during MLK Day weekend (if you're visiting the national park in January) and Presidents' Day weekend (if you're visiting the US national park in February).
Death Valley in Winter Driving Tips
You will need to figure out which way you're coming to Death Valley NP during winter in order to see the driving recommendations for the route.
However, when you get to Death Valley National Park, you will likely find snow anywhere around or above 4,000 feet.
READ ALSO: Best national parks to visit in February
If you're coming from the west, you will likely end up on SR190 (Towne's Pass) and the summit sits around 5,000 feet. Another way to come in from the west is Wildrose-Emigrant Canyon Road and it is actually higher in elevation than Towne's Pass. Snow can be prevalent.
Other areas where you are likely to see snow and have driving complications are Scotty's Castle, Dante's View, Daylight Pass Road (on way to Beatty), and the Saline Valley Road – Hunter Mountain area.
Best Things to Do in Death Valley in Winter
One thing to note about Death Valley is it is very spread out and most people drive from place to place. So, it is essentially a driving park.
There are opportunities for hiking in Death Valley as well as camping and we note both below as fantastic activities for those visiting Death Valley in winter.
1. Visit the Wildrose Charcoal Kilns
Built in 1876, the Wildrose Charcoal Kilns is a top attraction in Death Valley, California. It was founded to provide fuel for processing silver and lead ore from George Hearst's Modock Consolidated Mining Company which was in operation until 1878.
The bee-shaped structures of the Wildrose Charcoal Kilns serve as a special attraction for people to visit and are among the best preserved in the western parts. You can even smell the smoke once you're inside of them!
The Wildrose Charcoal Kilns are located in the Upper Wildrose Canyon near the Panamint Springs area. It is a bit tedious to reach the place but trust me, it is completely worth your time and effort.
2. Photograph the Mesquite Sand Dunes
Another major attraction in the US national park is the Mesquite Sand Dunes which rise almost up to 100 feet in height and are renowned for their sand-boarding opportunities.
In addition, you can take awesome pictures of sunrises and sunsets as the light during these times perfectly adorns and ornaments the beauty of the area! During sunsets, ripples and patterns are formed on the sand due to the incoming light.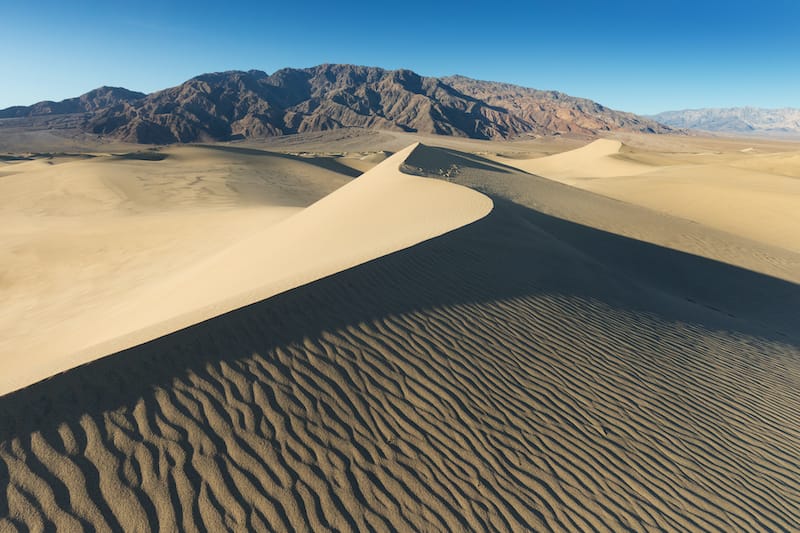 You can take walks on the dunes and while there is no specific marked trail due to continuous shifts in the sand, it is worthwhile and one of the best things to do in Death Valley in winter. You can also walk up straight towards the highest dunes to reach a vantage point over the area.
The Mesquite Sand Dunes are located right beside the main road through the Death Valley National Park and is a must-see attraction of the area.
3. Take a Drive in Death Valley
There are several driving routes throughout Death Valley and it is definitely a great thing to do in the park during winter.
Some major roads entering the park are Highway 190 via Highway 395 from California and Highway 160 from the south end of Las Vegas which eventually ends up to Highway 190 entering the park.
There are several viewpoints along the driving route of Highway 190 including Dante's View, Twenty Mule Canyon, and Zabriskie Point (please make sure you're comfortable with snow if over 4,000 feet!). The route eventually ends up in front of the park visitor center in Furnace Creek.
READ ALSO: Best national parks to visit in March
You can further drive southwards from Furnace Creek to Badwater and stop at several viewpoints along the way like Desolation Canyon, Artist's Drive, Devil's Natural Bridge, and Devil's Golf Course. Golfing is a popular thing to do in Death Valley, especially in winter.
Once you're done visiting Badwater, you can go back to Furnace Creek and proceed further to the Harmony Borax Interpretive Trail that leads to the Mustard Canyon and the sand dunes near Stovepipe Wells.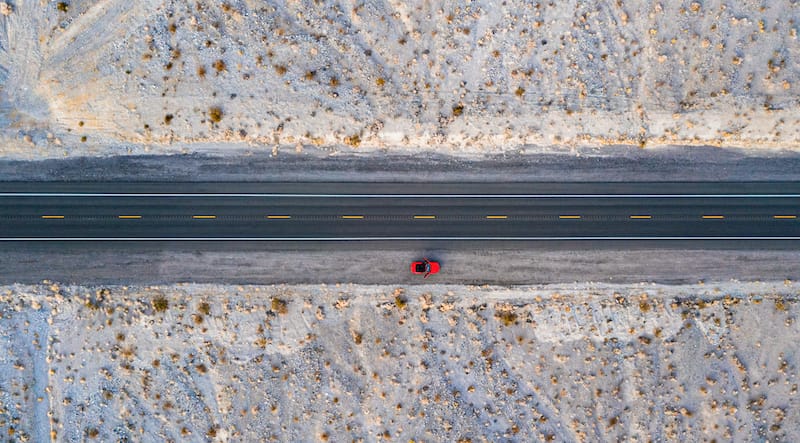 On an early start to the drive from Furnace Creek, you can further embark on a half-hour drive to Panamint Springs and then proceed towards Father Crowley Point which is another 20 minutes away.
You can then proceed to Beatty via the ghost town of Rhyolite. Make sure to stop at Rhyolite and check out the old ruins of a California mining town from the yesteryears! There are some creative art installations there as well.
4. Check Out Badwater Basin
Badwater Basin is a famous place in Death Valley that is definitely a must-see. It is the lowest point of land in the western hemisphere, situated at a whopping 277 feet below sea level.
The area is extremely hot throughout the year, even during winter… so plan accordingly!
Badwater Lake is an extremely shallow yet picturesque lake that is surrounded by mountains and sand dunes and is rimmed with salt. Depending on the climate conditions, you may or may not find water in the lake.
In case you do not find any water, you can walk on the salt bed of the lake. And, if there is water there, then you can enjoy the beautiful reflections of the surrounding mountains during early mornings and evenings when the sun is low.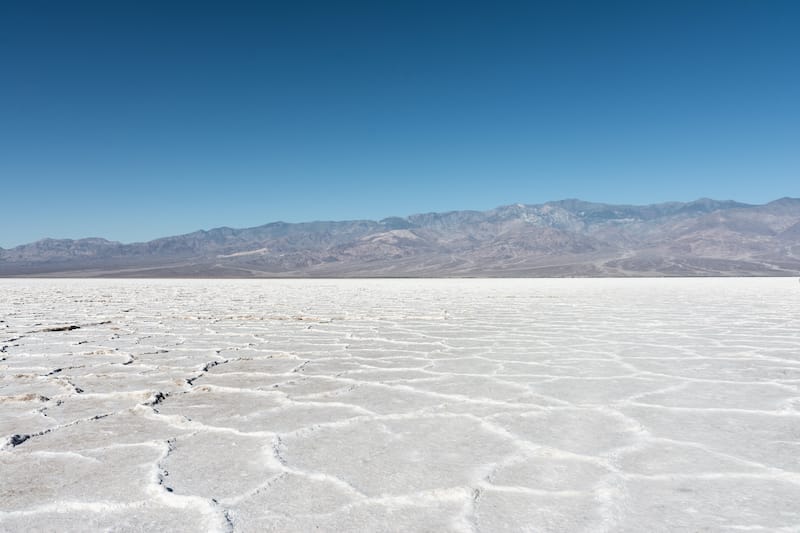 It is a fantastic place for photography enthusiasts with many award-winning shots having featured this wonderful area- it truly is one of the highlights of Death Valley, in my opinion.
If you are into four-wheel driving and off-roading, then the infamous "Racetrack" is the ideal place for you to go. The area comprises a huge, dried-out mud bed with stone chips of various shapes and sizes.
Please note: the off-roading is on the road TO the Racetrack and not permitted once you're there. Click here to see regulations and restrictions from the national park's site.
5. Find a Vantage Point in Death Valley NP
Another significant and mind-boggling photogenic area in the park is Zabriskie Point, with its surreal views of the surrounding landscape.
The landscape is comprised of gold, brown, and orange-colored earth that presents spectacular views during early mornings and late evenings.
If you want to enjoy the overall Death Valley landscape from one single point, then Dante's View is the place for you to check out next.
You need to drive through a 16-mile, twisty (but paved) road that leads from the highway to the top of Dante's Point located at 5,478 feet above sea level. Please note the elevation and remember that snow may be present there!
The Ubehebe Crater is a large volcanic crater that was naturally formed due to steam and gas explosions from rising magma on groundwater. It is 600 feet deep and half a mile wide. Previously believed to be a site of a meteor crash, this crater is a must-see location in Death Valley National Park.
Artist's Palette is a significant attraction of the park with its colorful landscape. It is a volcanic and sedimentary hill painted in a variety of colors like pink, purple, blue, green, etc.
Finding a vantage point may be a bit more challenging during the depths of winter in Death Valley, but if you can manage it, you will be greeted with some of the most beautiful views in your life!
6. Go to Furnace Creek
You can find the park's visitor center, campgrounds for overnighting, restaurants and eateries, stores, gas stations, as well as Furnace Creek Resort, at Furnace Creek located centrally in the park.
7. Death Valley Winter Hiking Options
Another popular activity in Death Valley in winter is hiking. There are some fantastic hiking trails in Death Valley National Park and they are much better to take to during comfortable temperatures than in the hotter months!
Here are some of the most popular Death Valley winter hiking trails (for all skill levels!):
Easy Hikes
Harmony Borax Works (0.4 miles)
Salt Creek Interpretive Trail (0.5 miles)
Badwater Salt Flat (1 mile)
Natural Bridge (1 mile)
Mesquite Flat Sand Dunes (2 miles)
Moderate Hikes
Ubehebe Crate Loop (1.5 miles)
Darwin Falls (2 miles)
Badlands Loop (2.7 miles)
Willow Canyon (4.2 miles)
Dante's Ridge (8 miles)
Difficult Hikes
Panamint Dunes (7 miles)
Little Bridge Canyon (7 miles)
Telescope Peak (14 miles)
Wildrose Peak (8.4 miles)
While temperatures are definitely better in Death Valley in winter, you will still need to take precautions. There is no shelter from the sun and sunscreen is a must. Also, bring a lot of water with you for these Death Valley hikes!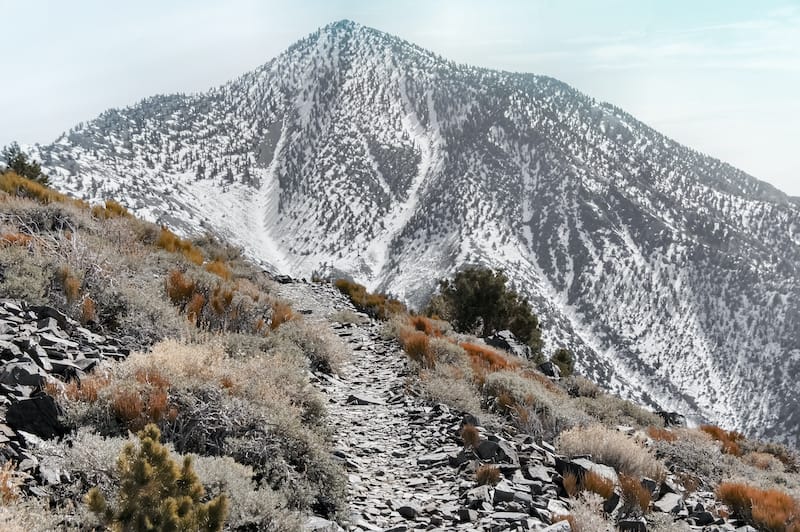 Death Valley Lodging and Accommodation
There are a few different options for where to stay in Death Valley during winter. You can camp at one of the designated sites in the park, stay at a camp nearby, or find lodging near one of the entrances.
Below are some recommendations for where to stay in Death Valley National Park in winter.
Hotels near Death Valley NP
There are a few places nearby that are recommended to stay, and some of our favorites are:
The Inn at Death Valley (inside of the National Park!)
Shady Lady Bed and Breakfast (Scottys Junction, NV)
Shoshone Inn (Shoshone, CA)
Death Valley Winter Camping
You can camp anywhere for free in Death Valley (technically speaking) but if you're keen to be based at an actual campsite, we recommend the tent camps at Emigrant, Wildrose, Mahogany Flat, or Thorndike. These are also free.
Please note that it does get cold at night in the park. Desert coldness is arid and can feel different than the 'cold' on the east coast where there is more humidity.
Also, Death Valley winter camping brings more crowds than in summer. The most popular time to go camping in Death Valley is from November until March, so plan ahead!
The tent camps do not take reservations and are free but the camps at Furnace Creek, Sunset, Texas Spring, Stovepipe Wells, and Mesquite Spring are not free. All are no reservations in winter but you will need to reserve at the one in Furnace Creek during winter.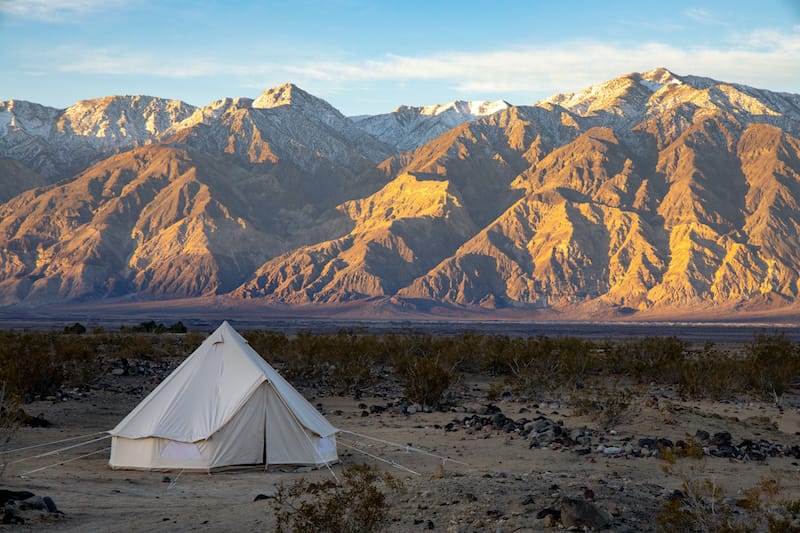 Renting an RV
Another unique alternative for your trip to Death Valley in winter is to rent an RV. While I definitely wouldn't recommend doing this without feeling comfortable driving one or on roads during winter and previous experience, it is a viable option for many adventurous travelers.
I recommend renting one in Las Vegas and driving toward the park from there. My trusted RV partner is Outdoorsy and they have options from full-size to trailers and more! Click here to check availability for Las Vegas RVs with Outdoorsy.
Should You Visit Death Valley in Winter?
If you have your sights set on a trip to Death Valley, winter is definitely an optimal time to visit! We hope that our guide to visiting Death Valley in winter helps you plan your trip and feel encouraged to visit this otherworldly US national park.
ABOUT THIS LAND
Death Valley National Park is on the unceded land of the Timbisha Shoshone people. We ask you to join us in acknowledging their communities, their elders both past and present, as well as future generations.
We also acknowledge that Death Valley NP was founded upon exclusions and erasures of many Indigenous peoples, including those on whose land these US National Parks are located.
⇒ Do your research before visiting National Parks and places in the US. Native Land and Whose Land are good starting points.
⇒ Hire Native guides when possible and encourage National Parks and government organizations to start hiring them.
⇒ Donations matter. Part of the proceeds from this blog is donated monthly to the Native Women's Wilderness.
READ ALSO:
Pin this Death Valley Winter Travel Guide