Are you planning a trip to Bryce Canyon in winter? This guide will help you plan your travels and includes all the best things to do!
Bryce Canyon is one of the most visited national parks in the United States and is one of the Mighty 5 in Utah. It truly is a special (and underrated!) place.
This travel guide will detail the many things to do in Bryce Canyon National Park in winter, including the best hikes, winter activities, park facilities, and more!
If you have any tips for a stellar Bryce Canyon National Park winter trip, let us know in the comments. Thanks!
Reasons to Visit Bryce Canyon in Winter
To be completely honest, the warmer months and shoulder season are when most people choose to travel to Bryce Canyon National Park. Summer in Bryce Canyon is actually quite tolerable compared to summer in other Utah parks.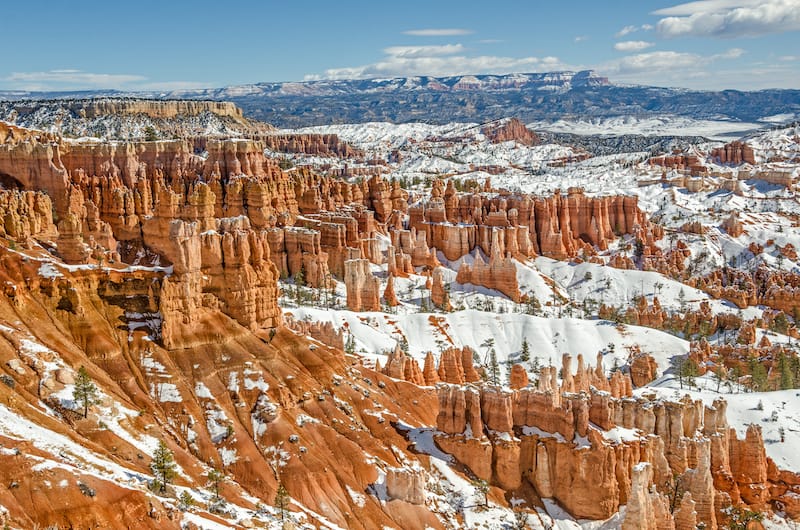 Winter in Bryce Canyon National Park is rather cold, but, it usually is pretty sunny. So, you can beat the crowds, enjoy cheaper accommodation options nearby, AND still not have to stress about rainy days ruining your trip.
Fewer visitors also means that it is easier to take photos if you're a photographer. Granted, weather is still more likely to play a role, but chances are you will have epic photography conditions.
One thing to note is that some facilities at Bryce Canyon do have different hours during the winter months. We detail this below.
How to Get to Bryce Canyon National Park
Bryce Canyon National Park is located about 4 hours from Salt Lake City and just 2 hours from St. George. If you're interested in the ways to get there, continue below!
The closest major airports are in Las Vegas and Salt Lake City. Both of them are about 270 miles apart from the park and require a 4-hour drive.
A comparably smaller distance away from the park is the Cedar City Airport (90 miles away), and St. George Airport (125 miles).
To arrive at this park by car, take the road along Highway 12 between Capitol Reef and Bryce Canyon parks for the 'scenic route'.
Alternatively, drive via Highway 89 from Zion National Park. Driving from Zion National Park to Bryce Canyon only takes about an hour and a half. And Zion in winter is quite the spectacle and should be on your Utah itinerary!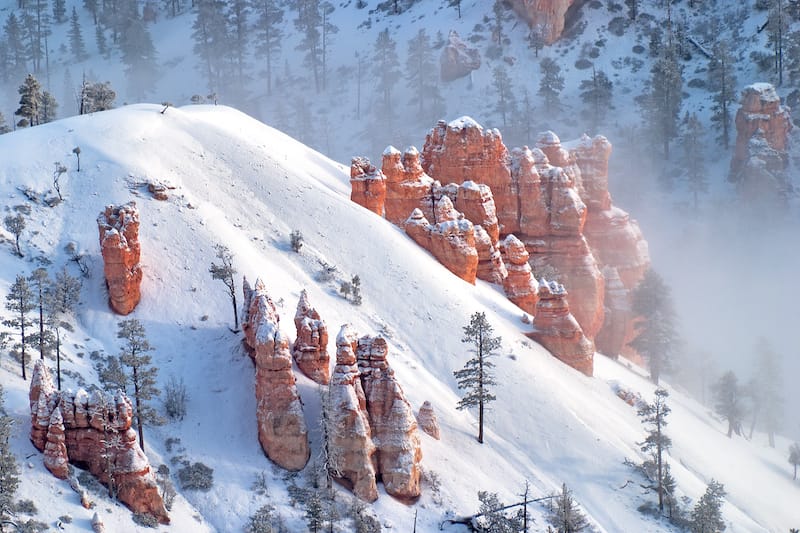 When is it Winter in Bryce Canyon?
The months of December through February are often the coldest and snowiest in Bryce Canyon National Park, which doesn't really come as a surprise.
Throughout this guide, we will refer to winter and be mostly considering the months mentioned above. November and March are far more unpredictable in terms of weather!
How Cold Does it Get in Bryce Canyon National Park
During the winter, the temperatures in Bryce Canyon can reach the mid-30s, while normal lows tend to hover around 15F at night.
Daytime is usually slightly above freezing, but still, you need to be prepared for cold bursts. Below are the average highs and lows for winter in Bryce Canyon NP.
December: Highs of 2C/36F, Lows of -11C/12F
January: Highs of 2C/36F, Lows of -12C/11F
February: Highs of 3C/38F, Lows of -10C/13F
Does it Snow in Bryce Canyon National Park?
Yes, it does snow in Bryce Canyon. Not counting the occasional exception, on average, the park gets slightly under 100 inches of snow each year. But there's been an instance where 82 inches of snow fell in the month of January in Bryce Canyon alone!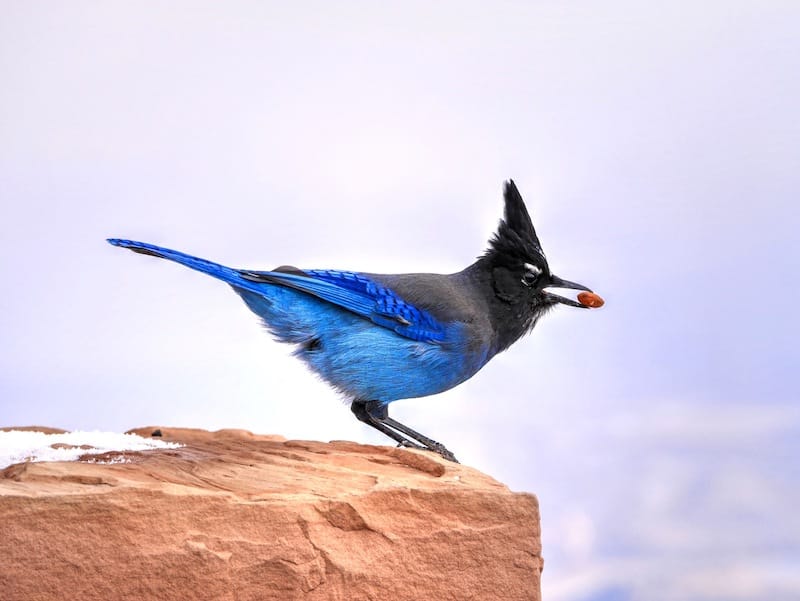 From October to May, chilly temperatures and snow can be expected for most nights. December through February are the months with the most snow, though snowstorms in March and April can still happen.
Bryce Canyon Facilities in Winter
Some of the park's facilities close during the winter months and during snowstorms. Here are some things to be aware of before visiting BCNP in winter:
Sunset Campground closes during the winter months from November until April. North Campground remains open.
The Lodge at Bryce Canyon (and its dining facility) are closed in winter.
The General Store at Sunrise Point is closed.
Restrooms at the Peekaboo Loop, General Store, and Inspiration Point are closed. (Rainbow Point, Farview Point, Sunset Point, North Campground, and the Visitor Center remain open).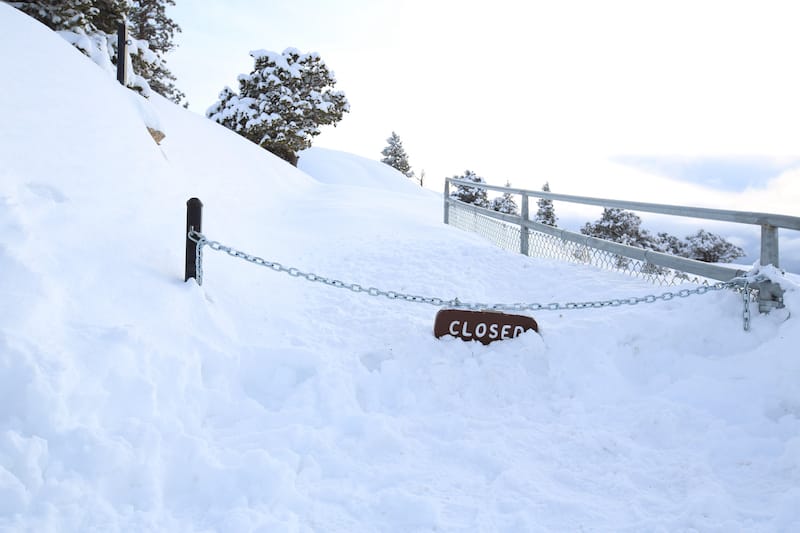 Bryce Canyon Visitor Center
Visiting the park's Visitor Center is definitely something to put on your Bryce Canyon itinerary. Here, you'll get a plethora of information, including driving and hiking instructions, weather forecasts, a current schedule of Park Ranger-guided programs, etc.
While checking out the Bryce Canyon Visitor Center, guests are welcome to check out various museum exhibits and the bookstore located on the property. You can also see the new, 20-minute-long, award-winning film entitled "Shadows of Time."
Be mindful of the fact that the working hours for the Visitor Center are reduced to 8 a.m. to 4:30 p.m. during the wintertime.
Address: UT-63, Bryce Canyon City, UT 84764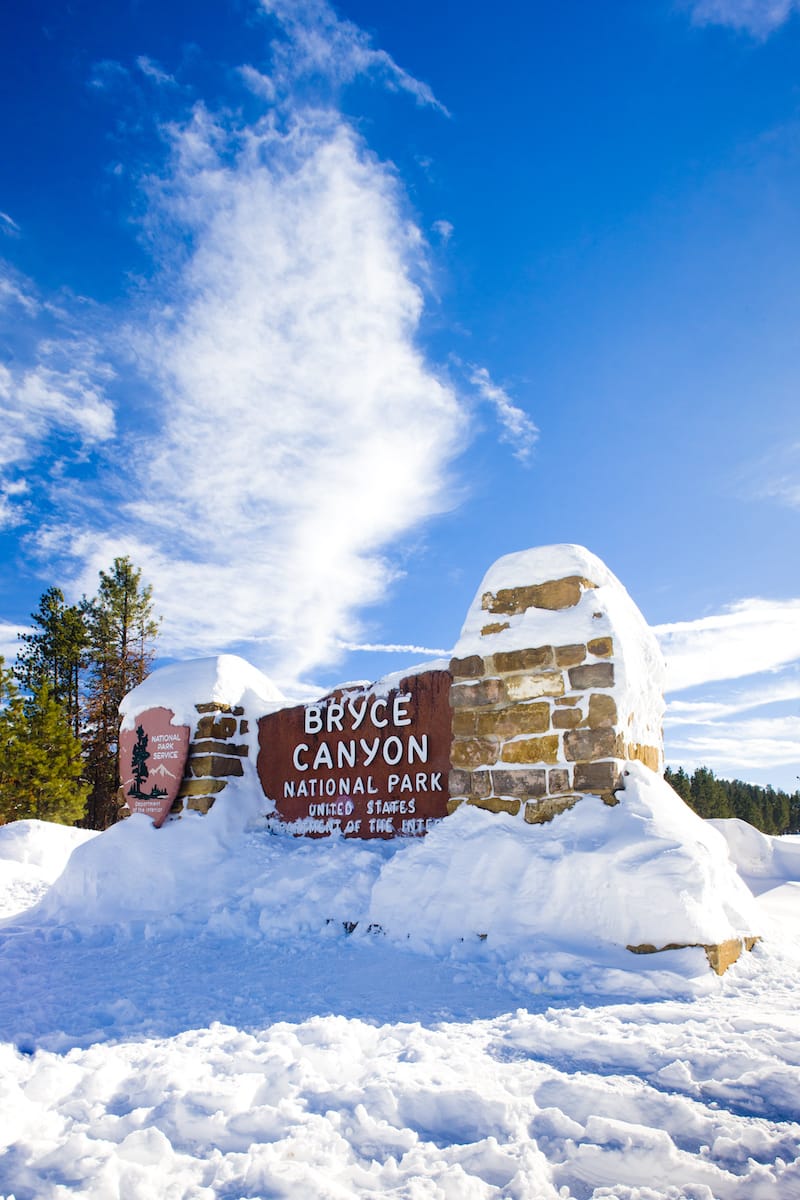 Road Closures in Winter
There are two roads that do close to traffic during the winter months. The road to Fairyland Point (1 mile long) and the road to Paria View (.3 miles long) both close in winter. You can still access the roads on cross-country skis, snowshoes, or by foot.
If there is a heavy snowstorm, the main park road will close for a short period at Mile Marker 3 for plows to make their way in and clear. This can last a day or two depending on the snowstorm.
The Bryce Amphitheater area will remain open during this time (that includes many of the main sights).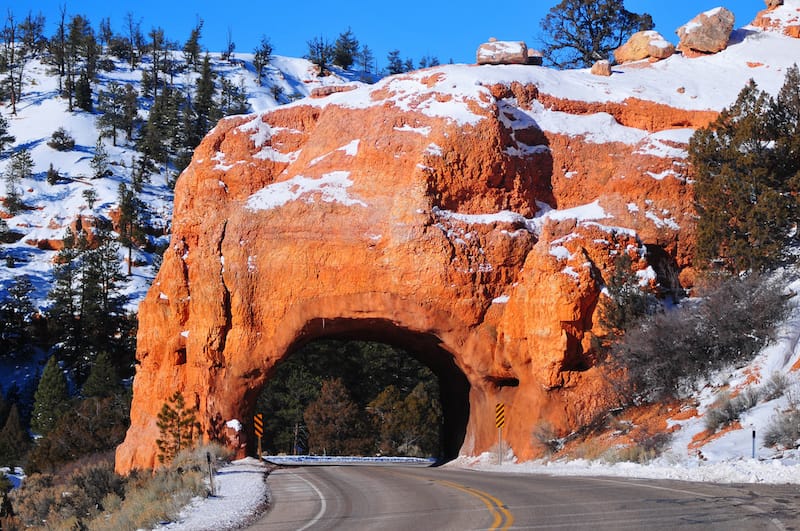 Winter Park Regulations
Please also note that skiing, snowboard, or any other winter activity is prohibited from the rim or within the canyon itself. The freeze and thaw cycles make this extremely dangerous and it can actually damage the hoodoos and other formations within the park.
What to Wear in Bryce Canyon National Park in Winter
One great thing about visiting Bryce Canyon National Park in winter is that it is never extremely cold, so you can just wear layers and take them off accordingly. However, you still need to pack some winter gear!
Here are my recommendations for what to wear and bring to Bryce Canyon National Park in winter:
Note: I am a huge fan of REI for all of my winter gear in the US, but I also love throwing minimalistic Scandinavian brands into the mix. I am listing an array of my favorite winter gear below.
Waterproof shoes / hiking boots (especially if you're hiking and the weather is not favorable… I have been using these Keen Targhees for over 10 years… no joke!)
Crampons (be sure to have grips if you're hiking – the trails can be icy!)
Hat (I have heaps but my favorites are from Libertine-Libertine and Samsøe & Samsøe)
Gloves or mittens (I prefer mittens but not always practical for activities)
Neck gaiter
Comfortable socks (I am the blister queen)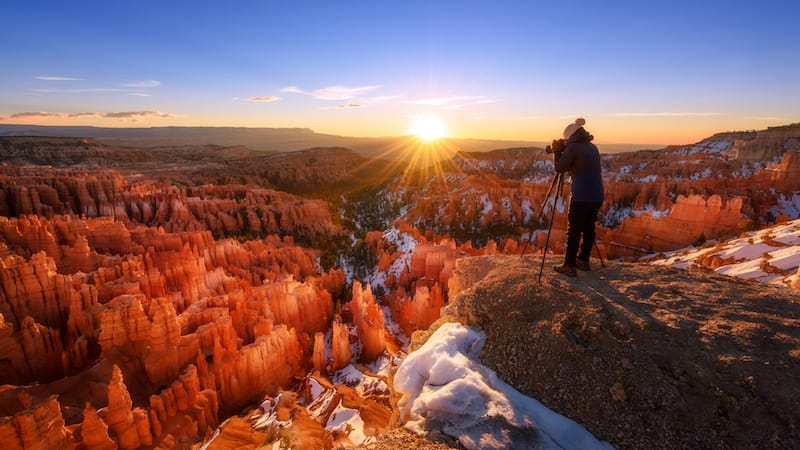 What to Pack for Bryce Canyon Winter (Gear & Miscellaneous)
There are a few non-clothing items that I highly recommend bringing with you when you visit Bryce Canyon National Park:
Things to Do in Bryce Canyon During Winter
1. Snowshoeing in Bryce Canyon
If you are planning a trip to Bryce Canyon during the winter with your significant other or with your family, you may just be lucky enough to experience a winter wonderland. And if you are greeted with a bit of snow, snowshoeing is a fantastic activity to do!
Snowshoeing in Bryce Canyon is one of the unique ways to not only see the beautiful surroundings of the location but also to connect with nature. The Canyon 2 Canyon route is suitable for both cross-country skiing and snowshoeing throughout the year.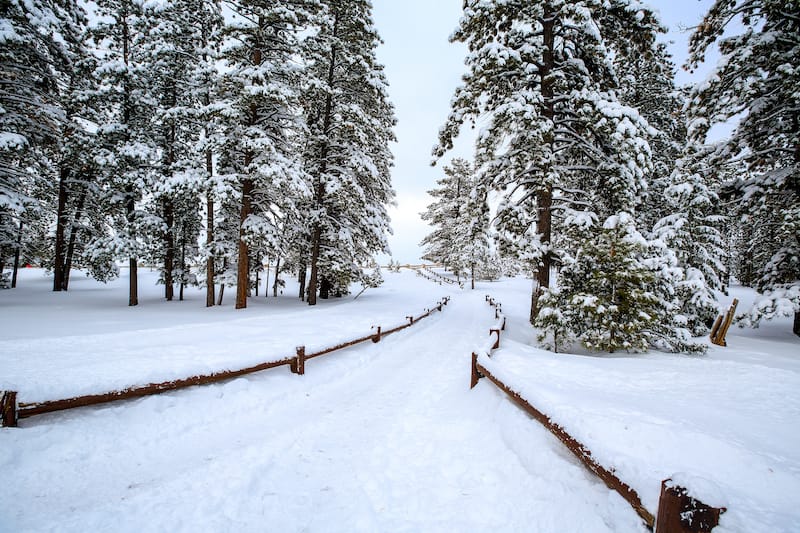 Note that the Ruby's Inn Winter Activity Center (Ebenezer's Barn & Grill building) offers more thorough information on the spot and all the necessary equipment to rent. They will help you plan your trip!
2. Ice fishing
For those interested in ice fishing in the state of Utah, definitely plan a day excursion to Panguitch Lake.
The Panguitch Lake Big Fish Derby brings together ice fishing enthusiasts from all over the USA. During the winter, the Boulder Mountain area contains around 60 fishable lakes that are well-stocked with trout.
From November to April, most of the roads leading to the high-elevation lakes of Boulder Mountain are closed, but snowmobile access is possible.
Note that the area is best accessed from the town of Panguitch during winter months and at the lake, there are 3 local lodges that stay open year-round.
3. Inspiration Point
Inspiration Point is an absolutely stunning viewpoint that should not be missed on a Bryce Canyon trip.
Silent City (near Sunset Point) has many rows of seemingly frozen hoodoos set against the backdrop of Boat Mesa and it is visible from here.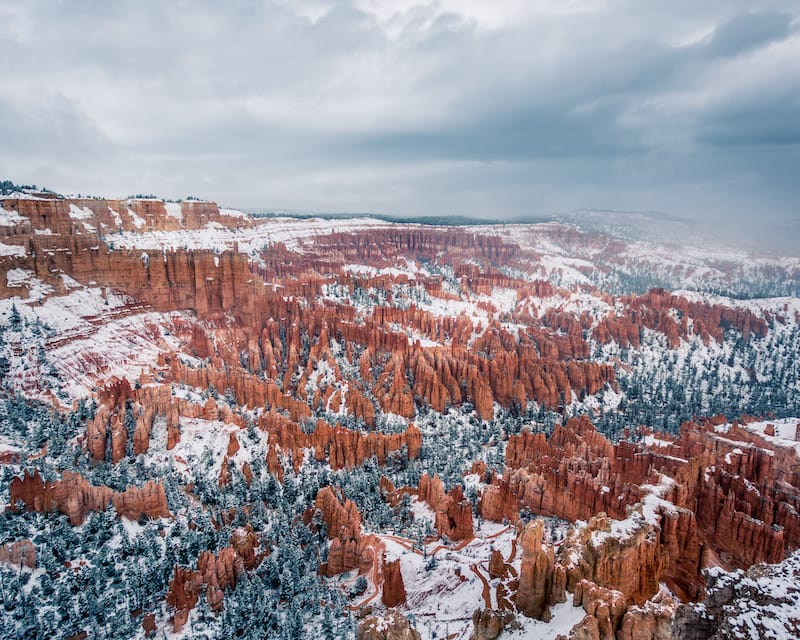 Inspiration Point's nature has a huge variety of plants, including Bristlecone Pines. They are tall and narrow, have needles covering the whole length of their branches, giving them quite the bushy appearance!
If you're vigilant enough, you might even encounter a Mountain Short-horned Lizard trying to camouflage itself in the beautiful scenery. There are no trails that lead down into the canyon from Inspiration Point's high cliffs, but the Rim Trail connects Bryce Point and Sunset Point.
4. Snowmobiling near Bryce Canyon
Another thrilling winter travel activity you can try is snowmobiling near Bryce Canyon.
The East Fork Trails, which are considered to be an ideal snowmobile destination, offer several miles of trails and play areas near the Tropic Reservoir and the East Fork of the Sevier River.
Visitors can experience stunning plateaus and panoramic vistas of Bryce Canyon through the beautiful Dixie National Forest. The road passes through the Aquarius Plateau complex and non-groomed Forest Service roads and provides a lot of jaw-dropping views.
If you're familiar with the area, know that the Pine Lake and the Cedar Breaks areas are also located nearby. Keep in mind that these are the nearest areas for snowmobiling as the activity is not actually something you can do inside of the park.
Click here for additional information.
5. Drive the Southern Scenic Drive to Rainbow Point
One of the best things to do in Bryce Canyon in winter is to take a little drive along the Southern Scenic Drive to Rainbow Point. There are 9 viewpoints along the drive, each one promising to deliver the ultimate wow factor.
Starting from the park entrance to the end of the road at Rainbow at Yovimpa Points, the major park road is 18 miles long (29 kilometers).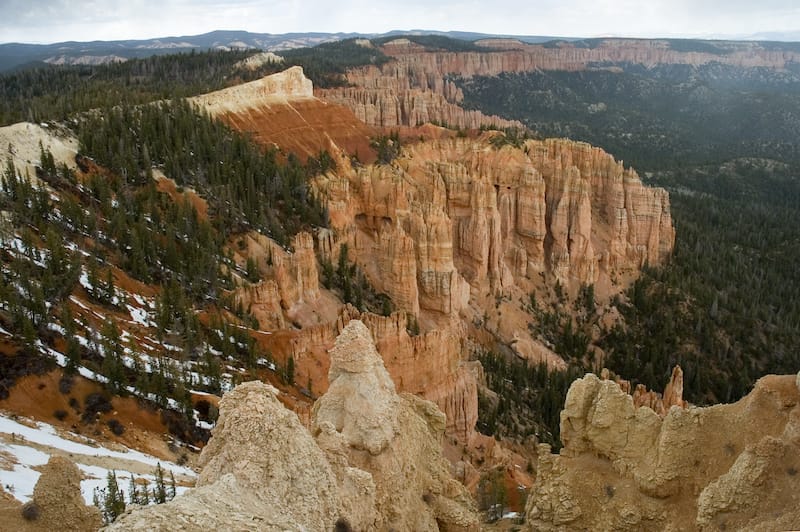 Something that distinguishes the Southern Scenic Drive is that the park's elevation rises as you drive south. This elevation variation is the product of uneven tectonic processes that uplifted this region over the previous 20 million years.
This is what produces a striking contrast between the north and south ends of the park, and it is so worth seeing with your own eyes. Especially if there is a dusting of snow!
6. Visit nearby Red Canyon
Nestled in Dixie National Forest, Red Canyon is located nearby (the distance is just 9 miles) and should definitely be part of your Bryce Canyon winter itinerary!
A ridge on the 7-mile Thunder Mountain Trail offers one of the most iconic views of Red Canyon. This trail passes through tree-covered washes on its way to the Claron Formation's pink and white limestone cliffs, which feature some of Utah's most beautiful red rock formations.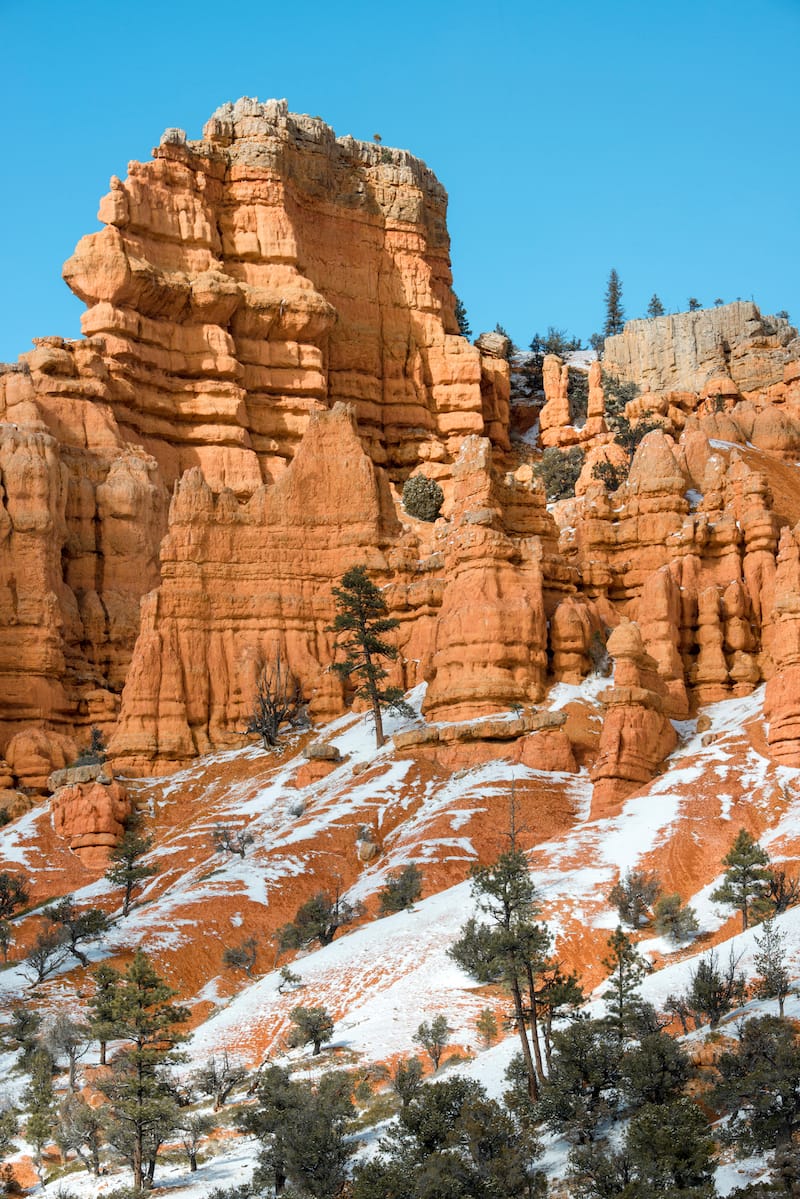 As you can imagine, the views from the top of the red cliffs below are breathtaking, especially during the winter months.
When covered in snow, the Red Canyon, which parallels Scenic Byway 12, provides easy-accessible trails for cross-country skiing and snowshoeing.
7. Cross-Country Skiing in Bryce Canyon
Cross-country skiing lovers will be delighted that they can find plenty of opportunities for the spot around Bryce Canyon!
Going cross-country skiing in Bryce Canyon allows enthusiasts to access around 30 kilometers of groomed trails that wind through Ponderosa pine forests, meadows, and, most importantly, spectacular views.
This is probably one of the very best ways to get acquainted with the extraordinary vistas of the park and partake in a winter sport at the same time.
Ruby's Inn Winter Activity Center has all the necessary rental equipment, maps, etc. On their website, you can find more information on the rates and daily availability.
8. Stargazing at Bryce Canyon
Another thing that Bryce National Park prides itself on is the variety of astronomy and night sky programs within the incredible Utah national park. Stargazing in Bryce Canyon is one of the most popular things to do there!
Because it is secluded and located a far distance from city lights and polluted air, this park can easily be called "a sanctuary for natural darkness".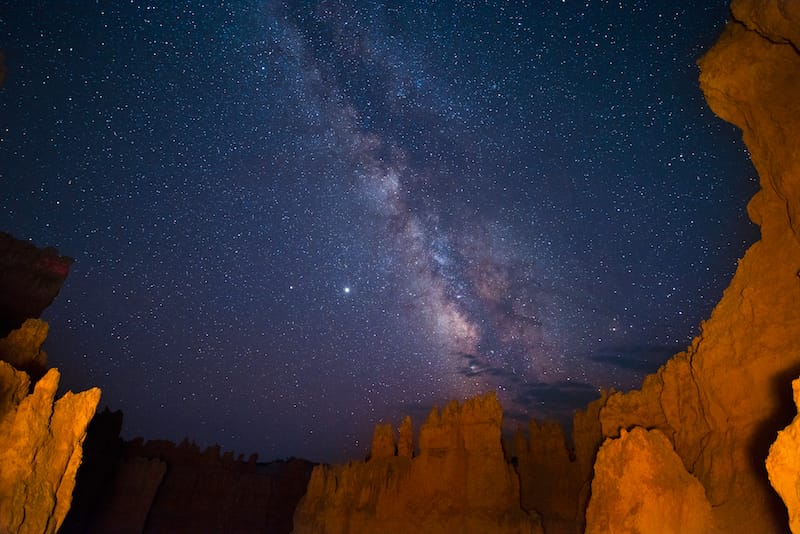 There are over 100 astronomy-related programs offered each year. If you're thinking about when the best time is to visit is, many say that during the week of the new moon or the week prior to the new moon, the night sky is at its best.
For moon lovers looking for a nocturnal adventure, there are trails that are 2-mile, 2-3 hour hikes that are being done only during the full moon.
9. Bryce Canyon Winter Festival
No wintertime visit to Bryce Canyon is complete without being present at the Bryce Canyon Winter Festival!
The event usually offers free-of-charge clinics, demonstrations, tours, etc. Throughout the festival, health clinics such as pain relief, injury prevention, and nutrition classes are available.
Guests can participate in or just view a lot of thrilling competitions throughout the festival's duration.
Be mindful of the fact that heavy snow may cause some events to be canceled, but the Bryce Canyon Winter Festival will go on regardless of the weather conditions. In 2024, the Winter Festival will be held on February 17, 18, and 19.
10. Bryce Canyon Winter Hikes
Bryce Canyon remains accessible during winter for most hikes, but there are a few areas and trails that close down. The Bryce Canyon trails that close during the entire winter season are:
Wall Street Side of the Navajo Loop Trail
Rim Trail between Inspiration and Bryce Points
Bryce Point Peekaboo Connector Trail (often closes due to winter conditions)
Below are a few Bryce Canyon hiking trails that you can access during the winter months.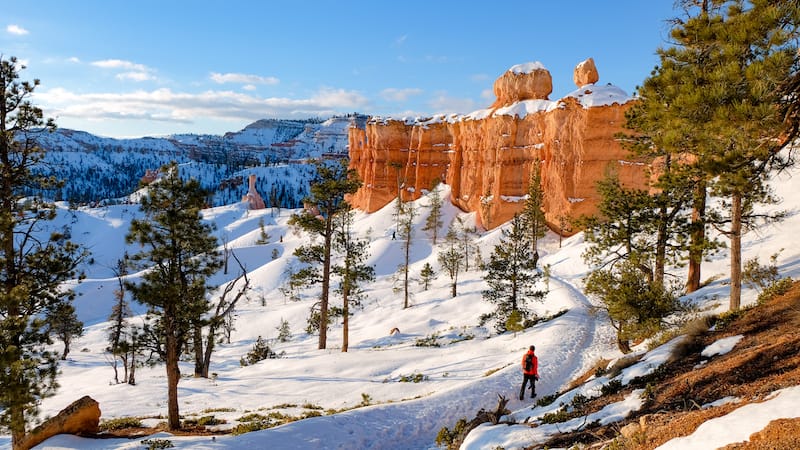 Navajo Loop & Queens Garden Trail
One of the best winter hikes in the region is the Queens Garden Trail, which starts at Sunrise Point and descends 320 feet (98m). It's the easiest way to access the canyon from the rim.
The length of Queens Garden is only a half-mile (0.8 km). You can either visit Queens Garden alone or continue on to Navajo Loop (together it becomes around 3 miles (4.7 km).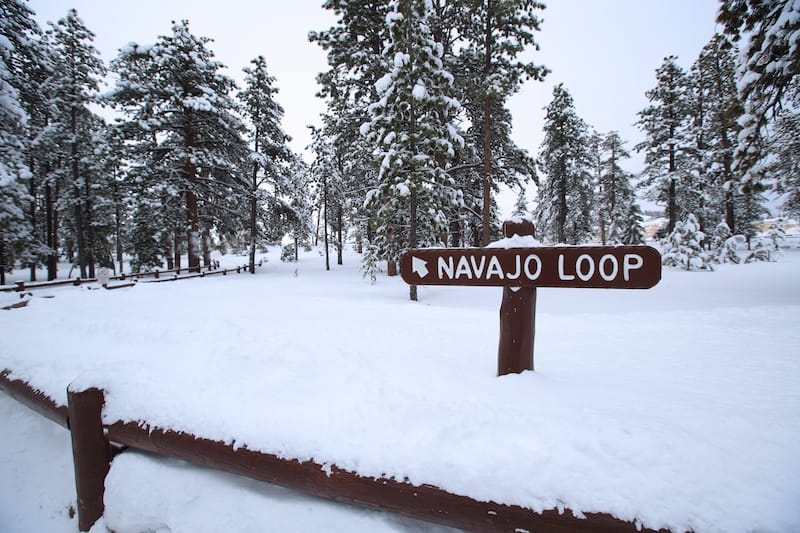 Many hoodoos, which resemble unique garden elements (not really a better way to describe them!), can be found along this trail. This hike is all about the views, so definitely take your camera with you!
Mossy Cave Trail
This comparably easy hike of Mossy Cave is one of the lowest elevation hikes in the park. Also, if you like hikes that begin with a climb and end with a descent, this one should be your top choice (especially for beginners).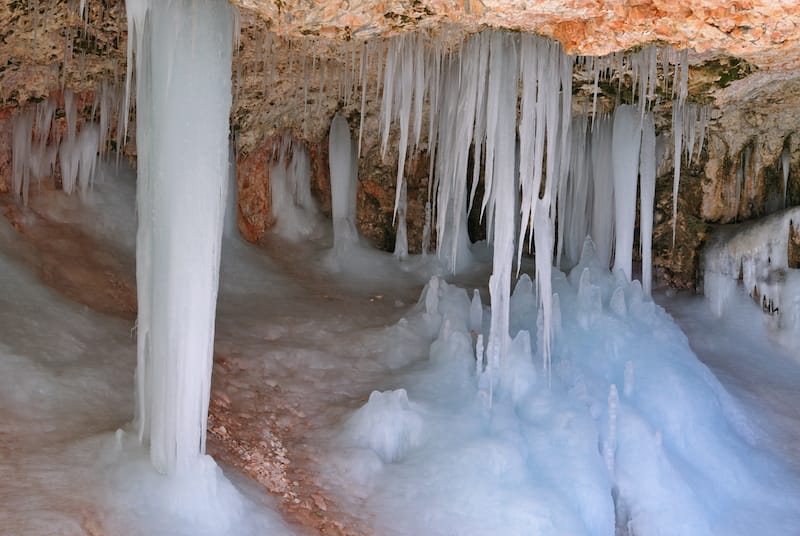 The trail is 0.4 miles (0.6 km) one-way and forks to allow access to Water Canyon in one direction and a protected overhang known as Mossy Cave in the other. During the wintertime, this area is covered in icicles, and in moss when it's summer.
Tower Bridge Trail
Tower Bridge Trail is a moderately-trafficked, out-and-back trail. It starts at Sunrise Point and heads northeast along the Fairyland Loop Trail. It's a 3 mile (4.8 km) hike that takes about 2-3 hours to complete.
The trail has moderate difficulty, because of the drop in elevation from the rim down to the Tower Bridge site (950 ft/290 m). Once at Tower Bridge, you can either return to Sunrise Point or continue and get around the Fairyland Loop.
Fairyland Loop
This hike is rated as one of the most iconic ones at Bryce Canyon National Park. Fairyland Loop Trail is an 8 mile (12.9 km) length hike, located in the northern part of the park.
It takes you through spectacular hoodoos and scenery along the rim and into the canyon; including a spur trail to Tower Bridge.
If hiking in the winter months, you might encounter mud, snow, or ice, but the hike is still doable and offers a really unique experience with a totally different landscape.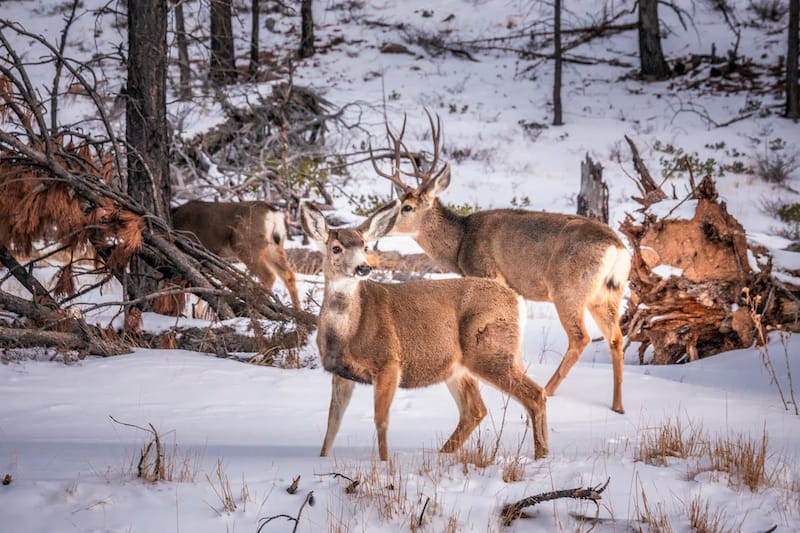 Winter Camping in
Bryce Canyon National Park
There are a couple of options for camping in Bryce Canyon National Park, but only one campground remains open during the winter months. You will need to prepare to stay at the North Campground, located near the visitor center and Bryce Amphitheater.
Reservations for the campsite are only available in the summer; during the winter, the North Campground is first-come, first-served! Prepare accordingly!
Alternatively, you can go backcountry camping in Bryce Canyon National Park and that is a great way to take an extended weekend trip from Vegas or SLC.
You will need a permit that must be obtained up to 48 hours in advance for $10 per permit with an additional $5 per person. You can pick it up at the visitor center.
The two trails that offer access to backcountry camping are the Under-the-Rim Trail (22.7 miles with 8 campsites) and Riggs Spring Loop (8.9 miles with 4 campsites). You can not wild camp on the trail and must only do it at the designated sites.
Where to Stay near Bryce Canyon National Park
There are not an overabundance of places to stay right beside the park, but here are some awesome options (and Ruby's Inn organizes winter activities):
ABOUT THIS LAND
Bryce Canyon National Park is on the unceded land of the Southern Paiute (Nuwuvi) people. We ask you to join us in acknowledging their community, their elders both past and present, as well as future generations.
We also acknowledge that Bryce Canyon NP was founded upon exclusions and erasures of many Indigenous peoples, including those on whose land these US National Parks are located.
⇒ Do your research before visiting National Parks and places in the US. Native Land and Whose Land are good starting points.
⇒ Hire Native guides when possible and encourage National Parks and government organizations to start hiring them.
⇒ Donations matter. Part of the proceeds from this blog is donated monthly to the Native Women's Wilderness.
There are so many amazing reasons to visit Bryce Canyon in winter and we hope that we helped you plan your winter itinerary to the gorgeous national park!
If you have any other winter in Bryce Canyon tips to share, please leave them in the comments! Thanks!
Additional Utah Travel Guides
Pin this Winter in Bryce Canyon Guide