If you were to ask me what my favorite region in the world is, I would likely shout out 'Central Asia' every time, even though my travels in the region have focused on solely two countries.
The mountains, people, food, and hospitality keep me coming back. This is a guide of the best places to visit in Central Asia, put together by other travel bloggers and myself.
There is no order in this list except for the countries. We understand that there are other fantastic places in the region, but we picked our favorites and some of the most popular Central Asian landmarks, cities, and villages.
Many places to visit on the Silk Road are worthy of a visit, so definitely add this undiscovered region to your travel dream list in the future!
Best Places to Visit in Central Asia
My first trip to Central Asia took place about 7-8 years ago. It is hard to think that I first stepped foot in a region that was so unknown at a younger and more naive time of my life.
I have since seen the region blossom and open gradually to tourism (well, most of it, anyway) but it still leaves a lot to be discovered.
One great thing about Central Asia is that it has something for everyone… if you allow it. Many travelers have this perception that you can only visit Kyrgyzstan if you're an avid hiker. The mismarketing of the country has angered me for years because, quite frankly, there is so much more to Kyrgyzstan than just hiking (although hiking is great if it's your thing).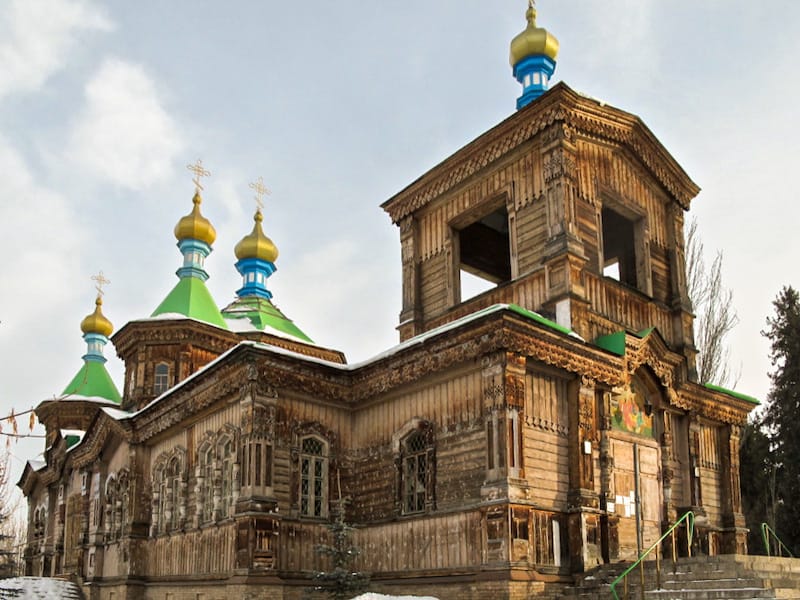 There is history, culture, nature (that doesn't require a multi-day trek), food, and some of the friendliest people you'll meet anywhere in the world.
This post will share places I have picked in Kazakhstan and Kyrgyzstan, as well as places that other bloggers have picked in the countries of the region. We are including Afghanistan in the mix, as well.
If you have any recommendations of places in Central Asia to visit, please leave them in the comments.
Places to Visit in Uzbekistan
Samarkand
Recommended by Jiayi at The Diary of a Nomad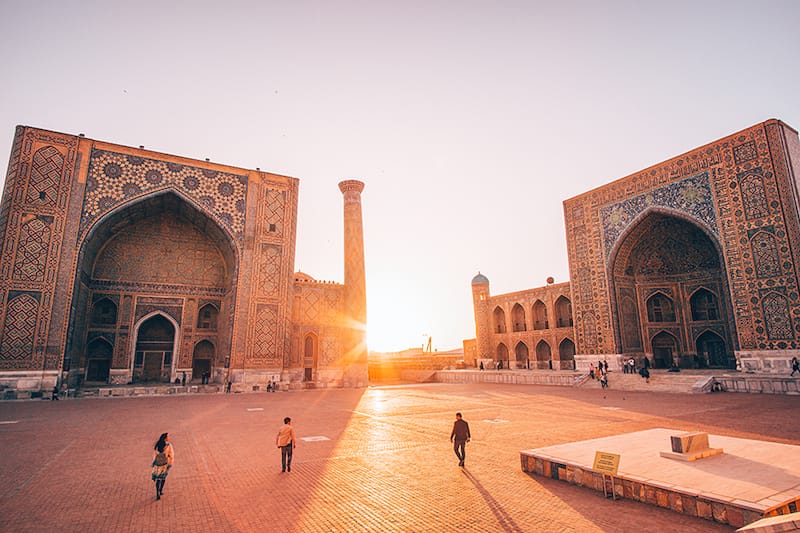 Samarkand is one of the most remarkable places to visit in Uzbekistan and a gem of the Silk Road. Founded in the 7th century BC, many different cultures made their way into this city throughout the course of its history — from Turks and Mongols to Greeks and Persians.
Today, you can still see the influence and impact they've left on the city especially through the incredible Persian architecture scattered throughout the town.
The ideal amount of time to spend in Samarkand is 3 days, although 2 days is also enough to cover the essentials. Some of the top places to visit in this city are Registan, Shah-i-Zinda, Gur-e-Amir, Bibi-Khanym Mosque, Siyob Bazaar, and Ulugh Beg Observatory.
I also recommend watching a traditional Uzbek concert inside Registan Square if you visit during the warmer months. You'll get to learn more about the local culture through the musical and dance performances, and the breathtaking backdrop of Registan lit up at night is a sight you won't forget.
Bukhara
Recommended by Nick and Val at the Wandering Wheatleys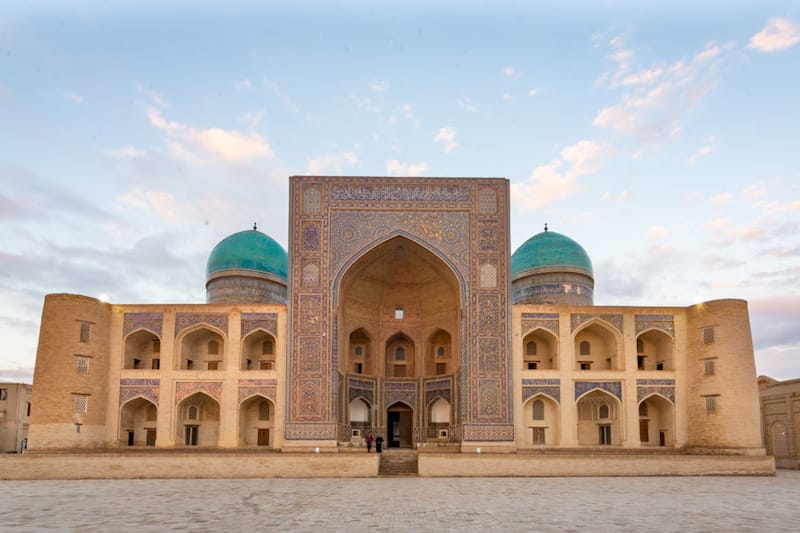 One of Uzbekistan's most fascinating cities, Bukhara has been a major trading center on the silk road for thousands of years.
In fact, it remains one of the best places to shop in Uzbekistan and you'll still find it's 4 remaining historic trading domes packed with vendors selling central Asian arts and crafts.
Bukhara has 140 historic buildings but the most recognizable sight in the city is the famous Kalyan Minaret. This picturesque structure actually has a rather dark history – criminals were executed by being tossed from the top.
Nearby you'll find the beautifully preserved Kalyan Mosque. With a capacity for 12,000 worshippers, it is the second-largest mosque in Uzbekistan.
You'll also want to explore the Ark of Bukhara, an enormous walled fortress built during the 5th century. And after a day of exploring Bukhara, head to the Lyab-i Hauz Lake.
Set in the heart of the Old City and surrounded by shops, cafes, and historic buildings this small man-made lake is the perfect place to relax with a beer or coffee while watching the sunset over this ancient Central Asian city.
Khorezm
Recommended by Aga at Worldering Around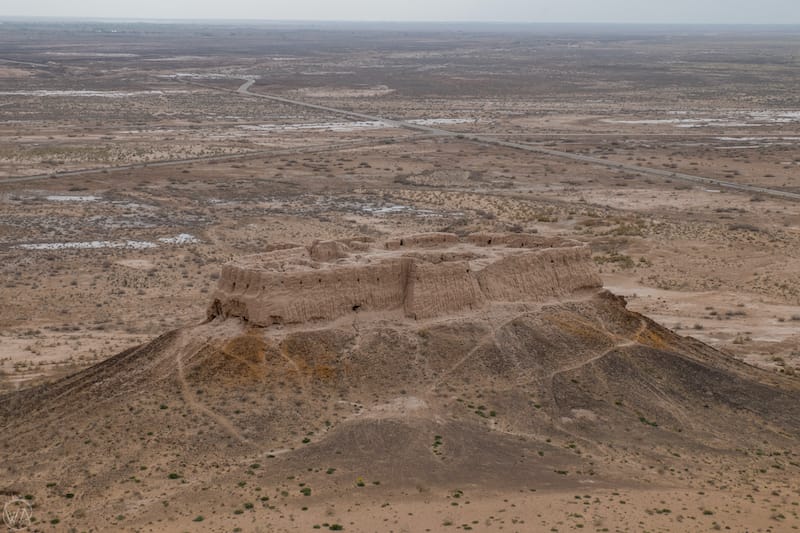 Elliq Qala, that translates to "fifty forts" are remains of Khorezm fortresses located in the Karakalpakstan Republic in western Uzbekistan.
Currently, there are around twenty fortresses that have been discovered in the desert, and the archaeological works are still being carried out.
The Elliq-Qala area of Khwarezm is said to be one of the biggest and most interesting archaeological areas of ruin on the planet.
The fortresses covering the vast Kyzylkum desert are located not far from the city of Khiva. They have been built around the time of the birth of Christ when the area was bustling with life as a center of Khwarazmian civilization and local kingdoms.
Today, the remaining parts of the civilizations are mainly the foundations of buildings and city walls. Some of the structures are being put under reconstruction.
The most known fortress of the area, and also the biggest one is Ayaz Qala (Ayaz Kala), was built by the Kushan Empire in the second century.
Even though the buildings do not resemble what they once were, you can still imagine the life that used to go on there.
During your visit, you can learn the rich history of the region, shaped by the invaders, the limited water supply, harsh environment, and difficult weather conditions. Elliq Qala is an interesting place to visit on your trip to Uzbekistan.
Tashkent
Recommended by Alex and Malin at Timezone Junkies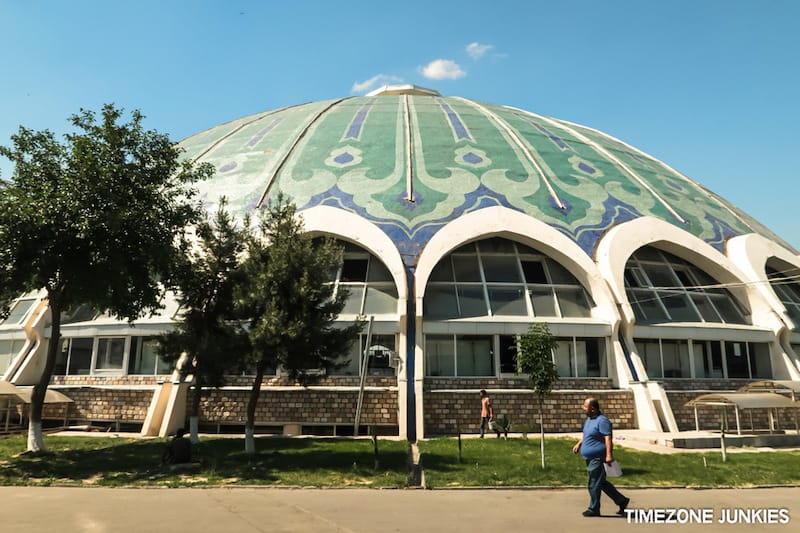 Tashkent, the capital city of Uzbekistan, is often skipped by travelers in favor of the better-known cities of Khiva, Bukhara, and Samarkand. Don't be fooled though, this ancient city has plenty to offer to keep you busy for a few days and is definitely one of the best places to see in Uzbekistan.
In early 2019 something really cool happened, tourists were allowed to take pictures in the metro system! That doesn't seem like a big deal right? But it really is, the metro stations are beautifully designed and pull in photographers from around the world.
Apart from the metro system, there are lots of other historical and cultural sights to visit. One of the must-sees in Tashkent has to be Chorsu Bazaar.
There is one of the biggest fresh fruit and vegetable markets you might ever see and the famous covered circular market serving meat to the city.
If you have been to Central Asia before you will know that 'Plov' is life and that is no different here in Tashkent.
In the Plov Center, you get to choose how much rice and meat you want, whether you would like some salad and egg, and for those feeling extra adventurous, you can order 'kazy' (horse sausage!).
Khiva
Recommended by Sarah at Dukes Avenue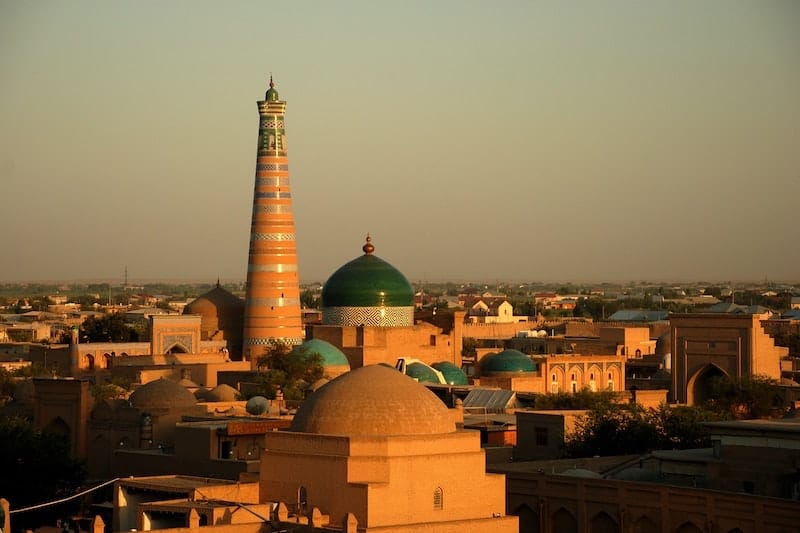 Uzbekistan has been getting a lot of attention over the last two years – and for good reason. It has recently lifted its visa restrictions for a number of countries and there are a plethora of mesmerizing places to see in this fascinating nation.
Only 8km away from the border with Turkmenistan, Khiva, an ancient town full of mystery and color, is one of those places. One of the highlights of Khiva is Itchan Kala, an inner walled city that has been a UNESCO World Heritage Site since the 1990s.
Itchan Kala is home to spectacular sites like the Kalta-Minor Minaret, the largest incomplete minaret in the world, and my own personal favorite, the Pakhlavan Makhmoud Mausoleum – a site so exquisite you could spend hours just looking at the detail of the tiles.
A day is enough to wander around, but it is highly recommended to hire a guide so that you can truly appreciate Khiva's history. Be sure to pick up a handmade silk suzani and a wooden carved book stand as a memento of your time there!
Shahrisabz
Recommended by Elisa from World in Paris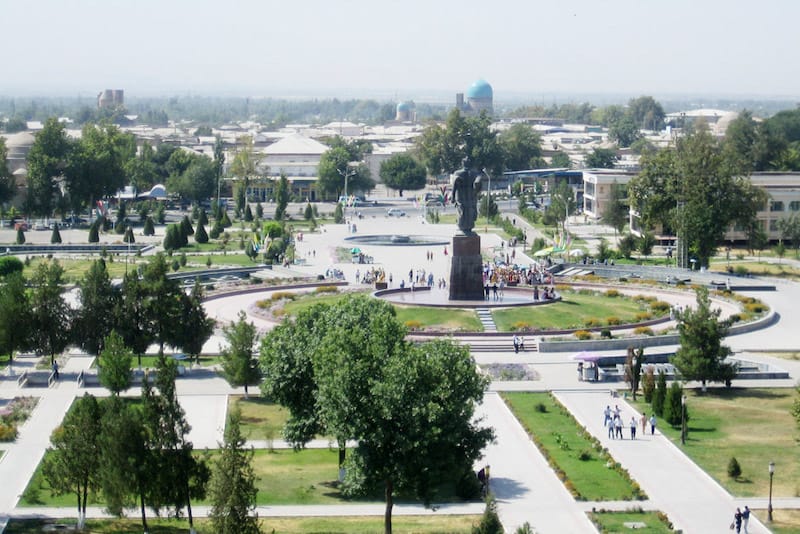 Shahrisabz is an Uzbek city located 80 kilometers south of Samarkand. Shahrisabz is an important city in Uzbekistan because it was the birthplace of Timur (also known as Tamerlane), the founder of the Timurid Empire in an around modern-day Afghanistan, Iran, and Central Asia.
Shahrisabz is an excellent day trip from Samarkand. If you have a free day in Samarkand, don't hesitate to visit Shahrisabz! Its historical center is listed as a UNESCO World Heritage Site, plus it contains the tomb-bunker where Timur wanted to be buried.
Shahrisabz has an incredible heritage, most of it built during Timur's reign, The list of must-see sites includes the remains of the gigantic Summer Palace, a beautiful mosque (Kok Gumbaz Mosque), and a religious complex (Hazrat-i Imam Complex) which contains the Tomb of Jehangir, Timur's eldest and favorite son.
Just like in many Uzbek cities, Timur's statue dominates everyday life in Shahrisabz. This one is in front of the Summer Palace and it is gigantic!
It is also one of the favorite spots for wedding photoshoots and it is usual to see many couples waiting in line with their photographers to do the photoshoots.
Due to its position in Uzbekistan, well sheltered and in the mountains, Shahrisabz does not have a lot of Soviet influence so it is a great place to see the "real" Uzbekistan, with its culture and traditions.
Places to Visit in Kyrgyzstan
Bishkek
Editor's Choice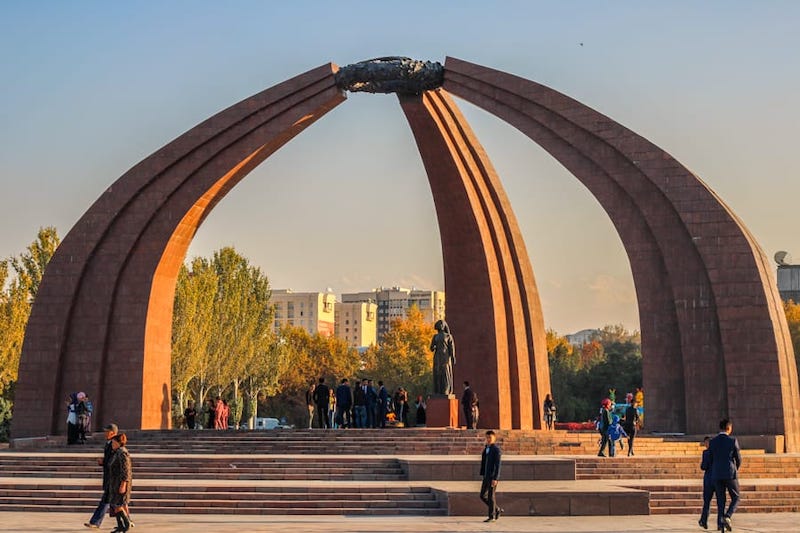 Bishkek is the capital of Kyrgyzstan and is near both a national park and the Kyrgyz Ala-Too mountains. It has a thriving art scene, as well, making it the perfect destination for any tourist and one of the best places to visit in Central Asia.
In the city, there are many things you could do depending on what interests you most. Some great museums to visit are the State Museum of Fine Arts or the Soviet-era State History Museum where you can learn about the history and different ethnic groups of the country.
If you love the arts, be sure to visit the Opera and Ballet Theater (definitely try to catch a show there!) Some important sites to check out are Ala-Too Square and the Burana Tower, a fantastic Bishkek day trip.
Make sure to put the Osh Bazaar on your Bishkek itinerary as it is where you will see traditional lifestyle and local produce.
Lastly, don't miss out on a visit to Ala Archa National Park, a wonderful mix of mountains, gorges, and wildlife. Truly, a hiker's dream! Or, in my case, it was a fantastic way to drink with some Russians along the river.
For some local cuisine with traditional flair, head to Navat where you can try dishes ranging from beshbarmak to Uzbek plov.
If you're making Bishkek your base, be sure to find the right Bishkek hotel or hostel for you. My top recommendation is Apple Hostel. They have a variety of different rooms, including privates and dorms. I love the place!
Cholpon-ata
Editor's Choice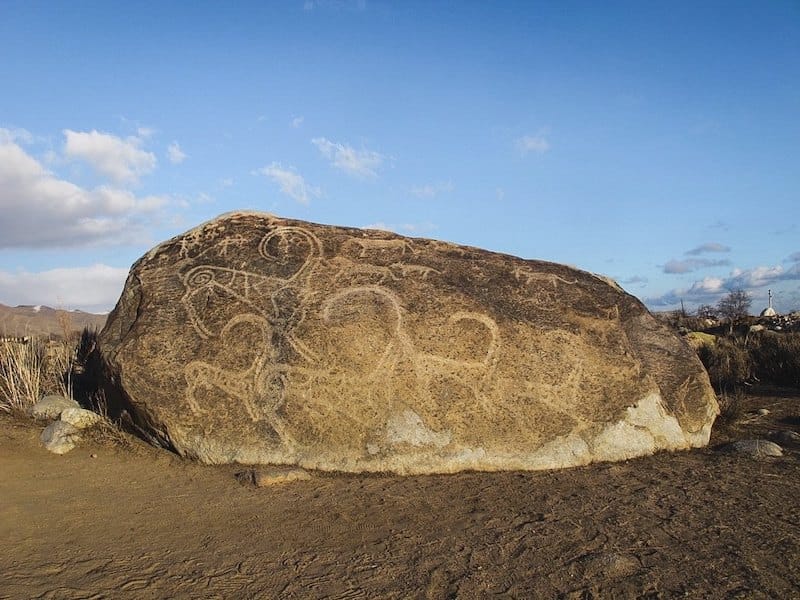 Cholpon-ata is a charming resort town on the shore of Lake Issyk-kul. It gets quite full and busy during the summer months and slows down quite a bit in the winter months.
Apart from enjoying the beach, which is easily one of the main things tourists come to Cholpon-ata for, you can also visit museums and some important sites.
The important museums are the Cholpon-ata Museum of Petroglyphs, an outdoor museum, where you can take a stroll around the rocks.
The Historical Museum is also very interesting, where you can further understand the culture of the people of the area and see some important ancient artifacts. Oluya Cholpon-ata Mausoleum is also a beautiful structure where you can take amazing photos.
Some delicious restaurants to try are U Rybaka (fresh fish!), Green Pub (fusion menu), and Barashek (local food). There are also quite a few Chinese restaurants- Cafe Edem and Cafe Bomond are two of the most popular ones.
Osh
Editor's Choice
Osh is the oldest settlement of Kyrgyzstan and has over 3000 years of history. It is also the second-largest city in the country. Though it is not a very big city, it offers so much and should definitely be on your itinerary while visiting Kyrgyzstan.
Some of the top attractions in Osh are the Suleiman-too mountain, a sacred place to the people of Osh, and it has some of the most beautiful views of the city. It is a famous Muslim pilgrimage site.
Visit Jayma bazaar, one of the oldest bazaars in Central Asia. Also, check out the Lenin Statue at the Central Square that is located near Memorial Park and remember some of the tragedies connected to Osh.
There are also several serene parks to take a stroll through and Navio Park is one of the most popular. Finally, take a look through the three-story yurt, both a regional museum and souvenir shop.
Osh is said to have the best food in Kyrgyzstan and you can even partake in some local food tours and workshops. Must-tries are Maida manti and Gok chuchvara, filled with potatoes and greens respectively.
Also, be sure to try samsa, a dough filled with meat (something I eat far too frequently in Kazakhstan and Kyrgyzstan). For international cuisine, try Tsarskii Dvor, Osh Ordo (Central Asian and local food), and Islambek Cafe (BBQ).
Karakol
Editor's Choice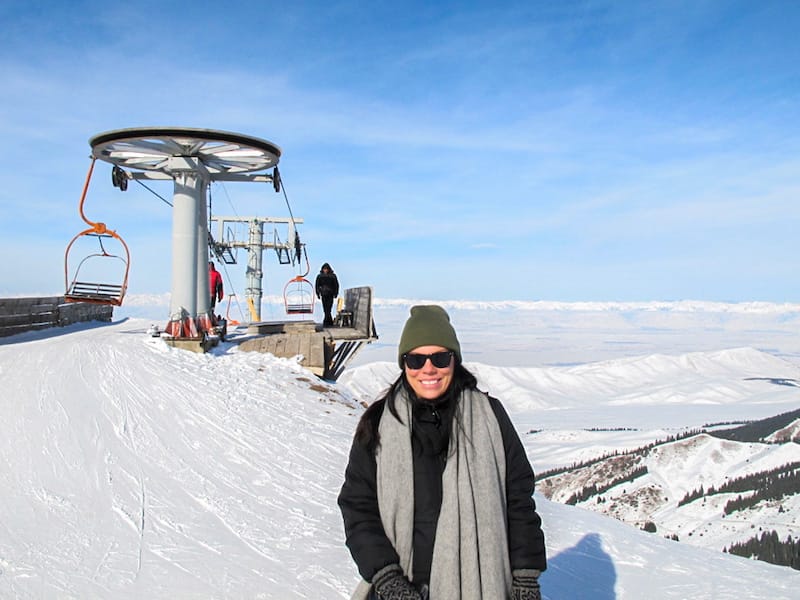 Karakol is a city with an abundance of activities and the eastern Kyrgyz city is the perfect base if you are planning on visiting other cities. It is surrounded by mountains with snowy peaks, an incredibly breathtaking sight.
From there, skiing and snow trekking is perfectly accessible. Jyrgalan Valley is a great place if you love winter activities and stunning nature.
One of the most popular places to go to is Altyn Arashan. Though a little tougher to get to, once there, you can dip into natural hot springs and take a hike through some untouched nature. It is possible to stay there overnight, either in a yurt or guest house.
For those looking for additional outdoor activities, you can visit Karakol Gorge for epic views. As for sites, there is the Holy Trinity Russian Orthodox Cathedral or the Dungan Mosque. Don't forget to pass by the Nikolai Przhevalsky Museum dedicated to a famous Russian explorer.
Restaurant-wise, Karakol has a wide variety of places to choose from. Try Ashlyan-Fuu or Diyar for local cuisine or Reina Kench for a choice of international dishes.
Song-kul
Editor's Choice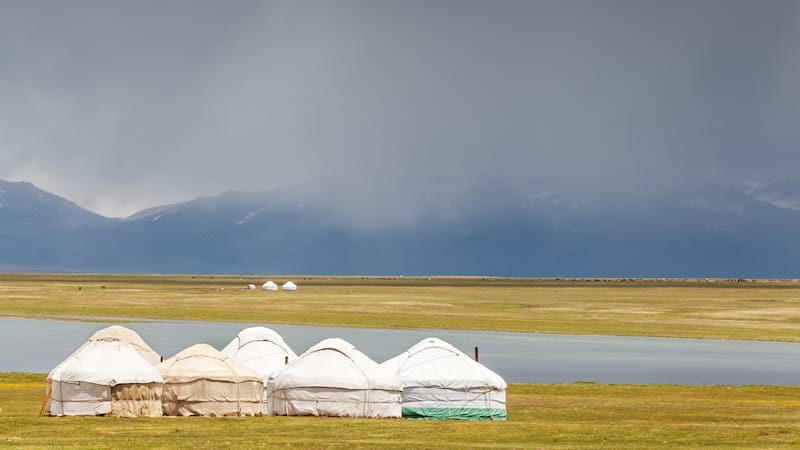 Song-kul is Kyrgyzstan's second-largest lake, and it is truly a sublime place to set up camp or hike to. The roads to the lake are somewhat inaccessible, so your easiest option would be to go with a tour operator or to be prepared to hike to Song-kul.
If you would rather not go with a tour guide, you could also hitchhike or take a taxi. Once you are there, you will be met with the local nomads and their yurts.
For the most part, staying in the yurt will include a meal as well (in addition to getting to interact with locals and learn about the culture).
You can also take a horseback ride in Kyrgyzstan by finding a local with their horse and renting it for the day.
The views around Song-kul are absolutely spectacular and you won't regret the visit. The season usually starts around June, when the weather gets better and the chances of snow are slim.
Places to Visit in Tajikistan
Fann Mountains
Recommended by Stephen at Asia Hikes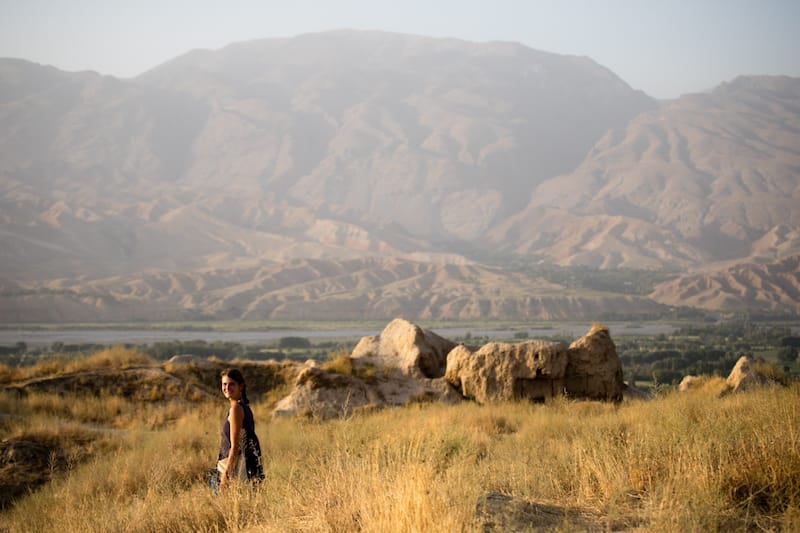 Tajikistan's Fann Mountains are one of the too-often neglected highlights of the country, largely skipped by Pamir-obsessed travelers that fly into Dushanbe and overland across the Pamir High, never venturing to Sughd province in Tajikistan's overlooked north.
District capital Penjikent has been inhabited since at least the Sogdian-era, and while the most famous of the incredible frescoes of this city founded in the 400s CE are now in Dushanbe and St Petersburg, the ruins of Ancient Penjikent on a hill above the modern town still give some insight into the layout of a Silk Road city.
Further west, just before the newly-reopened border with Uzbekistan, the UNESCO-listed proto-urban city of Sarazm shows the scattered remains of an even earlier settlement from at least the 4th century BCE.
To the south of Penjikent rise the ridges of the Fann Mountains – an offshot of the Pamir-Alay system long popular with Soviet- and post-Soviet climbers and hikers.
Easy routes like the two-day Haft-Kol or three-day Kulikalon Lakes Trek offer options for travelers short on time or expertise, which more involved traverses of the range or summits of massive peaks like 5489m Chimtarga provide playgrounds for those who'd like to linger.
Dushanbe
Recommended by Alex at Lost With Purpose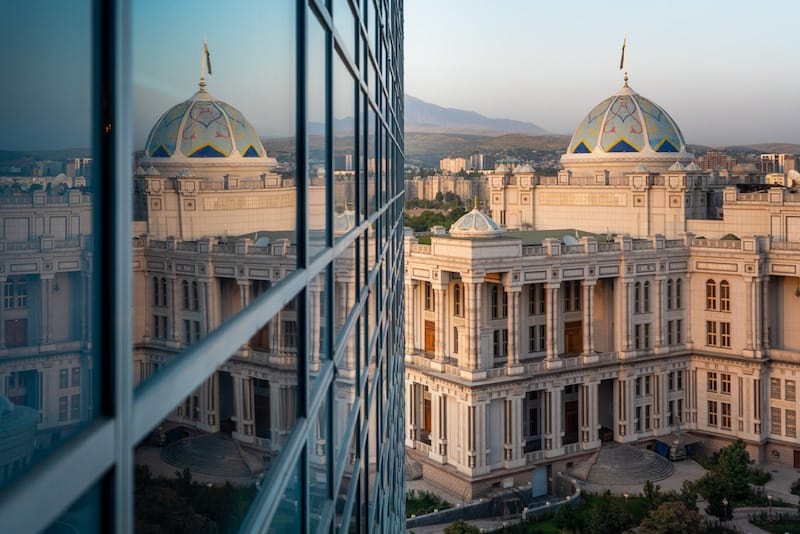 It's easy to write off Central Asian cities as unremarkable compared to their surroundings, especially in a country as overflowing with natural wonders as Tajikistan. But Tajikistan's capital, Dushanbe, is a pleasant surprise.
In warmer months, manicured parks and colorful flowers are around every corner of central Dushanbe's tree-lined boulevards. The rush of fountains complements the sound of children splashing as other families and friends stroll around with ice creams in hand.
Candy-colored buildings and copious monuments to leaders, victory, and freedom (because, y'know, Central Asia) make for pleasant enough walking routes throughout the city, even if you're in Tajikistan for the nature.
You can sit and sip tea in a chaikhana as you watch the world go by, or take in curious sights like the world's second-largest flagpole (exciting, I know) in between more adventurous Tajikistan treks.

But the most important feature of Dushanbe, as you'll come to learn upon visiting after days or weeks in the mountains, is that the city has more food options than just mutton and bread.
Pamir Highway
Editor's Choice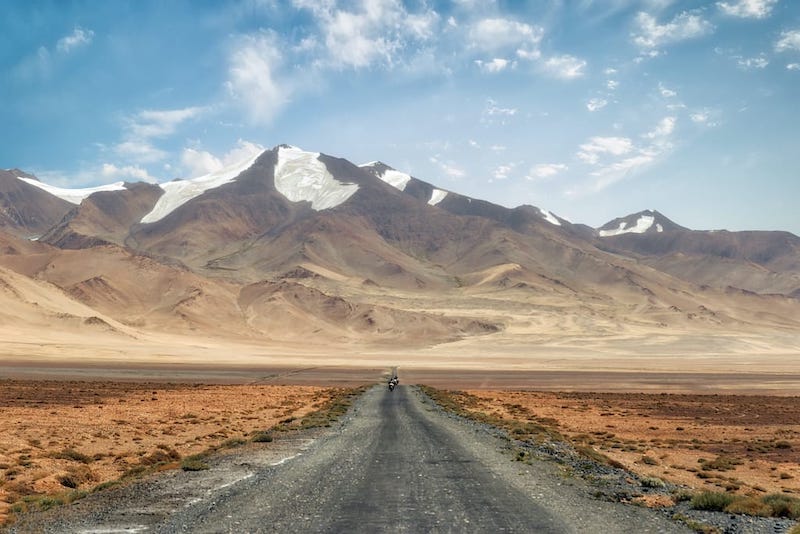 One of the most fascinating and picturesque roads in Central Asia is the M41, or as most know it, the Pamir Highway.
In reality, the M41 and the Pamir Highway are not quite the same highways because the M41 begins in Dushanbe and lasts until the border of Kyrgyzstan and the Pamir Highway, which is a part of that big route, actually connects Khorog to Osh.
While the Pamir Highway technically passes through multiple areas, we decided to put it under Tajikistan for the purpose of this post.
The reason one should definitely travel the Pamir Highways it that it's the world's second-highest road, located at an altitude of 4655 meters and it connects two countries through the Pamir Mountains located in Tajikistan and Kyrgyzstan.
The famous highway was built by military engineers of the Soviet Union during the period of 1931 and 1934 in an attempt to transport provision, military personal, and other military types of machinery.
The other reason is that Pamir Highway stretches for 1,252 kilometers and the view throughout the ride is just mindblowing and mesmerizing despite the road being very unkempt.
Places to Visit in Kazakhstan
Almaty
Editor's Choice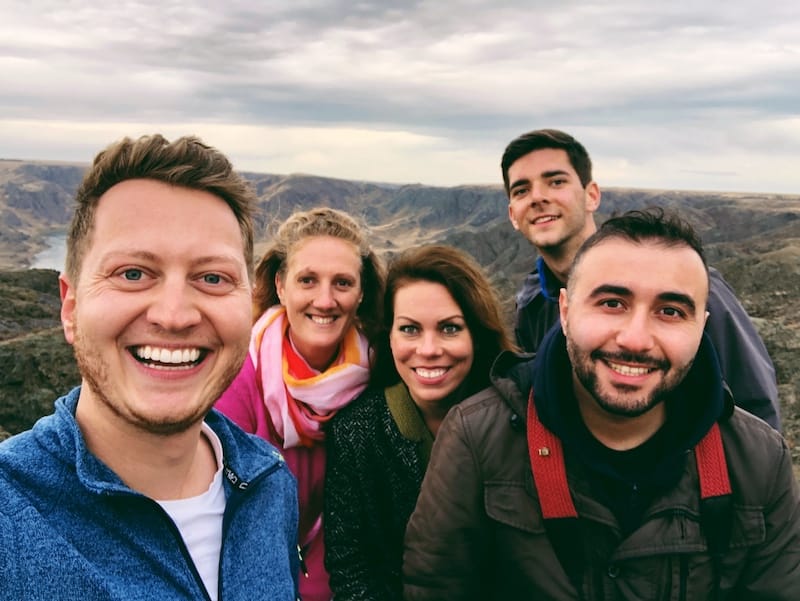 Almaty is one of my favorite cities in the world and a place I previously called home. One reason I am drawn to the place is that it is super dynamic- you can see so many different layers of the city simply through its diversity, architecture, and food.
It was the country's former capital and is the perfect place to start your trip when visiting Kazakhstan. When you visit Almaty, you can find amazing food, impressive surrounding nature, and many green parks in the city.
The ideal way to start your Almaty itinerary is to take a dive into the city's history by visiting the Panfilov Park. The park has a memorial for the 28 soldiers that died during WWII alongside the yellow Ascension Cathedral.
On the Eastern edge of Almaty, you'll find the Kazakh Museum of Folk Musical Instruments where you can see over 1000 traditional instruments. Located a block north is the gigantic Green Bazaar, a must-visit Almaty landmark.
There are several awesome day trips from Almaty, including Altyn-Emel National Park, where you could possibly see wild animals and listen to the "Singing Dune". Another interesting sight is the theme park at the top of Kok Tobe, which you can reach by a short cable car ride. Be sure not to overlook a day trip to Big Almaty Lake, either!
If you're looking for a great place to stay in Almaty, definitely consider Parasat Hostel. They have a variety of rooms, including dorms and family-style, spacious private rooms.
Astana (Nur-Sultan)
Editor's Choice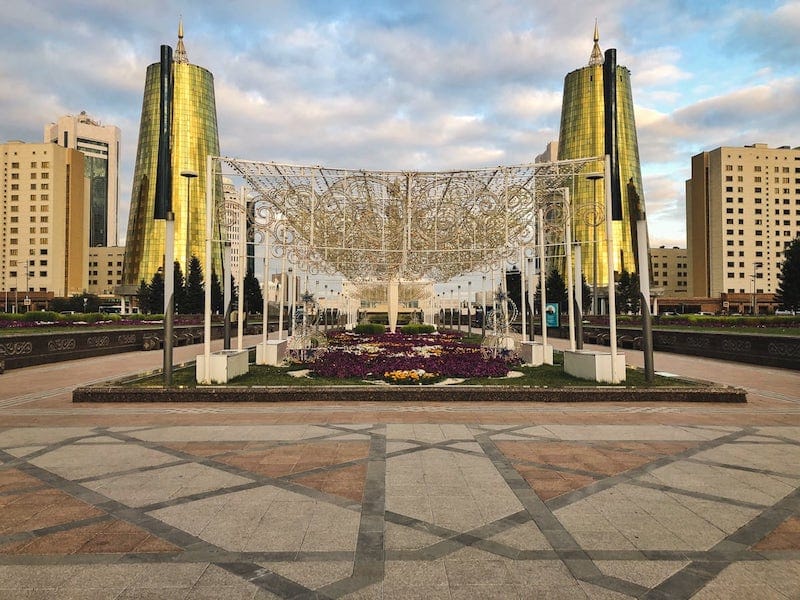 The name of the city is currently Nur-Sultan. But, there is talk that it might get changed to Astana again. For the sake of this, I will write Astana as it is shorter and maybe I won't have to update this later on. Again.
In 1997, the city of Nur-Sultan (formerly known as Astana and a bunch of other names) was built in the northern steppes of Kazakhstan in the former village Akmola.
What once was a tiny village in the middle of the steppe quickly became a city with government buildings, hotels, large highways, shimmering skyscrapers, and about one million people!
Some of the most important buildings to see while you visit Astana are the Khan Shatyr Entertainment Center, the Foster's Palace of Peace, the gold dome of the Nur-Astana Mosque, and the Presidential Palace.
The city and its skyscrapers are all incredibly lit up at night with endless amounts of LED lights.
Don't forget to visit the National Museum, the Artem Bazaar, and Atameken Map. If you want to take a day trip from Astana, definitely visit Borovoe, a beautiful lake and a green area.
Kolsai & Kaindy Lakes
Editor's Choice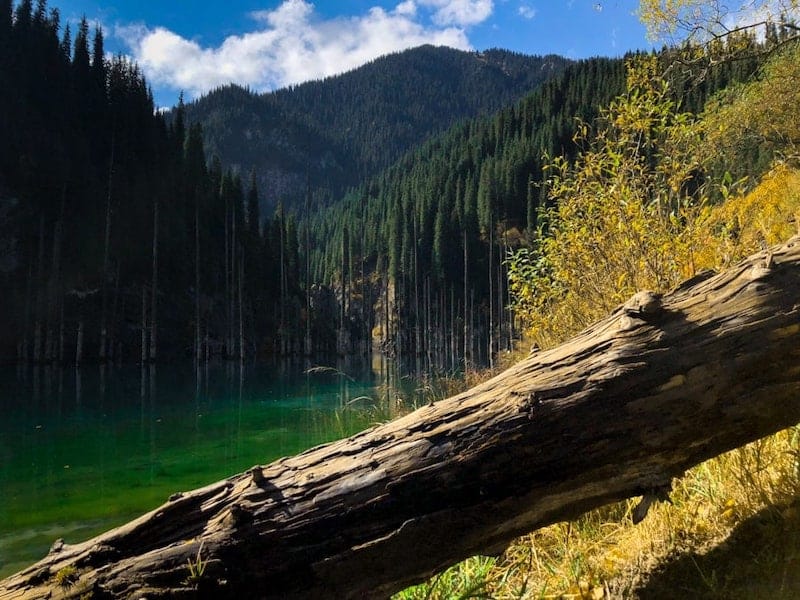 The Kolsai Lakes National Park is near the city of Almaty (well, kind of… it is better done as a weekend trip). They are some of the most beautiful mountain lakes you'll ever see and be sure not to miss Kaindy Lake nearby!
It is extremely easy to get to the lakes from Almaty, which just adds more reasons why you should make it a point to visit. The safer and easier option would be to join a tour group, but if you're up for an adventure, taking a car is also an option. The roads to the lakes were recently paved, making it much safer than it used to be.
On the contrary, Kaindy Lake involves a vehicle hire or 4×4 in order to make it to the lake. But, if you self-drive, you can also make a stop at Charyn Canyon on the way to or from the lakes.
There is a village called Saty that you will pass through before getting to the lake. It is very small and rural but nowadays quite easy to find accommodation there at local guesthouses.
Only two of the four Kolsai lakes are accessible to travelers and it is possible to hike from one to the other, but be warned that it is not an easy hike if you're a rookie. Even if you don't intend on hiking all the way to the second lake, it is worth doing part of the trial and just going back.
Shymkent
Editor's Choice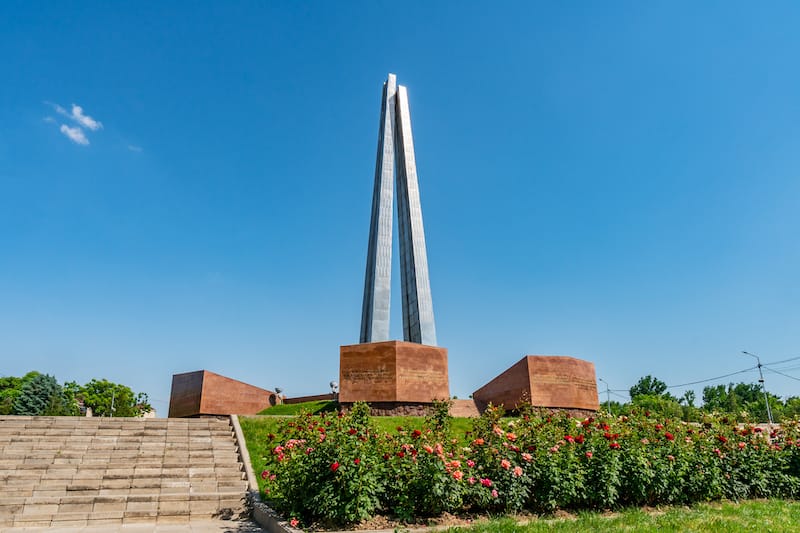 Shymkent is a vibrant city that is about 100 kilometers from Uzbekistan's capital of Tashkent, which is why about 14% of the population in Shymkent is Uzbek.
The city is modern and bustling but if you go to the south, you'll see a part that is pre-Russian and teeming with quiet and small wooden houses.
Once in Shymkent, you can visit Abay Park and visit the war memorial there before casually strolling around. Similarly, you can go to their Central Park or Independence Park and walk around while learning some of the history of Shymkent.
As for museums and things to do in Shymkent, the Museum of Victims of Political Repressions and Yuzhno-Kazakhstanskiy Oblastnoy Istoriko-Krayevedcheskiy Museum are among the most popular ones.
If shopping is something you like to do while traveling, they also have a Mega Mall where you will likely find anything you are looking for.
Mangystau
Editor's Choice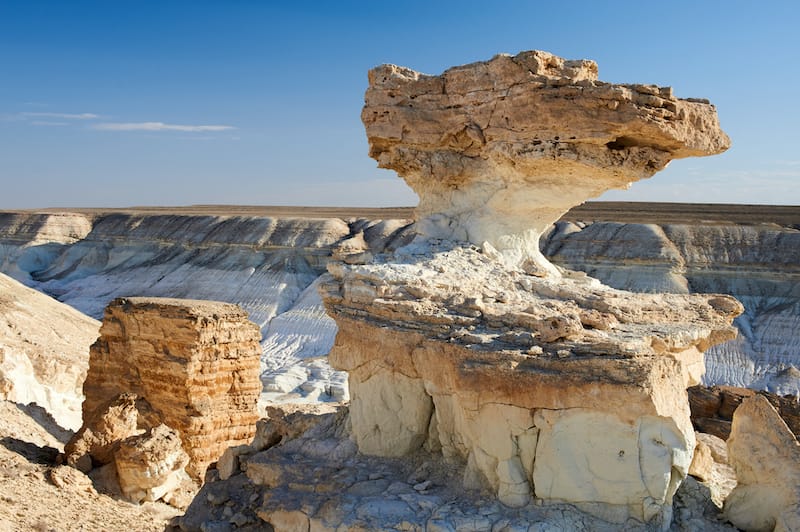 Mangystau is a vast desert, which makes any kind of agriculture scarce. The locals rely on their natural gas and petroleum.
As a traveler to Mangystau, you'll find most activities and things to do to be outside. There are tours available or you could do it on your own.
One of the main attractions is the Becket Ata Mosque in the middle of the desert. Getting to the mosque is quite difficult, so definitely try to find a guide to take you.
Airakty Castle Valley is another great place to visit in the nature and you could even camp there overnight and experience one of the most starry nights of your life! In Torysh, there is the Valley of Balls, which has balls ranging from the size of a soccer ball to 4m in diameter.
A few other canyons that you could visit are the Saura Canyon, Bozzhira Canyon, and Sor Tuzbair.
Visiting Mangystau is an essential thing to do if you have a trip planned to Central Asia. It is otherworldly and one of the best places to visit in Central Asia.
Places to Visit in Turkmenistan
Ashgabat
Recommended by Ilona and Daniel at Top Travel Sights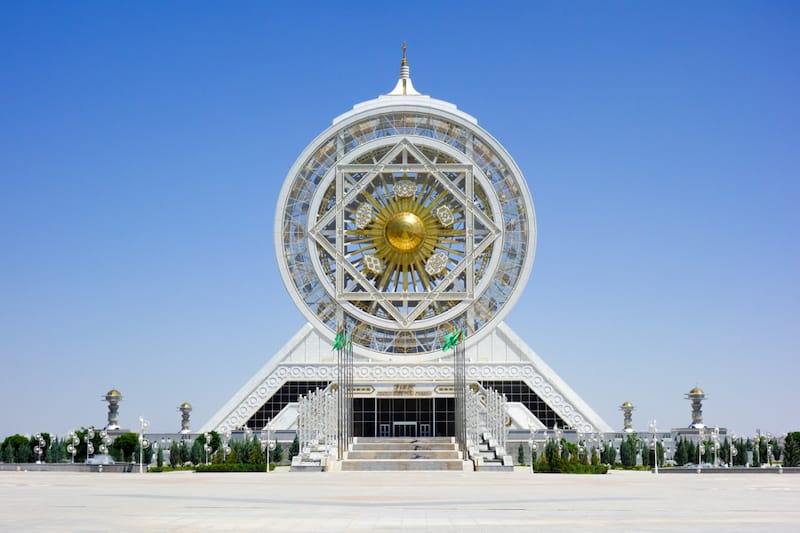 Ashgabat is the weirdest city we have ever visited and if you have the chance to go there, you should take it. Turkmenistan's capital is known for holding a lot of records, like the one for the highest density of white marble buildings. Yes, that is a thing in the book of World Records.
Ashgabat has so many marble buildings that going for a simple walk is already an adventure. Here, you can stroll along broad avenues lined with marble skyscrapers or wait for public transport at a marble bus stop decorated with gold.
But Ashgabat holds more records. It is also the location of the biggest indoor ferris wheel. Go for a ride, then head to the Wedding Palace or the Monument of Neutrality for a good view of the city.
Alternatively, you can walk around Independence Square and admire the fountains. Ashgabat also holds the record for the highest number of fountain pools in a public place.
Once you get tired of marble buildings and golden domes, take a bus out to Tolkuchka Bazaar and mingle with the locals.
Visiting the bazaar is one of the best things to do in Ashgabat to observe daily life in the world's weirdest capital or to pick up a reasonably priced Turkmen carpet.
In the evening, don't forget to go for a walk to see the light installations that you can find all over Ashgabat. Once again, we recommend the Wedding Palace for a good view of the bizarre show.
Merv
Recommended by Vanessa at Wanders Miles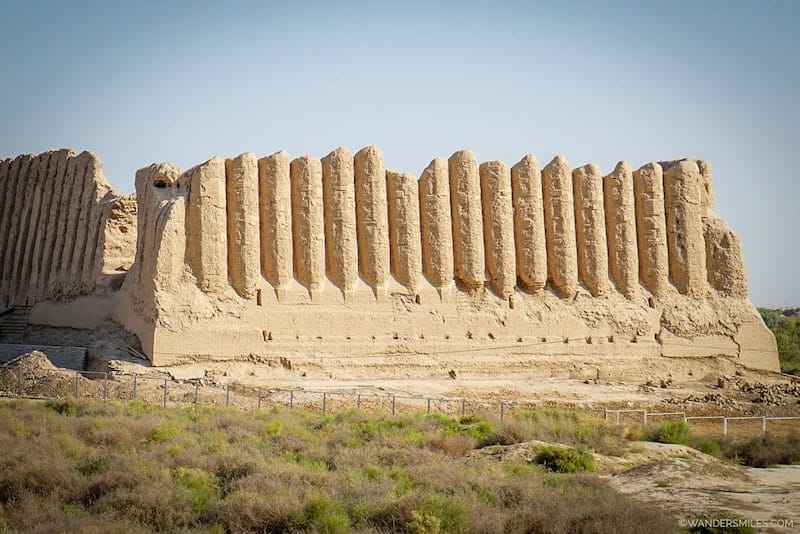 The forgotten city of Merv is the perfect playground for history lovers as it occupies one of the largest archaeological excavation areas in Central Asia.
This UNESCO World Heritage site, once known as 'Queen of The World', is located along the ancient Silk Road in Turkmenistan.
An important religious and trade center, Merv was a prime target for fearless leaders such as Genghis Khan to invade and dominate.
You can explore the ruins of five separate cities built from as early as 6th Century BC up to 18th Century: Erk-Kala, Gyaur-Kala, Abdullah-Khan Kala, and Bairam Ali Khan Kala.
The third city of Sultan Kala houses the 38 meters high Tomb of Ahmad Sanjar built-in 1157. It boasts a beautiful turquoise cupola which, according to legend, could be seen a full day's journey across the Karakum desert.
Other points of interest found outside of the city walls are the tall fortresses of Great and Little Kyz-Kala, Ashkab Complex, and Shrine of Yusuf Hamadani.
The museum and guides at the entrance will help you visualize what a vibrant and bustling city Merv was all those centuries ago.
To reach Merv, you need to head to the nearest city of Mary by plane, train, or car and navigate your way in a local taxi from there. The site is covering a large area so you may want to consider keeping the taxi to drive you round to avoid the blistering sun.
Darvaza Gas Crater
Recommended by Lisa at TheHotFlashPacker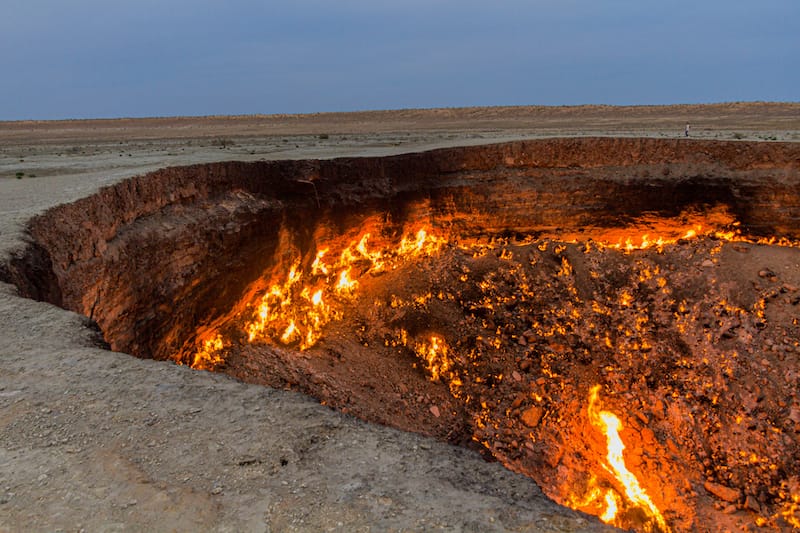 Darvaza Gas Crater is one of the most iconic sights in one of the least visited countries in Central Asia – Turkmenistan.
It's located a few kilometers off the main highway and about 3 hours north of the capital city of Ashgabat. The Darvaza Gas Crater is often called the "Door to Hell" because it's a hole filled with eternal fire.
It's said that the gas craters were created when the Soviets were doing oil and gas exploration in the Karakum Desert. At some point, a flame was introduced to one of those holes, and due to constant natural gas, the fire never went out.
It's best to visit this site at dusk and after dark to see the full effect of the burning crater.
It's a little known fact that there are actually three gas craters – the well-known Door to Hell, plus one that is full of water and one that has mud. The mud crater also is known to have flames.
Kunya Urgench
Recommended by Lina at Divergent Travelers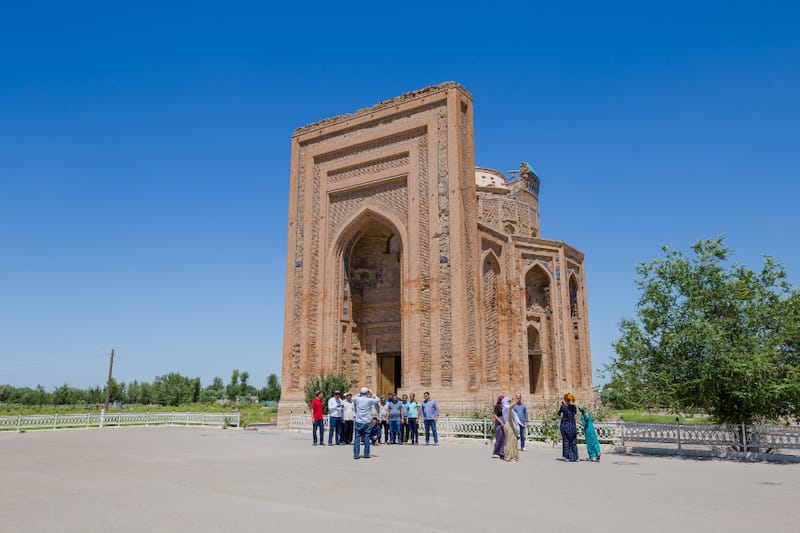 Despite it often being left out of most Turkmenistan travel itineraries, Kunya Urgench is a site of cultural and architectural significance. Designated a UNESCO World Heritage site in 2005, it is often overlooked by visitors to the country.
It doesn't help that it is located in the Northern part of Turkmenistan, closer to Dashoguz, a place that only overland visitors would visit if crossing into the country from Uzbekistan.
The site served as the ancient capital of Khwarazm, serving as a crucial spot for trade and rest along the Silk Road.
Throughout the years, the city saw its fair share of politics, kings, ransacking, and conflict. It was even conquered by the likes of Genghis Khan and Timur.
Ultimately, the city was abandoned in the early 1700s in favor of a new location and sat undisturbed until its UNESCO designation. During this period, with much surprise, the site sat virtually untouched to everything but time and the natural elements.
Today, the site contains a large number of monuments dating back from the 11th to 16th centuries.
This includes mosques, mausoleums, fortresses, a massive minaret, and the gates of a caravanserai that you are able to explore during a visit.
Places to Visit in Afghanistan
Mazar-i-Sharif
Recommended by Alex at Lost With Purpose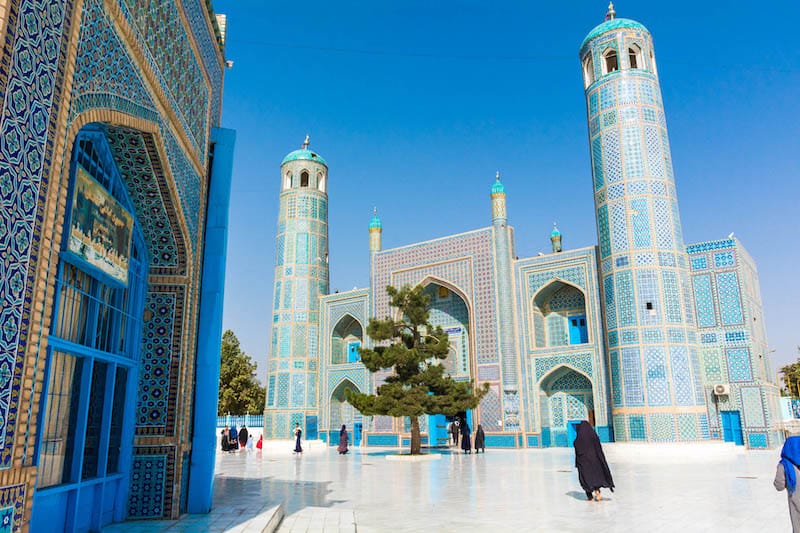 Afghanistan might not be an obvious choice when planning a trip to Central Asia. Marred by centuries of war, most sensible governments advise against traveling there. For good reason: Afghanistan remains a country at war, and is not your average holiday destination.
However, with the right amount of planning and preparation, a few places in Afghanistan are relatively safe to visit. One of these places is Mazar-i-Sharif.
Mazar-i-Sharif, or simply "Mazar", is a city in northern Afghanistan close to the Uzbekistan border (one of the few land borders foreigners can safely cross). Mazar is most famous for its Blue Mosque. Sometimes revered to as the Shrine of Ali, a small subset of Shia Muslims believe it's the final resting place of one of the 12 Shia Imams, Ali.
One of the most beautiful buildings I've ever seen, the Blue Mosque is a hive of activity at all times of the day. Make sure to visit during sunrise and sunset—you won't be disappointed.
Aside from the shrine, Mazar is close to the ancient city of Balkh, which has served as a center for Buddhism, Zoroastrianism, and Islam. Enticing as it may sound, make sure to do your research first; the safety situation in Balkh is in a constant flux.
We hope that you found some amazing places to visit in Central Asia and ones to add to your itinerary. If you have any questions, please reach out. Thanks so much to the other awesome bloggers that helped me make this list fantastic since I constantly end up stuck in the same two countries!
PIN IT FOR LATER!