One day in Bishkek is definitely not enough but many people kind of overlook the city or use it merely as a base their first trip to Kyrgyzstan. This Bishkek itinerary will give you our ideal plan for how to visit the city if you have only one day in the Kyrgyz capital.
One Day in Bishkek Itinerary
Every time when Megan and I are traveling to a country or city, I get a little frustrated because most of the time, she knows the place really well and it's new territory for me. I feel like it is hard to introduce new places on this blog because it has been done and done by her throughout the years.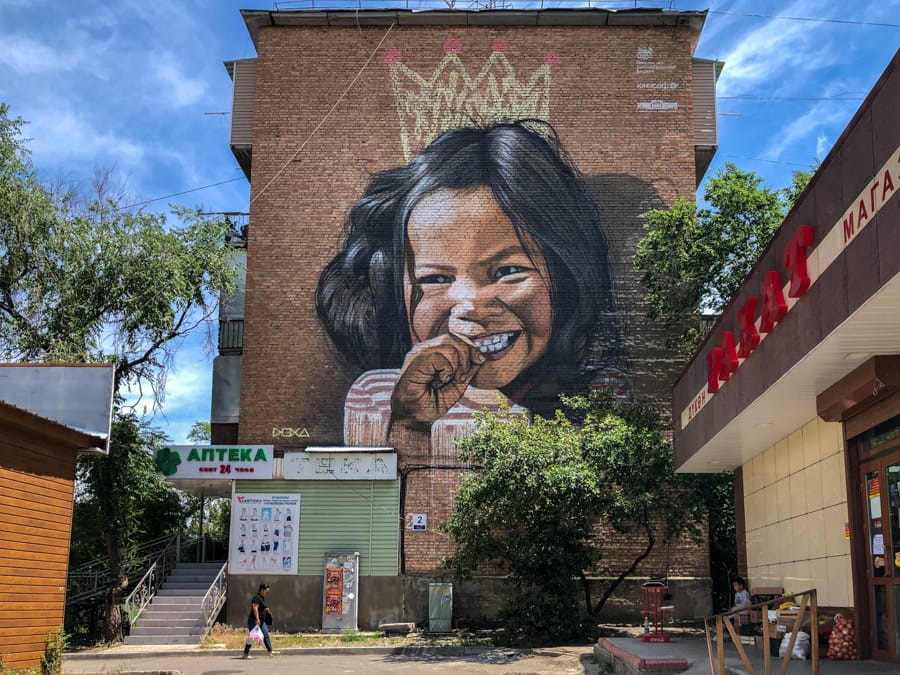 But, I have quickly learned that she enjoys visiting places she loves over and over and I can see why she has been to Bishkek more than fifteen times.
My trip to Bishkek was short but it was one of the most enjoyable cities I have ever visited in my life. Maybe it was Megan's many stories about her time(s) there or maybe it was the contrast of Bishkek to Almaty, where I had been for the weeks prior… I don't know what it was, but I really loved the city.
I found Bishkek to be a pleasant city with a simplistic feel, delicious food, friendly locals, and some obscure architecture. This Bishkek itinerary will detail some of my favorites in the city that can all be visited if you only have one day in Bishkek.
If you have questions, please leave a comment or email and Megan and I will get back to you with answers as soon as we can!

How to Get to Bishkek
Getting to Bishkek really depends on where you're coming from. There are two ways to really get there without issue- one is to fly to Bishkek. The city is fairly well connected with some larger cities, particularly Istanbul. The other alternative is to come to Bishkek from Almaty.
How to Take a Bus from Almaty to Bishkek
The cheapest option for getting to Bishkek is to pop down from Almaty (pending you're even in Almaty in the first place!) is by a minibus (marshrutka).
Your marshrutka will leave Almaty for Bishkek from the Sairan Bus Station in Almaty. This is NOT in the city center. A taxi from the city center should be about 800 KZT or around that.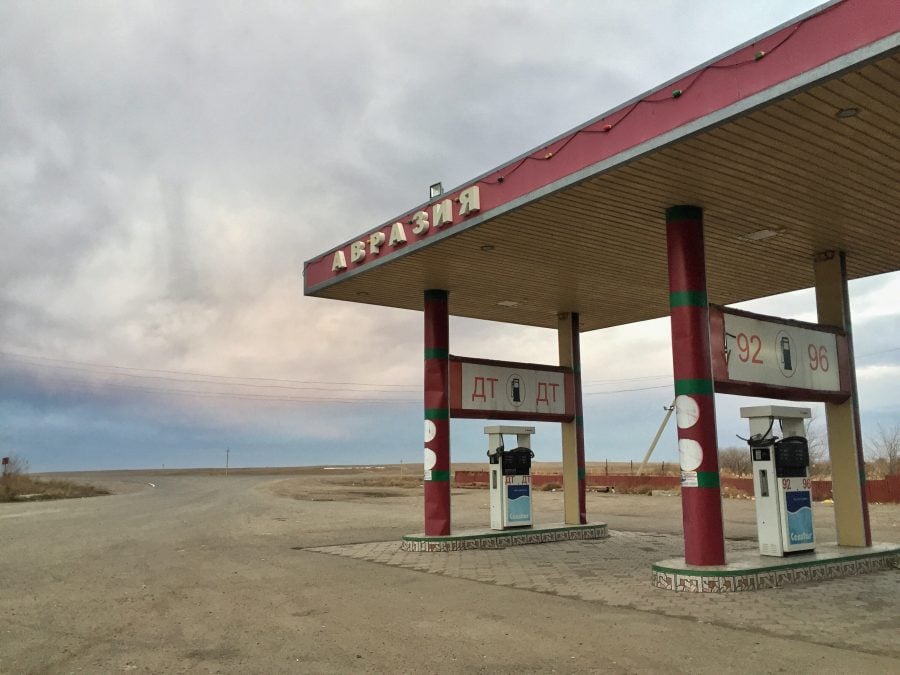 Once at the bus station, you will need to follow the sign for Bishkek (Бишкек) and pay the fare for the ride to Bishkek. The fare should be about 2500 KZT.
The ride is about five hours, including the border crossing and is quite seamless. Once you're in Bishkek, you will be at the West bus station which is NOT the city center. I recommend staying at Apple Hostel in Bishkek which is right by the station in order to alleviate having to venture into Bishkek right away without getting your bearings.
Our Suggested Itinerary for Bishkek
Photograph Soviet Architecture in Bishkek
In my opinion, Bishkek is a total gem for Soviet architecture and one of the best cities in Central Asia for concrete and obscure architecture. There are heaps of fantastic showpieces of Soviet architecture in and around Bishkek and here are a few buildings that I think are worth admiring from the outside.
Please do note that there are many more buildings worth exploring if you have extra time. You can find the best Soviet architecture in Bishkek here.

White House (Белый дом)
This government building is easily one of the most ostentatious and beautiful buildings I have ever had the pleasure of seeing anywhere in the world. Better known as the 'White House', the Presidental Palace was constructed in 1985 and was the headquarters of the Communist Party's Central Committee.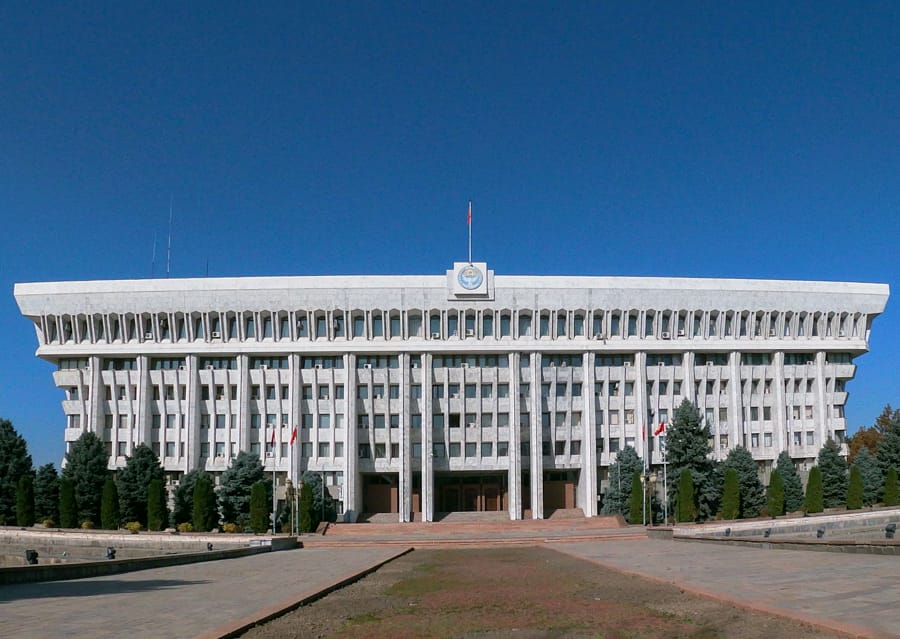 The building is in a very indiscreet place in Bishkek with a location right off of Chuy Avenue and near Ala-Too Square. It is most definitely worth going and photographing this magnificent structure from the outside if you have one day in Bishkek.
Kyrgyz State Circus
I highly recommend not going inside of this building as it is still a circus and not doing right by animals anywhere. You can find out more history about the building on our Soviet circus guide.
Aside from that, the building is definitely one that should be admired from the outside. It is an outstanding form of Soviet Modernism.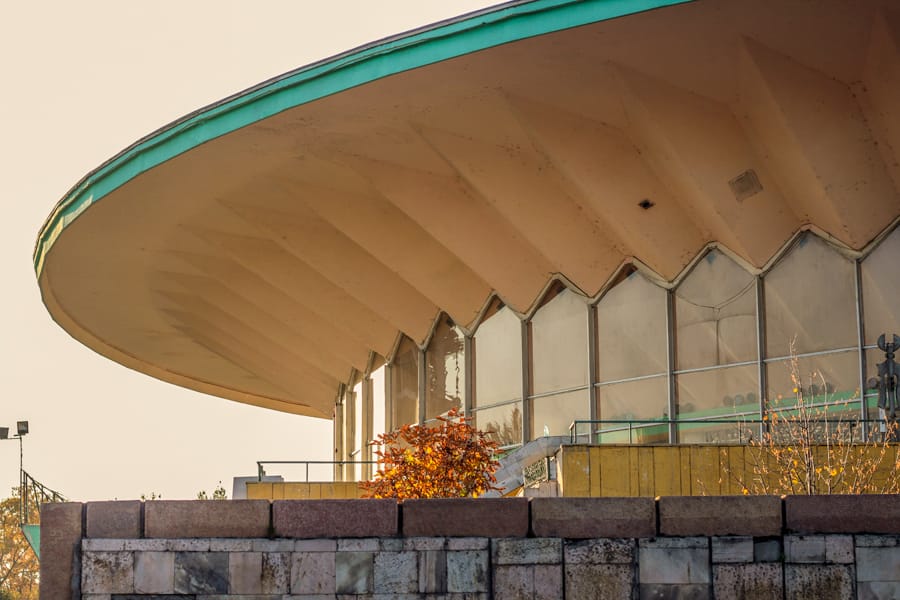 The Kyrgyz State Circus was built in 1976 by L. Segal, V. Shardrin, A. Nezhurin, and D. Leontovich to host local and other circuses from different countries of the Soviet Union. When you see the Bishkek Circus, you will quickly notice its resemblance to a UFO because the building looks a bit otherworldly.
Yet another obscure and interesting in my opinion Soviet Modernist building that will interest you.
The building needs major renovations and is in a poor state, but it still is hosting shows and is open to the public. Let's hope they renovate the building sooner or later and that includes additional thought into whether or not circuses should include animals in them.
Palace of Weddings
Ahh, I love the Wedding Palaces that exist across Eastern Europe and into Central Asia (post-Soviet countries but I don't like the term 'post-Soviet'). They are usually obscure and fun to look at. And, they exist ubiquitously so that you can easily find them in most larger cities across the area.
The reason Wedding Palaces exist is that the Soviet Union made it forbidden to have wedding ceremonies in churches. Mosques, temples, and cathedrals were not part of the USSR's atheism ideology and therefore, Wedding Palaces were built and used.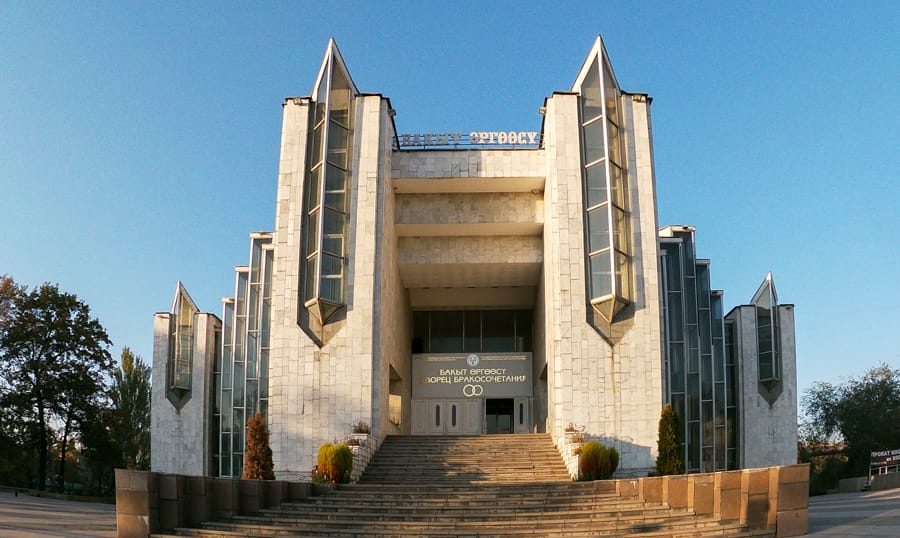 After the USSR collapsed, many Wedding Palaces remained in use, just like the one in Bishkek that was built in 1987 and designed by architects Logunov and Klishevich. Something about the structure reminds me of an old horror movie (the outside of it)… but it is worth going inside, as well!
Visit Victory Square
Bishkek's small size gives an advantage to tourists as they are able to see many of the main sights of Bishkek easily and within a single day if they plan accordingly.
After you visit some of the Soviet gems listed above, you will definitely want to stop by Victory Square, one of the most iconic sights in all of the city. The square was built in 1984 and is a place where you can pay tribute to the heroes of WWII.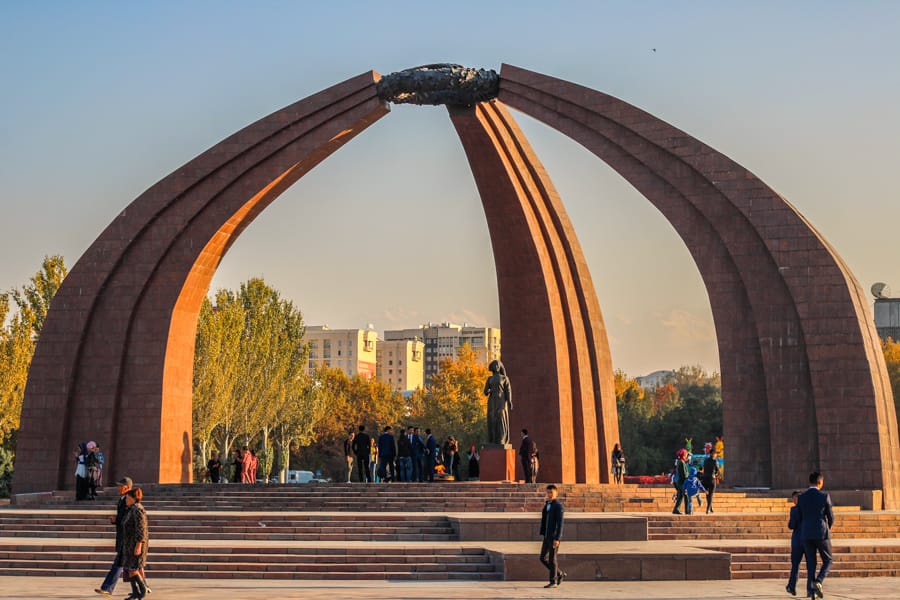 One of the coolest things about Victory Square is that you will inevitably meet people there. Locals can often be seen there doing photo shoots before and after their weddings at the nearby Palace of Weddings and because Kyrgyz people are some of the friendliest you'll meet anywhere, you will definitely end up in a photoshoot or making new friends.
The vast, open square is home to three ribs of red granite that are constructed in the shape of a yurt. Inside, there is an eternal flame and a statue of a woman waiting for her husband to return home from war. This is a can't-miss place to put on your itinerary for Bishkek.

Stop by the Bishkek Central Mosque
Close to Victory Square and some of the famous Soviet architecture previously discussed, you will find the Bishkek Central Mosque, a large, imposing religious building with some ornate and beautiful composition that you can't help but careen towards it.
The Mosque was built in 2012 and spans over 7,500 square meters which also is home to a large garden. The interior and exterior of the mosque are picturesque and worth a view.
Bishkek Central Mosque is super impressive because of its size. It can hold up to 20,000 people and the minarets are around 70 meters high.
Have Lunch at Navat
After strolling around Bishkek sightseeing and such, you will certainly have worked up an appetite. One of the most popular restaurants in Almaty and Bishkek is Navat.
Navat is a Central Asia place with a colorful interior and really delicious and affordable food for anyone who chooses to dine there. Megan has eaten there countless times and was eager to take me there despite it being a bit 'touristy'. She knew they had good food and a fun environment.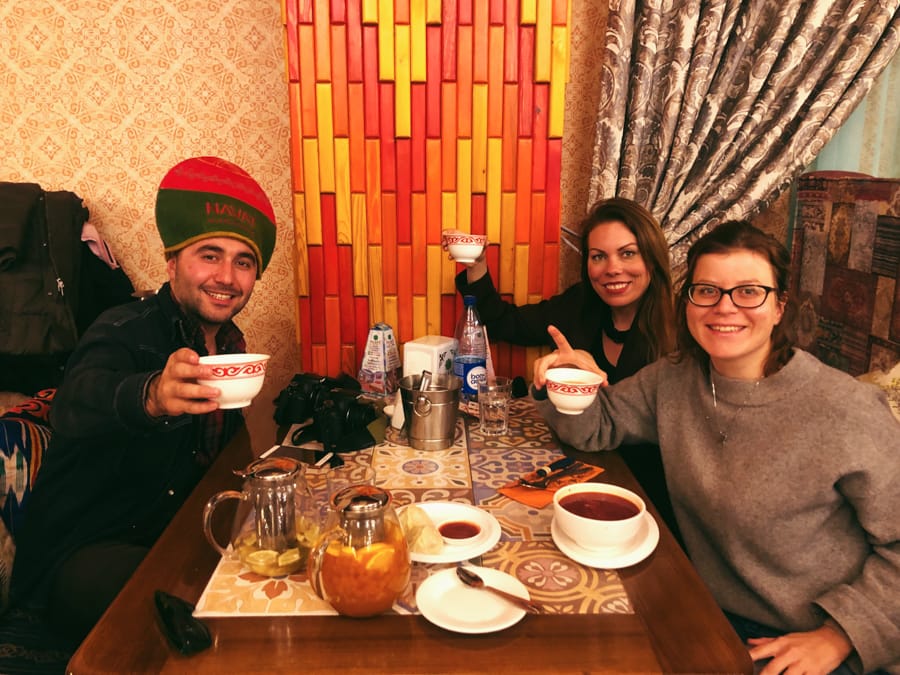 What to Eat at Navat: Megan usually opts for plov but I was excited to try their laghman, a Uighur dish that is pretty ubiquitous in Central Asia. We met our friend Vanessa there and had a wonderful night. It is definitely recommended to visit Navat for a fun meal when you're in Bishkek.
Check Out Ala-Too Square
While you're discovering Bishkek, you will cross Ala-Too Square several times. It is the biggest square in Bishkek and is in such a centralized location that you'll enjoy using it as a meeting point during your one day in Bishkek.
Ala-Too Square was built in 1984 in honor of the 60th anniversary of the Kyrgyz SSR. In 1991, when Kyrgyzstan gained independence, they renamed it to Ala-Too Square.
The Square is pretty different looking than most other squares I have seen around this part of the world and in Europe. Some of the notable structures and buildings in Ala-Too are the massive flagpole flying the Kyrgyz flag and the State Historical Museum.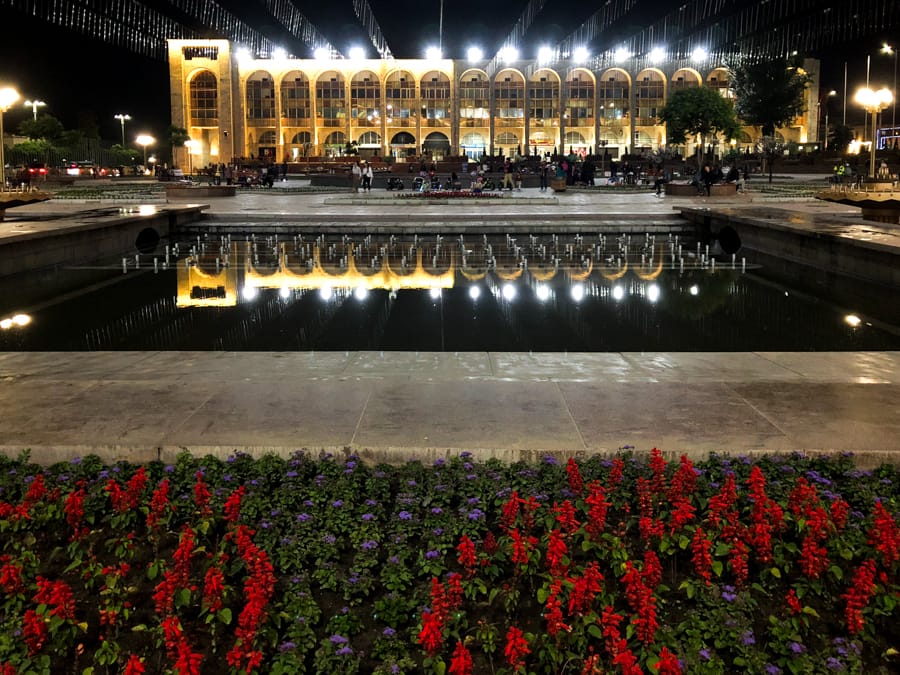 Ala-Too literally means 'Great Mountain' in Kyrgyz and considering Kyrgyzstan is one of the most mountainous countries in the world, this is definitely an accurate name for this prominent square.
Once you're done strolling around Ala-Too Square, head to a nearby cafe for a delicious coffee (and to be surprised by just how good the Kyrgyz cafe scene is in Bishkek!)

Have a Coffee at Hygge Cafe
After wandering around Ala-Too and after your big lunch at Navat, head to Toktogul 93 and visit Hygge Cafe, a hip coffee shop with tasty specialty coffee. They have another location inside of a co-working space, but this independent coffee shop is our favorite.
The cozy cafe has delicious sweet treats (we had a New York-style cheesecake there) and amazing coffee. We downed our flat whites, worked a bit (good wifi!), and chatted with the friendly baristas that were there.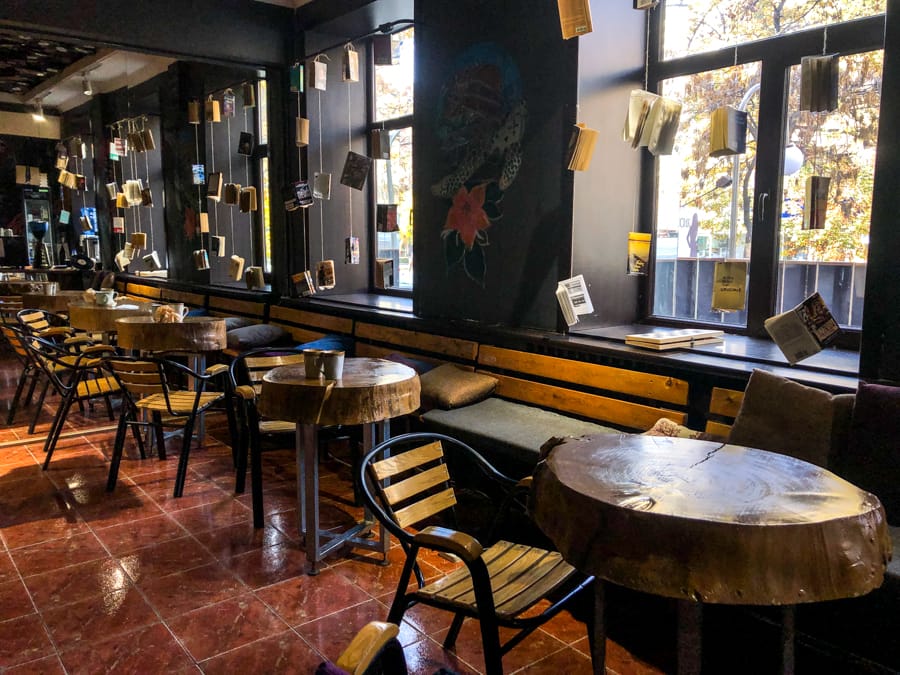 During the summer months and on warmer days, there is a nice outside area where you can drink your coffee in the fresh air.
If Hygge is too crowded or not your scene, you can find Chicken Star closeby. Chicken Star has a delicious bibimbap menu and specialty coffee options. When I was walking around Bishkek alone, I knew there was a 95% chance that Megan found her way to Chicken Star for something. And I was always right.
Walk Through Panfilov Park
Like many other countries that were previously part of the USSR, Kyrgyzstan and Bishkek have multiple monuments and parks dedicated to WWII heroes and victims and Panfilov Park is one of them in the Kyrgyz capital.
Aside from the war monuments and shrines in Panfilov, you will also find a huge, green park that has several attractions for children and families. There is a Ferris wheel, carousels, and much more! It is particularly beautiful during the winter months.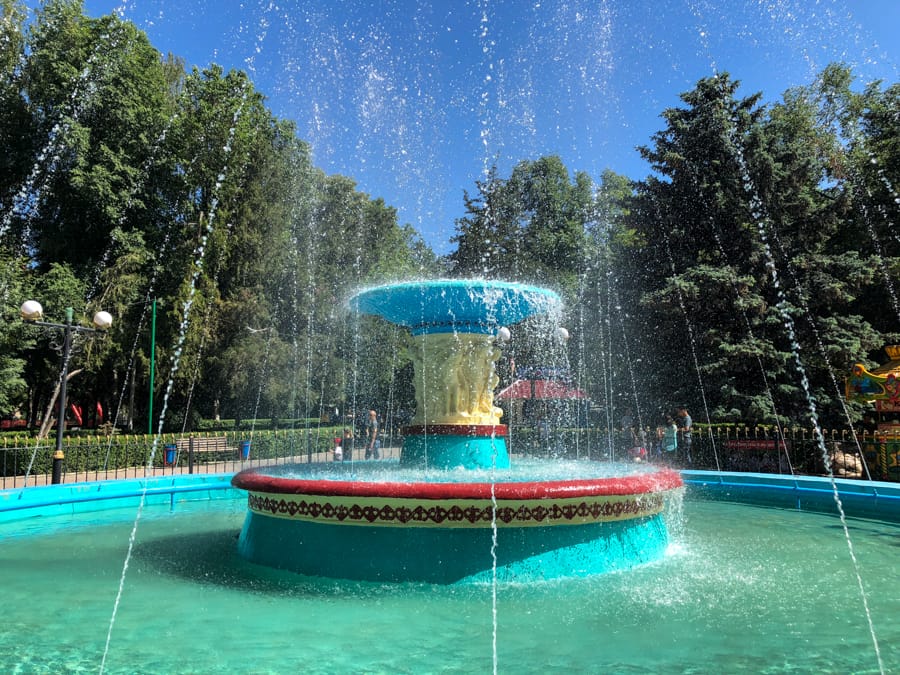 One thing that really impressed me in Bishkek was a large number of parks throughout the city. The city is pretty grey due to copious amounts of concrete but I really loved that I could find a park within a five-minute walk pretty much anywhere in Bishkek.
Photograph the Bishkek Lenin Statue
While many countries that were once part of the Soviet Union demolished their statues of Vladimir Lenin, Bishkek simply moved theirs to a new location. In Armenia, you will be hard-pressed to find traces of Lenin these days but Bishkek is kind of the opposite. You can find him in the form of a large statue or even in hidden mosaics around the city.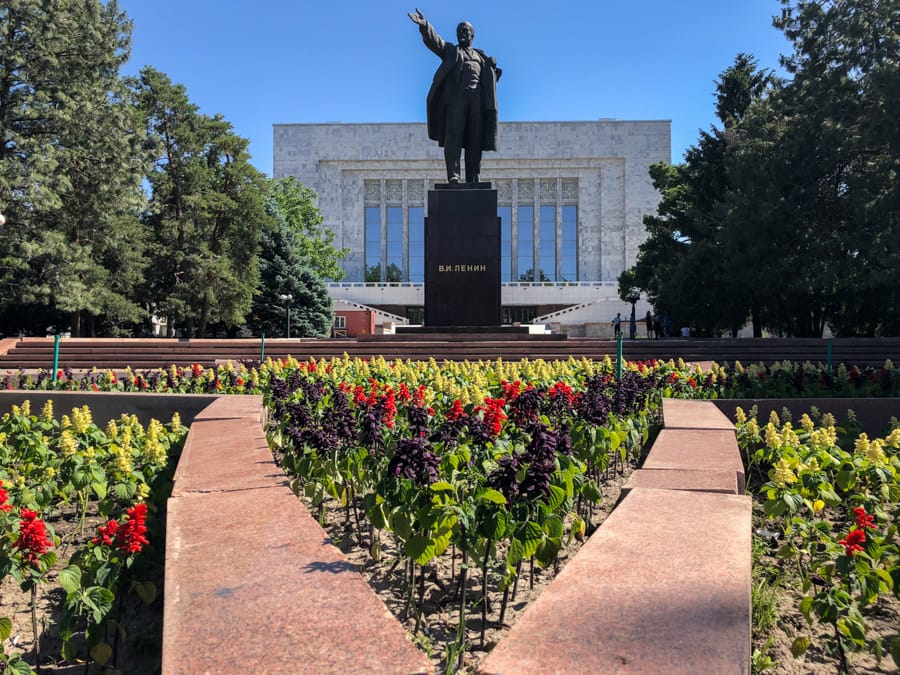 The main statue of Lenin is located behind the State Historical Museum and it is hard to miss it, really. The statue was erected in 1984 and was located in Ala-Too Square at the time. It was moved in 2003 to be where it stands currently behind the Museum.
Dinner at Time Out Restaurant
We were searching for a new restaurant to enjoy in Bishkek as we had gone everywhere Megan had suggested when I was walking around photographing Bishkek and stumbled upon a young, local guy who was a photographer taking pictures of his own city.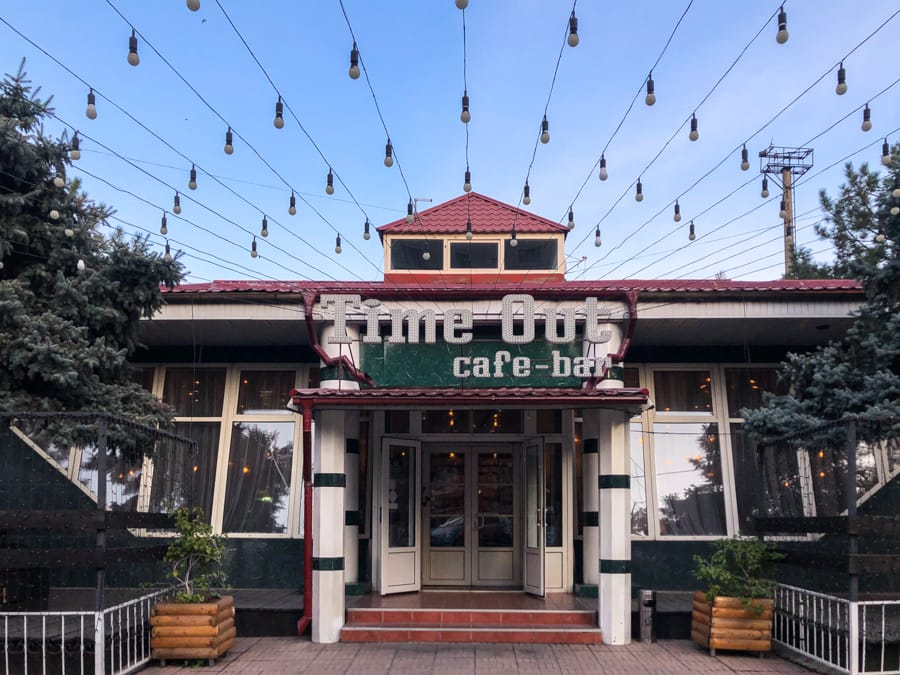 He and I conversed for a while and I found out that he worked at Time Out Restaurant. He was on the schedule to work that evening, so I told him that Megan and I would stop by and say hi and have dinner.
Time Out has an array of tasty dishes ranging from local, Central Asian specialties to Southeast Asian influenced ones. Time Out is located next to the Kozhomkul Sports Palace (another piece of amazing Soviet architecture in Bishkek).
Optional: Osh Bazaar
If you're not into parks, Soviet architecture, or some of the other Bishkek sights mentioned above, be sure to substitute one of them with a trip to the Osh Bazaar. While the Osh Bazaar is crowded, chaotic, and can be a lot to take in, it is definitely one of the most fascinating places in Bishkek simply for the fact that it is the best place to see a little piece of the Silk Road still at work.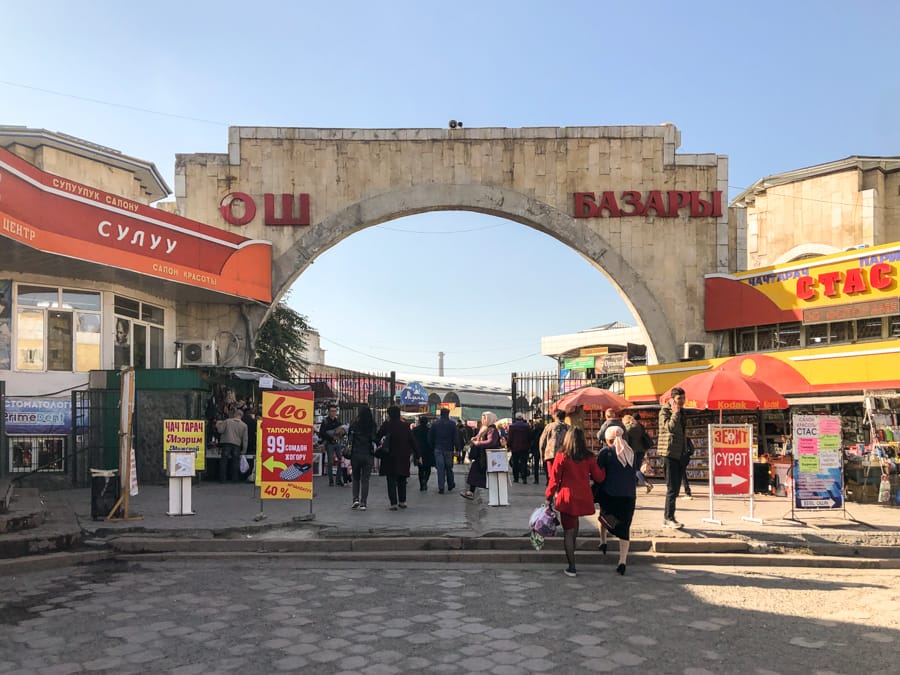 Getting to the Osh Bazaar from the city center is a bit of a task, hence why we list it as optional. You will need a taxi to get there if you only have one day in Bishkek or are pressed for time otherwise.
The Osh Bazaar is open daily from 8am-8pm.
Where to Stay in Bishkek
We have a whole Bishkek hotels guide here, but the place we highly recommend staying at, especially if Bishkek is your base and not your only destination in Kyrgyzstan is at Apple Hostel. Apple Hostel is located beside the Western Bus Station (and close to the Osh Bazaar) and is NOT in the city center. However, getting a taxi around Bishkek is affordable and you can easily get to and from the hostel.
Another great thing about Apple Hostel is that the rooms are made for everyone. They have dorms for the frugal and social traveler and privates for those wanting a little more seclusion and luxury. And the private rooms are just as nice as what I have seen in some of the chain hotels around the city!
Megan and I had a private room there and we had our own spacious bathroom, desk, and more. It was fantastic. The service was stellar, too. Apple Hostel has other locations in Osh and Cholpon-ata and they are skilled at getting your excursions, tours, and day trips booked.
>> Click here to book a stay at Apple Hostel
Bishkek Itinerary Map
Do You Need Travel Insurance for Kyrgyzstan?
We definitely recommend booking travel insurance for your trip to Kyrgyzstan prior to heading there. Bishkek is relatively safe as a city but anything can happen. Our suggested provider is SafetyWing, a Norwegian company that focuses on travelers who move about a lot and are looking for comprehensive coverage at affordable rates.
>> Click here for a Kyrgyzstan travel insurance quote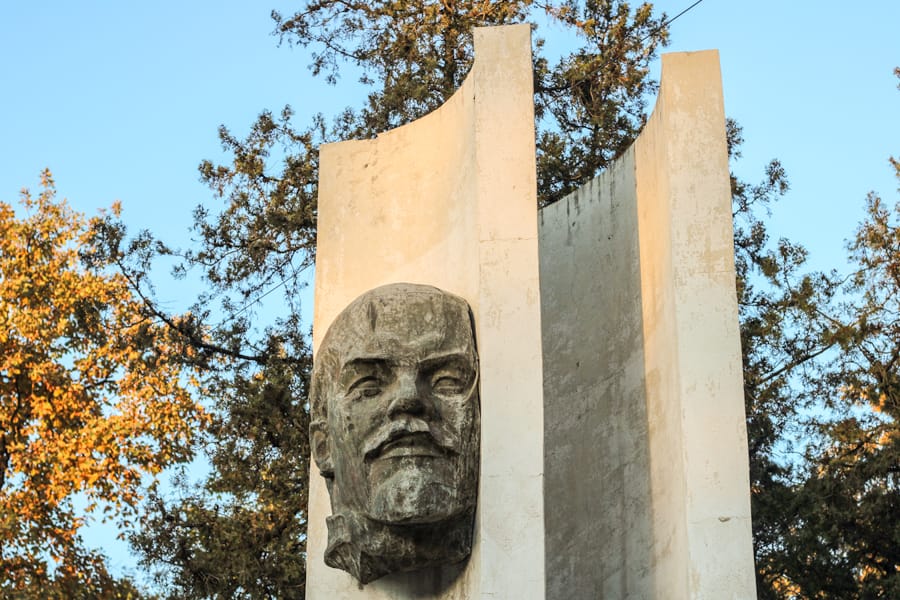 We hope that this one day in Bishkek itinerary will help you plan your trip to the beautiful Kyrgyz capital city. If you have questions or concerns, please reach out to us via email or through a comment here. Thanks!
YOU MIGHT ALSO LIKE: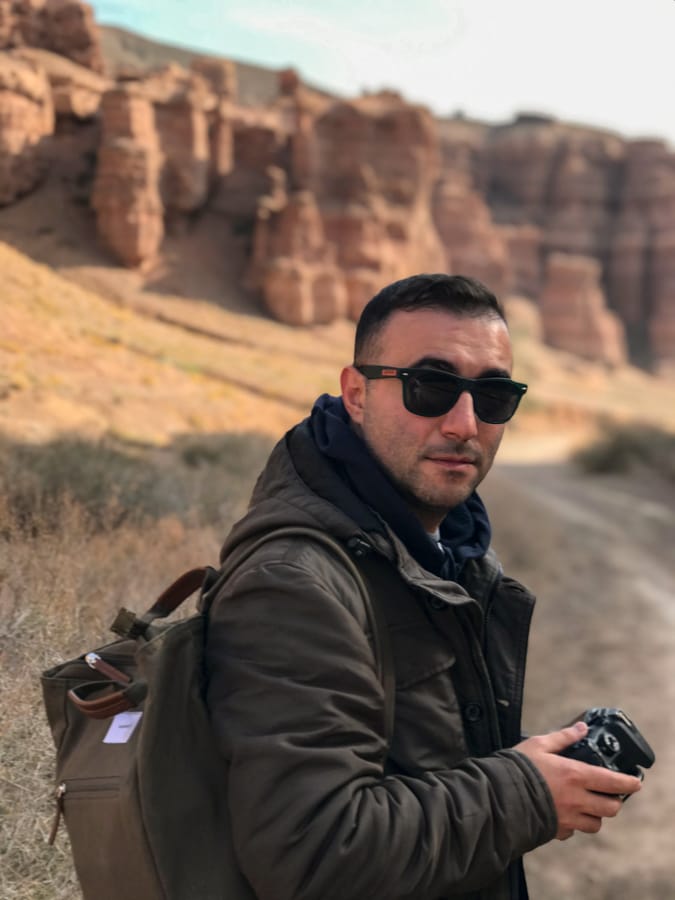 Aram is a travel blogger and writer from Armenia who spends his time between Spain and his home country. He is passionate about music and football (the European kind) and covers a lot of Western European destinations on the blog. Aram is a laidback traveler who enjoys meeting new people and finding the best food in each city that he visits (hence his frequent trips to France, Italy, and Greece!). He has been featured in (or written for) Forbes, BBC, The Guardian, Fodor's Travel, and more.