In recent years, Almaty has become a hub between Europe and Asia and is often the starting point for one's Central Asia trip. This is an Almaty itinerary specifically targeted at first-time visitors and ideally for those who are looking to plan activities and sightseeing for their one day in Almaty.
One Day in Almaty Itinerary for First-Timers (Layover Guide)
If there is one city I know like the back of my hand, it is Almaty, Kazakhstan. I have traveled there several times and even lived there off and on throughout the years. One thing that I am constantly asked is what to do if you have only one day in Almaty. Instinctively, I want to shout 'Stay six more days!', but that is not always feasible for travelers.
There are so many amazing sights in the city and some I must say that the day trips from Almaty outrank day trips pretty much everywhere else I've been… but you can most definitely find enough to do in order to spend a day in Almaty.
If you have additional suggestions, please drop them in the comments. There is a map attached to the bottom of this that will show you the places listed to help you create an epic itinerary! (and I do recommend sticking to the order I put them in to maximize your trip to Almaty).

How to Get to Almaty, Kazakhstan
There are quite a few ways to get to Almaty. Most people I meet arrive on a marshrutka from Bishkek or via a plane from somewhere else in the world. I usually fly to Almaty with airBaltic as they are my favorite airline and I've been a loyal flyer for years (and now work with them as a brand ambassador).
You can also arrive in Almaty with train from certain destinations (Tashkent, Shymkent, Astana, Urumqi). These are additional details below about how to get to Almaty from various places.
• Getting from Urumqi, China to Almaty, Kazakhstan
• Arriving at Almaty Airport with airBaltic
• Getting from Bishkek, Kyrgyzstan to Almaty, Kazakhstan
• Taking the Tashkent to Almaty Train

When Should You Travel to Almaty?
Not winter. I mean, if you're into skiing and snow, by all means, book your Almaty trip for the middle of winter. But, if you want to see some of the sick Kazakh nature and really visit Almaty in its prime… save your trip for late spring, summer, or early autumn. On the other hand, getting there is much cheaper in winter…
Connectivity and Wifi in Almaty
The wifi and internet freedom can vary with the season in Almaty (and all of Kazakhstan), if you know what I mean. I spent around three months in Almaty in 2018 and during those three months, I dealt with hell when it came to blocked websites. In 2016, I had no such issues.
I highly suggest using a VPN when you're in Kazakhstan as you never know what changes will be put into place during any given time. This website offers an excellent VPN choice for those traveling to Kazakhstan and don't want to deal with the internet perils that I went through there.

Getting from the Almaty Airport to the City Center
Have you landed at Almaty Airport and have no idea how to get into the city center? No worries- no one else does either. My best recommendation, especially if you have limited time in the city, is to take a taxi from the airport to Almaty's center.
To grab a taxi, you can call one from Yandex app (if you have a Kazakhstan SIM card working or can log onto wifi) or you can go out front and get an official one.
To ensure you get a real taxi, you will need to bypass every man screaming 'Taxi! Taxi!' at you and walk out the front doors and find a person near the police stand who is wearing a bright yellow vest. These are official taxis.
They will charge around 3000 KZT for the trip (it is only about 1500 KZT on Yandex, FYI). They also take cards- but let them know beforehand as they will charge you at the airport via credit card and not once you arrive.
If you're going to stick to this itinerary, I suggest taking an Almaty taxi from the airport to Dostyk Plaza. It will be a good starting point for your Almaty itinerary and you can follow my suggestions from there!

Getting from Sairan Bus Station to the City Center
If you're arriving at the Almaty Sairan bus station (likely coming from Bishkek), you have a few options for how to get into the city center. My recommended option is to get a taxi. To get one via Yandex, you will need data or wifi, unfortunately. You can also hail one off of the street.
I always feel safer hitchhiking from the street versus grabbing a guy harassing around the bus station. But, whatever works for you.
If you use an app like Yandex to call a cab, you will pay the least amount of money to get to Dostyk Plaza (where your Almaty itinerary will begin). If you're 'hitchhiking', or grabbing a taxi from the street (not one of the men harassing), it will be totally up for negotiating and the person may or may not take you depending on if they are going that way or not.
In reality, the ride should be around 800-1000 KZT to Dostyk Plaza from the Sairan Bus Station. But, I usually am too tired from the marshrutka drive that I will settle at 2000 KZT just to get moving.
One Day in Almaty Itinerary
Wherever you're coming from, whether it be a hotel, the airport, or the Sairan bus station, you will want to make your way to Dostyk Plaza. You can do this easily by taxi or by taking the metro to the station 'Abay' and walking up the hill from there. There are also buses in the city, but I would avoid them and learn how to use them if you merely have one day in Almaty.

Walk to Republic Square from Dostyk Plaza
Almaty is a really unique city in that it has varying architecture spread throughout it. You can find several layers of Soviet modernism, most often with a Central Asian flair, to gorgeous, 21st-century buildings and structures. It is an eclectic mix, for sure, but it is one of the things that make this Kazakh city so appealing.
I suggest heading to Dostyk Avenue and walking from there to Republic Square. This square marks one of the most famous images of Almaty with two large buildings on both sides of the Golden Warrior Monument. At Republic Square, you will also find shopping, the Jeltoqsan monument, hotels, the mayor's residence, and you'll be in close proximity to several other gorgeous buildings.
On your way to Republic Square, be sure to look to the right and marvel at the Central State Museum of Kazakhstan. The building is absolutely gorgeous and worth checking out.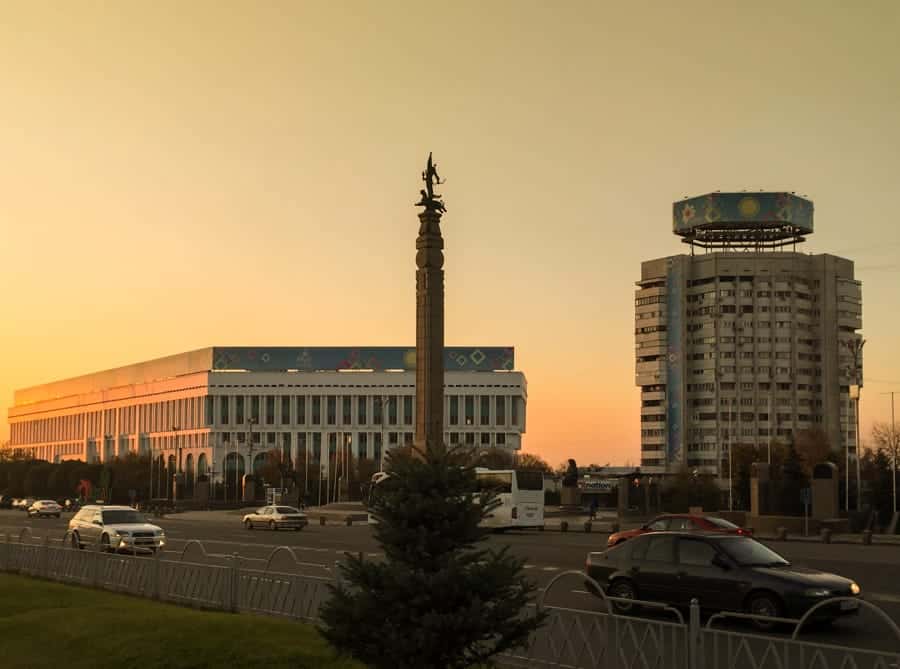 Walk on Satpaev to the Children's Republican Palace
Formerly known as the Young Pioneer's Palace, this otherworldly building is a must-see when visiting Almaty. The exterior is simply stunning if you're into Soviet architecture, especially if the sun is shining off of the gold roof.
In order to reach it, you will need to walk down Satpaev Street and cross over Dostyk Avenue. From there, take a right and it will be on your left-hand side. The Children's Republican Palace is a must-visit piece of Soviet architecture for those who are into that.

Visit the Palace of the Republic
The Palace of the Republic is a concert hall that is very well-known in Almaty and was previously called the Lenin Palace of Culture. The Lenin statue has since come down and now there is a statue to Abai located in the large, open square at the Palace.
The building hosts several events and concerts including the Almaty Film Festival. Built in 1970 to commemorate the 100-year birthday of Lenin, the Palace of the Republic is also the place where you will catch the cable car up to Kok-Tobe.

Take the Cable Car to Kok-Tobe
Unfortunately, Almaty has a smog problem and the views of it are often obstructed… but that does not mean you shouldn't head up to Kok-Tobe and get away from the city briefly.
The price to get to Kok-Tobe is 2000 KZT roundtrip (you purchase a ticket all at once) and the ride itself is around 7-10 minutes long. The new cable cars are safe and efficient and they run from 1000-midnight every day except on Tuesdays where it runs from 1500-midnight.
During the day, it is a great place to linger around and check out the views. While Almaty city may not offer great views depending on clouds and smog, you will be able to see other views from above that are remarkable and jaw-dropping.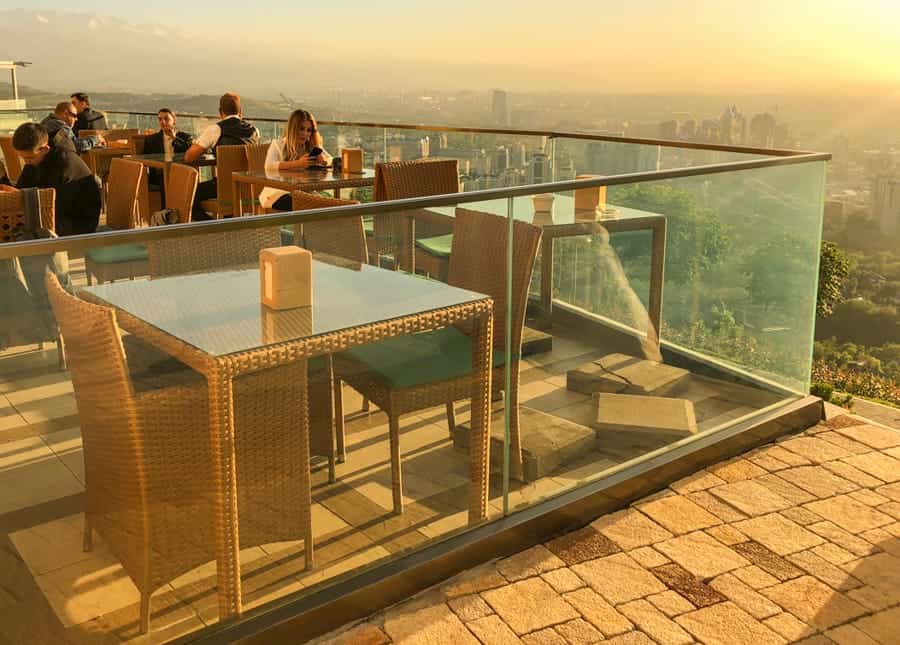 In the evenings, Kok-Tobe is illuminated and gorgeous! If you're following this Almaty itinerary, however, you will likely end up there before lunch. At the top of Kok-Tobe, you will find a cafe, restaurant, tea house, theme park, and a famous Beatles statue. It is a great place to chill out and get away from the hustle and bustle of Almaty for an hour.

Marvel at Hotel Kazakhstan
After you're done at Kok-Tobe, you will need to head north on Dostyk (down the hill) the opposite way you came. Within a matter of a few minutes, you will get to see Hotel Kazakhstan, Almaty's third-highest building that was built in 1977 and is one of the world's most-known Soviet architectural gems.
I have stayed at the hotel before and I have also had many drinks at the rooftop bar which offers a view of the entire city (it is spectacular at night).
While I don't think you'll get to witness much during the day, if you're overnighting in Almaty, I do recommend having a drink at the rooftop bar or at Pinta Bar below (they brew their own beer and it is delicious and affordable).
–> For current rates and availability click here


Have Lunch at Navat
Once you're back from your trip to Kok-Tobe, you will head to Navat, a Central Asia restaurant on Dostyk Avenue. I used to eat at the one in Bishkek and then saw that they opened one off of Dostyk in Almaty. It is often crowded and also has some entertainment and dancing on occasion.
I recommend trying their Uzbek plov, manti, or beshbarmak (Kazakhstan's national dish). Beshbarmak contains horse meat, which is a very common thing in Central Asia. Horse meat is called 'Kazy', so if eating horse meat is not something you're interested in consuming, be warned that you may see it listed as Kazy on various menu items in Almaty.
Walk to the Zenkov Cathedral (Ascension Cathedral)
Almaty's most iconic sight sits in the heart of Panfilov Park, a large green space in the heart of the Kazakh city. The park contains a lot of WWII monuments and structures but it is known for the yellow, wooden church that is situated in the middle of it.
Built in 1907, the Russian Orthodox church was built without a single nail and even withstood an earthquake. It is 56 meters tall and is said to be the second-tallest wooden structure in the world.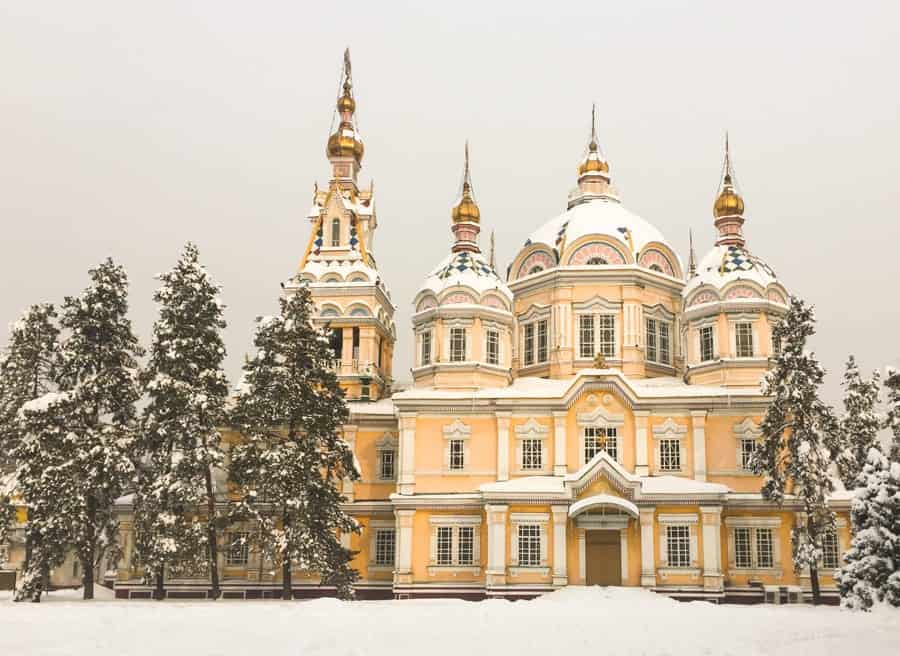 During my last two visits to Almaty, the Zenkov Cathedral was buried under scaffolding. This was during the warmer months and higher tourist months, so I am not sure if something happened that needed urgent repairs (or possibly Almaty is too cold in winter for renovations).
It should likely be done now with its facelift and is ready to be photographed again. This church photographs beautifully regardless of whether you do it in the hot summer days or during a winter blizzard.

Venture to the Green Bazaar
One of the must-visit places in Almaty is undoubtedly the Green Bazaar. Better known by locals as the Zelenyy Bazar, this spacious, Soviet-style bazaar pretty much has everything inside of it that you could ever want! You can find Korean salads, Uzbek dried fruits, and every type of clothing you could ever wish for there.
You can also try two Kazakh favorites- shubat and kumys. Shubat is a fermented camel's milk and kumys is a fermented mare's milk. In the top and main area of the Green Bazaar, you will see the meat area in the back and Uzbek dried fruits up front.
If you stand at the door looking at the entire market with the Uzbek stalls right in front of you, take a left and in between several stalls kind of hidden is a Kumys and Shubat stand. You will recognize it by the picture of a camel and a horse on the sign.
Once you find it, go there and ask for a sample of each. The person at the stand will give you two bowls of each drink. They are soured and maybe a very acquired taste. I hate kumys but loved shubat. Most people I know are the opposite or despise both. Either way, it is a great place to indulge in a small piece of Kazakh culture.

Take the Metro to Auezov Theatre, Wedding Palace, and Kazakh State Circus
This wouldn't be a proper one day in Almaty itinerary from me if I didn't include some of the greatest Soviet architecture that Almaty has to offer. From the Green Bazaar, walk a bit until you find the station Zhibek Zholy and then get off at Auezov Theatre station.
Be sure to look out at the stations as you are riding because you will pass Baikonur Station, a metro station that is designed a bit cosmic-like as Kazakhstan was and still is home to the Russian / Soviet Space Program.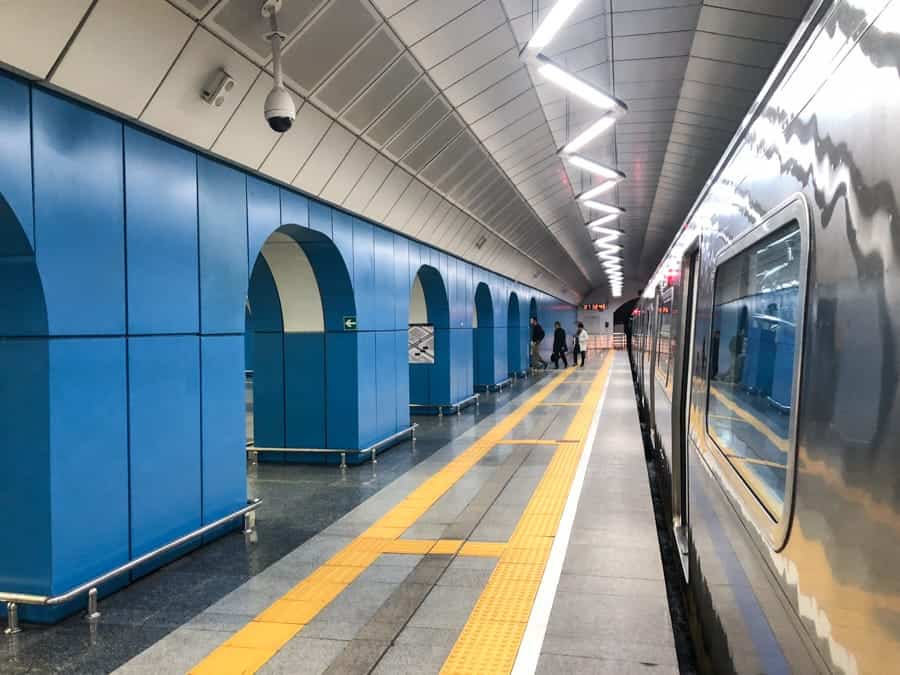 Once you get off at Auezov, you will see the large, concrete Auezov Theatre and the Kazakh State Circus across the street. While I don't condone circuses ever, Soviet Circuses are one of my favorite pieces of architecture the former country built and I love to admire them from the outside. You are also extremely close to the Palace of Weddings which is a must-visit for Soviet architecture lovers.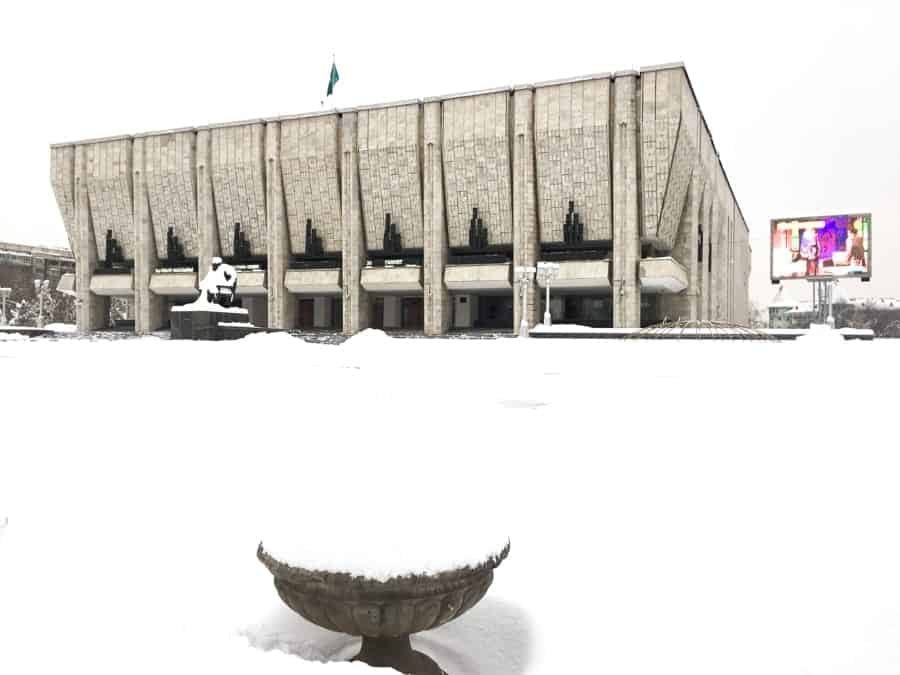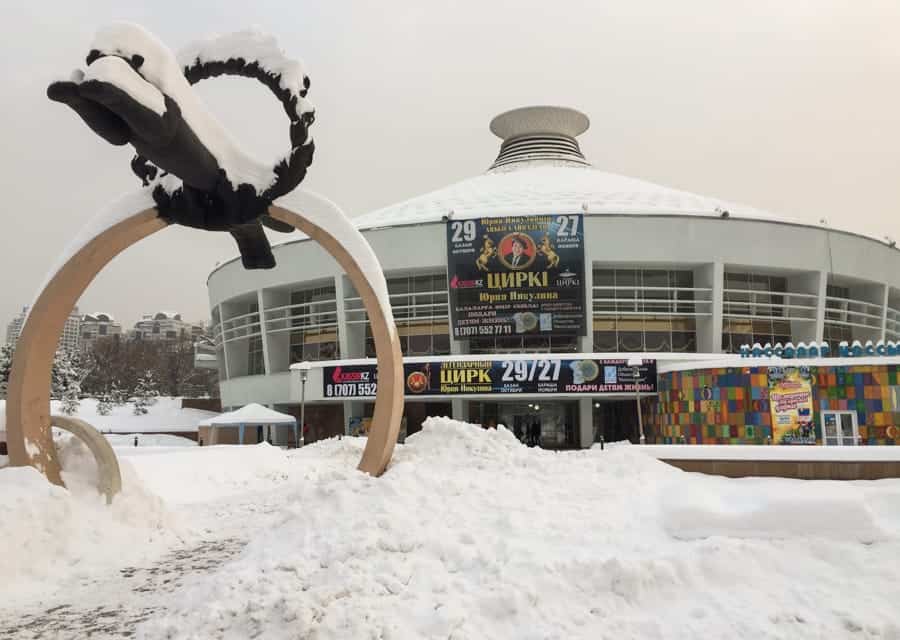 Enjoy a Nice Dinner in Almaty
I have a couple of dinner options listed because it will really depend on what type of food you like. I have listed a couple of options below and how to get to each of them:
Kishlak (Central Asian)
If you walk back on Abay toward Baikonur Metro Station, you will come up on Kishlak. It's an Uzbek restaurant that gets smashing reviews and you can get your plov, manti, or beshbarmak fix there with no problem.
Asian Barbecue (Korean BBQ)
This is one of my favorite places to eat in Almaty. It is located in an inconvenient spot for the places that I tend to frequent, but you can easily reach it by public transportation to Alatau Metro Station or by taking a taxi. I usually take a taxi there (which you can do by Yandex app).
They specialize in Korean BBQ and let me tell you- IT IS GOOD. There is a sizable Korean population in Almaty and the locals have a huge respect for Korean food … so it is an extremely local thing to indulge in Korean BBQ.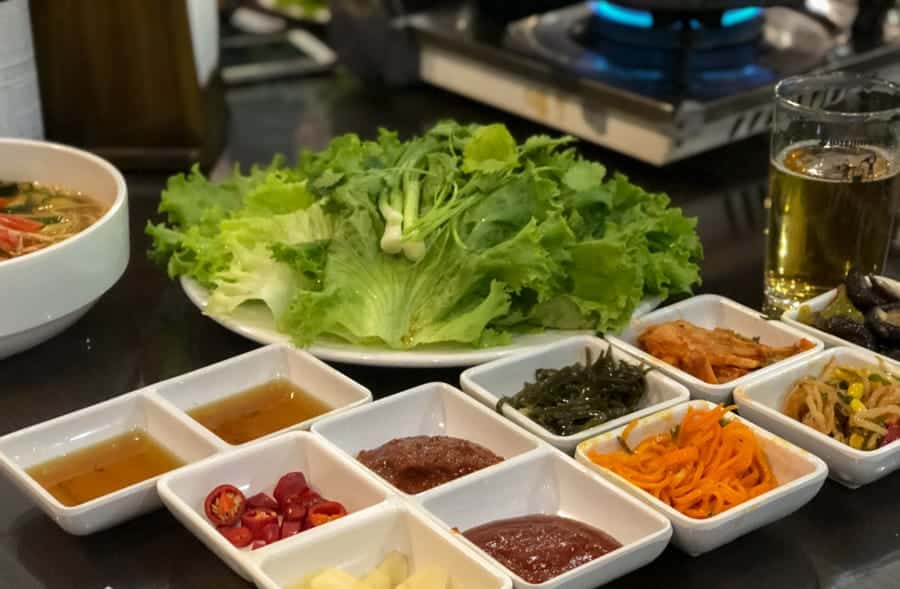 Craft Kitchen & Bar
If you're looking for a more international food experience, I can recommend Craft Kitchen & Bar on Dostyk. I love this place because they make a mean salad.
Central Asian food is insanely delicious, but if you're traveling the region for any duration, your stomach will appreciate a nice and fresh salad every so often. Craft is an amazing place to get this. I can recommend their delicious superfood salad. How tasty does that look!?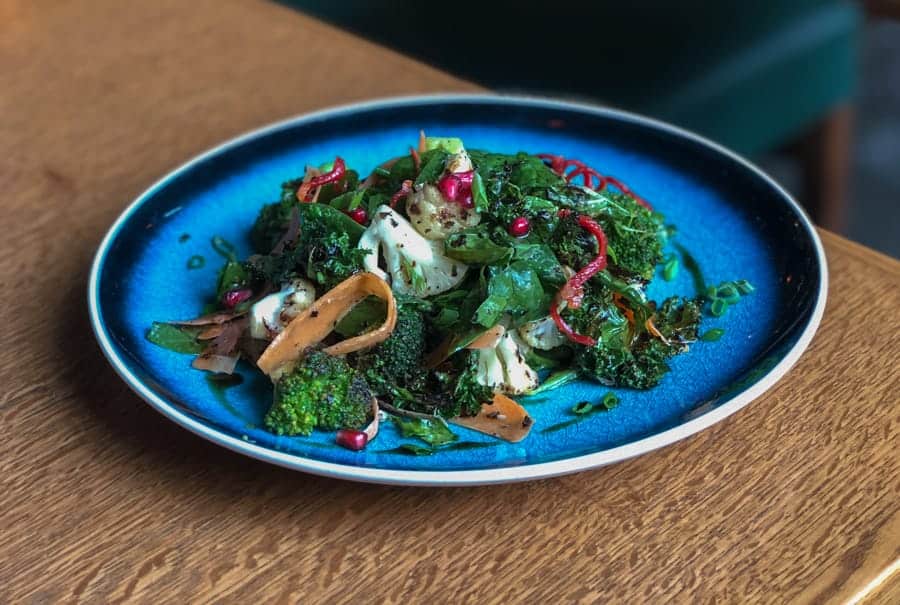 Other Possible Places to Visit in Almaty
There are heaps of other places that you can visit in Almaty. If you're genuinely looking for a nature experience, take advantage of Big Almaty Lake, the gem of the city that is located a short taxi ride away (not easily accessible by public transportation, unfortunately).
During the winter, it is not easy to reach and I would suggest staying in the city. But during the shoulder seasons and summer, it will likely be one of the most beautiful pieces of nature that you have ever laid eyes on.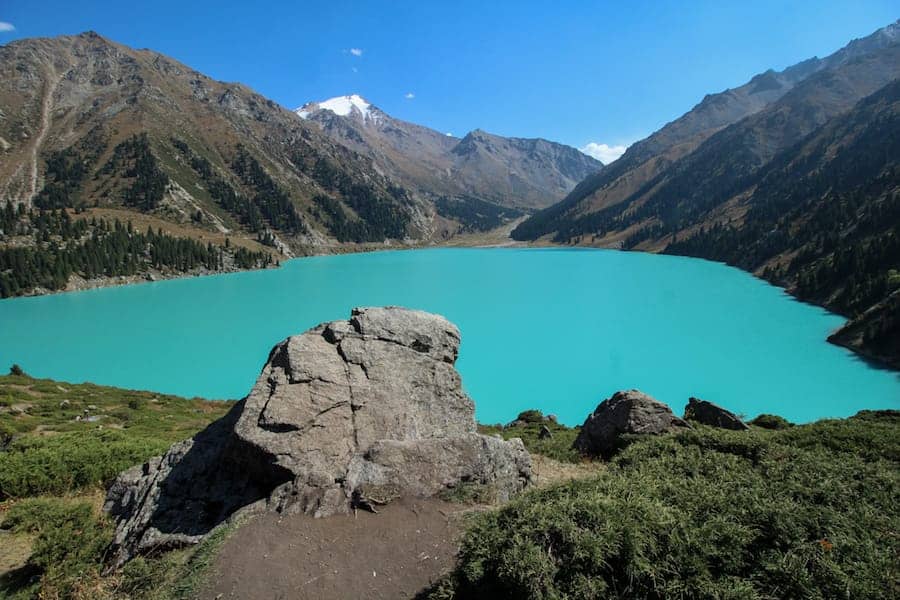 Do You Need Travel Insurance for Almaty?
I most definitely recommend having travel insurance for your trip to Almaty. I suggest using World Nomads as I used it while traveling there and living there both and I have never had a complaint about the service.
Click here to get your quote for Kazakhstan travel insurance

Where to Stay in Almaty
If you're going to be staying overnight in Almaty, I have a few recommendations depending on your budget.
If you're looking for budget accommodation in Almaty, definitely consider staying at Parasat Hostel. I know the owner of both places and he is incredibly hospitable and cares deeply about tourism in Almaty. My usual preference is Parasat as it is a bit quieter. You can see rates below.
–> For current rates and availability click here
If you're looking for mid-range accommodation in Almaty, I can recommend Hotel Kazakhstan. Okay, so this Soviet hotel is a bit outdated and feels very Sovietesque, for lack of a better word. But, if you're crashing in Almaty for one night, I think staying at Hotel Kazakhstan is a really cool option and you will have views over the entire city.
–> For current rates and availability click here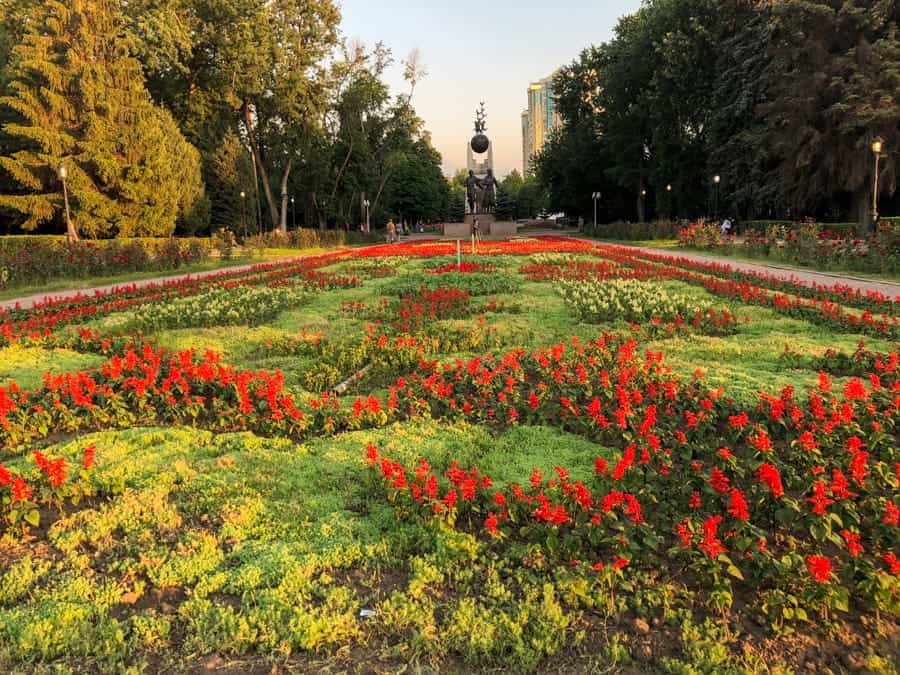 Are you interested in luxury or high-end accommodation in Almaty? My number one suggestion is Rixos Hotel. At the Rixos, you'll stay in Almaty's most luxurious space and they have everything from spa treatments to an amazing restaurant on-site.
–> For current rates and availability click here
I hope this Almaty itinerary helps you plan your one day in the city. It is one of my favorite cities in the world and while I think you're doing a disservice by only staying there one day, I think you can absolutely get a good impression of the city by taking advantage of this travel itinerary.
If you have any additional suggestions, please place them below in the comments! Thanks!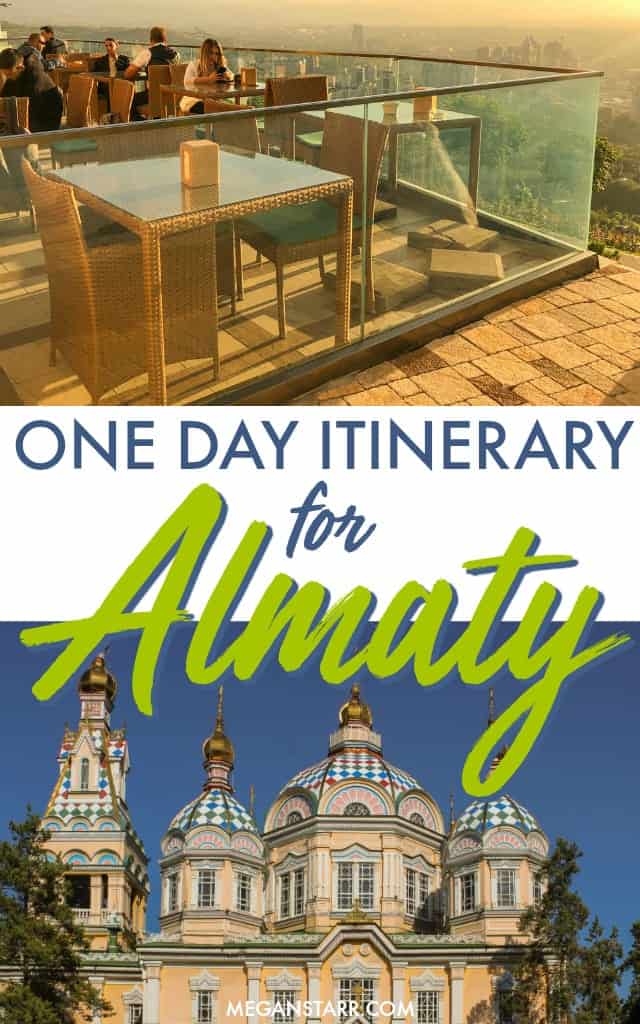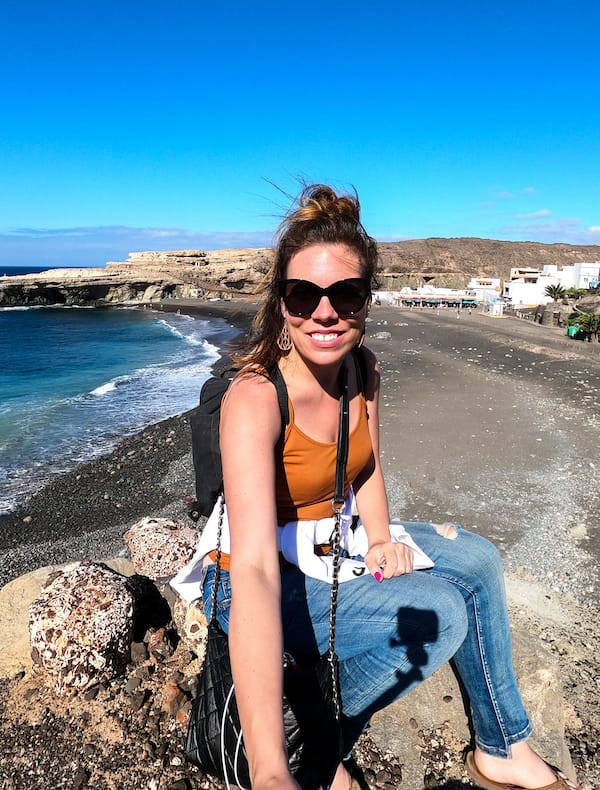 Megan is a travel blogger and writer with a background in digital marketing. Originally from Richmond, VA, she now splits her time between Frankfurt, Germany and Arctic Finland after also living in Norway, Armenia, and Kazakhstan. She has a passion for winter travel, as well as the Nordic countries, but you can also find her eating her way through Italy, perusing perfume stores in Paris, or taking road trips through the USA. Megan has written for or been featured by National Geographic, Forbes, Lonely Planet, the New York Times, and more. She co-authored Fodor's Travel 'Essential Norway' and has visited 45 US states and 100+ countries.