Everything I read online indicated that a day trip to Ala Archa National Park, a nature refuge about twenty minutes outside of Bishkek, would be a piece of cake.
My Kyrgyz friend, Jyl, even did an abundance of the research for me (since most of it is in Russian). A lot of the research out there in English is incorrect, but prior to me heading there, I was able to get most of the wrong information corrected by local sources.
I was desperate and needed a break from the bleak and Soviet city of Bishkek (I do love it, but sometimes you need a retreat outside of it!)
I opted to go there when I did because the weather was supposed to be warm in Bishkek. I figured that it might be slightly colder in the mountains, but not enough that I would need winter gear or proper footwear.
If you are aware of my track record, you know that I often dress very inappropriate for the weather. This day was no different. I wore a fall jacket, summery scarf, tattered sneakers with little traction, and a short-sleeve top… to go mountain hiking. I am shaking my head in embarrassment just thinking about it.
The east coast American in me has no idea what mountains really are, let's be honest.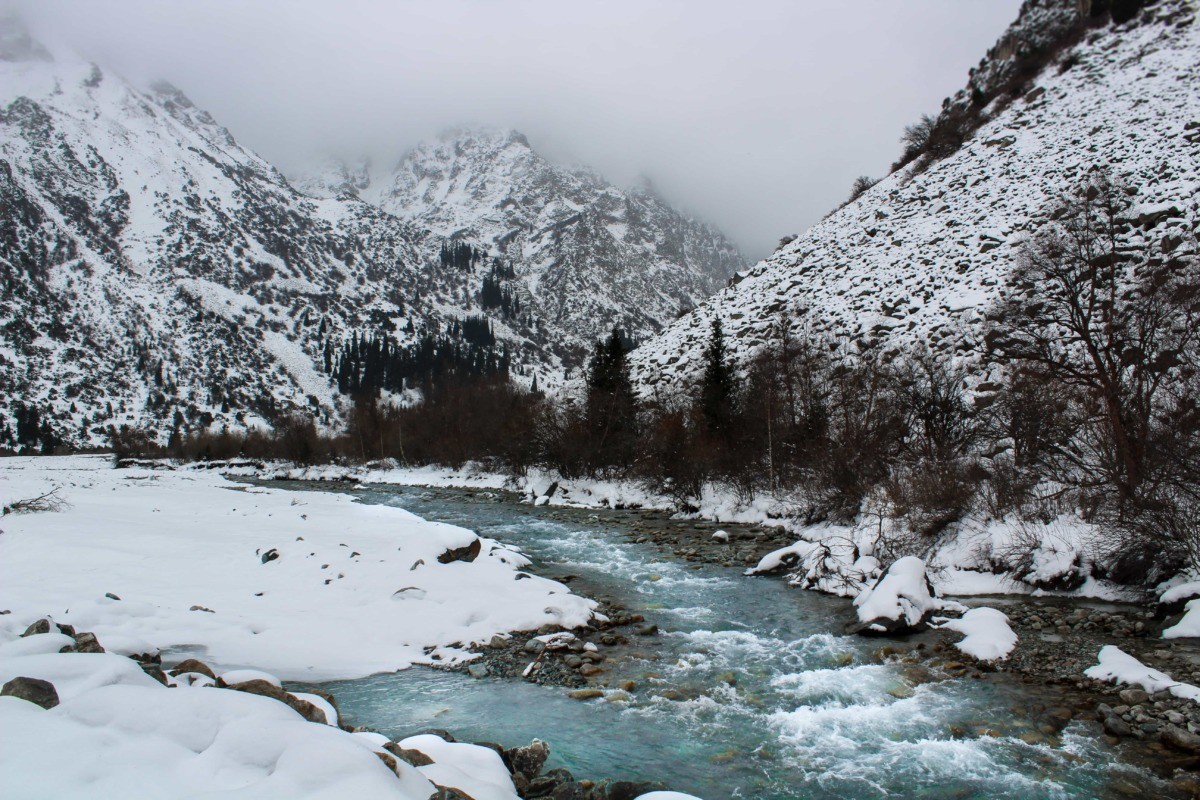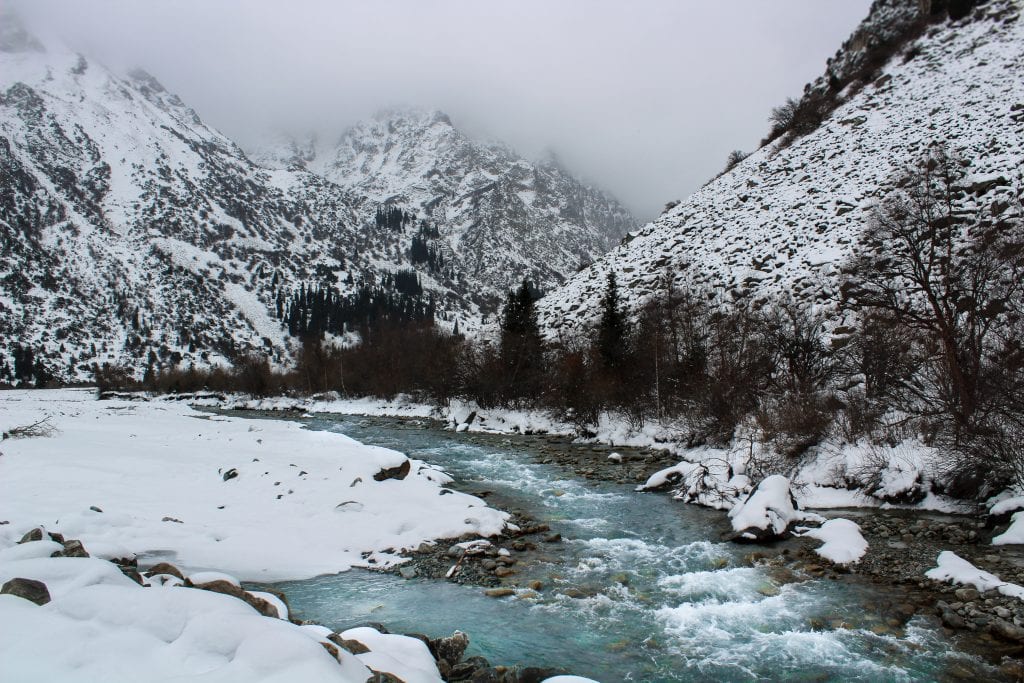 <Kyrgyzstan has real mountains… no offense, Virginia>
My Day at Ala-Archa National Park
Getting back to the day trip, I set off at around 0900 from Bishkek. I read online that you must get to the Osh Bazaar and find marshrutka 365 from there.
That is very incorrect- the correct marshrutka number is 265. Upon arriving at the Osh Bazaar, I learned that the marshrutkas that went to the park only left every three hours and I still had about an hour to wait. Jyl was seeing me off and took me to the local grocery store to grab some bread and snacks for the day.
When we arrived back at the marshrutka departure area, we found one labeled 265 despite still having to wait another forty-five minutes.
After chatting with the driver, we negotiated to have him take me to the bus stop (this one didn't quite go the entire distance) for an extra 50 soms, or a little less than $1.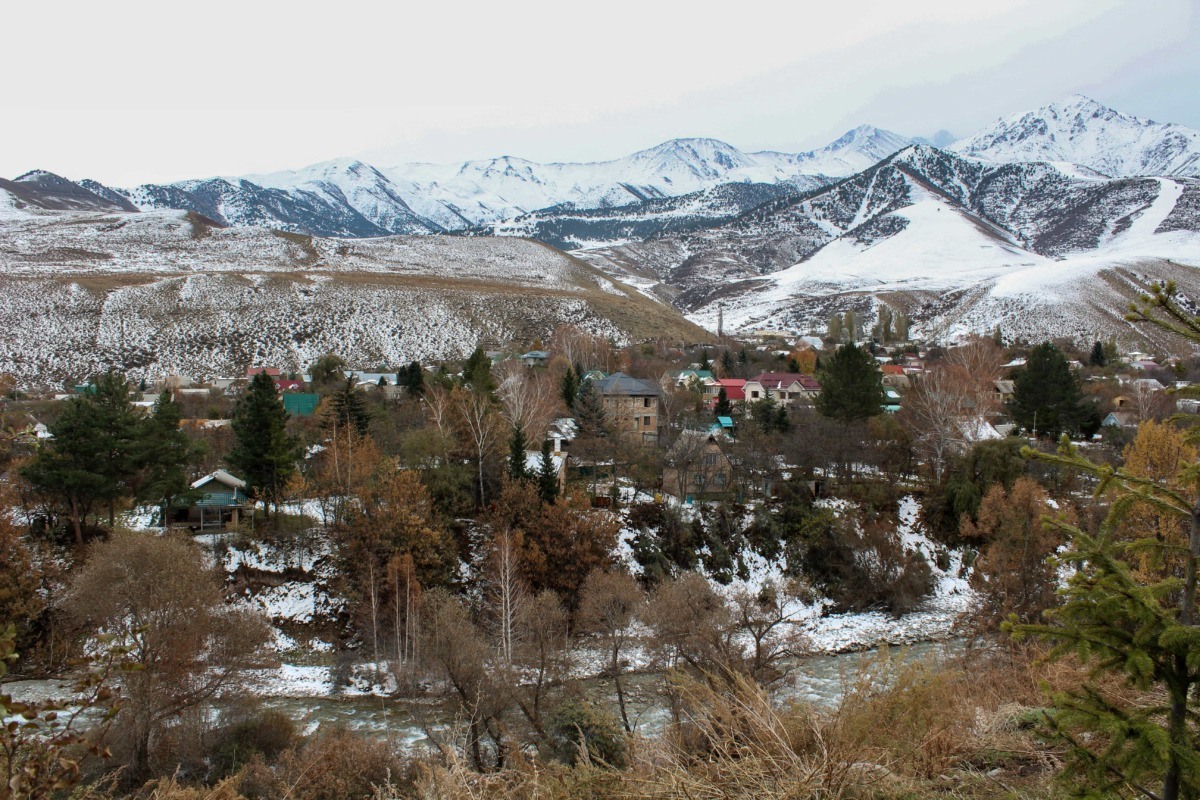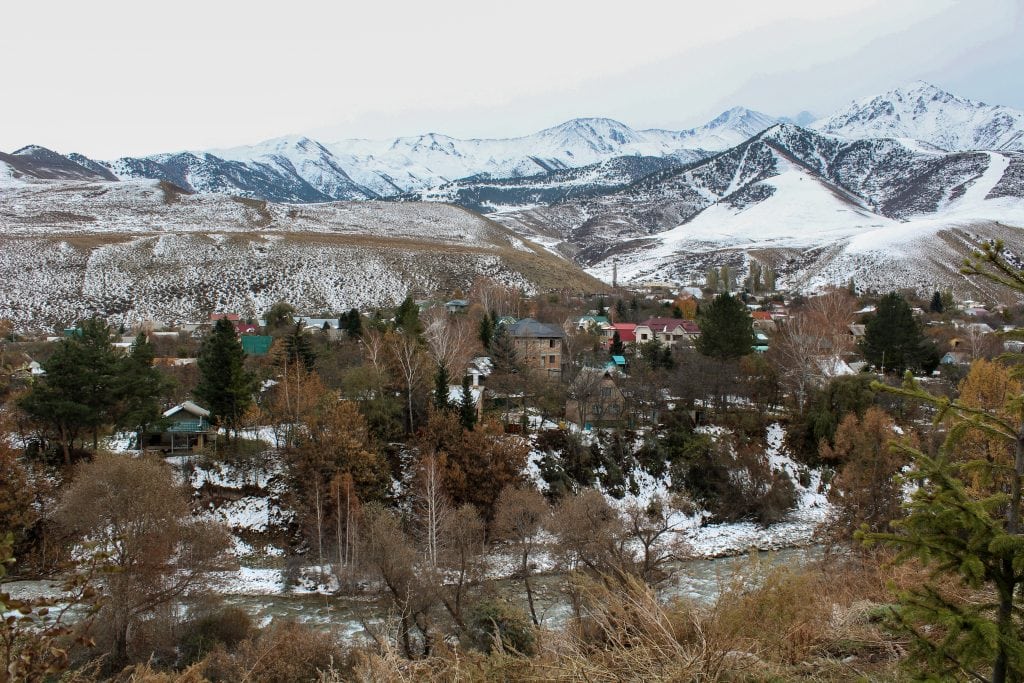 The forty minute marshrutka ride takes passengers through small villages outside of Bishkek situated at the foot of the mountains. It was shocking to see the difference in lifestyles that a short ride can expose one to.
But it also made me realize that living in Bishkek gave one completely accessible nature (and for that, I was envious).
The driver dropped the last passengers off and drove me another five to ten kilometers to Ala Archa National Park's first gate. I was told that there was a seven-kilometer walk to the next gate, which is where the trails to the river, glacier, and waterfalls begin.
The loquacious bus driver, from the nearby village of Kashka Suu, informed me that there would be several taxis and other visitors entering the park and I could hitchhike a ride with one of them to gate two to save some time.
He then dropped me off and I paid 50 soms (less than $1) to enter the park (the sign said the entrance fee was 80 soms but perhaps I got a deal based on how poorly I was dressed to go hiking).
The gate was deserted and lacked any hint of life. It actually made me slightly concerned that I would be unable to hitchhike to the next gate. Luckily, after about ten minutes of walking and being mesmerized by the scenery surrounding me, a car pulled up and asked me if I wanted a ride.
I, of course, obliged. The car was a hired taxi containing a lovely Bulgarian woman who had been living in Bishkek for quite a few years. She was dressed in some hardcore hiking gear. When I told her my intentions to hike to the waterfall, she caustically laughed and said it would not be possible based on my attire.
Well, damnit. Leaving my hiking boots in Germany has hurt me on more than one occasion since relocating to Central Asia and Ala Archa National Park proved to be no exception.
I am sure the woman spent her hike laughing about the dumb American who showed up to hike mountains in an outfit that she would go to the bar in.
We arrived at the second gate after a fifteen to twenty-minute drive and I graciously gave her 100 soms and she explained to me that based on my dress, I would be unable to take the same trail as her. That was the trail I had planned to hike as you get to see the waterfall and glacier up close and personal.
But she did tell me that if I was careful, I could manage the easier trail, which just takes you along the river. I was super thankful for her advice as she was no novice to Ala Archa National Parkand surprisingly, the stubborn part of me decided to listen to her.
She went on her way and I started on the trail to the right, which goes alongside the river. To my surprise, there was snow everywhere. Yea…….. I was definitely not expecting that given the warm temperatures in the city. And, as I was walking along the trail, more snow started to fall from the sky. It was eerily peaceful.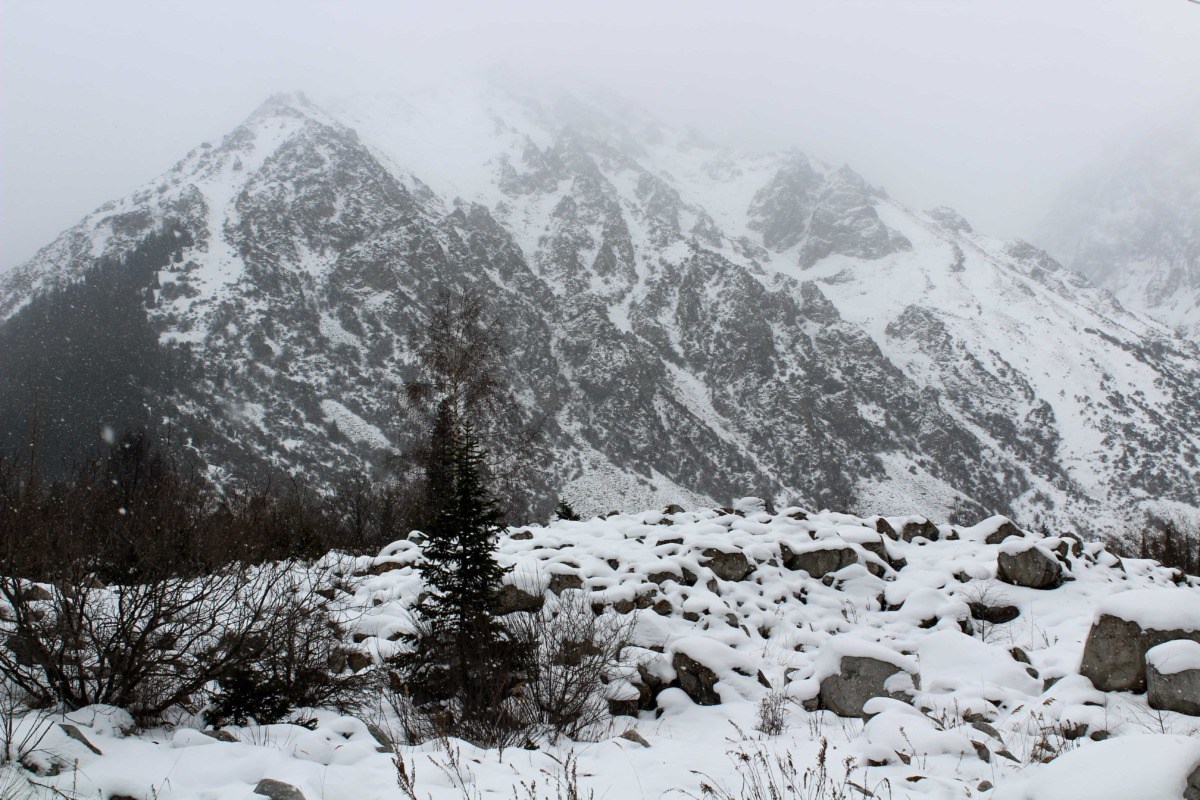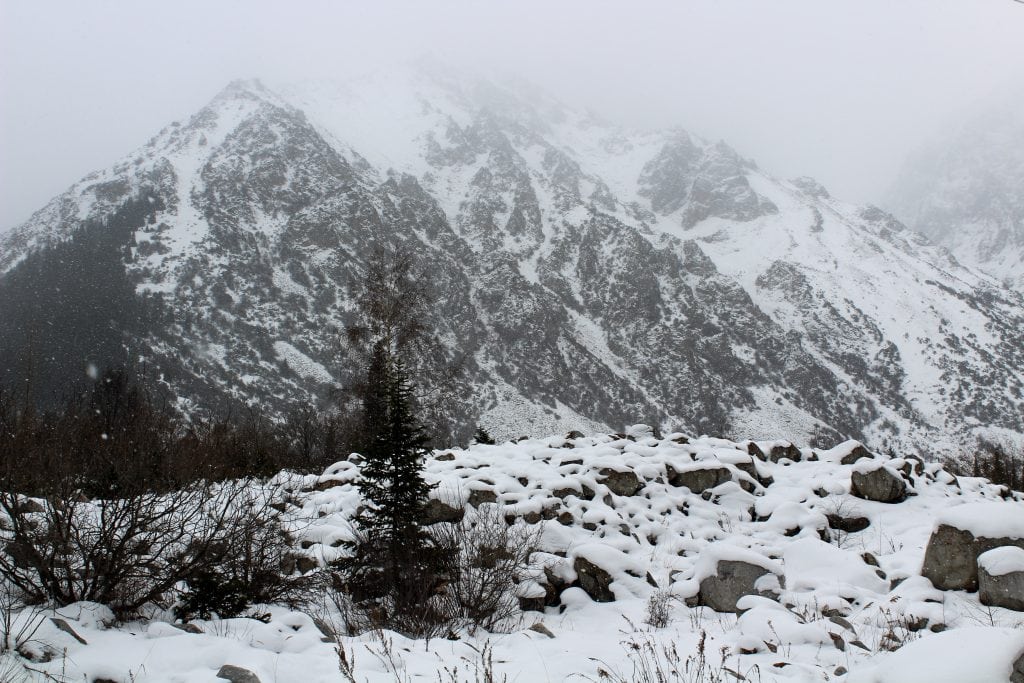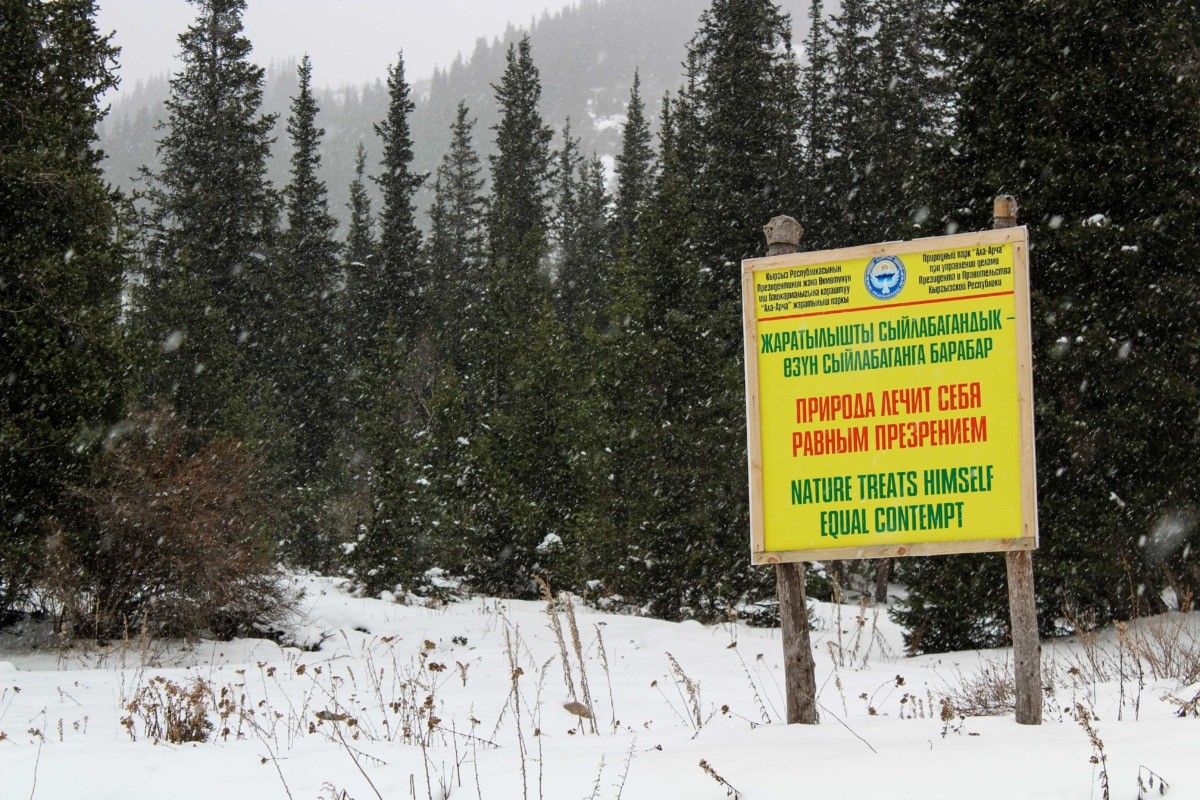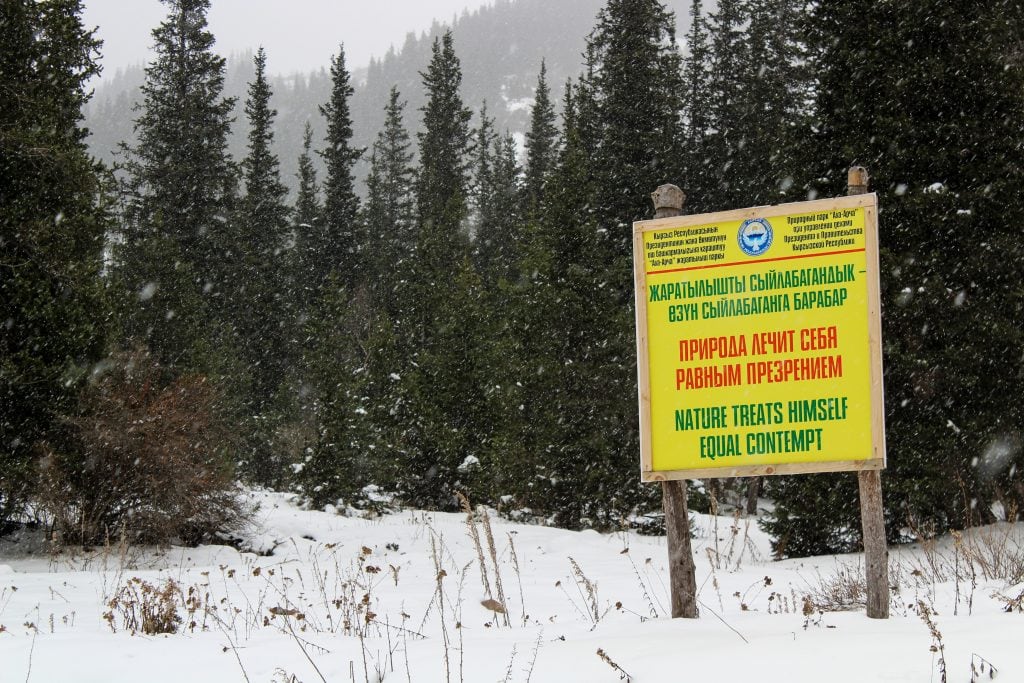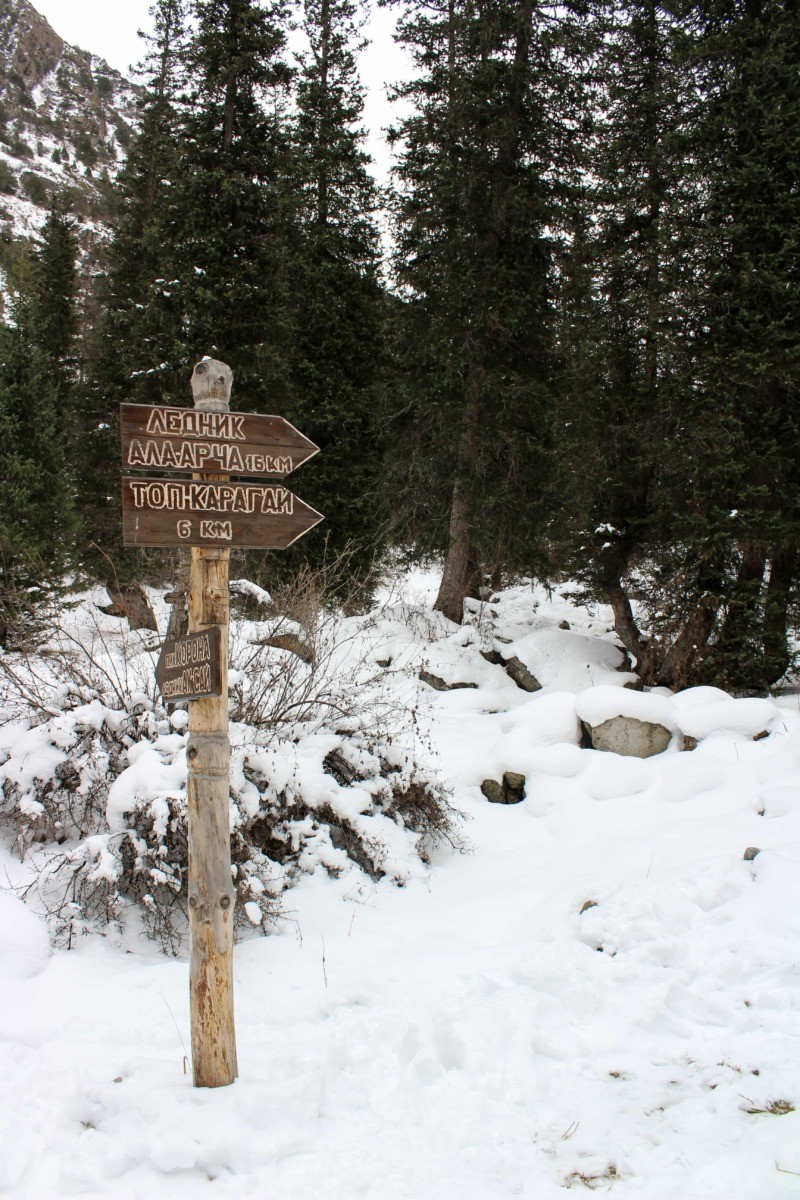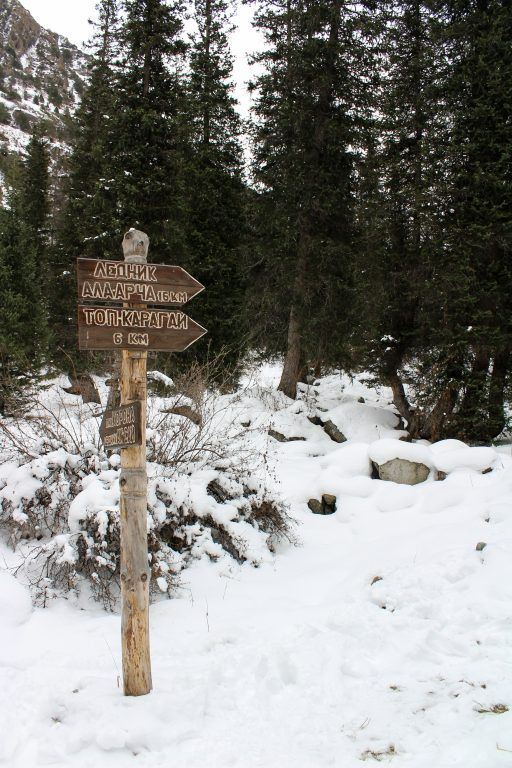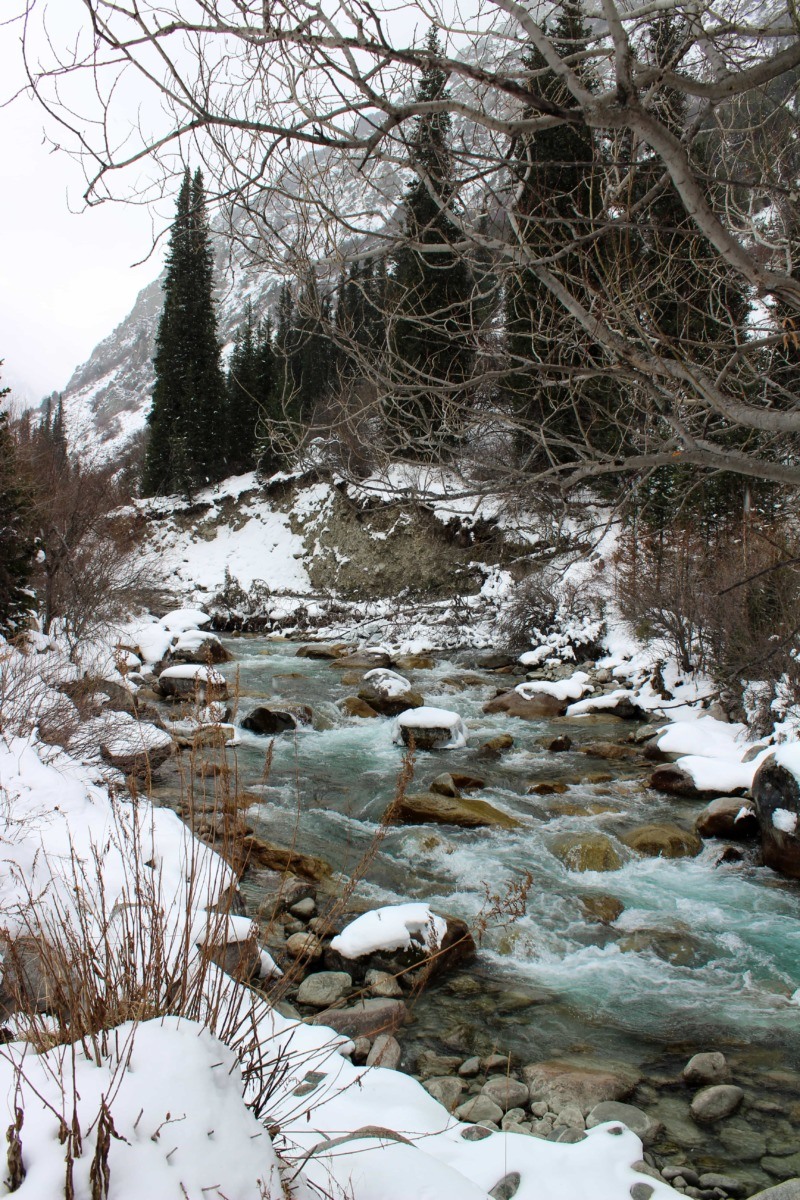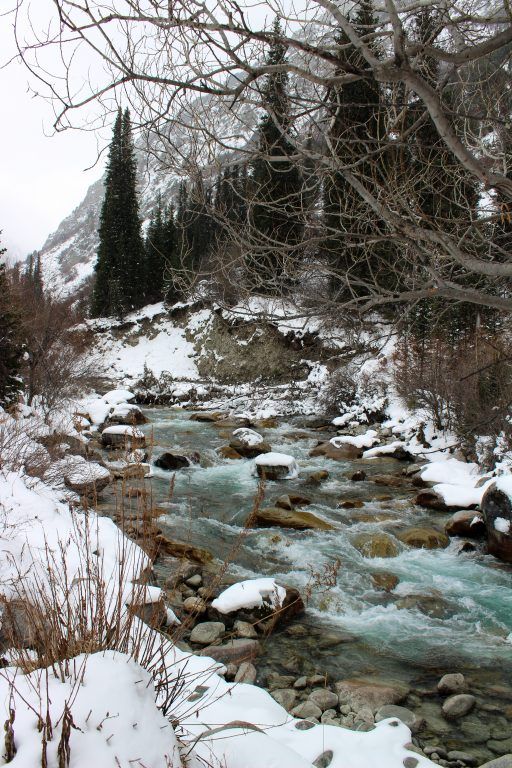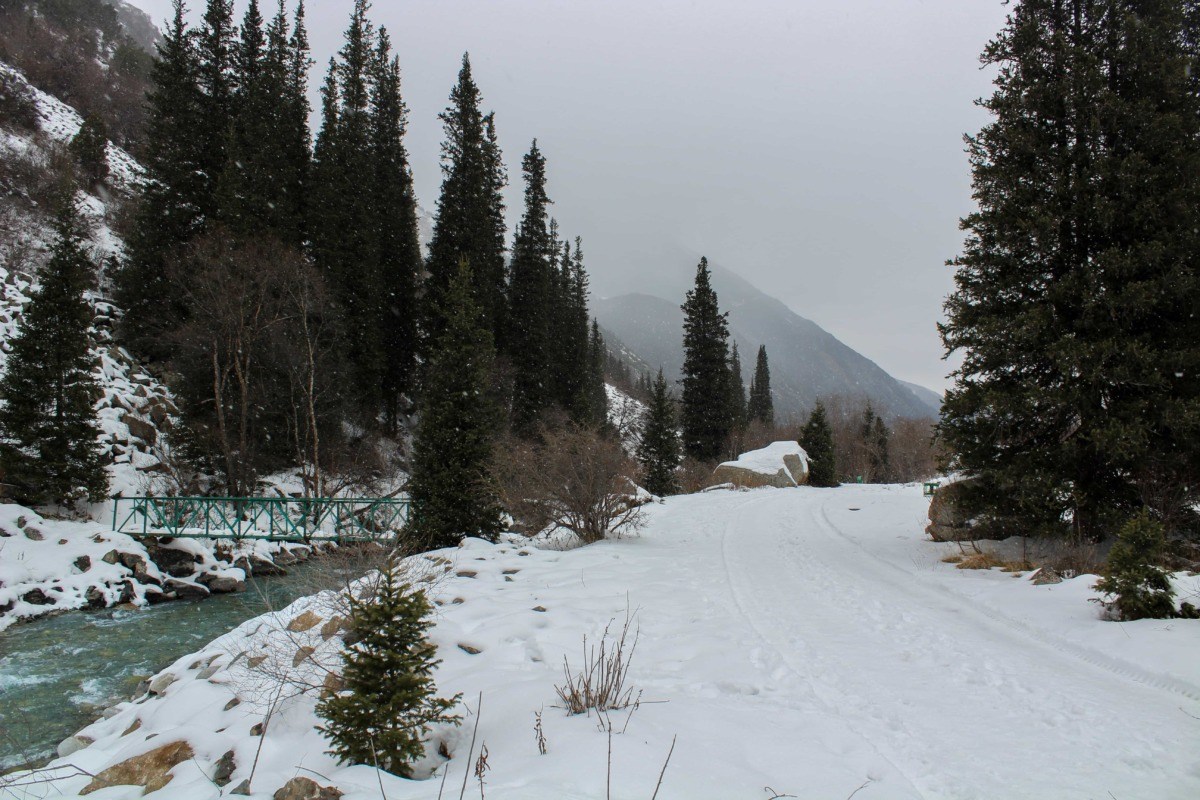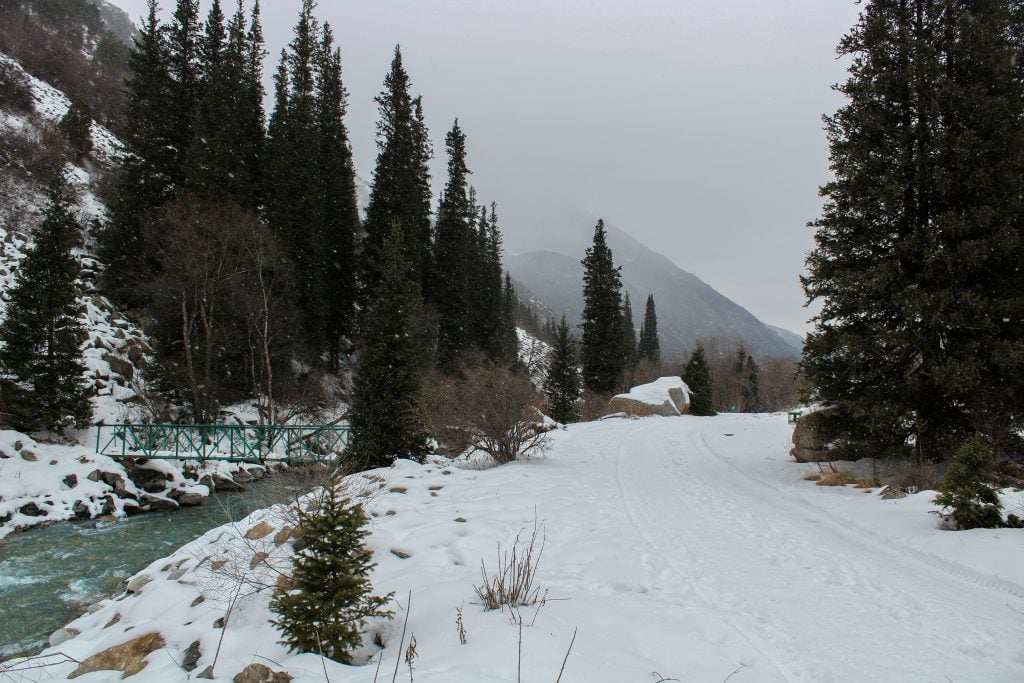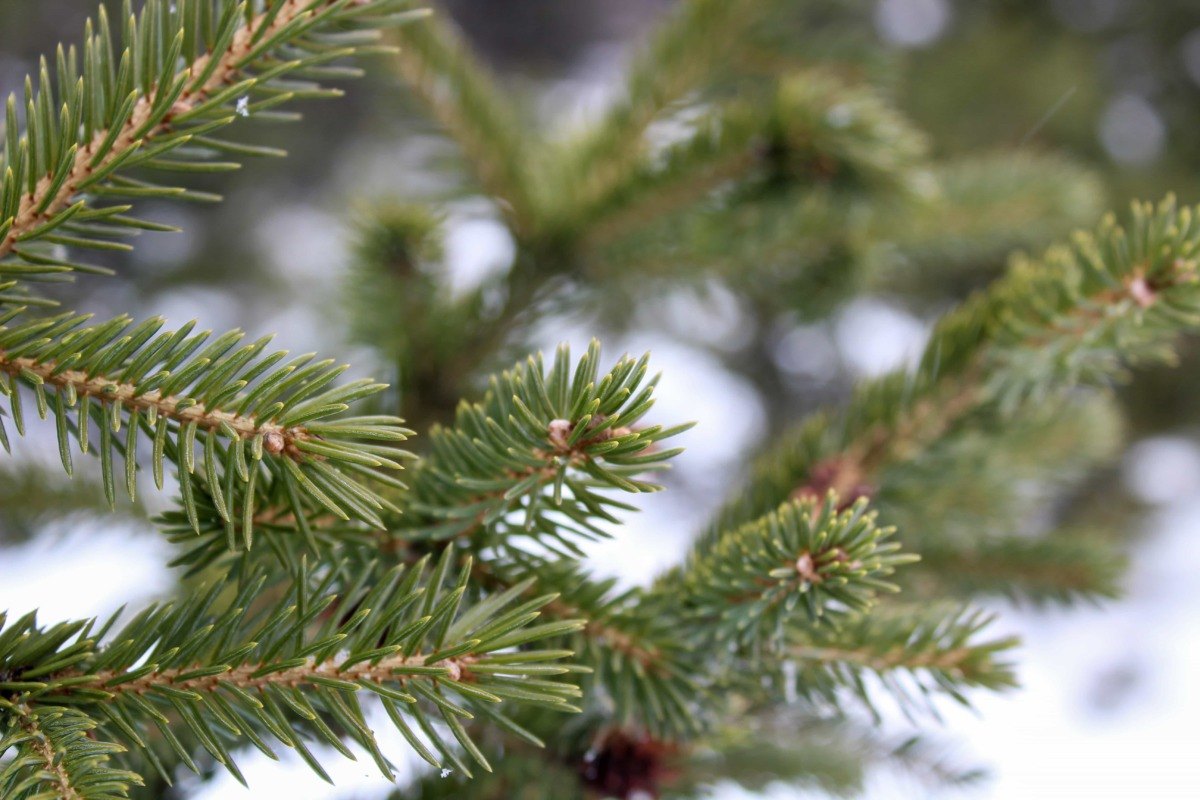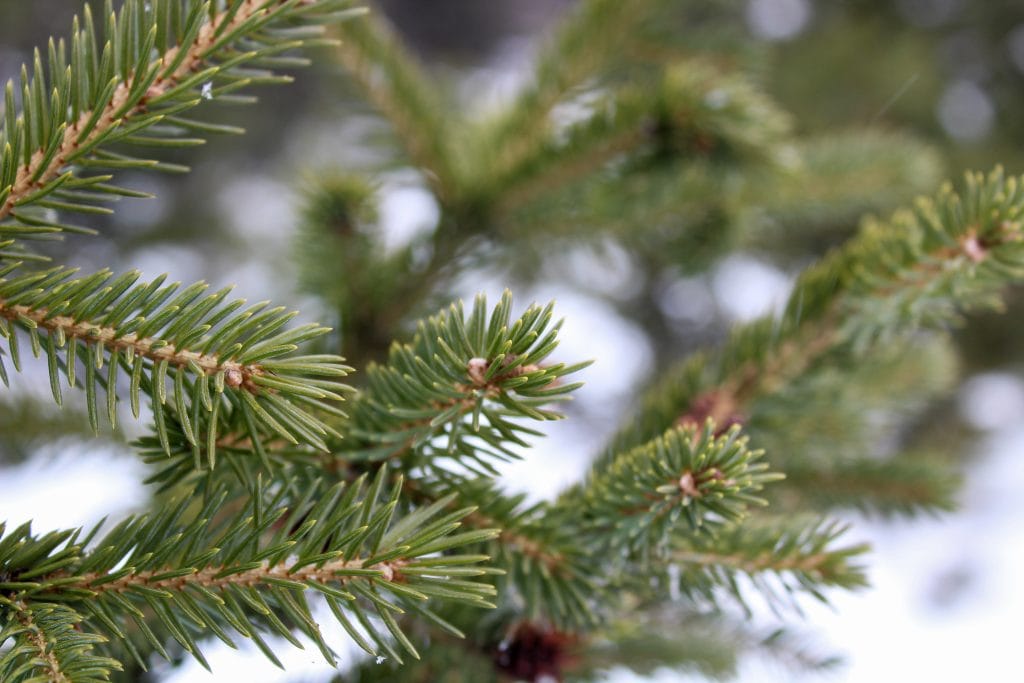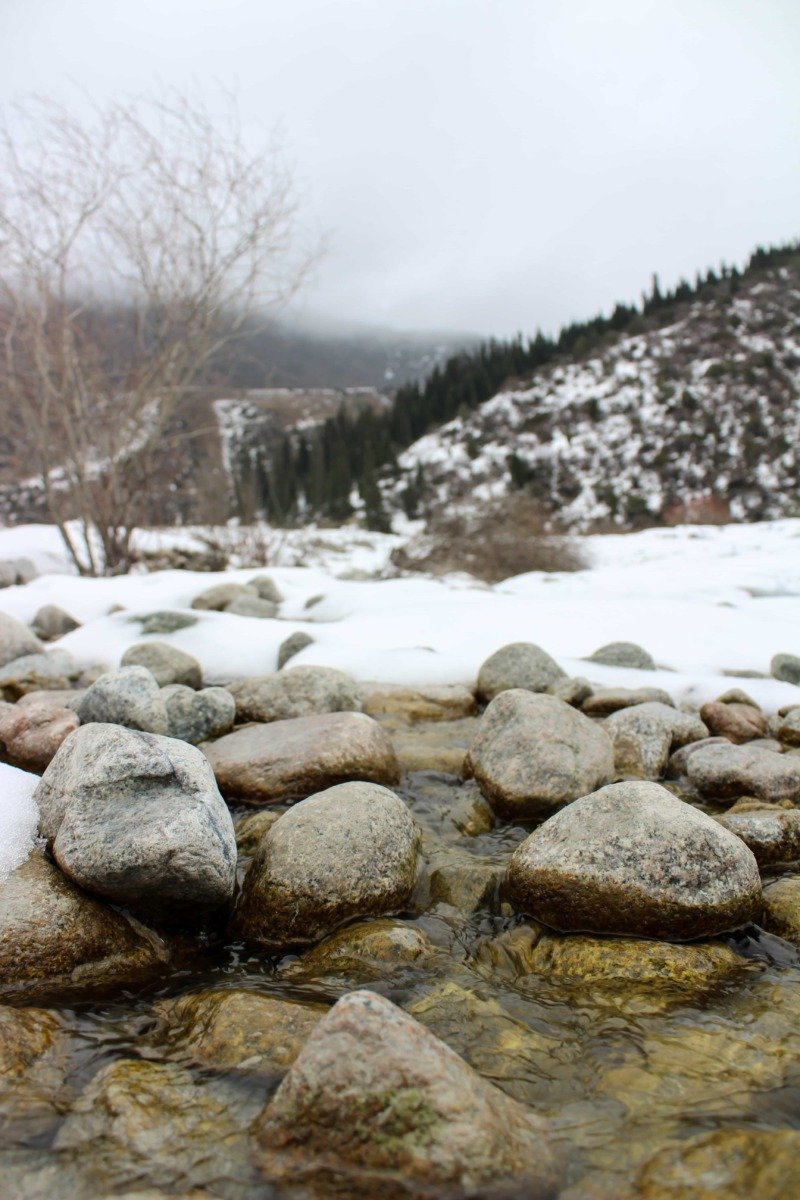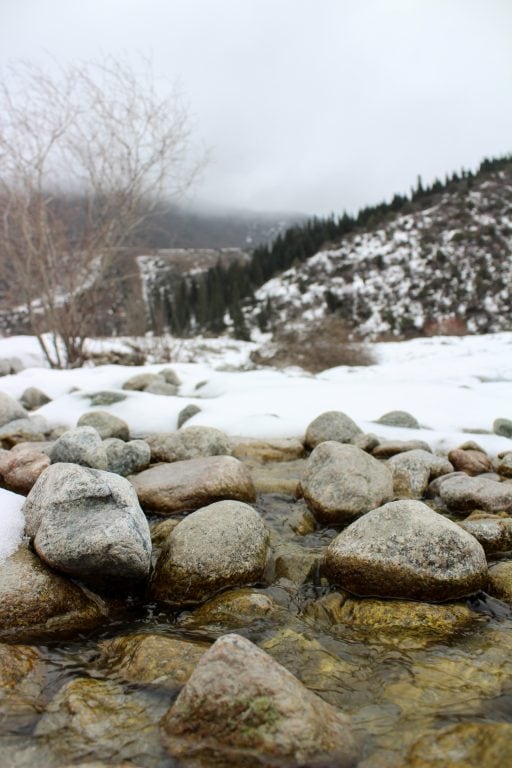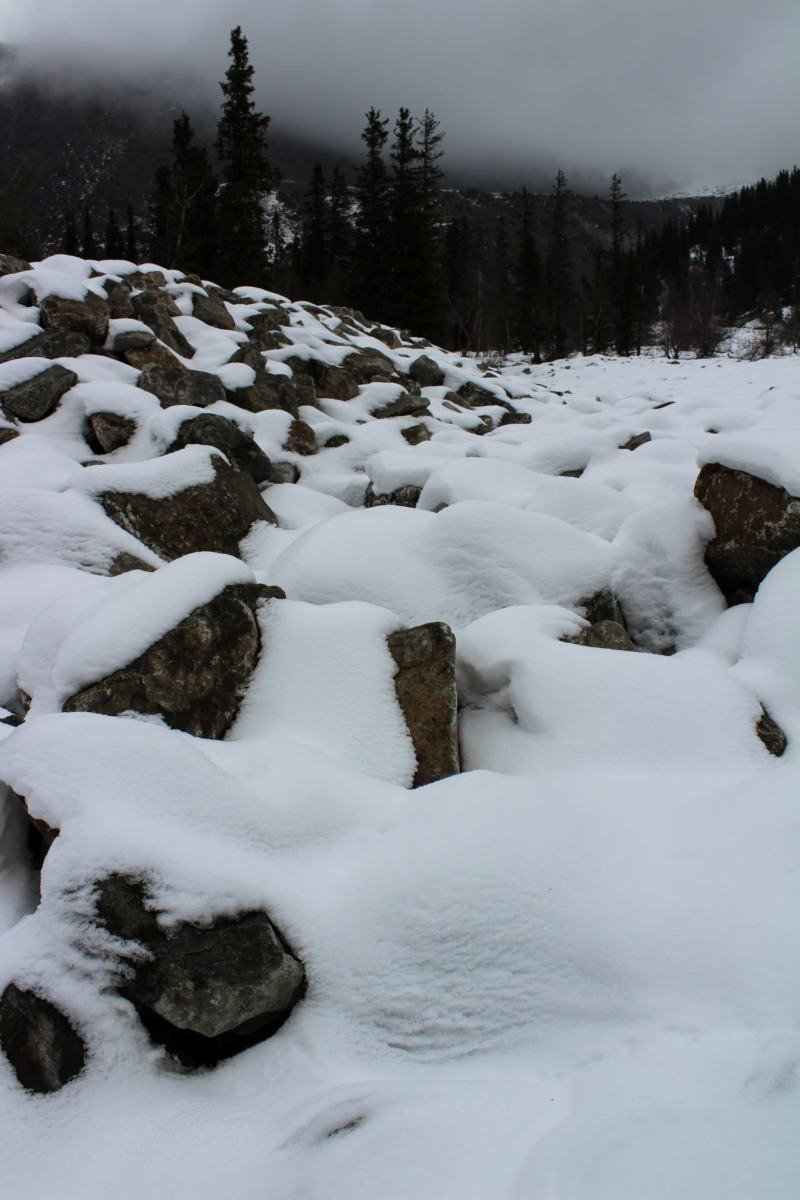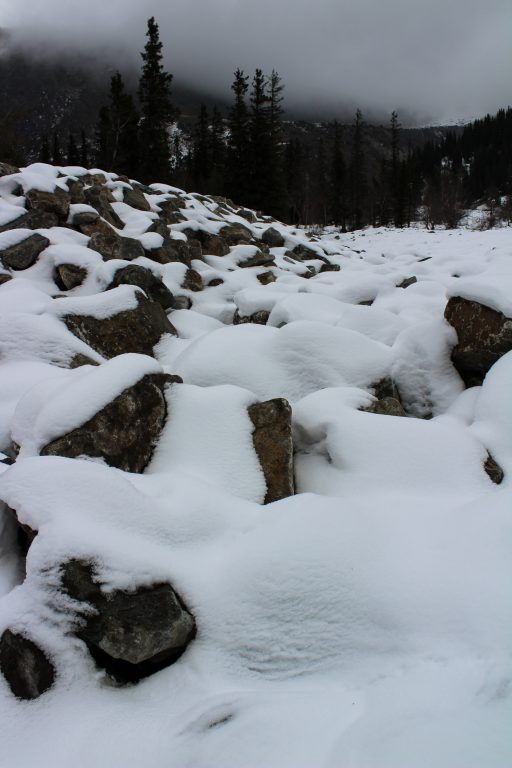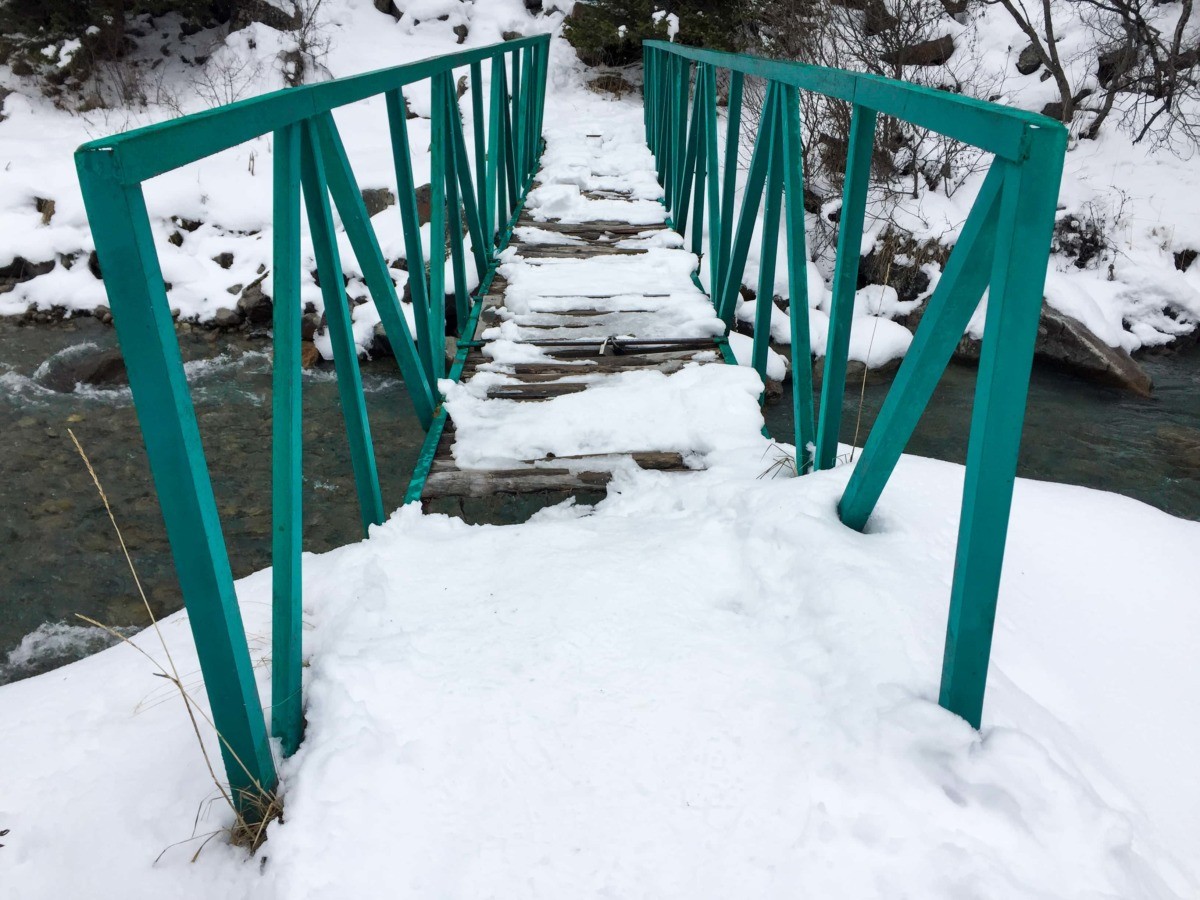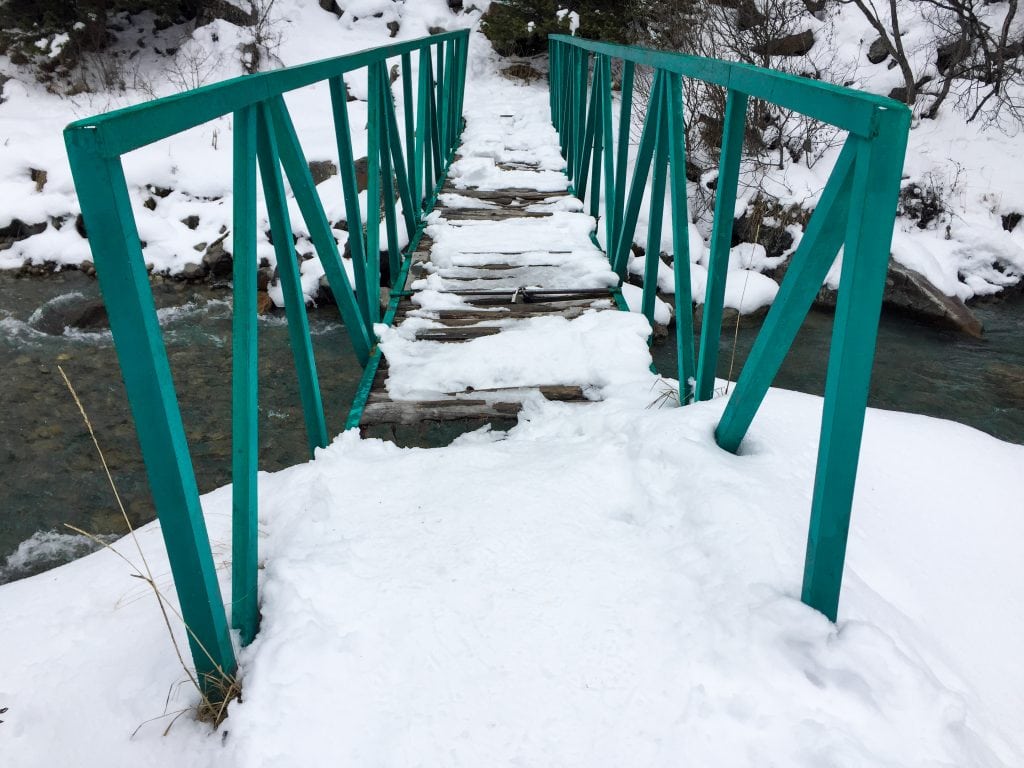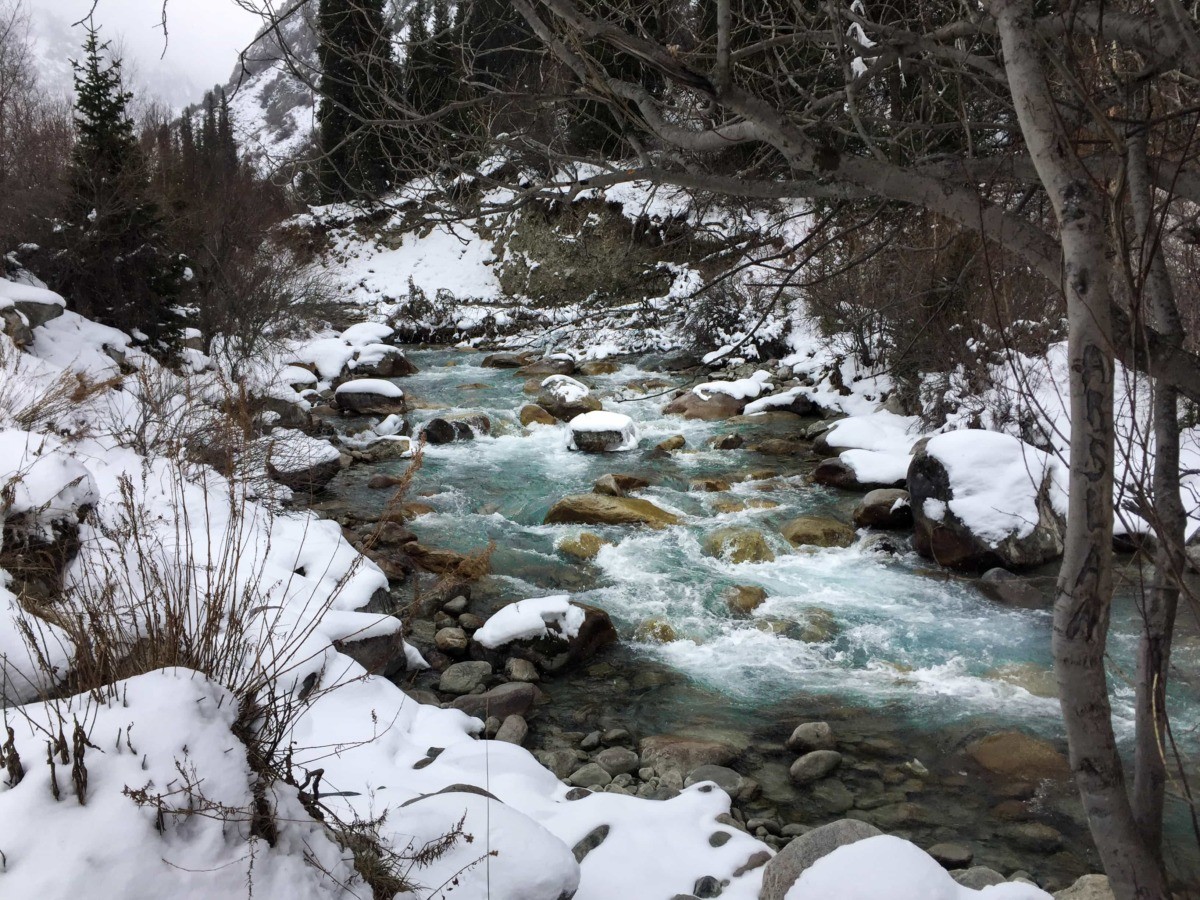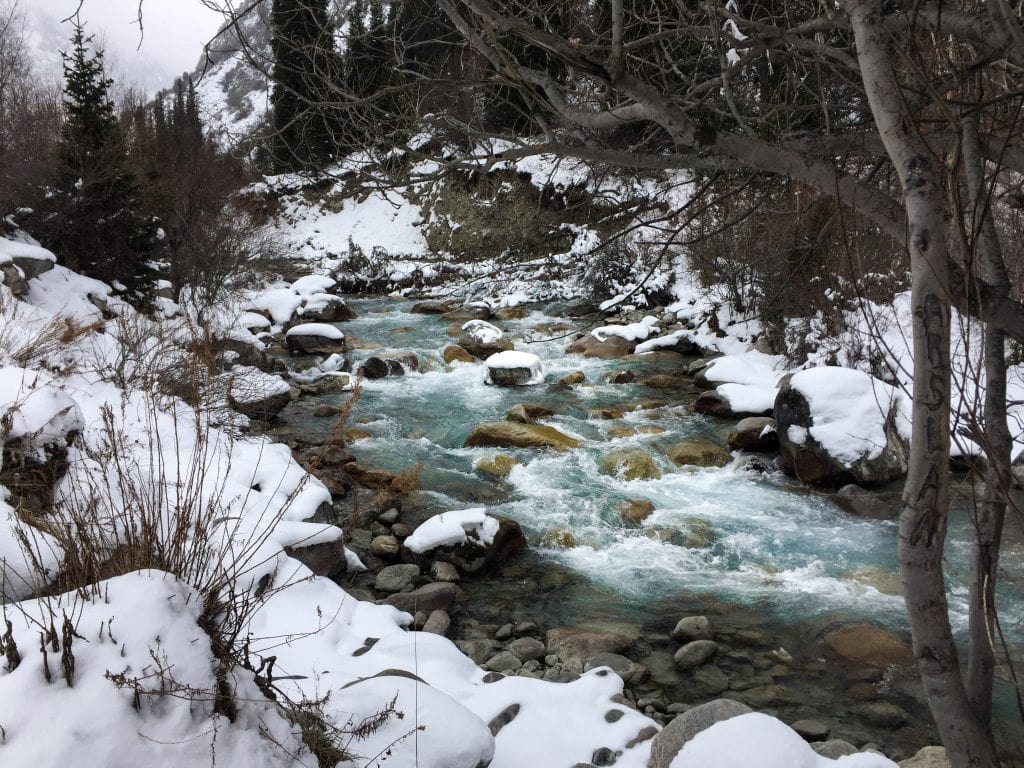 About twenty minutes into my hike, I ran into a small group having a picnic by the river. As I was getting close to the river to take a photo, the group smiled at me and invited me over.
I moseyed on over and they immediately handed me a shot of cognac to warm me up. The group consisted of three Russians named Vera, Anatolii, and Igor and a Kyrgyz man named Adilet.
The Russians were from Moscow and had been in Bishkek for a post-Soviet conference for the arts community. They were all artists and were about to catch their flight back to Moscow a few hours later, but wanted a dose of the alluring Kyrgyz nature first.
They spoke fantastic English and we chatted for quite some time. Five shots of cognac and many cheers to 'health' and 'meeting again in the future' later, they packed up their picnic and left for the airport.
It's not easy cooking food when backpacking or hiking, so I grabbed some of the leftovers and shoved them into my bag.
That group reminded me of how fortunate I was to have the opportunity to travel and meet such altruistic and fascinating people. I am certain I will meet up with them in the future on my next trip to Moscow.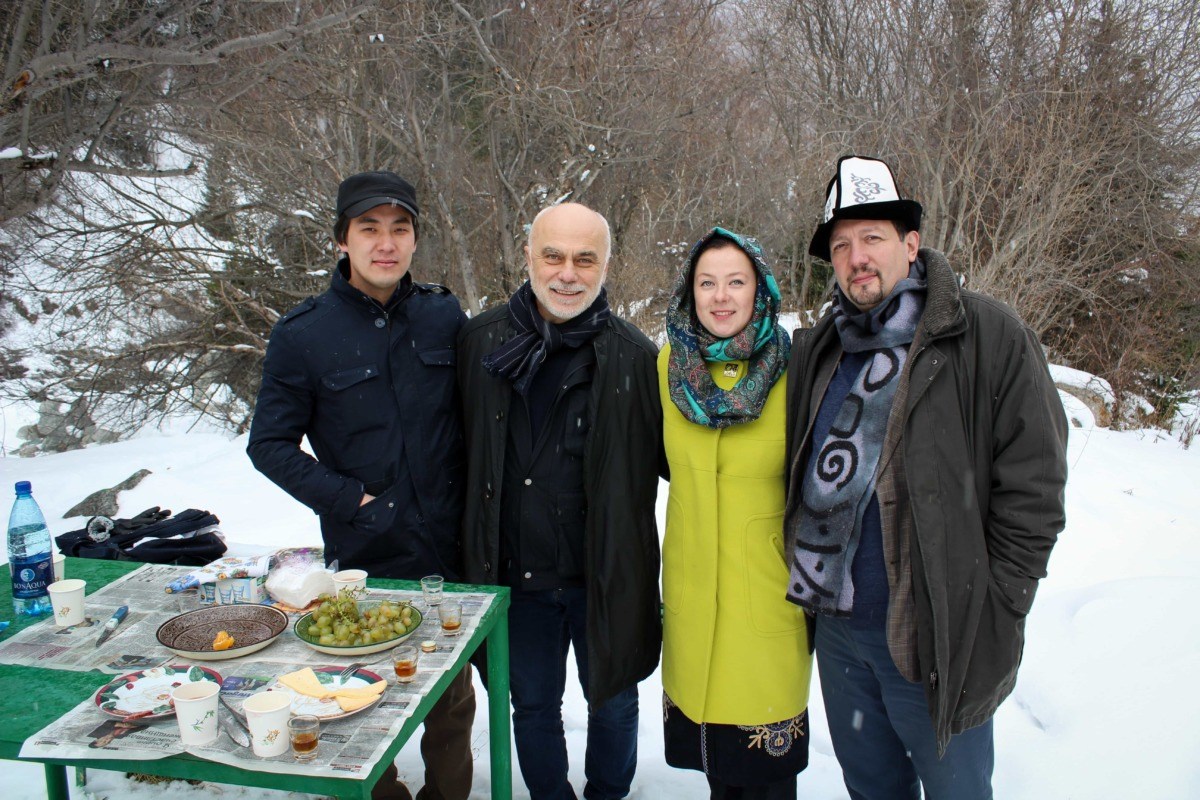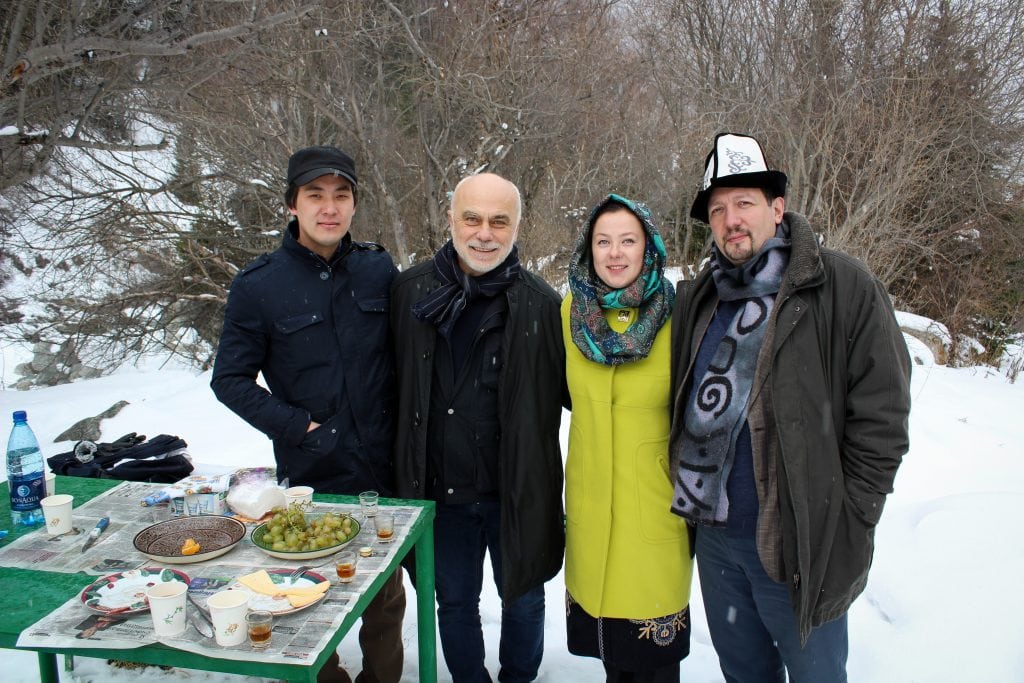 <How beautiful is Vera's scarf??>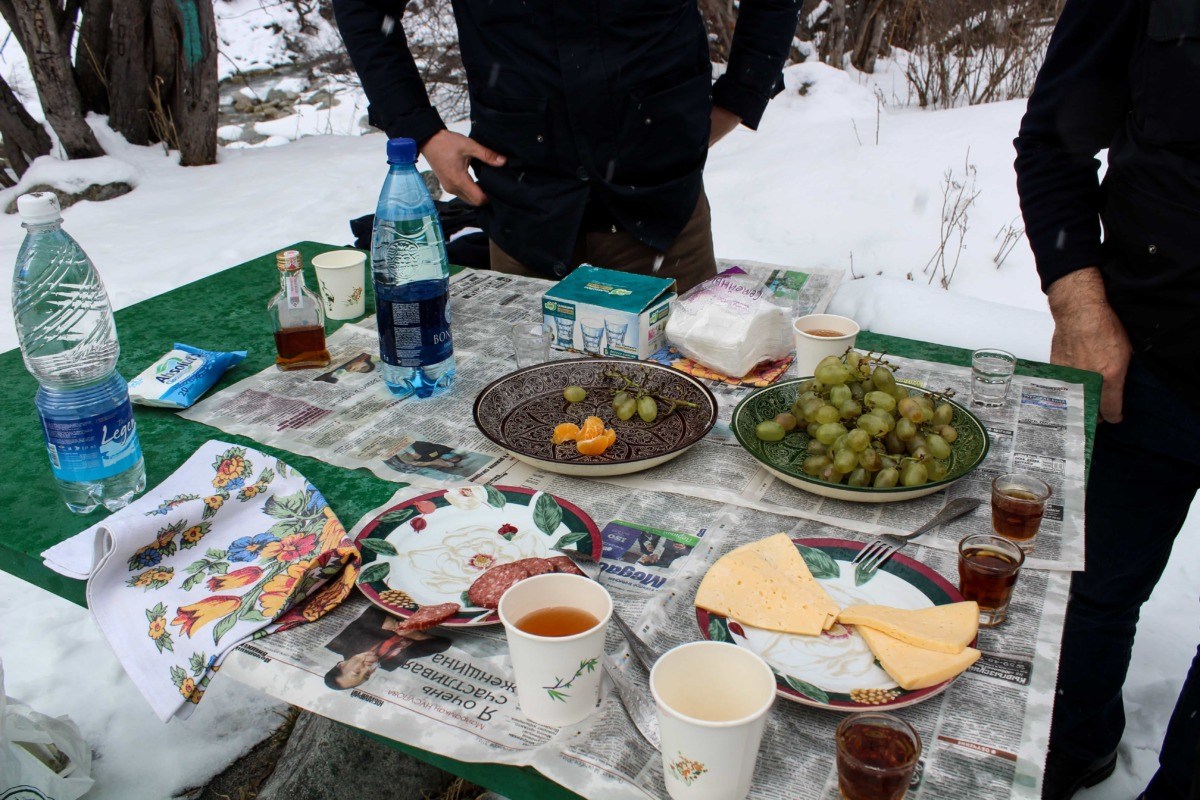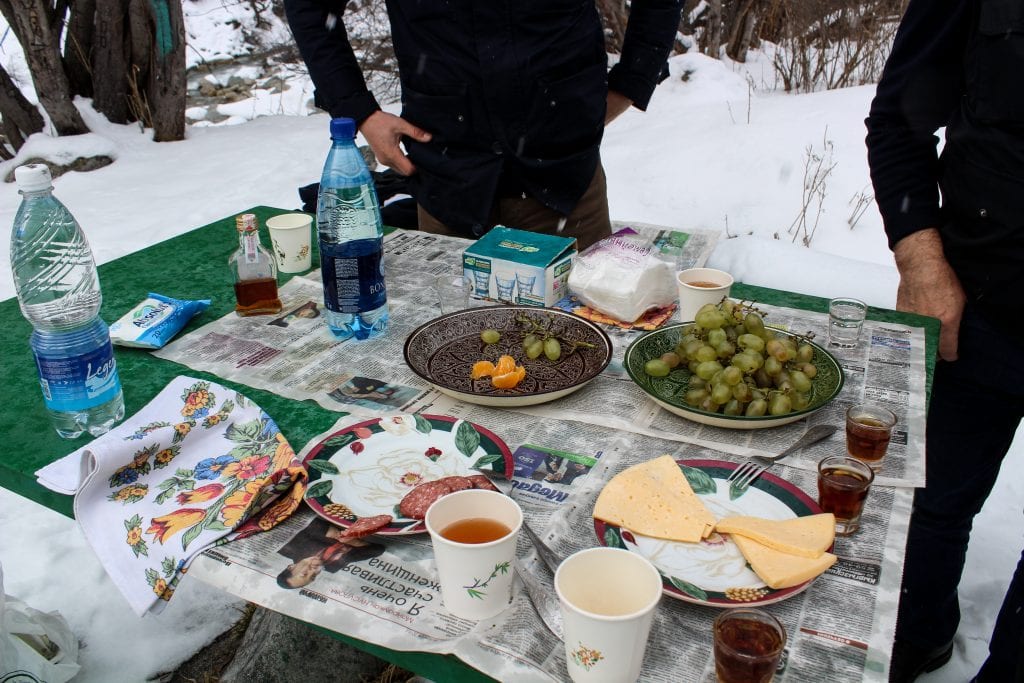 I was alone in the wilderness once again and strolled along admiring the breathtaking scenery. I walked for two hours (the trail wasn't that long, but I was moving at a very sluggish pace) and slowly felt the nature bringing me back to life after spending so much time imprisoned in the city.
During that time, I only ran into one other traveler, a friendly guy named Mohammed, who lived in Dubai. An American passport holder who was born in San Francisco but grew up in Saudi Arabia, Mohammed and I chatted for a bit at the end of the hike and he left the park.
I decided to head into the lodge at the gate and have a beer to celebrate such a wonderful day (and rid my breath of any residual cognac).
The Bulgarian lady had earlier informed me that the lodge could call me a taxi to take me to the first gate so I allotted myself an hour of hanging out there before having to leave to catch my marshrutka at the first gate. I enjoyed a beer and asked them to call a taxi. Puzzled, they said they couldn't do that. Shit.
After asking everyone inside the lodge and all saying they were unable to call one for whatever reason, I decided to walk and hitchhike once again. I opened up Google maps only to realize that the walk was not seven kilometers, but rather about twelve to fifteen. Shit. Again.
I had two and a half hours to make my way to the bus stop if no one picked me up. I could do it, but the scenery surrounding me made it very, very easy to dawdle time. I tried hitchhiking with the first car I saw and they sped past me, leaving me slightly panicked. The sight of cars or a chance of getting a lift back was becoming more and more scarce.
I had to book it to get to that bus stop as the 1730 bus was the last bus of the day. I walked for about 6.5 kilometers (4 miles) and finally, a car pulled over and asked me if I needed a ride.
I was so thankful to see them and hopped into the SUV to meet Erkin and Andre, two Kyrgyz guys, and their friend, Dmitry, from Belarus.
Instead of taking me to the bus stop, they said it would just be easier to give me a lift back to Bishkek as they were making a stop there prior to taking Dmitry to the airport to head back to his current home in St. Petersburg.
They refused payment and were just excited to converse in English with someone as they said it made their day a little more random and exciting.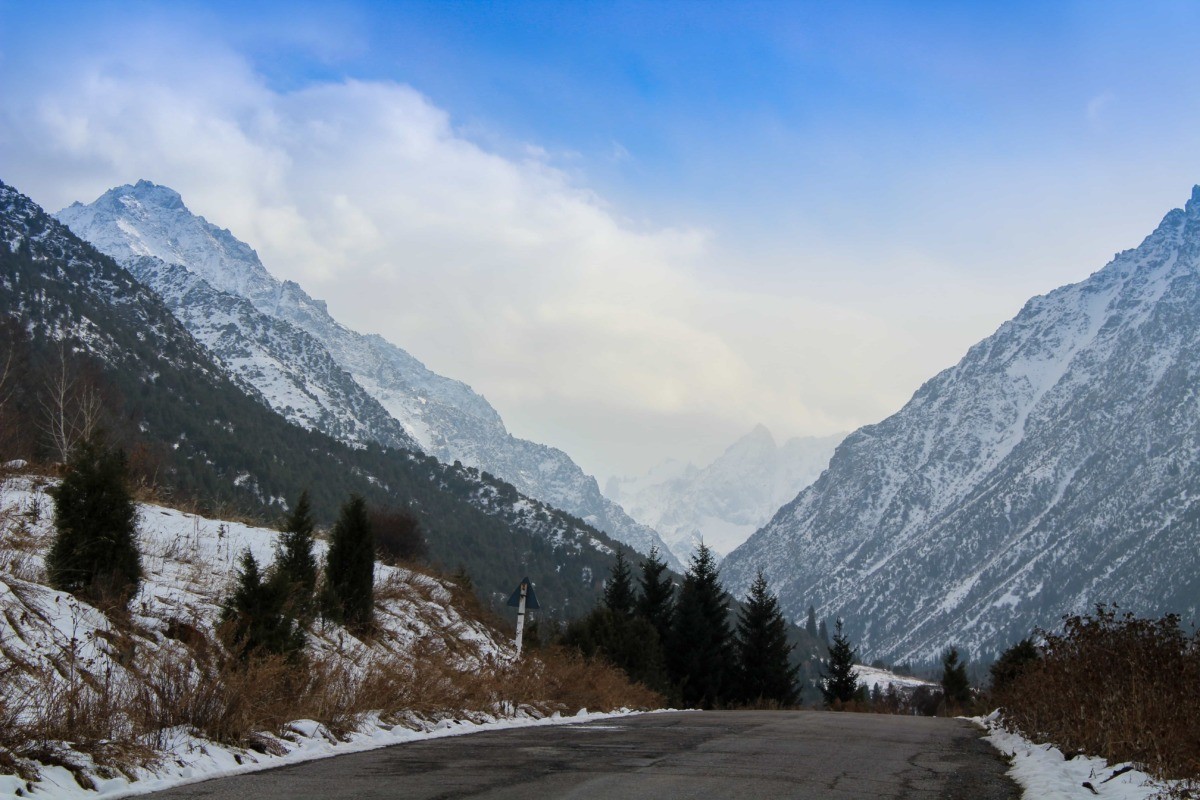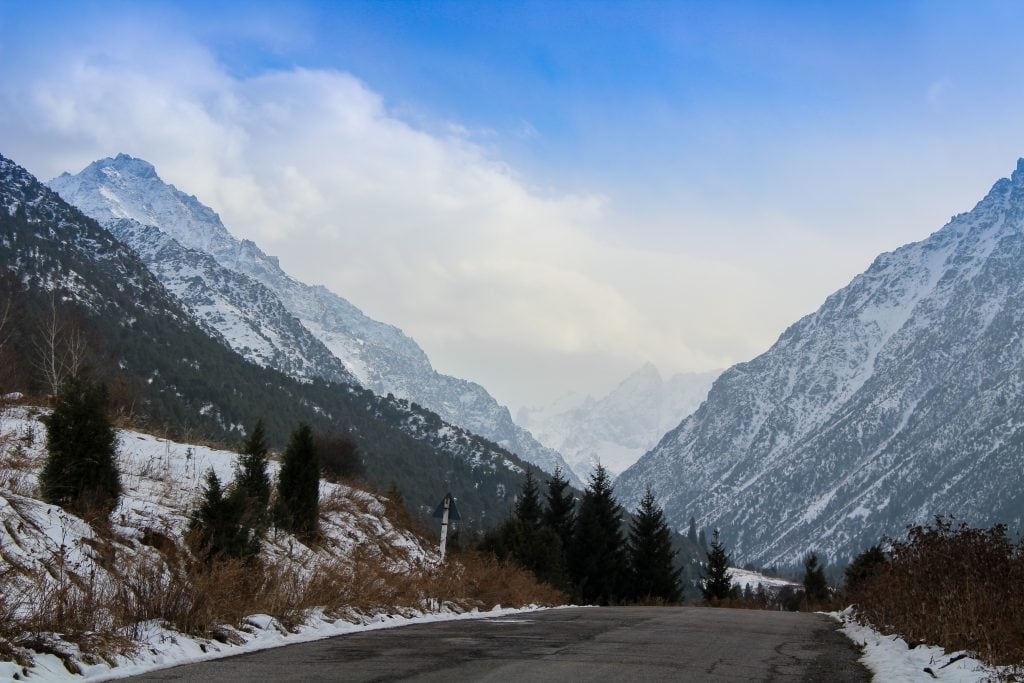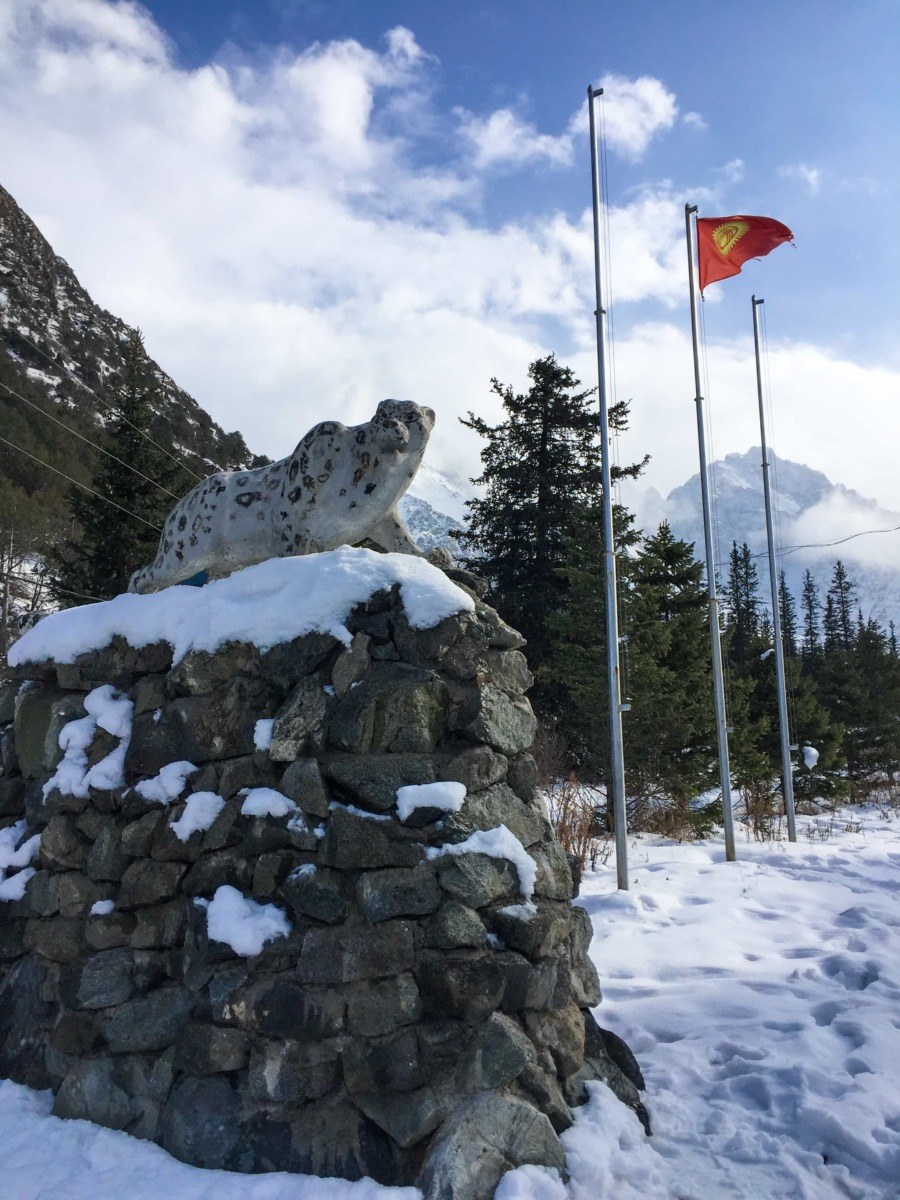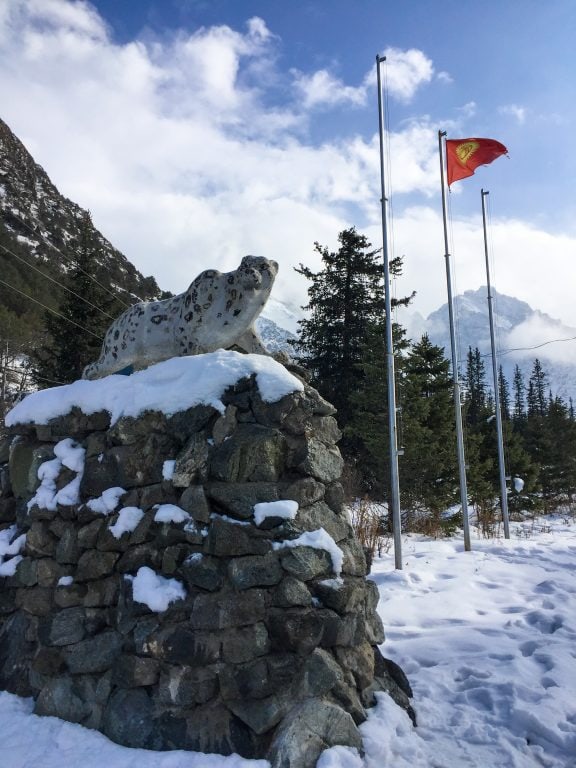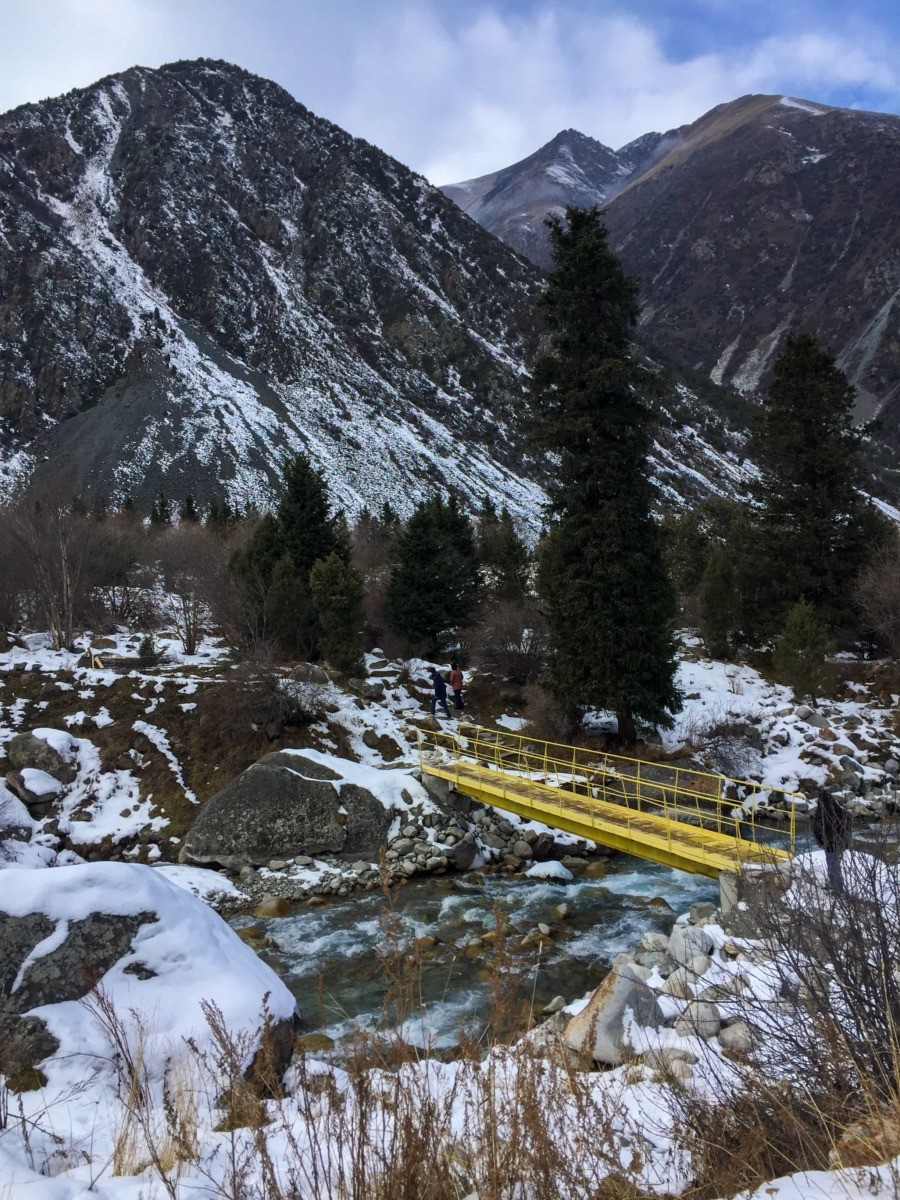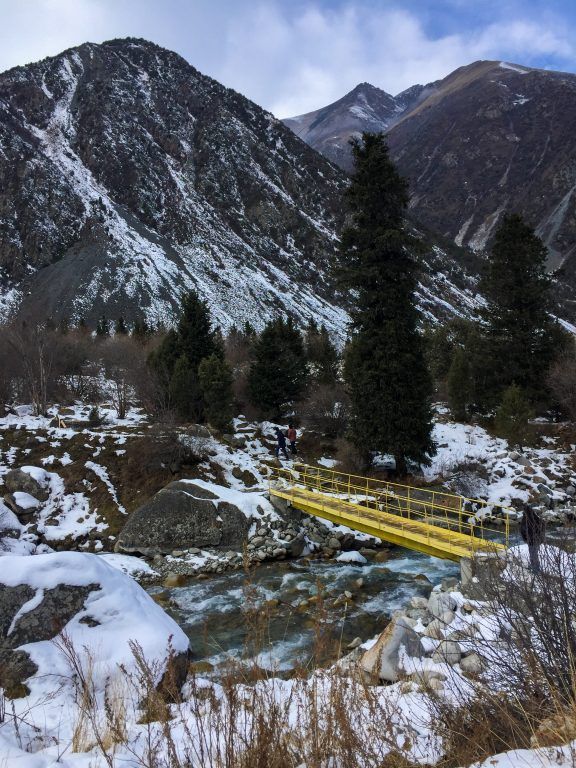 <It breaks my heart that that statue of a snow leopard was the only one I saw on the hike>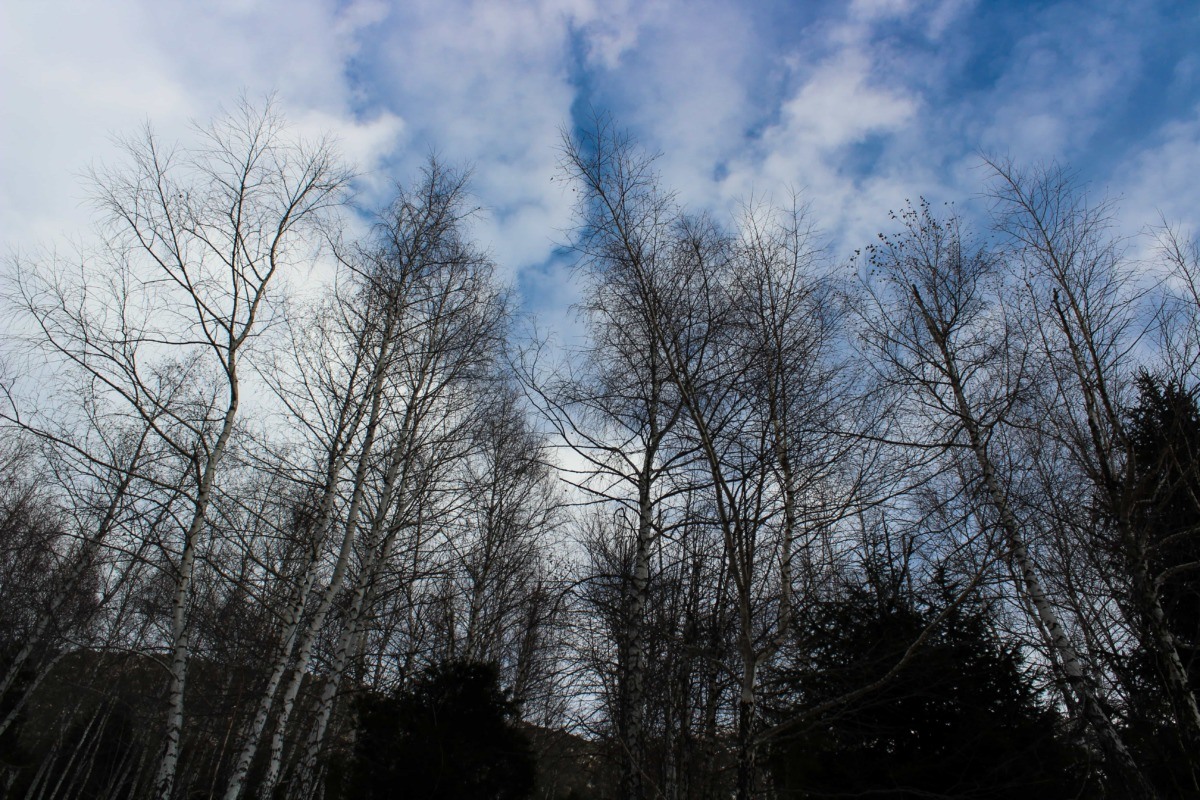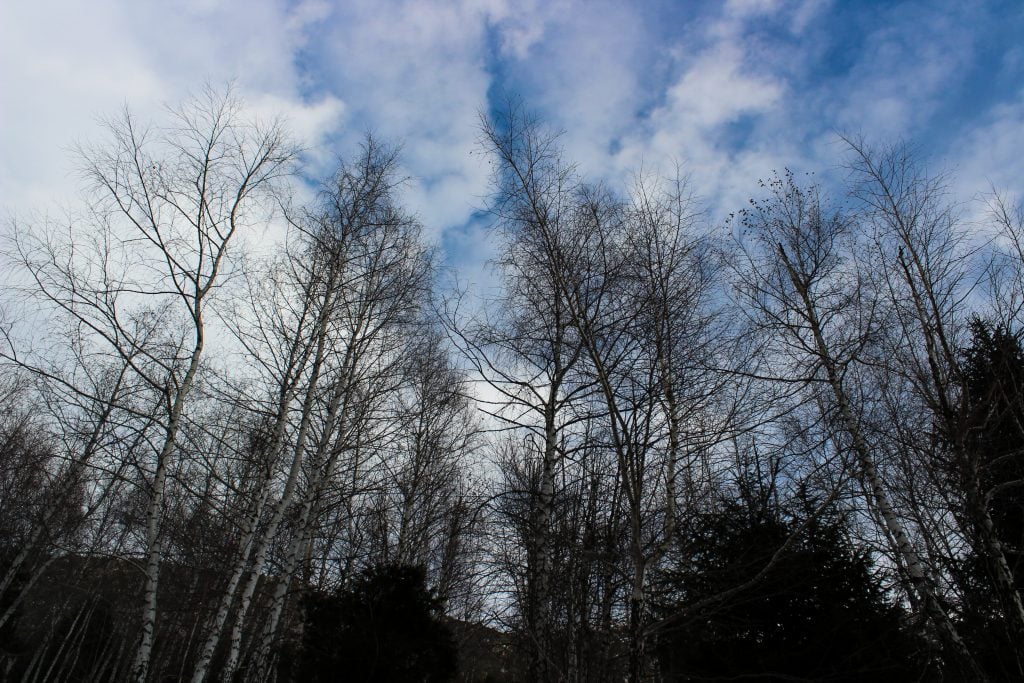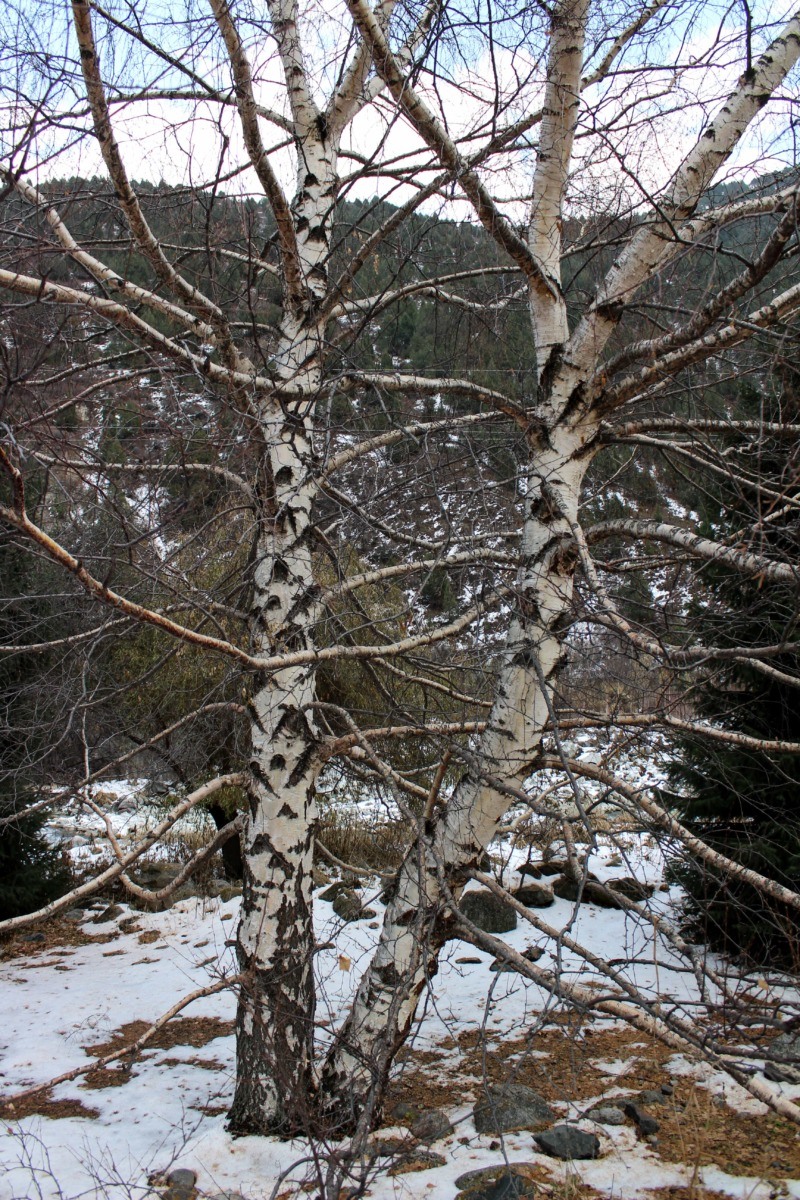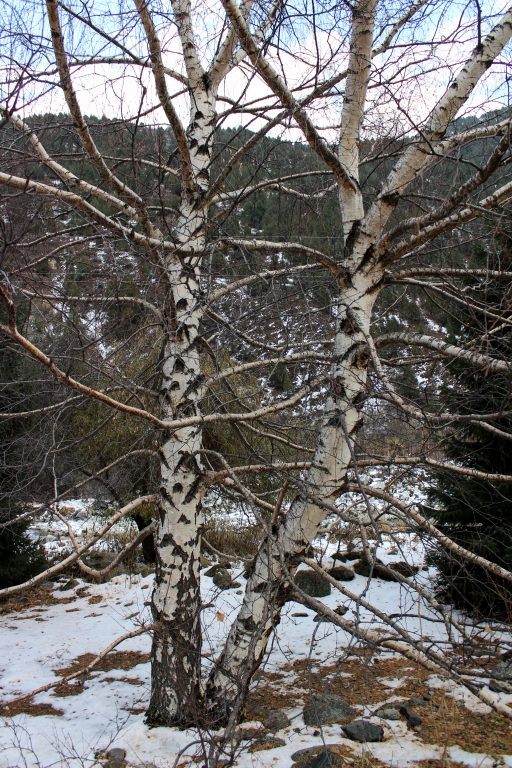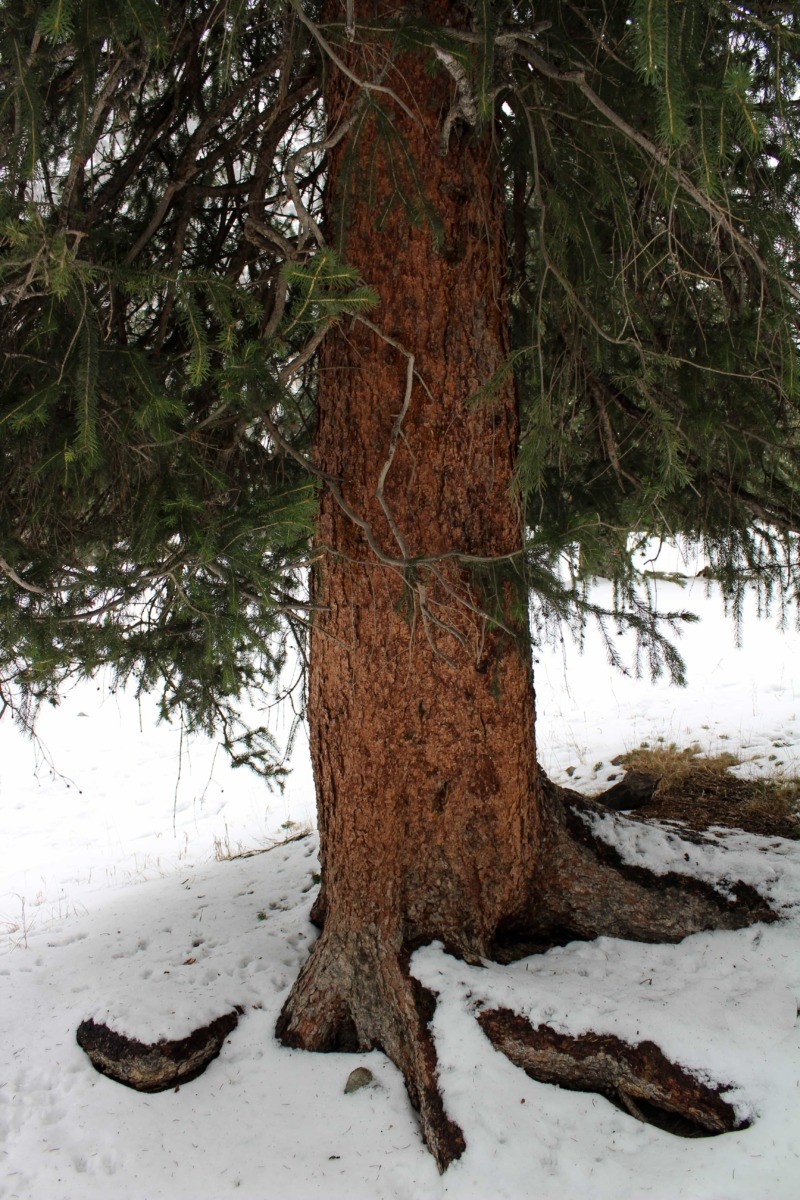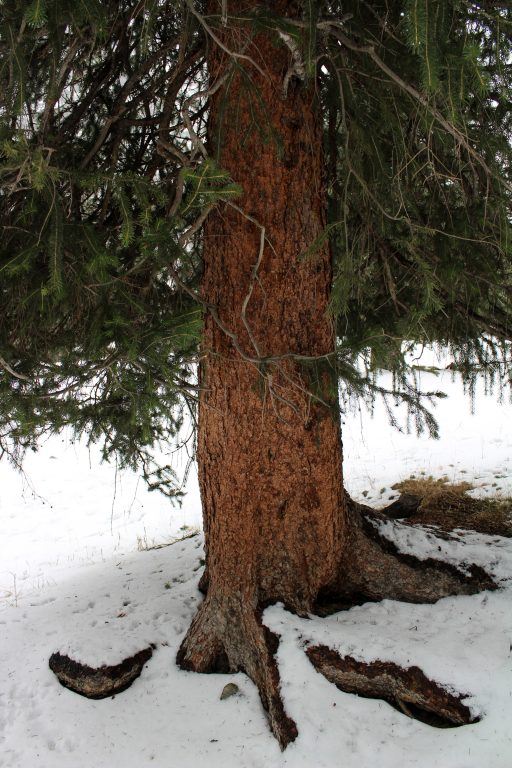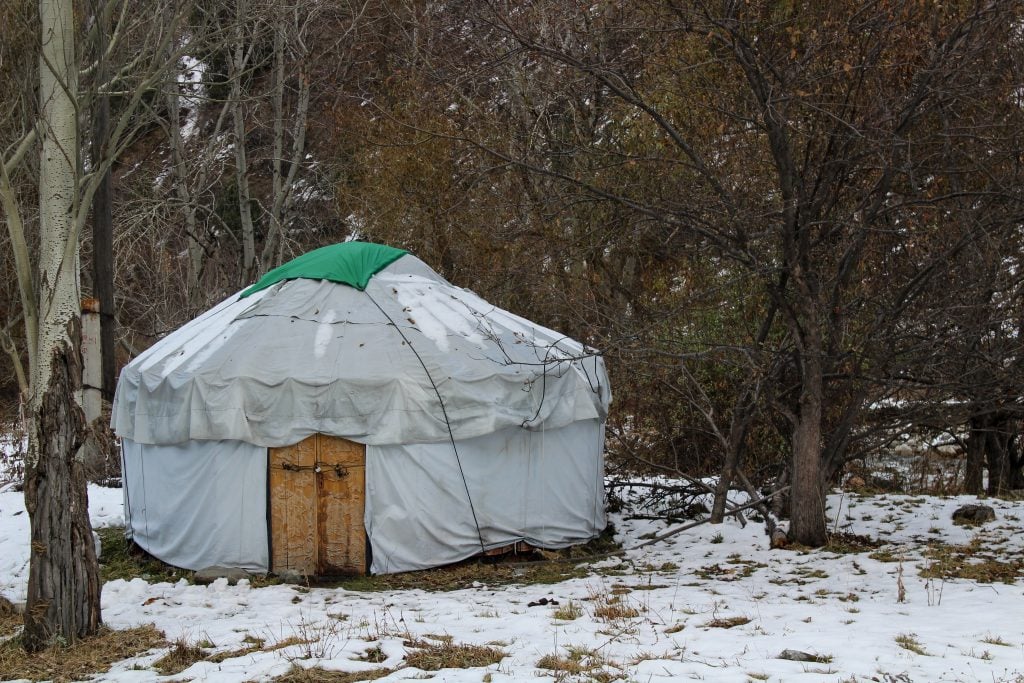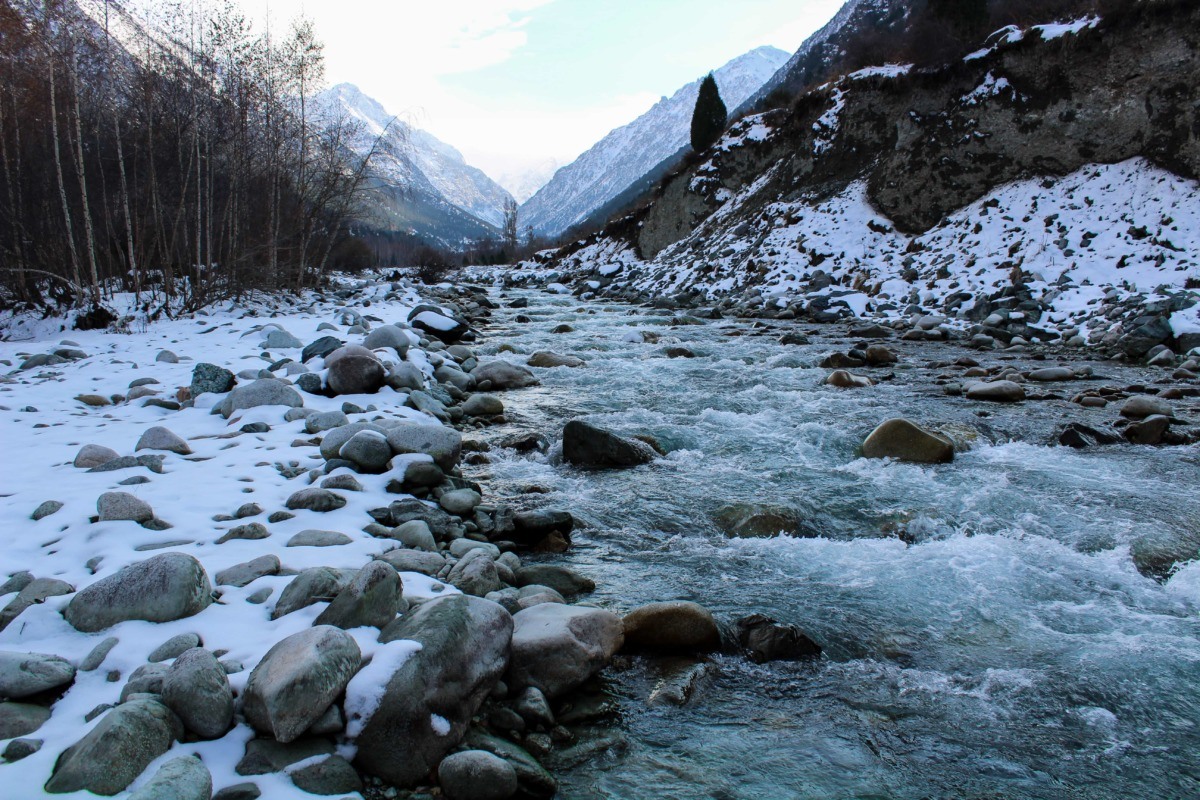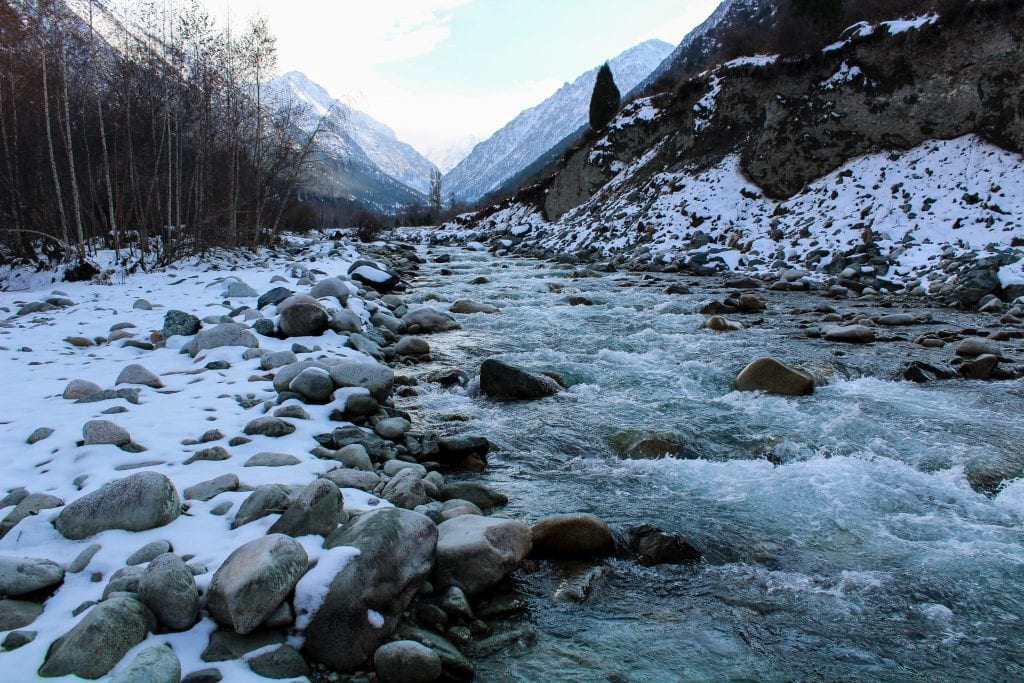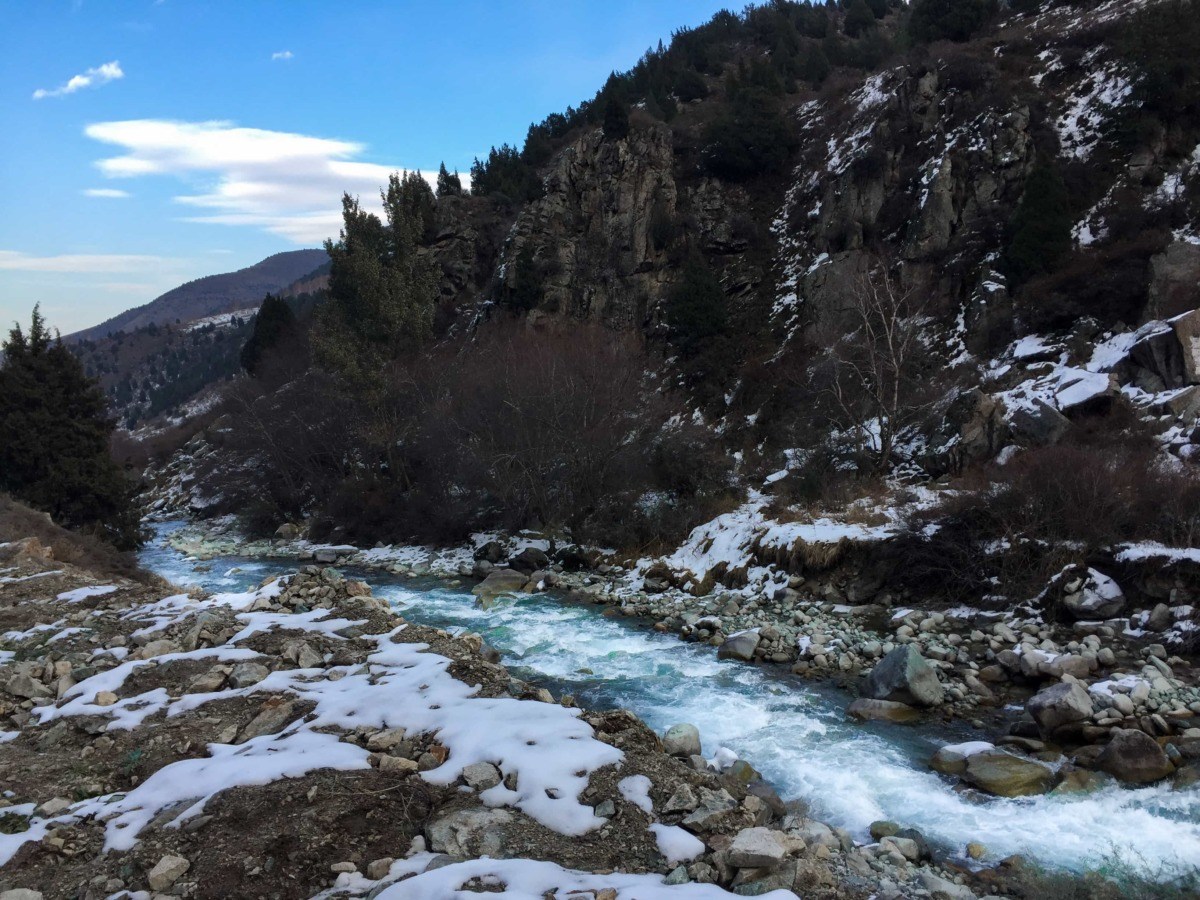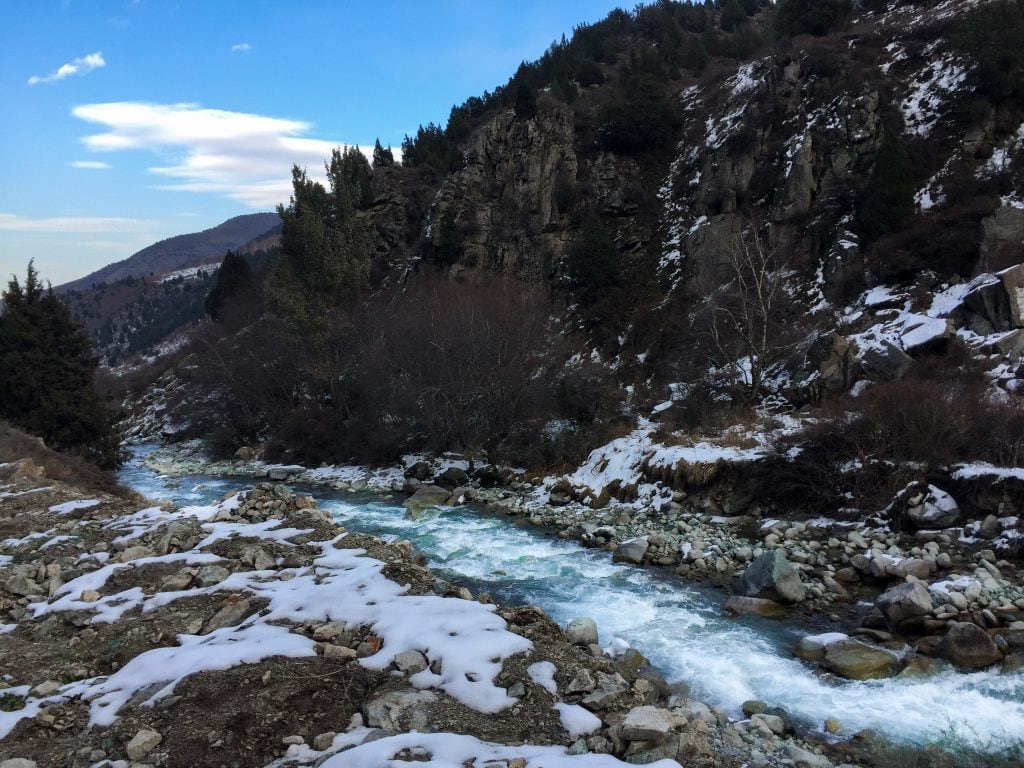 <once the sun came out, the water began to take on a teal hue>
I was dropped off in Bishkek close to where I was staying and was absolutely beat. But… what a great freaking day. Transportation didn't go according to plan, but hey, that's travel.
I met some lovely people and felt so rejuvenated after the plenteous amount of fresh air. Ala Archa National Park is an absolute must for those visiting Bishkek.
Getting to and From Ala Archa National Park from Bishkek
Marshrutkas (number 265) leave Bishkek near the Osh Bazaar at 0800 and 1050. I suggest you to not take anything later as you will be deprived of time in the park. Ensure that the marshrutka goes to the gate, though.
You can also ask the driver if you can pay extra to get a lift to the second gate to avoid the long hike from the first gate). They will probably say no, but you never know.
If you catch Marshrutka 265 outside of these times, it will probably stop in Kashka Suu… but for an extra 50 soms, it may still take you to the first gate. The usual cost is 50 soms.
You can also take taxis from the city, but it will be more expensive. Many taxi companies will charge you around 2000 soms ($30), but the Bulgarian woman I met along the way said she had one lined up to take her (and pick her up) for 700 soms (about $10). I stupidly forgot to get the taxi company information from her.
To return from Ala Archa National Park, you can catch a marshrutka nearly every three hours at the first gate. They leave at 1200, 1500, and 1730. The 1730 marshrutka is the last one! Do not miss it.
The Trekking Union of Kyrgyzstan also has arranged trips for affordable prices to Ala Archa. To see additional information, check out their website.
Practical Information about Ala Archa National Park
To enter the park on foot, you will be charged 80 soms (although I was only charged 50 soms). There are two trails- an easy one and a more challenging one. The easy one goes to the right and is well-marked. This trail takes you alongside the stunning river and towards the rocky gorge.
The left trail takes you up the mountain a bit and you can see the waterfall and glacier from this one. The left trail is apparently an easy hike if you're used to hiking and are dressed properly for the occasion.
What to Bring for a Day Trip
Bring decent shoes! Also, bring extra clothing as it can get a bit cold on the hike. If you're hiking the easier trail in the winter, it would be smart to wear waterproof shoes as you may need to step through some of the glacier runoff in the gorge. Five shots of cognac gave me the genius idea to just step through it with my Nikes, leaving my toes frozen solid for a while afterward.
Aside from the lodge at the beginning, you will have no other options for purchasing food. It is cheaper and more practical to bring your own food and water with you.
I plan to head back to Ala Archa National Park when my partner comes to visit in a few weeks and he will bring me proper clothing and shoes from Germany. Our goal is to hike the left (more difficult) trail.
If we succeed, I will update this post to reflect any new revelations or information. (Update: I never went back to Ala-Archa, but I did make it to Issyk-ata Soviet Sanatorium instead!)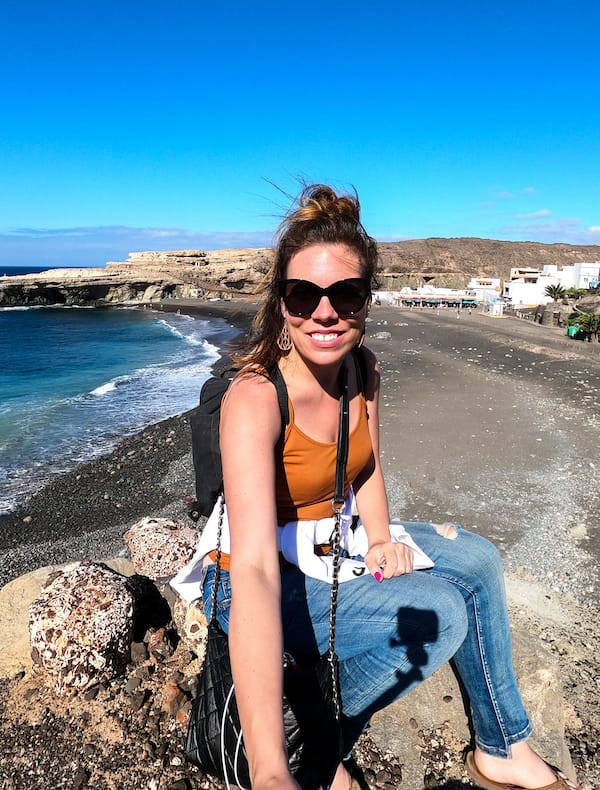 Megan is a travel blogger and writer with a background in digital marketing. Originally from Richmond, VA, she now splits her time between Frankfurt, Germany and Arctic Finland after also living in Norway, Armenia, and Kazakhstan. She has a passion for winter travel, as well as the Nordic countries, but you can also find her eating her way through Italy, perusing perfume stores in Paris, or taking road trips through the USA. Megan has written for or been featured by National Geographic, Forbes, Lonely Planet, the New York Times, and more. She co-authored Fodor's Travel 'Essential Norway' and has visited 45 US states and 100+ countries.