If you're looking for the best Almaty hotels and hostels, this guide will have you sorted. After living in and out of hotels in Almaty for years, I have picked some of my favorites and ones I think you should consider as your Almaty accommodation. This is a guide of where to stay in Almaty for all budgets and types of travelers.
Best Almaty Hotels and Hostels: Where to Stay in Almaty for All Budgets
Almaty is the largest city in Central Asia and the former capital of Kazakhstan, and most importantly (for me, at least), it is one of my favorite cities in the world. The large metropolis sits on the ancient Silk Road and the influence of various cultures over time have left their mark, creating a vibrant and international city.
Almaty is located at the foothills of the Zailiyskiy Alatau mountain range which makes up part of the Tian Shan range and stretches out onto the Central Asian steppe, making the city a gateway to some of the most beautiful natural spots in Kazakhstan and the world.
The city of Almaty is brimming with culture and has a solid international vibe to it. As you walk down the streets, you can see how the Silk Road has influenced the city, with the architectural styles reflecting the cultures that deeply impacted the region. There is also a visible presence of the former Soviet Union in the city, as you'll find stunning, Socialist Modernist buildings dotted the Kazakh city.
After a busy day of visiting Almaty and its surrounding nature, there is nothing you will want more than to put your head down in one of the city's many hotels and hostels. Over the years, I have found finding decent accommodation in Almaty difficult, which is always a problem when you have plenty of options in a city.
I have experienced Almaty hostels with 1002 rules that only apply to foreigners, Airbnb hosts that switch your accommodation an hour before to a more expensive one to try and make you pay the difference, and a plethora of other issues. However, I have also enjoyed stays in the surreal Kazakhstan Hotel and made friends for life in Parasat Hostel where I stay every time I visit Almaty.
To make things easier for you, I have compiled this guide of the best hotels in Almaty for all budgets, from luxury hotels to charming hostels. Here are the eight best options for where to stay in Almaty.

Luxury Accommodation in Almaty
Rixos Almaty Hotel
Centrally located in Almaty, the Rixos Almaty Hotel is one of the most luxurious and impressive hotels in the whole city. As you approach the building, you will be greeted with a striking facade that screams 5-star opulence. The interior aims to match and if not outdo the exterior with a stunning lobby and public area.
The rooms are spacious and modern with very comfy beds. They come fully equipped with aircon, large TVs, high-speed internet, and a desk. The rooms either have a city or garden view and you can choose the view you would like during the booking process.
The facilities at Rixos are outstanding and you'll find a huge spa and fitness center that contains a full gym, a giant pool, and Turkish baths. Every morning, the hotel offers a large breakfast buffet that is included in the rate of the room. In the evenings, there is a delightful restaurant that sells an array of international food or alternatively, you can enjoy the on-site bar that sells drinks until the early hours.
Rixos Almaty Hotel is centrally-located and many of Almaty's main sites can easily be reached by foot or by metro. There is a 24-hour reception and luggage storage is available for those who are not leaving until later in the night. The hotel also offers an airport shuttle for an additional charge.
DoubleTree by Hilton Almaty
The modern DoubleTree by Hilton is located directly in the heart of Almaty and is one of the newer luxury hotels in the city, having opened in June 2019. The superb 5-star hotel features large, spacious rooms that are a high standard and feel incredibly new and homely. Each room comes with modern appliances such as a TV, iron, kettle, and an aircon to help escape the heat in high summer. High speed WiFi is also available in each room and throughout the hotel.
The hotel itself has excellent facilities- from a great breakfast buffet that can be purchased at an additional cost if not included in the room rate. There is also a state of the art fitness facility, along with a stylish indoor pool where you can take a swim or simply relax on a lounger by the pool. In the evenings, enjoy a drink in the hotel bar or on the large terrace during the summer months.
DoubleTree by Hilton is centrally located and a short walk away from Almaty's coolest spots. There is a 24-hour reception and luggage storage is available if you plan to spend the day in the city before catching your flight home.
InterContinental Almaty Hotel
The gigantic InterContinental Hotel in Almaty is a beautiful place to stay in Almaty. The imposing glass-fronted building hosts plenty of stunning high-end rooms. The immaculate rooms all come with all the necessary features such as an iron, mini-fridge, and televisions. The beds are large and extremely comfortable, allowing for a great night's sleep.
In the evening, take time to enjoy the bar and restaurant located in the hotel and relax in comfort after a long day spent exploring this gorgeous Central Asian city. There is also a fitness center that is free to use, which includes an amazing pool where you can do lengths or simply float and rest in the perfectly tempered water.
The hotel is located in central Almaty and you can easily reach many of the main sites.

Mid-Range Hotels in Almaty
Novotel Almaty City Center
The Novotel in Almaty city center is a brilliant example of affordable accommodation in the city. The 4-star Almaty hotel is modern and sleek, having only opened in 2019. The property is to the higher end of the mid-range scale, but the contemporary designs of the rooms and amenities make it worthwhile decision. The rooms are comfortable and stylish and include everything you could want from a hotel room. The bathrooms are sleek and include a bath/shower combo.
The on-site fitness center has a beautiful pool that is known to now be one of the best in the city. Breakfast is available in the hotel, although it is not always included in the room rate. In the evenings, there is an on-site bar and restaurant if you are feeling a bit too tired to venture into the city.
One of the biggest advantages of the Novotel Almaty is that there is parking available, so if you are thinking about renting a car but are worried that you will not have a place to keep it overnight, this is the perfect hotel for you. The hotel has a 24-hour reception, luggage storage, and for an additional charge, you can arrange airport transfers.
Kazakhstan Hotel
Kazakhstan Hotel is one of the most renowned examples of Socialist Modernism in Almaty. The imposing building has a grand facade with a large crown design on the top. Upon entering the large lobby, the grand designs of the outer building give way to a chicer, albeit outdated building.
On the top floor of the hotel is one of the best bars in Almaty for its view alone (was under construction in October 2019, FYI). The bar, aptly named BarFly, provides a panoramic view over the city and at night time you can see the glittering lights of the city from high above. The room rate includes a large breakfast buffet, with freshly cooked eggs and various other delicious breakfast items. There are also a couple of onsite restaurants, such as a noodle bar selling traditional noodle dishes such as Laghman.
The famous hotel is centrally located and within a short walk, you can reach the cable cars that will take you up to Kok Tobe. There are also plenty of restaurants in the area where you can enjoy a delicious meal if you do not want to eat in the hotel. Kazakhstan Hotel offers a 24-hour reception and luggage storage, as well as wifi throughout the building. I highly recommend spending a night here if you have an interest in Soviet-era architecture… even if just for a night.

Garden Park Inn
The Garden Park Inn is a great hotel that is pretty affordable given its central location and quality. The hotel is aesthetically pleasing with sophisticated decor throughout the property. The large rooms come fully equipped with TVs, fridges, kettles, and pretty much anything else you could want to make your stay comfortable. The bathrooms are clean and come with free toiletries to use during your stay.
The price of the room includes a great breakfast buffet that is available each morning. There is also a restaurant on-site serving up modern European cuisine if you don't fancy venturing out of the hotel. The small bar is a great place to relax after a day of exploration. If you are looking to do some exercise to unwind, there is a fitness center where you can relax in the gym or the indoor pool.
Located near the Almaty Central Stadium, you can easily reach many of the sites in the city either by walking or using the brilliant Almaty metro. For those wanting to explore the city on the last day without the hassle of their baggage, you can use the luggage storage facilities in the hotel.
Almaty Hostels and Guesthouses
Parasat Hostel
Parasat Hostel is my favorite place to stay in Almaty. The owner is one of my good friends and became one ever since I stayed in his original hostel back in 2014. The hostel is very comfortable and includes a wide range of rooms- from mixed dorm rooms to private and family rooms.
The biggest draw of the hostel is the people and the location, in my opinion. Parasat Hostel breeds an inclusive and friendly atmosphere and everyone seems to instantly get along with each other. You can spend your evenings enjoying meals with the other guests as people often cooking up a storm together while exchanging stories about their travels and lives. If you are not feeling sociable one evening, you can retreat to your bed and people will happily let you be and leave you in peace.
The location of the Almaty hostel is pretty much ideal and situated centrally just off of Dostyk Plaza. You can easily reach many of the main sites (including the buses that take you to Shymulak and Medeu) or if you are looking to venture out, the hostel arranges community tours to some of Kazakhstan's most famous natural wonders.

Almaty Backpackers
Please note that I have never stayed here but many of my friends recommend it enthusiastically.
Almaty Backpackers is a friendly hostel located on the edge of the city center in a nice and safe Almaty neighborhood. The hostel offers a mixture of private rooms and dormitories, all of which are comfortable and clean.
The vibe of Almaty Backpackers is fun and people are always up for chatting and having a bit of fun. Although many of the sites are not close by, you can still reach them easily by foot or taxi and if you are wanting to head out of the city, the hostel offers a range of tours that you can join for a very affordable price.
If you're looking for where to stay in Almaty, I hope this guide to hotels in Almaty (and hostels!) gets you sorted and helps you plan your trip. Please let us know if you have any questions regarding places to stay in Almaty, or Kazakhstan in general.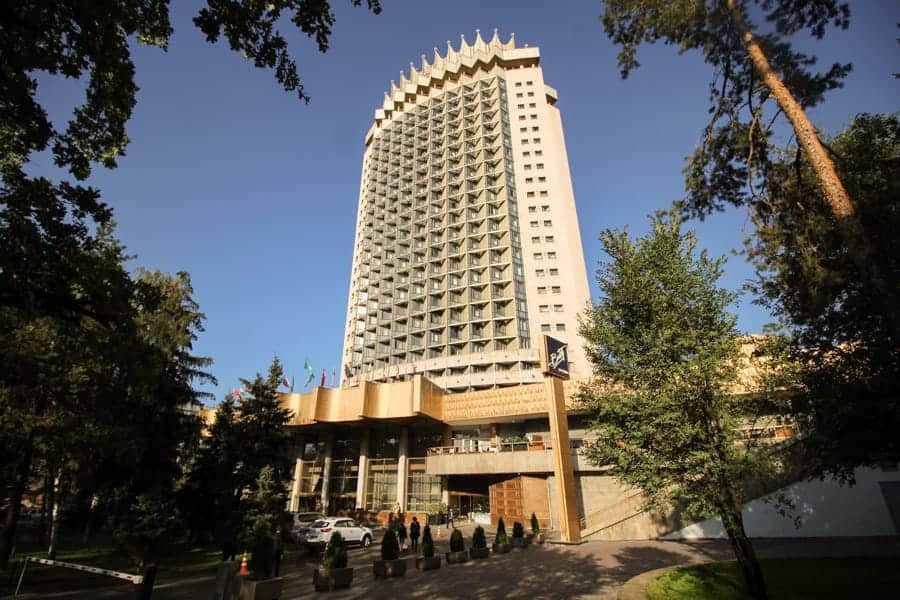 YOU MIGHT ALSO LIKE: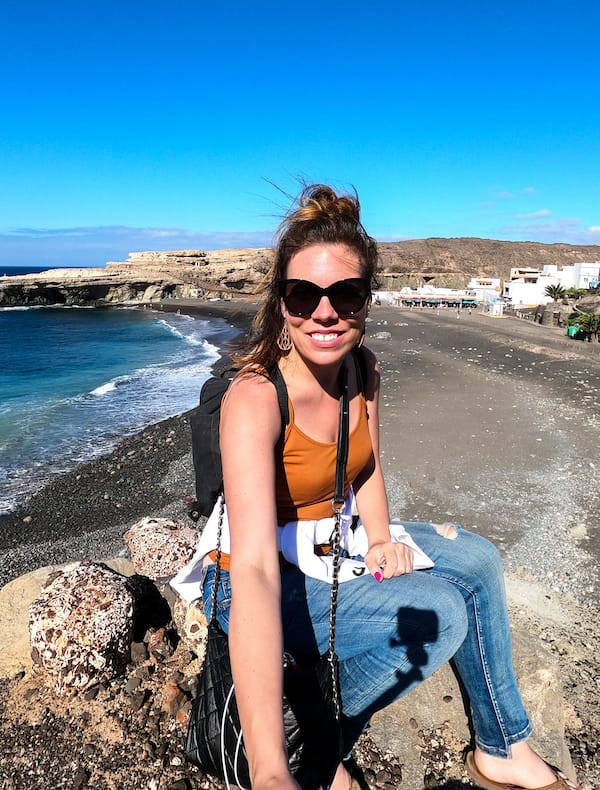 Megan is a travel blogger and writer with a background in digital marketing. Originally from Richmond, VA, she now splits her time between Frankfurt, Germany and Arctic Finland after also living in Norway, Armenia, and Kazakhstan. She has a passion for winter travel, as well as the Nordic countries, but you can also find her eating her way through Italy, perusing perfume stores in Paris, or taking road trips through the USA. Megan has written for or been featured by National Geographic, Forbes, Lonely Planet, the New York Times, and more. She co-authored Fodor's Travel 'Essential Norway' and has visited 45 US states and 100+ countries.