The nature of northern Kazakhstan is not as talked about as the nature in the south. Burabay National Park is situated a bit north of Astana and is often referred to as the 'Switzerland of Kazakhstan'. This is a travel guide to Borovoe, Shchuchie, and Chebache lakes in Burabay National Park, discussing how to visit from Astana and where to stay when you do.
Burabay National Park: How to Travel to Borovoe in Kazakhstan
While the lake is more often than not referred to as 'Borovoe', that is the Russian word for it and not the official name these days. The Kazakh word is 'Burabay'. I will use Borovoe throughout as that is what people are searching for and I will update accordingly once people are plugging in searches for Burabay. I will be referring to the lake as Borovoe and the park as Burabay National Park.
I went to Burabay National Park in early October. The colors were changing in Kazakhstan and everything was so vibrant at the time. I had traveled to Astana before, as many of you know, but I never took any day trips from there. This trip to Borovoe was the perfect opportunity to see what else surrounds Astana and to justify that even the north of Kazakhstan, known for its flat landscapes, has something natural and stunning to offer.
This post will touch more on Borovoe and Big Chebache Lakes and not so much on Shchuchie Lake, even though that is where I believe you should stay when in Burabay National Park. I list Borovoe accommodation recommendations toward the bottom of this post if you're looking for that.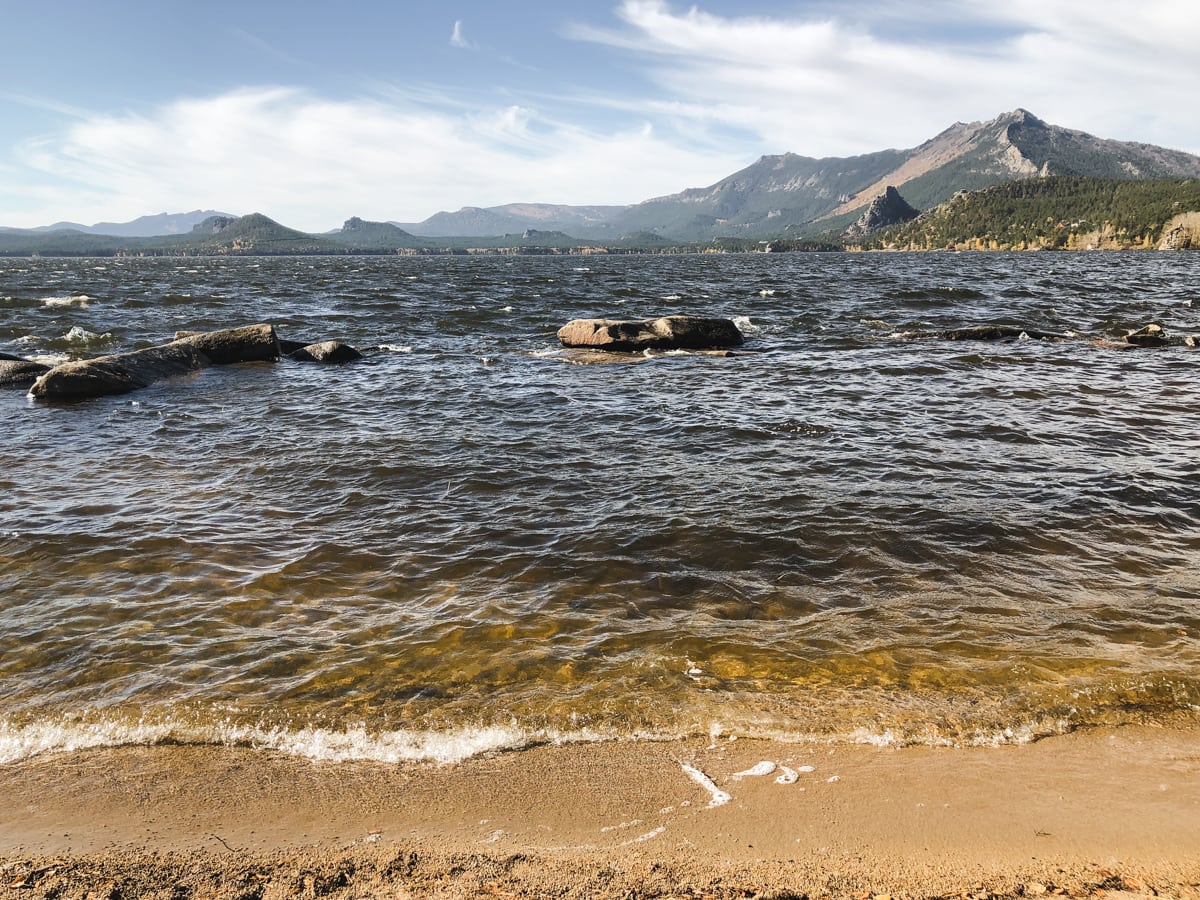 About Burabay National Park and Lake (Borovoe)
Borovoe comes from the world Bor, which translates to 'Pine Forest'. However, Borovoe has historically been a holy spot, where different legends have been born. Because of that, its historical name is Aulliekol, which means Holy Lake.
Borovoe Lake can be found 250 kilometers north of Astana and is considered to be the main attraction of the National Park of the same name. It is surrounded by pine forests, hills, and ancient rock formations. While the forests are sufficiently deep and lush, the hills and mountains aren't noticeably tall. The hills generally range from 300-400 meters, while the tallest peak is Mount Kokshetau at a height of 957 meters (3140 feet).
The landscape around Lake Borovoe is unique. In the course of history, plenty of capes have taken form and shape here. On one of the northwestern capes, you can find a peculiar rock formation just off the coast.
It's commonly known either as Zhumbaktas, which means Unresolved Riddles, or the Sphinx. It has a counterpart nearby, Okszheptes, which translates to Unreachable to Arrows. Both of these formations are shaped like a mushroom, and they're two of many other similarly interesting rock formations at Borovoe in Burabay National Park.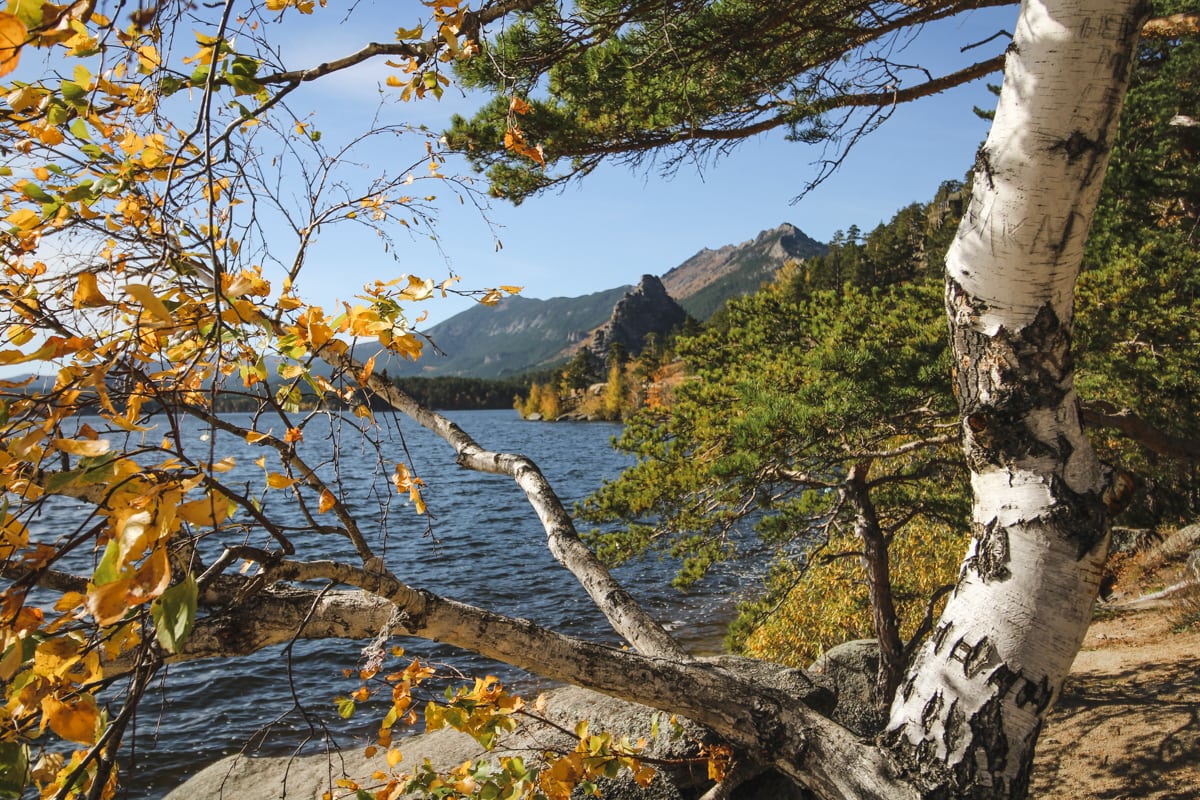 Burabay is filled with other rock formations, but it's also known as a place of mysticism and legends as the waters are believed to have healing properties.
After the national park was renamed to Burabay National Park in 2000, Borovoe saw increasing efforts in conservation. Its many different species of fish, which account for a large percent in Kazakhstan's diversity, have been protected from overfishing. Hunting is already prohibited in the national park, and fishing is very rarely allowed.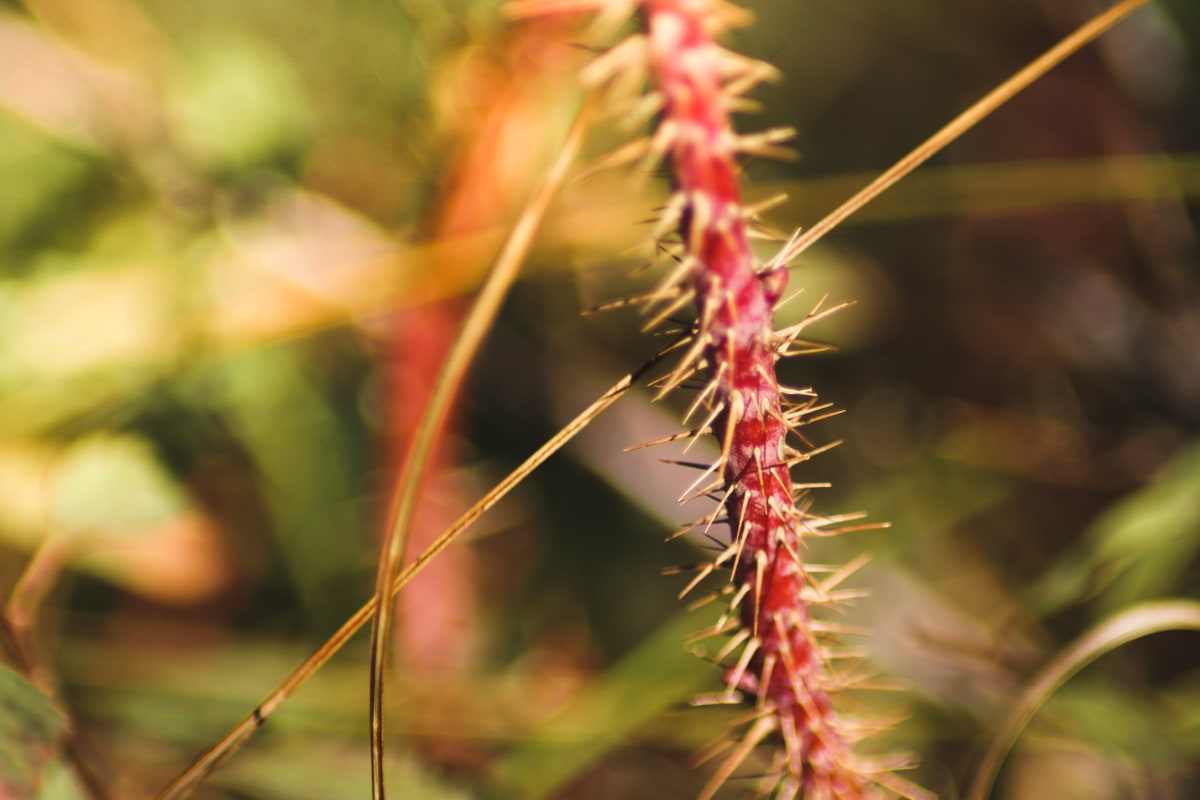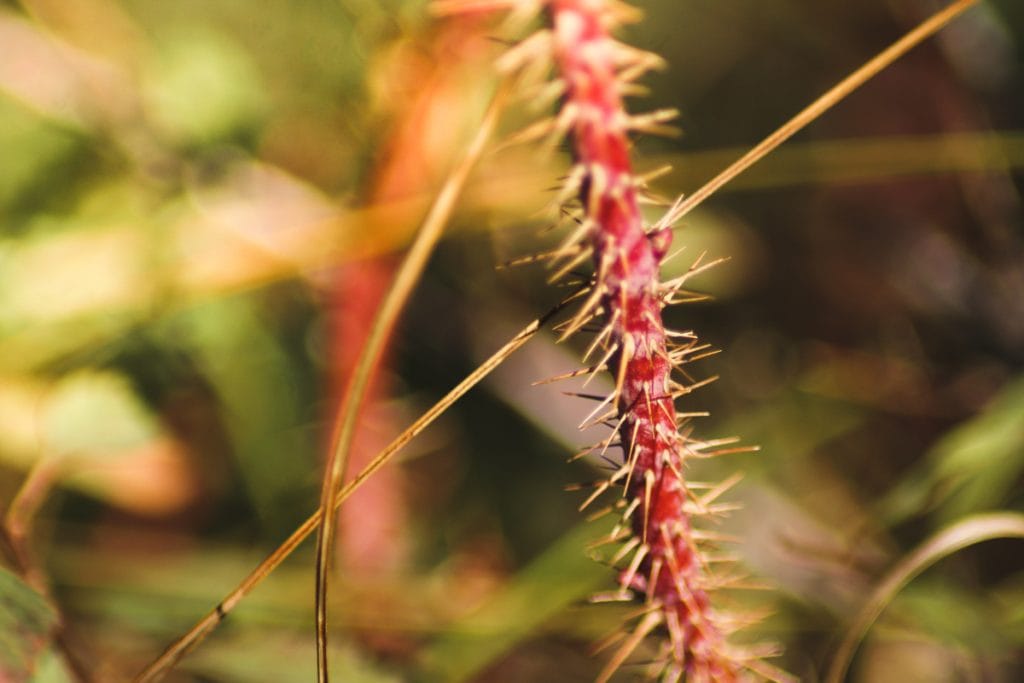 About Big Chebache Lake
Everyone that is familiar with Kazakhstan tourism (which, let's be honest, isn't mean of you) is familiar with Borovoe and Burabay National Park, but fewer people discuss the other major lake that sits behind Borovoe, Chebache Lake (or Chebachye Lake).
The coolest thing about (Big) Chebache Lake is that it looks completely different than Borovoe. The landscape looks more steppe-like and even the trees are a bit different! The weather is even slightly different than Borovoe, which sits right next door!
Despite it being less talked about, it is considered to be a symbol of national pride in Kazakhstan. The deepest point of the lake is 37 meters, although that is now up for debate as the evaporation in the summers is causing a lot of changes and problems for Chebache.
The lake is shrinking and it is slowly emptying as there are very few underground sources to keep it replenished. Precipitation and a couple of underground streams are its main source of sustenance.
One of the primary reasons why this lake is considered so important is because the water is teeming with a lot of wildlife. There are over 300 species of fish, which include whitefish, striped perch, and crayfish, among others.
Since the water is especially clear, the movements of many schools of fish can be easily observed from the coast. The coast is protected by many rows of pines and birches, allowing for the blockage of wind and making the atmosphere and area around Chebache free from a lot of wind.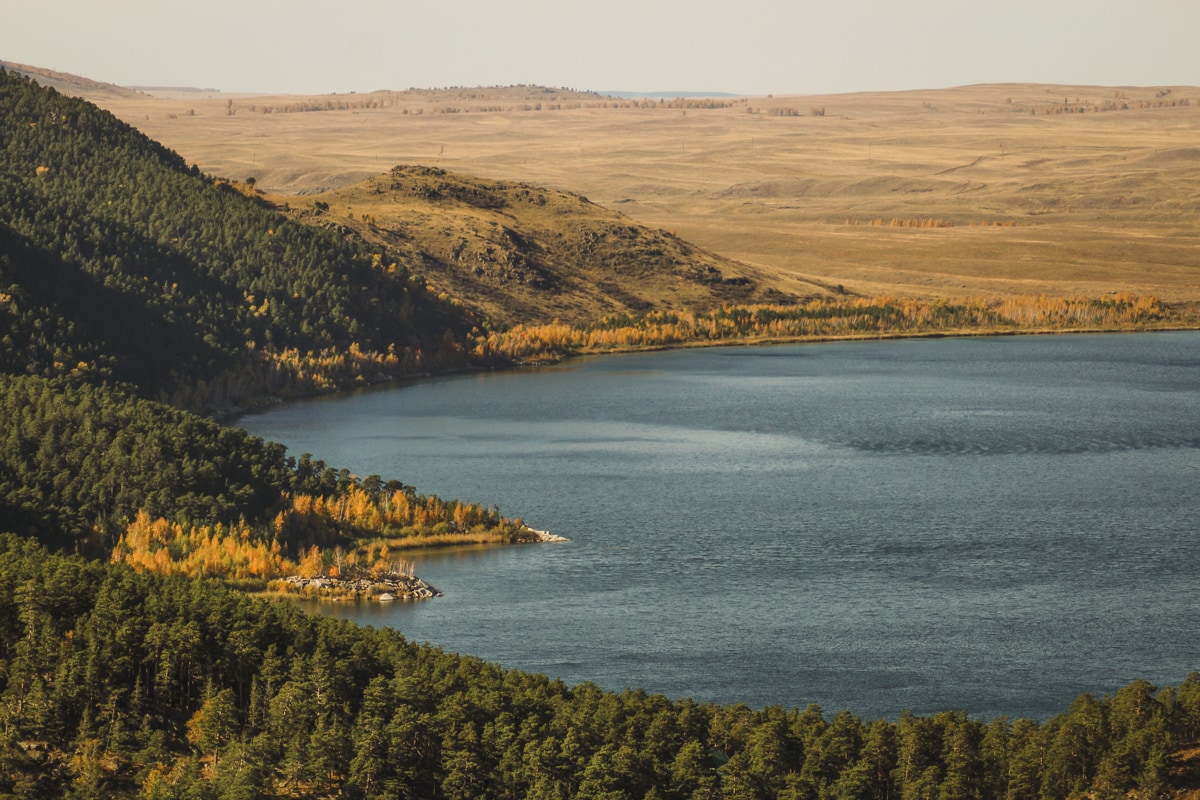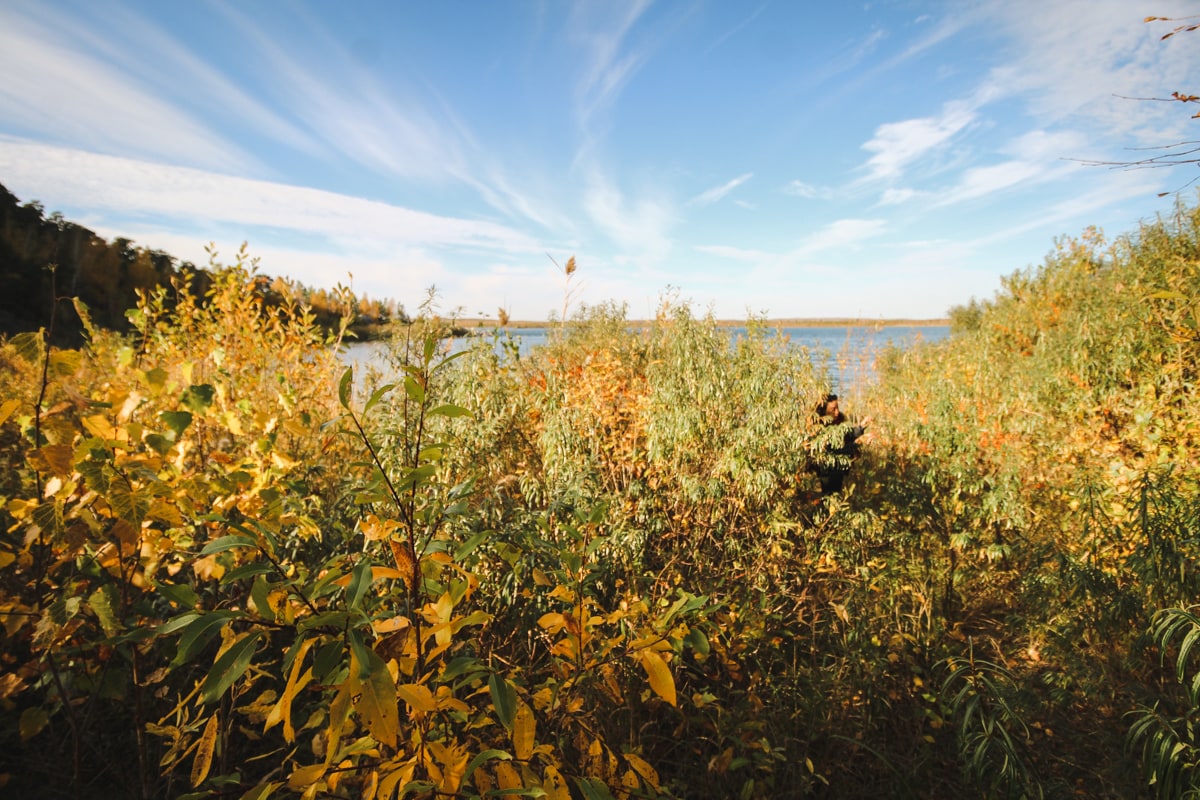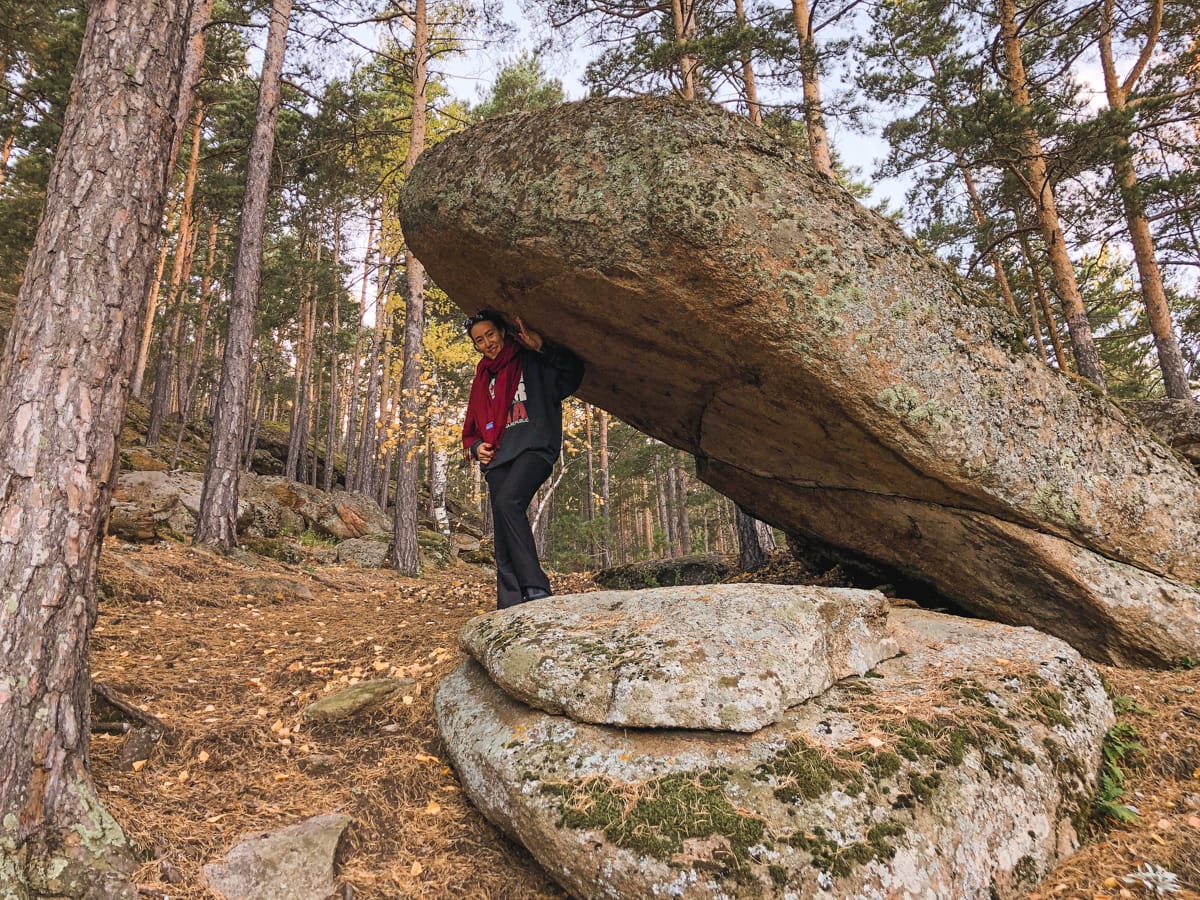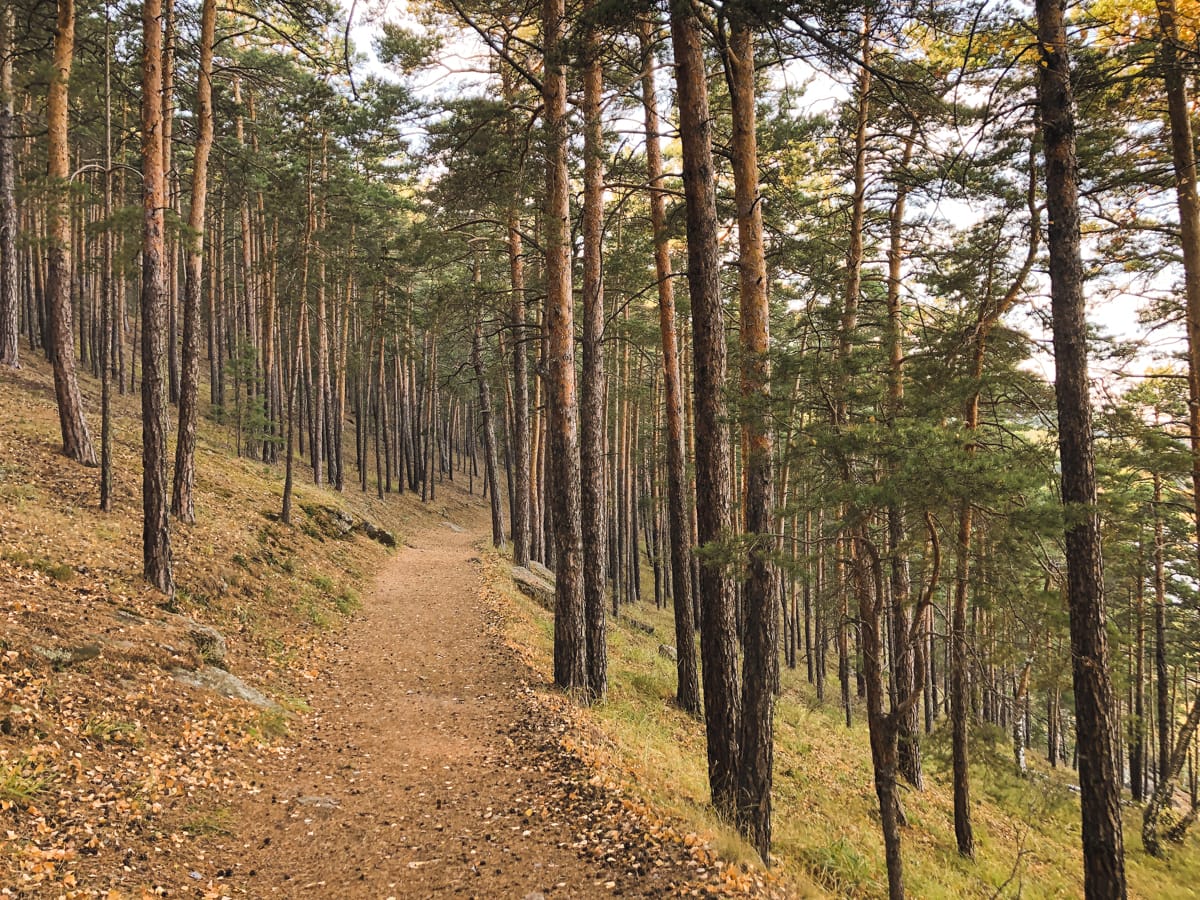 Things to Do in Borovoe (Burabay National Park)
There are so many things to do in Borovoe, especially for the nature lover. While this post doesn't encompass all there is to do there (we'd be here all day!), below are some of my favorites or things that I would like to do next time I am in Borovoe.
Visit the Grove of Dancing Birch Trees
There is a legend that these birch trees were initially women dancing and they became super frightened and turned into majestic looking birch trees. While I don't really know the true origins of their twisted trunks, I do know that the forest was mesmerizing, especially during autumn. The dancing birch forest sits behind Insar Hotel right on the lake.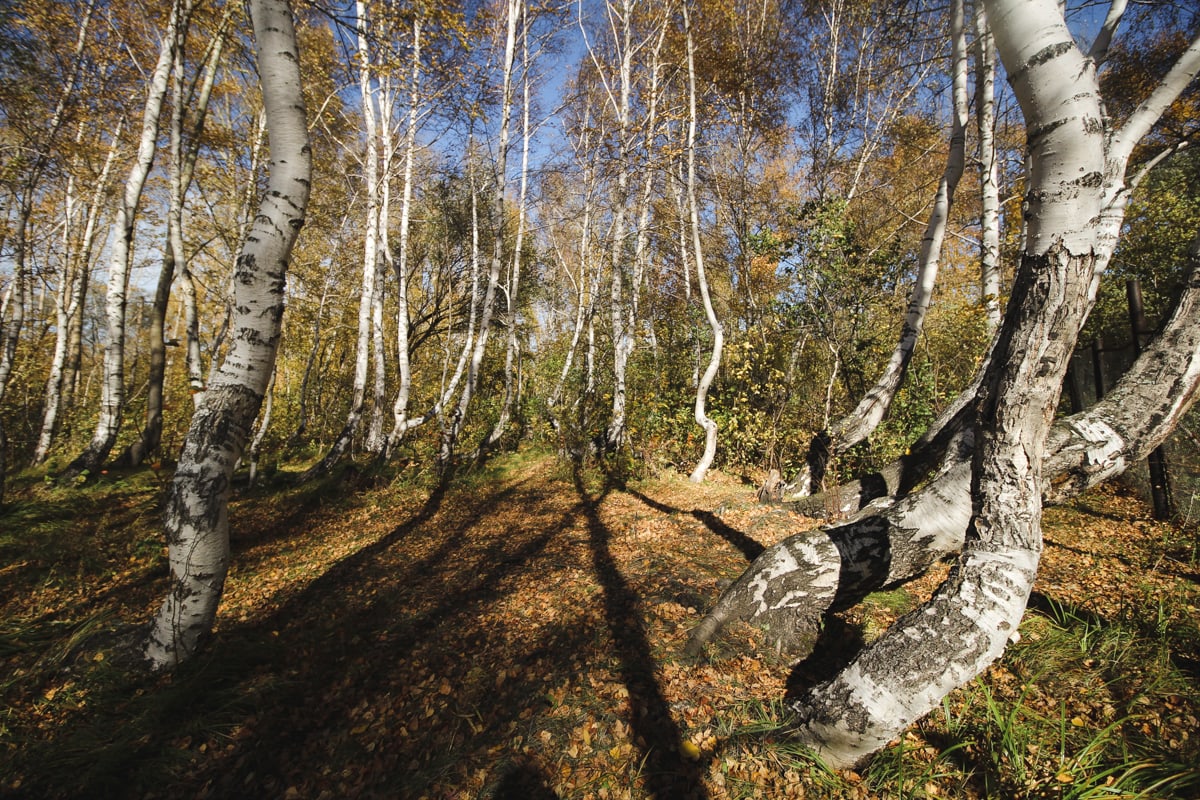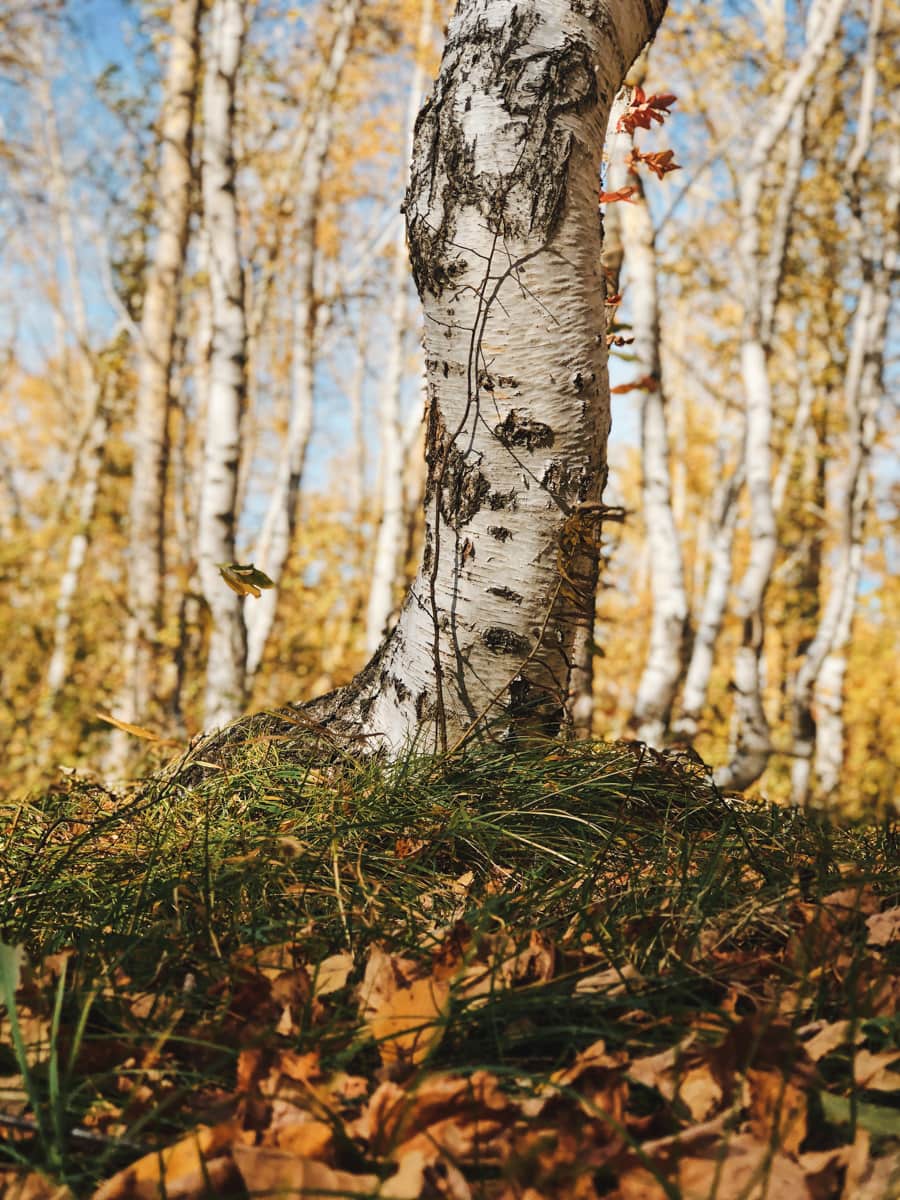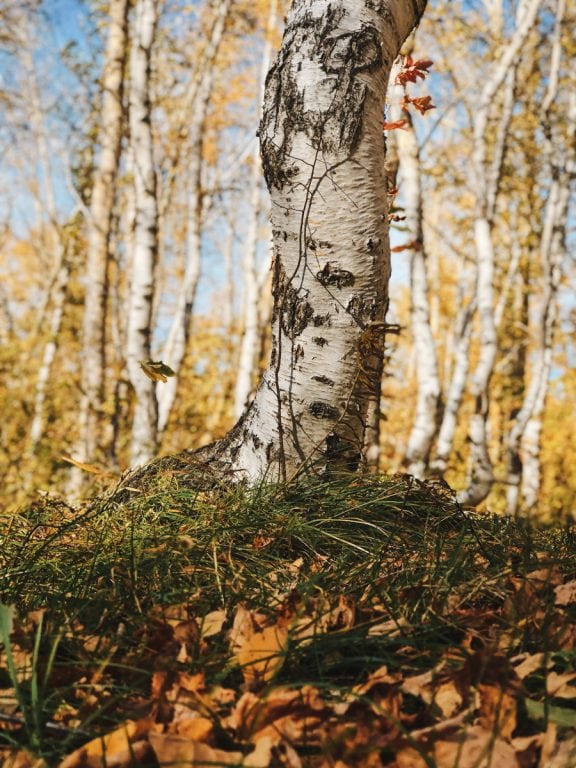 Enjoy Lunch or Dinner at Insar Hotel
If you have taken the time to visit the dancing birch forest, you will be right at Insar Hotel. I had a really tasty plov lunch here before heading around Burabay National Park that day. It was affordable, offered a comfortable atmosphere, and the service was very friendly.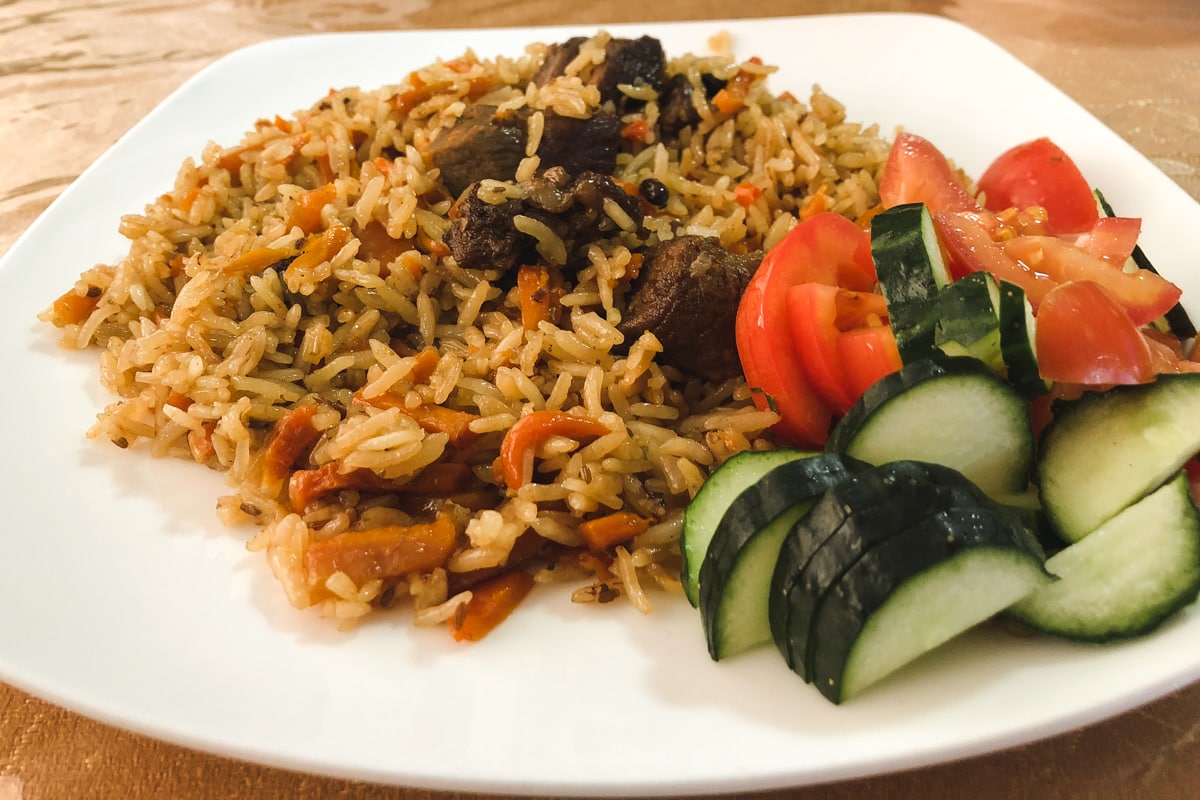 Kayak or Canoe to Zhumbaktas Rock
In the middle of Borovoe Lake, you will see Zhumbaktas Rock, a rock formation protruding out of the water in the middle as an island. You can actually rent kayaks and canoes along the shore and take yourself out to Zhumbaktas. The activity is seasonal, but no fear- in winter you can walk out there usually as the lake freezes over.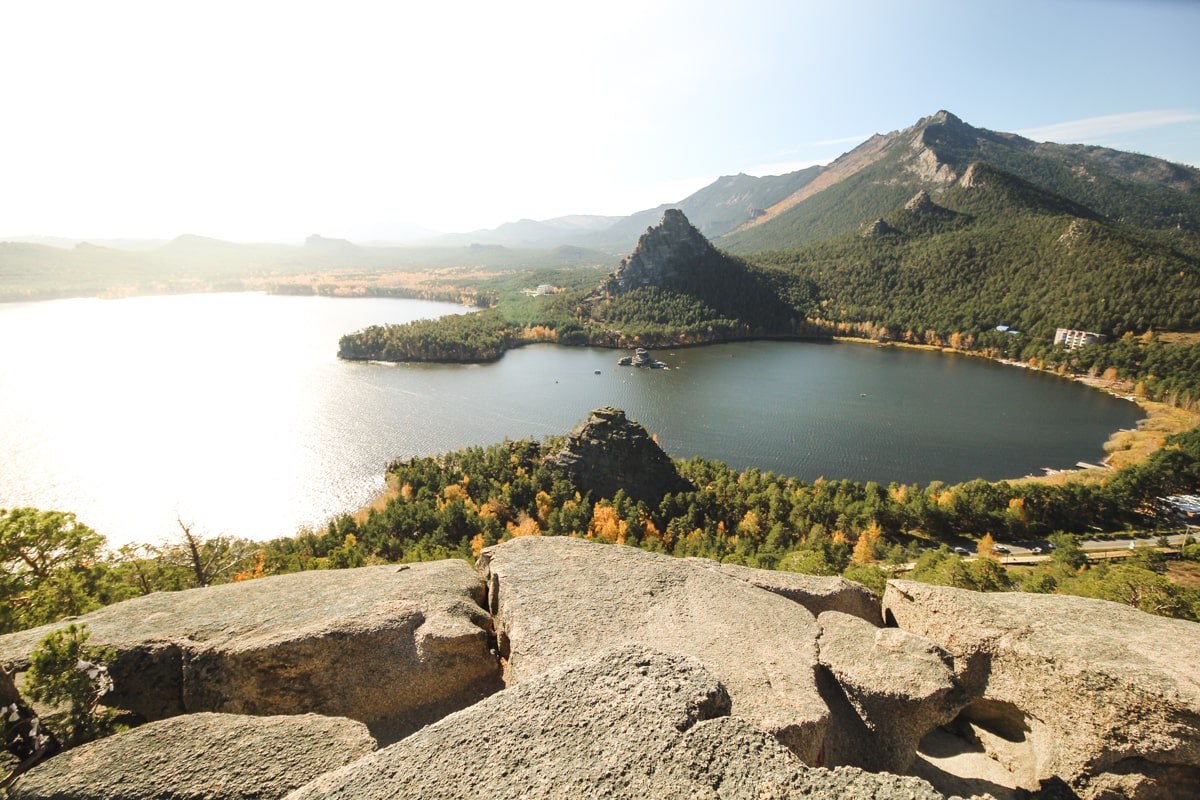 Explore Kenesary Cave
You can take a hike to Kenesary Cave in Burabay if you're looking for a little nature and walking around. The hike is fairly easy and the cave's history is pretty interesting. It is rumored to have been a favorite sleeping spot for Kenesary Khan, one of Kazakhstan's most important historical figures, while he was in the area hunting.
Hike Up Bolektau Mountain for the Epic View
One of the essential things to do in Borovoe is to hike up Bolektau Mountain and witness the view of the lakes from above. The hike is easy to find and actually extremely easy to accomplish although it is somewhat steep in parts.
It takes around 20 minutes to the top and from there you can see the view of Borovoe as well as nearby Chebache and beyond. This is the spot where I realized how different Borovoe and Chebache were- it was pretty mindblowing how different the landscapes were despite the lakes being side by side.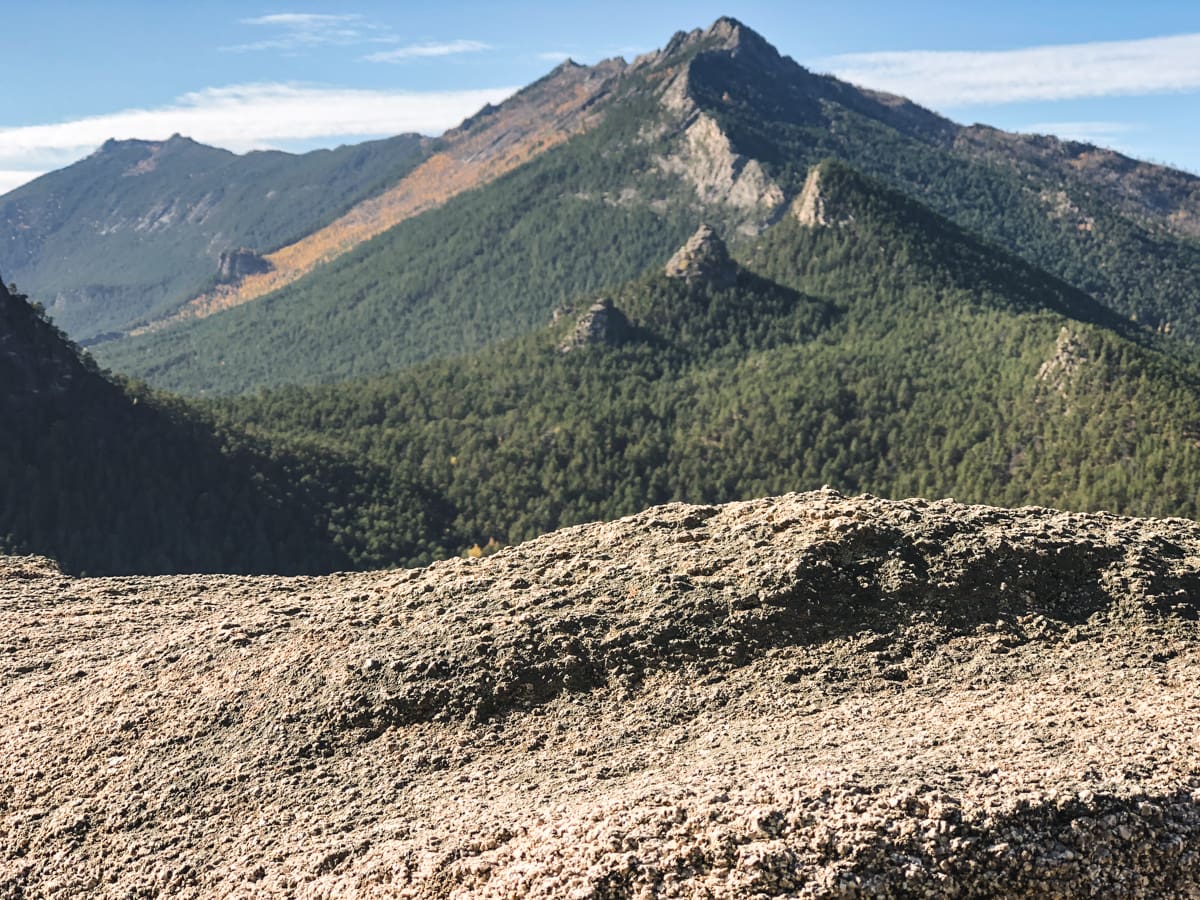 How Much Does it Cost to Visit Borovoe?
It is around 200 tenge currently to visit Borovoe. You will pay this fee upon entrance to Burabay National Park and you won't have to pay again once you're inside the park itself. This fee of 200 tenge amounts to around $0.50. This fee is not per car, but per person inside of it.
How to Get to Borovoe from Astana
There are a couple of options for getting to Borovoe from Astana. You can rent a car and drive yourself there. You can also take a shared taxi or train. Since this is the most popular day trip from Astana, you will be able to get yourself to Borovoe from Astana fairly easily.
One thing to note about the trip from Astana to Borovoe is that you should try to stay awake for the later part of the trip. Astana is so flat and once you leave the city, you see nothing but steppe for miles and miles and miles.
Once you're approaching Borovoe, however, you will start seeing forest and trees and the drastic difference is pretty insane. It truly shows that Kazakhstan's varying landscapes are a force to be reckoned with and the entire country deserves far more tourism than it currently receives.
Travel to Borovoe by Car
If you have a car and are willing to make the drive yourself, good for you! I think this is the best way to visit Borovoe, personally. There is plenty of parking everywhere and you won't be hard-pressed to find your way around the park as it is connected by very few roads. Just be sure to obey signs and speed limits as there is wildlife around the area.
Also be sure to bring cash with you- there are tolls on the way from Astana to Borovoe.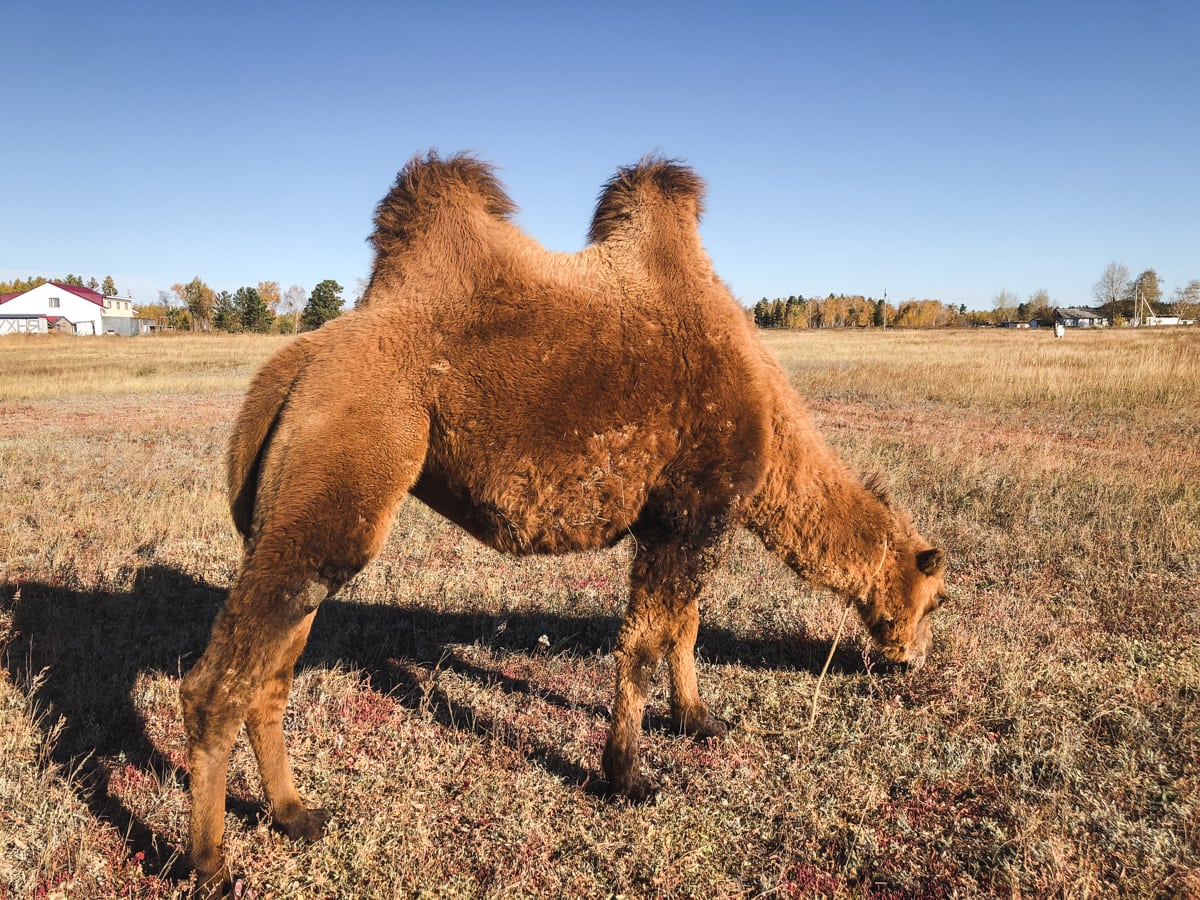 Travel to Borovoe by Taxi or Bus (Marshrutka)
You can take a bus or shared taxi to Borovoe with others. The ride will cost you around 2000 KZT (about $5) for a shared taxi and slightly less for a marshrutka or bus (around 1600-1700 KZT). You can catch a taxi at the Saparzhai-Astana bus station. The drive is about 2-3 hours so be sure to bring snacks and stuff for the trip. You may be switched from one marshrutka to another in Shchuchinsk, FYI.
Travel to Borovoe by Train
In order to get to Borovoe by train, you will need to go to the main train station in Astana and buy a ticket to Shchuchinsk, or Kurort-Borovoye. The train you hop on will likely not have a final destination of Kurort-Borovoye, so be sure to check and ensure you hop on the right one. The tickets can be purchased at the station in Astana or online. The price will vary on the route, but expect to pay somewhere around 2000 KZT ($5).
Once you're in Shchuchinsk, you will likely have to get a ride out to the lakes and Burabay National Park. You can find a taxi, but chances are that you'll pay around the same fare as it costs you on the train. There will also be marshrutkas and shared taxis available. You will probably have to haggle a bit.
Taking a Tour to Borovoe
I went to Borovoe by tour. I definitely recommend taking a trip out there with a tour if you're not comfortable going at it alone. Had I gone out to Borovoe with public transportation I would have had to catch multiple rides within the park and I wouldn't have even made it over to Chebache, which ended up being a highlight for me. You can inquire about a day trip to Borovoe here.
Best Time to Go to Borovoe
The best time to go to Borovoe is whenever you want to go to Borovoe. While most people will sternly say it is summer, I have seen photos of Borovoe in winter and buried in snow and I reckon it may be at its most beautiful then. I went in autumn and the colors were remarkable, but I did have a lot of issues with mosquitoes around Chebache. I imagine this problem is heightened during the summer months as it was rather chilly when I was there.
Another benefit to heading to Borovoe during autumn was the fact that sea buckthorn was in full bloom around the lakes and my appetite and excitement were piqued as a result. Sea buckthorn is one of my favorite things about Central Asia, actually.
The summers in Borovoe are milder than in the city and the winters are snowy and cold. Be sure to check the temperatures beforehand and bring the appropriate clothing as there is not much inside of the park that will allow you purchases if you have forgotten something.
What to Bring for a Trip to Borovoe
To be honest, it is completely up to you what to bring. I can assure you that not a lot of places exist within Burabay National Park, so if you forget something, you will be out of luck. Here are some essentials I think you'll need for your Borovoe trip.
Bug Spray: Um, I went through hell in Borovoe with mosquitoes. If you don't have sweet blood, you'll probably not understand, but I do and I could feel the monsters biting me through my clothing. It was so bad, particularly around Chebache Lake. Click here to look at bug spray options.
Cash: ATMs are sparse inside of the park. I actually had a dilemma with this when there and we had to drive around for ages finding a place that would take my card. Bring money with you from Astana as you may not be able to use your bank card in many places and there are definitely not ATMs ubiquitously placed throughout Burabay.
Wide-Angle Lens: I know I always recommend bringing a wide-angle lens when visiting parks and beautiful landscapes and Borovoe is no exception. When you're getting the view of both Chebache and Borovoe, you will be thankful you have a wide-angle lens with you. Click here to see which wide-angle lens I use.
Hiking Boots: While you won't need them at the lake itself, you will need them if you do any of the hikes, even the easier ones. The rocks are a bit slippery and I lost my gait quite a few times even with hikers on, so be sure you are prepared with the right footwear for the hike. Click here to view the hiking boots I swear by.
Stainless Steel Water Bottle: I swear by my Klean Kanteen and think that you should travel with one too. Kazakhstan uses a fair amount of plastic and clean drinking water is actually available in several places. Tote your water bottle with you for your trip and help the planet a little. Click here to shop my Klean Kanteen.
Where to Stay in Borovoe
Most of the places I saw to stay actually sit along Shchuchie Lake, and not Borovoe or Chebache itself. There are casinos, Soviet-built sanatoriums, guesthouses, and even luxury hotels situated along Shchuchie Lake and I think it is the best place to stay when in Burabay National Park. Below are a few suggestions of where to stay in Borovoe.
Rixos Borovoe
If you've been in Kazakhstan, you will quickly recognize the word 'Rixos' as they are many of the luxury hotels that exist throughout the country's main cities and sights. It is not a Kazakh chain and comes from abroad, but Rixos never fails to deliver on quality. This is luxury and you'll pay a premium price, but experiencing a Rixos Hotel is definitely a fun experience.
If you don't stay at Rixos, you can actually still visit and walk around its gardens, eat at the restaurant out back, or have a tea/coffee inside of the lobby. Rixos is located right on Shchuchie Lake. Click here to check rates and availability.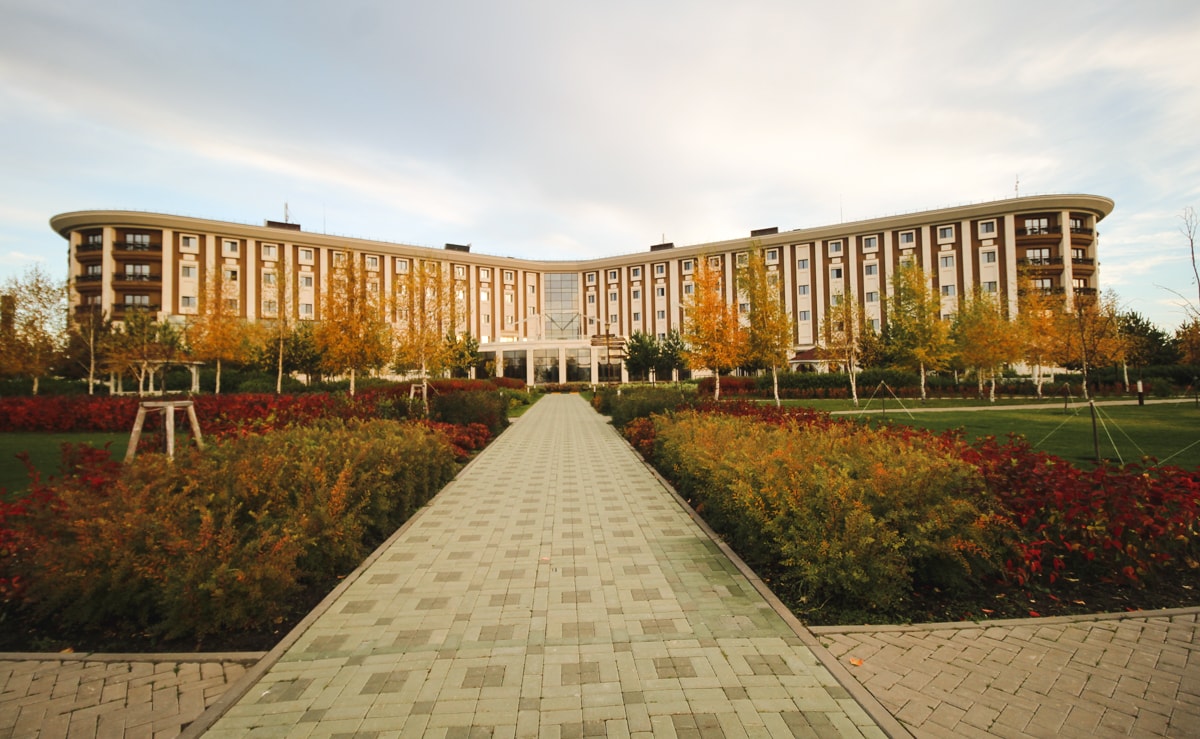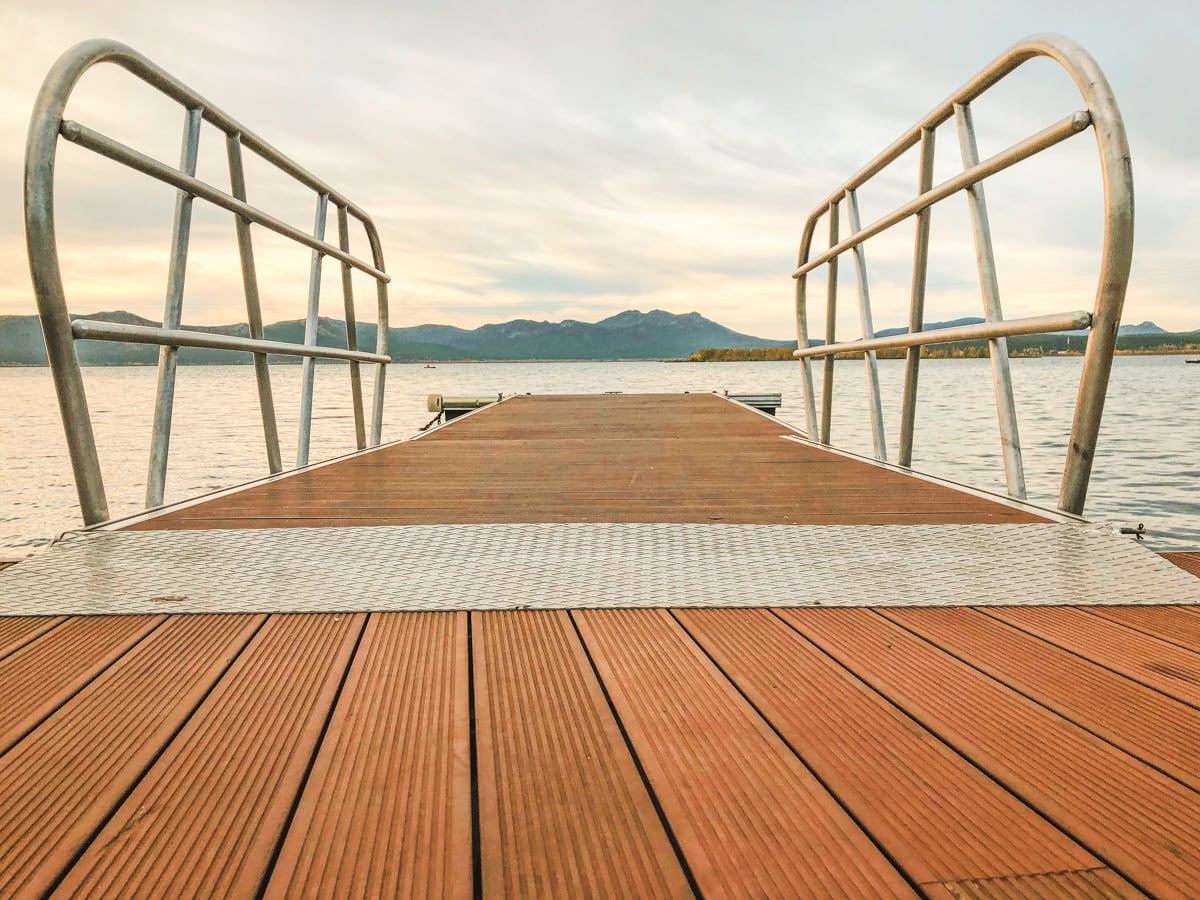 Hotel Almaz
Also located on Shchuchie Lake, Hotel Almaz is a popular place to stay for those traveling to Borovoe. The hotel is a spa and treatment center and offers therapy for everything from the respiratory system to the musculoskeletal system. The hotel is affordably priced and you can find rooms for 9000 KZT and up. Click here to check rates and availability.
Zeloniy Bor Sanatorium
I have a thing for Soviet sanatoriums and Zeloniy Bor is just that. The word 'bor', as noted above, means 'pine' in Russian and this sanatorium is teeming with pine trees. The air is so fresh and revitalizing that I actually am considering staying at this sanatorium next time I am at Borovoe. Zeloniy Bor is located right on Shchuchie Lake. Prices run from around 15000 KZT and up per night.
Click here to check rates and availability.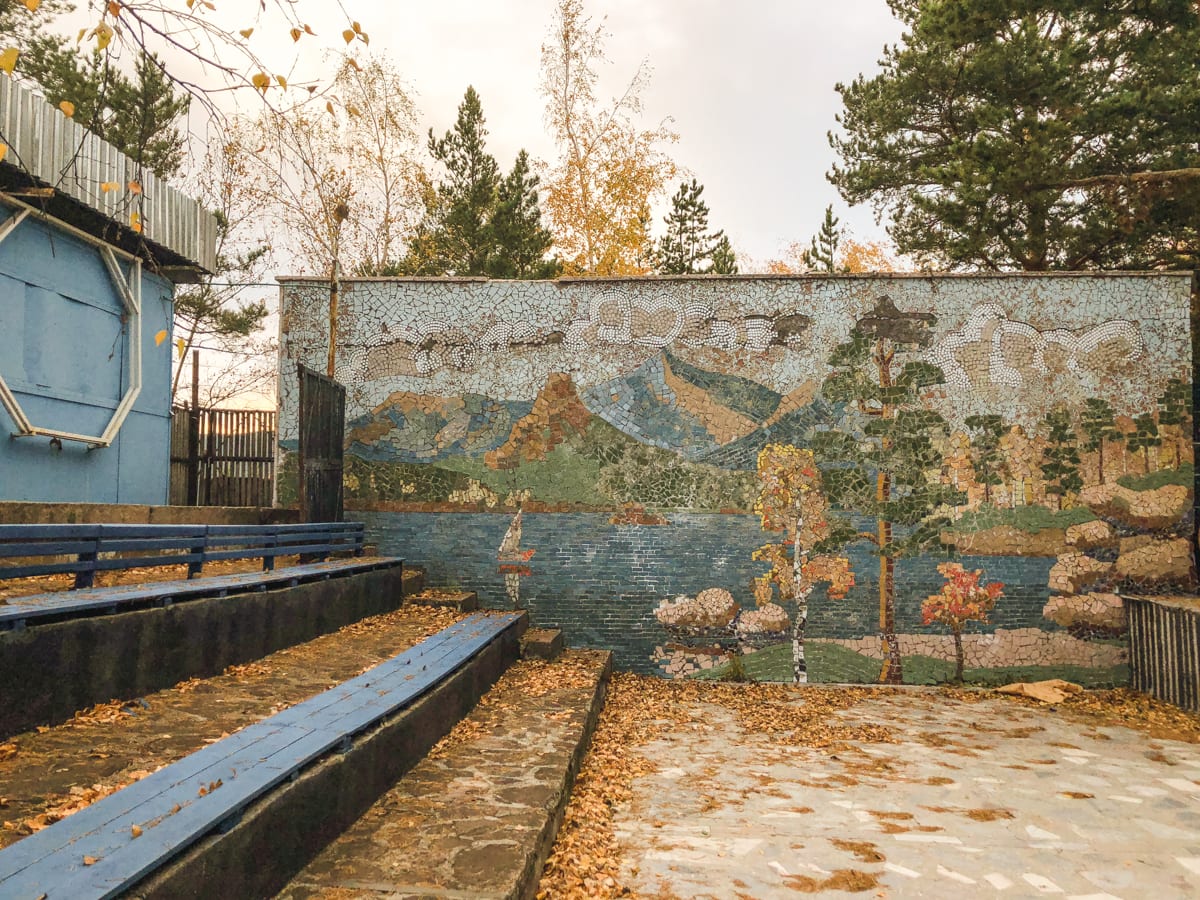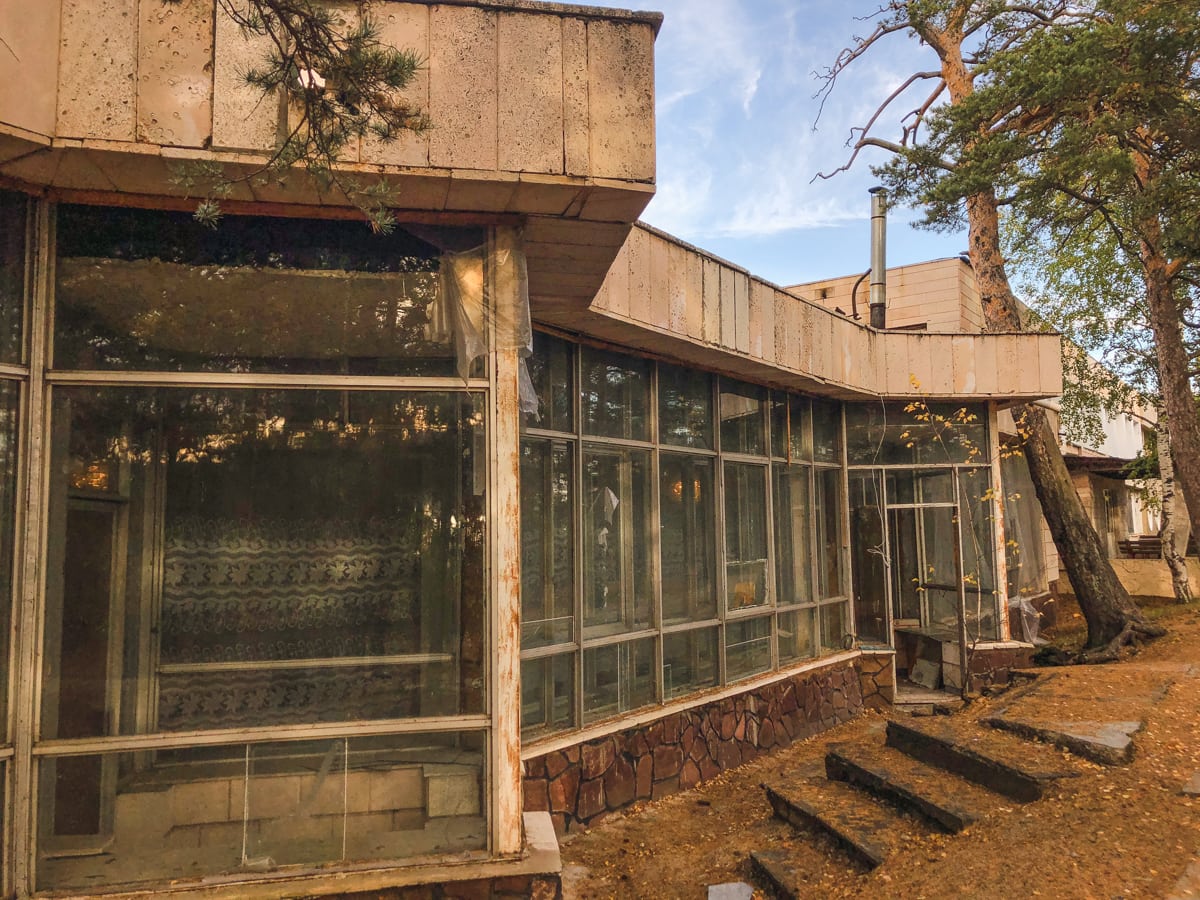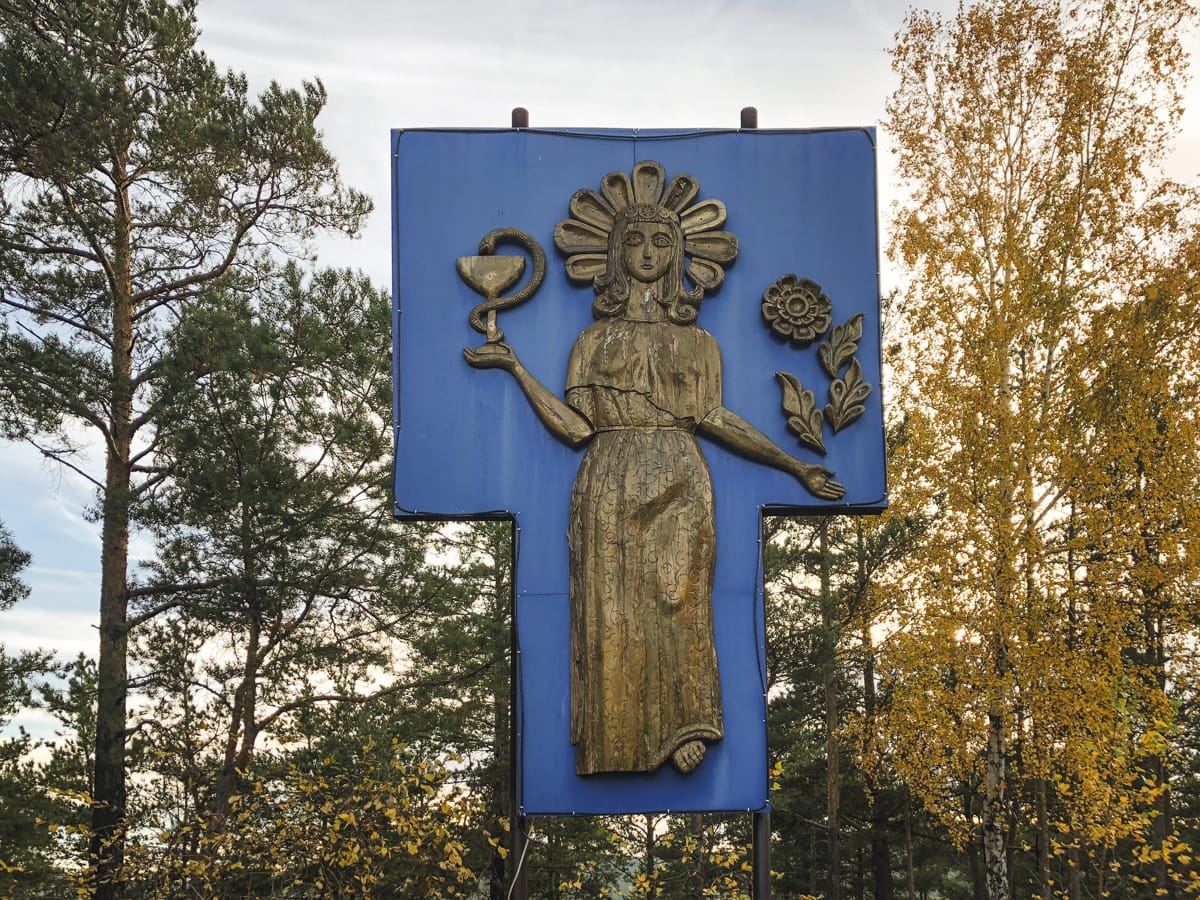 Zhumbaktas Guesthouse
At Shchuchie Lake, you will find the Zhumbaktas Guesthouse, a pension that has a variety of different rooms and different prices and suitable for all travelers. There is a sauna on-site and several other amenities regardless of the season. They also offer medical treatments on-site. Click here to check rates and availability.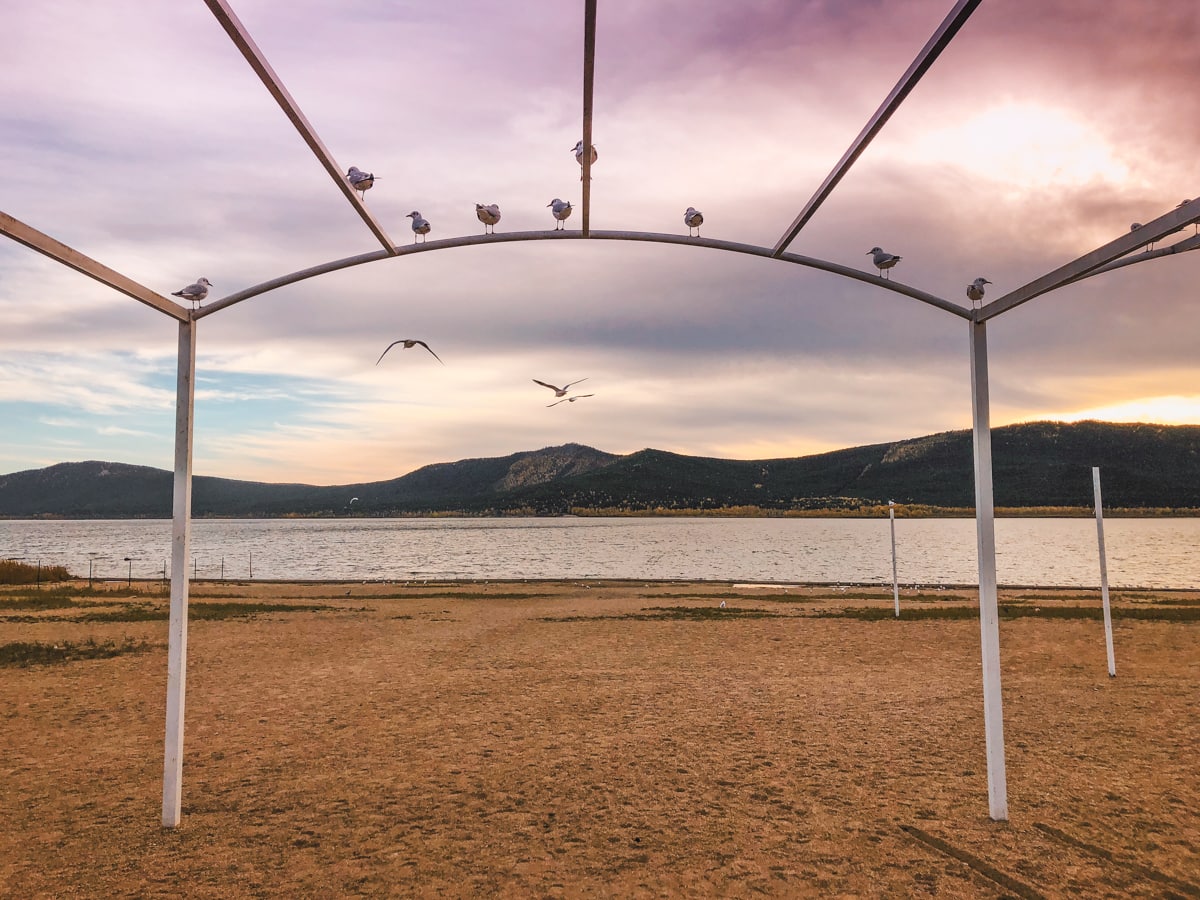 Where to Stay in Astana
I actually went to Borovoe as a day trip from Astana since I had booked a tour. So, I never booked accommodation up at Borovoe despite visiting some of the places listed above. If you're looking to stick around Astana, you can check the accommodation options here.
If you're looking for budget options, I know of two solid options in Astana:
Infiniti Hostel
This hostel was the one I stayed at when there last time. It was run by a lady in a high-rise building and it was extremely clean and chilled out. There are separate rooms for females and males and it is definitely not a party hostel.
So, if you're looking to meet people, you may not enjoy Hostel Infiniti. There are grocery stores located close by and there is a cafe I went to every night near it called Infiniti Cafe. I loved my stay here. Click here to check rates and availability.
Makenty House
This is a brand new hostel and coworking and co-living space that just recently opened in Astana. I personally know the owner and have been inside and it's a brilliant space. It is located in a safe area (actually near the hostel listed above!) and the inside has several dorm and room options as well as a coworking area with table space.
I am definitely giving Makenty House a whirl next time I am in Astana. Click here to check rates and availability.
Click here for a list of my favorite things to do in Astana.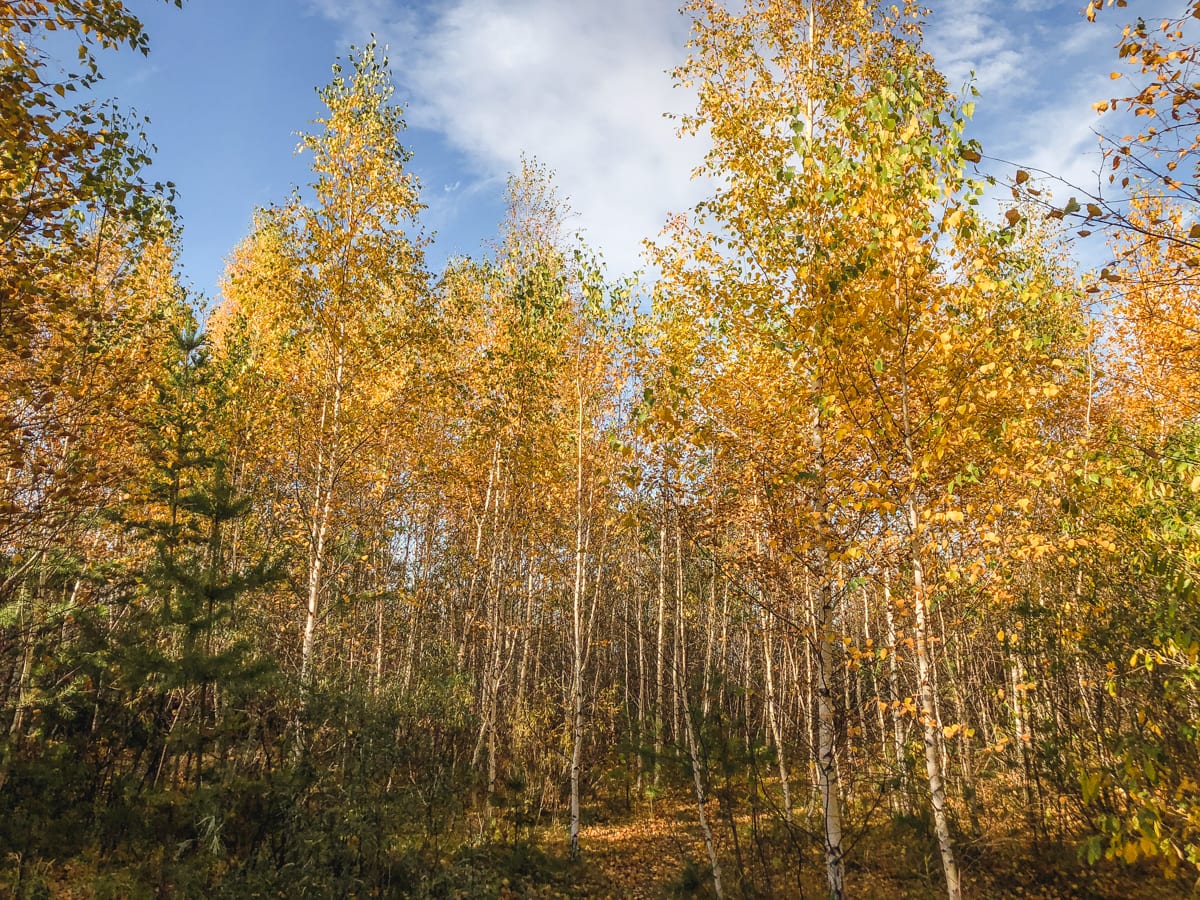 How to Get to Astana
Getting to Astana is pretty painless, to be honest. But, it is far removed from basically everywhere on the planet. From Almaty, you can fly or take the train (which can take around 24-hours if you take the slow train). I flew up there with SCAT Airlines as the ticket was significantly cheaper than flying with Air Astana.
If you're coming from Europe, you will find that Astana connects with several cities regularly. But, if you're on a budget, check the Wizzair options! I have seen tickets from Budapest to Astana for as little as $50 one-way.
Final Thoughts on Borovoe and Chebache
I really loved this area of Kazakhstan. I seem to get stuck in and around Almaty because it is one of my 'homes' around the world and the nature in the region is nothing short of spectacular (I mean, have you ever seen Lake Kaindy?!?!), but I dare to say that all of Kazakhstan is incredible in its own way.
Something about the scenery just felt fresh and brought me back to life (until the mosquitoes attacked) and it was such a welcomed escape from Astana, a city that is just not one of my favorites no matter how much time I seem to spend there.
Should you visit Borovoe when you're in Astana? Absolutely! The landscapes are so drastically different than that in Astana that it'll blow your mind!