Believe it or not, I traveled back to Astana, Kazakhstan. I said it would never happen after my last trip there and I was pretty insistent on that for years.
But times changed, I grew up, and I came to realize that there were probably things to do in Astana these days that didn't exist in the past. I also realized that events hosted, like the EXPO 2017, probably changed the demeanor of the city.
Update: I have updated the name of the city to Nur-Sultan in the title after it was recently renamed. It will stand as Astana around the post and I will update soon.
Things to do in Astana
The trip happened pretty quickly and I was scheduled to be the headline speaker at Astana Travel Day in the Kazakh capital city.
I had my travel arranged and fortunately, the options of places to stay in Astana has improved since I was last there in 2013.
Comparing prices for hotels has never been easier and the options existing range from luxury to mid-range to budget… finally! Before even arriving in Astana, I knew this trip would be better than my last one.
Once I arrived, I got settled into my place and started to explore the city with an open mind.
While it will never replace my love for Almaty (or even come close), I definitely found more to do in Astana and somewhat enjoyed my time there. This is a list of my top things to do in Astana, Kazakhstan.
Where to Drink and Eat in Astana
When I first went to Astana five years ago, I struggled to find good places to eat and drink at. I ate at the city's famed revolving restaurant and it was one of the most horrifyingly bad food experiences I have ever had.
While I didn't find an overwhelming amount of places this time, I still found a few worth mentioning and these few experiences actually made me realize that eating and drinking is one of the best things to do in Astana… and it will only get better there as the city progresses.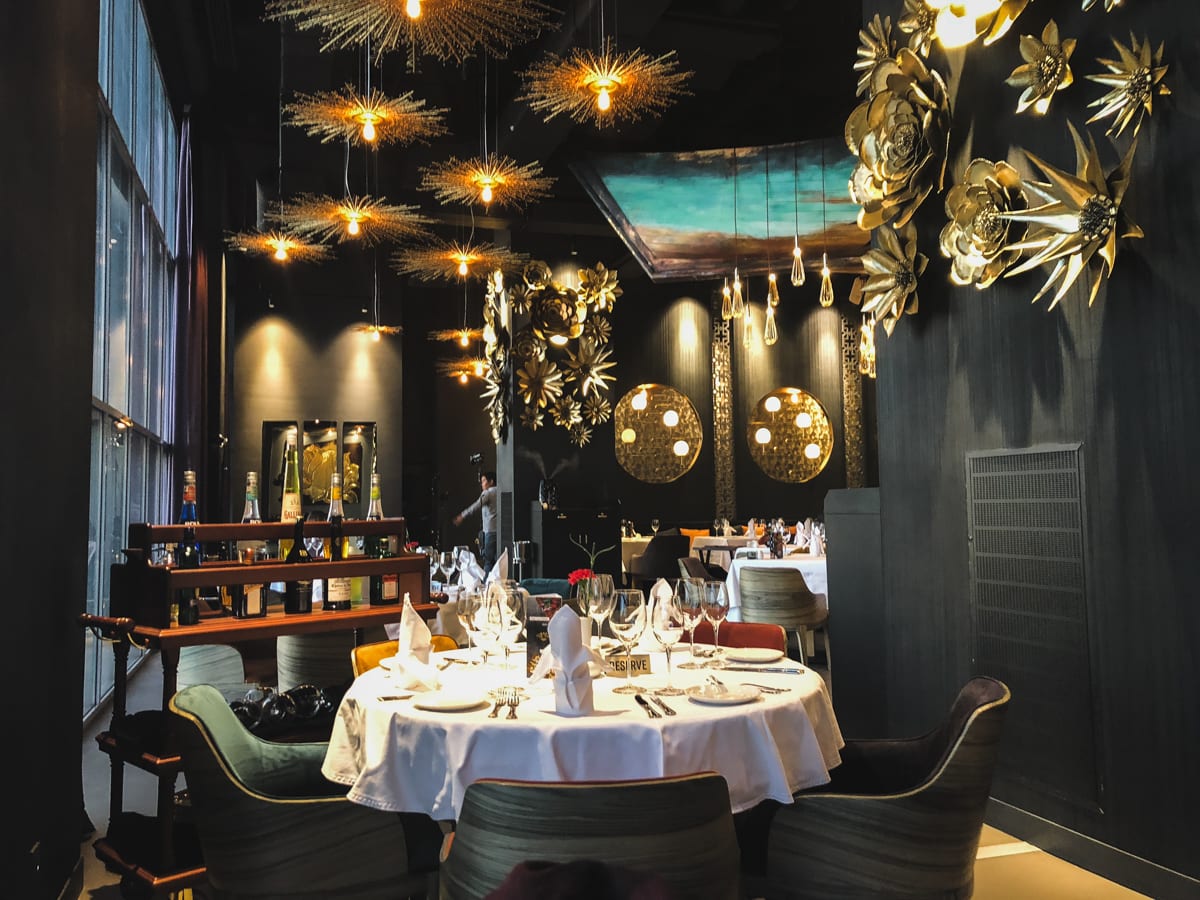 Drink Coffee at Ministerstvo Coffee
I had been wanting to visit this place since it opened its doors. I even updated my other Astana post to include it encouraging others to check it out. I finally got to go on this trip and my expectations were certainly met.
The cafe has a cool and comfortable atmosphere with smooth and delicious coffee. They also have a lot of workspace for people that are slaves to their computers like myself.
I actually spent nearly twelve hours in Ministerstvo Coffee one day working on my presentation for the travel fair.
The customer service is superb and I also enjoyed a smoothie there one day. But, I mostly devoured their tasty coffee (flat white). If you're a coffee-lover- Ministerstvo Coffee is a can't miss!
You can find Ministerstvo Coffee at Dinmukhamed Qonayev St 33-35 near the House of Ministries. To find out more, check out their Facebook page.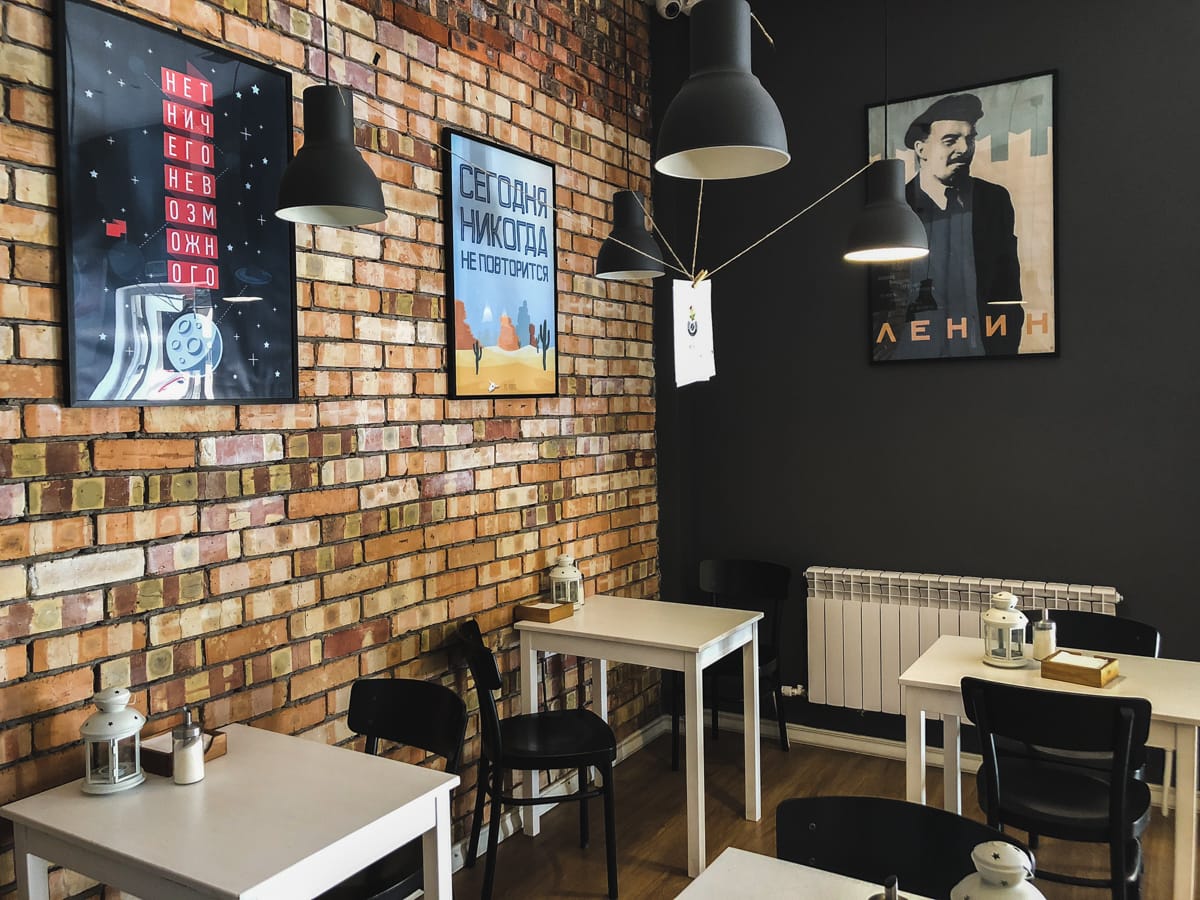 Have a Beer at Pinta
Pinta is actually a chain with fifteen locations across Kazakhstan. So, why would I even dare list it here? Well, I really like their beer. They have their own beer brewed for them and their Red Rocket is really good.
They serve in large three liters down to small glasses, so you can have your choice of size if you're in a large group (and it's super affordable!)
I have been to Pinta in Almaty a few times and then I went in Astana twice with my friend from the Canary Islands. It was the perfect environment to enjoy a beer and socialize.
There are multiple locations for Pinta in Astana. To find out where they are and more information, check out their Facebook page.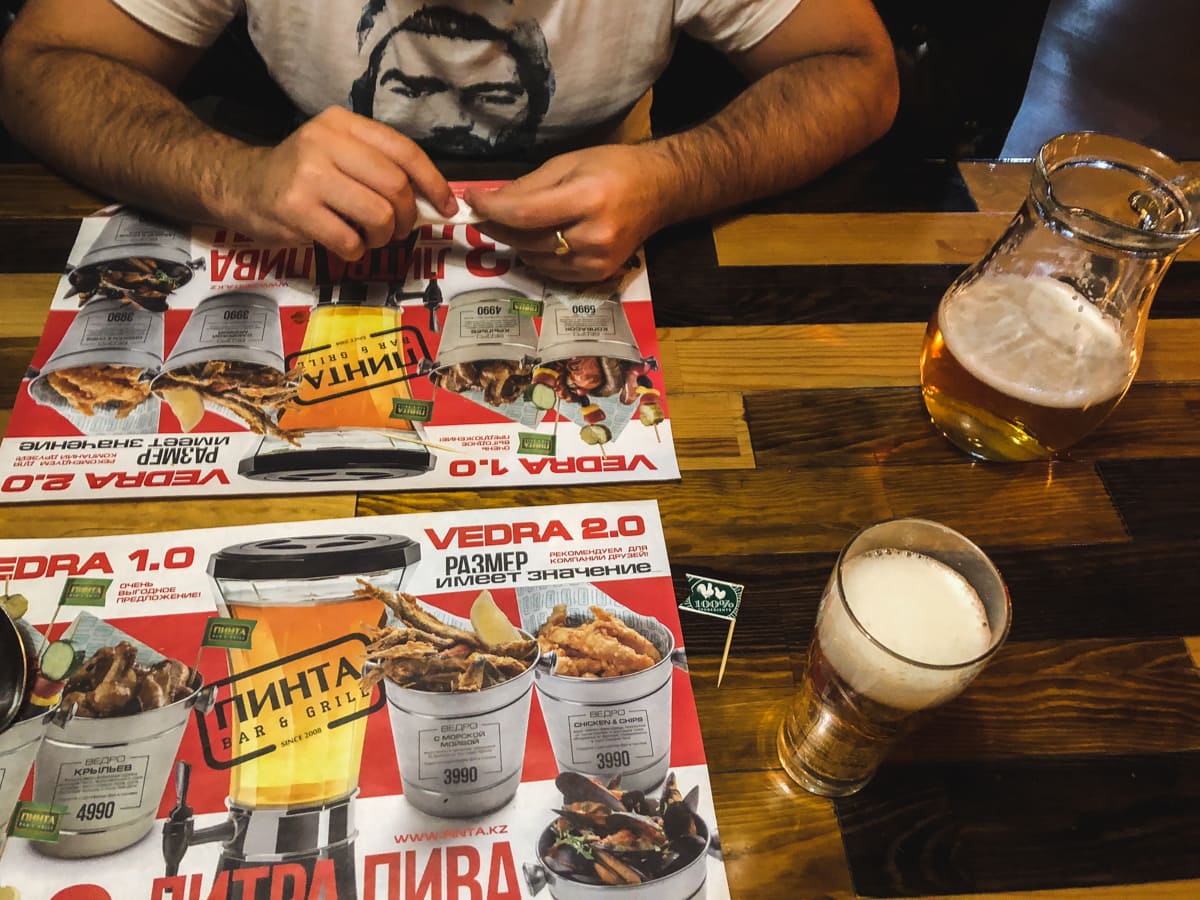 Enjoy Kazy Plov and a Beer at Cafe Infinity
I loved this place. No other way around it. I found myself there every single evening ordering a Shymkent beer for 300 KZT (often more than one) and eating manti, beetroot salads, or plov with kazy. Kazy is horsemeat.
While I am not a huge fan of horsemeat, they prepared it well and it was extremely tender and the plov had great flavor.
Cafe Infinity wasn't a lively place but had a great atmosphere and it was easy for me to work from. Their wifi consistently worked well and every booth had a power outlet.
They also played Kazakh music videos which kept me entertained on more than one occasion. Cafe Infinity was located next to where I was staying which was really convenient for me. They also take credit cards.
You can find Cafe Infinity at 42 Kabanbay Batyr Ave. in Astana. To find out more information, check out their Instagram account.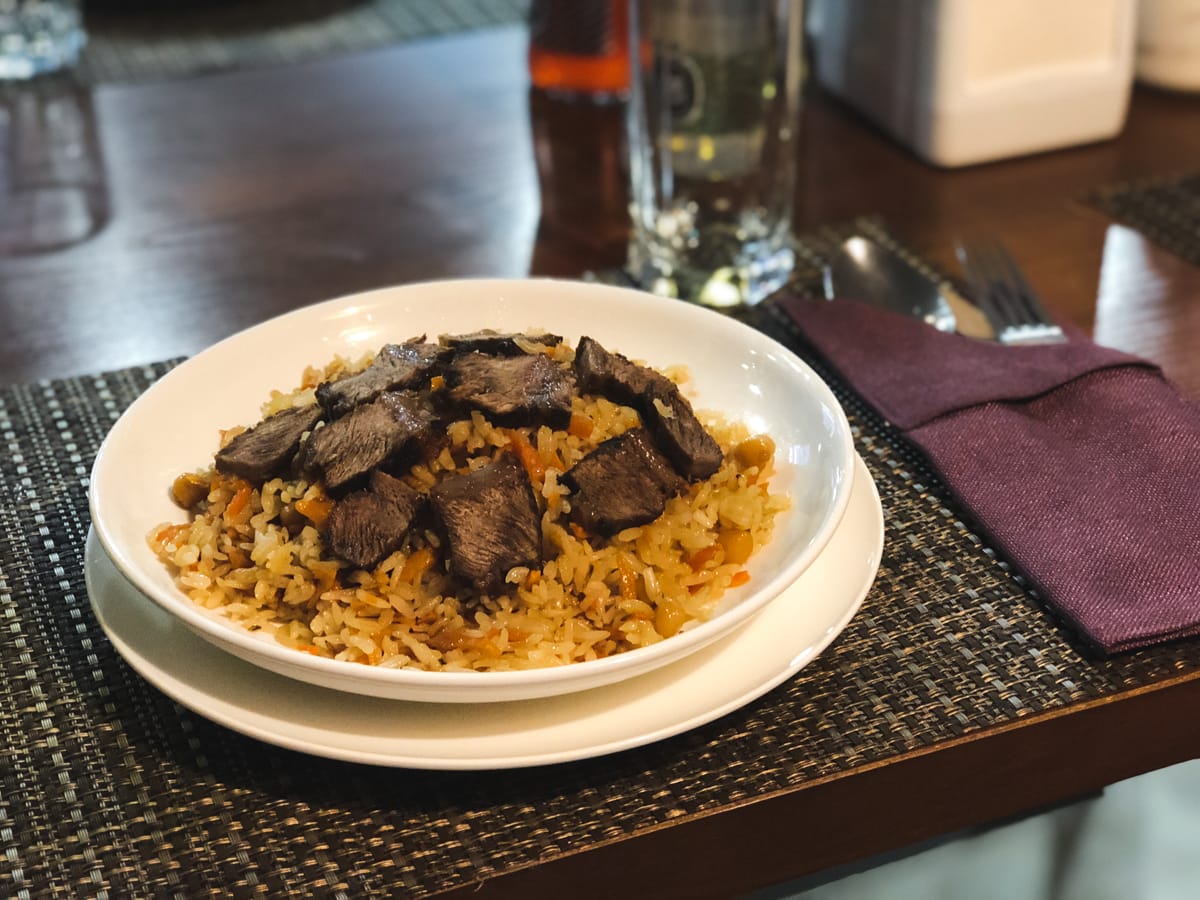 Transplant Yourself to Southeast Asia at The Thai
I hit a breaking point when I was in Astana. I was eating Central Asian food daily and unfortunately, my stomach hated me as a result.
Central Asian food, while amazing and delicious, is also extremely oily and heavy. I actually had one day where I ran to a chain cafe in desperate need of a salad… for breakfast.
I had heard that The Thai was a really good restaurant, but I rarely have my hopes up when eating Thai food in foreign countries. On my last day in Astana, I hit a breaking point. I took a taxi there to check it out.
WHAT AN EXPERIENCE. This was some of the best Thai food I had had in ages.
I wore a t-shirt and leggings with smelly Nikes there and they treated me like royalty even though my dress was totally offensive (I had no idea it was such an exclusive and luxurious restaurant).
While the decor was fancy, the food was still affordable and out of this world.
You can find The Thai at Turan Ave 24 at the top floor of Saryarka Mall in Astana. To find out more, check out their Facebook page.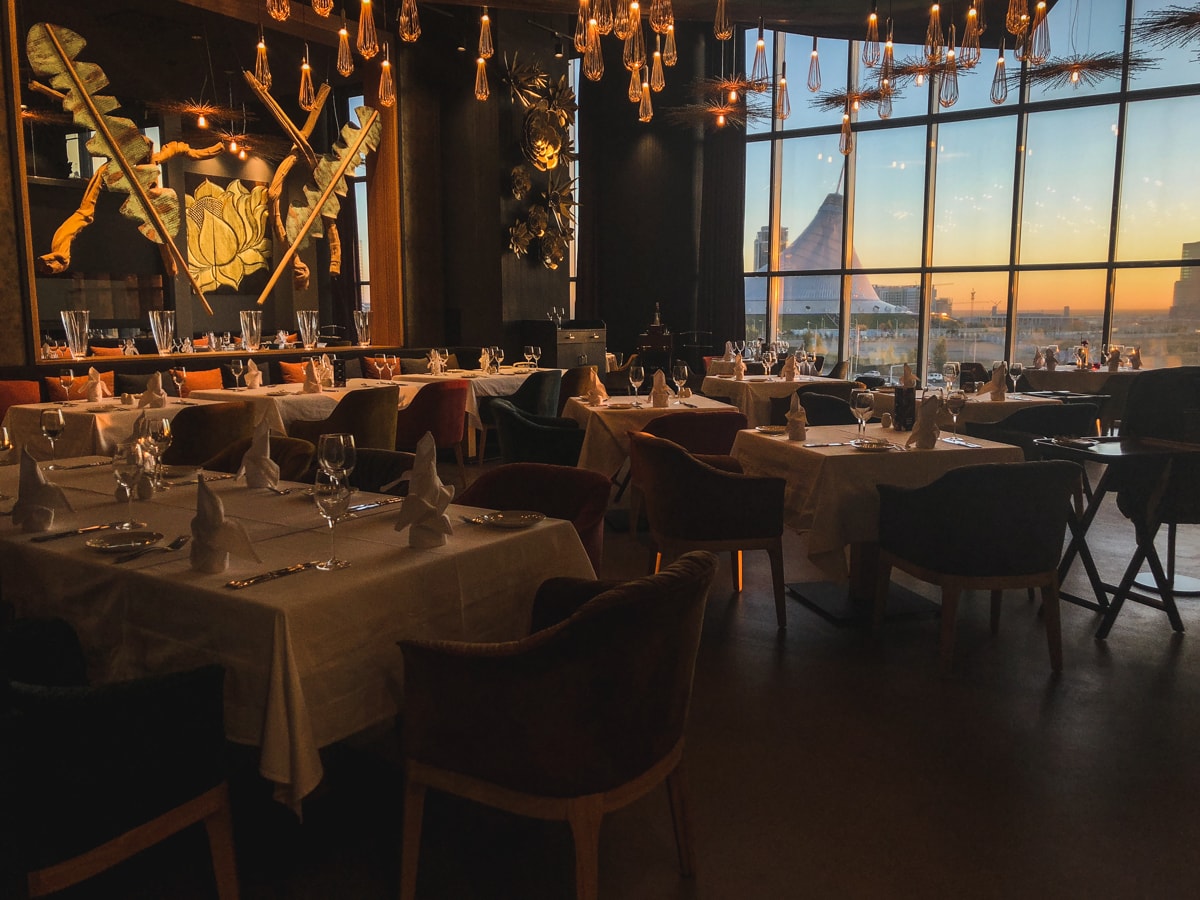 Modern Architecture in Astana
I have to admit, modern architecture is not my thing. But, it is some people's 'thing' so I am listing it here alongside a couple of my favorite buildings or structures in Astana.
These are pretty much generic and basic, but essential to check out for everyone visiting Astana.
Fish Bridge on the Yesil River
One of Astana's newest masterpieces, the Fish Bridge opened just recently to the city and was a gift from the Atyrau region.
The bridge was a gift for the city's 20th birthday (and perhaps Nazarbayev's 78th birthday). The structure is beautiful. I was mesmerized walking across the pedestrian crossing.
And the best part about it is that it serves as part of Astana's new 56 kilometers of bike paths.
But don't get too excited- if you're a tourist wanting to use a city bike, you better speak Russian or Kazakh because you can't rent one otherwise (hint, hint, Astana).
Either way, this bridge is perfect to stroll across or throw on that original maxi dress and straw hat for a photoshoot for the 'Gram. No one else has done it before. Promise.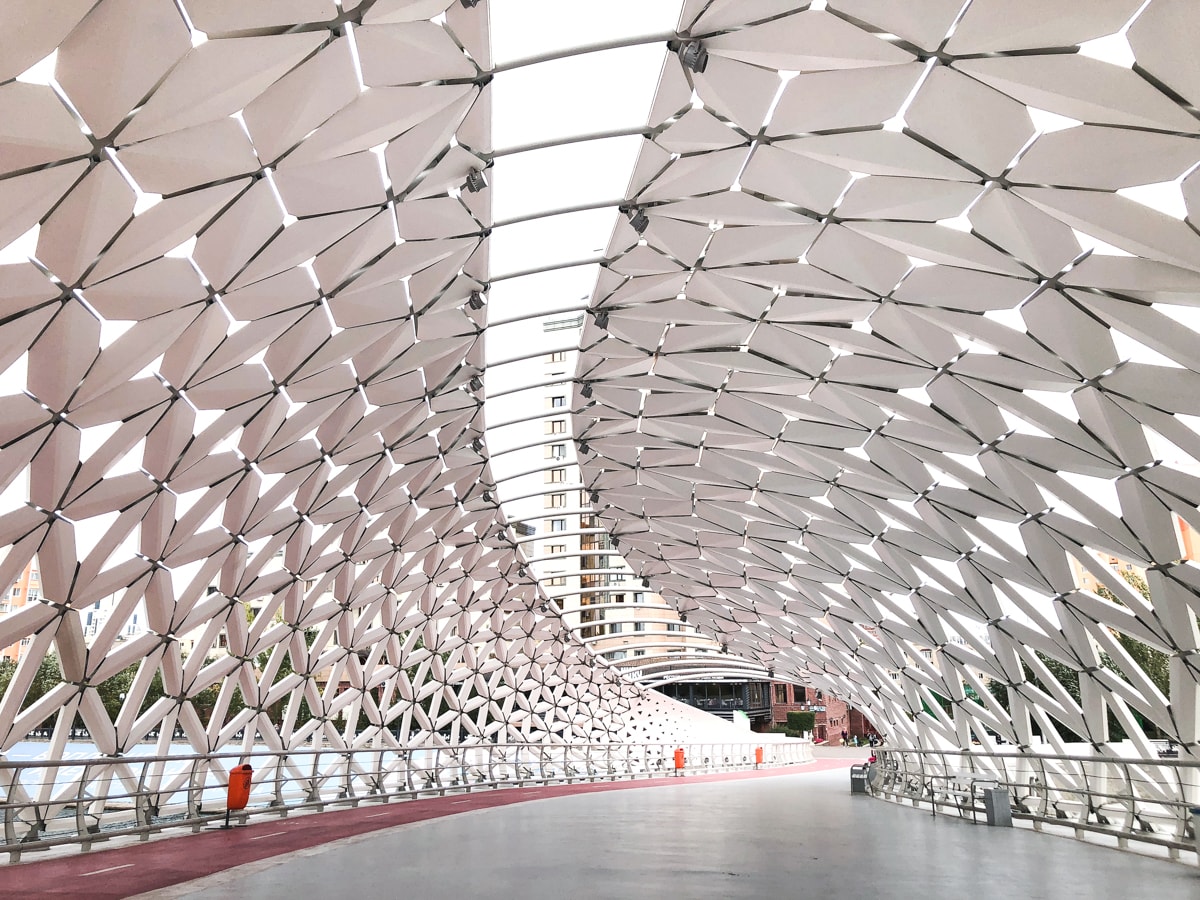 Check Out Astana's Symbolic Baiterek Monument
When I think of Astana, this is what I think of. I sometimes also think of -50C degree winters or, but mostly I think of Baiterek.
The symbol of Astana is a monument and observation tower located in the city center and it stands 105m (344 ft) tall.
The statue is supposed to represent a post-Soviet Kazakhstan and the symbol draws from ancient stories and folklore in the Central Asian country. I love it.
While I don't love all of the modern buildings in Astana, something about the Baiterek excites me and makes me photograph it every single time I see it. I seriously have hundreds of photos of the thing.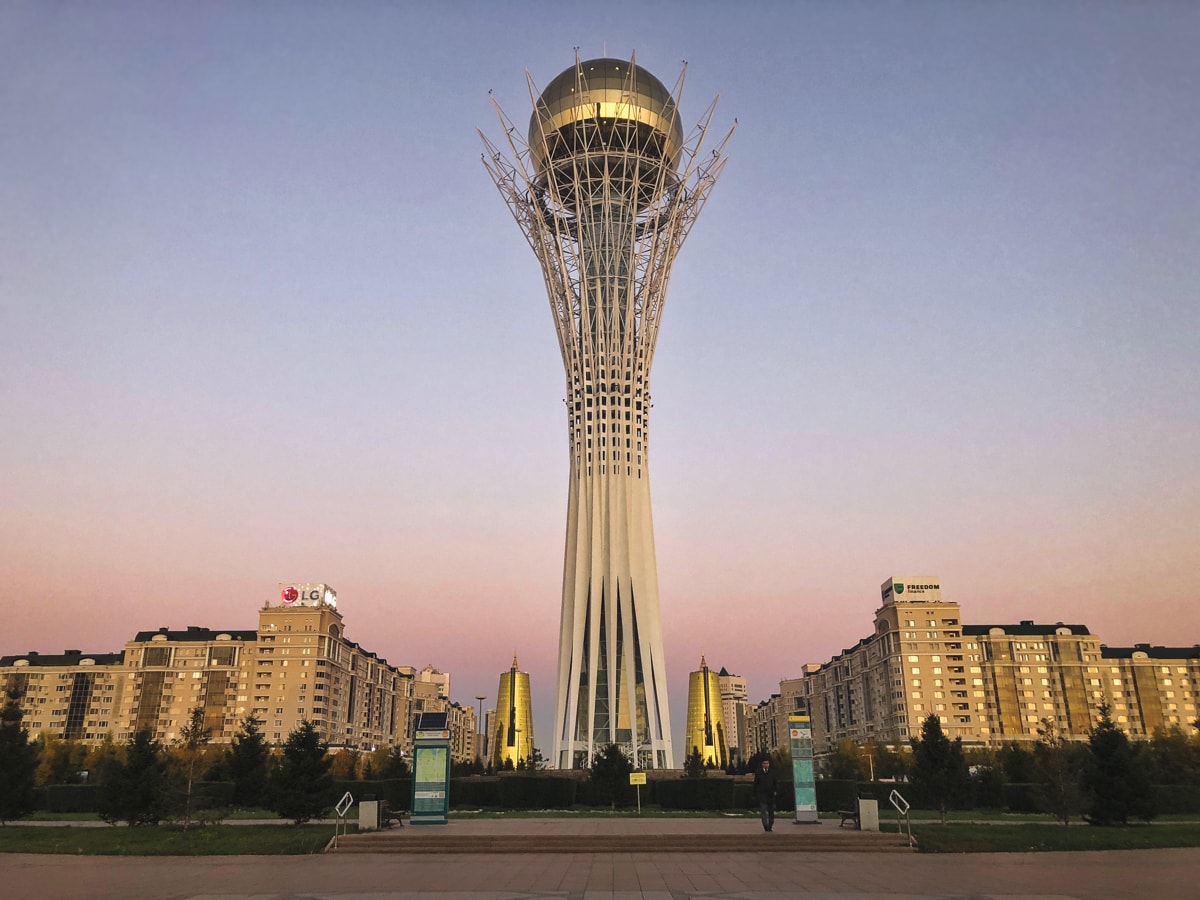 Nur-Astana Mosque
The Nur-Astana mosque, located close to Baiterek, is exquisite perfection. The white building and ornate pieces of gold glisten against Astana's often blue skies and I just find the building dreamy.
I have not yet been inside, but I always make it a point to walk by it as much as I can when in Astana.
I was so excited to see it against the vibrant autumn colors of Astana this past trip that I can't not showcase a photo of that. It was just jaw-dropping.
As the third-largest mosque in Central Asia, making a photography or curious stop at Nur-Astana mosque is one of the essential things to do in Astana.
You can find the Nur-Astana mosque at Qabanbay Batyr Ave 36 in Astana.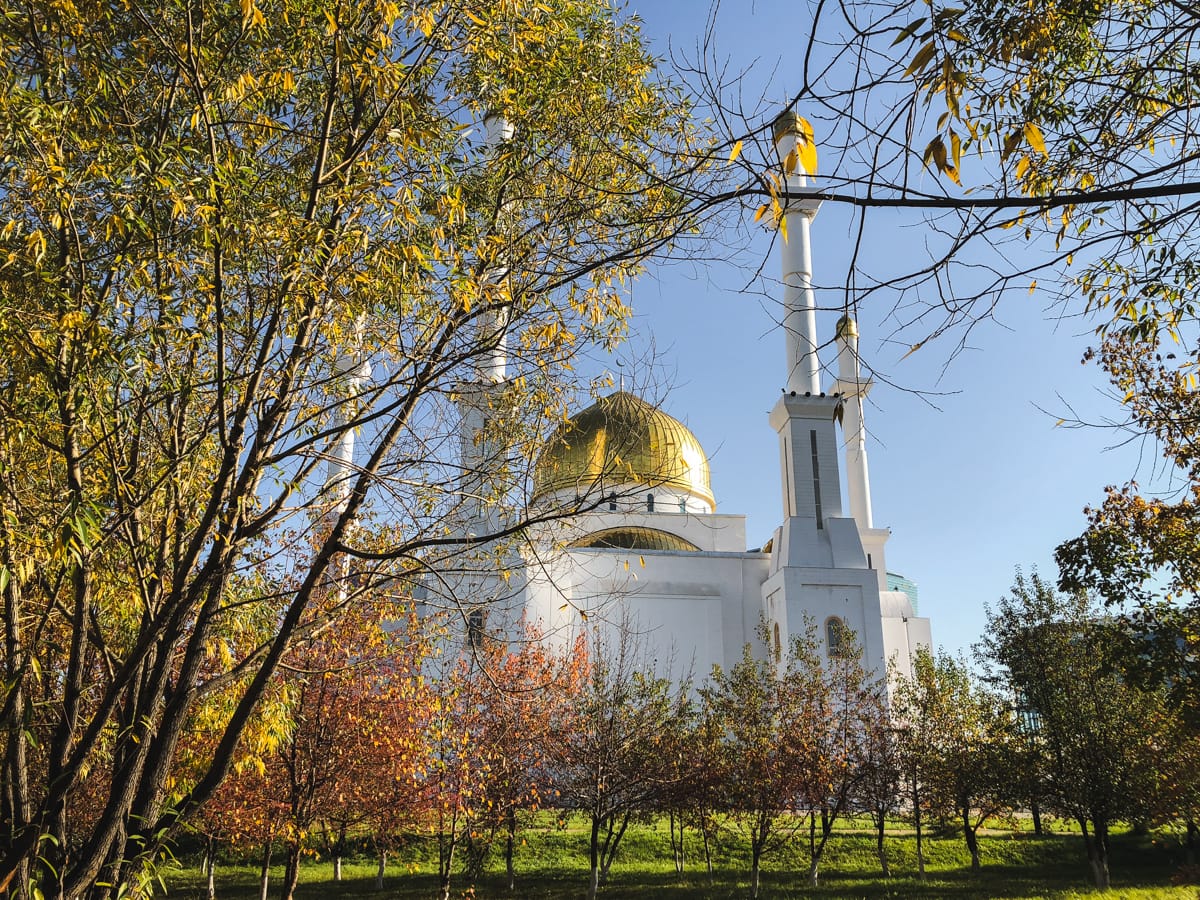 Pop Open a Beer by the Beer Cans
Or actually, on second thought… don't. I don't think open drinking is even legal in Kazakhstan so really don't. But go there and enjoy the 'beer cans' (the term coined by locals)… these two golden buildings that are near the Presidential Palace.
They are best seen in the mornings at sunrise but truly glow any time of the day.
These buildings were one of my first memories of Astana and while that trip wasn't really all that successful, the image of them stuck with me and I reckon that is a success.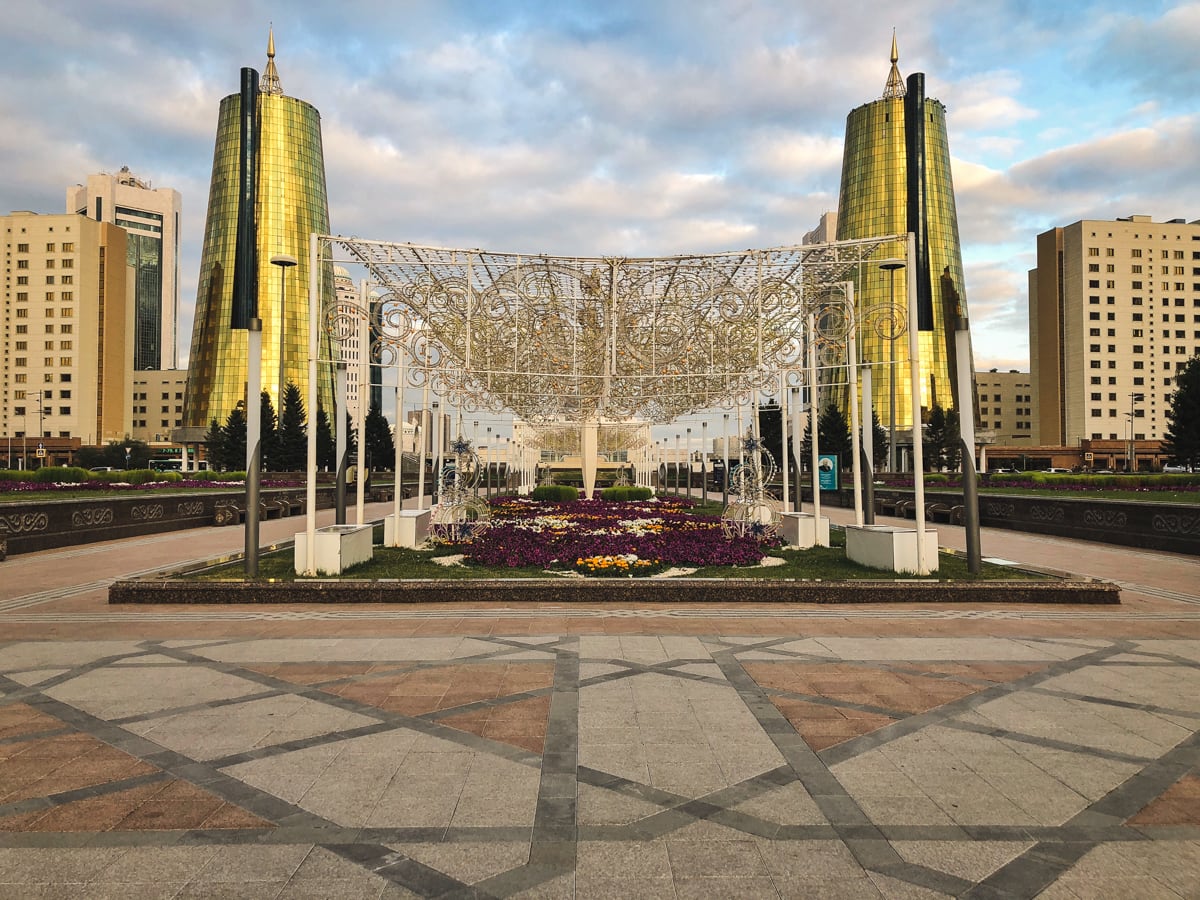 Marvel at Khan Shatyr From the Outside
But don't worry about going in (just kidding). It is really spectacular from the outside. The inside is a mall.
I thought the mall was pretty cool last time I was there but I was kind of bored with it this time as it seemed nothing new was there.
But… there is a beach up top that imports sand from the Maldives (last time I was there I was told it was Dubai). Either way, this building was unveiled in 2006 by President Nazarbayev and still stands as a proud symbol of the country.
The architect behind the project was UK's Norman Foster. PS: It radiates at night. Go then.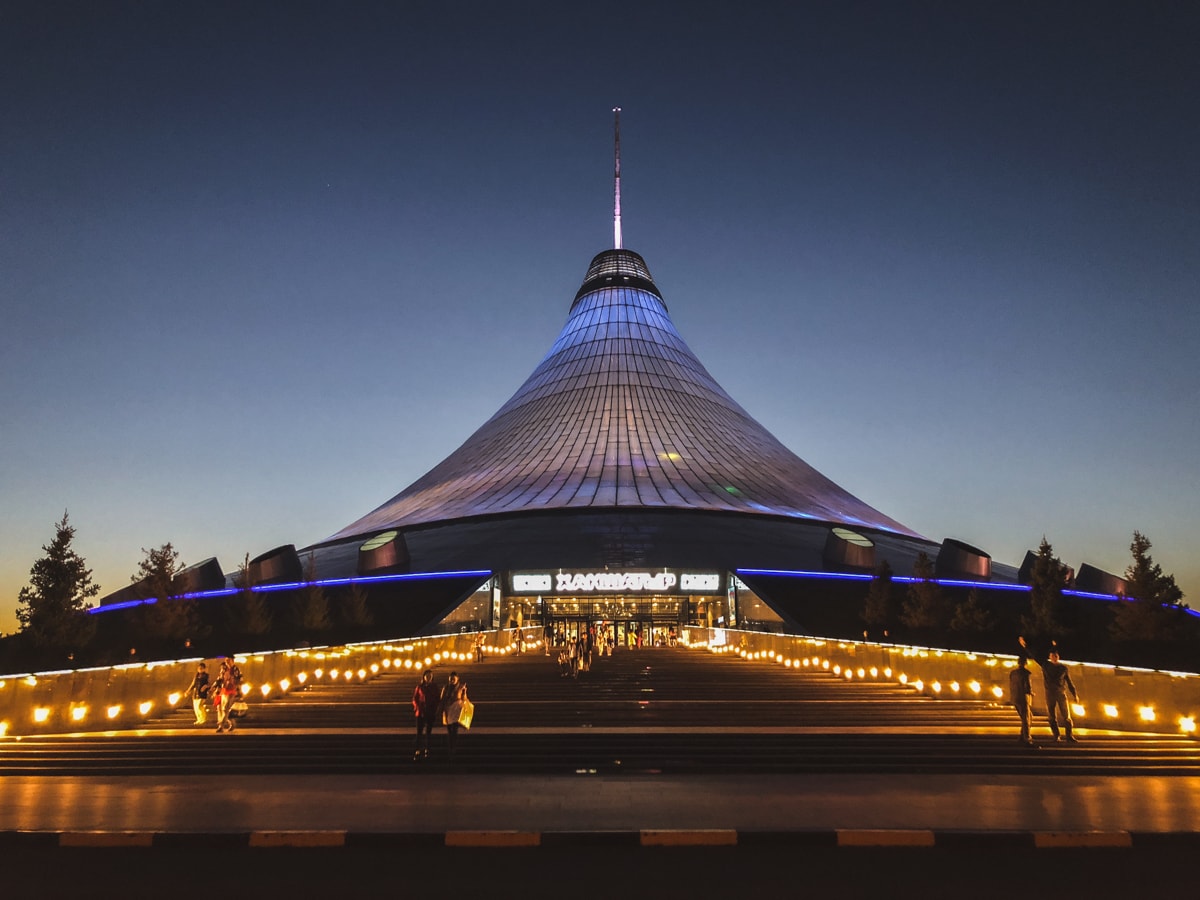 Art and Culture in Astana
Finding art and culture in Astana can be either really easy depending on what you're into… or extremely difficult if you're into something else.
I love Soviet architecture and art and this definitely doesn't exist in copious amounts in Astana for very obvious reasons. But, you can find a few remnants.
The following few are things the art and history-lover might enjoy while looking for things to do in Astana.
National Museum of the Republic of Kazakhstan
It is bad for me to put this on this list because I haven't actually been there. I planned on it this past trip but just never got around to it and already planned a return trip knowing I'd do it then.
I have started learning quite a bit about the Silk Road history of Kazakhstan which pretty much took place in the southern part of the country and this museum houses a fair bit from that era.
I really want to go there and dig deeper into Kazakhstan's history as it is one of my favorite countries.
The building is also a gem for modern architecture lover.
You can find the National Museum of the Republic of Kazakhstan at Tauelsyzdyk Avenue 54 in Astana. To find out additional information, check out their website.
Go on a Hunt for Soviet Mosaics
Talk about endangered. Soviet mosaics didn't exist in Astana (formerly Tselinograd) ubiquitously because the city was a tiny mark on a map during Soviet times.
It didn't become Kazakhstan's capital city until 1997. Fortunately, the train station won't let mosaic lovers down.
There are four just hanging around the station's exterior waiting to be photographed. And one that takes me to Baikonur.
There are also a couple of mosaics in the Saryarka district that have been saved and transplanted to a newer building. They represent space and print.
But go on a hunt… see what you stumble upon. There has to be something else out there. And one day I'm determined to find it.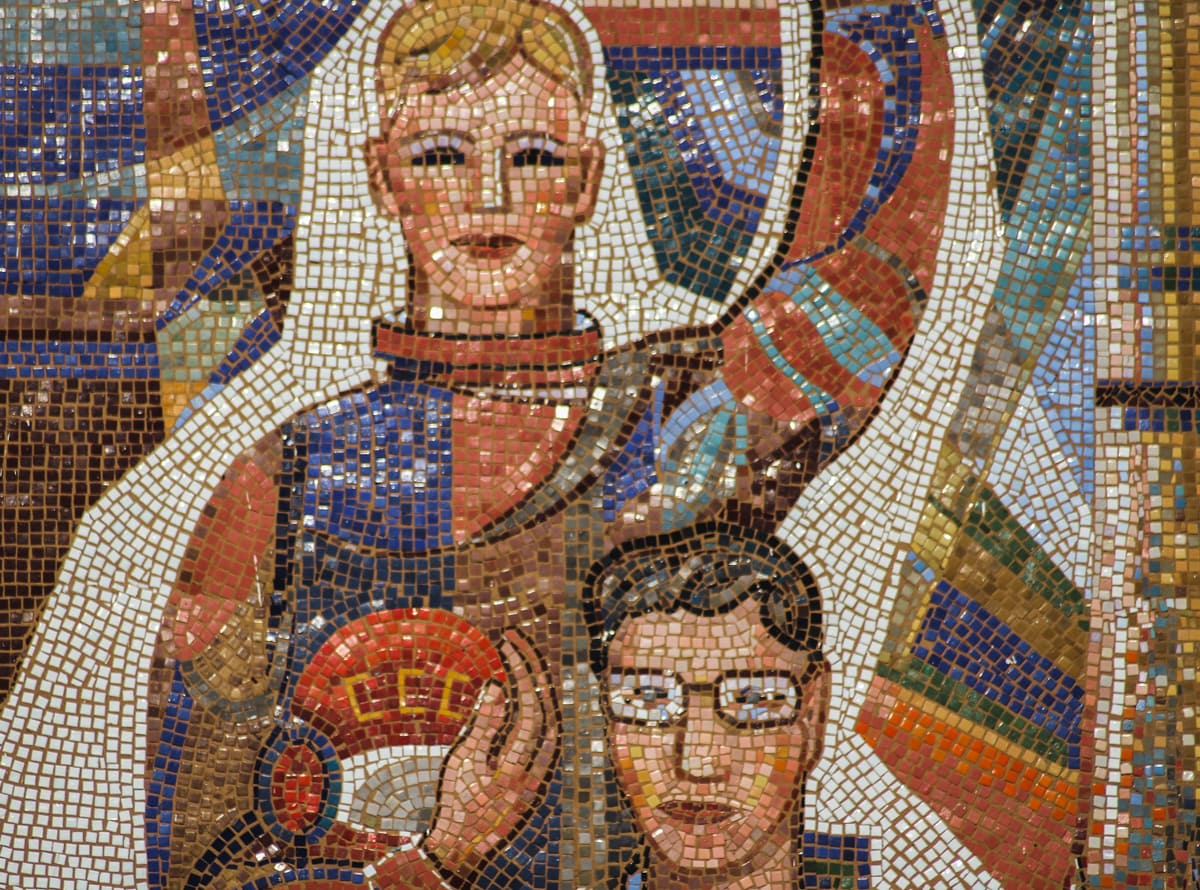 Admire New Astana Street Art
Last year, Astana celebrated its 20th birthday as a city and being the Kazakh capital. And as a result, street artists from across the world came to spread their creativity to the facades and sides of buildings all over the city.
I loved walking around and finding random street art in Astana.
It really spiced up this somewhat sterile city. You can actually read more about each work of art at Urban Art Astana's Instagram page.
They also give the locations of where to find each (although I realized they didn't always correlate with the map well.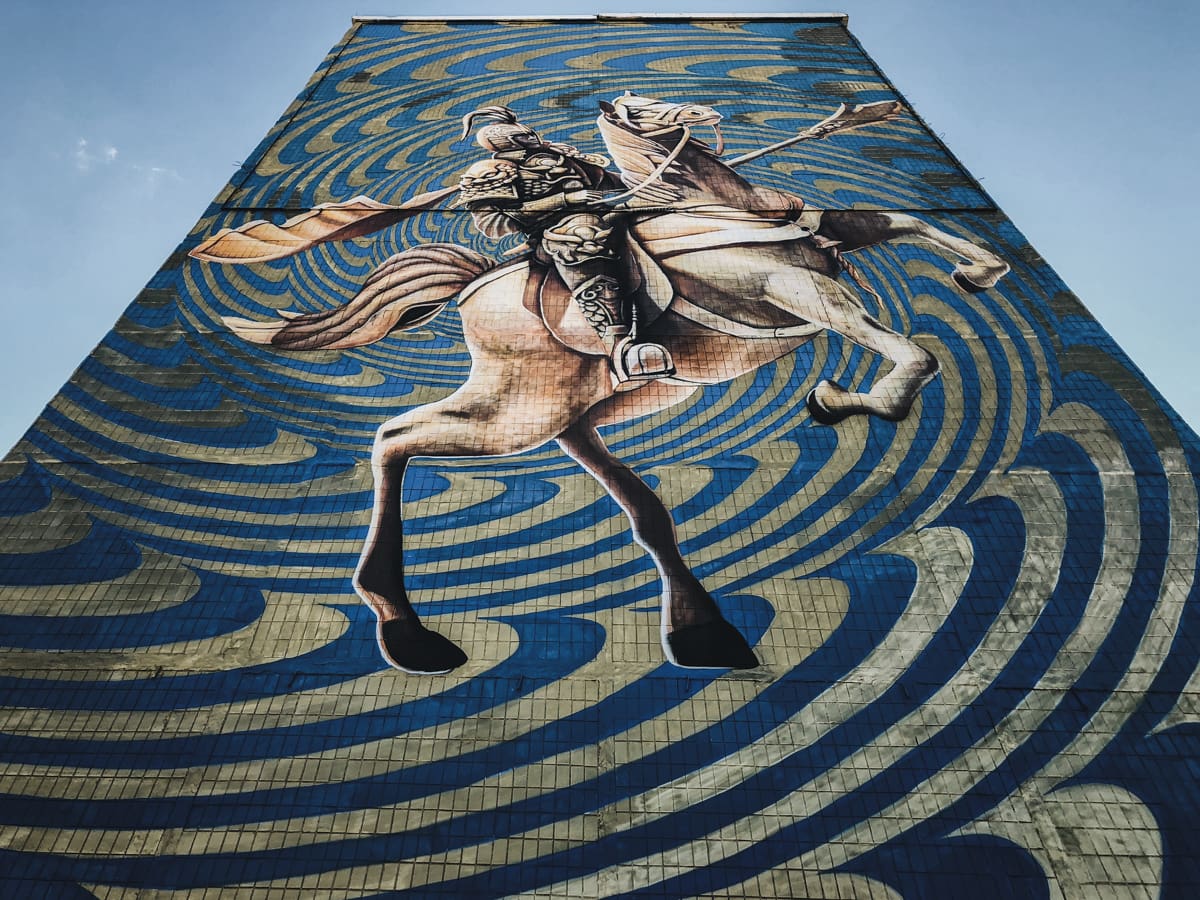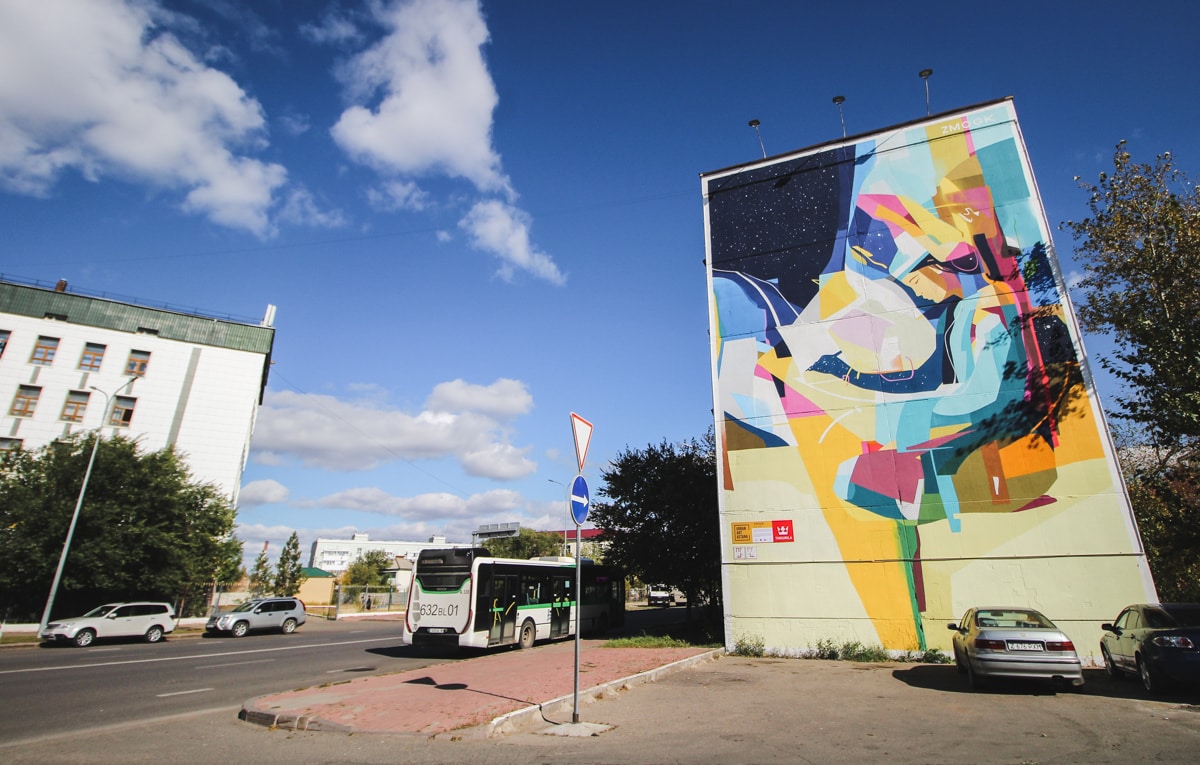 Day Trips from Astana
There are plenty of day-trips from Astana to keep you occupied if you're looking to get outside of the city a bit. While I have only been on one day-trip from Astana, I am planning to do plenty more.
This past trip, I had planned Karaganda (second time), Temirtau, Borovoe, and Stepnogorsk. I only went to Borovoe.
But I am going to list Stepnogorsk below as well for good measure and will update with photos when I finally make it.
Borovoe
I went to Lake Borovoe with a tour for a long day trip and it was such an incredible experience. I was extremely shocked to see such scenery close to Astana which is completely flat and barren.
The drive out there was not all that long and once you get a bit north of Astana the views take you from steppe to forests and trees. It is really remarkable to witness it (just another reason to love Kazakhstan!)
Once at Borovoe, or Burabay National Park, you can hike, go onto the lake by boat or by swimming, and just chill out.
The area has Soviet sanatoriums and luxury hotels and the landscape is simply breathtaking and surrounded by beautiful pines. If you're in Astana, definitely plan a trip to Borovoe.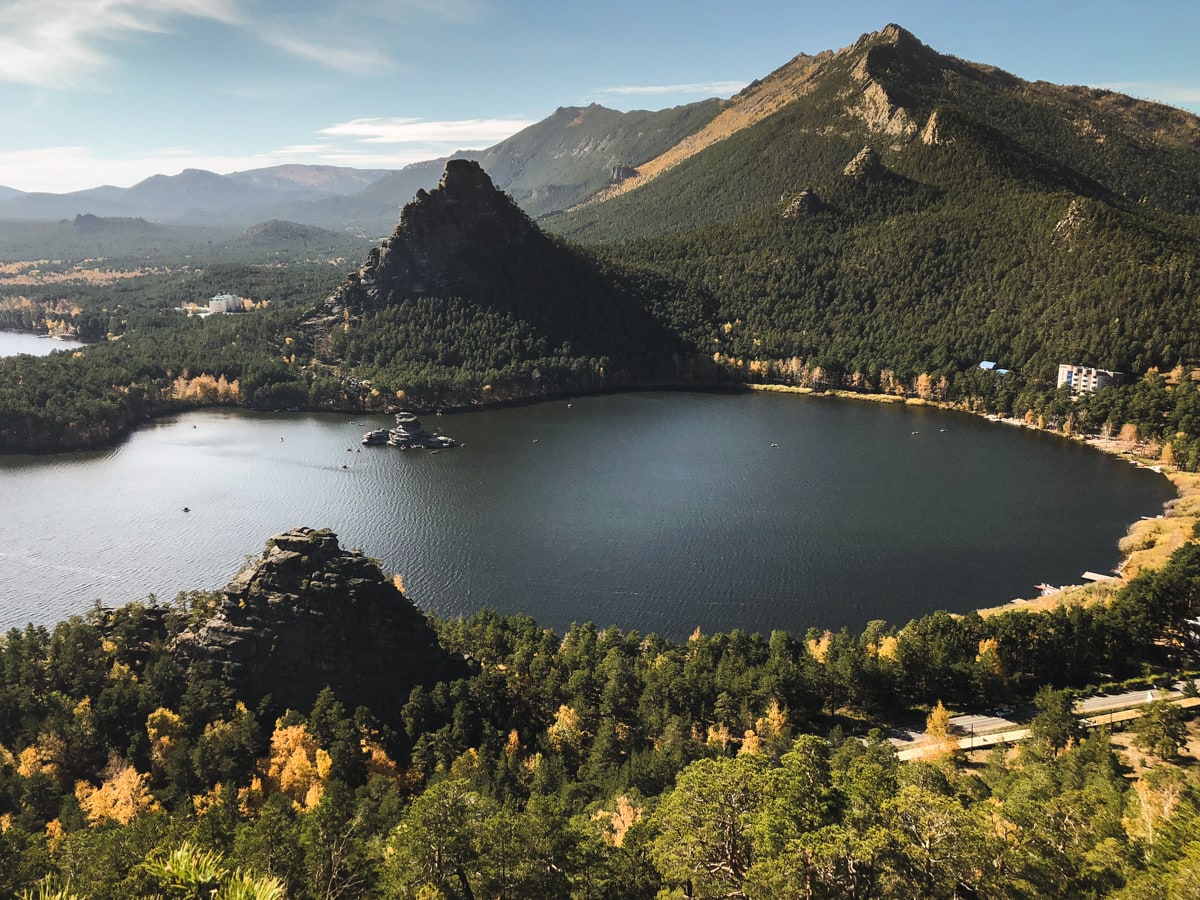 Stepnogorsk
I was so stoked to go to Stepnogorsk but I kept getting more and more behind with work and eventually I just canceled my intent to go there and never went.
The reason I was so keen to go there was that the city was once a secret Soviet city.
Not even closed… secret. It was initially called Tselinograd-25 and was later changed to Makinsk-2 and it is known for being a biochemical manufacturing city (as well as nuclear).
I will 100% be going there next time I am in Kazakhstan. It can be done as a day trip from Astana or you can stay overnight there.
Miscellaneous Things to Do in Astana
There are so many more things to do in Astana that I didn't have time for, but here are two that I really enjoyed and recommend travelers to do when in Astana.
Take a Stroll on the Promenade
The promenade in Astana will take you along the Yesil River and you have a chance to experience clean air, modern architecture, and quite a few eateries and bars that are energetic during the summer months.
This is also the area where the Fish Bridge begins.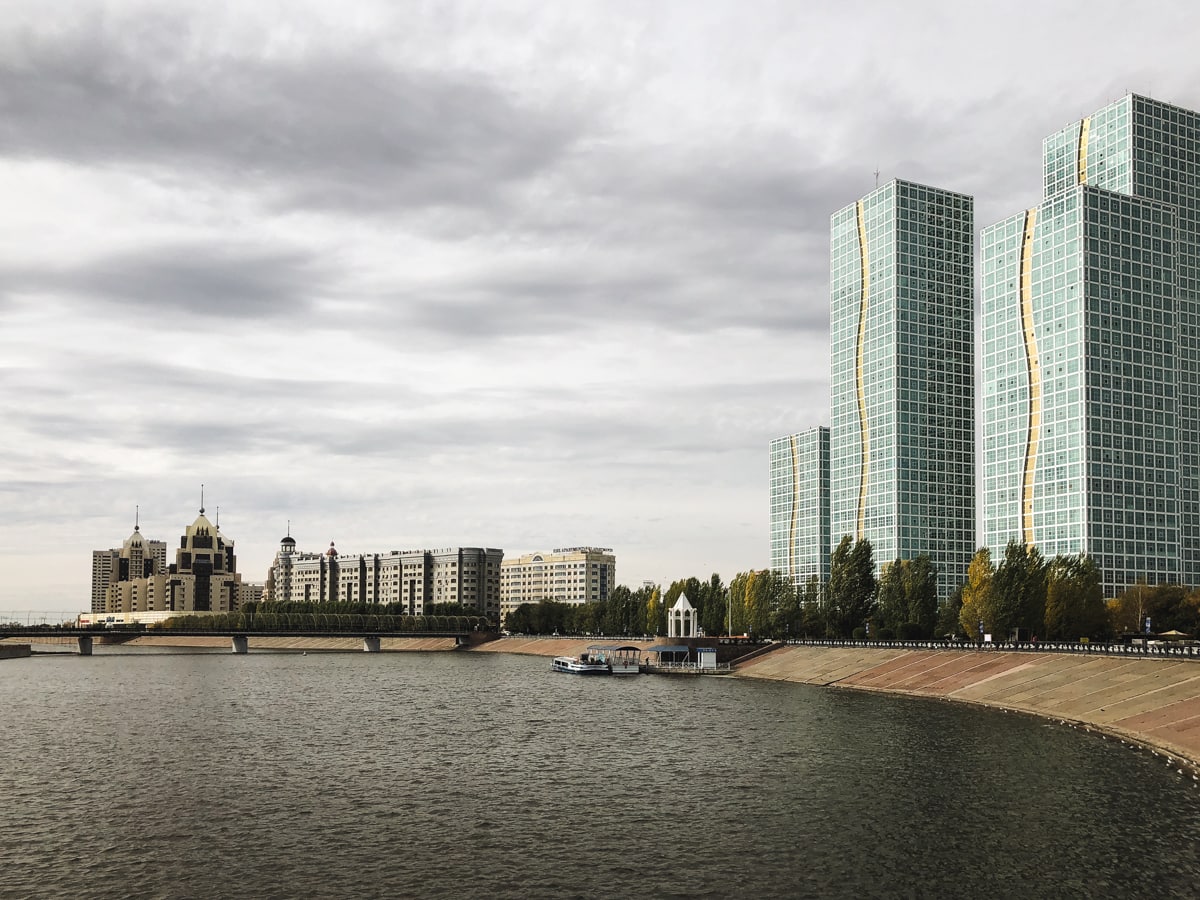 Walk Through Saryarka
Saryarka is an old district in Astana on the right bank. I walked through it years ago, but it was so cold that it didn't last long.
I dedicated multiple days to exploring the neighborhood this past trip and I loved being able to see the mixture of old, Soviet architecture against the new, modern structures that decorate Astana's skyline today.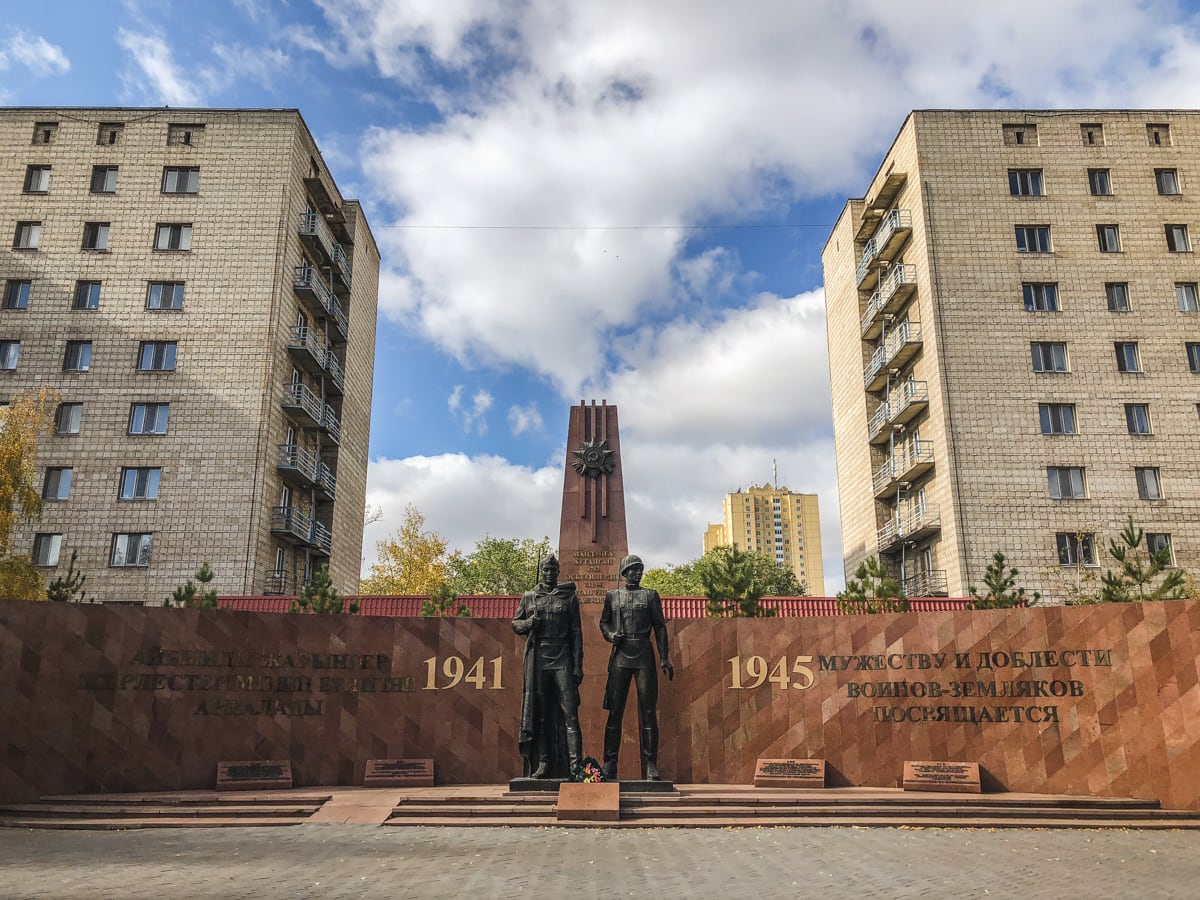 Have you been to Astana? What things to do in Astana are recommended by you?