Completely fascinated by the fact that this Central Asian city was represented by merely two letters of the Cyrillic alphabet (Ош), I had planned on traveling there back in early 2014 when I was first exploring this region.
Yes, the two-letter spelling of this city is what first ignited my interest in the place. If you are a regular reader on my site, you will know that I tend to travel to places that I am unable to pronounce (i.e. Dnipropetrovsk or Zaporizhia, Ukraine), so this destination was a bit of an unusual one.
In 2014, I was sitting in the commons room of a hostel in Bishkek about to press "BOOK" on plane tickets to Osh, Kyrgyzstan for a few days when a girl came into the room and invited me home to Cholpon-ata with her (she was a local).
The introvert in me reluctantly said 'okay' and with that, I closed my laptop and prepared for a trip east, not west as I had initially imagined.
I had the time of my life on Lake Issyk-kul and it turned out to be the best decision ever. She invited me back to Kyrgyzstan in summer and I vowed to return to visit her someday as I had a lot of plans of backpacking the Silk Road and exploring the region deeply.
I later moved to Kazakhstan and she got to see me every other weekend while I was making my visa runs. She probably never imagined inviting me back to Central Asia would result in me moving there, but that is a whole different story… and Central Asia has plov, so….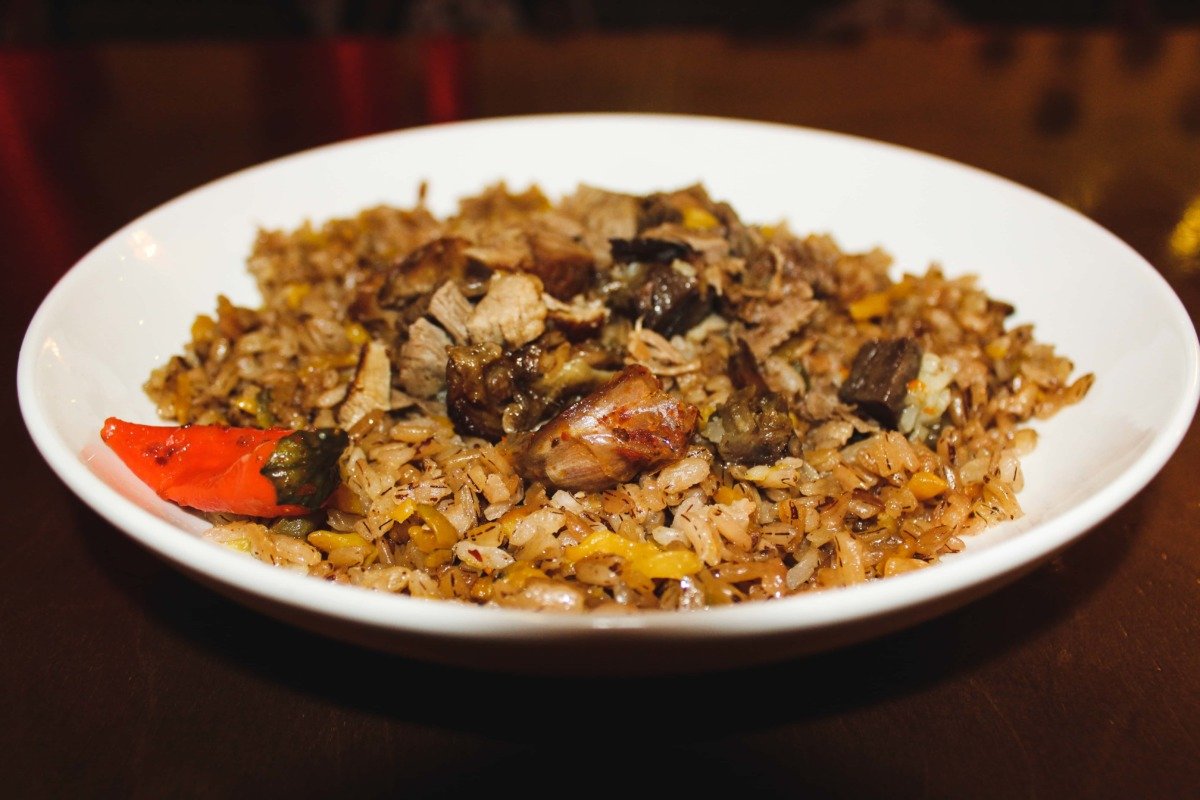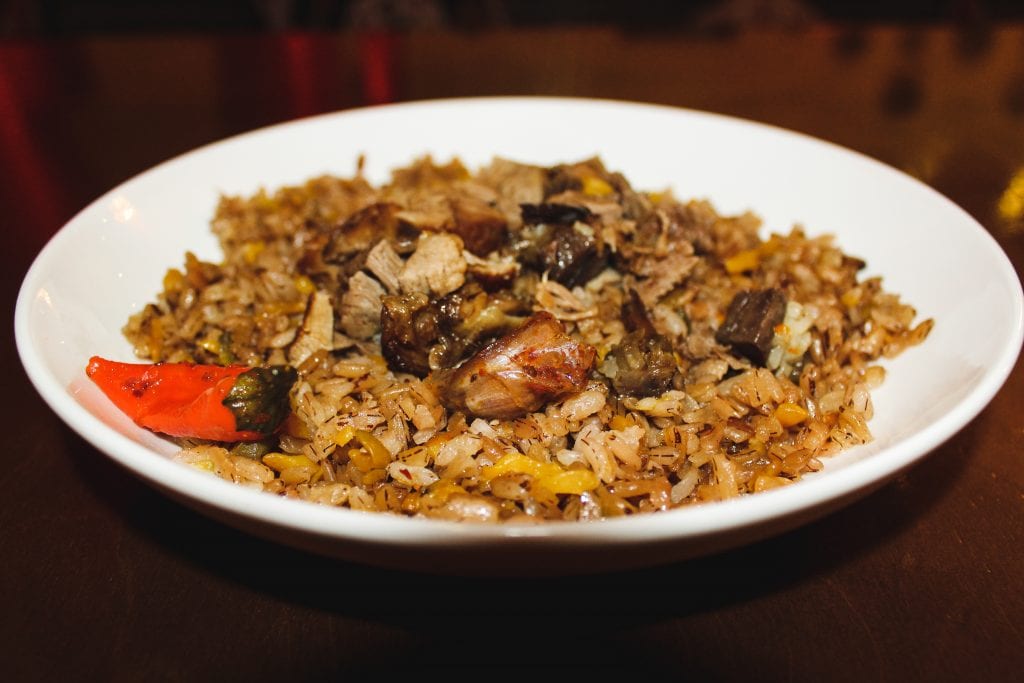 <plov is a totally legit reason to return to a place, right?>
During my stint living in Kazakhstan, I told her that I finally wanted to get to Osh. With roundtrip tickets being about $35 on some airline that is banned by the EU, we could easily go for a few days. She had never been there. She reserved her tickets and I later officially booked mine.
Throughout this time, our friend Sayyora booked to join on. An Uzbek (Sayyora is from Uzbekistan), a Kyrgyz, and an American playing around in Osh for a few days kind of sounded like the perfect trip. About two weeks prior to our trip, I ended up with the only confirmed tickets as they both had to cancel last minute. Little did I know what I was in for.
While all of this was going on, I decided to leave Kazakhstan. Things just were not working out there and I had been abused by two taxi drivers and I just was fed up with things. No disrespect to anyone from Central Asia- this crap happens everywhere.
I was also tired of the constant visa runs to Kyrgyzstan. My three months outside of Schengen were almost up and I just had a couple more weeks to wait out, which I chose to do in Istanbul (with a side trip to Plovdiv, Bulgaria).
Everything was sorted and there are heaps of things to do in Istanbul, which made me happy. I would travel from Almaty to Bishkek to Osh to Istanbul/Plovdiv, and then end up back in Frankfurt about two weeks later.
I arrived in Bishkek pretty late from Almaty. Because of a near horrible accident two weeks prior to going from Almaty to Bishkek in a marshrutka due to blizzard conditions, I had a plane ticket booked down to Bishkek from Almaty for my next visa run.
This worked out perfectly as my flight arrived late and my flight to Osh left early the next morning. I planned to just sleep at the airport. Anyone who has slept at the Bishkek airport knows what a circus that can be as there are always locals inside and you have to watch your belongings with a keen eye.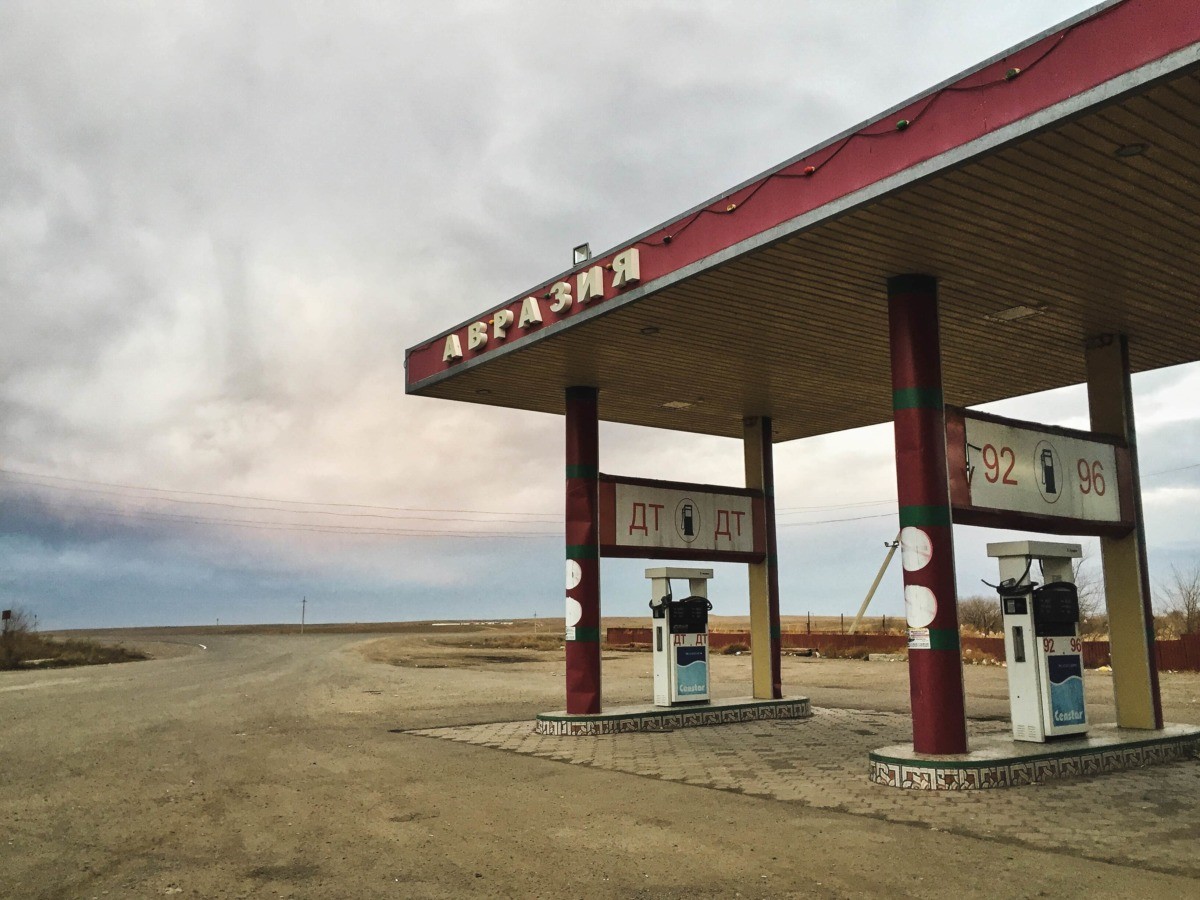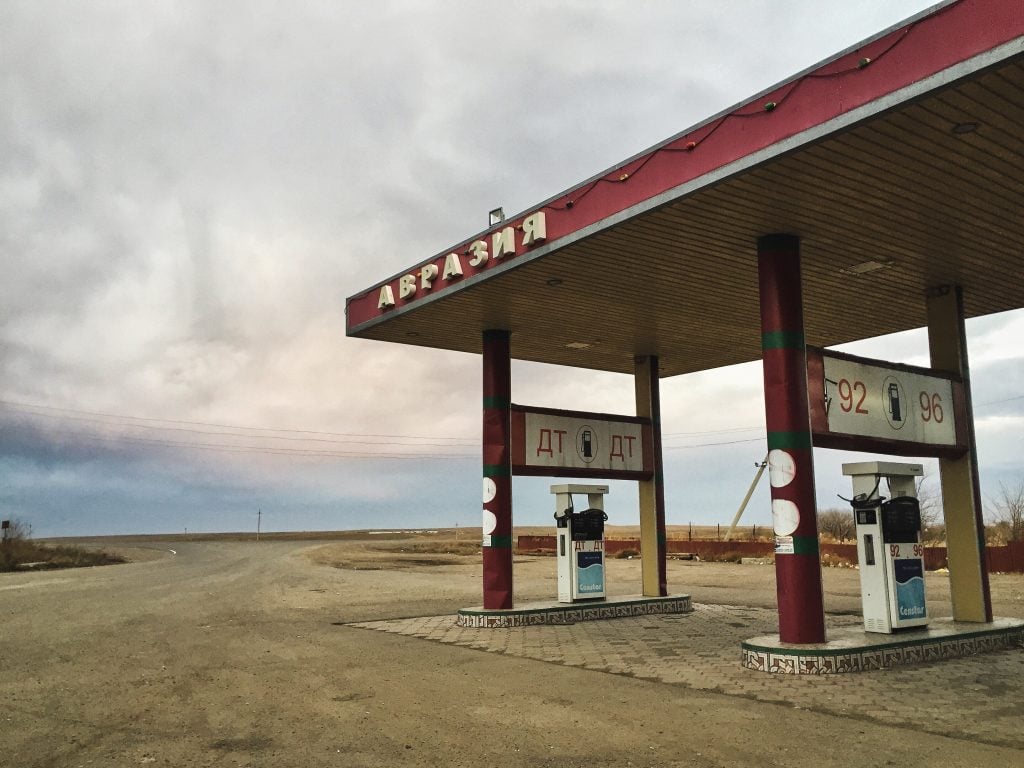 <road from Almaty to Bishkek in non-blizzardy conditions>
Somewhere in between arriving through customs and getting my baggage, I had decided to skip Osh and go into Bishkek and enjoy my last few days relaxing and not backpacking in and around Kyrgyzstan. I had five days to play around before boarding a plane to Istanbul and I really wasn't too fussed about Osh. In fact, I straight up didn't want to go. I also read that a blizzard was hitting the city.
After talking about my second-thoughts with my man, I decided to just go and take my chances despite something telling me not to. I went to find the luggage storage to lock up my belongings that I didn't need to take to Osh.
I had read that the Bishkek Airport did have a luggage storage facility, but I couldn't seem to find it. An hour later and after asking dozens of people, I ended up going to the police to ask if they knew about it.
Naturally, they said it didn't exist (I later found out that there was one, but I don't know any additional information regarding it) and asked for a bribe to hold my luggage. After cursing in my head at these assholes, I obliged as I really had no choice and I couldn't abandon the luggage.
I had left my things out at Adriano Coffee with the barista so I went back to get them and have my cell phone ready to record the exchange in case I had issues later. Just as I had suspected, they changed their price and upped it once they took a photocopy of my American passport (we tend to always get the highest bribes).
The night passed and I finally boarded my plane. This is where I really longed for those night trains in Europe – trains are just easier, even when longer.
I was tired and about to rest my eyes as the captain came on saying something in Russian and Uzbek to the passengers. I understood very little aside from the fact that we were going to be sitting aboard this plane for some time.
The only English-speaker on the plane, I was thankful when I learned that one of the flight attendants spoke some decent English and told me that Osh was being torn apart by a blizzard and landing conditions weren't ideal. I am pretty sure I said something along the lines of, "Oh that's cool, can I disembark from the plane?
I don't want to go anymore." And I would have really gotten off the plane at this point. This was some type of an omen and I wanted to avoid it so that I could catch my flight to Istanbul a few days later without any issues. I needed out of Central Asia. He wouldn't let me off the plane.
Three hours later, we took off and Osh awaited us.
We landed, the sun was out, and the snow was still on the ground. I quickly realized that a blizzard in Osh is much different than the blizzard I had recently experienced in Almaty (Osh doesn't get much snow).
I scoped out the taxi driver scene to see which guy wasn't harassing me and which one looked the oldest (many of the young taxi drivers are in gangs in Central Asia and this is where I encountered many issues). Luckily, I found a nice man who had also planned to take me back to the airport the next night to catch my flight back to Bishkek. I had his business card and all seemed to go well.
I arrived at my guesthouse and my 'shared room' ended up being a room to myself, much to my surprise and relief. Apparently, Osh in December is kind of an anomaly. In reality, traveling to Osh at all is an anomaly.
I was tired and had no plans for the rest of the day after the flight ordeal, so I planned to leave and get some of the local plov and a drink, pending I could find one (Osh is pretty conservative compared to Bishkek).
I found some lousy plov, but no beer to wash it down. I ventured back to my guesthouse to discover the heat wasn't working and I sat shivering for a few hours before asking the owners for heat. They put a small portable heater in my room and within about thirty minutes it began smoking and it melted the outlet it was plugged into. Sigh…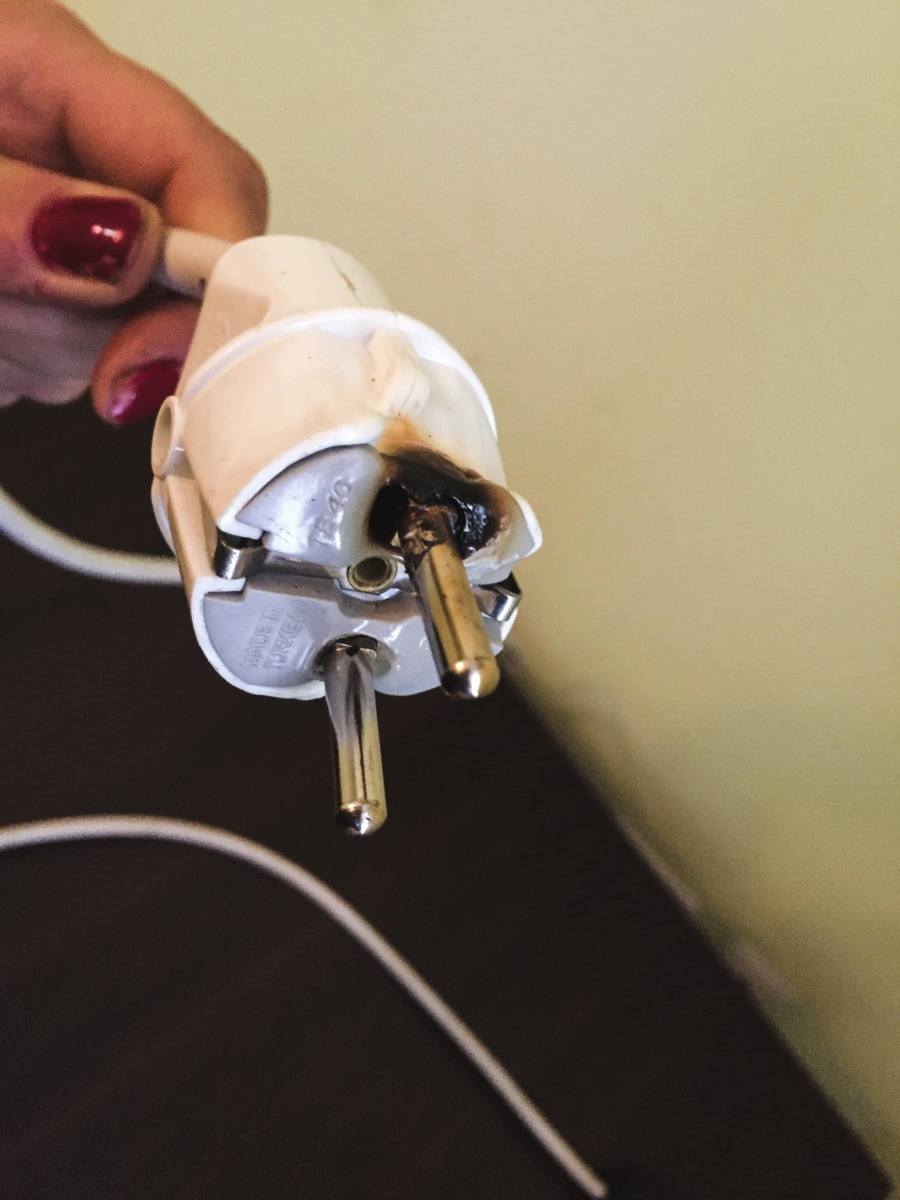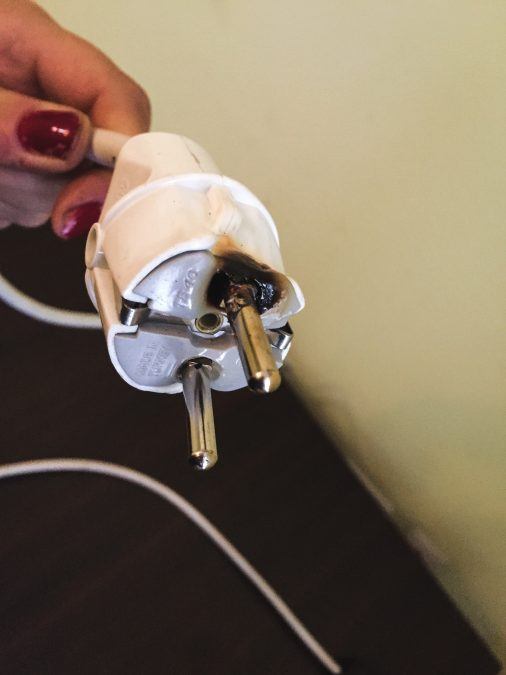 The next day was absolutely perfect. The sun was shining and the city awaited me. I had waited years to check out Osh and it was so refreshing to finally have the chance to do it. Nothing was going to ruin my day. My flight didn't leave until around 8pm and I was determined to see as much of Osh as I possibly could.
I hiked Sulaiman, saw the USSR airplane in the theme park, paid Lenin a visit, and had a delicious Greek salad at a local restaurant. I really fell for Osh pretty quickly and was so stoked that I had actually chosen to visit after all these years and the blizzard situation the day prior.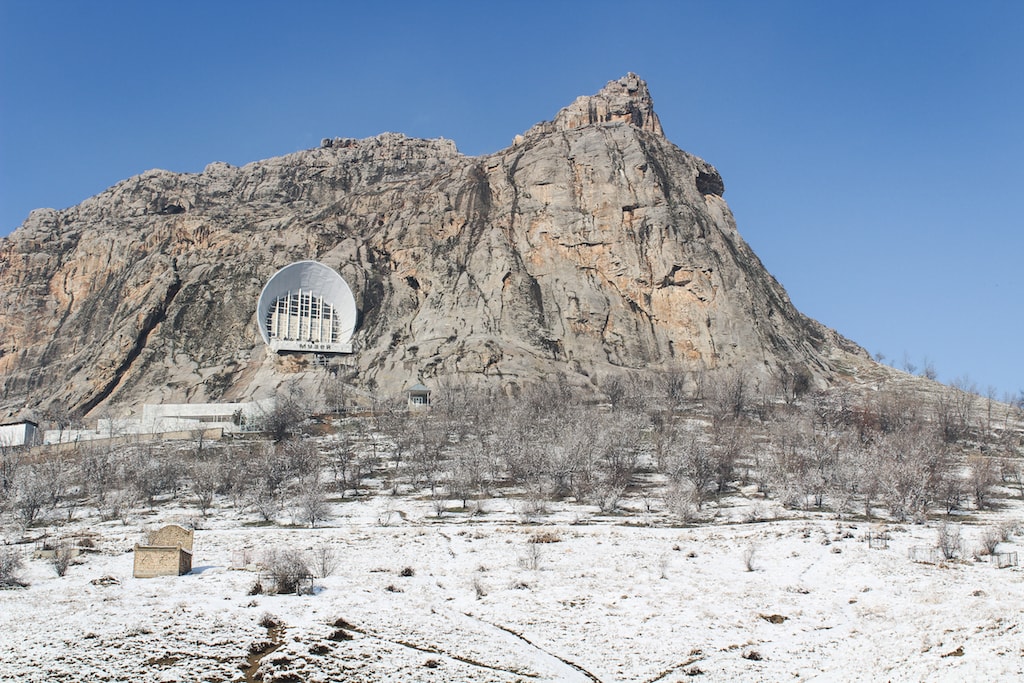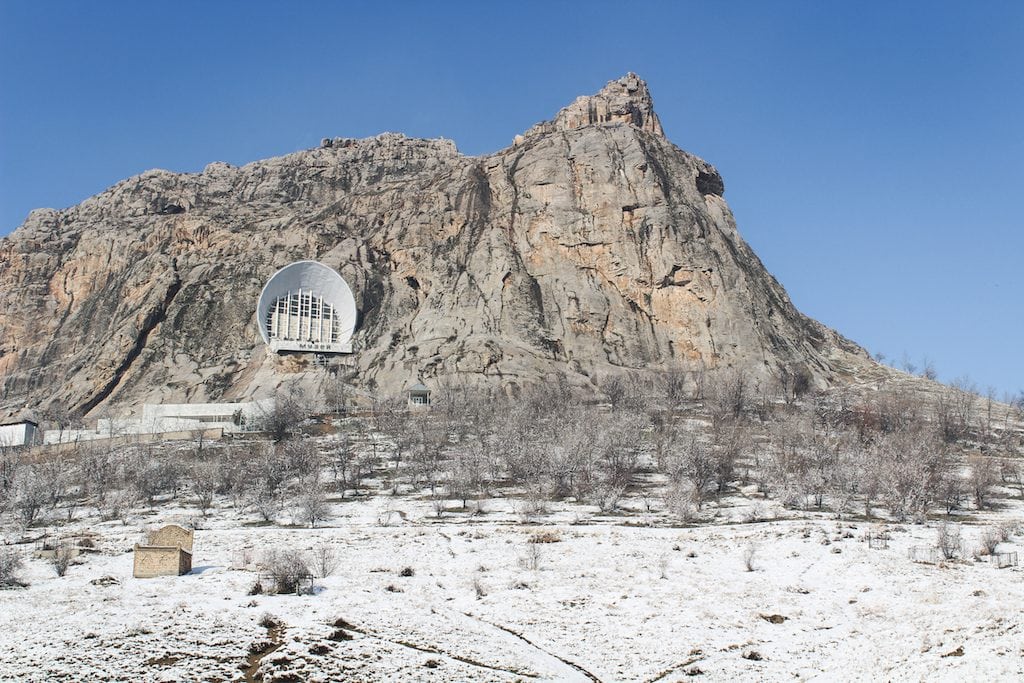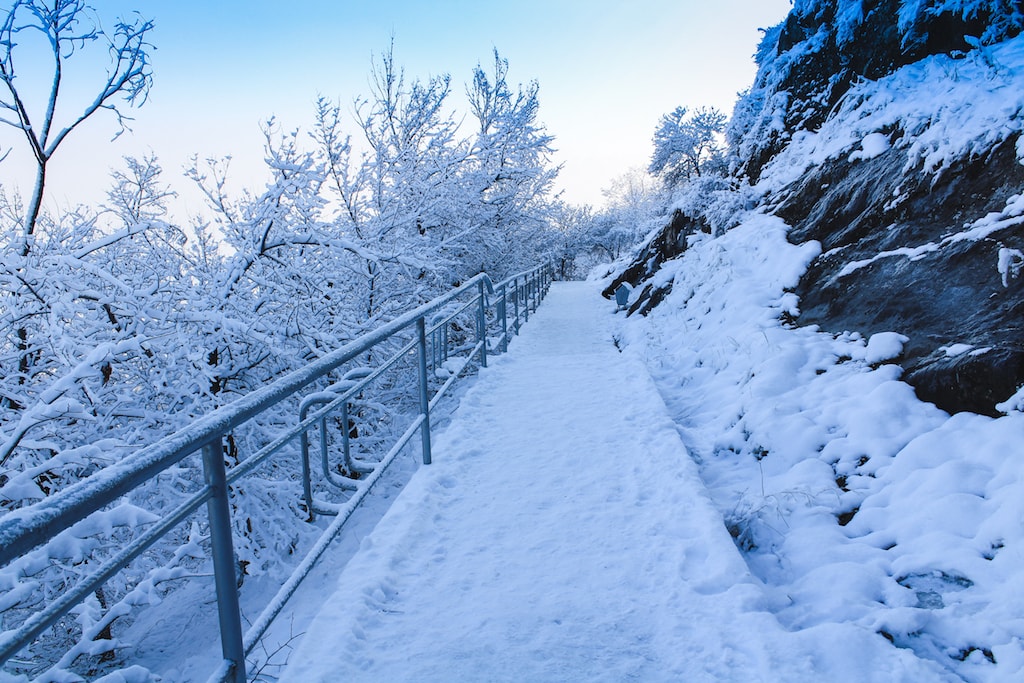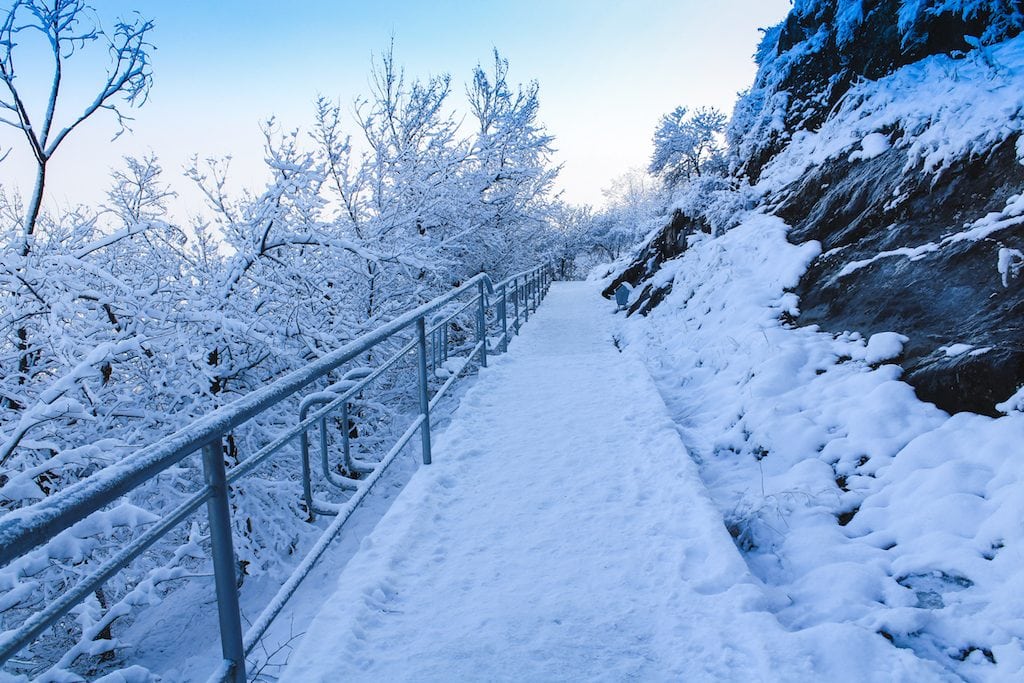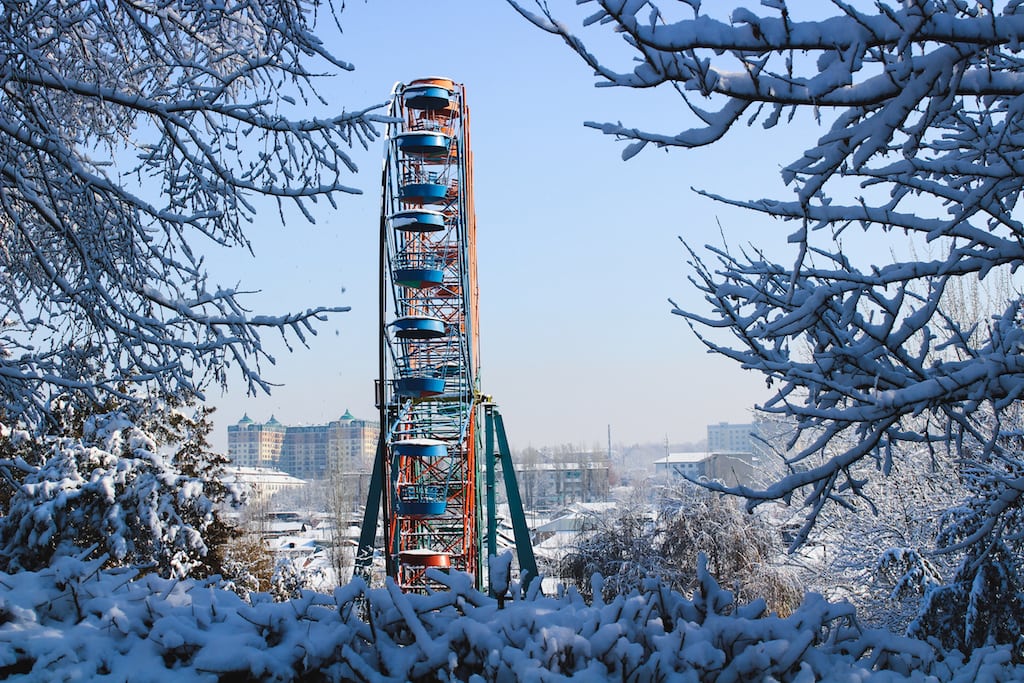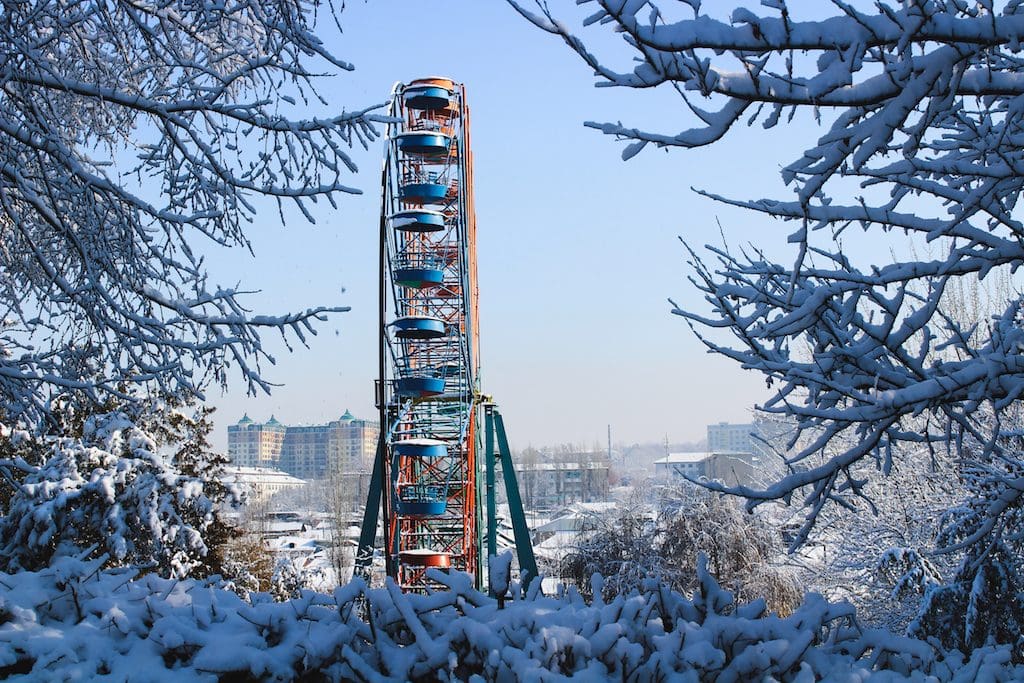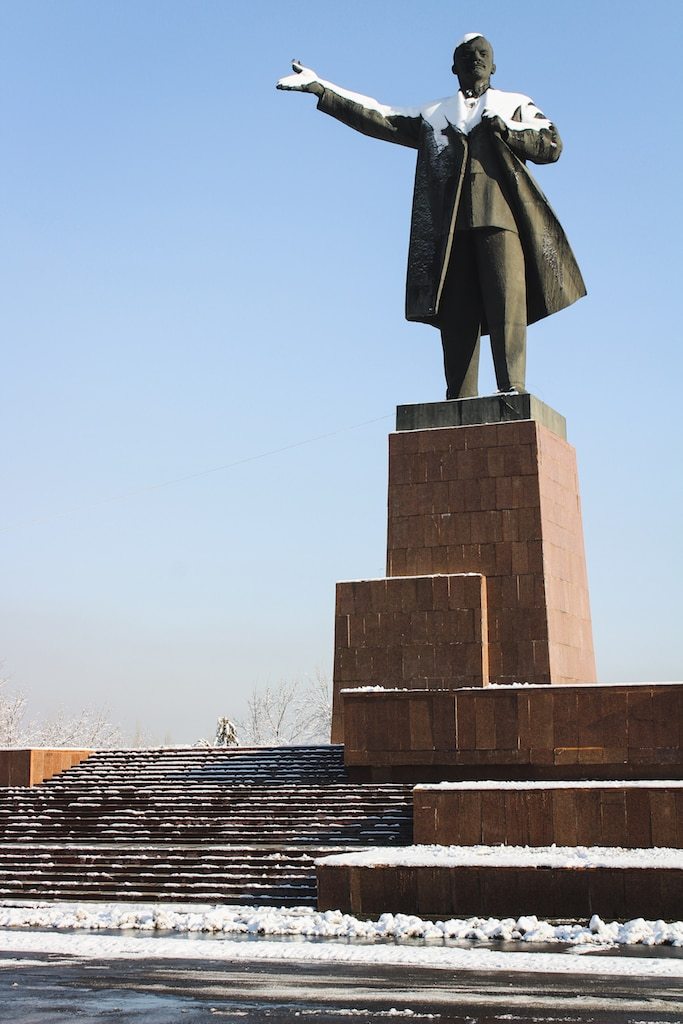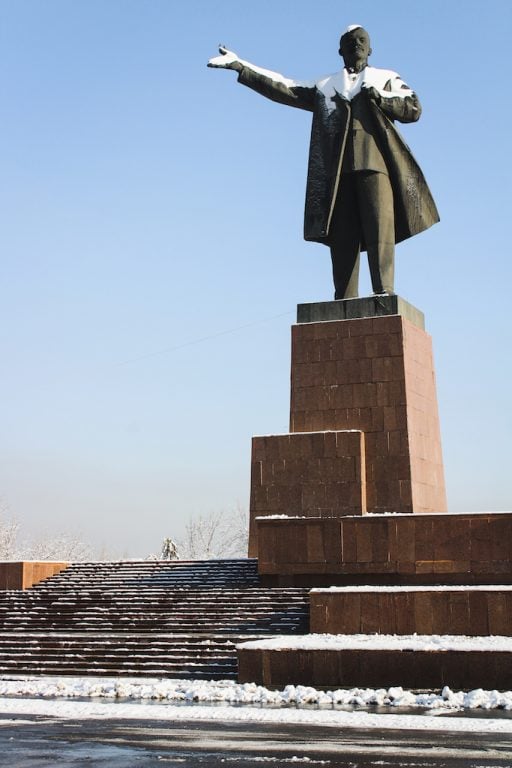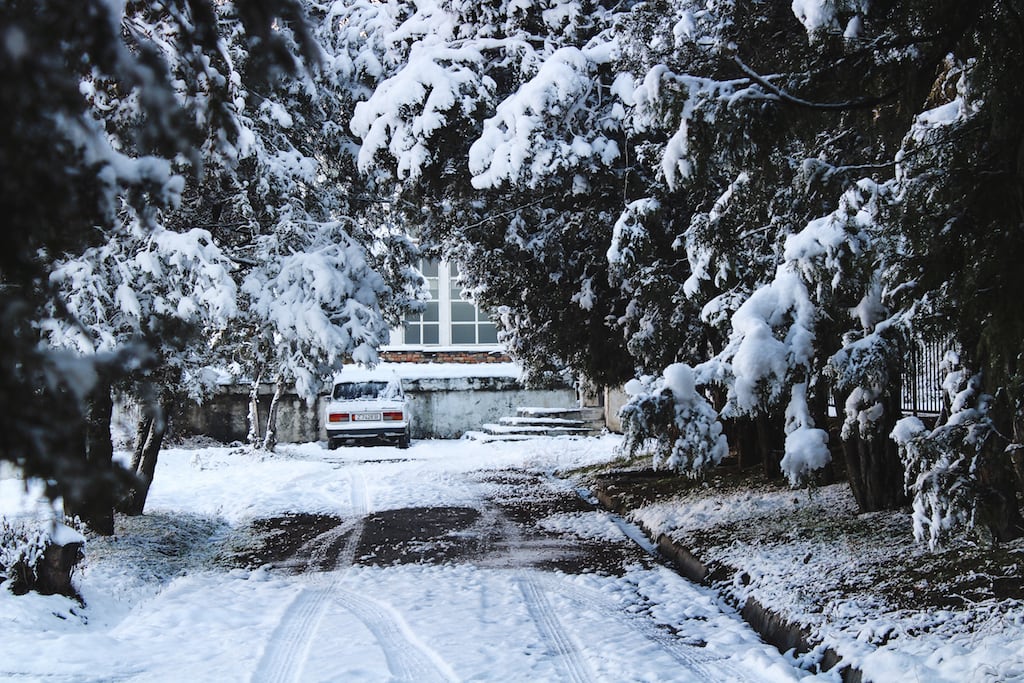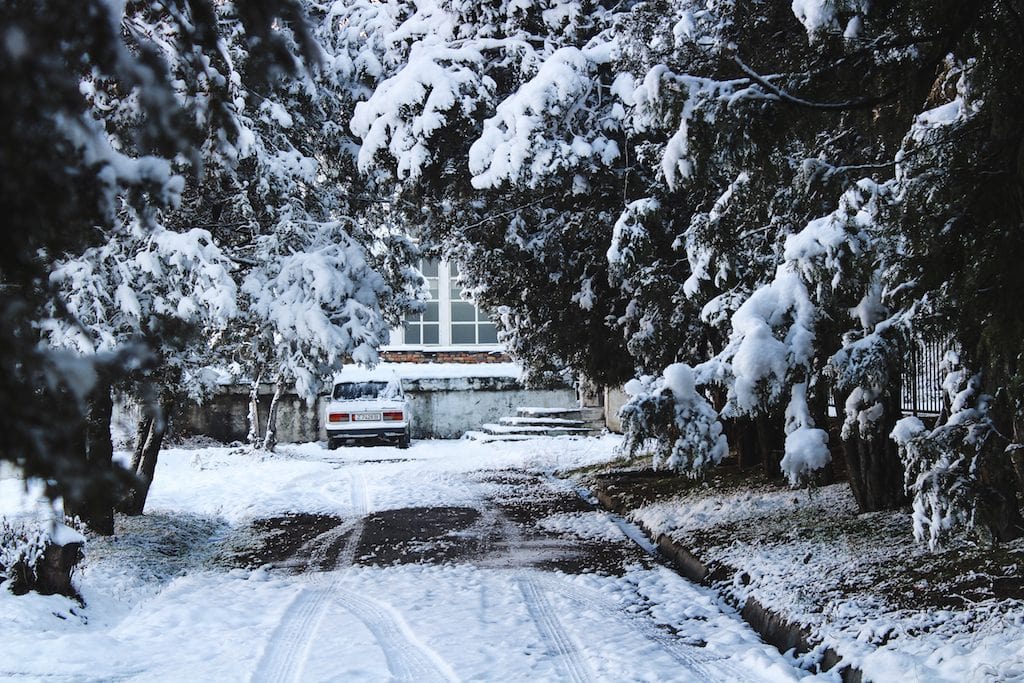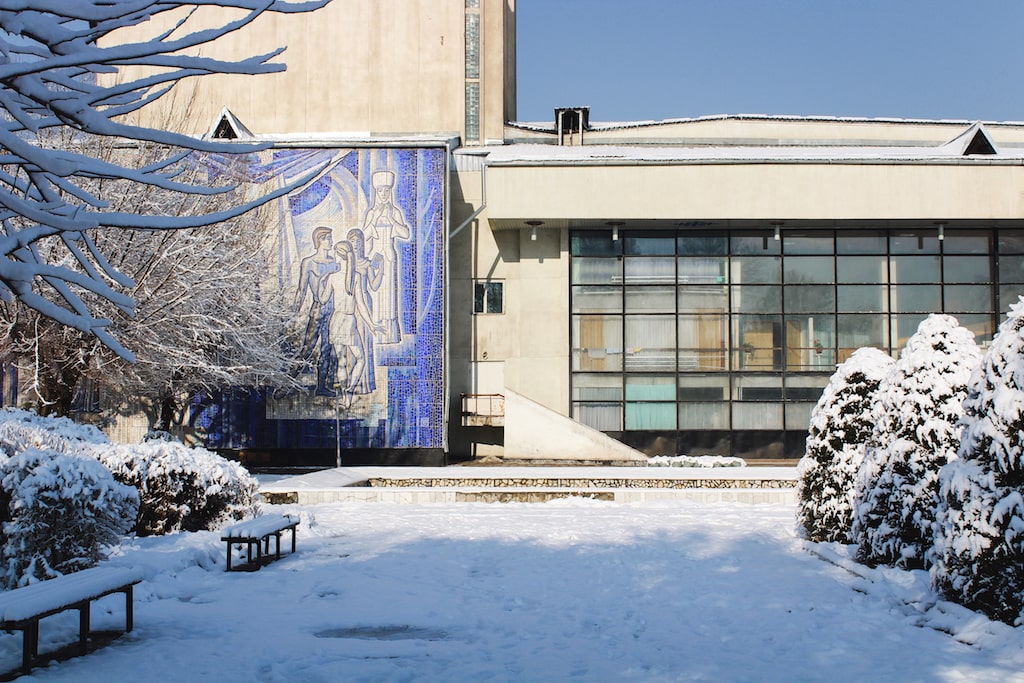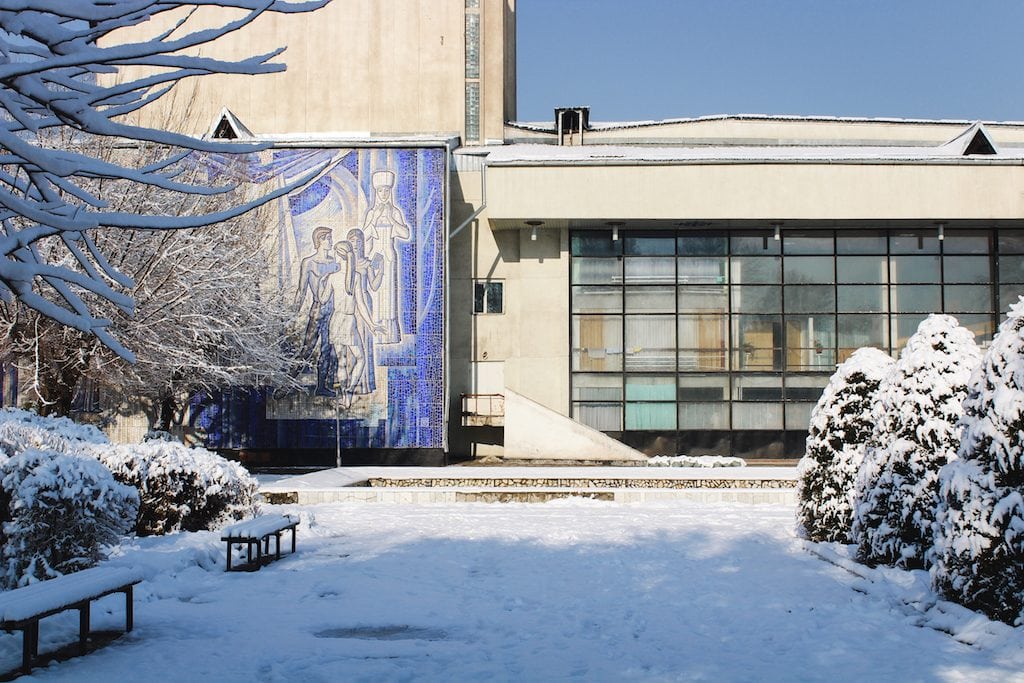 After the perfect day, I gathered my things at my guesthouse and headed out to see my new friend and taxi driver waiting for me. We took off for the airport.
About five minutes from the airport, the driver received a call from his friend saying all flights were grounded. He told me this and I just didn't comprehend why or what was going on. Somewhere during my confusion, we entered the thickest patch of fog I have ever seen with my own eyes.
Those five minutes to the airport took around thirty as the visibility went down to zero. We arrived at the airport to check the situation and the taxi driver came in with me.
The airport was a madhouse. The small, Soviet building was packed to the brim with stranded passengers and their belongings. The claustrophobic in me started crying and I wasn't sure what to do. He went to the customer service area on my behalf and told me to sit in a corner by a family with a crying baby until he gathered more information.
I tried changing out money there to get a water (I had transferred all to Euros back in Bishkek and used up all of my SOMs at this point) and the currency exchange wouldn't take the Euros or allow me to change any money. I would never have managed to stay there the entire night as I had no food, water, or sanity left.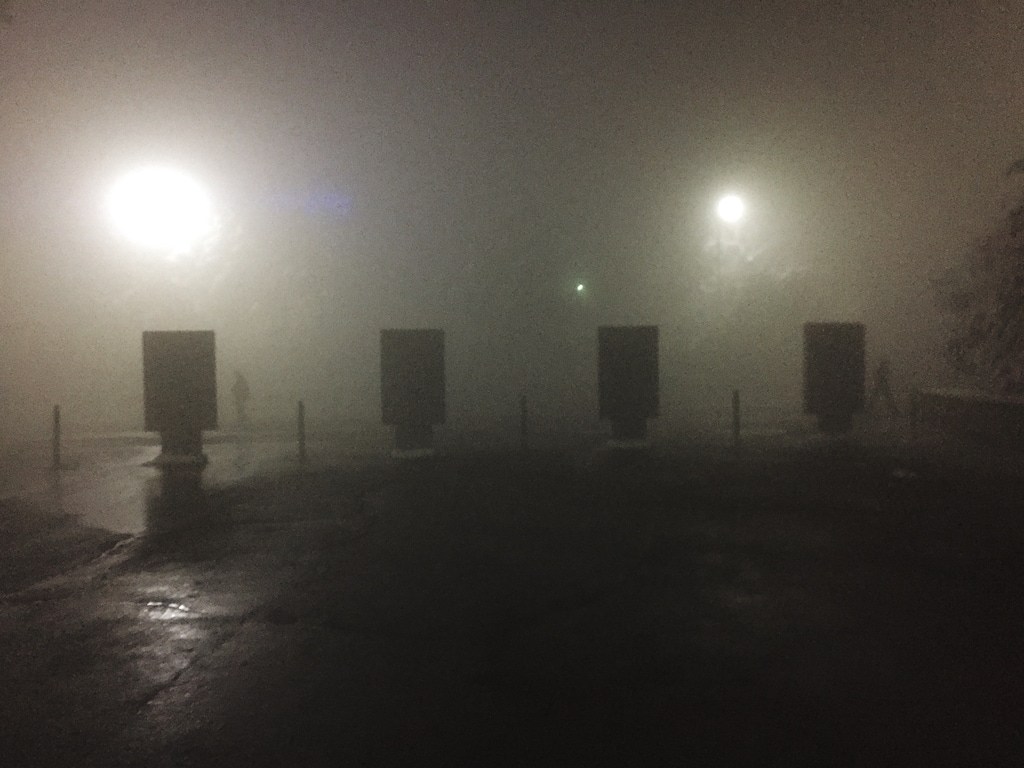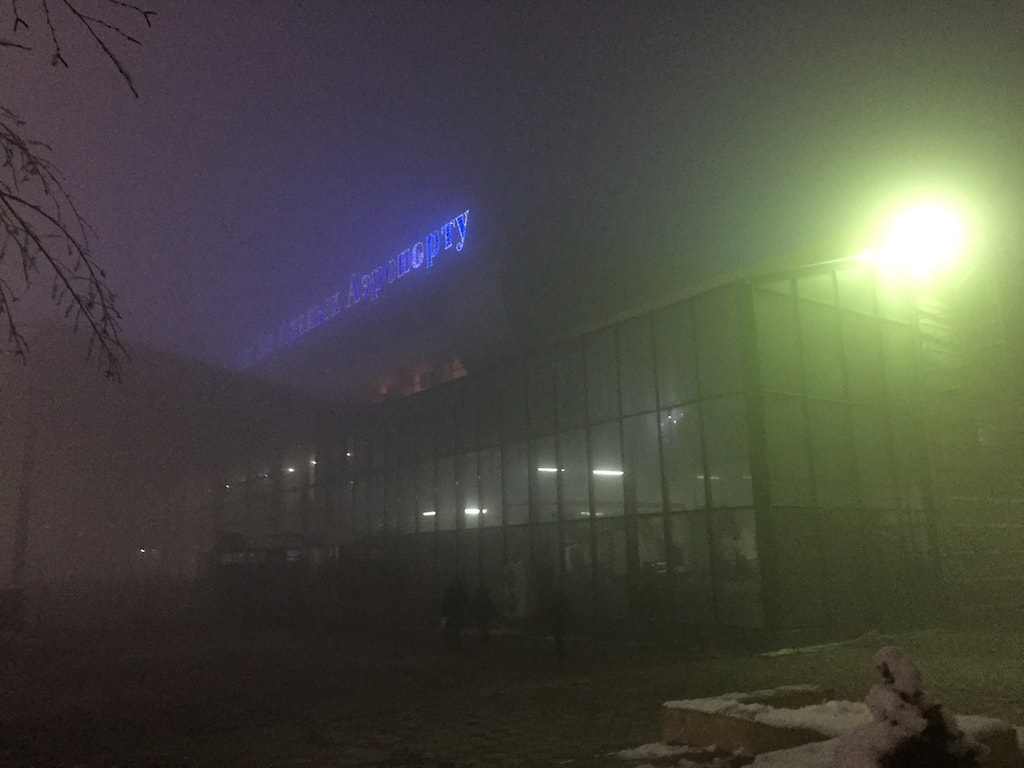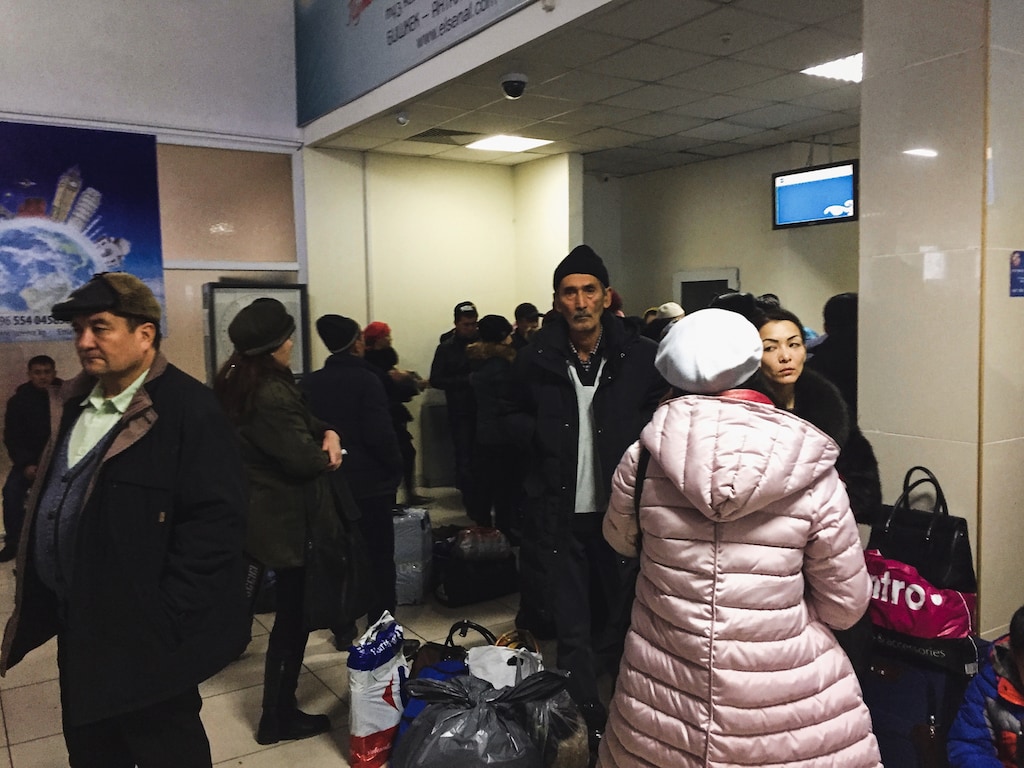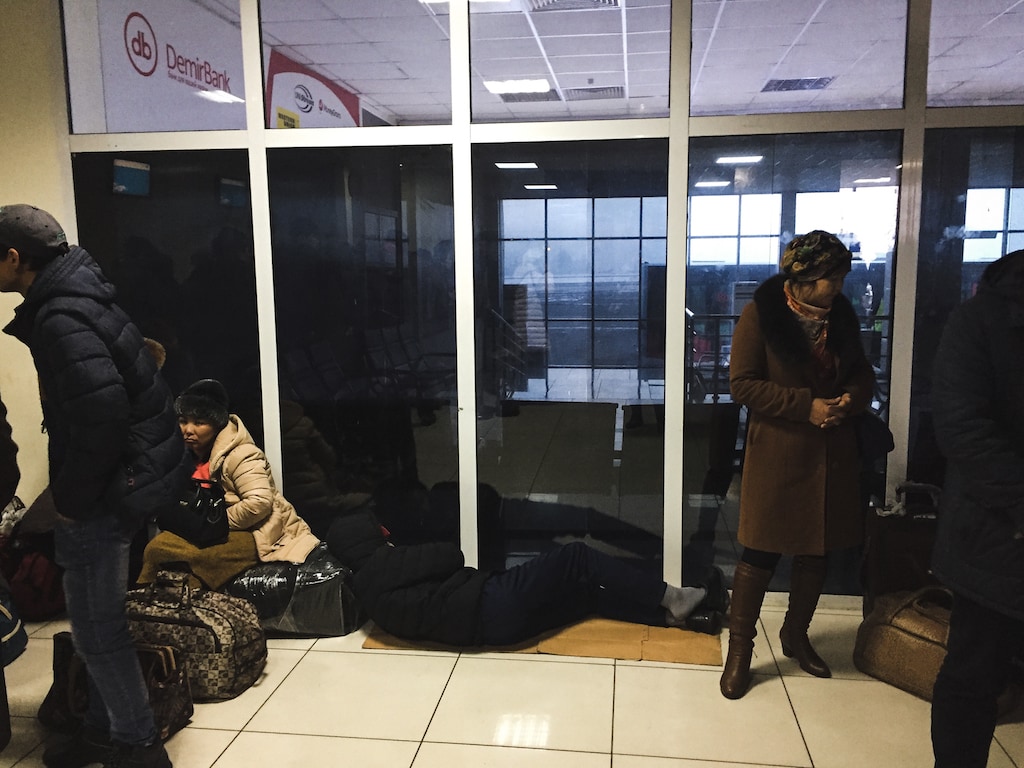 The taxi driver came back to me and informed me that all flights were grounded indefinitely and there was little chance I'd get out in the next few days as there was still a queue from the blizzard the day before.
Unsure of what to do, I asked him to take me back to the guesthouse and I planned to ask them if I could stay an additional night in my igloo of a room. He was so kind and obliged and dropped me off with plans to pick me up the next morning with a clear head and take me back to the airport.
I checked back into my guesthouse and was put back into the same room and there were two loud Russian drunks next to my room which allowed me to get zero sleep that night. Their antics also allowed me to go into a bathroom where someone had pissed everywhere, which added to my early morning pleasure of getting back to the airport to beg to be allowed on a flight back to Bishkek.
At the airport, there was no such luck. There were still days of backed-up passengers and I finally had to chalk up my losses. My driver told me he would arrange me a taxi back to Bishkek. This was a journey I never wanted to make. Fifteen hours in a taxi in one of the highest elevated countries in the world… no thank you. And in winter? HELL NO. But I had no choice.
After some negotiations and being screwed over because of my foreignness, he arranged a taxi back to Bishkek for me. I ended up paying thirty bucks or so as I said I would pay extra for the front seat so I wouldn't be wedged in between people in the back causing me to have an anxiety attack. Our taxi filled up and we were on our way.
The drive went pretty smoothly until we arrived at the Uzgen Bazaar (near the Uzbek border on our way to Jalal-Abad). I had to quickly open my door to get out as the passing traffic was intense and I stepped immediately onto black ice and landed with my legs twisted and bent in a weird way. Holy shit… I felt paralyzed. Cars behind stopped and watched. People stared, but no one helped.
I used my hands to force myself back to my feet but I was pretty certain I had broken something. The ice was so cold that I couldn't feel a thing. I eventually was able to get on my feet and I limped despite the excruciating pain into a local shop to get water and something to clean up with.
The female staff was so upset to see that I had black dirt all over my body and tried washing me up quickly before the taxi left. (Update: My legs were in extreme pain for days and I had huge bruises, but nothing was broken… whew!)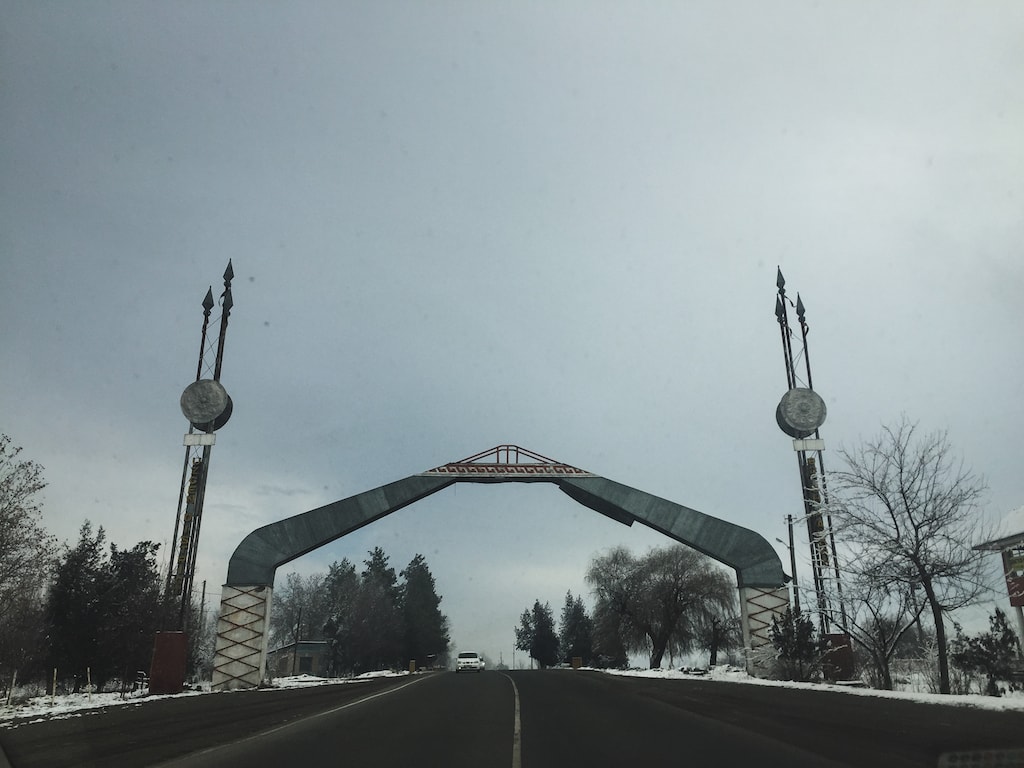 The drive continued. I cheered when we entered Uzbekistan briefly. I oohed and awed at the untouched beauty of Lake Toktogul. I ate manti that had far too much dill accompanying them and regretted the lingering taste in my mouth afterward. I took videos and photos out of my grime-covered window.
And I often thought that I was the luckiest person in the world getting to make this drive during the winter months as most people fiercely choose not to. For all the bad events that had led up to that moment, I knew immediately that I regretted nothing and was absolutely stoked to have gotten to witness this drive and scenery.
The roads transitioned from being deserty and clear to being snow-ridden and scary. We inched along, really making this fifteen-hour drive about a fifteen-hour drive and no less.
We eventually came up to a point where we were stopped for two hours as there were issues and uncleared areas along the mountain pass.
We slept for a bit in the car and then got out to take some photos. While I was the only foreigner in the car, my excitement over the scenery must have enthused the other passengers because they started taking photos and videos too.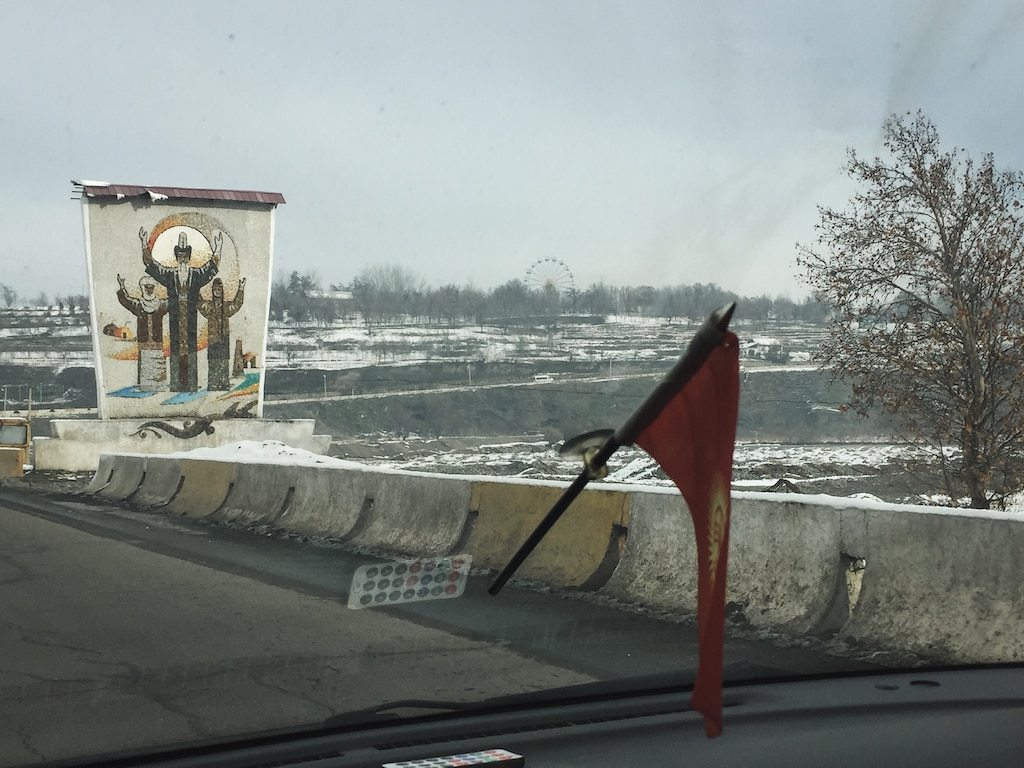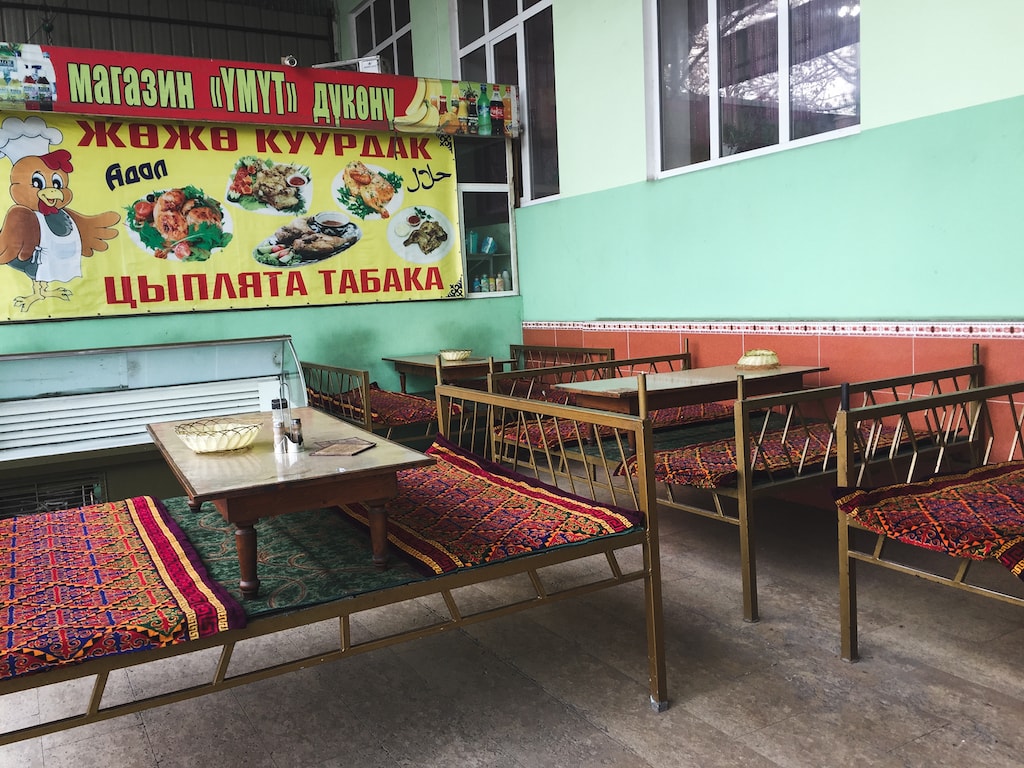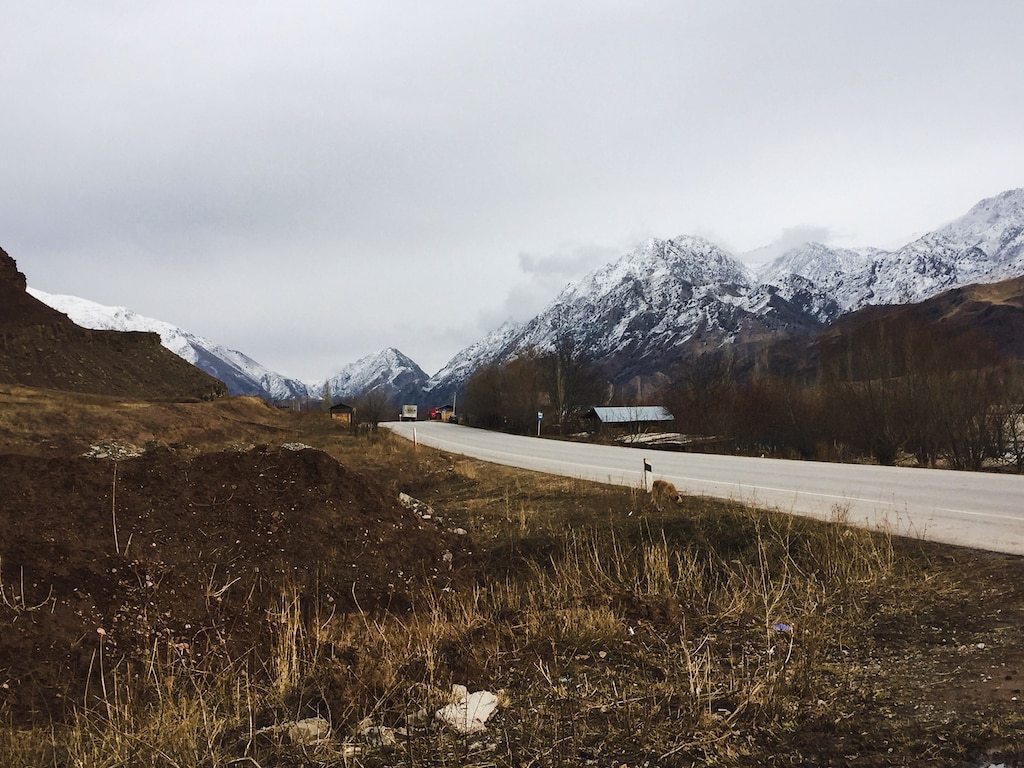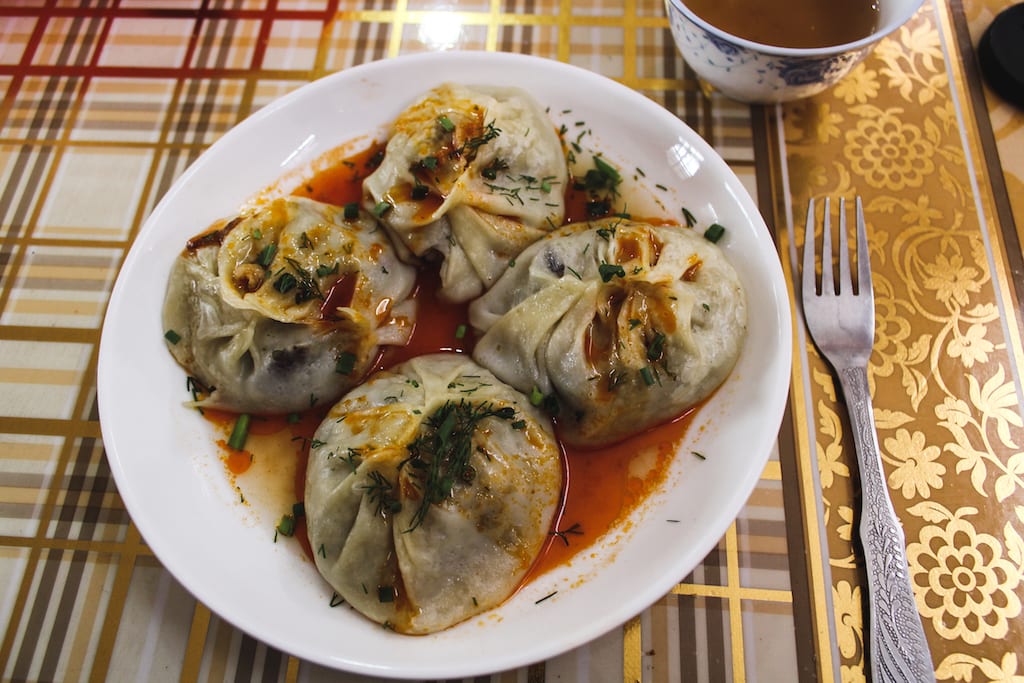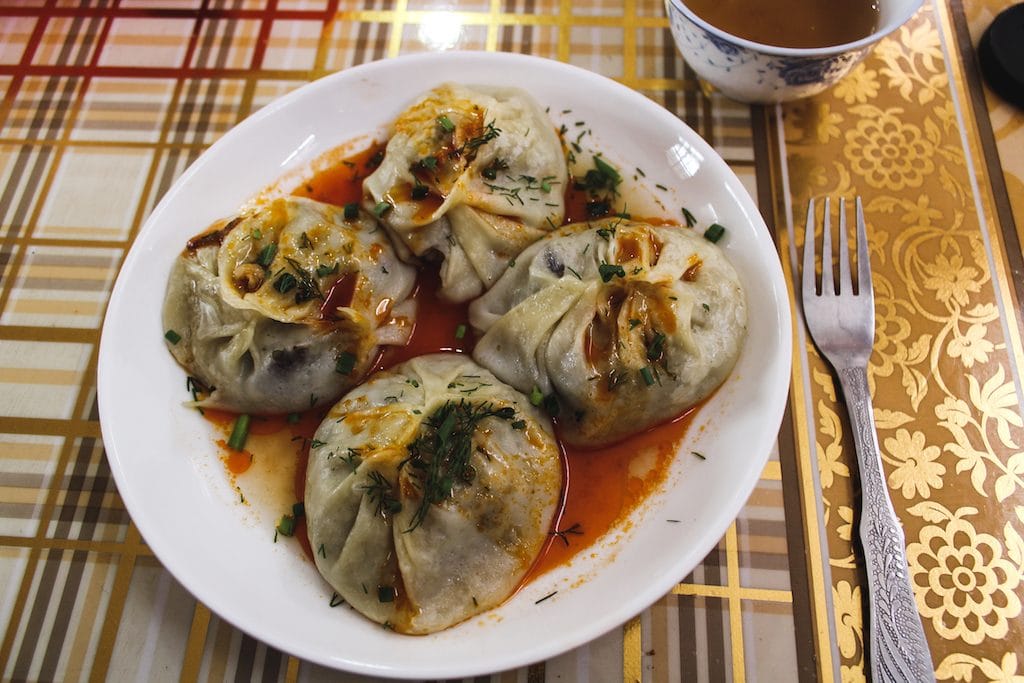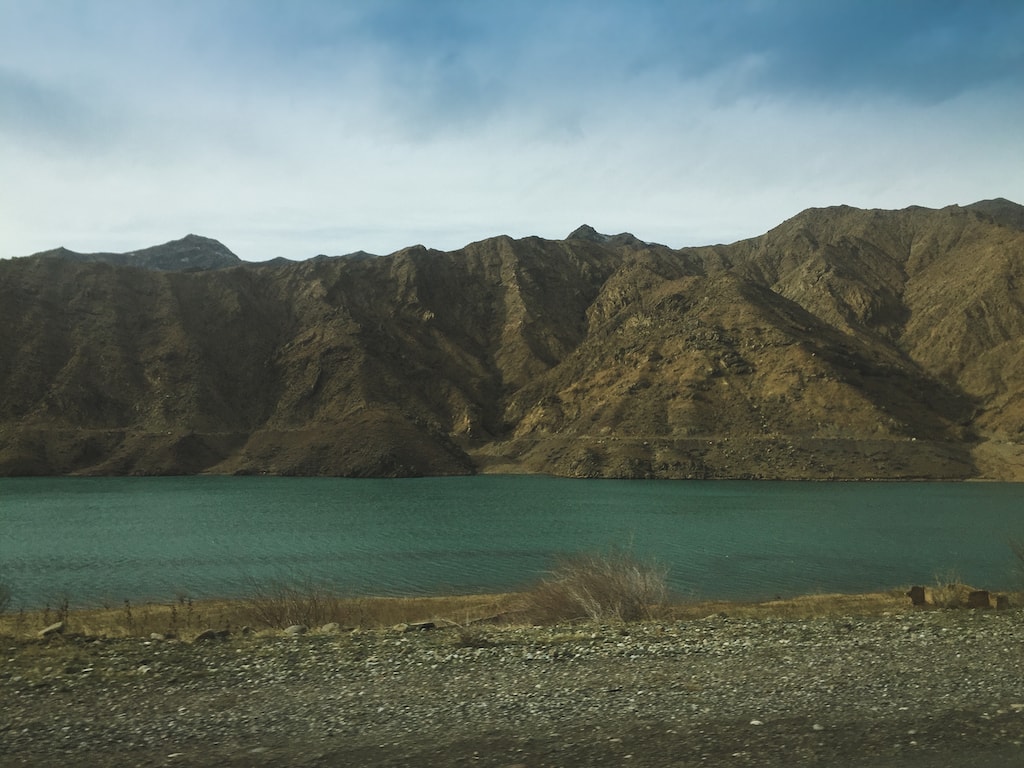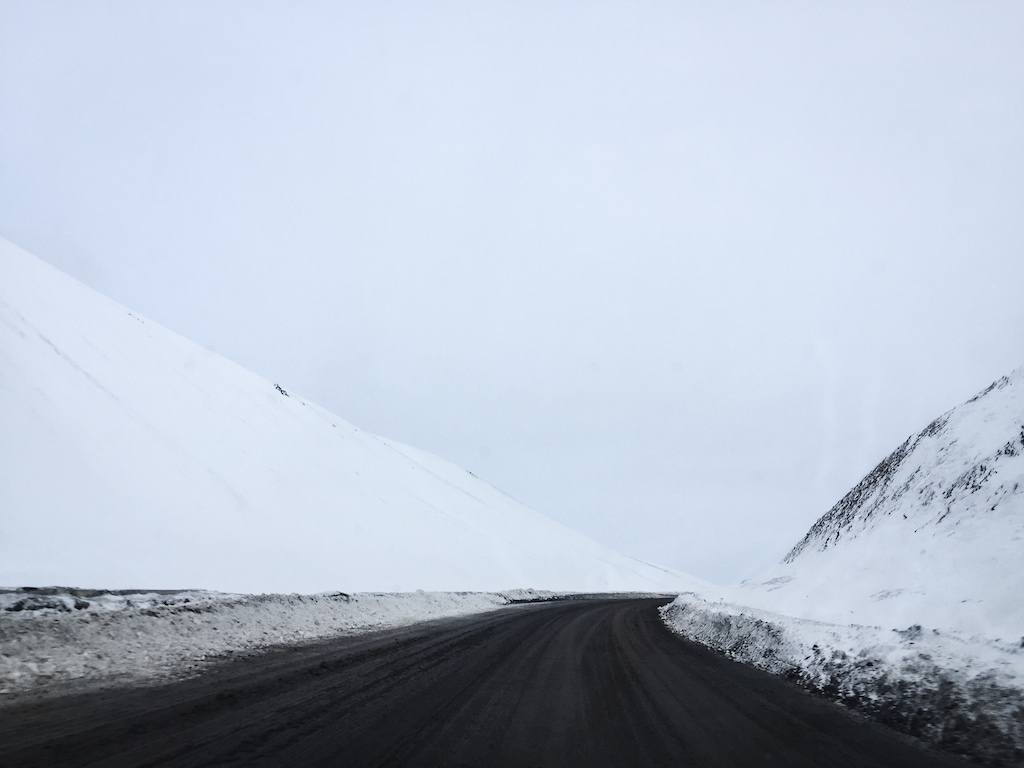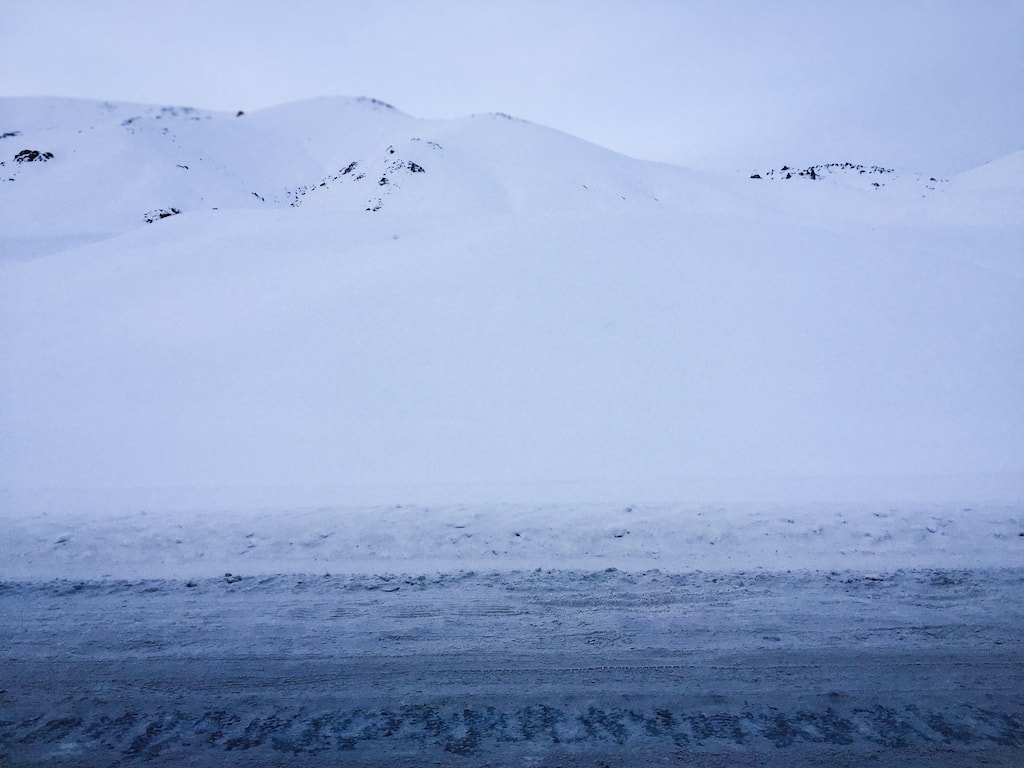 Somewhere in the middle of the night, I ended up arriving in Bishkek. Tired and unable to feel my legs still from my fall earlier, I grabbed a taxi that screwed me over and went to my usual home away from home, the Capsule Hotel. I arrived and crashed.
My next day in Bishkek was a blur and I left at around 3pm after lunch and coffee with a friend to head to Istanbul for the next two weeks.
Little did I know that this Osh ordeal was only the start of my problems.
I boarded my plane to Istanbul with discount airline Pegasus. I hadn't heard great things about the airline, but they did only charge about $90 for my one-way ticket last minute, so I didn't care.
I WAS OUT OF CENTRAL ASIA, a region I love so dearly, but needed a short break from.
The ride from Bishkek to Istanbul went so smoothly and I even had made friends with the flight attendant, whom I still keep in touch with today.
He gave me tips where to find the best balık-ekmek, because that is all I wanted at that moment. He gave me tips on which areas to avoid and to keep my nerves calm despite a sizable terrorist attack two days prior. Life was good. And I found the reviews on Pegasus to be pretty unwarranted.
I arrived at SAW in Istanbul and turned my passport over to the visa office to get my quick $25 visa to be allowed out of the airport and into the city. The guy behind the window glared at me and said 'no, you go stand over there,' as he pointed to an office.
Ok, weird… I went into the office and they informed me that since my passport expired at the end of March (it was currently early December) that it didn't have the six months required in order to obtain a visa for Turkey.
I explained to them my situation and that I could only be in Kazakhstan for fifteen days at a time before having to make visa runs, which didn't permit me to renew it there. That didn't matter- he followed the rules (as he should have). The only option I had at this time was to purchase the passport extension that would allow me into Turkey alongside the usual visa. This was going to run me about $125.
I contemplated it but realized quickly that my already arranged plans to Bulgaria would make me have to repurchase the same on my way back into Turkey. I could have canceled Bulgaria but Turkey's wifi is unreliable and I really needed a plan B.
I asked what other options he had and he took me to an airline agent and said that I could book a last-minute flight elsewhere. Kyiv… I was going to book a last-minute flight to Kyiv.
I went to the desk and tried not to panic. These last-minute flights would surely be overpriced and beyond the $600 in cash I currently had on me (my bank card wasn't working then). I asked about flights to Kyiv and he looked at my passport and said, 'Just go back to Germany earlier than you had planned.'
I told him it wasn't an option as I had to stay out to renew my Schengen visa. He kept trying to explain to me that I was allowed back in Schengen. This was the point where I thought that Pegasus may deserve those poor reviews after all.
He brought another Pegasus staff member over and he, too, explained to me that I should just go back to Germany. What part of 'I don't have a visa!!?' did they not understand??? He then tried telling me that once my German visa had expired in September, I merely had to leave the country and come back in to restart an actual Schengen visa.
No shit. So I moved to Kazakhstan for no reason??? Whether he was right or wrong, I asked him what the cheapest flight was to any city in Germany and I would just try to sort it when I arrived.
Turns out that the cheapest flight was to Cologne and it left in an hour. The flight was only $150 last minute which was impressive in itself.
I purchased it in cash, had my bag pulled off of the conveyor at baggage claim and placed onto the Cologne flight (which they checked for free given my troubles- thanks, Pegasus!) and made my way to my new flight. I called my man and told him what was happening and he was beyond shocked. And excited.
I arrived in Cologne in the middle of the night, went through a passport with absolutely zero troubles, grabbed my luggage, and hopped the 3am train to Frankfurt. By 5:30am, I was home. I was home for Christmas.
I was no longer living out of a suitcase. I could eat a dish and not worry if dill would be the main flavor profile. I didn't have to look at plov anymore. I was HOME. It was probably one of the best days of my life after the last week of travel hell. But the best part of being home? It was being reunited with this guy.