I recently went horse riding in Kyrgyzstan and I was not sure what to expect for my journey into the Kyrgyz mountains. This is a guide about my Kyrgyzstan horse trekking experience as well as what to expect before you go, what to bring, and more!
What to Know Before Horse Riding in Kyrgyzstan
Recently, I had the chance to visit Kyrgyzstan, a country in Central Asia that I wasn't entirely familiar with but Megan raved on about. I was merely visiting for a few days and would mostly just stick around Bishkek.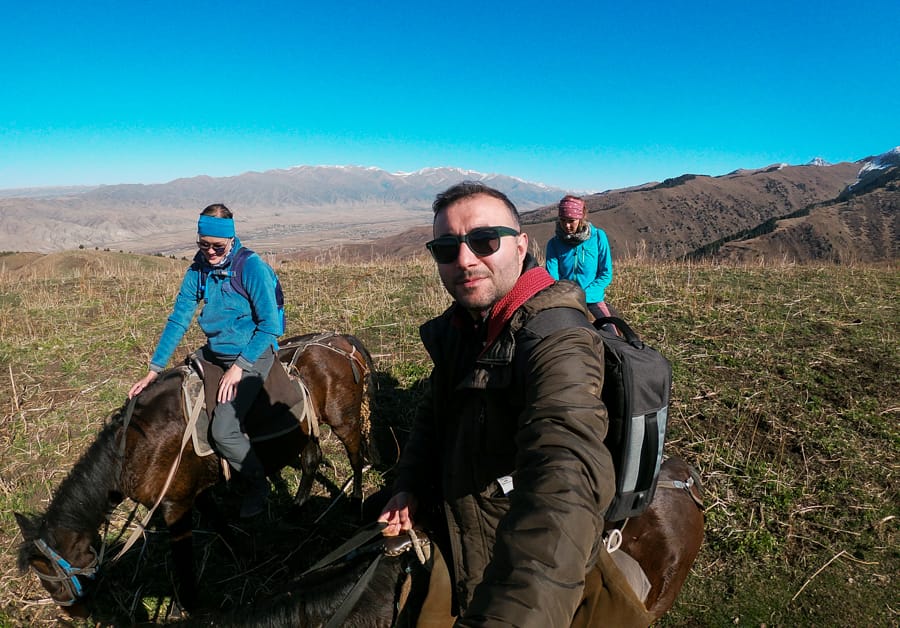 I have a huge love for horses, as you can read about in my horse riding in Lofoten guide from Norway, and Kyrgyzstan is definitely known for a culture that centers around the horse. I was eager to learn more about the animal's importance to the nation and I was also excited to ride one through the mountains for a day.
This guide will detail my experience and also have some parts written by Megan, who has also ridden a horse in Kyrgyzstan in Song Kul through the mountains. It will also give you an idea of how to prepare for horse trekking in Kyrgyzstan and what to bring with you for the trip.
Please feel free to leave a comment with more insight or your own personal experience. It will definitely help others plan for their trip!
Do You Need Travel Insurance for Kyrgyzstan?
Absolutely. You especially will need travel insurance if you're going to be horse trekking in the country. We had insurance booked with SafetyWing, a Norwegian company that focuses on high-quality policies with widespread coverage at extremely affordable rates. They are outstanding and we recommend them to those traveling to Central Asia.
>> Click here to get a Kyrgyzstan travel insurance quote

How I Found My Kyrgyzstan Horse Riding Trip
Honestly, Megan had found the trip for me. While there are several options out there, she highly recommends the Trekking Union of Kyrgyzstan (TUK) if they have trips available that coordinate with your schedule. Fortunately, they had a horse trekking trip already scheduled for one of the days I was in Bishkek.
You can view the TUK website and upcoming trips here
If you're interested to book, send them a Whatsapp, stop by their office, or give them a call to schedule. Someone will speak English and be able to assist.
The prices are usually quite affordable compared to other tours and you will always be set up with a skilled and knowledgeable guide. The TUK office is located at 168 Kiev Street in Bishkek (city center).
My Kyrgyz horse trekking trip cost me 1700 KGS, or about $25 for the day.
Megan went horse trekking in Kyrgyzstan at Song Kul in 2018 while she was trail marking with Discover Kyrgyzstan and USAID.
It was a mixture of trekking and horse trekking and she didn't have as much luck as I did as it was not truly a scheduled trip and she ended up having an accident (more about that later).
Trips are always subject to change with TUK.

What to Know Before Riding a Horse in Kyrgyzstan
If you're a beginner and simply want to learn the basics of horse riding in Kyrgyzstan, I strongly recommend taking a shorter tour in a flatter area so you can learn how to control the horse and your balance when on it for the first time.
Consider Your Level and Experience
My Kyrgyzstan horse riding tour was in the mountains and valley of Chon Kemin and it lasted for five hours. While this was still a trek for novice horse riders, it wasn't always easy to control the horse, my balance, and snapping photos. It was not my first time horseriding but I am by no means an expert.
Is Horse Riding in Kyrgyzstan Ethical?
One thing that is crucial to consider is whether or not your horse riding tour will be ethical or not. Are the animals well-rested and well-fed? Even though horses are extremely strong animals and are used to trekking up and down the rugged Central Asian mountains, they need to be treated with respect and fed and rested.
Fortunately, the horses we used were in great shape and health and you could tell they were treated respectfully. I would not have been able to make the trek otherwise. It was also great that our guides stopped frequently to allow the animals to eat and rest a bit.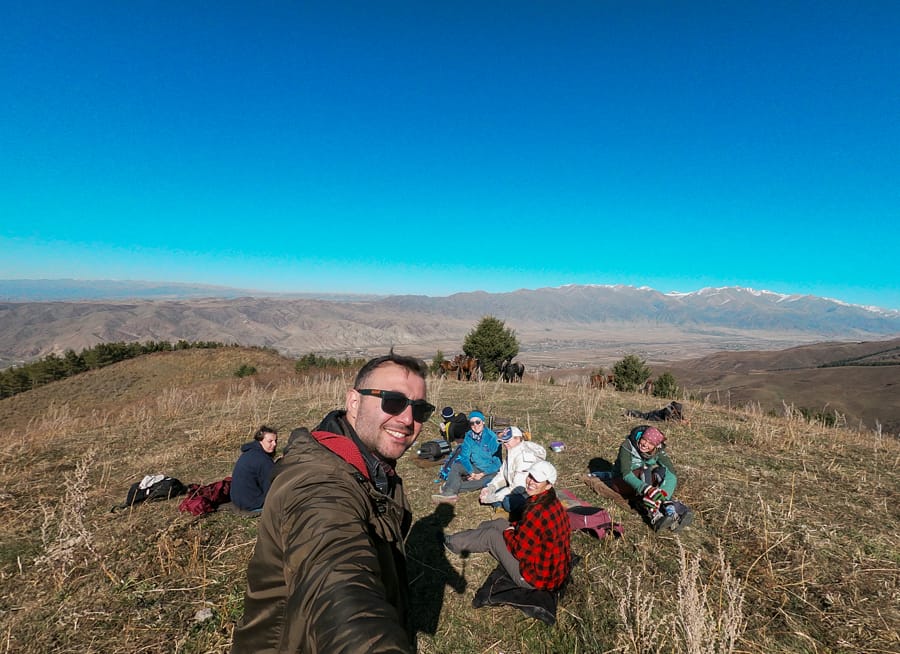 Please do note that Central Asia may be a bit of a shock when it comes to animals for many. These animals were treated well, in my opinion, but it may not always be the case. Do ample research before booking a trip.
What if You're Afraid of Heights?
Megan went horse trekking in Kyrgyzstan a little over a year ago. She is scared of heights, actually, and her 'horse' trekking was supposed to be 'Megan' trekking… but it went wrong and she struggled hiking some of the passes due to the dramatic drops in the mountains.
To help her make the passes, she was put on a horse during this time. The horses reliably got her through the worst parts. HOWEVER, do be sure that the horse is used to trekking. She used a local's horse to get through one of the passes and the horse didn't have the right shoes on and slipped down the mountain in the rain and snow, bucking her off.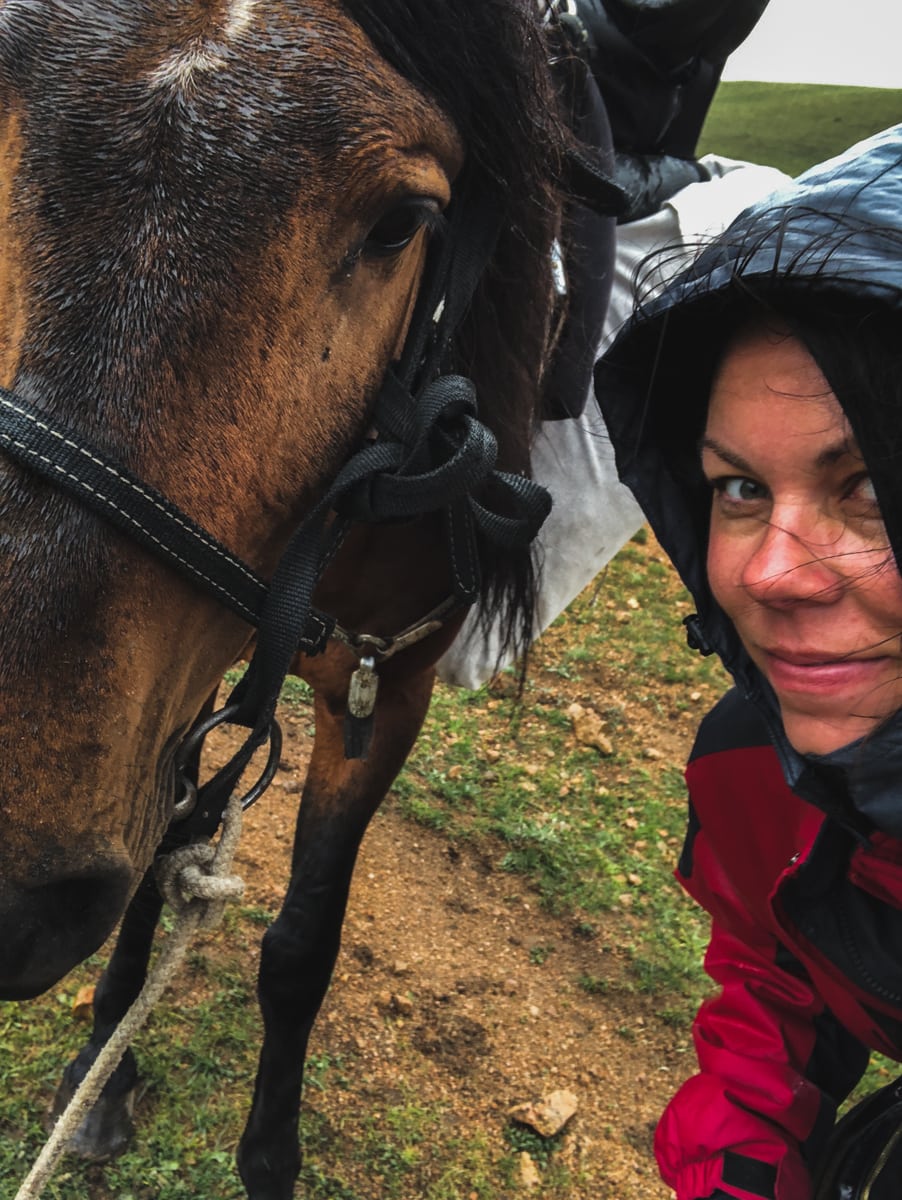 The horse was fine and Megan was only bruised, but she is terrified of riding horses in the mountains now, hence why I took the recent journey alone.
If you're scared of heights, do expect that mountain horseback riding in Kyrgyzstan will contain a few frightening areas where it could cause you panic and distress. This may not be the best tour for you.
Altitude Sickness in Kyrgyzstan
Another thing you may want to consider when horse trekking in Kyrgyzstan is the altitude. Kyrgyzstan is one of the highest countries in the world in terms of landscapes about sea-level and it shows.
If you're susceptible to altitude issues, and most people are, do be sure to bring some altitude sickness pills with you for the journey. The trek to Chon Kemin wasn't too bad but I am from Armenia and my homeland is very high, as well. Megan is from lowlands and struggles a bit more than I do when it comes to altitude.
I recommend bringing pills like these ones with you to avoid succumbing to altitude sickness.
You Won't Be Provided a Helmet
Most likely, you won't be given a helmet for your Kyrgyzstan horse trip. If you're terrified to ride without one, do consider bringing your own or purchasing a helmet in Bishkek. The territory is familiar for the horses and you will likely have no issues.

What to Bring With You for Your Horse Trekking in Kyrgyzstan Adventure
To be honest, it really depends on the number of days you set aside for your Kyrgyzstan horse riding adventure. My trip was only a day trip while Megan's was three days. I went horseback riding in Bishkek in mid-autumn when it was still relatively warm under the sun in the Kyrgyzstan mountains… yet cold in the shade. It was also late autumn this year in Bishkek.
It doesn't really matter which season you go in, you will want to take the following things with you:
Sunscreen:

The sun is no joke in Kyrgyzstan and even if it is below freezing, the sun will still burn you, especially in the mountains where you're closer to it. We recommend bringing good sunscreen for your trip and

you can purchase it here

.

Moisturizer:

While it may not be great on your skin during the horse trekking, a good moisturizer will help you feel better after the journey. The winds were strong and chapped and dried out my skin. Fortunately, Megan had a good moisturizer on her that I was able to use to rehydrate my skin afterward.

You can check out Megan's moisturizer from The Ordinary here.
Durable hiking boots:

While you will be on a horse for your journey, you will still want to wear durable hiking boots. It will help you feel secure but it will also allow you the chance to hike if needed if you struggle on the horse unexpectedly.

We recommend these Keen Targhee hiking boots

(Megan has had hers for a decade).

Sunglasses

to help you see if the sun is brutal that day

A

warm hat

if it is cold outside

GoPro Camera:

We just purchased the GoPro Hero 8 Black and love it. If you want to take photos on your horse trek, I recommend bringing a GoPro with you so that you can get photos with ease and are not toting around a heavy camera that is fragile to do so.

Click here to check out our new GoPro camera.
Should You Bring Food with You?
My horse trekking tour did not provide food so I simply packed my own. Even if they do provide food, you will want to ensure you bring some snacks, just in case.
I recommend going to the local grocery store, for example, Narodny, and filling up a few bags of loose nuts. I love the sesame covered peanuts they have there and I filled bags with them as well as dried lupin and it kept me from being hungry throughout the day.

My Horse Riding Location

My horse riding adventure in Kyrgyzstan actually took place in the Chon-Kemin Valley, a scenic area around two hours from Bishkek. The tour was only one day and the drive to the valley as well as the tour itself gave me some epic views. If you can find a tour to this area and are the same level as me, I highly recommend going there.

Where to Stay in Bishkek
There are many options for where to stay in Bishkek and you can see further information by checking out our Bishkek hotels guide. It includes both Bishkek hostels and hotels and the reasons we recommend them. For the sake of this guide, we are only recommending one place because it is fitting for most travelers.
Apple Hostel Bishkek
Don't be turned off by the word 'hostel'. Apple Hostel is much more than just a hostel. In fact, Megan and I had a private room there and it was just as luxurious, quiet, and clean as pretty much any other place we have stayed on the road. We had a large private bathroom and the place was cozy and hospitable.
The location is close to the western bus station which is a walk from the city center, admittingly. However, if you're traveling the region, it is a great base. And a taxi to the city center is only $1. We even walked a few times.
Apple Hostel has dorms and privates. There is a lounge area, a yurt outside, breakfast next door, and a kitchen for guests.
>> Click here to see rates and availability at Apple Hostel
I hope you enjoyed my short recap to my horse trekking in Kyrgyzstan adventure. Please email if you have questions or leave a comment below.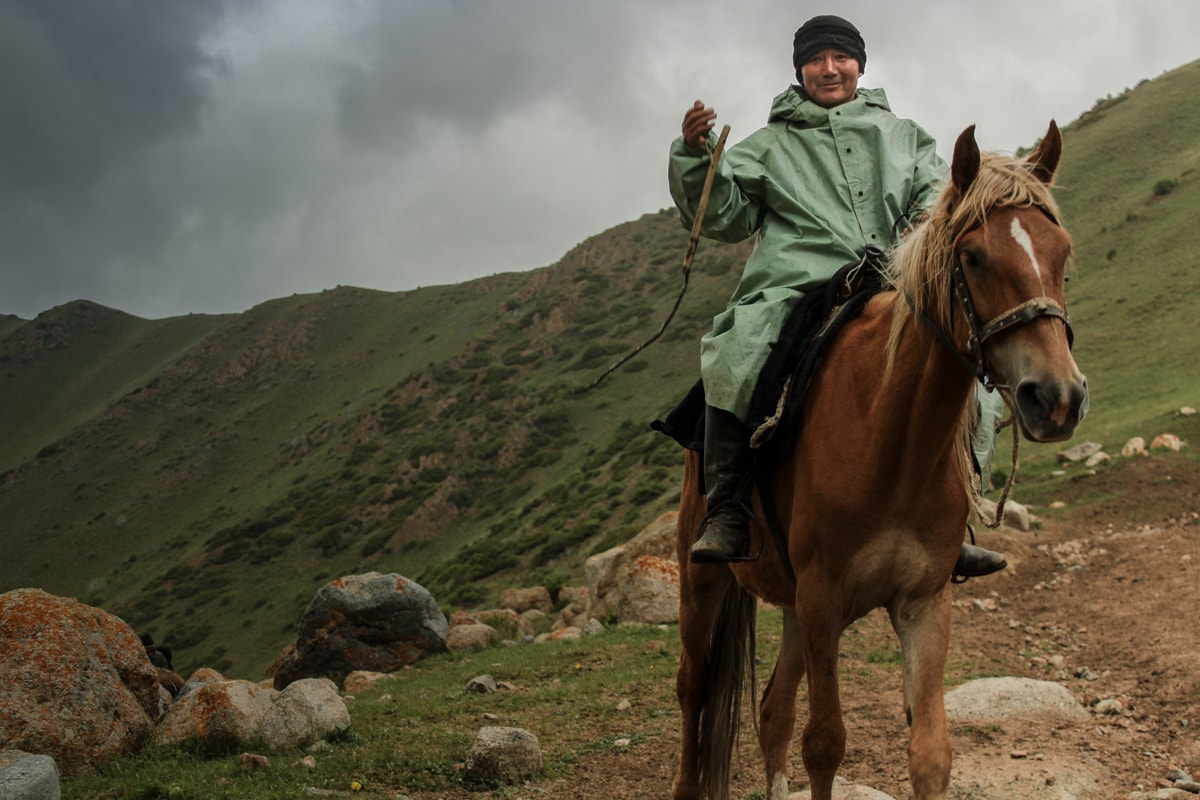 YOU MIGHT ALSO LIKE: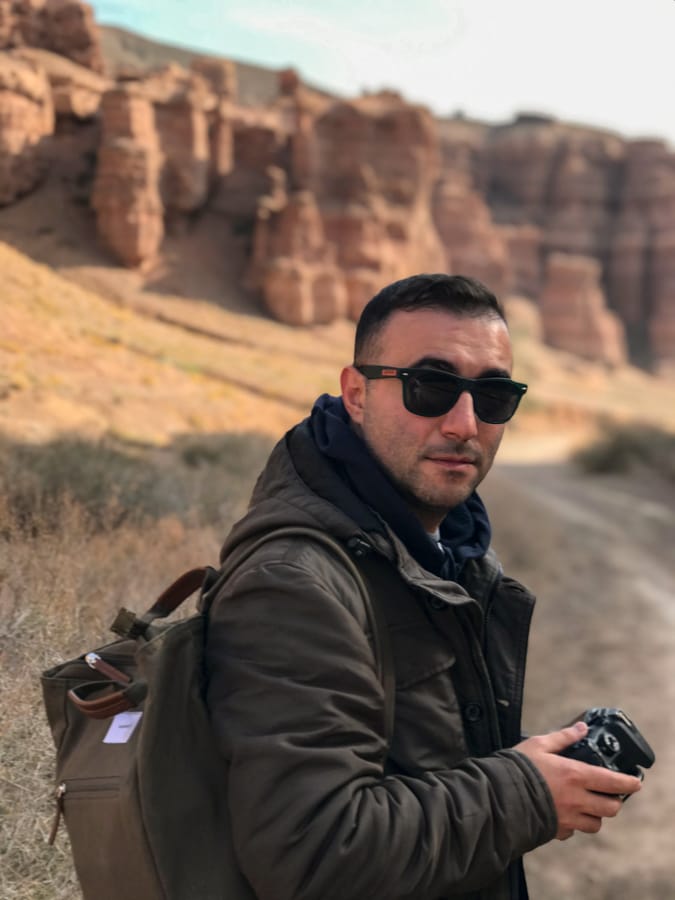 Aram is a travel blogger and writer from Armenia who spends his time between Spain and his home country. He is passionate about music and football (the European kind) and covers a lot of Western European destinations on the blog. Aram is a laidback traveler who enjoys meeting new people and finding the best food in each city that he visits (hence his frequent trips to France, Italy, and Greece!). He has been featured in (or written for) Forbes, BBC, The Guardian, Fodor's Travel, and more.